You are currently browsing the tag archive for the 'England' tag.
Mary Poppins is a staple of British televsion programming at Christmas.
I remember seeing the film shortly after it was first released. As with so many Disney films (e.g. Fantasia) it was way too long and, frankly, somewhat boring. I fell asleep through part of it as I had done when going to several of his other productions.
Disney's treatment of PL Travers's Mary Poppins is far from her novel. According to English television presenter Victoria Coren Mitchell — daughter of the late Alan Coren who wrote for Punch and wife of comic actor David Mitchell — this children's story is punctuated by episodes of uncertainty and fear. She has written about it in the latest edition of the Radio Times (30 November – 6 December 2013, pp. 20-22).
For centuries, children's stories — oral and written — have introduced peril, myth, morality and loss to young people. Through them, we become acquainted with good and evil as well as what we can expect from life itself — endless uncertainty in a fallen world.
On this point, PL Travers's book does not disappoint, Mitchell says. She read it as a child.
Also in this week's Radio Times is an interview with actor Tom Hanks (pp. 24-27), who stars with Emma Thompson in Saving Mr Banks, the story of Travers and Walt Disney bringing Mary Poppins to celluloid.
What follows are aspects of the film as well the lives of Travers and Disney which are less well known. Saving Mr Banks explores some of them, although I have not seen the film.
As far as Mary Poppins is concerned, Travers objected to Disney's sugarcoating the film by making the nanny a cheery, happy character.
PL Travers
Helen Lyndon Goff was born in 1899 to a bank employee and niece of a Premier of Queensland, Boyd Dunlop Morehead. Travers Robert Goff — originally from Deptford (London, England)  moved his family from Maryborough to Allora — another town in that Australian state — in 1905. He died of influenza in 1907. His widow, Margaret, and three daughters moved to neighbouring New South Wales. Helen attended boarding school in Sydney during the years of the Great War.
Helen was known by family and friends as Lyndon. She wrote stories for her sisters as well as poetry. She also became interested in acting and toured with a Shakespeare company as Pamela Lyndon Travers. The troupe ended up in England in 1924, where Travers settled and became a writer. She and a friend Madge Burnand eventually moved to Sussex, where Travers began writing Mary Poppins in 1933.
Once in England, she made connections in the literary world. Her first publisher was the inspiration for Peter Pan, JM Barrie's adopted son Peter Llewellyn Davies. She also visited Ireland and made friends with writers such as WB Yeats and a number of poets. They introduced her to mythology. An American publisher acquainted with that circle, Jane Heap, got Travers interested in Gurdjieff's Fourth Way, a good works-based 'universal brotherhood' combining various religious traditions with gnosticism and mysticism.
Travers never married and is said to have had romantic relationships with both men and women.
At the age of 40, on one of her trips to Ireland, she visited the home of Joseph Hone, the first biographer of WB Yeats. He and his wife Vera had seven grandchildren living with them. Two of them were twin baby boys — Anthony and Camillus. Taking an astrologer's advice, she adopted Camillus.
At the age of 17, it appears that Anthony discovered his twin was living in London. He went to Travers's house there. Camillus tried to cope with this surprise discovery but, four years later, was in Stafford Prison, serving a six-month sentence for drink driving. He died in London in 2011.
Travers was made an Officer of the Order of the British Empire (OBE) in 1977. She also earned royalties from Disney's film Mary Poppins.
Travers died in London in 1996. Her ashes were scattered in the churchyard of St Mary the Virgin in Twickenham (west London). (This should not be construed necessarily as a conversion to Christianity; it is traditional for authors and actors — regardless of belief — to have a funeral and/or 'resting place' at Anglican churches.)
It is interesting that, during the Second World War, Travers worked in Manhattan for the British Ministry of Information. It was at that time that Roy Disney — Walt's brother — contacted her about adapting the Mary Poppins books for film. After the war ended, she spent two summers travelling the American Southwest studying Indian tribes. She was also Writer-in-Residence at Radcliffe, Harvard and Smith before returning to England.
Walt Disney
There are two versions of Walt Disney's origins.
The official one is that he was born in 1901 in the Kelvyn Grove (now Hermosa) area on the Northwest Side of Chicago.
His ancestor Robert d'Isigny was thought to have gone to England with William the Conqueror in 1066. (It is probable that he was from Normandy or La Manche. There are two towns in northwestern France which carry the name: Isigny-sur-Mer and Isigny-le-Buat.) The anglicised version of the name is Disney. Robert's descendants were thought to have settled in Norton Disney, Lincolnshire. Walt's branch later moved to Ireland before sailing to Ontario. In the 19th century, they relocated to Ellis, Kansas, where they bought a farm.
Disney's father Elias was a gold prospector in California before returning to the farm. With the advance of the railroads, he worked for the Union Pacific, a principal railway company until the late 20th century when a number of mergers put paid to most of them.
It was during his time on the Union Pacific that Elias fell in love with Walt's mother Flora (née Call). They married on New Year's Day 1888 in Acron, Florida, 40 miles from Walt Disney World.
Elias Disney and his family moved back and forth between Chicago and Missouri at the turn of the century. Elias's brother, Robert, lived in Chicago and helped them financially. In 1906, when Walt was four, Elias and his family moved to Marceline, Missouri, where another brother Roy had a farm. In 1911, they moved to Kansas City, where one of Walt's classmates Walter Pfeiffer introduced him to cinema and vaudeville. Walt and Walter became firm friends, the former clearly intrigued by the Pfeiffer family's entertainment interests and the arts in general. Walt took courses at the Kansas City Art Institute.
In 1917, Elias bought shares in a Chicago jelly company O-Zell and moved the family back to Illinois. Once back in Chicago — then an exciting city of commerce and culture, remaining so until the 1980s — young Walt continued supplementing his state school education with courses at the Art Institute of Chicago, one of the world's best museums in its category.
As this was during the Great War, it is not surprising that Walt was absorbed not only by events in Europe but also America's place in the world. He and a friend decided to join the Red Cross. However, Walt was initially refused because he lacked a birth certificate. I've highlighted that, because we'll return to it below. Suffice it to say that it was not unusual for births to have gone unregistered. Women often gave birth at home with the help of midwives and it wasn't until after that war that hospitals became a more mainstream, albeit not yet universal, place for an expectant mother to deliver a child. The state was also not as encroaching then as it is now, therefore, other records (e.g. school and work) could help to reasonably verify a person's age.
Walt never did finish high school. However, he and his friend did drive ambulances for the Red Cross in France, after the Armistice in 1918.
Once he returned to the United States, he was certain about pursuing a career in illustrating. He moved back to Kansas City to work for an art studio and the rest is history.
The unofficial story of Walt's early life is quite different — and contentious. I read it in Le Monde in 2001 and was shocked.
The Guardian also carried the story — nearly 12 years ago to the day now. Citations and references below are from the article.
Two American authors — Marc Eliot (celebrity biographer) and Christopher Jones (son of a Disney press agent) — were unearthing evidence which they claimed (separately) to prove that Walt Disney was actually born in Mojacar, Spain. He was purported to be the son of two local lovers, Walt's putative mother eventually emigrating to the United States where she offered her son up for adoption and the Disneys supposedly taking the boy in as their own.
Indeed, Mojacar — a village of 5,000 people in Andalucia along the southeast coast — claims Disney as a son. However, their Wikipedia entry does not include this bit of information.
This story dates back to 1940, thanks to an article which appeared in a Spanish movie magazine Primer Plano.
Marc Eliot picked up on this article and the Mojacar connection in his 1993 biography Walt Disney: Hollywood's Dark Prince. The author claims that the entertainment company mogul was an FBI informer under J Edgar Hoover. The Disney family
hired William Webster, FBI director under George Bush Sr, to refute that and other claims about his role as a prized FBI informer.
If true — and it is difficult to find any follow-up online — Walt's interest in his birth came about in 1917 when he asked his mother Flora for his birth certificate in order to apply as a Red Cross volunteer in Europe for the war effort. Flora signed an affadavit swearing that he was born in Chicago:
The fact that it concerned him seems to have been confirmed by Hoover himself. In a declassified FBI document, Hoover pledged to help Disney. "I am indeed pleased that we can be of service to you in affording you a means of absolute identity through your lifetime," he wrote.
Eliot alleged that Flora signed a second affadavit in 1934 concerning Walt's birth. This was two years before she died.
Eliot received over 600 pages of documentation from the FBI in 1992 relating to Walt Disney.
Recall that Walt's brother Roy met PL Travers when the latter was in New York working for the British Ministry of Information during the Second World War.
The Mojacar connection started, according to the townspeople, in 1940 when, at the end of the Spanish Civil War, two Americans arrived. They were smartly dressed and, naturally, had suitcases.
Their arrival took the residents by surprise. Mojacar had fallen on hard times after the closure of local copper and iron mines. The village must have appeared primitive to the two visitors. There were no basic conveniences of the 20th century, including electricity. Women collected water from wells which they carried home on their heads. The people's faith, whilst notionally Catholic, was syncretic, recalling Moorish (Muslim) occupation centuries before. The women wore veils which they held between their teeth when they were busy with their hands.
The Americans asked to see the village priest, the Revd Federico Acosta. Acosta's nephew was visiting at the time from Madrid where, you will be interested to know, Snow White had just made its premiere.  The nephew, Jose Acosta — a journalist and lawyer — was 71 in 2001. He remembered the encounter between his uncle and the Americans as follows (emphases mine):
"He told us that some gentlemen from the US had come to find the birth certificate of one Jose Guirao. They were shown the page in the register. Later, when he looked again, the page had been ripped out," he recalls.
"He told me they had come not to find Jose Guirao's birth certificate, but to destroy it," says Acosta.
Jacinto Alarcon also saw the Americans in town. He later became Mojacar's mayor. Although he died before 2001, author Christopher Jones was able to speak with him in his final years. Jacinto's son Juan said at the time of the Millennium:
Jones has a taped interview with him in which he tells the story, agreeing on the basic facts with Acosta. "Virtually everybody is convinced he was born here. Only the Americans don't want to admit it," explains Jacinto's son Juan, who now owns Mojacar's tobacconists.
Even today, Mojacar families know the story of little Jose Guirao. It is not quite straightforward, as two men are involved. A poor young woman Isabel Zamora is acknowledged as the mother. A similarly poor man's name appears on Jose's birth certificate; we know only that his surname is Guirao and that he worked as a miner. However, people surmise that the child's real father was the local physician, Gines Carrillo. Because he was a doctor, Carrillo was one of the few men parents allowed their daughters to see unaccompanied.
Mojacar residents viewed Carrillo benignly. Not only was he a doctor who lived in a magnificent villa — Torreon, by name. He was also profoundly interested in the arts and aesthetics. He added a Venetian-style theatre to the town and held rehearsals for plays at Torreon.  The town's children learned how to play musical instruments at his estate. Residents could also admire his collection of exotic birds.
Carrillo also constructed a beach house in Mojacar. Although his descendants had it razed, it bore similarities to Disney's castle which features so prominently in the title sequence of his television programme and at his parks. Carrillo's was:
a fantasy creation of his own, topped with towers. Its eccentric aspect adds extra weight, in villagers' minds, to the idea that this man must have spawned Walt Disney.
In 2001, Torreon was a private guest house. The lady who owns it, Charo Lopez, told The Guardian:
"Disney certainly wasn't born in this house. But this is where he was conceived," she states. "This is like the existence of God. Either you believe he was born in Mojacar, or you don't."
Carrillo had a son, Diego, who is also a doctor. He told The Guardian that he did not wish to give an interview. He says that Carrillo would have gone along with the story as a good joke. He added:
If you think my father and Walt Disney look alike, you should see pictures of my uncle. He looks even more like Disney – and he did like the ladies.
One of the uncle's grandsons — Diego's nephew, also a physician — told the paper:
"Mojacar was a boring place then. My grandfather died when I was young but he was a lecher, a ' viejo verde ', in his old age and interested in the occult. The whole thing was cooked up by Jacinto [the aforementioned mayor] and him when those journalists arrived from the film magazine."
Other variations of the Mojacar connection exist. One says that Walt Disney personally wrote the parish priest in 1925 asking for his birth certificate — that of Jose Guirao Zamora — when he was preparing to marry Lillian Bounds, his wife of 41 years. Another story says that Isabel Zamora worked for the Disney family and had an affair with Walt's father Elias. Yet another has two Franciscans requesting the birth certificate in the 1950s.
The surviving Carrillos told The Guardian that they would be happy to take DNA tests to prove the veracity or otherwise of the Mojacar connection. However, it appears that the Disney family — perhaps rightly, under the circumstances — preferred to put this story behind them. The Guardian article does acknowledge that much of Mojacar's younger generation thinks it is either gossip and doesn't really care.
As for the other popular criticisms of Disney — anti-Semitism and insensitivity because of his father's treatment of him — I have a few comments.
First, there were anti-American forces at work in the entertainment world at the time. This is why the McCarthy investigations were so criticised by far-left elements and why McCarthy continues to be vilified. Disney is long gone, although, unfortunately, lefty media types are still with us. He refused unionisation in his company, no doubt because he could see socialist or communist infiltration at work. His wasn't the only animation or film studio in town. Dissatisfied animators and other employees sought employment elsewhere.
Second, I surmise that what the Left interprets as pure anti-Semitism was probably anti-Communism. It is a coincidence that these organisers for unionisation happened to be Jewish — and secular Jews at that. If Walt Disney were really so inclined, it seems highly unlikely that he would have befriended Walter Pfeiffer as a boy, especially as he spent more time at the Pfeiffer house than at home.
Third, Disney critics say he was hard-hearted and that this is because his father Elias beat him. Well, the reality is that nearly every child was beaten then by parents, teachers or nannies; that's just they were brought up at the turn of the century. I also find it interesting that they mention that Elias was an 'Evangelical', as if, in and of itself, that were necessarily a bad thing. That's every bit as bad as anti-Semitism. I'm also not clear how they arrive at this as being a certainty. If the Mojacar story has any veracity, Isabel Zamora might well have chosen a Catholic adoption agency in the United States, meaning that one or both of the Disney parents would probably have been Catholic. Catholic agencies then dealt with Catholics, not with all-comers.
Fourth, men of Disney's generation were not touchy-feely postmodern types. You can read biographies of Fabians, Communists and other leftists of the period to find that they, too, were emotionally distant. However, because the Left control most of the media messages, you'll be less likely to readily discover such facts.
In closing, Walt Disney was no better or no worse than many other men. He ran, with his brother Roy, a globally successful company. He was a husband and father of two daughters.
He brought a lot of people much happiness. Nearly every Westerner today remembers seeing their first Disney production, whether a cartoon or film. Millions have also visited Disneyland and Walt Disney World as well as his park outside of Paris.
Perhaps that is all that remains to be said.
My thanks to Lleweton for sending information on this English chaplain and poet from the Great War.
Geoffrey Anketell Studdert Kennedy (June 27, 1883 – March 8, 1929) is today remembered by
the Church of England and the Episcopal Church on March 8.
Studdert Kennedy was known for distributing New Testaments along with Woodbines to troops before and after battle. He also wrote poems, including some frank descriptions of what happened in the trenches. 'To Stretcher Bearers' — the first stanza of which follows — is one of them:
Easy does it — bit o' trench 'ere,
Mind that blinkin' bit o' wire,
There's a shell 'ole on your left there,
Lift 'im up a little 'igher.
Stick it, lad, ye'll soon be there now,
Want to rest 'ere for a while?
Let 'im dahn then — gently — gently,
There ye are, lad. That's the style.
Want a drink, mate? 'Ere's my bottle,
Lift 'is 'ead up for 'im, Jack,
Put my tunic underneath 'im,
'Ow's that, chummy? That's the tack!
Guess we'd better make a start now,
Ready for another spell?
Best be goin', we won't 'urt ye,
But 'e might just start to shell.
Are ye right, mate? Off we goes then.
That's well over on the right,
Gawd Almighty, that's a near 'un!
'Old your end up good and tight,
Never mind, lad, you're for Blighty,
Mind this rotten bit o' board.
Studdert Kennedy was the seventh of nine children born to Jeannette Anketell and the Revd William Studdert Kennedy, who was the vicar of St Mary's, Quarry Hill in Leeds. (Studdert Kennedy is the surname, by the way, not Kennedy.)
After finishing his studies at Leeds Grammar School, he went to Ireland for university, earning a degree in Classics and Divinity from Trinity College (alma mater of Jonathan Swift and other luminaries) in 1904.
He then returned to England and studied for a year at Ripon Clergy College in Ripon, Yorkshire. In Februrary 2013, the Ripon Civic Society mounted one of their green plaques at the site of the former college to remember the famous chaplain. Ripon College Cuddesdon, incidentally, is the successor to Ripon Clergy College.
Studdert Kennedy's first posting was as a curate to a church in Rugby. In 1914, he was appointed vicar of St Paul's in Worcester.
His time in Worcester was to be short-lived, however. When war broke out, he soon volunteered to be an Army chaplain. His ministry took him to the Western Front, where he saw the atrocities of war up close.
The Northern Echo newspaper explains (emphases mine):
The Rev Geoffrey Studdert Kennedy became one of the best known figures on the Western Front for giving Woodbine cigarettes, a copy of the New Testament and spiritual aid to soldiers before battle as well as their injured and dying comrades.
The cleric, who trained at Ripon Clergy College, won the Military Cross for running into no man's land at Messines Ridge, Flanders, to help the wounded during an attack on the German frontline …
Six years after completing his training at the Princess Road college, which closed in 1915, the Rev Kennedy, volunteered as an Army chaplain aged 31, and became attached to a bayonet-training service.
While touring the Western Front with boxers and wrestlers, he gave morale-boosting speeches about the usefulness of the bayonet and became known for his heavy smoking, despite suffering asthma having been exposed to mustard gas.
It should be noted here that some asthma sufferers find relief from smoking cigarettes. There were also no pocket-sized inhalers in those days.
The article gives us an idea of Studdert Kennedy's pastoral manner, particularly appropriate for men who, in some cases, had only minutes to live:
He often became embroiled in battles and soldiers told how the Rev Kennedy once crawled to a working party putting up wire in front of their trench.
When a nervous soldier asked him who he was, he replied "The church." And when the soldier asked what the church was doing there, he replied "Its job".
Soldiers said they liked the chaplain for his irreverent preaching style and salty language, while he described his chaplain's ministry as taking "a box of fags in your haversack, and a great deal of love in your heart".
After the Armistice was declared on November 11, 1918 at 11 a.m., Studdert Kennedy returned to England and was appointed priest-in-charge of St Edmund, King and Martyr in Lombard Street in the City (financial district) of London.
He published two volumes of poems in the aftermath of the war, Rough Rhymes of a Padre (1918) and More Rough Rhymes (1919). These poems and others helped to make him
the country's most famous religious author.
It wasn't long before Studdert Kennedy made his political views clear. These he had absorbed during the War. He became what is known as a 'Christian socialist', although, in reality, you can be a Christian or a socialist, but not both. He was also a pacifist.
He wrote hard-hitting works: Lies (1919), Democracy and the Dog-Collar (1921) (featuring such chapters as "The Church Is Not a Movement but a Mob," "Capitalism is Nothing But Greed, Grab, and Profit-Mongering," and "So-Called Religious Education Worse than Useless"), Food for the Fed Up (1921), The Wicket Gate (1923), and The Word and the Work (1925).
He left St Edmund's to tour the country as part of the Industrial Christian Fellowship. He was taken ill during a speaking engagement in Liverpool, where he died in 1929.
a crowd of more than 2,000 turned out for his funeral procession, and tossed packets of Woodbines onto the passing cortege.
The citation for Studdert Kennedy's Military Cross reads as follows:
For conspicuous gallantry and devotion to duty. He showed the greatest courage and disregard for his own safety in attending to the wounded under heavy fire. He searched shell holes for our own and enemy wounded, assisting them to the dressing station, and his cheerfulness and endurance had a splendid effect upon all ranks in the front line trenches, which he constantly visited.
Photo credits: Northern Echo
Monday, November 11 is Remembrance Day, sometimes called Armistice Day.
Past posts have discussed the history of the commemorations which occurred a few years after the Great War ended on November 11, 1918, which you can find for my posts on this for 2012, 2011 and 2010.
This year I have borrowed an illustration from a Remembrance Day and Poppy Appeal in Rugby (England). The verse is cited during the Remembrance Day broadcasts on the BBC: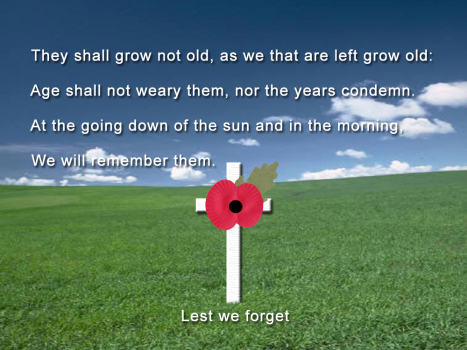 We will remember.
Last week, the story about the Methodist minister in Telford, the Revd Patricia 'PJ' Jackson and her refusal to wear a red poppy for the upcoming Remembrance Day service she will lead made news here in England.
I found out about it thanks to fellow contributor Quiet_Man at Orphans of Liberty. He cited the Telegraph's article, which said that the 'Rev PJ' — as she likes to be known — believes it is her 'democratic right' not to wear a red poppy to commemmorate the soldiers who have died for our freedom.
The Telegraph reported:
She refused to give a reason for her decision but a spokesperson at the Telford circuit said it was because Rev Jackson is in favour of peace.
A church spokesman said: "Reverend Jackson is happy to wear a white poppy but doesn't want to wear a red one because she feels it advocates war which is something she does not believe in.
Jackson is originally from the United States. My American readers can feel free to correct me in the comments on this one, but, as far as I know from my friends living there, veterans have not collected donations to the American Legion or VFW for 25 years or more. I remember donating and receiving a poppy every year. Sometimes they were light blue instead of red; a veteran told me that colour represented the Pacific Theater.
Therefore, it is unclear whether Jackson would have ever known about the tradition of the poppy and Armistice Day, or as we call it in Britain, Remembrance Day.
I wrote more about the story at Orphans of Liberty. It's a long post with several points, so what follow are just a few.
One related to the wording on Jackson's church website:
Although a website does not seem to exist for Hadley Methodist Church, there is one for the nearby Leegomery Methodist Church, the minister for which is one Revd P J Jackson.
It is standard for pastors to fashion their websites to focus primarily on Christianity. Best practice in this area includes a statement of faith and mention of denominational affiliation.
This is what the Leegomery Methodist Church proclaims on its About page (emphases in the original).
The Mission of the Church is to be a "Hug for the Community" through Worship, Prayer, and being loving and caring.
Leegomery Methodist Church was built in 1878, with the Sunday School/Community Room being added in 1953.   The Community Room was refurbished in 2010 and work was completed on the refurbishment of the Church in 2012.   All facilities, which include fully fitted kitchen and toilets, comply with the Disability Act, Health & Safety, Fire Regulations and are Eco Friendly.
The Friends committee organise an Annual Community Family Fun Day, Bingo Evenings, Social Activities, Concerts, Religious Festivals and much more throughout the year. See Forthcoming Events for full details.
All Leaders of our Children and Young People's Groups are CRB checked and the Church has a Safeguarding Policy for Children, Young People and Vulnerable Adults.
Morning Worship is held every Sunday at 11am for which everyone is welcome.
A fun Sunday School for children & young people from 0 upwards also meets each week at 11am.  This is nothing like day school, those attending take part in games, crafts, listen to stories and have lots of fun.
Being a 'Hug for the Community' is not a doctrinal, or a particularly Christian, statement.
Even worse, we don't even find out what time the Sunday church service is until we've got past a mention of the toilets, Bingo Evenings and CRB checks.
I wondered whether Jackson had arrived recently in England and didn't really understand the place the poppy has in British hearts:
It just seems odd that anyone who has been here for a time, especially a clergyperson, would be so obstinate in wearing a white poppy — or none at all — if (s)he were about to lead a Remembrance Day service.
Any visitor or newcomer to these shores cannot miss the red poppies that men and women wear at this time of year, including nearly everyone appearing on television news broadcasts. It's abundantly clear that Remembrance Day is — quite rightly — an important day to the British.
Of course, we cannot forget the spiritual state of seminaries these days:
They outdo The Guardian in their adoption of 'peace and justice' as well as identity politics. For them, Scripture is but a footnote and none of it is history but rather liberation allegory. I know someone relatively conservative who went through the system over 20 years ago, when female seminarians began holding church services with prayers addressed to 'God, our Mother'. Even now, having served in churches for a few decades, she gets more radical by the year. It sounds as if Ms Jackson might have experienced something similar.
I concluded by saying I hoped the minister would change her mind after talking the issue over with local members of the Royal British Legion, councillors and congregants.
Jackson's local paper in Telford, the Shrophsire Star, spoke to local people planning on participating in the Remembrance Day service:
David Moore, president of the Hadley and Leegomery Royal British Legion, said: "From the military members who attend the service, and there are a lot, we were very shocked.
"If someone decides they don't want to wear a poppy, that is down to the individual, but if they are officiating a remembrance service, just for an hour, an hour and a half, it's not going to cut anyone's throat to wear one."
Quite right.
UKFred, who kindly commented on the aforementioned post, is an Englishman and a Methodist. He also wrote about the Telford poppy controversy and had this to say about war:
… I can understand that the Rev PJ Jackson does not want to glorify war. Neither do I. It brings to a sudden end too many lives for questionable reasons, as in the Iraq 'adventure' for the glory of Tony Blair and George Bush.
We need to think about who causes wars. It is not the rank and file soldiers, sailors and airmen. It is the politicians. The rank and file servicemen are the ones who pay the price, in terms of lives and limbs, lost sight and lost mental faculties. Wearing a red poppy is a means of remembering and honouring those were killed and injured allowing politicians to make their quests for glory and a place in the history books. Serving one's country in the armed services is an honourable profession and a dangerous one …
We all accept that we need clean water and a separation of the foul water in sewage from the water we drink, but not all of us will work to maintain the sewers and get our hands dirty. Sometimes we need a similar separation of the clean and the foul in world politics, and it is the military, the ordinary servicemen, who get their hands dirty to keep these two apart …
I'll end with Quiet_Man's observations on Orphans of Liberty:
… I do believe the idiot woman is misinformed as to the red poppy's significance as it does not commemorate war, does not glorify war nor does it advocate militarism. It reminds us of sacrifice and those who fell as well as those who served. There is precious little glory in war as any conversation with soldiers, sailors or airmen will tell you. Nor does the horror of seeing your friends killed or maimed give them anything other than grief.
As for the white poppy, well it was used by the Women's Cooperative back in 1933 as a symbol to end all wars, six years later the UK was fighting for its life agains the Nazis, there was the horror of the concentration camps and the systematic murder of foreign nationals on their own soil by the Einsatzgruppen der Sicherheitspolizei und des SD. The white poppy to me symbolises the peace at any price mindset of the hard of thinking aka the left who are happy to disarm civilisation, though no one else. These were the same people who wanted to ban the bomb (only for the UK) spied upon their own citizens and raved about the socialist paradises across the iron curtain and who still bitterly regret the people there throwing off the yoke of the communists.
The white poppy to me does not symbolise peace, but surrender, this is my view and one which I hold to …
I hope that, for those who are unfamiliar with it, this explains the meaning of the red poppy, discourages people from wearing a white one and calls all of us to pray this Monday, November 11, for the families of those who died whilst in service to their country, and us.
Let us also remember those who have returned from war injured, maimed and, possibly, forgotten. Too many are sleeping rough with no home and no job, through no fault of their own.
My thanks to Lleweton for passing along this gem, now buried in late 20th century history: government-provided tobacco 'tokens', issued to pensioners between 1947 and 1958.
What follows is part of a long transcript from Hansard, which documents and publishes Parliamentary debates. This is from November 19, 1957; it covers the discussion for repealing tobacco relief.
MPs offered two principal reasons for this, neither of which was health-related. One was that it cost too much and state pensions were increasing to cover cost of living hikes, among them, the price of tobacco. A second was that the tobacco relief was somewhat discriminatory in that it did not cover younger groups at a disadvantage, e.g. war widows, those injured in industrial accidents.
Emphases mine below.
Clause 3.—(REPEAL OF TOBACCO RELIEF FOR PENSIONERS AND EQUIVALENT INCREASE IN PENSIONS UNDER OLD AGE PENSIONS ACT, 1936.)
HC Deb 19 November 1957 vol 578 cc211-95
Mr. John Paton (Norwich, North)  When we adjourned last night, Sir Charles, I was addressing the House in support of the Amendment moved by my hon. Friend the Member for Mansfield (Mr. B. Taylor). Last night, I described this Bill as a mean-spirited Measure, and the proposal that we are discussing now I described as perhaps the meanest in this mean-spirited Measure.
I want now to go a little further and say to the Minister quite bluntly and plainly that in some of the aspects of the proposal to abolish the tobacco tokens the consequences are such that he and the Government ought to be ashamed to put it before Parliament. It is one of the worst examples of penny pinching from the poorest of the poor that we have seen for many a long day. The Minister himself, in his heart of hearts, probably is not too proud to have to stand here today and defend those aspects of the proposal to which I shall shortly refer.
Tobacco tokens were introduced as an offset for old-age pensioners to a very steep rise in the Tobacco Duty. They were introduced by my right hon. Friend the Member for Bishop Auckland (Mr. Dalton), when Chancellor of the Exchequer, and they were one of a number of examples of his imaginative insight into matters of this description when he held that office.
The concession that was made by the granting of the tobacco tokens is one that experience has shown all of us to be 212 highly prized by the retirement pensioners who have been in receipt of it. In many cases, there is no doubt whatever that it has only been by the granting of the tobacco tokens that these old men, and, nowadays, some old women too, have been able to have the comfort and solace of tobacco in the last years of their lives.
Not only has this concession therefore attained very great importance in the lives and circumstances of our old people, but through the course of the years it has ceased to be treated as something separate and distinct from the normal family income and has now become completely interwoven into the peculiar pattern of the spending of retirement pensioners—a peculiar pattern imposed upon them, as we all know, by the narrowness and rigidity of the circumstances in which they have to live. Therefore, there is no doubt whatever that this is not an unimportant proposal in the Bill but is of very great importance to the majority of retirement pensioners.
Even some of those who in future will receive a net increase of 7s. 8d. on the existing pension—I am referring to those who do not get any assistance from National Assistance—will find that the abolition of the tobacco token is quite likely to limit them in the exercise of what they have found to be a great comfort in their existing conditions. I believe that many of them, addicted, as most of us have been at one time or another, to tobacco, would sacrifice essentials that are necessary for their physical well-being in order to get their smoke. This is, therefore, an important matter.
My concern, of course, is not so much for those who will receive the 7s. 8d. as a net increase but for that considerable fraction of the old-age pensioners living on National Assistance who now will get a nominal increase of 5s. a week in their scales—a miserable, mean addition to an inadequate allowance—but whose condition will be definitely very much worsened by the fact that the net addition, if they have been in receipt of tobacco tokens, will be only 2s. 8d. on the present scales. That is a completely derisory advance to give to these people at this time.
For them, the abolition of the tobacco tokens will be a heavy body blow and a 213 great hardship and one which, if it is permitted to go through, will be a disgrace to the Government and to the Minister. I am quite sure that all hon. Members of the Committee, on both sides, would not wish to cause grave hardship of this kind to this body of unfortunate people who, having no other resources, are compelled to depend upon the assistance given them by the Assistance Board.
3.45 p.m.
If a reasonable counter-proposal can be made, it should receive the support of all hon. Members. I suggest to the Minister that his proposal is not the only way in which he could accomplish his purpose We ought to ask ourselves whether, without too much disturbance to the Minister's financial calculations, there is not some other and better way by which we might, in due time, get rid of the tobacco token without hardship to those who now receive it. I believe that there is such a way.
We must all agree that, sooner or later, this anomaly would have to go, but must we accept the Minister's idea of doing it in one fell swoop, with all the great hardship inevitably caused by it, to this section of people? Could we not temper the wind to these shorn lambs by extending the period over which abolition might be effected? Could we not accept the idea which I am about to suggest, which would give the Minister his result, but not immediately?
Instead of abolishing the tobacco token for everybody when the Bill becomes law, why not put a ban against new applicants for the tokens? Let those who are now in receipt of tokens work out their short remaining time in receipt of them, but do not add any others who have never yet had them. If we adopted this proposal, it would have the effect that a very considerable part of the £16 million that the right hon. Gentleman intends to save in the first year must continue to be paid. We all know, however, that it would be a rapidly diminishing sum. In the natural course of things old-age pensioners die.
Therefore, from the day that the proposal became law, the amount of money having to be provided for the tobacco tokens—[Interruption.] I do not know why the Financial Secretary to the Treasury thinks that this is a subject fit 214 for sniggering. From the very day that the proposal was passed into law, the amount of money that would have to be provided for tobacco tokens would be a diminishing amount; and as everybody realises, before many years had gone the Minister's objective would be realised and the last recipient of tobacco tokens would have ceased to trouble either the Minister or the Chancellor of the Exchequer.
…
Mr. Hugh Dalton (Bishop Auckland) I take a rather special interest in this matter since, as has been said several times, it was I who introduced these tokens in my Budget of April, 1947. Very briefly, I want to remind the Committee of the position with which we were then dealing. I had put up the Tobacco Duty by nearly 50 per cent. That was a shock to some people, as I intended it should be, because my purpose was to check smoking and save dollars. I also got much additional revenue, although that was not my primary purpose.
It was reported to me that two Conservatives travelling together in a train said, "This so-and-so has got us whatever we do. If we go on smoking, he will get the money, and if we stop smoking, he will save the dollars." I was rather delighted to have been enabled to create that dilemma for some.
As a result of that steep increase in duty, with the purpose of which there was broad sympathy at that time, the price of a packet of 20 cigarettes rose from 2s. 4d. to 3s. 4d., or, for cheaper brands, from 1s. 9d. to 2s. 6d. I was pressed by a large number of my hon. Friends to seek some means of cushioning that additional burden—admittedly and deliberately a heavy burden if smoking was continued on the 216 previous scale—for old people whose habits by the time they had reached pension age were well formed and who, if they had been smokers for many years, would have felt it a grievous hardship suddenly and sharply to have cut down their consumption of tobacco.
We therefore set about devising a plan by which that cushioning should take place. My right hon. Friend the Member for Llanelly (Mr. J. Griffiths), at that time Minister of National Insurance, and his and my officials, went into conclave on the matter …
The tobacco token scheme which we have had for ten years has brought great comfort and satisfaction to literally millions of old people, and has been a humane adjustment of our tax law which was bearing very hard and grievously on a certain section of the community. It has always been open to argument that this scheme was anomalous and peculiar and that, while it might serve a transitory purpose, it should not be part of our long-term tax pattern ...
… what the Financial Secretary said … was this: It was a complicated scheme, difficult to work out and expensive to operate. It costs about £125,000 a year to operate the scheme. These are the words of which I morally complain: When it came into force about 1,400,000 retirement pensioners benefited from it, about 40 per cent. of the total. That figure has now risen to 2,600,000, or 54 per cent. It is a remarkable but little noticed sociological fact that the proportion of habitual smokers among retirement pensioners has risen from 40 per cent. to 54 per cent. over the last ten years. Or has it? "
… In the first place, at the beginning of the ten years, it was a new and unfamiliar procedure. I have no doubt at all that in the first year a large number of the old people who were fully entitled to these tokens did not realise it or did not know how to obtain them. That will explain why, at the beginning, the proportion of old people claiming was unexpectedly and unreasonably low. Many people should have got them right from the start, but did not claim for some time. That is the first reason.
Gradually, as years passed, the procedure became more familiar, and a smaller number can be deducted on grounds of ignorance of what they were entitled to. That is one factor, and the second is this. The total number of old people has, of course, gone up over the period. Roughly, the number of old-age pensioners has gone up from 3½ million ten years ago to 4,800,000 today, and new age groups in ten successive annual stages have come within the ambit of the concession …
Dame Irene Ward (Tynemouth) … All I want to point out is that my complaint against the Socialist Government and the right hon. Member for Bishop Auckland, as a Socialist Chancellor, is that whatever they did they never had the money in the Treasury to meet the obligations of their legislation. The right hon. Gentleman [p]ut that tax on tobacco at that time not only for the purpose of stopping the drain on our dollar resources, but also because the Treasury was beginning to get extremely hard up for money ...
The right hon. Gentleman gave a detailed explanation of his action, but he failed to point out that there were no tobacco tokens for the sick, or for the war disabled, or for the industrially injured, or for the widows who were not drawing retirement pensions but had to pay excessive contributions in order to get those retirement pensions when they reached the appropriate age, or for the spinsters who were still struggling to earn their living and needed to pay for their stamps before they obtained their retirement pensions, or over a very wide field of people who were also entitled to them. Part of the trouble has been that for a very long time there has been a feeling among the sick, industrially injured, war disabled, police pensioners, Civil Service pensioners, Post Office pensioners and railway superannuitants, that not only were they deprived of their little bit of cherishing but that they had to contribute to the cherishing of other people.
This turned into a very human problem. I wish that we could have found some way of meeting the difficulty without producing an injustice in respect of 222 those old-age pensioners who had been drawing tobacco tokens. I want to say, with all the emphasise at my command, that, although old-age pensioners may have got their little comfort from tobacco tokens, consideration was not given to the men who were industrially injured, the men and women who were sick—particularly the men, because they smoke more than women—and whose families were reduced to sickness benefit, and those men who, deprived of doing their daily job, would have dearly loved to have tobacco tokens so as to get that little bit of comfort which other people had. The Socialist Government were always in such an unholy muddle that they had to make discriminations, and when they did so they discriminated against whole groups of equally worthy people …
The saving to the Treasury on these tobacco tokens is quite considerable. I want to tell my right hon. Friend that I hope plans will be so thought out that we shall be able to use the money that we save to put all old-age pensioners in an equal position. This money should be used to meet the position of those living on small fixed incomes. I hope that my right hon. Friends on the Front Bench will remember that. At the same time, I hope that they will sweep away the right hon. Member for Bishop Auckland and blow him out of his seat on the Front Bench.
…
Mr. Thomas Hubbard (Kirkcaldy Burghs) My argument today is not against the removal of the concession, because I still feel that old-age pensioners are entitled to consider themselves independent of concessions. They have their own pension rights and they should not be dependent on concessions, although I give full credit to my right hon. Friend the Member for Bishop Auckland for taking the action which he did. My complaint is that today the position is completely reversed. The Minister has removed the concession and, at the same time, he is cutting National Assistance by 5s. He has not removed the tobacco tokens at a time when pensioners can feel that their pensions are reasonably adequate ...
I have listened to the hon. Lady the Parliamentary Secretary. On more than one occasion she has, unfortunately, suggested that old people did not spend their money as wisely as they should. I have heard her say that she thought the pension was adequate to the needs of the old-age pensioners at this time.
Mr. Raymond Gower (Barry) … In reply to the hon. Member for Kirkcaldy Burghs, who made such a lot of capital out of what he professed to be the inadequacy of these proposals, I should point out that this has never been a living pension. Although hon. Members opposite in some mysterious way pretend that a person could live on 26s. a week when they were in office, we know that it has never been a living pension. I do not doubt that in different circumstances we could have a sum of money payable to all aged people which would be adequate to their needs.
Mr. W. A. Wilkins (Bristol, South)  I want to recall to the mind of those hon. Members in the Committee today, and particularly to the mind of those who were in the Committee when the tobacco duty concession was first made, the circumstances in which it was granted. It was, let us admit, a unique concession. Members of the Committee at that time were pleading with my right hon. Friend the Member for Bishop Auckland (Mr. Dalton) to make all sorts of concessions to all sorts of people. It was a unique concession, because it was made at a unique time and on a unique occasion.
I would remind the Committee that this concession was granted in April, 1947. We had just come out of a terrible war, a war which had left this country bankrupt, to use the words of the right hon. Gentleman the Member for Woodford (Sir W. Churchill). Those are not the words of any Socialist. Those words are on record in the diary of Henry Morgenthau, who was the American Secretary of State. That was the circumstance in which we found ourselves in Britain at that time.
Mr. R. H. S. Crossman (Coventry, East)  The Minister will agree, I think, that the arguments put from this side have made a very powerful case. I have listened to all the speeches, I think, and I hope he has noticed that no one has said that, in principle, we believe that this type of concession is the sort of way old-age pensioners should be treated. Every single person has said that, in principle, of course, there should be a money payment sufficient to enable pensioners to buy a decent standard of living. The whole case that we put has been that it is outrageous to withdraw a concession in the kind of package deal the Minister is providing in the Bill.
I would emphasise one point made in the very moving speech of my hon. Friend the Member for Kirkcaldy (Mr. Hubbard). The fact is that this concession has been, in the course of ten years, built into the standard of living of millions of old-age pensioners—it now forms part of their standard of living—and if it is taken away their standard of living is thereby cut. It is a cut of 2s. 4d. a week to an enormous number of pensioners who have been accustomed to it …
Although Tobacco Relief was repealed and ended in 1958, what is interesting is the heartfelt and empathetic argumentation on the part of MPs who objected to the sudden withdrawal of this concession benefiting the elderly.
Today, the debate has changed considerably, and not just with regard to tobacco. Today, Britain's elderly are expected to choose between food and fuel. They are expected to hand over their houses to a company working with the state that effectively puts the equity towards the cost of long-term care.
Oh for the days of the mentions of 'decency', compassion and dignity with regard to our elderly, pretty much on the scrapheap in favour of others who have no appreciation of that which they worked and fought for.
However, ending on a tobacco note, Hansard's transcript of this policy debate provides useful material for the amateur historian and researcher.
The time is coming when recreational drugs will be seen as more acceptable than tobacco or alcohol.
Ironically, this includes cannabis, most often smoked and leaving similar deposits to tobacco in the lungs. Yet, that's okay — especially in California — when having a quiet cigarette is not.
Young people will increasingly pick up on messages they receive from neighbours, fellow students and media that drugs are less toxic and fatal than cigs and a pint.
The UK
In Britain, Professor David Nutt of Imperial College London has been writing books and contributing to The Guardian about the relative safety of controlled substances. He was, under the previous Labour government, chair of the advisory committee on the misuse of drugs until the then-Health Secretary Alun Johnson sacked him for his views.
Nonetheless, in the middle of the last decade, Nutt's views — critical of tobacco and drink — made mainstream media. A morning panel news show, The Wright Stuff (Channel 5), began picking up on the professor's 'fags [cigarettes] and booze bad, drugs okay' theme, quite irresponsible at a time when small children are running around the house. The show's host, Matthew Wright, often went on hateful verbal tirades against smokers to such an extent that, in time, I stopped tuning in on my days off.
A youth culture site, VICE United Kingdom (a sister site of VICE in the US), says that drugs attract a 'so what?' response. Kevin Holmes researched the topic earlier this year and wrote:
After the backlash against Thatcherism died away, we settled down to the comfy slippers of consumerism and our drug taking mirrored that. It was no longer a tool for stimulating change or kicking against the establishment, instead drugs, like everything else, simply became another product to be consumed.
That's also down to the general complacency surrounding drug use. No one cares. The 60s and the 80s criminalised us all and now drugs – at least the ones used by the middle classes – have lost their taboo, normalising them.
He then discusses what are likely to be the new trends in drug use. Language alert for those who are concerned about such things, but it's worth reading his article to find out what is coming next. He also discusses the criminality of those who sell drugs — nowadays likely to be members of an organised crime gang.
Bottom line — what we are seeing, and not just in Britain, is the normalisation of drug use and the denormalisation of legal products such as tobacco and alcohol.
A survey published in July 2013 shows that drink, cigarette smoking and drug use have fallen in the UK among young people. Or has it? The Telegraph reports:
The survey also revealed a wide variation in the behaviour of children across the country, with just over half of pupils in the North East having drunk alcohol compared with less than a third in London.
The North East also had the highest proportion of smokers, with 30 per cent of pupils having tried cigarettes in contrast to 22 per cent in London, and the East and West Midlands.
But drug use was more common in the south, with 20 per cent of children in London admitting to having used drugs compared with a low of 15 per cent in Yorkshire and Humber and the North West.
I'm not so sure this is such a great result. To me, it seems as if young people living in or near London are more likely to take drugs than smoke cigarettes or drink. That is a trend that could spread northwards in time. Time will tell.
In closing, a personal anecdote: I knew a skunk addict, now clean. He had a lovely wife but they were divorced, partly because of his drug use. She couldn't understand what was wrong with a glass or two of wine in the evenings; he preferred his skunk which transformed his genial nature into an aggressive one. It's interesting that he was able to turn his conservative parents against her. Now all three say, 'Oh, she preferred being with her drinking friends.' It took a while for this man to straighten his life around post-skunk. Unfortunately, he is still very edgy and it is hard to hold a conversation with him. He is hardly a positive example of what happens when a person smokes skunk — which now overshadows the traditional cannabis of the 1960s and 1970s — and, as such, turned me against drug legalisation. Give me a cigarette and a glass of wine any evening.
Australia
In 2010, the Australian government voted to ban tobacco from public view. Since then, they have also adopted plain packets, believing that cigarette packets entice kids to smoke. A fallacious argument when one considers that drugs universally come in plain packaging.
Freedom2Choose excerpted an article from the Canberra Times, which says that although tobacco products are now shrouded in olive drab packets and kept behind shutters:
But while tobacco is banned from display, equipment used to consume illegal drugs such as cannabis, methamphetamine and cocaine can be displayed at shopping centres throughout the ACT.
Attorney-General Simon Corbell said there are no plans to ban the display of drug paraphernalia in the ACT.
"The Government is not currently considering a ban on the display of such drug smoking paraphernalia," a spokesman for the minister said.
Amazingly, you can go to the mall and see all manner of paraphernalia for use with illicit drugs, but you cannot see the legal product — tobacco — on display.
What message does that communicate to young people? That mind-altering drugs are preferable to tobacco.
Again, we see the denormalisation of a legal product which does not rewire the brain in favour of all manner of illicit substances which have a deleterious effect on human behaviour.
The United States
A survey published in 2012 shows that illicit drug use is beginning to climb among adolescents.
American teens are not only smoking less but are drinking less than their European counterparts. That's not to say American teens are angels as they, on average, use more illicit drugs than European teens.
NewsTimes.com dug a bit deeper to explore the reality of American schools and students' perceptions of drugs. Cannabis is becoming more acceptable:
… in 2012, 61 percent of public high school students said drugs were at school compared to 54 percent in private schools.
"It's not the schools' fault that kids are doing drugs, but that's where access is," Jorgensen said. "This is a culture problem. They think it's all right. Teenagers are concrete and decriminalizing marijuana makes them think it's legal."
Jorgensen has been in practice for 27 years, and said once it was the troubled teens with psychiatric problems who used drugs but now use is ubiquitous.
Research shows that more young people smoke marijuana than cigarettes these days, she said, and since June, when marijuana was decriminalized for medical use, she's had young clients come in shocked they'd been arrested.
"More teens don't feel any fear about trying drugs," she said.
So, drugs are widely available at both state and private schools. More students think that cannabis is legal. More students — even those who aren't 'troubled' — smoke cannabis than cigarettes.
Once again, we see the denormalisation of tobacco — legal — in favour of mind-altering substances such as cannabis.
Encouraging young people to experiment and regularly take drugs is not helped by statements such as this which appeared on Answers.com, excerpted below. The question is, 'What is worse, drinking alcohol, smoking or taking drugs?'
Now Meth is claimed to be the worlds most dangerous drugs often. Meth is a very 'ugly' drug. It makes people's teeth rot out (this is due mostly bruxism and dry mouth caused by the drug, but is actually preventable i the right precautions are taken when using the drug) and does damage to skin and hair, however it doesn't do severe organ damage(except to your brain, which is does damage to your pleasure centers but not much else). So while meth may seem like a really terrible drug it's mostly just 'surface' damage. The meth'd out rages you see people go through really aren't any worse than a drunken rampage if you think about it either.
Now Alcohol is probably the worst drug in existence, period. But there's a few things that keep it from appearing so. Social acceptability is one. It's clean, it's not cut with poisonous chemicals like illegal drugs. It's consumed in a manor [sic] where it get's into your body slowly …
To say that meth is no worse, and possibly better than alcohol, is irresponsible. One wonders how many young people are getting this message from their classmates or some stranger outside the school gates?
If you want to see — and show children — the dangers of meth, have a look at these photos from CBS News. The preface says:
Methamphetamine is an illegal drug that acts as a central nervous system stimulant. Not only is the drug highly addictive, people quickly build a tolerance to it, leading them to use more and more of the substance.
Side effects of using meth include paranoia, hallucinations and repetitive behavior, according to the Partnership for a Drug Free America. People can also have delusions of parasites or insects crawling under the skin which leads them to scratch themselves. Long-term use of meth, high dosages, or both can cause psychosis and paranoia. In some cases, it can even lead to stroke and death.
And this is preferable to tobacco or alcohol?
What follows is not for children or adults of a sensitive nature.
In 2006, the book Millions of Women are Waiting to Meet You: A Story of Life, Love and Internet Dating appeared in the UK.
In it, author Sean Thomas recounts his personal experience in this area. It wasn't something he'd considered previously, however, as a freelance writer, he was given the assignment by a men's magazine.
Thomas was also looking for marriage. He just hadn't met the right lady.
From the Amazon UK reviews, most of his readers found the book highly revealing, partially about the author but principally about how the thirtysomething male thinks with regard to relationships.
Reader Mr Goose made some pertinent points. I, too, have wondered about these things and think we haven't yet seen the fallout from a sexualised society and pornography. It's particularly distressing to read about churchgoing men who can't get away from looking at indecent and damaging material.
What follows is most of what Mr Goose wrote (14 Sep 2011), emphases mine:
… He may have unwittingly become a spokesman for Generation Y, or should we just call it the porn generation? I sincerely hope some more of us read it, I can't help but think that those who found the insights shocking, or disturbing are simply of a similar age to Mr Thomas and not quite au fait with the times and what is going on out there. I can certainly relate very personally to the porn addiction, and how damaging it can be to relationships, your health and your way of thinking, it isn't simply my prediction that this is going to cause big problems for us in the future, with those of a certain age. I guess his experiences must have been in the slightly earlier days of internet porn, and it is marching forward with the times at an alarming rate.
He also touches on in some detail, those horrible aspects of being a male with, at times, a one track mind, and how inconvenient that can be. To fly, most aggressively, in the face of all rational thinking, and you are at times almost powerless to stop it. I said almost. It is refreshing to read about these things, that so often have no outlet, and go completely unsaid. I mean, who can you ever talk about this stuff with, without turning peoples stomachs? Our modern world just isn't built to cope with the way the male mind operates sometimes.
Questions that the more reflective and intelligent of us at times, must despise having to think. But we do all the same, and fret deeply about it. Have I had enough women? etc. I'm not sure he gives you an answer, but certainly, and eventually seems to find his own peace with it. Poignant and touching in places, and somehow re-assuring.
Without massive bravado, although he certainly comes across as un-likable in places, he is able to analyse and admit his own faults and recognise the unsavoury side to it all (the sex tourism, et al). He admits also, that he grew a conscience a little later than may have been ideal (certainly later than me, whether that is a good or bad thing, I haven't decided yet, he certainly had some fun) but admits that he simply cannot blame it on a difficult upbringing, as so many will, and then subsequently be supported by a psychiatrist, in our "it's not your fault" society. No, it is most definitely your own fault, and he worked it out for himself. A nice touch.
So many fantastic insights, if you are at all concerned with this type of thing. As I said, it may appeal more to the younger male who actually wants to think about this stuff, and possibly find some answers, before screwing someone or something up. It will take more than one run through the book to properly absorb it all, for me anyway, it's a keeper …
What is the root cause for thirtysomethings and future generations? Is it too great a focus on sex education in school? Surely, that must be part of it. Get the kids hard wired to think with their genitals instead of with their hearts.
A mother I know told me that on the last day of term before summer break a few years ago in a Church of England school, the class with 11 and 12 year olds was given a lesson in sex education. The film shown was so intense that two of the girls burst into tears and one of them fainted!
This lady's child was not among them, although he came home full of questions which preoccupied him for several days. She found the nature of his enquiries disturbingly intrusive and, no, she's not a prude.
Is it a good idea to burden our children with concepts and ideas before they are ready? I guess we should be thankful that this lad actually told his mother about the lesson that day so that she and her husband could discuss it with him.
However, I predict a general rise in teenage intercourse at a younger age as well as more sexual assaults.
I also noticed at the last place I worked that the twenty-somethings had an unhealthy preoccupation with sex. They had an uncanny knack for turning anything one said into innuendo. It isn't clever and it isn't funny.
People can and will get hurt from the sexualisation process. Parents, please keep the lines of communication open at home so that you can put the correct perspective on what your children learn.
In
the United States, October's health messages focus on the ever-present dangers of domestic violence.
Domestic violence is an immediate health hazard, unlike the big lie about second-hand smoke.
One blogger looking at violence this month, not only at home but also at work and online, is my reader Secret Angel. I have added her site to my blogroll (first tranche).
I would encourage Britain's Tobacco Control advocates to change tack and actually work to help those who are in immediate danger from spouses (men or women), 'boyfriends', school bullies, narcissistic bosses and others.
How many of the aforementioned are responsible for suicides? What is more tragic than to read about (yet) another child who comes home from school and quietly hangs himself because he has suffered systematic physical or psychological abuse from his classmates?
How many spouses are responsible for maiming their wives or husbands, causing them to live in fear?
What about men and women who go to work every day only to be subject to psychological abuse by a a narcissistic superior who may be responsible for their physical or mental illness?
These are immediate health hazards which result in damaged or dead individuals, broken families and dysfunctional atmospheres. We'll never know how many people are actually affected by domestic, school or workplace violence. Most cases never make the newspapers or online media.
Yet, smoking is the immediate number one health hazard?
Again, I would appeal to Tobacco Control to examine their hearts and change their line of work.
But then, that's probably asking for the impossible, since Tobacco Control are also part of the bullying culture.
What all of us reading this can do, however, is to join Secret Angel in praying for those who are in danger from violence and verbal abuse, wherever it takes place.
On September 19, the CEBR, a professional economics consultancy sent a letter to The Scotsman about the spurious claims made by the anti-tobacco industry, excerpted below (emphases mine):
An alliance of anti-smoking campaigners has attacked our work in your columns (Letters, 25 August) stating that we had predicted that "serving times following a display ban [for tobacco products] could double. It makes for great headlines – but it didn't happen." But the tobacco display ban for small shops, which are the main shops affected, does not come into force until April 2015. So it couldn't have happened yet!
The anti-smoking campaigners are either unaware of this, which shows a culpable degree of ignorance, or are being extremely dishonest in attempting to mislead the public.
Anti-smoking campaigners have consistently tried to bury their heads in the sand about the economic effects of anti-smoking regulations.
In 2005, CEBR wrote a report which predicted that the smoking ban in pubs would cause sales to fall and thousands of pubs to close. The anti-­smoking campaigners tried to assure us that this wouldn't happen – but it did …
Anti-smoking campaigners (many of whom work for organisations that are well funded and with highly paid senior staff despite their charitable status) would do better to stop trying to smear and bully those who point out the practical implications of their proposals and instead use their energies to try to minimise those effects which are negative – and we would be happy to work with them if they do so.
Pubs have been closing in record numbers since July 2007. Although low performers were closing before that — mismanagement or natural attrition because of changing demographics — the smoking ban put paid to thousands more establishments which now stand boarded-up or have been demolished.
The Pub Curmudgeon carries a running total in his left-hand column of pub closures over the past six years. As I write in September, it is an astonishing 12,974.
'So what?' some will say. The issue is that pubs enabled people to gather after work or dinner to meet with neighbours and friends. Everyone could stay indoors — particularly important with our British weather — and enjoy themselves.
Some of us thought with the smoking ban that Tobacco Control would go away. However, it seems to get bigger and bolder, as the CEBR letter infers. The NHS has begun its second Stoptober campaign and, with that and pub closures in mind, I ran across this comment online:
If I could de-activise the ad for 'Stoptober' which has just appeared on my page here, I would. No choice though. It just comes up. Actually, I'm 78 and for reasons which have nothing to do with those unlovely zealots, I don't smoke these days, but I wish they would mind their own business. Cannot some separate space be provided for people for whom tobacco provides a little peace of mind and yes, solace, in their lives and maybe in great sadness? I'm thinking especially of pubs – i.e. Smoke Rooms, remember them? That way the nostrils of the fastidious elite – as they see themselves – would not be offended, an elite which congratulates itself on not being 'as other men are'. OK, no-one in my social circles smokes these days … If I still smoked I would not smoke in your presence. When you are absent why should you stop me from lighting a pipe and having a chat with an old friend in an old-fashioned pub?
Former pub-goers with smoking friends began having their own house parties, where everyone brought his own drinks. That goes some way towards preserving friendship and camaraderie, especially when smokers do not have to go outdoors.
However, as the above comment indicates, there are others who, for one reason or another, are not part of the 'smoky-drinky' house party scene. And it is here that the loneliness sets in, most acutely among the elderly.
Loneliness can be a greater killer than tobacco.
Around the time of the ban, Marketing Week (a print edition from June or July 2007) estimated that 65% of pubgoers were smokers, therefore, an important — if not essential — part of their market.
Nik Lowe at Oh what NOW! ran a poll asking if pubgoers would return if smoking rooms were reinstated. Sixty-two per cent of respondents replied 'most certainly'. One of his readers noted that his results aligned with those in a recent Daily Mirror poll.
The Pub Curmudgeon also ran a poll. He asked readers to give their reasons for not visiting pubs. The top deterrent — accounting for 47% of the votes — was the inability to smoke indoors.
Therefore, even with high prices for a pint, people would return to the pub if they didn't have to go outdoors to smoke.
The CEBR letter is right. I would go further and, even though not a pubgoer, ask whether it is time to repeal the ban in pubs and restaurants to allow either a smoking lounge or, better, leave it up to the publican (proprietor) to determine whether to make indoor provision for smokers.
This means that, contrary to the nonsense Tobacco Control spouts, the 2007 ban has not changed many former pubgoers' natural behaviours of enjoying a smoke with a pint.
There was never any public groundswell for a total ban on smoking in pubs, only manufactured figures from Tobacco Control. We have seen since that they were completely wrong. Many publicans have lost their livelihoods as a result.
Job loss, like loneliness, can also impact health, often much more than tobacco.
Frank Davis is one of my favourite bloggers and receives equally insightful comments from his readers.
In his recent post, 'No Right', he explores healthism, advice and law in regulating what is still legal. An excerpt follows, emphases in bold mine:
For the most part, I think that nobody has a right to anything. And that includes me. And so I tend to think that people have no rights. They have no right to life, liberty, happiness, wealth, power, fame, or cooing girlfriends, or anything else. If they really want any of those things, they should go and get them, and not expect them all to be handed to them on a plate as if they had some right to them.
And so my objection to authoritarian healthists is that they have no right to try to force me to live in what they think is a healthy manner, and they have no right to ban people from smoking or drinking in pubs or restaurants. Who gave them the right to do that? Nobody did. So they have no right to impose their beliefs on everyone else.
And I don't agree that "supporters of smokers' rights … object to limitations on the freedom to smoke whenever and wherever they please." Because I don't want to smoke whenever and wherever I please. All my life there have been times (e.g. funerals) and places (e.g. churches) where I have observed restrictions on smoking. What I object to is having almost nowhere I can smoke, nowhere that I can sit down with a beer or a coffee and a cigarette. I don't mind if some places are non-smoking. I do mind if there is no provision whatsoever made for smokers.
And authoritarian healthism is not what "gets used when referring to the advice that we should exercise more or give up our favorite foods simply because they contain excessive amounts of sugar, fat, and salt." I don't mind if people offer me advice. Because I don't have to take their advice. And I never take the advice of healthists anyway. I never have. What I do mind is when people use the force of law to try to make me heed their advice. I think they have no right to do that. And I think that it's an abuse of the law to use it to try to change people's behaviour. I think the law should be about compensating injuries of one sort or other, not enforcing personal preferences or convictions.
The tyranny of state health interventions
One of the greatest travesties in health intervention has been Michelle Obama's ongoing healthy eating initiative for America's youth, which I explored last year at this time.
Not only are secondary students starving because of the small portions of protein, but students who do not fit the physical profile of a pop star suffer additional harm from their classmates. One of Frank's readers, smokervoter, had this observation:
Healthism indirectly caused that young girl in Florida to leap off a tower. Her classmates sneered at her for being overweight and they were egged on in part by Michelle Obama's narcissistic childhood obesity campaign. They'll deny it till the cows come home, but when the president's wife calls you a fatty and a drain on the healthcare system it certainly doesn't help things.
Meanwhile, most Americans know that Mrs Obama eats whatever she likes wherever she goes. She also loves French fries, as I noted in my aforementioned post. It is interesting that she can eat with impunity — and questionable manners — at a time when many families depend on a hearty school lunch for their children, one which American state school children are not receiving.
This is Mrs Obama in action at the Inauguration lunch in January 2012. Let nothing come between the First Lady and her food:
Health provision and one's twilight years
A number of Frank's readers rightly considered themselves sovereign over their own bodies. Yet, they wondered what measures the state would take to usurp that sovereignty.
Obamacare looks increasingly like a tax on your body — perhaps a tax on life itself.
What is God-given now seems government-owned and operated.
And it gets worse as one grows older. One of my readers, Lleweton, wrote about his recent experience at the GP's surgery (NHS):
At a rapid-fire health interrogation recently (it was officially a routine check-up) I was questioned as to how far I walk and how often, how often and how far I cycle, and how much housework I do each week. I've quite severe arthritis but that doesn't seem to have been noticed. And it does limit how far and how often I walk. All these questions were on a screen, waiting for the 'statistics'. I was certainly informed, after inquiring about it, that this quiz had been instigated by the Government. Had I any goals? Look out, I thought this Government has ways of making me lose weight, stop smoking. That's what they want me to talk about. I won't take their patronising, nudgeful bait.
But why should the Government have my 'statistics' without my conscious consent? I was barely given time to answer as the questions landed on my startled mind. Obviously the 'stats' needed figures. 'Sometimes it's this and sometimes it's that. Sometimes it's not at all, depending how I am (I am 78).' No box for that. 'How many units?' 'That's too many'. And so on. 'I've got you down as a smoker'. Not since last December. On and off before that. Mainly off since I was in my early 60s. Clearly no box for that on the health centre screen. Oh and how about my waterworks? 'Well I had a radical prostatectomy (yes cancer) many years ago. It's in my notes.'
If I'd been depressed, recently bereaved, suffering from a terminal disease, lonely, broke and without hope (I don't think my interrogator would have registered any of that, so fast did the questions have to come, according to the tyranny of the screen) I would have gone home, lit a cigarette and opened a bottle of whisky. And I would not have cared whether I lived or died. Actually all those actions might well have cheered me up. How dare I be happy when I sin against the State? These fanatics are basically anti-life. But life springs back, again and again, and always will. When I think of all the tyrannies in history under which people have laboured, suffered and prevailed, I acknowledge that my dying generation has no claim to be exempt.
Some say, 'Well, as the NHS is free, they can ask what they like.' However, Llew, like millions of other Britons, has paid into the system for many years. 'Free' means that we get our care at no extra charge; however, it is tax which enables it to function in the first place. And it is the British public which pay those taxes, so we pay the salaries of the NHS and the Department of Health.
We pay for a health service, not totalitarian control over the life and free agency that God gave us.
Your money and healthism
I call healthism secular pietism, because it is a religion, having replaced Christianity over the past two decades.
Still, whatever we call it, we are all paying for public or private healthcare, sometimes both. Along with this comes preventive medicine.
Preventive medicine is an industry in and of itself. How many people actually need to go for an annual checkup? Relatively few. Healthcare companies and providers see the money to be made with mandatory tests, increased prescriptions and behavioural modification.
This applies equally to the NHS. The last Labour government could see the money rolling in from smoking cessation, so public money financed a payment of £45 to doctors, pharmacists and — get this — community groups for every person they signed up for smoking cessation programmes.
One person took advantage of the scheme and ended up in prison:
Harry Singer, 54, took advantage of the Government's smoking cessation programme which pays doctors, pharmacists and community groups £45 for every patient they convince to give up for four weeks.
Stop Smoking Counsellor Singer received £89,505 from the NHS for signing people up to programmes to kick the habit. But many of the 'registrants' details were taken from other surveys or were friends who either did not smoke at all or had no intention of giving up.
Jailing Singer for 18-months, judge John Hillen said the antismoking scheme was "amateurish" and "cavalier" and blamed the Government's target-driven culture.
"To pay lay people, albeit briefly trained, as stop smoking counsellors for recruiting and spending a few sessions with smokers is an astonishing way to spend public money," said the judge.
I agree with the judge, however, I think the payment scheme is still operating.
With regard to interrogation Lleweton experienced, there's money in that, too. One of Frank Davis's readers, a retired GP, Dr Ian Dunbar wrote:
Doctors in the NHS are paid for obeying edicts, rules and regulations laid down by the Department of Health rather than treating patients. The more obedient they are the more they get paid. That the NHS is not fit for purpose is underlined by the fact that it is reported that people who do not feel very well often have to wait forty-eight hours for an appointment with their family doctor, four hours in Accident & Emergency and weeks and months to see a specialist.
So, there you have it — and from a physician, no less.
God gave us all life. Yet, our corrupt governments act as if they granted it and as if it were theirs to micromanage.
Either we choose to play along or resist where we can. As we have seen, our government 'betters', particularly in matters of health and morality, have serious things to hide.
How much do we owe them where our health is concerned? Nothing beyond our taxes, I say.