You are currently browsing the tag archive for the 'England' tag.
Those who miss the Paralympics are in luck: Sochi's 2014 Winter Paralympic Games are on this week.
Britain's Channel 4 and sister channel More4 are broadcasting them throughout the day with a half-hour highlights recap in the evenings at 7:30 (GMT).
As in 2012, Paralympian Ade Adepitan is hosting the coverage. He is accompanied by Olympians and Paralympians alike to walk us through the strategies and finer points of the events.  I learn more about sport watching the Paralympics than I do the Olympics; that's how good the coverage is.
I enjoyed watching today's curling and downhill skiing events. Having fallen behind at one point, Team GB beat the Koreans 8 – 4 in the curling. The American Tatyana McFadden came second in the women's skiing event which was broadcast after the curling finished. One of her American counterparts won.
I hadn't realised that McFadden also competes in skiing. Up to now, I thought she was exclusively a wheelchair racer during the summer months. Her abilities in both seasons' events are remarkable. This short YouTube video features her discussing health issues and a love of sport:
She and her younger sister Hannah — from Russia and Albania, respectively — were rescued and adopted by Deborah McFadden, on a trip there as part of her work as a commissioner of disabilities for the US Health Department under President Clinton. Mrs McFadden and her husband adopted Tatyana first. They adopted Hannah not long afterward, once she was located in another orphanage.
On McFadden's Wikipedia talk page, we find this comment. Those of us who followed the 2012 Paralympics will know that:
Tatyana and Hannah McFadden were the only sisters to compete in the same Paralympic final (100m – T54 in London 2012). –Kasper2006 (talk) 05:03, 30 July 2013 (UTC)
For me, the Paralympians are the real heroes of the summer and winter Games. Some, like McFadden, were born disabled. Others, like Adepitan (who contracted polio as an infant in Nigeria), suffered accidents or childhood illnesses which left them handicapped. Yet others were injured in recent wars, e.g. Afghanistan.
They never gave up. They were determined to not sit at home feeling sorry for themselves, which, admittedly, I probably would have done — for a while, anyway.
It's interesting to listen to interviews with parents of disabled children who became Paralympians. All said, 'They got treated the same as their brothers and sisters — through good and bad.'  Yes, it was difficult for the parents. Yes, the parents still worry. However, they gave these competitors a good upbringing in challenging circumstances.
I wish all the teams, GB in particular, all the very best. No matter who wins, their medals are well deserved.
In January 2014, my post on care.data — the proposed NHS patient data collection project in England — described how to opt out of consenting to giving one's health profile to third parties.
General practitioners' (GPs) surgeries were to begin transferring patient data to a central database this Spring for the HSCIC (Health and Social Care Information Centre).
This is different from the Summary Care Record data programme of a few years ago whereby patient information is shared with hospitals nationwide. Patients had to actively opt out via a letter to their GP's surgery.
The care.data information would be made available to interested parties — companies large and small — outside of the NHS system. It is unclear how this would be used, but the patient would have no say as to his privacy.
Although the first tranche of data is said to be anonymised, later data transfers are set to include post code and more sensitive information (e.g. mental health disorders). There is nothing to stop the eventual addition of names or circulation of these data a few years down the line.
As I mentioned in January, MedConfidential and Dr Neil Bhatia's care-data.info sites have much more information about this giant database and opt-out letters.
On February 18, 2014, the BBC website reported that the data transfer has been postponed to autumn 2014. That's good news for all NHS patients living in England:
The organisation has accepted the communications campaign, which gives people the chance to opt out, needs to be improved.
There has been widespread criticism that the public have been "left in the dark" over the plans amid reports not everyone received the leaflets explaining the project.
The Royal College of GPs, the British Medical Association and patient watchdog Healthwatch England have all voiced concerns in recent weeks.
The central database will involve taking records from GP practices and linking them with hospital records …
Dr Chaand Nagpaul, of the British Medical Association, said: "We are pleased that NHS England has listened to the concerns.
"With just weeks to go until the uploading of patient data was scheduled to begin, it was clear from GPs on the ground that patients remain inadequately informed about the implications of Care.data."
Association of Medical Research Charities chief executive Sharmila Nebhrajani said any sharing of data "must be done with care, competence and consent" …
Nick Pickles, director of Big Brother Watch, said: "NHS England has failed to properly communicate to patients or GPs what this new database involves, how it affects our medical records and what the risks are.
"The scheme's benefits are no justification for not properly informing people what will happen and a delay is the right thing to do.
One week after the BBC article appeared, Yahoo!UK carried a Press Association item which says that ATOS, the private firm which carries out disability assessments for the British government, is behind care.data. Hmm. The plot thickens.
The article says, in part (emphases mine):
Under-fire firm Atos is behind the extraction of patient records from GP surgeries as part of the controversial NHS data-sharing scheme, MPs were told today.
The House of Commons Health Committee heard that Atos is implementing and managing the software for removing personal data from GP records.
The data-sharing scheme has been pushed back until the autumn after NHS England bowed to enormous pressure from groups including the Royal College of GPs and the British Medical Association (BMA).
Atos has repeatedly hit the headlines over "fitness for work" tests on disabled benefit claims it carries out for the Department for Work and Pensions (DWP). Last week, it confirmed it was seeking an early exit from its contract with the Government in the face of persistent death threats to staff.
Atos Healthcare said it had been in discussions with officials for "several months" about ending its £500 million work capability assessment contract which is due to run to August 2015 …
NHS England plans to make this "amber" data available to organisations outside the NHS, such as medical charities, think-tanks, data analytics companies and universities.
Private firms such as pharmaceutical companies might also be able to obtain the data under plans to be discussed next month …
This is a diabolical scheme which should not see the light of day, especially if ATOS are planning on terminating their contract with the government.
Let us hope that GPs nationwide can help to put a stop to this outrageous invasion of privacy.
The other night we saw the first in a three-part series on BBC4, Britain's Oldest Businesses.
The first in the programme profiled R J Balson and Son from Bridport, Dorset. Richard Balson is the current proprietor. He works together with his brother-in-law Rudi Boulay. The programme revealed that Richard Balson understood the business to date from 1535. However, a subsequent discovery, shown in the programme, dates back to 1515.
A year away from half a millenium of meat sales
The Balson website includes old family photographs of the shop and their first 'modern' 20th century delivery vehicle. It's a short but fascinating read and, if the show is rerun (let's hope it airs on PBS), it's worthwhile recording for later viewing at home.
We learned that the first two documents dating the business referred to those Balson men being granted a stall at Bridport's shambles, where butchery was done live in the main thoroughfare. More about shambles later in the post.
We also learned that market days — the only time butchery was allowed — were Wednesday and Saturday. Therefore, if you wished to make a living by selling meat, you often had to have another job.
One of Balson's more recent ancestors from the 19th century ran a pub. He was able to sell  more meat through the pub. (These days, outsiders go in to pubs to sell meat of unknown provenance, possibly stolen, at very low prices. Caveat emptor — buyer beware.) However, this proves that selling meat in the pub is an old tradition. It would be interesting to find out how many butchers ran pubs before they were allowed to open a shop throughout the week.
Another detail viewers learned was that the abundance of carcasses on display was generally photographed in the run-up to Christmas as a retail incentive.
Currently, a Balson relative living in the US sells meat from the family firm online. He still has the old date of 1535 in the banner heading.
The Telegraph has a good article — albeit with a misspelling of Thomas More's name — about the Balson family business:
Although he's interested in his business's claim to fame, Richard Balson has never had the time to think about starting a history project. A butcher's life is busy from cradle to grave. He grew up above the shop and remembers his father warning him from an early age that the Balson butchers never earned enough for a retirement …
Next year he will own a business that has been in the same family for half a millennium. Still, it's not all good news: "Nothing exciting happened that year [1515], except the birth of Anne of Cleves," he says despondently.
More disturbing information is in store for Balson, whom we follow in the first part of the series. He becomes increasingly hooked as the story unravels: the shop has, quite miraculously it seems, survived a rather bloody history. One of the Balson butchers lived with a married woman and "had his head blown off" by her 10-year-old son [an accident]; another was sent to a Victorian asylum for electric shock treatment before cutting his own throat [in a wash house, the precursor to a launderette]. What makes these stories close to the bone, as it were, is that they all lived and worked in the same space – as indeed did Balson with his own father.
The Shambles — first butchery sites
'The Shambles' was the name for mediaeval and subsequent butchers' stalls until the 18th or 19th century, depending on the town or city.
A few places by that name still exist today in England — York has The Shambles and Little Shambles thoroughfares. Manchester has Shambles Square.
As the documentary on the Balsons showed us, shambles were set up in the main shopping — high — street in a central location. They were often roofed structures but might have been held up only by columns in some cases to allow freer passage of livestock to slaughter.
Farmers brought in their beasts to be slaughtered and butchered on market days. In principle, the documentary told us, the animals could be cut to order. Any meat not sold on that day could be salted — similar to corned beef — or sent to the local lepers, which was undoubtedly seen as an act of Christian charity; otherwise they might have starved.
However, the shambles represented a hygiene problem over the centuries. Whilst the blood and faecal waste from the animals could flow off into the recesses of the street, in time, cholera and other diseases were rife in these districts. Yet, it would not be until the 18th century when the 'Godless' Enlightenment (as many 21st century American fundamentalists perceive it as a whole) would enable town planning and some degree of cleanliness. At that point, Bath being one example, the shambles were removed from the public square and placed indoors with separate slaughter or butchery facilities at the rear of the shops. Some animals were killed offsite and brought into town. In the late 19th century, butchers were among the first to be able to purchase and benefit from refrigerated cold stores to keep meat fresh throughout the week. From that point on, many meat shops were open five or six days a week.
Shambles — etymology and current meaning
The American Heritage Dictionary traces the word 'shambles' as follows (emphases in bold mine below):
A place or situation referred to as a shambles is usually a mess, but it is no longer always the bloody mess it once was. The history of the word begins innocently enough with the Latin word scamnum, "a stool or bench serving as a seat, step, or support for the feet, for example." The diminutive scamillum, "low stool," was borrowed by speakers of Old English as sceamol, "stool, bench, table." Old English sceamol became Middle English shamel, which developed the specific sense in the singular and plural of "a place where meat is butchered and sold." The Middle English compound shamelhouse meant "slaughterhouse," a sense that the plural shambles developed (first recorded in 1548) along with the figurative sense "a place or scene of bloodshed" (first recorded in 1593). Our current, more generalized meaning, "a scene or condition of disorder," is first recorded in 1926.
A webpage on the history of York adds that 'shamel' also referred to:
Flesshammel, which means to do with flesh – it was the street of the butchers. In 1872 the number of butchers was recorded as 26. This figure dwindled over the years until the last butcher standing was Dewhurst at number 27 the Shambles.
Unfortunately, the nationwide Dewhurst chain disappeared in 1995. I remember seeing them in many towns and London boroughs when I first moved to England. However, the Vestey Group which, although British, branched out into large-scale South American food ventures instead of investing in the UK. They:
developed the country-wide Dewhurst the Butchers chain of butchers shops, which was eventually disbanded in 1995 in the face of increasing competition from the supermarket chains. Dewhurst were the first to introduce the innovation of glass windows on butcher's shops – previously meat had been exposed to the elements and pollution.
Since 2011, a few Dewhurst shops have made their way back onto the high street thanks to another company stepping into the breach.
I was in York's Shambles on a visit 20 years ago. I remember we all laughed at the street sign which read:
The Shambles
We didn't know what it meant, even though we were all steeped to an extent in English history.
However, as the York website explains:
It is said that in certain points you can reach out of the top window and shake hands with a person doing the same daft thing in the house opposite! But if you had walked the length of this street, say, 300 years ago, it would have been a very different experience! Livestock would have been kept behind the shops and slaughtered on site.
Later, when York had the cattle market it meant that cattle no longer lived behind the shops, but the slaughterhouses remained and the cattle were driven in on foot from the market. The middle of street would have been an open gutter and the waste from the butchers was washed out of the shops and into the street. Number 31 has a sloping floor for this reason.
Gardy-loo!
There was also another hazard — human waste from the bedpans and chamberpots. Younger readers should realise there were no toilets at the time. Sorry, but this has to be said. We don't know how fortunate we are to be living in our times.
In Edinburgh at the same time, there was a common saying among the locals living in similarly crowded conditions, where disease was also rife. Housekeepers and housewifes would empty the chamberpots and bedpans, quickly calling out, 'Gardy-loo!' I have heard several historical explanations of this, but the most likely seems to be a corruption of the French, 'Gardez l'eau!' or 'Mind — pay attention to — the water', not unlike the ancient fencing expression, 'En garde!'
York's website says much the same thing:
domestic waste would have been thrown down from the windows above to either drain into open ditches, or stagnate in the road. Manure was collected at night, but no great effort was made to take it very far away. The terribly unhygienic conditions led to several outbreaks of cholera, and yet it was not until the 20th century that changes were made.
It was not until the 20th century that 'changes were made' because Bazalgette's modern sewage and sanitation system of its many u-bends was perfected in the 19th century in London. It made a near-immediate change for the better in the hygiene of London's residents and was no doubt sent across the country as the way forward.
Never laugh when people talk about the benefits of modern toilet, drainage and water sanitation systems. You would not be reading this if they were not in place.
York: St Margaret Clitherow, butcher's wife — and priest holes
Whilst in York, strolling along The Shambles, I don't know if I knew there was a slaugherhouse (abbatoir) behind Nos. 37 and 38.
However, I did see the overhang of upper storeys of the centuries-old buildings:
There remain examples of late medieval buildings in the Shambles, which represents a good example of how houses – topped by overhanging "solars" through which it was hoped that sunlight might be brought through the windows into burgesses' living quarters – were sometimes within arms' reach of each other.
To the dismay of my Anglican companions, I — a fellow Anglican — did visit St Margaret Clitherow's shrine at Nos. 35 and 36:
Margaret Middleton married John Clitherow, a widowed butcher who had his business at number 35. After her marriage Margaret converted to Catholicism. These were turbulent times for religion, with the dissolution of the monasteries under Henry VIII and the continued religious warring throughout the reigns of his children. Margaret gave shelter to travelling Priests, and conducted Mass for local Catholics in her home. Warned and imprisoned for her continual refusal to conform to the protestant way of life, she continued with her activities.
The inspectors would count the windows outside the houses and compare them to the count inside, to see if an area had been concealed to hide a priest. On the evidence of a frightened child they arrested Margaret and charged her with providing cover for the Priests and with practicing Catholicism. She was offered a trial, but she insisted she had no crime to answer to, and so was sentenced to death. To be crushed to death in the prison under Ouse bridge.
Rather than be naked, she made herself a shift of white linen. She lay with a large stone placed in the small of her back and a door was laid upon her body. Stones were piled upon the door until she was dead. She was canonized on October 25th 1970, and her right hand can still be seen in the Bar Convent museum.
I didn't know about the Bar Convent museum, but visiting her former home was moving. I could feel a chill, which normally hasn't happened to me in other such places, e.g. the Roman Catacombs. Perhaps this was because the martyrdom was more recent. I cannot say.
My Anglican friends must have felt something, too, because two stepped away quickly and the other suggested a quick exit. I stayed on to read what was written about her and was increasingly moved by her life.
By the way, there were such things as 'priest holes'. Some were hidden by a heavy stone concealing door with a false appearance on one side. The priest, with some physical effort, could move the stone door, carefully find the staircase to a lower storey — i.e. cellar — and remain there indefinitely as long as someone brought him food, drink and candles. The stone door made the cellar soundproof and rendered the clergyman invisible for all intents and purposes.
Elizabeth I, the reigning Queen, was outraged that Margaret Clitherow had been sentenced to death. St Margaret Clitherow's Wikipedia entry says:
She was born as Margaret Middleton,[3] the daughter of a wax-chandler, after Henry VIII of England had split the Church of England from the Roman Catholic Church. She married John Clitherow, a butcher, in 1571 (at the age of 15) and bore him three children. She converted to Roman Catholicism at the age of 18, in 1574. Her husband John was supportive (he having a brother who was Roman Catholic clergy), though he remained Protestant.[4] She then became a friend of the persecuted Roman Catholic population in the north of England. Her son, Henry, went to Reims to train as a Roman Catholic priest … A house in the Shambles once thought to have been her home, now called the Shrine of the Saint Margaret Clitherow, is open to the public (it is served by the nearby Church of St Wilfrid's and is part of the Roman Catholic Diocese of Middlesbrough); her actual house (10 and 11, the Shambles) is further down the street.
… she was executed by being crushed to death – the standard punishment for refusal to plead – on Good Friday 1586. The two sergeants who should have killed her hired four desperate beggars to kill her. She was stripped and had a handkerchief tied across her face then laid out upon a sharp rock the size of a man's fist, the door from her own house was put on top of her and slowly loaded with an immense weight of rocks and stones (the small sharp rock would break her back when the heavy rocks were laid on top of her). Her death occurred within fifteen minutes but her body was left for six hours before the weight was removed. After her death her hand was removed, and this relic is now housed in the chapel of the Bar Convent, York. Following her execution, Elizabeth I wrote to the citizens of York expressing her horror at the treatment of a fellow woman. Because of her sex, she argued, Clitherow should not have been executed.
From this, I gathered that St Margaret Clitherow would have been a patron saint of butchers. However, she is the patron saint of businesswomen, converts, martyrs and the Catholic Women's League.
Patron saints of butchers include: St Adrian of Nicomedia, St George, St Peter (the Apostle) and  St Anthony the Abbot as well as St Luke, the Gospel writer.
Burgesses
There are some mysteriously and absolutely foul revisions of the word 'burgess' in the Urban Dictionary. Some are simply unkind and others are scatalogical. None of them has a link to history and the original meaning of the word. Therefore, I have not supplied a link to them.
Wikipedia has an international definition, encompassing Europe and the Middle East:
Burgess is a word in English that originally meant a freeman of a borough (England) or burgh (Scotland). It later came to mean an elected or unelected official of a municipality, or the representative of a borough in the English House of Commons.
It was derived in Middle English and Middle Scots from the Old French word burgeis, simply meaning "an inhabitant of a town" (cf. burgeis or burges respectively). The Old French word burgeis is derived from bourg, meaning a market town or medieval village, itself derived from Late Latin burgus, meaning "fortress"[1] or "wall". In effect, the reference was to the north-west European medieval and renaissance merchant class which tended to set up their storefronts along the outside of the city wall, where traffic through the gates was an advantage and safety in event of an attack was easily accessible. The right to seek shelter within a burg was known as the right of burgess.[2]
The term was close in meaning to the Germanic term burgher, a formally defined class in medieval German cities, (Middle Dutch burgher, Dutch burger and German Bürger). It is also linguistically close to the French term Bourgeois, which evolved from burgeis. An analogous term in Arabic, Persian, and Urdu is برج 'burj' or 'borj', which in itself variously means a high wall, a building, or a tower.
The term is also related to burglar, though this developed in the opposite direction in terms of social respectability.
From my reading of Simon Sebag Montefiore's Young Stalin, the Russians also had a similar word, burgis.
The burgess's status was underneath that of the alderman's — alder, elder — who was his superior. However, the burgess was the precursor to the merchant class. As Wikipedia cites, the verses of the ancient song Greensleeves point out:
Thy purse and eke thy gay guilt knives, thy pincase gallant to the eye: No better wore the Burgesse wives, and yet thou wouldst not love me.
About.com gives a simpler definition:
A burgess was a landowner or householder in a town or borough. Burgesses paid their share of any communal dues and expenses and therefore shared in town privileges.
The term derives from the word borough (and its alternate pronunciations), as does burgher. Burghers and burgesses were different, however, in that burgesses had special privileges that derived from their support of the community.
Today, we still have boroughs (e.g. London and New York City) as well as aldermen (e.g. Chicago).
The Medieval English Urban History glossary defines burgesses as:
town residents contributory towards the customary payments due the king from boroughs, later in the Middle Ages its varied application does not suggest a precise, universally agreed, technical definition. Broadly, however, it referred to residents of a borough, usually those residents who were members of the borough community in terms of sharing in communal responsibilities and rights; hence we often find the term "comburgess" used, to emphasise that an individual was a fellow member of the enfranchised community (although the term also came to be used, on occasion, to refer to burgesses of higher status). At Lynn the poorest townsmen were clearly described as non-burgesses, "burgesses" evidently being equated with those residents who had become freemen; this appears also the case in Ipswich. Yet in Colchester the same class of poorer residents was described as being burgesses. Outsiders ("strangers" or "foreigners") were sometimes allowed to acquire some of the same – notably commercial – privileges by entering the franchise under the special status of "foreign burgess". Towards the end of the Middle Ages "burgess" was more likely to be used to distinguish one group of privileged townsmen from a less privileged group.
There was a fine line between 'advantages of burgesses' — a burgess was a freeman — and a 'monopoly' on trading. Burgesses became wealthy because they could share in the proceeds of market trade, as this example from old Norwich (Norfolk) municipal laws says, in modern English:
It was a fundamental right of freemen to be able to claim a share in any mercantile bargain made by one of their fellows, if they were present when the bargain was made. Only in special cases could they claim a share if not present. The use of multiple representatives undermined this equal shares principle, and favoured the urban upper class, which supplied most bailiffs – perhaps explaining the final clause of this chapter, suggesting that the bailiffs might be reluctant to investigate such abuses in absence of a specific complaint, and producing a statement of the source of political authority in towns.
Perhaps this is the source of European class conflict, which might well have started centuries ago. Let it further be emphasised that local lords or kings actually owned the land granted to the care of burgesses to rent — tenements (somewhat different to the early 20th century meaning) — on their behalf.
On a lighter note …
The city of Manchester's website has a photographic history of their Shambles Square. If you scroll down one-quarter or one-third down the page, you will see Ye Olde Fyshing Tackle Shoppe.
The next photo shows that a Will Chambers owns it (look for the postcard reproduced with Jason Kennedy's permission).
The following postcard or photo shows the same building at a slightly different angle. Could the writing on the card be from Will Chambers? It is certainly signed Will. It says — in as much as I can make out:
Dear Froggy cum ['with' -- Latin] sausage cum roast beef, how the dickens are you, have your muscles grown any, are you quite well, anything fresh, if so let me know, you owe me a letter, you [are] usually so punctual, what do you think of your new nephew, both [mother and son] are doing well.
My readers in England might have recently received an NHS leaflet — white background with a blue and green design — with their junk mail.
If not, it is on its way.
It is called 'Better information means better care'. Furthermore, it says no action is required on the part of the recipient.
This post is addressed to such readers in the second person, although all are welcome to read it as a portent of the future with regard to public health.
If you were resident in England in recent years and are now living abroad but intend to return, this might also be of interest.
As this pamphlet deals with personal patient data — yours and mine — two thoughts occurred to me. First, why wasn't my surgery writing to me personally? Second, what about the opt-out of a few years ago wherein many English NHS users took the opportunity to prevent their records from going on the grand nationwide database, the Summary Care Record?
This is different. There is a lot to read, so I'll summarise it and leave you to peruse the links provided further.
The leaflet, which, no doubt, the NHS and Government hope you will ignore and discard with the pizza flyer, is about care.data, even though there is no mention of it. care.data will eventually be sharing data with third parties — initially anonymous but not in subsequent stages — about our ailments, illnesses and lifestyle habits.
This, as will be shown below, has nothing to do with our treatment by doctors and nurses, whether in surgeries, clinics or hospitals.
And you can opt out by writing, not visiting, your surgery.
This is what the relevant NHS site says (much more at the link, emphases in bold mine below):
The role of the Health and Social Care Information Centre (HSCIC) is to ensure that high quality information is used appropriately to improve patient care.
NHS England has therefore commissioned a programme of work on behalf of the NHS, public health and social care services to address gaps in information. Our aim is to ensure that the best possible evidence is available to improve the quality of care for all.
It is important that the NHS can use this information to get a complete picture of what is happening across health and social care and to plan services according to what works best. The new system will provide joined-up information about the care received from all of the different parts of the health service, including hospitals and GP practices.
Your date of birth, full postcode, NHS Number and gender rather than your name will be used to link your records in a secure system, managed by the HSCIC. Once this information has been linked, a new record will be created. This new record will not contain information that identifies you. The type of information shared, and how it is shared, is controlled by law and strict confidentiality rules.
MedConfidential states that this is not really as harmless as it looks. In fact, a physician from Hampshire — Dr Neil Bhatia — provides more information on what this scheme really entails as well as opt-out forms you can send to your GP.
MedConfidential says:
Under changes to legislation, your GP can now be required to upload personal and identifiable information from the medical record of every patient in England to central servers at the Health and Social Care Information Centre. Once this information leaves your GP practice, your doctor will no longer be in control of what data is passed on or to whom.
This information will include diagnoses, investigations, treatments and referrals as well as other things you may have shared with your doctor including your weight, alcohol consumption, smoking and family history. Each piece of information will be identifiable as it will be uploaded with your NHS number, date of birth, post code, gender and ethnicity.
NHS England – the body now in charge of commissioning primary care services across England – will manage and use the information extracted by the Health and Social Care Information Centre for a range of purposes, none of which are to do with your direct medical care. These 'secondary uses' include patient-level tracking and monitoring, audit, business planning and contract management. In September 2013, NHS England applied to pass on your information in a form it admits "could be considered identifiable if published" to a whole range of organisations that include – but are not limited to – research bodies, universities, think tanks, "information intermediaries", charities and private companies.
Though you may be told that any data passed on will be 'anonymised', no guarantees can be given as to future re-identification – indeed information is to be treated so that it can be linked to other data at patient level – and NHS England has already been given legal exemptions to pass identifiable data across a range of regional processing centres, local area teams and commissioning bodies that came into force on April 1st 2013. The Health and Social Care Information Centre already provides access to patient data, some in identifiable form, to a range of 'customers' outside the NHS, including private companies.
If you prefer looking at flowcharts, this one — from one of the aforementioned sources — explains more.
The data upload is due to begin in March 2014, so if you wish to opt out, using one of Dr Bhatia's letters — here and here — now is the time to do so.
Dr Bhatia's Care-data site explains the scheme in more detail. Excerpts follow, so please take the time to read more privately:
The information is not going to be available to doctors and nurses, and so will not be used to provide direct medical care
The HSCIC will keep your uploaded information indefinitely – it will never be deleted, but continuously added to

Your GP surgery cannot stop this extraction – but you, as an individual, can

care.data is voluntary – you are under no obligation to allow your records to be processed in this way, and you have the right to opt-out

You can prevent the extraction of identifiable data from your GP records by asking your GP surgery to put a special code in your GP records

You can prevent the release of your identifiable data from the HSCIC by asking your GP surgery to put an additional special code in your GP records

You cannot prevent the HSCIC from releasing information about you in anonymised, aggregated or pseudonymised formats (to ensure that, you must prevent the HSCIC from obtaining your information in the first place, by opting out now)

If you opt-out of care.data (now), you can opt back in at any time in the future

care.data is not the same as the Summary Care Record – opting out of one does not mean that you have automatically opted out of the other
This project, called care.data, is administered by the HSCIC using software and services provided by a private sector company (ATOS).
How much is care.data costing the taxpayer ?
No one knows. The HSCIC has refused to indicate the full costs of the programme to date.
Will doctors and nurses treating me have access to this information ?
NO.
Medical staff treating you in GP surgeries, hospitals, A&E, pharmacies and GP out-of-hours centres will not use, or be able to use, this database.
care.data is not about information sharing between healthcare professionals.
It is about data extraction, linkage and analysis: in other words, data mining.
Will medical staff with an NHS Smartcard be able to access my uploaded care.data?
NO.
NHS Smartcards are used to access software systems that help provide direct clinical care, for example the Summary Care Record, the Personal Demographics Service, Choose & Book and the Electronic Prescription Service.
NHS Smartcards will not permit access in any way to care.data uploaded to the HSCIC.
care.data is not about the provision of direct medical care by clinical staff.
Will my information be anonymised before it is uploaded from my GP surgery?
NO.
The information will be extracted from your GP surgery in a form that can clearly identify you as the patient that the data refers to.
In other words, it will not be anonymised, pseudonymised or de-identified before it is uploaded.
If it was anonymised, you wouldn't be able to opt-out.
If it was anonymised, the leaflet wouldn't state "If you do not want information that identifies you to be shared outside your GP practice, please ask the practice to make a note of this in your medical record."
If it was anonymised, the HSCIC wouldn't be able to link it to further identifiable data about you that it holds extracted from hospitals.
If it was anonymised, you wouldn't be able to make a Subject Access Request for information that the HSCIC holds about you.
Later on, mental health records will be added, Dr Bhatia says. These are also scheduled to be released to interested parties.
It is appalling to think where personal information might end up and how many individuals will have access to it.
I also find it interesting that the UK's oft-invoked Data Protection Act does not seem to be of use in this scheme.
One wonders how many people dumped this in their recycling bin without even looking at it?
The trial Church of England (CofE) baptismal rite — running from now to Easter Sunday 2014 — omits any reference to Satan.
In any other Catholic or Protestant denomination, one of the principles of this holy sacrament, the first Christians (should) receive, is to actively renounce Satan and his works.
Today's rites
In the latest CofE prayerbook (first used in 2000) — Common Worship — the part of the text called The Decision reads as follows ('president' refers to the priest):
A large candle may be lit. The president addresses the candidates directly, or through their parents, godparents and sponsors
In baptism, God calls us out of darkness into his marvellous light. To follow Christ means dying to sin and rising to new life with him.
Do you reject the devil and all rebellion against God?
I reject them.
Do you renounce the deceit and corruption of evil?
I renounce them.
Do you repent of the sins that separate us from God and neighbour?
I repent of them.
Do you turn to Christ as Saviour?
I turn to Christ.
Do you submit to Christ as Lord?
I submit to Christ.
Do you come to Christ, the way, the truth and the life?
I come to Christ.
Where there are strong pastoral reasons, the alternative form of the Decision (page 168) may be used
The Alternative Form of the Decision — reads as follows:
Where there are strong pastoral reasons, the following may be used in place of the Decision in the service of Holy Baptism and at other Initiation services.
The president addresses the candidates directly, or through their parents, godparents and sponsors
Therefore I ask:
Do you turn to Christ?
I turn to Christ.
Do you repent of your sins?
I repent of my sins.
Do you renounce evil?
I renounce evil.
These rites have been in place for several years and are nothing new. Some revisions were made in 2000 and others in 2005.
However, why they need further watering down is anyone's guess. To say that Satan is theologically incompatible with 21st century living is farcical.
As is the case for marriage, the vicar or curate should have discussions with the parents of the child being baptised. (Any adult candidate for Baptism would no doubt undergo an interview.)
He — or she — would ask what their understanding of basic Christian teaching is, the way most of us learnt it as children. Where one of the parents (or an adult candidate) says, 'Well, I don't believe there is a devil', then the priest can explain that, scripturally, there is and discuss the theological position.
I find it curious that Religious Education is mandated in England, yet we have so many a) unbelievers and b) churchgoers who are theologically ignorant.
I agree with my Episcopalian reader from across the pond, underground pewster, who writes:
Screwtape is rubbing his hands in glee. His devils have successfully carried out the biggest stunt they ever attempted. They have killed the Devil. To the collective mind of Man there is no more Devil. This accomplishment tops their earlier elimination of the concept of Sin.
The Devil is dead! Long live the king, ME!
"Hee, hee, hee…" – Screwtape.
I pity any clergyman who cannot explain the existence of the Devil as the author of evil.
Why the changes?
Personally, I suspect that England does not have enough confessing — professing, choose as you like — Christians to serve as godfathers and godmothers.
The CofE offers other explanations, these from the Daily Mail (emphases mine):
The Bishop of Wakefield Stephen Platten, who chairs the commission, said repentance was implied in phrases urging people to 'turn away from evil', and defended the omission of the devil by saying it was 'theologically problematic'.
Odd, that. The New Testament has several references to the devil — Satan — and demons, his servants.
And, whilst not agreeing, another prefaced his opposition with this general comment:
… one senior member of the General Synod, who did not wish to be named, said: 'The trouble is that large parts of the Church of England don't believe in hell, sin or repentance. They think you can just hold hands and smile and we will all go to Heaven. That is certainly not what Jesus thought…
True enough — and to unbelievers' peril. In fact, the ceremony from Common Worship concludes — after the aforementioned Decision (president's words first, then the witnesses responding [in bold]):
Do not be ashamed to confess the cross of Christ crucified.
Fight valiantly as a disciple of Christ against sin, the world and the devil, and remain faithful to Christ to the end of your life.
The revised conclusion of invocation and response for the trial period, reads:
Do not be ashamed of Christ. You are his for ever.
Stand bravely with him. Oppose the power of evil, and remain his faithful disciple to the end of your life.
If one reads John 6, it is unclear whether everyone is His forever. Jesus states the following (John 6:37 — there are more statements in this chapter):
37 All that the Father gives me will come to me, and whoever comes to me I will never cast out.
Jesus gladly and graciously accepts those whom His Father sends to Him. That does not, however, necessarily mean everyone.
The older series of invocation and response ended as follows:
Do you believe and trust in God the Father?
I believe in God the Father Almighty, creator of Heaven and Earth.
The ending to the trial version has been reworded:
Do you believe in God the Father, source of all being and life, the one for whom we exist?
I believe and trust in him.
Hmm. Seems as if there is a bit of 'paid jobs for the guys and gals' in the CofE, not unlike the editors and compilers of the Lectionary.
Why reword the ceremony invocation and responses at all?
In addition to the aforementioned unbelief prevalent among our population, objections to the old wording, according to those whom the Mail interviewed, have to do with a certain word:
The new text … also drops the word 'submit' in the phrase 'Do you submit to Christ as Lord?' because it is thought to have become 'problematical', especially among women who object to the idea of submission. 
Wow. Anyone who has a problem submitting to their only Mediator and Advocate really does have a problem. It seems as if heresy is alive and well within England's established Church in that so many people seem to believe that Christ was merely human, but not, as all true Christians believe — all human and all divine — one of the holy mysteries which is impossible for us to discern.
The objectors
According to the Mail, many CofE churchmen and synod members agree that this wording is weakening the baptismal vows taken by or on behalf of the candidate:
Alison Ruoff, a lay member of the General Synod from London, said the new version was 'weak and woolly' and lacked conviction.
She said: 'By removing all mention of the devil and rebellion against God, we are left to our own vague understanding of what evil might or might not mean.'
The retired Bishop of Rochester, the Right Reverend Michael Nazir-Ali, wrote the conclusion to the Mail's article, pointing out (excerpts below):
Since at least the 1970s there has been a fashion  in the Church of England to minimise depth and mystery in its worship because of the alleged need to make its services 'accessible'.
The new alternative service for baptism, which has been sent for trial, continues this trend. Instead of explaining what baptism means and what the various parts of the service signify, its solution is to do away with key elements of the service altogether!
From ancient times, the structure of the service has included the renunciation of sin, the world and the devil and the turning to Christ as Lord and Saviour.
The very first baptisms of the Church took place after St Peter's call at Pentecost to 'repent and be baptised .  .  . for the forgiveness of sins' (Acts 2:38).
The Church has always regarded repentance as necessary for beginning the Christian life and, for children, a cleansing, if not from actual sin, then certainly from the sinfulness of the whole race since the original sin.
Because of its anxiety to make everyone feel welcome and its desire not to offend anyone, the new service, almost entirely, does away with sin and the need to repent from its personal and social manifestations and consequences.
Baptism is nothing less than taking part in this story of salvation, no part of which can be sold short.
Rather than the constant 'dumbing down' of Christian teaching, whether for baptism, marriage or death, we should be spending time preparing people  for these great rites of passage.
It is best to call a halt to this perhaps well-meant effort before  it further reduces the fullness of the Church's faith to easily swallowed soundbites.
Conclusion
As Bishop Nazir-Ali says, these periodic rewordings of the baptismal liturgy are not new. Progressively, they have been watered down to the point of 'easily swallowed soundbites', rendering the Christian faith meaningless.
If you are seeking the sacrament of Baptism for yourself or your child, I would advise that you seek a discussion with your vicar or curate and also request that s/he use an older liturgy, preferably that from the 1662 Book of Common Prayer.
What follows are excerpts from the original liturgy for the public baptism of infants in the Church of England:
Then shall the Priest speak unto the Godfathers and Godmothers on this wise [in this way].
Dearly beloved, ye have brought this Child here to be baptized; ye have prayed that our Lord Jesus Christ would vouchsafe to receive him, to release him of his sins, to sanctify him with the Holy Ghost, to give him the kingdom of heaven and everlasting life. Ye have heard also that our Lord Jesus Christ hath promised in his Gospel, to grant all these things that ye have prayed for: which promise he, for his part, will most surely keep and perform. Wherefore, after this promise made by Christ, this Infant must also faithfully, for his part, promise by you that are his sureties, (until he come of age to take it upon himself,) that he will renounce the devil and all his works, and constantly believe God's holy Word, and obediently keep his commandments.
I demand therefore,
Dost thou, in the name of this Child, renounce the devil and all his works, the vain pomp and glory of the world, with all covetous desires of the same, and the carnal desires of the flesh, so that thou wilt not follow nor be led by them?
Answer. I renounce them all.
Minister.  Dost thou believe in God the Father Almighty, Maker of heaven and earth?
And in Jesus Christ his only-begotten Son our Lord? And that he was conceived by the Holy Ghost, born of the Virgin Mary; that he suffered under Pontius Pilate, was crucified, dead, and buried; that he went down into hell, and also did rise again the third day; that he ascended into heaven, and sitteth at the right hand of God the Father Almighty; and from thence shall come again at the end of the world, to judge the quick and the dead?
And dost thou believe in the Holy Ghost; the holy Catholick Church; the Communion of Saints; the Remission of sins; the Resurrection of the flesh; and everlasting life after death?
Answer. All this I steadfastly believe.
Minister. Wilt thou be baptized in this faith?
Answer. That is my desire.
Minister. Wilt thou then obediently keep God's holy will and commandments, and walk in the same all the days of thy life?
Answer. I will.
Mary Poppins is a staple of British televsion programming at Christmas.
I remember seeing the film shortly after it was first released. As with so many Disney films (e.g. Fantasia) it was way too long and, frankly, somewhat boring. I fell asleep through part of it as I had done when going to several of his other productions.
Disney's treatment of PL Travers's Mary Poppins is far from her novel. According to English television presenter Victoria Coren Mitchell — daughter of the late Alan Coren who wrote for Punch and wife of comic actor David Mitchell — this children's story is punctuated by episodes of uncertainty and fear. She has written about it in the latest edition of the Radio Times (30 November – 6 December 2013, pp. 20-22).
For centuries, children's stories — oral and written — have introduced peril, myth, morality and loss to young people. Through them, we become acquainted with good and evil as well as what we can expect from life itself — endless uncertainty in a fallen world.
On this point, PL Travers's book does not disappoint, Mitchell says. She read it as a child.
Also in this week's Radio Times is an interview with actor Tom Hanks (pp. 24-27), who stars with Emma Thompson in Saving Mr Banks, the story of Travers and Walt Disney bringing Mary Poppins to celluloid.
What follows are aspects of the film as well the lives of Travers and Disney which are less well known. Saving Mr Banks explores some of them, although I have not seen the film.
As far as Mary Poppins is concerned, Travers objected to Disney's sugarcoating the film by making the nanny a cheery, happy character.
PL Travers
Helen Lyndon Goff was born in 1899 to a bank employee and niece of a Premier of Queensland, Boyd Dunlop Morehead. Travers Robert Goff — originally from Deptford (London, England)  moved his family from Maryborough to Allora — another town in that Australian state — in 1905. He died of influenza in 1907. His widow, Margaret, and three daughters moved to neighbouring New South Wales. Helen attended boarding school in Sydney during the years of the Great War.
Helen was known by family and friends as Lyndon. She wrote stories for her sisters as well as poetry. She also became interested in acting and toured with a Shakespeare company as Pamela Lyndon Travers. The troupe ended up in England in 1924, where Travers settled and became a writer. She and a friend Madge Burnand eventually moved to Sussex, where Travers began writing Mary Poppins in 1933.
Once in England, she made connections in the literary world. Her first publisher was the inspiration for Peter Pan, JM Barrie's adopted son Peter Llewellyn Davies. She also visited Ireland and made friends with writers such as WB Yeats and a number of poets. They introduced her to mythology. An American publisher acquainted with that circle, Jane Heap, got Travers interested in Gurdjieff's Fourth Way, a good works-based 'universal brotherhood' combining various religious traditions with gnosticism and mysticism.
Travers never married and is said to have had romantic relationships with both men and women.
At the age of 40, on one of her trips to Ireland, she visited the home of Joseph Hone, the first biographer of WB Yeats. He and his wife Vera had seven grandchildren living with them. Two of them were twin baby boys — Anthony and Camillus. Taking an astrologer's advice, she adopted Camillus.
At the age of 17, it appears that Anthony discovered his twin was living in London. He went to Travers's house there. Camillus tried to cope with this surprise discovery but, four years later, was in Stafford Prison, serving a six-month sentence for drink driving. He died in London in 2011.
Travers was made an Officer of the Order of the British Empire (OBE) in 1977. She also earned royalties from Disney's film Mary Poppins.
Travers died in London in 1996. Her ashes were scattered in the churchyard of St Mary the Virgin in Twickenham (west London). (This should not be construed necessarily as a conversion to Christianity; it is traditional for authors and actors — regardless of belief — to have a funeral and/or 'resting place' at Anglican churches.)
It is interesting that, during the Second World War, Travers worked in Manhattan for the British Ministry of Information. It was at that time that Roy Disney — Walt's brother — contacted her about adapting the Mary Poppins books for film. After the war ended, she spent two summers travelling the American Southwest studying Indian tribes. She was also Writer-in-Residence at Radcliffe, Harvard and Smith before returning to England.
Walt Disney
There are two versions of Walt Disney's origins.
The official one is that he was born in 1901 in the Kelvyn Grove (now Hermosa) area on the Northwest Side of Chicago.
His ancestor Robert d'Isigny was thought to have gone to England with William the Conqueror in 1066. (It is probable that he was from Normandy or La Manche. There are two towns in northwestern France which carry the name: Isigny-sur-Mer and Isigny-le-Buat.) The anglicised version of the name is Disney. Robert's descendants were thought to have settled in Norton Disney, Lincolnshire. Walt's branch later moved to Ireland before sailing to Ontario. In the 19th century, they relocated to Ellis, Kansas, where they bought a farm.
Disney's father Elias was a gold prospector in California before returning to the farm. With the advance of the railroads, he worked for the Union Pacific, a principal railway company until the late 20th century when a number of mergers put paid to most of them.
It was during his time on the Union Pacific that Elias fell in love with Walt's mother Flora (née Call). They married on New Year's Day 1888 in Acron, Florida, 40 miles from Walt Disney World.
Elias Disney and his family moved back and forth between Chicago and Missouri at the turn of the century. Elias's brother, Robert, lived in Chicago and helped them financially. In 1906, when Walt was four, Elias and his family moved to Marceline, Missouri, where another brother Roy had a farm. In 1911, they moved to Kansas City, where one of Walt's classmates Walter Pfeiffer introduced him to cinema and vaudeville. Walt and Walter became firm friends, the former clearly intrigued by the Pfeiffer family's entertainment interests and the arts in general. Walt took courses at the Kansas City Art Institute.
In 1917, Elias bought shares in a Chicago jelly company O-Zell and moved the family back to Illinois. Once back in Chicago — then an exciting city of commerce and culture, remaining so until the 1980s — young Walt continued supplementing his state school education with courses at the Art Institute of Chicago, one of the world's best museums in its category.
As this was during the Great War, it is not surprising that Walt was absorbed not only by events in Europe but also America's place in the world. He and a friend decided to join the Red Cross. However, Walt was initially refused because he lacked a birth certificate. I've highlighted that, because we'll return to it below. Suffice it to say that it was not unusual for births to have gone unregistered. Women often gave birth at home with the help of midwives and it wasn't until after that war that hospitals became a more mainstream, albeit not yet universal, place for an expectant mother to deliver a child. The state was also not as encroaching then as it is now, therefore, other records (e.g. school and work) could help to reasonably verify a person's age.
Walt never did finish high school. However, he and his friend did drive ambulances for the Red Cross in France, after the Armistice in 1918.
Once he returned to the United States, he was certain about pursuing a career in illustrating. He moved back to Kansas City to work for an art studio and the rest is history.
The unofficial story of Walt's early life is quite different — and contentious. I read it in Le Monde in 2001 and was shocked.
The Guardian also carried the story — nearly 12 years ago to the day now. Citations and references below are from the article.
Two American authors — Marc Eliot (celebrity biographer) and Christopher Jones (son of a Disney press agent) — were unearthing evidence which they claimed (separately) to prove that Walt Disney was actually born in Mojacar, Spain. He was purported to be the son of two local lovers, Walt's putative mother eventually emigrating to the United States where she offered her son up for adoption and the Disneys supposedly taking the boy in as their own.
Indeed, Mojacar — a village of 5,000 people in Andalucia along the southeast coast — claims Disney as a son. However, their Wikipedia entry does not include this bit of information.
This story dates back to 1940, thanks to an article which appeared in a Spanish movie magazine Primer Plano.
Marc Eliot picked up on this article and the Mojacar connection in his 1993 biography Walt Disney: Hollywood's Dark Prince. The author claims that the entertainment company mogul was an FBI informer under J Edgar Hoover. The Disney family
hired William Webster, FBI director under George Bush Sr, to refute that and other claims about his role as a prized FBI informer.
If true — and it is difficult to find any follow-up online — Walt's interest in his birth came about in 1917 when he asked his mother Flora for his birth certificate in order to apply as a Red Cross volunteer in Europe for the war effort. Flora signed an affadavit swearing that he was born in Chicago:
The fact that it concerned him seems to have been confirmed by Hoover himself. In a declassified FBI document, Hoover pledged to help Disney. "I am indeed pleased that we can be of service to you in affording you a means of absolute identity through your lifetime," he wrote.
Eliot alleged that Flora signed a second affadavit in 1934 concerning Walt's birth. This was two years before she died.
Eliot received over 600 pages of documentation from the FBI in 1992 relating to Walt Disney.
Recall that Walt's brother Roy met PL Travers when the latter was in New York working for the British Ministry of Information during the Second World War.
The Mojacar connection started, according to the townspeople, in 1940 when, at the end of the Spanish Civil War, two Americans arrived. They were smartly dressed and, naturally, had suitcases.
Their arrival took the residents by surprise. Mojacar had fallen on hard times after the closure of local copper and iron mines. The village must have appeared primitive to the two visitors. There were no basic conveniences of the 20th century, including electricity. Women collected water from wells which they carried home on their heads. The people's faith, whilst notionally Catholic, was syncretic, recalling Moorish (Muslim) occupation centuries before. The women wore veils which they held between their teeth when they were busy with their hands.
The Americans asked to see the village priest, the Revd Federico Acosta. Acosta's nephew was visiting at the time from Madrid where, you will be interested to know, Snow White had just made its premiere.  The nephew, Jose Acosta — a journalist and lawyer — was 71 in 2001. He remembered the encounter between his uncle and the Americans as follows (emphases mine):
"He told us that some gentlemen from the US had come to find the birth certificate of one Jose Guirao. They were shown the page in the register. Later, when he looked again, the page had been ripped out," he recalls.
"He told me they had come not to find Jose Guirao's birth certificate, but to destroy it," says Acosta.
Jacinto Alarcon also saw the Americans in town. He later became Mojacar's mayor. Although he died before 2001, author Christopher Jones was able to speak with him in his final years. Jacinto's son Juan said at the time of the Millennium:
Jones has a taped interview with him in which he tells the story, agreeing on the basic facts with Acosta. "Virtually everybody is convinced he was born here. Only the Americans don't want to admit it," explains Jacinto's son Juan, who now owns Mojacar's tobacconists.
Even today, Mojacar families know the story of little Jose Guirao. It is not quite straightforward, as two men are involved. A poor young woman Isabel Zamora is acknowledged as the mother. A similarly poor man's name appears on Jose's birth certificate; we know only that his surname is Guirao and that he worked as a miner. However, people surmise that the child's real father was the local physician, Gines Carrillo. Because he was a doctor, Carrillo was one of the few men parents allowed their daughters to see unaccompanied.
Mojacar residents viewed Carrillo benignly. Not only was he a doctor who lived in a magnificent villa — Torreon, by name. He was also profoundly interested in the arts and aesthetics. He added a Venetian-style theatre to the town and held rehearsals for plays at Torreon.  The town's children learned how to play musical instruments at his estate. Residents could also admire his collection of exotic birds.
Carrillo also constructed a beach house in Mojacar. Although his descendants had it razed, it bore similarities to Disney's castle which features so prominently in the title sequence of his television programme and at his parks. Carrillo's was:
a fantasy creation of his own, topped with towers. Its eccentric aspect adds extra weight, in villagers' minds, to the idea that this man must have spawned Walt Disney.
In 2001, Torreon was a private guest house. The lady who owns it, Charo Lopez, told The Guardian:
"Disney certainly wasn't born in this house. But this is where he was conceived," she states. "This is like the existence of God. Either you believe he was born in Mojacar, or you don't."
Carrillo had a son, Diego, who is also a doctor. He told The Guardian that he did not wish to give an interview. He says that Carrillo would have gone along with the story as a good joke. He added:
If you think my father and Walt Disney look alike, you should see pictures of my uncle. He looks even more like Disney – and he did like the ladies.
One of the uncle's grandsons — Diego's nephew, also a physician — told the paper:
"Mojacar was a boring place then. My grandfather died when I was young but he was a lecher, a ' viejo verde ', in his old age and interested in the occult. The whole thing was cooked up by Jacinto [the aforementioned mayor] and him when those journalists arrived from the film magazine."
Other variations of the Mojacar connection exist. One says that Walt Disney personally wrote the parish priest in 1925 asking for his birth certificate — that of Jose Guirao Zamora — when he was preparing to marry Lillian Bounds, his wife of 41 years. Another story says that Isabel Zamora worked for the Disney family and had an affair with Walt's father Elias. Yet another has two Franciscans requesting the birth certificate in the 1950s.
The surviving Carrillos told The Guardian that they would be happy to take DNA tests to prove the veracity or otherwise of the Mojacar connection. However, it appears that the Disney family — perhaps rightly, under the circumstances — preferred to put this story behind them. The Guardian article does acknowledge that much of Mojacar's younger generation thinks it is either gossip and doesn't really care.
As for the other popular criticisms of Disney — anti-Semitism and insensitivity because of his father's treatment of him — I have a few comments.
First, there were anti-American forces at work in the entertainment world at the time. This is why the McCarthy investigations were so criticised by far-left elements and why McCarthy continues to be vilified. Disney is long gone, although, unfortunately, lefty media types are still with us. He refused unionisation in his company, no doubt because he could see socialist or communist infiltration at work. His wasn't the only animation or film studio in town. Dissatisfied animators and other employees sought employment elsewhere.
Second, I surmise that what the Left interprets as pure anti-Semitism was probably anti-Communism. It is a coincidence that these organisers for unionisation happened to be Jewish — and secular Jews at that. If Walt Disney were really so inclined, it seems highly unlikely that he would have befriended Walter Pfeiffer as a boy, especially as he spent more time at the Pfeiffer house than at home.
Third, Disney critics say he was hard-hearted and that this is because his father Elias beat him. Well, the reality is that nearly every child was beaten then by parents, teachers or nannies; that's just they were brought up at the turn of the century. I also find it interesting that they mention that Elias was an 'Evangelical', as if, in and of itself, that were necessarily a bad thing. That's every bit as bad as anti-Semitism. I'm also not clear how they arrive at this as being a certainty. If the Mojacar story has any veracity, Isabel Zamora might well have chosen a Catholic adoption agency in the United States, meaning that one or both of the Disney parents would probably have been Catholic. Catholic agencies then dealt with Catholics, not with all-comers.
Fourth, men of Disney's generation were not touchy-feely postmodern types. You can read biographies of Fabians, Communists and other leftists of the period to find that they, too, were emotionally distant. However, because the Left control most of the media messages, you'll be less likely to readily discover such facts.
In closing, Walt Disney was no better or no worse than many other men. He ran, with his brother Roy, a globally successful company. He was a husband and father of two daughters.
He brought a lot of people much happiness. Nearly every Westerner today remembers seeing their first Disney production, whether a cartoon or film. Millions have also visited Disneyland and Walt Disney World as well as his park outside of Paris.
Perhaps that is all that remains to be said.
My thanks to Lleweton for sending information on this English chaplain and poet from the Great War.
Geoffrey Anketell Studdert Kennedy (June 27, 1883 – March 8, 1929) is today remembered by
the Church of England and the Episcopal Church on March 8.
Studdert Kennedy was known for distributing New Testaments along with Woodbines to troops before and after battle. He also wrote poems, including some frank descriptions of what happened in the trenches. 'To Stretcher Bearers' — the first stanza of which follows — is one of them:
Easy does it — bit o' trench 'ere,
Mind that blinkin' bit o' wire,
There's a shell 'ole on your left there,
Lift 'im up a little 'igher.
Stick it, lad, ye'll soon be there now,
Want to rest 'ere for a while?
Let 'im dahn then — gently — gently,
There ye are, lad. That's the style.
Want a drink, mate? 'Ere's my bottle,
Lift 'is 'ead up for 'im, Jack,
Put my tunic underneath 'im,
'Ow's that, chummy? That's the tack!
Guess we'd better make a start now,
Ready for another spell?
Best be goin', we won't 'urt ye,
But 'e might just start to shell.
Are ye right, mate? Off we goes then.
That's well over on the right,
Gawd Almighty, that's a near 'un!
'Old your end up good and tight,
Never mind, lad, you're for Blighty,
Mind this rotten bit o' board.
Studdert Kennedy was the seventh of nine children born to Jeannette Anketell and the Revd William Studdert Kennedy, who was the vicar of St Mary's, Quarry Hill in Leeds. (Studdert Kennedy is the surname, by the way, not Kennedy.)
After finishing his studies at Leeds Grammar School, he went to Ireland for university, earning a degree in Classics and Divinity from Trinity College (alma mater of Jonathan Swift and other luminaries) in 1904.
He then returned to England and studied for a year at Ripon Clergy College in Ripon, Yorkshire. In Februrary 2013, the Ripon Civic Society mounted one of their green plaques at the site of the former college to remember the famous chaplain. Ripon College Cuddesdon, incidentally, is the successor to Ripon Clergy College.
Studdert Kennedy's first posting was as a curate to a church in Rugby. In 1914, he was appointed vicar of St Paul's in Worcester.
His time in Worcester was to be short-lived, however. When war broke out, he soon volunteered to be an Army chaplain. His ministry took him to the Western Front, where he saw the atrocities of war up close.
The Northern Echo newspaper explains (emphases mine):
The Rev Geoffrey Studdert Kennedy became one of the best known figures on the Western Front for giving Woodbine cigarettes, a copy of the New Testament and spiritual aid to soldiers before battle as well as their injured and dying comrades.
The cleric, who trained at Ripon Clergy College, won the Military Cross for running into no man's land at Messines Ridge, Flanders, to help the wounded during an attack on the German frontline …
Six years after completing his training at the Princess Road college, which closed in 1915, the Rev Kennedy, volunteered as an Army chaplain aged 31, and became attached to a bayonet-training service.
While touring the Western Front with boxers and wrestlers, he gave morale-boosting speeches about the usefulness of the bayonet and became known for his heavy smoking, despite suffering asthma having been exposed to mustard gas.
It should be noted here that some asthma sufferers find relief from smoking cigarettes. There were also no pocket-sized inhalers in those days.
The article gives us an idea of Studdert Kennedy's pastoral manner, particularly appropriate for men who, in some cases, had only minutes to live:
He often became embroiled in battles and soldiers told how the Rev Kennedy once crawled to a working party putting up wire in front of their trench.
When a nervous soldier asked him who he was, he replied "The church." And when the soldier asked what the church was doing there, he replied "Its job".
Soldiers said they liked the chaplain for his irreverent preaching style and salty language, while he described his chaplain's ministry as taking "a box of fags in your haversack, and a great deal of love in your heart".
After the Armistice was declared on November 11, 1918 at 11 a.m., Studdert Kennedy returned to England and was appointed priest-in-charge of St Edmund, King and Martyr in Lombard Street in the City (financial district) of London.
He published two volumes of poems in the aftermath of the war, Rough Rhymes of a Padre (1918) and More Rough Rhymes (1919). These poems and others helped to make him
the country's most famous religious author.
It wasn't long before Studdert Kennedy made his political views clear. These he had absorbed during the War. He became what is known as a 'Christian socialist', although, in reality, you can be a Christian or a socialist, but not both. He was also a pacifist.
He wrote hard-hitting works: Lies (1919), Democracy and the Dog-Collar (1921) (featuring such chapters as "The Church Is Not a Movement but a Mob," "Capitalism is Nothing But Greed, Grab, and Profit-Mongering," and "So-Called Religious Education Worse than Useless"), Food for the Fed Up (1921), The Wicket Gate (1923), and The Word and the Work (1925).
He left St Edmund's to tour the country as part of the Industrial Christian Fellowship. He was taken ill during a speaking engagement in Liverpool, where he died in 1929.
a crowd of more than 2,000 turned out for his funeral procession, and tossed packets of Woodbines onto the passing cortege.
The citation for Studdert Kennedy's Military Cross reads as follows:
For conspicuous gallantry and devotion to duty. He showed the greatest courage and disregard for his own safety in attending to the wounded under heavy fire. He searched shell holes for our own and enemy wounded, assisting them to the dressing station, and his cheerfulness and endurance had a splendid effect upon all ranks in the front line trenches, which he constantly visited.
Photo credits: Northern Echo
Monday, November 11 is Remembrance Day, sometimes called Armistice Day.
Past posts have discussed the history of the commemorations which occurred a few years after the Great War ended on November 11, 1918, which you can find for my posts on this for 2012, 2011 and 2010.
This year I have borrowed an illustration from a Remembrance Day and Poppy Appeal in Rugby (England). The verse is cited during the Remembrance Day broadcasts on the BBC: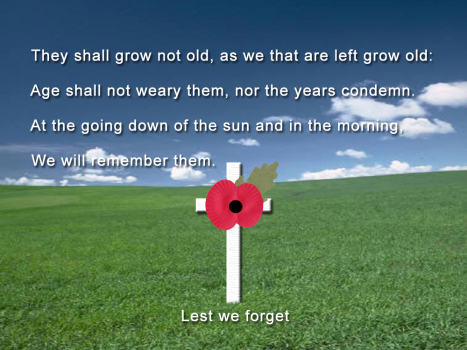 We will remember.
Last week, the story about the Methodist minister in Telford, the Revd Patricia 'PJ' Jackson and her refusal to wear a red poppy for the upcoming Remembrance Day service she will lead made news here in England.
I found out about it thanks to fellow contributor Quiet_Man at Orphans of Liberty. He cited the Telegraph's article, which said that the 'Rev PJ' — as she likes to be known — believes it is her 'democratic right' not to wear a red poppy to commemmorate the soldiers who have died for our freedom.
The Telegraph reported:
She refused to give a reason for her decision but a spokesperson at the Telford circuit said it was because Rev Jackson is in favour of peace.
A church spokesman said: "Reverend Jackson is happy to wear a white poppy but doesn't want to wear a red one because she feels it advocates war which is something she does not believe in.
Jackson is originally from the United States. My American readers can feel free to correct me in the comments on this one, but, as far as I know from my friends living there, veterans have not collected donations to the American Legion or VFW for 25 years or more. I remember donating and receiving a poppy every year. Sometimes they were light blue instead of red; a veteran told me that colour represented the Pacific Theater.
Therefore, it is unclear whether Jackson would have ever known about the tradition of the poppy and Armistice Day, or as we call it in Britain, Remembrance Day.
I wrote more about the story at Orphans of Liberty. It's a long post with several points, so what follow are just a few.
One related to the wording on Jackson's church website:
Although a website does not seem to exist for Hadley Methodist Church, there is one for the nearby Leegomery Methodist Church, the minister for which is one Revd P J Jackson.
It is standard for pastors to fashion their websites to focus primarily on Christianity. Best practice in this area includes a statement of faith and mention of denominational affiliation.
This is what the Leegomery Methodist Church proclaims on its About page (emphases in the original).
The Mission of the Church is to be a "Hug for the Community" through Worship, Prayer, and being loving and caring.
Leegomery Methodist Church was built in 1878, with the Sunday School/Community Room being added in 1953.   The Community Room was refurbished in 2010 and work was completed on the refurbishment of the Church in 2012.   All facilities, which include fully fitted kitchen and toilets, comply with the Disability Act, Health & Safety, Fire Regulations and are Eco Friendly.
The Friends committee organise an Annual Community Family Fun Day, Bingo Evenings, Social Activities, Concerts, Religious Festivals and much more throughout the year. See Forthcoming Events for full details.
All Leaders of our Children and Young People's Groups are CRB checked and the Church has a Safeguarding Policy for Children, Young People and Vulnerable Adults.
Morning Worship is held every Sunday at 11am for which everyone is welcome.
A fun Sunday School for children & young people from 0 upwards also meets each week at 11am.  This is nothing like day school, those attending take part in games, crafts, listen to stories and have lots of fun.
Being a 'Hug for the Community' is not a doctrinal, or a particularly Christian, statement.
Even worse, we don't even find out what time the Sunday church service is until we've got past a mention of the toilets, Bingo Evenings and CRB checks.
I wondered whether Jackson had arrived recently in England and didn't really understand the place the poppy has in British hearts:
It just seems odd that anyone who has been here for a time, especially a clergyperson, would be so obstinate in wearing a white poppy — or none at all — if (s)he were about to lead a Remembrance Day service.
Any visitor or newcomer to these shores cannot miss the red poppies that men and women wear at this time of year, including nearly everyone appearing on television news broadcasts. It's abundantly clear that Remembrance Day is — quite rightly — an important day to the British.
Of course, we cannot forget the spiritual state of seminaries these days:
They outdo The Guardian in their adoption of 'peace and justice' as well as identity politics. For them, Scripture is but a footnote and none of it is history but rather liberation allegory. I know someone relatively conservative who went through the system over 20 years ago, when female seminarians began holding church services with prayers addressed to 'God, our Mother'. Even now, having served in churches for a few decades, she gets more radical by the year. It sounds as if Ms Jackson might have experienced something similar.
I concluded by saying I hoped the minister would change her mind after talking the issue over with local members of the Royal British Legion, councillors and congregants.
Jackson's local paper in Telford, the Shrophsire Star, spoke to local people planning on participating in the Remembrance Day service:
David Moore, president of the Hadley and Leegomery Royal British Legion, said: "From the military members who attend the service, and there are a lot, we were very shocked.
"If someone decides they don't want to wear a poppy, that is down to the individual, but if they are officiating a remembrance service, just for an hour, an hour and a half, it's not going to cut anyone's throat to wear one."
Quite right.
UKFred, who kindly commented on the aforementioned post, is an Englishman and a Methodist. He also wrote about the Telford poppy controversy and had this to say about war:
… I can understand that the Rev PJ Jackson does not want to glorify war. Neither do I. It brings to a sudden end too many lives for questionable reasons, as in the Iraq 'adventure' for the glory of Tony Blair and George Bush.
We need to think about who causes wars. It is not the rank and file soldiers, sailors and airmen. It is the politicians. The rank and file servicemen are the ones who pay the price, in terms of lives and limbs, lost sight and lost mental faculties. Wearing a red poppy is a means of remembering and honouring those were killed and injured allowing politicians to make their quests for glory and a place in the history books. Serving one's country in the armed services is an honourable profession and a dangerous one …
We all accept that we need clean water and a separation of the foul water in sewage from the water we drink, but not all of us will work to maintain the sewers and get our hands dirty. Sometimes we need a similar separation of the clean and the foul in world politics, and it is the military, the ordinary servicemen, who get their hands dirty to keep these two apart …
I'll end with Quiet_Man's observations on Orphans of Liberty:
… I do believe the idiot woman is misinformed as to the red poppy's significance as it does not commemorate war, does not glorify war nor does it advocate militarism. It reminds us of sacrifice and those who fell as well as those who served. There is precious little glory in war as any conversation with soldiers, sailors or airmen will tell you. Nor does the horror of seeing your friends killed or maimed give them anything other than grief.
As for the white poppy, well it was used by the Women's Cooperative back in 1933 as a symbol to end all wars, six years later the UK was fighting for its life agains the Nazis, there was the horror of the concentration camps and the systematic murder of foreign nationals on their own soil by the Einsatzgruppen der Sicherheitspolizei und des SD. The white poppy to me symbolises the peace at any price mindset of the hard of thinking aka the left who are happy to disarm civilisation, though no one else. These were the same people who wanted to ban the bomb (only for the UK) spied upon their own citizens and raved about the socialist paradises across the iron curtain and who still bitterly regret the people there throwing off the yoke of the communists.
The white poppy to me does not symbolise peace, but surrender, this is my view and one which I hold to …
I hope that, for those who are unfamiliar with it, this explains the meaning of the red poppy, discourages people from wearing a white one and calls all of us to pray this Monday, November 11, for the families of those who died whilst in service to their country, and us.
Let us also remember those who have returned from war injured, maimed and, possibly, forgotten. Too many are sleeping rough with no home and no job, through no fault of their own.