You are currently browsing the monthly archive for January 2016.
In a recent Forbidden Bible Verses post on Matthew 13:50-53, I cited one of John MacArthur's sermons, 'The Power of Unbelief, Part 1'.
In that sermon, MacArthur describes Jesus's return to the synagogue in Nazareth to teach the congregation. They were no more receptive than they were the first time, but at least they did not try to throw Him off a cliff again.
MacArthur described the ritual involved. The Church shares a few parallels.
Call to worship
Every Friday, there was the call to stop work for the Sabbath. The ancient Jews sounded:
two trumpet blasts. Those blasts would have come from the trumpet in the hands of the minister of the synagogue, who climbed up onto the roof of his house and just as the sun was beginning to set on Shabbat, Friday evening, he would blow two blasts to warn of the beginning of the Sabbath. A little time would intervene, and he would blow a second time, this time one blast. At that blast, all work halted. Then there would be a little space of time, and he would blow another single blast, and instantly put his trumpet down, lest he should defame and dishonor the Sabbath now that the third blast indicated it had begun. He would not defile the Sabbath.
Jesus would have heard the trumpet blasts and with the people, and gone to a place to partake in the Sabbath activity.
For Sabbath worship the following day, a synagogue leader used a shofar (translated as 'trumpet' in the Bible) to alert the congregation it was time to gather together. This would have been a long blast with one or two notes.
Churches have bells. In the Middle Ages, these were rung not only before Mass but at the time of the Elevation of the Host during the prayer of consecration, when everyone had to be at church. Some Christians used to wait for the second sound of the bells coming from the sanctuary, enter to hear the prayer, then leave afterwards. Many felt that it was sufficient to be present only at that point, as W D Maxwell explained in his 1937 book A History of Christian Worship: An Outline of Its Development and Form (p. 65).
Today's bells, where used, generally are rung 15 minutes before the start of the service or Mass. They are still rung at the time of the consecration at Catholic Mass and some High Anglican services.
Assigned places
MacArthur says that everyone had an assigned seat in the synagogue:
They sat in a very prescribed manner in a very prescribed place; it was very routine, with familiar faces, activities, and events.
Until the mid-19th century, it was common in some Catholic, Anglican and Presbyterian congregations to rent or purchase a pew for one's family. Those who could not afford to do so were relegated to lesser pews — on the side, in back or upstairs. Because of pew allocations some churches only allowed in members of their congregation, effectively prohibiting outsiders from attending. As congregants' disputes rose over pew designations and clergy realised that they were restricting other Christians' ability to worship, the practice was abolished.
Standing for the readings
MacArthur tells us that the Jews of Jesus's time stood to hear the readings:
The standing posture was indicative of the authority of the Word of God.
Christians also stand for the Scripture readings.
Sitting for teaching
When a rabbi or guest teacher, such as Jesus, gave an address, the congregation sat down to hear it:
lest the people think that man's teaching had the same authority as God's Word. They stood to read, and sat to teach.
Similarly, Christians sit to hear a sermon.
Our Christian services follow time-honoured and ancient traditions.
The three-year Lectionary that many Catholics and Protestants hear in public worship gives us a great variety of Holy Scripture.
Yet, it doesn't tell the whole story.
My series Forbidden Bible Verses — ones the Lectionary editors and their clergy omit — examines the passages we do not hear in church. These missing verses are also Essential Bible Verses, ones we should study with care and attention. Often, we find that they carry difficult messages and warnings.
Today's reading is from the English Standard Version with commentary by Matthew Henry and John MacArthur.
The Death of John the Baptist
14 At that time Herod the tetrarch heard about the fame of Jesus, 2 and he said to his servants, "This is John the Baptist. He has been raised from the dead; that is why these miraculous powers are at work in him." 3 For Herod had seized John and bound him and put him in prison for the sake of Herodias, his brother Philip's wife,[a] 4 because John had been saying to him, "It is not lawful for you to have her." 5 And though he wanted to put him to death, he feared the people, because they held him to be a prophet. 6 But when Herod's birthday came, the daughter of Herodias danced before the company and pleased Herod, 7 so that he promised with an oath to give her whatever she might ask. 8 Prompted by her mother, she said, "Give me the head of John the Baptist here on a platter." 9 And the king was sorry, but because of his oaths and his guests he commanded it to be given. 10 He sent and had John beheaded in the prison, 11 and his head was brought on a platter and given to the girl, and she brought it to her mother. 12 And his disciples came and took the body and buried it, and they went and told Jesus.
———————————————————————————————-
It is appalling that neither version, Matthew's nor Mark's, of the death of John the Baptist — the last prophet — whom Jesus compared to Elijah and the greatest person who ever lived, is in the three-year Lectionary. Why? Churchgoers need to hear about profoundly serious sin brought about by the preference for one's own pleasure. And Herod's is a classic morality as well as biblical story, affirmed by the historian Josephus and the early Doctor of the Church Jerome.
The Bible tells us that we can choose to enslave ourselves to God or to sin. This story should be at the forefront of our minds as a real-life illustration — and warning — of what happens when people decide to give themselves over to the devil.
Matthew gives us the end of the story then goes back and explains what happened.
Mark has a longer history of John the Baptist and Herod. I wrote about his account in 2012 and provided a lot of historical information from John MacArthur as to why John the Baptist warned Herod about his lust and unlawful marriage with Herodias. You can read more here and here. I also wrote about the various Herods yesterday; you might find the post useful.
Now on to Matthew's account. The first two verses tell us that Herod is convinced Jesus is a resurrected John the Baptist. He knew John was imbued with holiness, hence Herod believed he was now risen and working heavenly miracles. Herod did not know much of Jesus at this time.
We then read (verses 3, 4) why Herod imprisoned John the Baptist, who might have been held in close proximity to Herod's home. Matthew Henry gives us a succinct explanation (emphases mine):
The particular sin he reproved him for was, marrying his brother Philip's wife, not his widow (that had not been so criminal), but his wife. Philip was now living, and Herod inveigled his wife from him, and kept her for his own. Here was a complication of wickedness, adultery, incest, besides the wrong done to Philip, who had had a child by this woman and it was an aggravation of the wrong, that he was his brother, his half-brother, by the father, but not by the mother. See Psalm 50:20. For this sin John reproved him not by tacit and oblique allusions, but in plain terms, It is not lawful for thee to have her. He charges it upon him as a sin not, It is not honourable, or, It is not safe, but, It is not lawful the sinfulness of sin, as it is the transgression of the law, is the worst thing in it.
John the Baptist had so aggravated Herod's conscience that he wanted to put him to death. The only thing that stopped him from doing so was the fury of the people who deeply loved and respected John the Baptist.
When Herod's birthday celebrations took place (verses 6, 7), they were decadent. By the time Salome — unnamed in the New Testament — came in to dance, the assembled guests had enjoyed sumptuous feeding and watering. In keeping with Roman traditions, the event required a memorable party piece involving death.
John MacArthur gives us two examples:
Herodias had an ancestor by the name of Alexander Junius, and historians tell us that one time, Alexander Junius was holding a big feast, and brought in 800 rebels to make a display. He crucified all 800 of them in front of all the revelers at the feast, and then, while they were hanging on the crosses, still alive, he murdered their wives and children in front of them. It was a debauched world …
When the head of Cicero was brought to Fulvia, the wife of Antony, she spat on it, pulled its tongue out, and drove her hair pin through it. Jerome says that is what Herodias did with the head of John; we can't verify that, but we know that Herod's family seemed to want to mimic all of the worst atrocities of the Roman nobility. It must have been a point of derision and mocking – that dear, godly, faithful man, his head severed from his body. That is the extent of rejection that comes under the pressure of the fear of man. He was afraid to lose his throne, afraid of John, afraid of his wife, afraid of the people around him. Under the intimidation of that, he damned his soul to Hell forever.
Hell. Matthew had just mentioned Jesus's description of it in Chapter 13, in a verse also excluded from the three-year Lectionary:
50 and throw them into the fiery furnace. In that place there will be weeping and gnashing of teeth.
Anyone who doubts the existence of hell or eternal punishment is allowed to debate the issue here, however, please do give a reason why, other than, for example — speaking generally — that 'God in His mercy will save everyone' or 'I never believed it'. Examples of reasons would include an underlying difficulty with authority, doubting the creeds, relying on favourite authors or revisionist professors rather than Scripture, etc.
As we saw last week, Scripture — and Jesus, in particular — warned us many times about transgressing the Father. And we transgress the Father when we transgress His Son Jesus.
Jesus's death on the cross is satisfactory for the sins of the world but is efficacious only for those who believe in Him:
It is Satan's studied purpose to keep souls from believing in Christ as their only hope; for the blood of Christ that cleanseth from all sin is efficacious in behalf of those only who believe in its merit.
If we were all saved, why would Jesus — and, later, the Apostles — have continually warned us in the New Testament to turn away from sin? Surely, if we were all going to heaven, it would not matter. We could do whatever we pleased, as Herod and his family did, and still be saved.
In fact, why would we need any laws at all if we were all going to share a glorious afterlife? We could all be murderous, thieving anarchists engaging in fornication and adultery.

To those who support Universalism, I recommend a solid study of the New Testament, because:
When the Godhead is denied, there is no salvation.  When the dual nature of Christ is denied, there is no salvation.  When salvation by grace alone through faith alone in Christ alone is denied, there is no salvation.  When the Word of Truth is denied, there is no salvation.  When Jesus' second coming bodily to rule and judge the earth is denied, there is no salvation.
We are not saved on the basis of simply saying we believe Jesus existed, was a great guy, was a prophet, was a wonderful teacher … but on the basis of our continued belief that Jesus Christ is Lord and that He will ultimately save us and give us eternal life.
I suspect that those who deny hell are worried not about themselves as much as a close family member or a cherished friend, past or present.
Pray that living unbelievers are given the divine grace necessary to enable an everlasting faith. Scripture tells us that we can know God only via a firm belief in His Son Jesus Christ as Lord and Saviour.
Returning to today's reading, Herodias had a word with Salome, who then asked for John the Baptist's head on a platter (verse 8). Henry surmises that Herodias might have worried Herod could find a younger or more beautiful partner:
Perhaps Herodias feared lest Herod should grow weary of her (as lust useth to nauseate and be cloyed), and then would make John Baptist's reproof a pretence to dismiss her to prevent which she contrives to harden Herod in it by engaging him in the murder of John.
Herod immediately regretted his rash and extravagant promise to Herodias's daughter (verse 9). Henry explains the dangers of making oaths and throwing wild parties:
Promissory oaths are ensnaring things, and, when made rashly, are the products of inward corruption, and the occasion of many temptations.
Note, Times of carnal mirth and jollity are convenient times for carrying on bad designs against God's people. When the king was made sick with bottles of wine, he stretched out his hand with scorners (Hosea 7:5), for it is part of the sport of a fool to do mischief, Proverbs 10:23. The Philistines, when their heart was merry, called for Samson to abuse him. The Parisian massacre was at a wedding. This young lady's dancing pleased Herod. We are not told who danced with her, but none pleased Herod like her dancing. Note, A vain and graceless heart is apt to be greatly in love with the lusts of the flesh and of the eye, and when it is so, it is entering into further temptation for by that Satan gets and keeps possession. See Proverbs 23:31-33. Herod was now in a mirthful mood, and nothing was more agreeable to him than that which fed his vanity.
Herod did as his step-daughter asked and, as proof, the prophet's head was duly brought in (verses 10, 11). Salome presented John the Baptist's head to her mother.
Afterwards, John the Baptist's friends buried his body, then relayed the tragic news to Jesus (verse 12).
MacArthur makes this observation:
It may speak something of the thoughtfulness of Herod in his sobriety as he would permit that.
Then, Jesus went away to be alone (Matthew 14:13). John the Baptist was His cousin. They were conceived around the same time.
The Gospels tell us that Herod wanted to meet Jesus. However, He never did. MacArthur tells us:
Once, He sent a message to him. In Luke 13:32-33, He sent a message to Herod and said, "You fox. You want to see Me? You will not be able to kill Me like you did John the Baptist until My work is done." He called him a fox, and He never saw him, and moved, with quiet dignity, beyond the grasp of Herod. He left Herod to his guilt, his unresolved fear, his vile, wretched sin, and to the woman who was his doom, until one fateful day.
The only time Jesus saw Herod was at His trial, prior to the Crucifixion:
Look at Luke 23:6. This is the only time He ever went into the presence of Herod. This is the trial of Jesus. "When Pilate heard of Galilee, he asked if the Man were a Galilean. And as soon as he knew that He belonged to Herod's jurisdiction, he sent Him to Herod, who was also in Jerusalem at that time." Pilate didn't know what to do with Jesus, who was on trial, or mock trial. So he knows that He is from Galilee, and he says that He belongs in Herod's jurisdiction, so he ships Jesus to Herod. Verse 8. "Now when Herod saw Jesus, he was exceedingly glad; for he had desired for a long time to see Him, because he had heard many things about Him, and he hoped to see some miracle done by Him." Here was this strange fascination again, and now, finally, the two meet.
"Then he questioned Him with many words," and we don't know what he asked, but what an opportunity! The Lord can give him all the answers right now. Herod desires, longs to see Jesus, and has for a long time. The Lord could do some miracles, give him all the answers he wants, and it says, "But He answered him nothing." Jesus never said one word. "And the chief priests and scribes stood and vehemently accused Him. Then Herod, with his men of war, treated Him with contempt and mocked Him, arrayed Him in a gorgeous robe, and sent Him back to Pilate. That very day Pilate and Herod became friends with each other, for previously they had been at enmity with each other."
The used to hate each other, but here, they became friends. You know how? Common mockery of the Son of God; they are two very tragic men. Listen, Herod rejected Christ, and Christ rejected Herod. It was hard, stony ground; for fear of a woman, for fear of a reputation, for fear of his peers, and for fear of his throne, he damned his soul forever. John the Baptist lost his head but lives forever in the presence of God.
In conclusion:
Christ wants to reveal Himself to you, but if you are proudly holding onto your reputation, for fear of what others may think, for fear of the attitude and actions of those who may reject you, for fear of the loss of face or reputation, for intimidation by evil people, you have forfeited Christ and damn your soul. The day will come when you ask the questions and get no answers.
Next time: Matthew 14:34-36
Tomorrow's Forbidden Bible Verses entry will be about Herod and the death of John the Baptist as related in Matthew 14.
I have written about Herod before when discussing Mark's account of this event (here and here). Those provide full explanations about his family relationships — especially his 'marriage' — which John the Baptist warned him about.
It should be noted that more than one Herod is mentioned in the New Testament. John MacArthur's sermon on the first reading in Matthew 14 has helpful explanations, excerpted below.
When Jesus was born, Herod the Great was ruling at the time:
we'll see that there was a king then by the name of Herod. That was … Herod the Great. He was an Idumean, a descendant of Esau, and it was quite interesting that a descendant of Esau should rule over the sons of Jacob. He was an Arab, if you will. Herod the Great, to compound matters, was also married to a Samaritan, so you can imagine how a non-Jew, son of Esau, married to a Samaritan would be unpopular in the hearts of Jews. Yet he was their king, appointed by Rome, over the whole area. It was he who was so fearful when he heard the word that a King had been born, and as a result, slaughtered, in a massacre, all of the babies, in order that he might eliminate anyone who would pose a threat to his throne.
By the time we get to Matthew 14, Herod the Great had died long before, when Jesus was a baby. His legacy involved dividing the area he had ruled into territories for his sons:
When Herod the Great died, his dominion, which was all of Palestine (to the north, east, and even south), was divided among three of his many sons. It is hard to keep track of his sons, because he had them by different women, so some of them were half-brothers. Some of them even had the same name, as we shall see; they had different mothers, but the same father.
He had three sons: Archelaus, Philip, and Herod Antipas. Archelaus was assigned the area of Judea and Samaria, over which he ruled. Philip was given Ituraea and Trachonitis, which was the northernmost part of the land of Palestine. So Archelaus was in the south, Philip was in the north, and Herod got the middle, which was Galilee, and to the east of Galilee, the area known as Parea.
The Herod of Matthew 14, then, is Herod Antipas, who had been ruling for 32 years:
"Herod the tetrarch heard of the fame of Jesus." Now we meet this main character, the one who is the rejector in the passage, the one who is the stony ground.
He is called the tetrarch. Technically, that term is a mathematical word, it means 'a ruler of a fourth part.' Tetra has to do with a fourth of something. But it came to be a term used of any subordinate ruler in a section of a country, and there were many subordinate rulers in Israel at that time. He was one of them.
In verse 9, he is called 'king,' and it says, "The king was sorry." That is a very generous use of the term; he was not a king. In fact, he sought to be a king. On one occasion, he went to Rome to ask Caligula to make him a king, primarily because his wife wanted to be called 'queen,' and that wish was not granted to him. So he wasn't really a king, but a petty potentate, and it is a very generous use of the term 'king,' which was frequently used for people of lesser stature than we would imagine a king to have.
The New Testament has two other Herods from the same family:
There are two other Herods who appear later in the New Testament, and you need to understand that they come in the same line. The next Herod we meet is named Herod Agrippa, and if you want to know about that Herod, read Acts 12; he declared a 'Herod Day,' celebrated his power, and didn't give God the glory, so God smote him and he was eaten by worms, and died. There is, following him, a second Herod Agrippa, or Herod Agrippa II, and we find him in Acts 26. Paul preached to him. So basically we have these four: Herod the Great, Herod Antipas, Herod Agrippa I, and Herod Agrippa II.
As for Herod Antipas, Herodias and Salome, Matthew Henry tells us what happened to him according to the Jewish historian Josephus:
Josephus mentions this story of the death of John the Baptist (Antiq. 18. 116-119), and adds, that a fatal destruction of Herod's army in his war with Aretas, king of Petrea (whose daughter was Herod's wife, whom he put away to make room for Herodias), was generally considered by the Jews to be a just judgment upon him, for putting John the Baptist to death. Herod having, at the instigation of Herodias, disobliged the emperor, was deprived of his government, and they were both banished to Lyons in France which, says Josephus, was his just punishment for hearkening to her solicitations. And, lastly, it is storied of this daughter of Herodias, that going over the ice in winter, the ice broke, and she slipt in up to her neck, which was cut through by the sharpness of the ice. God requiring her head (says Dr. Whitby) for that of the Baptist which, if true, was a remarkable providence.
Indeed. Divine judgement had certainly been passed in this world — and no doubt the next.
Today's news has more on the migration crisis, including an update on Alexandra Mezher, who was fatally stabbed in Mölndal, Sweden, earlier this week.
United Kingdom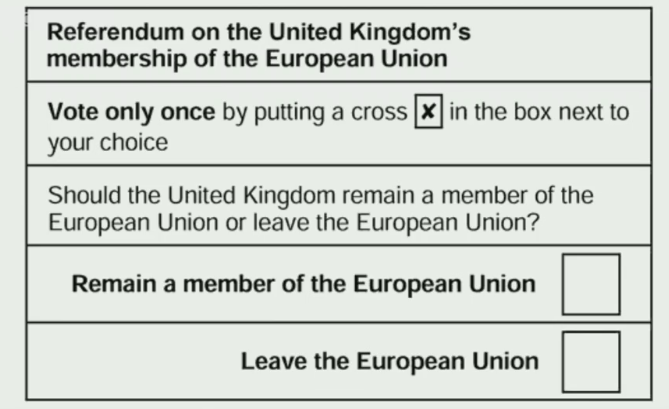 Whilst more than a few of us were relieved to read that our longed-for referendum on EU membership will be held in 143 days, we have other hurdles to overcome before then.
(Photo credit: Mike Smithson, PoliticalBetting.com Twitter feed)
I mentioned on January 25 that the question of bringing in refugee 'children' troubles some British teachers and social workers who are already working with those who arrived last year. They say that some refugee 'children' are of majority age, yet are in contact — whether in the classroom or in care homes — with minors. Children are therefore at risk in these situations by being in close proximity to young adult males.
The post also explained that, a week ago, a British QC (Queen's Counsel) ruled that Britain will have to accept three teenagers and a mentally-ill 26-year-old from Syria currently in Calais whilst their case for asylum is being decided.
Today, Thursday, January 28, the Express reported that 'unaccompanied child refugees' could be arriving in the UK soon.
The Save the Children charity have pleaded with the British government to accept 3,000 children. This number would be on top of the 20,000 refugees the UK has pledged to take in between now and 2020.
The scheme would involve taking the children directly from refugee camps near Syria, with input from the Office of the United Nations High Commissioner for Refugees (UNHCR).
On top of this, the Express tells us that 'unaccompanied child refugees' currently elsewhere in Europe will be allowed to come to Britain if they have relatives here.
Sweden
The age of 'unaccompanied child refugees' should concern us.
Today, via the Daily Mail, the Express reported that Chiméne Mezher, mother of brutally murdered Alexandra, who died on Monday, January 25, said some these 'children' at the refugee youth home where her daughter worked are actually adults (emphases mine):
Alexandra knew how to handle children including violent ones. But those she was working with were big powerful guys – she could see it in their eyes and their bodies. 
A few were maybe under 18, but the rest were older, maybe 23 or 24.
The article went on to say that Alexandra was on duty alone the night she died. Working night shifts alone has been standard practice at the youth home.
A colleague had rung Alexandra a few hours before she left home for work to say that one of the centre's kitchen knives was missing.
Mrs Mezher said that the employees did not report the missing knife because they were afraid of their superiors.
To date, the head of the company Alexandra worked for has not visited the Mezher family to express sympathy and discuss the tragedy.
Alexandra was stabbed in the back and thigh by a 15-year-old resident shortly before 8 a.m. on January 25.
Mrs Mezher is wondering where her family's future lies:
We left Lebanon [25 years ago] to escape the civil war, the violence and the danger. We came to Sweden where it was safe, to start our family. But it is not safe any more.
It is not surprising she has come to that conclusion:
The family has criticised politicians for the rise in immigration in Mölndal, a suburb of Gothenburg, where 8,000 migrants have arrived in less than a year. 
4,000 of the migrants are unaccompanied children.
Let us hope the British government does not put their citizens in a similar situation.
In other news
The Netherlands: Last week, a violent clash took place in the town of Geldermalsen over a proposed refugee centre. Townspeople planned a peaceful demonstration against plans to house 1,500 asylum seekers in the community of 27,000 people. The quiet protest was soon hijacked by violent outsiders, police said. However, on January 22, Geldermalsen's mayor cancelled plans for the centre, admitting that she should have consulted with residents first and that she had acted too quickly.
Germany: Assyrian Christian asylum seekers now living in the town of Saarlouis informed the police of a jihadi whom one recognised as a man who terrorised his neighbourhood in Syria. The Christian said the man stopped him several times at the local checkpoint when the two were still in Syria. The man also has an active Facebook page. The Christians duly informed the police. However, under German law, no arrest can be made until the man commits an offence. Some of the Christians now want to leave Germany, because, in the event of an IS attack there, they will be the first to be targeted.
Denmark: Whilst the Geldermalsen storm was brewing, the Danish council in Randers made pork a mandatory menu offering in day care centres and schools. The councillors said this is to preserve 'food traditions' and continue to put pork at the forefront of the Danish diet. However, halal meat, vegetarian dishes and foods for diabetics will continue to be available.
European politicians are increasingly worried about the migration crisis and how it ties in with the upcoming UK referendum on EU membership.
On January 25, 2016, The Guardian reported that former Italian prime minister Enrico Letta said it would be better if the UK delayed the referendum until 2017, when he thinks the migration crisis will have subsided.
The referendum might be held this summer, which worries Letta:
… the link between the two issues will be terrible.
On the contrary, it could even be worse by next year if we are forced to take in 90,000 migrants in 2016 and contemplate their eventual family reunification process in the meantime.
Prime Minister David Cameron's attempts at renegotiating our membership prior to the referendum have also frightened his EU peers (emphases mine):
Letta was among a phalanx of senior European politicians, including two former prime ministers, who said the British renegotiation agenda was either completely impossible, self-defeating or, at points, crazy. In particular, Britain was warned that its plan to prevent non-UK citizens from receiving in-work benefits for four years could attack one of the key tenets of the union, since it threatened the principle of free movement of workers and would require a treaty change that other EU countries would not tolerate.
A bigger problem might be the automatic right for an EU citizen to claim benefits without being in work.
The Dutch, the Poles and the French are upset. France's former Europe minister Noëlle Lenoir accused the UK of putting the immigration crisis in the forefront of Britons' minds rather than the the principles of the free market.
Meanwhile, veteran Guardian columnist Michael White fears that the immigration crisis could create any number of Donald Trumps in Europe. However, even he grudgingly admitted that comparisons between the current situation and the Fall of the Roman Empire might have some merit.
He is old enough to remember DPs — displaced persons — coming to Western Europe, including the UK, after the Second World War. He says the continent was 'full of' such people, meaning that our present influx is very similar. I wonder, but I do not think so, otherwise everyone over the age of 70 would be claiming that. And they aren't. Also, the DPs looked forward to practising their religion in peace and working hard for a living. I have never heard or read of any assimilation problems relating to them, probably because they were fellow Europeans.
The Anglican priest, the Revd Giles Fraser, worries that some in Britain are stigmatising our refugees. Whilst I agree with him that it is ill-advised for Middlesbrough's refugee homes to have red doors (now being repainted) and for Welsh asylum seekers to wear red wristbands (since dropped) as a means of identification, to claim that we are in the run-up to a 21st century Holocaust seems wide of the mark.
Fraser then points a finger at the recent Charlie Hebdo cartoon which conflates the late little Aylan Kurdi with migrant adolescents who are teenage bum-gropers. In the process, Fraser mistranslates fesses, which is the word for 'buttocks', not 'a*s'.
Actually, given recent events in Europe this month, that cartoon — whilst meant as a poke at racists — might be more prescient then the magazine had anticipated.
Guardian readers spent several days and a few hundred comments debating the cartoon and what it meant. One wrote:
I think it's saying that you start off getting all dewy-eyed about a dead boy, and end up inviting a horde of bum-gropers into your country.
Did the right in France cry at the sight to the dead boy? Did they change their policy towards migrants because of the picture and demand that all and sundry be accepted because we must think of the children?
Because if they didn't, then the picture of A[y]lan doesn't 'satirise' them, but the virtue-signallers who failed to see the risks.
But I agree that my interpretation is only one of many possible explanations.
And how is it that so many have entered? Yes, we know about the boat smugglers, but a fascinating, informative article from 2015 by Nicholas Farrell for The Spectator explains how Italy accommodated them over the years, to the point where Italy's leftist government in 2013
took the extraordinary step of decriminalising illegal immigration, which means among other things that none of the boat people are arrested once on dry land. Instead, they are taken to 'Centri di accoglienza' (welcome centres) for identification and a decision on their destinies. In theory, only those who identify themselves and claim political asylum can remain in Italy until their application is refused — or, if it is accepted, indefinitely. And in theory, under the Dublin Accords, they can only claim political asylum in Italy — the country where they arrived in the EU. In practice, however, only a minority claim political asylum in Italy. Pretty well all of them remain there incognito, or else move on to other EU countries.
The numbers have been so overwhelming that police do not force registration, which includes consenting to a photograph and fingerprints. Many migrants just disappear. Those who do decide to go into the accommodation centres are given mobile phones and €3 a day pin money as well as lessons in ice-cream making or driving.
Farrell says that, in 2014, 64,000 asylum seekers submitted their applications to the Italian authorities. However, the government was able to only process half of those claims. Those whose claims were refused can still stay in the country indefinitely because of human rights laws. Italy deported only 6,944 people that year.
When the influx is particularly heavy, Italian police bus migrants in to larger towns and cities, leaving them in town centre squares or main railway stations.
Untreated health issues, including diseases Europeans thought were long gone, pose a real risk:
Scabies is rife (of 46,000 migrants tested this year, 4,700 were infested) and one in four migrants is said by doctors to have Hepatitis C.
And 2016 looks to be no different: 400,000 migrants could be headed for Italy in the next few weeks. With Schengen hanging in the balance, passport checks are back in place, meaning that those arriving in Italy may well have to stay there. Breitbart explains:
As a country of first arrival, Italy has more to lose from the breakdown of Schengen than any other European nation, perhaps with the exception of Greece. In 2015 alone more than 150,000 migrants reached Italian shores, but the vast majority continued north, with many heading to France, Germany or the countries of Scandinavia. Now that the Schengen Treaty is all but a dead letter, the Alps have once again become an insurmountable barrier.
In this dramatic panorama the bulk of the migrants are expected to come through the "Balkan route," and according to experts, some 400 thousand immigrants will be arriving in the coming weeks. Sources at the Interior Ministry have also expressed fears that many migrants will begin to circumvent Greece and Croatia and come directly to the ports of Ancona and Bari in southern Italy.
Perhaps it is time for Italy or the EU to consult the Australians for advice.
Farrell says we have no moral obligation to take migrants in these circumstances:
All of us feel it to be our moral duty to save lives where we can. Yet it cannot be our moral duty to ferry such vast numbers across the Mediterranean into Italy and Europe for ever, unless they are genuine refugees. In fact, our moral duty is not to do so …
The same applies to land crossings. This year, it will become incumbent on individual countries or the EU to come up with a comprehensive and sensible refugee migration policy.
Yesterday, one of my readers, underground pewster, sent in the Yahoo!News link to the horrifying fatal stabbing of a Swedish social worker at a youth home for male refugees in Molndal, southwest Sweden.
Her murderer is a 15-year-old.
I replied that the young woman probably considered her work as a vocation.
It turns out she did.
The Daily Mail revealed that Alexandra Mehzer, 22, the daughter of Lebanese immigrants, anticipated returning to university to earn a Master's degree in social science. One of her cousins described her as:
'an angel'.
She told Swedish media: 'It is so terrible. She was a person who wanted to do good, who wanted to be good.
'And then he murdered her when she was doing her job. We have cried a lot. She was such a nice person, warm and happy.'
Alexandra's mother, Cheméne Mehzer, said the same, adding that her daughter was
a just and fair human being. There were so many who loved her. She was my daughter, my friend.. my mate.
The fatal attack took place before 8 a.m. on January 25, 2016, when the attacker set upon her. Alexandra had been working at the small refugee centre for only a few months. The centre accommodates ten 'unaccompanied' youths between the ages of 14 and 17.
It is unclear where the other nine youths were at the time. However, soon after the attack happened, a group of them overcame the boy and held him until the police arrived. He was arrested on suspicion of murder.
Alexandra was rushed to hospital in Gothenburg, but doctors were unable to save her.
Police spokesman Thomas Fuxborg gave no information on the assailant's nationality or motive. However, he did tell Swedish media:
These kinds of calls are becoming more and more common. 
We're dealing with more incidents like these since the arrival of so many more refugees from abroad.
Alexandra's murder took place as National Police Commissioner Dan Eliasson requested 4,100 extra officers and support staff to cope with the recent spate of attacks and criminal activity on the part of newcomers to Sweden. Deportation is a real possibility, provided it can be arranged with the home country.
Eliasson said (emphases mine):
We are forced to respond to many disturbances in asylum reception centres. In some places, this takes significant police resources.
This was not the case six months ago and it means that we won't be able to respond as effectively in other areas.
The Mail tells us:
According to the Swedish Migration Agency, the number of threats and violent incidents at asylum facilities more than doubled between 2014 and 2015.
In 2014, there were 148 incidents but in 2015 that number jumped to 322.
The article says that police are also struggling with spontaneous arson attacks on asylum facilities, stricter border controls introduced on January 4 and the higher terrorist threat level as a result of the Paris attacks last November.
Police union director Lena Nitz explained that Swedish police have long been underfunded and understaffed. She said:
It is obvious that the migrant situation is a great strain. It has become clear that the situation is completely unsustainable.
Last year, Sweden, with a population of 9.8m, took in 160,000 asylum seekers in 2015. Since then, the government has tightened asylum rules.
However, in Stockholm, unaccompanied migrant minors — boys — are already wreaking havoc at the capital's largest aquatics centre Eriksdalsbadet and at the central railway station.
Over the past three weeks, four cases involving girls under the age of 18 have been filed. These are complaints of indecent assault experienced at Eriksdalsbadet. The incidents took place in hot tubs, swimming pools and in the changing rooms.
Another Mail article discusses the Moroccan boys' gangs which are making Stockholm's central railway station a no-go zone. The fearless groups of children are not above attacking security guards, either.
Police estimate there may be 200 youths in total. Some are only nine years old.
It is thought that the youths have run away from state homes for juvenile migrants. In the centre of Stockholm, they can live as they please on the streets, earning their way by stealing and amusing themselves with assaults on girls and young women.
One Stockholm police officer said:
These guys are a huge problem for us. They steal stuff everywhere and assault security guards at the central station …
They grope girls between their legs, and slap them in the face when they protest. All police officers are aware of this.
I would never let my children go to the central station. No officer would.
The theory behind this situation is explained in an article about Pakistani Muslim attacks on innocent Christian girls — a horrifying and highly recommended read.
The article quotes the late Majid Khadduri, the founder of Johns Hopkins's SAIS Middle East Studies Program. He held a variety of ministerial roles in the Middle East then taught at SAIS from 1950 until 1980. He died in 2007 at the age of 98. He was widely respected for his knowledge of Muslim law and society. He explained the thinking behind the Muslim spoils of war:
The term spoil (ghanima) is applied specifically to property acquired by force from non-Muslims. It includes, however, not only property (movable and immovable) but also persons, whether in the capacity of asra (prisoners of war) or sabi (women and children). … If the slave were a woman, the master was permitted to have sexual connection with her as a concubine.
This belief has been applied against non-Muslims, 'infidels', in various European nations over the years and has escalated this year.
Westerners see the acceptance of migrants as being compassionate and merciful.
Young migrants might well see it as an invitation for invasion and an opportunity to exploit.
And where are the Christian refugees in all of this? Should we not have taken them in first then made a considered decision about Muslim migrants later?
The migrant crisis in Calais ramped up in the last four days. One wonders if we could be reaching peak Calais.
On January 20, 2016, the Immigration and Asylum Tribunal in London ruled that four Syrian males — three teenagers and a mentally-ill 26-year-old — can leave Calais to be reunited with relatives in the UK.
The Daily Mail reported:
It is understood that the court's order will come into effect immediately meaning the four refugees can travel over from Calais now.
This is despite the fact that Home Office had fought the application and are said to be planning to appeal it.
The four have a legal entitlement to come to the UK to seek asylum because their relatives are already legally living here.
However, under EU law known as the Dublin regulation they would only be allowed to join their relatives in Britain if they had already applied for asylum in France.
But lawyers in Britain successfully argued that because of bureaucratic failings in France and the refugees' entitlement to a family life under Article 8 of the European Convention of Human Rights, they should immediately be brought to Britain and their asylum applications processed here.
The judgment therefore means the French authorities will be effectively bypassed as the applications are handed over directly to the British.
Michael Fordham QC represented the refugees. He is one of Britain's experts in immigration and civil rights law. He has won awards for his legal work in this area and also represents the UN High Commissioner for Refugees.
On January 21, the unelected European Commission said it wants to implement a new quota system whereby some European countries would take in more 'refugees' than they had previously agreed to. Britain, for example, had agreed to take in 20,000 from 2015 to 2020. Under the new proposals, we would take in 90,000 in one year.
The Daily Mail reported that the British government 'vowed to fight the proposal'. Conservative politicians and the head of the Road Haulage Association predict chaos if this goes ahead. They say there would be no end of migrants coming in to Calais to stay in the Jungle whilst they attempt to cross the Channel.
The weekend showed no let up.
On Saturday, January 23, Labour Party leader Jeremy Corbyn — sometimes nicknamed Jezbollah for his empathy towards terrorist groups — visited the Calais Jungle as well as the migrant camp in Grande-Synthe near Dunkirk. He said:
These conditions are a disgrace anywhere. We as human beings have to reach out to fellow human beings.
Yet, as The Independent's readers said in the comments, no one forced the migrants to go to France in the first place. One wrote:
More quasi marxist drivel from Corbyn the appeaser.
Another pointed out:
Why is it always WE, the British, who must do this reaching out, as if we have the monopoly on morality?
As I understand it, the French have already tried to reach out, offering these people safe haven.
But no – these people in their disgusting conditions are there of their own choice, desperate to get to Britain because they know they'll have an easier ride than in France, and our politicians and journalists are playing into their hands. They've fallen for the wiles of a bunch of parasites. It's simply that.
Their sentiments are not misplaced, because, as Corbyn was walking around the migrant camps, chaos broke out in Calais and the port had to be closed.
The Daily Mail has dramatic photographs from Saturday afternoon. A group of British, German and other European anarchists from No Borders incited several hundred migrants to storm the city. A smaller group stormed the port, and 50 of them boarded the Spirit of Britain ferry.
Their trespassing and subsequent stand-off with police necessitated closing the port completely.  The port did not reopen until 10 p.m. that night.
Several arrests were made quayside. Six migrants and two No Borders activists faced immediate trial. If convicted, they could receive a prison sentence of up to six months and a fine of £2,800.
In and around Calais, the larger mob tore down security fences, threatened violence and painted an obscenity on the statue of Charles de Gaulle. I understand from French pundits on RMC that a French activist has been charged with the last offence. A police officer who was there said the British and German activists were the most aggressive.
That same day, The Guardian reported that Prime Minister David Cameron could cave in to pressure to accept more 'unaccompanied migrant children' into the UK. A number of Guardian readers who are either teachers or social workers said this was a highly dangerous thing to do. They have already seen adult migrant males deemed to be adolescents in secondary schools and care homes. They say that some are in their mid-20s. Their presence among minors poses a serious risk to those children.
Amazingly, the main editorial in The Observer (The Guardian's sister Sunday paper) said that the current immigration situation is unsustainable. Two brief excerpts follow:
The present situation is not sustainable – meaning, at most, a couple of months. Having thrown open Germany's borders in an act of humanitarian goodwill, Angela Merkel is struggling to cope with 1 million new refugees, with an estimated, additional 1 million on their way this year. Fairly or not, reaction to the shocking events in Cologne on New Year's Eve, when hundreds of women were abused by men with migrant backgrounds, has underscored how socially corrosive and politically divisive unstructured immigration can be.
If common ground cannot be found on effective, EU-wide migration controls, it seems inevitable Europe's doors will start slamming shut – and the linked crises of a crippled single market, chronic eurozone weakness and a possible British exit will intensify.
In a highly interesting discussion which debated compassion versus reality and how the Left plays the argument, one reader summed up the situation perfectly:
In some cases, certainly we can put it down to naivety – disastrous consequences resulting from benevolent intentions. A lot of the time, however, the desire to bring in Middle Eastern/North African refugees en masse is due to (a) genuine admiration for Islam (here, for example), (b) intense dislike for English culture and Western society and (concomitantly) a love of all things foreign, (c) the likelihood that migrants, once citizens, shall vote for the left, (d) more migration means more of the kinds of jobs leftists do (local council administrator, primary school teacher, equality and diversity coordinator), (e) the failure to permit mass migration from the Middle East and North Africa would be racist, which in left wing ideology is the worst offence, and essentially (f) mass migration shall finally usher in a multicultural, left wing nirvana – a society in which the leftist fantasizes that he has the highest status in society.
The Observer is correct. If these events and EU diktats continue, it is increasingly likely that the British public will vote 'Leave' the EU in the upcoming referendum this year.
Meanwhile, the petition for actress Emma Watson to spend a week in the Calais Jungle unprotected has nearly 13,000 signatures. An Australian man from Melbourne initiated the petition in response to Miss Watson's claims that migrants pose no threat to women.
Here's what happened to two left-wing Dutch documentary makers — a man and a woman — who were making an independent film called Calais: Welcome to the Jungle. They were set upon by one group of migrants and, fortunately, rescued by another:
Activists in the Calais Jungle asked them not to post the mugging on YouTube because, in their words,
it would harm the cause.
Indeed.
This month has probably been a decider. We might not only be reaching peak Calais, but also peak migration in Europe.
Yesterday's post started with Matthew 13:50, in which our Lord spoke of the 'weeping and gnashing of teeth' that takes place in hell.
In 1982, John MacArthur delivered a sermon on Matthew 13:47-52:
The Parable of the Net
47 "Again, the kingdom of heaven is like a net that was thrown into the sea and gathered fish of every kind. 48 When it was full, men drew it ashore and sat down and sorted the good into containers but threw away the bad. 49 So it will be at the end of the age. The angels will come out and separate the evil from the righteous 50 and throw them into the fiery furnace. In that place there will be weeping and gnashing of teeth.
New and Old Treasures
51 "Have you understood all these things?" They said to him, "Yes." 52 And he said to them, "Therefore every scribe who has been trained for the kingdom of heaven is like a master of a house, who brings out of his treasure what is new and what is old."
MacArthur's sermon is called 'The Furnace of Fire'. In it, he explains the nature of hell.
As I said yesterday, our modern notion of hell has been watered down greatly since the 19th century. Most Christians believe it will be a place of mental torment where the damned long for God forever.
But could there be other sensory elements to hell, ones which mankind would prefer to overlook or to explain away because they are too horrifying to contemplate? MacArthur thinks so.
He says that Jesus talked about how horrible hell would be. The Gospels have many references about eternal condemnation. These can be found in Matthew 5, Matthew 8, Matthew 23 through 25, Mark 9, Luke 6, Luke 12 and Luke 16.
Jesus said more about fire than mental torment, although permanent insanity could well be the end result of going to hell. Yet, many theologians and clergy choose to gloss over this fact. It would be better if they were to  say that hell is like Dante's Inferno and advise us to read it. However, they would probably say that Jesus was using allegory in talking about hellfire. I doubt many believe in hell as Jesus described it.
Degrees of torment
Like Dante, MacArthur believes there will be degrees of punishment in hell (emphases mine):
You have in hell a place of relieved torment of body and soul in varying degrees …  In other words, for some people, hell will be worse than others.  For all who are there, it will be horrible.  It will be ultimate suffering. 
There will be no relief for that, but there will be even more severe degrees of suffering for some.  It says in Hebrews 10, "Of how much more severe punishment shall they be thought worthy who have trodden underfoot the Son of God and counted the blood of the covenant an unholy thing."  People who have stepped on Jesus Christ, who have rejected his cross, will know a greater hell than those who have not. 
There will be degrees, just as there will be degrees of reward in heaven.  We saw that, also, I think, in Matthew chapter 11, when it said, "It will be more tolerable for Sodom than for you."  In other words, it's only relative.  It isn't going to be tolerable for anyone, but it will appear to be more tolerable for them than for you because of what you have experienced. 
You had Jesus Christ in your city, they didn't.  You rejected Him with more light; therefore, hell will be more severe for you.  And then you have, of course, that incredible parable in Luke 12 where the Lord says, "To the servant who knew and didn't do right, many stripes.  To the servant who didn't know and didn't do right, a few stripes."  So hell will be unrelieved torment of body in soul in varying degrees.  And John Gerstner says, "Hell will have such severe degrees that a sinner, were he able, would give the whole world if his sins could be one less."
Darkness
MacArthur reminds us that the Bible speaks of darkness when referring to hell:
the Bible defines it as darkness, outer darkness.  That is deep-pit darkness, darkness that's way out from the light, impenetrable darkness, darkness that closes in.  And it is darkness without the hope of light forever.  Have you ever been in the darkness and longed for the daylight? 
Have you ever been in the darkness and longed for someone to turn a light on?  To be in that encroaching, encompassing, moving kind of darkness and know that for all the eons of eternity, you will never see light is how our Lord describes hell.  Unrelieved darkness forever, with no hope of the light, no hope of the dawn. 
Fire
Yes, there is fire:
And the Bible also says it is a fire.  Now, it is not a fire that we would know as fire, to burn something in this world.  But fire is God's way of describing it because it is a tortuous, unrelieved kind of fire, more terrible than any fire that we would ever know.  But fire describes the torment of the damned; blackness describes the torment of the damned, no light, no light ever, ever.  No relief from the suffering, the agony and the pain, forever.  And there's only two times in all of Scripture that we have any insight into how people respond to hell. 
Torment of the body
MacArthur mentions Jesus's cautionary story about the Rich Man and Lazarus (Luke 16:19-31). Dives did nothing to help poor, sickly Lazarus who ate the scraps from his table. When Lazarus died, he went to heaven. When Dives died, he went to hell. There Dives suffered from everlasting thirst:
24 And he called out, 'Father Abraham, have mercy on me, and send Lazarus to dip the end of his finger in water and cool my tongue, for I am in anguish in this flame.' 
Abraham refused. The rich man then asked him to send someone who had died to his brothers, so they might be warned of the torment to come. Abraham replied that the rich man's brothers had Moses and the prophets to warn them. Ultimately:
31 He said to him, 'If they do not hear Moses and the Prophets, neither will they be convinced if someone should rise from the dead.'"
Torment of the soul
MacArthur says:
it is a place of unrelieved torment for both body and soul, for both body and soul.  Soul being the inner part. 
The new body built for hell
MacArthur explains that the human body as God created for life on earth would not be able to resist hellfire.
So, when the Last Judgement takes place, just as those going to heaven will have a new glorified body, those going to hell will have a new body fit for eternal damnation:
When a person dies now, their soul descends into that torment.  In the future, there will be a resurrection of the bodies of the damned.  They will be given a transcendent body that will then go into a lake of fire.  It will be a body not like the body we have now.  It will be a very different one.  They will be resurrected just like we will, as Christians. 
We will be resurrected because this body could never live eternally in heaven, right?  We have to have a transcendent body, a glorified body, a different body, and so do the damned.  And they will be raised, John 5, they will be raised in new bodies for the single purpose of being punished forever in those bodies. 
That's what the Bible says, tormented forever.  They have to have a body to fit that eternal torment.  And that's why Jesus in Matthew 10:28 said, "Fear not them that can destroy the body, but fear him who is able to destroy both soul and body in hell."  You see, hell is soul and body. 
Some people think it's just bad memories.  No, it isn't just bad memories.  It isn't just the inner thinking processes; it is that body as well.  Transcendent, eternal bodies, greater than anything we have on this earth, are going to be given to the damned so that they can suffer in those bodies forever.  And that's the only reason that they'll have those bodies. 
With the present body, man couldn't endure hell … the body that we have now would be consumed in a moment.  So as God fits the redeemed with new bodies for heaven, He fits the damned with new bodies for hell.
The worm and fire forever
We know that the 'worm dieth not' and that the fire never goes out. This describes the Jewish Gehenna. Was Jesus addressing His people allegorically or literally?
MacArthur explains:
Now what did He mean by that?  When a body goes into the grave, into decay, worms descend into that body.  And they begin to consume that body, and the worms will die when the food is gone.  So once the body is consumed, the worms die.  But in hell, the worms never die because the body, though it is continually being consumed, is never consumed.  So the worm never dies. 
In other words, the Lord was saying the unrelieved torment of body goes on and on.
And:
it says, also, the fire is not quenched.  Now a fire always goes out when the fuel is gone.  But the fuel will never be gone.  Though the burning goes on, the fuel is never consumed.  And so you have unrelieved torment of body and soul.
Conclusion
Do enough of us think about hell or is it something we can explain away?
Is it more than the great existentialist void many of us have been taught to believe?
For all the time we spend rationalising hell, maybe it is time we gave Jesus's warnings more thought. We — inherently sinful men and women — are telling each other that hell is a state of mind. Our Lord described it differently.
If contemplating the hell He described is a horrifying thought, He meant us to clearly understand it's not a place we want to spend eternity. Repent, pray for faith and for continual grace.
The three-year Lectionary that many Catholics and Protestants hear in public worship gives us a great variety of Holy Scripture.
Yet, it doesn't tell the whole story.
My series Forbidden Bible Verses — ones the Lectionary editors and their clergy omit — examines the passages we do not hear in church. These missing verses are also Essential Bible Verses, ones we should study with care and attention. Often, we find that they carry difficult messages and warnings.
Today's reading is from the English Standard Version with commentary by Matthew Henry and John MacArthur (here and here).
50 and throw them into the fiery furnace. In that place there will be weeping and gnashing of teeth.
New and Old Treasures
51 "Have you understood all these things?" They said to him, "Yes." 52 And he said to them, "Therefore every scribe who has been trained for the kingdom of heaven is like a master of a house, who brings out of his treasure what is new and what is old."
Jesus Rejected at Nazareth
53 And when Jesus had finished these parables, he went away from there,
—————————————————————————————-
Verse 50 concludes Jesus's Parable of the Net (Matthew 13:47-49):
47 "Again, the kingdom of heaven is like a net that was thrown into the sea and gathered fish of every kind. 48 When it was full, men drew it ashore and sat down and sorted the good into containers but threw away the bad. 49 So it will be at the end of the age. The angels will come out and separate the evil from the righteous
That parable is read in the 12th Sunday of Ordinary Time when Year A readings are used in the three-year Lectionary.
It is a pity that the compilers — Catholic and Protestant theologians — decided to omit verse 50.
Since the 19th century, the Christian idea of hell has been watered down to such a degree that many people joke, 'So what? At least I can get a gin and tonic down there'.
However, as John MacArthur says, hell is no laughing matter (emphases mine):
Verse 50, "And shall cast them into the furnace of fire: there shall be wailing and gnashing of teeth."  Now that is a fearful verse.  And I confess to you that it affects me just as it affects anybody.  It is a horrifying, fearful verse. 
And if there's any doctrine in the Bible that you wish were not there it is the doctrine of hell, but that does not eliminate it.  It is there.  And this is the heart of the matter.  Cast into the furnace of fire.  Those are terrifying words from our Lord.  And yet He spoke more of hell than anybody else. 
And I think there's a reason.  Do you know what I think?  I think that if Jesus hadn't taught us about hell, we wouldn't believe whoever did.  It had to be Him.  It is so inconceivable, it so causes us to be revulsed.  We cannot conceive of eternal damnation.  And it had to be our Lord who said this or we never would have been able to accept it.  It was His own special emphasis.  And He was a preacher of hell.  More than anything else, He threatened men with hell.  And if you don't think He did then you haven't been carefully noting His ministry.
MacArthur went on to detail the previous references in Matthew's Gospel. MacArthur was using the KJV at this time in his ministry.
Matthew 5:22:
Whosoever shall say, Thou fool, shall be in danger of hell fire.
Matthew 5:29-30:
If your right eye offend you, pluck it out and cast it from you for it is profitable for you that one of your members should perish, and not your whole body should be cast into hell. If your right hand offend you, cut it off, throw it away, for it is profitable for you that one of your members should perish and not that your whole body should be cast into hell.

Matthew 8:12:
The sons of the kingdom shall be cast out into outer darkness, there shall be weeping and gnashing of teeth.
Other verses which cite our Lord directly concern condemnation or damnation. And, as Bible readers know, it is not only in Matthew, including chapters 23 through 25, that we find such warnings but also:
Mark chapter 9, Luke chapter 6, Luke chapter 12, Luke chapter 16.  It just goes on and on.
If our Lord warned us so many times, why would we not believe Him?
Because theologians, even in the 16th century but more nowadays, have told us that this hell is a psychological one that causes us to long for God. I can understand why atheists respond with 'So what? I don't believe anyway.'
I'm going to go into MacArthur's definition of hell — from the same sermon — in tomorrow's post, but suffice it to say that it includes 'impenetrable darkness', 'unrelieved fire', physical pain and torment of the soul relative to the degree of sin committed in this life.
He says:
When a person dies, their soul goes out of the presence of God, into the torment of hell.  It may not be the full final lake of fire that comes after the judgment in the great white throne, for that needs a transcendent body to endure it. 
But it is a torment just as well as illustrated by the rich man who in hell was tormented.  When a person dies now, their soul descends into that torment.  In the future, there will be a resurrection of the bodies of the damned.  They will be given a transcendent body that will then go into a lake of fire.  It will be a body not like the body we have now.  It will be a very different one.  They will be resurrected just like we will, as Christians. 
We will be resurrected because this body could never live eternally in heaven, right?  We have to have a transcendent body, a glorified body, a different body, and so do the damned.  And they will be raised, John 5, they will be raised in new bodies for the single purpose of being punished forever in those bodies. 
That's what the Bible says, tormented forever.  They have to have a body to fit that eternal torment.  And that's why Jesus in Matthew 10:28 said, "Fear not them that can destroy the body, but fear him who is able to destroy both soul and body in hell."  You see, hell is soul and body …
With the present body, man couldn't endure hell … the body that we have now would be consumed in a moment.  So as God fits the redeemed with new bodies for heaven, He fits the damned with new bodies for hell … 
Since childhood, I have always been struck by the words 'wailing and gnashing of teeth', which seem to imply more than torment of the soul.
Above, MacArthur referred to our Lord's story of Dives ('rich man') and Lazarus, which is a reading in the three-year Lectionary (Luke 16:19-31). Dives did nothing to help poor, sickly Lazarus who ate the scraps from his table. When Lazarus died, he went to heaven. When Dives died, he went to hell. There Dives suffered from everlasting thirst:
24 And he called out, 'Father Abraham, have mercy on me, and send Lazarus to dip the end of his finger in water and cool my tongue, for I am in anguish in this flame.' 
Abraham refused. The rich man then asked him to send someone who had died to his brothers, so they might be warned of the torment to come. Abraham replied that the rich man's brothers had Moses and the prophets to warn them. Ultimately:
31 He said to him, 'If they do not hear Moses and the Prophets, neither will they be convinced if someone should rise from the dead.'"
And so it remains to this day. Our Lord has millions who mock Him daily around the world.
Jesus had finished relating the disciples not only the Parable of the Net, but also the Parables of the Sower, the Weeds, the Mustard Seed and the Leaven, the Hidden Treasure and the Pearl of Great Value.
He asked His disciples if they understood them (verse 51). They replied, 'Yes'. Matthew Henry says that Jesus asked because:
he was ready to explain what they did not understand. Note, It is the will of Christ, that all those who read and hear the word should understand it for otherwise how should they get good by it? It is therefore good for us, when we have read or heard the word, to examine ourselves, or to be examined, whether we have understood it or not. It is no disparagement to the disciples of Christ to be catechised. Christ invites us to seek to him for instruction, and ministers should proffer their service to those who have any good question to ask concerning what they have heard.
We can be sure that the disciples did understand the parables because when they did not, as with those of the Sower and also the Weeds, they asked for an explanation.
Jesus then paid them a compliment (verse 52) by comparing them to scribes trained for the kingdom of heaven and masters of a house. Henry explains:
They were now learning that they might teach, and the teachers among the Jews were the scribes. Ezra, who prepared his heart to teach in Israel, is called a ready scribe, Ezra 7:6,10. Now a skilful, faithful minister of the gospel is a scribe too but for distinction, he is called a scribe instructed unto the kingdom of heaven, well versed in the things of the gospel, and well able to teach those things …
He compares them to a good householder, who brings forth out of his treasure things new and old fruits of last year's growth and this year's gathering, abundance and variety, for the entertainment of his friends, Song of Song of Solomon 7:13. See here, [1.] What should be a minister's furniture, a treasure of things new and old. Those who have so many and various occasions, have need to stock themselves well in their gathering days with truths new and old, out of the Old Testament and out of the new with ancient and modern improvements, that the man of God may be thoroughly furnished, 2 Timothy 3:16,17. Old experiences, and new observations, all have their use and we must not content ourselves with old discoveries, but must be adding new. Live and learn.
Verse 53 refers to our Lord's departure from Capernaum to his hometown of Nazareth. Luke 4:16-30 tells us what happened there, and I wrote about it, albeit briefly as it is in the Lectionary, in 2013.
In short, the people of Nazareth thought Jesus was an upstart, got angry with Him and tried to throw Him off a cliff:
30 But passing through their midst, he went away.
Given that, it seems strange that Mary and His step-brothers wanted to bring Him back to Nazareth.
MacArthur tells us that Jesus was leaving Capernaum for good, as the residents did not accept Him, even though He had been teaching and healing the people there for a year.
Remember His dire warning to them in Matthew 11:20-24, which some of you might remember from my entry of October 2015.
MacArthur explains:
back in Matthew 11:23, Jesus said, "And you, Capernaum, who are exalted to heaven, will be brought down to Hades; for if the mighty works which were done in you had been done in Sodom, it would have remained until this day. But I say to you that it shall be more tolerable for the land of Sodom in the day of judgment than for you."
In other words, Jesus had pronounced a curse on Capernaum, and when it says that very simple little statement at the end of verse 53, "He departed from there," Capernaum's history ended and God's damning judgment began. It was the beginning of the end. He never went back, except in passing, and never reestablished a base there. Capernaum had its opportunity. He had come into that city, demonstrated power that could only be interpreted as from God, and now it was over. It marked a crisis in the town's history from which it never recovered. If you go today to Capernaum, no one lives there; it is utter ruin. It is one of the most beautiful places on the earth, but no one is there. It has felt the hot breath of the curse of Jesus Christ for its unbelief.
At this point, He made a second visit to Nazareth. This took place one year after the synagogue congregation tried to kill Him:
He went right back into the teeth of the storm, right back into the synagogue, and taught them.
Matthew 13:57-58 relates that this return visit went no better than the first:
57 And they took offense at him. But Jesus said to them, "A prophet is not without honor except in his hometown and in his own household." 58 And he did not do many mighty works there, because of their unbelief.
It is amazing that between these two towns the most perfect teaching and healing the residents could ever experience escaped them. Who could have done that except the Messiah?
MacArthur explains:
Nazareth's problem was that they loved their sin, and didn't want Christ at all. That is why, when they came to Jesus, they said, "We want a sign," and He said, "I will give no sign to this evil, adulterous generation. Your problem isn't that you need proof, but that you love sin." That is the issue. Unbelief blurs the obvious.
And so it remains and will remain until the end of time as we understand it.
In closing, two brief observations.
First, it is appalling to think how little our clergy explain the unbelief and rejection in both Nazareth and Capernaum. Until I started carefully reading the Bible, using Matthew Henry and John MacArthur as guides, I had no idea. If you have known this since childhood, say a prayer of thanks for the blessing of faithful teachers at home and in church.
Secondly, the compilers of the three-year Lectionary have done us all a disservice. The omission of one of Jesus's dire warnings about hell (Matthew 13:50) is deplorable. We need to know this. We should not have to go digging around at home to find the missing verse. I say that because Catholics have their Missalettes which have the readings in the booklet. They generally do not have Bibles in their pews. A number of them have probably never read verse 50 — and many others which are omitted: Forbidden, yet Essential, Bible Verses. Don't our clergy want us to know the truth?
Next time: Matthew 14:1-12
Yesterday's post examined the war-like robberies, grievous bodily harm and indecent or sexual assaults of hundreds of Germans who gathered in Cologne on New Year's Eve 2015.
Other European countries embracing multiculturalism have also had similar episodes of shorter and longer duration. Because the perpetrators are of a certain world faith, a policy of omerta has descended on discussing the violation of young European women, which, in turn, extends to authorities ignoring it altogether.
Two of these countries are England and Sweden, where talking about a socio-sexual culture clash invites various responses. The mildest is one of verbal abuse, including being deemed 'racist'. However, even fathers who try to rescue their daughters can be arrested, as will be explained below.
Why some embraced multiculturalism
In the days before conservative strains of Islam dominated the Middle East and parts of Asia, Westerners viewed those nations such as being exotic, hearkening back to ancient days of adventure and romanticism.
Europeans who were university students or well off sometimes travelled to these distant lands. They were favourably impressed by what they saw in an ancient world courtesy that did not exist anywhere else.
Theodore Dalrymple (a pseudonym) is a retired physician and psychiatrist who worked in England's prison system for many years. His books and his columns in The Spectator and City Journal describing his experiences are must-reads.
In 2004, City Journal published his reminiscences of travelling to Iran and Afghanistan as a student (probably in the early to mid-1970s). Dalrymple concluded at the time:
On the whole I was favorably impressed. I thought that they were freer than we. I thought nothing of such matters as the clash of civilizations, and experienced no desire, and felt no duty, to redeem them from their way of life in the name of any of my own civilization's ideals. Impressed by the aesthetics of Afghanistan and unaware of any fundamental opposition or tension between the modern and the pre-modern, I saw no reason why the West and Afghanistan should not rub along pretty well together, each in its own little world, provided only that each respected the other.
We all know how that turned out.
And, as we also know, fundamentalist Islam has spread throughout most Muslim nations. Any Westernised social influence on the 57 Muslim states has waned considerably since the late 1970s. This affects the type of Muslim emigrating to Europe.
Dalrymple has this observation:
The Muslim immigrants to these areas were not seeking a new way of life when they arrived; they expected to continue their old lives, but more prosperously.
He wrote that English prisons had a growing number of Muslims who were incarcerated. In this essay of 2004, he noted that they were relaxed about their faith. Although he acknowledges they had very conservative ideas about women, on the other hand:
Confounding expectations, these prisoners display no interest in Islam whatsoever; they are entirely secularized …
The young Muslim men in prison do not pray; they do not demand halal meat. They do not read the Qu'ran. They do not ask to see the visiting imam. They wear no visible signs of piety …
How things have changed.
Today, Muslim prisoners ask for — and receive — a number of faith-based concessions, including prayer meetings and halal meat. Interestingly, this New York Times article indicates they already existed in 2004:
prisons in England and Wales hold regular Friday Prayer and provide halal food in the daily diet.
By 2009, Muslims got their own cells so they did not have to be with non-Muslims in close surroundings.
Outside of prison walls, over the past several years, a number of larger companies in England have also installed special foot-washing facilities in washrooms, take care with what is served at corporate lunches and cater to prayer times, including allocating a special Muslim-only room.
Rotherham
In the city of Rotherham, South Yorkshire, a sex abuse scandal involving young mostly English girls and Muslim men from the Subcontinent, or desi, took place between 1997 and 2013.
At least 1,400 girls were victims of sexual exploitation.
The authorities — police and Labour Party member councillors, men and women alike — knew about it and did nothing.
It was thought that bringing it to light would encourage racism — a backlash from the town's English population.
It is interesting — admittedly, perhaps coincidental — that the abuse, abductions and torture began in the year a Labour government was elected: 1997.
Labour were voted out of a parliamentary majority only in 2010. Oddly, again, perhaps coincidentally, that same year saw the first — perhaps only — convictions that carried prison sentences. Five men were jailed. Three of them are now back in society, having done their time.
In 2013, the Coalition government (Conservative-Liberal Democrat) appointed Professor Alexis Jay as the head of an independent enquiry into the Rotherham scandal. In 2014, Jay published a report on the enquiry's findings. A handful of senior councillors and civil servants resigned as a result, including the Police and Crime Commissioner for South Yorkshire.
After Jay's report was published, the Home Secretary Theresa May (Conservative) denounced the omerta surrounding the scandal as "institutionalised political correctness".[10]
Prior to this, victims or family members who spoke out or tried to bring the scandal to light ended up being threatened, harrassed or arrested:
A victim, Girl J, now 30, told Sheffield Crown Court in January 2016 that social workers threatened to take her children away if she gave any further press interviews regarding her experiences in the hands of one of the perpetrators;
Two fathers who attempted to rescue their daughters from their abusers were themselves arrested — with no arrests made of the abusers, according to the Jay report;
The Jay report also disclosed that abusers threatened violence against young girls who wanted to testify; at least two families suffered harassment outside their houses, including broken windows; and other young victims returned to their abusers in the hope that would keep their families safe.
Other grooming gangs have also operated in other cities and towns across England.
We need to be very careful how we treat crimes termed to be either traditional behaviour or hearsay from dysfunctional girls.
It is unfortunate that, up until the Jay report was published, no one could mention this appalling scandal online or offline. I know of no one of my acquaintance who talked about it. Online, the most people could reasonably do was to make an oblique reference simply to 'Rotherham'.
Stockholm
The Swedes are like the English in not talking about multicultural indecent or sexual assaults. Whether these are rapes in cities or crimes committed at organised events, the national response seems to be, 'Nothing to see here, move along'.
However, the events in Cologne at last opened the way.
This year, it emerged that, in 2014 and 2015, young women were indecently and sexually assaulted at the summer music festival for youth in Stockholm, We Are Sthlm.
BBC Newsnight recently interviewed a police spokesman, the organiser of the event and a member of the Swedish Democrats (SD), a political party opposed to mass immigration:
Katie Razzall, reporting, explains that a number of girls who attended the festival — 17 in 2014 and 19 in 2015 — reported crimes against their person at the time, but it has only been now, in the aftermath of Cologne, that their complaints are coming to light.
Police kept quiet about the complaints because the perpetrators were allegedly young Afghan refugees.
Varg Gyllander of the Stockholm Police told Razzall that there was no cover-up because the police do not reveal racial or cultural details of suspects. He added:
It's a cultural thing, we don't go there, we don't go in those dark places.
Roger Ticalou, who organises the festival, said that there were small groups of young men whose 'only goal' was to harrass young women.
This is another example of taharrush gamea which I discussed yesterday. Concerts provide a perfect atmosphere for young errant Muslims to gang up and abuse young girls.
Razzall mentioned she'd spoken with the police officer in charge of patrolling the Stockholm festival. Whilst we did not see him on film, he told Razzall that he did not want to publicise the ethnicity of the alleged assailants for fear that would:
play into the hands of the Swedish Democrats.
Over the past few months, and especially during the past three weeks, the SD have been gaining popular support, at least to the extent that more Swedes are realising that perhaps the party's pronouncements are not racist after all, only based in the reality they can see for themselves on television and in the media.
Razzall interviewed Paula Bieler from the SD. Bieler gave intelligent, balanced responses. She said she did not blame the men as much as she did the culture in which they grew up and expected to continue to live in as adults. She said that Sweden has never before had a gang rape culture or episodes of mass indecent/sexual assault until now.
Around the same time as Razzall's report, an article appeared in Nyheter Idag ('i-Daily News' (?)) which exposes how Dagens Nyheter ('Daily News'), one of Sweden's biggest newspapers, refused to report on what happened at the festival.
Nyheter Idag was appalled that, until Cologne happened, the paper ignored the assaults at We Are Sthlm. Now Dagens Nyheter opines:
The mere suspicion that the abuse has been considered as difficult to describe involves a betrayal of the victims.
However, as Nyheter Idag explains in detail, a police psychologist who was an eyewitness at the 2015 concert said he contacted one of Dagens Nyheter's investigative journalists — a woman, Hanne Kjöller — who pussyfooted around in several exchanges with him, making excuses as to why she and the paper could not run the story.
The psychologist revealed the reason:
She was very interested and listened until I told her that all the boys and men that were apprehended were young asylants (unaccompanied is the terminology used by Swedish authorities) from Afghanistan and Syria. I sensed that she changed the tone (of her voice).

The journalist from Nyheter Idag notes with irony:
Time passes and a new year begins – it's now 2016 and the brutal and massive sexual assaults against young girls that August evening in Kungsträdgården is completely unknown to the public.
But then something happens, a rumor that goes viral on blogs in Germany spreads to the so-called "alternative media" in Sweden. After a day, traditional media in both Germany and other European countries start to report on the same issue.
It is, of course, the Sex Attacks in Cologne on New Year's Eve …
Now something happens at newspaper Dagens Nyheter …
January, Saturday 9th 2016 Dagens Nyheter runs an article with the headline "Women's right to party safely cannot be sacrificed". The article is written by freelance writer Lasse Wierup, Hanne Kjöller's colleague at Dagens Nyheter. In the article the incident in Kungsträdgården is now mentioned for the very first time …
More to-ing and fro-ing went on between the psychologist and Hanne Kjöller after Wierup's article appeared. The psychologist had also contacted:
two other media outlets through e-mail to tell his account of the incident in Kungsträdgården. He didn't get any response, thus he gave up on noticing media about what took place last summer.
Why does that not come as a surprise?
It seems that Western women can be safely sacrificed on the altar of Multiculturalism.
After all, they are 'only' women. Even other women — those in privileged left-wing positions, such as media — think that way.
These two events in England and Sweden demonstrate one of the things leftist men and women and fundamentalist Muslims have in common: a blatant disregard for women and girls.