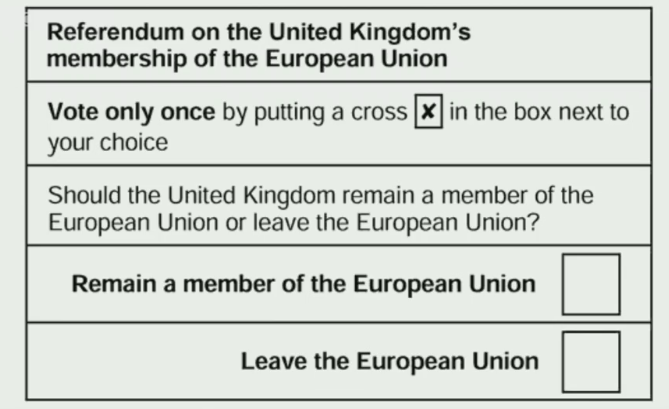 British voters should kindly ensure that they mark their calendars for Thursday, June 23, the day we vote on the EU Referendum.
Conservative Party election strategist Sir Lynton Crosby has pointed out that (emphases mine):
Awareness of the referendum date is now much higher among those intending to vote Remain. Overall, three quarters (75 per cent) of respondents correctly think that the referendum is scheduled for the 23 rd June. This includes 79 per cent of Remain voters but only 72 per cent of Leave voters.
Well over a quarter (29 per cent) of Leave supporters either don't know when the referendum vote is scheduled for or think that it will be held on some other day (not the 23rd ).
Registered voters should have received their polling cards earlier this month. So, it is odd that, on June 13, when The Telegraph reported Crosby's finding, this should have been the case.
In an analysis of the polls in the same article, Crosby notes The Telegraph's own poll of June 13 shows that:
the Leave camp now leads among those definite to vote on referendum day, according to the ORB's latest poll for the Telegraph.
Leave has increased its vote share by two points to attract 49 per cent of definite voters compared to Remain's stagnant 48 per cent, reversing its net position from a one-point net negative position last week.
Unlike last week, however, Leave's gains have now also translated to the trend among the electorate as a whole, suggesting that last week's figures were a reflection of a broad change among public attitude and not just a fleeting bump in the poll numbers.
The Guardian also published similar poll results on June 13:
Support for leaving the EU is strengthening, with phone and online surveys reporting a six-point lead, according to a pair of Guardian/ICM polls.
Leave now enjoys a 53%-47% advantage once "don't knows" are excluded, according to research conducted over the weekend, compared with a 52%-48% split reported by ICM a fortnight ago.
The phone poll is particularly important, because supporters of unpopular issues — conservatism and Brexit — are less likely to admit them aloud for fear of being impugned as a racist and a bigot, expressed silently with a sigh or tut-tutting on the part of the pollster.
Results of an IPSOS Mori poll done for the London Evening Standard and published on June 16 reveal that:
The campaign to quit the European Union has surged into a six-point lead with exactly a week to go, a sensational Ipsos MORI poll reveals today.
In a dramatic turnaround since May, some 53 per cent now want to leave and 47 per cent want to stay, excluding don't knows.
A Survation poll done this week shows 45% of Britons backing Leave and 42% Remain. All these polls are leaving Donald Tusk, the President of the European Council (unelected), less hopeful that the UK will remain in the EU.
In the case of the IPSOS Mori poll, immigration has now outflanked the economy as being the primary issue on voters' minds.
Strangely enough, the day that poll was published, the Daily Mail led with a front page story about 11 illegal immigrants — eight adults and three children — who had just arrived by lorry in East London. They were soon taken into police custody.
It should be noted that the Mail is a morning paper and the Standard an afternoon one.
Still on the same day came news that Jo Cox — a young Labour MP representing the West Yorkshire constituency of Batley and Spen — was shot, stabbed and fatally wounded. Condolences go to her husband, two young children and other family members at this sad and difficult time.
The gunman is a 52-year-old British male who made his own handgun. He also has a history of mental illness. Whether he actually said 'Britain first' is unclear. In the reports I have read and heard, some witnesses heard it, others did not.
In light of Ms Cox's horrific death, both Remain and Leave campaigns have suspended activity until Saturday, June 18.
Some columnists have blamed her death on the 'mood' of the referendum campaigns. The left-leaning Mirror put paid to this knee-jerk perspective:
There's nothing Nazi about voting UKIP or to leave the EU. The party was founded by sane, intelligent individuals with a point to make …
The reasons for Jo's death are yet to be revealed. But it won't be due to any one of the reasons you'll be given.
There are millions of mentally ill people who aren't a danger. There's no earthly reason a referendum should make anyone kill.
It's not due to the expenses scandal or the media or trolling people on Twitter.
Those are the symptoms, not the cause.
Back, then, to the respective campaigns. The Telegraph's Tim Stanley wrote about his take on where they are at the moment. As of June 16:
Leave is remarkably coherent and positive. Remain is tearing itself apart.
… if the referendum were held today, I'd guess that Leave would win …
Remember that each side has cross-party alliances. This is not a party-specific issue.
This week, Stanley took part in a debate addressed to a group of Catholics at London's Westminster Cathedral Hall. He wrote:
This was a gathering of city workers, Catholics (who have been told by many clergymen that it's a moral duty to vote Remain) and the descendants of immigrants – not your classic Brexit audience.
No doubt Protestant churchgoers are getting the same mood music: good Christians should vote Remain because Christ wants unity. Hmm.
Our vicar hasn't said anything, but one can tell by the tone of his voice when reciting an adaptation of the Anglican EU Referendum prayer that he desperately fears Leave. He sounds most plaintive.
So far, only one prominent clergyman — a Catholic — has come out for Brexit. Good man.
Stanley says that before he spoke for Leave, the event's organisers polled the audience, who were for Remain. However:
After the debate, it was for Leave.
In terms of media endorsements, The Sun backs Leave. Their front page headline read:
BeLEAVE in Britain
The Spectator link — open in a private window — has the full front page. The print is large enough to read in full.
The Spectator is also backing Leave, the same position they took in 1975, when our last referendum on the subject took place. Excerpts follow:
The EU's hunger for power has been matched only by its incompetence. The European Union is making the people of our continent poorer, and less free …
What we refer to as British government is increasingly no such thing. It involves the passing of laws written by people whom no one in Britain elected, no one can name and no one can remove …
Free movement of people might have been a laudable goal before the turn of the century, when the current global wave of migration started. But today, with the world on the move, the system strikes a great many Europeans as madness. The EU's failure to handle immigration has encouraged the people trafficking industry, a global evil that has led to almost 3,000 deaths in the Mediterranean so far this year …
Last week, a Pew poll showed how far dismay about the EU extends across the continent. In Greece, 71 per cent now view the EU unfavourably; in France, it's 61 per cent. In Britain, it was 48 per cent — about the same as Spain, Germany and the Netherlands …
Then there is this reason:
Talk of anyone being made 'worse off' by Brexit is deeply misleading. Of the many economists who have made projections for 2030, none have suggested that we'd be poorer. The question is whether we'd be, say, 36 per cent better off or 41 per cent better off by then. Not that anyone knows, given the monstrously large margin of error in 15-year predictions. So these studies offer no real reasons to be fearful. This is perhaps why George Osborne had to resort to concocting figures, such as his now notorious claim that households would be £4,300 worse off. If the economic case against Brexit were so strong, why would the Chancellor have to resort to fabrications?
That is one of the biggest reasons why Brexit has gained so much support amongst voters in recent weeks.
Project Fear have done themselves no favours. And that's great news for Leave.
More to come on Sunday evening.