You are currently browsing the daily archive for July 15, 2016.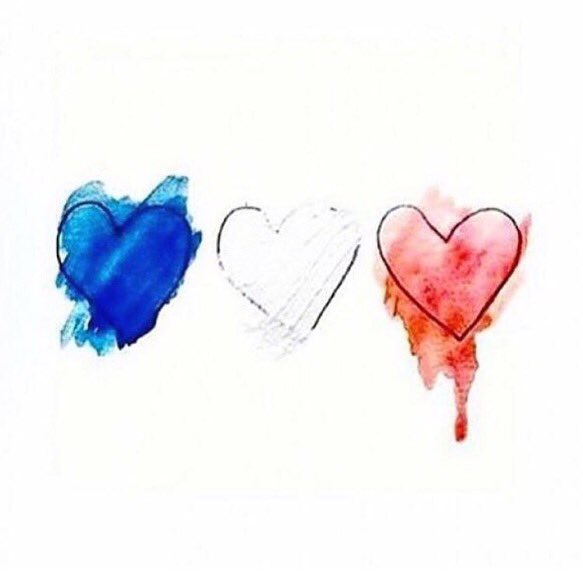 As I write on the afternoon of Friday, July 15, 2016, an analysis of Nice's Bastille Day attack is unfolding on RMC (French radio).
Nice-Matin is running a live column of developments since last night. Eighty-four people died and at least 18 were seriously injured.
After much deliberation, today's Tour de France stage will go ahead as planned. Various riders, including Chris Froome, have tweeted their condolences.
The film of the killer in the rented lorry mowing people down on the Promenade des Anglais was horrifying. How could a human being could do this? How can people commit such cold-blooded extremist attacks?
Along with millions of others around the world, my heart and thoughts go out to the victims of the Nice attack, their families and friends. Not just today, but in the weeks and months ahead.
I have borrowed the image above from Maina Sage's tweet. Ms Sage is an MP from French Polynesia.
Nice-Matin published a first hand account from one of their journalists, Damien Allemand, who happened to be in the vicinity as the horror unfolded. He was out to celebrate France's national holiday that night, hoping to enjoy the fireworks along with the rest of the crowd. Excerpts follow, translation and emphases mine:
It was a cool evening. The ambiance was good, the fireworks pretty neat, kids skimming pebbles on the water … In short, it was a cool evening.
The Prom' was thick with people. Like every July 14th. I chose to spend the evening on the beach at the High-Club, at the point where the Prom' becomes a pedestrian thoroughfare. At the end of the show, we all got up at the same time. Going towards the staircase, crushed like sardines. I was zigzagging between people to reach my scooter, parked just outside.
In the distance, a noise. Screams. My first thought: some clever clogs tried to set off his own firework and it failed … But no. A fraction of a second later, an enormous white lorry was going at breakneck speed swerving to mow down as many people as possible. 
This deathmobile passed within metres of me and I hadn't even realised it. I saw bodies flying like bowling pins. Hearing those screams, that howling, is something I will never forget. I was paralysed with fear. I couldn't move. I followed the vehicle with my eyes. Around me, it was pandemonium. People running, shouting, crying. Then I realised what was happening. And I ran along with them.
Around him he heard people shouting at each other to seek shelter, to not stand in certain places — and one man asking, 'Where's my son? Where's my son?'
Suddenly, it was over:
The Prom' was deserted. No noise. No sirens. No cars. I went back to see where the lorry had gone.
The journalist then encountered a man in his 50s. Breathless, the man said:
There are dead people everywhere.
And:
He was right. Just behind him, lifeless bodies and limbs every five metres. Blood. Moaning. The beach attendants were the first on the scene. They brought water to the injured and placed towels over those for whom there was no hope.
The journalist wanted to help, but, once again, he was paralysed with fear. Then he had a moment of panic, imagining the lorry might turn around and come back, until he saw that the vehicle was stationary, its windscreen full of bullet holes:
I hadn't heard any gunshots. Only screams. And, now, crying. A lot of crying.
He retraced his steps towards his scooter. He rode past the carnage. By then, the ambulances were starting to arrive. He concluded:
This evening was one of horror.
RMC's coverage has featured a lot of interviews with security officials, police, government officials and eyewitnesses. The talk show hosts and their panellists have been asking how something like this could happen when France has been in a state of emergency since November 13, 2015, the night of the Paris attacks.
During the afternoon it emerged that the man was able to access the Promenade des Anglais because he said he was delivering ice for the festivities. He then ploughed through the traffic barrier. No signs of ice were in the lorry.
The killer, whom police shot dead, had a criminal record for petty crime. He wasn't thought to be a radical, and people in his neighbourhood to the north of Nice said he had not really observed Ramadan last month, nor was he particularly religious.
He was a 31-year-old Frenchman who was born in Tunisia. RMC's reports said that he was recently divorced from his wife and had three children. He had been working as a courier for the past year but his employer had suspended him for falling asleep at the wheel, which caused an accident.
The lorry involved in the carnage was a rented one. The man was said to have been 'depressed'. At 13:32 BST today, it emerged that his name was Mohamed Lahouaiej Bouhlel and that he had a pistol as well as two 'long weapons'.
His victims were not only from Nice or France. Two Americans, a Russian, a Ukranian and an Armenian are also among the dead.
Another subject arose in the radio conversation. Do authorities crack down on aberrant imams, like the one in France who says that people who listen to music are monkeys and pigs? Opinion was divided. A crackdown could drive radicalism more underground than it currently is. On the other hand, the pundits said, a case could be made that France has to take a harder line against elements in their society that oppose secularism — laïcité.
For now, there are no answers. IS might claim responsibility at some point, but they haven't thus far.
It is too early to tell, but this could be an attack similar to the Germanwings plane crash in 2015, undertaken by someone who was mentally unstable at the time.
N.B.: This is being published on the afternoon of July 15 BST based on the information available at this time. More facts will come to light via the authorities and the media in the coming days.
UPDATE – Saturday, July 16 – The Guardian reports:
Islamic State has claimed responsibility for the truck attack in Nice that killed 84 people, injured more than 200 and brought carnage to a Bastille Day fireworks celebration on Thursday night. 
In a statement on Saturday, the news agency Amaq, which supports Isis, said: "The person who carried out the operation in Nice, France, to run down people was one of the soldiers of Islamic State. He carried out the operation in response to calls to target nationals of states that are part of the coalition fighting Islamic State."
… The claim of responsibility, which came 36 hours after the attack, will increase pressure on French authorities investigating the massacre. No evidence was presented to support the claim that Lahouaiej-Bouhlel had been acting in Isis's name. 
———————————————————————
I had hoped to write another edition of Brexit Chronicles. Under the circumstances, that can wait until next week.