You are currently browsing the monthly archive for May 2017.
Yesterday's post related how Emmanuel Macron met Brigitte Trogneux, his wife and former teacher.
Today's post describes a bit more about his youth and Brigitte's involvement.
When he was a little boy, Macron often went to his maternal grandmother's house. Germaine, who died in 2013, was a retired schoolteacher. She instilled in her grandson a love of books and education. She was also keen for him to become a politician. She died in 2013. However, from the beginning, he was accustomed to being around older people.
When Macron was 15, he was a student at the Jesuit-run La Providence school in Amiens. Trogneux, then Mme Auzière — a mother of three, married to André-Louis Auzière — taught French and drama. The first lady of France told an interviewer before her husband became president that when the young Macron auditioned for the school play:
'I just found him incredible. He had such presence.'
She went on: 'Without doubt he wasn't like the others. He was always with the teachers. He simply wasn't an adolescent.'
The Daily Mail has photos of this particular production, including her giving him a congratulatory kiss at the end.
She was close to her 40th birthday at the time.
The Mail researched several of her interviews with French media, one of which had this:
'At the age of 17, Emmanuel said to me, 'Whatever you do, I will marry you!',' Miss Trogneux told Paris Match magazine last year.
Macron's parents were less than pleased. Heavy has 5 Fast Facts about Trogneux, including a description of how things unfolded at home in 1993 (emphases mine below):
According to the book Emmanuel Macron: A Perfect Young Man by Anne Fulda, Macron's parents told Trogneux to stay away from their son, at least until he was 18.
As Vogue notes, Macron's parents tried to split them up by sending Macron to Paris to finish his studies, but that didn't work.
"I cannot promise you anything," Trogneux told his parents, Fulda writes, notes Reuters. Their relationship continued and they married in 2007, after Trogneux and her husband divorced.
Macron's parents told Fulda that they believed their son was actually going after the heart of Trogneux's daughter. They were stunned to hear that this wasn't the case.
"We couldn't believe it. What is clear is that when Emmanuel met Brigitte we couldn't just say: 'That's great,'" Macron's mother told Fulda.
Then there was the possibility of Macron not having his own children. Starting one's own family is a top priority in France. Macron's mother had words for her son's teacher:
She is quoted as telling Trogneux, "Don't you see. You've had your life. But he won't have children with you."
This came true. Macron stated the reasons why:
During a BMFTV interview in April, Macron made it clear that he and his wife have decided not to have any children, Gala notes. He's already the step-grandfather of seven children.
"We have chosen not to have children. A choice that was not selfish for me," he told BMFTV. "It is a choice that has been assumed, which I had to make very young given the age difference …"
As the years passed, time healed the wounds between Macron's parents and the May-December couple:
Although Fulda did interview Macron and Trogneux, Macron's spokesman said he was disappointed that she didn't ask about his parents' approval of the relationship.
And, yes, the middle-aged teacher probably had broken the law, however:
"Emmanuel's parents were keen on emphasizing that they did not lodge a complaint against Brigitte Auziere (Trogneux's married name) for corruption of a minor," Macron's spokesman said, reports Reuters.
Even today, years later, she said:
"Nobody will ever know at what moment our story became a love story. That belongs to us. That is our secret," Trogneux is quoted as saying in the book.
Macron, 39, is two years younger than his step-son. He is the same age as his elder step-daughter and was a classmate of hers. He is only nine years older than Brigitte's youngest child, Tiphaine Auzière.
Tiphaine, a lawyer, worked on Macron's campaign.
Brigitte is very close to her second husband. The couple firmly expect that she will have an important role to play in his presidency.
One wonders whether she will have the family chocolates in the Elysée Palace. Heavy points out:
Trogneux's parents were Jean Trogneux and Simone Pujol. They had six children, with Trogneux as the youngest, according to Geneanet.org.
L'Express notes that Trogneux's family is well-known in the north of France for their chocolates. Her nephew, Jean-Alexandre Trogneux, leads the family business, which made four million euros in 2013 alone.
The Jean Trogneux website has a full list of merchandise. The chocolates and other specialities are very pricey.
There's a joke here, because the company makes the famous Macaron d'Amiens, which Catherine de Medici introduced in the 16th century:
The company's best-known product are their macaroons, or Mac[a]rons d'Amiens. In 2014, a local jokingly told Le Parisien that, "We already had the macaroon from Amiens. Now we also have the Macron d'Amiens!"
Such an unusual marriage cannot be without rumour:
Macron's unconventional marriage has led some to speculate that he's secretly gay. Back in February, he laughed off rumors that he was having an affair with Radio France CEO Mathieu Gallet … The Telegraph reports.
The NATO meeting and G7 summit last week put Brigitte Trogneux in the world spotlight. One French report said that Trogneux has the world at her feet (see the first 1:51 minutes):
Not everyone commenting on the video agreed (translation mine below):
It's more like Melania Trump who has the world at her feet!
Trogneux, 64, has teenage legs, to be sure. However, she doesn't need to show them off so much at every opportunity.
Here's another video of her attire contrasted with Melania Trump's:
In closing, below are links with photos of Macron's family from his inauguration ceremony.
The senior Macrons have been divorced for several years. However, Jean-Michel and Françoise Nogues-Macron were photographed together at the Elysée. Macron's mother is a retired physician and his father is a professor of neurology at the University Hospital in Amiens. Macron's brother Laurent, a radiologist in the Paris region, is two years younger than the president and was at the ceremony, although no one in the media knows what he looks like. Their younger sister Estelle, a kidney specialist near Toulouse, did not attend.
One cannot help but wonder whether Macron, too, would have gone into medicine if his secondary school years hadn't changed him so much.
In any event, I'm still thinking about a husband cuckolded by a 15-year-old and a set of very shocked parents. It's disgusting.
What follows is the background to Brigitte Trogneux and Emmanuel Macron's past.
The following tweets say:
'It's true that sleeping with students of 15 years of age is completely gross, borderline predatory, but it's a woman, so it's okay'. (Sarcasm alert there.)
'When journalists put romance in a story of corruption of a minor by a person in authority. Beauty in what is ugly.'
My translation of the article follows:
When she met Emmanuel Macron, then aged 15, Brigitte Trogneux was married to a certain André-Louis Auzière. A portrait of her first husband and the father of her three children.
Brigitte Macron never leaves Emmanuel Macron's side: an important source of support that the presidential candidate never missed emphasising during his numerous speeches and regular meetings. It has to be said that the couple are very closely knit, despite their significant age difference. The two lovebirds met in 1993 in a context more academic than romantic. At the time, Brigitte Trogneux was a French and drama teacher in the city of Amiens and very much married …
Coming from the comfortable middle class in Amiens, the young Brigitte Trogneux married André-Louis Auzière, two years her senior, although she was only 21 at the time. The ceremony took place in Le Touquet in June 1974. The son of an accountant in the public sector, André-Louis Auzière worked in a bank, the Crédit du Nord, and lived in Paris. He was born in the small town of Éséka, situated in northwestern Cameroon, as his father worked as a civil servant in this former French colony.
Emmanuel Macron born the same year as his step-daughter
The year after their marriage, André-Louis was transferred to Strasbourg. The couple began a new adventure in Alsace, soon followed by the birth of their son Sébastien that same year. Two years later, little Laurence arrived on the scene. She was born in the same year as Emmanuel Macron: 1977. André-Louis and Brigitte returned to live in Amiens, where, in 1984, they welcomed the arrival of their third and last child, Tiphaine. As she reached the age of 40, Brigitte seemed, for all intents and purposes, happy … however.
During a theatre workshop, she met young Emmanuel Macron, then 15 years old. She rapidly fell under his spell, intelligence and ardour. Anne Fulda, author of the book Emmanuel Macron, un jeune homme si parfait ('Such a perfect young man'), wrote in the biography, 'She spoke little of André-Louis Auzière. […] Because there were things she did not want to, or could not, say? In any event, he certainly was not making her very happy'.
Romantic encounters in Paris
The teacher and student began seeing each other outside of school … and were soon noticed by the residents of Amiens. On the one hand, those close to Emmanuel Macron opposed this romance taking place while her marriage was foundering more and more. The teacher finally left to work in Paris, where she met up with her young lover who [by then] was studying at Henri IV high school. In 2006, the Grand Tribunal in Amiens granted a divorce to Brigitte and André-Louis Auzière. One year later, she married Emmanuel Macron in Le Touquet for the continuation of an enduring love story.
Ugh!
I have more on this to come, but, to clarify: Macron's parents pulled him out of La Providence, the Jesuit school in Amiens where Trogneux was teaching, and sent him to Paris to Henri IV, a secondary school in the Latin Quarter that, despite its motto 'A Home for All', prepares its students for admission into the most elite institutions of higher education. Little did the Macrons know that Brigitte was fully prepared to follow their son to the capital.
In closing, two geographical notes: Amiens is a cathedral city in the north of France and Le Touquet is a popular upmarket resort not too far away on the coast. It is also known as a place for lovers, so it comes as no surprise that people go there to get married.
For all his words during the presidential campaign lauding diversity, Emmanuel Macron has a remarkably un-diverse cabinet.
I normally wouldn't say anything, but back in February, Teen Vogue — increasingly political and left-wing — took President Donald Trump apart for his lack of cabinet diversity:
President Donald Trump just shared a photo on Twitter late Thursday night from the @POTUS account that features the president sitting at his Oval Office desk surrounded by 12 others … And because nothing gets by the good people of the Internet, many immediately pointed out how much the photo is lacking in diversity: Everyone in the photo appears to be white, and there is only one woman included.
This was the offending tweet:
On May 8, Bloomberg speculated on who would be in Macron's cabinet. The article oohs and ahhs over the people coming in from the elite Sciences-Po and ENA (École Nationale d'Administration). Macron attended both, by the way:
The following tweet shows Macron's staff:
What would Teen Vogue say? Probably nothing. It's too inconvenient a truth.
Over the past few weeks I have been running a series of posts on Percy Dearmer's 1912 volume, Everyman's History of the Prayer Book, published by Mowbray.
These are the previous posts in the series:
Percy Dearmer on the Anglican Thirty-nine Articles of Religion
Percy Dearmer on the title page of the Book of Common Prayer
Percy Dearmer on the title page of the Book of Common Prayer – part 1
Percy Dearmer on the title page of the Book of Common Prayer – part 2
Percy Dearmer on the earliest church service manuscripts
Percy Dearmer's interpretation of St Paul on prophecy and tongues
Percy Dearmer on elements of worship in the New Testament
Percy Dearmer: how several prayer books became one liturgical book
In Chapter 5 of his book, Dearmer outlines the importance of the Reformation and royalty on the Anglican Book of Common Prayer (BCP), which Archbishop Thomas Cranmer was instrumental in writing.
He tells us that the BCP developed over a century, from 1544 in the time of Henry VIII and concluding with Charles II in 1662. The 1662 BCP is still in use today, although, sadly, much less so than in previous decades.
The introduction of the printing press led to availability of a Bible in English. If you visit an Anglican or Episcopal church, you will see that a Bible is always open on a lectern outside of times of public worship. Dearmer explains:
The Bible was in 1536 ordered to be set up in every church, so that it might be read aloud out of service time … Thus the Lectern may remind us of the first stage in reform.
Several years later, another new item at the altar was installed, a litany-desk, equipped with a kneeler:
The Litany-desk tells of the second stage; for, though the Litany was not sung kneeling till three years after, that beautiful service itself was produced by the genius of Cranmer, and ordered to be used in 1544.
Dearmer lists the main events in the development of the BCP. Below are the major highlights (emphases and explanatory notes mine below):
1534 (Henry VIII). Convocation petitions the King for an authorized English Version of the Bible.
1535. Coverdale's Bible.
1536. The Bible ordered to be set up in every church. New edition of the Sarum Breviary, in Latin, but with the name of the Roman Pontiff and other things omitted.
1543. The Lessons in English. A chapter of the Bible to be read after Te Deum and Magnificat.
1544. The English Litany.
1544-7. Experiments. The Rationale, or explanation of the Ceremonies to be used in the Church of England. First and Second Drafts of reformed services in Latin. Cranmer attempts a translation of the Processional.
1547 (Edward VI). August. Beginning of more radical changes by means of the Injunctions (without the authority of Convocation or Parliament) :— Book of Homilies to be read; At High Mass, Epistle and Gospel to be read in English; New form of Bidding Prayer ; and some changes in Breviary services.
November. Convocation meets (at the opening Mass, Gloria in Excelsis, Creed, and Agnus sung in English), and approves Communion in both kinds.
1548 March. The Order of the Communion, drawn up by sundry "grave and well-learned prelates," provides for Communion in both kinds, and is to come into use at Easter by Royal proclamation. This Order consists of the following, inserted before the Communion in the Latin Service :— First Exhortation, Second Exhortation, "Ye that do truly," the Confession, the Absolution and Comfortable Words, "We do not presume," [which is the Prayer of Humble Access,] the Words of Administration in both kinds (first part), "The Peace of God " (without the Blessing) [at the end], a Note that the bread is to be as heretofore (round wafers) and each wafer is to be broken for Communion, and a Note that if the Chalice is exhausted the priest is to consecrate afresh, beginning Simili modo postquam coenatum est, "Likewise after Supper," "without any elevation or lifting up."
Dearmer notes that congregants were so upset about these changes that preaching was forbidden in April and September 1548.
Also in that year:
May. St. Paul's and other churches "sung all the service in English, both Mattins, Mass, and Evensong": it therefore appears that these services of the First Prayer Book were already drafted, at least in some experimental form, the choir services being reduced to two, Mattins and Evensong.
Those who do not know much about English history will be surprised to know that Edward VI ascended to the throne in 1547, at the age of nine. He died when he was only 15.
This was a tumultuous period, given his tender age. Dearmer explains:
At the accession of the boy-King, it is clear that the whole atmosphere was changed: the power passed into the hands of the knot of men — and history shows them to have been despotic and evil men — who ruled in King Edward's name. From this gang of robbers — who were five years later to ransack the property of the people in the guilds and parish churches, robbing the poor for the sake of the rich — Archbishop Cranmer stands apart, trying to steer his own uncertain course.
Although Cranmer did not work in isolation and had pious Anglican clergymen known as 'divines' helping him with the Prayer Book, he spearheaded its creation. He was also Edward VI's foremost spiritual adviser.
In 1549, the first Prayer Book was passed into law and published for church use:
1549. January 21st. First Act of Uniformity. The First Prayer Book becomes law.
March 7. First Prayer Book printed and published.
June 9th. Date fixed by the Act for the Book to be everywhere used.
June 10th. Armed rebellions against the Act begin, especially in the West of England. The insurgents demand the old ceremonies— Holy water, Images, Ashes, Palms, etc., and the service in Latin. They are suppressed by foreign mercenaries.
Yes, people were that upset!
The following year, the liturgy was set to music — 'noted':
1550. The Book of Common Prayer Noted, by John Merbecke, published. This is Merbecke's famous musical setting, which is still so largely sung.
March. The English Ordinal issued, containing the Ordering of Deacons, the Ordering of Priests, and the Consecration of Bishops. The essential parts of the Latin rite were carefully retained, but the ceremonial rather ruthlessly cut down.
1549 – 1551. The Foreign Reformers (Bucer, Peter Martyr, etc.) criticize the First Prayer Book.
1551. Third Edition of Old Version of metrical psalms, seven psalms by Hopkins being added to Sternhold's.
Dearmer does not say why the Reformers on the Continent disliked the First Prayer Book. However, one thing can be said: the Anglican Book of Common Prayer is like no other in its beauty and biblical faithfulness. It is an enduring pleasure from which to pray in church and to read privately at home.
Next time: the unique character of the first Prayer Book
Sunday, May 28, 2017 is Exaudi Sunday, which comes between Ascension Day and Pentecost.
My post from 2013 explains more about this particular Sunday, considered to be a very sad one by Jesus's disciples because He had returned to His Father in heaven.
These days, as far as I know, only traditional Lutherans refer to this day as Exaudi Sunday. However, it was once a widespread term in the Church.
Exaudi is Latin, from the verb exaudire (modern day equivalents are the French exaucer and the Italian esaudire). It has several meanings, among them: hear, understand and discern, as well as heed, obey and, where the Lord is concerned, grant. The French version of the Catholic Mass uses exaucer a lot, as do hymns: 'grant us, Lord'.
Exaudi Sunday is so called because of the traditional Introit, taken from Psalm 17:1. The two first words in Latin are 'Exaudi Domine' — 'Hear, Lord'.
The New Testament readings for Year A in the three-year Lectionary are Acts 1:6-14, 1 Peter 4:12-14 and 1 Peter 5:6-11. The Gospel reading is John 17:1-11.
Commentary follows, emphases mine.
Acts 1:6-14
1:6 So when they had come together, they asked him, "Lord, is this the time when you will restore the kingdom to Israel?"
1:7 He replied, "It is not for you to know the times or periods that the Father has set by his own authority.
1:8 But you will receive power when the Holy Spirit has come upon you; and you will be my witnesses in Jerusalem, in all Judea and Samaria, and to the ends of the earth."
1:9 When he had said this, as they were watching, he was lifted up, and a cloud took him out of their sight.
1:10 While he was going and they were gazing up toward heaven, suddenly two men in white robes stood by them.
1:11 They said, "Men of Galilee, why do you stand looking up toward heaven? This Jesus, who has been taken up from you into heaven, will come in the same way as you saw him go into heaven."
1:12 Then they returned to Jerusalem from the mount called Olivet, which is near Jerusalem, a sabbath day's journey away.
1:13 When they had entered the city, they went to the room upstairs where they were staying, Peter, and John, and James, and Andrew, Philip and Thomas, Bartholomew and Matthew, James son of Alphaeus, and Simon the Zealot, and Judas son of James.
1:14 All these were constantly devoting themselves to prayer, together with certain women, including Mary the mother of Jesus, as well as his brothers.
It is important to know that St Luke wrote the Book of Acts — Acts of the Apostles. John MacArthur explains:
And Luke was closely associated with the Apostles from about the time of Jesus' death, around 30 A.D., to about 60 or 63 A.D. where evidently he penned this book. And in those intervening 30‑plus years, as Luke travelled in the companionship of the Apostles, he penned what was going on. And the story of the book of Acts is the beginning of the church at Jerusalem and its explosion until it reaches the capital of the world, one of those uttermost parts of the earth, the city of Rome.
Note that the disciples still believed that Jesus was a temporal ruler of sorts (verse 6). Jesus responded, saying that only God the Father knows when that time will come (verse 7). Furthermore, they did not realise the full import of the power of the Holy Spirit that would soon descend on them days later at that first Pentecost (verse 8).
Suddenly, Jesus ascended to heaven (verse 9). Two angels appeared to explain what just happened (verse 10), saying that He will return again in the same way. They were talking of the Second Coming.
MacArthur states the importance of the Ascension:
That means that right now in this month in this year … the same Jesus Christ in the same glorified body that was touched by those disciples is sitting at the right hand of the Father, no different than He was when He left.
You say, "You mean He's up there in that same body that walked on the earth, that same body that the disciples felt and touched and ate with and talked with, that same Jesus Christ in that same form is sitting at the right hand of the Father?" That's exactly what I mean. He was taken up. And the proof of the pudding comes in verse 11 when it says this same Jesus who was taken up shall what? Shall so come in like manner as you see Him go. When He comes back He'll be the very same that He was when He left.
Jesus's friends and family returned from Mount Olivet to Jerusalem to pray (verses 12-14).
As I explained in 2013, Jesus had told them this would happen. All of His words on this subject are in the Gospels. My post has an exposition of the related verses as well as a warning about putting them into a postmodern context.
Believe what the New Testament says. Christ will come again in glory. Make no mistake. Unbelievers will be shaking in their boots on that fateful day wishing they had never been born.
1 Peter 4:12-14
4:12 Beloved, do not be surprised at the fiery ordeal that is taking place among you to test you, as though something strange were happening to you.
4:13 But rejoice insofar as you are sharing Christ's sufferings, so that you may also be glad and shout for joy when his glory is revealed.
4:14 If you are reviled for the name of Christ, you are blessed, because the spirit of glory, which is the Spirit of God, is resting on you.
These verses have historical as well as contemporary significance. Peter wrote this letter some time in 64 AD, John MacArthur says. He explains that was the year when Nero fiddled and Rome burned:
The fire spread fast, and although it began on that day it lasted three days and nights, and it broke out again and again even though they tried to check it.  The Romans actually believed that Nero was responsible for burning their great city and their homes.  Why?  Because Nero had this strange fixation with building, and he wanted to build a new city and so they believed that he burned down the old one.
To divert blame away from himself, Nero accused the Christians, which worked in his favour:
Publicly he blamed the Christians for burning Rome.  It was an ingenious choice, frankly, on his part because the Christians were already the victims of hatred and already the victims of slander.  They were connected with Jews in the minds of most people who had been dispersed in the diaspora.  And since there was a rather growing anti-Semitism, it was easy to have an anti-Christian attitude as well …
Christians perished in a delirium of savagery at that time, and even lynching became very common.  Within a few years Christians were imprisoned, racked, seared, broiled, burned, scourged, stoned and hanged.  Some were lacerated with hot knives and others thrown on the horns of wild bulls.
This is the 'fiery ordeal' to which Peter refers in verse 12. Peter then tells his flock to rejoice in the face of brutal persecution, because believers will rejoice when they finally see Christ's glory revealed.
Going further, Peter says that the Spirit of God, that of glory, rests upon the persecuted (verse 14).
MacArthur offers this analysis:
The point here is to expect suffering, expect it, don't be surprised at it, don't think it's some strange thing, expect it.  Peter has consistently through this epistle said that persecution for the Christian in various forms is inevitable.  It is inevitable.  In fact, the surprise would be if it didn't come … Godly lives lived in an ungodly world confront that world, and we become a kind of unwelcome conscience that is distasteful.  And, if we name the name of Christ loudly enough, we become offensive.  The goodness alone of a Christian can be an offense to a wicked world.  And when you add to that the proclamation of the name of Christ, we become particularly offensive.  It's as if Peter is saying suffering is the price of discipleship. 
Also:
In view of our precious salvation, he said early in the epistle, suffering is nothing.  In view of our present situation, suffering is very important because how we react to it determines how effective our evangelistic testimony is.  And in view of Christ's personal Second Coming and our ultimate salvation, it isn't even worthy to be compared, said Paul, with the glory which shall be revealed in us.  So, are we are understanding already this far in the epistle that Peter is concerned that we see suffering in a right perspective.
Now for the meaning of suffering for Christ:
Suffering for the sake of Christ reveals who's genuine, right?  The phonies aren't going to hang around.  That's why through the years we have always said the persecuted church is the pure church …
Readers who have been following my posts on the Book of Acts know about the purification of the church through suffering and persecution, from Stephen the first martyr to Paul the Apostle. Peter himself was martyred.
MacArthur explains persecution from Peter's words:
if you can expect it, you can waylay its initial impact.  It's part of God's design.  It's the way He proves the genuineness of your faith and it's the way He purges your life.  It takes out all the pride and all of the sort of self, the illusion of self-control, the illusion that you can control your world and all of its responses.  It strips you and makes you totally dependent on Him, and that's a good process.
The second thing that Peter wants to say to us is to rejoice in it.  Not only are we to expect it, but when it comes we're to rejoice in it.  Notice verse 13 and 14.  "But to the degree that you share the sufferings of Christ, keep on rejoicing so that also at the revelation of His glory you may rejoice with exaltation.  If you are reviled for the name of Christ, you're blessed because the Spirit of glory and of God rests upon you."  Now, just take that little phrase in verse 13 "keep on rejoicing," present tense, keep on rejoicing.  This is the right attitude in the midst of persecution.  This is the right attitude in the midst of affliction, rejection, anything the world brings against you for the sake of righteousness and for the sake of the name of Jesus Christ.  Any of that which comes against you should be cause for rejoicing.  Remember the words of our Lord?  Listen to this, Matthew 5:10 through 12: "Blessed are those who have been persecuted for the sake of righteousness for theirs is the kingdom of heaven."  If you're being persecuted for righteousness, it's evidence that you belong to the kingdom of heaven.  "Blessed are you when men cast insults at you, and persecute you, and say all kinds of evil against you falsely on account of Me.  Rejoice and be glad."  That is a strange one, isn't it?  "Rejoice and be glad for your reward in heaven is great and that's the way they persecuted the prophets who were before you."  You're in good company.
Regarding the Spirit of God:
What it says is that when you suffer, God's presence rests on you.  And God's presence comes in the form of His Spirit, the Spirit who is glory in His essential attribute, even the Spirit who is God.  My, what a tremendous, tremendous truth.  The Spirit of glory, yea, the Spirit of God.  As the Shekinah rested in the tabernacle and the temple long ago, so the Shekinah glory of God, the Holy Spirit in glorious splendor and power rests upon suffering Christians. 
Now, what does the word "rest" mean?  What is that talking about?  Well, simply to refresh by taking over for you.  Rest, in the sense of refreshing by taking over, by becoming the dominant power in the midst of your suffering …
In the midst of the severest persecution and suffering, God grants a special dispensation of the presence of His Holy Spirit, and He rests on the believer, which means He takes over.  And the mind transcends.
MacArthur points to Stephen the first martyr as being a perfect example. I wrote about Stephen's apologetic and his stoning in my concluding discourse on Acts 7.
1 Peter 5:6-11
5:6 Humble yourselves therefore under the mighty hand of God, so that he may exalt you in due time.
5:7 Cast all your anxiety on him, because he cares for you.
5:8 Discipline yourselves, keep alert. Like a roaring lion your adversary the devil prowls around, looking for someone to devour.
5:9 Resist him, steadfast in your faith, for you know that your brothers and sisters in all the world are undergoing the same kinds of suffering.
5:10 And after you have suffered for a little while, the God of all grace, who has called you to his eternal glory in Christ, will himself restore, support, strengthen, and establish you.
5:11 To him be the power forever and ever. Amen.
Peter exhorts his converts to humble themselves before God so that He may raise them up when the time comes (verse 6).
We are to cast our anxiety before God, the only One who cares for us (verse 7).
In the meantime, we are to increase our self-discipline, keeping ourselves on the watch for temptation and worldliness (verse 8). Satan never sleeps.
Therefore, we must resist Satan and remain strong in the faith, just like our fellow Christians (verse 9).
God is always aware of those who suffer in His name. He is the God of all grace and will restore those suffering temptation and persecution (verse 10). May we glorify God and His almighty, everlasting power over sin and suffering (verse 11).
John MacArthur analyses Peter's letter as follows (emphases mine):
So Peter says then that the building blocks of spiritual attitudes include submission, humility and trust.  Now let's move on tonight to the things that are ahead of us.  Starting in verse 8 we find the fourth necessary attitude for spiritual maturity, an attitude of self-control, an attitude of self- control … 
It means to be in control of the issues of life, having the priorities of life in the proper order and the proper balance.  It requires a discipline of mind and a discipline of body that avoids the very intoxicating allurements of the world … 
Abraham, through the eye of faith, understood spiritual priorities and didn't get himself tangled up with earthly enterprises …
Look at verse 8.  The reason we have to have our priorities right, the reason we need to trust God, the reason we need to humble ourselves under His almighty hand, and the reason we need to submit to those in authority over us and to God Himself is because our adversary, the devil, prowls about like a roaring lion seeking someone to devour.  Peter says be on the alert, be on the alert.  Not only sober minded, not only having your priorities right, but watchful.  It's an aorist imperative, stay awake, be ready, be alert, watch out.  Now strong trust in God's mighty hand, strong trust in God's care, strong confidence that we can cast all of our anxiety on Him does not mean carelessness and it doesn't mean indulgence.  It doesn't mean that because we trust God and because we throw all our care on Him that we become indolent and lazy and let down our guard or we will become victims of the enemy.  The outside forces that come against us demand us to be alert, vigilance.  The enemy, by the way, is very subtle.  According to 2 Corinthians chapter 11 he disguises himself as an angel of light and his ministers as angels of light.  He very rarely shows himself for who he is.  He almost always masks himself as a religious personality, almost always endeavoring somehow in some way to be able to approach you subtly so that you can't recognize the reality of who he is …
He's always active and he's always looking for an opportunity to overwhelm us.  His aim is to sow discord, to break fellowship, to accuse God to men, to accuse men to God, to accuse men to each other, to undermine confidence, to silence confession, to get us to stop serving God.  He's always after us.  He is called in John's gospel three times the prince of this world.  He commands the human system …
In another sermon, MacArthur explains that Peter says not to attack Satan but to remain firm on the side of godly faith and truth.
Furthermore, we endure this battle together as believers, trusting God:
Suffering is a way of life as God is accomplishing His holy perfecting work in you.  Just look at the goal, he says, and realize everybody's in it …
Wherever he comes from and in whatever form and manner, the solution is the same, spiritual weapons, stand in the truth, trust God.  And in my trust in God I go to prayer and I let the commander fight the battle.  If I know the truth and obey the truth and commit my life to God, I stand strong.
MacArthur points out that Peter is not talking about daily grace from God but the grace He gives us to resist temptation:
while you are being personally attacked by the enemy, you are being personally perfected by God.  It's personal. Himself[,] He's doing it.  Marvelous thought.  He is intimately involved in the suffering of our lives.
God Himself is there battling and through the battle you become perfect, confirmed, strong and established.  Submission, humility, trust, self-control, vigilant defense, and hope. 
John 17:1-11
17:1 After Jesus had spoken these words, he looked up to heaven and said, "Father, the hour has come; glorify your Son so that the Son may glorify you,
17:2 since you have given him authority over all people, to give eternal life to all whom you have given him.
17:3 And this is eternal life, that they may know you, the only true God, and Jesus Christ whom you have sent.
17:4 I glorified you on earth by finishing the work that you gave me to do.
17:5 So now, Father, glorify me in your own presence with the glory that I had in your presence before the world existed.
17:6 "I have made your name known to those whom you gave me from the world. They were yours, and you gave them to me, and they have kept your word.
17:7 Now they know that everything you have given me is from you;
17:8 for the words that you gave to me I have given to them, and they have received them and know in truth that I came from you; and they have believed that you sent me.
17:9 I am asking on their behalf; I am not asking on behalf of the world, but on behalf of those whom you gave me, because they are yours.
17:10 All mine are yours, and yours are mine; and I have been glorified in them.
17:11 And now I am no longer in the world, but they are in the world, and I am coming to you. Holy Father, protect them in your name that you have given me, so that they may be one, as we are one.
The first ten verses are the initial part of what is known as the High Priestly Prayer. I wrote about them in 2014 for a Maundy Thursday post, as Jesus spoke the words in John 17 at the Last Supper. You can also read parts 2 and 3.
As we approach Pentecost Sunday, we should find today's Exaudi Sunday readings encouraging and uplifting, in spite of the worldly and vicious clamour around us.
After President Donald Trump's successful visits to Saudi Arabia and Israel, he and First Lady Melania Trump went to Europe.
I covered their visit to Vatican City in the comments on the Israel post.
The next stop was Brussels.
The first item of business on Thursday, May 25, 2017 was to address the leaks that had emerged from US intelligence or law enforcement about confidential aspects of the suicide bombing that had taken place on Monday, May 22.
British Prime Minister Theresa May was furious that the US had leaked sensitive information. From the BBC:
Details about Abedi's identity had already emerged in the US media less than 24 hours after the explosion and against the UK's wishes.
Home Secretary Amber Rudd said she was "irritated" by the disclosure of Abedi's identity and had warned Washington "it should not happen again".
However, the pictures of debris – which appear to show bloodstained fragments from the bomb and the backpack used to conceal it – were subsequently leaked to the New York Times, prompting a furious response from within Whitehall and from UK police chiefs.
BBC security correspondent Gordon Corera says UK officials believe that US law enforcement rather than the White House is the likely culprit for the leaks.
Trump issued an official statement, which reads in part:
I am asking the Department of Justice and other relevant agencies to launch a complete review of this matter, and if appropriate, the culprit should be prosecuted to the fullest extent of the law.   
There is no relationship we cherish more than the Special Relationship between the United States and the United Kingdom.
The Daily Caller provided Attorney General Jeff Sessions's comments:
I share the president's deep concern and talked to Home Secretary Rudd yesterday about this matter. These leaks cannot be tolerated and we will make every effort to put an end to it. We have already initiated appropriate steps to address these rampant leaks that undermine our national security.
This was a temporary situation which the two nations quickly resolved:
However, Trump is unlikely to be in a good mood once he returns to the White House. Next week's news cycle should be interesting.
This graphic describes Trump's mood in Brussels (courtesy of a contributor to The Conservative Treehouse):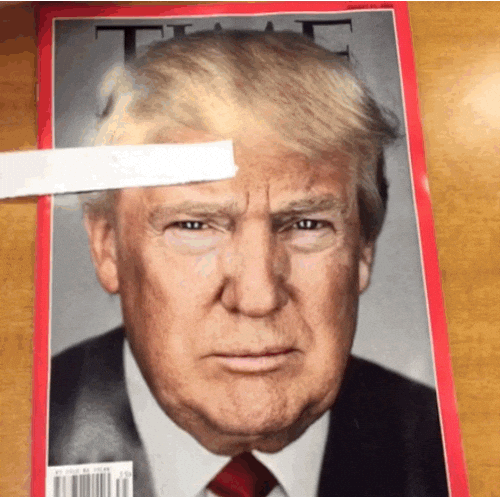 Unbelievably, French President Emmanuel Macron posted this video of Trump strongarming him into a handshake. Seconds earlier, Macron walked straight towards Trump before snubbing him for Angela Merkel:
Despite the smiles and hand gestures, their brief photo op and statements looked chilly:
In another group shot of NATO leaders, the following video makes it look as if the American president forced his way to the forefront:
A Washington Post reporter who lists her American allegiance last, tweeted:
In reality, Prime Minister Dusko Markovic of Montenegro had accidentally stepped on Trump's foot.
A contributor at The_Donald couldn't help but react:
Trump visited members of NATO today, and while walking with several members, is seen moving PM Dusko Markovic aside. The corrupt and fake media took this video clip and spun it completely into FAKE NEWS territory by saying:
"DONALD TRUMP SHOVES A MEMBER ASIDE IN ORDER TO REMAIN IN FRONT OF THE GROUP"
… You can CLEARLY see he winced in pain after his foot was apparently stepped on, and he moves the Prime Minister aside to get him off his foot. Even the PM reacts the moment he steps on Trump's foot, knowing he caused him pain.
Here's the clip in slow motion:
A ceremony took place for the new NATO headquarters and a memorial which included a metal remnant the 9/11 attack in 2001 and a chunk of the Berlin Wall from 1989. In his address, Trump said:
I want to extend my appreciation to the 9/11 Memorial and Museum in New York for contributing this remnant of the North Tower, as well as to Chancellor Merkel and the German people for donating this portion of the Berlin Wall.  It is truly fitting that these two artifacts now reside here so close together at the new NATO Headquarters.  And I never asked once what the new NATO Headquarters cost.  I refuse to do that.  But it is beautiful.
Each one marks a pivotal event in the history of this Alliance and in the eternal battle between good and evil.  On one side, a testament to the triumph of our ideals over a totalitarian Communist ideology bent on the oppression of millions and millions of people; on the other, a painful reminder of the barbaric evil that still exists in the world and that we must confront and defeat together as a group, as a world.
This twisted mass of metal reminds us not only of what we have lost, but also what forever endures — the courage of our people, the strength of our resolve, and the commitments that bind us together as one.
We will never forget the lives that were lost.  We will never forsake the friends who stood by our side.  And we will never waiver in our determination to defeat terrorism and to achieve lasting security, prosperity and peace.
Thank you very much.  It's a great honor to be here.  Thank you.
However, it's what he said before that really matters:
The following graphic from a contributor at The Conservative Treehouse explains Trump's objections. Out of each nation's GDP, the percentages reflect how much goes towards defence, NATO and otherwise:
We pay 4% to NATO defense budget.
We will pay 36% for our defense overall.
They pay less than 2% of their GNP for practically their entire defense overall.
NATO ally flags were raised cermonially:
The flypast:
Whereas Trump diplomatically summarised the meeting as being one of united interests:
Emmanuel Macron made it a Europeans-only occasion:
Fortunately, the NATO spouses and partners seemed to get on better. Melania Trump was buddied with Brigitte Trogneux, Macron's wife and his former high school teacher.
The group went on a tour of the Magritte Museum (Magritte misspelled below):
The Daily Mail, with excellent photos, reported on the visit to the royal palace:
Melania and Brigitte, who met while touring the Magritte Museum in Brussels earlier in the day, posed for pictures alongside the royal [Queen Mathilde] and the other spouses at the royal residence
Mrs Trump also had her own engagements that day:
The next and final stage of the trip is the G7 conference in Taormina, Sicily.
The Trumps left Brussels on Thursday, flying to Italy, then onto Taormina. Watch the Italian guard at 43 seconds in sneak a brief smile to the Trumps:
Trump tweeted:
Taormina is a beautiful ancient city:
This was the schedule and list of participants for Friday, May 26:
The 43rd G7 summit is taking place in Taormina, Sicily, between May 26-27. Attendees will include the leaders of the Group of Seven member states, as well as representatives of the European Union.
The summit is set to be the first for British Prime Minister Theresa May, French President Emmanuel Macron, Italian Prime Minister Paolo Gentiloni, and US President Donald Trump.
Other participants include German Chancellor Angela Merkel, Canadian Prime Minister Justin Trudeau and his Japanese counterpart Shinzo Abe. The EU will be represented by European Commission President Jean-Claude Juncker and European Council President Donald Tusk.
COVERAGE SCHEDULE:
06:00-08:00 GMT – Arrivals from Sigonella airbase.
08:00-09:00 GMT – Jean-Claude Juncker and Donald Tusk press conference.
09:30-10:30 GMT – Welcome cerimony and family photos at Greek Theatre.
10:00-10:30 GMT – Moving to Hotel San Domenico.
10:45-11:30 GMT – Arrivals at Hotel San Domenico. Tour de Table.
17:00-18:00 GMT – Concert for the opening of the G7 Summit at Greek Theatre.
18:15-18:45 GMT – Welcome ceremony and family photo at Hotel Timeo. Official dinner hosted by Italian President Sergio Mattarella.
A concert by La Scala Philharmonic Orchestra and dinner with President Mattarella followed.
Foreign Policy reported that Trump has an important American objective at the G7:
President Donald Trump's controversial senior advisor and speechwriter, Stephen Miller, has led White House efforts to undercut an initiative by Italy to place the migration crisis at the center of this week's Group of Seven major summit meeting starting Friday in Sicily.
For Italy, the summit in Taormina, Sicily, was to provide a poignant opportunity to raise awareness of the plight of hundred of thousands of refugees who cross the Mediterranean Sea to Italy's shores each year, and to reach agreement on a plan to find them permanent homes.
But the Donald Trump White House has largely blocked its Italian host from putting forward an initiative addressing the need to resettle millions of refugees and migrants who have poured into Europe on rickety boats or crossed borders on foot over the past decade. Instead, the United States has pressed the leaders to cap the session with a stern declaration on the need to fight terrorism, a cause that gained added urgency following a grisly suicide bombing at an Ariana Grande concert in Manchester.
The rearguard action was led by the 31-year-old Miller, who has exercised outside influence over the summit's response to the worst refugee crisis since World War II.  In line with President Trump's pledge to build a wall to keep Mexicans out of the United States, the White House has been pressing the G-7 leaders to focus more attention on the need to prevent illegal immigrants from crossing borders than on finding migrants who make the journey a permanent home.
Trump also intends to push back on other G7 preoccupations:
including climate change, trade, and migration that until recently aligned closely with President Obama's foreign-policy vision.
This G7 summit should prove to be a delicate one to be navigated diplomatically. The summit concludes on Saturday, May 27.
On Monday, May 15, President Donald Trump's final cabinet choice was sworn in, Robert Lighthizer as US Trade Representative:
That day, buoyant housing market results were released (emphases mine):
New home sales have been one of this year's best surprises and home builders are reporting strong activity this month and see even better times ahead. The housing market index topped expectations in May, rising 2 points to 70. Current sales are also up 2 points to 76 with 6-month sales up 4 points to a very strong 79. And traffic, in a key reading, is at 51 and over breakeven 50 for the 5th time in the last six months. The West leads the regions with a 3-month composite score of 80 with the Northeast trailing at 50.
Even though traffic is nearly 30 points behind sales, it is still the highlight of the report. This is its best run by far of the expansion and offers a hopeful hint that first-time buyers, who have been priced out of the new home market, may begin to be a factor. Today's report is a plus heading into tomorrow's housing starts report where similar strength is expected.
Returning to cabinet choices, it has taken Trump an eternity to get his nominees approved.
Although past presidents in living memory also faced one or two significant delays, a useful chart from CNBC shows that nearly all — from Jimmy Carter to Barack Obama — had the bulk of their appointments confirmed within 60 days, generally sooner.
During the Obama presidency, there were only two major delays. His choice of Gary Locke for Commerce did not receive confirmation until April 2009. Kathleen Sebelius did not receive confirmation to Obama's cabinet until May that year.
Outside of those exceptions, however, it actually has taken a record amount of time for President Trump to get his nominees confirmed.
At least his cabinet is now in place.
The title of the United States Trade Representative is Ambassador, by the way. Lighthizer is the 18th person to take on that role:
At the time he was chosen by President Trump to serve as USTR, Ambassador Lighthizer was a partner at the law firm Skadden, Arps, Slate, Meagher & Flom LLP (Skadden), where he practiced international trade law for over 30 years. His work there on behalf of American workers and businesses in the heavy manufacturing, agricultural, high-tech, and financial services industries opened markets to U.S. exports and defended U.S. industries from unfair trade practices. He was lead counsel for scores of trade enforcement cases and was a well-known advocate for the type of "America First" trade policies supported by President Trump.
Before joining Skadden, Ambassador Lighthizer served as Deputy USTR for President Ronald Reagan. During his tenure, Ambassador Lighthizer negotiated over two dozen bilateral international agreements, including agreements on steel, automobiles, and agricultural products.  As Deputy USTR, he also served as Vice Chairman of the Board of the Overseas Private Investment Corporation.
Prior to becoming Deputy USTR, Ambassador Lighthizer was Chief of Staff of the United States Senate Committee on Finance for Chairman Bob Dole.  In this position, he was a key player in enacting the Economic Recovery Tax Act of 1981, which was the most significant tax reform in decades, as well as the other basic elements of the Reagan economic program.
Ambassador Lighthizer earned a Bachelor's degree at Georgetown University and his Juris Doctor from Georgetown University Law Center. He is a native of Ashtabula, Ohio and has two children. 
He looks too young to have all that experience behind him. He will bring a wealth of knowledge to the role. Check for further news on Twitter.
In other news, Trump's overseas trip has given him a boost in US presidential popularity, at least with Rasmussen. Bear in mind that most polling companies have not been honest in their polling methods, e.g. favouring Democrats over Independents and Republicans. Matt Drudge tweeted:
OK. Trump approval pops to 48% today… Obama Averaged 47.9% Job Approval as President.. http://www.rasmussenreports.com/public_content/politics/trump_administration/prez_track_may24 …
The Rasmussen link says, in summary, that the visits to Saudi Arabia and Israel, particularly when the Manchester bombing took place on Monday, got voters thinking more about the dangers of terrorism. Voters tend to agree with Trump that the Saudis need to do more to fight terror. They also think that a good relationship with Israel is essential to the prospect of peace in the Middle East.
This year Ascension Day falls on May 25.
The feast of the Ascension is always on a Thursday, 40 days after Easter.
Here are past posts about Christ's return to His Heavenly Father:
A Reformed view of the Ascension (Christ as prophet, priest and king)
Ascension Day 2016 (John MacArthur on Acts 1:11)
I feel bad when I read of people who think this was a made-up event. In fact, I read a post on it just a few weeks ago by someone claiming to be 'spiritual'.
I hope the aforementioned posts will convince those who are doubters that Christ had to ascend to heaven in order for the Holy Spirit to be present at the first Pentecost.
Incidentally, this coming Sunday is known in the Lutheran church as Exaudi Sunday. You can find out more in the post below:
After visiting Saudi Arabia, President Donald Trump flew to Israel for two days of meetings on Monday and Tuesday, May 22 and 23, 2017.
For the most part, American media are ignoring this leg of his Middle Eastern-European trip, preferring to focus on impeachment and James Comey.
On Monday, May 22, Fox News interviewed the Saudi foreign minister, who was most pleased with the outcome of the Riyadh Summit. 'Drain the swamp' has also made it into his vocabulary:
The foreign minister also said that the summit was a promising start in fighting terrorism together:
That evening, a horrific suicide attack took place at a pop concert in Manchester, England. As I write earlier today — May 23 — 22 people are dead. Sebastian Gorka said that the explosion happened on the fourth anniversary of Fusilier Lee Rigby's equally horrific murder in South London.
And, no, the world should not have to accept terrorism as a way of life, regardless of what the London mayor said in September 2016.
Another helpful possibility from the Saudi trip is that Trump might have an easier time getting a travel ban through the US courts. Remember, all he asked for earlier this year was a travel ban on seven Muslim-majority countries with poor security. Also, it was only going to last for 90 days. For that, Trump was labelled an Islamophobe. Wake up, everybody! Stop believing the media and left-wing judges.
Two items of news from the past 24 hours need to be cleared up.
The first is the reporting that Ivanka Trump personally raised $100m in Saudi Arabia for something called the Ivanka Fund, aimed at helping women. The Federalist, citing a Washington Post article, stated (emphases mine throughout):
As the Washington Post's David Fahrenthold explained, though, "the first daughter would have no role in raising money for such a fund or deciding where its money would be spent, a Trump administration official said." He noted that the idea for a fund for women entrepreneurs was Ivanka Trump's, but that the World Bank and White House issued a statement that the fund would be managed by the World Bank.
The second item is that First Lady Melania Trump batted away her husband's hand upon arrival in Israel.
In truth, as you can see from the Gateway Pundit article and video, Mrs Trump was too far at the edge of the red carpet, so she was signalling that she was back in position:
So now the media is scrutinizing POTUS and FLOTUS over what appears to be a 'low five'. Every couple has their way of communicating but leave it to the hateful media to turn such a beautiful meeting with Israel into something negative.
Prime Minister Benjamin Netanyahu and the Israeli people were absolutely giddy to see the new US president land in Tel Aviv after eight dark years under Obama which is why the fake news is attacking them for NOTHING. Absolutely pathetic!
Here's the real news, folks! Our President and beautiful First Lady were all smiles after they landed in Israel.
On the topic of lies, last week, Caroline Glick wrote an incisive article for the Jerusalem Post on how the American Deep State has affected Israel over the years and is now attempting to damage the Trump presidency:
… Trump and Israel – the twin targets of the US intelligence community's felonious and injurious leaks.
The fact that Trump will be coming to Israel next week may be a bit of fortuitous timing. Given the stakes involved for Trump, for Israel and for US national security, perhaps Trump and Prime Minister Benjamin Netanyahu can develop a method of fighting this cabal of faceless, lawless foes together.
How such a fight would look and what it would involve is not immediately apparent and anyways should never be openly discussed. But the fact is that working together, Israel and Trump may accomplish more than either can accomplish on their own. And with so much hanging in the balance, it makes sense to at least try.
Absolutely. That needs to be repeated time and time again.
Fortunately, the Netanyahus and the Trumps are good friends. The Kushners are also close to the Israeli prime minister and his wife.
Therefore, it was great to see Sara Netanyahu tell the Trumps at the airport that the Israelis like them a lot and are delighted about this trip:
It is a big deal:
In addition to the Netanyahus, Israeli president Reuven Rivlin also welcomed the Trumps. A reception ceremony and related speeches took place at Ben Gurion Airport:
Later that morning, the Trumps, Kushners and other members of their entourage visited the Western Wall. Trump is the first US president to make that visit:
The president placed a prayer request in the wall:
Supporters stood nearby:
The Trump ladies also paid their respects:
Mrs Trump was moved by the occasion:
Trump and his host held a joint press conference in the afternoon:
On brokering peace, Trump said:
It's not easy, but I have a feeling that we're going to get there eventually.
Netanyahu complimented his guest. From the Washington Examiner:
"The people of Israel applaud you" for visiting the Western Wall.
Afterwards:
Then:
Apparently, when greeting the Trumps, Netanyahu shared his customary wit in reference to Riyadh. I read anecdotally that he said, 'Welcome to my palace. I had the walls painted for your visit.' I hope that's true. I've been chuckling all morning.
The Netanyahus hired a celebrity chef:
Here are two sets of good friends ready to break bread together:
Incidentally, in 2010, Avner Netanyahu, the prime minister's son, won the Jerusalem Bible Quiz in the Jerusalem Public School District. I'm not sure if he was the son the Trumps met before dinner. However, the Netanyahus gave the president a 150-year-old Bible as a gift. The text is in English.
Then, it was time to rest:
Tuesday's front pages were positive:
Trump went to meet with Palestinian president Mahmoud Abbas on Tuesday. He made reference in his speech to Manchester:
The first lady expressed her condolences on Twitter.
The Trumps and the Kushners went to Yad Vashem, the Holocaust memorial:
Amy Spiro from the Jerusalem Post reported:
Trump at Yad Vashem: "This place and this entire nation are a testament to the unbreakable spirit of the Jewish people."
Trump spoke with the sister of a Holocaust victim:
Earlier today, the Jerusalem Post reported:
US President Donald Trump concluded his lightening visit to Israel on Tuesday with a speech in which he did not mention moving the US embassy to Jerusalem, settlement construction or a Palestinian State.
It seems a bit too early for him to be able to say anything specific. As Amy Spiro tweeted:
Everything still remains to be seen.
Indeed. Patience and prayers are required. Rash speech and decisions never solved a long-standing issue.
The Trumps are now in Rome, where they will meet the Pope.
President Donald Trump just completed a historic trip to the Kingdom of Saudi Arabia (KSA).
It was his first trip abroad as president and the Saudis gave him and his family a royal reception the entire time.
Meanwhile, in the United States, the media continued to weigh in on possible impeachment proceedings, James Comey and anything else that detracted from the present occupant of the White House.
This is what many American viewers of Big Media missed.
The Arab Islamic American Summit — the Riyadh Summit — took place on Saturday and Sunday, May 20-21, 2017 in Riyadh. Fifty-five of the 57 Islamic nations — see the list — sent representatives to discuss with President Trump how they could prevent the spread of extremist ideology.
The summit's slogan was 'Together We Prevail'. Al Arabiya reported (emphases mine below):
In an unprecedented political event, Riyadh will host three summits on Saturday and Sunday …

Although it appeared, from White House releases, that this was a rather spur-of-the-moment trip, it had been in the planning for months:
Egypt's president Abdel Fattah el-Sisi told Egypt Daily News:
… co-operation with Saudi Arabia is currently "at its highest point."

… In response to a question about efforts to revive long-stalled negotiations between Palestine and Israel, El-Sisi said that Trump is the "decisive player" in this matter.

"I believe he does not take time in resolving matters he's a capable person who does not work like others," he said. The president also said that the country's counter-terrorism situation "has significantly improved."

He said the government is formulating a law to create a supreme council that will combat terrorism and extremism. This initiative was announced in April following two deadly bombings on churches in the cities of Tanta and Alexandria …
The Saudis gave the president and first lady a right royal welcome. White House cabinet members and other close aides also accompanied him on this trip.
.
There was also a flypast:
The Saudis also had special lighting effects on the Ritz Carlton where the Americans stayed.
The Saudi king presented the American president with the highest civilian honour, the Collar of Abdulaziz Al Saud, at the royal palace. The Arab News reported that only other non-Islamic leaders this has been given to are:
Russian President Vladimir Putin, British Prime Minister Theresa May and Trump's predecessor, Barack Obama.
The king gave the Trumps a sumptuous lunch, which Arab News said was:
replete with cuisines from around the world.
You can see a photo of the menu at the link above.
Trump signed a historic agreement to help bolster KSA's defence needs:
More about that in Trump's speech below.
During the summit, Trump met separately with the Emir of Kuwait, the Emir of Qatar, the President of Egypt and the King of Bahrain. He also held a private meeting with the President of Afghanistan. The White House issued a brief statement.
Melania and Ivanka Trump had also attracted much attention and were fully accepted without veils. The Saudis treated them like a queen and a princess, respectively.
Arab News reported that Saudis viewed the first lady's arrival attire as 'classy and conservative':
"Melania Trump before leaving the United States vs. Melania while landing in Saudi Arabia. Respect for the country's traditions," one Twitter user said with a thumbs-up. "Not only modest, but elegant at the same time."
The loose outfit almost resembled the traditional black abaya — a loose over-garment, essentially a robe-like dress — worn by Saudi women.
Later, Mrs Trump changed into a striking magenta full length evening gown with long, flowing sleeves:
.
One report said that the Kushners received a rabbinic pass to travel on the Sabbath. Whatever the case, Arab News reported that Ivanka took the country 'by storm':
The hashtag #Trump's_daughter, in Arabic, is the top trending hashtag in the country as Twitter fans heaped praise on the first daughter.
Ivanka, who is set to take part in roundtable discussions during the president's first official visit abroad, wore a long navy dress as she arrived in Saudi Arabia as part of the US delegation.
That Saudi gave Ivanka instructions on how to stop coffee refills:
Arab women were annoyed at the attention Ivanka received. This is also worth checking out for a chuckle.
The Trump ladies had planned visits.
Mrs Trump visited the American International School:
She then went to the GE Saudi Service Center:
Ivanka met with Princess Reema to discuss women's initiatives:
On Saturday evening, a sword dance took place. This celebrated the coming together of Arab and American leaders to celebrate a unified alliance — peace after conflict:
A Saudi-American popular music concert also took place, starring Rabeh Saqer and Toby Keith.
On Sunday, May 21, Trump gave a speech that lasted 34 minutes. The incomparable Stephen Miller co-wrote it. Excerpts follow:
My meetings with King Salman, the Crown Prince, and the Deputy Crown Prince, have been filled with great warmth, good will, and tremendous cooperation. Yesterday, we signed historic agreements with the Kingdom that will invest almost $400 billion in our two countries and create many thousands of jobs in America and Saudi Arabia.
This landmark agreement includes the announcement of a $110 billion Saudi-funded defense purchase – and we will be sure to help our Saudi friends to get a good deal from our great American defense companies. This agreement will help the Saudi military to take a greater role in security operations.
We have also started discussions with many of the countries present today on strengthening partnerships, and forming new ones, to advance security and stability across the Middle East and beyond …
I have had the pleasure of welcoming several of the leaders present today to the White House, and I look forward to working with all of you.
America is a sovereign nation and our first priority is always the safety and security of our citizens. We are not here to lecture—we are not here to tell other people how to live, what to do, who to be, or how to worship. Instead, we are here to offer partnership – based on shared interests and values – to pursue a better future for us all …
The Middle East is rich with natural beauty, vibrant cultures, and massive amounts of historic treasures. It should increasingly become one of the great global centers of commerce and opportunity.
This region should not be a place from which refugees flee, but to which newcomers flock …
Terrorists do not worship God, they worship death.
If we do not act against this organized terror, then we know what will happen. Terrorism's devastation of life will continue to spread. Peaceful societies will become engulfed by violence. And the futures of many generations will be sadly squandered …
This is not a battle between different faiths, different sects, or different civilizations.
This is a battle between barbaric criminals who seek to obliterate human life, and decent people of all religions who seek to protect it.
This is a battle between Good and Evil.
When we see the scenes of destruction in the wake of terror, we see no signs that those murdered were Jewish or Christian, Shia or Sunni. When we look upon the streams of innocent blood soaked into the ancient ground, we cannot see the faith or sect or tribe of the victims – we see only that they were Children of God whose deaths are an insult to all that is holy …
America is prepared to stand with you – in pursuit of shared interests and common security.
But the nations of the Middle East cannot wait for American power to crush this enemy for them. The nations of the Middle East will have to decide what kind of future they want for themselves, for their countries, and for their children.
It is a choice between two futures – and it is a choice America CANNOT make for you.
A better future is only possible if your nations drive out the terrorists and extremists. Drive. Them. Out.
DRIVE THEM OUT of your places of worship.
DRIVE THEM OUT of your communities.
DRIVE THEM OUT of your holy land, and
DRIVE THEM OUT OF THIS EARTH …
Amazingly — and I saw the YouTube of Trump delivering his rousing speech — Secretary of Commerce Wilbur Ross, 78, fell asleep. Maybe the sword dance the night before exhausted him. It's just as well that Reince Priebus was between him and Ivanka:
After Trump's speech, Secretary of State Rex Tillerson held a press conference with Saudi Foreign Minister Adel Al-Jubeir, a brief excerpt of which follows:
I think on this trip, I know the entire delegation traveling with the President has gained a much greater appreciation for this region, the rich history, the rich traditions and cultures of this region, and also a much better understanding of the Muslim faith by traveling to this special place, the special place of the two holiest sites. All of this is, I think, useful to us understanding everyone better here, and we hope – we hope people in the Muslim community will make a similar effort to understand the American people's interest and concerns that they may have.
But I think importantly, out of this speech the President delivered this afternoon, what he said, again, is this fight is ours together. It is not between us. It is ours together. And it's only together that we will ultimately prevail and that it is not a fight among religions, not a fight between Shia, Sunni, it's not a fight between Christians, Jews, any of the faiths. This is a fight of good against evil, and in all of those three great faiths that millions of Americans follow, we are guided by that same tenet. This is what unites us in attacking this evil face of terrorism that has befallen us and has hurt so many around the world.
Breitbart's London editor Raheem Kassam contrasted Trump's speech with Obama's. Kassam points out that Obama prostrated himself before the Saudis in an Islam-heavy speech apologising for colonialism. Trump, on the other hand:
continued full speed into making demands of the people in the room.
Trump's introduction of thanks was gracious yet brief:
Instead, President Trump dived right in, spending less than a page on the flattery — and there was scarcely any in that section anyway — getting to the first action point by page two of his speech: "This landmark agreement includes the announcement of a $110 billion Saudi-funded defense purchase…"
If America is going to deal with the Arab world under a Trump presidency, it is at least going to get something out of it for the American people. Cash, jobs, and importantly, leverage.
Wait, you thought that was all? The very next sentence announced the Global Center for Combating Extremist Ideology.
On matters spiritual:
Where Obama declared "Islam has a proud history of tolerance" as the Mullahs prepared their latest homosexual to be thrown from a building, and the most recent woman to be stoned in the street, President Trump demanded: "Your soul will be condemned" for barbaric acts, a sentiment that found its crescendo when he declared: "This is a battle between Good and Evil", insisting that Arab and Muslim leaders "drive out" the forces of terror and extremism within their ranks.
With regard to the 'T' word:
President Trump used the word "terror" in some way — terror, terrorism, terrorists — a whopping 31 times in his speech in Riyadh. In Cairo, President Obama used the word an even more whopping ZERO times.
Obama described 9/11 as an "enormous trauma" rather than a terrorist atrocity, opting to deploy the word "extremism" 11 times in his speech, which President Trump also used nine times.
As a result, Obama lacked action points, policy goals, or anything of substance when it came to tacking terrorism. President Trump on the other hand announced the formulation of the Terrorist Financing Targeting Center, insisting: "Muslim nations must be willing to take on the burden, if we are going to defeat terrorism and send its wicked ideology into oblivion".
Oh yeah, and President Trump said: "Islamic terrorism", just FYI.
The summit's climax was the the Inauguration of the Global Center for Combating Extremist Ideology. This included a symbolic gesture of international unity as the principal leaders involved touched a glowing orb. With Trump below are his new good friends Saudi Arabia's King Salman and Egyptian President Abdel Fatah al-Sisi:
Many online viewers compared the scene to Lord of the Rings, Star Wars: The Phantom Menace and other films.
The United States and Saudi Arabia will also co-chair the new Terrorist Financing Targeting Center (TFTC), a collaborative approach to confronting new and evolving threats arising from terrorist financing. The initiative will also include partners from the Gulf states. A statement from the US Department of the Treasury explained:
With today's announcements, the United States, Saudi Arabia, and other strategic partners in the Gulf are confronting new and evolving terrorist networks including ISIS, al Qa'ida, Hizballah, Lashkar–e-Tayyiba, the Taliban, and the Haqqani Network. This collaboration will also address a host of other transnational threats emanating throughout the Middle East, including from Iran, the Assad regime, and the situation in Yemen.
The Riyadh Summit concluded:
The Saudis have clearly been forward planning for the KSA.
The Saudi press viewed the visit — and the Trumps — most favourably. It must have irked CNN's Jim Acosta to tweet these photos (click on each one to enlarge):
The Trump entourage left Riyadh the morning of Monday, May 22. Note that Melania is wearing a long dress with a slit up the back. The strong winds revealed a view of the back of her calves. Ivanka wore a midi-dress revealing her lower legs. How long before modernising Saudis change their dress code for women?
Sarah Huckabee Sanders (yes, Mike's daughter, who works with Sean Spicer) tweeted this:
They arrived in Israel a short time later. Like the RSA, the Israelis were also preparing and rehearsing for Trump's visit.
As I was writing this, welcome speeches took place at the airport:
More to come on Trump's visit to Israel.
Further reading:
Multibillion dollar deals sealed at Saudi-US CEO Forum
Kingdom, Washington agree 'Joint Strategic Vision Declaration'
Raytheon, Saudi Arabia Military Industries in strategic partnership