You are currently browsing the daily archive for May 26, 2017.
After President Donald Trump's successful visits to Saudi Arabia and Israel, he and First Lady Melania Trump went to Europe.
I covered their visit to Vatican City in the comments on the Israel post.
The next stop was Brussels.
The first item of business on Thursday, May 25, 2017 was to address the leaks that had emerged from US intelligence or law enforcement about confidential aspects of the suicide bombing that had taken place on Monday, May 22.
British Prime Minister Theresa May was furious that the US had leaked sensitive information. From the BBC:
Details about Abedi's identity had already emerged in the US media less than 24 hours after the explosion and against the UK's wishes.
Home Secretary Amber Rudd said she was "irritated" by the disclosure of Abedi's identity and had warned Washington "it should not happen again".
However, the pictures of debris – which appear to show bloodstained fragments from the bomb and the backpack used to conceal it – were subsequently leaked to the New York Times, prompting a furious response from within Whitehall and from UK police chiefs.
BBC security correspondent Gordon Corera says UK officials believe that US law enforcement rather than the White House is the likely culprit for the leaks.
Trump issued an official statement, which reads in part:
I am asking the Department of Justice and other relevant agencies to launch a complete review of this matter, and if appropriate, the culprit should be prosecuted to the fullest extent of the law.   
There is no relationship we cherish more than the Special Relationship between the United States and the United Kingdom.
The Daily Caller provided Attorney General Jeff Sessions's comments:
I share the president's deep concern and talked to Home Secretary Rudd yesterday about this matter. These leaks cannot be tolerated and we will make every effort to put an end to it. We have already initiated appropriate steps to address these rampant leaks that undermine our national security.
This was a temporary situation which the two nations quickly resolved:
However, Trump is unlikely to be in a good mood once he returns to the White House. Next week's news cycle should be interesting.
This graphic describes Trump's mood in Brussels (courtesy of a contributor to The Conservative Treehouse):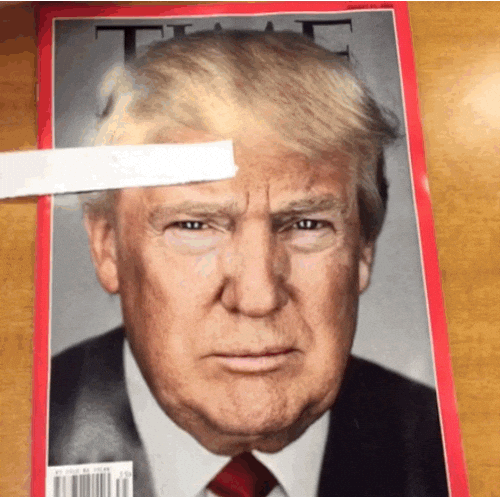 Unbelievably, French President Emmanuel Macron posted this video of Trump strongarming him into a handshake. Seconds earlier, Macron walked straight towards Trump before snubbing him for Angela Merkel:
Despite the smiles and hand gestures, their brief photo op and statements looked chilly:
In another group shot of NATO leaders, the following video makes it look as if the American president forced his way to the forefront:
A Washington Post reporter who lists her American allegiance last, tweeted:
In reality, Prime Minister Dusko Markovic of Montenegro had accidentally stepped on Trump's foot.
A contributor at The_Donald couldn't help but react:
Trump visited members of NATO today, and while walking with several members, is seen moving PM Dusko Markovic aside. The corrupt and fake media took this video clip and spun it completely into FAKE NEWS territory by saying:
"DONALD TRUMP SHOVES A MEMBER ASIDE IN ORDER TO REMAIN IN FRONT OF THE GROUP"
… You can CLEARLY see he winced in pain after his foot was apparently stepped on, and he moves the Prime Minister aside to get him off his foot. Even the PM reacts the moment he steps on Trump's foot, knowing he caused him pain.
Here's the clip in slow motion:
A ceremony took place for the new NATO headquarters and a memorial which included a metal remnant the 9/11 attack in 2001 and a chunk of the Berlin Wall from 1989. In his address, Trump said:
I want to extend my appreciation to the 9/11 Memorial and Museum in New York for contributing this remnant of the North Tower, as well as to Chancellor Merkel and the German people for donating this portion of the Berlin Wall.  It is truly fitting that these two artifacts now reside here so close together at the new NATO Headquarters.  And I never asked once what the new NATO Headquarters cost.  I refuse to do that.  But it is beautiful.
Each one marks a pivotal event in the history of this Alliance and in the eternal battle between good and evil.  On one side, a testament to the triumph of our ideals over a totalitarian Communist ideology bent on the oppression of millions and millions of people; on the other, a painful reminder of the barbaric evil that still exists in the world and that we must confront and defeat together as a group, as a world.
This twisted mass of metal reminds us not only of what we have lost, but also what forever endures — the courage of our people, the strength of our resolve, and the commitments that bind us together as one.
We will never forget the lives that were lost.  We will never forsake the friends who stood by our side.  And we will never waiver in our determination to defeat terrorism and to achieve lasting security, prosperity and peace.
Thank you very much.  It's a great honor to be here.  Thank you.
However, it's what he said before that really matters:
The following graphic from a contributor at The Conservative Treehouse explains Trump's objections. Out of each nation's GDP, the percentages reflect how much goes towards defence, NATO and otherwise:
We pay 4% to NATO defense budget.
We will pay 36% for our defense overall.
They pay less than 2% of their GNP for practically their entire defense overall.
NATO ally flags were raised cermonially:
The flypast:
Whereas Trump diplomatically summarised the meeting as being one of united interests:
Emmanuel Macron made it a Europeans-only occasion:
Fortunately, the NATO spouses and partners seemed to get on better. Melania Trump was buddied with Brigitte Trogneux, Macron's wife and his former high school teacher.
The group went on a tour of the Magritte Museum (Magritte misspelled below):
The Daily Mail, with excellent photos, reported on the visit to the royal palace:
Melania and Brigitte, who met while touring the Magritte Museum in Brussels earlier in the day, posed for pictures alongside the royal [Queen Mathilde] and the other spouses at the royal residence
Mrs Trump also had her own engagements that day:
The next and final stage of the trip is the G7 conference in Taormina, Sicily.
The Trumps left Brussels on Thursday, flying to Italy, then onto Taormina. Watch the Italian guard at 43 seconds in sneak a brief smile to the Trumps:
Trump tweeted:
Taormina is a beautiful ancient city:
This was the schedule and list of participants for Friday, May 26:
The 43rd G7 summit is taking place in Taormina, Sicily, between May 26-27. Attendees will include the leaders of the Group of Seven member states, as well as representatives of the European Union.
The summit is set to be the first for British Prime Minister Theresa May, French President Emmanuel Macron, Italian Prime Minister Paolo Gentiloni, and US President Donald Trump.
Other participants include German Chancellor Angela Merkel, Canadian Prime Minister Justin Trudeau and his Japanese counterpart Shinzo Abe. The EU will be represented by European Commission President Jean-Claude Juncker and European Council President Donald Tusk.
COVERAGE SCHEDULE:
06:00-08:00 GMT – Arrivals from Sigonella airbase.
08:00-09:00 GMT – Jean-Claude Juncker and Donald Tusk press conference.
09:30-10:30 GMT – Welcome cerimony and family photos at Greek Theatre.
10:00-10:30 GMT – Moving to Hotel San Domenico.
10:45-11:30 GMT – Arrivals at Hotel San Domenico. Tour de Table.
17:00-18:00 GMT – Concert for the opening of the G7 Summit at Greek Theatre.
18:15-18:45 GMT – Welcome ceremony and family photo at Hotel Timeo. Official dinner hosted by Italian President Sergio Mattarella.
A concert by La Scala Philharmonic Orchestra and dinner with President Mattarella followed.
Foreign Policy reported that Trump has an important American objective at the G7:
President Donald Trump's controversial senior advisor and speechwriter, Stephen Miller, has led White House efforts to undercut an initiative by Italy to place the migration crisis at the center of this week's Group of Seven major summit meeting starting Friday in Sicily.
For Italy, the summit in Taormina, Sicily, was to provide a poignant opportunity to raise awareness of the plight of hundred of thousands of refugees who cross the Mediterranean Sea to Italy's shores each year, and to reach agreement on a plan to find them permanent homes.
But the Donald Trump White House has largely blocked its Italian host from putting forward an initiative addressing the need to resettle millions of refugees and migrants who have poured into Europe on rickety boats or crossed borders on foot over the past decade. Instead, the United States has pressed the leaders to cap the session with a stern declaration on the need to fight terrorism, a cause that gained added urgency following a grisly suicide bombing at an Ariana Grande concert in Manchester.
The rearguard action was led by the 31-year-old Miller, who has exercised outside influence over the summit's response to the worst refugee crisis since World War II.  In line with President Trump's pledge to build a wall to keep Mexicans out of the United States, the White House has been pressing the G-7 leaders to focus more attention on the need to prevent illegal immigrants from crossing borders than on finding migrants who make the journey a permanent home.
Trump also intends to push back on other G7 preoccupations:
including climate change, trade, and migration that until recently aligned closely with President Obama's foreign-policy vision.
This G7 summit should prove to be a delicate one to be navigated diplomatically. The summit concludes on Saturday, May 27.