You are currently browsing the daily archive for December 31, 2018.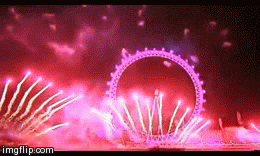 Happy New Year to all my readers!
May 2019 be a year of blessings, comfort, health and prosperity!
On a serious note, traditionally, January 1 is the feast of the Circumcision and Naming of Christ Jesus, about which you can read more below:
January 1 – Feast of the Circumcision of Christ (2010)
New Year's Day: the Circumcision — and Naming — of Christ Jesus
The stained glass window at left, depicting our Lord's circumcision, is probably the only one of its kind in existence. It was originally made in the mid-15th century for the Crutched Friars in Cologne, Germany, and is now displayed in the Cloisters Museum in Manhattan. You can read more about it below:
New Year's greetings — and the Feast of the Circumcision
It is always interesting to contemplate how closely the Holy Family obeyed Jewish laws and traditions. Surely, given that Jesus is Messiah, they did not need to, but they did — because they loved God and they wanted to obey Him.
The greatest sign of obedience was the Crucifixion, the ultimate, all-sufficient sacrifice that Jesus made for our sins.
For all the 'fun' we might be having at this time, may we be always mindful of our all-loving Creator who sent His Only Begotten Son to us to humble Himself as Saviour and Redeemer.