You are currently browsing the daily archive for September 4, 2019.
If Brexit were a television series, we would be entering what Americans call 'the new fall season'.
Essentially, MPs picked up where they left off before summer recess.
Tuesday and Wednesday were full of drama.
Rebel MPs
Prime Minister Boris Johnson lost his Commons majority on Tuesday.
In fact, he now has a working minority of -2.
Twenty-one Conservative MPs voted against the government in favour of Labour MP Hillary Benn's motion to prevent a No Deal Brexit, which is still the legal default. The debate on the Benn-Burt Bill, dubbed the Surrender Bill, is going on today, Wednesday, and I will cover that more in another post.
This is not the first time an MP has had control wrested from him in the first vote of his premiership. There were two others, one from the 18th century and another in the 19th.
The first was Pitt the Younger:
Rosebery (misspelled below) was the other:
Government loses. Johnson the first PM to lose his first Commons vote since Roseberry in 1894.
This is very serious for Boris, should the Lords pass the bill. It would prevent him from negotiating the best Brexit deal for the UK.
Many of the Conservatives listed below gave Hilary Benn support in mid-March for another anti-Brexit motion, which he put forward two days before the original March 29 departure date.
The two Labour MPs listed below voted against the motion to debate Benn's bill, which took place on Wednesday.
The list of rebels includes longtime EUrophile Kenneth Clarke, Father of the House:
Kenneth Clarke is not the only prominent Conservative who has had the whip withdrawn. An explanation of whip withdrawal is below.
Sir Nicholas Soames is Winston Churchill's grandson. Remainers are upset that he, along with the others listed, are no longer Conservative MPs, at least for the meantime. However, this graphic offers a reasonable comparison between grandfather and grandson. Courtesy of Leave.EU: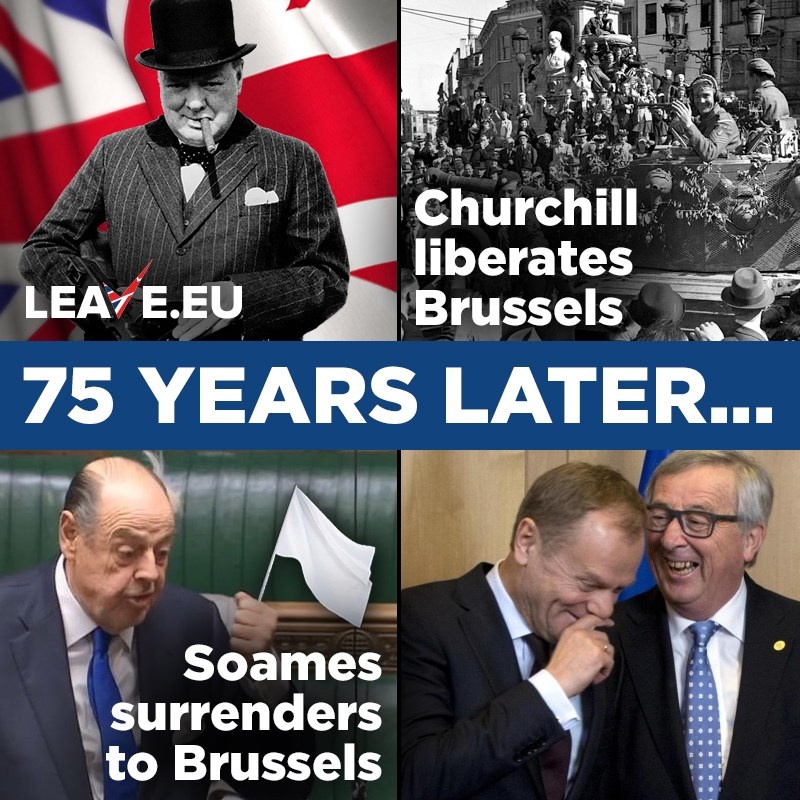 One name does not appear, that of Phillip Lee, who crossed the floor from the Conservatives to the Liberal Democrats — while Boris Johnson was addressing MPs:
Lee explained:
Normally, in these circumstances, an MP would stand down in his/her constituency and a by-election would take place. TalkRADIO's Julia Hartley-Brewer raised the question. Let's also recall Lee's previous position on the 2016 referendum result:
Metro and ZeroHedge have more on the rebels and their impact.
Whip withdrawn from Conservative rebels
It appears as if Boris wants a purge of Conservative MPs voting against his government's — and the people's — wishes.
He was at the prime ministerial country residence Chequers on Sunday, September 1. A purge of disloyal MPs also forces him to ask for a vote on a general election, which Labour do not want to have at this time, as they are too vulnerable — so far:
Yes, it is a risky move.
On September 3, Metro reported on the whip being withdrawn because of MPs' seizing control of the House of Commons agenda from the government. The article also has MPs' reactions (emphases in the original):
More than 20 Tory MPs face deselection after they rebelled against the government tonight.
Boris Johnson's chief whip is speaking to the 21 who voted in favour of a move to try to stop a no-deal Brexit and they will be expelled from the party, a spokesman said.
'The chief whip is speaking to those Tory MPs who did not vote with the government this evening. They will have the Tory whip removed,' the spokesman from Johnson's office said.
MPs voted to seize control of the House of Commons agenda tonight, so they could put forward a bill tomorrow aimed at blocking a no-deal Brexit. It would force the government to seek an extension to Brexit if no deal is agreed by October 17.
Sir Nicholas Soames said he would not stand in the next election.
Kenneth Clarke, a former Chancellor of the Exchequer, will not stand in the next general election, either.
With another former Chancellor, Philip Hammond, things were a bit more variable, especially at the end of August with rank and file members of his constituency's Conservative association. A week before that, his own allies alleged that he and other Remainer MPs were working with Brussels to obtain yet another Article 50 extension!  No wonder the whip was withdrawn this week!
On Monday, Hammond toasted his reselection:
However, Conservative Party HQ overruled the local party association. He is now well and truly deselected (click on the announcement image to see it in full):
To avoid any confusion, these MPs can still sit in the Commons — just not as Conservative MPs:
We'll see if he stands as an Independent when the time comes.
At the end of Wednesday's PMQs, as Conservatives cheered Boris, Hammond was clearly miffed:
Anyway, back to the Conservative Party whip.
This is how it was done (click on second image to see the message in full):
However, former Party leader and current MP Iain Duncan Smith said of the rebels:
Theresa May
Theresa May has been sitting next to Ken Clarke, Father of the House. On Tuesday, they had a grand time listening to Boris at the despatch box, fielding questions from opposition MPs — or perhaps it was when Phillip Lee crossed the floor to the Liberal Democrats' bench while Boris was speaking:
Boris is hardly the 'worst PM' as he's only just begun.
ITV's Robert Peston had this to say about the seating arrangement:
On May's left sits another rebel:
Although they are not supposed to sit with the Conservatives any more, the Labour/Lib Dem benches are too full to accommodate any more MPs:
She did, however, vote with the government — not the rebels.
That said, May has been enjoying her time on the backbenches.
BBC's Nicholas Watt tweeted:
Members of the public replying to Watt's tweet were unimpressed, saying that she is responsible for the mess we are in. True! Now Boris has to dig us out of the morass.
Reuters tweeted a photo of her in a car notionally last night, but it appears to be an old photo, as her jacket is white rather than dark blue.
On Wednesday, she appeared for Boris's first Prime Minister's Questions (PMQs).
Tim Shipman from The Times tweeted:
Or, perhaps she was thinking about something else:
Boris's first PMQs
With all this going on, Boris took his first PMQs on Wednesday.
He clearly did not start as ebulliently as he did on July 25. Still, he put present concerns behind him and scored a few points.
Although I do not agree with that Boris was 'unsettled' throughout, what follows is the short version of PMQs from the Sunday Times's Tim Shipman. The PM was asked about his special adviser Dominic Cummings, one-time head of Vote Leave. Cummings is seen to be the Svengali of Boris's government. Boris also took a question from a Labour MP about a Sunday Telegraph column of his from last year lamenting the burqa, to which Boris said that, if the MP had read the article, he would have understood the context:
Boris got an early swipe at Labour leader Jeremy Corbyn who asked about a trade deal with the US, mentioning chlorinated chicken. The subject of a general election also arose. Boris knows that Corbyn's polling figures aren't as good as his, although positive polls did not work too well for Theresa May in 2017's election, which forced her to seek a 'supply and confidence' arrangement with Northern Ireland's DUP (Democratic Unionist Party):
This next exchange comes with a language alert. It's not often that such a thing is necessary in Parliament, but it has happened before:
Here is the context of Boris's remark. Labour's Angela Rayner asked a question about economic policy. Boris mentioned what she said about her own party's economic policy in 2018:
Speaker of the House John Bercow said nothing:
Near the end came the question about Boris's burqa column from 2018. This was an ill-advised question, considering that Boris's cabinet is far more diverse than Labour's have ever been:
I disagree that the hammering was good, considering our Chancellor is Muslim. Boris also has Muslim ancestors in the not so distant past:
As someone pointed out, a prominent Labour MP also took exception to the women's garment not so long ago. Furthermore, Labour has been accused of unchecked anti-Semitism for some time now, a fact that Boris did not hesitate to point out:
Here's the video:
Conclusion
Not surprisingly, the public are still firmly behind Boris.
They know that MPs are working against them:
This is a useful graphic from the polling organisation Ipsos MORI last week. Voters are not stupid: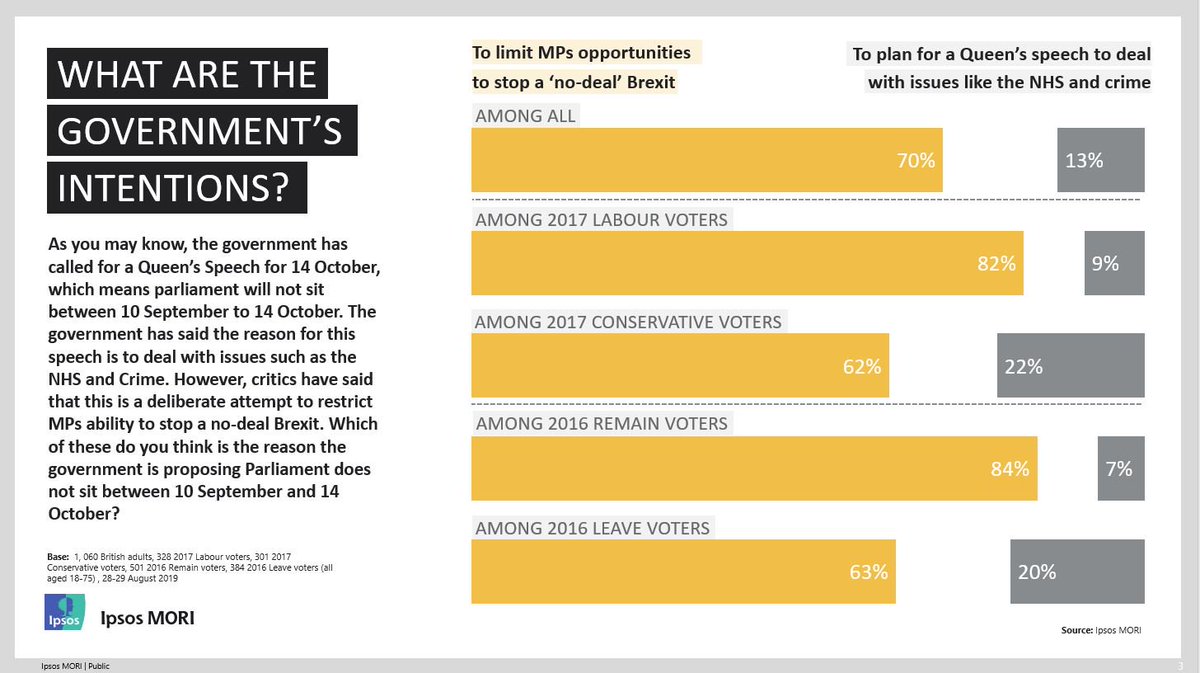 I will have more on Friday, all being well.