Daily Archive
You are currently browsing the daily archive for September 20, 2019.
September 20, 2019 in history | Tags: 2019, Bournemouth, Brexit, Brexit Chronicles, England, Guido Fawkes, history, Jo Swinson, Kirsten Johnson, Liberal Democrats, politics, social media, UK | 4 comments
Once upon a time I really liked Britain's Liberal Democrat Party.
They worked hard on local issues, opposing lazy Conservative and Labour councillors.
I knew one of them fairly well. We commuted into London together. Another Lib Dem councillor who lived nearby also took the same train. These were accessible people.
That was when Charles Kennedy led the party. Unfortunately, because of a personal issue that was becoming painfully obvious in public, he had to stand down.
When Menzies 'Ming' Campbell took over the party, it began to change. I remember going off them when they overwhelmingly voted to give convicts the right to vote. I have always felt very strongly that convicts have sacrificed their 'right' to vote. Harming someone, either physically or through property damage and theft, is inexcusable. They have broken the social contract. Even if they have done their time, that is the price they pay — forever, in my opinion.
Under Ming Campbell, the Lib Dems moved further leftward. Even the late Paddy Ashdown said at one of their party conferences a few years ago that they were a left-wing party. I was shocked to see someone I'd viewed as sensible say such a thing.
What follows is a recap of their 2019 party conference in Bournemouth — along with an update.
Kirsten Johnson resigns as PPC for North Devon
Yesterday, I wrote about Kirsten Johnson, the PPC (Prospective Parliamentary Candidate) for Devon. She has US/UK dual nationality and insulted the county's Leave voters in a Radio 4 interview on Sunday, September 15, 2019.
Every party, from the Greens to the Conservatives, criticised her. What she said about the citizens of her adopted country was shameful.
Fortunately, the backlash was so great that she has since stood down as the Lib Dem PPC for North Devon:
In fact, she's even deleted her Twitter account.
The following tweet is from the Conservative Party chairman and the current MP for North Devon. I like the North Devon resident's response:
Guido Fawkes has an excerpt of her resignation statement:
It is with the deepest regret that I resign as the Parliamentary Candidate for North Devon Liberal Democrats with immediate effect.
I am acutely aware that my comments in the recent Radio 4 interview caused offence, and I reiterate my sincere apologies. Whilst I have had many very good interviews, on this occasion I totally lost the thread of what I was saying, which was interpreted in ways that I certainly did not intend or believe about the people of North Devon.
Uh huh.
At least the mask slipped now, rather than later.
Party conference unsettling
I caught probably two hours' worth of the Lib Dem conference this year.
That was quite enough. What these MPs and councillors said was startling.
Each time I tried to watch BBC Parliament's coverage at length, I had to turn off the television.
Did you ever have the experience growing up when you said or did something outrageous and a parent or grandparent said, 'Stop it! You're scaring me!'
Well, that was my reaction to the Lib Dems this year. What makes it even scarier is that many Britons think that they are still the reasonable political party they were in the 1990s. No, they are not.
See the lengthy list of conference motions that passed. Three of them follow.
Deprivation of citizenship
In the debate on Motion F34, Lib Dems said that the Home Secretary Sajid Javid was wrong to revoke ISIS bride Shamima Begum's British nationality.
They want any future Home Secretary to go through the courts first!
On September 15, The Guardian reported that Christine Jardine, responsible for leading Lib Dem positions on home affairs, said:
The decision to strip someone of their citizenship is a very serious one and should only be taken when absolutely necessary. Instead, we have seen Conservative home secretaries abuse this power for political gain with tragic results.
"These are people brought up, often born here, with families and loved ones who deserve a government that will take responsibility when they are radicalised and go abroad to join terrorists. They should be prosecuted in the UK for their crimes and interrogated to learn exactly how this happens and prevent terrorists from recruiting more young Brits.
"Liberal Democrats demand better. We will introduce new safeguards so that home secretaries must show good reasons for revoking someone's citizenship. We will also ensure that the best interests of any children involved are taken into account, and that no one is left stateless.
I watched a half hour of the debate on this and had to turn it off. Sajid Javid did the right thing. One of the talking points was discussing radicalisation with young people. Sorry, but there is no 'educating' people who want to be terrorists. Nothing and no one can stop them.
Climate crisis
I watched part of the debate about keeping data on everyone taking a trip on commercial aircraft. I had to turn that off, too.
While much data is gathered, part of Motion F29 concerned tabulating how many times an individual flew on a plane per year.
Fortunately, someone had the wisdom to say that a number of people who fly frequently on business would be adversely affected.
That said, Motion F29 passed. It calls for, among other things, a national Citizen's Climate Assembly. Anything with 'citizen' in it should raise an alarm.
Music venues
I had to turn this debate off, too.
A musician and the PPC for Hove and Portslade, Beatrice Bass, moved Motion F25 on music venues.
Watching her, I sensed she felt quite angry towards England. I also noted a hint of a foreign accent. It turns out she was born in Davos, Switzerland, and has dual Swiss/UK nationality.
So, like the aforementioned failed American PPC, she, too, comes from abroad. They weren't the only two, either. Several others from abroad also spoke at conference. I wonder if putting forward so many foreign PPCs is a good idea. Will they have England at the heart of their policies? I doubt it. But, I digress.
Beatrice Bass said that England is the only British country to have restrictive laws on music venues, especially with regard to noise. She wants those laws relaxed. Many of us do not. We are grateful for noise abatement laws. Some of us have to get up for school or work in the morning.
Glee Club
Speaking of music, every year, their party conference has a private evening session called Glee Club. Members make up songs ridiculing public figures.
This year's stand out was the take on Tony Blair. I'm no fan of the former PM, but this is too much:
Guido Fawkes says that the song is a Glee Club oldie from 1995, now a party classic:
Lib Dems took part in their annual conference sing-a-long last night, and despite the referendum, their new recruits, and support from Alastair Campbell, Mrs Blair, and probably the Former Prime Minister too, they launched into the Lib Dem classic: "Tony Blair can f*ck off and die"
The song, originally written in 1995 about rejecting the idea about coalition with the Labour Party, became a Lib Dem Glee Club favourite in the post-Iraq era. Guido brings you the lyrics so you can sing along at home:
So bye, bye to the great Lib-Lab lie
That it's made in heaven
'cos that's pie in the sky
Us Lib Dems will take courage and cry
"Tony Blair can f*ck off and die"
"Tony Blair can f*ck off and die"
Jo Swinson
This year, Jo Swinson made her first speech as party leader.
It is interesting that she wears red a lot. Is it because it's her colour, or is she trying to send a message?
She probably considered the photo op as a team building exercise.
Guido Fawkes has the story (emphases in the original):
Jo Swinson staged what is set to be the oddest photo op of party conference season when she walked her MPs into the Bournemouth sea. There are honestly easier ways to get to Europe, guys…
Whilst there was a decent turnout for the photoshoot, some Lib Dem MPs not shore about the visuals chose not to cave into pier pressure. It really will be sink or swim for the Lib Dems over the next few months…
Some people have investigated Jo Swinson's voting record when she was an MP both before and after the Conservative-Lib Dem coalition government (2010-2015). She voted more often with the Conservative government positions than Conservative MPs did:
Then there's this, as seen on Twitter: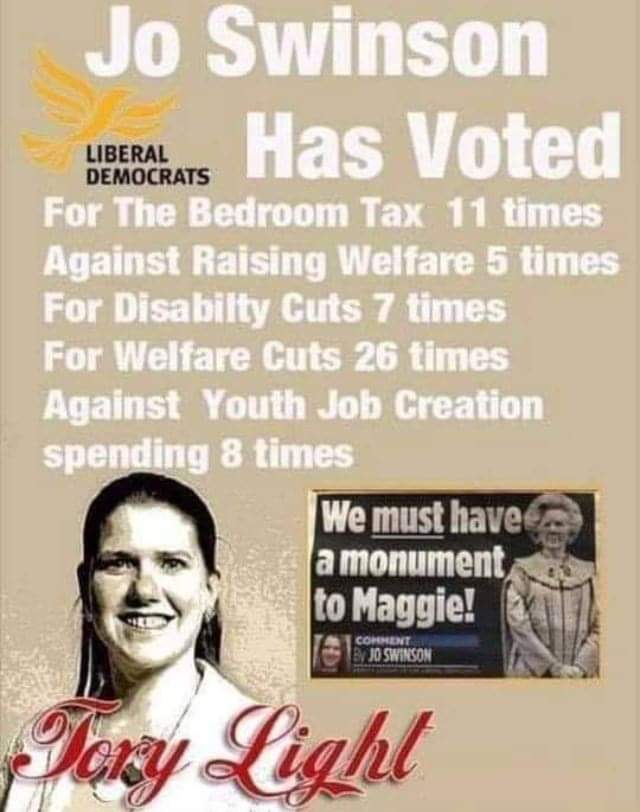 That editorial about a monument to Margaret Thatcher rings a definite bell. However, Swinson was a young MP at the time and I didn't think any more about it. She was on some of the Sunday political television programmes around that time, too.
Jo Swinson not only did a dramatic turnaround on her conservative views as a Lib Dem, she also did a 180-degree turnaround on EU membership.
Adam Heilbron unearthed vintage footage of Swinson criticising the EU and proposing a referendum on the UK's membership:
From that, Guido Fawkes's team put together two videos:
reminding Guido of a time when the Lib Dems were both liberal and democratic… 
Guido concludes:
Give it another decade and she might have flopped back to being a eurosceptic again!
One cannot help but wonder if there is some sort of incentive behind these ginormous flip flops.
Article 50 revocation
Anyone fence-sitting on Brexit should be aware that voting for Lib Dems in a general election will lead to revocation of Article 50 straightaway.
It is unlikely that Jo Swinson will become PM. There is no way the Lib Dems could win a majority or even an overwhelming minority to form a government.
That said, they have firmly established themselves as the Remain party in Britain.
In her maiden conference speech as party leader, she invoked the memory of past party leader, the late Paddy Ashdown:
I wish he could see our party now.
However, Paddy Ashdown said he was firmly committed to following through with the Leave result:
On September 14, she wrote a piece for The Guardian which says:
The Liberal Democrats are the strongest Remain party in the UK, and we continue to grow, adding members, councillors and MPs. When a general election comes, we will be ready for it and ready to take our clear, pro-European message to the country. We want to stop Brexit, and if the Liberal Democrats win the general election then we will revoke article 50.
Our country deserves better than Jeremy Corbyn and Boris Johnson. The Liberal Democrats are the positive, hopeful alternative that the country needs.
That's democracy in action (not).
At the same time, she calls out the new facial recognition surveillance:
I'm not a fan of it myself … but it's a lot less dangerous than revoking Article 50!
In any event, the Lib Dems' position on revocation of Article 50 without a second referendum has the cross-party People's Vote campaign wondering about the party's participation.
On September 17, Guido Fawkes had this:
His article says, in part:
One unexpectedly joyous by-product of the change of policy by the LibDems, to ignoring the referendum result totally, is that over at the People's Vote campaign Tom Baldwin wants to purge LibDem MPs. James McGrory, the former LibDem SpAd for Clegg, is trying to keep them on board. Anna Soubry is saying they must be purged. So much for plurality and a new kind of centrist politics. Chaos….
Tom Baldwin has tweeted that our story is bollocks. Am assured that the question of the LibDem's status with the campaign is being actively discussed in the office.
The day before, The Guardian published a pointed editorial on Swinson's position. It ends with this:
The winner-takes-all mentality behind Ms Swinson's policy is troubling. The lack of a democratic mandate for revoke means it could entrench a permanent divide in British life that will be impossible to bridge. Politicians ought to think about their policy's consequences. If the Lib Dems' idea is accepted, then why couldn't the SNP be permitted to hold a second independence vote if it won the next Holyrood election? Then there are the accusations of inconsistency. In 2008 Ms Swinson wanted a referendum on EU membership. Two years later she campaigned on a manifesto that committed the Lib Dems to an in/out EU referendum. She was a minister in an austerity government that did so much to create the pain and division behind the leave howl. In 2016 an EU referendum took place. The country voted out. Three years later, Ms Swinson won't accept the outcome of a plebiscite she had said she wanted.
The Lib Dems are positioning themselves to tap future popular revulsion against the major parties. Yet the politics of protest only works if there is something to protest about. If Boris Johnson strikes a Brexit deal with the EU, where does this leave Ms Swinson? The Lib Dem policy also gives Labour a clear run at a second referendum. Ms Swinson's offer is just to permanently polarise the electorate around Brexit. The Lib Dems still have no distinctive pitch for issues beyond leaving the EU. This is the party of ideas, home to Keynes and Beveridge. But there's no sign of a middle way being plotted by the party between the extremes. Unless Ms Swinson can do so, the odds will be stacked against the Lib Dems in a general election.
Even Polly Toynbee noted 'Swinson's remain extremism'.
Scottish PPC sacked
On September 16, Guido Fawkes reported that a Scottish Lib Dem PPC was given the heave-ho.
Galen Milne has made menacing remarks, to say the least, about prominent Conservatives — including the PM and Leader of the House, Jacob Rees-Mogg:
A Lib Dem parliamentary candidate who called for Boris Johnson and other top ministers to be h[anged], drawn and quartered before being burned at the stake, has been axed by Jo Swinson.
Galen Milne – who was due to stand in the Scottish seat of Banff and Buchan – made the comments on Facebook, where he also called Tory MPs "rats" and advocated a "final solution" to split the Tory Party.
Taking the graphic comments in his stride, earlier Jacob Rees-Mogg Tweeted:
True! Being hanged, drawn and quartered was for plebs.
For more information …
Be afraid. Be very afraid.