You are currently browsing the daily archive for October 3, 2019.
Britain's Conservatives have had a highly successful party conference in Manchester.
They have had the highest attendance in 20 years, with many more young members showing up.
Conservatives seen as Party of Brexit
Voters now think that the Conservatives are definitely a party of Brexit, a dramatic turnaround since the days of Theresa May in April 2019, as a YouGov poll from October 1 shows:
Guido Fawkes writes (emphasis in the original):
New YouGov polling has revealed that more Leave voters now think that the Tory party is a pro-Brexit party in a direct contrast to the last time the question was asked. Back in April, Leave voters were found to be substantially more likely to think the Tories were actually anti-Brexit (40%) than pro-Brexit (23%). The more pro-Brexit the Tories are seen as, the higher their polling climbs…
Hearteningly for Tory strategists, the proportion of Brexit Party voters who see the Tories as anti-Brexit has collapsed from 65% to just 24%.
This exchange is representative of voters' perceptions:
One of Guido's readers provided an excellent analysis (emphases mine) and meme featuring Chancellor Sajid Javid, Home Secretary Priti Patel, Leader of the House Jacob Rees-Mogg and Foreign Secretary Dominic Raab:
The core Cabinet + Lynton Crosby + Dominic Cummings are driving policy in a very interesting way.
They are commissioning an unprecedented number of focus groups and private polls. They are scouring the social media. They will even be reading this comment (Hi!).
They then use this knowledge of what the public actually want to form policy and to craft the messages in their speeches, press releases and other output.
They are doing what a government should do. They have become the servants of the people.
This is why Boris says we are leaving, deal or no deal. He is 100% sure that this is what the vast majority want. And he knows how massively unpopular the Quislings are.
The other parties are just bumbling round in the dark with their blindfolds on.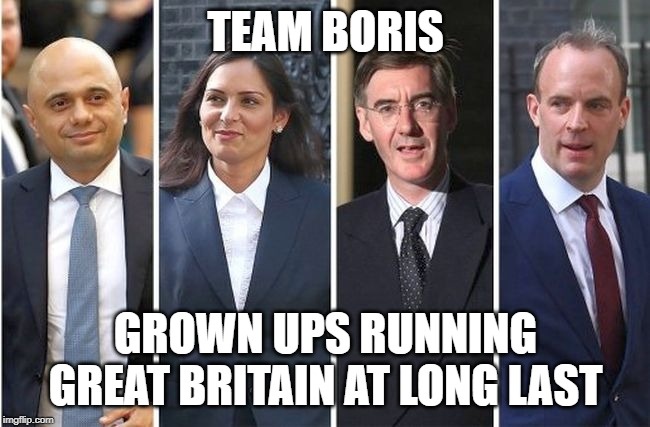 I don't know about 'grown ups' as much as a group of people who have the mettle to keep going, in spite of all obstacles, not least the daily nastiness from the Left. This went up near Manchester in nearby Salford just before Conference began on Sunday, September 29:
Boris best PM since Maggie
Many Britons have said anecdotally online that Prime Minister Boris Johnson is the best since Margaret Thatcher, who stood down in 1990. The following is something any Briton over 60 will tell you about when you ask about the 1970s and her party's defeat of Labour. She faced a national mess, one that affected everyone with regular power outages, strikes and so on:
Whilst it's early days, here are poll results from this week for Boris …
… and the Conservatives:
Conservatives — the party of the people and of diversity
From the introductory speech by the female chairperson of the conference until the end, the Conservative message was:
We don't care where you come from, but where you are going.
How true.
Under Boris Johnson, we have the most diverse Cabinet in British history.
Despite all their rhetoric on people and diversity, Labour's Shadow Cabinet barely comes close.
Labour are also under investigation on charges of anti-Semitism.
On Monday, September 30, a young Conservative Party member introduced the Chancellor of the Exchequer. Mercy Meroki is no fan of the Labour Party. She is currently studying at Oxford:
Now is a good time for people like me to find out how to pronounce the Chancellor's name:
He greeted his mother, who was in the audience. This is probably the first time Punjabi has been heard at a Conservative Party conference. I wonder about the Labour and Lib Dem conferences in that regard, too, though:
The biggest headline from the Chancellor's speech is a proposed abolition of inheritance tax, rightly viewed by Britons to be the most unfair:
The Party of Law and Order — Conservatives
I sincerely hope that Priti Patel can be a better Home Secretary than her predecessors Amber Rudd and Theresa May.
Her speech went down very well with conference attendees and people watching from home.
Whilst I applaud the addition of 20,000 more police from the PM and her, we have heard this before. For various reasons, it never happens.
I also question the Australian points system for future immigrants. Surely, there must be a better way, as an article from October 1 in The Guardian, 'Oxford professor's children refused visas to join her in UK'. This is what happens in the academic world, so heaven only knows what happens to others than senior executives or the very wealthy (emphases mine):
Dr [Amber] Murrey, an expert on social change in Africa, who has published widely and previously held positions at universities in Cairo, Massachusetts and Ethiopia, took up her post in Oxford last year. Without proof of residency she couldn't set up schooling or somewhere to live in advance, so the couple decided she should establish a base in Oxford before moving the family. While she has been returning to Cameroon to see her daughters and husband in the university holidays, she says this has been an emotional strain.
"It has been really hard, because I need to spend more time with my daughters but I am wary of being out of the UK for too long in case it jeopardises the terms of my tier 2 visa," she says.
The news has hit the family hard. Murrey says: "My nine-year-old had been so excited about her new school, and our apartment near a meadow. After I told her their visas had been denied she told me: 'I know why they rejected me, it's because I've been misbehaving this week, Mama'. We both cried very hard."
The Home Office rejection letters say that under immigration rules a child may only be given a visa if both parents are living together in the UK. This would be waived if the parent living here had sole responsibility for the children, or the other partner had died.
"This policy seems to operate under the guise of keeping families together, but it is splitting mine apart," Murrey says.
Ultimately the couple want the whole family to live together in Oxford, but Murrey says that right now they are just trying to "do what is best for our daughters".
She doesn't know whether she has been singled out as a risk because her husband is from Cameroon. "We have family members and friends there who have been rejected for British visas in the past," she says.
The Wellcome Trust, a health research charity, has evidence of around 100 cases in which academics, especially from African countries, have been refused visas to come to the UK for conferences, often for spurious reasons …
A young Canadian academic, who wished to remain anonymous, recently encountered a similar pop-up window when applying for a full-time lectureship that should have qualified her for a tier 2 visa at a London university.
"It said: 'It is highly unlikely that you would obtain permission to work in the UK on the basis of an offer for this … job. It is therefore recommended that you do not continue with your application'."
She says this felt like a sign saying: "foreigners go home". She blames the government rather than universities, but says that after a year of applying for jobs she is beginning to feel desperate.
Gareth Edwards, a senior geography lecturer at the University of East Anglia and co-founder of International and Broke, which campaigns against high visa costs for academics, says international academics are getting this sort of pop-up warning when applying for permanent lectureships. "Those jobs are most certainly eligible for sponsorship," he says.
Meanwhile, we've got illegals coming here on dinghies from the Dunkirk area. They have friends or family members pick them up in coastal arrival points in the UK to take them to their new home.
It seemed to be just a few cases last year, but LBC (radio) recently sent someone undercover to investigate, and it's a regular trafficking programme with dozens of people being smuggled across the Channel every night. On a slow day, only 20 to 25 go across. Normally, twice that many people make the crossing nightly, often with the blessing of the local gendarmerie. I will write about this in a separate post.
Immigration aside, the levels of crime on our streets are far different than they were 25 or 30 years ago. Crime used to make the national news. Now there are so many incidents that local newspapers cover them instead. So, on that basis, Priti Patel's policies — really Boris's, as he came up with them first — have been applauded:
And, ironically, before the Home Secretary spoke on the dais to formally announce this new commitment, security staff duly ejected a Conservative MP from an event at the International Lounge. Either he or his guest lacked the relevant pass to gain entry. They were then asked to leave the conference altogether:
The BBC reported:
A staff member guarding the door of the International Lounge said the incident was sparked by a disagreement.
"It was a small misunderstanding," the man said.
BBC Political Editor Laura Kuenssberg said the incident happened just before home secretary Priti Patel stood up to make a speech "trying to reclaim the Tories as the party of law and order".
A Greater Manchester Police spokesman said an attendee "attempted to enter the International Lounge area of the conference without the relevant pass".
"Security staff intervened and resolved the situation without any breach of security occurring," he added.
Also:
The incident led to a lockdown of part of the Manchester Central Convention Centre for about 20 minutes. The MP apologised "unreservedly".
A Conservative spokesman said: "The incident was totally unacceptable."
"Geoffrey has been asked to leave Conference and we are establishing all of the facts to see if further action is necessary," he added.
"We will always adopt a zero tolerance approach to any inappropriate behaviour towards our hardworking staff."
The Cotswolds MP said in a statement: "This was a minor verbal misunderstanding.
"The police have not contacted me at all. I am mortified that something so minor seems to have been blown out of all proportion and if anyone has been offended, I apologise unreservedly.
"I will co-operate with the party in any investigation."
Tweets show this incident caused concern:
Boris's speech — backing Britain
Of course, most reading this want to know what Boris said just before midday on Wednesday, October 2.
As one would expect, he was witty and to the point. As one reader of Guido Fawkes points out:
… Boris in a nutshell: HE CHEERS US UP.
True!
Others agreed:
Were any other former PMs there? No:
You can see Boris's speech in full, beginning at one hour and 36 minutes in:
Note his Brexit coloured tie.
He began by paying tribute to his predecessor, Theresa May. He also thanked the outgoing leader of the Scottish Conservatives, Ruth Davidson. Neither is a particular fan of his, but Boris did the right thing.
He then said:
We have so many reasons to feel confident about our country.
Finally. Having watched portions of the Lib Dem and Labour conferences, it was a relief to hear a party leader talking positively about Britain.
He referred to Labour as the:
anti-Semitic Marxists in Brighton last week.
Boris then wittily criticised Jeremy Corbyn for not voting for a general election. Corbyn, lest we forget, asked for one 35 times, no exaggeration. Boris put forward a motion twice in September, and Labour voted No. Then he went on to discuss the Supreme Court overruling the recent prorogation, which had Royal assent:
He brought up Brexit:
He rightly asked when any Conservative leader last spoke about capitalism:
The answer is Theresa May in 2017. Prior to that, David Cameron did at some point.
He spoke up for Britain and our nation's great innovations throughout history:
I'm fed up with being told our country can't do something when I passionately believe that it can.
He gave a shout out to the Commonwealth.
He praised Priti Patel for supporting law and order policies.
He called for London to elect Shaun Bailey as its next mayor.
He spoke about buses, his favourite vehicle.
He said that wind and solar energy were far more productive than originally claimed. It turns out his sister, Remainer Rachel, was sceptical. Boris picked up on it at the time in one of his Telegraph columns:
At the end, Boris received a standing ovation.
No one slept through his speech.
He did not use an autocue, either, which was refreshing.
'No disposable cups'
The comedy moment of the conference occurred on Tuesday, October 1.
Boris really wanted a cup of coffee, and a male aide handed him one. A female assistant quickly whisked it out of his hand.
Apparently, it was because it was in a disposable cup. I do think the Conservatives are taking this eco-thing a bit too far:
Watch Boris extend his hands, not quite believing what happened and not having any coffee. He's a good sport:
It reminded me of that Seinfeld episode, 'The Soup N@zi': 'No soup for you!'
Comedy gold.
Guido Fawkes reports (emphasis in the original):
After a slue of late night receptions with Tory members, Boris was denied his much needed caffeine hit this morning by his press team – all because it came in the wrong cup. When Number 10 Press Secretary Rob Oxley handed the Prime Minister a cup of coffee, it was swiftly snatched away by events aide Shelley Williams-Walker who scolded him saying "No disposable cups." Oxley was later spotted buying a KeepCup and a mug at the Tory Party conference shop…
UPDATE: Several hours later…
My observations
After Boris's speech, the Conservative Party Conference drew to a close for another year.
My brief observations follow, contrasting this to the two left-wing conferences.
First, everyone at the Conservative conference was tidy and well groomed. Most of the men wore jackets and ties.
Secondly, proceedings ran to time. Boy, did they ever.
Finally, everyone who spoke was articulate and delivered their speeches well.
Bravo!
Now, it's onwards and upwards to GET BREXIT DONE!