You are currently browsing the monthly archive for May 2020.
The three-year Lectionary that many Catholics and Protestants hear in public worship gives us a great variety of Holy Scripture.
Yet, it doesn't tell the whole story.
My series Forbidden Bible Verses — ones the Lectionary editors and their clergy omit — examines the passages we do not hear in church. These missing verses are also Essential Bible Verses, ones we should study with care and attention. Often, we find that they carry difficult messages and warnings.
Today's reading is from the English Standard Version with commentary by Matthew Henry and John MacArthur.
4 Likewise, my brothers, you also have died to the law through the body of Christ, so that you may belong to another, to him who has been raised from the dead, in order that we may bear fruit for God. 5 For while we were living in the flesh, our sinful passions, aroused by the law, were at work in our members to bear fruit for death. 6 But now we are released from the law, having died to that which held us captive, so that we serve in the new way of the Spirit and not in the old way of the written code.[a]
—————————————————————————————————————–
Last week's post introduced Paul's preface into a discussion of our situation of no longer being bound to the law but bound to Christ.
Paul used marriage as his example. When a woman's husband dies, she is free to remarry. So it is with us in a spiritual sense. Before Christ, believers — Paul is speaking to former Jews here — were bound to Mosaic law. However, Christ's death and resurrection freed us from the law. We are now bound to Him individually, forever. We are also bound to Him collectively through the Church, His holy bride.
Our purpose in being bound to Him and no longer to the law is that we may produce fruits of faith for God (verse 4).
Matthew Henry has an excellent analysis of this verse. He first draws our attention to having 'died to the law', referred to again in verse 6 (emphases mine):
He does not say, "The law is dead" (some think because he would avoid giving offence to those who were yet zealous for the law), but, which comes all to one, You are dead to the law. As the crucifying of the world to us, and of us to the world, amounts to one and the same thing, so doth the law dying, and our dying to it. We are delivered from the law (Romans 7:6), katergethemen–we are nulled as to the law; our obligation to it as a husband is cassated and made void.
Through His death and resurrection Christ delivered us from bondage to the law, which could not save us. It could only make us aware of our sins:
It is dead, it has lost its power; and this (Romans 7:4) by the body of Christ, that is, by the sufferings of Christ in his body, by his crucified body, which abrogated the law, answered the demands of it, made satisfaction for our violation of it, purchased for us a covenant of grace, in which righteousness and strength are laid up for us, such as were not, nor could be, by the law. We are dead to the law by our union with the mystical body of Christ. By being incorporated into Christ in our baptism professedly, in our believing powerfully and effectually, we are dead to the law, have no more to do with it than the dead servant, that is free from his master, hath to do with his master's yoke.
Our spiritual marriage is with Christ, not the law. As marriage is expected to be fruitful, so our union with Christ should be bearing the fruits of our faith, made possible by heavenly grace:
The wife is compared to the fruitful vine, and children are called the fruit of the womb. Now the great end of our marriage to Christ is our fruitfulness in love, and grace, and every good work. This is fruit unto God, pleasing to God, according to his will, aiming at his glory. As our old marriage to sin produced fruit unto death, so our second marriage to Christ produces fruit unto God, fruits of righteousness. Good works are the children of the new nature, the products of our union with Christ, as the fruitfulness of the vine is the product of its union with the root. Whatever our professions and pretensions may be, there is no fruit brought forth to God till we are married to Christ; it is in Christ Jesus that we are created unto good works, Ephesians 2:10. The only fruit which turns to a good account is that which is brought forth in Christ. This distinguishes the good works of believers from the good works of hypocrites and self-justifiers that they are brought forth in marriage, done in union with Christ, in the name of the Lord Jesus, Colossians 3:17. This is, without controversy, one of the great mysteries of godliness. (2.) That we should serve in newness of spirit, and not in the oldness of the letter, Romans 7:6. Being married to a new husband, we must change our way.
Under the law alone, believers could only be aware of their sins and were helpless in committing them time and time again; the law could not save them (verse 5).
John MacArthur breaks this verse down as follows:
This verse is so loaded, now. Hang on, I'm going to give it to you fast. Four key thoughts, here they come: Flesh, sin, law, death. Circle them in your Bible in verse 5: Flesh, sin, law, death. They go together. They're all the same kind of thing. They operate in the same sphere.
The flesh produces sin, which is excited by the law, which it results in death. That's a pathetic quartet, frankly. They are terms that describe man's fallenness, man's unregenerate state. They are a sad description. Let me take them piece by piece. And this is a very important statement at the beginning of verse 5, very definitive. "For when we were in – " underline the word "in" " – when we were in the flesh." "In the flesh," what does he mean by that? Well, we were really deep in it. It was our sphere of being. We were in the flesh. We were deeply in the flesh, profoundly in the flesh, engulfed in the flesh.
What is the flesh? It's used two ways in the Bible and you must distinguish them. First, it's used physically. And when flesh is used physically in the Bible, it has no evil connotation. Did you get that? When it's used physically, it has no evil connotation. For Jesus Christ is come in the what? Flesh. "For the Word – " John 1:14 " – was made flesh." When it is used in the physical sense, it has no evil connotation. In fact, in 1 John 4:2 it says that anyone who doesn't confess that Christ is come in the flesh is not of God.
But listen, when flesh is used in the ethical or moral sense it always has an evil connotation. Always. When it's used in the ethical moral sense. You find that, for example, in chapter 8, flesh is used in verse 4, 5, 6, 7, 8, 9 and 13, flesh, flesh, flesh, flesh, flesh all through there. You find it in Galatians 5 at least four times. You find it in Ephesians chapter 2. And every time you find it used in an ethical moral sense, it has an evil connotation. And it is speaking of man's unredeemed humanness. Very important. So "when we were in the flesh" is when we were unredeemed. When our being – our real personage – … living in us was engulfed in the flesh, was captive to the flesh.
Now may I suggest to you that that's a past tense experience? I'm no longer in the flesh. That's right. Neither are you if you're a Christian. You say, "How do you know that?" I'd thought you'd ask. Look at 8:4. Verse 4 says we're not to walk after the flesh. Then verse 5. "For they that are after the flesh – " now there's another phrase that's just the same as "in the flesh." The "in the flesh" and "after the flesh," folks, are the same thing. "They mind the things of the flesh." That's their world, their sphere. "But they that are after the Spirit, the things of the Spirit. For to be fleshly minded is death; to be spiritually minded is life and peace. Because the fleshly mind is enmity against God: for it is not subject to the law of God, neither indeed can be."
With Christ as our Redeemer, we are no longer dead to sin in the law. In our union with Christ, we do the right things to please Him and God the Father, as divine grace and the Holy Spirit enable us so to do (verse 6).
MacArthur explains that Paul is referring to the fruits of faith here, not the erroneous works-based salvation:
Because of Christ we bear fruit. May I remind you that this is not a command, this is a statement of fact? It could read, "in order that we bring forth fruit." We do. There's no such thing as a no-fruit Christian. Salvation has a product. Because of a transformed life, we bear fruit unto God. Now carry that back to the question at the beginning of chapter 6. When you preach a grace salvation, and you ask people to come to Christ by grace through faith, and they don't have to do anything to earn it, and you're under grace, and sin abounds grace much more abounds, does that lead to sin? No it doesn't because chapter 6 says that if you're truly transformed you produce holiness, and chapter 7 says if you're truly married to Jesus Christ you will bring forth fruit unto God. Just the opposite is true.
The great theologian, [Charles] Hodge, wrote, "As far as we are concerned, redemption is in order to produce holiness. We are delivered from the law in order that we may be united to Christ. And we're united to Christ in order that we may bring forth fruit unto God." He goes on to say, "The only evidence of union with Christ is bringing forth fruit unto God. As deliverance from the penalty of the law is in order to produce holiness, it is vain to expect that deliverance except with a view to the end for which it is granted."
In other words, if you're saved, you're going to produce fruit unto God. What is fruit? Well, we've studied this in the past. Two things: Attitude and action. What's attitude fruit? Galatians 5:22-23. "The fruit of the Spirit is – " what? " – love, joy, peace, gentleness, goodness, faith meekness, self-control." That's attitude.
What about action fruit? Hebrews chapter 13. "The fruit of your lips praise unto God." Philippians chapter 4. The fruit of a loving heart, a gift sent to the apostle Paul. Philippians talks about the fruit of righteousness. Any righteous act, any act which glorifies God, is fruit. Any right attitude or right act is fruit. And when Christ transforms your life, and you are dead to the law, and you come alive to God, it is not just because of a past historical event, it is because of a present living Christ, with whom you are one, and in whom He produces fruit unto God. He is the vine and we are the – what? – branches. And the vine produces the fruit through the branches.
So the question of 6:1-2 is again answered. Salvation has a product, but the product isn't abuse, and the product is licentiousness, and the product isn't libertinism, and the product isn't license, and the product isn't sinfulness, thinking you're going to get forgiven for everything you do because of some transaction that's made. The product of true salvation is chapter 6, holiness; chapter 7, fruitfulness, and fruit unto God. That means fruit that glorifies God.
As I am writing this on Pentecost Sunday, here is a closing thought from MacArthur on the role of the Holy Spirit in our lives:
This, of course, is the work of the Holy Spirit.  We still serve the law.  In fact, we serve it better than we could before we were redeemed. Because we serve not the letter of the law but the spirit.  We no longer are slaves to a legal set of values and rules in order to gain favor with God, but we now serve God out of love because He's granted us salvation.  We are free, free to serve God, not free to serve ourselves.  We did that before.  We aren't legalists serving the letter, but in newness of spirit we serve Christ. 
So somebody asks the question.  If we're free from the law as Christians, is the law binding on us?  The answer is no and yes.  It is not binding in the sense that our acceptance with God depends on it.  It is binding in the sense that our new life seeks to serve it.  You see, the law couldn't save you because you couldn't keep it.  Now that God saved you, the law can't condemn you, and for the first time in your life by the power of the Holy Spirit, you can keep it.  So we're not under the law condemnation but we serve God's law out of the depths of a committed heart.
Is the law important?  Oh yes.  Can we say with the psalmist, "O how I love Thy law?"  Oh yes.  Even though it can't save us?  Yes.  Even though it would condemn us?  Yes.  Because Jesus Christ has born that condemnation and by planting within us the divine nature has enabled us to keep that very law.  And we don't serve it externally, but out of newness of spirit.
So, we're dead to the law in the sense that it could save us or condemn us.  But listen, people, we are more alive to the law now in terms of serving it to the glory of God than we've ever been. 
Paul has much more to say about the law and sin, to be continued next week.
Next time — Romans 7:7-14
Below are the readings for Pentecost Sunday, May 31, 2020.
These are for Year A in the three-year Lectionary used in public worship.
Pentecost, the final Sunday in Eastertide, is regarded as the Church's birthday.
The first Pentecost coincided with the Jewish feast of Shavuot, which explains why there were so many witnesses to the Holy Spirit descending on the disciples, as we will see in the reading from Acts 2 below:
Pentecost — the Church's birthday, with gifts from the Holy Spirit
The following posts have more on this important day in the Church calendar:
Lutheran reflections on Pentecost
Thoughts on Pentecost: the power of the Holy Spirit
Reflections for Pentecost — a Reformed view
Outside of the Psalm, the readings below have more than one option.
Emphases mine below.
First reading
Option One
If this is not read as the first reading, it must be chosen for the Second Reading/Epistle.
This is the dramatic account of the Holy Spirit descending on the 70 disciples in Jerusalem. Many onlookers saw this, as the Jews had gathered for the Feast of Shavuot:
Acts 2:1-21
2:1 When the day of Pentecost had come, they were all together in one place.
2:2 And suddenly from heaven there came a sound like the rush of a violent wind, and it filled the entire house where they were sitting.
2:3 Divided tongues, as of fire, appeared among them, and a tongue rested on each of them.
2:4 All of them were filled with the Holy Spirit and began to speak in other languages, as the Spirit gave them ability.
2:5 Now there were devout Jews from every nation under heaven living in Jerusalem.
2:6 And at this sound the crowd gathered and was bewildered, because each one heard them speaking in the native language of each.
2:7 Amazed and astonished, they asked, "Are not all these who are speaking Galileans?
2:8 And how is it that we hear, each of us, in our own native language?
2:9 Parthians, Medes, Elamites, and residents of Mesopotamia, Judea and Cappadocia, Pontus and Asia,
2:10 Phrygia and Pamphylia, Egypt and the parts of Libya belonging to Cyrene, and visitors from Rome, both Jews and proselytes,
2:11 Cretans and Arabs–in our own languages we hear them speaking about God's deeds of power."
2:12 All were amazed and perplexed, saying to one another, "What does this mean?"
2:13 But others sneered and said, "They are filled with new wine."
2:14 But Peter, standing with the eleven, raised his voice and addressed them, "Men of Judea and all who live in Jerusalem, let this be known to you, and listen to what I say.
2:15 Indeed, these are not drunk, as you suppose, for it is only nine o'clock in the morning.
2:16 No, this is what was spoken through the prophet Joel:
2:17 'In the last days it will be, God declares, that I will pour out my Spirit upon all flesh, and your sons and your daughters shall prophesy, and your young men shall see visions, and your old men shall dream dreams.
2:18 Even upon my slaves, both men and women, in those days I will pour out my Spirit; and they shall prophesy.
2:19 And I will show portents in the heaven above and signs on the earth below, blood, and fire, and smoky mist.
2:20 The sun shall be turned to darkness and the moon to blood, before the coming of the Lord's great and glorious day.
2:21 Then everyone who calls on the name of the Lord shall be saved.'
Option Two
The Holy Spirit rested upon two men in the Israelites' camp, and they began to prophesy. Far from silencing them, Moses wished there were more like them. Note that 70 elders received the Spirit, just as there were 70 disciples who received Him at the first Pentecost.
Numbers 11:24-30
11:24 So Moses went out and told the people the words of the LORD; and he gathered seventy elders of the people, and placed them all around the tent.
11:25 Then the LORD came down in the cloud and spoke to him, and took some of the spirit that was on him and put it on the seventy elders; and when the spirit rested upon them, they prophesied. But they did not do so again.
11:26 Two men remained in the camp, one named Eldad, and the other named Medad, and the spirit rested on them; they were among those registered, but they had not gone out to the tent, and so they prophesied in the camp.
11:27 And a young man ran and told Moses, "Eldad and Medad are prophesying in the camp."
11:28 And Joshua son of Nun, the assistant of Moses, one of his chosen men, said, "My lord Moses, stop them!"
11:29 But Moses said to him, "Are you jealous for my sake? Would that all the Lord's people were prophets, and that the LORD would put his spirit on them!"
11:30 And Moses and the elders of Israel returned to the camp.
Psalm
David praised God's majesty and power, present in all of His creation.
Psalm 104:24-34, 35b
104:24 O LORD, how manifold are your works! In wisdom you have made them all; the earth is full of your creatures.
104:25 Yonder is the sea, great and wide, creeping things innumerable are there, living things both small and great.
104:26 There go the ships, and Leviathan that you formed to sport in it.
104:27 These all look to you to give them their food in due season;
104:28 when you give to them, they gather it up; when you open your hand, they are filled with good things.
104:29 When you hide your face, they are dismayed; when you take away their breath, they die and return to their dust.
104:30 When you send forth your spirit, they are created; and you renew the face of the ground.
104:31 May the glory of the LORD endure forever; may the LORD rejoice in his works—
104:32 who looks on the earth and it trembles, who touches the mountains and they smoke.
104:33 I will sing to the LORD as long as I live; I will sing praise to my God while I have being.
104:34 May my meditation be pleasing to him, for I rejoice in the LORD.
104:35b Bless the LORD, O my soul. Praise the LORD!
Epistle
Option One
If the aforementioned passage from Acts 2 has not already been read, then it must be read as the Epistle.
Option Two
If the passage from Acts 2 has been read, then this option will be the Epistle, wherein Paul describes the great power and gifts of the Holy Spirit. Some, e.g. tongues, miracles and healing, were particular to the Apostolic Era, which established the early Church.
1 Corinthians 12:3b-13
12:3b No one can say "Jesus is Lord" except by the Holy Spirit.
12:4 Now there are varieties of gifts, but the same Spirit;
12:5 and there are varieties of services, but the same Lord;
12:6 and there are varieties of activities, but it is the same God who activates all of them in everyone.
12:7 To each is given the manifestation of the Spirit for the common good.
12:8 To one is given through the Spirit the utterance of wisdom, and to another the utterance of knowledge according to the same Spirit,
12:9 to another faith by the same Spirit, to another gifts of healing by the one Spirit,
12:10 to another the working of miracles, to another prophecy, to another the discernment of spirits, to another various kinds of tongues, to another the interpretation of tongues.
12:11 All these are activated by one and the same Spirit, who allots to each one individually just as the Spirit chooses.
12:12 For just as the body is one and has many members, and all the members of the body, though many, are one body, so it is with Christ.
12:13 For in the one Spirit we were all baptized into one body–Jews or Greeks, slaves or free–and we were all made to drink of one Spirit.
Gospel
Option One
This encounter between Jesus and His disciples took place just after His resurrection.
John 20:19-23
20:19 When it was evening on that day, the first day of the week, and the doors of the house where the disciples had met were locked for fear of the Jews, Jesus came and stood among them and said, "Peace be with you."
20:20 After he said this, he showed them his hands and his side. Then the disciples rejoiced when they saw the Lord.
20:21 Jesus said to them again, "Peace be with you. As the Father has sent me, so I send you."
20:22 When he had said this, he breathed on them and said to them, "Receive the Holy Spirit.
20:23 If you forgive the sins of any, they are forgiven them; if you retain the sins of any, they are retained."
Option Two
Jesus spoke these words during the Jewish feast of Tabernacles. Note that John explains the Spirit would not descend until Jesus returned to Heaven, glorified.
John 7:37-39
7:37 On the last day of the festival, the great day, while Jesus was standing there, he cried out, "Let anyone who is thirsty come to me,
7:38 and let the one who believes in me drink. As the scripture has said, 'Out of the believer's heart shall flow rivers of living water.'"
7:39 Now he said this about the Spirit, which believers in him were to receive; for as yet there was no Spirit, because Jesus was not yet glorified.
Pray for continuing grace so that we may make all use of the gifts of the Holy Spirit in our lives.
Have a blessed Pentecost!
Soon after the Houses of Parliament returned after Easter recess on April 22, 2020, both installed a 'hybrid' system allowing participation in the respective chambers (Commons or Lords) as well as online via videoconference.
The House of Lords was operating entirely remotely, as Lord Fowler led proceedings from his home in the Isle of Wight.
As most of the British public were still working from home, MPs and Lords took the decision to set a good example by doing so themselves.
I'm not sure what is happening with the Lords, but, on Wednesday, May 20, the Commons voted against renewing the 'hybrid' system on their return after Whitsun (Pentecost) recess on Tuesday, June 2.
The technical teams and associated staff from the Palace of Westminster did an excellent job of setting up both Houses with their hybrid systems of holding debates, which ended up being short speeches rather than exchanges of points of view.
Below are two photos of what the House of Commons looked like: sparsely populated, to say the least.
As Britain begins to return to work in stages after lockdown, the Leader of the House, Jacob Rees-Mogg, would also like more MPs in the chamber.
This did not go down well with MPs in Scotland and Northern Ireland. Scotland is still in lockdown, and transport to and from Northern Ireland is difficult during the coronavirus crisis.
Rees-Mogg said that arrangements would be made for MPs who still had to work from home. He did not give details but said that more information would be forthcoming during Whitsun recess.
Rees-Mogg brought up the unsatisfactory, yet necessary, nature of the hybrid system the preceding Wednesday, May 13. Hansard records what he said then in response to the Shadow Leader of the House, Valerie Vaz (Labour), excerpted below (emphases mine):
I want to answer what the right hon. Lady says about Parliament, because what she says is important and fundamental to us as a democracy. The Government's advice is clear: work from home if you can. As you have made clear, Mr Speaker, many members of the House staff will be able to continue to work from home, even with the House of Commons operating in physical form. Indeed, very few additional Clerks will need to be ​present on the premises, Members' staff will be able to continue to work from home, and the overwhelming majority of the House community will be able to continue to work from home—the exception being Members of Parliament themselves. Why is that? It is because the Government's advice is that if you need to go to work, you must go to work.
We see in this Parliament—in this House today—the ineffectiveness of scrutiny in comparison to when the House is operating in the normal way. We have no flexibility of questions. The questions are all listed in advance, with no ability for people to bob, to come in and to join in the debate; no cross-cutting of debate; and no ability to advance arguments or take them forward. We simply have a series of prepared statements made one after another. That is not the House of Commons doing its proper duty and playing its proper role of scrutiny of the Government.
Then there is the other side of it: where are the Bill Committees? How are Bills progressing? What is happening to the legislative agenda that the Government were elected on in December? Or do we just ignore our constituents, ignore the voters and not get on with a proper democratic parliamentary system? The idea that our democratic system is not an essential one—is not the lifeblood of our nation and is not how the Government are held to account at a time of crisis—is one that is surprising. It is extraordinary that it should be held by Opposition Members; that they should not wish to be here, challenging the Government and holding them to account; and that they wish to hide behind a veneer of virtual Parliament, so that legislation is not progressed with. We have heard it from the Scottish shadow spokesman, when he says that a virtual Parliament is a second-rate Parliament. He wants us all to be second rate, whereas I want us all to be first rate—to get back to being a proper Parliament because democracy is essential. What we do is essential. Holding the Government to account is essential and delivering on manifesto promises is also essential, and that is what I hope we shall be able to do after we come back from the Whitsun recess, in line with what is happening in other parts of the country.
Aye, there lies the rub: delivering on manifesto promises. Can anyone say Brexit? Nearly everyone opposing a return to the Commons is a Remainer.

Social distancing will still be in place when MPs return, as Rees-Mogg said on May 13:
The Chamber is marked out for social distancing. We can get 50 people into this Chamber, which, it has to be said, is often as many as are here for an ordinary debate. It is only on high days and holidays and Prime Minister's questions that the Chamber is bursting at the seams.
As you so rightly said in your statement, Mr Speaker, there is no change to the social distancing advice. There is no change to the advice to Members' staff to continue to work from home. The numbers coming into this estate are a fraction of what they normally are, because we have no tours, we have no commercial banqueting and we do not have the thousands—sometimes, tens of thousands—of people who come in every day.
On Wednesday, May 20, this is what the House of Commons looked like during Prime Minister's Questions. Boris Johnson is at the despatch box. Labour leader Keir Starmer is sitting opposite:
That meeting must have been contentious, because Karen Bradley, the Conservative MP who chairs the Procedure Committee, spoke remotely in/to the Commons on Wednesday afternoon:
She did not look happy. Nor did Valerie Vaz.
This is a fuller view of the Commons during coronavirus lockdown:
Guido Fawkes reported on the May 20 vote (emphases in the original):
MPs have just voted 350:258 in favour of abolishing the virtual parliament on the June 2nd. A majority of 92…
UPDATE: Some of Guido's more pernickety proceduralists are taking umbrage, so he is happy to specify that whilst MPs did not directly vote in favour of abolishing the virtual parliament, that was the effect of how they voted.
This division was, in fact, a Labour amendment to a motion of the house to try and allow a vote on whether to keep the hybrid parliament. MPs rejected the vote meaning the Government will now be able to proceed as they wish without a vote. Thus the hybrid/virtual parliament fades into the history books…
At least for now, anyway.
Rees-Mogg also said that social distancing would be in place for voting (i.e. divisions):
Regardless of the outcome, hats off to all those who worked so hard and so quickly behind the scenes to get MPs — and Lords — connected to each other from their own homes. This was an historic first and, even with remote voting, worked well as a temporary measure.
After over two months — the evening of March 23, 2020, to be precise — Britain is gradually coming out of lockdown.
Since late March, very few of us have bothered with our personal appearance unless we're on video conference calls every day.
Even MPs, part of the population on such calls, have let themselves go with hair and beard growth.
However, the time is coming when as many Britons as can will have to return to work. For many, now's the time to clean up.
On Wednesday, May 20, the British brand, King of Shaves, recently trended on Twitter with #BringBackTheShave, which provided the nation with a chuckle or two.
Their 24-hour ad campaign, in association with the creative community One Minute Briefs, was a serious one, though, as the winning entrant received £250. Nothing to sneeze at in these difficult times:
These were my two favourites, both by creatives who work in the advertising industry:
I cannot speak of the King of Shaves product line personally, but they get rave reviews — and are 30% off to keyworkers and NHS staff:
They also have shave gel for ladies.
Well done!
Even better, their products are also made in Britain.
—————————————-
UPDATE:
There were two winners.
This entry:
And this one:
Well done to both!
May the clean-cut look survive well into the future!
It's hygienic — and looks sharp (unless you're in the Royal Navy or know how to properly maintain a beard).
The following British coronavirus version of Rudyard Kipling's If– (original full text here) with regard to coronavirus brought a smile. I hope it does the same for you.
It's a comment that Steven Brook left on a Spiked column by Brendan O'Neill: 'What Neil Ferguson's booty call tells us about modern politics'.
I've added a few grammatical edits to this witty take on the virus:
If – by Mr Kipling
If you can lose your head when all about you are losing theirs and blaming it on you for not panicking sooner.
If you can hide your doubt, judgement and perspective and put your faith in experts like Piers Morgan
If you make no allowance for other considerations, the economy or unintended consequences.
If you can wait and not be tired by waiting for a vaccine that is unlikely to turn up.
Or meekly accept being lied about, because the mainstream media don't deal in facts any more.
Or being hated, don't even think of cutting the public funding to the hatemongers.
And yet don't look too normal, nor talk too wise, just put your critical faculties on one side and show you care …
If you can dream of a multicultural paradise but ignore the reality of a fragmented rudderless society
If you can think, then, for God's sake, hide those thoughts, or you will look cold and heartless.
If you can meet with Triumph and Disaster, having beaten the virus but wrecked the economy.
And treat those two impostors just the same; who needs a healthy economy anyway?
If you can bear to hear the truth you've spoken
Twisted by the BBC to make a trap for fools, but you're too scared to deal with that nest of vipers.
Or watch the things you gave your life to, broken, the family, freedom of speech, education.
And stoop and failed to build 'em up because you imported third rate tools from China:
If you can make one heap of all our national wealth
And risk it on Prof Ferguson's model which forecast that 121% of the British population would be dead by Easter.
And lose, because Imperial College has a long history of getting things completely wrong and start again at the beginnings.
And never breathe a word about our loss because no one takes responsibility for previous panics (and, for goodness sake, don't publish the grooming report).
If you can force your heart and nerve and sinew not to strangle Robert Peston even though he richly deserves it.
To keep having press conferences long after they have become utterly pointless.
And so hold on when there is nothing in you
Except the Will which says to them: 'You do realise that Common Purpose runs the UK?'
If you can talk with the public while selling out your nation to the globalists
Or walk with the Davos crowd — but still pretend to have the common touch,
If neither foes nor loving friends can hurt you because you burnt the photos of you with the lady boy.
If all men count with you, but George Soros particularly;
If you can fill the unforgiving news cycle
With sixty seconds' worth of calm reassurance,
Yours is the Earth and everything that's in it, which, sadly, is a lot less than it used to be.
And—which is more—you'll be a modern politician, old chum.
It nicely sums up the past two (and a bit) months here in England.
Despite coronavirus, videoconferences have been ongoing with the EU with regard to a new trade agreement.
We are at an impasse at the moment, although talks will resume during the first week in June.
Meanwhile, the UK is preparing to negotiate a trade deal with Japan:
On May 19, the Department for International Trade announced a new UK Global Tariff:
The pound rose on the announcement. Trade Secretary Liz Truss, negotiating our post-Brexit trade deals, is pictured:
On May 20, the House of Commons debated the Trade Bill:
She also discussed support for small businesses in this context:
Speaking of small businesses, this man is grateful for emergency government help during the coronavirus crisis from Chancellor for the Exchequer Rishi Sunak:
Other small business owners have reported similar success:
Returning to Brexit, on Monday, May 18, MPs passed the new Immigration Bill.
This short video provides information on the bill, which means that the UK will have the ability to accept immigrants from all over the world:
While the Immigration Bill is good news, the illegal migration across the Channel from France is something that the Home Office must tackle now:
I am not sure why such migrants are not returned to France straightaway. They are entering illegally:
It looks as if the French are aiding and abetting this migration, now done in full daylight. It used to be a night-time operation:
Nigel Farage went out on a fishing boat to film it. He says that the UK coast guard warned everyone on the fishing boat that their vessel would be impounded if they filmed the UK rescuing the dinghy, full of illegals:
You couldn't make it up.
How can this be happening? Why?
One of the migrants even flips off Farage and the fishermen.
More below. Pett Level is in East Sussex. Dover is in Kent:
Of the YouTube video, Guido Fawkes says (highlights in the original):
This shocking video reveals that the illegal migration trade, which is a multi-million €uro criminal enterprise, is being facilitated by the French Navy. Nigel Farage yesterday videoed evidence of a dangerously over-burdened dinghy being escorted by a French Naval vessel across the English channel until it was out of French waters, where in British waters it was met by what he reports to be a UK border force vessel. This is not a "search and rescue mission", this is a handover aiding an abetting criminal in the commission of a crime.
What is going on? …
Nigel Farage tells Guido there will be more dynamite footage. The good weather means this is peak time for illegal cross channel migration. Surely an MP should be granted an urgent question to the Home Secretary today?
Except, Parliament was already in Whitsun recess.
Nevertheless, the Home Secretary has urgent questions to answer:
Farage is not the only one to track this migration.
The BBC have done so:
So has investigative reporter Michael Crick, who has shocking figures about the numbers of illegals reaching the Kent coastline. Watch (subtitled):
On Thursday, May 21, Guido Fawkes reported that Home Secretary Priti Patel was talking with 30 Conservative MPs about it:
Guido says that the video conference was polite. Matt Vickers MP (Conservative, Stockton South) can concur. Priti Patel says that she is working with the French, 1,100 illegals have been turned back and that she will legislate against such crossings (third video below):
Guido also contacted the Home Office independently and received the following replies. It appears that this pertains, in some extent, to Brexit. Even so, under the Dublin Regulation, refugees must apply for asylum in the first safe country of arrival (emphases in the original, those in purple mine):
Is the Home Secretary Priti Patel aware of what the border force is doing?
The French boat was not escorting the migrant boat. International maritime law prevents border force intervening with boats unless they are expressly invited to. The boats were shadowing the migrant vessel in case it sank and the people needed rescuing. The first duty French and British vessels is to save life at sea.

Upon arrival those aboard the boats have to be processed through the asylum system before the Government is legally able to return them

.
Has this collaboration been given Ministerial approval?
Collaboration is wide of the mark. Priti raises the issue of channel crossings with the French interior minister every time she sees him. Both are committed to stopping it, but have to work within the framework of international law, meaning the work to stop crossings can largely only be done on land not at sea.

More will be able to done to deal with boats once they have landed on British shores when the Brexit transition period ends.

The Government is keen to reassess the EU's Dublin convention on asylum application.
Is the French Navy not in breach of EU directives and/or law?
The French Navy is following international law

.

It would be illegal to intervene with the boat.

Instead, the navy is committed by law to save lives at sea, and consequently shadows boats that are at risk.
Is this the official or unofficial policy of the French government?
The French Government has been working well with the British to stop illegal channel crossings. They do not want to allow crossings as this creates a strong pull factor for more migrants to come across continental Europe to northern France in the hope of crossing too. It is a big domestic political problem for them, and they have been largely successful in clearing migrant camps and patrolling beaches. 100 people were stopped over the weekend. Boats do however slip through the net.
Guido asked why it was the case that the Australians were able to turn back boats uninvited. They do it by breaking international law. It upsets the UN and embroils the Australian Government in a lot of legal trouble with powerful interest groups; it works though…
Also on May 21, Breitbart reported that the Fourmentin, named after a notorious 18th century French pirate who terrorised the English (!), has form in illegal migration: 'Transponder Data Proves Farage Right on French Handover of Illegals', having made similar trips of this nature. The Aramis, a former French naval vessel which is now a police vessel, has, too. Good grief.
There must be shady money in these operations. You or I could not take a dinghy out to sea, but these people get a military escort. One law for us and another law for people who aren't even citizens of France or the UK. We know nothing about them (e.g. criminal records in their home countries) other than that they are male and able bodied. The mind boggles.
Several days ago, a Conservative MP said that over 600,000 immigrants arrived in the UK in 2019. I wonder if the likes of these were included in the count.
Conservative Woman posted an article by John Smith, 'Farage migrant video shames so-called journalists'. It says, in part (emphases mine):
This is a scandal of epic proportions. More than 1,000 immigrants are known to have arrived in Britain since lockdown began on March 23. Others will have slipped through the net. This is despite Migration Watch's constant alerts. 
Farage has been chipping away at this issue for weeks. The video is the culmination of a long investigation by him. He has undertaken this work because he believes it badly needs to be exposed for a host of reasons. Not only are these men (he says they are mainly men) probably not refugees (they are economic migrants fleeing the safety of France), but they are breaking the law. We know nothing about them, meaning there is a security risk to our citizens. There is also a public health risk because they may have Covid-19 … 
Farage has done a public service in reporting on this scandal. It's only May. Think how many more illegal immigrants will try to cross between now and October. Once, newspapers such as the Sunday Times or Daily Mail grasped that their readers cared about this kind of story. Now, they mock those like Farage who do their reporters' work for them.
This is Farage's full video, posted on May 21. It includes an interview that LBC (radio) did with Priti Patel:
Just as bad is the £2.9 billion deal the UK government struck with two companies, Serco and Mears, in January 2019 (when Theresa May was PM) to provide housing and support for asylum seekers. Good grief. Why does that cost so much?
Ending on coronavirus, it is a relief that the government now has sufficient testing capacity to extend it to the general population. This is particularly important with the proposed return to school in June for certain pupils:
Looking ahead, once things stabilise after the coronavirus outbreak, hard decisions will need to be taken about aspects of national health care. We are still waiting — ten years on — for the Conservatives' promised 'bonfire of the quangos':
When the military have to sort out logistics for the health system, we have a problem:
Harvesting crops is also an issue. I hope that British farms will recruit British workers wherever possible:
However, this could well be dead in the water:
The article, from May 20, is behind a paywall, but the comments are accessible. They corroborate the article's author saying that young Britons have applied for these jobs and have been turned down — or not replied to at all. Some farms have turned down those who can work locally and live at home, rather in a six-person mobile home accommodation on the premises.
Excerpts from the article follow:
The narrative goes something like this –
Farmers: "We need workers or the crops will rot"
Her Majesty's Government: "Then employ British workers"
Farmers: "We tried, you tried, but they just aren't up to it, the food is going to rot"
HMG: "Oh no, we cannot allow that to happen, open the doors and ship them in" …

The author, Gawain Towler, is suspicious of DEFRA, the Department for Environment, Food and Rural Affairs:
Some questions recently asked of Defra push towards the idea that the ministry has now decided to side with the farmers and against the views of the majority of the population. They were asked whether the Government had put any system to evaluate the success of the campaign to employ UK workers on the farms, after all there has been a great propaganda push, so surely this will have had an evaluation attached to it.
The answer was that they couldn't say, because it was commercially sensitive. Nobody had asked about individual farms, but the broad picture – simply how many have been employed. No answer, no system in place to check.
The ministry was also asked about the series of what looks on the surface to be discriminatory measures to discourage British workers. The refusal to allow people to have transport. The demands that they live on site, rather than travel into work, in dormitories for which the workers' pay. The demand in some cases for an up to three-week training period, to pick fruit …
Why does it take three weeks to learn how to pick fruit?
The author concludes:
If the Government is refusing to address these very real concerns, and they are, if they refuse to even have any system in place to discover the efficacy of their schemes, then what are we supposed to think? I, who am still looking for work in the sector, and many thousands like me who have also failed to find work through the system must surely be justified in thinking that they are not serious. Worse still, it looks like the system is deliberately designed to fail.
Yes, it certainly does, even though it would be nice to be proven wrong.
As one can see, there is still much work to be done in Parliament this year, dominated by Brexit and coronavirus.
Last week, a number of essays and interviews about lockdown appeared in Britain.
There are still people who think that it can be lifted as quickly as it was imposed in so many countries. As we have seen across much of the Free World, as it used to be called, lifting lockdown must be done in stages, otherwise, we might have a second spike in coronavirus cases.
Here in the UK, Prime Minister Boris Johnson followed the Swedish model until the evening of Monday, March 23, when he announced lockdown.
Was it because of Professor Neil Ferguson's (dodgy) numbers? Was it media pressure as they asked daily for a lockdown 'like Germany, like Italy'? In time, we will find out why. Perhaps Boris did not want to be labelled a mass murderer, as he surely would have, if he did not succumb.
Here are the British fatality figures from COVID-19 compared with other pandemics over the past 112 years: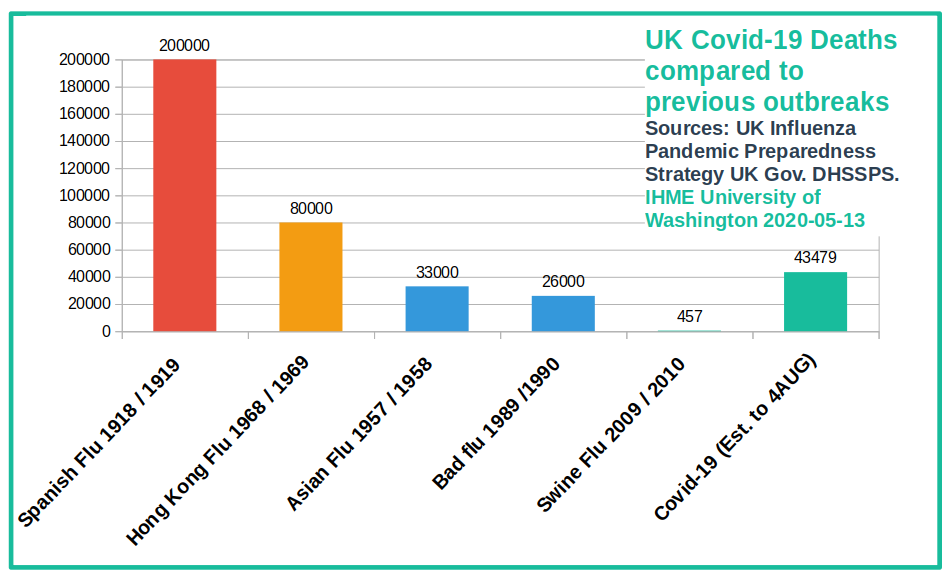 Did we lockdown in 1918 and 1919 for the Spanish Flu with 200,000 deaths when our population was smaller? No.
Did we do it for the Hong Kong flu in 1968 and 1969 with 80,000 deaths, again when the population was smaller than today? No.
Therefore, it makes little sense that we did so in 2020 with a larger UK population and 43,479 projected deaths.
Lionel Shriver, an American author (We Need to Talk about Kevin), who lives in the UK, provides current worldwide death statistics from other causes in 'This is not a natural disaster, but a manmade one', which she wrote for The Spectator on May 16. Emphases mine below:
For maintaining a precious sense of proportion, check out some other annual global fatalities: influenza, up to 650,000. Typhoid fever, up to 160,000. Cholera, up to 140,000. Malaria, 620,000 in 2017, almost all in Africa (so who cares, right?). In 2018, tuberculosis, developing treacherous antibiotic resistance, killed 1.5 million people. Why haven't we closed down the whole world for TB?
I couldn't agree more.
She expresses my deepest reservations here:
I am steeped in dread. I foresee months, if not years, of inane gesturing towards 'safety' that makes no appreciable difference to the nation's health, but does manage to 1) ruin everyone's enjoyment; 2) perpetuate the socially poisonous notion that one's neighbour is a threat to one's very life; 3) maintain an atmosphere of the extraordinary, in which the state may violate civil rights at will; 4) lay waste to what little might otherwise have remained of this country's economy. The lockdown has been bad enough. Post-lockdown could be worse.
Shriver understands. Forget 'science', this will be the reality:
With narrow profit margins, restaurants can't survive serving a fraction of their previous clientele. Half of all UK pubs are already kaput, and the other half will soon go under if lone customers self-isolate over their drinks like sullen alcoholics. Plenty of manufacturing won't function with employees so far apart. The arts are finished.
What she says about London is bang on the button:
West End theatres with audiences a third their former size will close. The Albert Hall is also looking at social-distancing bankruptcy, as well as considering the banning of intervals because the loos will have to be shut (sounds relaxing). The Royal Opera House's streaming of Swan Lake without a live audience makes no money.
Oh, and transport! In London, social distancing is expected to reduce Tube passenger numbers by 90 per cent. Five million people daily ride the Tube, or used to, so how are the other 4.5 million meant to get around? By bicycle. Right. Now, I can assure you that pre-Covid it was already a nightmare to cycle in the capital, as chocka with two-wheelers as the old Shanghai. But forget buses, allowed to carry 15 per cent of their previous ridership. We're told that to get into a sparsely populated lift, we may have to make a reservation on an app. But never fear. I guess we could always throw ourselves off the balcony instead. Why, with the masky, glovey, get-away-from-me future we're all facing, taking that shortest route to the pavement starts to appeal.
Then there is the 14-day quarantine of incoming air passengers from other countries. France is implementing the same policy and, oddly, the French think it's a good idea:
Worst of all, lest some sector somewhere still struggles back to solvency, we'll now order air passengers from abroad to 'quarantine' for a solid fortnight straight off the plane. Because passengers can promise to quarantine themselves in a particular location, this policy comes with obvious enforcement problems. Quarantines will either be roundly ignored (so what's the point?), or they'll require extravagant police resources to keep rapping on doors to ensure some visiting Canadian didn't nip out for a litre of milk. What this policy is guaranteed to achieve is the total devastation of both the British tourist industry and British airlines, especially since the business travel on which aviation depends will evaporate.
On Sunday, May 17, The Spectator posted another article: Claire Fox's 'My fears about the "new normal"'. It explores how we are beginning to view the return to freedom in England during our partial lockdown lift as well as at the resistance to lockdown lifting:
The present lifting of restrictions – despite being mild to the point of mealy-mouthed – is opposed with similar howls of caution; each minor freedom we are granted is treated as a dangerous act of rashness. This approach indicates a deeper estrangement from freedom than merely a pragmatic shrug of acceptance of short-term measures.
In this context, I fear that the 'new normal' will involve a new attitude to freedom. Already, culturally, you can feel a shift. I find myself grateful to be given access to public parks, to be allowed to take more exercise (when normally I would take none). Going to the shop for a non-essential birthday present last week, I was as furtive as a would-be criminal. And in all the discussions on post-Covid life, basic freedoms are treated as something that we need permission for: a piecemeal, rules-based, government allowance, handed down and punitively policed if we dare over-step the mark, whether it is by a clandestine meeting with mates or a sly assignation with a lover.
The left are more worried about lifting lockdown than conservatives are. Who gets nearly all the media attention? The left.
Fox rightly points out that we are going to have to wean ourselves off the overriding concern over COVID-19 deaths and start looking at what else has been going on in our society over the past two months: serious health conditions and suicide among them.
The tension between the left and conservatives reveals how each group views God-given liberties, which Western governments are supposed to defend. Instead, we are now experiencing discussions in the media about freedom versus safety. Fox says:
My nervousness is that for many the value du jour is safety rather than freedom.
The state's role in keeping its citizens safe has historically created familiar tensions in weighing freedom versus security. Most recently, civil liberties activists internationally raised concerns that policies introduced to keep people safe from the threat of jihadi terrorism have resulted in widescale illiberal incursions into the rule of law, privacy and free expression. But in dealing with Covid, there's an added element. When those who resist lifting lockdown cite what-if doomsday scenarios, they posit freedom itself as the enemy of safety: liberty itself is presented as threatening lives …
Is it really such a stark choice as: dead or safe? Alive or free? In fact, we owe our own freedoms to others who put their safety and lives on the line. Every freedom fighter – whether Hong Kong democracy activists, Kurdish fighters who defeated Isis, or those we remembered on the VE Day anniversary – all took on totalitarian states and risked their lives and safety in the fight for free societies.
…reorganising life around safety as an end goal feeds on subjective, free-floating feelings of insecurity and can rob us of the confidence to live free lives. And that is my greatest dread: that we lose the habit of living freedom. Like the apocryphal released prisoner who misses the routine and security of jail so much that he contrives to be re-arrested, is there a danger that we become institutionalised into withdrawing from the undoubted demands that freedom makes of us?
The government has made physical exercise almost mandatory during this lockdown. But freedom, too, is a muscle that needs to be exercised, or it will atrophy. But exercising freedom is no easy ride, and can be as painful metaphysically as the most strenuous workout. To exercise our freedom as autonomous citizens we have to make difficult decisions, use our judgement, live with the uncertainty of knowing there are no preordained outcomes. It's a risky business: we will invariably make mistakes that we'll be held responsible for; we will sometimes take the wrong road and have to live with the consequences, with no-one to blame but ourselves. Relieved of many of these dilemmas during this extraordinary period of having our liberty curtailed, it is perhaps understandable that many of us rather dread entering the fray of freedom.
Several weeks ago, I saw a BBC interview of a Chinese family coming out of lockdown. The mother said that they valued a draconian lockdown because the State was protecting their health. She said that safety trumped liberty (as much as can be had in China). How soon will it be until we have a sizeable number of Britons saying the same thing?
But who wants to be cooped up — accomplished in a five-minute announcement on television — when it robs our lives of meaning?
Fox concludes:
So if we are to have a 'new normal', can it aim to embed within it freedom's historic role as a virtue worth dying for, and make its clarion call the joyous rewards of a free society that makes life worth living. Being able to love who we want; read, write and think what we want; associate with who we want; vote for what we want – all this and so much more allows us to be agents of our own destiny, to write our own life story rather than being bit part characters in someone else's story.
If the Covid narrative insists on a new normal, let's ensure the script contains Goethe's quote that 'freedom and life are earned by those alone who conquer them each day anew'. Despite the grim tragedy of recent months, we need to make freedom central to the Covid storyline to ensure that there's at least some chance of a happy ending to this tragedy.
On May 17, the BBC interviewed a retired Justice of the Supreme Court, Lord Sumption, who offered similar, salient arguments against lockdown, which he said should be lifted now, as there is no need for it. He said that he has been obeying lockdown rules, because the law obliges it, but, if the pubs were open — even crowded ones — he would go to one. Similarly, he said, if theatres were open, he would attend a performance. He spoke of the many negatives of lockdown to health and civil liberties. At the end, the interviewer asked him what he had been doing during lockdown. He replied that he would not say because he did not want to be verbally attacked by the BBC!
This is definitely worth watching (eight minutes in length):
There was a time, back in early March, when I thought the Conservatives were on our side.
I hope I am wrong in doubting them. We'll see what happens in the weeks to come.
The three-year Lectionary that many Catholics and Protestants hear in public worship gives us a great variety of Holy Scripture.
Yet, it doesn't tell the whole story.
My series Forbidden Bible Verses — ones the Lectionary editors and their clergy omit — examines the passages we do not hear in church. These missing verses are also Essential Bible Verses, ones we should study with care and attention. Often, we find that they carry difficult messages and warnings.
Today's reading is from the English Standard Version with commentary by Matthew Henry and John MacArthur.
Released from the Law
7 Or do you not know, brothers[a]—for I am speaking to those who know the law—that the law is binding on a person only as long as he lives? 2 For a married woman is bound by law to her husband while he lives, but if her husband dies she is released from the law of marriage.[b] 3 Accordingly, she will be called an adulteress if she lives with another man while her husband is alive. But if her husband dies, she is free from that law, and if she marries another man she is not an adulteress.
——————————————————————————————————————
Last week's post discussed the last two verses of Romans 5; God's law makes us aware of our wretched sinfulness, but, thanks to Christ's death and resurrection, believers have the promise of eternal life.
Most of the first Christians in Rome had been Jews, therefore, Paul wrote Romans in a Jewish context. The law was still very important to them. However, Paul wanted them to see that, outside of the moral law in the Ten Commandments, it was obsolete with Christ's death and resurrection.
Throughout the Old Testament, we read numerous references to the law and how it must be obeyed. With the New Covenant that Christ initiated, however, we have the gift of grace and justification by faith through that grace.
Paul wanted his audience to understand that obeying the old Mosaic laws could not bring salvation. He began explaining that in Romans 6. John MacArthur recaps Paul's thinking for us (emphases mine):
[Romans] 6:14. "For sin shall not have dominion over you." And here is an absolutely shocking statement to a Jew who all his or her lifelong had been committed to the law. "For sin shall not have dominion over you: for ye are not under the law, but under grace." Now a statement like that has to be defended. It just has to be defended. There's no way that Paul can make that statement in 6:14 and then walk away from it and write the rest of this epistle. It's going to leave such a massive block in their minds, he has to deal with what he just said. We are not under the law.
Now would you notice there are two basic statements in verse 14? "For sin shall not have dominion over you." That's the first statement. Now listen carefully. He explained the meaning of that statement in 6:15-23. That is an exposition of that statement. The second statement, "for you are not under the law, but under grace," he explains in chapter 7. He makes those two statements, explains one, and then the other because he cannot leave them unexplained. For those who have such a high and sacred view of the law will be devastated by his statement and they will jettison all of his theology when he says "you are not under the law." They have all their lifetime lived under the law. It's all they've known. So he must explain it. And I believe he does it in chapter 7.
So now you understand the rationale for chapter 7. Against a background of such affirmation of God's law, there must be some explanation about what it means to say we are not under the law. It seems that men have been under the law for a long time, how has that and why has that changed?
Now let me give you an overview before we go specifically into chapter 7. And I'm hurrying as rapidly as I can. Remember the context of all of this. The major theme of Romans is justification by faith. In other words, you're saved not by keeping the law but by believing, right? Through grace. Now we have started with justification by faith in chapter 3. The first couple of chapters showed us how sinful we are. We hit 3:21 and we get into justification by faith, and it runs all the way to the end of chapter 8. Chapter 3, 4, 5, 6, 7, and 8, all justification by faith. That's the theme of all of those. And then in 9 to 11, he applies it to Israel, and then in 12 to the end he shows how it works out in living. But the main theme is justification by faith.
Having presented the doctrine itself in chapters 3 and 4, he then is presenting the fruit of that doctrine. And the first one was chapter 5, and in chapter 5 we learned that the first fruit of justification was security. We have peace with God. That's settled. Security.
The second fruit of which he speaks in chapter 6 is holiness. We have union with Christ in chapter 6, and now His holiness is imparted to us. So the fruit of justification: First security, second holiness. Now we come to chapter 7 and the third fruit is liberty. Liberty. We are free from the law. Marvelous. And we're going to see even more fruit of justification. But the point that we've been trying to stress since we got into this thing in chapter 3 is that salvation has tremendous effect. You cannot claim to be a Christian without a demonstrable effect in your life. Salvation transforms people.
That's the essence of what Paul is spending chapter after chapter to tell us. We have in chapter 5 peace with God. We have in chapter 6 union with Christ. We have in chapter 7 freedom from the law. All of that is the fruit of salvation. And that all really answers the rather silly question in 6:1, doesn't it? "Shall we continue in sin that grace may abound?" You see, that's what the critic would say. Your doctrine of justification by faith through grace means that you can just sin all you want and every time you sin God has grace so your doctrine leads to unrighteous living.
In other words, the legalist says, "Boy, we keep people toeing the mark here. We've got all the rules. When you come along and say, 'You're not saved by the law. The law can't save you. You can't keep the law. You're saved by grace through faith.' You're just turning people loose and they're going to run amuck." And so they accuse him of the doctrine that leads to sin. And he says quite the opposite. True salvation leads to holiness, right? That's what we saw in chapter 6. It doesn't lead to license. It leads to the very opposite of license. It leads to holiness, chapter 6. Chapter 7, it leads to freedom from the law.
Paul begins by saying that the law applies only to living persons (verse 1). Once we die, we are no longer bound to law.
In order to begin his explanation, he writes of marriage. A wife must remain with her husband as long as he lives, but, if he dies, she is no longer bound by law to him (verse 2).
If a wife is still married to her husband, who is alive, and lives with another man, then she becomes an adulteress. However, if her husband dies, she, as a widow, may remarry (verse 3).
Paul is saying that, under the Old Covenant, God's people were married to the law. They had nothing else. Under the New Covenant, though, things changed. Now their bond — an eternal one — is with Jesus Christ.
We speak of the Church, of which we are a part, as Christ's bride.
MacArthur explains:
Salvation is a complete change of relationship. You no longer have the first husband you had. You no longer are under the bondage of the law. You're now married to Jesus Christ.
It's a beautiful picture, isn't it? We see it in Ephesians 5 where the church is seen as the bride and He is the bridegroom. We see it in 2 Corinthians chapter 11 where we are an espoused wife having a marriage consummated to Christ in glory in the future. So we are called to be married to another and it tells us who it is. "To Him who is raised from the dead." Notice it says "is raised," not "was raised"? Who is – in other words, it's emphasizing His present life. We are not only identified in union with a dead Savior in the past, but we are one with a living Savior in the present. It's a great truth.
There's one good thought. I would just draw you back to 6:9 for a moment, I'll tie this in. Knowing that Christ being raised from the dead dies – what? – no more. Will Christ ever die again? Will He? Then will we ever lose our husband? Never. That's a great word about the security of our salvation. That's a great word about the security of our marriage bond with Christ. Our husband will never die. He will never die. And so we will ever be secure in Him.
And so, we died in Christ by the mysterious miracle of our union with Him, by grace through faith. And we rise to walk in newness of life. And again I say, folks – and this is the salient element of all of this teaching – salvation is a total transformation. We are given security, chapter 5. In us is produced holiness, chapter 6. And liberty from the law, chapter 7. We are free from a works righteousness, from trying to earn our salvation. The resurrection of Jesus Christ was the key.
As Eastertide is coming to a close with Pentecost next week, this is well worth contemplating.
More on this theme follows next week.
Next time — Romans 7:4-6
Below are the readings for the Seventh Sunday of Easter, May 24, 2020.
These are for Year A in the three-year Lectionary used in public worship.
This particular Sunday is also known traditionally as Exaudi Sunday, so called because of the traditional Introit, taken from Psalm 17:1. The two first words in Latin are 'Exaudi Domine' — 'Hear, Lord'. It is said to be the saddest Sunday of the church year, because the disciples were at a loose end after Jesus ascended to Heaven. They missed Him and were unsure as to what the arrival of the Holy Spirit on Pentecost would mean.
You can read more about it in this post:
Exaudi Sunday: between the Ascension and Pentecost
Emphases below are mine.
First reading
On Ascension Day, we had the reading from Luke's Gospel about our Lord's return to His Father. Here we have Luke's other version — as he was the author of Acts — from Acts 1. Note that, even at this stage, the Apostles still expected a temporal return of Israel to glory.
Acts 1:6-14
1:6 So when they had come together, they asked him, "Lord, is this the time when you will restore the kingdom to Israel?"
1:7 He replied, "It is not for you to know the times or periods that the Father has set by his own authority.
1:8 But you will receive power when the Holy Spirit has come upon you; and you will be my witnesses in Jerusalem, in all Judea and Samaria, and to the ends of the earth."
1:9 When he had said this, as they were watching, he was lifted up, and a cloud took him out of their sight.
1:10 While he was going and they were gazing up toward heaven, suddenly two men in white robes stood by them.
1:11 They said, "Men of Galilee, why do you stand looking up toward heaven? This Jesus, who has been taken up from you into heaven, will come in the same way as you saw him go into heaven."
1:12 Then they returned to Jerusalem from the mount called Olivet, which is near Jerusalem, a sabbath day's journey away.
1:13 When they had entered the city, they went to the room upstairs where they were staying, Peter, and John, and James, and Andrew, Philip and Thomas, Bartholomew and Matthew, James son of Alphaeus, and Simon the Zealot, and Judas son of James.
1:14 All these were constantly devoting themselves to prayer, together with certain women, including Mary the mother of Jesus, as well as his brothers.
Psalm
It is probable that David wrote this Psalm after he was no longer besieged by enemies. It is a Psalm of praise and thanks to God for His goodness and mercy.
Psalm 68:1-10, 32-35
68:1 Let God rise up, let his enemies be scattered; let those who hate him flee before him.
68:2 As smoke is driven away, so drive them away; as wax melts before the fire, let the wicked perish before God.
68:3 But let the righteous be joyful; let them exult before God; let them be jubilant with joy.
68:4 Sing to God, sing praises to his name; lift up a song to him who rides upon the clouds–his name is the LORD– be exultant before him.
68:5 Father of orphans and protector of widows is God in his holy habitation.
68:6 God gives the desolate a home to live in; he leads out the prisoners to prosperity, but the rebellious live in a parched land.
68:7 O God, when you went out before your people, when you marched through the wilderness, Selah
68:8 the earth quaked, the heavens poured down rain at the presence of God, the God of Sinai, at the presence of God, the God of Israel.
68:9 Rain in abundance, O God, you showered abroad; you restored your heritage when it languished;
68:10 your flock found a dwelling in it; in your goodness, O God, you provided for the needy.
68:32 Sing to God, O kingdoms of the earth; sing praises to the Lord, Selah
68:33 O rider in the heavens, the ancient heavens; listen, he sends out his voice, his mighty voice.
68:34 Ascribe power to God, whose majesty is over Israel; and whose power is in the skies.
68:35 Awesome is God in his sanctuary, the God of Israel; he gives power and strength to his people. Blessed be God!
Epistle
Readings from 1 Peter conclude. Peter exhorted his converts to be Christlike in everything, despite their persecution. He also encouraged them to avoid temptation at all costs.
1 Peter 4:12-14; 5:6-11
4:12 Beloved, do not be surprised at the fiery ordeal that is taking place among you to test you, as though something strange were happening to you.
4:13 But rejoice insofar as you are sharing Christ's sufferings, so that you may also be glad and shout for joy when his glory is revealed.
4:14 If you are reviled for the name of Christ, you are blessed, because the spirit of glory, which is the Spirit of God, is resting on you.
5:6 Humble yourselves therefore under the mighty hand of God, so that he may exalt you in due time.
5:7 Cast all your anxiety on him, because he cares for you.
5:8 Discipline yourselves, keep alert. Like a roaring lion your adversary the devil prowls around, looking for someone to devour.
5:9 Resist him, steadfast in your faith, for you know that your brothers and sisters in all the world are undergoing the same kinds of suffering.
5:10 And after you have suffered for a little while, the God of all grace, who has called you to his eternal glory in Christ, will himself restore, support, strengthen, and establish you.
5:11 To him be the power forever and ever. Amen.
Gospel
Jesus said these words, The High Priestly Prayer, at the Last Supper. John's Gospel is the only one that carries the full complement of Jesus's final messages to the Apostles, from John 14 – John 17: four stunning chapters. Note verse 9 below, in particular: not all will be saved, only those whom God has given to Jesus.
John 17:1-11
17:1 After Jesus had spoken these words, he looked up to heaven and said, "Father, the hour has come; glorify your Son so that the Son may glorify you,
17:2 since you have given him authority over all people, to give eternal life to all whom you have given him.
17:3 And this is eternal life, that they may know you, the only true God, and Jesus Christ whom you have sent.
17:4 I glorified you on earth by finishing the work that you gave me to do.
17:5 So now, Father, glorify me in your own presence with the glory that I had in your presence before the world existed.
17:6 "I have made your name known to those whom you gave me from the world. They were yours, and you gave them to me, and they have kept your word.
17:7 Now they know that everything you have given me is from you;
17:8 for the words that you gave to me I have given to them, and they have received them and know in truth that I came from you; and they have believed that you sent me.
17:9 I am asking on their behalf; I am not asking on behalf of the world, but on behalf of those whom you gave me, because they are yours.
17:10 All mine are yours, and yours are mine; and I have been glorified in them.
17:11 And now I am no longer in the world, but they are in the world, and I am coming to you. Holy Father, protect them in your name that you have given me, so that they may be one, as we are one.
May God increase our faith through His grace daily. Jesus Christ will reign for ever and ever.
For those fortunate enough to be able to return to church this Sunday, please pray for the rest of us that our leaders will see fit to open our church doors, too. Thank you.
Like France and other European countries, the UK is now advocating wearing face masks during the coronavirus pandemic, especially on public transport.
This Daily Mail article explores what is reopening in England and adds (emphases mine):
Firms will be told they must provide staff with face masks to be worn at work, on public transport and when shopping. But wearing face coverings will not be compulsory. 
Thank goodness for that.
Metro had more:
The Government is now advising 'that people should aim to wear a face-covering in enclosed spaces where social distancing is not always possible and they come into contact with others they do not normally meet, for example on public transport or in some shops.' The advice continues: 'Homemade cloth face-coverings can help reduce the risk of transmission in some circumstances. Face-coverings are not intended to help the wearer, but to protect against inadvertent transmission of the disease to others if you have it asymptomatically.'
… Note that a 'face-covering' is not the same as a surgical mask or respirators used as part of PPE, and the advice stands that such equipment should be reserved for those who need it. Face-coverings should not be used for anyone under the age of two, or on those who may struggle to manage them correctly. People are urged to always wash their hands before putting them on and taking them off.
What a palaver!
This is what schools in Asia look like today, reminiscent of a 1970s film with John Travolta:
One thought did cross my mind about the barriers, so I was happy to see someone on Twitter mention it:
However, masks, including homemade face coverings, are not a good idea. The same goes for making them mandatory.
This woman yells that she cannot breathe with it. The mask is around her neck as she and her small child are apprehended by police somewhere in the United States:
The same Twitter user posted a two-part video, allegedly from a nurse, who explains in layman's terms why masks do more harm than good in healthy people. In short, most hospital masks — which is why there has been a shortage of the correct ones during the pandemic — are there to keep bacteria from travelling. A bacterium is much larger than a virus droplet, therefore, wearing ordinary hospital masks for COVID-19 are useless, especially if you are healthy:
Ann Barnhardt's website has more in '**UPDATED WITH TESTIMONY OF A FIREMAN** FACE MASKS ARE GENUINELY, SCIENTIFICALLY USELESS: Multiple RNs check in'. Don't miss the photo of the man wearing an adhesive sanitary towel!
Excerpts follow.
A nurse wrote to Ann Barnhardt to say (emphases in the original, those in purple mine):
Hello Ann,
I listened to your Podcast Episode #110. Wonderful as always, and strengthens my resolve and fight. Thank you. One thing I don't think people know about masking is that when we don a mask if we have any virus we breathe it back inside over and over again increasing viral load and weakening our own immunity, so we get sicker, which seems to be the point.
I'm an RN, graduated 2002 from (major, redacted) school of nursing. When i started my career as an ER nurse, one requirement was TB mask fitting. They fit a duck bill mask to your face and put a plastic cylinder with a vent opening over your head and sprayed a concentrated sucrose mist.  If you could taste just a bit of sweetness through mask, you were at risk for contracting TB. So again, what the hell are cloth or surgical masks gonna do?… umm make ourselves sick – that's it. Any honest doctor/nurse/scientist/virologist knows this mask thing is bullshit.
God bless Ann keep it up. Thank you.
Another nurse wrote in to corroborate the first nurse's comment. The second nurse says, in part:
Bottom line – if it isn't fit tested then there's no guarantee that the "viral particles" are being filtered out. So this mask wearing that we are all "required" to do is…..wait for it….BEE ESS.
I laugh when I see the general public wearing N95s they bought at Home Depot. Unless you fit test it (an N95), you have no idea if it's actually "working".🙄
It's all a mind game.
The fireman said, in part:
Having conducted countless N95 quantitative tests for medics on base when I was still in the military, I can echo that not being fit tested for an N95 pretty much renders it useless.
The proper fit varies from person to person not only by size of the mask, but by brand. So you can't just say you need a medium, but a medium in brand X. So optimally, your employer would have to buy the right size and right brand for each employee that they attained an acceptable fit factor in. Good luck with that. N95's are probably the hardest masks to get a proper fit on.
This is all smoke and mirrors.
On masks, Barnhardt concludes:
And remember, folks, this ONLY applies to N95-level masks. Putting a few ridiculous layers of gauze, or even more ridiculously, FASHION FABRIC (I've even seen DENIM – that's just going to give you elevated Carbon Dioxide levels – absolutely STUPID. Carbon Dioxide inhalation is a common method of stunning hogs at slaughter) serves ABSOLUTELY NO PURPOSE WHATSOEVER EXCEPT to signal TOTAL SUBMISSION TO THE LIE and to THE TOTALITARIAN REGIME.
It isn't a "sanitary barrier." It doesn't block viruses, and certainly not this common cold virus. COLD VIRUSES CANNOT BE CONTAINED ANY MORE THAN MANKIND CAN AFFECT THE GLOBAL WEATHER. Such a contention is PURE, HUBRISTIC, LYING BULLSHIT.
Regarding the pandemic regulations in general, she rightly thinks these can damage susceptible children (red used in the original):
Finally, let me just put out there the call for one and all to sit in stillness and think about the intense psycho-spiritual damage that is being done to CHILDREN with each passing day that this facemask psy-op goes on.  How many children are now deeply terrified of OTHER HUMAN BEINGS in se, because of this, with the mask being a visible, frightening vector of this terror?
How many children are right now, as we speak, telling themselves internally, in simple, childish terms that they themselves could not yet articulate, but feel with tremendous force, that OTHER PEOPLE ARE SOMETHING BAD, AND THAT TO LOVE ANOTHER HUMAN BEING IS SOMETHING BAD THAT THEY MUST NEVER DO? Because other human beings are dangerous and will hurt you if you get anywhere near them.
Agreed. The unknown psychological damage right now could end up being terribly manifest in the months ahead.
Let's now go to Technocracy, which has an article with quotes from Dr Russell Blaylock, a physician: 'Blaylock: Face Masks Pose Serious Risks To The Healthy'. It is scientific, with medical terms and health conditions described the way they would be in medical school.
Blaylock notes America's Center for Disease Control's about-face with regard to masks (emphases mine):
As for the scientific support for the use of face mask, a recent careful examination of the literature, in which 17 of the best studies were analyzed, concluded that, " None of the studies established a conclusive relationship between mask/respirator use and protection against influenza infection."1  Keep in mind, no studies have been done to demonstrate that either a cloth mask or the N95 mask has any effect on transmission of the COVID-19 virus. Any recommendations, therefore, have to be based on studies of influenza virus transmission. And, as you have seen, there is no conclusive evidence of their efficiency in controlling flu virus transmission.
It is also instructive to know that until recently, the CDC did not recommend wearing a face mask or covering of any kind, unless a person was known to be infected, that is, until recently. Non-infected people need not wear a mask. When a person has TB we have them wear a mask, not the entire community of non-infected. The recommendations by the CDC and the WHO are not based on any studies of this virus and have never been used to contain any other virus pandemic or epidemic in history.
He summarises the possible dangers of mask wearing to healthy people:
Several studies have indeed found significant problems with wearing such a mask. This can vary from headaches, to increased airway resistance, carbon dioxide accumulation, to hypoxia, all the way to serious life-threatening complications.
He discusses these dangers in terms of the type of mask worn:
There is a difference between the N95 respirator mask and the surgical mask (cloth or paper mask) in terms of side effects. The N95 mask, which filters out 95% of particles with a median diameter >0.3 µm2 , because it impairs respiratory exchange (breathing) to a greater degree than a soft mask, and is more often associated with headaches. In one such study, researchers surveyed 212 healthcare workers (47 males and 165 females) asking about presence of headaches with N95 mask use, duration of the headaches, type of headaches and if the person had preexisting headaches.2
They found that about a third of the workers developed headaches with use of the mask, most had preexisting headaches that were worsened by the mask wearing, and 60% required pain medications for relief. As to the cause of the headaches, while straps and pressure from the mask could be causative, the bulk of the evidence points toward hypoxia and/or hypercapnia as the cause. That is, a reduction in blood oxygenation (hypoxia) or an elevation in blood C02 (hypercapnia). It is known that the N95 mask, if worn for hours, can reduce blood oxygenation as much as 20%, which can lead to a loss of consciousness, as happened to the hapless fellow driving around alone in his car wearing an N95 mask, causing him to pass out, and to crash his car and sustain injuries. I am sure that we have several cases of elderly individuals or any person with poor lung function passing out, hitting their head. This, of course, can lead to death.
A more recent study involving 159 healthcare workers aged 21 to 35 years of age found that 81% developed headaches from wearing a face mask.3   Some had pre-existing headaches that were precipitated by the masks. All felt like the headaches affected their work performance.
As for the elderly and infirm, masks can pose far greater problems:
Unfortunately, no one is telling the frail elderly and those with lung diseases, such as COPD, emphysema or pulmonary fibrosis, of these dangers when wearing a facial mask of any kind—which can cause a severe worsening of lung function. This also includes lung cancer patients and people having had lung surgery, especially with partial resection or even the removal of a whole lung.
He goes on to explain the dangers of low oxygen levels in the bloodstream — hypoxia — which can debilitate the immune system:
While most agree that the N95 mask can cause significant hypoxia and hypercapnia, another study of surgical masks found significant reductions in blood oxygen as well. In this study, researchers examined the blood oxygen levels in 53 surgeons using an oximeter. They measured blood oxygenation before surgery as well as at the end of surgeries.4 The researchers found that the mask reduced the blood oxygen levels (pa02) significantly. The longer the duration of wearing the mask, the greater the fall in blood oxygen levels.
The importance of these findings is that a drop in oxygen levels (hypoxia) is associated with an impairment in immunity. Studies have shown that hypoxia can inhibit the type of main immune cells used to fight viral infections called the CD4+ T-lymphocyte. This occurs because the hypoxia increases the level of a compound called hypoxia inducible factor-1 (HIF-1), which inhibits T-lymphocytes and stimulates a powerful immune inhibitor cell called the Tregs. This sets the stage for contracting any infection, including COVID-19 and making the consequences of that infection much graver. In essence, your mask may very well put you at an increased risk of infections and if so, having a much worse outcome.5,6,7
People with cancer, heart conditions and strokes must be very careful if they choose to wear masks:
… cancer grows best in a microenvironment that is low in oxygen. Low oxygen also promotes inflammation which can promote the growth, invasion and spread of cancers.8,9  Repeated episodes of hypoxia has been proposed as a significant factor in atherosclerosis and hence increases all cardiovascular (heart attacks) and cerebrovascular (strokes) diseases.10
In addition, when we wear masks, especially for hours at a time, we are breathing in our own bacteria, creating an incubator effect for the sinuses and lungs. For someone unknowingly harbouring COVID-19, he says, their recovery time might be prolonged, because their own immune system is compromised by cytokine storms, which occur when the body goes into overdrive trying to fight off illness:
When a person is infected with a respiratory virus, they will expel some of the virus with each breath. If they are wearing a mask, especially an N95 mask or other tightly fitting mask, they will be constantly rebreathing the viruses, raising the concentration of the virus in the lungs and the nasal passages. We know that people who have the worst reactions to the coronavirus have the highest concentrations of the virus early on. And this leads to the deadly cytokine storm in a selected number.
He reminds readers that COVID-19 is relatively benign for most of the population, therefore:
we need to protect the at-risk population by avoiding close contact, boosting their immunity with compounds that boost cellular immunity and in general, care for them.
One should not attack and insult those who have chosen not to wear a mask, as these studies suggest that is the wise choice to make.
Lisa Williams, a reporter for the Telegraph, described six things no one says about wearing a mask.
She felt cut off from people because they could not see her face, but the mask was also uncomfortable to wear:
The mask tickled my nose, felt hot and damp almost instantly, and I was constantly having to reloop it back around my ears. I found it a challenge to wear one for this short trip, let alone while performing heart surgery.
It also distracted her:
It feels suffocating, and the noise of your breath on fabric becomes distracting. You never realised your breathing was so LOUD.
Furthermore, one size does not fit all:
Although many masks have a degree of stretch, there is a big difference in how our heads are built and the average mask does not account for this.
While she says that homemade fabric masks could be useful, I rather doubt that — unless they are for short periods of time — because fabric is often treated with chemicals that should not be near our mouths or noses, or the fabric is much too thick. As Ann Barnhardt and Dr Blaylock say above, they can give us potentially fatal C02 levels.
In conclusion: beware of — rather than wear — masks unless instructed to do so by a medical professional, or mandated by law.