You are currently browsing the daily archive for May 25, 2020.
Last week, a number of essays and interviews about lockdown appeared in Britain.
There are still people who think that it can be lifted as quickly as it was imposed in so many countries. As we have seen across much of the Free World, as it used to be called, lifting lockdown must be done in stages, otherwise, we might have a second spike in coronavirus cases.
Here in the UK, Prime Minister Boris Johnson followed the Swedish model until the evening of Monday, March 23, when he announced lockdown.
Was it because of Professor Neil Ferguson's (dodgy) numbers? Was it media pressure as they asked daily for a lockdown 'like Germany, like Italy'? In time, we will find out why. Perhaps Boris did not want to be labelled a mass murderer, as he surely would have, if he did not succumb.
Here are the British fatality figures from COVID-19 compared with other pandemics over the past 112 years: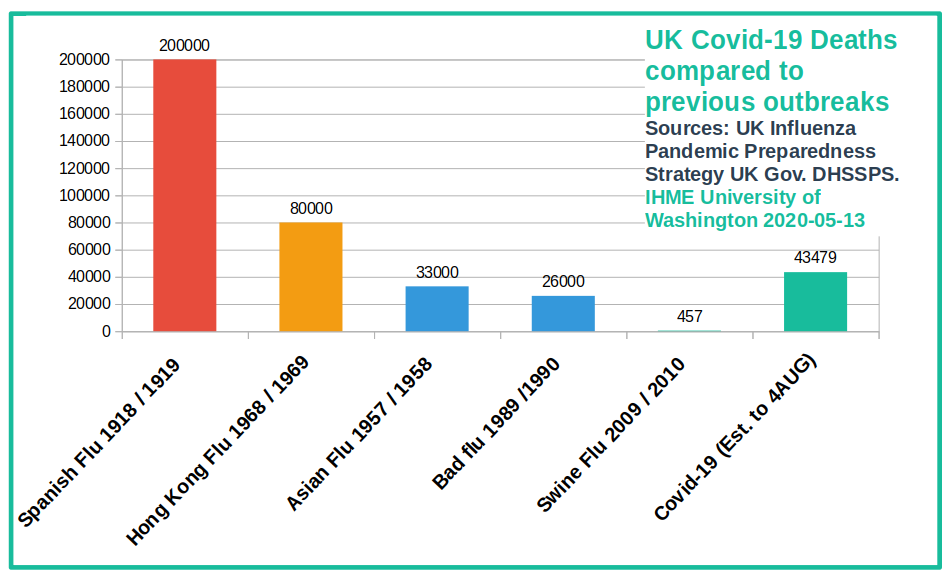 Did we lockdown in 1918 and 1919 for the Spanish Flu with 200,000 deaths when our population was smaller? No.
Did we do it for the Hong Kong flu in 1968 and 1969 with 80,000 deaths, again when the population was smaller than today? No.
Therefore, it makes little sense that we did so in 2020 with a larger UK population and 43,479 projected deaths.
Lionel Shriver, an American author (We Need to Talk about Kevin), who lives in the UK, provides current worldwide death statistics from other causes in 'This is not a natural disaster, but a manmade one', which she wrote for The Spectator on May 16. Emphases mine below:
For maintaining a precious sense of proportion, check out some other annual global fatalities: influenza, up to 650,000. Typhoid fever, up to 160,000. Cholera, up to 140,000. Malaria, 620,000 in 2017, almost all in Africa (so who cares, right?). In 2018, tuberculosis, developing treacherous antibiotic resistance, killed 1.5 million people. Why haven't we closed down the whole world for TB?
I couldn't agree more.
She expresses my deepest reservations here:
I am steeped in dread. I foresee months, if not years, of inane gesturing towards 'safety' that makes no appreciable difference to the nation's health, but does manage to 1) ruin everyone's enjoyment; 2) perpetuate the socially poisonous notion that one's neighbour is a threat to one's very life; 3) maintain an atmosphere of the extraordinary, in which the state may violate civil rights at will; 4) lay waste to what little might otherwise have remained of this country's economy. The lockdown has been bad enough. Post-lockdown could be worse.
Shriver understands. Forget 'science', this will be the reality:
With narrow profit margins, restaurants can't survive serving a fraction of their previous clientele. Half of all UK pubs are already kaput, and the other half will soon go under if lone customers self-isolate over their drinks like sullen alcoholics. Plenty of manufacturing won't function with employees so far apart. The arts are finished.
What she says about London is bang on the button:
West End theatres with audiences a third their former size will close. The Albert Hall is also looking at social-distancing bankruptcy, as well as considering the banning of intervals because the loos will have to be shut (sounds relaxing). The Royal Opera House's streaming of Swan Lake without a live audience makes no money.
Oh, and transport! In London, social distancing is expected to reduce Tube passenger numbers by 90 per cent. Five million people daily ride the Tube, or used to, so how are the other 4.5 million meant to get around? By bicycle. Right. Now, I can assure you that pre-Covid it was already a nightmare to cycle in the capital, as chocka with two-wheelers as the old Shanghai. But forget buses, allowed to carry 15 per cent of their previous ridership. We're told that to get into a sparsely populated lift, we may have to make a reservation on an app. But never fear. I guess we could always throw ourselves off the balcony instead. Why, with the masky, glovey, get-away-from-me future we're all facing, taking that shortest route to the pavement starts to appeal.
Then there is the 14-day quarantine of incoming air passengers from other countries. France is implementing the same policy and, oddly, the French think it's a good idea:
Worst of all, lest some sector somewhere still struggles back to solvency, we'll now order air passengers from abroad to 'quarantine' for a solid fortnight straight off the plane. Because passengers can promise to quarantine themselves in a particular location, this policy comes with obvious enforcement problems. Quarantines will either be roundly ignored (so what's the point?), or they'll require extravagant police resources to keep rapping on doors to ensure some visiting Canadian didn't nip out for a litre of milk. What this policy is guaranteed to achieve is the total devastation of both the British tourist industry and British airlines, especially since the business travel on which aviation depends will evaporate.
On Sunday, May 17, The Spectator posted another article: Claire Fox's 'My fears about the "new normal"'. It explores how we are beginning to view the return to freedom in England during our partial lockdown lift as well as at the resistance to lockdown lifting:
The present lifting of restrictions – despite being mild to the point of mealy-mouthed – is opposed with similar howls of caution; each minor freedom we are granted is treated as a dangerous act of rashness. This approach indicates a deeper estrangement from freedom than merely a pragmatic shrug of acceptance of short-term measures.
In this context, I fear that the 'new normal' will involve a new attitude to freedom. Already, culturally, you can feel a shift. I find myself grateful to be given access to public parks, to be allowed to take more exercise (when normally I would take none). Going to the shop for a non-essential birthday present last week, I was as furtive as a would-be criminal. And in all the discussions on post-Covid life, basic freedoms are treated as something that we need permission for: a piecemeal, rules-based, government allowance, handed down and punitively policed if we dare over-step the mark, whether it is by a clandestine meeting with mates or a sly assignation with a lover.
The left are more worried about lifting lockdown than conservatives are. Who gets nearly all the media attention? The left.
Fox rightly points out that we are going to have to wean ourselves off the overriding concern over COVID-19 deaths and start looking at what else has been going on in our society over the past two months: serious health conditions and suicide among them.
The tension between the left and conservatives reveals how each group views God-given liberties, which Western governments are supposed to defend. Instead, we are now experiencing discussions in the media about freedom versus safety. Fox says:
My nervousness is that for many the value du jour is safety rather than freedom.
The state's role in keeping its citizens safe has historically created familiar tensions in weighing freedom versus security. Most recently, civil liberties activists internationally raised concerns that policies introduced to keep people safe from the threat of jihadi terrorism have resulted in widescale illiberal incursions into the rule of law, privacy and free expression. But in dealing with Covid, there's an added element. When those who resist lifting lockdown cite what-if doomsday scenarios, they posit freedom itself as the enemy of safety: liberty itself is presented as threatening lives …
Is it really such a stark choice as: dead or safe? Alive or free? In fact, we owe our own freedoms to others who put their safety and lives on the line. Every freedom fighter – whether Hong Kong democracy activists, Kurdish fighters who defeated Isis, or those we remembered on the VE Day anniversary – all took on totalitarian states and risked their lives and safety in the fight for free societies.
…reorganising life around safety as an end goal feeds on subjective, free-floating feelings of insecurity and can rob us of the confidence to live free lives. And that is my greatest dread: that we lose the habit of living freedom. Like the apocryphal released prisoner who misses the routine and security of jail so much that he contrives to be re-arrested, is there a danger that we become institutionalised into withdrawing from the undoubted demands that freedom makes of us?
The government has made physical exercise almost mandatory during this lockdown. But freedom, too, is a muscle that needs to be exercised, or it will atrophy. But exercising freedom is no easy ride, and can be as painful metaphysically as the most strenuous workout. To exercise our freedom as autonomous citizens we have to make difficult decisions, use our judgement, live with the uncertainty of knowing there are no preordained outcomes. It's a risky business: we will invariably make mistakes that we'll be held responsible for; we will sometimes take the wrong road and have to live with the consequences, with no-one to blame but ourselves. Relieved of many of these dilemmas during this extraordinary period of having our liberty curtailed, it is perhaps understandable that many of us rather dread entering the fray of freedom.
Several weeks ago, I saw a BBC interview of a Chinese family coming out of lockdown. The mother said that they valued a draconian lockdown because the State was protecting their health. She said that safety trumped liberty (as much as can be had in China). How soon will it be until we have a sizeable number of Britons saying the same thing?
But who wants to be cooped up — accomplished in a five-minute announcement on television — when it robs our lives of meaning?
Fox concludes:
So if we are to have a 'new normal', can it aim to embed within it freedom's historic role as a virtue worth dying for, and make its clarion call the joyous rewards of a free society that makes life worth living. Being able to love who we want; read, write and think what we want; associate with who we want; vote for what we want – all this and so much more allows us to be agents of our own destiny, to write our own life story rather than being bit part characters in someone else's story.
If the Covid narrative insists on a new normal, let's ensure the script contains Goethe's quote that 'freedom and life are earned by those alone who conquer them each day anew'. Despite the grim tragedy of recent months, we need to make freedom central to the Covid storyline to ensure that there's at least some chance of a happy ending to this tragedy.
On May 17, the BBC interviewed a retired Justice of the Supreme Court, Lord Sumption, who offered similar, salient arguments against lockdown, which he said should be lifted now, as there is no need for it. He said that he has been obeying lockdown rules, because the law obliges it, but, if the pubs were open — even crowded ones — he would go to one. Similarly, he said, if theatres were open, he would attend a performance. He spoke of the many negatives of lockdown to health and civil liberties. At the end, the interviewer asked him what he had been doing during lockdown. He replied that he would not say because he did not want to be verbally attacked by the BBC!
This is definitely worth watching (eight minutes in length):
There was a time, back in early March, when I thought the Conservatives were on our side.
I hope I am wrong in doubting them. We'll see what happens in the weeks to come.