You are currently browsing the daily archive for December 7, 2020.
Just to keep everyone updated: President Donald Trump has not conceded.
On Friday, December 4, Sean Hannity spoke with former New York City mayor Rudy 'America's Mayor' Giuliani about vote discrepancies in the contested states, beginning with Nevada:
Giuliani said that when someone brings a civil lawsuit, the judge assumes that the allegations are 'true and correct', yet 'the judge' — US state unspecified — 'did just the opposite' (emphases mine):
Now, we can get it reversed but he's accomplished what he wants to accomplish.
He's delayed things, and, I'm sorry to say, he's a Democrat. And you can't tell me he's made this decision based his on legal knowledge unless he really didn't go to law school.
On a motion to dismiss, you have to assume that every allegation we make is true, and then say it doesn't violate the law.
Later on, you get to make a motion for summary judgement … we get a chance for a hearing.
The reason I went to the state legislatures, Sean, is because I saw what the courts were doing, and I wanted to go around them …
The Georgia court wouldn't have allowed those courts to put those witnesses up. The legislature did. In Michigan, the same thing.
We had two Democrat judges and they weren't allowing us to put witnesses up. But, I was able to get some of the witnesses up there because I went to the legislature.
Now, the simple fact is, we don't need courts.
The United States Constitution gives sole power to the state legislatures to decide presidential elections.
In fact, if we go back to the Founding Fathers, they would tell us that we're making a mistake.
This should be thrown right back to the House of Representatives and to the Senate — in each state — and they should hold hearings, they should make factual determinations, and they should decide what the right voter count is.
President Trump sounded off against Governor Kemp of Georgia:
Giuliani had a photo of the suitcases full of ballots in Georgia; I posted a video on Friday:
In Wisconsin, the state's supreme court threw out a Trump lawsuit: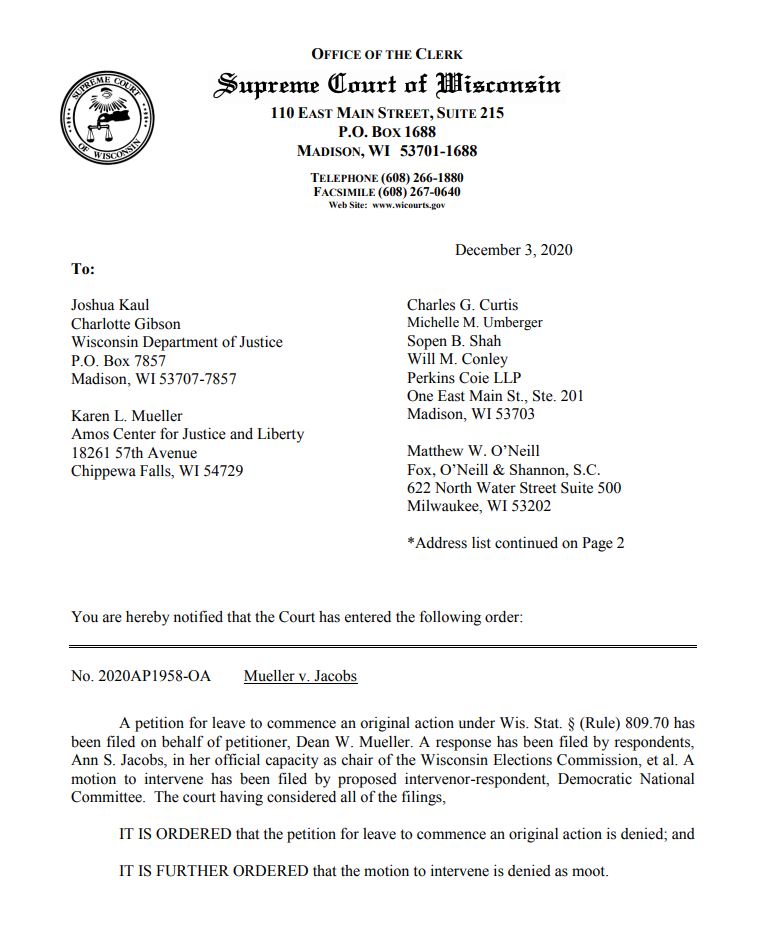 On Friday, December 4, the Daily Mail reported:
A divided Wisconsin Supreme Court on Thursday refused to hear President Donald Trump's lawsuit attempting to overturn his loss to Democrat Joe Biden in the battleground state, sidestepping a decision on the merits of the claims and instead ruling that the case must first wind its way through lower courts.
In another blow to Trump, two dissenting conservative justices questioned whether disqualifying more than 221,000 ballots as Trump wanted would be the proper remedy to the errors he alleged.
The defeat on a 4-3 ruling was the latest in a string of losses for Trump's post-election lawsuits. Judges in multiple battleground states have rejected his claims of fraud or irregularities.
Trump asked the Wisconsin Supreme Court to disqualify more than 221,000 ballots in the state's two biggest Democratic counties, alleging irregularities in the way absentee ballots were administered. His lawsuit echoed claims that were earlier rejected by election officials in those counties during a recount that barely affected Biden's winning margin of about 20,700 votes.
Trump's attorney Jim Troupis said he would immediately file the case in circuit court and expected to be back before the Supreme Court 'very soon.'
However, a hearing will take place in Wisconsin on December 11.
The Gateway Pundit reported:
Wisconsin Republicans will convene a public hearing on the 2020 election irregularities on December 11th. 'Mil' below is Milwaukee County:
Who would have ever thought voter fraud could take place in the land of touristy 'Food, Cheese, Gifts' (a ginormous sign I saw in my youth on trips to Wisconsin)?
Meanwhile, in Arizona, the state's Speaker of the House declined requests to overturn the certification of the vote count. In short:
It's so much easier to do nothing at all. However, doing nothing at all against the Democrats will have severe repercussions for the Great Republic:
It gets worse. Gateway Pundit continues to produce evidence that C h i n a was printing bogus ballots for the election. They have been following this story since November 28.
On December 5, they reported about a video, which has been properly translated into English (emphases in the original):
In the video a caller is heard requesting a bulk order of ballots to ship to the United States.
Here is the video with the translation.
FYI- Our Mandarin speaker confirmed the translation is accurate.
The order was reportedly for 5 million votes.
Two readers noticed that at the 0.54 second mark you can see "Charlotte County Florida" on the ballots …
Here are templates of the Mississippi counterfeit ballots printed in China.
Gateway Pundit have been talking to a former insider, Vinness A. Ollervides, the source for their information:
Here is the video:
On Saturday, President Trump held a successful afternoon rally in Valdosta, Georgia, for the Republican candidates in the state's run-off election early in January 2021. You can read more about it here. The candidates spoke briefly, while the audience voiced their support for the president with cries of 'Fight for Trump':
Elsewhere, President Trump's supporters are also fighting for him:
The battle continues, so, as my late grandfather used to say, 'Don't give up the ship!'