You are currently browsing the daily archive for January 12, 2021.
On Monday, January 11, 2021, I listened to the Howie Carr Show to find out the latest on President Trump.
Howie didn't have much news on that score, only wishes from callers hopeful that the US president could rescue his re-election bid.
However, in the final segment, one man from Cape Cod in Massachusetts — a regular summer advertiser on Howie's show and someone whom Howie knows personally — rang in to say that his life has been a shambles since the Washington DC event on January 6.
This successful Massachusetts businessman had rung Howie last week to say that the DC rally had been a wonderful celebration of all things American: tradition, patriotism and friendliness.
This man and the many thousands he was with were not anywhere near the Capitol building. They were some distance away.
Last week, he rang in to tell Howie his story of what a grand day out it was.
Since then, he has been attacked on social media and called every name in the book for having gone to DC last Wednesday.
He told Howie that his wife — 'my beautiful bride' —  has been in tears much of the time and his young daughter has also been severely affected by the verbal attacks by members of the general public.
At one point, uncharacteristically, he broke down in tears. He was unsure for the future of his business, even though his ancestors have lived on the Cape for at least three generations. Everyone knows the family name as being honourable and reputable.
Yet, now, that has all come to an end.
I do not want to mention this man's name for fear of further abuse towards him and his family. Regular listeners of the Howie Carr Show will know this man, even if only by the adverts for his establishment.
He said that money this year is not the problem. It is his reputation.
He has been falsely smeared. He did not know what had been going on at the Capitol that day, yet, his good name — and that of his wife and daughter, who were not in DC — have been besmirched.
May I suggest to everyone who is condemning those who attended last week's Trump rally to step back, take a deep breath and stop accusing everyone — hundreds of thousands of people — of tearing up the Capitol building.
In closing, this is a photo (no source given) of Trump supporters in the Rotunda of the Capitol last Wednesday. In case anyone is wondering, the general public are permitted to see parts of the building. I was in it many decades ago: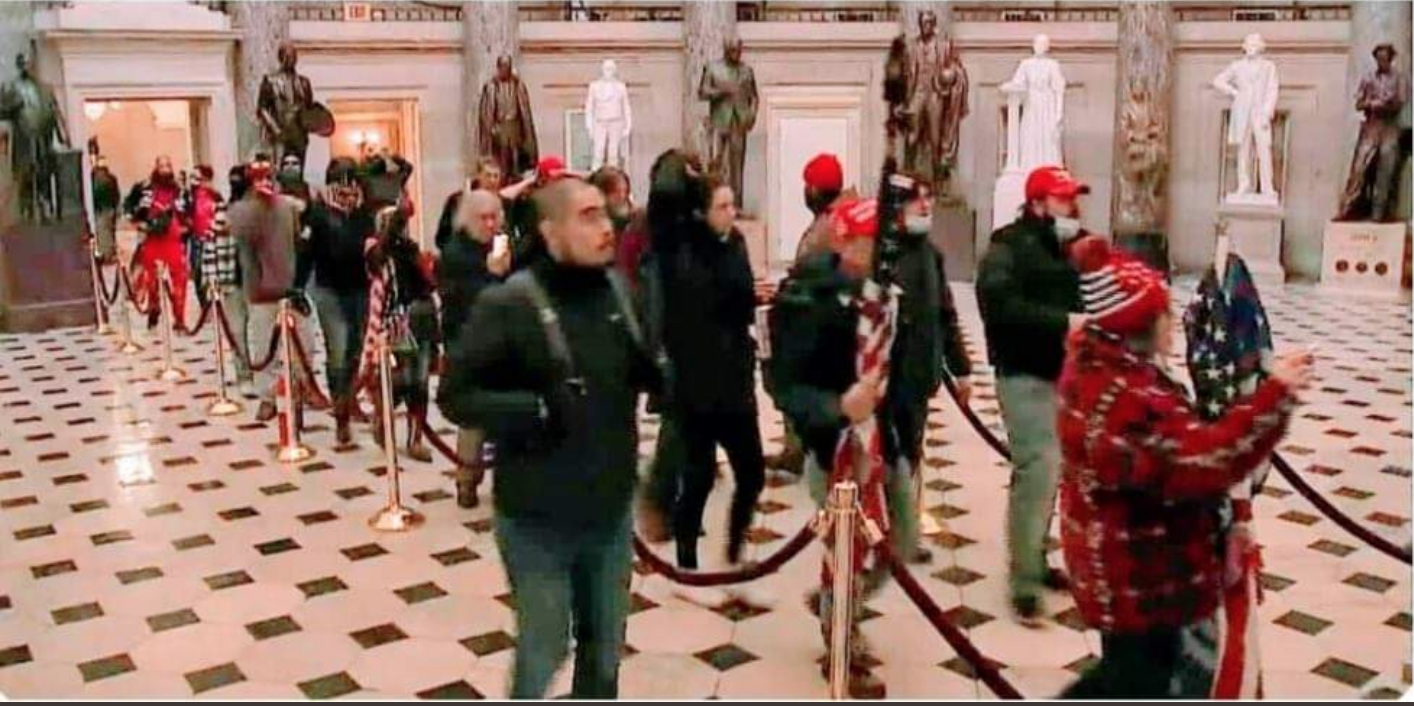 They look pretty lawless, don't they?
If I had a more secular blog, my words would be much stronger.
In conclusion: I hope Trump/Republican detractors stop the hate. Leave people alone. The vast majority went in good faith to support President Trump in his final days in office.
If this businessman's experience is but a snapshot in time, I dread to think what the next four years will bring.