You are currently browsing the monthly archive for April 2021.
The UK's local elections will take place on Thursday, May 6, 2021.
Labour have been casting shade on Prime Minister Boris Johnson during the past few weeks over his handling of the coronavirus crisis and the refurbishment of the Downing Street flat. As one would expect, the left-leaning media are having a field day.
On Wednesday, April 28, after Labour leader Sir Keir Starmer verbally attacked Boris at the despatch box during PMQs (Prime Minister's Questions), Boris let rip by listing all the Conservative government's achievements on Brexit and coronavirus over the past 16 months. The fact that he could rattle everything off in just under two minutes is impressive. Even better, it looks as if our pre-COVID Boris is back. The Conservative MP for West Bromwich East in the West Midlands tweeted:
Here are two more Conservative achievements:
The media are dead wrong when they say that 'Boris is on the ropes':
Here is a more recent poll, taken earlier this week:
Last weekend, the papers were full of stories about what Boris allegedly said before reluctantly announcing a third lockdown around Christmas. He denies having spoken these words, and Labour made a big deal about this earlier this week in Parliament. The public, however, view it in a more nuanced way:
Then we come to the refurbishment of the flat in Downing Street. It is alleged that Boris received funds from a Conservative Party donor to top up the statutory £30k maximum from the taxpayer. The public aren't that interested:
I've seen photographs of one of the redecorated rooms. It looks very Turkish, including the pictures. Although some might find a deep red patterned wallpaper with matching sofa agreeable, it's not the sort of room most people could stay in for long because it is too 'busy'. There is no solid pastel shade anywhere. The next occupant will be busy redecorating it, at taxpayers' expense, to look more neutral.
That has been the work of First Fiancée Carrie Symonds (the 'y' is a long 'i', as in 'Simon'), who does not strike most of us as a true Conservative. If Conservatives have any complaint, it's been that she seems to be running the Government via Boris.
Douglas Murray wrote a great article which appeared today in The Spectator: 'Carrie Symonds and the First Girlfriend problem'.
Unlike the United States, European countries have a tradition whereby leaders' spouses take a back seat where politics is concerned. They stay out of the limelight. This is probably the first time in living memory where a British partner of a Prime Minister has been involved in decision making.
Murray explains:
There is no getting around the fact that there is a problem with Carrie Symonds, which it is probably best to have out now.
In 2019 our Prime Minister came in with a significant and clear mandate. Covid has added significantly to his workload. But for many of us he seemed the perfect — even the only — man for the hour. Yet as that hour has gone on, problems of his own creation keep appearing. Too many of them originate from the sway — even terror — his younger companion seems to exert over him.
Carrie Symonds herself is a perfectly nice, intelligent person who successfully worked her way through Conservative campaign headquarters. But she is having too great an impact on the course of government. There are issues the Prime Minister avoids because she does not favour them. And there are others — principally green issues — which he appears to adopt to satisfy her. The feeling is growing that the First Girlfriend wants political power without the trouble of having to run for office, and to wield it without any resulting criticism. This is not a sustainable state of affairs …
It is not just policy she seeks to influence. The First Girlfriend seems to have a desire to be involved in all personnel issues. Her principal ambition seems to be for her friends to make up all the central control flanks around the Prime Minister. This was one of the main causes of Dominic Cummings's exit from Downing Street last year …
It seems no Carrie-related issue is ever too minor to distract the PM. Last year she made him stop a Cobra meeting at the height of the Covid crisis. The urgent cause was her demand that the PM make an official complaint to the Times newspaper over a story claiming that Carrie's affections for the couple's Jack Russell, Dilyn, had cooled in the year since the couple adopted him …
… the trap laid by Carrie and her defenders is clear. Say that Carrie has gained political influence only because of who her boyfriend is, and you will be accused of being envious of powerful, successful women who have made it in their own right. 'Carrie is an expert in politics,' one well-briefed source recently told the media. And she may well be. But that is not why she is sleeping in No. 10.
In the UK anyone who wishes to have political power should run for elected office. The emergent Office of First Lady is clearly a source of tension in Downing Street, and is already responsible for an unprecedented number of interventions in policy areas that affect our country. We hear nothing from the Prime Minister on issues he was elected on, and far too much on ones that Carrie happens to favour. The Prime Minister may have need of a First Girlfriend, but the country does not.
A year ago, I was wondering why Boris's priorities were changing. Was it because of coronavirus or Carrie?
Twelve months on, I have my answer.
As far as local elections go, however, the Carrie problem is unlikely to affect voters' opinions. Those determined to vote Conservative will carry on regardless of Carrie.
Continuing on Scotland's upcoming election, I have been astonished by some of the articles and social media messages appearing north of the border.
Scottish women — and sensible Scotsmen — are increasingly concerned by the encroaching activism of a small minority of Scots with regard to certain aspects of gender recognition, including self-identification.
The SNP do not seem to care, and no one knows how the new Hate Crime legislation will work against anyone who is worried about a man wandering into a ladies' room or a women's changing room.
In a guest post for Wings Over Scotland on March 31, 2021, Margaret Lynch a long-time activist, first for Labour, then for the SNP and now for the Alba Party, wrote about the topic in 'Why women want Alba' (emphases mine):
The inability of the SNP leadership to accept the simple distinction between sex and gender has led them into very troubled waters and has done real harm. It has led to vulnerable women in prisons being subjected to sexual assault by men who "identify" as women, to a local authority adopting a "gender neutral" approach to domestic violence which saw funding removed from Women's Aid groups because they refused to admit men to refuges or work with perpetrators.
Lastly and perhaps most ludicrously it's seen a situation arise where crossdressers – but not real women – are protected by a Hate Crimes Bill which omits misogyny from the list of prejudices it seeks to prohibit.
The response of the SNP leadership to those women who did try and constructively engage within the SNP around these issues was genuinely shocking. They stood by and watched prominent female SNP elected representatives be hounded and abused, and said nothing. They colluded in attempts to prevent the selection of gender critical candidates using all manner of chicanery.
Alex Salmond of the new Alba Party has spent the past few years defending his reputation against SNP smears, so there is a certain irony that a man falsely accused of preying on women now appears to be their defender in Scotland, at least where pro-independence parties are concerned:
The irony of Alex Salmond presenting a solution to our problems has not escaped me. Some feminists think this is a bridge too far. But what I know is that Alex Salmond's political survival now depends on him demonstrating at all times and to all people that he can be trusted in women's company and to defend women's rights.
Nicola [Sturgeon], who I have long admired and liked, has demonstrated over and over again that she CANNOT be trusted to defend women's rights – and in fact would throw them under a bus in a heartbeat to gain the support of the fanatical youth wing of the party, and the Greens who appear to care less about the environment than they do about bedding down Queer Theory in Scotland's political institutions.
What drew me to join Alba was the tactical opportunity it presented:
– to ensure that there's a party which will protect women's rights in Scotland, and provide a safe harbour for those of us who want independence to cast our votes in the coming election without betraying our sex.
– to act as a countermeasure to the malign forces which have propelled the SNP leadership towards an agenda which is dismantling women's rights, to speak out on the matters which affect us, and to retain safe spaces and representation.
That same day, Wings Over Scotland featured another guest post by a former SNP member, Morag Kerr, who explains why she has cancelled her party membership. Her article is called 'To the National Secretary'. Excerpts follow:
During the first 25 years of my membership I made many friends and had many wonderful experiences. I never imagined for a moment that I would leave the party before independence day.
However the past four years have been an entirely different experience and that time has now come. I cannot remain a member of the SNP for the following reasons.
1. Lack of any progress towards independence since 2015, including the lack of preparation of the infrastructure that will be needed by an independent country.
2. Failure to capitalise on the very real opportunities which arose between 2016 and 2019 in the run-up to Brexit.
3. The explicit ruling-out of viable routes to independence, and the imposition of conditions which would stand in the way of viable routes to independence.
4. The insulting dangling of "vote SNP for a new indyref" when an election was at hand, followed by the inevitable kick into the long grass soon afterwards.
5. The lack of rebuttal of unionist attacks and talking-points, combined with currying favour with the unionist mainstream media while attacking and indeed monstering pro-independence online media. The donation of a substantial sum of public money to prop up the Unionist print press was absolutely inexplicable.
6. The fitting-up of Alex Salmond on false allegations of sexual assault intended to prevent his returning to politics to do something about points 1 to 5 …
9. The appalling Hate Crime Bill which will criminalise simple disagreement if someone simply chooses to take offence at it, and the exclusion of women as a protected category while including men in drag on their way to a stag night.
(I can't believe I'm even writing that, and [Justice Secretary] Humza Yusuf's sneering jibe that a woman would be protected in the event she were mistaken for a transwoman was simply the last straw.) …
13. The rewriting of the rules with the obvious express purpose of preventing Joanna Cherry from being considered as a candidate in the Holyrood election …
20. Promotion of highly unsuitable sex education material to young children.
On April 6, an Edinburgh blogger, Calton Jock — hardly a political conservative — wrote about the close alliance between certain gender/lifestyle identity organisations and the Scottish government:
LGBT Youth Scotland was formerly called the Stonewall Youth Project and is mainly funded by the state (in other words us), with over 75% its annual income coming from the Scottish Government, local councils and the National Health Service. (Scottish schools to get updated guidance on supporting transgender pupils).
Bear in mind that the co-founder of Stonewall, Simon Fanshawe, broke away from the organisation and condemned its "extreme" position on transgender rights. Yet we have the Scottish Government determined to change the Gender Reform Act (GRA) and to continue to permit children to be given permanently damaging puberty blockers, despite a ruling in the English courts that this has to stop. (Letters to the Times) …
The Scottish Government and opposition parties have agreed to continue talks about freedom of expression elements of the hate crime bill.
It follows concern about the impact of some of the amendments proposed to the legislation on the transgender community.
The Justice Committee considered stage two amendments to the Hate Crime and Public Order (Scotland) Bill'.
Justice Secretary Humza Yousaf had originally proposed an amendment seeking to protect "discussion or criticism of matters relating to transgender identity", provided the behaviour was not threatening or abusive …
People are questioning the influence of "Stonewall" on Scotland's civil service after it emerged that controversial policies have been introduced in alignment with Stonewall's political aims. These include a compulsory "Diversity Objective" for all staff to make the Scottish Government "a more diverse and inclusive place to work", training on "intersectionality" and "unconscious bias", and the use of gender-neutral language. The Civil Service is also included on Stonewall's "Diversity Champions Index" …
The Deputy Director for Public Affairs at The Christian Institute said:
"The extent of Stonewall's influence on the Civil Service is alarming, particularly given the controversial nature of some of its political aims. Stonewall's stance on trans issues is strongly opposed by women's organisations, medics and faith groups. Yet, the Civil Service appears to endorse it wholesale. How does this fit with the Service's duty to remain politically impartial? Staff are encouraged to attend training sessions on "intersectionality" and "unconscious bias". These controversial ideas are disputed in wider society. So it's concerning that they are written into the training schedule for Civil Service employees. The compulsory "Diversity Objective" also raises questions. What happens to staff members who hold religious beliefs which differ from those championed by Stonewall? Are they marked down? This could constitute direct discrimination on the grounds of religious belief."
Gender identity activism also affects the Liberal Democrats as Calton Jock explained in an April 6 post, 'The Threat to Women is a Real and Present Danger'. He discovered that this goes back to 2019 when then-party leader Jo Swinson put gender identity into the party manifesto before the general election that December. To think that most of us saw her — and her party's candidates — as being anti-Brexit. No, there was much more.
Calton Jock has an image of one of Swinson's tweets before the election. It reads, in part:
Introduce an 'X' gender option on passports and extend equality law to cover gender identity and expression …
Thank goodness she lost her seat as an MP. So did many other Lib Dems. There are only 11 of them now in the House of Commons.
Calton Jock explains why the Lib Dems have these policies:
Assisting their efforts with donations exceeding £1.3million, is Ferring Pharmaceuticals a company that markets drugs used in gender-identity clinics to delay puberty.
The party has already upset feminists, who worry that the "extreme trans-ideological" policies in its manifesto will put vulnerable women at risk.
The company is owned by the Swedish billionaire Frederik Paulsen and markets the drug, which is used to block puberty among adolescents.
The Lib Dem manifesto pledges "complete reform of the Gender Recognition Act to remove the requirement for medical reports, scrapping fees and recognition of non-binary gender identities" …
A Drugs company owned by a Swedish billionaire philanthopist and explorer, who is an honorary Russian consul and lives in Switzerland, has given nearly £500k to the Liberal Democrats.
Frederik Paulsen, who lives in Lausanne, is worth an estimated £3bn and owns Ferring Pharmaceuticals. The company is ultimately controlled from Curacao, a Caribbean tax haven.
Electoral Commission records show that the British arm of the company, based in West Drayton, west London, gave four donations to the Liberal Democrats between December 2013 and June 2014. Three of them exceeded £100,000.
The British arm of Ferring Pharmaceuticals was set up in 1975. Ferring said the company had made the donations because it supported Liberal Democrats policy on Europe. (Sunday Times)
Comment: And the Lib/Dems had the hard neck to criticise Alex Salmond for broadcasting his show on RT!!!
Paulsen was personally awarded an "Order of Friendship" medal by Putin himself. The Vlad acolyte who has poured huge amounts of cash into Russia, was given the gong by the Russian Foreign ministry, and is an honorary Russian citizen …
On April 9, an Alba Party member, Denise Findlay, wrote about the lack of political will in standing up for protecting women: 'Life begins on the other side of despair', a guest post on Yours For Scotland.
An excerpt follows:
It has been a hard few years for the women who support Scottish independence. The women have endured vicious bullying, name calling, doxing and rape threats simply for trying to stand up for their rights. All from those who are meant to on the same side in the independence debate. Women have now struggled for years against their own party and movement. Many honourable men have joined the debate giving women their support but still truckloads of abuse are heaped on the women's heads every day.
Women's concerns have not been heard. All parties in the Scottish Parliament are signed up in varying degrees to gender ideology.
The Greens and LibDems are irretrievably anti-women in hock to an ideology which is dangerous to the health and well being of women and girls. Andy Wightman resigned from the Greens due to their intolerance of any discussion of women's rights claiming party leader Patrick Harvie is captured by Queer Theory.
Labour is unfortunately losing three MSPs who actually backed women; Johann Lamont, Jenny Marra and Elaine Smith and Anas Sarwar the new Labour leader is unwilling to take on the gender ideologues within his own party.
The Conservatives although they voted against the Hate Crimes Bill that was because of its general infringement of the right to freedom of expression and it is a sad day when it is the Conservatives who are our only slim hope.
The SNP leadership is fully signed up to the gender ideology and have a number of policies that are dangerous to women.
Just before recess the Scottish Parliament passed the Hate Crimes Bill (HCB). This bill does not give protection to women who as a sex have been ignored by this bill. A man dressed as a woman has more protection against hate than a woman. But it does pose significant danger and risk to women.
The bill introduces a new offence of 'stirring up hatred' which requires that behaviour must be judged "abusive or threatening" by a "reasonable" person.
Define 'Reasonable' when using the word 'female' can be judged transphobic. When our own justice secretary can't say if there are two sexes and a judge in England ruled that belief in two sexes was 'not worthy of respect in a democratic society'. When many women's accounts have been suspended or banned from social media for stating biological fact.
During the passage of the bill amendments that would have given women a small measure of protection, were withdrawn due to an outcry by the trans lobby.
There is little doubt that women arguing on the basis of sex will be reported to the police, this coupled with doubts over the independence of the crown office will have a chilling effect of women's freedom of expression.
One would have thought that, with all the equality legislation in the UK, including Scotland, these issues should not have arisen. But, no. Things have become worse:
In the new parliament the SNP intends to reform the Gender Recognition Act (GRA) which would allow a man to legally change his sex to female purely on his own say-so. The GRA was introduced prior to same sex marriage, it was to allow people who suffer from gender dysphoria – which at that time was a mental illness – and have changed their bodies to legally become the opposite sex in order to marry.
At the time it was understood that it impacted women's rights because women's sex-based rights are necessarily exclusive as they exclude males. But the European Court of Human Rights decided that the numbers were so small women could just accommodate them.
Over time same sex marriage was made legal which negated the original need for a GRA. A further ruling of the European Court of Human Rights meant that people would not have to change their bodies to obtain a GRA and the World Health Organisation (WHO) determined that gender dysphoria was not a mental illness.
This greatly increased the number of men who could claim to be women and the trans umbrella is now large, it includes men with gender dysphoria who have changed their bodies but also cross-dressers, men who have a sexual fetish about being a woman or being accepted as a woman, exhibitionists and men who believe they have a lady brain. As well as the increase in the number of men now considered trans and who feel they are entitled to access women only spaces and services there is also an issue of abuse of the system.
With self-id there is no gate-keeping so this opens it up to the risk of predatory men taking advantage. Male sexual offenders are identifying as women and being housed in women's prisons, this is already happening in Scottish prisons.
The ramifications of self-id for women's sex-based rights are considerable, already mixed sex toilets in schools are causing teenage girls to miss school in particular when they have their period, there are mixed sex changing rooms, mixed sex hospital wards, women's refuges and rape crisis centres. All places where women are vulnerable and predatory men or men indulging their sexual fetishes can take advantage.
Denise Findlay concludes:
The very real prospect of the complete loss of women's rights in Scotland and the risk of a criminal prosecution if we complain.
Then into this hopeless situation strode hope.
Hope in the form of the Alba Party who just might save the rights of Scottish women and girls, while gaining us our independence.
This weekend it is the Alba Party Women's Conference. Women will have a voice. All is not yet lost. We still have Hope.
The Alba Party Women's Conference was held online. It was well attended and watched by hundreds of women in Scotland.
One of the more disturbing revelations from the Women's Conference was news from a guest speaker that gender activists in Scotland want the age of consent lowered to the age of 10.
The Rev. Stuart Campbell of Wings Over Scotland has more on this development in 'The Paedophile Charter':
ILGA World –  the International Lesbian, Gay, Bisexual, Trans and Intersex Association – is an organisation that we hadn't heard of until today. Just over a year ago they released, as part of a 200-member caucus of other groups, something called "The Feminist Declaration". It's a mostly-innocuous document of demands about women's rights, but buried in the middle of it is a very disturbing section.
The section, a screenshot of which is in his post, encourages a de-stigmatisation of adolescent sexuality.
Campbell continues (emphases his):
The World Health Organisation defines "adolescents" as people aged from 10 to 19.
So the only possible interpretation of "end the criminalization of adolescents' sexuality" is a reduction in the age of consent to 10 years old. Indeed, a slightly earlier paragraph of the Declaration is more explicit about it:
"Eliminate all laws and policies that punish or criminalize same-sex intimacy, gender affirmation, abortion, HIV transmission non-disclosure and exposure, or that limit the exercise of bodily autonomy, including laws limiting legal capacity of adolescents, people with disabilities or other groups to provide consent to sex"
While it doesn't go into more detail, one would like to imagine that the intent would be to remove laws limiting capacity for consent only within that age group, ie to make it legal for all adolescents to have sex with each other, rather than to let older people have sex with them. But it doesn't actually say that anywhere.
Even if it did, alert readers will note that that would still make it legal for 19-year-olds to have sex with 10-year-olds, and to put it very mildly that seems a somewhat controversial position.
So who are the organisations signing up to this "feminist" demand under the ILGA umbrella? On its list of member organisations, sure enough, appear the names of LGBT Youth Scotland and Stonewall Scotland.
Just 12 years ago LGBT Youth Scotland was at the centre of Scotland's biggest ever paedophile scandal, with its chief executive James Rennie sentenced to life imprisonment for a string of offences …
It appears that it's entirely true – the SNP are indeed paying lobby groups with your money to try to reduce the age of consent in Scotland to 10.
We wish we could be confident that the danger of that actually happening was only theoretical.
Stonewall Scotland disputed the Wings Over Scotland claims, but Rev. Stuart Campbell stood by his post and responded in 'If it hit you in the eye':
So the only possible thing about adolescent sexuality that could currently be decriminalized in Scotland, England or Wales is the requirement for both of the participants to be at least 16, or at a minimum over 12. Or put more simply, the reduction of the age of consent.
(It offers no alternative definition of the word to the widely-agreed ones already in existence saying it starts at 10.)
And as Stonewall Scotland are (through ILGA) signatories to that declaration, then there is simply no interpretation possible other than that they're calling for a reduction in the age of consent. If they didn't MEAN to do that, they need to withdraw their membership of ILGA, or get ILGA to withdraw its signature from the Declaration, or immediately have the document rewritten to remove that sentence. Because that is unambiguously and unequivocally what it demands.
But notably, they haven't done that. They've just angrily asserted that it doesn't say what it says. That isn't a denial of the material facts, it's a denial of language and a denial of the entire concept of reality.
He returned to the subject in 'What you find under rocks'. He concluded as follows, issuing an important disclaimer (purple highlight mine):
Paedophiles have a long and well-documented history of trying to infiltrate and hijack LGBT groups, and Scotland is no exception. Indeed, it has very disturbing recent history. Observing that fact does not amount to an accusation and it absolutely certainly does NOT imply any intrinsic link between homosexuality and paedophilia. Wings is not aware of any statistical predilection of homosexual people towards paedophilia compared to heterosexual people.
But anyone who reacts with outrage and evasion and deflection to a basic minimum of scrutiny and vigilance about the safeguarding of 10-year-olds (and especially if, as with ILGA and LGBT Youth Scotland, they've had previous and very severe problems with paedophile infiltration) is probably someone over whom there should be rather MORE scrutiny and vigilance, not less.
The prospect of a lower age of consent was also a topic among some Unionists. George Galloway of Scotland's fledgling All For Unity party is a married father of six. On April 11, he tweeted about the possibility of home schooling:
An article from 2020 in Scottish Review discusses Scotland's education curriculum in this regard. Bruce Scott's article, 'The crisis of consent in Scottish schools' is detailed and well worth reading. He made Freedom of Information requests of the Scottish government, which he said were not answered satisfactorily. With regard to faith groups and home schooling he says (emphases mine):
I also enquired what faith groups had been consulted as part of their working group/implementation group (e.g., Muslim, Jewish, Christian, Hindu, etc). So far, it seems that the wide variety of faith groups in Scotland have not been consulted on the Scottish Government's LGBT Inclusive Education proposals.
One thing I have gleamed from my inquiries is that contrary to some reports, the LGBT Inclusive Education in Scotland is not mandatory; parents are within their rights to withdraw their children if they wish. Further, all schools have to implement the LGBT Inclusive Education curriculum in consultation with parents of children at the school and tailor it to their needs. This is not common knowledge. But, and it is a big but, as the LGBT focus is going to be disseminated throughout all aspects of the curriculum, the only option for parents who object to this curriculum would be withdraw their child from the school completely; a fait accompli on the part of the Scottish Government. I predict they will come for those who decide to home school next.
A supporter of gay and lesbian rights also spoke out against a lower age of consent:
She is not wrong. This Twitter thread — which contains photos not to be shared with children or the vulnerable — explains how Scotland arrived where it is today. The gender issue started in 1974 in Edinburgh. Less than 20 years later, ILGA was an international NGO recognised by the United Nations and remains so today. Graham Linehan, creator of several hit sitcoms in the UK, wrote an article based on the Twitter thread: 'If you say so'. Linehan is also deeply concerned about protecting women's and children's rights.
In closing, The Scotsman reported that the speaker at the Alba Party Women's Conference came under fire for discussing the possibility of a lower age of consent (emphases mine):
Responding to a request for comment, an Alba spokesperson said the women's conference was a "great success" and defended Ms Lynch's statement.
They said: "The organisations referenced have both signed up to this demand, and both have received substantial amounts of Government funding. These are reputable organisations that make a positive impact on the lives of many in Scotland.
"If the organisations do not support what they have signed up to it is for them to say or provide clarification, it is not for women that attended our women's conference to defend concerns that women have raised based on fact."
The Alba Party manifesto makes a clear commitment to protecting women's rights (item 8):
One wonders if this situation will have an impact on Scottish voters next Thursday, May 6.
When former SNP leader and long-serving Westminster MP Alex Salmond launched the ALBA Party, founded by journalist Laurie Flynn, on Friday, March 26, 2021, I watched the video with interest:
Unfortunately, they had several technical difficulties during the first 30 minutes and I stopped watching.
SNP MP Pete 'Runrig' Wishart was annoyed that Salmond pronounced 'Alba' with two syllables rather than three:
Two days later, there was also a data leak of 'thousands of names' of Scots who signed up to the party. Around 4,000 names were visible on their website. Allegedly, the list included prominent SNP names.
Salmond and Alba supporters see the party as a way of creating a supermajority for independence. Their website says:
Almost one of two pro-independence votes go to waste because of the Additional Member System (AMS) used in Scottish elections.
The #Supermajority strategy creates the opportunity to secure over one million additional votes for independence.
Their Supermajority page has more about the overall voting strategy — each voter receives a constituency and a list ballot — beginning with this (emphases mine below):
The more success a party has on the constituency vote, the less well it does on the regional list vote. That's why in 2016 #BothVotesSNP led to 1 million wasted pro-independence list votes.
Voting Alba Party on May 6th will make sure no pro-independence vote goes to waste by securing a #Supermajority for independence.
Let's tip the balance in Scotland's favour.
By Sunday, March 28, two SNP MPs serving in Westminster, Kenny MacAskill and Neale Hanvey, defected to Alba.
Kenny MacAskill wrote a letter to his constituents explaining why he was leading the Lothian list. It says, in part:
My office will continue operating for constituents and I will continue serving as MP. Along with other colleagues in Alba I will work with the SNP Group in Westminster in opposing the harm that's being done to our land by the UK Government.
Neale Hanvey will stand as a candidate in the Mid Scotland and Fife region.
This all looked quite threatening to First Minister Nicola Sturgeon. She was Deputy First Minister for Scotland when Alex Salmond was First Minister:
That day, the BBC reported:
Alba now has more MPs than Scottish Labour who only have Edinburgh South MP Ian Murray.
Also:
With Neale Hanvey and former SNP councillors Lynne Anderson and Caroline McAllister joining today, Alba also appears to be a home for those who fear that gender self-identification for trans people poses a threat to women's rights.
I will come back to gender recognition issues in another post. It is a big deal in Scotland, especially with the nation's new Hate Crime legislation.
Regarding Scottish MPs running for Holyrood seats in the May 6 local elections, some voters think that should trigger a by-election. After all, the SNP's Neil Gray resigned his seat in Westminster before running for a seat in Holyrood. Others, however, point out that not resigning as MPs is an insurance policy should they lose next week:
With regard to independence, a number of SNP supporters do not think Nicola Sturgeon has done enough during her time in Holyrood. As such, they find the Alba Party a welcome development, as this journalist for the Herald Scotland says:
The Greens appeared to be threatened. A new face, that of Lorna Slater — a Canadian — popped up on television when viewers expected to see the Scottish Green leader Patrick Harvie:
Lorna Slater has appeared on more television programmes since then.
The euphoria surrounding the Alba Party vanished quickly. On Monday, March 29, a BBC Scotland spokesperson said that Alex Salmond would not feature in an upcoming election debate of party leaders:
On Tuesday, the Herald Scotland criticised the calibre of one Alba candidate:
The Herald reported that the candidate, a former boxer, also voiced his opinions about some of the homeless in Edinburgh and came out against coronavirus vaccines.
The paper also reported that Neale Hanvey said that a 'supermajority for independence' would not reflect voters' wishes:
Neale Hanvey, who defected from the SNP, said such an outcome would be "representative of the electoral system that exists in Scotland", rather than its people.
He told BBC Radio Scotland that was down to Westminster devising Holyrood's elections.
He said: "I didn't design the system. If anyone… needs to answer to the electoral system that's been put in place in Scotland it's certainly not me."
In an interview with the Daily Record today, Nicola Sturgeon was scathing about the supermajority plan.
She said: "At the end of the day, we've got to win independence fair and square. We can't game, or cheat, our way to that."
Mr Hanvey also said SNP MPs had "very little influence" on policy at Westminster, and that they would be "more than welcome" to defect to Alba.
On the other hand, the Rev. Stu Campbell of Wings Over Scotland painted a fuller picture of Alba candidates in 'Rallying to the Banner'. He listed all of them and wrote about the party's diversity:
The new party's new members/candidates are impressively diverse, despite the lack of any crude and/or illegal gerrymandered selection tactics to impose that diversity. They feature a range of ages from 20s to 60s, from all class backgrounds, six of the 12 are women, Eva Comrie is disabled (and we mean actually disabled, with an artificial leg, rather than just bad at spelling) and Irshad Ahmed of Scots Asians For Independence is the first high-profile BAME defector from the SNP to Alba.
They've joined for a variety of reasons, from delivering a supermajority (Hanvey) to the SNP's dire weakness on women's rights (Anderson, McAllister, Comrie), to its lack of serious commitment to a second indyref (Bews and Wilson), and the parlous, corrupt state of the SNP's internal democracy (Ahmed, who told Wings last night that party HQ had bizarrely refused to let him see the results of the recent list elections until the COVID-19 crisis was over).
The increasingly panicky attempts of Unionists, bitter media columnists and woke SNP activists to paint Alba as some sort of last redoubt for old white men look more and more ridiculous with every passing day. We look forward to continuing developments.
One of Alba's candidates is Scotland's longest serving SNP councillor:
By the end of March, Alba was polling at 3% for list votes:
Another poll showed promise for Alba:
However, on April 8, Guido Fawkes, citing a third poll, by Opinium, said that optimism about Alba was misplaced (emphases in the original):
Guido suspects the disastrous polling numbers for the Alba Party are most likely to bring a smile to Nicola Sturgeon's face. According to Opinium, Salmond's new pet project is unlikely to gain a single seat in Holyrood next month, polling at just 2% in the regional vote. It looks like the declining support for Labour and the Tories has fallen in Sturgeon's favour – not Salmond's…
It's clear Scottish voters just don't trust Alex Salmond. A poll by Savanta Comres yesterday showed the former First Minister's net favourability rating stuck in the gutter at -51% (lower than Boris Johnson's), and today's data bears that out. Over 63% of Scots take an unfavourable view of a coalition between Alba and the SNP…
Alba supporters were undeterred. Alex Salmond gave an interview the day before that attracted much favourable comment:
Meanwhile, Alba launched a two-week crowdfunder which they completed successfully on April 16:
On 16th April 2021 we successfully raised £54,100 with 1257 supporters in 14 days
What chances does Alba have next Thursday? At the end of March, Policy Exchange summed it up this way, alluding to the way Nicola Sturgeon's SNP tried to smear him (emphases mine):
Will anyone listen? That is where Mr Salmond comes in. For all that he is a much-diminished figure, and for all the fact he is now entirely ostracised by Nicola Sturgeon and her coterie, polls suggest that around a third of SNP voters still approve of him. He is still seen by many as the man who nearly led Scotland to independence and who – in the eyes of many Nationalist supporters – has been the victim of a conspiracy to wreck his reputation. So it's to be expected that plenty of these voters will be attracted to his latest ruse. A scenario which sees Mr Salmond's party win around 10-12% of the party list vote – enough to win up to 2 seats in each of Scotland's 8 regions – is therefore possible. And while some of these would come from the pro-independence Greens, the majority would be at the expense of the Conservatives, Labour and the Liberal Democrats.
That is the worst case scenario for the Unionist cause. The more optimistic take would see the pro-independence movement descending into chaos over the next four weeks of the campaign, with splits and divisions dominating coverage. It would also see cautious soft-SNP voters who have been won over by Nicola Sturgeon's approach taking fright and either declining to vote, or switching back to Labour.
True to form, Mr Salmond has decided to roll the dice and find out. There is impeccable and calculated method in his latest move. We're now set to find out whether he remains as good a judge of Scotland's mood as he once was.
Last week, Alba published their manifesto, along with a video. The manifesto includes a proposal for a written constitution for an independent Scotland (point 5) and a new Scottish currency in the case of independence (point 9):
Wings Over Scotland said:
Had we formed our own party it's pretty much the manifesto we'd have written …
On Sunday, April 25, a new poll appeared. The Alba Party remained stuck on 3%:
At this stage, it does not appear as if Alba has much traction with voters. This article from an Edinburgh blogger says that the BBC strictly controls what hits the airwaves during election campaigns.
It looks as if there will be another SNP/Green sweep. The Greens' votes have helped the SNP pass legislation in the past. This is likely to continue:
However, I would bet against a motion on Scottish independence for the foreseeable future.
Many moons ago last century, I spent three happy holidays in Scotland.
My first was during my time at university, when I was studying on the Continent. I bought a souvenir, a dark green lambswool pullover from the Edinburgh Woollen Mill which was then located in the Royal Mile. Unfortunately, I had to throw it out recently, just weeks short of its 43rd birthday.
The Scots I met were hospitable and interesting, regardless of what they did for a living. On my trip in 1978, when a group of us were at a pub in Edinburgh, I asked them what they thought of the Queen. They all liked her. Did they ever want independence? No.
There was a long hiatus before I returned. In those intervening years, I contented myself by keeping abreast of their music in the 1980s. Fortunately, the radio station I listened to in the US played British music most of the time. Their other offering was reggae. Radio heaven.
In my humble opinion, 1983 was a banner year for Scottish bands.
My all time favourite has to be Aztec Camera, led by the highly talented and, at the time, a very young Roddy Frame, who has lived in London since the 1980s.
Their 1983 album High Land, Hard Rain is hard to fault. I have a few favourite tracks from that album, but my all-time favourite is 'Oblivious'. Roddy Frame's Spanish guitar riffs are superb. The best thing is that one can listen to this any time of day or night and enjoy it:
The band performed this live at Aston University, Birmingham, on 13 December 1983. This was broadcast on the BBC's Whistle Test On The Road on 16 December 1983.
Frame wrote the melody and the lyrics, which begin with this:
From the mountain tops
Down to the sunny street
A different drum is playing a different kind of beat …

Then there was Big Country, who, in 1983, had one Top 40 hit in the United States, 'In a Big Country', a rousing example of Celtic-influenced rock, complete with bagpipe riffs. This video comes from BBC's Top of the Pops:
Their attire reminds me of that of the schoolboys I saw on public transport every day when going to work: pullovers and baggy wide-wale corduroys. It was a nice look for an American city.
Then there was Runrig. Their 1983 hit was the anthem for Scottish independence, 'Alba' (pron. 'Al-i-ba'). The lyrics are in Scottish Gaelic, but this video has English subtitles:
This was filmed in Edinburgh: on Calton Hill and Arthur's Seat (or so it looks).
On my return trips to Scotland in the late 1980s, I bought three Runrig albums.
Now I am sorry I did.
One of their number, Pete Wishart, who plays keyboard in the video, is the longest serving SNP MP in Westminster. He was first elected MP in 2001.
I watch a lot more BBC Parliament than listen to music these days. Watching Wishart sneer in the House of Commons is too much. Whether it is for show or whether he really does dislike the English as much as it appears, I have no idea. Whatever the case, it vexes me that, even in a small way, I helped to put money in his pocket and bread on his table.
This brings me to the larger question of the SNP and their drive for Scottish independence, particularly as the UK has local elections coming up on Thursday, May 6, 2021.
On my stays along the east coast of Scotland, I never did meet anyone who supported independence.
Yet, the Scottish National Party, which was founded in 1934, has grown in popularity over the past two decades to become the largest Scottish political party in both Holyrood (Scotland's assembly in Edinburgh) and in Westminster (London, seat of the UK Parliament). In London, they have 44 MPs. By contrast, the Liberal Democrats have only 11.
Only Scottish voters can cast a ballot for the SNP.
The current SNP leader and First Minister is Nicola Sturgeon.
Before her, it was Alex Salmond, who served as an MP for 30 years, from 1987 to 2017.
Once I moved to the UK, I began watching Channel 4 News every night. I broke that habit many years ago. That said, they invariably had a news item on or interview with Alex Salmond. For whatever reason, he became quite the globetrotter, visiting China, the United States and Qatar. He also spoke at a UN Climate Change Conference in Copenhagen.
I could never understand how an MP whose party was not in government could be allowed to make all those trips. He was hardly a hanger-on, either. He met very powerful people, as one can see from the photos on his Wikipedia page.
His downfall came with the Scottish independence referendum in 2014. On September 18 that year, voters living in Scotland went to the polls. Disappointingly for the SNP, 55% voted to stay in the UK. It was a big deal at the time and, although the SNP deny it today, it was billed as a once-in-a-generation referendum. Salmond stood down as First Minister. His deputy was Nicola Sturgeon. She succeeded him.
Wikipedia summarises the referendum as follows (emphases mine):
Prominent issues raised during the referendum included what currency an independent Scotland would use, public expenditure, EU membership, and North Sea oil. An exit poll revealed that retention of the pound sterling was the deciding factor for those who voted No, while "disaffection with Westminster politics" was the deciding factor for those who voted Yes.[3]
For the past few years in the Commons, SNP MPs have been railing against 'this UK government' and have been talking a lot about a second referendum.
Few specifics have been published on a concrete plan for independence. One would think that, having failed to win in 2014, a solid proposition regarding currency, a central bank and trade is critical. However, none exists.
Alex Salmond, who is leading the new — and tiny — rival independence party Alba (pron. 'Al-i-ba'), is the only one who has even a rough outline of a plan involving a Scottish currency.
For the purposes of this election, however, the SNP are banking on a platform of coming out of the coronavirus crisis. Based on First Minister Nicola Sturgeon's track record so far — a steep decline in Scottish education standards and the most drug deaths of any European nation — it does not inspire confidence:
This pamphlet says that another independence referendum will be held once the coronavirus crisis is over:
That could be years away.
Others mention independence without adding 'after the crisis', such as this one:
There are two votes to be had in this election, which, in Scotland, are counted in a system of proportional representation, the D'Hondt method. There is a constituency ballot and a list ballot. I'll discuss this on another day. For now, it explains why the leaflets advise voting SNP on both ballots:
Here is another two-vote plea:
Then there are 'free stuff' policies such as these for bicycles. Given the parlous state of Scotland's rural roads, one hopes there will be a lot of money in this particular pot:
A universal basic income is also part of the SNP platform. For my readers who do not live in the UK, it is worth noting that taxpayers living in England forfeit some public money through the Barnett formula to help finance Scotland, Wales and Northern Ireland. There are also top-ups for certain expenditures, e.g. coronavirus programmes, which are called Barnett consequentials. This is a sore point for English taxpayers. A universal basic income — 'Minimum Income Guarantee' — at this stage is beyond the pale:
The SNP were very much against Brexit. Most Scots voted against it in the 2016 referendum. As such, the SNP would like for Scotland to join the EU as an independent nation. To some south of the border, the logic appears baffling (not my illustration):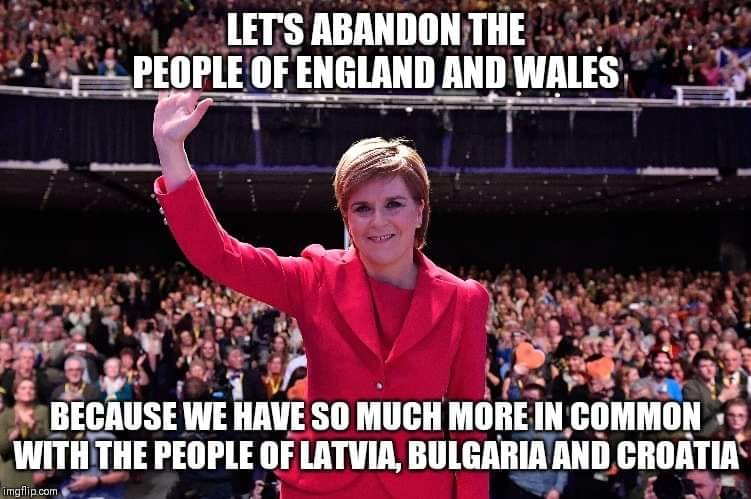 Even today, most regions of Scotland would still vote against independence. I was surprised to see that the Highlands, where one would expect independence fervour to be great, is still, albeit just, a majority No. The only Yes areas — the green ones — are around Glasgow and further east in Dundee. I picked this map up online today: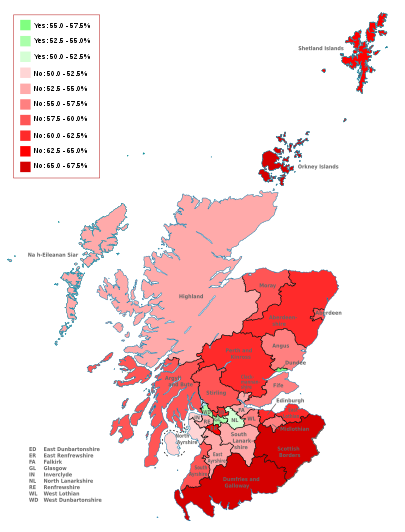 I am very much looking forward to the results of Scotland's election, which will not be available until May 7 or 8.
Meanwhile, a number of voters committed to independence are walking away from the SNP.
More about that in a future post.
The Queen's 95th birthday was Wednesday, April 21, 2021.
Twitter was alive with fond memories of her previous birthdays, celebrated in springtime colour.
Sadly, this was her first birthday in 73 years without her husband by her side:
The Queen issued a statement of thanks to those who sent her messages of condolence and comfort:
She also thanked the public for their good wishes on her birthday:
A photo not previously shared with the public was published:
Traditionally, the Queen has kept her birthday free of public engagements:
She has spent many birthdays at Windsor Castle:
She has celebrated with family and friends:
In her later years, more public celebrations took place:
St Paul's Cathedral remembered the service of thanksgiving on her 90th birthday in 2016:
This video has a compilation of the marvellous birthday cakes she has received over the years:
This retrospective shows the Queen through the years, from the days when she was Princess Elizabeth:
Various organisations paid tribute to her last Wednesday, from the Women's Institute …
… to the Girl Guides and the Scouts:
An award winning photographer posted his magnificent portrait of the Queen:
Vogue has more stunning photographic portraits:
Not many of us know the Queen was born in central London, when her father was still Duke of York. Her uncle, who later abdicated, was Prince of Wales at the time:
Interestingly, several members of the Royal Family, especially the new generation, have birthdays at this time of year:
May the Queen's quiet, dutiful leadership be an example to them all for many years to come.
The three-year Lectionary that many Catholics and Protestants hear in public worship gives us a great variety of Holy Scripture.
Yet, it doesn't tell the whole story.
My series Forbidden Bible Verses — ones the Lectionary editors and their clergy omit — examines the passages we do not hear in church. These missing verses are also Essential Bible Verses, ones we should study with care and attention. Often, we find that they carry difficult messages and warnings.
Today's reading is from the English Standard Version with commentary by Matthew Henry and John MacArthur.
27 Whoever, therefore, eats the bread or drinks the cup of the Lord in an unworthy manner will be guilty concerning the body and blood of the Lord. 28 Let a person examine himself, then, and so eat of the bread and drink of the cup. 29 For anyone who eats and drinks without discerning the body eats and drinks judgment on himself. 30 That is why many of you are weak and ill, and some have died.[a] 31 But if we judged[b] ourselves truly, we would not be judged. 32 But when we are judged by the Lord, we are disciplined[c] so that we may not be condemned along with the world.
33 So then, my brothers,[d] when you come together to eat, wait for[e] one another— 34 if anyone is hungry, let him eat at home—so that when you come together it will not be for judgment. About the other things I will give directions when I come.
———————————————————————————————
Last week's passage discussed the church love feasts that the Corinthians held. These would be comparable to today's church potlucks. Afterwards, they would receive Holy Communion. The problem was their irreverence and mutual hostility.
Some wealthier members deprived poorer congregants of food. Other people attending got drunk. Many argued at table. They were not in a fit state to receive the Lord's body and blood.
Paul takes them to task for their irreverent behaviour, especially in the presence of the sacrament.
In last week's post, I'd written that the church potlucks I'd attended were happy occasions where everyone was united over plates of homemade food and good conversation.
One of my readers, Rob, wrote about the potlucks he's been to and has given me permission to post his comments, revealing a much different perspective (emphases mine):
This is a sad topic to miss out on in the 3-year lectionary. Addressing the disorder in the Corinthian church, Paul is relevant to today's fellowships as well. I suppose it's not the same as back in his day, with our socially dispersed lifestyles and varied views of the Supper.
One thing I think applies: today, there are the "in crowd" and the less visible hangers-on. One group is clearly more in fellowship than the others. Being ignored or dismissed because one is not "theological enough" or isn't involved in popular trends of his church is analogous to what Paul is fighting in this passage.
Yes, the cliques are ever-present, though largely ignored or dismissed. The latest trends are regular old liberal theology, homeschooler superiority, subordination of women and then the typical class divide. Doubt it's any different from any decade, really. Though folks are certainly more agitated and outspoken these days (social media).
Between last week's and this week's verses are the following, which are in the Lectionary:
23 For I received from the Lord what I also delivered to you, that the Lord Jesus on the night when he was betrayed took bread, 24 and when he had given thanks, he broke it, and said, "This is my body, which is for[f] you. Do this in remembrance of me."[g] 25 In the same way also he took the cup, after supper, saying, "This cup is the new covenant in my blood. Do this, as often as you drink it, in remembrance of me." 26 For as often as you eat this bread and drink the cup, you proclaim the Lord's death until he comes.
Those are important because not only are they theologically precise but Paul wrote them before the Gospels were written.
John MacArthur explains:
… this is directly taken from the statements of Jesus Christ. In fact, it's practically certain. And I think that you'd find very few conservative scholars who would disagree with this. It is practically certain that 1 Corinthians was written before any of the four Gospels, though the four Gospels appear in your New Testament first in their order, they are not, in terms of chronological authorship, in that order. They were not written till a later period than this.
So, here is really the first statement of God in print regarding the Lord's Table. For a full understanding of all of it, you need to read the account in Matthew, Mark, Luke, and John, but here is the earliest account of the institution of the Lord's Supper. And Paul says, "It was directly from the words of Jesus. He Himself instituted it.
There are two ordinances of the Church: communion and baptism. Both of them were set in order by the example of Christ and ordained and initiated by Him as well. And this is no different. So, he says, "This is straight from the Lord. It is His Supper. He has instituted it." You notice in verse 20 "the Lord's Supper." It is His Supper.
One wonders how many people are familiar with today's verses wherein Paul says that receiving Holy Communion in an unworthy manner can — not will — lead to illness or death. I only discovered these 12 years ago, thanks to another blogger.
No doubt this has applications beyond the Corinthians' situation.
Paul says that receiving the sacrament in an unworthy manner is akin to crucifying Christ all over again (verse 27).
Matthew Henry's commentary states:
He lays before the Corinthians the danger of receiving unworthily, of prostituting this institution as they did, ad using it to the purposes of feasting and faction, with intentions opposite to its design, or a temper of mind altogether unsuitable to it; or keeping up the covenant with sin and death, while they are there professedly renewing and confirming their covenant with God. 1. It is a great guilt which such contract. They shall be guilty of the body and blood of the Lord (v. 27), of violating this sacred institution, of despising his body and blood. They act as if they counted the blood of the covenant, wherewith they are sanctified, an unholy thing, Heb. 10:29. They profane the institution, and in a manner crucify their Saviour over again. Instead of being cleansed by his blood, they are guilty of his blood.
We say that we do not do that. Many of us receive Holy Communion in a worthy manner, however, it is easy to profane it.
MacArthur gives us examples:
I'll tell you how you can come unworthily. The Corinthians did it. You can come – here's the way you can treat the Table of the Lord unworthily. Number one, by ignoring it rather than obeying it. By just not doing it. You're saying, "It's irrelevant. It doesn't matter. It's unimportant." Is that right? No, that's wrong; that's unworthy of you, and unworthy of Him.
Second, you can treat the Table unworthily by making it a performance rather than something meaningful, by just doing it rather than understanding it.
I'll tell you another way you can pervert the Table and come unworthily is by making it into a saving thing rather than a communing thing. By thinking that it saves you to do it rather than understanding that it only causes you to make a fresh commitment and a fresh communion with Christ.
Another way that you can come unworthily is by treating it as a ceremony rather than as a personal experience. And another way that you can come unworthily is by treating it lightly rather than treating it seriously. If you come to this table with any bitterness toward another Christian in any way, shape, or form; with any unconfessed sin; living in any kind of sin that you will not repent of and turn from; if you come with any less than the loftiest thought about God, Christ, and the Holy Spirit, and the Word of God; if you come with anything less than total love for the brothers and sisters in the body of Christ, you come to this Table unworthily.
And you say, "What's the result?"
Look; you are liable for the body and blood of the Lord.
Paul advises the Corinthians — and us — to examine our consciences beforehand, then receive Communion (verse 28). If you have had an argument with someone, seek reconciliation. If you've done someone a wrong, right it. Then receive the sacrament.
Paul says that it is important to discern 'the body' — that means Christ's body — beforehand. Contemplate our Lord's suffering, the horrifying way He bore our sins on the Cross. 
Serendipitously, today's Sunday Gospel reading, for the Fourth Sunday of Easter (Year B), discusses His sufferings. Christ's crucifixion was a suffering of both body and soul. In that reading, in which Jesus speaks of Himself as the Good Shepherd, John MacArthur points out that the Greek word psuche is used, which means soul, or inner person. Our Lord suffered our sins in an unimaginably intense way in order to reconcile us to God.
Returning to today's passage, MacArthur discusses the Greek used in 1 Corinthians 11:29:
Look at your heart. Is there anything there that shouldn't be there? The word here in the Greek means a rigorous self-examination: your life, your motives, your attitude toward the Lord, your attitude toward the Lord's Supper, your attitude toward other Christians. Be certain you're not careless, flippant, indifferent, entertaining sin, unrepentant, mocking – all of that.
And when you've examined yourself, then let him eat of the bread and drink the cup. Examination first. Why? "Because he that eats and drinks unworthily, eats and drinks" – krima in the Greek; it should be translated chastisement. It's not damnation. That's the worst translation I've ever read of that. It means chastisement. Katakrima means damnation. That's used in verse 32. Krima is a less intense word; it means chastening. "If you eat and drink unworthily, you will eat and drink chastening to yourself because you are not discerning the Lord's body."
Paul goes further and says that the reason many of the Corinthians are becoming ill and some dying is because of their unworthy reception of Holy Communion (verse 30). Older translations use a form of 'sleep' for 'death'.
MacArthur says:
How does God chasten us? Well, in Corinth, this is what He did, verse 30, "Because of this, many are weak and sickly among you, and many sleep." And "sleep" is a metaphor for death. The Lord said, "Because of the Corinthians' abuse of the Lord's Table, some of them had gotten weak. They were mildly sick. Some of them were very sick, and some of them God had killed.
And incidentally, the Greek says a sufficient number were dead. I don't know how many God killed in Corinth, but a goodly number. Why did he kill them? What evil did they do? The evil of coming to the Lord's Table in an irreverent manner. You get a little idea of the seriousness.
He refers to Ananias and Sapphira who suddenly dropped dead in Acts 5 (another passage excluded from the three-year Lectionary) after cheating the church in Jerusalem:
I personally believe that Ananias and Sapphira, who were executed by God for their sin, were probably killed and executed at a communion service. That would be very, very stark, wouldn't it? They probably dropped dead at a communion service, because that's what the early Church did when it came together. And I'm not sure that it isn't true that some Christians today are weak, others are sick, and some have even died because of how they treated the Lord's Table: with indifference, sinfulness, whatever.
Paul offers a remedy. We are to judge ourselves so that God does not judge us (verse 31). That means examining our conscience (verse 28), repairing our broken relationships, repenting of our sins, then receiving Holy Communion.
Paul also points out that when the Lord passes judgement on us it is a chastisement for this world, one from which to learn, so that we may avoid judgement with 'the world' — non-believers — in the life to come (verse 32).
MacArthur explains:
I love this, "But when we are judged" – he says – "we are chastened of the Lord that we should not be katakrima with the world." We are chastened by the Lord that we might not be damned with the world. Want to hear something? You want to hear something? No Christian, no time, under no circumstance will ever be damned with the world.
People say, "Oh, does this mean I lose my salvation? Does this mean I'm lost?"
No. You will never be damned with the world because short of that, you will be – what? – chastened by the Lord. The worst thing that could ever happen to a Christian would be the ultimate chastening. And what's that? Take you to heaven. See, that's not too bad. The point of the verse – a tremendous verse – the point of the verse is, "Look, we are being chastened by the Lord in order that we would not be damned with the world."
You say, "But maybe the Lord won't chasten me."
Whom the Lord loves He chastens, and every son He scourges. Every Christian is under the chastening hand of the Lord which prevents him from ever being condemned with the world. Is that a great truth? So, we have not that ultimate fear. I don't know about you; I'd just as soon be healthy, happy, and alive for a little while. So, I want to check myself when I come to the Lord's Table.
Paul closes with simple advice on church dinners, especially if followed by Holy Communion, as was the case in the early days of the Church. Those who are hungry should eat at home first (verse 34). When gathering together, wait until everyone has arrived before eating (verse 33).
Paul ends by saying that he will give the Corinthians more instructions — 'directions' — when he sees them again.
About that, MacArthur says simply:
I don't know what the rest of the problems were, but you can let your imagination run wild.
Indeed we can.
The next two chapters are in the Lectionary. 1 Corinthians 12 concerns spiritual gifts and the members of the church comprising one, holistic body. 1 Corinthians 13, concerning love, is often read at weddings.
1 Corinthians 14 discusses the Holy Spirit's gifts to those living in the Apostolic Era in order to increase the growth of the Church.
Next time — 1 Corinthians 14:1-5
In 2021, the Fourth Sunday of Easter is April 25.
The readings for Year B can be found here.
The Gospel reading of the Good Shepherd follows (emphases mine):
John 10:11-18
10:11 "I am the good shepherd. The good shepherd lays down his life for the sheep.
10:12 The hired hand, who is not the shepherd and does not own the sheep, sees the wolf coming and leaves the sheep and runs away–and the wolf snatches them and scatters them.
10:13 The hired hand runs away because a hired hand does not care for the sheep.
10:14 I am the good shepherd. I know my own and my own know me,
10:15 just as the Father knows me and I know the Father. And I lay down my life for the sheep.
10:16 I have other sheep that do not belong to this fold. I must bring them also, and they will listen to my voice. So there will be one flock, one shepherd.
10:17 For this reason the Father loves me, because I lay down my life in order to take it up again.
10:18 No one takes it from me, but I lay it down of my own accord. I have power to lay it down, and I have power to take it up again. I have received this command from my Father."
Commentary for today's exegesis comes from Matthew Henry and John MacArthur.
It is useful to put this passage in context.
Matthew Henry's commentary tells us:
It is not certain whether this discourse was at the feast of dedication in the winter (spoken of John 10:22), which may be taken as the date, not only of what follows, but of what goes before (that which countenances this is, that Christ, in his discourse there, carries on the metaphor of the sheep, John 10:26,27, whence it seems that that discourse and this were at the same time) or whether this was a continuation of his parley with the Pharisees, in the close of the foregoing chapter. The Pharisees supported themselves in their opposition to Christ with this principle, that they were the pastors of the church, and that Jesus, having no commission from them, was an intruder and an impostor, and therefore the people were bound in duty to stick to then, against him. In opposition to this, Christ here describes who were the false shepherds, and who the true, leaving them to infer what they were.
John MacArthur is certain that John 10 is a continuation of the events in John 8 and 9:
Chapter 9, then, features an extension of chapter 8 in the hostility of the religious leaders of Judaism toward Jesus. The healing of the blind man, in a sense, in the big drama of things, is somewhat incidental. Not incidental to the blind man, but the big picture here is that when Jesus does a monumental miracle that has no other explanation, because this is a man congenitally blind, and everybody knows it because he's a familiar figure there who has been begging a long time, it has no effect on how they feel about Jesus. They make no move in the direction of affirming something other than that He's satanic. Their hostility has passed the point of any return. They are, in fact, demonstrating themselves to be false leaders who, instead of acknowledging their Messiah, reject their Messiah, and want to execute their Messiah. They are, in a word, the false shepherds of Israel …
So, in chapter 9, after the healing of this man, they surface again with the same hatred and the same hostility.  The chapter closes, chapter 9 does, with Jesus pronouncing a judgment on them because of their blindness, because they are willfully blind to the truth. The conversation, specifically with them, ends with these words: "Your sin remains."  You are anything but righteous.  You are in your sin. 
Now, He said that back earlier when He said to them, "You will die in your sin, and where I go, you will never come."  Here He says, a couple of chapters later, "You remain in your sin."  Your sin remains.  So, here are the blind leaders of Israel, the blind leaders of the blind; here are the false shepherds of Israel.
As we come into chapter 10, He is still talking to them, still talking to them.  They're still there.  The blind man is still there.  The disciples are there.  The crowd of Jews is there by the location where the healing took place.  And the Pharisees, scribes, are still there.  Jesus then launches into a description of how a good shepherd conducts his life … It is, according to verse 6, a figure of speech, an analogy, a metaphor … A shepherd has his own sheep.  He has his own sheep.  He knows his own sheep.  He not only has the right to lead and feed his own sheep, but he has the responsibility to lead and feed his own sheep.
Jesus continues His discourse and says that He alone is the Good Shepherd, because He lays down His own life for the sheep (verse 11).
In the Old Testament, the Messiah is portrayed as a shepherd. Henry says:
He was prophesied of under the Old Testament as a shepherd, Ezek. xxxiv. 23 xxxvii. 24 Zech. xiii. 7.
By contrast, a hired hand — hireling — has more interest in his own welfare rather than those of the sheep; as such, he runs away in times of trouble (verse 12). That could mean a marauding wolf or violent thieves. In the case of the latter, the hired hand might hope to receive some money from the thieves for allowing them to steal the sheep.
As for a menacing wolf, Henry says:
See here, (a.) How basely the hireling deserts his post when he sees the wolf coming, though then there is most need of him, he leaves the sheep and flees. Note, Those who mind their safety more than their duty are an easy prey to Satan's temptations. (b.) How fatal the consequences are! the hireling fancies the sheep may look to themselves, but it does not prove so: the wolf catches them, and scatters the sheep, and woeful havoc is made of the flock, which will all be charged upon the treacherous shepherd. The blood of perishing souls is required at the hand of the careless watchmen.
The hireling will desert the flock because he does not care at all about the sheep (verse 13).
The Jewish hierarchy did not care about the humble believers in their midst, most of whom they despised for their lowly status in life. They cared about their positions and their posturing. They were not interested in teaching the faithful. If they really cared to reread Scripture, they would see the Messiah in their midst and would tell the Jews to follow Him. But they were woefully, wilfully blind. Instead, they wanted to kill Him.
Jesus repeats that He is the Good Shepherd; He knows His sheep and they know Him (verse 14).
MacArthur explains the repetition:
Let's look at that a little bit.  "I am the good shepherd."  Then He repeats it immediately, "the good shepherd," again.  Now, this is an important construction for us to understand.  The emphasis here is this: "I am the shepherd, the good one."  Very important order there.  "I am the shepherd, the good one."  As if to say, "in contrast to all the bad ones."  I am the shepherd, the good one.  But there's two words in Greek for "good."  One is agathos, from which you get the word, "agatha," or the name "Agatha."  Agathos, old name.  Agathos means sort of morally good.  Good, and sort of confined to moral goodness.  It's a wonderful word, a magnificent word, familiar in the New Testament.
But the other word is kalos, the opposite of kakos, which is "to be bad."  Kalos is to be good not only in the sense of moral quality, but it's a more encompassing word.  It means to be beautiful, to be magnificent, to be winsome, to be attractive, to be lovely, to be excellent on all levels, not just in that which is unseen in terms of character, but in all aspects.  I am the shepherd, the excellent one.  I am the shepherd, be it the lovely one, the beautiful one, as contrasted to the ugly ones, the dangerous ones. 
He is not just another shepherd.  He is the shepherd, the good one, the one who is preeminently excellent.  He's above all shepherds.  The good one. 
Christ knows His faithful just as well as He and His Father know each other; therefore, He lays down His life for His own (verse 15).
Henry explains:
Christ speaks here as if he gloried in being known by his sheep, and thought their respect an honour to him. Upon this occasion Christ mentions (John 10:15) the mutual acquaintance between his Father and himself: As the Father knoweth me, even so know I the Father. Now this may be considered, either, First, As the ground of that intimate acquaintance and relation which subsist between Christ and believers. The covenant of grace, which is the bond of this relation, is founded in the covenant of redemption between the Father and the Son, which, we may be sure, stands firm for the Father and the Son understood one another perfectly well in that matter, and there could be no mistake, which might leave the matter at any uncertainty, or bring it into any hazard. The Lord Jesus knows whom he hath chosen, and is sure of them (John 13:18), and they also know whom they have trusted, and are sure of him (2 Timothy 1:12), and the ground of both is the perfect knowledge which the Father and the Son had of one another's mind, when the counsel of peace was between them both. Or, Secondly, As an apt similitude, illustrating the intimacy that is between Christ and believers. It may be connected with the foregoing words, thus: I know my sheep, and am known of mine, even as the Father knows me, and I know the Father compare John 17:21. 1. As the Father knew the Son, and loved him, and owned him in his sufferings, when he was led as a sheep to the slaughter, so Christ knows his sheep, and has a watchful tender eye upon them, will be with them when they are left alone, as his Father was with him. 2. As the Son knew the Father, loved and obeyed him, and always did those things that pleased him, confiding in him as his God even when he seemed to forsake him, so believers know Christ with an obediential fiducial regard.
MacArthur discusses a shepherd's death for his own flock:
Shepherds were absolutely responsible for sheep.  It was serious business.  It was a man's man's job, and it was really kind of a lowly and humble job as well, because it was unskilled and it was high risk, and it was messy and dirty.  But a shepherd was absolutely responsible for the sheep.  If anything happened to the shepherd, he had to produce proof that it was not his fault due to dereliction of duty or rustling the sheep away for his own keeping, or letting a friend take one, or whatever.
Amos the prophet speaks about the shepherd rescuing two legs, or a piece of an ear out of the lion's mouth (Amos 3:12).  They were in battle with beasts.  There were wolves, there were mountain lions, there were even bears.  David tells Saul how when he was keeping his father's sheep, back in 1 Samuel 17, David fought off a lion, and he fought off a bear.  By the way, that's what made David such a heroic shepherd.
In Isaiah 31, Isaiah speaks of the crowd of shepherds being called out.  When a lion attacked, they called the shepherds to go fight the lion.  The law laid it down, Exodus 22:13, "If the sheep be torn in pieces, then let him bring a piece for a witness."  If you don't have a sheep, if you lost a sheep, you have to account for that sheep to the ultimate owner.  You have to bring a piece to prove that it was an animal. 
To the shepherd, it was the most natural thing then to risk his life.  It's what shepherds did.  It's what they did.  You could just take them to the grass and leave them there, I suppose, but why did the shepherd stay?  Why those long, long, long hours of staying there?  Because he had to be a protector. 
There's an old book called the The Land of the Book, and the author of that historical look at Israel said, "I have listened with intense interest to their graphic descriptions of downright and desperate fights with savage beasts.  And when the thief and the robber come, the faithful shepherd has often to put his life in his hand to defend his flock.  I have known more than one case where he had literally to lay it down in the contest."  Well, I mean, if you're fighting a wild beast, you could lose.  So, there was risk and you couldn't just all of a sudden stop the risk.  It could come to death.
Then Jesus mentions Gentiles indirectly: 'other sheep that do not belong to this fold'; He needs to gather them in so that there will be one flock with one shepherd (verse 16). Jesus wants Jews and Gentiles alike to become His one flock with Himself as the head of the Church.
Henry expresses this as follows:
First, "They shall hear my voice. Not only my voice shall be heard among them (whereas they have not heard, and therefore could not believe, now the sound of the gospel shall go to the ends of the earth), but it shall be heard by them I will speak, and give to them to hear." Faith comes by hearing, and our diligent observance of the voice of Christ is both a means and an evidence of our being brought to Christ, and to God by him. Secondly, There shall be one fold and one shepherd. As there is one shepherd, so there shall be one fold. Both Jews and Gentiles, upon their turning to the faith of Christ, shall be incorporated in one church, be joint and equal sharers in the privileges of it, without distinction. Being united to Christ, they shall unite in him two sticks shall become one in the hand of the Lord. Note, One shepherd makes one fold one Christ makes one church. As the church is one in its constitution, subject to one head, animated by one Spirit, and guided by one rule, so the members of it ought to be one in love and affection, Ephesians 4:3-6.
Henry says that verse was also intended in another way, to refute the allegations of the Jewish hierarchy that He had few followers:
Christ speaks of those other sheep, First, To take off the contempt that was put upon him, as having few followers, as having but a little flock, and therefore, if a good shepherd, yet a poor shepherd: "But," saith he, "I have more sheep than you see." Secondly, To take down the pride and vain-glory of the Jews, who thought the Messiah must gather all his sheep from among them. "No," saith Christ, "I have others whom I will set with the lambs of my flock, though you disdain to set them with the dogs of your flock."
Jesus tells the crowd what will happen to Him — death and resurrection — both of which please His Father (verse 17).
Jesus says that He does both through His own power, as commanded by God (verse 18).
MacArthur points out that Jesus was speaking of His soul:
Go down to verse 18.  "No one has taken it away from Me, but I lay it down on My own initiative.  I have authority to lay it down, and to take it again." 
Freely, voluntarily, Jesus gave up His life for the sheep.  Some would say, "Well, that's no big thing.  He's God, so He had a body, and He gave up the body and, you know, big deal."  It's more than that.  It's strange that the commentators would even say something like that.  There was a lot more than that, and it's bound up in the word "life."  He lays down His life.  It's not the word bios or zoe.  Those are the two words for "life" in Greek.  Bios, biological life; zoe, that gets transliterated "zoology," the study of life. 
It was neither of those sort of scientific words.  It's the word psuche, which is the word for "soul," which speaks of the whole person.  Not the outside, but the inside.  The psuche is the inside.  He gave up His soul, His whole person.  He didn't just feel the pain of the nails in His body, and the pain of the thorns in His body, and the pain of the scourging in His body.  His whole soul was tortured with sin-bearing anguish, suffering.
In Matthew 20:28, Jesus said, "The Son of man gives His soul a ransom for many."  It translates "life," but it's psuche again.  He gives His soul, His whole person, and He felt it in every part of His being. 
Why did He do that?  Why did He voluntarily lay down His soul?  He says, "for the sheep," huper, "on behalf of, for the benefit of."  That's exactly what it says in 2 Corinthians 5:21 where Paul explains: "He who knew no sin became sin for us" – "for us," "for us," "for us."  Huper appears in a lot of passages that speak about the substitutionary atonement of Christ, that He took our place, that He died for us.  An actual atonement, folks.  He laid down His soul for the sheep.  That's pretty narrow.  For the sheep.  It was an actual atonement, a complete atonement for the sheep whom He knew, and who, when called, would know Him.
He did it for the benefit of the sheep.  From a natural standpoint, if this happened to the shepherd, that's the end of the sheep.  If something's coming after the sheep and kills the shepherd, the sheep are going to be vulnerable.  They're liable to be killed, they're liable to be scattered. Whether it's an animal or a robber or a thief, the death of the shepherd could really spell the end of the sheep. 
But this shepherd?  No.  Because He laid down His life, verse 18 says He had the power to do what?  "Take it up again."  And on the third day, He came out of the grave and re-gathered His scattered sheep.  Were they scattered?  Yeah, they were.  Smite the shepherd and what?  The sheep are scattered.  Zechariah promised, and they were.  But He came back from the grave and re-gathered them, and He said this: "All that the Father gives to me will come to Me, and I have lost none of them." 
MacArthur explains what this means for today's clergy, referring to a missionaries conference:
Jesus said in Matthew 7, "There is inside danger, the false teachers, who instead of protecting the flock, flee when the danger comes."  But the True Shepherd, He gives His life for the sheep, and then He takes it back again and gathers them as they have been scattered.
So, the church's first essential really in leadership is Christ-like shepherding, where you even put your life on the line, even risk your life for the sheep.  You risk your life to be the one through whom God in Christ can call them out, protect them.  When the danger comes, you don't run.  When the danger comes, you stand up. 
I was talking to one of the missionaries at the conference yesterday, and he was saying, "Where are the people who will stand up and speak the truth to protect the people of God?  Where are they?"  So hard to find any.  We're all under-shepherds, 1 Peter 5, under the Great Shepherd, the Good Shepherd.  We all have to be willing to risk our lives for the sheep. 
MacArthur goes on to say that 'know' in these verses includes the notion of 'love' in Greek:
It's all know, four times, the verb ginosko, "to know."  Well, let me show you something, just a little bit of a hint.  "My Father knows Me," verse 15.  "My Father knows Me." Verse 17, "the Father loves Me."  That's the interpretive key.  The word "know" here has the idea of a loving relationship …
It's not about information. It's about love, and four times, that word "know" here, it implies this intimate relationship, this intimate, sweet, loving fellowship …
He loves His sheep.  He knows them more than knowing their name, more than knowing who they are.  He has an intimate relationship with them.  He knows them intimately.  In the Sermon on the Mount, Jesus said, "Depart from Me, I never" – What? – "I never knew you, but I know who you are."  It's not about information.  I know who you are.  I don't have any intimate relationship with you, any love relationship.  He wanted to give His life for His sheep because He knew them, He loved them. 
John 3:16.  "God so loved the world that He" – What? – "gave His only begotten Son."  That's why the Father gave the Son; that's why the Son gave His life.  He loves His sheep.  He loves His sheep.  This too is in stark contrast to the false shepherds who have no love for the sheep, no affection for the sheep that they claim to shepherd.  He loves His own. 
I hope this adds depth to the title of our Lord as the Good Shepherd.
May all reading this have a very blessed Sunday.
Earlier this week, Sean Hannity was granted an in-person interview with President Trump at Mar-a-Lago.
This is the first in-person interview the former president has given since he left the White House.
YouTube is trying to stop people from viewing both of the following videos. Just click on their warning, if it shows, and you'll see each video.
In the first part, the two discussed Joe Biden's health and foreign relations:
Trump said that age is not necessarily a factor in Joe Biden's behaviour. He said he knows many 78-year-olds who are physically strong and mentally healthy.
As he did in the Newsmax interview, he repeated that he was not disrespected by leaders from either China or Russia. Strength commands respect.
On the border, Trump says that the United States has never before experienced such a crisis as they have with Biden. He is concerned about the drug and human trafficking that is part of the influx, as well as the murderers and rapists. Another aspect are people, some of whom are allegedly from Yemen, who cannot fly into the US, so they cross the border on foot.
Trump said he left office with a secure border:
All he had to do was leave it alone.
In the second part, Trump discusses his aspirations for 2022 and 2024:
He thinks there is a good chance that the Republicans can gain control of the House and regain control of the Senate in 2022. He thinks Mitch McConnell will either stand down or lose his next election.
Trump really likes Wisconsin's Sen. Ron Johnson, whose popularity continues to increase.
Trump said:
We're all in.
He said that meant there will be rallies, if there is a need for them.
What he misses most about not being in the White House is being unable to:
help people. And I've helped them more than any president.
He acknowledged that he is waiting to see what his legal status will be in seeking a second term.
He's most proud of his tax cuts, rebuilding the military, creating Space Force and achieving record-breaking employment numbers along with the greatest economy in history.
Hannity asked about 2024. Trump said it's still a long way away, but notes his continuing popularity:
I am looking it seriously, very seriously.
He deplored the fact that he has been fighting off 'corrupt' accusations since the day he walked down the escalator at Trump Tower in 2015. He remembered being asked about Russia during his 2016 campaign and says he could not understand why. Then, he says he later discovered it was a 'phony' campaign, 'created by Hillary Clinton'.
He is pleased with the way he dealt with Russia, North Korea and China. He said that America's farmers did really well thanks to the tariffs he imposed on China.
Equally important is the fact that President Trump was the first American president in generations who did not start any wars.
On April 6, President Trump gave a 21-minute interview to Newsmax's Heather Childers:
He begins by deploring the decision by Major League Baseball (MLB) to move the All-Star Game from Atlanta to Denver, Colorado, because of Georgia's new voter law. Trump said that Atlanta's bill which was passed is a watered down version of the original. He said that former gubernatorial Democrat candidate Stacey Abrams put pressure on the state to remove certain provisions, including voter ID signature matching. The final legislation, he said, is nowhere near what it was at the outset. As such, he found little justification for MLB to move the All-Star game in protest. He pointed out that Colorado has a much stricter voting law than Georgia. Oh, the irony.
He also had much to say about large corporations aligning themselves with every new social cause. He said it was right for conservative Americans to boycott these companies by refusing to buy their products.
Trump said that the Republicans in the Senate were weak and named Mitch McConnell specifically. This is what Trump posted about the 2020 election a week later on his Gab account (emphases mine):
Wouldn't it be ironic if the Supreme Court of the United States, after showing that they didn't have the courage to do what they should have done on the Great Presidential Election Fraud of 2020, was PACKED by the same people, the Radical Left Democrats (who they are so afraid of!), that they so pathetically defended in not hearing the Election Fraud case. Now there is a very good chance they will be diluted (and moved throughout the court system so that they can see how the lower courts work), with many new Justices added to the Court, far more than has been reported. There is also a good chance that they will be term-limited. We had 19 states go before the Supreme Court who were, shockingly, not allowed to be heard. Believe it or not, the President of the United States was not allowed to be heard based on "no standing," not based on the FACTS. The Court wouldn't rule on the merits of the great Election Fraud, including the fact that local politicians and judges, not State Legislatures, made major changes to the Election—which is in total violation of the United States Constitution. Our politically correct Supreme Court will get what they deserve—an unconstitutionally elected group of Radical Left Democrats who are destroying our Country. With leaders like Mitch McConnell, they are helpless to fight. He didn't fight for the Presidency, and he won't fight for the Court. If and when this happens, I hope the Justices remember the day they didn't have courage to do what they should have done for America.
Heather Childers then asked the former president about Joe Biden's performance. Trump replied that he hoped that the current White House occupant was in good health physically — and mentally. Trump said he had his doubts during the one presidential debate that took place last year. She asked him if he thought someone was pulling strings behind the scenes. He said that he would not be surprised but that, ultimately, he did not know.
He was satisfied that the Biden administration will see through the completion of the border wall. Trump said that, when he left the White House, the border was in good order, then Biden began reversing his policies.
Trump is really disappointed that foreign relations have been going downhill since late January and said that this was another area he had left in a good state for his successor. Trump said that, currently, America is 'getting no respect'. He said that officials from China and Russia never said the types of things to him that they recently said to Biden.
This interview took place around the time he was planning a private fundraiser for the Republicans. He said that a lot of 2022 candidates wanted his endorsement, but those will come in good time:
Former Georgia Democrat Congressman Vernon Jones — now a Republican — was at Trump's fundraiser:
Finally, he said that a new social media platform of his might come to fruition. However, for now, his website has all of his announcements, which 'millions' see every day. He said the current arrangement is working well for him, moreso than Twitter.
This is my final post on Prince Philip, as the Queen and Princess Anne returned to work last week, just days before his funeral, but more importantly because of his own views:
The Queen
The Queen turned 95 today, Wednesday, April 21. May she have many happy returns. Prayers continue for God's comfort to her at this difficult time:
The funeral commentators on Sky News remarked at how the Queen's eyes always lit up when Prince Philip entered a room, even after 73 years of marriage:
She posted this photograph of herself with Prince Philip in Scotland, a nation which they loved. Muick, by the way, is pronounced 'mick':
The Countess of Wessex said that the Queen regarded him as her protector:
He also kept a gimlet eye on public opinion for her. One wonders how much he influenced the Queen to return to Buckingham Palace with Princes William and Harry after Princess Diana died in August 1997. As dictated by the media, we were under the impression that then-Prime Minister Tony Blair was responsible for the return of the Royal couple and their grandsons to London, but, now, one wonders:
The Queen will treasure the many memories of her husband — and his pragmatism.
Prince Philip's practical wisdom
Prince Philip had straightforward views on various aspects of everyday life.
Attire
The Prince was probably the best dressed British man for decades. Who could top his effortless, yet classic, style of dress and accessories?
He also kept himself in trim throughout his life, which helped him maintain his sense of impeccable style:
The Daily Mail has an article with a retrospective of photos of him through the years. Although the Prince had his clothes made by top Savile Row tailors, all any man has to do is adopt the classics (emphases mine):
According to [celebrity stylist] Rochelle [White], the Duke's suits were 'impeccably' tailored, with the royal selecting classic, handsome suiting; most often single-breasted jackets in navy. 
Meanwhile off-duty, the royal would often relax in a cool polo shirt and button-down linen shirts which made him 'eye-catching' …
Becky French, creative director of one of his preferred tailors Turnbull & Asser, told The Telegraph: 'Prince Philip was quite simply one of the best dressed men in the world, 'Up until the age of 99, he always looked impeccable, with his naval blazer, shirt and tie.
'Never a slave to fashion, he knew how he wanted to dress and perfected that style over almost a century.' 
Brevity in public speaking
On Monday, April 12, both Houses of Parliament met to pay tribute to the Prince.
Ian Blackford (SNP) cited an excellent piece of advice from the Prince on public speaking. It is ironic that it was Blackford who found the following quote, as he speaks endlessly.
This is excellent — and so true:
What the backside cannot endure, the brain cannot absorb.
Fools
Winston Churchill's grandson, Sir Nicholas Soames, a former MP, told Freddie Sayers of UnHerd that Prince Philip did not suffer fools gladly:
Honesty
A former Royal butler said much the same thing as Sir Nicholas Soames, adding that the Prince spoke as he found. As such, he enjoyed working for the Prince, because he told one exactly what he wanted, politely but succinctly:
Stiff upper lip
Prince Philip was a 'stiff upper lip', 'old school' gentleman:
However, as the generations pass, personal conduct changes:
Spiked's Tim Black referred to the interview with Sir Nicholas Soames above, writing (emphases mine):
As Tory grandee Nicholas Soames put it this week, Philip was 'the epitome of the stiff upper lip'.
But so were many others of Philip's generation. Because maintaining a stiff upper lip, remaining in control of one's emotions, especially in public, was long considered by many to be a mark of one's character. It was something to be cultivated, worked on. Because it meant that one was able to act according to something beyond one's own impulses. It meant that one was committing oneself to something – a duty to others, perhaps, or to an idea or a cause – over and above one's feelings. To not be in control of one's emotions, to succumb easily to tears or anger, was the mark of a lack of character, a sign of immaturity.
Tim Black is right. Maintaining a stiff upper lip is hard work: no two ways about it.
Sense of duty
Tim Black pointed out that the Prince was devoted to duty:
You don't have to be a fan of the monarchy – and we at spiked are not – to mourn the passing of the character represented by Prince Philip. 'Everyone has to have a sense of duty', he told an interviewer in 1992. 'A duty to society, to their family.' Too many in high places, it seems, only have a duty to themselves.
I think it is incumbent upon us to rediscover this lost virtue.
Some of Prince Philip's duties involved recognising others for their achievements. Former Chancellor of the Exchequer George Osborne recalled the Prince giving his father an award in 1970:
Interviews: never discuss yourself
Gyles Brandreth, a former Conservative MP, has written two books about the Royal Family. After the Prince's death, the Daily Mail asked him what the Queen's consort thought of Prince Harry's and Meghan Markle's interview with Oprah.
The Sun reported:
Gyles Brandreth told the Daily Mail the fact the interview was aired while Philip was is in hospital "did not trouble him".
But he added: "What did worry him was the couple's preoccupation with their own problems and their willingness to talk about them in public.
"Give TV interviews by all means,' he said, 'but don't talk about yourself'.
"That was one of his rules. I know he shared it with his children. I imagine he shared it with his grandchildren, too."
The royal biographer revealed Philip, who died on Friday aged 99, thought the interview was "madness".
Mr Brandeth also said Philip believed his grandson was a "good man" but regretted his decision to step down as a senior royal.
Prince Philip gave many interviews. In the following one from 1995, he discussed his memories of the Second World War. Remarkably, revealing little about himself, he spoke of the various ships on which he served and the tension surrounding battle. Whilst conversational, he speaks so well in recalling so many details that might as well be narrating a documentary. This is a marvellous video, especially for people interested in the war in the Pacific:
Food
Probably the only time Prince Philip and the Queen disagreed was when it came to their meals.
A former Royal chef, Darren McGrady, who now works in the United States, says that the Queen ate to live, whereas the Prince lived to eat. As such, the Prince did not mind if the Queen had a dinner engagement elsewhere, because he could request what he wanted from the kitchen.
The Queen doesn't like garlic. Prince Philip did. Sometimes McGrady prepared the same dinner two different ways: garlic-free for the Queen and extra garlic for the Prince. McGrady discusses the subject here:
Both were known to bring back recipes from their international tours for the Royal chefs to prepare once they were back in the UK.
In the next video, McGrady relates his first meeting with the Prince, whom he mistook for the gardener because of his scruffy, well-worn clothes. Here he prepares one of the Prince's favourite dishes, salmon coulibiac, a Russian form of salmon en croute:
In this next video, McGrady said that the Prince did not suffer fools gladly. He was no stranger to the Royal kitchens, stopping in to ask what was being served and, during the summer, what fruit was ripening. McGrady said that the Prince already knew what was in the gardens, therefore, the staff had to know, too. Prince Philip taught McGrady how to remove mango fruit with a spoon. Another favourite dish of his was Icelandic pancakes, filled with jam and folded in half. The recipe is at the 6:47 mark:
Those who knew him, including Darren McGrady, said that the Prince enjoyed barbecuing — whatever the weather. One of the Sky News funeral commentators said that the Prince held a barbecue in freezing weather one January. The Prince loved it; his guests were polite — and cold.
The Prince also went in for fancier meats to grill outdoors, such as lamb noisettes. He found steaks rather ordinary, McGrady says.
Gordonstoun
On April 12, the Daily Mail revealed previously undisclosed details about Prince Philip's schooldays at Gordonstoun (pron. 'Gordons-town') in Scotland. The article comes complete with photographs. He was Prince Philip of Greece at the time, with no surname.
Although he could be mischievous, he always wanted to do better in his studies and school activities:
The Duke of Edinburgh's old boarding school has released his report cards which reveal 'he was naughty, but never nasty'.
The report from the £40,000-per-year Gordonstoun in Moray was written for the Duke's marriage to The Queen in 1947.
Headmaster Kurt Hahn's notes also reveal a comical incident when the young prince nearly knocked over a young woman with a pram – but his apology was 'irresistible'.
The school has educated three generations of the UK Royal Family – including Prince Philip, who joined at the age of 13. 
Gordonstoun – which featured in Netflix's hit series 'The Crown' – was founded by Dr Hahn, who fled Nazi Germany and became an inspiring mentor to Philip. 
When Philip came to Gordonstoun 'his marked trait was his undefeatable spirit, he felt deeply both joy and sadness, and the way he looked and the way he moved indicated what he felt'. 
Dr Hahn noted of the young pupil: 'He had grown impatient of what for short may be called Royalty nonsense. After matches and theatrical performances, people often asked him for an autograph. He found this ridiculous and on one occasion signed himself "The Earl of Baldwin", to the bewilderment of the autograph-hunter.' 
He also reveals Philip had 'meticulous attention to detail' and was 'never content with mediocre results' … 
Sarah Ferguson
It seems that the only person the Prince was not keen on was Sarah Ferguson.
While the Queen is quite fond of her — Andrew being her favourite child — the Prince preferred to keep her at arm's length.
My older readers might remember when, in 1992, photos of her lover sucking her toes circulated around the world. Prince Philip decided that was the moment she was persona non grata.
On April 13, Gyles Brandreth wrote an article for the Daily Mail on the Prince's views of Fergie:
On the whole, Prince Philip was reasonably circumspect when talking about his children and their relationships — except in the case of Prince Andrew and Sarah Ferguson.
He spoke with real affection of their daughters, Beatrice and Eugenie, but he made no secret of the fact that he regarded Sarah, Duchess of York, as 'simply beyond the pale'.
One day in the summer of 1992, while she was staying at Balmoral with the Queen and Prince Philip, photographs had appeared in a daily newspaper of Sarah topless and having her toes sucked by a lover in the South of France.
The Duke of Edinburgh decided that, as far as he was concerned, 'enough was enough'. He did not want — or need — to have anything more to do with her.
For the remainder of Sarah's stay at Balmoral, his actions spoke louder than words. 'It was ridiculous,' she told me. 'As soon as I came in through one door, he'd be falling over the corgis to get out of the other. It was very funny. Except, of course, it wasn't.'
After Sarah's separation from Prince Andrew, the Queen continued to have tea with her from time to time.
But Prince Philip was resolute: he had no desire to see her again.
This Sarah knew and it pained her. 'Of course I want to see him,' she told me after her divorce. 'I am the mother of his granddaughters, after all.'
I raised this with Prince Philip, but he just shrugged and said: 'But the children come and stay.'
When I asked him why he wouldn't see Sarah, he said: 'I am not vindictive.' Then, looking at me directly, he added emphatically: 'I am not vindictive, but I don't see the point.' That Andrew and Sarah appeared to remain friends after their separation — and that they shared a home even after their divorce — seemed to him 'truly bizarre'.
'I don't pretend to understand it,' he said.
Sarah, however, kept trying to mend bridges … 
I'm with Prince Philip on that. I could never understand Fergie and Andrew's relationship. I still don't.
On April 15, The Sun reported that both Sarah and Andrew have been seen with the Queen:
They have been making the short drive from Royal Lodge to Windsor Castle, sometimes twice a day, to walk with the Queen and her new corgis.
However, Andrew has been warned to forget plans to use his public appearances as a springboard back into royal duty.
Royal watchers believe Philip's passing aged 99 boosts the chances of Fergie making a comeback after years in the wilderness.
Now her husband has departed, the Queen, who has a soft spot for her former daughter-in-law, might be more open to the idea of her and Andrew returning to a more prominent role within the Firm.
Princess Anne
Prince Philip was closest to his daughter Anne.
Princess Anne's own children have praised her as a mother. She gave her father full credit:
The Prince might have been no-nonsense, but he had fun, especially with three generations of Royal children.
This is a priceless little video:
He also kept his children amused on car trips:
Princess Anne survived a kidnapping attempt in 1974:
Prince Philip was no stranger to Royal weddings. On the right hand side of the photo montage, he walked Princess Margaret down the aisle (George VI had died a few years beforehand) and, in 1973, Princess Anne:
So that Anne would smile walking down the aisle, the Prince cracked one of his usual jokes, which made her laugh:
This was the happy result:
Here's a close up of her gown, which has attracted much favourable comment.
After her father's death, Princess Anne released a statement, along with a photo:
Three days later, she was back at work:
Great-grandchildren
Members of the Royal Family have posted some splendid photos of Prince Philip with his great-grandchildren.
Here he is taking Prince George for a carriage ride:
The next photo shows the Prince sharing a bite to eat with Princess Anne's granddaughter. Click to see it in full — absolutely charming:
This group photo was taken in 2018 and made the front page of the Daily Express on Thursday, April 15:
More tributes
The Daily Mail has an article recapping pre-recorded interviews with Prince Philip's children. These were broadcast after he died. ITV has more, complete with longer clips.
The Royal Family also posted a multi-generational photo montage.
Prince William wrote that his grandfather shared his life at all times:
both through good times and the hardest days.
Prime Minister Boris Johnson and fellow MPs paid tribute on Monday, April 12, as did members of the House of Lords. A number of their anecdotes are not only interesting but also amusing. In the devolved assemblies, including Northern Ireland, the only person who had anything negative to say was Patrick Harvie of the Scottish Greens.
Conclusion
In closing, I do wish that the general public had known more about Prince Philip while he was alive. We could have had an even fuller recollection of his life and service, not only to the UK but also to the Commonwealth.
Will there ever be another like him? We might be waiting a century or more. The only other Royal consort who was mentioned in the many tributes was Queen Victoria's husband, Prince Albert. He died in 1861.
With that in mind, it will be up to us to emulate the best of Prince Philip's example. Adopting a stiff upper lip would be a great start. So would feeling a sense of duty towards others.