You are currently browsing the daily archive for April 27, 2021.
Many moons ago last century, I spent three happy holidays in Scotland.
My first was during my time at university, when I was studying on the Continent. I bought a souvenir, a dark green lambswool pullover from the Edinburgh Woollen Mill which was then located in the Royal Mile. Unfortunately, I had to throw it out recently, just weeks short of its 43rd birthday.
The Scots I met were hospitable and interesting, regardless of what they did for a living. On my trip in 1978, when a group of us were at a pub in Edinburgh, I asked them what they thought of the Queen. They all liked her. Did they ever want independence? No.
There was a long hiatus before I returned. In those intervening years, I contented myself by keeping abreast of their music in the 1980s. Fortunately, the radio station I listened to in the US played British music most of the time. Their other offering was reggae. Radio heaven.
In my humble opinion, 1983 was a banner year for Scottish bands.
My all time favourite has to be Aztec Camera, led by the highly talented and, at the time, a very young Roddy Frame, who has lived in London since the 1980s.
Their 1983 album High Land, Hard Rain is hard to fault. I have a few favourite tracks from that album, but my all-time favourite is 'Oblivious'. Roddy Frame's Spanish guitar riffs are superb. The best thing is that one can listen to this any time of day or night and enjoy it:
The band performed this live at Aston University, Birmingham, on 13 December 1983. This was broadcast on the BBC's Whistle Test On The Road on 16 December 1983.
Frame wrote the melody and the lyrics, which begin with this:
From the mountain tops
Down to the sunny street
A different drum is playing a different kind of beat …

Then there was Big Country, who, in 1983, had one Top 40 hit in the United States, 'In a Big Country', a rousing example of Celtic-influenced rock, complete with bagpipe riffs. This video comes from BBC's Top of the Pops:
Their attire reminds me of that of the schoolboys I saw on public transport every day when going to work: pullovers and baggy wide-wale corduroys. It was a nice look for an American city.
Then there was Runrig. Their 1983 hit was the anthem for Scottish independence, 'Alba' (pron. 'Al-i-ba'). The lyrics are in Scottish Gaelic, but this video has English subtitles:
This was filmed in Edinburgh: on Calton Hill and Arthur's Seat (or so it looks).
On my return trips to Scotland in the late 1980s, I bought three Runrig albums.
Now I am sorry I did.
One of their number, Pete Wishart, who plays keyboard in the video, is the longest serving SNP MP in Westminster. He was first elected MP in 2001.
I watch a lot more BBC Parliament than listen to music these days. Watching Wishart sneer in the House of Commons is too much. Whether it is for show or whether he really does dislike the English as much as it appears, I have no idea. Whatever the case, it vexes me that, even in a small way, I helped to put money in his pocket and bread on his table.
This brings me to the larger question of the SNP and their drive for Scottish independence, particularly as the UK has local elections coming up on Thursday, May 6, 2021.
On my stays along the east coast of Scotland, I never did meet anyone who supported independence.
Yet, the Scottish National Party, which was founded in 1934, has grown in popularity over the past two decades to become the largest Scottish political party in both Holyrood (Scotland's assembly in Edinburgh) and in Westminster (London, seat of the UK Parliament). In London, they have 44 MPs. By contrast, the Liberal Democrats have only 11.
Only Scottish voters can cast a ballot for the SNP.
The current SNP leader and First Minister is Nicola Sturgeon.
Before her, it was Alex Salmond, who served as an MP for 30 years, from 1987 to 2017.
Once I moved to the UK, I began watching Channel 4 News every night. I broke that habit many years ago. That said, they invariably had a news item on or interview with Alex Salmond. For whatever reason, he became quite the globetrotter, visiting China, the United States and Qatar. He also spoke at a UN Climate Change Conference in Copenhagen.
I could never understand how an MP whose party was not in government could be allowed to make all those trips. He was hardly a hanger-on, either. He met very powerful people, as one can see from the photos on his Wikipedia page.
His downfall came with the Scottish independence referendum in 2014. On September 18 that year, voters living in Scotland went to the polls. Disappointingly for the SNP, 55% voted to stay in the UK. It was a big deal at the time and, although the SNP deny it today, it was billed as a once-in-a-generation referendum. Salmond stood down as First Minister. His deputy was Nicola Sturgeon. She succeeded him.
Wikipedia summarises the referendum as follows (emphases mine):
Prominent issues raised during the referendum included what currency an independent Scotland would use, public expenditure, EU membership, and North Sea oil. An exit poll revealed that retention of the pound sterling was the deciding factor for those who voted No, while "disaffection with Westminster politics" was the deciding factor for those who voted Yes.[3]
For the past few years in the Commons, SNP MPs have been railing against 'this UK government' and have been talking a lot about a second referendum.
Few specifics have been published on a concrete plan for independence. One would think that, having failed to win in 2014, a solid proposition regarding currency, a central bank and trade is critical. However, none exists.
Alex Salmond, who is leading the new — and tiny — rival independence party Alba (pron. 'Al-i-ba'), is the only one who has even a rough outline of a plan involving a Scottish currency.
For the purposes of this election, however, the SNP are banking on a platform of coming out of the coronavirus crisis. Based on First Minister Nicola Sturgeon's track record so far — a steep decline in Scottish education standards and the most drug deaths of any European nation — it does not inspire confidence:
This pamphlet says that another independence referendum will be held once the coronavirus crisis is over:
That could be years away.
Others mention independence without adding 'after the crisis', such as this one:
There are two votes to be had in this election, which, in Scotland, are counted in a system of proportional representation, the D'Hondt method. There is a constituency ballot and a list ballot. I'll discuss this on another day. For now, it explains why the leaflets advise voting SNP on both ballots:
Here is another two-vote plea:
Then there are 'free stuff' policies such as these for bicycles. Given the parlous state of Scotland's rural roads, one hopes there will be a lot of money in this particular pot:
A universal basic income is also part of the SNP platform. For my readers who do not live in the UK, it is worth noting that taxpayers living in England forfeit some public money through the Barnett formula to help finance Scotland, Wales and Northern Ireland. There are also top-ups for certain expenditures, e.g. coronavirus programmes, which are called Barnett consequentials. This is a sore point for English taxpayers. A universal basic income — 'Minimum Income Guarantee' — at this stage is beyond the pale:
The SNP were very much against Brexit. Most Scots voted against it in the 2016 referendum. As such, the SNP would like for Scotland to join the EU as an independent nation. To some south of the border, the logic appears baffling (not my illustration):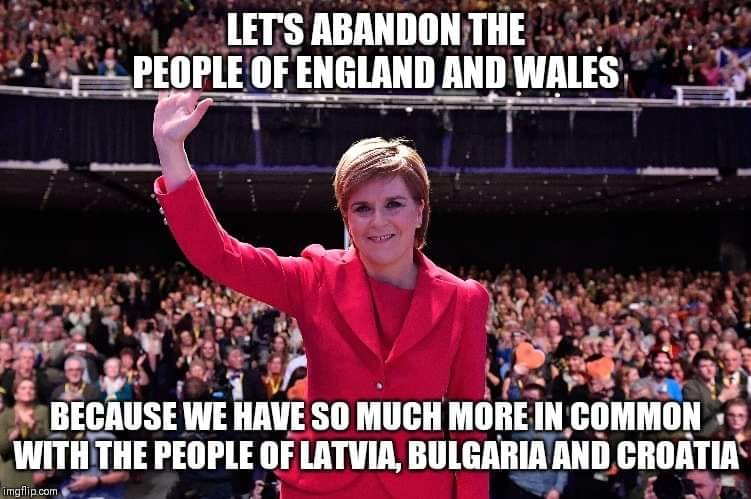 Even today, most regions of Scotland would still vote against independence. I was surprised to see that the Highlands, where one would expect independence fervour to be great, is still, albeit just, a majority No. The only Yes areas — the green ones — are around Glasgow and further east in Dundee. I picked this map up online today: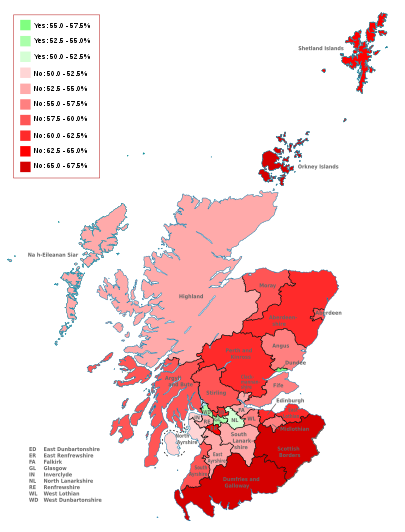 I am very much looking forward to the results of Scotland's election, which will not be available until May 7 or 8.
Meanwhile, a number of voters committed to independence are walking away from the SNP.
More about that in a future post.