You are currently browsing the monthly archive for May 2021.
The Telegraph had two interesting articles on coronavirus at the weekend.
The first is 'Exclusive: UK vaccine passport plans to be scrapped'. I hope this is true.
Excerpts follow, emphases mine.
For months we have read that the Government is considering then dropping plans for a vaccine passport to be used for attending large events.
The Telegraph's article says:
Officials working on the review into Covid-19 status certification believe there is no chance the law will be changed to mandate their use within the UK.
"It's not a case of 'it's finely balanced'. It's not going to happen," said one well-placed government source close to the review. "Everyone says it's dead."
Israel's experience appears to have been a factor:
Michael Gove, the Cabinet Office minister overseeing the review, is yet to submit his recommendations to Mr Johnson. But sources close to both figures say they are instinctively reluctant to adopt the plans.
Furthermore, Israel, the country whose adoption of Covid-19 passports became the template studied closely by the UK (including a trip there from Mr Gove) will drop its "green pass" soon, because so many of its citizens are now vaccinated. That decision has been carefully noted by ministers.
However, it is still possible that the pass could become a consideration later in the year:
Government ministers may also choose to look again at Covid-19 passports for the autumn and winter, arguing that a sudden deterioration in the Covid situation could see the idea return.
It is also possible that companies might be able to mandate them, particularly for international travel:
A government update on the review in April said there was nothing stopping companies asking for proof of Covid-19 status before granting entry, providing they do not breach equalities laws.
Work on the NHS app, which is being converted to be able to show proof of a jab, negative test or antibodies, is likely to continue, given that it is being used for international travel.
The second Telegraph article is an editorial, 'How the state used behavioural science to scare a nation into submission'. The author, Laura Dodsworth, wrote a book, A State of Fear, a copy of which was sent to every MP:
donated by a group of concerned people and the Recovery campaign. In a letter to MPs, they described the book as 'essential reading' and questioned, as I do, the ethics of fear messaging and behavioural psychology.
Dodsworth rightly takes issue with Boris Johnson's former special adviser Dominic Cummings's view that the British people need to be controlled by Government:
Last week we learnt that Dominic Cummings believed the Covid-19 emergency would have benefitted from the "kingly authority" of data scientist, Marc Warner. This is exactly the style of authoritarian, top-down 'state knows best' style of government we need to move away from. It does not befit one of the cradles of democracy and the British people deserve better …
Back in 2019, Mr Cummings predicted "The future will be about experimental psychology, and data science." Well, the future is now. And the use of 'nudge' to encourage compliance with the rules has changed our lives and our relationships with each other, and irreversibly shifted the social contract between individuals and government.
However, this was already a topic over a decade ago, when Conservatives regained power in coalition with the Liberal Democrats, who are anything but liberal or democrats:
All of this was predicted in the report MINDSPACE: Influencing behaviour through public policy, a Cabinet Office discussion paper from 2010. It warned: 
"People have a strong instinct for reciprocity that informs their relationship with government – they pay taxes and the government provides services in return. This transactional model remains intact if government legislates and provides advice to inform behaviour. But if government is seen as using powerful, pre-conscious effects to subtly change behaviour, people may feel the relationship has changed: now the state is affecting 'them' – their very personality."
The nudge concept came, as most bad ideas do, from the United States, specifically the Obama administration.
Nonetheless, Prime Minister David Cameron instituted a 'nudge' unit at the heart of Government, known as SPI-B, which is part of SAGE. The 'B' stands for 'behaviour'. It has been working throughout the coronavirus crisis:
You could argue that frightening people to make them follow the rules during an emergency was in our best interests. But what about the opposing arguments that it affected our personalities, our mental health and our agency?
The insufficiently fearful were deliberately alarmed. Horror film styled advertising, laws to manage the minutiae of our daily lives, the most punitive fines since the Dark Ages, encouraging social conformity and the alarmist use of statistics were just some of the government's tactics during the pandemic, signalling their lack of trust in the public's ability to understand risk and behave sensibly.
Even children were not exempt from such blame. Indeed, they were explicitly targeted with messaging warning "Don't kill granny." This shocking slogan looks even more abhorrent given the allegations that the elderly were not tested before being transferred from hospital to care homes – who killed granny, exactly?
The next 'nudge' will probably involve climate change:
If you concede that behavioural science and the weaponisation of fear are acceptable tools for one crisis, will you accept them for the next? One recent report from a team at the University of Bath already shows how behavioural psychologists hope to segue from Covid to climate behaviour change while "habits are weakest and most malleable to change". 'Nudge' is likely to play a bigger part in future government attempts to transform us into model citizens.
One wonders how successful that will be, given that climate change is far from the greatest worry on Britons' minds at the moment.
It would be helpful to know exactly how much of our taxes go to maintaining the 'nudge' unit and the political persuasions of those working in it.
The three-year Lectionary that many Catholics and Protestants hear in public worship gives us a great variety of Holy Scripture.
Yet, it doesn't tell the whole story.
My series Forbidden Bible Verses — ones the Lectionary editors and their clergy omit — examines the passages we do not hear in church. These missing verses are also Essential Bible Verses, ones we should study with care and attention. Often, we find that they carry difficult messages and warnings.
Today's reading is from the English Standard Version with commentary by Matthew Henry and John MacArthur.
Orderly Worship
26 What then, brothers? When you come together, each one has a hymn, a lesson, a revelation, a tongue, or an interpretation. Let all things be done for building up. 27 If any speak in a tongue, let there be only two or at most three, and each in turn, and let someone interpret. 28 But if there is no one to interpret, let each of them keep silent in church and speak to himself and to God. 29 Let two or three prophets speak, and let the others weigh what is said. 30 If a revelation is made to another sitting there, let the first be silent. 31 For you can all prophesy one by one, so that all may learn and all be encouraged, 32 and the spirits of prophets are subject to prophets. 33 For God is not a God of confusion but of peace.
——————————————————————————————
Last week's post discussed Paul's conclusion on the false gift of tongues that the Corinthians displayed. That false gift is the one evident in today's Pentecostal churches and Charismatic movements, not the one in Acts 2 of preaching spontaneously in a foreign language at the first Pentecost, a special gift only for the Apostolic Era to further the growth of the Church.
In the remainder of 1 Corinthians 14, Paul tells the Corinthians how to worship together properly, as their worship assemblies were a true free-for-all, with no structure or leader whatsoever.
In short, Paul wants the whole congregation to be edified.
John MacArthur discusses edification and what it means in Greek (emphases mine):
… the key to this chapter is the word "edification" or "edify." In this chapter, it appears in many, many ways. In many, many ways, the form of edification is used, its actual word, and in other cases it is alluded to. You'll remember that in verse 3 it talks about edification; and in verse 4, edifying the church; and in verse 5, "that the church may receive edifying;" and in verse 12, "that the church may be edified;" and in verse 19, "that I might teach others also." And in verse 26 comes the sum of it all, "Let all things be done unto edifying," – the end of verse 26.
So this is the thought that is the emphasis of the entire chapter, that when the church comes together – and, incidentally, all the way from chapter 11 to the end of 14, he is referring to the assembly of the church when it comes together in corporate worship. But he is saying that when the church comes together, the primary point is that they be edified.
Now I want to talk to you for just a minute or two about the word "edification." The Greek word oikodomeō in the Greek verb form, or oikodomē in the noun, comes from two words: oikos, which is a word that means house, and demō, which means to build. And so the word is to build a house or a house builder.
Edification then is to build up. That is the term that is used here. The word is translated five times in the same phrase in the New Testament. Five times there is the phrase "the stone which the builders rejected, the same has become the head of the corner," and it's a metaphor picturing Christ. But the word used there for builder, in all five cases, is a form of this word oikodomé or edify.
So in a spiritual sense it means to build up, like a person would start with a foundation and build a house. So the church has as its intention and design, the building up of the saints into full completeness. It means, spiritually, to promote spiritual growth, to develop the character of the believer to the place of real maturity.
Now this then is the major element of the church. We are together to be edified. Evangelism may take place, but that is a sidelight. Edification is the issue. Beyond that, beloved – and I only remind you of this because I'm sure you're aware of it – it is the responsibility of every individual believer to be busy about edifying the other believer.
In 1 Thessalonians chapter 5 in verse 11, a simple word comes to us, and this is what it says: "Wherefore comfort yourselves together, and edify one another." So it is the task of the people to edify. It is not just the task of the preacher or the leader. It is all of our tasks to edify each other…
"Christ did not come to be ministered to, but to minister, and to give His life a ransom for many." Christ did not seek that which would be the most beneficial to Him, but that which would be the most beneficial to others. And that is exactly what we are enjoined to do. We have a responsibility before God to edify each other.
This was not happening in the church in Corinth:
In Corinth, the whole procedure of edification had come to a screeching halt. Edification was non-existent in the Corinthian church because of the confusion and the disorder with which that church was functioning. And so in the fourteenth chapter of 1 Corinthians, Paul is trying to call a halt to the perversions, to call a halt to the counterfeit, to call a halt to the confusion, and bring the Corinthians back to a system of order that would grant them edification.
Paul begins by saying that everyone has a way in which they want to participate in worship, but those elements must be delivered in a way that edifies everyone present (verse 26).
Should anyone manage to speak with a true gift of tongues, there should be only three at the most, and they should all speak in turns, with someone available to interpret the message (verse 27).
MacArthur says:
I told you that when tongue appears in the chapter in a singular form, earlier in the chapter in the first twenty-five verses, it had reference to the false gift, to gibberish, which couldn't be plural. Here it could have reference also to the true gift, because it's simply singling out, "One of you has a tongue." It could be translated, "One of you has a language, the true gift; or one of you has gibberish, a counterfeit." But the idea of its singularity is demanded because the subject is singular, "One of you."
And the same is true in verse 27 as we shall see. So that doesn't do any violation to our premise that where it appears in the plural, it is the true gift; in the singular it is false. We would say, where it is in the singular demanded by a single subject, it could be either true or false.
Paul adds that if no interpreter for the message in a tongue is present, the person with the true gift should remain silent and pray silently to God about the message he received (verse 28).
Paul goes on to say that only three prophets should speak, each in turn, allowing other prophets to discern what has been spoken (verse 29).
MacArthur explains that prophets were part of the Apostolic Era, therefore, for a limited time only:
Now, you say, "Who are the prophets? Are these Old Testament prophets?" No, these are New Testament prophets, from prophēmi, to speak before. They were the men who spoke before the people. They were those who stood up to declare God's message.
They spoke in two ways: they spoke revelation, that is direct revelation from God, direct revelation, never been given before for the life of the church; and they spoke what I call reiteration, that is they repeated a message given by the apostles, a message already received which they just preached in a manner not unlike what I do. And so there could be direct revelation or there could be just this reiterating something already revealed. And the church service apparently was structured so that one, or two, or at the most, three, could take their time to be the ones who spoke God's message.
They were foundational, incidentally, and we don't find any prophets later in the church. In fact, when Paul writes the Epistles to set the churches in order – 1 and 2 Timothy and Titus – he never mentions prophets. He simply talks about elders, and presbyters, and deacons, and bishops, and deaconesses. And he's referring to pastors there, and deacons and deaconesses and elders. That's all he ever talks about, because prophets passed away with the passing of the apostolic age; they were a unique group.
Ephesians 2:20 says, "They were given for the foundation of the church," and they belong to that time. And so they were to speak God's message. Sometimes they had prepared the message and they spoke out of that preparation. On other occasions, they literally received a direct revelation from God without any preparation, and they spoke.
MacArthur goes on to explain the discernment of the prophets' messages:
Second principle in verse 29: "Let the others judge." "The others" refer to the other prophets. The other prophets were to sit in the front there and sit beside the one speaking and to evaluate the truth of what he was saying. It might well be that these had, what is in chapter 12, verse 10, called the gift of discernment. But they could discern whether something was of God or not of God, and so they were there to evaluate the truth of the message. People just couldn't stand up and speak, and nobody evaluate it.
Paul instructs the prophets on making way for someone with a new revelation or insight. The prophet delivering a reiteration should make way for a prophet who has a revelation to share (verse 30).
MacArthur says:
Here's a guy up there, and he's got his message prepared, and he's up there giving it. But all of the sudden, God gives a new revelation. And as soon as one of those other prophets receives from God a new revelation, he pulls the tunic of the guy speaking, and he says, "Hey, I got a new revelation," number one has to sit down, because a new revelation takes precedence over reiterating something already given. God has a special word for the church.
Now, beloved, this reinforces a point that I've been trying to make all along, and sometimes people argue with me about it, and that is I don't believe – some people say, "Well, the prophets only spoke new revelation." No, I don't think so. I think they spoke revelation or reiteration; and I think here is one of the strongest proofs. Here is somebody who is up there proclaiming; but when another one gets a new revelation, he has to sit down. So it is very reasonable to see that some received new revelation on occasion, while others were simply reiterating a message that was no less from God but was not a fresh new revelation for the moment. So number one had to sit down; and it changed the order a little bit.
Paul says that every prophet may prophesy one by one for everyone's edification (verse 30), but according to his rule of a maximum of three (verse 29).
He adds that the spirits of the prophets are subject to the prophets (verse 31). That means that the prophets have a modicum of self-control and restraint when they speak.
Matthew Henry explains:
… the spiritual gifts they have leave them still possessed of their reason, and capable of using their own judgment in the exercise of them. Divine inspirations are not, like the diabolical possessions of heathen priests, violent and ungovernable, and prompting them to act as if they were beside themselves; but are sober and calm, and capable of regular conduct. The man inspired by the Spirit of God may still act the man, and observe the rules of natural order and decency in delivering his revelations. His spiritual gift is thus far subject to his pleasure, and to be managed by his discretion.
Then there is verse 33a, which is worth committing to memory when it comes to public worship:
For God is not a God of confusion but of peace.
To conclude on the false gift of tongues on show today, MacArthur points out that the true gift of tongues from the first Pentecost was limited:
It was a gift reserved for those special times when an unbelieving Jew was there, those special times when an interpreter was there, those special times, and those alone; and never should it occur more than three in any one given time. That's the limit.
Now, beloved, I would just add this. This is not true today in the Charismatic tongues session. They do not have such limitations. They do not limit them on the basis of an unbelieving Jew being present, they do not limit them on the basis of them being a legitimate language, and they do not limit them to two or three in most cases. Now some may; but in most cases that is not true of those who engage in tongues sessions. And so, you see, what you have today is so much of the Corinthian problem all over again that ignores these basic features.
Secondly, the second principle – two or three is the limiting principle. Secondly, "and that by course." The Greek means in turn, or in order, or in sequence. The Corinthians were involved in a simultaneous expression where everybody was doing it all at the same time – as I've pointed out. That is forbidden. And that is precisely, again, what you see so frequently in Charismatic tongues meetings today: everybody speaking in tongues all at the same time.
Have you ever noticed sometime when you turn on a program on the television and you see them all begin to pray, that they all begin to pray at the same time, and they all begin to pray together? In fact, that's just normal procedure in almost all Charismatic churches, to pray all at the same time. And various people will go into their tongues language, all simultaneous, all in direct violation of 1 Corinthians 14:27; but exactly what the Corinthians were doing.
Next week's verses are highly contentious, especially in today's churches.
Next time — 1 Corinthians 14:33b-35
Trinity Sunday is May 30, 2021.
The readings for Year B in the three-year Lectionary can be found here.
The Epistle follows (emphases mine):
Romans 8:12-17
8:12 So then, brothers and sisters, we are debtors, not to the flesh, to live according to the flesh–
8:13 for if you live according to the flesh, you will die; but if by the Spirit you put to death the deeds of the body, you will live.
8:14 For all who are led by the Spirit of God are children of God.
8:15 For you did not receive a spirit of slavery to fall back into fear, but you have received a spirit of adoption. When we cry, "Abba! Father!"
8:16 it is that very Spirit bearing witness with our spirit that we are children of God,
8:17 and if children, then heirs, heirs of God and joint heirs with Christ–if, in fact, we suffer with him so that we may also be glorified with him.
Commentary comes from Matthew Henry and John MacArthur.
This passage discusses the believer's privileges, which are many.
Paul exhorts the Romans not to be debtors to the flesh (verse 12). We have a higher calling. We are debtors to Christ and to the Holy Spirit; if we live in a carnal way we will surely die, but if we conquer sin during our lives, we will live forever (verse 13).
Matthew Henry's commentary elaborates further:
Let not our life be after the wills and motions of the flesh. Two motives he mentions here:– [1.] We are not debtors to the flesh, neither by relation, gratitude, nor any other bond or obligation. We owe no suit nor service to our carnal desires; we are indeed bound to clothe, and feed, and take care of the body, as a servant to the soul in the service of God, but no further. We are not debtors to it; the flesh never did us so much kindness as to oblige us to serve it. It is implied that we are debtors to Christ and to the Spirit: there we owe our all, all we have and all we can do, by a thousand bonds and obligations. Being delivered from so great a death by so great a ransom, we are deeply indebted to our deliverer. See 1 Corinthians 6:19; 1 Corinthians 6:20. [2.] Consider the consequences, what will be at the end of the way. Here are life and death, blessing and cursing, set before us. If you live after the flesh, you shall die; that is, die eternally. It is the pleasing, and serving, and gratifying, of the flesh, that are the ruin of souls; that is, the second death. Dying indeed is the soul's dying: the death of the saints is but a sleep. But, on the other hand, You shall live, live and be happy to eternity; that is the true life: If you through the Spirit mortify the deeds of the body, subdue and keep under all fleshly lusts and affections, deny yourselves in the pleasing and humouring of the body, and this through the Spirit; we cannot do it without the Spirit working it in us, and the Spirit will not do it without our doing our endeavour. So that in a word we are put upon this dilemma, either to displease the body or destroy the soul.
John MacArthur says that, with the Spirit's help, we can vanquish sin in our lives:
When you became a Christian, the Spirit of God took up residence in your life. And with the Spirit of God came the power of God, mighty enough to pull down strongholds, to tear down every high thing that exalts itself against God and to bring you into captivity to the obedience of Christ. Right? In other words, there's a resource there that can enable you to have victory over Satan and victory over demons and victory over the flesh and bring everything in your life into captivity to the obedience of Christ. Listen, I'm going to say something that might shock you. You have the potential to be perfect. You have the potential to be perfect. If you do not have victory in each individual case, it is not because the power for victory isn't there, it is because the appropriation isn't there. And I confess, I agree that it is somewhat debilitated by the power of the flesh but nonetheless, the potential is there.
You say, "You mean I've got power to deal with the sin in my life?" That's right. You say, "I'm not doing too well." I understand that. And there's something else you might need to know that will help you. Look at Ephesians chapter 5, verse 18, a familiar verse. And I want to remind you of something you perhaps have studied before. By the way, the word "power" in the Bible is dunamis, from which we get our word "dynamite." And as a believer, you ought to be explosive; the power of God ought to be blasting its way through you.
But there is a key to that and I think it's given in Ephesians 5:18 where it says, "Be not drunk with wine in which is (astia, dissipation) excess, but be being kept filled with the Spirit." You see, the key is in appropriation. And the way you appropriate the available power is to be filled with the Spirit. To be filled with the Spirit, basically, simply means to have habitual permeation of your life by the Holy Spirit. You think His thoughts, you feel His feelings. You obey His will. It's to be controlled by the Spirit of God. Frankly, you're controlled by whatever fills your mind, isn't that right? You're controlled by whatever fills your mind. And that's the old computer thing: G.I.G.O. — garbage in, garbage out. Whatever you pump into your computer is going to come out in your behavior. Whatever controls your mind is going to control your behavior. And if the Spirit of God can control your mind, then you'll have a mind renewed in the Spirit, as the Bible talks about. You're going to find that that fleshes itself out in your good and godly and holy behavior. And so all it means here when it says, "Be being kept filled with the Spirit," doesn't mean fall backwards in some trance. It doesn't mean you flip out into some sort of ecstatic experience. It simply means you get under the control of the Holy Spirit so that He fills your life.
Paul makes a simple, yet powerful, statement: all who are led by the Spirit of God are the children of God (verse 14).
This is the greatest privilege anyone can have.
Henry explains:
Observe, (1.) Their property: They are led by the Spirit of God, as a scholar in his learning is led by his tutor, as a traveller in his journey is led by his guide, as a soldier in his engagements is led by his captain; not driven as beasts, but led as rational creatures, drawn with the cords of a man and the bands of love. It is the undoubted character of all true believers that they are led by the Spirit of God. Having submitted themselves in believing to his guidance, they do in their obedience follow that guidance, and are sweetly led into all truth and all duty. (2.) Their privilege: They are the sons of God, received into the number of God's children by adoption, owned and loved by him as his children.
Paul says that when we received the Holy Spirit, we were no longer to be afraid of judgement having received a spirit of adoption (verse 15), which we recognise when we cry 'Abba! Father!'
Henry tells us:
… it is God's prerogative, when he adopts, to give a spirit of adoption–the nature of children. The Spirit of adoption works in the children of God a filial love to God as a Father, a delight in him, and a dependence upon him, as a Father. A sanctified soul bears the image of God, as the child bears the image of the father. Whereby we cry, Abba, Father. Praying is here called crying, which is not only an earnest, but a natural expression of desire; children that cannot speak vent their desires by crying. Now, the Spirit teaches us in prayer to come to God as a Father, with a holy humble confidence, emboldening the soul in that duty. Abba, Father. Abba is a Syriac word signifying father or my father; pater, a Greek work; and why both, Abba, Father? Because Christ said so in prayer (Mark 14:36), Abba, Father: and we have received the Spirit of the Son. It denotes an affectionate endearing importunity, and a believing stress laid upon the relation. Little children, begging of their parents, can say little but Father, Father, and that is rhetoric enough. It also denotes that the adoption is common both to Jews and Gentiles: the Jews call him Abba in their language, the Greeks may call him pater in their language; for in Christ Jesus there is neither Greek nor Jew.
MacArthur explains how adoption by God is similar to adoption in Roman times. As such, it was encouraging for the Roman converts — as it should be for us, too:
Now let me just talk for a minute about adoption as such because when you say the word "adoption" some people think that's sort of a second-class status. You're not a real son, you're an adopted son. You're sort of a Johnny-come-lately or a Janie-come-lately. You got added on to the end of the deal because nobody wanted you and sort of second-class idea. But that is not true. It may be that some people in our day think of it that way but in the first century, it was quite the very opposite.
For example, in the Roman culture, if a father looked over his children, particularly his sons, and he didn't see among the born sons that he had brought into the world a son that he deemed to be worthy to inherit his name, his title, his offices, his estates, he would go outside and he would find such a worthy son and he would adopt him into the family based upon his virtue, based upon his character, based upon his talent, and that adopted son would then take precedence over all of his natural sons who didn't qualify at the level of qualification that the father had established. So an adopted son is not, in the Roman culture, a waif picked up off the street just so he's gotten cared for. No, no. An adopted son in the Roman system is a son who is chosen by the father for the purpose of inheriting the estate and of bearing the name and the title of that father.
And so, when it says in the Bible that we have become the adopted sons of God, it is not to say that God scoops us off the street somewhere just so we can get cared for, it is to say that God out of all the world has chosen us to bear His name and His title and inherit His estate. And it is not just that He takes us because we happen to come along through natural process, it is that He sovereignly chooses us out of all the world. That's a little different, isn't it? And that's the essence of this thought. We are the preferred of God. We are the choice of God by His free involuntary election and in no sense in the world are we inferior, in no sense. We have been chosen to bear His name. We have been chosen to inherit His kingdom.
Our Spirit bearing witness distinguishes us as children of God (verse 16).
Henry says that this should be a great source of comfort to us:
… those that are sanctified have God's Spirit witnessing with their spirits, which is to be understood not of any immediate extraordinary revelation, but an ordinary work of the Spirit, in and by the means of comfort, speaking peace to the soul. This testimony is always agreeable to the written word, and is therefore always grounded upon sanctification; for the Spirit in the heart cannot contradict the Spirit in the word. The Spirit witnesses to none the privileges of children who have not the nature and disposition of children.
Paul ends by saying that if we are children of God, then we are also joint heirs with His Son, Christ Jesus, meaning that if we suffer with Him, we will also be glorified with Him (verse 17).
What a happy thought. Our suffering in this world for our faith will be eclipsed when we are glorified with Him in Heaven.
Henry tells us:
It surpasses all that we have yet seen and known: present vouchsafements are sweet and precious, very precious, very sweet; but there is something to come, something behind the curtain, that will outshine all. Shall be revealed in us; not only revealed to us, to be seen, but revealed in us, to be enjoyed. The kingdom of God is within you, and will be so to eternity.
What an encouraging message for us!
May all of my readers have a happy and blessed Trinity Sunday.
Early in March 2020, my far better half and I were optimistic that Prime Minister Boris Johnson, his government and his advisers would not be too proscriptive about coronavirus restrictions.
In the end, they were, but the following timeline shows how quickly their thinking on herd immunity changed.
In light of Dominic Cummings's testimony to the Science and Technology Select Committee on Wednesday, May 26, and his lengthy Twitter thread prepared beforehand (continuing afterwards), I offer a short and a long version of what happened.
Short version
The Government denies that natural herd immunity — catching the virus — was ever government policy.
Yet, here is Sir Patrick Vallance, the UK's chief scientific adviser, at a coronavirus briefing on Thursday, March 12, 2020:
It seems that Cummings might have advised the government to backtrack and deny it was policy, however briefly:
As Cummings said on Wednesday, once he received numbers from an NHS specialist/mathematician who extrapolated scenarios on what could happen, the Government changed tack:
Long version
I haven't missed a single coronavirus briefing since they started in March 2020. As regular readers will know, I have been deep-diving into the pandemic since then.
February 2020
Lessons From The Crisis has an excellent article on how the herd immunity plan unfolded and changed. 'It's bizarre that this needs saying, but *of course* the UK had a Herd Immunity plan' is well worth reading.
It includes a capture of SAGE minutes from February 4, 2020, advocating that policies for influenza be followed. The article summarises this as follows (emphases in the original):
On the 4th of February, at the UK Scientific Advisory Group for Emergencies's fourth Covid meeting, influenza planning, with its assertions that spread was "inevitable"and halting the virus "a waste of resources" was adopted as the official recommendation- tragically this was about ten days before Chinese covid cases peaked, never return to their early 2020 levels …
The scientific consensus presented to ministers was: mass infection of the population was inevitable, a vaccine would not be available in time, so the only choices were about how to manage the mass infection of the population until the country had accumulated enough cases to get to herd immunity …
The alternative being attempted by governments elsewhere, trying to stop the disease from infecting the population, was regarded as folly; the UK government's scientific advisors were certain that countries attempting suppression would fail …
March 2020
In his testimony on Wednesday, Cummings claimed he broke rank with the Government on Wednesday, March 11:
Publicly, however, he was still on board with the Government plan:
Vallance gave his aforementioned briefing on herd immunity on March 12. This is what appeared afterwards:
This is a summary of an interview Vallance gave to Sky News the next day (full video here):
The Independent quoted a BBC interview with him on March 13:
Sir Patrick told the BBC that the advice the government is following for tackling coronavirus is not looking to "suppress" the disease entirely but to help create a "herd immunity in the UK" while protecting the most vulnerable from it.
Asked if there is a fear that clamping down too hard on its spread could see it return, Sir Patrick said: "That is exactly the risk you would expect from previous epidemics.
"If you suppress something very, very hard, when you release those measures it bounces back and it bounces back at the wrong time.
"Our aim is to try and reduce the peak, broaden the peak, not suppress it completely; also, because the vast majority of people get a mild illness, to build up some kind of herd immunity so more people are immune to this disease and we reduce the transmission, at the same time we protect those who are most vulnerable to it.
"Those are the key things we need to do."
That same day, SAGE's Professor John Edmunds also advocated natural herd immunity in this Channel 4 interview:
Nigel Farage was outraged by the policy:
The Lessons From The Crisis article says that the turning point happened almost immediately:
Partly in response to this outrage, the government changed course; Boris Johnson swapped strategies and began locking down the country just 3 days after the herd immunity plan became public, with new priorities built around suppressing the virus with blunt instruments such as lockdowns to buy time for building countermeasures- testing and tracing capacity, vaccines, treatments.
That is not to give Nigel Farage single-handed credit. The media also helped a lot, especially with frequent footage of what was happening in northern Italy at the time.
On Monday, March 16, Prof Neil Ferguson released his (spurious) numbers from Imperial College London, which changed the Government's policy. 
UnHerd reported on it the following day — 'Why the Government changed tack on Covid-19':
The Chief Scientific Adviser, Sir Patrick Vallance, Chief Medical Officer, Professor Chris Whitty, and the government's science adviser Dr David Halpern indicated that the government's strategy was to allow the virus to pass through the population, to allow individuals to "acquire herd immunity" at a delayed speed, while vulnerable groups were "cocooned." This strategy, however, was subsequently contradicted by health secretary Matt Hancock, who insisted that "herd immunity is not our goal or policy".
The quick reversals did not end there, as a ban was announced on mass gatherings just a day after the government's initial claims that it was not the right time for such measures. On Saturday, the government briefed select journalists on "wartime measures" to quarantine the elderly at home or in care homes, away from any contact with the rest of the population; earlier than such measures were expected to be announced.
Finally, it was revealed yesterday afternoon that the Prime Minister had decided to dramatically step up countermeasures, and switch entirely to a strategy of containment as a result of advice from an expert response team at Imperial College London, which concluded that the strategy of delay would likely cause "hundreds of thousands" of avoidable deaths.
The initial plans — to establish herd immunity based on research on social fatigue and assumptions that effective vaccines would not be developed — contradicted the guidance from the World Health Organisation (WHO), and the wealth of evidence in the fields of epidemiology, behavioural science and immunology, so it is unsurprising that countless experts have already questioned and criticised the strategy, including epidemiologists, immunologists, and behavioural scientists.
On Saturday, March 21, Alex Wickham from Buzzfeed summarised a tense and confused week inside No. 10, and the road to lockdown (emphases mine):
While the scientific debate was raging last week between experts, officials, and ministers in face-to-face meetings and over emails and text messages, Johnson's government was publicly insisting that the scientific advice showed the UK did not yet have to bring in more stringent measures to fight the virus.
Political aides tacitly criticised other countries who had taken more dramatic steps, claiming Britain was being "guided by the science" rather than politics.
Towards the end of last week, some ministers and political aides at the top of the government were still arguing that the original strategy of home isolation of suspect cases — but no real restrictions on wider society — was correct, despite almost every other European country taking a much tougher approach, and increasing alarm among SAGE experts.
The thought of months or even a year of social distancing was simply not feasible, some in Johnson's team still thought at that point. They continued to privately defend the controversial "herd immunity" approach outlined to the media by Vallance, even as other aides scrambled to claim the UK had never considered it to be policy.
And there was fury behind the scenes among members of Johnson's team at the likes of Rory Stewart and Jeremy Hunt, who had been publicly saying the government had got it wrong.
But data from Italy — presented to the government before it was published by experts at Imperial College on Monday — changed all that. Their report confirmed the earlier fears of the epidemiologists who had been calling for more drastic action.
On Monday, March 23 — the day Prime Minister Boris Johnson took away every Briton's civil liberties in five minutes by announcing the first lockdown — Byline Times posted a must-read article, 'COVID-19 SPECIAL INVESTIGATION: Part Three — Behavioural Scientists told Government to use "Herd Immunity" to Justify Business-As-Usual'.
SPI-B is our behavioural, or 'nudge', unit and is part of SAGE. Dr David Halpern, a SAGE member, runs the unit. This was allegedly their role in the herd immunity discussions:
A SPI-B document dated 4 March, which rejected the need for school closures, went on to refer to the medical concept of immunity. In a discussion about how the public might be confused about the disparity between the Government's approach of "not applying widescale social isolation at the same time as recommending isolation to at-risk groups", the document acknowledges disagreement within the SPI-B.
The document explains: "One view is that explaining that members of the community are building some immunity will make this acceptable. Another view is that recommending isolation to only one section of society risks causing discontent."
The idea of immunity does not come up elsewhere in the SAGE corpus. But, Professor Chris Whitty, the Government's Chief Medical Advisor, claimed that 20% of the population of Wuhan, China, had contracted the Coronavirus and acquired herd immunity. He believed that this explained why new cases had begun to fall in China. 
This flatly contradicted data from China showing that, by end of January, after the crisis had peaked, just under 95% of the Wuhan population remained uninfected by the virus. This was, therefore, nothing to do with herd immunity, but a result of China's emergency containment response. 
The UK Government, it seemed, had made a gamble: one that Dr Brian Ferguson, Director of Immunology at Cambridge University, described as "not scientifically based and irresponsible" because typically "Coronaviruses don't make long-lasting antibody responses".
Whether or not it was a specific goal of the Government, its network of behavioural science advisors had fielded herd immunity as a way of justifying to the public why the Government was not taking early action – despite having no scientific evidence behind the idea. 
Social media discussions on herd immunity began to appear:
On Tuesday, March 24, Byline Times posted another must-read article, 'The Coronavirus Crisis: Oxford Model Touting "Herd Immunity" was Promoted by PR Agency Tied to Ministry of Defence and Nudge Unit'.
Excerpts follow:
On 24 March, the Financial Times claimed that as much as half of the British population may have already been infected by the novel Coronavirus, according to a new model by Oxford University's Evolutionary Ecology of Infectious Disease group. 
The conclusion, according to the FT's science editor Clive Cookson, suggested that the country "had already acquired substantial herd immunity through the unrecognised spread of COVID-19 over more than two months". If true, this would vindicate the Government's "unofficial herd immunity strategy – allowing controlled spread of infection," he stated.
Although numerous epidemiologists and scientists had questioned the validity of the Oxford model – which had not been peer-reviewed – it was promoted to the press by a PR agency with ties to the Government, raising questions about how and why this model was published and disseminated at this time.
The draft paper, which was originally posted to Dropbox, included a disclaimer noting that its content was "not final" and could be "updated any time". The disclaimer also contained a contact point for journalists: "Contact for press enquiries: Cairbre Sugrue, cairbre@sugruecomms.com."
Dr Lewis Mackenzie, a Biotechnology and Biological Sciences Research Council Discovery Fellow, commented: "Why on earth has this been sent to the media via a third party PR company instead of the Oxford University press team? Seems very irresponsible to encourage reporting on this topic before the scientific community had a chance to comment and peer-review it."
When asked why its own press team did not release the study, Oxford University said: "All Oxford academics have freedom of expression regarding their areas of specialism, including communication through the media. It is therefore not uncommon for academics to make their own arrangements for contacting the press. The university cannot comment on individual arrangements that it is not party to."
Caibre Sugrue is the founding director of Sugrue Communications, a technology PR agency. He is also a non-executive advisory board member of 100%Open, an innovation consultancy – which has worked for several British Government agencies, including the UK Ministry of Defence's Defence, Science and Technology Laboratory (DSTL) and a leading charity which co-owns the Cabinet Office's Behavioural Insights Team (BIT) or 'nudge unit'.
This seems to be the first appearance of Prof Sunetra Gupta, later of The Barrington Declaration (a libertarian approach to coronavirus self-isolation), who works at Oxford University:
The original FT piece had claimed that, if substantial herd immunity had been achieved, restrictions could be removed sooner than expected. The article added: "Although some experts have shed doubt on the strength and length of the human immune response to the virus, Prof Gupta said the emerging evidence made her confident that humanity would build up herd immunity against COVID-19."
I contacted Professor Sun[e]tra Gupta, one of the co-authors of the study, to find out what this emerging evidence is. She did not respond to a request for comment. However, the model was reported worldwide and some commentators in both the US and UK used it to suggest that strong social distancing measures may be unnecessary …
Scientists are divided on the prospects for achieving herd immunity, but most agree that, while achieving it may be possible at some point, it is not clear how long it would last. In any case, whether or not it is achievable, the immediate focus should be on minimising fatalities.
By the end of the month, confusion among journalists reigned:
April 2020
In April, it appeared that dealing with coronavirus was becoming highly complex. Author Ian Leslie tweeted a considered an explanation from a Financial Times reader:
May 2020
Two months later, Sir Patrick Vallance denied that natural herd immunity was ever a plan:
Prof John Edmunds gave Channel 4 another interview, wherein he appeared to backtrack on his previous claims about herd immunity. The first video is from his March interview and the second from May:
I'll have more on the UK's approach to herd immunity next week.
The British are a sensible, pragmatic people.
A recent poll from Ipsos MORI shows that most Britons are far more concerned with coronavirus, the economy and our post-Brexit future than they are about climate change:
This year, the global climate conference, COP26, will be held in Glasgow, but it is a low priority for most of us.
In fact, climate change is a luxury worry, as Guido Fawkes explains, after reading the accompanying breakdown of polling figures (emphases in bold mine):
According to Ipsos-MORI's regular monthly polling, the little rising concern that there is about the environment and climate change is being driven by specific demographic subgroups within the wider population:
"It is a big issue for almost three in ten of those in social grades AB (28%), double the level of concern among social grade C2DE (13%)… Those living in the south of England and Scotland are more likely to mention these issues than those in the Midlands and north of England."
There are no significant differences in environmental concern between Britons of different ages. Party strategists obsessed with voters in the Red Wall seats should note that they are the least interested in climate issues. Red Wall voters are primarily concerned about the pandemic, the economy, Brexit, and the NHS ahead of green issues.  It is a small minority of mostly better-off Southern voters who will vote to put up their electricity bills and force people to buy expensive electric cars.
Conservative MPs are in the tank for climate change initiatives. However, as Guido warns, the former Labour voters they are wooing have more practical concerns on their minds. MPs live in their own leafy world while the rest of us cope with more pressing issues of the day.
On Wednesday, May 26, 2021, Dominic Cummings, former special adviser to Prime Minister Boris Johnson appeared before the Science and Technology Select Committee for an inquiry that lasted over seven hours.
The full session is on Parliamentlive.tv.
As one might expect from someone the media portrayed as the power behind the throne between July 2019 and November 2020, this was a highly gripping interview conducted by a number of MPs.
Cummings discussed Boris, Health Secretary Matt Hancock and the coronavirus situation. With regard to the pandemic, he said that the Government, including himself, let the nation down at a time when Britons needed them the most. He apologised for not having insisted on urgent action sooner early in 2020.
Highlights follow.
Boris
Cummings's opinion of Boris is not the highest at the moment. Cummings wondered whether to tender his resignation several times but decided to stay on to implement the reforms he thought would make No. 10 work better.
One of their big bones of contention was the way No. 10 — especially Boris — liaised with the media, especially during the coronavirus crisis.
According to Cummings, Boris wanted to please the media only to end up contradicting coronavirus policy.
At one point, Boris opposed parts of Cummings's plan to reform the way No. 10 worked, admitting that he preferred the 'chaos' (his word) to giving Cummings the power to resolve said chaos and make it run more efficiently.
Cummings said that he does not think that Boris Johnson is a good Prime Minister.
The media
The media outlets, Cummings said, gave him a hard time because he wanted to manage — and perfect — the way that No. 10 interacted with them.
Cummings's reforms would have distanced the media contact with the Prime Minister, something that they clearly do not want.
Cummings's trip to Barnard Castle
Last Spring, Cummings and his family went to Barnard Castle (a town and a castle) in County Durham. It was a huge deal. Boris even made him hold a press conference to explain his actions around a year ago at this time.
Naturally, MPs wanted to find out why Cummings went so far from London when people were told to stay at home.
Cummings confessed that there was something he did not mention during last year's press conference. He said that staying in his home in north London had become untenable for him, his wife Mary Wakefield (a Spectator journalist) and their little boy. People were outside their home threatening Cummings's life.
He said that he had spoken to Boris about decamping to Barnard Castle, where his father lives. Boris said that he could either go there or to a Government-owned property in London. Boris then went into hospital with coronavirus and Cummings himself also had the illness.
Cummings and his wife spent a few weeks deciding what to do. Then a newspaper article alleged that Cummings said something about coronavirus deaths that was patently false. Once again, people appeared outside his home.
The couple decided to go to Barnard Castle by car. Cummings wanted to get back to work, even though he had not recovered from the virus. Cummings's wife did not want him to go back alone, so the family left Barnard Castle to return to London.
The story ran and ran in the news, agitating an already distressed general public cooped up at home. Cummings said that, once Boris returned to Downing Street, he said, 'This cannot stand' and told his adviser to hold a press conference, which one MP at the inquiry described as a 'witch hunt'.
Carrie Symonds
Cummings was also frustrated with Boris's fiancée, Carrie Symonds, who, on one occasion when coronavirus was critical, wanted Boris to have someone complain to a newspaper about a story involving the couple's dog.
He also said that Symonds had too much say in hiring No. 10 staff.
Health Secretary Matt Hancock
On more than one occasion during the session, Cummings called Health Secretary Matt Hancock a liar for his lack of coronavirus plan.
Cummings said that Hancock should have been fired early last year for claiming that patients leaving hospital for care homes last year would be tested before discharge and for saying that a 'protective' (Hancock's word) ring was placed around care homes.
Cummings said that neither claim was true. The Select Committee have asked Cummings to provide them with specific evidence for such serious allegations.
Barbara Keeley (Labour) was one of the MPs asking Cummings about the care home debacle:
The Science and Technology Select Committee will be interviewing Matt Hancock in a fortnight.
Afterwards, they will file their report from their many sessions on coronavirus. This can be used as evidence in a general inquiry into the Government's handling of coronavirus, scheduled to begin sometime in 2022.
Coronavirus
Cummings answered a lot of questions about the 2020 coronavirus policy.
He said that a plan for lockdown should have been developed in January 2020. The general consensus in No. 10 was that it was a new type of SARS and that everything would blow over soon.
Cummings thought that air travel should be stopped, but that No. 10 and a number of Conservative MPs thought that would be seen as a 'racist' policy, therefore, nothing happened.
The idea of doing nothing was mooted and let people have 'chicken pox parties' so that there would be a natural herd immunity by September 2020.
By February, Cummings became increasingly concerned and wanted a southeast Asian style lockdown. In early March, he began consulting academics who had strong quantitative (number-crunching algorithmic) skills to project what would actually occur if there were no lockdown. Cummings referred to this as Plan B:
A specialist in the NHS who was also good with numbers advised Cummings that 'chicken pox parties' were out of the question. Coronavirus was too deadly.
Cummings said that he was reluctant to press for a lockdown at the end of January or in February because he was worried that his assumptions might have been wrong.
In any event, the scenario given to him in March helped him persuade No. 10 that a lockdown was necessary. Yet, even then, he said that SAGE members disagreed among themselves as to whether lockdown was a good idea.
After the first lockdown, he said, Boris had deep regrets as to whether it was the right thing to have done. He was worried about the economic impact on people's lives at the same time he regretted the loss of so many Britons to the disease.
When autumn rolled around, Sir Patrick Vallance and Prof Chris Whitty alerted Cummings that a second lockdown was needed. Boris disagreed, because he did not want any more distress inflicted on the public or the economy. In the end, we had a very lengthy lockdown from Christmas 2020 through to April 2021.
Conclusion
Cummings said that many things need to change in No. 10 and Whitehall (civil servants).
Too few people want emergency processes that would streamline procurement, for example. Cummings managed to get some reforms in that area in times of crisis. He also managed to get a special situation room set up at No. 10, which he said that Downing Street officials like because electronic equipment can be taken in for meetings. The COBR room does not allow that option.
Cummings is also frustrated that civil servants cannot be fired easily. Some, he said, clearly need to go.
He also says that our political system needs a rethink. He said that the 2019 choice between Boris Johnson and Jeremy Corbyn was not good.
Although I do not agree — even now — about Cummings's views on lockdown and masks, I am sorry that he will not be able to implement his changes in Downing Street and Whitehall.
Those interested can read detailed live coverage from The Guardian.
It's unlikely many of my readers are old enough to remember transactional analysis (TA), a method of psychoanalytical therapy from the 1960s and 1970s which involved role-playing mind games.
The Canadian psychiatrist Eric Berne developed it in the 1950s. Ultimately, the goal was to produce in the patient the outlook of 'I'm OK, you're OK'.
In a comments section on one of the many blogs I read, someone linked to an article from 2016, 'American Narratives: The Rescue Game', which posits that today's identity politics involve TA mind games. The topic discussed is racism in the United States, although, as the author John Michael Greer says, it can be done with any identity politics cause.
Excerpts follow, emphases mine.
Greer describes what is called the Rescue Game:
There's a school of psychology called transactional analysis, which focuses on interactions between people rather than the vagaries of the individual psyche. Transactional analysis covers a lot of ground, but I want to focus on just one of its themes here: the theory of interpersonal games.
An interpersonal game, like most other games, has a set of rules and some kind of prizes for winners. In a healthy interpersonal game, the rules and the prizes are overt: that is, if you ask the players what they are, you can pretty much count on an honest answer. As this stops being true—as more of the rules and prizes become covert—the game becomes more and more dysfunctional. At the far end of the spectrum are those wholly dysfunctional games in which straight talk about the rules and payoffs is utterly taboo.
The accepted mainstream narrative about race in America today can best be described as one of those latter category of wholly dysfunctional games. Fortunately, it's a game that was explored in quite a bit of detail by transactional analysts in the 1960s and 1970s, so it won't be particularly difficult to break the taboo and speak about the unspeakable. Its name? The Rescue Game.
There are three roles in the Rescue Game — Victim, Persecutor and Rescuer:
The first two roles are allowed one move each: the Victim's move is to suffer, and the Persecutor's move is to make the Victim suffer. The Rescuer is allowed two moves: to sympathize with the Victim and to punish the Persecutor. No other moves are allowed, and no player is allowed to make a move that belongs to a different role.
That may seem unduly limited. It's not, because when a group of people is assigned a role, all their actions are redefined as the move or moves allotted to that role. In the Rescue Game, in other words, whatever a Victim does must be interpreted as a cry of pain. Whatever a Persecutor does is treated as something that's intended to cause pain to a Victim, and whatever a Rescuer does, by definition, either expresses sympathy for a Victim or inflicts well-deserved punishment on a Persecutor. This is true even when the actions performed by the three people in question happen to be identical. In a well-played Rescue Game, quite a bit of ingenuity can go into assigning every action its proper meaning as a move.
What's more, the roles are collective, not individual. Each Victim is equal to every other Victim, and is expected to feel and resent all the suffering ever inflicted on every other Victim in the same game. Each Persecutor is equal to every other Persecutor, and so is personally to blame for every suffering inflicted by every other Persecutor in the same game. Each Rescuer, in turn, is equal to every other Rescuer, and so may take personal credit for the actions of every other Rescuer in the same game. This allows the range of potential moves to expand to infinity without ever leaving the narrow confines of the game.
Even worse:
There's one other rule: the game must go on forever. The Victim must continue to suffer, the Persecutor must continue to persecute, and the Rescuer must continue to sympathize and punish. Anything that might end the game—for example, any actual change in the condition of the Victim, or any actual change in the behavior of the Persecutor—is therefore out of bounds. The Rescuer also functions as a referee, and so it's primarily his or her job to see that nothing gets in the way of the continuation of the game, but all players are expected to help out if that should be necessary.
Sadly, politicians and social activists play this game with real issues and real people who are enduring real problems.
Greer describes how the game plays out, something we read about or see every day in the media:
Like most games, this one has an opening phase, a middle period of play, and an endgame, and the opening phase is called "Pin the Tail on the Persecutor." In this initial phase, teams of Victims bid for the attention of Rescuers by displaying their suffering and denouncing their Persecutors, and the winners are those who attract enough Rescuers to make up a full team. In today's America, this phase of the game is ongoing, and a great deal of rivalry tends to spring up between teams of Victims who compete for the attention of the same Rescuers. When that rivalry breaks out into open hostilities, as it often does, the result has been called the Oppression Olympics—the bare-knuckle, no-holds-barred struggle over which group of people gets to have its sufferings privileged over everyone else's.
The middle phase:
is called "Show Trial." This has two requirements, which are not always met. The first is an audience willing to applaud the Victims, shout catcalls at the Persecutors, and cheer for the Rescuers on cue. The second is a supply of Persecutors who can be convinced or coerced into showing up to play the game. A Rescue Game in which the Persecutors don't show quickly enters the endgame, with disadvantages that will be described shortly, and so getting the Persecutors to appear is crucial …
However their presence is arranged, once the Persecutors arrive, the action of the game is stereotyped. The Victims accuse the Persecutors of maltreating them, the Persecutors try to defend themselves, and then the Victims and the Rescuers get to bully the Persecutors into silence, using whatever means are allowed by local law and custom.
At some point, either there are no more Persecutors or people get bored with the game and leave it. The game then enters a new, and final, phase:
At this point the action shifts to the endgame, which is called "Circular Firing Squad." In this final phase of the game, the need for a steady supply of Persecutors is met by identifying individual Victims or Rescuers as covert Persecutors. Since players thus accused typically try to defend themselves against the accusation, the game can go on as before—the Victims bring their accusations, the newly identified Persecutors defend themselves, and then the Victims and Rescuers get to bully them into silence.
We recognise the pattern, which is a daily narrative for current affairs outlets, turning real issues that require real solutions — e.g. race — into some sort of gamesmanship.
Greer gives two more uses of the Rescue Game — in sexual identity and Marxist politics:
I first encountered the concept of the Rescue Game, in fact, by way of a pamphlet lent to my wife by her therapist sister-in-law, which used it as the basis for an edgy analysis of class conflicts within the lesbian community. From there to the literature on transactional analysis was a short step, and of course it didn't hurt that I lived in Seattle in those years, where every conceivable form of the Rescue Game could be found in full swing. (The most lively games of "Circular Firing Squad" in town were in the Marxist splinter parties, which I followed via their monthly newspapers; the sheer wallowing in ideological minutiae that went into identifying this or that party member as a deviationist would have impressed the stuffing out of medieval scholastic theologians.)
Nationwide, the Rescue Game looks like this:
With impressive inevitability, in fact, every question concerning privilege in today's America gets turned into a game of "Pin the Tail on the Persecutor," in which one underprivileged group is blamed for the problems affecting another underprivileged group, and some group of affluent white people show up to claim the Rescuer's role. That, in turn, leads to the third issue I want to consider here, which is the question of who benefits most from the habit of forcing all discussion of privilege in today's America into the straitjacket of the Rescue Game.
Ultimately, there is only one winner in any form of these Rescue Games, and that is the Rescuer:
It's only fair to note that each of the three roles gets certain benefits, though these are distributed in a very unequal fashion. The only thing the people who are assigned the role of Persecutor get out of it is plenty of negative attention. Sometimes that's enough—it's a curious fact that hating and being hated can function as an intoxicant for some people—but this is rarely enough of an incentive to keep those assigned the Persecutor's role willing to play the game for long.
The benefits that go to people who are assigned the role of Victim are somewhat more substantial. Victims get to air their grievances in public, which is a rare event for the underprivileged, and they also get to engage in socially sanctioned bullying of people they don't like, which is an equally rare treat. That's all they get, though. In particular, despite reams of the usual rhetoric about redressing injustices and the like, the Victims are not supposed to do anything, or to expect the Rescuers to do anything, to change the conditions under which they live. The opportunities to air grievances and bully others are substitutes for substantive change, not—as they're usually billed—steps toward substantive change.
The vast majority of the benefits of the game, rather, go to the Rescuers. They're the ones who decide which team of Victims will get enough attention from Rescuers to be able to start a game. They're the ones who enforce the rules, and thus see to it that Victims keep on being victimized and Persecutors keep on persecuting. Nor is it accidental that in every Rescue Game, the people who get the role of Rescuers are considerably higher on the ladder of social privilege than the people who get given the roles of Victims and Persecutors.
Greer ends his article with this:
Perhaps, dear reader, you find it hard to imagine why affluent white people would want to keep everyone else so busy fighting one another that they never notice who benefits most from that state of affairs. Perhaps it hasn't occurred to you that giving the underprivileged the chance to air their grievances and engage in a little socially sanctioned bullying is a great deal less inconvenient for the affluent than actually taking action to improve the lives of the underprivileged would be. Such thoughts seemingly never enter the minds of most Americans; I'll leave it to you to figure out why.
Speaking from personal experience, everyone I know who empathises with similar Rescue Games in the UK is in line for a whopping great pension, often from the public sector, and lives in a large house, often in a gated community.
It's time we, the general public, ignored all of these media-fuelled narratives, which only serve the Rescuers' purposes, and focus on creating a better world for our fellow citizes, in whatever small way we can.
The arrival of the Holy Spirit upon the disciples on the first Pentecost — the Church's birthday — enabled something highly beautiful out of a group of people who had previously seen through a glass darkly, to paraphrase St Paul.
Similarly, the gifts of intellect, creativity and perseverance can produce similar beauty.
Yesterday, on the night of Pentecost Sunday 2021, someone posted a fantastic video of woodworking by an artisan, Andy Phillip from Skipton, North Yorkshire, who produces a variety of beautiful woodwork for sale.
In this video from May 12, he shows us how he transformed a yew tree root, something most of us would throw into the recycling bin, into a piece of art. I was spellbound watching his 11-minute video:
Another example of transformation is in housing, also somewhere in England. The person who posted this online says this building actually exists and claims to have seen it, although he did not say where. From Bauhaus to beautiful house: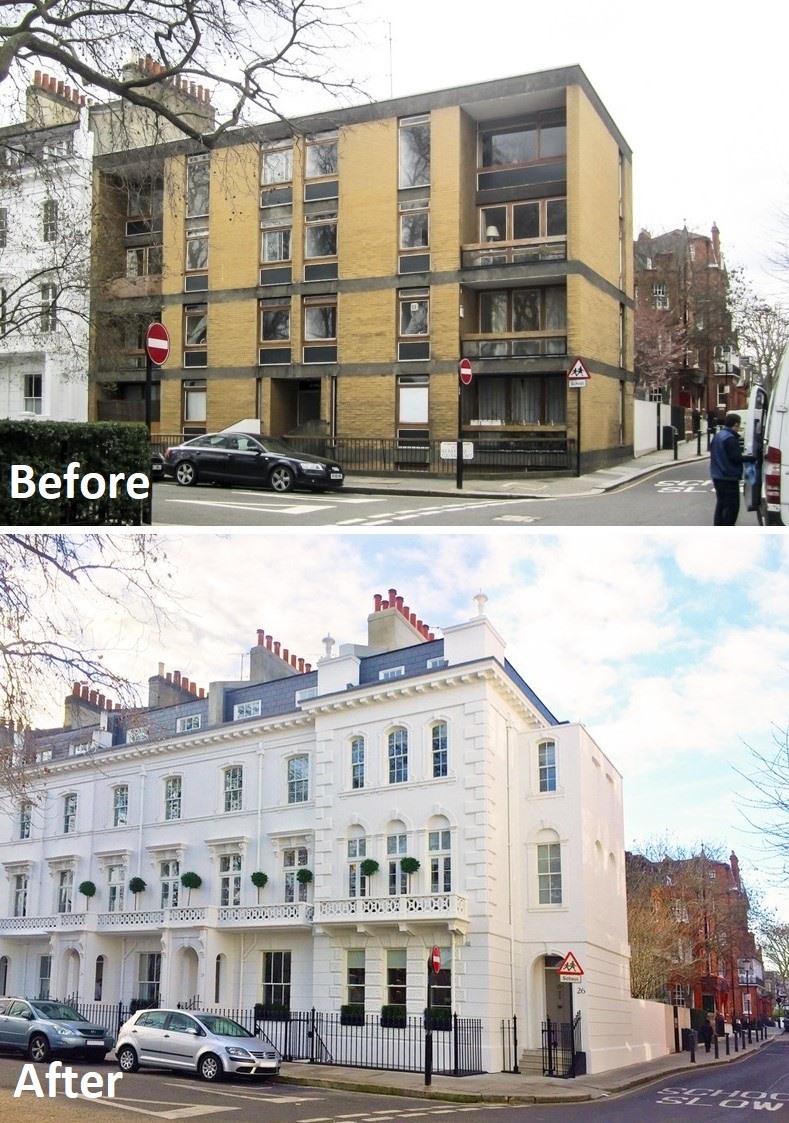 Isn't that block of flats splendid? If the Conservatives go through with their plan for 'building back better' post-coronavirus with beautiful buildings, I'll be all for it.
These two examples just go to show what mankind is capable of when using God's gifts to the fullest.
The three-year Lectionary that many Catholics and Protestants hear in public worship gives us a great variety of Holy Scripture.
Yet, it doesn't tell the whole story.
My series Forbidden Bible Verses — ones the Lectionary editors and their clergy omit — examines the passages we do not hear in church. These missing verses are also Essential Bible Verses, ones we should study with care and attention. Often, we find that they carry difficult messages and warnings.
Today's reading is from the English Standard Version with commentary by Matthew Henry and John MacArthur.
20 Brothers, do not be children in your thinking. Be infants in evil, but in your thinking be mature. 21 In the Law it is written, "By people of strange tongues and by the lips of foreigners will I speak to this people, and even then they will not listen to me, says the Lord." 22 Thus tongues are a sign not for believers but for unbelievers, while prophecy is a sign[a] not for unbelievers but for believers. 23 If, therefore, the whole church comes together and all speak in tongues, and outsiders or unbelievers enter, will they not say that you are out of your minds? 24 But if all prophesy, and an unbeliever or outsider enters, he is convicted by all, he is called to account by all, 25 the secrets of his heart are disclosed, and so, falling on his face, he will worship God and declare that God is really among you.
————————————————————————————————–
Last week's post discussed Paul's instruction to the Corinthians to speak and sing in worship in clear language so that everyone in attendance could understand and say 'Amen' with confidence that they had grasped the message of a prayer or hymn.
The Christians of Corinth claimed to have the gift of tongues, but they did not. They were reverting to their pagan habit of ecstatic, incoherent babbling as they used to do before a man-made deity.
It is a blessing to be covering Paul's teaching on tongues on Pentecost Sunday, the Church's birthday.
My exegesis on Acts 2:1-21 explains the proper use of speaking in tongues, which served to evangelise to the Jews in Jerusalem for the feast of Shavuot, which occurs around the time of Pentecost. By the end of that miraculous preaching in different foreign languages, 3,000 converts had been gathered into the fledgling Church.
John MacArthur explains the divine message behind the use of tongues on that marvellous day (emphases mine):
The tongues at Pentecost were saying, "Look, God's not going to any longer work through one nation. God's not any longer going to speak just one language. God's not any longer going to favor one people. God's going to go to the world, and through the world to build His church, see, the kingdom for all nations."
And, you know, the very fact that they spoke in all those languages was God's way of saying, "It's all over for the uniqueness of Israel, and I'm going to speak in the world's languages, and build that church that's hidden in the Old Testament." So tongues speak primarily as a sign of a curse on Israel.
But notice, no sooner have I said that, than I have to say they speak too of the blessing that's going to come to the whole world; because as Christ turned away from a rebellious people, He opened His arms to the world. So it becomes a sign of blessing, residually. It's like Romans 11, you know, where Paul says, "The fall of them is become the riches of the world." Jerusalem destroyed, Israel set aside; and yet, in their setting aside, we became beneficiaries – don't we? – because God reaches out to us.
So God's New Testament apostles and God's New Testament prophets suddenly burst out spontaneously declaring the wonderful works of God in every language. Read Acts 2: an unmistakable sign that a transition had come; a curse on one hand, but then a blessing on another hand; because even Jews could still come, couldn't they? Three thousand did on the day of Pentecost. So, in a sense, while being a judicial sign of a curse, residually it's also a sign of blessing.
MacArthur thinks that the true gift of tongues ceased with the destruction of the temple, which had not yet taken place when Paul wrote his letters to the Corinthians:
Seems to me that once the destruction of Jerusalem came in 70 A.D., the whole purpose for the gift of languages ceased. That's what the text says; that's not my opinion. It never was intended to be something for a Christian, it's for one who doesn't believe. Which one? A Jew, one of this people, that they might know God is acting in judgment.
Jesus said, in Luke 13:35, "Behold, your house is left to you desolate." And then in Luke chapter 20 in verse 21, He carried it a step further. He said – let's see, Luke chapter 21, verse 20 rather: "And when you shall see Jerusalem compassed with armies, then you know that its desolation is near." And verse 24, "They shall fall by the edge of the sword, and be led away captive into all nations; and Jerusalem shall be trodden down by the Gentiles."
Jesus said, "Hey, judgment, judgment." All through the apostles' ministries judgment was coming on Israel. Jesus preached it, and the sign of languages again showed it.
I'm not sure I fully agree that it died out that soon, if the purpose of tongues was also to spread the Good News to the many nations in the ancient world. In any event, that gift of the Holy Spirit was limited in time in order for the Church to grow and expand. It no longer exists.
In today's reading, Paul continues his discourse on tongues by saying that Christians must not think as children do, rather they must be 'infants in evil', yet display clear, mature thinking (verse 20).
Matthew Henry's commentary explains why Paul gave the Corinthians that particular instruction:
Children are apt to be struck with novelty and strange appearances. They are taken with an outward show, without enquiring into the true nature and worth of things. Do not you act like them, and prefer noise and show to worth and substance; show a greater ripeness of judgment, and act a more manly part; be like children in nothing but an innocent and inoffensive disposition. A double rebuke is couched in this passage, both of their pride upon account of their gifts, and their arrogance and haughtiness towards each other, and the contests and quarrels proceeding from them.
Paul then cites Isaiah 28:11-12 and Deuteronomy 28:49 (verse 21), which warn impenitent Jews of God's judgement on them delivered by a people who speak a foreign language.
MacArthur takes us through the history behind those verses, beginning with Isaiah:
… when they began to hear that unintelligible language of Babylonia that they couldn't understand, they would know the judgment of God had fallen. And it happened in 588 B.C. And because of their unbelief and apostasy, God brought a terrible judgment.
This wasn't the only time they'd been warned. Back in Deuteronomy chapter 28 in verse 49, back in the 15th century before Christ, listen to this, 28:49. "The Lord shall bring a nation against thee from far, from the end of the earth, as swift as the eagle flieth; a nation whose tongue thou shalt not understand." I believe that most likely could have reference to the destruction of Jerusalem in 70 A.D. So in the 15th century, God warned them that when they heard a strange language it would be judgment.
In the 8th century, Isaiah, God warned them that when they heard a strange language it would be judgment. "Jeremiah" – that great weeping prophet – "said, 'Lo, I will bring a nation upon you from far, O house of Israel,' saith the Lord. 'It is a mighty nation. It is an ancient nation, a nation whose language you know not, neither understand you what they say,'" Jeremiah 5:15. And God had clearly pointed out in their minds that when they were going to be judged, there was going to be a sign, and the sign was they would hear a language they couldn't understand. Do you see?
He thinks that Paul was preoccupied with the temple in Jerusalem:
When Paul quotes that here, he is saying, "Look, just as when Isaiah said it, just as when Moses said it, just as when Jeremiah said it, those languages are a sign to the unbeliever that God is about to act in judgment." That's what he's saying.
You say, "Well, what did it mean in this generation in which Paul lived?" Well, listen; when they began to speak those languages on the day of Pentecost, every Jew should have known that the judgment of God was eminent. And do you know it wasn't but just about thirty years later when the Roman Emperor came in and wiped out Jerusalem, and with it, Judaism as such. The sacrificial system ended and it's never been restored. They should have known the judgment of God was going to fall.
Henry gives us Paul's purpose in those citations for the Corinthians — that God might abandon the church in Corinth if they persist in speaking in false tongues:

… surely the apostle's discourse implies, "You should not be fond of the tokens of divine displeasure. God can have no gracious regards to those who are left merely to this sort of instruction, and taught in language which they cannot understand. They can never be benefited by such teaching as this; and, when they are left to it, it is a sad sign that God gives them over as past cure." And should Christians covet to be in such a state, or to bring the churches into it? Yet thus did the Corinthian preachers in effect, who would always deliver their inspirations in an unknown tongue.
Paul goes on to say that the true gift of tongues is intended to evangelise to unbelievers while the gift of preaching is for the benefit of believers (verse 22).
Henry says:
The gift of tongues was necessary to spread Christianity, and gather churches; it was proper and intended to convince unbelievers of that doctrine which Christians had already embraced; but prophesying, and interpreting scripture in their own language, were most for the edification of such as did already believe: so that speaking with tongues in Christians assemblies was altogether out of time and place; neither one nor the other was proper for it. Note, That gifts may be rightly used, it is proper to know the ends which they are intended to serve. To go about the conversion of infidels, as the apostles did, had been a vain undertaking without the gift of tongues, and the discovery of this gift; but, in an assembly of Christians already converted to the Christian faith, to make use and ostentation of this gift would be perfectly impertinent, because it would be of no advantage to the assembly; not for conviction of truth, because they had already embraced it; not for their edification, because they did not understand, and could not get benefit without understanding, what they heard.
Paul warns them that outsiders or unbelievers will think if they walk into an assembly of Corinthians babbling in gibberish; they would think the Corinthians were mad (verse 23), something that God would find deeply displeasing.
Henry says:
Note, The Christian religion is a sober and reasonable thing in itself, and should not, by the ministers of it, be made to look wild or senseless. Those disgrace their religion, and vilify their own character, who do any thing that has this aspect.
Paul says that when an outsider or an unbeliever enters an assembly of Christian worshippers, he should feel convicted by what he hears (verse 24) with the secrets of his heart disclosed so that he comes to be humbled and worship God, declaring that He is truly present in that place (verse 25).
Henry explains:
Note, Scripture–truth, plainly and duly taught, has a marvellous aptness to awaken the conscience, and touch the heart. And is not this much more for the honour of our religion than that infidels should conclude the ministers of it a set of madmen, and their religious exercises only fits of frenzy? This last would at once cast contempt on them and their religion too. Instead of procuring applause for them, it would render them ridiculous, and involve their profession in the same censure: whereas prophesying would certainly edify the church, much better keep up their credit, and might probably convince and convert infidels who might occasionally hear them. Note, Religious exercises in Christian assemblies should be such as are fit to edify the faithful, and convince, affect, and convert unbelievers. The ministry was not instituted to make ostentation of gifts and parts, but to save souls.
That provides us with a good segue to Paul's next topic: worshipping in an orderly manner.
Next time — 1 Corinthians 14:26-33a
Pentecost Sunday is May 23, 2021.
Readings for Year B in the three-year Lectionary can be found here.
The feast of Pentecost is considered to be the birthday of the Church, as the baptism of the Holy Spirit came down upon the disciples, including the Apostles, enabling them to spread the Good News, the Gospel story.
Acts 2:1-21 can be read either as the First Reading or as the Epistle. As I have been writing about Acts 1 for Ascension Day and Exaudi Sunday, it seemed apposite to continue with Acts 2.
Emphases below are mine.
Acts 2:1-21
2:1 When the day of Pentecost had come, they were all together in one place.
2:2 And suddenly from heaven there came a sound like the rush of a violent wind, and it filled the entire house where they were sitting.
2:3 Divided tongues, as of fire, appeared among them, and a tongue rested on each of them.
2:4 All of them were filled with the Holy Spirit and began to speak in other languages, as the Spirit gave them ability.
2:5 Now there were devout Jews from every nation under heaven living in Jerusalem.
2:6 And at this sound the crowd gathered and was bewildered, because each one heard them speaking in the native language of each.
2:7 Amazed and astonished, they asked, "Are not all these who are speaking Galileans?
2:8 And how is it that we hear, each of us, in our own native language?
2:9 Parthians, Medes, Elamites, and residents of Mesopotamia, Judea and Cappadocia, Pontus and Asia,
2:10 Phrygia and Pamphylia, Egypt and the parts of Libya belonging to Cyrene, and visitors from Rome, both Jews and proselytes,
2:11 Cretans and Arabs–in our own languages we hear them speaking about God's deeds of power."
2:12 All were amazed and perplexed, saying to one another, "What does this mean?"
2:13 But others sneered and said, "They are filled with new wine."
2:14 But Peter, standing with the eleven, raised his voice and addressed them, "Men of Judea and all who live in Jerusalem, let this be known to you, and listen to what I say.
2:15 Indeed, these are not drunk, as you suppose, for it is only nine o'clock in the morning.
2:16 No, this is what was spoken through the prophet Joel:
2:17 'In the last days it will be, God declares, that I will pour out my Spirit upon all flesh, and your sons and your daughters shall prophesy, and your young men shall see visions, and your old men shall dream dreams.
2:18 Even upon my slaves, both men and women, in those days I will pour out my Spirit; and they shall prophesy.
2:19 And I will show portents in the heaven above and signs on the earth below, blood, and fire, and smoky mist.
2:20 The sun shall be turned to darkness and the moon to blood, before the coming of the Lord's great and glorious day.
2:21 Then everyone who calls on the name of the Lord shall be saved.'
Commentary comes from Matthew Henry and John MacArthur.
This is how the true gift of tongues — enabled for the Apostolic Era — worked. Those Galileans with this special gift spoke in existing foreign languages fluently and eloquently, easily understood by outsiders who spoke those languages.
Jews from many foreign countries went up to Jerusalem for the Festival of Weeks, or Shavuot. It takes place 50 days after Passover. Pentecost is 50 days after Easter; the word itself means 'fiftieth'. In 2021, Shavuot was commemorated from May 16 to May 18. Hebcal describes its significance:
Shavuot commemorates the anniversary of the day G-d gave the Torah to the entire Israelite nation assembled at Mount Sinai, although the association between the giving of the Torah (Matan Torah) and Shavuot is not explicit in the Biblical text. The holiday is one of the Shalosh Regalim, the three Biblical pilgrimage festivals. It marks the conclusion of the Counting of the Omer.
Jesus rose from the dead on the day of the offering of the First Fruits. Fifty days later, on Shavuot, the Holy Spirit descends upon His disciples.
The disciples were gathered in one place (verse 1), possibly in the upper room where they drew lots for Matthias's accession to apostleship. In any event, they would have been in Jerusalem, along with Jewish pilgrims for Shavuot.
Suddenly, they heard the sound of a violent wind, which filled the entire house (verse 2).
Matthew Henry's commentary describes it as follows:
Probably it alarmed the whole city, but, to show that it was supernatural, presently fixed upon that particular house … This would direct the people who observed it whither to go to enquire the meaning of it. This wind filling the house would strike an awe upon the disciples, and help to put them into a very serious, reverent, and composed frame, for the receiving of the Holy Ghost. Thus the convictions of the Spirit make way for his comforts; and the rough blasts of that blessed wind prepare the soul for its soft and gentle gales.
Tongues of fire appeared, one tongue over each of them (verse 3).
Of these flames, Henry says:
The flame of a candle is somewhat like a tongue; and there is a meteor which naturalists call ignis lambens–a gentle flame, not a devouring fire; such was this.
Henry explains how God used outward signs to designate prophets and fire in the Old Testament :
(1.) There was an outward sensible sign, for the confirming of the faith of the disciples themselves, and for the convincing of others. Thus the prophets of old had frequently their first mission confirmed by signs, that all Israel might know them to be established prophets.
(2.) The sign given was fire, that John Baptist's saying concerning Christ might be fulfilled, He shall baptize you with the Holy Ghost and with fire; with the Holy Ghost as with fire. They were now, in the feast of pentecost, celebrating the memorial of the giving of the law upon mount Sinai; and as that was given in fire, and therefore is called a fiery law, so is the gospel. Ezekiel's mission was confirmed by a vision of burning coals of fire (Acts 1:13; Acts 1:13), and Isaiah's by a coal of fire touching his lips, Acts 6:7; Acts 6:7. The Spirit, like fire, melts the heart, separates and burns up the dross, and kindles pious and devout affections in the soul, in which, as in the fire upon the altar, the spiritual sacrifices are offered up. This is that fire which Christ came to send upon the earth. Luke 12:49.
Shavuot traditionally involved an offering of wheat. John MacArthur says that the Jews made loaves of bread, signifying their unity as God's people.
He applies this to the first Pentecost, the baptism of the Holy Spirit and the creation of the Church:
Now, I want you to know that, so that you'll be able to understand your identity in Christ. You're one with Him. You're one with every other Christian. That's what occurred in verse 2 when it says, "There came a sound from heaven like a rushing mighty wind," – we know that to be the breath of God, the Holy Spirit – "filled the house where they were sitting." And if He filled that house, He filled them who were in it. And I believe at that point the baptism of the Spirit took place.
Kind of an interesting play on words, if you take the idea that it filled all the house, and carry it to Ephesians 2:22. There's a new house there where all the believers are called the house or the habitation of the Spirit. So He filled the physical house in Acts 2:2; but in the same moment, He filled the spiritual house, and all believers became His new house.
Now, let me add another thought here, because I want you to understand this. The baptism of the Spirit is also extremely important understood this way, because if it isn't, then Jesus' prayer in John 17 goes unanswered, and then you've got some real problems. You see, Jesus prayed this four times: verse 11, 21, 22, 23. He said, "Father, I pray that they be" – what? – "one. One, one, one."
Now, my friends, this happened right here. This is the answer to Jesus' prayer. When the Spirit of God came, He made us one positionally. Now, we aren't always one practically, are we? There's divisions and strife among us when we're carnal. But, positionally, are we one blended together? Are we that common loaf? Sure we are. We're not just a loosely-gathered sheaf tied together with string, we are one in Christ, inner-dependent and mutually-dependent on life from each other in the ministry of our gifts and fellowship. And so we must assume the baptism of the Spirit to be that baptizing all believers into oneness, or the prayer of Jesus Christ goes unanswered.
Now, notice another phenomenon that happened in verse 3 accompanying the first; and this is all proof that the Spirit came. Verse 3: "And there appeared unto them," – that is to those believers who had been baptized, immersed at that moment into the body of Christ by the Spirit – "appeared unto them cloven" – or parted – "tongues as of fire," – they weren't fire, they were as like fire – "and it sat upon each of them." Now, here's another interesting phenomenon. These parted tongues that appeared over everyone of them was testimony that with no exception, each of them had received the Holy Spirit.
As the disciples were filled with the Holy Spirit at that point, they began speaking in other languages — tongues — 'as the Spirit gave them ability' (verse 4). This was in order to spread the Good News to those from other nations who were celebrating Shavuot in Jerusalem (verse 5).
As Henry surmises above, the roar of the wind must have drawn a large crowd to the house where the disciples were gathered, because the foreigners were 'bewildered' to find that the people inside were speaking their own languages (verse 6).
They were amazed to hear, each in his own language, humble Galileans proclaim the mighty works of God (verses 6-11).
Henry contrasts this with the Tower of Babel from Genesis:
The tongues were divided, and yet they still continued all of one accord; for there may be a sincere unity of affections where yet there is a diversity of expression. Dr. Lightfoot observes that the dividing of tongues at Babel was the casting off of the heathen; for when they had lost the language in which alone God was spoken of and preached, they utterly lost the knowledge of God and religion, and fell into idolatry. But now, after above two thousand years, God, by another dividing of tongues, restores the knowledge of himself to the nations ...
And we may suppose that they understood not only themselves but one another too, which the builders of Babel did not, Genesis 11:7. They did not speak here and there a word of another tongue, or stammer out some broken sentences, but spoke it as readily, properly, and elegantly, as if it had been their mother-tongue; for whatever was produced by miracle was the best of the kind. They spoke not from any previous thought or meditation, but as the Spirit gave them utterance; he furnished them with the matter as well as the language.
MacArthur says:
Now, the miracle of languages here was important because of the strategy of the spread of the gospel … in Jerusalem at this time there were people from all over the Jewish world and there could have been as many as one million. You could fit 200,000 of them into the temple courtyard alone. They were jammed into this place. And this specific miracle was … not to become the pattern or the norm for all Christians ...
In other words, if the gift still exists, then God for some strange reason has put unnecessary, crippling strings on the gospel because He makes people go through years of studying languages before they can ever begin to witness. And if people have this so-called gift to speak in foreign languages, it would seem rather unnecessary. And if God had designed such a language miracle for today, it would seem as though it could be put to great use. And if there is a gift of languages, my friends, let me ask this: Why is it only for certain special people in certain special movements who get together in special prayer meetings and speak it to each other who already speak the same language and who already know the truth? And if unbelievers are present, Paul says they will say you're mad because it will only confuse them.
You see, if such still exists, why doesn't it exist for missionaries? Or better yet, why are there some missionaries who claim to have the gift but still go to language school? So, you see, this experience in Acts is by no means the norm. We cannot make it the norm for all Christians. You cannot say that every Christian is supposed to be speaking foreign languages.
Those in the crowd asked what such a phenomenon could mean (verse 12). However, others were sceptical, accusing the disciples of being drunk on 'new wine', which was rather weak in alcohol content (verse 13).
MacArthur says:
They did not understand and they tried to explain it away by mocking them and saying, "Look at these babies, can't handle grape juice."
That accusation galvanised Peter, ever the boldest of the Twelve, into standing up to address the Judeans and those from Jerusalem (verse 14). The other Eleven were around him.
Once the Holy Spirit entered into Peter, he now understood Christ's ministry and could competently preach about it, as his sermon shows. He addressed it to the local Jews and not the foreigners, so he spoke in his own language.
MacArthur sets the scene for us:
So Peter stands up. Now, the moment is fantastic. The Holy Spirit has set the stage. The people are confused. Their minds are all messed up. They can't understand what's been going on. From their standpoint everything is ready. From Peter's standpoint everything is ready. He's been filled with the Spirit of God. He's about to open his mouth and God is going to speak and so he stands up. And then I like this, it says he lifted up his voice. Oh, preachers love that verse because that's a wonderful text that grants New Testament precedent for yelling. And Peter lifted up his voice.
Peter refuted the idea of drunkenness, especially as it was nine o'clock in the morning (verse 15). Nine o'clock was the time for private prayers. The Jews did not eat or drink anything until afterwards.
He then launched into a prophecy from Joel (verse 16), citing Joel 2:28-32 (verse 17), wherein the prophet said that in the last days — and we are still in those 'last days', even now — God declared that He would pour out his Spirit upon humankind at which point men and women would preach (the original meaning of the word 'prophesy'):
and your young men shall see visions, and your old men shall dream dreams.
Joel's prophecy included slaves who would prophesy (verse 18).
Joel spoke of the coming day of judgement, with visible, terrible signs in the skies as well as on the earth (verse 19). The sun will become dark and the moon become like blood just before the Lord comes to us again (verse 20).
Everyone at that time who calls upon the name of the Lord will be saved (verse 21).
Henry says that Peter was using Joel's prophecy to alert the Jews that the temple would be destroyed, which it was in AD 70. There were a number of phenomena that occurred in Jerusalem around that time:
Those that would not submit to the power of God's grace, in this wonderful effusion of his Spirit, should fall and lie under the pourings out of the vials of his wrath. Those shall break that will not bend. First, The destruction of Jerusalem, which was about forty years after Christ's death, is here called that great and notable day of the Lord, because it put a final period to the Mosaic economy; the Levitical priesthood and the ceremonial law were thereby for ever abolished and done away. The desolation itself was such as was never brought upon any place or nation, either before or since. It was the day of the Lord, for it was the day of his vengeance upon that people for crucifying Christ, and persecuting his ministers; it was the year of recompences for that controversy; yea, and for all the blood of the saints and martyrs, from the blood of righteous Abel,Matthew 23:35. It was a little day of judgment; it was a notable day: in Joel it is called a terrible day, for so it was to men on earth; but here epiphane (after the Septuagint), a glorious, illustrious day, for so it was to Christ in heaven; it was the epiphany, his appearing, so he himself spoke of it, Matthew 24:30. …
Secondly, The terrible presages of that destruction are here foretold: There shall be wonders in heaven above, the sun turned into darkness and the moon into blood; and signs too in the earth beneath, blood and fire. Josephus, in his preface to his history of the wars of the Jews, speaks of the signs and prodigies that preceded them, terrible thunders, lightnings, and earthquakes; there was a fiery comet that hung over the city for a year, and a flaming sword was seen pointing down upon it; a light shone upon the temple and the altar at midnight, as if it had been noon-day …
The blood points at the wars of the Jews with the neighbouring nations, with the Samaritans, Syrians, and Greeks, in which abundance of blood was shed, as there was also in their civil wars, and the struggles of the seditious (as they called them), which were very bloody; there was no peace to him that went out nor to him that came in. The fire and vapour of smoke, here foretold, literally came to pass in the burning of their cities, and towns, and synagogues, and temple at last. And this turning of the sun into darkness, and the moon into blood, bespeaks the dissolution of their government, civil and sacred, and the extinguishing of all their lights.
Yet, when the temple was destroyed, those who believed in Christ were not harmed:
Thirdly, The signal preservation of the Lord's people is here promised (Acts 2:21; Acts 2:21): Whosoever shall call upon the name of the Lord Jesus (which is the description of a true Christian, 1 Corinthians 1:2) shall be saved, shall escape that judgment which shall be a type and earnest of everlasting salvation. In the destruction of Jerusalem by the Chaldeans, there was a remnant sealed to be hid in the day of the Lord's anger; and in the destruction by the Romans not one Christian perished. Those that distinguish themselves by singular piety shall be distinguished by special preservation. And observe, the saved remnant are described by this, that they are a praying people: they call on the name of the Lord, which intimates that they are not saved by any merit or righteousness of their own, but purely by the favour of God, which must be sued out by prayer. It is the name of the Lord which they call upon that is their strong tower.
There was much more to Peter's first sermon, the first fire and brimstone sermon in the history of the Church.
The result was this (Acts 2:41):
So those who received his word were baptized, and there were added that day about three thousand souls.
From there, the Church in Jerusalem grew dramatically day by day:
42 And they devoted themselves to the apostles' teaching and the fellowship, to the breaking of bread and the prayers. 43 And awe[d] came upon every soul, and many wonders and signs were being done through the apostles. 44 And all who believed were together and had all things in common. 45 And they were selling their possessions and belongings and distributing the proceeds to all, as any had need. 46 And day by day, attending the temple together and breaking bread in their homes, they received their food with glad and generous hearts, 47 praising God and having favor with all the people. And the Lord added to their number day by day those who were being saved.
What an awe-inspiring experience that period after the first Pentecost must have been.
Pentecost Sunday concludes Eastertide. Next Sunday is Trinity Sunday.