You are currently browsing the monthly archive for June 2021.
On Monday, June 28, Peter Bone (Con) asked an Urgent Question about the security camera in what was Matt Hancock's office at the Department for Health and Social Care.
It has since been removed, but MPs from both sides of the aisle were deeply concerned — one wonders why — about its presence.
Julia Lopez, the Parliamentary Secretary in the Cabinet Office, answered MPs questions on that and on Hancock's use of his personal Gmail account for government business.
Michael Gove, the Chancellor of the Duchy of Lancaster, should have taken the questions, but he was working in Glasgow.
Excerpts from Hansard follow, emphases mine.
This debate cleared up misunderstandings about the use of personal email reported in the media at the weekend.
Security camera
Lopez said that an investigation is taking place:
On the specific incident relating to the leak of footage from a security camera to the media, given the public interest in the case I can confirm that the Department of Health and Social Care has launched an investigation that is supported, as appropriate, by the Government security group based in the Cabinet Office. Until the investigation is complete, it would be inappropriate to give further details. I am sorry to hon. Members who will understandably be seeking a lot of details on this matter. It is the case, however, that robust safeguards are in place around the security of Ministers, parliamentarians and Members of devolved legislatures.
Peter Bone asked for more information.
Lopez replied:
… once that investigation has been completed, notwithstanding the security concerns, we will want to provide him with reassurances on a number of the extremely important questions that he has raised.
My hon. Friend also asked about the extent to which offices are regularly swept. There is an organisation called UK NACE—UK National Authority for Counter Eavesdropping. It is the Government lead for counter-eavesdropping and this includes the technical manipulation of protective security systems, including CCTV. This is an area where it works very closely with the Government Security Group. My understanding is that it takes a risk-based assessment when it comes to sweeping, so in Departments where there are particular security sensitivities and concerns, those sweeps are taking place on a relatively regular basis, but Departments are accountable for the way in which their security is maintained within the Departments. The Cabinet Office plays a supporting role through the Government Security Group, setting out standards to which Departments are expected to adhere.
William Wragg (Con), a contrarian to his credit, asked about the safety of the whistleblower who allegedly leaked the Hancock video to The Sun:
… what safeguards are there for whistleblowers who may inadvertently discover material that is in the public interest?
Lopez replied:
It is important that a distinction is made between material that was inappropriately sourced and then leaked and people who are trying to raise legitimate concerns that require public transparency. I shall look into the concern that my hon. Friend has raised to make sure that there is no blurring of those two very important and distinct issues.
Stewart Hosie (SNP) asked more questions about surveillance:
Was the former Health Secretary aware, and indeed, was the security officer in his Department aware, of the CCTV camera in his office? Is the Minister aware of similar CCTV cameras in any other ministerial office? Who installs such systems in Ministries and who monitors them and has access to their feeds? Do they record video only or is it sound and vision? Given that there were reports of this footage being touted on Instagram for some time, is it true that staff from private companies manage those systems and monitor the footage? If it is true, who is responsible for vetting, and what is the process for vetting, such staff?
Finally, and most importantly, how confident is the Minister that others—states and non-state actors who would do us harm—have not already compromised other staff or gained direct access to some of these CCTV feeds?
Lopez said that the Department of Health and Social Care were conducting their own investigation:
The hon. Gentleman raised a number of points—who installs such machines and so on—that we need to look into via the Department of Health and Social Care investigation. My understanding is that it was a CCTV camera, not a covert device. There are obviously questions to answer about the way in which civil servants are vetted—they do go through stringent vetting processes—and in respect of a risk-based approach as to which Departments need to be more regularly swept. I hope that some of the answers that the hon. Gentleman seeks will be answered by the Department of Health and Social Care investigation into this matter.
Jacob Young (Con) pointed out that it was crucial that, during a pandemic, the Department of Health must be fully secure for national security reasons.
Lopez said that, once complete, the DHSC investigation would provide more detail.
Jamie Stone (Scottish Lib Dem) wondered how Hancock would not have known about the security camera:
Crikey, Mr Speaker—who would be a Minister on a day like today?
I do not want to go into the detail of what happened on the day in question, but it occurs to me that the security camera—I think we are accepting that it was a security camera—must surely to goodness have been pretty covert. I know where the security cameras are in my local high street where I live in the Highlands. The more we go into this matter, the odder it gets. The public deserve an absolutely open explanation as to what has happened. If the cameras are covert, or semi-covert, why are they? Why does a Secretary of State not know, on a need-to-know basis, about this sort of thing and where the cameras are?
David Johnston (Con) asked for reassurance that no foreign power had access to the camera.
Lopez replied that the Government is investigating that issue.
Dr Julian Lewis (Con) asked whether security cameras in ministers' offices was routine practice.
Lopez replied:
My understanding is that the general policy is that cameras are not sited within Ministers' offices. I think this situation was an outlier in that regard, and we will have a better understanding of why it occurred once the Department's investigation is complete.
Chris Bryant (Lab) had the comment of the day. Ordinarily, I disagree with much of what he says but fully appreciate his exasperation here:
Something really does not add up here. As I understand it, the Minister is saying that the camera in the office of the Secretary of State was not covert. In other words, the Secretary of State knew it was there, yet we have all seen the video. If that is true, he must be the stupidest man on earth. Is the Minister really trying to persuade us that he knew that there was a camera in his office? When he had meetings with other Ministers, were they informed that those meetings were being recorded? Is that really what she is trying to suggest? It blows my mind, this idea.
Lopez responded:
I am sorry that the hon. Gentleman's mind is blown. I am a Cabinet Office Minister who is responsible for overall adherence to Government security rules. When it comes to the placement of the camera in that office, I am afraid that it is for the Department of Health and Social Care to account for itself when it comes to what happened. It is already conducting an investigation, which we will want to look at.
Steve Brine (Con) wondered how many people had access to what the camera recorded, especially if The Sun could post photos and a video:
As a former Minister in the Department of Health and Social Care with the previous Secretary of State, in candidness, no one ever told me that our meetings were being observed. I never asked, it is true, but I was certainly never told. The issue, to my mind, is of course that they were being recorded, but more, who had access to those images? Does the Minister think that things would be made much easier for everyone as the Department of Health and Social Care begins the investigation if the, let us remember, profit-making media organisation involved simply made it clear how it was able to see inside a senior Minister's office?
Lopez advised waiting for the results of the investigation.
Dame Angela Eagle (Lab) asked about the camera and the use of personal emails (see below). She picked up on Chris Bryant's point:
The Minister has astonished us all by saying that this was not a covert device, yet we have just heard from a former Health Minister that he did not know about it. The Minister is somehow asking us to believe that the now departed Secretary of State somehow knew about it, but clearly if he did he would not have behaved in the way he did right in front of it, so I think that she is stretching credibility.
Lopez said that the investigation would answer more questions.
Either Lopez or Gove will report back to the Commons with the results of the investigation.
Gmail account
On Hancock's use of his Gmail account, Lopez said:
Government guidance is that official devices, email accounts and communications applications should be used for communicating classified information. Other forms of electronic communication may be used in the course of conducting Government business, but each Minister is responsible for ensuring that Government information is handled in a secure way. How that is done will depend on the type of information and on the specific circumstances.
Angela Rayner (Lab), responding for the Opposition, spoke, complaining that Michael Gove, the Chancellor of the Duchy of Lancaster was not there:
Incredibly, this is not even the biggest scandal of the day when it comes to ministerial security and communications, and the Minister alluded to this comments. This morning, a Government spokesperson claimed that all Ministers only conduct Government business through their departmental email addresses yet I have, right here, the minutes of a departmental meeting in which senior civil servants report Government contracts being approved from a Minister's private email address. Who is telling the truth? It is a pity that the Chancellor of the Duchy of Lancaster could not be here in person, given his personal experience of the perils of using his private emails to conduct ministerial business and to try and avoid freedom of information laws.
And it goes well beyond one Department. Last week, the Cabinet Office refused to answer my questions about the Prime Minister's mobile phone. Today, it has been reported that he, too, will not deny using private email addresses. Can the Minister now say from the Dispatch Box, categorically and on the record, that no Minister or Prime Minister has used, or does use, private email for Government business, especially when it involves spending public money?
This morning, the Justice Secretary agreed that private email was a huge security issue. He admitted that this revelation does raise legitimate questions. On this, he is right. Now it is time to answer those questions. Will those involved refer themselves to the Information Commissioner so that a genuinely independent investigation can take place? If any Ministers have used private email for Government business, what action will be taken and what will be done to prevent it from happening again? What steps have been and will be taken to preserve private emails as evidence for the public inquiry into the Government's mishandling of the covid pandemic?
Our country faces daily threats from hostile foreign states that have already, for example, hacked the private email account of the right hon. Member for North Somerset (Dr Fox). What advice have the Government taken on the security of Ministers' private email accounts? What does it say about this Government that they will launch an inquiry into leaks of CCTV but not into their own Ministers?
Lopez replied, mentioning 'the height of the pandemic' last year:
Other forms of electronic communication may be used in the course of conducting Government business. Each Minister is responsible for ensuring that Government information is handled in a secure way, but how that is done will depend on the type of information and on the specific circumstances.
The right hon. Lady asked about the procurement of personal protective equipment, I believe, or a covid contract that was conducted allegedly via a private email address. I am happy to look into that. But there needs to be understanding of the fact that when we were at the height of the pandemic, a huge volume of correspondence was coming to Ministers via their personal email addresses, their parliamentary email addresses and their ministerial email addresses.
A Scottish Labour MP, Mark Tami, shouted:
That's all right, then!
The atmosphere turned lively, with audible reactions.
Lopez continued, pointing out that, when the time came to speak up in other debates, Angela Rayner had not done so:
I am not suggesting that there is something we should not be looking into. My point is that—[Interruption.] Perhaps the hon. Gentleman could wait for me to finish. Some 15,000 offers of help to secure PPE came in following the Prime Minister's call for assistance. Obviously people wanted to respond to that call, and then we needed to manage the sheer volume of correspondence. The important thing to note is that when PPE offers did come in, they went through the same eight-stage process, so no matter which way those things were communicated, they went through the same process, and that should provide assurance.
Insofar as there are questions to answer, I want to assure the right hon. Lady that we have conducted a number of internal and external inquiries into this matter. There is the Boardman investigation into contracts and there was a National Audit Office investigation into contracts, so I assure her that this matter has already been looked into. She is absolutely right to ask questions and I am absolutely right to reassure her.
I would add that there have been a number of debates on covid contracts in this House, one of which took place in Westminster Hall. I was on maternity leave at the time of the pandemic. I shared the right hon. Lady's concerns and wanted to understand what had happened, so I responded to a debate in Westminster Hall on those questions and I set out very candidly some of the concerns and challenges that we faced at the height of the pandemic. A number of hon. Members engaged in that debate and asked very legitimate questions to which I responded to the best of my ability. I am not aware that the right hon. Lady has ever engaged in any of those debates. If she wishes to generate a lot of hue and cry over this, that is understandable from a political point of view, but it is my duty to set out the challenges we faced and the ways we are addressing some of the concerns.
Later in the debate, Charlotte Nichols (Lab) said that Lopez had not answered Rayner's questions:
The Minister did not give a straightforward answer to my right hon. Friend the Member for Ashton-under-Lyne (Angela Rayner), so I will ask her again: is she confirming that Ministers did use private email addresses to approve contracts and that the Department of Health and Social Care therefore misled the public in its statement denying categorically that that happened? Given just how serious this is, will she agree to refer it to the Information Commissioner so that there is an independent investigation, not another Government whitewash?
Lopez replied that civil servants ultimately approve contracts but she would look into the matter:
My understanding is that it is not within the Minister's power to approve contracts—that goes through the approval of civil servants. I would like to offer the hon. Lady that assurance, but I am happy to look into the particular incident she highlights further if there are concerns that need to be looked into.
Dame Angela Eagle (Lab) said there was a time when personal email accounts were forbidden with regard to government business:
When I was a Minister, we were not allowed to use our own inboxes or our own private emails for Government business. We were told very, very bluntly at the beginning of our ministerial career that this would not be allowed. Why on earth is it different now?
Lopez mentioned the pandemic:
On the use of emails, there are clear guidelines to which Ministers should adhere, but we have to accept that there was a situation in which we all had to move online, and we all have to account for the way in which we handled ourselves in that period.
Mark Harper (Con) asked whether private email accounts used in conducting government business were subject to Freedom of Information (FOI) requests:
On the use of private emails for Government business, will the Minister confirm the legal position under the Freedom of Information Act? My understanding is that if a public authority—the Secretary of State clearly is a public authority—uses a private email for Government business, that private email and those emails are subject to the Freedom of Information Act, and the destruction of any emails in order to prevent them from being disclosed would be a criminal offence. That information will obviously be of some reassurance to people. Is she able to confirm that from the Dispatch Box?
Lopez confirmed Harper's understanding:
Yes, I can confirm that official information held in private email accounts is subject to FOI.
Joanna Cherry (SNP) picked up on Harper's point:
Our Prime Minister has had to have his phone wrested from him by the security services for conducting Government business by WhatsApp, and now a Health Secretary has been using his Gmail for official purposes. Can the Minister please answer the second question posed by the right hon. Member for Forest of Dean (Mr Harper) and confirm to us that it would be a criminal offence for any Minister to destroy communications they have made about Government business on private emails or private messaging apps for the purpose of defeating the ends of justice regarding our freedom of information request or, indeed, defeating the ends of justice in any future inquiry into the covid crisis?
Lopez replied:
As I say, official information held in private email accounts is subject to freedom of information and all the rules and restrictions around that.
The final question came from Dame Diana Johnson (Lab) on the permissibility of using personal emails and other online platforms for government business. She also had a go at Michael Gove:
May  I say to the Minister first of all that this House should take precedence in the priorities of the Chancellor of the Duchy of Lancaster, not travelling to Scotland?
When I was a Minister, neither parliamentary emails nor private emails were allowed to be used for Government business. Will the Minister therefore confirm whether using private email accounts to discuss sensitive Government business is in breach of the Freedom of Information Act, the Official Secrets Act, the Data Protection Act or the Public Records Act 1958, which place specific requirements on the use of Government information?
Lopez said that various online forms of communication is permitted:
As I have said, Government guidance is that official devices, email accounts and communications applications should be used for communicating classified information, but other forms of electronic communication may be used in the course of conducting business, and official information that is held in private email accounts is subject to FOI. I hope that that provides the right hon. Lady with assurance.
I am very much looking forward to a coronavirus inquiry next year, because I would like to know how many contract-related Gmail messages were deleted.
By the end of the day, Speaker of the House Sir Lindsay Hoyle issued a message to reassure anxious MPs about cameras in Parliamentary offices, not departmental buildings:
This seemed to preoccupy several MPs. It makes one wonder what they've been up to.
Yesterday's post covered former Health Secretary Matt Hancock's final 48 hours in that post.
Marital breakups
When Harry Cole's story broke in The Sun on Friday, Hancock asked for privacy because he wanted to spend time with his children.
Perhaps.
However, on Monday night, Cole reported (emphases mine):
The ousted Health Secretary quit on his wife Martha last week after 15 years and is now understood to be living with his lover.
Her husband is devastated:
Gina, 43, has called time on her own 12-year marriage with Oliver Tress after her affair was exposed.
Oliver, 54, the millionaire Oliver Bonas founder, is said to be "devastated" by the shock revelations, as family pals confirmed the split …
A neighbour in Wandsworth, South West London, said: "Gina and Matt are giving it a proper go and Olly was left reeling.
"They had lots of friends here so we are all trying to help look after Olly."
Hancock's relationship seems to have been developing for some time, as the Mail reported:
The aide who kissed Matt Hancock in CCTV footage which ended his marriage and Health Secretary career was 'asked two years ago if they were having an affair'.
Gina Coladangelo, 43, is said to have denied the existence of any romance between her and Mr Hancock when she was quizzed by one of his allies.
Friends said on Saturday night the affair had been going on for months, despite others only seeming to find out when the steamy minute-long clip of them emerged.
One wonders why they did not get married after graduating from Oxford. They both read PPE and worked on the student radio station. The Mail explains why:
Matt Hancock's mistress Gina Coladangelo was way out of the disgraced former Health Secretary's league while they were studying together at Oxford, a fellow alumnus revealed last night.
Broadcast journalist Maxie Allen, who worked alongside the pair at university radio station Oxygen FM in the late 1990s, recalled that men were desperate to date Miss Coladangelo while 'low profile' Mr Hancock cut 'an obscure figure' and was 'not someone you would mark out as destined for greatness'.
Speaking to the Sunday Mirror, Mr Allen told the Sunday Mirror: 'She struck me as someone who would get what they want. He's done well. This wouldn't have happened if he wasn't the Health Secretary and she wasn't lobbying, that is blatantly obvious to anyone who knew them back then.
'Gina was very glamorous, very nice and very good looking – all the young men held a candle for her. She was suave, composed and elegant. Most men would have given their right arm to go out with her.'
The former Health Secretary, who read sports for the radio station while he studied Politics, Philosophy and Economics, was regarded as 'low profile' and 'not someone you would mark out as destined for greatness'.  
He added: 'Hancock did the odd sports report but he wasn't well known. He was not the sort of person where he'd come into a room and everyone went, 'Oh, Matt Hancock's here'.
'He had a very slight presence, not someone you would mark out as destined for greatness. Whereas Gina was very well-known and high-profile and memorable. You never saw them talking to each other.'
Mr Allen recalled Miss Coladangelo's 21st birthday party at her parents' home in Royston, Hertfordshire, and remarked: 'It was a glamorous affair. They had a few bob. Gina is not the sort of person to get drunk and make a scene. She was very composed and elegant.'
Affair unfair to the public
The Mail's veteran columnist Richard Littlejohn put the affair into perspective for us in a time of lockdown:
Clearly this wasn't simply a 'moment of madness'. It's emerged that the affair has been the talk o' the steamie, as they say in Scotland, for months.
When wasn't it going on?
So all the time Hancock was ordering us — on pain of prosecution — to keep our distance, not to hug our grannies or make love to anyone outside our immediate household, he was getting hot and heavy with his old university flame — a woman he'd put on the public payroll so he could keep her in close proximity for whenever the fancy took him.
So it would seem. He personally appointed her to her post, which required only 15 days of actual work per year:
Cross constituents
In Newmarket, Suffolk — the heart of Hancock's constituency — people were unhappy with their MP. The Mail interviewed several of them on Sunday:
Today Newmarket locals said they were 'happy' that the MP for West Suffolk had resigned from the Cabinet as they accused him of 'hypocrisy and double standards' over coronavirus restrictions. 
Residents described how they had been prevented from visiting their grandchildren by Mr Hancock, while some admitted they only voted for him in 2019 to keep Labour out. Others were thrilled to hear that the minister whose regulations had kept their businesses shut had left the Government.
Graham Gladstone, 41, said: 'He should have resigned immediately. The defence from Boris Johnson shows a contempt towards British members of public who have followed the rules and NHS staff who have had to be involved in treating people and the consequences of the virus. 
'It seemed typical of Conservative ministers to see what the public reaction was rather than think about the consequences of what he did. Especially after he publicly denounced Neil Ferguson.' 
Hannah Grimwood, 32, who works at Argos and has lived in Newmarket for 10 years, said: 'I never liked him in the first place, I've been moaning about the man for years.  I feel sorry for Boris Johnson, he had too much on his plate and too many people telling him what he should and shouldn't do.'
Miss Grimwood's partner Gary Holliday, 42, added: 'If you make the rules you have to follow the rules. He's only human but when it's happening a couple of times or more then members of the public are going to think it's not fair.'
Cross Conservative MPs
Conservative MPs were also angry at Hancock's hypocrisy. No doubt their inboxes were filling up with complaints from constituents. A crucial by-election is also coming up in Batley and Spen on Thursday, July 1, which the Conservatives hope to win. More on that later this week.
The Telegraph's Christopher Hope had the story about Hancock's decision to resign on Saturday:
The Daily Telegraph understands that this view crystallised in a "fairly direct" conversation with Mark Spencer, the Government's chief whip, at lunchtime on Saturday, who told him that 80 Tory MPs had complained to the whips' office about him in the 24 hours after he refused to resign.
Mr Spencer fed back the concerns in a call to Mr Hancock at midday on Saturday. "There were 80 Tory MPs saying he should go at that time," a source said.
The number of complaints means that more than one in four of the party's 363 MPs complained about Mr Hancock.
Sky News interview about funerals
On Sunday morning, Trevor Phillips interviewed a Conservative Cabinet member, Brandon Lewis, about Hancock's hypocrisy.
On his Sky News show, Phillips related the story of his daughter who died during lockdown on May 11 this year, six days after Hancock's steamy clinch with his aide. Phillips's daughter did not have the virus. She was anorexic.
Here's the video:
The Evening Standard has the dialogue:
Mr Phillips told Mr Lewis he wanted "to do something I wouldn't normally do and put a personal, private, question to you".
He continued: "Over the past two days, every Cabinet minister, including you, has come out to essentially defend the Prime Minister and Matt Hancock.
"The pictures that we saw were of an encounter on May 6.
"On May 11, my family buried my daughter who had died not of Covid but during the lockdown.
"Three hundred of our family and friends turned up online but most of them were not allowed to be at the graveside, even though it is in the open air, because of the rule of 30.
"Because of the instruction by Mr Hancock."
Before allowing Mr Lewis the chance to respond, Mr Phillips finished by saying: "Now the next time one of you tells me what to do in my private life, explain to me why I shouldn't just tell you where to get off?"
Mr Lewis failed to acknowledge Mr Phillips' loss, and said: "Look I absolutely accept the frustration, even the anger, from people and the situations they've been through.
"I've lost friends whose funerals I've not been able to go to, that is such a tragic situation for any of us to be in, which is why it's so important for all of us to do what we can to keep ourselves and family members safe."
He again defended disgraced Mr Hancock, adding: "What Matt did was wrong and that's why he apologised and acknowledged that."
Mr Phillips is covering for Sophy Ridge on the channel's Sunday morning politics show.
More double standards
With regard to coronavirus restrictions, here is a video of Wimbledon from Monday, June 28. The stands are full. There are no masks nor is there any social distancing:
However, football matches are still restricted in audience numbers and require mask wearing:
And here we are, being told to wear masks in shops, when we are there for far less time than it takes to watch a day's worth of tennis at Wimbledon.
However, since the Hancock photos and video emerged, some shops are no longer asking for masks to be worn.
The Mail reported:
Together with growing exasperation at the never-ending cycle of lockdowns, people are taking matters into their own hands – with small retailers discouraging mask-wearing while massive anti-lockdown protests sweep through London calling for Mr Hancock's arrest. 
Shops in Thirsk, North Yorkshire, placed signs in windows showing Mr Hancock kissing Miss Coladangelo, who studied politics, philosophy and economics at Oxford at the same time as Mr Hancock in the 1990s and is married to Oliver Bonas founder Oliver Tress.  
The signs say: 'Welcome to House Interiors. Don't wear a mask if you don't want too (sic). Matt doesn't'. 
The article has a photo of the sign, which is as amusing as it is true.
Hancock's house was also targeted. It's a pity he was not there to see it:
Police were pictured removing a sticker put on Mr Hancock's London home, where his wife Martha and their children live. It says: 'Our forefathers gave their lives to keep this country free, and you're just going to sit back and let it become an authoritarian hellhole, over a virus with a 99.9% recovery rate?' 
Television presenter Kirstie Allsopp pointed out:
the incident showed how 'it was one rule for you, another for us', tweeting: 'I remember footage of Hancock whipping of his mask as he entered No 10, not even keeping it on in the corridors as school children were made to do, I knew then it was one rule for you, another for us.' 
Humour at Hancock's expense
On Monday, June 28, an amusing video went viral of a man enquiring of Hancock at the gates of Downing Street:
The Mail reported:
The clip, filmed by company boss Dan Wright on Monday afternoon, has gone viral and been viewed more than a million times already. 
In the video, Mr Wright asks the group of armed policemen: 'Is Matt allowed to play? Is Matt allowed to come out and play?' The smirking officer then responds: 'No, he's cleaning his locker out at the moment' – to roars of laughter from his colleagues.
Passerby Mr Wright, of Chelmsford, Essex, also bursts out laughing while a second armed police officer quips: 'He's had his play already.' 
Conclusion
It is to be hoped that the House of Commons will not forget the Hancock debacle any time soon.
Debates on coronavirus restrictions this week have been lively, even though Hancock was only the subject of one Urgent Question, which related to the security camera in his former office.
Julia Lopez, the Parliamentary Secretary for the Cabinet Office, also fielded questions from MPs about Hancock's use of his personal Gmail account for Health Department contracts.
More on those tomorrow.
Last Friday's post was about Matt Hancock's fall from grace as Health Secretary as featured on the front page of The Sun.
The Queen had lost confidence in him before then, as my post explains, covered in another front page feature, in The Times.
Hancock's final 48 hours as health secretary were pivotal, not only for his political but also his personal life.
Thursday, June 24
The Sun allegedly contacted Hancock to ask him if he had any comment before they published the compromising photo of him in a steamy embrace with a female aide.
Hancock went home that evening and dropped a life-changing bombshell on his wife and youngest child. 
On Sunday, the Mail reported (emphases mine):
Mother-of-three Martha was reportedly blissfully unaware of her husband's infidelity until he broke the news to her on Thursday night when it became clear the footage would be published the next day.  
And he reportedly even woke up the couple's youngest child, aged eight, to tell him he was leaving. 
How unspeakably cruel.
My commiserations to both — as well as to his two other children.
Apparently, Hancock is serious:
Friday, June 25
On Friday, YouGov and Savanta ComRes took snap polls to test public opinion on The Sun's revelations about Hancock.
It was clear that this representative portion of the public were deeply unhappy and thought he should resign.
These were YouGov's results:
Savanta ComRes found that 46% of Conservative voters thought Hancock should resign:
The full video of Hancock's illicit embrace became available online.
A number of newspaper columnists expressed their disgust with Hancock's hypocrisy.
The Telegraph's Emily Hill wrote:
Four days after Freedom Day failed to dawn, what fun it is for the masses who must continue to abide by the Minister's absurd rules to see this! Dancing inside at a wedding – verboten. Nightclubs – verboten. Standing at the bar in a pub talking to perfect strangers – verboten. It's as if they don't want the young and fit and healthy to mate anymore. Sex privileges, it seems, are reserved for middle-aged men in Westminster while the rest of us can only watch, helpless, wondering how much their cheating is costing the taxpayer.
… But it is now the afternoon and Hancock has merely cancelled his appearance at a vaccine centre while Grant Shapps [Secretary of State for Transport] was sent out to inform us: "First of all, I think the actual issue is entirely personal for Matt Hancock." Seconds later he stated: "whatever the rules are, the rules will have to be followed" in relation to the ministerial code. This makes hypocrites of much of the Government, not to mention every world leader who flouted social distancing rules so publicly at the G7 summit.
The Telegraph's Alison Pearson pointed out how much the British public has sacrificed in personal relationships over the past year and a bit because of Hancock's restrictions:
Thousands of people posted reactions on social media. Some were bitterly mocking the official mantras: "Hands, Face, Back to My Place". "Saving Lives, Shagging Wives".
Others were simply devastating: "I wasn't even allowed to kiss my dying father because of Hancock."
The anger and disbelief were palpable. Was this really the minister who told us on the 17th May that, after fourteen months of physical and emotional self-denial, we were free to hug our loved ones, when, a fortnight earlier, he'd been giving mouth-to-mouth to some glamorous chum he'd put on the public payroll? Knowing Hancock, he'd call it First Aide.
We are all humble sinners and a man or woman's private peccadillos shouldn't disqualify them from doing their job. But no such understanding or humanity – not a sliver of mercy – has been shown by the Secretary of State or this Government to members of the public who have broken often cruel and arbitrary rules. Remember how we watched in horror as police arrested a retired nurse as she tried to drive her 97-year-old mother away from a care home. Hundreds of thousands of people have departed this life without a last touch or kiss from their best beloveds because the restrictions forbade it so relatives sobbed in the carpark because Matt Hancock said it must be so. Almost 30,000 children have been put on anti-depressants yet just one positive test (without any Covid symptoms) can still send an entire year group home to self-isolate for ten lonely days. Parents know this is insanity, but they must suck it up because that prating popinjay Hancock tells them it's vital to keep us "safe"…
If I had a gasket left to blow it would have exploded when Culture and Sports minister John Whittingdale explained this week how up to 3,000 Uefa officials will be allowed to arrive in the UK, without quarantine, for the Euro semis and finals. "We've always said that for some people who are important…", said the hapless minister, accounting for the fact that normal people would be held to different standards.
"All animals are equal but some animals are more equal than others." I never ever thought George Orwell's satirical take in Animal Farm on an arrogant, unaccountable elite patronising the masses would apply in our country. More fool me. We're all in this together, eh, Matt? …

Trust me, it's not closed. There are millions of us, and we are raging now, and we will not allow it to be closed. If the Government permits one law for Hancock and "important people" and another for the rest of us then it is morally bankrupt. Boris must act this very day to restore the people's faith, to prove that we haven't been mugs.
Fraser Nelson, also writing for the Telegraph, pointed out how Hancock insisted on following his draconian rules, therefore, he should not expect privacy now:
Mr Hancock has always been one of the most emphatic for the rules. In internal government debates, he has invariably pushed for the toughest restrictions and wanted 10-year jail sentences as a penalty for trying to dodge draconian quarantine rules. "I make no apologies for the strength of these measures," he said: they'd target a "minority who don't want to follow the rules." Who, presumably, he thinks, deserve everything coming their way. When two women were fined by police for walking together, Mr Hancock was unforgiving. "Every time you try to flex the rules,' he said, "that could be fatal" …
This is the irony in his request on Friday for "privacy for my family on this personal matter" now. There is no doubt his family deserves it. But a great many other families would have been grateful for more privacy over the last 15 months. Instead, the Tory Government decided to legislate for what people do in their own homes. And in so doing, set up a system where people came to worry that they'd be reported to the police – perhaps by their neighbours – if they stretched the rules by inviting children over to play in their back gardens. Greater Manchester Police issued a statement boasting that they had raided a family home to break up a child's birthday party.
Sweden managed to fight back two Covid waves while respecting privacy and civil liberty. There are bans on mass gatherings, and a rule of eight for public places. But no rules would apply inside anyone's property, where they had sovereignty. Government would not come through your front door: in Sweden, your home is your castle. It wasn't so long ago when this respect for privacy summed up civic life in Britain.
When Mr Hancock started issuing advice on where we should hug (embracing outside, he said, was better than inside) alarm bells ought to have been ringing in Number 10. It was a sign that the Government machine had gone way out of control, losing any sense of its remit or boundaries. Number 10 should have stepped in, and perhaps asked for a study on the efficacy of the intrusions or work of Project Fear: the blood-curdling posters showing Covid victims on their deathbeds. If there was no proof that the campaign was making a difference, they could have been told to change tack …
Paul Waugh of HuffPost dug up a quote from April 2020 (and a 2021 photo), showing how dictatorial Hancock was:
Conservatives in Parliament began complaining about Hancock. Christopher Hope, writing for the Telegraph, reported:
Baroness Foster of Oxton, a Tory peer, accused Mr Hancock on Twitter of having "used emergency powers to impose these punitive restrictions leading to horrendous consequences across society without debate yet ignored them himself & at work!"
Backbench Conservative MPs contacted their whips about the Health Secretary. One texted: "You don't need me to tell you what I think." Another said that "children have missed out in so many ways" and that Mr Hancock's behaviour was "so hypocritical", while a third MP said the Government "is looking ridiculous now, I am sorry to say".
Oddly, the Shadow (Opposition) Health Minister Jonathan Ashworth was silent.
The day ended with The Sun's Harry Cole appearing on the BBC's Newsnight:
Saturday, June 26
The Telegraph had running live coverage of the Hancock debacle. Excerpts follow.
Coverage began at 9:01 a.m.:
Tory MPs urged Boris Johnson to "pull the plug" on Mr Hancock and expressed their frustration to party whips over the Health Secretary's "hypocritical" behaviour …
A senior government source said public reaction was being monitored and could determine Mr Hancock's fate.
At 9:30:
The Telegraph understands Mr Hancock had no idea the camera existed when it captured him kissing adviser Gina Coladangelo, and government sources said it was "unheard of" for cameras to be installed in ministers' offices.
It raises the possibility that the camera was deliberately placed by someone with access to his office with the intention of catching the pair cheating on their spouses and breaking Covid rules. It is the first time a Cabinet minister has been filmed in their own office without their knowledge.
In a further twist, the Department of Health and Social Care's offices use CCTV cameras made by the Chinese company Hikvision, which is banned in the US because of national security concerns.
At 10:20:
A healthcare company which employs as a senior director the brother of the aide Matt Hancock was pictured kissing has insisted it had never benefited from the connection to the Health Secretary.
Reports suggested Roberto Coladangelo, strategy director at Partnering Health Limited (PHL Group), was the brother of Gina Coladangelo, a familial connection later confirmed.
At 11:06:
The Health Secretary is under mounting political pressure this morning after a video was published of him hugging and embracing Gina Coladangelo, a non-executive director in his department, in early May.
At the time, hugging and socialising indoors with people outside one's household was banned.
But according to The Sun, they have been "all over each other" again this week in the same ninth-floor office of the Department of Health and Social Care.
At 11:19:
Duncan Baker, Conservative MP for North Norfolk, has called for Matt Hancock to resign.
Mr Baker, who was elected in 2019, is believed to be the first Tory MP to openly call for Mr Hancock to go and told his local newspaper the Eastern Daily Press: "In my view people in high public office and great positions of responsibility should act with the appropriate morals and ethics that come with that role …
"I will not in any shape condone this behaviour and I have in the strongest possible terms told the Government what I think."
Duncan Baker was not alone. Three other Conservative MPs spoke out against Hancock — Esther McVey, William Wragg and Sir Christopher Chope:
Sir Christopher told the Dorset paper, the Daily Echo:
"I think that he should resign rather than be sacked because this should actually be an issue for him and his conscience.
"One of the benefits of having been around for a long time is that I've seen this sort of thing before and the strength of feeling is such, within the party and outside,  that this will not simply go away. 
"The sooner he resigns the better so we can have a new secretary for health who commands public respect.
"Hancock is finished.
"The sooner he goes the sooner he can be rehabilitated."
That afternoon, Hancock and Prime Minister Boris Johnson had a conversation. Hancock wrote a letter of resignation. Boris responded with a written reply:
Around 6 p.m., Hancock announced his resignation via a personal video:
Shadow Health Secretary Jonathan Ashworth said that Boris should have sacked Hancock:
However, given Boris's philandering, that would have been hypocritical.
Also, Hancock will now return to the backbenches. Boris will want to keep him sweet. Even I can figure that out.
Around two hours later, it was announced that Sajid Javid would be Hancock's replacement. Javid has been Home Secretary and Chancellor of the Exchequer, so he will be comfortable with another post in the Cabinet.
This means that Boris's expected reshuffle will not now take place until perhaps later in the year. A smart move:
This thread summarises Javid's career. He is the son of a bus driver. His teachers told him that he should pursue television set repair as a career. Were they ever wrong:
Dominic Cummings was quick to react, blaming Boris's wife Carrie for the appointment. She had at one time worked for Javid. Cummings said he himself had 'tricked' Boris into firing Javid from Her Majesty's Treasury (HMT):
Sky News's Beth Rigby appeared outside of No. 10 late on Saturday:
Beth has some nerve. She was suspended from Sky News for a few months for having revelled in a non-coronavirus-compliant way at her colleague Kay Burley's 60th birthday party evening in central London:
Sunday, June 27
Newspaper editors must have been pulling out their hair in changing their front pages for Sunday.
The Sun went for a play on words (matt paint):
The Mirror had the same idea, adding that his aide has quit her job, too:
The Times had a front page article adding that Hancock used a personal Gmail account to conduct Department of Health business. Apparently it's done now, but any of those emails are subject to FOIA requests with regard to Government business. It also means that the Government might not be able to get a trail of all of his activity with regard to contracts:
The Express said that Conservative donors threatened to stop contributions if Hancock stayed in office:
I will stop there for now.
The Sunday articles and news programmes had much more to explore.
For now, it looks as if Sajid Javid has a more libertarian approach to handling the virus and wants restrictions lifted as soon as practicable.
The three-year Lectionary that many Catholics and Protestants hear in public worship gives us a great variety of Holy Scripture.
Yet, it doesn't tell the whole story.
My series Forbidden Bible Verses — ones the Lectionary editors and their clergy omit — examines the passages we do not hear in church. These missing verses are also Essential Bible Verses, ones we should study with care and attention. Often, we find that they carry difficult messages and warnings.
Today's reading is from the English Standard Version with commentary by Matthew Henry and John MacArthur.
39 For not all flesh is the same, but there is one kind for humans, another for animals, another for birds, and another for fish. 40 There are heavenly bodies and earthly bodies, but the glory of the heavenly is of one kind, and the glory of the earthly is of another. 41 There is one glory of the sun, and another glory of the moon, and another glory of the stars; for star differs from star in glory.
—————————————————————————————
Last week's post was about faith and the belief in a personal resurrection which Christ guaranteed to us by rising from the dead. Paul says that if there is no resurrection, then he is putting his life at risk every day for no reason.
Corrupting influences in the Corinthian church made some in the congregation doubtful of an afterlife. Paul is setting them straight.
Paul says that God gives everything and everyone the body that He wills:
38 But God gives it a body as he has chosen, and to each kind of seed its own body.
Paul points out that every living being has a body according to its species, whether animal or human (verse 39).
John MacArthur says that amino acids are responsible for our individual makeup, and all life on Earth is individual, because even within species, there are differences in each creature (emphases mine):
Now, verse 39 is interesting from a scientific viewpoint. All flesh is not the same flesh. You ought to know that. In fact, there are, according to what I read, 600 octodecillion combinations of amino acids.
Now, I don't know how many 600 octodecillion combinations is; it's a lot. It's almost infinitesimal. It's almost immeasurable. And the reason there are so many is because amino acids are the building blocks of flesh. Amino acids are what produce you and me and anything else in us. And I have my own little set at work in me, and you have your own little set. And amino acids, for every individual, the combinations are unique. No two people are alike. Have you ever noticed a difference in complexion and skin features and wrinkle capacity and resistance in different people? All the different – the colors of the hair, all different features, the growth patterns, width, height, all that stuff. Everything is different because everything's individual – there's no two stars alike, no two flowers alike, no two blades of grass alike, no two snowflakes alike, no two any things alike – not even identical twins. They have their own little set of amino acids.
Try it at home. Look at the birds and the bees in your own garden. There is always some tiny difference to observe among robins, wrens and so on in plumage. The same goes for bumblebees, which are easier to observe than honeybees. The coloration differs just a tiny bit, even when they are of the same variety.
As for differences in humans, this is one of the reasons why 'one size fits all' groupthink and totalitarian governments are dangerous. We each have a different set of life experiences, even among identical twins somewhere along the line.
Paul goes on to say that there are heavenly bodies and earthly bodies but that both of those have their own particular glories, separate from one another (verse 40).
That is Paul's way of saying that, when we rise in glory to be with Christ forever, our bodies will become glorified forever.
MacArthur explains:
And really, folks, the glory is vastly different. The difference between a pretty flower and the sun is a lot of difference. A lot of difference. A pretty flower is nice. It has a certain amount of glory. But it doesn't have anything like the sun. And there are stars in our universe that are like thousand suns and more. The glory of the celestial – listen, whatever you see on earth is not what has to be up there is what he's saying. From the human viewpoint, we look at a flower, and then we look at a star, and there's no comparison. A flower is gone in a week; the star's been there since God created.
Now, the notice here. "There are two kinds of bodies," he says. "The earthly kind and the heavenly kind. There's a big, big difference." So, what he's saying is, "Listen, in resurrection, the body is going to be different. The glory of the resurrection body can be infinitely beyond anything we can conceive in this earth – the earthly, the terrestrial.
Paul then discusses the universe and the differing types of glory among the sun, the moon and the stars, particularly the stars (verse 41).
He is saying that we will have our own varying degrees of glory when we join Christ in the world to come.
Matthew Henry's commentary says:
All this is to intimate to us that the bodies of the dead, when they rise, will be so far changed, that they will be fitted for the heavenly regions, and that there will be a variety of glories among the bodies of the dead, when they shall be raised, as there is among the sun, and moon, and stars, nay among the stars themselves.
MacArthur cites a Reader's Digest article by way of explanation:
Donald Peattie, in Reader's Digest, said this, quote, "Like flowers, the stars have their own colors. At your first upward glance, all gleam white as frost crystals; but single out this one and that for observation and you will find a subtle spectrum in the stars. The quality of their lights is determined by their temperatures. In the December sky you will see Aldebaron as pale rose, Regel as bluish white, and Betelgeuse orange to topaz yellow." End quote. So, that's just an idea. They're different. Every star is different. Every sun is different. The moons are different. It's all different. It is unique. There are no two stars alike, no two suns alike, no two people alike, no two flowers alike, no two blades of grass alike, no two birds alike, no two anything alike.
Therefore, if God can create the planets and the rest of the universe, He can certainly raise us from the dead and give us glorified bodies for eternity.
Henry says:
All this carries an intimation along with it that it must be as easy to divine power to raise the dead, and recover their mouldered bodies, as out of the same materials to form so many different kinds of flesh and plants, and, for aught we know, celestial bodies as well as terrestrial ones …
To speak directly to the point: So also, says he, is the resurrection of the dead; so (as the plant growing out of the putrefied grain), so as no longer to be a terrestrial but a celestial body, and varying in glory from the other dead, who are raised, as one star does from another. But he specifies some particulars: as, (1.) It is sown in corruption, it is raised in incorruption. It is sown. Burying the dead is like sowing them; it is like committing the seed to the earth, that it may spring out of it again. And our bodies, which are sown, are corruptible, liable to putrefy and moulder, and crumble to dust; but, when we rise, they will be out of the power of the grave, and never more be liable to corruption.
MacArthur answers questions about what we will look like with glorified bodies:
I think we'll all be there, in a sense, unique.
For example, Moses and Elijah, long after they had died, were given some kind of form to return to appear on the Mount of Transfiguration and were recognizable in some way as Moses and Elijah. And God is the God of Abraham and Isaac and Jacob. And Abraham, Isaac, and Jacob are still Abraham, Isaac, and Jacob.
And we see in the resurrection, even at the end, at the great white throne, that standing in resurrection form before God are the small and the great, which means the variables are still there.
You say, "Will I look like me?"
Well, yeah. You'll be recognizable as you.
"Will I be the same as I am?"
No, you'll be different, but recognizable as you. Listen, Jesus had all the nail prints in His –
People say, "Will I still have this scar here? Will is still have my nose over here? Will my ears be funny? Will I…"
I don't know, but Jesus had the same scars in the same places that He had in the body before His glorified body. So, what Paul is saying, you see, is this: the basic form of resurrection will be glorified another level of glory. We will be different from this body, and yet different from each other in that body. That's exciting to think about.
There are a lot of dear saints who are dead, and their spirits are with the Lord, and they're waiting for that day when they get clothed with that body. And here – we're here, and looking at our infirmities and weaknesses, and wanting so much that body …
There is an incorruptible existence, with no decay, no infirmity in the future. So, we go into the grave corrupt; we come out uncorruptible – incorruptible. It's a fantastic thing to realize. That body will never decay; it'll never get old. It'll have absolutely no time limitation. It will have no capacity to deteriorate. We will be permanently incorruptible. No decay.
That is a thrilling thought — and reality to be made manifest one day.
The rest of the chapter is in the Lectionary, however it is worth quoting some of it to reinforce the points made above, especially with the mention of the two Adams, the first man and Jesus Christ:
42 So is it with the resurrection of the dead. What is sown is perishable; what is raised is imperishable. 43 It is sown in dishonor; it is raised in glory. It is sown in weakness; it is raised in power. 44 It is sown a natural body; it is raised a spiritual body. If there is a natural body, there is also a spiritual body. 45 Thus it is written, "The first man Adam became a living being";[e] the last Adam became a life-giving spirit. 46 But it is not the spiritual that is first but the natural, and then the spiritual. 47 The first man was from the earth, a man of dust; the second man is from heaven. 48 As was the man of dust, so also are those who are of the dust, and as is the man of heaven, so also are those who are of heaven. 49 Just as we have borne the image of the man of dust, we shall[f] also bear the image of the man of heaven.
This chapter also has the following familiar verses so often quoted about death and the afterlife:
51 Behold! I tell you a mystery. We shall not all sleep, but we shall all be changed, 52 in a moment, in the twinkling of an eye, at the last trumpet. For the trumpet will sound, and the dead will be raised imperishable, and we shall be changed. 53 For this perishable body must put on the imperishable, and this mortal body must put on immortality. 54 When the perishable puts on the imperishable, and the mortal puts on immortality, then shall come to pass the saying that is written:
"Death is swallowed up in victory."
55 "O death, where is your victory?
O death, where is your sting?"
I hope this reinforces our belief in the resurrection of the body, which will be glorified forever and ever.
Next time — 1 Corinthians 16:1-4
The Fourth Sunday after Trinity — Fifth Sunday after Pentecost — is June 27, 2021.
Readings for Year B can be found here.
The Gospel is as follows (emphases mine):
Mark 5:21-43
5:21 When Jesus had crossed again in the boat to the other side, a great crowd gathered around him; and he was by the sea.
5:22 Then one of the leaders of the synagogue named Jairus came and, when he saw him, fell at his feet
5:23 and begged him repeatedly, "My little daughter is at the point of death. Come and lay your hands on her, so that she may be made well, and live."
5:24 So he went with him. And a large crowd followed him and pressed in on him.
5:25 Now there was a woman who had been suffering from hemorrhages for twelve years.
5:26 She had endured much under many physicians, and had spent all that she had; and she was no better, but rather grew worse.
5:27 She had heard about Jesus, and came up behind him in the crowd and touched his cloak,
5:28 for she said, "If I but touch his clothes, I will be made well."
5:29 Immediately her hemorrhage stopped; and she felt in her body that she was healed of her disease.
5:30 Immediately aware that power had gone forth from him, Jesus turned about in the crowd and said, "Who touched my clothes?"
5:31 And his disciples said to him, "You see the crowd pressing in on you; how can you say, 'Who touched me?'"
5:32 He looked all around to see who had done it.
5:33 But the woman, knowing what had happened to her, came in fear and trembling, fell down before him, and told him the whole truth.
5:34 He said to her, "Daughter, your faith has made you well; go in peace, and be healed of your disease."
5:35 While he was still speaking, some people came from the leader's house to say, "Your daughter is dead. Why trouble the teacher any further?"
5:36 But overhearing what they said, Jesus said to the leader of the synagogue, "Do not fear, only believe."
5:37 He allowed no one to follow him except Peter, James, and John, the brother of James.
5:38 When they came to the house of the leader of the synagogue, he saw a commotion, people weeping and wailing loudly.
5:39 When he had entered, he said to them, "Why do you make a commotion and weep? The child is not dead but sleeping."
5:40 And they laughed at him. Then he put them all outside, and took the child's father and mother and those who were with him, and went in where the child was.
5:41 He took her by the hand and said to her, "Talitha cum," which means, "Little girl, get up!"
5:42 And immediately the girl got up and began to walk about (she was twelve years of age). At this they were overcome with amazement.
5:43 He strictly ordered them that no one should know this, and told them to give her something to eat.
Commentary comes from Matthew Henry and John MacArthur.
This is one of my favourite Gospel readings involving the woman suffering from a haemorrhage and Jairus's daughter.
John MacArthur puts it into context for us:
… in the midst of that selfish, self-righteous, fickle crowd, there were two people who stand out. Their story is a great benediction to us; and it shows us that there were those people who did have true faith in Jesus. I think these two were likely part of the 500 believers gathered after the resurrection who saw the risen Christ in Galilee.
They're an interesting duo. They have no relationship to each other. There's no reason they would even know each other. But they're brought together in the text of Matthew, Mark, and Luke. They're two, a man and a woman; one rich, one poor; one respected, one rejected; one honored, one ashamed; one leading the synagogue, the other excommunicated from the synagogue; one with a twelve-year-old daughter dying, and one with a twelve-year-old disease suffering. They remind us of what Mary had said in her Magnificat in Luke 1:52 when she said, "God was a Savior who brought down rulers and exalted those who were humble." Here is a perfect illustration of that.
The man is the ruler, the woman is humble. He is brought low, and she is lifted high: the ruler and the outcast. And so the scene is set, verse 22, for the accessibility of Jesus. "One of the synagogue officials named Jairus came up, and seeing Him, fell at His feet." Jesus was immediately accessible. There were no intermediaries. Did He have disciples? Yes. Did He have identified apostles? Absolutely. We know that already. But they didn't screen Him. He was accessible.
Jesus had returned from putting two men's demons (Mark says one man's) in the Gadarene Swine, a flock of pigs which ran off a cliff. The Gadarenes, who were Gentiles, were furious and told Him to leave because He caused their livestock to die.
Upon his return to the Capernaum area, a crowd awaited Him by the sea (verse 21).
Jairus, a leader of the synagogue, fell at His feet (verse 22), begging Him to lay His healing hands on his daughter, who was dying (verse 23).
MacArthur explains Jairus's position in the synagogue at Capernaum:
He is a synagogue official. What does that mean? Well, it means that in each synagogue there was a man or a group of men who acted as the caretakers, or the overseers, or the administrators of synagogue life. They weren't necessarily the teachers; they, however, were the ones who cared for the scrolls, and cared for the facility, and administrated the facility, and organized the synagogue school. They had oversight responsibility: supervising activities, appointing readers, prayers, teachers, et cetera.
The man who received this honor would be a man who was respected: a religious man, a man of devotion, a man of mature leadership; a non-clerical, local official in the synagogue in Capernaum, selected by all the people to be a part of a group of elders, usually from three to seven, who would give leadership. He was the epitome of the Capernaum religious establishment.
That Jairus would fall at the feet of Jesus was unusual:
That is clearly out of character for a synagogue leader, especially when he's falling down before someone that the religious establishment wants dead because they believe Him to be a heretic. He fell at His feet. Matthew records it in chapter 9. You'll read in there "worshiped." The verb can mean that; it can mean that …
I mention this because I want to emphasize the fact that this man's faith was in Jesus Christ.
Jesus agreed to go to Jairus's house, and the crowd followed, pressing in on Him (verse 24).
Matthew Henry's commentary has this beautiful description:
The case is this, He has a little daughter, about twelve years old, the darling of the family, and she lies a dying; but he believes that if Christ will but come, and lay his hands upon her, she will return even from the gates of the grave. He said, at first, when he came, She lies a dying (so Mark); but afterward, upon fresh information sent him, he saith, She is even now dead (so Matthew); but he still prosecutes his suit; see Luke 8:42-49. Christ readily agreed, and went with him, Mark 5:24; Mark 5:24.
MacArthur explains the significance of Jairus's daughter's age:
He had a daughter who was nearly dead. And she was twelve-years-old, as we find out later in verse 42, which means she had reached the wonderful age where she was eligible for marriage, ready to be an adult, ready to begin her life as a wife and a mother. And this was the most anticipated time in a girl's life, and should have been filled with joy and hope, anticipation. But she is very, very ill. She is, he says, "At the point of death." Luke says she was dying, she was dying. And later on, the message comes in verse 35, "Your daughter has died."
As they were walking, a woman suffering from a haemorrhage for 12 years, was among those in the crowd (verse 24).
She had been bleeding all of that time and had spent all of her money on physicians; her condition worsened (verse 25).
Because she was bleeding, she had to sequester herself from her friends and family, according to Mosaic law. She could not associate with anyone. That included attending religious services at her synagogue.
Jairus's daughter was 12 years old. This lady had been suffering her scourge for 12 years.
MacArthur considers the time period and the woman's lonely, debilitating plight:
To simplify it, she is a female who has a bleeding problem, and she has had this bleeding problem for as long as Jairus' daughter has been alive. She's had this bleeding problem since Jesus was about twenty years old.
Now we don't know what caused it, Scripture doesn't tell us this. Lots of possibilities. She was having a constant loss of blood, hemorrhaging. That would involve a loss of strength. A female kind of problem like that would certainly cause embarrassment, the danger of death, severe physical effects.
There was more than that; that alone would have been enough. But on top of that, there was an Old Testament law to consider. According to the twelfth chapter of Leviticus, verses 3 through 8, and the fifteenth chapter of Leviticus, verses 19 to 27, a woman was unclean for seven days after such an experience. Here was a woman who was unclean for twelve years. She could never be clean, never.
What did that mean? An unclean, defiled woman couldn't go to the synagogue, couldn't go to the temple. She was an outcast for twelve years. If she touched her husband, he was unclean. If she touched her children, they were unclean. If she touched her friends, they were unclean. If she touched a stranger, he was unclean. What was life like for her? There was no way to become ceremonial[ly] clean.
By the way, that law of seven days of cleansing ritual was designed by God to be an illustration of what sin does. There were lots of symbols in the Old Testament, in the ABCs of God's disclosed revelation, and one of them was that the laws of clean and unclean were symbolic ways to demonstrate how sin soils, defiles, and corrupts. It was just a constant, constant, constant reminder. This woman never was able to rise beyond that; constantly, ritually defiled, unable to touch anyone without passing on that defilement, according to the Old Testament. Sad, sad lady.
In addition, medical treatments at that time would have been extremely primitive and useless, involving things we would consider to be based on superstition:
The prescription for a woman who had this problem, according to the Talmud, was to carry the ashes of an ostrich egg in a linen bag in the summer, and to carry the ashes of an ostrich egg in a cotton bag in the winter. Or carry a barley corn found in donkey dung, or drink wine with alum and crocuses, or wine with onions. Not very helpful. No wonder she couldn't get any help. 
The woman had faith that Jesus could heal her, even if she was able to only touch His garment (verse 28), which she duly did (verse 27).
MacArthur describes what Jesus wore:
According to Numbers chapter 15 verses 37 and following, the Jews were to put tassels on the bottom of their cloaks, to mark them as those who belong to God. And you remember the Pharisees, wanting to parade their supposed devotion to God, enlarged their tassels, according to Matthew 23, and verse 5 – a part of their hypocritical ostentation. But Jesus wore the traditional robe with the traditional tassels on the bottom.
As soon as she touched his garment, her body was restored to health 'immediately' (verse 29).
As if to emphasise the miracle, verse 30 also begins with 'immediately'. Having felt power drained out of Him at that point, Jesus turned around and asked who touched Him.
That is one of my favourite verses in the New Testament. As MacArthur says:
It's an amazing revelation, absolutely amazing. Immediately she was healed, and immediately Jesus felt the power go out of Him. That's a stunning reality, an amazing revelation.
Listen, His power is personal. I think we can think of God as some kind of massive, cosmic force. We can maybe overextend the notion of His impassability. To say that God is impassable means that He is not affected by what men do or do not do. But that does not mean that He does not feel every expression of power, whether it's power expressed in grace, or power expressed in wrath, whether it's sanctifying power, glorifying power, justifying grace, He feels the power. Luke 8:46 says, "I was aware that power had gone out of Me." The expulsion of divine power that comes from Him into the life of that woman, Jesus actually experienced. He experienced the power flow that created the woman's body new; it replaced the old with a brand new organ system …
The work of the living Lord on behalf of sinners is personal. He felt the power flow out of Him when He healed that woman. He felt the power flow out of Him when He saved you. He feels the flow of power into your life as He sanctifies you. And He'll feel the power that takes you into glory. This is intimate, personal involvement with every one of us. And He feels the power of His judgment that falls on the ungodly.
His disciples thought it was preposterous to even pose the question in such an immense crowd (verse 31), but Jesus turned around to see who it was (verse 32).
The woman, afraid, approached Him and fell before His feet, telling Him the 'whole truth' (verse 33).
Hers was a holy fear, the same that the Apostles experienced in last week's Gospel reading from Mark when Jesus calmed the tempest on the Sea of Galilee.
MacArthur explains that she knew she was in the presence of the Son of God:
She's not afraid because of her offense, she is afraid because she's aware of what has happened to her. And what has happened to her is she has just been healed in a split second, and she knows it, and she therefore knows what Jesus had been saying all along, and what Mark is trying to let us know, that this is Jesus Christ, the Son of God. She is in the presence of divinity or deity. This is not human embarrassment, she got past that. This is holy fear …
And that becomes more evident in what she does. "She came and fell down before Him." Everybody knew what that meant. You didn't do that unless you were bowing to someone greater than yourself. Jews didn't bow to anybody. They didn't bow to anybody. They didn't have a king. They bowed only to God.
With that holy fear comes an awareness of personal sins.
MacArthur tells us about what her very public 'whole truth' in verse 33 might have entailed:
She collapses, fully aware of the terror of being a sinner in the presence of the Lord, a posture that begs for mercy for her sin. And then she has the opportunity to make a public confession. In verse 33, she told Him the whole truth. Told her whole story: the confession of her sickness, the confession of her faith, the confession of her healing, the confession of her need for mercy.
In fact, Luke says, "She declared it in the presence of all the people." So everybody around heard about her story. This is an open public confession, isn't it? She's confessing Him before men, and to be confessed before His Father in heaven.
Jesus recognised the woman's faith, calling her 'daughter', saying that it had made her well and that she could go in peace, being healed of her disease (verse 34).
What a life-changing moment that must have been for her.
MacArthur points out the significance of 'daughter' emanating from the lips of Jesus:
… the capstone comes in verse 34 in His response: "And He said to her, 'Daughter.'" Hmm, daughter? There's a word to dispel fear, isn't it? This is the only time in the New Testament that a woman is so addressed by Jesus: "Daughter. Daughter."
Matthew chapter 9 says He added, "Be of good comfort, relax, rest." "How can You call her Your daughter? Is she a child of God? A daughter of God?" "Yes, your faith has made you well," says the text. The Greek verb is sōzō, "to save." It's the word used in the Scripture for salvation. "Your faith literally has saved you."
While Jesus spoke those words, members of Jairus's household came to tell him that his daughter had died and asked why he wanted to bother Jesus by asking Him to see her (verse 35).
However, Jesus told Jairus not to fear, only believe (verse 36).
At that point, Jesus said that only his closest Apostles — Peter and the two brothers, James and John — could walk with him and Jairus (verse 37).
Henry explains why:
… his three bosom-disciples, Peter, and James, and John; a competent number to be witnesses of the miracle, but not such a number as that his taking them with him might look like vainglory.
MacArthur has more:
This is the first time in the ministry of our Lord that He isolates these three; this is the first time. And get used to it, right? The inner circle: Peter, James, and John. They were three of the first four apostles that He called. James and John were brothers, and Peter and Andrew were brothers. Peter becomes the leader. James and John, the other two intimates. And Andrew is a sometime inclusion in the inner circle. This is the first occasion where He separates them out: Peter the leader, John the lover, and James the first martyr.
It isn't that they were to be given special treatment, is it rather that they were to become the channel of intimate experiences, personal teaching back to the rest. They were not the end, they were not the cul-de-sac, they were not the dead end; they were merely the conduit. Jesus could only give Himself intimately to a few; and this must be the perfect number for Him to work with intimately; and through these three disseminated the experiences and the instruction back to the rest. Important for leaders to understand that, I think.
So Jesus says, "Only you can come." For the first time they're looking at each other and saying, "Wow," because this is their first time as His intimate triumvirate.
When they arrived at Jairus's house, people were weeping and wailing loudly in mourning, as was the custom (verse 38).
MacArthur explains the Jewish mourning rituals in that era, which were quite noisy:
Jewish funerals had three elements that would be a little bit unique for us. One, you came and you expressed your grief loudly. You shriek and howl; and everybody does that. And it is required that you tear your clothes. Okay. So when you go to a funeral in our environment, we find good clothes. When you went to a funeral then and you knew you were going to have to rip it up, you found something you didn't mind ripping up.
This became so involved that Jewish tradition came up with thirty-nine regulations on how to tear your clothes. So I suppose you had people talking to each other about the regulations to make sure they didn't leave anything out. Tearing was to be done, for example, while you're standing up. If you were related to the dead person, you had to tear your garment directly over the heart. If you weren't related to the person, you could tear your garment somewhere else near the heart.
And by the way, the tear was to be there, and the garment was to be worn over a thirty-day period so that you continue to show your attitude of mourning. You could sew it up for obvious reasons, but originally it had to be torn big enough to put your fist through. Modest people would tear their undergarments, or wear the torn garment backwards. The tradition developed that you could sew it up loosely, but it had to be evident that it had been torn. So you have people there who are shrieking, and howling, and wailing, and weeping, and ripping their clothes.
Now the second element of a funeral was you brought in the professional wailers who had developed the art of howling and shrieking. They wailed, sort of priming the pump, you might say, to get everybody else wailing. Agony was magnified, not shrouded in silence.
And then the third thing they had was the playing of flutes. That was the most common instrument. And lots of folks could play flutes; and they all showed up with their flutes and played dissonant notes, a cacophony of things that didn't go together. So if you ever walked into an event like that, you wouldn't even believe it was a funeral; you would think it was a contemporary musical event. Yeah.
The very poorest of the Israelites had to have at least two flutes and one wailing woman.
A noisy mourning was also true for Gentiles:
In fact, this was part of the Ancient World. Seneca, the Roman statesman, reported there was so much screaming and wailing at the death of Emperor Claudius that he felt Claudius heard it from the grave. And that's what was going on, just chaos.
Jesus asked the mourners why they mourned, saying that Jairus's daughter was not dead but only sleeping (verse 39).
But they laughed at Him. He put them outside and taking His three Apostles along with Jairus and his wife, went to see the girl (verse 40).
Henry says that the mourners' mocking laughter was proof that she had actually died:
… it was evident beyond dispute, that the child was really and truly dead. Their laughing Christ to scorn, for saying, She is not dead, but sleepeth, though highly reprehensible, serves for the proof of this.
He took the girl by the hand and told her to get up (verse 41).
MacArthur explains the wording. 'Talitha' means 'youth' and is also an affectionate use of 'lamb' in Aramaic:
So He comes into the room, and again you see this tenderness, taking the child by the hand. Here again this very personal touch, this very tender sensitivity, "And He said to her," – and by the way, only Mark gives us the original Aramaic. Jesus' daily language was Aramaic. That was the language they spoke in Israel, the New Testament being written in Greek. The other writers give us the Greek translation. "Little girl, arise." Mark gives us the very words of Jesus in Aramaic, "Talitha kum!" – which translated means – "Little girl, I say to you, get up!"
"Talitha means a youth or a lamb. It's as if He said, "Little lamb." We use those kind of endearing terms, don't we? …
Now this one was still a lamb in the eyes of Jesus, and she was twelve, she was twelve. And she was a lamb to that family. That was a term of endearment. "Kum, get up. Little lamb, I say to you, get up!"
Mark tells us that 'immediately' she got up and began to walk around (verse 42). He tells us that she was 12 years old and that those with Jesus — the three Apostles and her parents — were 'overcome with amazement'.
MacArthur tells us about the Greek word for 'walk':
… it's not just walk, it's peripateō. We say somebody is peripatetic, we mean they never sit down, they just walk around all the time. And that's exactly what it is, it's the verb pateō, "to walk," and peripateō, "walk around everywhere." She just got up and walked around everywhere. There was no need for rehabilitation.
Jesus told them not to reveal the miracle to anyone but to give the girl something to eat (verse 43).
Henry says that Jesus did not want the miracle to be made public because of His resurrection:
It was sufficiently known to a competent number, but he would not have it as yet proclaimed any further; because his own resurrection was to be the great instance of his power over death, and therefore the divulging of other instances must be reserved till that great proof was given: let one part of the evidence be kept private, till the other part, on which the main stress lies, be made ready.
MacArthur thinks that Jesus did not want the house to be bombarded by visitors but also be bothered by people with Messianic fervour or the increased hate of the Jewish hierarchy:
Number one, He could have said it to avoid a stampeded on the house, to give the family time to feed the girl, and to celebrate and rejoice, and give Him more time to instruct and teach. If they went right out of the house, as you might be prone to do, and spread this everywhere, there would be a kind of a sensational response; and curiosity would drive the crowd to the house and debilitate Jesus from doing what He wanted to do, and rob away that precious time for the family and that reunion. Is that possibly behind the statement that, "You need to get her something to eat; that's the first thing you need to do is take care of her before you draw a crowd"? Was that in His mind?
It is also possible that Jesus said this because He knew the crowds had these messianic expectations, right? Now the Jews were looking for a Messiah. They wanted the Messiah who would come demonstrate massive, divine power, and use that power to overthrow Rome, and use that power to provide everything they needed and everything that had been promised to them in the Abrahamic and Davidic covenants. Jesus was believed to be that Messiah; and if it ran rampant and it got carried away, the crowds could get very aggressive and try to force Him into a role that was never His intended role. Read John 6:15 where it says, "After He fed them all, they tried to force Him to be a king." Was He trying to keep the flame of messianic expectation low, and not throw gas on it by a report of a resurrection?
Or, thirdly, was it perhaps that He was motivated not to escalate the fear and the hatred of the scribes and Pharisees who were His enemies? If the crowd got excited, then Jesus becomes a bigger threat. Then they escalate their animosity, and they have to do something to stop that threat; and in premature action against Him, they might come after Him to kill Him. That had already been tried, right? Up in Nazareth in His own hometown they tried to throw Him off a cliff.
He didn't want wrong messianic expectations escalated, that's true. He wasn't going to be killed on their timetable, but on God's timetable, at God's time, in God's place, and in God's manner. And those, I think, are valid ways to understand that.
MacArthur is certain that Jairus was a man of faith:
Certainly Jairus' faith was confirmed, wouldn't you think, vindicated? And, folks, you've got to understand too, there was conversation going on in that house with Jairus and Jesus and the family; we just don't have the record of it. But Jairus had his faith confirmed. I think we'll meet Jairus in heaven, very likely that little girl too.
I do hope so.
May all reading this have a blessed Sunday.
Matt Hancock, Secretary of State for Health and Social Care, could well experience the worst weekend of his life.
The Queen has her say
On Thursday, June 24, The Times featured an article on its front page about Prime Minister Boris Johnson meeting the Queen in person for their weekly meeting for the first time since lockdown in March 2020.
It says (emphases mine):
Matt Hancock has had a difficult few weeks. And while his line manager may have contributed to his woes, his ultimate boss has seemingly taken pity on him.
The Queen told Boris Johnson, at their first in-person meeting in 15 months: "I've just been talking to your secretary of state for health — poor man. He came to privy council. He's full of . . ."
"Full of beans!" the prime minister interjected, in the clip filmed by broadcasters in the private audience room at Buckingham Palace yesterday.
"He thinks that things are getting better," said the Queen, to which Johnson responded: "They are."
… In a 1992 documentary to mark her 40th year on the throne she said that by meeting prime ministers she helped to take a weight off their shoulders. "They unburden themselves or tell me what is going on . . . and sometimes I can help in some way as well," she said.
The media were allowed to film the first few minutes of their meeting. This was shown on BBC Breakfast:
It's telling that the Queen chose to say that on camera.
Hancock's affair
On Friday, The Sun featured a worldwide exclusive featuring Hancock, husband and father of three:
Normally, I would not comment on extramarital affairs, however, Hancock has left us in lockdown for 16 months and counting. Yet, here he is violating his own rules. For thee, but not for me.
The Sun's political editor Harry Cole broke the story:
Excerpts from Cole's article follow:
He cheated on his wife with Gina Coladangelo, 43, who he hired last year with taxpayers' money, as Covid gripped Britain.
Mr Hancock, 42, and millionaire lobbyist Gina were caught on camera in a steamy clinch at his Whitehall office.
Whistleblowers revealed the Health Secretary had been ­spotted cheating on his wife of 15 years with married Ms ­Coladangelo.
He was seen kissing her at the Department of Health's London HQ during office hours last month as the mutant strain began spreading.
And today, Mr Hancock apologised for his actions, saying: "I accept that I breached the social distancing guidance in these circumstances.
"I have let people down and am very sorry.
Is Hancock going to resign? No, he is not:
I remain focused on working to get the country out of this pandemic, and would be grateful for privacy for my family on this personal matter.
There should be no mercy shown for this egregious hypocrisy.
A year ago, Prof Neil 'Dodgy Modelling' Ferguson entertained his mistress, who travelled across London to spend an afternoon with him at the height of the pandemic. Ferguson resigned from SAGE, although he has been readmitted as a member.
At the time of Ferguson's resignation, Hancock said that it was the right thing to do:
Guido Fawkes has the dialogue from Hancock's interview with Kay Burley of Sky News. She, too, was a coronavirus restrictions violator and was suspended from Sky News for several months:
Matt Hancock: "I think he took the right decision to resign"
Kay Burley: "You wouldn't have fought to keep him?"
Hancock: "That's just not possible in these circumstances"
Guido also said that Hancock supported a police investigation:
Guido notes that when government Covid advisor Neil Ferguson broke the government's social distancing rules to hook up at the start of lockdown, Hancock said he was both right to resign, and backed any police action necessary.
Returning to Harry Cole's article:
Last night, a friend of the Health Secretary said: "He has no comment on personal matters. No rules have been broken."
Mr Hancock was pictured embracing his aide. The image was from just after 3pm on May 6 — as the rest of Westminster was engrossed by the local elections.
We did not yet have a relaxation on hugging at that time. That happened 13 days later.
A whistleblower tipped off Cole. Hancock:
is seen in his distinctive ninth-floor office inside the sprawling Department of Health building, which is a stone's throw from the Houses of Parliament.
During the pandemic, the office has provided the backdrop to his Zoom appearances on TV — including the Andrew Marr Show.
Mr Hancock is seen checking the corridor is clear before closing the door and then leaning on it to ensure he cannot be disturbed.
Ms Coladangelo then walks towards him and the pair begin their passionate embrace.
According to a whistleblower, who used to work at the department, the pair have regularly been caught in clinches together.
The source said: "They have tried to keep it a secret but everyone knows what goes on inside a building like that …
"I'm just amazed he was so brazen about it as he was the Secretary of State.
"It has also shocked people because he put her in such an important, publicly-funded role and this is what they get up to in office hours when everyone else is working hard."
The office where the tryst happened is where Mr Hancock famously hangs his Damien Hirst portrait of the Queen.
Unfortunately, the Government is defending Hancock:
The lunchtime press briefing on Friday indicated that Boris:
considers the matter closed.
By the way, Hancock has an Instagram account. This was one of his posts:
You couldn't make it up:
One wonders if this woman has any involvement in keeping us in restrictions:
It also emerged she had accompanied Mr Hancock to confidential meetings with civil servants and visited No10. Sunday Times sources revealed at the time: "Before Matt does anything big, he'll speak to Gina. She knows everything."
She began working for the Department of Health and Social Care (DHSC) in September 2020:
In September, Mr Hancock appointed her as a non-executive director at DHSC, making her a powerful member of the department's oversight board.
It hit the headlines as there was no public record of the appointment, which was set to see her earn at least £15,000 of taxpayers' money, potentially rising by a further £5,000.
The role makes her responsible for "overseeing and monitoring performance" — in effect, scrutinising matters of concern to Mr Hancock.
A DHSC spokesman said the appointment was "made in the usual way and followed correct procedure".
It is also understood that since April, she has had a parliamentary pass, giving her unregulated access to the Palace of Westminster.
It bears her husband's surname, which she does not use professionally, and is sponsored by Lord Bethell, the hereditary peer, health minister and former lobbyist.
I am sorry to read about Lord Bethell's involvement. Until now, I respected him. I hope the House of Lords asks questions of him next week.
However, she also worked for Hancock in the early stages of the pandemic:
Mr Hancock secretly appointed her to his department as an unpaid adviser on a six-month contract in March last year.
It appears that, six months later, her appointment became official.
Both the woman and Hancock studied together at Oxford, where they read PPE (Philosophy, Politics and Economics):
The pair first met at Oxford University in the early 2000s but Mr Hancock went on to wed Martha Hoyer Millar in 2006.
Chumocracy
There is an interesting history behind the associations Hancock has in this affair.
Many call it 'chumocracy'.
Hancock
This is a biography from Hancock's website:
Before entering politics he worked as an economist at the Bank of England, and for his family tech industry.
Matt is married to Martha and has three young children. He is the first MP in modern times to win a horse race, having raced to victory at the Newmarket July Course in August 2012. He is an avid cricketer and plays for the Lords & Commons Cricket team. Matt once played the most northerly game of cricket on record, and succumbed to frostbite en route to the Pole. He retains all his fingers.
He certainly has retained all of his fingers.
A lengthy article in the Daily Mail tells us about his formative years:
Mr Hancock was born in Chester where he went to the exclusive private school the King's School.
He did his A-levels in maths, physics, computing and economics before doing computing at West Cheshire College.
Like numerous Conservative MPs before him, he studied PPE at Exeter College, Oxford – where he graduated with a first.
It was at the elite university that he realised he had dyslexia, which he only opened up about in recent years.
He later did an MPhil in economics at Christ's College, Cambridge, before turning to politics in 1999 when he joined the Tories.
Hancock's woman and her husband
The Sun's article says:
Mother-of-three Ms Coladangelo is communications director at Oliver Bonas, the fashion and lifestyle store founded by her husband Oliver Tress.
She is also a director and major shareholder at lobbying firm Luther Pendragon, which offers clients a "deep understanding of the mechanics of government".
The Daily Mail has more:
Mr Bonas opened his first store on London's Fulham Road in 1993 with handbags and jewellery he had brought from Hong Kong where his parents lived.
Speaking to the Independent in September 2015, he said: 'I'd been bringing presents back for friends and they were really popular so I thought, 'I wonder if I can make a go of this?' And to my amazement it just worked.' Bonas was the surname of his then girlfriend Anna Bonas, who is the cousin of Prince Harry's former girlfriend Cressida Bonas, and he told how 'she very kindly hasn't demanded that I changed it'.
Hancock's wife
Mrs Hancock's family history is one of privilege:
Mrs Hancock works as an osteopath and is believed to practice at a clinic in Notting Hill, West London.
She is the granddaughter of Frederick Millar, 1st Baron Inchyra – a British diplomat and Ambassador to West Germany.
Mrs Hancock is also the great granddaughter of the 1st Viscount Camrose, a Welsh newspaper publisher.
Her father, Alastair Millar, was Secretary of The Pilgrim Trust between 1980 and 1996.
The trust is responsible for supplying grants, predominately to preservation projects for historically significant buildings or artifacts. Nowadays, around £2million is divvied out by the trust each year.
Conclusion
Matt Hancock has annoyed me greatly for the past 16 months.
This parody of his testing regime is not far from the truth: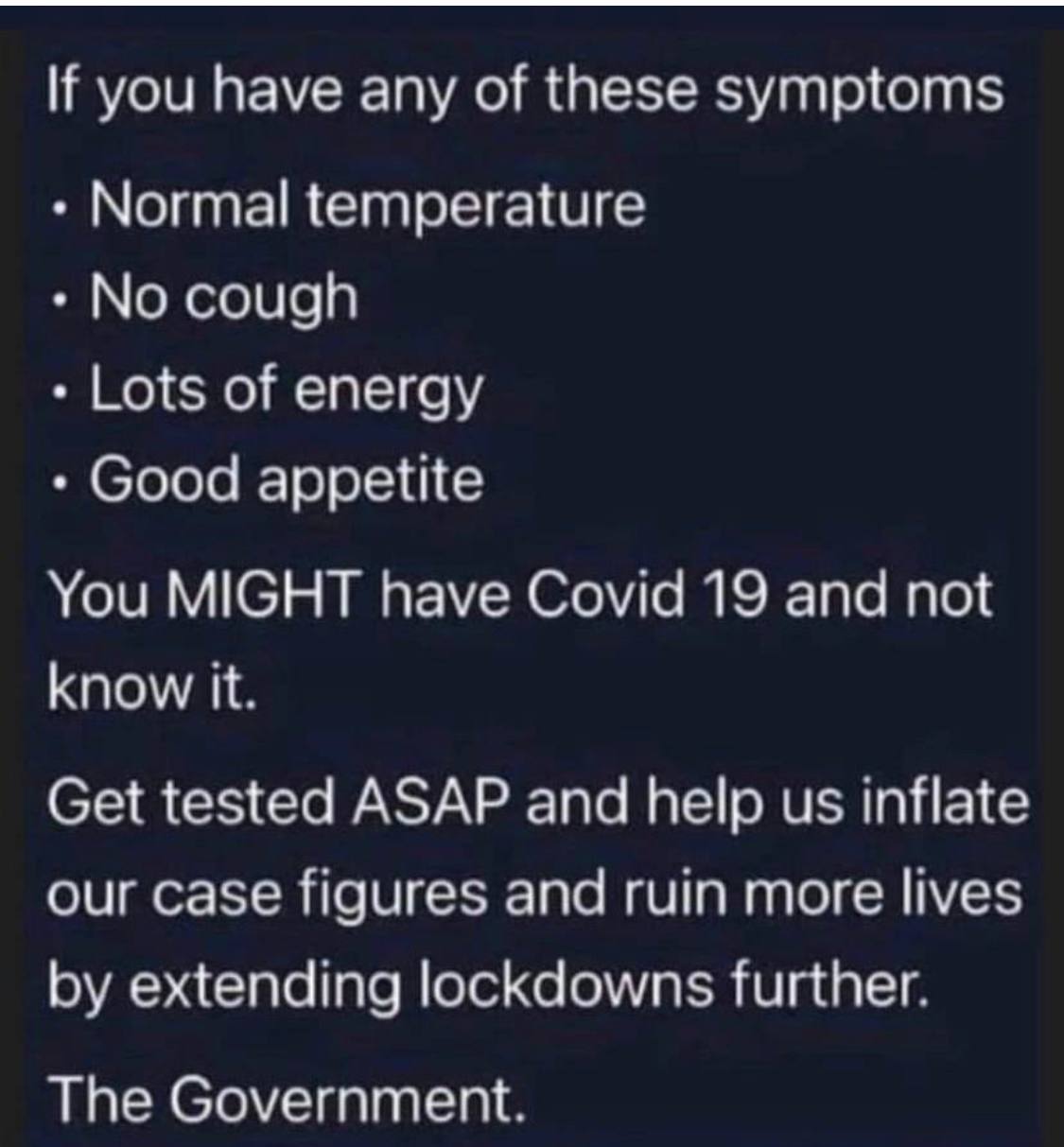 In England, we have lost billions of days of our normal lives:
This was the daily death total for June 23, 2021 (Chief Medical Officer Prof Chris Whitty is pictured):
Here are the death statistics from the past 16 months. Note that most coronavirus deaths are not 'from' the virus but 'with' it:
1. Heart Disease 205,000 (0.31% of the population)
2. Cancer 182,000 (0.25%)
3. Covid 128,000 (0.18%)
4. Dementia 82,000 (0.12%)
5. Stroke 46,000 (0.07%)
6. Diabetes 32,000 (0.05%)
An article on Reaction — 'Hypocritical Hancock: Don't hug your granny but you can hug Gina' — makes the following points about the Secretary of State's affair:
We don't know if anyone was taking morality lessons from Hancock back in September. But the question raises itself once again – is it one rule for you, Matt Hancock, and another for everyone else?
The government has been using its draconian Covid social distancing and travel restrictions to restrict and police morality. While the public may well overlook his private relationships as none of their business, voters are unlikely to stomach hypocrisy.
Number 10 is, so far, silent on the Hancock scandal. The Prime Minister hates morality plays and the invasion of private lives. That's not what this is about though. It's about a leading figure in the government imposing extraordinary restrictions on the rest of us while carrying on inside the Department of Health.
I look forward to an Urgent Question or two in the House of Commons next week.
Dr Michael Yeadon is a former Vice President of Research for Pfizer. He researched respiratory diseases and allergies for many years.
After he left Pfizer, he co-founded a biotech firm that Novartis later purchased for approximately $325 million.
He is now semi-retired and has been a coronavirus sceptic from the early days of the pandemic in 2020.
For anyone who missed it, this is a video of his speech to those who participated in the Canterbury Freedom Rally on May 15, 2021. It is around 25 minutes long.
Highlights follow.
Contrary to what our governments are telling us via scientific advice, Yeadon said that there is no asymptomatic transmission of the virus, therefore, no masks or lockdowns are needed.
In short, he said, you know you have coronavirus because you are ill.
With regard to PCR tests, he says that those analysing them work in conditions that could possibly contaminate the tests. He said that there is no measure of contamination when analysing PCR tests.
As for the variants, they are with 0.3% of the original COVID-19, making it 'a lazy virus'.
Contrary to what the UK government says, Yeadon stated that if you are immune or have been vaccinated you will not get the virus and you will not need a top-up vaccine. In his words:
You do not need a third jab.
He has concerns about the vaccines: more people have died from this vaccine in four months than from any other vaccine in that time frame.
Concerning the blood clots that some younger adults have experienced after vaccination, Yeadon said that spike proteins cause coagulation. He added that has been known since 2006 with SARS vaccines. As such, he believes the coronavirus vaccines causing clotting should have been taken off the market.
He then went on to discuss 'vaccine passports rubbish'. He said that a vaccine passport database is 'tyrannical' and fears that it will be misused for a universal identity monitoring system.
He does not know why coronavirus restrictions and authoritarian measures took root so deeply in Western countries. He acknowledges the notion that these measures could be about control or depopulation, but he has no idea:
I don't know.
He thinks Western nations are in this for the long haul:
This isn't going to be over soon. They'll still be going at it months from now.
He encouraged those at the rally to say to their friends and family swept up by coronavirus fear:
It's simply not true.
He said that people are unknowingly peddling lies about the virus, because T-cells recognise all variants in immune persons.
At that point, he asked members of the audience to chat briefly to each other by choosing someone they didn't know on one side of them, exchanging contact details. Then he asked them to do the same thing by choosing someone from the other side, again exchanging details. By doing that, they could start to build up a network of acquaintances to oppose continuing restrictions.
Afterwards, he said that this is the first time a vaccine has been given to pregnant women or healthy 25-29 year olds:
I'm pleading with you not to get vaccinated for non-medical reasons.
He added that minors should not be given the vaccine:
That's just appalling.
He said that the restrictions and lockdown have nothing to do with viruses. He encouraged the audience to persuade people they know. With enough opposition, he thinks the UK government will back down on restrictions.
He then warned:
We're standing in front of the gates of Hell.
He ended by saying that he has adopted rationality of thought throughout his life, however:
My rational thoughts that I've had all my life are no longer working, so whatever your faith is: use it.
That was an incredible admission.
The past 16+ months in the UK have been a huge 'come to Jesus' call.
It would be interesting to know how many unknown converts to Christianity there have been during that time.
Unfortunately, we'll never know.
On Wednesday, June 23, 2021 — the five year anniversary of the Brexit referendum — The Spectator had a good article about how wrong Project Fear's predictions were.
Excerpts from 'Five of the worst Remain predictions five years on' follow (emphases mine).
The sources for these are then-Chancellor George Osborne, the banks, an international accounting firm, then-Prime Minister David Cameron and the EU's Donald Tusk.
George Osborne
George Osborne and the Treasury peddled three Project Fear disasters: impoverished households, huge job losses and what The Spectator calls a 'punishment budget'.
On households, using Treasury figures, he predicted that each household in Britain would be poorer by £4,300 in 2030. Even the Remainer BBC had a problem with that. Their fact check said that the figure was:
questionable and probably not particularly helpful.
In reality, the opposite has happened:
records from the Office for National Statistics (ONS) show in the five years since that real disposable income per head has risen from £5,177 in the second quarter of 2016 to £5,354 at the end of 2020. 
On the jobs front, Treasury figures predicted 500,000 job losses across Britain.
In reality, early in 2020, before coronavirus hit, the employment rate was at a record high:
a million jobs were added by the time Covid hit, with the employment rate for those aged between 16 to 64 rising from 74.5 per cent in June 2016 to 76.6 per cent in January 2020 – the highest level since 1971.
Before the 2016 referendum, Osborne told BBC Radio 4's Today programme that the UK would leave the EU with no economic plan, therefore, a punishment budget of higher taxes and public spending cuts would have to be implemented.
In reality, after Cameron resigned at 9:30 a.m. on June 24, 2016, Osborne left his post as Chancellor. Philip Hammond, his successor, said that no such budget would be implemented.
As a result:
Hammond's first budget was described as a 'low-key package' that increased national insurance contributions for the self-employed and enjoyed stronger-than-expected tax receipts since the EU referendum. Britain even finished the year as one of the fastest growing economies in the G7.
The banks
Goldman Sachs predicted a British recession by early 2017.
Nomura and Credit Suisse predicted falls in GDP: 1.3% and 1%, respectively.
JP Morgan predicted that Scotland would leave the Union and create their own currency.
In reality, Scotland is still yearning to break free with no plan on how to do it:
with the British economy growing up until the first quarter of 2020 when Covid struck with 1.7 per cent annual GDP growth in both 2016 and 2017 followed by 1.3 per cent in 2018 and 1.4 per cent in 2019.
Big accounting firm
PricewaterhouseCoopers predicted a loss of up to 100,000 financial services jobs.
EY (Ernst & Young) came closer to the true figure:
Rivals EY estimated last month that PWC's figure had overestimated such losses by a factor of nine, with just 7,600 going overseas as of March 2021.
Donald Tusk and David Cameron
The EU's Donald Tusk predicted the loss of:
Western political civilization in its entirety.
David Cameron predicted a Third World War.
In reality:
it appears that the greater threat to the EU is in fact its own leaders, given the ongoing debacle of the vaccine rollout in the face of public dismay. Western political civilisation meanwhile has somehow remained intact.
Ordinary citizens — the 52% who voted to Leave — can discern the situation on the ground better than the experts — our notional betters — can.
Thanks again to all Britons who voted Leave on that rainy, miserable day five years ago.
We're out and, together as a Union, we are putting the 'Great' back into Britain. Our coronavirus vaccine rollout has been spectacular, surpassing the EU's by a country mile. More great accomplishments for us lie ahead.
When it comes to the EU, better out than in.
Since last week's delay to the UK's reopening — Freedom Day — the spotlight has fallen on Matt Hancock, Secretary of State for Health and Social Care.
Last Wednesday, June 16, Dominic Cummings, Prime Minister Boris Johnson's former special adviser, released WhatsApp messages from last year in the initial weeks of the pandemic. Boris allegedly called Hancock 'hopeless'. Cummings is pictured in the following tweet:
When asked on Wednesday if he was 'hopeless', Hancock replied, 'I don't think so':
Cummings released his WhatsApp screenshots in plenty of time for Prime Minister's Questions that day, which gave Labour leader Keir Starmer ammo. However, Starmer ignored posing the following questions:
According to Guido Fawkes, it would not have been necessary to run these by the Speaker of the House beforehand, either:
Cummings included images of the WhatsApp messages in a lengthy article on Substack. Having read it, it appears to be part of the evidence he was asked to give to one of the Select Committees that recently interviewed him (emphases mine):
I was wondering about the issue of publishing private WhatsApp messages. 
1) No10 and Hancock are openly lying even about what was briefed on-the-record, so clearly nothing is beyond their attempted rewriting of history.
2) To further their lies, PM/Hancock are spinning distorted versions of my messages from internal WhatsApp groups to the PM's favoured stooges such as Playbook Wiki.
3) Hancock challenged me at the Select Committee to provide evidence and said my failure to publish anything was 'telling' evidence that my account was false.
4) The Select Committee has asked me to provide evidence and clearly what MPs see the public should also see — transparency on covid is crucial.
Clearly the government cannot reasonably complain about me publishing evidence. Given this I will publish some internal messages. There are many more I could publish but below and in future I will publish only ones that further the question of 'what went wrong and how do we learn'. I won't publish private messages just to embarrass the PM or others. My goal is to force the system to face reality and change, not to embarrass people for the sake of it.
On Wednesday, June 16, the House voted to extend restrictions to July 19. Off-Guardian examined the debate, particularly the parts that would appear to restrict NHS care to those who took the vaccine:
They're talking about the idea the NHS could prioritise care for people who've been "vaccinated" over those who refuse the "vaccine".
The unvaxxed, in this situation, would be blamed for "putting the NHS under strain" or putting "healthcare heroes at risk". They would be called irresponsible, and receive either delayed care, limited care, no care at all, or be expected to pay some kind of extra fee.
The idea of limiting healthcare for certain people based on lifestyle is not at all new. In the past, smoking, obesity and alcoholism have all been the subject of either research or even local schemes on elective surgery. But, should an unvaxxed ban or limit ever be put in place, it would be the first hard-and-fast, nationwide example. And would set a pretty terrifying precedent that could in the future apply to all kinds of diet, lifestyle or even political choices.
Remember the (totally false) argument that beef is bad for the planet? Or that the NHS should stop serving meat in their hospitals? It's not hard to see that evolve into vegans getting preferential healthcare, or meat-eaters having to pay premiums, is it?
Of course, all that is a long ways down the road (hopefully). For now, it's only a vague allusion in one parliament session. But, even if the discussion never blooms into real legislation, it's certainly yet another example of the state attempting to bully and coerce vaccination.
And the fact nobody in the house of commons seemed even a little shaken up by the idea of a segregated NHS should be a cause for concern moving forward.
The same topic from the same debate appeared in an article on Conservative Woman: 'Hancock pulls the plug on the National Health Service':
Let us remember that when the NHS was brought into being in July 1948, its purpose was to provide universal, comprehensive and free health care, based on clinical need. This ideal of providing a quality service for all, regardless of ability to pay, has been shaken by the NHS's bizarre self-insulating response to Covid-19 and its persistent lack of moral integrity in dutifully obeying orders. It has capitulated into being a de facto Covid-19 service, to the exclusion of all else.
Now we are being told that the future of medicine in the UK will be a vaccine apartheid, with those who have had the jab worthy of treatment, and those who have not, for whatever reason, put to the back of the queue or worse, left to their own devices. This is triage in extremis, and a path well-trodden by eugenicistsand war criminals.
We should not be misled into thinking this could never happen here: who could have foreseen the diktats meted out by a 'Conservative' government? It is only a small step between the current denial of access to the unvaccinated to public places, sports events and travel (which appears to have public support) and their progressive scapegoating and exclusion from other public realms, including medicine.
If previously legally protected rights are arbitrarily withdrawn from them, where and when will it stop? Who is to judge? Matthew Hancock or Boris Johnson?
On June 18, Lockdown Sceptics posted a letter from an NHS GP, Dr Helen Westwood, a member of HART, who wrote to her MP, Sir Graham Brady, chairman of the 1922 Committee (Conservative backbenchers). Dr Westwood is worried about mandating vaccines for NHS personnel. An excerpts of her letter follow:
Dear Sir Graham,

I refer to my earlier correspondence dated March 2nd and April 26th regarding the concerns I have about the COVID-19 vaccination program.

I am grateful to you for raising these concerns with the Minister for COVID-19 Vaccine Deployment. Sadly Mr Zahawi seems to be either unwilling or unable to respond to my questions. Perhaps he is just delaying until the vaccine rollout has reached the whole adult population as it is due to imminently.

Mr Zahawi said in his letter to you that "the UK currently operates a system of informed consent for vaccinations". Clearly the current proposals to make vaccinations compulsory for care home workers and possibly frontline NHS workers is completely counter to this. If a medical intervention is mandated for one group in society why not others? What about visitors to care homes? Delivery drivers? Shop workers? The list will go on and on.

I would like to draw your attention again to Article 6 of the Universal Declaration on Bioethics and Human Rights. It states that "any preventive, diagnostic and therapeutic medical intervention is only to be carried out with the prior, free and informed consent of the person concerned, based on adequate information. The consent should, where appropriate, be express and may be withdrawn by the person concerned at any time and for any reason without disadvantage or prejudice". If an individual is being coerced into undergoing vaccination, through fear of losing their livelihood, then they are not giving "free and informed consent". In effect, the person administering the vaccine in such circumstances is committing the criminal offence of Assault and Battery. We know that the pharmaceutical companies have been granted legal indemnity by the Government but what indemnity does the vaccinator have in this situation?
In my opinion to ask anyone to undergo a medical intervention for the benefit of others is profoundly unethical. Population immunity, achieved through high vaccine take-up, is a by-product rather than the primary reason for immunising an individual. This ethical problem is particularly pertinent to the arguments given for rolling the program out to children, but is also relevant to the majority of healthy working-age adults. The mortality risk from COVID-19 in this cohort is lower than that for seasonal influenza …
Conservative Woman also ran a column from a health care worker lamenting the likely mandatory vaccines for her occupation:
If you think I am irresponsible to choose not to have a vaccine that has never been proven to stop transmission (and STILL keeps us in restrictions), then you must also think that everything I have done, and been proud of, is also irresponsible – that I should have gloved my hand before holding a man dying in front of me; should have held off and waited for the fire brigade when confronted with a burning car; should have fiddled around wasting time to put a plastic mask on a child's face before resuscitating them instead of putting my own mouth over theirs to get air to their tiny lungs more quickly. Sanctimony is rife in those that have settled into armchairs whilst watching the TV and tapping abuse into their Facebook accounts.
I will lose my current job under the care-home mandatory vaccination plans …
And there is support for mandatory vaccines in plumbing, too. This is from London's leading plumbing firm, Pimlico Plumbers. Its owner, Charlie Mullins, is on the right in the photo:
Conservative Woman's Michael Fahey rightly had a go at him, too, in 'Vaccine twaddle from a right Charlie':
One of his catchphrases as he bids to get those 'selfish people' jabbed is that having the vaccine is 'a no brainer'. Charlie Mullins, for those who don't know, is the boss of Pimlico Plumbers and has gained some notoriety in the last few months for suggesting that his employees who refused the vaccine would not be allowed to continue in their job. Given the lofty platform of the media, he has now raised this to 'everyone must be vaccinated'. He obviously believes he is far more important than he actually is and that people will listen to him because he's an OBE rather than a plumber from Sarf London. For some inexplicable reason, he thinks we're living in the Dark Ages, fighting a plague that will kill you as soon as look at you rather than a virus that only seriously affects the vulnerable, all of whom have now been vaccinated anyway. He is oblivious to the fact that survival rates are extraordinarily high across all age ranges, and has swallowed every scare story that the government has thrown out …
I predicted in my last TCW article that this is where we would be going. That throughout the next four weeks senior figures in politics, the media and jumped-up 'celebrities' would be everywhere, laying the blame for the delay firmly at the door of those who had refused the vaccine. For example the Tory former minister Dr Liam Fox said the other day that the UK could not wait for those who had refused a vaccine. He said: 'What we cannot have is the country being held to ransom by any groups who have been offered a vaccine but have chosen not to take – that is utterly unacceptable.'
This line of thinking is wrong and unhelpful. If Liam Fox and Charlie Mullins believe so much in the efficacy of the vaccine, they will know that those who needed to be jabbed have been jabbed. The country should be allowed to reopen with all restrictions gone and those who have not taken the vaccine should not have their freedoms and livelihoods ripped away from them because people like Mullins thinks they should. I very much hope that if he sacks any employees who don't want the jab, they take him to court for unfair dismissal. It is completely wrong to deprive someone of a job or ordinary life and interaction because you believe that they represent a danger, when in actually fact they are no more dangerous than a goldfish to a great white shark.
On Sunday, June 20, news emerged that Hancock withheld crucial positive data about vaccine efficacy from Boris Johnson, which might have allowed a reopening on June 21. The Queen, incidentally, was at Royal Ascot, one of her favourite annual racing events:
On Monday, June 21, The Slog posted an excellent article which includes information about Hancock's career before he became an MP (emphases in purple mine):
Matthew Hancock's own immediate family represents the final piece in this jigsaw: Hancock is an accomplished techie born and raised in the software family that created Border Business Systems. One of its specialities is the provision of profiling data for unsolicited direct marketing to consumer prospects. I have skin in this to the extent that I left the marketing profession in 2000 primarily because I had grave doubts about personal data getting into the wrong hands, and was less than impressed with the ethics of those engaged in it. The internet explosion has only excerbated the surveillance problem this so very clearly represents.
The point is that Hancock is a talented data-miner who worked at BBS to good effect throughout his youth; and one feature of the vaccine marketing we have seen is aggressive email and phone direct marketing of 'the Jab' designed to hype the safety of the formulations involved and disguise any and all negative safety issues. A recent Inquiry declared the methods used "totalitarian". They are also amoral.
Everywhere one looks in the Hancock Files, there are smelly things. Public contract records show that the company Topwood (owned by his sister) was awarded a place in the Shared Business Services framework as a potential supplier for NHS local trusts in 2019, the year after Mr Hancock became health secretary. In March 2020, he declared he had acquired more than 15% of Topwood. It then went on to win £300,000 of business from NHS Wales.
There is now a drive for Britons to share their personal NHS data for research and planning purposes. Here is the opt-out page. I did see an extension to September 2021, but cannot find that page now. Therefore, opting out should be done as soon as practicable.
The Slog goes on to say (emphases mine):
He lied to the Commons about vaccine approvals, he shed crocodile tears on the BBCNews; he tried to make political capital out of the death of a step-grandfather from Covid, his relationship with whom was obviously exaggerated; his use of lachrymose appeals is both risible and an insult to the voters; he lied about the development of vaccines "purely for the most vulnerable"; he remains devious on the subject of vaccine deaths and side-effects; a High Court judge ruled that he "acted unlawfully in not divulging the winners of Covid19 contracts"; and immediately after his promotion to Health Secretary, Hancock accepted £32,000 from the chairman of a think-tank which wants to scrap the NHS, also accepting £5,000 from the director of a private nursing firm which supplies agency workers to the health service.
Yet he is still there. Johnson (whatever he says in public) would love to fire him….but Hancock's Great Reset network renders him bombproof. That network includes Mrs Johnson…and together, they made Dom Cummings history.
Where does all of this end? Will it ever end?
Last year around this time, my far better half said this will go on and on because the Government are unable to admit they made a terrible mistake. How awful.
The next crisis will be economic, particularly with regard to office space and vacant retail premises:
There is talk in Government that working from home could be made mandatory:
I certainly hope that will not come to pass, because British cities are ghost towns at the moment. Restricting people to their homes in perpetuity will be an economic and mental health disaster.
Yesterday was Father's Day. I hope that all dads reading had a good day with their children, communicating in some sort of significant way, either in person or by phone.
As ours is a childless household, I was interested to follow coverage of the day on GB News.
Alastair Stewart
Alastair Stewart got a pleasant surprise on his afternoon show, as his daughter, a headmistress, rang in with her good wishes and thanks on behalf of herself and her siblings as well as Mrs Stewart:
Stewart said that he has good relationships with all of his children, but that he and they relate to each other in a very individualised way, making fatherhood that much more special.
He said that he was taken aback that his daughter rang in to the show, at the suggestion of the production team. He wiped away a little tear after the call ended.
Neil Oliver
Archaeologist and television presenter Neil Oliver, also a member of the GB News team, appeared in the studio on Stewart's show and the one that followed, where Father's Day was the main topic.
Riding lessons for a young daughter
Oliver told Stewart that some children have an instinctive attraction to loving certain animals. He told Stewart how his daughter wanted riding lessons because she loved horses. Oliver and his wife thought the girl was too young. One day when the three of them were out, the girl saw horses in a field and spontaneously ran towards them. Oliver and his wife were worried for her safety, but the horses lowered their heads as she approached so that she could hug them. Riding lessons followed shortly afterwards.
His daughter will be entering Edinburgh University this autumn.
The awe of holding a newborn
On the show that followed Alastair Stewart's, Oliver said that holding his children as newborns was one of the most awe-inspiring experiences he could have. He said that holding his tiny babies turned him to jelly. He said that he felt as if his ribcage were floating around in his body, it was such a tremendous experience.
Celebrating together
As Oliver was in London in the studio and his children at home in Scotland, he told them they could celebrate Father's Day together once he returned to Stirling.
He said that he enjoys all the days that most of us regard as greeting card holidays, saying that any day that brings families closer together is worth celebrating.
Proudest accomplishments
Oliver said that his proudest accomplishments in life are being a husband and a father.
He said he knew from a young age that he wanted a wife and children. They make his life complete.
—————————–
I did search on Twitter to see if GB News had posted any of these clips. Alas, no.
Furthermore, Neil Oliver no longer has a Twitter feed.
He deleted his Twitter account in 2016, after harassment from people who want Scottish independence. The Express carried the story in August that year (emphases mine):
The archaeologist, writer and broadcaster, who presents BBC's Coast, said he was forced off social media by the so-called cybernats, disappointing his 40,000 followers.
Mr Oliver says he became a target for abuse and received scores of hate-filled messages after deciding to speak out in favour of the Union.
The Renfrewshire-born broadcaster said: "A great chunk of the response was not just negative but very personal and filled with bile and vicious loathing.
"People made it clear they wished the worst for me. They wished that I would develop cancer and said I deserved to be burnt as a traitor. It was one or two positive comments accompanied by hundreds of hate-fuelled messages" …
"I realised that by having a Twitter identity I had opened a door into my personal life in which strangers could pass at will. The minute I deactivated my account I felt like I had brought my head out of deep water and could breathe easily. It was an almost instantaneous fix."
Mr Oliver said that he was now worried about his three young children being targeted.
In an earlier article from January 2016, Oliver revealed his favourite personal photo to The Express, one of him and his wife as students at Glasgow University.
He told the reporter:
This is a picture of me and my wife Trudi at Glasgow University. l graduated with an MA in archaeology in 1988, and this was at Trudi's graduation in 1990. We were together for a long time, then broke up in our twenties.
It was nothing particularly dramatic, but we were apart for eight years and met again by chance in 2002 after I bumped into her brother. It was as if we'd never been apart and we've been together ever since.
Our daughter Evie and sons Archie and Teddy were all present when we married in Solsgirth, Kinross-shire, on October 10, 2009, exactly 23 years after we first met.
We're very similar people from similar backgrounds. We each had a happy and normal working-class childhood. Trudi grew up in Falkirk mostly, and I was raised in Ayr and Dumfries where my family still live. After several years working as an archaeologist, then I became a newspaper journalist – like Trudi.
Oliver is known for his shoulder-length hair, which he has had since he was 15.
He doesn't dare get it cut:
I've basically had the same haircut since I was 15. When I was at university, quite a lot of men were scruffy with long hair, and I fell into that and fossilised. But Trudi was taken with my long hair. She is my number one fan and likes the way I look.
We'd end up in the divorce courts if I got my hair cut short now! But I've always had people telling me I should get it cut. A TV reviewer from The Guardian recently wrote that whenever I appear on screen she wants to scream, "Get your hair cut, laddie!" Any review I get for a TV show always starts with something like "the Scottish archaeologist with the long flowing locks…"
He missed his family when he was away filming his series:
I miss Trudi and the children when I'm away from our home in Stirling. My job is not onerous in any way, and I enjoy it thoroughly, but being away is the hardest part by far. I've missed a lot of birthdays, school concerts… just family time. I try and minimise how long I'm away. When I'm home I do the school run and I go in from time to time to talk about history.
Although I'm away for long chunks of time, the kids have always had their mum with them 24/7. She has the toughest gig, operating as a single mum for half the year. But, when I am home, it's often for periods of about two months.
He wrote books when at home:
I spent five months of the last year writing my first novel Master Of Shadows in the spare bedroom at home. I had previously had eight non-fiction works published, but I was more nervous about the reaction to this.
Now Neil Oliver has a weekly show on GB News. He told Alastair Stewart that this was a career move he had not anticipated but feels that now is the time, because he has much to say about British society today.
He added that doing a show live is much different from doing a television series, where something can be redone, if necessary. He said he is always nervous before filming. He and Stewart agreed that any presenter who isn't nervous beforehand should probably stop broadcasting.
In closing, it was fascinating to hear Oliver's thoughts on fatherhood, especially as his children are teenagers now.
And who doesn't like a good love story?