You are currently browsing the daily archive for June 25, 2021.
Matt Hancock, Secretary of State for Health and Social Care, could well experience the worst weekend of his life.
The Queen has her say
On Thursday, June 24, The Times featured an article on its front page about Prime Minister Boris Johnson meeting the Queen in person for their weekly meeting for the first time since lockdown in March 2020.
It says (emphases mine):
Matt Hancock has had a difficult few weeks. And while his line manager may have contributed to his woes, his ultimate boss has seemingly taken pity on him.
The Queen told Boris Johnson, at their first in-person meeting in 15 months: "I've just been talking to your secretary of state for health — poor man. He came to privy council. He's full of . . ."
"Full of beans!" the prime minister interjected, in the clip filmed by broadcasters in the private audience room at Buckingham Palace yesterday.
"He thinks that things are getting better," said the Queen, to which Johnson responded: "They are."
… In a 1992 documentary to mark her 40th year on the throne she said that by meeting prime ministers she helped to take a weight off their shoulders. "They unburden themselves or tell me what is going on . . . and sometimes I can help in some way as well," she said.
The media were allowed to film the first few minutes of their meeting. This was shown on BBC Breakfast:
It's telling that the Queen chose to say that on camera.
Hancock's affair
On Friday, The Sun featured a worldwide exclusive featuring Hancock, husband and father of three:
Normally, I would not comment on extramarital affairs, however, Hancock has left us in lockdown for 16 months and counting. Yet, here he is violating his own rules. For thee, but not for me.
The Sun's political editor Harry Cole broke the story:
Excerpts from Cole's article follow:
He cheated on his wife with Gina Coladangelo, 43, who he hired last year with taxpayers' money, as Covid gripped Britain.
Mr Hancock, 42, and millionaire lobbyist Gina were caught on camera in a steamy clinch at his Whitehall office.
Whistleblowers revealed the Health Secretary had been ­spotted cheating on his wife of 15 years with married Ms ­Coladangelo.
He was seen kissing her at the Department of Health's London HQ during office hours last month as the mutant strain began spreading.
And today, Mr Hancock apologised for his actions, saying: "I accept that I breached the social distancing guidance in these circumstances.
"I have let people down and am very sorry.
Is Hancock going to resign? No, he is not:
I remain focused on working to get the country out of this pandemic, and would be grateful for privacy for my family on this personal matter.
There should be no mercy shown for this egregious hypocrisy.
A year ago, Prof Neil 'Dodgy Modelling' Ferguson entertained his mistress, who travelled across London to spend an afternoon with him at the height of the pandemic. Ferguson resigned from SAGE, although he has been readmitted as a member.
At the time of Ferguson's resignation, Hancock said that it was the right thing to do:
Guido Fawkes has the dialogue from Hancock's interview with Kay Burley of Sky News. She, too, was a coronavirus restrictions violator and was suspended from Sky News for several months:
Matt Hancock: "I think he took the right decision to resign"
Kay Burley: "You wouldn't have fought to keep him?"
Hancock: "That's just not possible in these circumstances"
Guido also said that Hancock supported a police investigation:
Guido notes that when government Covid advisor Neil Ferguson broke the government's social distancing rules to hook up at the start of lockdown, Hancock said he was both right to resign, and backed any police action necessary.
Returning to Harry Cole's article:
Last night, a friend of the Health Secretary said: "He has no comment on personal matters. No rules have been broken."
Mr Hancock was pictured embracing his aide. The image was from just after 3pm on May 6 — as the rest of Westminster was engrossed by the local elections.
We did not yet have a relaxation on hugging at that time. That happened 13 days later.
A whistleblower tipped off Cole. Hancock:
is seen in his distinctive ninth-floor office inside the sprawling Department of Health building, which is a stone's throw from the Houses of Parliament.
During the pandemic, the office has provided the backdrop to his Zoom appearances on TV — including the Andrew Marr Show.
Mr Hancock is seen checking the corridor is clear before closing the door and then leaning on it to ensure he cannot be disturbed.
Ms Coladangelo then walks towards him and the pair begin their passionate embrace.
According to a whistleblower, who used to work at the department, the pair have regularly been caught in clinches together.
The source said: "They have tried to keep it a secret but everyone knows what goes on inside a building like that …
"I'm just amazed he was so brazen about it as he was the Secretary of State.
"It has also shocked people because he put her in such an important, publicly-funded role and this is what they get up to in office hours when everyone else is working hard."
The office where the tryst happened is where Mr Hancock famously hangs his Damien Hirst portrait of the Queen.
Unfortunately, the Government is defending Hancock:
The lunchtime press briefing on Friday indicated that Boris:
considers the matter closed.
By the way, Hancock has an Instagram account. This was one of his posts:
You couldn't make it up:
One wonders if this woman has any involvement in keeping us in restrictions:
It also emerged she had accompanied Mr Hancock to confidential meetings with civil servants and visited No10. Sunday Times sources revealed at the time: "Before Matt does anything big, he'll speak to Gina. She knows everything."
She began working for the Department of Health and Social Care (DHSC) in September 2020:
In September, Mr Hancock appointed her as a non-executive director at DHSC, making her a powerful member of the department's oversight board.
It hit the headlines as there was no public record of the appointment, which was set to see her earn at least £15,000 of taxpayers' money, potentially rising by a further £5,000.
The role makes her responsible for "overseeing and monitoring performance" — in effect, scrutinising matters of concern to Mr Hancock.
A DHSC spokesman said the appointment was "made in the usual way and followed correct procedure".
It is also understood that since April, she has had a parliamentary pass, giving her unregulated access to the Palace of Westminster.
It bears her husband's surname, which she does not use professionally, and is sponsored by Lord Bethell, the hereditary peer, health minister and former lobbyist.
I am sorry to read about Lord Bethell's involvement. Until now, I respected him. I hope the House of Lords asks questions of him next week.
However, she also worked for Hancock in the early stages of the pandemic:
Mr Hancock secretly appointed her to his department as an unpaid adviser on a six-month contract in March last year.
It appears that, six months later, her appointment became official.
Both the woman and Hancock studied together at Oxford, where they read PPE (Philosophy, Politics and Economics):
The pair first met at Oxford University in the early 2000s but Mr Hancock went on to wed Martha Hoyer Millar in 2006.
Chumocracy
There is an interesting history behind the associations Hancock has in this affair.
Many call it 'chumocracy'.
Hancock
This is a biography from Hancock's website:
Before entering politics he worked as an economist at the Bank of England, and for his family tech industry.
Matt is married to Martha and has three young children. He is the first MP in modern times to win a horse race, having raced to victory at the Newmarket July Course in August 2012. He is an avid cricketer and plays for the Lords & Commons Cricket team. Matt once played the most northerly game of cricket on record, and succumbed to frostbite en route to the Pole. He retains all his fingers.
He certainly has retained all of his fingers.
A lengthy article in the Daily Mail tells us about his formative years:
Mr Hancock was born in Chester where he went to the exclusive private school the King's School.
He did his A-levels in maths, physics, computing and economics before doing computing at West Cheshire College.
Like numerous Conservative MPs before him, he studied PPE at Exeter College, Oxford – where he graduated with a first.
It was at the elite university that he realised he had dyslexia, which he only opened up about in recent years.
He later did an MPhil in economics at Christ's College, Cambridge, before turning to politics in 1999 when he joined the Tories.
Hancock's woman and her husband
The Sun's article says:
Mother-of-three Ms Coladangelo is communications director at Oliver Bonas, the fashion and lifestyle store founded by her husband Oliver Tress.
She is also a director and major shareholder at lobbying firm Luther Pendragon, which offers clients a "deep understanding of the mechanics of government".
The Daily Mail has more:
Mr Bonas opened his first store on London's Fulham Road in 1993 with handbags and jewellery he had brought from Hong Kong where his parents lived.
Speaking to the Independent in September 2015, he said: 'I'd been bringing presents back for friends and they were really popular so I thought, 'I wonder if I can make a go of this?' And to my amazement it just worked.' Bonas was the surname of his then girlfriend Anna Bonas, who is the cousin of Prince Harry's former girlfriend Cressida Bonas, and he told how 'she very kindly hasn't demanded that I changed it'.
Hancock's wife
Mrs Hancock's family history is one of privilege:
Mrs Hancock works as an osteopath and is believed to practice at a clinic in Notting Hill, West London.
She is the granddaughter of Frederick Millar, 1st Baron Inchyra – a British diplomat and Ambassador to West Germany.
Mrs Hancock is also the great granddaughter of the 1st Viscount Camrose, a Welsh newspaper publisher.
Her father, Alastair Millar, was Secretary of The Pilgrim Trust between 1980 and 1996.
The trust is responsible for supplying grants, predominately to preservation projects for historically significant buildings or artifacts. Nowadays, around £2million is divvied out by the trust each year.
Conclusion
Matt Hancock has annoyed me greatly for the past 16 months.
This parody of his testing regime is not far from the truth: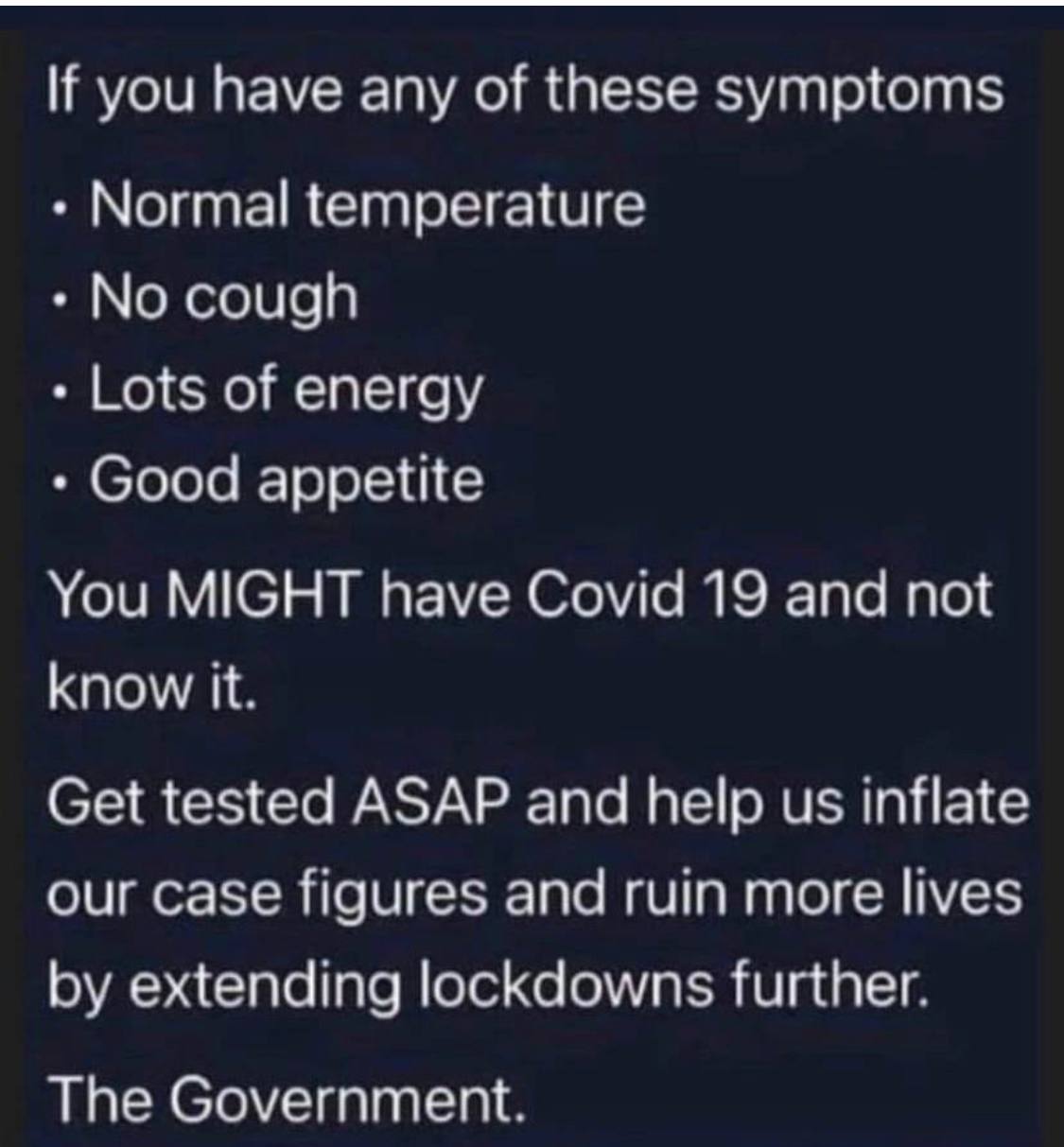 In England, we have lost billions of days of our normal lives:
This was the daily death total for June 23, 2021 (Chief Medical Officer Prof Chris Whitty is pictured):
Here are the death statistics from the past 16 months. Note that most coronavirus deaths are not 'from' the virus but 'with' it:
1. Heart Disease 205,000 (0.31% of the population)
2. Cancer 182,000 (0.25%)
3. Covid 128,000 (0.18%)
4. Dementia 82,000 (0.12%)
5. Stroke 46,000 (0.07%)
6. Diabetes 32,000 (0.05%)
An article on Reaction — 'Hypocritical Hancock: Don't hug your granny but you can hug Gina' — makes the following points about the Secretary of State's affair:
We don't know if anyone was taking morality lessons from Hancock back in September. But the question raises itself once again – is it one rule for you, Matt Hancock, and another for everyone else?
The government has been using its draconian Covid social distancing and travel restrictions to restrict and police morality. While the public may well overlook his private relationships as none of their business, voters are unlikely to stomach hypocrisy.
Number 10 is, so far, silent on the Hancock scandal. The Prime Minister hates morality plays and the invasion of private lives. That's not what this is about though. It's about a leading figure in the government imposing extraordinary restrictions on the rest of us while carrying on inside the Department of Health.
I look forward to an Urgent Question or two in the House of Commons next week.