You are currently browsing the monthly archive for September 2021.
The old adage 'No news is good news' couldn't be truer when it comes to inconvenient facts.
This thread from Alex Epstein, a New York Times bestselling author, examines the media interest shown when the Great Barrier Reef (GBR) is in decline — 'climate change' — but none whatsoever once it recovers:
Here is a selection of past New York Times headlines about the GBR:
The same holds true for The Washington Post:
The newspapers said that CO2 was to blame for the reef's bleaching, yet, as Epstein points out, the GBR is ancient, therefore, adaptable:
No, the media cannot change the narrative and admit they were wrong:
Epstein firmly believes that fossil fuels have their place. As he says, modern life could not exist without them:
Someday the truth will come out about this agenda, which is potentially harmful to humans.
This was an interesting exchange in reply to the thread, explaining that the reef regenerates when it is damaged:
It seems that, by not believing in God, we think that we are God, investing ourselves with an imagined ability to destroy the planet. What folly.
As we are made in His image, humans should not be made to suffer hardship, which the climate agenda surely will do if taken to its ultimate conclusion.
Britain's veteran television presenter Richard Madeley has a weekly agony uncle column in The Telegraph.
Recently, a 76-year-old lady from Argyll and Bute in Scotland wrote to him complaining about her 73-year-old husband's smoking and drinking.
Excerpts of the letter and Madeley's wise reply follow, emphases mine.
Anon writes:
I am 76 and I don't smoke or drink. My husband is 73: he drinks strong lager every day, he smokes and he takes no exercise whatsoever.
All of this is making me increasingly worried and angry. He is a good man, but I fear that he has deliberately set himself on a path to self-destruction. (Certainly he seems to take no evident pleasure from his habits.) He knows my views on the matter but we have never argued about it.
Richard Madeley begins by asking where the harm is in her husband's habits, as he is in his eighth decade. He tells the woman that she is:
over-worrying a bit about this.
It's not as if your husband is shooting up on class-A drugs every night or downing a whole bottle of whisky before sunset; he is indulging in some pretty mild vices. Yes, smoking is especially harmful, but if he hasn't managed to kick the habit by now I think it's probably a lost cause.
You say that he knows your views on the matter but quietly carries on puffing away and snapping open those tinnies anyway. You also say that you don't argue about it and he doesn't behave objectionably after he has sunk a few.
So my advice? Leave him be. It is not a perfect situation and you are quite right to be concerned about what his habits are doing to his liver and his lungs, but ultimately that is his responsibility, isn't it? Carry on enjoying your own retirement in your own way and let him enjoy his on his terms.
Live and let live. Or, rather, live and let smoke and drink. There are worse things in a marriage, you know.
I couldn't agree more.
This lady should be thanking God for a lasting marriage — and enjoying her husband's company more often. No doubt he was smoking and drinking lager when she married him. If it wasn't a problem then, it shouldn't be one now.
Several years ago, I watched a documentary about Queen Victoria, which included a few little-known facts about her life.
Apparently, Prince Albert was so in love with her during their early years of marriage that he used to put her silk stockings on her in the mornings and remove them at night. How sexy is that? What a splendid marital experience for both.
He also wrote her letters following their quarrels between 1841 and 1861.
They show he was a loving, wise husband. He was also a bit of a psychologist, decades before psychology existed.
The couple's daughter Princess Beatrice destroyed these letters, but not before an unknown person photographed them for the Royal Archives.
They are supposed to be available on a section dedicated to Prince Albert on the Royal Collections Trust website, but I'll be darned if I can find them. If anyone has found them, please do send me the link. Thanks in advance.
On Wednesday, September 22, the Daily Mail had an article about the letters, including a photo of one of them. Excerpts follow, emphases mine.
Queen Victoria was harsh with her children and beat them often when they were young. The Mail summarises one of Albert's letters criticising her lack of love for them:
Albert even lectures Victoria – who bore him nine children during their 21-year marriage – about motherhood and says it is a 'shame' she does not relax and enjoy their company more.
'It is indeed a pity that you find no consolation in the company of your children,' he says.
The man was a genius:
'The root of the difficulty lies in the mistaken notion that the function of a mother is to be always correcting, scolding, ordering them about and organising their activities… 
'It is not possible to be on happy, friendly terms with people you have just been scolding, for it upsets scolder and scolded alike.'
I couldn't agree more.
He wrote telling letters about their relationship, revealing quite a bit about their marriage, even though he loved her dearly.
After one row, Victoria continued following Albert around, venting her vexation with him:
In one letter, in his native German, Albert angrily chides feisty Victoria that she has again 'lost her self-control' and revealed how she followed him 'from room to room' rowing and refusing to back down.
He says: 'You have again lost your self-control quite unnecessarily. I did not say a word which could wound you and I did not begin the conversation, but you have followed me about and continued it from room to room.
'There is no need for me to promise to trust you for it was not a question of trust, but of your fidgety nature, which makes you insist on entering, with feverish eagerness, into details about orders and wishes which, in the case of a Queen, are commands to whomever they may be given.'
He adds angrily: 'I do my duty towards you even though it means that life is embittered by "scenes" when it should be governed by love and harmony.
'I look upon this with patience as a test which has to be undergone, but you hurt me desperately and at the same time do not help yourself.' 
This third one is my favourite and reveals more of his deep human insight:
He writes: 'We cannot, unhappily, bear your bodily sufferings for you – you must struggle with them alone. The moral ones are probably caused by them, but if you were rather less occupied with yourself (if that is possible) and your feelings (if that is possible) and took more interest in the outside world you would find that the greatest help of all.'
The two were first cousins, both born in 1819.
Sadly, Prince Albert died of typhoid fever at the age of 42.
Victoria withdrew from public life such that the press ridiculed her on the year of her Golden Jubilee, 1887. However, it could be that, as Empress of India, a title she requested of Parliament, she preferred spending time with her young servant Abdul Karim, who taught her how to read, speak and write Urdu.
The Telegraph discusses other letters that Prince Albert wrote and their digitisation:
A total of 22,000 documents, prints and photographs from the Royal Archives, the Royal Collection and the Royal Commission for the Exhibition of 1851 have now been digitised for the public to read.
The Prince Albert Digitisation Project was supported by Sir Hugh and Lady Stevenson in honour of Sir Hugh's sister, the late Dame Anne Griffiths, a former librarian and archivist to the Duke of Edinburgh.
Other items of interest include Albert's list of suggested candidate for the vacant role of Master of the Household, annotated by him with the reasons why he considered each man unsuitable: "Too old", "too useful in the Navy", "bad temper" and "French mistress".
Thank goodness these have been preserved for posterity.
And thank goodness for Prince Albert.
The three-year Lectionary that many Catholics and Protestants hear in public worship gives us a great variety of Holy Scripture.
Yet, it doesn't tell the whole story.
My series Forbidden Bible Verses — ones the Lectionary editors and their clergy omit — examines the passages we do not hear in church. These missing verses are also Essential Bible Verses, ones we should study with care and attention. Often, we find that they carry difficult messages and warnings.
Today's reading is from the English Standard Version with commentary by Matthew Henry and John MacArthur.
7 Now if the ministry of death, carved in letters on stone, came with such glory that the Israelites could not gaze at Moses' face because of its glory, which was being brought to an end, 8 will not the ministry of the Spirit have even more glory? 9 For if there was glory in the ministry of condemnation, the ministry of righteousness must far exceed it in glory. 10 Indeed, in this case, what once had glory has come to have no glory at all, because of the glory that surpasses it. 11 For if what was being brought to an end came with glory, much more will what is permanent have glory.
—————————————————————————————–
Last week's entry discussed Paul's comparison of Christ to a triumphal leader of a victory procession, where a fragrance of life or death, depending on whether one is a believer or an unbeliever, is present.
In today's verses, Paul compares and contrasts the Old Covenant with the New Covenant. He did this because Judaizers were infiltrating the Corinthian congregation, insisting that Mosaic Law be followed as well as Christian teachings. An example of this theological error would be to stipulate that Gentile males be circumcised, otherwise they could not be true Christians.
John MacArthur explains (emphases mine):
There were those in Corinth doing that. Coming along and demanding that the people who were already redeemed in Christ, in order to validate their redemption and to assure their redemption, needed to keep the ceremonial Law of Moses. These gentiles needed to be circumcised. They needed to make sure they followed through on washings and ceremonies and sacrifices and et cetera. They were demanding a return to old-covenant symbols which were now obsolete since the reality had come. Going back and exalting the symbols is pointless. It not only rejects the reality of the gospel but perverts the purpose and meaning of the symbol. It never w[as] intended to minister grace. It never w[as] intended to minister spiritual life, but only to be pictures of that which could and would do that.
So in dealing with this in Corinth, Paul writes in this section a concern that people understand the difference between the new covenant and the old. Or better stated, that people will understand the transition from the old covenant to the new. It isn't that the old covenant and new covenant are opposites. It isn't that they are opposed to each other. It is that one gives way to the next. The old covenant, in and of itself, was not complete. It could not save. It could not grant righteousness. It had to pass away and be replaced by the new. The old covenant, however, did serve a purpose, a very good purpose. And that purpose was fulfilled historically, and when the time came for that purpose to fade, it faded, and the new covenant came in its place.
Paul discusses Moses's receiving the law from God, which made his face blindingly brilliant, like the sun, even though that brilliance faded (verse 7).
When Moses was alone on the mountain, he had asked to see God's glory. God granted his request, hence Moses's brilliance in front of the Israelites when he returned to them. Because they could not look at him without being blinded, he put a veil over his face. Even then, his brilliance began to fade. By the time he removed the veil, he was back to normal.
MacArthur explains:
… in verse 7, the Law came with glory. The glory of God was on the face of Moses when he delivered the Law. What he's saying is, the Law is glorious; it is reflective of God. You see, the Apostle Paul had been accused by the Judaizers and the circumcision party of being against the Law, speaking against the Law, denigrating the Law, depreciating the Law, ignoring the Law, discounting the Law, or lowering the Law. He never did that. He realized that the Law, the old covenant, came in glory. It came with glory …
End of verse 7, he says, "–the sons of Israel could not look intently at the face of Moses because of the glory of his face," and then he throws this in, "fading as it was." The point is, the glory that was on Moses' face was temporary. After that encounter and that experience, it was gone; it faded. In fact, it faded even as he was there, talking to the people. And when he put the veil over his face, it would fade.
It was a "fading" glory.
Paul calls the law of God 'the ministry of death' because no Jew was capable of obeying over 600 laws regulating every part of his or her life.
The law was there to convict God's people of their sins. They were meant to take the law to heart and repent, which few did.
God had always intended for Jesus to redeem Jew and Gentile alike through His Son.
MacArthur tells us how redemption worked under the Old Covenant:
The old covenant could provide a basis of damnation, but not of salvation; a basis of condemnation, but not of justification; a basis of culpability, but not purity. Something had to be added.
You say, "Well, did the Jews know it was coming? Were they ever told?"
Sure. Jeremiah made it as clear – as crystal clear as it could be made. Jeremiah 31:31, he says this, "Behold, days are coming," declares the Lord, "when I will make a new covenant with the house of Israel and with the house of Judah, not like the covenant which I made with their fathers in the day I took them by the hand to bring them out of the land of Egypt, My covenant which they broke," not like that one, "this is the covenant I'll make with the house of Israel after those days. I'll put my Law within them and on their heart I'll write it, and I'll be their God, and they'll be my people, and I'll forgive their iniquity, and their sin I'll remember no more." They should have known that the old covenant wasn't the last …
The ministry of Old Testament prophets – and we don't have time to get into this – the ministry of Old Testament prophets was to call the people to repent. Over and over and over again, right on down to John the Baptist. Repent, repent, repent, repent, repent. That was the whole point. You're brought against the Law. The Law reveals your sin. You're called to repent.
See, what happened was, most of the Jews knew they couldn't keep the moral Law, so they figured out a way to get saved. "Oh, we can't keep the moral Law, but what we do, what we will keep, we'll keep the ceremonial Law, and the ceremonial Law will save us." So, they imposed the ceremonial Law on top of the moral Law as the savior, and that's what it means that they worshiped according to the letter of the Law. And that was damning.
But let's take a true Jew who really believed. What would he do? He'd come to God repentant, pleading for grace and pleading for mercy. He saw the ceremonial Law as symbolic of God's provision for him somewhere down the future. He knew God would provide. He knew God would be gracious, and God would be merciful, because that's the kind of God he was. And he cast himself on God's mercy and God's grace, and he would be redeemed, based upon what Christ would do in his behalf.
But for most Jews, the vast majority apart from that true remnant, they disobeyed the Law, offered no genuine repentance, exercised no saving faith in God, depended not on God's grace but on their own works, keeping the external ceremonial religion, and that was really a killer. And along came the prophets and constantly called them to repentance, and called them to repentance, and called them to repentance. That's always the message. It boggles my mind how that people can say today that we don't have to preach repentance. It's always been the message.
Paul asks that if the Old Covenant — the law of God — came in glory, how much greater then is the ministry of the Spirit, the New Covenant (verse 8).
MacArthur says:
The term "ministry of the Spirit" is Paul's descriptive term for the new covenant. He calls the new covenant the "ministry of the Spirit." The Law, written on stone, was a killer, but written on the heart by the Holy Spirit, is a life-giver and produces righteousness. The Law, written on stone, condemns. The Law, written on the heart by the Holy Spirit, saves.
Therefore, if there was glory in the ministry of condemnation — the Old Covenant — the ministry of righteousness of the New Covenant must far exceed it in glory (verse 9).
MacArthur tells us why that is true:
What does the new covenant bring? Righteousness. The new covenant changes God's view of the sinner. It changes his attitude. He sees him clothed in the righteousness of Christ. "Garmented with a robe of righteousness," Isaiah calls it, covered with the righteousness of Christ, having the righteousness of Christ imputed to him, put to his account.
Paul goes further by saying that the glorious Old Covenant no longer has glory because the glory of the New Covenant has surpassed — eclipsed — it (verse 10).
Matthew Henry elaborates:
The law was the ministration of condemnation, for that condemned and cursed every one who continued not in all things written therein to do them; but the gospel is the ministration of righteousness: therein the righteousness of God by faith is revealed. This shows us that the just shall live by his faith. This reveals the grace and mercy of God through Jesus Christ, for obtaining the remission of sins and eternal life. The gospel therefore so much exceeds in glory that in a manner it eclipses the glory of the legal dispensation, 2 Corinthians 3:10; 2 Corinthians 3:10. As the shining of a burning lamp is lost, or not regarded, when the sun arises and goes forth in his strength; so there was no glory in the Old Testament, in comparison with that of the New.
In verse 11, Paul says that the New Covenant is permanent in all its glory. Christ's sacrifice on the Cross has reconciled us to God.
Henry says:
Not only did the glory of Moses's face go away, but the glory of Moses's law is done away also; yea, the law of Moses itself is now abolished. That dispensation was only to continue for a time, and then to vanish away; whereas the gospel shall remain to the end of the world, and is always fresh and flourishing and remains glorious.
As for those who do not know God, an Anglican priest, the Revd Peter Mullen, wrote an inspired article for Conservative Woman, 'God leaves His calling cards', which concludes with this encouraging, simple instruction and prayer:
You seek God's comfort and the certainty of this presence? Just ask him for it.
O God, take away all my faithlessness and fear, and give me imagination that I may know certainly that thou art ever near. Make me bold to look for thee, that I might ever find thee.
What a marvellous message on which to end.
May everyone reading this have a blessed week ahead.
Next time — 2 Corinthians 6:14-18
The Seventeenth Sunday after Trinity — the Eighteenth Sunday after Pentecost — is September 26, 2021.
The readings for Year B can be found here.
The Gospel reading is as follows (emphases mine):
Mark 9:38-50
9:38 John said to him, "Teacher, we saw someone casting out demons in your name, and we tried to stop him, because he was not following us."
9:39 But Jesus said, "Do not stop him; for no one who does a deed of power in my name will be able soon afterward to speak evil of me.
9:40 Whoever is not against us is for us.
9:41 For truly I tell you, whoever gives you a cup of water to drink because you bear the name of Christ will by no means lose the reward.
9:42 "If any of you put a stumbling block before one of these little ones who believe in me, it would be better for you if a great millstone were hung around your neck and you were thrown into the sea.
9:43 If your hand causes you to stumble, cut it off; it is better for you to enter life maimed than to have two hands and to go to hell, to the unquenchable fire.
9:45 And if your foot causes you to stumble, cut it off; it is better for you to enter life lame than to have two feet and to be thrown into hell.
9:47 And if your eye causes you to stumble, tear it out; it is better for you to enter the kingdom of God with one eye than to have two eyes and to be thrown into hell,
9:48 where their worm never dies, and the fire is never quenched.
9:49 "For everyone will be salted with fire.
9:50 Salt is good; but if salt has lost its saltiness, how can you season it? Have salt in yourselves, and be at peace with one another."
Commentary comes from Matthew Henry and John MacArthur.
These verses pick up from where we left off last week:
9:35 He sat down, called the twelve, and said to them, "Whoever wants to be first must be last of all and servant of all."
9:36 Then he took a little child and put it among them; and taking it in his arms, he said to them,
9:37 "Whoever welcomes one such child in my name welcomes me, and whoever welcomes me welcomes not me but the one who sent me."
Jesus refers to children again in today's reading as well as the disciples' argument about who shall be first among them.
Jesus spoke of radical Christianity here, the necessity of mortifying our carnal desires and of ensuring our own purity.
'Radical' derives from the word 'root', meaning that it is essential.
John MacArthur has more:
This is a very unique portion of Scripture. It is full of graphic terminology, dramatic acts, severe warnings, and rather violent threats. It really is a passage about radical discipleship, and the language bears testimony to that. It calls for radical behaviors, and it shows us just how radical it is to be a true disciple of Jesus Christ. Our Lord here, in these verses, is calling for radical discipleship. I think this is a message that is highly necessary for the day in which we live when under the name of Christianity and even evangelical Christianity, there is so much superficiality.
The language here is severe, extreme, fanatical, and radical language. And that fits the radical nature of our Lord's invitation to true discipleship. Let me talk about the word "radical." It's a word you hear, it's a word you know, it's a word that we experience in our world commonly.
If you look in the dictionary, you'll find two meanings for the word "radical." Number one probably will be this word means basic or fundamental or foundational, something primary, intrinsic or essential. The second meaning, which may be the one that is more popular today, is that it also means something that deviates by its extreme. When we think of something radical, we think of something revolutionary or something severe or, as I mentioned, something fanatical. But really, the word is both.
It is a word that refers to something that is fundamental and fanatical, that is intrinsic and intensive, that is essential and extreme. Therefore, it is a great word to use as an adjective for a discipleship because discipleship is something fundamental and fanatical, something intrinsic and intensive, something essential and something extreme. The basics of being a disciple are really radical.
John tells Jesus that he and the disciples saw someone casting out demons in His name and that they tried to stop him from doing so because he was not one of them (verse 38).
We do not know when this happened. It could have been during the time when Jesus invested the Apostles with His own divine gifts of teaching and healing.
Jesus replied, saying that no one performing a powerful deed in His name would be able to speak evil of him afterwards (verse 39).
Furthermore, He said that whoever is not against us is for us (verse 40).
Matthew Henry and John MacArthur agree that it is possible that God granted a few outsiders these divine gifts.
MacArthur says:
There were others that the Lord had given this power to. Perhaps this is one who became a part of the 70. We don't know. But what he was doing was legitimate. God was doing it because he was a true believer in Christ and he was doing it in the name of Christ. But they were telling the guy to stop because he wasn't a part of their group. This is not Simon Magus, folks. This is the real thing here. 
Henry posits that the man might have been a follower of John the Baptist and spoke of the Messiah to come, not realising that Jesus was already on Earth:
… some think that he was a disciple of John, who made use of the name of the Messiah, not as come, but as near at hand, not knowing that Jesus was he. It should rather seem that he made use of the name of Jesus, believing him to be the Christ, as the other disciples did. And why not he receive that power from Christ, whose Spirit, like the wind, blows where it listeth, without such an outward call as the apostles had? And perhaps there were many more such. Christ's grace is not tied to the visible church.
Henry refers to a similar incident with Joshua in the Old Testament:
This was like the motion Joshua made concerning Eldad and Medad, that prophesied in the camp, and went not up with the rest to the door of the tabernacle; "My lord Moses, forbid them (Numbers 11:28); restrain them, silence them, for it is a schism." Thus apt are we to imagine that those do not follow Christ at all, who do not follow him with us, and that those do nothing well, who do not just as we do. But the Lord knows them that are his, however they are dispersed; and this instance gives us a needful caution, to take heed lest we be carried, by an excess of zeal for the unity of the church, and for that which we are sure is right and good, to oppose that which yet may tend to the enlargement of the church, and the advancement of its true interests another way.
2. The rebuke he gave to them for this (Mark 9:39; Mark 9:39); Jesus said, "Forbid him not, nor any other that does likewise." This was like the check Moses gave to Joshua; Enviest thou for my sake? Note, That which is good, and doeth good, must not be prohibited, though there be some defect or irregularity in the manner of doing it. Casting out devils, and so destroying Satan's kingdom, doing this in Christ's name, and so owning him to be sent of God, and giving honour to him as the Fountain of grace, preaching down sin, and preaching up Christ, are good things, very good things, which ought not to be forbidden to any, merely because they follow not with us. If Christ be preached, Paul therein doth, and will rejoice, though he be eclipsed by it, Philippians 1:18. Two reasons Christ gives why such should not be forbidden. (1.) Because we cannot suppose that any man who makes use of Christ's name in working miracles, should blaspheme his name, as the scribes and Pharisees did. There were those indeed that did in Christ's name cast out devils, and yet in other respects were workers of iniquity; but they did not speak evil of Christ. (2.) Because those that differed in communion, while they agreed to fight against Satan under the banner of Christ, ought to look upon one another as on the same side, notwithstanding that difference. He that is not against us is on our part. As to the great controversy between Christ an Beelzebub, he had said, He that is not with me is against me, Matthew 12:30. He that will not own Christ, owns Satan. But as to those that own Christ, though not in the same circumstances, that follow him, though not with us, we must reckon that though these differ from us, they are not against us, and therefore are on our part, and we must not be any hindrance to their usefulness.
Following on the same theme, Jesus said that anyone offering the disciples a drink of water because they represent Him will be rewarded (verse 41).
Henry tells us:
If Christ reckons kindness to us services to him, we ought to reckon services to him kindnesses to us, and to encourage them, though done by those that follow not with us.
MacArthur says that Jesus was cautioning against pride on the part of the disciples:
You give a cup of water to drink to someone who belongs to Christ, that's humility. You don't have any psychoanalysis of what humility feels like. Forget that. Because as soon as you feel humble, guess what? You're proud. And as soon as you feel proud, you have hope for humility. I'm not talking about feeling, we're talking about what humility does because that's the only way you can define it. It looks like this, it's basically kind, it's basically sacrificial toward those who bear the name of Christ.
Whichever one of you goes to the other and gives a cup of cold water for the sake of Christ, you will not lose your reward. Because the fear was, "Oh, if I humble myself, I'm going to lose the fight. This is a competition, we've got to win, we've got to be first, we've got to be first." So the fear is, if I end up at the bottom, I'm going to lose the reward, I'm going to lose the prize. No, you're not going to lose it. You're going to gain it. The simple act of sacrificial kindness to one who belongs to Christ will result in what you will never achieve by elevating yourself. You won't lose your reward, you'll gain it.
Then Jesus said that anyone who puts a stumbling block — temptation — before His 'little ones' would be better off having a millstone put around his neck and thrown in the sea than suffer the consequences of divine judgement (verse 42).
He was referring to the child in his arms but also to the wider body of believers, God's children.
Henry tells us:
Whosoever shall grieve any true Christians, though they be of the weakest, shall oppose their entrance into the ways of God, or discourage and obstruct their progress in those ways, shall either restrain them from doing good, or draw them in to commit sin, it were better for him that a millstone were hanged about his neck, and he were cast into the sea: his punishment will be very great, and the death and ruin of his soul more terrible than such a death and ruin of his body would be. See Matthew 18:6.
MacArthur explains the gravity of that threat:
The threat is unmistakable. "Whoever causes one of these little ones who believe" – not children but believers who are considered His children, His precious ones – "to stumble" – to stumble. What do we mean by stumble? Skandalizomai, to be caught in sin, to be trapped in sin, entrapped. "Whoever causes one" – not a group, one, and one is emphatic – "it would be better to have a, mulos onikos, tied around your neck. Mulos is mule, onikos is stone.
They used to grind grain using a mule. There would be a fixed stone and on top of that a round stone that would roll around and crush the grain and be pulled by a mule. It would weigh tons – tons. You would be better off to have one of those tied around your neck and have you thrown to the bottom of the ocean than to cause another Christian to be trapped in sin. Drowning is a very unforgettable threat to Jewish people. They are not seafaring people. The ocean is a great barrier to them. They are agrarian people. They fish in the lake. They don't like the depths of the sea. This is a horrifying threat.
What our Lord is calling for here is radical love, the kind of love that works very hard never to be a source of sinful solicitation to another person. To solicit them toward the lust of the flesh, toward the lust of the eyes, materialism, toward the love of the world, toward pride. We're talking here about the other believers in your life, children, spouses, friends, acquaintances. Love doesn't do that. Love doesn't solicit to sin. Love does the very opposite of that. According to 1 Corinthians chapter 13, love doesn't enjoy someone falling into sin …
This is the strongest threat that ever came out of the mouth of Jesus to His own people, and it calls for radical love, and love seeks someone's best, love seeks to elevate, love seeks to purify, love seeks to bless.
Jesus expanded on that by citing parts of our body that can cause us to sin. He does not intend us to actually remove them, just to rid ourselves of touching (verse 43), going to (verse 45) and seeing things (verse 47) that tempt us. Otherwise, we will end up in hell forever.
MacArthur says that He is calling us to radical purity:
But not just radical love is called for in radical discipleship. Secondly is radical purity – radical purity. And that's what is laid out in verses 43, 45, and 47. And, of course, they go together because you're never going to be able to lead someone else into righteousness if you're not righteous yourself. You're not going to be a purifying influence on others unless your own heart is pure. Just the reverse is true. If your own heart is impure, you will lead others into sin. You will be the means of other people's entrapment.
So the danger of leading others to sin is eliminated when you deal with sin in your own heart. And what this text calls for is a radical, severe dealing with that sin.
MacArthur explains the strong metaphors that Jesus used:
The language here is just so strong. First thing that strikes me is the severity with which we are to deal with sin. This is extreme behavior. This reminds me of the illustration of the Old Testament of hacking Agag to pieces as a kind of a symbol of how we have to deal with sin. This is the language that's similar to Romans where Paul talks about killing sin, mortifying it. This is aggressive, severe treatment of sin, and it's in metaphoric hyperbole – it's in metaphoric hyperbole.
The language calls for radical, severe action against any and all sin. Body parts are mentioned here, the hands, the feet, and the eyes. And I think the sum of those is simply to say everything you see, everything you do, everywhere you go – everything that relates to your life, all behaviors, these three separate parts are symbolic of the overall, general emphasis, and the verbs are all in the present tense, which means you keep on doing it. It's not once and for all. We would like to think of that, but that's not the way it is. Present tense verbs emphasize the continual struggle with temptation and with sin.
And what our Lord is saying is that salvation and the kingdom of God, mentioned in verse 47, which you want to enter, or life, as it's referred to in verse 43 and 44, which means eternal life, spiritual life, salvation on the positive side and escape from hell on the negative side, is so important that you need to get rid of anything that is a barrier to that. That's the point. Amputation is what's in view. Amputation, radical, severe action against anything that stands in the way of the pursuit of holiness, righteousness, and purity.
Obviously, our Lord is not calling for physical mutilation, not at all. I promise you, a person with one eye and a person with one hand and a person with one leg – or, for that matter, a person with no hands, no legs, and no eyes does not thereby conquer sin. That kind of folly developed in the history of the church, even from the second century on, that somehow if you emasculated yourself or if you mutilated yourself physically in some way, you could defeat sin.
That kind of view in those early years gained enough traction to have developed into kind of a full-fledged cult in the Middle Ages, a false view developed by monks and ascetics who took passages like these and Matthew 19:12 where it refers to those who have been made eunuchs, as if somehow in an action like that they could thereby conquer sin. The testimony from people who did that is that it had no real effect on their hearts, although it may have seriously altered their behavior. The issue is on the inside.
Eagle-eyed readers might be wondering what happened to verses 44 and 46.
MacArthur says that they might have been added later then removed because they were not in the original text:
There are things here that are so firm, so strong, so threatening, so severe that somewhere along the line people thought they needed to ramp up the message because of its severity. And there are things in this passage that are cryptic and challenging to interpret, and so through the years, there have been some alterations, maybe by scribes who wanted to clarify a little bit. Not a good thing to do, change the text, but, fortunately, we have as close to the original as we're going to get, and we're going to take the passage at its purest form.
One of the great realities of Scripture is the preservation of the original, which God has overseen so that we have a true reflection of the original Greek and Hebrew text. Let me read this to you, and if you'll notice it, I'm going to skip verses 44 and 46 when I read. It may be, if you have an NAS or one of the newer translations, you see brackets around them. That is because in the earlier manuscripts, these two statements do not occur. However, the statement in verse 44 and 46 is in verse 48. So we assume that some scribe saw the urgency of this and just wanted to pile it on a little bit.
Jesus said that the worm never dies and the fire is never quenched in hell (verse 48).
MacArthur explains why He used those words, which would have resonated with the Jews, His disciples:
The word "hell," by the way, is gehenna – gehenna. It is a very interesting term. It is always the term that refers to the lake of fire, not just the place of the dead (like hades) but the actual burning lake of fire. That is why verse 43 describes hell as the place of unquenchable fire. And verse 48, "Where their worm does not die and the fire is not quenched."
Gehenna – where did that word come from? The root of that word comes from the Valley of Hinnom – the Valley of Hinnom, mentioned in Joshua 15:8. It is a steep ravine down to a valley, south of the city of Jerusalem, very severe. That was a place where Ahaz and Manasseh, two kings, offered human sacrifices to Molech. You can read about it in 2 Kings 16 and 21, 2 Chronicles 28 and 33. Human sacrifices in the land of Israel in the Valley of Hinnom to pacify this vicious, false deity named Molech, an unthinkable practice that Jewish people would sacrifice their babies to Molech.
It was denounced, of course, by the prophets, particularly Jeremiah, Jeremiah 7:31, Jeremiah 32:35. In fact, Jeremiah renames it in Jeremiah 19:6. He calls it the Valley of Slaughter – the Valley of Slaughter. And he also calls it the Valley of Topheth. Topheth comes from a Hebrew word that means drum. Why would it be called the Valley of the Drum? Because some historians tell us that drums were beaten there regularly to drown out the screams of the burning babies. A horrendous place.
Josiah, the good king, according to 2 Kings 23:10, shut that down, stopped all that, and turned it into Jerusalem's garbage dump. I mean real garbage, no plastic, no paper. Rancid food, sewage, maggots, and a 24/7 fire consuming it. And it was easily adapted as the word to describe eternal hell, unquenchable fire. This is the emphasis of Scripture. All the way from the beginning, Matthew 25 to the end, Revelation 20, hell is a reality about which we are warned. Hell is mentioned twelve times in the New Testament, eleven of them by Jesus, the other one by James (James 3:6) and in this place, the fire is not quenched and the worm never dies, that's verse 48.
By the way, verse 48 is a direct quote from Isaiah 66:24, and if you remember Isaiah, that's the last verse in Isaiah. Isaiah ends with a horrible, horrible pronunciation of judgment. "They will go forth and look on the corpses of the men who have transgressed against me, for their worm will not die and their fire will not be quenched, and they will be an abhorrence to all mankind." Looking at the judgment when the Lord comes as final judge.
This is the strongest call to discipleship, maybe the strongest our Lord ever gave. You either deal radically with issues of sin in your life or you end up in the eternal dump, the garbage pit, punished forever, where there will be darkness, weeping, wailing, and gnashing of teeth in isolation, according to what we read in so many places in Matthew.
Jesus went on to mention salt, in a negative and a positive way.
The use of 'salt' would also have resonated with His disciples, because salt was mandated in sacrifices of animals and grain as a sign of God's covenant with His people.
MacArthur tells us:
Salt was added to sacrifices as a symbol of God's enduring covenant. Salt is a preservative. But there's one particular sacrifice that really fits perfectly here, Leviticus 2. In the opening five chapters of Leviticus, you have Scripture instruction on the five offerings – five offerings. In chapter 2, you have the grain offering – the grain offering – and it describes that offering.
But I want you to go down to verse 13, "Every grain offering of yours, moreover, you shall season with salt so that the salt of the covenant of your God should not be lacking from your grain offering." With all your offerings, you shall offer salt. Salt symbolizes God's promise, God's covenant, God's enduring faithfulness as you make the offering.
Jesus said that those who go to hell will be salted with fire (verse 49).
Henry explains that this salting with fire is eternal, because it works both as a corrosive and as a preservative:
… in hell they shall be salted with fire; coals of fire shall be scattered upon them (Ezekiel 10:2), as salt upon the meat, and brimstone (Job 18:15), as fire and brimstone were rained on Sodom; the pleasures they have lived in, shall eat their flesh, as it were with fire,James 5:3. The pain of mortifying the flesh now is no more to be compared with the punishment for not mortifying it, than salting with burning. And since he had said, that the fire of hell shall not be quenched, but it might be objected, that the fuel will not last always, he here intimates, that by the power of God it shall be made to last always; for those that are cast into hell, will find the fire to have not only the corroding quality of salt, but its preserving quality; whence it is used to signify that which is lasting: a covenant of salt is a perpetual covenant, and Lot's wife being turned into a pillar of salt, made her a remaining monument of divine vengeance. Now since this will certainly be the doom of those that do not crucify the flesh with its affections and lusts, let us, knowing this terror of the Lord, be persuaded to do it.
Jesus then ended with the good use of salt, a seasoning which makes our food taste good, and, in this context, a sign of grace making our utterances and actions palatable and pleasant as believers. If we lose our saltiness, how can we recover it? He called on the disciples and calls on us to have salt in ourselves and to be at peace with one another (verse 50).
Henry says:
Those that have the salt of grace, must make it appear that they have it; that they have salt in themselves, a living principle of grace in their hearts, which works out all corrupt dispositions, and every thing in the soul that tends to putrefaction, and would offend our God, or our own consciences, as unsavoury meat doth. Our speech must be always with grace seasoned with this salt, that no corrupt communication may proceed out of our mouth, but we may loathe it as much as we would to put putrid meat into our mouths …
We must not only have this salt of grace, but we must always retain the relish and savour of it; for if this salt lose its saltiness, if a Christian revolt from his Christianity, if he loses the savour of it, and be no longer under the power and influence of it, what can recover him, or wherewith will ye season him? This was said Matthew 5:13.
Jesus warned against salt that had lost its flavour.
MacArthur explains that this is because some salt was cut, or mixed, with other additives, one of which was gypsum:
Now, if any of you are into chemicals out there, chemistry, you know that sodium chloride is stable. Just sitting around, it doesn't lose its saltiness, so the question comes up: What can this mean, since salt is stable and doesn't lose its property, even over a long period of time? What can it refer to?
We're helped by some historians. Some of them may be ancient, like Pliny, who recorded the fact that there were several kinds of salts in Israel and many of them had properties that made them impure, and they were basically worthless. One kind that seemed to be in some abundant supply was salt that was imperceptibly mixed with gypsum, and it was worse than useless.
So our Lord says, while we're talking about salt and dedication, let me just pick my salt illustration up and move it up to another point. Salt is good but it's only good if its unmixed – if it's unmixed. And then comes His statement: Have salt in yourselves. Be salt, don't be salt mixed with gypsum or anything else, be undiluted, unmixed.
Being at peace with one another means being humble rather than fighting over who will win top spot in the next life:
… that's a command and I think it's a command to radical obedience, a life that is unmixed. Why do you say that? Because He then gives them a direct practical application, "And be at peace with one another."
Why does He say that? Because that's what they needed to hear. Back in verse 33 they were – Jesus says, "What were you discussing on the way down here to Capernaum?" They kept silent. On the way they had discussed with one another which of them was the greatest. Wow. They were basically proud, self-serving, competitive. They were guilty of leading each other into sin. There was anger. Anything but humility.
I think our Lord simply says, "You need to be unmixed in your obedience, and here's the command for today: Stop fighting. Stop elevating yourselves. Stop the competition. Stop being the cause of temptation. Such is the essence of radical discipleship, then, to love extremely, to deal with sin severely, to sacrifice one's life wholly, and to obey fanatically.
These are certainly not messages we hear in today's church.
I am looking forward to Sunday's sermon at my church and seeing how close it comes to this exposition from Henry and MacArthur.
Last week, I wrote about the global transport crisis.
This week, I saw two more items on the subject about the situation in Britain.
Michael Crick, a journalist who used to work for Channel 4 News and now writes for Mail+, stopped at a lorry park in Staffordshire, England, to chat with HGV (heavy goods vehicles) drivers.
The page with his article includes a video featuring brief interviews with drivers who stopped in at the Hollies Truck Stop for a bite to eat and a bit of a rest. He also interviewed Ian Wright from the Food and Drink Federation and a dairy farmer.
Despite the long hours, the drivers' salaries are going up. One said that his hourly wage went up 50%, from £13 to £18. Crick browsed the job adverts in Transport News and found many paying from £40,000 to £50,000 per annum.
He asked one driver why younger people aren't seeking these jobs. The driver replied that many younger people are 'bone idle'.
Crick included a summary of his other interviews in his article. They were less positive (emphases mine):
… few drivers I met this week would recommend the job to their children or grandchildren. The job nowadays is overloaded with bureaucracy, they say. Drivers are treated with no respect wherever they go, and sometimes get lumbered with fines their employers won't pay.
He discovered that some HGV drivers are switching to making customer deliveries, whether for supermarkets or Amazon:
Many HGV men (and the occasional woman) decided it's simpler to drive for Sainsburys, Tesco or Amazon. The distances are shorter, the hours are more sociable, and the pay is sometimes better. Yet unless British firms can recruit more lorry drivers, the economy will be in serious trouble.
As for dairy farmers, in August, there were not enough drivers to take their milk to market:
In the area round the Hollies Truck Stop, around 30 dairy farmers were told one day last month to drain away their milk because the buyer didn't have enough drivers to do the daily milk collection.
The farmer Crick interviewed says he was able to arrange a work around for his milk delivery but said that the other farmers were unable to do so.
The other item I saw was posted online in a comments section. I do not know the provenance of this first-hand experience of a former lorry driver, but it is well worth reading: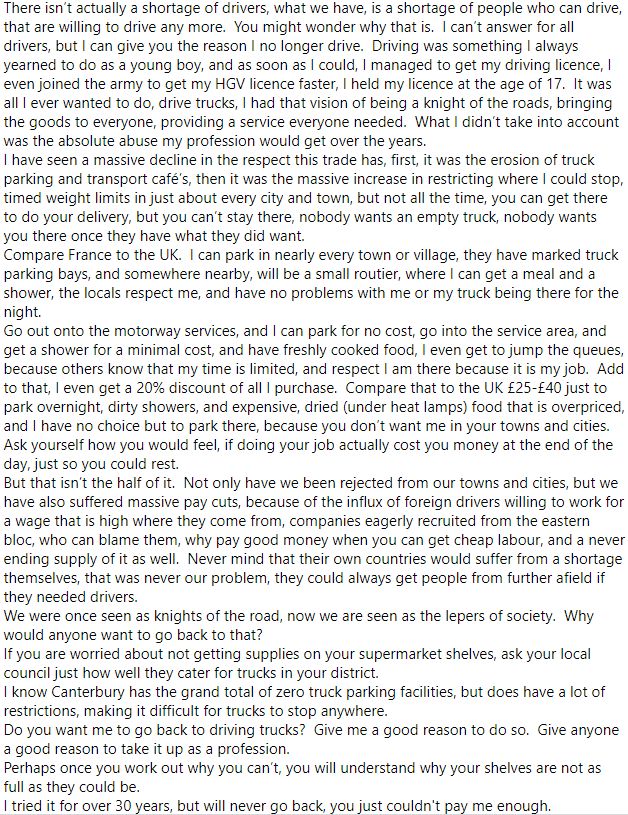 Judging from his testimony, the government and local councils need to ensure that drivers can circulate and make their stops more freely in town and city centres. Canterbury, I'm looking at you.
Local councils could also appropriate a brownfield site for a truck stop. These men and women need places where they can eat and rest.
The industry is starting to pay better wages. Of course, that will be passed along to consumers, but do we care? Driving a lorry these days is no treat. And, as the driver says, to make things worse, he and his associates are seen as:
the lepers of society.
That's odd, given that the pandemic has made us more dependent on lorry drivers than ever.
Unlike the other essential workers so many Britons applauded every Thursday in 2020, lorry drivers don't take time off for stress. They don't star in dancing videos, either. They are always there for us, until we make their occupation so unbearable for them that they quit.
This was a big week for Britain's Good Law Project, as they were able to persuade a court to scrutinise former Health Secretary Matt Hancock and former health minister Lord Bethell on their handling of coronavirus contracts in 2020.
Matt Hancock resigned in June 2021 and Lord Bethell was removed from his ministerial post in the House of Lords at last week's reshuffle.
The Good Law Project doesn't always win their cases, but this will be one to watch.
I do not often agree with their views but, in this case, I wish them well.
Lord Bethell
Having seen enough proceedings in the Lords, I thought that Lord Bethell was doing a competent job representing the Government.
However, during the summer, questions were asked about the mobile phone he was using last year when the pandemic was raging. Bethell gave various answers as to the whereabouts of the phone:
He allegedly used WhatsApp to communicate with potential suppliers:
His phone was taxpayer funded. As such, it seems he should have returned it to Procurement:
The accompanying article from the Good Law Project states (emphases in purple mine):
You will recall in our hearing in July Government admitted that some of Health Minister Lord Bethell's dealings in relation to the controversial £87.5 million testing contracts to Abingdon Health had been conducted via WhatsApp or text message, and were held only on his private mobile phone.
We wrote to Government to ask for the messages to be retrieved and preserved.
We were stunned to receive this response from Government in which Health Minister Lord Bethell changes his story, again, on why he can't hand over the texts and What's App messages. 
This is now the Minister's third different version of events:
First, he claimed his phone was "lost" so he couldn't hand it over. 
Then, a few weeks later he abandoned his tale that the phone had been "lost" and provided an entirely new explanation as to why he was no longer using it, claiming the phone was "broken".
Now, unbelievably, he says the phone isn't lost. Or broken. He actually passed the phone on to a family member … 
It's far from clear that personal phones used extensively for Government business can safely be handed over to family members – one assumes children. What steps did Lord Bethell take, for example, to ensure that highly sensitive material couldn't be retrieved by a specialist? And if he did delete it, did he ensure he'd passed on all the relevant information to the Department of Health before doing so? 
And the extraordinary change of story doesn't stop there. 
Back in June, No 10 issued a blanket denial that Ministers ever used private email accounts for Government business. But now their own lawyers have confirmed searches of Lord Bethell's three private email addresses using keywords relating to Covid contracts turned up hits of between 18,000 and 36,000 separate documents that may be relevant to the case. 
How on earth do we move from a blanket denial by No 10 that Ministers were using private email accounts for Government business, to an admission that a single Minister may in fact have used his private email for tens of thousands of official emails? Do they ever tell the truth?
We are fighting to get our hands on these messages. We will be able to reveal further twists in this extraordinary tale soon.
On Tuesday, September 21, the Good Law Project was in court to pursue the case:
The Government conceded that Bethell would have to provide a witness statement. The court hearing was to stipulate the content of that statement:
The accompanying article from crowdjustice gives more information on what happened in 2020:
The Government suppressed an official report that proved there were issues with rapid antibody tests purchased by the Department of Health. Leaked emails reveal the Government blocked Public Health England from publishing their findings until after they could make an announcement that they had purchased one million antibody tests from Abingdon Health.
The purchase of one million antibody tests from Abingdon Health has been shrouded in mystery, but what we do know lays bare serious failings in Government procurement.
The Government supported the creation of the UK Rapid Test Consortium (UK-RTC) back in April. The idea was that the companies and institutions involved, including Abingdon Health, would create a rapid antibody test. On 2nd June, Government awarded a contract worth £10million to Abingdon Health for the materials needed to produce the test. On 14th August, they handed Abingdon Health another contract worth a staggering £75million.
Despite these huge sums of money, Government seems to have ignored widely held concerns that these tests were not fit for purpose. So a £75million contract was awarded without competition, on the basis of profoundly flawed research. And when confronted with evidence of these flaws Government tried to suppress publication of that evidence.
These are serious charges and we have set out the publicly available evidence in this chronology, which we will update as more evidence is published.
Judge agrees
The judge hearing the case on September 21 agreed with the Good Law Project:
The Good Law Project's article says:
… Yesterday we took Government to Court to fight for this evidence – and we had a good day. 
The Judge ordered the search of Matt Hancock's WhatsApp messages and personal email accounts. We believe this is the first time a Judge has ordered a Minister, or ex-minister, to hand over their personal WhatsApps and text messages.
In fact, the Judge seemed to share our view more generally that Government's explanations for why they haven't recovered information from Ministers' devices simply do not stack up, and he ruled as follows:
Lord Bethell must provide a Witness Statement to the Court to explain – once and for all – what happened to his phone

.

Government needs to provide a Witness Statement to the Court explaining how they are going to ensure they recover all the necessary data from Bethell's phone

.
In addition to coughing up Lord Bethell's private emails,

Government must also trawl Matt Hancock's personal emails and WhatsApps for relevant information as to how these contracts came to be awarded with no competition

. 
We will now get to see previously hidden messages from the Ministers involved in awarding these lucrative contracts. We will also issue an application against Professor Sir John Bell in respect of his documents (to cover WhatsApp, University of Oxford emails and personal emails). He has previously refused to share any of his records, despite his hugely significant role in the contract awards. 
Matt Hancock
Following this announcement, the story received quite a lot of coverage in the media, with photos of Matt Hancock splashed all over Twitter.
The London Economic had this:
Their article said:
Former health secretary Matt Hancock will have his personal WhatsApp and emails searched as part of a High Court battle over millions of pounds' worth of antibody test contracts.
The Good Law Project has brought legal action against the Department of Health and Social Care (DHSC), claiming that more than £80 million in contracts for antibody tests were awarded unlawfully.
The bid covers three contracts awarded to Abingdon Health which the group claims were given in April, June and August 2020 but were not published until October 2020.
"The contracts were awarded directly, and secretly, without any advertisement or competition," the Good Law Project's barrister Joseph Barrett said in written arguments.
The group also argues that the contracts "comprise very substantial unlawful public subsidies".
The Daily Mail had more:
Claiming Mr Hancock was the "ultimate decision-maker" in awarding the contract to Abingdon Health, Mr Barrett told the court that Mr Hancock had used multiple non-government emails for Government business. However, no searches had been conducted and no documents had been disclosed.
Mr Barrett alleged that DHSC had "either destroyed or otherwise put beyond recovery or refused to search or disclose almost all of the repositories and documents of the four most senior and important individuals in the case".
Philip Moser QC, for DHSC which is contesting the claim, argued Mr Hancock had a "limited" role in the contracts.
"There is no reasonable basis on which to seek such disclosure, because Mr Hancock's involvement in the matters which are in issue in these proceedings was limited and, in any event, any communications from the then Secretary of State would have been caught by the existing disclosure exercise," he said.
Mr Justice Fraser ordered that both Mr Hancock's Government and non-Government communications that were used for Government business should be searched for relevant material.
The judge said: "It seems to me that even though his involvement has been described as 'limited', 'limited' can still be quite significant."
CityA.M.'s coverage says that Lord Bethell's phone is now with 'disclosure consultants':
Government lawyers previously said the old phone had been "broken" six months ago and that data held on it was not contained on the replacement.
The lost information was reported to have included WhatsApp and SMS messages.
The court also heard that Lord Bethell's phone is currently with "disclosure consultants" to determine whether his WhatsApp messages can be retrieved.
A spokesperson for the former health secretary said: "Hancock had no involvement in the awarding of this contract, or indeed any other contracts. They were all awarded through formal processes, as the National Audit Office has confirmed.
"At the time, everyone in the Department of Health and Social Care was working every hour to respond to the pandemic and boost testing capacity. Any suggestion of wrongdoing is completely false."
The full trial is due to take place from December 6.
Scotland's The National reported on the to-ing and fro-ing between the judge and the Government's legal counsel, Philip Moser QC:
Philip Moser QC, for DHSC which is contesting the claim, argued Hancock had a "limited" role in the contracts.
"There is no reasonable basis on which to seek such disclosure, because Mr Hancock's involvement in the matters which are in issue in these proceedings was limited and, in any event, any communications from the then Secretary of State would have been caught by the existing disclosure exercise," he said.
Justice Fraser ordered that both Hancock's Government and non-Government communications that were used for Government business should be searched for relevant material.
On the topic of disclosure, The Mirror's tweet alleges that the Department for Health and Social Care (DHSC) had previously refused to pursue it:
And there's more
The Government has always claimed that there were no fast-track routes to winning a contract.
However, on Thursday, September 23, The Guardian reported about emails referring to a 'VIP route' for coronavirus testing contracts:
The Guardian reported:
… internal emails between DHSC civil servants, discussing the Rapid Testing Consortium (RTC), a group of companies led by York-based Abingdon Health, which was awarded huge government contracts without a competitive tender, did describe the process as "the VIP route". The then health minister, Lord Bethell, was described by officials as a "sponsor" of the consortium.
The DHSC disclosed the June 2020 emails during a legal challenge brought by the Good Law Project (GLP), which argues there was "apparent bias" in the award of the contracts to Abingdon Health, and that the government "failed to undertake any transparent or lawful process". The DHSC is defending the case, arguing that the emergency of the pandemic justified it making direct contract awards.
In the email exchanges, one civil servant, discussing how to process the RTC companies, said a person in authority, whose name is redacted, "would like them to go through the VIP route". The official asked: "Who should they name as their sponsor?"
A colleague replied: "Are the sponsors usually ministers? I would imagine RTC can name Lord Bethell?"
In a further email referring to the RTC, another official wrote: "This is usually for the VIP route which comes via ministers."
Asked by the Guardian about these references to a VIP route, the DHSC did not maintain its previous denial. Instead a government spokesperson said: "All offers of testing supplies that were evaluated by DHSC went through the same clinical evaluation process. Every application went through robust assessment checks, and decisions were based on merit."
As for Abingdon Health, founded in 2008:
The company has emphasised that it and its directors did not have Conservative party membership or connections, that the government asked them to contribute to the Covid response, and they were not aware if there was a fast track process.
Having been first contacted on 22 March 2020 by an adviser to Public Health England, Abingdon said they were asked to email the general DHSC and NHS Covid testing and research email addresses. On 1 April, the company was contacted by Prof John Bell, a senior government adviser on testing, and on the same day asked to join a conference call with the then health secretary, Matt Hancock. Following discussions with Bethell and other senior government figures, Abingdon then formed the RTC and were initially given a £3m research contract.
The other contracts followed on from there.
It is fortuitous for the Government that Parliament is in conference recess from 5 p.m. today until late October. Otherwise, a few Urgent Questions would probably have been scheduled.
As they say in journalism: 'The case continues'.
The full trial starts on December 6.
On Tuesday, September 21, 2021, Prime Minister Boris Johnson met Joe Biden at the White House:
He and Foreign Secretary Liz Truss arrived in the United States on Monday for discussions about trade and climate change.
The two spent a day in New York then travelled by Amtrak to Washington, DC:
New York
On Monday, Boris gave a speech at the UN Climate Roundtable in advance of COP26 to be held in Glasgow in November:
The full text of his speech is here.
This short video shows Boris summarising his message to world leaders:
COP26 will be the biggest single political event that the UK has ever hosted. I hope that Glasgow is ready:
The Prime Minister met with President Bolsonaro of Brazil and President Moon of South Korea. He also met with Martin Griffiths of the UN Office for the Coordination of Humanitarian Affairs (UNOCHA) and, for whatever reason, with Jeff Bezos of Amazon:
There was speculation on what Boris and Bezos discussed:
In fact, they did discuss tax as well as the Bezos Earth Fund:
They discussed the upcoming COP26 Summit and agreed that there was an urgent need to mobilise more public and private money to help developing countries protect biodiversity, including through the LEAF Coalition.
The Prime Minister welcomed the Bezos Earth Fund's commitment, announced tonight, to give $1 billion to protect forests and remove carbon from the air. The Prime Minister and Mr Bezos agreed to work together to see what more could be done in the run up to and at COP26.
The Prime Minister raised the issue of taxation, and hoped progress could be in implementing the G7 agreement on tax.
Beth Rigby from Sky News was in New York to interview Boris. They talked over each other for two minutes:
I wish he had mentioned her suspension from Sky for flouting coronavirus rules last December:
Boris's interview for the Today show went much better. He was diplomatic about Joe Biden's withdrawal from Afghanistan, even when Savannah Guthrie pressed him on the subject:
Guthrie asked Boris about President Trump. Again, Boris was diplomatic, saying that prime ministers have to get along with US presidents. In fact, Trump was mentioned very little in Parliament, including by Boris. I do not get the impression that Boris was sorry Trump lost the election. In fact, he has said in the Commons — as he does in the clip below — that he considers Biden a 'breath of fresh air'. Biden's name gets mentioned quite a lot in Parliament, by the way:
Boris also discussed family life and his unwavering belief in American ideals:
The Sun's Harry Cole was on hand to broadcast for Sky News from New York:
He said that New York hasn't yet bounced back from coronavirus:
The British press pack then travelled to Washington DC:
Washington DC
On Tuesday, the day that she and Boris went to Washington, Liz Truss's office issued the following tweet about the special relationship between the US and the UK:
Hmm.
Truss held a press huddle on the train:
While Truss met with her American counterpart Secretary of State Antony Blinken, Boris met with Kamala Harris at the Eisenhower Building:
Downing Street issued this summary of their meeting. Topics included the new AUKUS alliance, climate change and humanitarian efforts. Boris also expressed his gratitude to the US military for their leadership in withdrawing from Afghanistan.
British journalist Hugo Gye objected to the Eisenhower Building's architecture:
Then it was time to meet with Joe Biden.
Biden arrived by helicopter, no doubt from Delaware:
Unlike the Trumps, the Bidens do not greet their guests at the door:
Liz Truss accompanied the Prime Minister:
Hugo Gye has a summary of the meeting and brief press conference in the Oval Office. Anne Sacoolas is an American 'diplomat' who was in a road accident in England leading to the death of a young man, Harry Dunn:
My American readers will be very familiar with the Amtrak anecdote, which Biden used on the campaign trail last year:
In the end, the chances of a trade deal appear slim. Trump would have definitely been open to one.
Boris took two questions from the media, one from Harry Cole and the other from Beth Rigby.
Biden pointed to Harry Cole first:
Biden and Boris gave this answer on the Harry Dunn case:
Biden did not solicit questions, even though there were plenty of reporters in the Oval Office. When the session adjourned, they started shouting various questions at him. He apparently answered a question about the southern border, but the reporter could not hear the answer over the din. The reporters filed a complaint with Jen Psaki, who once again replied that the president takes questions 'several times a week':
Downing Street issued a summary of the private meeting which followed:
… The President and Prime Minister agreed that the new AUKUS alliance, announced last week, was a clear articulation of the UK and America's shared values and approach to the world. They underscored the important role the alliance will play in promoting peace and stability around the world, harnessing British, American and Australian expertise to solve future challenges.
The leaders welcomed the close cooperation between our countries during the NATO withdrawal from Afghanistan. The Prime Minister expressed his condolences for the American servicepeople killed during the operation. The Prime Minister and President Biden agreed that the best way to honour all those who gave their lives to make Afghanistan a better place will be to use all the diplomatic and humanitarian tools at our disposal to prevent a humanitarian crisis and preserve the gains made in Afghanistan.
To that end, they discussed the progress made since the G7 meeting last month to coordinate international action on Afghanistan. They agreed that any international recognition of the Taliban must be coordinated and contingent on the group respecting human rights.
The Prime Minister welcomed President Biden's leadership on the issue of climate, and his announcement today that the US would double its climate finance commitment. The leaders agreed on the need for G7 countries to deliver on the promises made in Carbis Bay, particularly with regard to phasing out the use of coal and supporting developing countries to grow cleanly. They agreed the Build Back Better World Initiative would be crucial in achieving this. The Prime Minister said he looks forward to welcoming the President to the COP26 Summit in Glasgow.
The Prime Minster and President Biden also agreed on the need to increase international vaccine access to deliver on the commitment made in Cornwall to vaccinate the world by the end of next year. They noted that the success of the British and American vaccine rollouts has been instrumental in allowing UK-US travel to resume. The Prime Minister welcomed the US announcement that they will allow double vaccinated British nationals to enter the country from November, a move which will allow families and friends to reunite and will help stimulate our economies.
The Prime Minister updated President Biden on the developments with respect to the Northern Ireland Protocol since they last met in June. The leaders agreed on the importance of protecting peace in Northern Ireland …
Not surprisingly, it is unlikely we will get a trade deal with the US. Biden is concerned about the post-Brexit Northern Ireland protocol disturbing the peace agreement between that nation and the Republic of Ireland:
Return to New York
The Telegraph reports Boris Johnson remained in Washington on Wednesday to meet with:
US politicians at Capitol Hill, including senators Chuck Schumer and Mitch McConnell, US Speaker of the House Nancy Pelosi and House minority leader Kevin McCarthy.
Afterwards, he visited Arlington Cemetery before returning to New York to deliver his climate change speech at the UN:
He will then travel to Arlington Cemetery to lay a wreath at the Tomb of the Unknown Soldier, before returning to New York, where he will give his climate change speech to the UN General Assembly in the early hours of the morning UK time.
Liz Truss was in New York on Wednesday to address her counterparts on the UN Security Council:
Sky News reported:
She will chair talks with foreign ministers from the US, France, China, and Russia – the countries that, along with the UK, make up the five permanent members of the United Nations security council – in New York later.
UN Secretary-General Antonio Guterres is also expected to join the discussions.
Ms Truss's aides say she will be promoting greater cooperation among the so-called P5.
This will include encouraging Beijing and Moscow to "act as one" with other international military forces to prevent Afghanistan from once again becoming a home for global terrorists following the Taliban's takeover last month.
But "un peu riche" (a little rich) may be the French retort as the diplomatic rift deepens over a new security pact between Australia, the UK and the US that leaves France out in the cold and China smarting.
Trade might be off the table for now, but, no doubt, both Boris Johnson and Liz Truss will make progress in other areas.
Two stories of interest today feature coronavirus.
The Lancet's U-turn on lab leak
With all the news from independent media outlets revealing more information about the possible origins of the coronavirus lab leak, The Lancet agreed to publish what it calls an 'alternative view'.
On September 19, the Mail on Sunday reported (emphases mine):
The Lancet medical journal has bowed to pressure over its heavily-criticised coverage of the disputed origins of the Covid pandemic by publishing an 'alternative view' from 16 scientists – calling for an 'objective, open and transparent debate' about whether the virus leaked from a Chinese laboratory …
The Lancet has agreed to publish an alternative commentary which discusses the possibility that laboratory research might have played a role in the emergence of the SARS-CoV-2 virus.
It also directly confronts the efforts of science journals to stifle debate by labelling such theories as 'misinformation'.
In the article, the authors argue that 'there is no direct support for the natural origin of SARS-CoV-2, and a laboratory-related accident is plausible'. 
They add that the February 2020 statement 'imparted a silencing effect on the wider scientific debate'.
And they say scientists, 'need to evaluate all hypotheses on a rational basis, and to weigh their likelihood based on facts and evidence, devoid of speculation concerning possible political impacts'.
Science itself, they go on, should 'embrace alternative hypotheses, contradictory arguments, verification, refutability, and controversy' and rather than congratulating China on its supposed 'transparency', they call on the secretive superpower to open up …
The new commentary, published in The Lancet on Friday, said: 'The world will remain mired in dispute without the full engagement of China, including open access to primary data, documents, and relevant stored material to enable a thorough, transparent and objective search for all relevant evidence.'
One of the signatories, Professor Nikolai Petrovsky of Flinders University in Adelaide, Australia, told The Mail on Sunday: 'It might seem small, but after 18 months of complete denial, the very act of [The] Lancet agreeing to publish this letter acknowledging the origins of Covid-19 remains an open verdict, is a very big deal.
'For a leading medical journal like Lancet to agree to finally open its doors to a letter from scientists highlighting the ongoing uncertain origins of Covid-19, indicates how far we have come in 18 months in requesting an open scientific debate on the topic, but also indicates just how far we still have to go'.
Good news, at last.
Matt Hancock on anti-vaxxers
Matt Hancock hasn't been Health Secretary since June, but that hasn't stopped him banging on about the virus.
On September 19, he wrote an opinion piece for the Mail on Sunday: 'MATT HANCOCK: In all my time, I have never come across a group so dangerous as anti-vaxxers'.
With a title like that, who needs the editorial?
He writes the way he talks:
While of course we need to be vigilant, we can start restoring what makes life worth living. Families are once again able to reunite with their loved ones. Weddings, christenings and family celebrations are back on. Businesses can open up again with more confidence. In fact, by some measures, Britain has the fastest economic recovery of all the major Western nations.
Then he goes off on a tangent:
However, almost unbelievably, there is still a persistent yet thankfully small and shrinking group of people determined to try to stop this progress. In all my time in public life, I have never come across a group so blinkered and dangerous as the anti-vaxxers …
Getting the jab isn't just about protecting yourself, but about protecting others. It's not just about you, it is a social and moral obligation.
Good grief. I am so glad that Sajid Javid is Health Secretary.
This is probably the nicest thing he says about people hesitant to get the vaccine:
I understand that some people are hesitant. It's ok to be unsure and ask questions.
He then trots out all the pro-vaccine statistics, including this old chestnut, which is highly dubious:
The vaccines protect you, with about 112,000 deaths prevented because of the vaccines.
Then he returns to excoriating people who don't want to get the vaccine:
The people I reserve my vitriol for are those who promote anti-vax lies. I find it hard to believe, but it's a shocking fact that there is a small number of aggressive, noisy, threatening people who think it is right and fair to try to stop others from getting vaccinated.
The lengths to which these people will go are extraordinary. They pump out scaremongering material and videos, with discredited arguments. They try to play on people's fear of the unknown. They create conspiracies and spread misinformation. They've even sent me death threats just because I played a prominent part in the vaccines rollout.
First of all, if anyone pushed fear and scaremongering, it was Matt Hancock in his coronavirus briefings.
Secondly, if any people went to extraordinary lengths over this 'pandemic', it was Matt Hancock and the British government with lockdowns, 'because they work', so we needed not one but four. I've lost count.
Thirdly, millions must be more than furious with the man who laid down the law about physical restrictions — no visits to the elderly, severely restricted funerals, damp squib weddings, no church — for months on end then shows his blatant hypocrisy by canoodling with his assistant. Thank goodness for security cameras and for The Sun publishing the photo on the front page a month later.
Finally, he never gave MPs the granular data that he was looking at. MPs asked him for the data on which he based his decisions, but he never produced the information. Yet, he expected them to vote based solely on what he told them. I do wish there had been more of a revolt, but Labour were quite happy to approve any and all restrictions. What a parlous state of affairs.
In other Hancock news, in late August, he and his girlfriend took a summer holiday together at a modest resort in the Swiss Alps. It's a pity she hasn't gone back to her husband, who seems like a nice guy.
On September 7, Hancock returned to the backbenches for the first time since 2012:
He's no doubt smarting from that and last week's reshuffle.
To think he was so confident that he would get another Cabinet post.
I do not think he will win re-election should he run again. His constituents are still irked with him for leaving his wife, whom they adored.