You are currently browsing the daily archive for September 24, 2021.
Last week, I wrote about the global transport crisis.
This week, I saw two more items on the subject about the situation in Britain.
Michael Crick, a journalist who used to work for Channel 4 News and now writes for Mail+, stopped at a lorry park in Staffordshire, England, to chat with HGV (heavy goods vehicles) drivers.
The page with his article includes a video featuring brief interviews with drivers who stopped in at the Hollies Truck Stop for a bite to eat and a bit of a rest. He also interviewed Ian Wright from the Food and Drink Federation and a dairy farmer.
Despite the long hours, the drivers' salaries are going up. One said that his hourly wage went up 50%, from £13 to £18. Crick browsed the job adverts in Transport News and found many paying from £40,000 to £50,000 per annum.
He asked one driver why younger people aren't seeking these jobs. The driver replied that many younger people are 'bone idle'.
Crick included a summary of his other interviews in his article. They were less positive (emphases mine):
… few drivers I met this week would recommend the job to their children or grandchildren. The job nowadays is overloaded with bureaucracy, they say. Drivers are treated with no respect wherever they go, and sometimes get lumbered with fines their employers won't pay.
He discovered that some HGV drivers are switching to making customer deliveries, whether for supermarkets or Amazon:
Many HGV men (and the occasional woman) decided it's simpler to drive for Sainsburys, Tesco or Amazon. The distances are shorter, the hours are more sociable, and the pay is sometimes better. Yet unless British firms can recruit more lorry drivers, the economy will be in serious trouble.
As for dairy farmers, in August, there were not enough drivers to take their milk to market:
In the area round the Hollies Truck Stop, around 30 dairy farmers were told one day last month to drain away their milk because the buyer didn't have enough drivers to do the daily milk collection.
The farmer Crick interviewed says he was able to arrange a work around for his milk delivery but said that the other farmers were unable to do so.
The other item I saw was posted online in a comments section. I do not know the provenance of this first-hand experience of a former lorry driver, but it is well worth reading: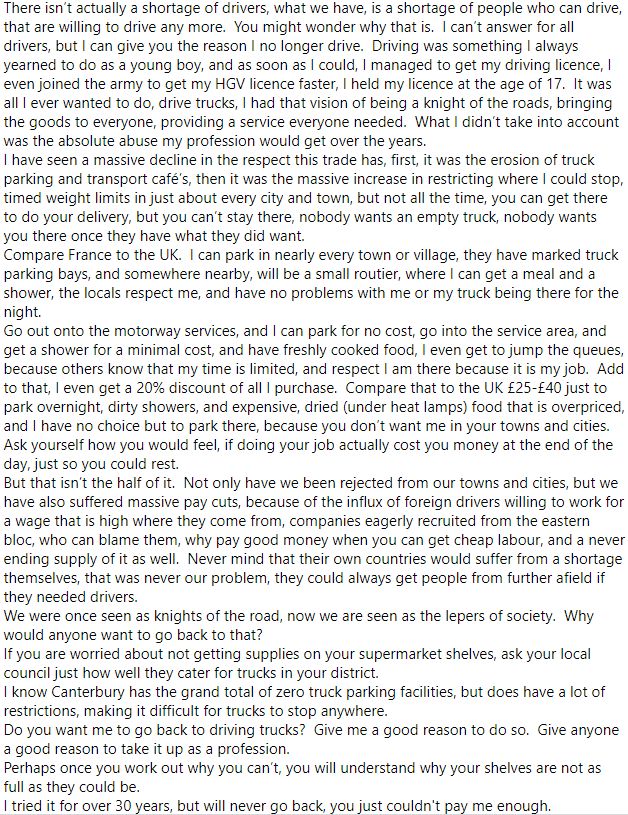 Judging from his testimony, the government and local councils need to ensure that drivers can circulate and make their stops more freely in town and city centres. Canterbury, I'm looking at you.
Local councils could also appropriate a brownfield site for a truck stop. These men and women need places where they can eat and rest.
The industry is starting to pay better wages. Of course, that will be passed along to consumers, but do we care? Driving a lorry these days is no treat. And, as the driver says, to make things worse, he and his associates are seen as:
the lepers of society.
That's odd, given that the pandemic has made us more dependent on lorry drivers than ever.
Unlike the other essential workers so many Britons applauded every Thursday in 2020, lorry drivers don't take time off for stress. They don't star in dancing videos, either. They are always there for us, until we make their occupation so unbearable for them that they quit.