The only consolation for the Labour Party is that, while their party conference was a disaster, the Conservative government experienced one of its worst weeks in living memory.
Brutal fights broke out at a handful of petrol stations while the fuel shortage raged on, ginned up by the media, led by the BBC, as one can see in this poll from YouGov:
Government ministers were few on the ground, leaving the public wondering who was in charge. Dan Wootton of GB News gave this scathing editorial on Tuesday, September 28:
It's a disaster, especially the lorry driver shortage:
While all of this was going on, Labour Party members descended on the seaside resort of Brighton last weekend for their annual conference, which began on Saturday.
The first few days were taken up with party governance and policy issues. Tuesday and Wednesday featured the big-hitter speeches from shadow cabinet members, culminating with a speech from party leader, Sir Keir Starmer.
The big speeches are what most of the media will pay attention to, however, the early days of the conference revealed the most about who and what defines Labour.
Guido Fawkes and GB News kept a gimlet eye on proceedings throughout.
Fair wages
First of all, there was the question of how much Labour's conference stewards were being paid. Labour continually talk about raising the minimum wage, but fall far short from implementing it themselves:
Guido's accompanying post concludes (emphases in the original):
Stewards will be made to work everyday from 25 September through to 29 September from 8:00am to 20:00. Short changing the low paid stewards who will be working the conference floor as they debate a motion calling for £10 per hour minimum wage… 
UPDATE: Richard Holden MP says "This is utter hypocrisy from Labour. As usual, they demand one thing in public but can't even practice what they preach behind closed doors with their own staff."
Not only can Labour not implement their own policy, but Shadow Home Secretary Nick Thomas-Symonds does not even know what the minimum wage is, as the Daily Mail reported on Tuesday:
Shadow home secretary Nick Thomas-Symonds was left red-faced today as he floundered over the current level of the minimum wage.
The frontbencher struggled as he was asked for the figure – £8.91 per hour – during a round of interviews.  
Pushed by LBC radio host Nick Ferrari, Mr Thomas-Symonds said: 'It's… certainly it's below £10 er, Nick, I don't know off the top of my head.'
Challenged that he probably should have checked the figure amid a row with left-wingers who are calling for it to be hiked to £15 an hour, the MP said: 'Er, perhaps yes. I'm just being quite honest with you.'
Hopeless.
Deputy leader Angela Rayner calls Conservatives 'scum'
The most memorable event of conference was a fringe event on Saturday, September 25, where deputy leader Angela Rayner called the Conservatives 'scum':
I'm sick of shouting from the sidelines, and I bet youse lot are too. We cannot get any worse than a bunch of scum, homophobic, racist, misogynistic, absolute pile … of banana republic…Etonian…piece of scum…and I held back a little…that I have ever seen in my life…
She later tried to defend the remark, claiming that calling people 'scum' was a term of endearment used in the north of England. However, many Northerners have since said that it is not.
On Sunday, she claimed she was talking only about Boris Johnson:
However, as you can see from the quote above, she used the words 'bunch of', indicating that she meant the whole party. In the video above, Trevor Phillips says that she is implicating Conservative voters as well.
He has a point, one with which the new Conservative Party chair, Oliver Dowden MP, agrees:
By Monday, Guido had unearthed more from Saturday night (language alert):
Guido's post on the subject says:
Presumably Keir will want to have another 'private conversation' explaining how Labour getting into government requires them to win over Tory voters, not insult them…
On Monday, Rayner's colleague Emily Thornberry MP told BBC Politics Live that drink might have been involved:
However, this is not the first time Rayner has called Conservatives scum. On October 21, 2020, she called Conservative MP Chris Clarkson 'scum', which, fortunately, he brought to the Deputy Speaker of the House's attention at the time. I watched the proceedings on television when it happened. Here's the video:
Rayner later apologised, but outside of the Commons.
Gender identity politics
Another dismal conference memory will be the lingering gender identity controversy. Rosie Duffield MP said she did not feel that the conference would be safe for her to attend. Only three years ago, then-MP Luciana Berger did not attend because of anti-Semitism:
The BBC's Laura Kuenssberg once needed a bodyguard at conference.
Hmm. All three are women:
Speaker of the House Sir Lindsay Hoyle (Lab) was appalled that Duffield felt she could not attend, but Keir Starmer did not stand up for her:
The gender identity question ran and ran throughout the week.
Shadow Chancellor Rachel Reeves clearly did not want to go there, burbling to LBC's Nick Ferrari when he asked her an anatomical question about women:
Deputy leader Angela Rayner, who became a grandmother at the age of 35, was not afraid of the topic and clearly does not see the world the way Rosie Duffield does:
Six other MPs took the same line as Rayner, which should ring alarm bells with every woman. David Lammy, pictured below, told the BBC that women insisting on their own spaces were 'dinosaurs' wanting to 'hoard rights'. Here's the image in full:
Meanwhile, looking on from outside the scenes, a man who transitioned to a woman agrees with Duffield:
By Tuesday, September 28, ministers speaking at related fringe events left early:
Guido pointed out that this did not happen at other fringe events:
Labour LGBT+ have held packed fringe events for the past two days at Conference, and Guido's noticed a bit of a pattern: the high-profile shadow cabinet panelists (Rayner, Thomas-Symonds, Dodds) have all conveniently left their respective sessions early. Usually just before they're confronted with awkward questions about Rosie Duffield…
Busy as no doubt they are, this sort of behaviour doesn't appear to be happening as much at other fringe events; Guido noticed Anneliese Dodds had plenty of time to field questions with the Fabian Society yesterday, and Angela Rayner is, of course, perfectly happy to spend her hours calling the Tories "scum" in front of Labour activists. When it comes to acknowledging the transphobia row in their own party, though, there just aren't enough hours in the day. Thomas-Symonds did at least offer an anodyne soundbite about standing for trans rights in response to one question yesterday, though he soon left afterwards – the Q&A continued for about another 15 minutes.
Stephen Daisley, writing for The Spectator, has more on how this played out at conference, including a women's meeting that had to held in secret because of a related protest. Terrible.
Labour staff redundancies on hold
A few months ago, Keir Starmer planned to make 90 workers at Labour HQ redundant. That did not go down well with their union, which threatened a picket at conference.
Starmer backed down …
… as Guido reported on September 3:
Labour general secretary David Evans has avoided the prospect of a picket line at Labour conference, after telling staff this afternoon, "I am pleased to say that at this stage we see no need to consider compulsory redundancies as part of this process". Many are picking up on the key phrase being "at this stage". Guido doubts there's been any notable uptick in Labour's finances in recent months, suggesting the required 90 sacking are still necessary in the near future – i.e. post-conference. For now, at least, it seems their biggest Brighton headache will be the membership, not the staff…
We'll see what happens in early October.
Labour members allying with Jeremy Corbyn
Jeremy Corbyn lost the 2019 election with the worst results for Labour since 1935.
Keir Starmer succeeded him as party leader in 2020.
Nonetheless, Labour has been divided between Corbynites and Blairites (Starmer).
On Saturday, General Secretary Dave Evans boldly stated that he became a party member because he likes Corbyn:
This is problematic for Starmer.
That same day, The Times reported on solidly middle class Putney in south-west London, which voted Labour in 2019. The paper's reporter had trouble finding Starmer supporters (emphases mine):
… as he embarks on his first party conference at the head of Labour this weekend, with the pandemic finally beginning to fade from the headlines, Starmer is determined to command the nation's attention.
If the view from Putney is anything to go by, he has a long way to go. It took me three hours on the streets of the southwest London constituency on Thursday afternoon to find anything resembling a Starmerite. Most responses ranged from unmoved to profoundly unimpressed.
"Starmer is just middle of the road," said Nick Godfrey, 68, a retired brewery operator and lifelong Labour voter. "He gives Boris and his clowns an easy ride. He gets in a few jabs at Prime Minister's Questions and thinks he's won the war" …
"A bright light on a dark night" was how the victorious Labour MP Fleur Anderson described Putney in 2019. That was putting it mildly: the seat was the only one Labour managed to wrestle from the Tories in the entire country. As the working-class fiefdoms of the red wall crumbled, Putney showed that metropolitan Labour is alive and well. So if Starmer can't do well here, he's probably toast.
That's certainly the view of Helen and Gemma, two self-described "typical Putney mums" I found chatting over a cappuccino at Hudsons, a popular café. "I had high hopes for him but I think he's a bit ineffectual," Gemma said. "This should be Labour's time really, with a lot going wrong in the country. But I think they need somebody a bit more charismatic. He's bland, a bit nasal."
Helen voted Conservative at the last election, but she could be tempted by the right Labour leader. "I thought Starmer might have something to offer, but I don't think he does," she said. "He's weak and a bit insipid. I thought he might be charismatic and he's not."
On Monday, World Transformed held a fringe event entitled, 'Starmer Out?'
It appears to have attracted a lot of Jeremy Corbyn supporters:
Starmer's Shadow Employment minister quits
On Monday, Starmer's Shadow Employment minister, Andy McDonald, tendered his resignation:
Guido has the full text of McDonald's letter, in which the MP expresses his disappointment that Starmer has not done anything to further a £15 minimum hourly wage, neglected his ten pledges as Leader of the Opposition and broke a commitment to socialist policies.
Labour are socialist to the core. This is what McDonald wrote:
I joined your frontbench team on the basis of the pledges that you made in the leadership campaign to bring about unity within the party and maintain our commitment to socialist policies.
That's all you need to know about Labour, comrade.
McDonald also wrote an article for The Tribune about the reasons for his resignation:
It was rumoured that Jeremy Corbyn had a hand to play in this badly-timed resignation for Starmer, but Corbyn denied it:
Corbyn's advice on winning an election
Amazingly, on Tuesday at a fringe meeting, Jeremy Corbyn, the leader with the worst election results for the party since 1935, was allowed to advise on winning an election:
He was coy when asked about running as an independent candidate for MP.
Some long-time Blairite MPs, such as Barry Gardiner, want Starmer to bring Corbyn back into the party for unity's sake:
Starmer told the BBC's Laura Kuenssberg that Corbyn would have to apologise and remove an offensive online post of his:
Getting rid of Starmer is a real preoccupation. Several Corbynite MPs sit in the Commons, such as Zara Sultana:
Keir Starmer's speech
On Wednesday, Sir Keir Starmer gave a closing speech to conference.
Starmer is a lawyer. In the old days, they were paid by the word, so they were verbose.
Times have not changed. Starmer's speech lasted 90 minutes:
This is most of what one needs to know:
Other words that did not make the speech were 'comrade', 'solidarity' and 'Corbyn':
Starmer's speech came the day after a union broke away from Labour …
… and the day after The Mirror's party for delegates featured Tony Blair's 1997 campaign song, D:Ream's 1993 hit, Things Can Only Get Better:
Guido thought that should have been the tune played as Starmer walked up to the podium; it would have driven the Corbynistas mad and boosted Labour five points in the polls.
However, the song played was Fat Boy Slim's Right Here, Right Now, possibly because he and Starmer took violin lessons together at secondary school.
Starmer was heckled from the get go:
Here's another, with Sir Keir responding with a joke about Prime Minister's Questions:
It won a stammering Starmer a standing ovation. He stopped stammering after that, having found his footing.
He delivered a weak one-liner about his father and Boris's:
Starmer likes to say that his father was a tool maker, making him sound working class. In reality, Starmer's father owned a tool making company. A working class boy's parents cannot afford a violin, let alone the lessons.
Tool making was a big theme:
Here's another:
This is the woman:
In addition to the heckling, there was also a silent red card protest:
Starmer's detractors might have made him look better in the eyes of most delegates — and the public, assuming anyone watched the speech:
Guido has all nine on a short video:
Starmer channelled his inner Blair, who famously said 'Education, education, education' in 1997:
Kevin Maguire, a Labour-supporting journalist, rationalised the length of the speech, as last year's was cancelled because of coronavirus:
I feel sorry for anyone who had to listen to the whole thing:
Regardless of what Starmer said on Wednesday before the party faithful (here's the full 7,286 word transcript), below is an excerpt of an article he wrote when he was younger (also see page 21 of the July-August 1986 edition of Socialist Alternatives). He discusses revolutionary movements, saying that an economic downturn coalesces young people and the working class in a move away from conservatism: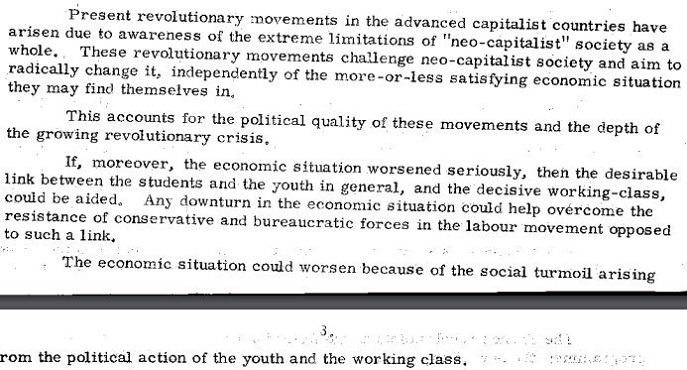 It is unlikely he has moved too far from that view over the years.
More identity politics
In addition to the sexual identity politics discussed above, there were other issues that popped up during conference, including that of race.
On Sunday, September 26, Mark Ferguson, a member of Labour's National Executive Committee and of mixed race, told his audience that too many white men had their hands up waiting to ask a question:
Ferguson stated that his instruction pertained to all conference debates, not just that particular one, as GB News reported:
"But I do not want white men to exclusively dominate this or any other debate at this conference and following on from my comrade in the chair this morning, I do wish to see the diversity of the hall reflected.
"I'm not putting anybody on the spot here, but if you want to speak do not be afraid to put your hand up, we want to hear from you, this is an inclusive conference."
GB News asked for the eminently sensible opinion of Graham Stringer MP, who would make a great party leader. Stringer said that it is the role of the chairman at the podium to regulate the balance, not the delegates themselves:
Yet more identity politics
This lady gave a speech deploring flash photography, a mainstay of party political conferences. It's always there.
I was waiting for a mention of jazz hands. Clearly, I wasn't the only one:
She even complained about a clock near the stage. She said it should have been on the left rather than the right:
The young radicals
The media never say that some Labour members are outright Marxists.
I am posting these two speeches because the young radicals making them could one day be sitting in the House of Commons.
Hannah from Edinburgh was raised in Middlesbrough, England, and was upset about her impoverished upbringing. Therefore, she advocates socialism with full enthusiasm:
This chap gave an equally impassioned speech about climate change and an internationalist, socialist approach:
On Monday, conference delegates passed a motion from Young Labour condemning Israel.
LabourList reported:
Delegates at the Labour Party annual conference in Brighton have today passed by a show of hands a composite motion on Israel and Palestine put forward by Young Labour that condemns "Israel's continuing illegal actions".
Moving the motion, Young Labour's Jawad Khan said that the motion would "bring us one step closer to finally ending the shameful century of British complicity and the denial of the right to self-determination, liberation and return".
Also addressing the annual party gathering ahead of the vote this afternoon, Labour Friends of Israel chair Steve McCabe argued that the motion was "too shouty, too angry, too one-sided and not at all focused on the search for peace".
He told the conference delegates that it was "completely hostile to the people of Israel", adding: "If Labour had adopted this approach in Northern Ireland, we would never have got to the Good Friday agreement."
Guido has more on what Steve McCabe MP, chair of Labour Friends of Israel, said about the motion:
Former MPs the public do not want to see
The conference saw the re-emergence of former MPs the public no longer want to see.
Keith Vaz
Leicester's Keith Vaz, who, in darker aspects of his private life claimed to be a washing machine salesman, spoke at a Hindus for Labour fringe event on Monday. What were they thinking?
Vaz's successor is no better, by the way:
Guido's post on Vaz's appearance says:
Vaz's presence comes just four days after a parliamentary investigation found his bullying behaviour to have been "hostile, sustained, harmful and unworthy of a member of parliament", writing that he "should be ashamed"…
Not only is Keith Vaz still allowed to remain a Labour member, he recently took up a role on the party's local government committee in Leicester. Not a good look…
John Bercow
John Bercow was Speaker of the House at the time the Brexit debate in Parliament was at its worst. He always took the side of the Remainers. He only stood down once Boris Johnson became Prime Minister.
Bercow came in as Speaker as a notional Conservative, then disavowed himself from the party.
After standing down as Speaker, he joined the Labour Party and spoke at a fringe meeting on Tuesday.
The Daily Mail reported:
Political turncoat John Bercow shamelessly hailed his new Labour 'comrades' last night – but insisted he had not quit the Tories in search of a safe Commons seat.
The former right wing Tory MP made his debut at the opposition party's conference in Brighton by offering advice on how to defeat the 'worst Government of his lifetime' at a fringe meeting …
On what the party should do next, he said: 'The Labour Party has got to excite people. It has got to excite people. It is not good enough to just have a good set of good policies.
'In fact, I would go as far as to say, that my feeling is that the Labour Party in the next election doesn't need to have a a vastly, detailed, lengthy manifesto with dozens and dozens of commitments.'
The former Commons Speaker added: 'The Labour Party has got to thrust to the fore alongside Keir who is a formidable prosecutor, a formidable advocate, and other personalities part of the leadership team, which can reach out to people and persuade people that they are different from and preferable to this shower, which frankly represents the worst government of my lifetime.'
On Sir Keir Starmer, Mr Bercow said he is a 'good guy' but that the Labour Party has got to develop a 'narrative' and clear policies'.
When asked about Labour deputy leader Angela Rayner, who recently described senior Tories as 'scum', Mr Bercow said he would have not chosen that term but insisted people should not get on their 'moral high horses' about it.
What Bercow really wants is a seat in the House of Lords. Fortunately, Boris has not deigned to give him that privilege.
Coronavirus caution out the window
On Monday, the conference organisers went against their earlier pledge for a safe environment with regard to coronavirus, especially with vaccine passes.
I went out that day. Although the morning was rainy, the sun shone in the afternoon.
Nevertheless, Labour ditched coronavirus passes, required for large gatherings:
Guido posted a copy of the Labour Party email on the subject and said:
Having spent the weekend insisting attendees show either a vaccine pass or a negative lateral flow result upon entry to the conference, it looks like Labour have now decided it wasn't worth the hassle. As of this morning, security is no longer checking for passes, instead conducting random spot checks on those already in the venue – long after attendees could have spread Covid around the conference centre. In an email to members they claim "adverse weather conditions" mean it's just easier to let everyone in and check a few once they're inside…
When Labour announced the measures last month, they insisted checks were necessary to "reduce risk and to provide reassurance to those attending", and that they were "working hard" to make sure everyone was safe. Sir Keir even claimed "passports on their own aren't enough […] It's got to be passports plus testing." Mother nature has seemingly put a stop to that – although it's currently 18 degrees and sunny in Brighton…
If they continue to be holier than thou about mask wearing in the Commons when they return in October, I hope the Conservatives will give them some grief for their hypocrisy:
Conclusion
It is hard to disagree with this summation from Patrick Christys of GB News on the disaster this party conference was:
The ordinary member of the public finds party conferences boring. The main speeches are a lot of hot air. However, what is worth noting are the fringe meetings and the other less significant events, because those reflect the party's true identity.
Labour have not changed a bit. The socialists still want to run this country down.