Daily Archive
You are currently browsing the daily archive for November 30, 2021.
November 30, 2021 in history | Tags: coronavirus, England, fear, freedom, freedom of movement, Gibraltar, Ireland, Malta, Northern Ireland, Scotland, socialism, South Africa, UK, United States, vaccine, vaccine passport, Wales | 2 comments
Please, someone, stop Project Fear.
Last week, a new coronavirus variant, B.1.1.529 — initially named Nu and now changed for whatever reason to Omicron — hit the headlines, having been discovered in South Africa.
How worried should we be? I've been ignoring the news hysteria pumped out by Britain's main channels and have been focusing on the views of scientists who have offered good information in the past.
A senior scientist in vaccine research and development advises ignoring the media hysteria:
The scientist notes that full vaccination rates in South Africa are very low:
There is no need to panic, especially before Christmas. Note that the chairwoman of the South African Medical Association says the symptoms are 'extremely mild':
We cannot extrapolate whether 'cases' will spike in countries where most of the population is fully 'vaccinated'. According to another scientist who tracks viruses, it could be that the variant will not take hold quite as easily or with devastating effect:
Sir John Bell, an adviser to the UK government, agrees that the symptoms are like that of a cold. Our T-cells can probably deal with it:
Read further on for what this means for travel and our civil liberties.
First, here is confirmation that Nu was renamed Omicron in the Greek alphabet:
It seems that a Greek letter — Xi, coincidentally — was skipped:
Omicron is under the microscope not because of overflowing hospitals but rather genomic monitoring by clinicians:
As with the other variants, Delta included, Omicron would have been discovered months before now:
In fact, despite what the WHO says, the World Economic Forum (WEF) reported on it back in July:
Now for the bit on travel and our civil liberties.
As expected, travel restrictions to and from six African countries are now in place in Britain …
Travel to and from South Africa and five other southern African countries was banned from noon on Friday. Malawi and Mozambique are expected to be added to Britain's travel red list imminently and there is acceptance in Whitehall that further bans are likely while scientists attempt to assess whether Omicron evades vaccines or spreads faster.
Chris Whitty, the chief medical officer for England, described travel bans as "precautionary" and said it might be possible to lift them once the variant had been better assessed.
Travel industry bosses warned that the introduction of the red list was a "hammer blow to consumer confidence" in before the peak winter sun window.
… and in the United States. It's okay when the Democrats do it, but not when Trump did it in 2020: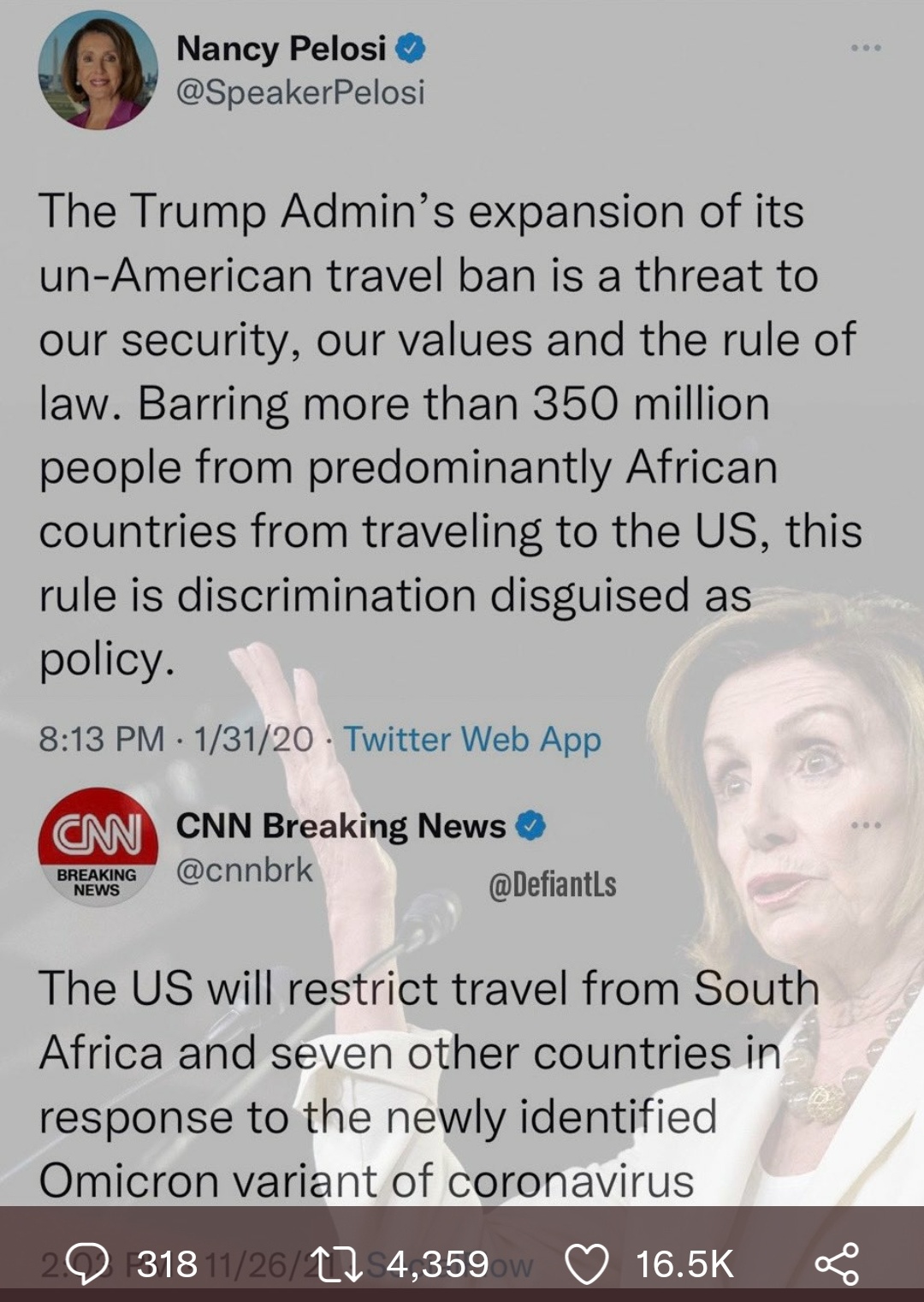 No doubt politicians will attempt to restrict our movements but, as this pathologist explains, human activity has little to do with viral transmission, which appears to be caused by seasonal activity:
Keep that in mind if there is a push for England to implement Plan B for the winter months. Plan B includes vaccine passports, something we have been able to evade, unlike Scotland and Wales (both socialist-governed nations):
On that subject, here is a coronavirus passport poster from Ireland. The Irish government now refers to freedom as 'privileges':
Journalist Julia Samuel reminds us of what the situation looked like a year ago. Remember when the vaccine rollout was nearly ready and we were told we would get our freedom back? One year on, and the Government is telling us that we will now need boosters. Who thought then that we would have vaccine passports? Northern Ireland's Assembly will be voting this week on whether to have them and where:
Julia Samuel says that the Government now considers freedom to be on loan and can be rescinded whenever our notional leaders see fit:
I deeply deplore this state of affairs but am not surprised by it.
Meanwhile, vaccine efficacy has raised a few questions. Last week on RMC (French talk radio), the mid-morning show had a heated discussion as to whether the vaccines were working.
Gibraltar has had huge problems with new cases, yet 100% of its population is fully vaccinated.
On November 17, The Express reported that The Rock has cancelled Christmas:
The Rock has urged people to "limit mixing as much as possible", in new guidance published last Friday. The Gibraltar government has also cancelled all functions across departments, including Christmas parties, in a bid to prevent the spread of the virus.
Ministers have not yet ordered the public and businesses to follow suit, but the decision had sparked anger in the hospitality sector …
Gibraltar, which has a population of around 33,000, also boasts an impressive rate of vaccination.
Gibraltar has administered 94,019 vaccine doses – meaning most of its citizens have received three jabs …
The Government of Gibraltar has nevertheless reiterated masks should be worn in shops, hospitals and public transport.
People are also encouraged to meet in outdoor spaces, where possible, despite winter drawing in.
At that point, two people were hospitalised, with one in intensive care.
Malta has the same problem in case rises. Unlike Gibraltar, many of these people are ending up in hospital:
On the other hand, a study from Northwestern University near Chicago has reported that the booster has dramatically increased antibody levels:
In a nutshell:
Data from England appear to corroborate the same findings, with lower hospital admission rates for older people:
The peer-reviewed study appeared in The Lancet (yes, I know):
This is the effect of booster shots:
The only question now is how long the 93% and 94% efficacy lasts. The public will soon tire of getting covid booster shots every six to eight months, that is for certain.
In the meantime, we must continue to keep a gimlet eye on our governments, especially where civil liberties and our God-given freedoms are concerned.
I will cover England's restrictions in a separate post.