Daily Archive
You are currently browsing the daily archive for January 14, 2022.
January 14, 2022 in history, surveys | Tags: 2022, Boris Johnson, Conservative Party, coronavirus, Dan Wootton, Douglas Ross, Dr Jenny Harries, England, GB News, Glasgow, Guido Fawkes, health, history, Labour Party, Mark Drakeford, medical testing, Nadhim Zahawi, NHS, Nicola Sturgeon, party, police, pub, Sajid Javid, Scotland, Scottish Nationalist Party, socialism, survey, talkRADIO, UK, vaccine, vaccine passport, Wales | Comments closed
For the past several weeks, Prime Minister Boris Johnson and the Conservatives have been lagging behind Labour in the polls.
Boris and the Conservatives held the top spot for most of 2021, apart from one week in January. Their ratings began to sink in November, if I recall correctly. Initially, this had to do with Net Zero policies (far out of reach from the normal Briton), a tax increase to help pay for the NHS and rumours of parties during lockdown at No. 10 Downing Street.
Later, around Christmas, news emerged of parties dating from late 2020. More recently, news leaked about a No. 10 gathering on May 20, 2020 (during lockdown), for which Prime Minister Boris Johnson apologised during Prime Minister's Questions on January 12, 2022:
Today, it is alleged that parties also took place in Downing Street the evening before Prince Philip's funeral in April 2021.
For Keir Starmer and Labour to be ahead of Boris and Co for this long is a parlous state of affairs:
On January 8, 2022, GB News reported that the Conservatives were beginning to regain lost ground (emphases in purple mine throughout):
The Conservative Party has recovered some of its lost lead against the opposition Labour Party, an opinion poll showed on Saturday, but Boris Johnson's personal ratings remain deeply negative as he faces ongoing ethics questions.
Polling company Opinium said Labour's poll rating held at 39% in a January 5-7 survey, unchanged from late December, while support for the Conservatives rose two percentage points to 34%. The Liberal Democrats were on 11% and the Green Party was on 5% …
Johnson's own net approval rating in the Opinium poll was minus 24%, up from minus 31% before Christmas but well behind Labour Party leader Keir Starmer at plus 3%.
Soaring inflation was also souring the public mood, with 86% of people saying their living costs had risen, the polling company said.
On Monday, January 10, the Conservatives continued to gain ground, although they still trail Labour:
Guido Fawkes noted that not moving to Plan C coronavirus restrictions over the Christmas period probably helped:
Labour's 8 point poll lead at the end of last year has halved in the latest YouGov poll. The plunged best PM rating for Boris has bounced 6 points and Starmer's has eroded a point, though Boris still trails. Making the right call on Omicron appears to be paying off for Boris. Who knows, if the Tories get their act together and govern a bit more like Tories, they might even regain their lead…
Moving on to coronavirus measures, a number of news items broke since the New Year, some of which relate to England only; the devolved nations have their own measures, largely socialist in nature.
Self-isolation time
On Monday, Boris said he was considering lowering the number of days that people have to self-isolate:
Guido Fawkes reported that Levelling Up Minister Michael Gove said that the current Plan B measures are likely to expire as planned on January 26.
Boris's comment followed Gove's on Plan B:
This follows Michael Gove's comments earlier today on the potential lifting of Plan B measures in a few weeks, provided the NHS continues to keep Omicron under control. Looking increasingly likely that pandemic measures will – finally – wind down sooner rather than later…
On self-isolation being reduced from seven days to five, as the US is doing, Boris said:
We're looking at [it]… we will act according to the science as we always have. But what I would say to everybody is that Omicron is still out there, it's incredibly contagious. Everyone will know somebody who has had it, it can be pretty unpleasant.
Boris was likely reconsidering because British scientific advisers 'misread' US self-isolation guidance. Dr Jenny Harries, head of the UK Health Security Agency (UKHSA), is pictured:
Guido Fawkes showed the difference between the UKHSA guidance on January 1 and January 10.
Guido concludes:
The US Centres for Disease Control has now clarified their isolation periods do start after the first appearance of symptoms, giving further credence to Tory backbenchers' calls for a cut. This country has had enough of experts…
Indeed, we have had enough of experts. Unfortunately, Jenny Harries is receiving a damehood, having been on the New Year's Honours list.
The move for a shorter isolation period is to enable those with coronavirus to return to work as soon as possible.
It is a curious thing that, since the beginning of the pandemic in early 2020, I have seen the same shop assistants week after week. By contrast, when I watch the news, there is a plethora of public sector workers — the NHS and teachers, to name but two groups — who are constantly sick.
This tweet expresses the phenomenon well: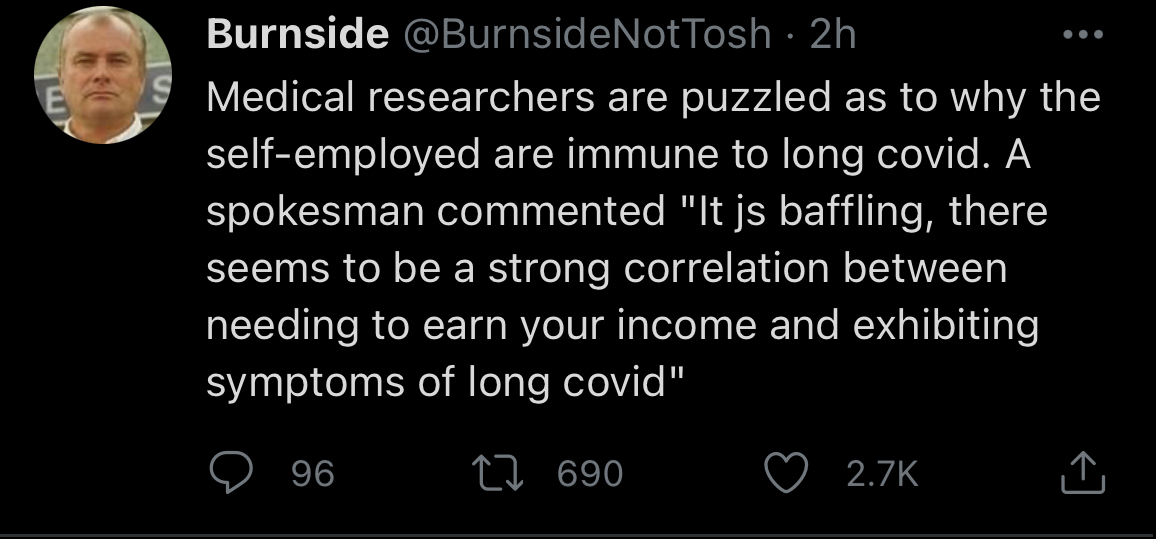 On Thursday, January 13, Health Secretary Sajid Javid announced in the House of Commons that self-isolation will be reduced to five days beginning on Monday, January 17, provided that the person involved can provide two negative lateral flow test results on Days 4 and 5:
The end of mass vaccination?
On Sunday, January 9, Dr Clive Dix, the former chairman of the UK's vaccine taskforce, said that it was time to end mass vaccination and begin urgent research into antibodies as well as T-cells.
The Observer reported:
Covid should be treated as an endemic virus similar to flu, and ministers should end mass-vaccination after the booster campaign, the former chairman of the UK's vaccine taskforce has said.
With health chiefs and senior Tories also lobbying for a post-pandemic plan for a straining NHS, Dr Clive Dix called for a major rethink of the UK's Covid strategy, in effect reversing the approach of the past two years and returning to a "new normality".
"We need to analyse whether we use the current booster campaign to ensure the vulnerable are protected, if this is seen to be necessary," he said. "Mass population-based vaccination in the UK should now end."
He said ministers should urgently back research into Covid immunity beyond antibodies to include B-cells and T-cells (white blood cells). This could help create vaccines for vulnerable people specific to Covid variants, he said, adding: "We now need to manage disease, not virus spread. So stopping progression to severe disease in vulnerable groups is the future objective."
On Wednesday, Professor Jeremy Brown of the Joint Committee on Vaccination and Immunisation (JCVI) echoed Dr Dix's call for a post-pandemic plan. He rightly pointed out that we do not test for influenza:
Schoolchildren suffering
I do feel for children having to wear masks, undergo regular testing at school and for being persuaded — with parental consent — to get vaccinated. My commiserations also go to their parents.
On Sunday, Education Secretary Nadhim Zahawi said that the rate of children's vaccinations must speed up:
The topic of mask-wearing, although confined to secondary school students, came up on a recent instalment of ITV's This Morning programme. Author and television presenter Gyles Brandreth explained how difficult this is for children with learning difficulties:
I am glad to see that pupils are refusing to wear masks: sensible kids showing common sense.
Vaccines
Having watched all the coronavirus briefings on television, I remember when either then-Health Secretary Matt Hancock or one of our senior health advisers told us that not everyone would need to get vaccinated in order to put the pandemic at bay.
This historical example from the smallpox era shows that a only relatively small percentage of people need a vaccination in order to eradicate the disease. In the case of smallpox, this was 32%: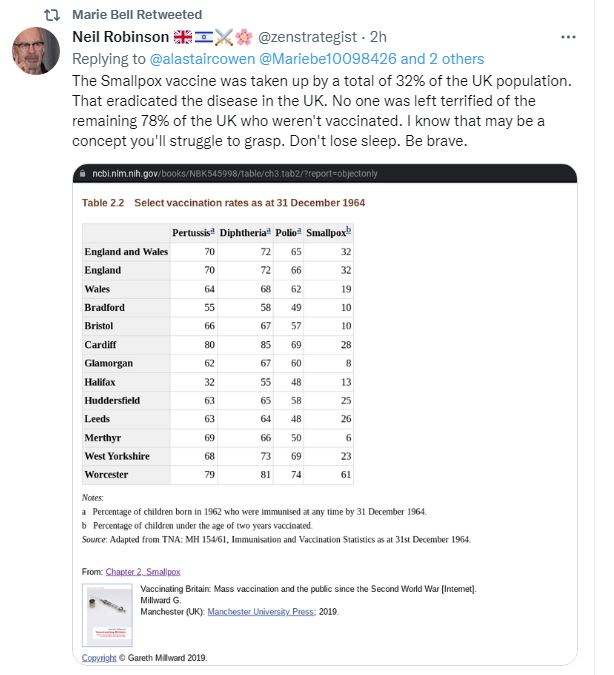 Yet, the UK is now jabbing children, mandating vaccine passports as well as threatening loss of employment in April 2022 to unvaccinated NHS and care home workers. WHY?
The biggest news story on this subject appeared on Friday, January 7.
The Telegraph reported that Steve James, a consultant anaesthetist at King's College Hospital in London told Health Secretary Sajid Javid that he had had coronavirus and has the antibodies. He said he had no intention of getting a vaccine.
He said that the science does not warrant a health worker vaccine mandate:
Here is a clip from The Telegraph's article: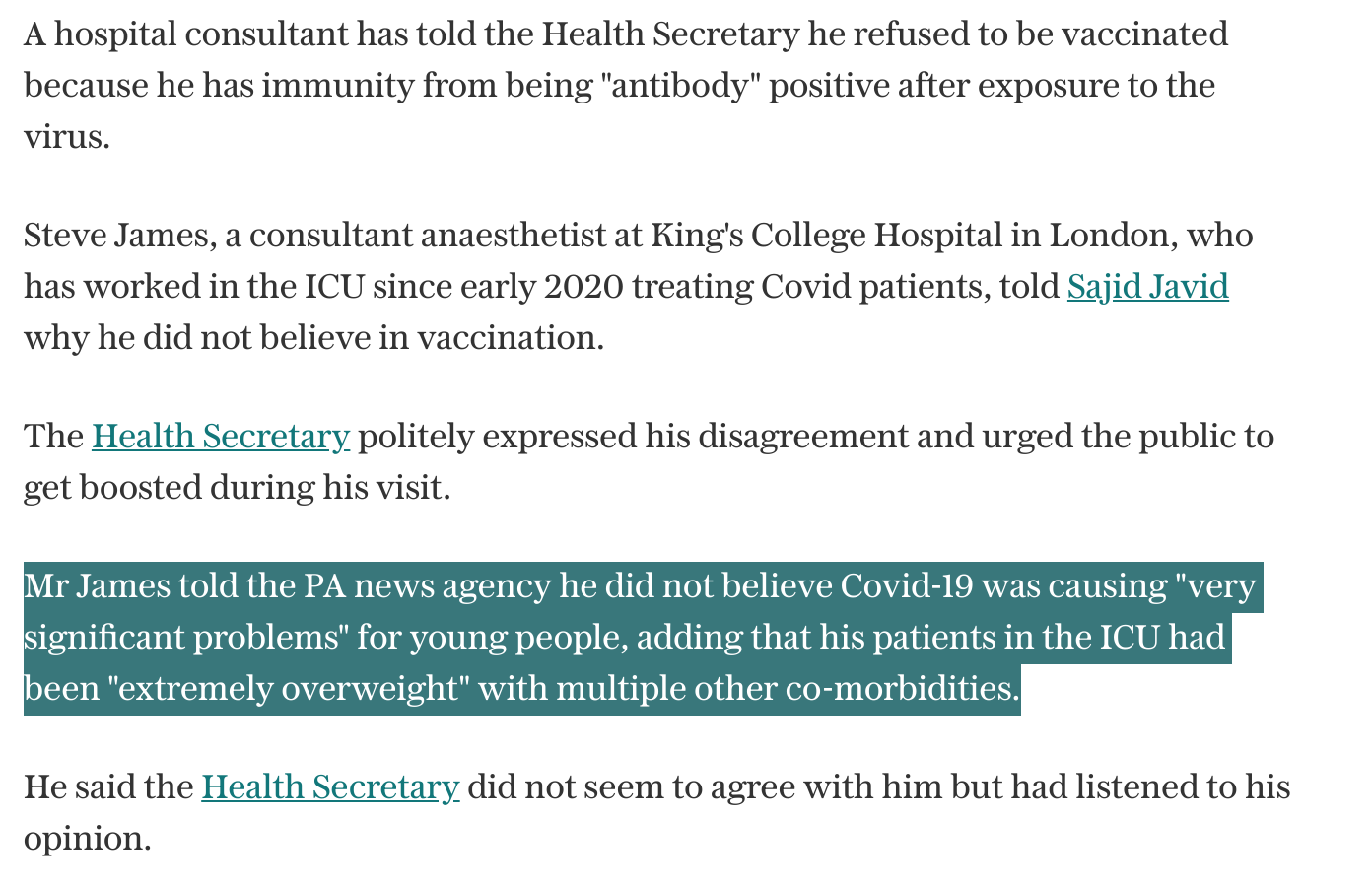 NHS is doing well
On Sunday, Education Secretary Nadhim Zahawi said that the NHS is coping well. Eight Nightingale facilities will also be opened in the coming weeks:
Socialist policies in Scotland and Wales do not work
On Monday, January 10, talkRADIO's Kevin O'Sullivan said that vaccine passports are not working in Scotland and Wales. He rightly wonders why Boris Johnson wanted to extend their reach in England.
Wales's rate of infection is three times higher than England's. Scotland recorded its highest ever number of coronavirus 'cases':
Dan Wootton of GB News also had plenty to say on the Welsh and Scottish approach to coronavirus:
The chilling reality of the United Kingdom under a Labour/SNP coalition was laid bare over the New Year period.
And it's not something any of us should want to become a reality.
More on that below.
Wales
On Sunday, January 9, Prif Weinidog (First Minister) Mark Drakeford (Labour) said that Welsh coronavirus rates are lower than England's. Note that, at one point, he did specify Welsh rates were lower than those in England's hotspots, not the whole country. In that sentence, he told the truth, less so overall:
Drakeford came up with a few more new rules before Christmas. People couldn't work in an office, but they could go to the pub.
Dan Wootton said:
In socialist Wales, Mark Drakeford – seemingly so intent on smashing the economy to smithereens – has started to fine honest folk £60 for going to work in an office.
Genuinely. I'm not making that up. Doesn't matter if you're perfectly healthy, either.
But Drakeford is the man who forced supermarkets to cordon off aisles selling toys and clothes, remember. Now the Chief Medical Officer in Wales Sir Frank Atherton is hysterically proposing that we should all self-isolate for days on end if we have a common cold.
And, with Labour's love of restrictions, circuit breakers and draconian laws controlling our behaviour, have Welsh Covid rates been any lower than the rest of the UK? Nope!
According to government data across the pandemic, Wales has had the second highest total rate of cases per 100,000 – just under Northern Ireland – at a rate of 20,386.2.
That compares to England's 20,174.2 and Scotland's 17,673.4.
In the last seven days, Wales remains the second highest, again just behind Northern Ireland.
The following tweet shows another absurd aspect of the situation, with an English non-league football (soccer) club, Chester, wondering how it can survive under Drakeford's draconian rules. Chester's stadium lies just over the border in Wales:
This exchange shows how complicated the situation is:
Scotland
North of the Border, First Minister Nicola Sturgeon (SNP) has implemented some of the strictest coronavirus restrictions in the UK.
Dan Wootton says that these are a smokescreen for the lack of a second independence referendum. Nonetheless, he details how totalitarian they are:
In Scotland, Nicola Sturgeon prizes her role as a Covid dictator using press conferences broadcast to the nation by the BBC to spread fear and introduce harsh controls on poor Scots.
She insists it's to keep them safe.
But in my opinion, it's to keep the Covid crisis running for as long as possible, so she doesn't have to face the fact her dream of a second independence referendum lies in tatters.
So to Sturgeon omicron has been a blessing, allowing her to impose new social controls essentially killing off the Scottish hospitality industry once more for months. Compare and contrast today's [January 3] Times front pages.
The English edition reports that ministers in Westminster are confident new curbs won't be needed, given Plan B has already been imposed and Omicron is a far less severe variant.
The Scottish edition, by contrast, reports that large public gatherings could be forbidden in Scotland well into the spring, with National Clinical Director Jason Leitch saying April will still be too early to host a postponed Hogmanay celebration in Edinburgh.
And it's these draconian policies propagated by Sturgeon that resulted in ridiculous police overreach and brutality in Scotland that you won't see reported in the mainstream media.
Case in point: police raiding the Avant Garde gastropub in Glasgow on New Year's Eve, where there were around 50 folk, most of them over 60-years-old, simply trying to enjoy their night.
Then, for some reason, two large police vans carrying more than 20 officers, according to witnesses, turned up because they were suspected of breaking Sturgeon's outrageously over the top Covid rules.
The pub may have been targeted because it displays this poster on its door saying…
"We have no discrepancy over whether you want to wear a mask or not." This is what happened when multiple cops stormed the pub…
The footage is included with this interview of the man who filmed it:
What a despicably unnecessary show of force from Scottish police who routinely fail to investigate muggings and burglaries.
But it's not their fault, it's Sturgeon's for introducing such authoritarian laws, banning bar service and enforcing social distancing between groups.
Sturgeon has implemented these measures despite only ONE patient with omicron having been admitted to intensive care in Scotland. Only one!
The police claim they were simply making a 'routine visit', but, come on, it should never have come to this.
Sturgeon is criminalising people drinking and having a good time.
This month — and we're less than two weeks in — she has had to backtrack on her stringent restrictions.
When the editor of the Scottish Daily Mail, Mike Blackley, asked her on December 17 if she could reduce the number of self-isolation days, she turned caustic:
Yeah, because that'd really help 'cause that would spread infections even further and that would not be doing any favours to businesses.
Guido Fawkes has an update from Wednesday, January 5:
On 22nd December, England's Covid rules changed so infected individuals can stop isolating after seven days rather than ten, so long as they test negative on day six and seven. Six days ago Wales followed suit, and a day later Northern Ireland copied the change. Leaving one obvious outlier…
It now looks like Sturgeon will confirm the cut, with a statement expected later today and her deputy John Swinney saying yesterday that their administration is "actively considering" reducing the self-isolation period. There's just one problem with the move if it goes ahead – it'll be a very embarrassing U-turn on Sturgeon's part…
So, will she now apologise to the Scottish Mail's Mike Blackley?
Unlikely.
Late last week, SNP MP Stewart Hosie appeared on the BBC's Politics Live to say that Scotland had a lower number of coronavirus cases than England.
The SNP then tweeted this news, which was based on out of date statistics:
Guido Fawkes rightly called out the SNP, including a graphic of the updated statistics.
Not only does England have a lower prevalence than Scotland, it has the lowest prevalence of all four UK nations despite having almost no legal restrictions. The lockdown lovers always say they're following the science… except when they aren't.
Last weekend, England still had a lower prevalence of coronavirus than Scotland, which demands mask wearing and vaccine passports:
Last week, Sturgeon took exception to Boris Johnson's idea to scrap free lateral flow tests. He wants to reserve them for 'high-risk settings':
On Monday, January 10, Sturgeon apparently decided Scotland will have to live with the virus. We'll see:
The Scottish Daily Express reported:
Opposition parties in Scotland are particularly keen for these restrictions to end.
The Scottish Conservatives are the main opposition party in Holyrood:
Scottish Conservative leader Douglas Ross said: "The Scottish public need to see some light at the end of the tunnel, so it's time for the First Minister to produce a timetable on the new strategic framework that she promised.
"People want reassurance that restrictions won't stay in force for a moment longer than absolutely necessary.
"After almost two years of sacrifice, the public need to see a bold timetable from the Scottish Government that will enable us to live safely with Covid."
Labour are the next largest party in opposition:
Anas Sarwar, Scottish Labour leader added: "Almost two years into the pandemic, I don't think we have yet built the resilience in the system in order to respond appropriately to Covid.
"I think we accept that Covid is a risk to people's health and wellbeing and we've also got to accept that how we respond to Covid is also a risk to people's health and wellbeing particularly their mental health.
"I think this day by day decision making and waiting to see what may and may not be said at a press conference is not actually a good way of responding to the pandemic.
"I would like to see a framework in place that builds resilience, that sets quite clearly what the trigger mechanisms for any potential restrictions are and what those restrictions maybe and also then what the trigger mechanisms are for financial support for individual businesses …
"I don't think the government has done that work here in Scotland and across the UK and I think we urgently need to do that work."
The Liberal Democrat response was the best:
Alex Cole-Hamilton MSP, leader of the Scottish Lib Dems, said: "I've been concerned at the absence of data offered to Parliament by the SNP.
"We still don't have a firm idea of those who are in hospital because of Omicron or who just test positive when they go in for something else.
"Without that information, Parliament can't take a view on whether restrictions are appropriate.
"There's no clear evidence that the enhanced restrictions in Scotland have reduced the rates of infection compared to other parts of the UK."
Too right!
Conclusion
If Boris can return to a rational outlook on coronavirus measures, England can be the first to exit the dystopia we have found ourselves in since March 16, 2020, with lockdown implemented one week later on March 23.
Let those who wish to take precautions do so.
Let those of us who wish to live and work again do so freely, without hindrance.