Yesterday's post reviewed events surrounding Labour leader Sir Keir Starmer and other MPs connected with 2021's campaign meeting, forbidden under that year's coronavirus rules:
Keir Starmer defended Labour's indoor beer and korma event by saying that no other venue was serving food.
Well, they were. However, the problem was that service was outdoors only at that time.
The hotel where Starmer was staying, the Radisson Blu, provided room service, but that would have precluded any other persons gathering in an individual's room.
On the evening of Election Day, Thursday 5, 2022, GB News's Dan Wootton interviewed Red Wall MP Richard Holden, who had written to Durham Constabulary about properly investigating the event:
Holden said that the students who took the videos and photos offered to give Durham police a statement, but their kind offer was refused.
Holden suggested that evidence was being suppressed. He also questioned the fact that people involved had forgotten their diary details for that day.
As for dining, Holden said that, in order to comply with the rules, he had been part of a group eating a fish and chips supper outdoors in Hartlepool in windy conditions.
On Friday, May 6, Durham Constabulary finally issued a statement saying they would investigate the event held on April 30, 2021:
Labour MP Emily Thornberry dismissed the news and said all would be 'fine':
The BBC reported that Durham Constabulary waited until after the election to make an announcement (emphases in purple mine):
The force initially decided that no offence had occurred on 30 April last year, but said it had since received "significant new information".
It added that it had delayed announcing the investigation until after Thursday's local elections.
Sir Keir said he was confident he hadn't broken any Covid rules.
He has faced criticism since he was filmed drinking a bottle of beer while in the constituency office of City of Durham MP Mary Foy.
Speaking to reporters on Friday, he said he had "stopped for something to eat" during meetings, and there was "no party".
"The police obviously have go their job to do – we should let them get on with it," he added.
Starmer took no questions on the matter:
Guido Fawkes resurrected a Starmer tweet from January 31:
Priceless:
The Telegraph's Madeline Grant made an eloquent observation …
… which received these replies:
Later that day, Guido posted about the concerns that Starmer's advisers had with the upcoming investigation:
Guido's post says that a journalist, Ava Evans, heard that Labour MPs would not be doing media rounds for a few days (emphases in the original):
Ava also reports that one Labour MP told her they would not be participating in any media interviews for the next few days, for fear of being asked to defend Sir Keir. His actions were "indefensible" she reports them as saying. Which explains why we are only seeing Emily Thornberry abasing herself in studios…
On Saturday morning, news emerged that Starmer was taking legal advice from Lord Falconer, Tony Blair's close friend who served as Lord Chancellor and Secretary of State for Justice from 2003 to 2007:
Guido reported on the development, an exclusive:
An extremely worried Keir Starmer has tasked Charlie Falconer with putting together a Beergate legal defence team. Labour lawyers have told Starmer that there is a 60% chance that he will escape a fine, however the fining of Sunak over a cake has spooked Starmer that he too could be fined over a beer and curry. The irony of the legal and political situation is exquisitely painful for the barrister politician.
Guido later added an update:
UPDATE: In another irony, Falconer has publicly opined on the situation of politicians breaching laws they voted for in the Guardian:
… true accountability means facing justice in a criminal court. But not in this case – a fixed penalty notice does not bring any sense of justice done to those who paid what was very often a high price for obeying the rules.
Which appears to be a demand that Boris be tried in court for his birthday cake….
One of Guido's readers wondered if Falconer's involvement presented a conflict of interest, given his strong opinions on the matter:
That isn't the only conflict of interest, either. There's also Durham's Police and Crime Commissioner, Joy Allen. Starmer campaigned for her and she won her election to that post:
The Mail on Sunday was able to obtain a leaked memo, Starmer's itinerary for April 30, 2021:
This was the paper's front page: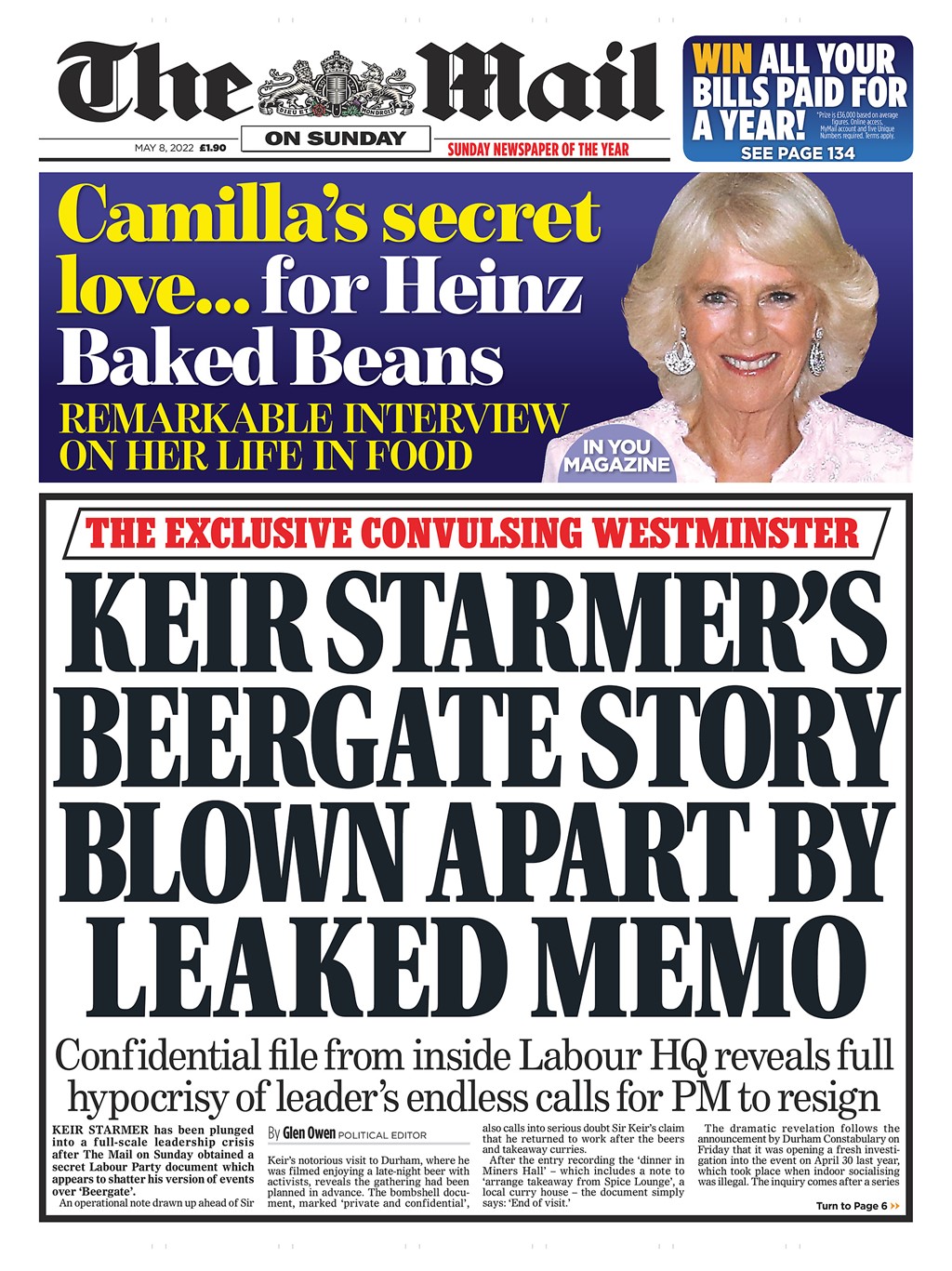 Glen Owen's exclusive for the MoS says:
The bombshell document, marked 'private and confidential', also calls into serious doubt Sir Keir's claim that he returned to work after the beers and takeaway curries.
After the entry recording the 'dinner in Miners Hall' – which includes a note to 'arrange takeaway from Spice Lounge', a local curry house – the document simply says: 'End of visit.'
Spice Lounge did not supply food for the event. Another curry house, The Capital, did.
The paper received the memo from a whistleblower. The itinerary reveals that Angela Rayner MP was scheduled to be present:
The memo – which was passed to this newspaper by a whistleblower – also further undermines Labour's claims that it made 'an honest mistake' when it denied that Deputy Leader Angela Rayner was at the event: it lists 'AR' alongside 'KS' as the two senior politicians anchoring the day's proceedings.
Labour had denied that this was a planned event, but the memo's existence proves that wrong:
… the note – a forward-planning logistics document which is referred to as an 'op note' – makes clear the beer and curries had been planned in advance.
The note says that after a day's campaigning in Hartlepool, Sir Keir's team were due to arrive at the Radisson Blu hotel in Durham at 6.31pm, leaving by 7pm to walk to the Miners Hall.
After recording clips for the media, the note says a 1hr 20mins slot was set aside for 'dinner in Miners Hall with Mary Foy', the local Durham MP. A side note reads: 'YS to arrange takeaway from Spice Lounge'. YS is the acronym for a member of Sir Keir's private office.
The Spice Lounge curry house was closed at the time, with callers being referred to the nearby Capital Indian restaurant. Last week, the Daily Mail spoke to one of the restaurant's delivery drivers, who said he had dropped off a 'big' order of food for at least 15 people, including four bags of curries, rice and naan bread …
The Mail on Sunday has established that the Radisson Blu was serving food when Sir Keir and his party checked in at 6.31pm and continued to do so until 9pm …
The document also refers to four members of the 'MPL' – Met Police Liaison – who were included in the trip, suggesting they are likely to have information useful to the investigation.
Also included on the op note is the line 'Covid Alert Level: National Lockdown', and 'important note: please maintain social distancing of 2m and wear face coverings whilst indoors at all time'.
The leaked document makes clear that Ms Rayner was to play a central role in the day's events …
A Labour source said: 'During a fast-moving campaign, the op note doesn't always keep up with events so it would be wrong to assume that activities occurred at the times originally planned. For example, it's been documented that the takeaway was late'.
This was Starmer's previous denial that the gathering had been planned:
The Sunday Times also had an incriminating article. A source told the paper that some staffers were there only to party and that no work was done afterwards. Pictured below is Mary Foy MP:
It is expected that the investigation will take between four and six weeks:
Allegedly, pictures from the event circulated on Twitter. Those have since been deleted.
Interesting, to say the least:
The aforementioned Sunday Times article said that the Durham Constabulary have opened a major incident room. Angela Rayner's presence appears to have triggered the investigation:
It was the discovery that Rayner had been at the event, despite Labour's original claims, that prompted Durham police to open their investigation. A source close to the force said: "It raises the question about what else we might not have been told the entire truth about."
Officers have set up a major incident room, and up to six detectives will spend the next four to six weeks looking at the potential lockdown breach. They are expected to use questionnaires — similar to the ones used by Scotland Yard to investigate Johnson and the Downing Street scandals — to interrogate those present at the event.
The force said, however, that it did not issue fines retrospectively. When Dominic Cummings was found to have made a 260-mile trip to Barnard Castle in 2020, the force said to take action against him would "amount to treating Mr Cummings differently from other members of the public".
It is unclear whether Scotland Yard's decision to issue retrospective fines over the Downing Street gatherings could force a change of stance.
Mary Foy said:
"Me and my team were working during a very busy period, including facilitating the leader's visit," she said. "I do not believe either I or my office broke any rules, and I will of course fully engage with any police investigation."
Dominic Raab, the Justice Secretary and Deputy Prime Minister, said:
"It's the rank double standards that drive people crazy," Raab told Sky News. "He needs to fess up and answer all of the holes in the account that he gave for that beer-and-curry event in Durham.
"Keir Starmer looks like, I'm afraid, someone who is engaged in complete hypocrisy, complete double standards and I don't think he is going to get past that until he gives a proper account of what happened in Durham."
Here's the video of Raab talking to Sky News:
Jacob Rees-Mogg MP, in charge of Brexit efficiency, told Channel 4's Andrew Neil that one should be extremely careful with hoisted petards:
He does have a way with words.
Guido took a look at what Lord Falconer might say in Starmer's defence:
That said, in February, The Mirror reported that Prime Minister Boris Johnson also hired lawyers over 'Partygate':
The Prime Minister has hired hot shot lawyers to deal with the Met's questions on Partygate.
The Mail reported that Starmer had cancelled his appearance on Monday, May 9, at an Institute for Government event in advance of the Queen's Speech on Tuesday.
Guido tweeted:
Guido's post says:
The public event was scheduled to have included questions from the press and public. This morning, when door-stepped outside his North London home by journalists, a grim faced Starmer refused to say anything and was bundled into a waiting Range Rover. Keir clearly realises that "the police have already investigated this matter and found nothing" will no longer work as a line.
The Institute for Government is funded by the billionaire David Sainsbury, a former Labour minister under Tony Blair, who has backed centrist Labour politicians financially in the past. A statement on the website says only that the event is cancelled, with no explanation given.
The cancellation made the front page of Monday's Daily Mail:
It was the start of another tense week for the Labour leader.
Meanwhile, Boris focused on the Queen's Speech and historic agreements between the UK, Sweden and Finland in case of Russian aggression as a knock-on effect of the Ukraine conflict.
More to follow tomorrow.