You are currently browsing the monthly archive for June 2022.
Finally, after six years, the Metropolitan Police took away noise-enhancing equipment from Steve Bray, the well known anti-Brexit protester.
Earlier this month, I wrote about his confrontations with Conservative MP Lee Anderson.
Metro posted the following Twitter thread on Tuesday, June 28, 2022.
I find it incredulous that police had to wait for the new Police Crime Sentencing and Courts Act in order to do anything. Surely, his daily, disruptive noise was already a breach of the peace, an ancient offence:
Naturally, those who oppose Brexit and Conservatives believe that the Met's reaction was overkill.
However, Conservative MP Andrea Leadsom supported the move:
She makes an excellent point about 'fulfilling the democratic decision of the UK to leave the EU', the largest plebiscite in British history.
Leadsom received bouquets and brickbats in equal measure for using the words 'violent protest':
I cannot imagine what it must be like to have to work day in and day out with Bray's braying through a loudhailer:
The area around Parliament also has permanent residents, such as the Speakers of the House, Commons and Lords:
Guido Fawkes has another video of the police with Bray:
Guido's post has a photo of the Territorial Support Group who confiscated Bray's boombox (emphases his):
20 or so Met police officers have now swarmed Steve Bray to confiscate his loudspeaker and threaten his arrest. This is all a result of the Police, Crime, Sentencing and Courts Act 2022, which comes into force today. Here's what Section 73 of the Act says regarding noisy protests:
Section 73 amends section 12(1) of the 1986 Act allowing a senior police officer additionally to impose conditions on a public procession where they reasonably believed the noise generated by that procession may result in serious disruption to the activities of an organisation in the vicinity, or have a significant, relevant impact on people in the vicinity.
They even threw his boom box into the back of a police van…
Hat-tip: Charlotte Lynch and Ellie Varley
Another Conservative MP who will be breathing a sigh of relief at the confiscation of Bray's equipment will be Marco Longhi, who represents Dudley North in the Midlands:
I'll have more on Longhi — and Bray — tomorrow in my next Red Wall MP profile.
On Tuesday, June 28, 2022, a young British comedian wrote about her solo holiday experiences for Metro.
Ania Magliano says, 'Going on holiday solo isn't fun — anyone who says otherwise is lying'.
I took three holidays and two weekend breaks by myself over 30 years ago before I got married. I'm here to tell you that all of them were great fun.
One, in particular, was unforgettable, start to finish. It would have made a splendid movie.
But, let's delve deeper into Ania Magliano's recent solo holiday in Greece.
In order to have a successful holiday, have a good reason for going solo. I knew other people would cramp my style. I wanted to be swept along by the moment, experiencing spontaneity.
Anna's reason was, errm, to display sophistication:
For a long time I idolised solo holidays as the pinnacle of sophistication.
Also:
Sure, there were moments where I did feel happy, peaceful and classy as hell (moments that were instantly undermined by my brain going, 'Look at us, we're being classy as hell right now').
It seems she wanted to prove that she could get in touch with her inner self:
Fair enough.
For me, the right time to go solo on holiday came once I was in touch with my inner self. By that point, I was yearning to travel alone. So I did.
I recommend going to cities rather than an island or a resort for two reasons. First, islands and resorts attract groups of friends or couples. Secondly, cities offer a diversity of opinion and places to go with greater chances of striking up conversations. A singleton in an urban environment is not unusual.
Yes, one can have a great time on a solo holiday. One just has to have the right reasons for going and the right mindset before departure.
In the autumn of 2021, a weeks-long protest by Insulate Britain, an offshoot of Extinction Rebellion, took place on Greater London's roads.
A bemused nation looked on as police a) did nothing, b) asked protesters if they needed anything and c) focused on members of the public who tried to remove human obstructions.
This was the scene on September 15:
Guido Fawkes wrote (emphases his):
The idiotic M25 Extinction Rebellion protestors are back this morning, once again bringing cars to a standstill, pumping out their fumes in an environmentally-friendly traffic jam. Pathetically, a solitary policeman is there and has been filmed asking them to kindly move on. In the most surprising news of the week, they didn't listen to him…
The next day, another sit-in took place on the M25 near the South Mimms services in Hertfordshire, just north of London.
Motorists took the law into their own hands. The police reacted quickly — against them, not the protesters:
And, yes, blocking a road, even part of it, is against the law:
On October 13, motorists continued to do battle with protesters, because the police certainly weren't. This took place in southeast London at the Dartford Crossing, going into Kent:
Guido wrote:
Insulate Britain has once again clashed with fed-up commuters this morning after blocking a road near the Dartford Crossing. The 40-something eco-activists prompting drivers to rip posters from the protestors and drag the insolent mob out the road. In other scenes, a lorry driver was filmed coming within inches of running a couple of them over.
On October 25, a man named Matthew, who was clearly old enough to know better, glued his head to an unspecified road. He expressed concern for his face:
Guido had more on the story:
The activist explained from his roadside position that he decided to glue his head to the road because the government is not treating the climate crisis as an "emergency", despite Insulate Britain admitting it was when they announced a pause in their campaigning a fortnight ag. When asked whether he'd "snipped himself" by the Mirror, a grimacing-in-pain Matthew said "…you'll find out if there's blood coming out." Someone clearly wasn't thinking with their head when they made this decision…
Interestingly, on the Continent, the police have no problem stepping in and restoring order.
On January 24, 2022, Extinction Rebellion Deutschland found that German police weren't nearly as kind and accommodating as their British counterparts:
Guido had the story:
German police demonstrated a no-nonsense approach to dealing with climate road-blockers this morning – the kind that's sorely lacking here in the UK. Dozens of protestors from "Aufstand der letzten generation" – which translates to "Last Generation Uprising", a branch of Extinction Rebellion Deutschland – blocked motorway exits in Berlin and demanded a new anti-food waste law, including "the implementation of measures for a sustainable agricultural turnaround by 2030″. Police quickly hauled them all off the road to inevitable accusations of police violence ("Polizeigewalt"). If only Germany were as willing to stand up to Putin with the same verve they do with eco-loons…
And, on Monday, June 27, French police didn't hesitate in ripping protesters' hands from tarmac in Paris. Don't worry. There's no blood, just pain:
The long-haired chap wailed. The young policeman told him, 'It's nothing. Stop making a drama out of it' ('Il n'y a rien. Ce n'est pas de cinéma').
Therefore, it's probably not a good idea to glue one's face to the road in France.
Why can't our police act with authority, the way they do with law-abiding citizens who want to get to work or drive their children to school?
The Extinction Rebellion protests stopped months ago in the UK, but our police need to get tougher with those who actively break the law by sitting in or gluing themselves to roads.
The ongoing preoccupation and concern about how Anglican parishes will survive, especially in rural England, might be resolved soon.
On June 26, 2022, The Sunday Telegraph reported that wealthier parishes could be allowed to give more to poorer ones. The plan will be debated at the upcoming General Synod meeting in July (emphases mine):
Wealthy church dioceses will be allowed to share funds with their poorer neighbours under plans to be voted on by the Church of England.
The proposals, which have been submitted before the General Synod, the Church of England's legislative body, will mean that for the first time cash can be more evenly distributed.
The move would remove some barriers to dioceses sharing resources and comes amid concern about the viability of smaller, poorer and more rural parishes.
Why did that not happen sooner? It's common sense. In Paul's epistles, we read of his collection for the poor church in Jerusalem. The other churches he planted in Asia Minor and Macedonia gave generously, and he succeeded in presenting the donation to the struggling congregation in Jerusalem.
It will be left to the dioceses to decide if they wish to participate. Hmm. Based on previous diocesan splurging of money on rather useless 'initiatives', I do hope they will be generous towards their poorer congregations:
In papers published last week and submitted to the Synod for its conference in July, David White, deputy director of finance for National Church Institutions, said that his amendment would "in effect, enable a Diocesan Board of Finance to grant funds from its income account for use by other dioceses in the Church of England if it wished to do so" …
In May the archbishops admitted that they "got it wrong" by not prioritising rural parishes over city churches, as they announced funding worth £3.6 billion.
We shall see.
On June 23, Andrew Selous MP, the Second Church Estates Commissioner, answered a question from Labour MP Ben Bradshaw on putting more clergy into neglected parishes. I agree with the Revd Giles Fraser of St Anne, Kew, that Selous's response was far from reassuring:
Churches are struggling to obtain curates, as obtaining more clergy is not in their direct control:
The Save the Parish network will be meeting before the Synod members get together. I wish them all the very best. They have two champions in the Revds Giles Fraser and Marcus Walker, rector of St Bartholomew the Great in London:
Giles Fraser is enjoying his new assignment at the Parish Church of St Anne in southwest London:
He is out and about meeting fellow residents:
On a serious note, Fraser warns of the Lords Spiritual — serving Church of England bishops in the House of Lords — becoming irrelevant if the parish system breaks down:
In his recent article in UnHerd, he says:
… the bishops draw their moral authority from the fact that the Church of England operates a universal service provision. We serve in all communities, from the richest to the poorest, from cities to rural areas. The bishops are in fact well suited to the Lords because they connect it to every parish in the country — well, in England at least. And if there is a current threat to bishops in the Lords it comes not from the fact that they sometimes irritate the government with moral pronouncements — 'twas ever thus — but rather because the bishops are dismantling the source of their own authority. Armed with half-arsed MBAs, they want the Church to be run with increasingly centralised efficiency; inefficient parishes are being closed. As a result, the connection between the bishops and the parishes is being severed, and with it the source of their authority to sit in the legislature.
Fraser warns that this plays into secularists' hands:
The role of the bishops is to represent the whole country spiritually. On the whole, other faiths are glad of this particular role held by the Church of England. The National Secular Society and other troublemakers are keen to sow division among people of faith in order to argue that no one church should have legislative priority over another. But this is simply a ruse to dislodge religion from the public sphere. The Church of England is not a special interest group, it exists for all. Even, heaven help us, for secularists.
On that note, the Revd Stephen Heard is concerned about the single-minded political leanings of C of E clergy, starting with the archbishops. Their constant political pronouncements could be alienating the laity — and potential converts:
He cites an article from The Critic, 'The closing of the Episcopal mind', which provides bishops' opinions dating back to the 19th century, and concludes:
Given this deep uncertainty and debate as to the political implications of Christianity, total political consensus among its leadership makes me very uneasy. It alienates large swathes of lay Anglicans who, in perfectly good faith, come to conclusions that differ from the liberal-left consensus, and makes our mission as a broad national church harder. It belies a real lack of intellectual vibrancy and curiosity, and implies, by some curious happenstance, that the political spirit of a restless and secular age has magically aligned itself with the truths of the Christian religion … What providential perfection! And what an unlikely state of affairs all round.
Political causes have even entered into baptismal and confirmation vows in the Diocese of Oxford, which now requires a promise to uphold God's creation.
Marcus Walker rightly points out that this places Christ, the Person to whom we pledge our faithful allegiance, in second position:
He wrote an article about it for The Telegraph:
In it, he says:
Baptism and Confirmation are two of the most important steps a human being can make. I say this, I concede, as a clergyman, but what happens at these sacraments is not just a significant religious service, but an event that transforms a person's life, temporal and eternal.
This is why it's really important that the Church avoids putting barriers up that would discourage people from encountering this grace. It is difficult enough for the Church to persuade people that the Christian message is true (we've all seen the stats). Pushing away those who don't hold to the ideologies of the current bench of bishops is foolish in the extreme.
This week, the Bishop of Oxford has decided to add to the service of Baptism and Confirmation a new little exchange: "Will you strive to sustain the integrity of creation, and sustain and renew the life of the earth?" "With the help of God, I will." It is important to note that this is not a change to the actual baptismal vows. It's part of a rather naff "commissioning" that the new prayer book, Common Worship, allows at the end of these services. Nobody knows what happens if a candidate says "no", mostly because none of the other questions are controversial so this issue has not come up before.
At this point you might be saying, "but there's nothing controversial here either", and, if speaking entirely for myself, I would agree. You might also say that this seems pretty consonant with long-standing mainstream Christian and Anglican theology and this would be true.
But the question of how we engage with environmental concerns has become a major political issue recently, one controversial enough to have even caused long standing conservatives to reconsider their loyalty to the Crown in anger at the way some members of the Royal Family proselytise about "The Environment".
This is the only part of the service which engages directly with a live political discourse. We are not asked to pledge anything to do with poverty, international relations, race, or even loyalty to the Supreme Governor of the Church of England …
Walker acknowledges that the 1662 Book of Common Prayer (BCP) requires confirmands to pledge loyalty to the monarch and says that it is no longer used in today's confirmation ceremonies:
… to use it now would turn away any republican. It would cause those who don't think this country should have a monarch to have second thoughts about finding God. High Tory though I am, I would not want to stand before the Throne of Judgment and have held against me the souls I had turned away because of my politics.
Which means my advice to the Bishop of Oxford is not to mess with this liturgy; to those cheerleading the move to ask yourself what if the boot were on the other foot and you were being forced to assent to a political position you dissent from as a condition of baptism; to the Church to be grateful for anyone willing to commit themselves to Christ and to welcome them with open arms.
In closing, this guidance on sermon writing from 2017 is worthwhile reading. It could apply to any essay. Parts of it remind me of the Expository Writing course I took at university many moons ago.
This is called 'Good to Great: Turning a Decent Sermon into a Wonderful One':
It's excellent advice — and difficult to achieve, therefore, all the more worthwhile in the pursuit of 'good to great'.
The three-year Lectionary that many Catholics and Protestants hear in public worship gives us a great variety of Holy Scripture.
Yet, it doesn't tell the whole story.
My series Forbidden Bible Verses — ones the Lectionary editors and their clergy omit — examines the passages we do not hear in church. These missing verses are also Essential Bible Verses, ones we should study with care and attention. Often, we find that they carry difficult messages and warnings.
Today's reading is from the English Standard Version with commentary by Matthew Henry.
Final Greetings
21 So that you also may know how I am and what I am doing, Tychicus the beloved brother and faithful minister in the Lord will tell you everything. 22 I have sent him to you for this very purpose, that you may know how we are, and that he may encourage your hearts.
23 Peace be to the brothers,[a] and love with faith, from God the Father and the Lord Jesus Christ. 24 Grace be with all who love our Lord Jesus Christ with love incorruptible.
——————————————————————————————-
Last week's post discussed Paul's instructions to children, parents, bondservants and masters.
This week's entry concludes my study of Ephesians. Again, as John MacArthur is preaching on Ephesians as I write in 2022, I have no commentary from him.
Paul tells the Ephesians that Tychicus, the beloved brother and faithful minister in the Lord will inform them of the Apostle's time in prison (verse 21).
Tychicus will also be delivering encouraging news as to how Paul is coping, so that the Ephesians will also be encouraged by the Apostle's endurance for the faith (verse 22).
Matthew Henry's commentary says that this is for their edification and for a more precise direction of prayers for Paul. Tychicus is delivering the letter, or epistle, to them (emphases mine):
He sent him with this epistle, that he might acquaint them with what other churches were informed of, namely, how he did, and what he did; how he was used by the Romans in his bonds, and how he behaved himself in his present circumstances. It is desirable to good ministers both that their Christian friends should know their state and that they should be acquainted with the condition of their friends; for by this means they may the better help each other in their prayers.—And that he might comfort their hearts, by giving such an account of his sufferings, of the cause of them, and of the temper of his mind and his behaviour under them, as might prevent their fainting at his tribulations and even minister matter of joy and thanksgiving unto them. He tells them that Tychicus was a beloved brother and faithful minister in the Lord. He was a sincere Christian, and so a brother in Christ: he was a faithful minister in the work of Christ, and he was very dear to Paul, which makes Paul's love to these Christian Ephesians the more observable, in that he should now part with so good and dear a friend for their sakes, when his company and conversation must have been peculiarly delightful and serviceable to himself. But the faithful servants of Jesus Christ are wont to prefer the public good to their own private or personal interests.
Paul sends his wishes for peace and love imbued by faith from God the Father and our Lord Jesus Christ (verse 23).
The use of 'peace' implies divine peace, something which man cannot provide in its fullest depths:
His usual benediction was, Grace and peace; here it is, Peace be to the brethren, and love with faith. By peace we are to understand all manner of peace—peace with God, peace with conscience, peace among themselves: and all outward prosperity is included in the word; as if he had said, "I wish the continuance and increase of all happiness to you." And love with faith.
Paul concludes by sending his prayers that peace be with all those who love Jesus Christ with love incorruptible (verse 24).
What a beautiful verse, especially the words 'love incorruptible'.
Henry explains:
… not only grace in the fountain, or the love and favour of God, but grace in the streams, the grace of the Spirit flowing from that divine principle, faith and love including all the rest. It is the continuance and increase of these that he desires for them, in whom they were already begun. It follows, from God the Father, etc. All Grace and blessings are derived to the saints from God, through the merit and intercession of Jesus Christ our Lord. The closing benediction is more extensive than the former; for in this he prays for all true believers at Ephesus, and every where else. It is the undoubted character of all the saints that they love our Lord Jesus Christ. Our love to Christ is not acceptable, unless it be in sincerity: indeed there is no such thing as love to Christ, whatever men may pretend, where there is not sincerity. The words may be read, Grace be with all those who love our Lord Jesus Christ in incorruption, who continue constant in their love to him, so as not to be corrupted out of it by any baits or seductions whatsoever, and whose love to him is uncorrupted by any opposite lust, or the love of any thing displeasing to him. Grace, that is, the favour of God, and all good (spiritual and temporal), that is, the product of it, are and shall be with all those who thus love our Lord Jesus Christ. And it is, or ought to be, the desire and prayer of every lover of Christ that it may be so with all his fellow-christians. Amen, so be it.
Paul's final greetings and benedictions are always a joy to read. They express so much in so few words.
All being well, next week I will begin a study of Philippians.
Next time — Philippians 1:1-2
The Second Sunday after Trinity is on June 26, 2022.
Readings for Year C can be found here.
The Gospel reading is as follows (emphases mine):
Luke 9:51-62
9:51 When the days drew near for him to be taken up, he set his face to go to Jerusalem.
9:52 And he sent messengers ahead of him. On their way they entered a village of the Samaritans to make ready for him;
9:53 but they did not receive him, because his face was set toward Jerusalem.
9:54 When his disciples James and John saw it, they said, "Lord, do you want us to command fire to come down from heaven and consume them?"
9:55 But he turned and rebuked them.
9:56 Then they went on to another village.
9:57 As they were going along the road, someone said to him, "I will follow you wherever you go."
9:58 And Jesus said to him, "Foxes have holes, and birds of the air have nests; but the Son of Man has nowhere to lay his head."
9:59 To another he said, "Follow me." But he said, "Lord, first let me go and bury my father."
9:60 But Jesus said to him, "Let the dead bury their own dead; but as for you, go and proclaim the kingdom of God."
9:61 Another said, "I will follow you, Lord; but let me first say farewell to those at my home."
9:62 Jesus said to him, "No one who puts a hand to the plow and looks back is fit for the kingdom of God."
Commentary comes from Matthew Henry and John MacArthur.
A lot happens in Luke 9. Jesus gives the Apostles all of His own powers and sends them out to teach, preach and heal in His name. Herod worried that Jesus was a reincarnated John the Baptist or a resurrected prophet from Old Testament times. Jesus fed the Five Thousand. Going back to the rumours that Herod had heard, Peter declared that Jesus is the Messiah. Then Jesus predicted His own death, which he did twice in this chapter:
21 Jesus strictly warned them not to tell this to anyone. 22 And he said, "The Son of Man must suffer many things and be rejected by the elders, the chief priests and the teachers of the law, and he must be killed and on the third day be raised to life."
While everyone was marveling at all that Jesus did, he said to his disciples, 44 "Listen carefully to what I am about to tell you: The Son of Man is going to be delivered into the hands of men." 45 But they did not understand what this meant. It was hidden from them, so that they did not grasp it, and they were afraid to ask him about it.
The Transfiguration took place, after which Jesus healed a demon-possessed boy. The Apostles disputed amongst themselves who would be the greatest in the world to come. Jesus corrected their folly by bringing a child to illustrate that whoever welcomed young innocents welcomed Him and, in turn, God the Father.
The chapter ends with our Lord's visit to Samaria.
Of it, Matthew Henry's commentary says that this particular visit is recorded only in Luke's Gospel:
This passage of story we have not in any other of the evangelists, and it seems to come in here for the sake of its affinity with that next before, for in this also Christ rebuked his disciples, because they envied for his sake. There, under colour of zeal for Christ, they were for silencing and restraining separatists: here, under the same colour, they were for putting infidels to death; and, as for that, so for this also, Christ reprimanded them, for a spirit of bigotry and persecution is directly contrary to the spirit of Christ and Christianity.
John MacArthur says that today's reading is all about mercy, even though the word itself is not used:
He took every experience that the disciples had and turned it into an education about how He thought about everything. And here in this village of Samaria, He finds a perfect opportunity to teach a very short lesson but a riveting and unforgettable one about mercy, about mercy. And they had just completed a lesson on humility, verses 46 to 50. He had taught them the deadly dangers of pride and instructed them by that to be humble.  And this is a perfect way to follow that up because only the humble are merciful. Proud people tend to be without mercy and the prouder they are, the more merciless they become. So from the lesson on humility to the lesson on mercy is not a big jump.
MacArthur says that Luke 9 represents a shift in emphasis:
… this is a huge change, huge. Up to now everything in Luke's gospel has been focusing on His coming, on His coming. The prophecies in the first chapter, the angel's announcement of John the Baptist, the forerunner, then the angel comes to Mary, the announcement to Mary, the meeting with Elizabeth, the genealogies. And all of a sudden He comes and He's born and the stories around His birth, the shepherds the wise men. And then He comes to the temple at twelve and all those years go by and finally He embarks upon His ministry and He comes into Judea first, then He comes to Galilee and He's there well over a year in His ministry.  And He's come, the Messiah's come, the Messiah's come and He's going from place to place, town to town, village to village. And His coming reaches its pinnacle at the Mount of Transfiguration in this chapter, verses 28 to 36. He's come all the way to the peak of revelation and there on the mount, Peter, James and John see Him transfigured, they see that He is the eternal Son of God, He is the glory of God, the Shekinah incarnate and they also see Moses and Elijah and they are there and they see the fullness of His revelation, His full coming. And after that, that's the high point, they start down the mountain, verse 37, and things begin to change. Up to that point it was about His coming. From now on it's about His going. It's about His going. Now He sets His face to go to Jerusalem. The whole tenor of the gospel of Luke is going to dramatically change. Up to this point we've been talking about He's the Messiah, He's revealing Himself as the Messiah. All the evidence is there. Look at His power. Look at His miracles. And now what we're going to see is He's headed to the cross, He's headed to the cross. He's headed to the cross. Look at the hostility, look at the hatred, look at the vitriol, look at the plots. Look at the plans. Watch what's happening. Up to now it's been His coming and from now on it's going to be His going.  He was literally moving toward His exaltation, moving toward the revelation of His full Messiahship. And now He's going to move to His humiliation.
Luke says that when it was time for Jesus to be taken up, He set His face to go to Jerusalem (verse 51).
MacArthur contrasts this event with the Transfiguration and how important the next ten chapters of Luke's Gospel are with regard to Christ's teaching the Apostles:
Wait a minute!  You saw the glory but the glory is not yet possible because before the crown there has to be the cross, before the glory there has to be the suffering.  Before the exaltation, there has to be the humiliation.  This is really important teaching time.  Now that they know who He is, now they know His power and the revelation of His person, now they have to understand His death. And so now we're going to go through the training of the twelve and in these months as He takes them through, as it were, the valley of humiliation with certainly some moments of wondrous glory, but as they go through the time of humiliation, He teaches them all the things they need to know.  And this training, by the way, goes on from chapter 9, verse 51 to chapter 19, verse 27. That whole section is the training of the twelve as Jesus moves toward Jerusalem.
MacArthur discusses the interpretations of 'taken up', or 'lifted up' in some translations:
Now in verse 51 it's identified as when the days were approaching for His ascension, specific days, specific days designed by whom? God. "They were approaching" is sumplro, fulfilled. And you see that word "fulfilled" so often in connection with the plan of God. He said something and it's fulfilled. He plans something and it's fulfilled. This is sumplro, really fulfilled, thoroughly, completely fulfilled. Jesus operated on a divine timetable. There were times when Jesus said, His hour had not yet come. And then there was another time when He said, "My hour has come." He operated not on a human schedule or a human timetable, but on God's timetable.  And He knew that the days were approaching, the fulfillment was coming when He would analmpsis, be lifted up. Only some months left, time to crank up the instruction of the twelve and time now to progress through suffering and sorrow.
Now what is this ascension? Look at it, verse 51, it's the word, as I said, analmpsis. It's only used here in the Bible. It means to lift up, to take up. Some think it could be the cross. John 3, as the serpent was lifted up in the wilderness, so shall the Son of Man be lifted up. John 12:32, "If I be lifted up, I'll draw all men to Myself." Is He looking at the cross?  Is He thinking about the cross? Is that what He has in mind?  Well the translators must have had something other than that in thought when they used the word "ascension."  And I think there's a reason for that. If you go back to verse 31, you remember that up on the mountain at the transfiguration when Moses and Elijah appeared in glory, they were talking with Jesus and they were speaking of His departure, His exodus. And it is that departure, not the cross, but the final departure from the earth that Jesus has in view. It is, John 17, where Jesus says, look, He says to the Father in His prayer, "I glorified You on earth, now glorify Me in heaven with the glory I had with You before the world began." I'm ready to come back, Father, is what He said, I'm ready to come back. It is what Hebrews 12 calls the joy that was set before Him, and that's why He endured the cross and the shame.
Jesus sent messengers ahead of Him, probably a number of Apostles and disciples, who entered a village in Samaria in order that they might prepare for His arrival (verse 52).
Henry says that Jesus did this out of courtesy to the villagers, not for self-aggrandisement, which He would never do:
Observe here, 1. How civil he was to them: He sent messengers before his face, some of his disciples, that went to take up lodgings, and to know whether he might have leave to accommodate himself and his company among them; for he would not come to give offence, or if they took any umbrage at the number of his followers. He sent some to make ready for him, not for state, but convenience, and that his coming might be no surprise.
However, the Samaritans from this village did not wish to receive Jesus, because His face was set towards Jerusalem (verse 53).
That means they knew He worshipped at the temple in Jerusalem.
Henry describes the ongoing loathing between the true Jews and the Samaritans, which dated back centuries:
Now the reason was because his face was as though he would go to Jerusalem; they observed, by his motions, that he was steering his course that way. The great controversy between the Jews and the Samaritans was about the place of worship—whether Jerusalem or mount Gerizim near Sychar; see John 4 20. And so hot was the controversy between them that the Jews would have no dealings with the Samaritans, nor they with them, John 4 9. Yet we may suppose that they did not deny other Jews lodgings among them, no, not when they went up to the feast; for if that had been their constant practice Christ would not have attempted it, and it would have been a great way about for some of the Galileans to go to Jerusalem any other way than through Samaria. But they were particularly incensed against Christ, who was a celebrated teacher, for owning and adhering to the temple at Jerusalem, when the priests of that temple were such bitter enemies to him, which, they hoped, would have driven him to come and worship at their temple, and bring that into reputation; but when they saw that he would go forward to Jerusalem, notwithstanding this, they would not show him the common civility which probably they used formerly to show him in his journey thither.
MacArthur has more:
This was typical Middle Eastern tribal hostility that we see even today.  Samaritans, I remind you, were a mixed race, semi-pagan offspring of Israelites from the northern kingdom who were left behind when the northern kingdom was taken into Assyrian captivity. They were left there. They intermarried with pagans who were loyal to the Assyrian king so they were half breeds. They had abandoned their Jewish roots and heritage.  They had absorbed paganism.  They feared the Lord, 2 Kings 17:33 says they feared the Lord, yet served their own gods.  They were amalgam of race and amalgam of religion.  They had their own worship at a place called Mount Gerizim, although their temple had been destroyed in 128 by a man named John Hyrcanus so they had no temple but they still had their own religion, full of spirit, void of truth, mongrel race, mongrel religion, deemed unclean, hated by the Jews. But it was to a Samaritan woman that Jesus first revealed His messiahship. Remember John 4, the woman at the well?  And did you know that Jesus made a Samaritan the hero of one of His most wonderful stories? The story called, "The Good Samaritan," which was a rebuke to the Jewish leaders, because, you remember, the rabbis and the Jewish leaders passed by and didn't help the man. And later the gospel was commissioned to go to Samaria, Acts 1:8. Go to Jerusalem, Judea, Samaria.
MacArthur explains that our Lord's intended visit to Samaria was one of mercy, which He showed to all people. Our Lord's mercy was in stark contrast to the way that everyone else treated each other, including in matters of religion:
Mercy is extended to all. This flows out of this account. Verse 52, He sent messengers on ahead of Him. They're leaving Galilee. The Galilean ministry is over. It's been going on for over a year. It's over now. They've had their opportunity. Where are they going? They're headed toward Jerusalem in a meandering fashion for months.  But the first place it says they went was they went and entered a village of the Samaritans to make arrangements for Him; of all places, the Samaritans. This illustrates what Luke tells us so much about the ministry of Jesus and that is that it was extensive, it was expansive, it went beyond the conventional limitations. Matthew focuses his gospel on the Jews. Jesus is King of the Jews, the rejection of the Jews, etc. Luke is expansive. Luke embraces the world. Luke knocks down all the conventional walls.  In the Magnificat of Mary in Luke chapter 1, Mary celebrates the blessing of God upon the Jews.  But in the blessing of Simeon at the temple of the child Jesus, Simeon celebrates the salvation of the Gentiles.  So early on in this gospel we know from Luke's account that this is a Messiah who has come to Jew and Gentile and Jesus when He goes to the synagogue in Nazareth preaches that great sermon out of Luke … He says, "Salvation is not for Jews, salvation is for the poor, prisoners, blind, and oppressed." Anyone who is destitute just like in the Old Testament when God went to a pagan, Gentile widow in Zarephath and also God delivered a Syrian Gentile terrorist named Naaman. Luke features the expansiveness of God's redemptive mercy. Luke also reminds us extensively of how Jesus hung around tax collectors and prostitutes and criminals and riff-raff, needy people. Luke writes about lepers and the demonized and the diseased and the dead and women and thieves and the fringes of society, and even further — as we'll see in the chapters ahead of us — the poor, the handicapped, the blind, and even children. Jesus just shattered all the stereotypes. The rabbis didn't want to pay attention to any of those. Jesus cared for those of low status, all ages, all genders, all races, offering divine mercy to everybody. At the same time that the Pharisees and the scribes, according to Matthew 23:23, paid no attention to justice or mercy, Jesus broke all the conventional stereotypes of religion.
And so, He has to train His twelve to this expansive proclamation. And He has to teach them about mercy beyond the borders. The Jews had no mercy for children, the leaders. They had little mercy for women. They had no mercy for Gentiles. And of all people, they hated Samaritans. Jews generally going from Galilee down to Judea, Jerusalem, wouldn't even walk through Samaria, they'd go all the way around, cross the Jordan twice, just to avoid going through there because it was a defiled, unclean place. 
When James and John saw how the villagers had rejected Jesus, they asked Him if they should command that fire come down from heaven upon them (verse 54). That is a reference to Elijah's command centuries before. And, recall from the opening verses of Luke 9, they now had those powers so to do.
Henry says:
… they would not have thought of such a thing if Elijah had not done it upon the soldiers that came to take him, once and again, 2 Kings 1 10, 12. They thought that this precedent would be their warrant;

Early in His ministry, Jesus called James and John, Zebedee's sons, Boanerges, or the sons of thunder (Mark 3:17):
17 James son of Zebedee and his brother John (to them he gave the name Boanerges, which means "sons of thunder") …

Jesus turned and rebuked Boanerges (verse 55). He came to save souls, not destroy them.
Henry says:
so apt are we to misapply the examples of good men, and to think to justify ourselves by them in the irregular liberties we give ourselves, when the case is not parallel.
MacArthur further explains the reaction of James and John and why Jesus rebuked them:
Old feelings ran deep and were lasting. They said no, we're not going to let you have an easy journey down to your place and help you on your way.  And so it wasn't really theological, it was more this whole racial thing and this religious jealousy. And verse 54 when His disciples James and John saw this, they said, "Lord, do You want us to command fire to come down from heaven and consume them?" This is the Saddam Hussein kind of reaction.
Now on the one hand, you might say, "It's understandable. They love the Lord.  They've seen His glory on the mountain." I mean, there's a touch of nobility in this righteous indignation. These two are called the sons of thunder, Boanerges. I think it's Mark 3:17. They were volatile guys and they just blew up, they were so angry. Probably tired, probably hungry, probably wanting to rest and they had been rebuked and rebuffed and their Lord has been dishonored and He is the God of the universe in human flesh and they are just outraged by this. And they say, "Lord," feeling their sort of apostolic oats a little bit, "Do You want us to command fire to come down from heaven and consume them?" Well what made them think they could do that?  They had never done that. They healed some people and maybe raised the dead and perhaps cast out some demons, but they hadn't been calling fire down from heaven. What in the world are they thinking? Well, I'll tell you what they were thinking, because some translations say, and you'll see it in the margin even here, "Do you want us to command fire to come down from heaven and consume them as Elijah did?"  They knew where they were and they were thinking back to 2 Kings, chapter 1. Elijah was in the same area, the same region. And some of the enemies of God got in a situation with Elijah and he called down fire from heaven and burned them up.
Verse 55: "He turned and rebuked them." He rebuked them. And some manuscripts say, when you go back to the originals some of the old, old manuscripts, some have it and some don't, but certainly what is here is true, whether or not it was said on this occasion, a similar thing was said and we'll see it in Luke 19:10, but anyway, we'll take it as it comes in the text. "He turned and rebuked them and said, 'You don't know what kind of spirit you're of.'" You better get in touch with yourself, guys. You can't go through ministry with that kind of an attitude. I mean, you're going to go in and you're going to make a simple proclamation of Jesus Christ and somebody doesn't accept Him and you want to burn them to death? This is not sensible evangelism. You know, "Repent or die," you know, what in the world?  We don't need that. This is the time of mercy. 
Verse 56: "For the Son of Man didn't come to destroy men's lives but to save them." We know that, don't we? The Son of Man, Luke 19:10, is come to seek and to save the lost. This may not have been in the original text, but some scribe wanting to embellish it added it and that's why it shows up in some of the later manuscripts, but even though it's sort of scribally parenthetic, it's accurate.  The Son of Man didn't come to destroy men's lives but to save them.  John 3; read that. He didn't come to destroy. He came to save, to seek and to save the lost.
And what's the point here?  He gives mercy to the ignorant.  They didn't reject Jesus because He claimed to be God and they rejected that claim.  They didn't reject Jesus because He claimed to save by grace and they wanted law.  They didn't reject Jesus because they didn't like the religious doctrines He taught.  They rejected Him because He was Jewish and He was going to the temple, which means they didn't even understand who He was.  And there's always mercy extended to those who may be deeply religious but are ignorant of the truth.
As they were rejected, they moved on to another village (verse 56).
Along the way, Jesus encountered three men who wanted to follow Him.
MacArthur gives us the full import of following. It is not for a few hours or a day here and there. It is a full time commitment:
Three would-be disciples and the subject is, "Following Jesus."  The first man says I will follow. To the second man Jesus says, "Follow Me." The third man says, "I will follow."  Follow is the operative word here.  It's about following Jesus.  That's the subject.  It's about the high cost of following Jesus.  It's about what hinders people from following Jesus.  Right at the core it's about following Jesus.
And though that is a very familiar word in the gospels, Jesus many times called people to follow Him.  He called Matthew to follow Him.  He called the rich young ruler to follow Him.  He called Philip to follow Him.  He called Peter to follow Him.  He called all of the twelve to follow Him at some point and He called many others to follow Him.  And always when He did that He used the same word, akoloutheō, and He used it in the present imperative, which implied an ongoing command.  "Following" in itself implies a future, implies continuity.  It implies something beyond the moment.  And in the present tense, that implication becomes explicit.  Keep on following Me.  You might even say, "From now on in your life, follow Me."
It is for that reason that we should reject the Evangelical style of a simple altar call or prayer recitation:
That really is not typical of the modern style of calling people to discipleship or evangelism.  Modern evangelism would lead us to believe that becoming a Christian is a matter of a moment, not a lifetime.  It's a matter of an accepting of Christ.  It's a matter of an emotional experience to which you were led by fiery preaching or heart-rending stories or music.  Whatever might be used to induce a person to a moment of emotional breakdown where they will pray a prayer, make a decision, accept Christ, that seems to be the direction of modern evangelical evangelism.  All they have to do is grab that moment, say that prayer.  And if they don't know what it should be, we'll give them a formula to pray.  And that's all it takes to become a Christian.
It's obvious that Jesus didn't do that. He never tried to, quote, "Get people saved" by moving them emotionally to a moment of crisis, or a moment of decision, or a moment of acceptance of Himself. He never brought anybody that I know of in the New Testament to a place where they were supposed to pray a prayer. Never did He do that and never did the apostles do that. None of them ever moved toward some crisis event in which supposedly the sinner was redeemed from sin and death and hell. And yet the call to Christ, the call to salvation is typically viewed in our world as an event, as a…a response to an emotional moment. Not so in the words of Jesus. When Jesus invited someone to come into His kingdom, when Jesus invited someone to receive His forgiveness and salvation, He asked that person for the rest of his life. He didn't want a moment. He didn't want the emotion of a moment. He wanted the carefully thought out, understood, commitment of a lifetime. Repentance from sin, confession of Jesus as Lord, obedience from the heart to the Word and the Spirit was for life. And there was always that emphasis in the ministry of Jesus. He disdained the short-term disciple. He made things so difficult for many would-be disciples that, for example, in the 6th chapter of John it says, "Many of His disciples walked no more with Him." The standard was just too high. What was required was too demanding.
As they walked along, a man approached and told Jesus that he would follow Him wherever He went (verse 57).
MacArthur says that the chronology of this differs to Matthew's account:
… though the chronology here is not clear, Luke just kind of throws this little account in here. It is clear in Matthew. And it is clear in Matthew that this event actually happened in the ministry in Galilee around the town of Capernaum which is the headquarters for Jesus' ministry. In Luke's flow we are outside Galilee now, we're moving outside Galilee. The Galilean ministry is over. You remember back in verse 51 that Jesus had resolutely set His face to go to Jerusalem. So He's on the way now to Jerusalem. There's a number of months, less than a year now until His death. And as He moves toward Jerusalem, He goes to various places, moving about. But the primary goal is the training of the twelve, to prepare them for the ministry that awaits them after He is gone. Matthew tells us this was during the Galilean ministry. Luke includes it here because it's part of the training of the twelve. In chapter 9 verse 46 He gave them a lesson on humility. In verse 51 and following He gave them a lesson on mercy. And here He gives them a lesson on discipleship. This is all part of how He's preparing them and us for this responsibility …
Matthew tells us that when this incident happened, Jesus had been doing many powerful miracles. So whenever that happened, there was a swelling of the crowd.
In Matthew's version, this man was a scribe, therefore well ensconced in the Jewish hierarchy and leading a privileged life. His emotions were no doubt running high. He might also have hoped to bask a bit in our Lord's reflected glory, so to speak.
Whatever the case, Jesus, being omniscient, knew the man's heart and mind.
Jesus told him that the foxes have their holes for shelter, just as birds have nests for theirs, but the Son of Man has nowhere to lay His head (verse 58), meaning that being a disciple meant material hardship, including lack of a regular home.
MacArthur says:
The scribe saw the crowds, he saw the miracles. He heard the teaching. He wanted to be associated with Jesus because there was no one like Him.
This offer was very complete on the part of the scribe, and yet on the part of Jesus it wasn't complete enough. It's really amazing. If anybody came today and said, "I want to follow Jesus wherever He leads," the average evangelical Christian is going to say, "Pray this prayer, sign this card, start into follow-up."
Jesus doesn't do that. He says the most amazing thing to him. You want to follow Me? We're not going to the Ritz Carlton.
To a second man, Jesus extended an invitation to follow Him, but the man asked if he could first bury his father (verse 59).
Now if we look at one of the first readings for this particular Sunday, we read in 1 Kings that Elisha asked Elijah if he could kiss his parents goodbye before following him:
19:20 He left the oxen, ran after Elijah, and said, "Let me kiss my father and my mother, and then I will follow you." Then Elijah said to him, "Go back again; for what have I done to you?"
19:21 He returned from following him, took the yoke of oxen, and slaughtered them; using the equipment from the oxen, he boiled their flesh, and gave it to the people, and they ate. Then he set out and followed Elijah, and became his servant.
However, the man whom Jesus encountered had a different home situation as MacArthur explains:
Now you might think that his father's body is lying at the house. That isn't the case. And it does seem reasonable, it really does, to go bury your father and the Jews had thirty days of mourning, you know, to take a month and go and do that if your father had just died is reasonable. According to Jewish custom, burial took place immediately after death. They didn't embalm, they just wrapped bodies and put them immediately in the grave. And there was a thirty-day time of mourning. It would have been appropriate for the son to be there. It was honorable to give burial to the dead and particularly a son's responsibility to make sure that his father was cared for in death …
On the surface it says some good things about the man, says some necessary things about the man. This man, however, knows that the Lord is moving away from the area. He just said He doesn't have anywhere to lay His head. He's itinerant, He's on the move. He's on the road, as verse 57 says. Where's He going to be in a month? Where's He going to be in two months? Where's He going to be in whatever amount of time is involved here? And to just make this story very clear, the point here is his father wasn't dead. He's not saying the body is laying at the house waiting to be buried. He wouldn't be there if that were the case because they buried them immediately. He's saying, "Look, I've lived too long to leave now without my inheritance. I'll follow You but I was just listening to the conversation You had with that guy and You said that You don't have anywhere to lay Your head, the resources are meager here, You can't promise us anything, no prosperity gospel here, so I think it would be better for me if I just hung around and I waited till I got what I have been waiting for all these years. I'll pad my own pockets and I'm in a good fall-back position, if, you know, things don't work out."
By the way, "I must bury my father" is a familiar Middle Eastern statement still used. And when they use it and they say, "I must bury my father," they mean I must stay at home until he's gone so that I can bring his estate to its final point and so that I can receive my inheritance. I'll follow You someday, when my father's dead and I've gotten what I need. Ah, he's attracted to Jesus, who wouldn't be? He's amazed at His power, but he loves money. He's like the weedy soil in the parables of the kingdom.
Jesus, recognising the superficiality and materialism of this man, tells him that the dead should bury their own dead and that he should proclaim the kingdom of God (verse 60).
MacArthur explains the nuances in our Lord's reply:
If you had a decaying body sitting at the house, Jesus wouldn't have said this. His intentions weren't good. Jesus said, "Let the spiritually dead…" What He means by that is: the unconverted people. Let the people in this world who are outside the kingdom of God take care of the dead. Leave temporal things to temporal people. Leave the matters of the temporal kingdom to the people who live in that kingdom. You are called to come into the kingdom of God and for the rest of your life to go and proclaim the glories of that kingdom. Let go of the kingdom of this world, even its good elements, even its noble responsibilities. I mean, that is clearly again an indication that Jesus knew what was in the man's heart. And it wasn't something He had to read, He heard it out of his mouth. I want to wait till my father dies. And Jesus would be long gone by then. Who knows years maybe? You don't get the picture here. Your priorities are messed up. Secular matters belong to secular people. You're telling Me you want to follow Me, you want to follow Me into the kingdom of God, then forget the secular world and do what relates to the kingdom. What's that? Go and proclaim the kingdom of God. What does that mean? Go and preach the gospel because proclaiming the kingdom of God is simply telling people how they can enter the kingdom of God, and that's the gospel. This man is committed to personal riches. He's like the rich young ruler back in Matthew 19, remember the rich young ruler who said, "How do I receive eternal life?" You know, "What do I do, good Master, to receive eternal life?" And Jesus said, "Well before we talk about eternal life, let's talk about the law, let's talk about the law, let's talk about the Ten Commandments."
"Oh, I've kept the Ten Commandments. I'm not a sinner."
That's a problem. That's a problem.
"And then let's talk about submission and self-denial. Take everything you have. Sell it and give all the proceeds to the poor."
And he went away. That's not what he was willing to do. There was no self-denial there. He wouldn't deny his own self-righteousness and he wouldn't deny his own possessions. And so he went away, tragic figure.
Jesus put the barriers up at the appropriate time to make sure that the devotion was complete and consummate. And here was a man who was asked to follow, said I'll do it sometime in the future after I've been taken care of with my inheritance. Jesus said, "You don't understand. You come into My kingdom, you let go of the kingdom of this world. Friendship with the world is enmity with the God." If you love the world or the things that are in the world, the love of the Father is not in you.
Then the third man came along, saying that he would follow Jesus but wanted to bid farewell to his parents at home (verse 61).
Again, we think of Elisha's request to Elijah about kissing his parents goodbye before returning to follow that great prophet.
However, once again, Jesus knew the nature of this man's heart.
Both commentators surmise that Jesus knew his family would try and talk him out of following Jesus.
Henry says:
This seemed reasonable; it was what Elisha desired when Elijah called him, Let me kiss my father and my mother; and it was allowed him: but the ministry of the gospel is preferable, and the service of it more urgent than that of the prophets; and therefore here it would not be allowed. Suffer me apotaxasthai tois eis ton oikon mou—Let me go and set in order my household affairs, and give direction concerning them; so some understand it. Now that which was amiss in this is, (1.) That he looked upon his following Christ as a melancholy, troublesome, dangerous thing; it was to him as if he were going to die and therefore he must take leave of all his friends, never to see them again, or never with any comfort; whereas, in following Christ, he might be more a comfort and blessing to them than if he had continued with them. (2.) That he seemed to have his worldly concerns more upon his heart than he ought to have, and than would consist with a close attendance to his duty as a follower of Christ. He seemed to hanker after his relations and family concerns, and he could not part easily and suitably from them, but they stuck to him. It may be he had bidden them farewell once, but Loth to depart bids oft farewell, and therefore he must bid them farewell once more, for they are at home at his house. (3.) That he was willing to enter into a temptation from his purpose of following Christ. To go and bid them farewell that were at home at his house would be to expose himself to the strongest solicitations imaginable to alter his resolution; for they would all be against it, and would beg and pray that he would not leave them. Now it was presumption in him to thrust himself into such a temptation. Those that resolve to walk with their Maker, and follow their Redeemer, must resolve that they will not so much as parley with their tempter.
MacArthur says:
This guy had long apron strings. I just want to go home. Well that sounds kind of reasonable. I figure he's thinking to himself, and this is speculation, you know, I don't need to wait till my father dies to get all the money, I'll just go home and raise some support for my mission adventure. I'll just go home and have a big farewell party. And, you know, I'll cash in on that and that will give me a little to follow. Jesus is worth following, Jesus is exciting. This is phenomenal stuff. I'll just make a short trip home, be back in a week or so and I'll have collected something from everybody for the journey. Or it may have been that in his heart was this hold with the family that he couldn't let go of and you do remember, don't you, how absolutely adamant Jesus was and said what is so hard to hear, "Do not think that I came to bring peace on the earth. I didn't come to bring peace but a sword. I came to set a man against his father, or a daughter against her mother, a daughter-in-law against her mother-in-law and a man's enemies will be the member of his household. He who loves father or mother more than Me is not worthy of Me, he who loves son or daughter more than Me is not worthy of Me."
Jesus warned him about looking back, using an ancient proverb about a plough: no one who puts a hand to a plough and looks back is fit for the kingdom of God (verse 62).
MacArthur tells us about the proverb:
Jesus responds, verse 62, with a proverb that can be traced back to a writer named Hesiod in 800 B.C. "No one, after putting his hand to the plow and looking back is fit for the kingdom of God." The proverb probably said something like, "You can't plow a furrow looking backwards." Jesus said, look, you…you can't follow Me looking backwards. You can't have a divided heart. You can't be Mr. Facing Both Ways, to borrow the words of John Bunyan. There are people who come all the way up to believing, all the way up and could be pushed to pray the prayer, make the decision, accept Christ, do whatever the moment called to do, but if you confronted them with the fact that the self-denial is so complete that it asks you to be willing to give up all your comfort, all your possessions if that's what the Lord asks, and all your relationships. And the one who is truly being prompted by the Spirit of God and brought into the kingdom is going to say, "Look, Jesus Christ is so infinitely valuable to me that I don't care what the price is, I will gladly sell all for the pearl." This man's heart was divided. And there was no way that he was fit for the kingdom of God because he was holding on to the kingdoms of this world.
Today's Gospel is about rejection. The Samaritans, like the Gadarenes, whose story we had last Sunday, rejected Christ for a superficial reason. However, Christ also rejected those who would have been fickle followers. However, He did so for good reason, unlike the Samaritans and Gadarenes who rejected Him.
MacArthur concludes:
The issue here is salvation, people. The issue is coming into the kingdom. And if you've ever wondered what the issue here was, some people think it's sort of second-level discipleship. No. And verse 62 makes it clear. It's about coming into the kingdom. And Jesus is simply saying to these people, "Look, if you're holding back anything, you can't come in. Salvation is for those who have come to complete self-denial." The Lord may not take away all your comfort. He may not take away all your possessions. He may not take away all your relationships. But you're not negotiating. You're simply saying the infinite value of the gospel of Jesus Christ is so great that if He asks, I'll give it all up. I'll give it all up.
So responding properly to Christ is not a matter of emotion. It's not a matter of an event. It's not a matter of a momentary acceptance or a decision. It is not some superficial interest. It is not even a matter of saying, "I will follow." It is a matter of self-denial, total self-denial, a willingness to give up everything because the value of Christ is so infinite. The sinner has reached that level of desperation by the prompting of the Holy Spirit. He who doesn't take up his cross and follow me is not worthy of Me, Jesus said. He who has found his life shall lose it. He who has lost his life for My sake shall find it. It's about losing your life. It's about hating yourself. It's about holding on to nothing. It's a beatitude attitude.
We aren't told how these three responded to what Jesus said, but it's pretty obvious. They left Christ to hold on to their earthly loves. What a sad decision. The pearl of great price is available for those who sell all. The treasure hidden in the field is available for those who sell all. That's how it is with true disciples. They've entered into a life of following Jesus, following Jesus.
May all reading this have a blessed Sunday.
Anyone wishing to share their sermon experiences is most welcome to do so in the comments.
Continuing my series on Red Wall MPs and, most recently, Lee Anderson, this post gives his positions on various topics in British life.
Those who missed previous instalments can read about his adventures and opinions in Parts 1, 2, 3 and 4.
Rail strikes
This week, England has been crippled by a series of rail strikes, one every other day, which means that on the days there are no strikes, it is still fruitless trying to travel by rail.
On Monday, June 20, 2022, the House of Commons held a debate, Industrial Action on the Railway.
Lee Anderson was the last MP called to speak. He asked the following question of Grant Shapps, Transport Secretary (emphases mine):
This strike is a real kick in the teeth for hard-working taxpayers, who have dug deep over the past 18 months to keep this industry alive. Does my right hon. Friend agree that the Labour party—the spineless party opposite—should grow a backbone and condemn these strikes?
Grant Shapps replied:
That is an appropriate place to end. My hon. Friend is absolutely right. People have dug deep—that is exactly what they have done; it was £600 per household. People are furious. They paid out that money to make sure that nobody lost their jobs, and what thanks have they got? Where is the reward? Where is the "thank you" for keeping the railway going? It is a strike that will put people out of pay and hit people's pockets once again, and Labour Members cannot even find their way to say, "We condemn the strikes." It is a disgrace.
Immigration
On Wednesday, June 15, Home Secretary Priti Patel made a statement about the fact that the June 14 flight to Rwanda with scheduled deportees never took off. There were originally 37 people who were to be deported. Because of last minute legal delays, only a handful boarded the charter flight and, by 11 p.m., even they were taken off.
The Opposition parties hate the idea of sending illegals to Rwanda for processing. Strange that, as it is called the Switzerland of Africa.
Labour, the Lib Dems and Scotland's SNP have all said during debates about illegal migration that people can legitimately come to the UK from France. Such a statement implies that France is not a safe country.
In the June 15 debate, Migration and Economic Development Partnership with Rwanda, Lee Anderson asked Priti Patel:
Just when you think this place cannot get any dafter, you turn up and listen to the rubbish that the Opposition are coming out with today. Is the Home Secretary aware of the sniggering, smugness and delight shown on the out-of-touch Opposition Benches about the cancelled Rwanda flight? Will she please advise me? I need some travel advice—I am going away this summer. Is France a safe country to go to?
Priti Patel replied:
For the benefit of the British people, the public, I have in my hand just four pages with a list of Opposition Members making exactly that point with glee—basically wanting the policy to fail, condemning it and saying all sorts of things without coming up with alternative solutions.
My hon. Friend is absolutely right about France as a safe country. This is a fundamental principle of working with our colleagues more broadly—[Interruption.] Those on the Opposition Front Bench have already had their chance to speak. These are safe countries and there are people who are effectively picking to come to the UK. That is something we have to stop by going after the people smugglers and breaking up their business model.
Moral failings of Tony Blair versus Boris Johnson
Also on June 15, Boris Johnson lost his latest ethics adviser, Lord Geidt, who suddenly resigned.
This month, for whatever reason, Tony Blair became a member of the prestigious Order of the Garter, an honour the Queen decides independently.
On GB News, Patrick Christys asked a panel who was less ethical, Boris or Blair. Lee Anderson was one of the participants. He said that he had canvassed his constituents in Ashfield, Northamptonshire, and all said that Blair was less ethical. Anderson said there is no comparison between a Prime Minister being presented with cake and one who got us into a highly costly war in Iraq. The second tweet shows Blair with his spin doctor Alastair Campbell at the time:
The full discussion follows:
Labour
Anderson was a member of the Labour Party until 2018, when he switched to the Conservatives.
He has no praise for Labour MPs, especially Deputy Leader Angela Rayner. On May 22, she was angry with Chancellor Rishi Sunak for giving more aid to Ukraine.
The Daily Mail reported:
The party's deputy leader sparked outrage after she told the Chancellor on Twitter to 'do one' – a slang insult meaning 'get lost'.
The message was posted in response to a weekly No 11 newsletter from Mr Sunak, in which he detailed an additional £40 million of aid for Ukraine.
It is not the first time the senior Labour figure has landed herself in hot water for her remarks about those on the other side of the Commons. The former care worker resorted to calling senior Conservatives 'a bunch of scum, homophobic, racist, misogynistic, absolute pile of… banana republic… Etonian … piece of scum' in a foul-mouthed tirade at last year's Labour party conference.
Lee Anderson made his views known:
Lee Anderson, Tory MP for Ashfield, accused Ms Rayner of behaving pathetically after the latest controversial outburst.
He said: 'I don't know what it is about Angela Rayner and the Left that have it in for successful people running the country, surely it's much better for successful people who are successes in business to hold the purse strings of the country rather than somebody whose only claim to fame is dishing out insults.
'She is someone throughout her career who has made childish insults against Conservative politicians and now she's having a go at Rishi, who by the way is one of the most polite politicians you'll ever wish to meet. He's a real gentleman, regardless of your politics.'
Green energy policies
As is the case in most European countries, the prices of home fuel and petrol have gone through the roof.
On January 3, Nigel Farage asked Anderson for his views on what the UK should do. Anderson said that while it was imperative that we leave the planet in better shape for the next generation, he and his Ashfield constituents think that some of Boris's Net Zero policies need to be wound back. Furthermore, he wants us, rightly, to use our own energy sources during our transition period to Net Zero:
Two months later, Anderson appeared on Farage's Talking Pints segment of his show. They discussed the necessity of energy independence, which the UK can easily achieve. Instead, the Government prefers a policy of importing coal and gas from Russia:
You can see the full interview here, where Anderson says:
We should be selling gas to the rest of Europe!
The BBC
Anderson remains a firm supporter of Boris Johnson and wants him to be allowed to get on with his job. He accuses the BBC of conducting a witch hunt against the Prime Minister.
This interview took place the day after Boris survived a Conservative vote of confidence. Anderson laid his dislike of the BBC's tactics on the line. This is short, sharp and to the point:
Guido Fawkes wrote (emphases in the original):
Lee Anderson provided daytime fireworks as he confronted the BBC over anti-Boris bias live on the channel. He also called them "quite sad" over their refusal to let the Boris leadership question drop, accusing them of spearheading a witchhunt. Agree or not, it was great TV…
Not surprisingly, it was Guido's most popular post that day:
That night, the question of a BBC witch hunt popped up on Dan Wootton's GB News show:
Wootton invited Anderson on to discuss the issue with left-wing pundit Nina Myskow, who defended the BBC. Anderson said that his constituents supported Boris. He invited Myskow to speak with his constituents to hear their views. She replied, although not in this clip, that she never travels north of Selfridges:
Russia
On April 27, Anderson was disappointed not to have made the list of 287 MPs that Russia sanctioned.
He wrote a letter to the Russian ambassador to the UK to ask that his name be added to the list:
Crime
Lee Anderson has been outspoken against crime. I posted some of his perspectives last week.
During his candidacy in the autumn of 2019, he proposed creating forced labour camps for noisy council tenants:
After Winston Churchill's statue was desecrated in June 2020, during the pandemic and 'mostly peaceful' protests, Anderson gave a brief interview to a young independent reporter. He ended by saying:
You wouldn't be stood here today, young man, talking to me if it wasn't for Churchill.
On March 16, 2021, Anderson participated in the Crime Bill debate. Highlights follow:
Here's another, courtesy of Guido:
Ashfield's straight-talking MP Lee Anderson gave the Labour Party both barrels last night in the Crime Bill debate. Effusively supporting the Bill, no-nonsense Anderson took aim at what he sees as Labour's hypocritical positions:
I find it strange that Labour are talking about tougher sentences for crimes against women, yet in December they were trying to stop us deporting foreign rapists. One Labour MP said we should not deport these criminals in December as it was too close to Christmas. I disagree. I thought it was a great Christmas present.
Guido is fairly sure that the residents of Ashfield will be in overwhelming agreement. For such a short speech, many shots were fired – rounding off on some Labour politicians' attitude to the law…
Seven months later, his fellow Conservative MP Robbie Moore led a debate on the sexual exploitation of young girls by a certain demographic. Sadly, the 'grooming gang' phenomenon is growing to the extent that it is said to be present in every town in the UK.
Moore focused his attention on Bradford.
Guido points out that none of the three Labour MPs for Bradford bothered to show up for the debate.
Anderson contributed and, as one would expect, has strong views on what should happen to such politicians:
Away from the noise of the Budget, earlier this week Conservative MP Robbie Moore led a Commons debate on child sexual exploitation across Bradford, calling for a "Rotherham-style inquiry" into the scandal and claiming it had been "swept under the carpet" by the local authorities. Although the debate only attracted small number of MPs – none of the three Labour MPs for Bradford bothered to appear, despite two previously claiming they would – there was one booming voice lending his support to Moore's campaign: the Honourable Member for Ashfield, Lee Anderson. Asking Moore to give way twice so he could give the Chamber a piece of his mind, Anderson said:
The only way that we know the full scale of these vile crimes in Bradford is for a full Rotherham-style… investigation, and would he also agree with me that certain local politicians on the council, and the mayor, should hang their heads in shame.
Once this inquiry takes place, and we get to the bottom of this, and these grooming gangs are put away where they rightly belong in prison, then the next call will be these lazy politicians – and they need locking up too.
Even Moore sounded a bit surprised by Lee's fury…
Guido has the video:
Anderson's no-nonsense speech might have been partly due to his appointment to the Women and Equalities Committee in May 2021:
Guido wrote:
Guido learns that parliament's wokest committee – the Women and Equalities Committee – is to welcome two new, perhaps unexpected, members: Philip Davies and Lee Anderson. Philip Davies is making a, no doubt, welcome return after having served on it in 2016 – where he made headlines calling for the word "women" to be removed from the Committee's name. Lee Anderson is a co-conspirator favourite: from saying nuisance tenants should be forced to live in tents; to recently ranting that he's torn up his licence fee. Confirming the appointment, Lee told Guido:
The great women of Ashfield have been the backbone of my community for hundreds of years with barely any recognition.
Yes the men have worked down the pits and gone off to war but its our women that have kept everything together.
The women in communities like Ashfield need a voice in Parliament and anyone who knows me will tell you that I am a firm believer in better rights for women. I am a modern man with a modern outlook who is keen to speak up for the women in my community.
They deserve to be on a level playing field with us men which is not always the case. I will still open doors for women and give up my seat on public transport as I am a gentleman first and a politician second, but you can be assured that I will be fighting on all fronts for the women of Ashfield.
Both men will no doubt relish the appointments, which they richly deserve. Guido sends his warmest congratulations to the pair. Chapeau to the 1922 Committee on the wit and wisdom of their appointments.
Returning to politicians, on November 9, he had a go at convicted Labour MPs and recommended that they should work as a condition of their licence:
This morning in Parliament, straight-talking Lee Anderson told Deputy Prime Minister Dominic Raab exactly how he thinks the government should solve labour shortages:
Prisoners and ex-offenders out on licence should help fill the labour shortage and […] on release, all prisoners – including ex-Labour MPs – should be ready for work and starting work should be a condition of their licence.
Guido has the video:
Nutritious meals on the cheap
As I wrote in my third post on Lee Anderson, he took a lot of unnecessary stick in May 2022 for saying that people can make nutritious meals for only 30 pence per portion.
He revealed that he, too, had been a single parent for many years and lived scrimping and saving. He still got pilloried.
On May 26, however, the Mail profiled a partnered mother of three who makes meals for 29 pence a portion.
Was there any criticism of her from other media outlets, such as the BBC? No, there was not.
Such double standards. Such hypocrisy.
Conclusion
Regrettably, I have run out of Lee Anderson anecdotes.
He is my favourite MP. I would love to see him as the next Conservative leader, if not Prime Minister.
Sadly, that will not happen. He is not Establishment enough and never will be.
I hope that he is re-elected as MP for Ashfield and wish him all the best in his Parliamentary career.
We need more MPs like him.
A profile of another Red Wall MP will appear next week.
Incredibly, some police forces now see fit to issue Summer Solstice greetings.
I picked this up online, creator unknown. Northamptonshire is nowhere near Stonehenge, either: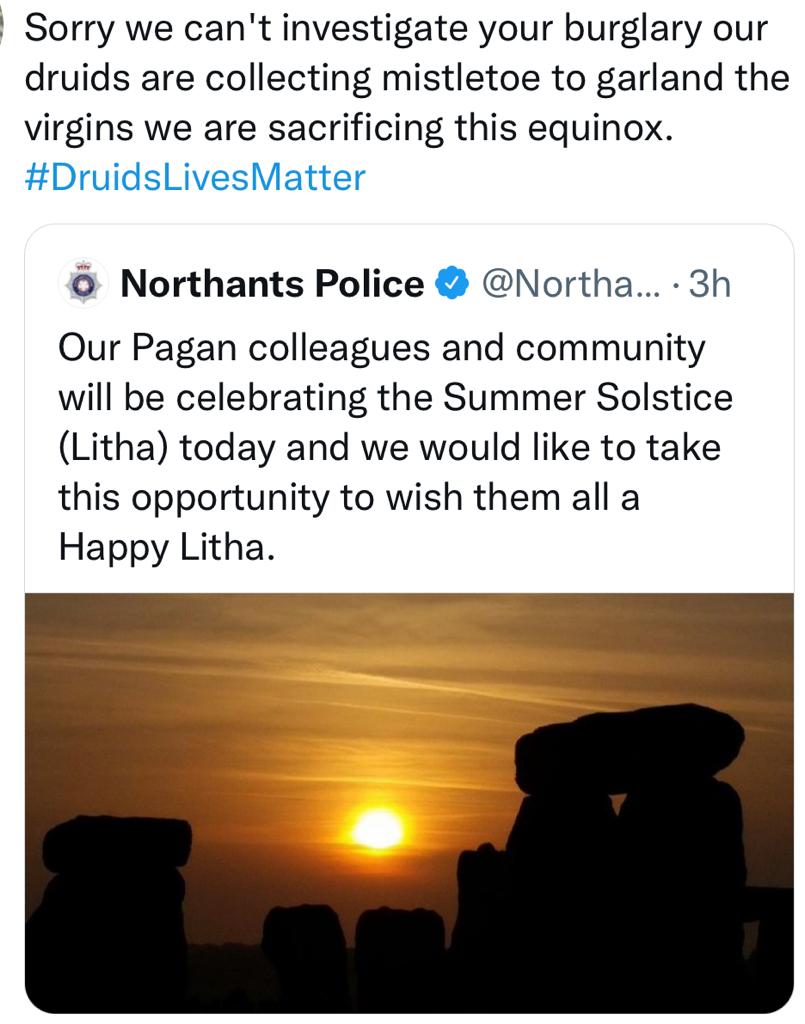 The following day, Wednesday, June 22, 2022, Justice Secretary and Deputy Prime Minister Dominic Raab announced the UK Government's publication of a nationwide Bill of Rights.
This is in response to the European Court of Human Rights (ECHR), based in Strasbourg, which put a stop to the June 14 deportation flight to Rwanda. Passenger numbers quickly went from 37 to 0. On the day, only a handful actually boarded the charter flight, because lawyers and human rights organisations had already filed successful petitions for delays.
Raab introduced the proposed Bill of Rights as follows (emphases mine):
With your permission, Mr Speaker, I will make a statement on the publication and introduction of a UK Bill of Rights as we take the next steps to fulfil our manifesto commitment and deliver human rights reform across the country.
We have a proud tradition of freedom under the rule of law in this country, and I remind hon. Members on both sides of the House that it dates back centuries to Magna Carta, not just to 1998. This Bill of Rights, published today, is the next chapter in the evolution and strengthening of our human rights framework, and it is available online and in the Vote Office.
If we look back to the original Bill of Rights from 1688, the year of the not-too-bloody Glorious Revolution, we see that it is lengthy.
This sentence, in particular, stands out:
I doe declare That noe Forreigne Prince Person Prelate, State or Potentate hath or ought to have any Jurisdiction Power Superiority Preeminence or Authoritie Ecclesiasticall or Spirituall within this Realme Soe helpe me God.
Yet, the ECHR is foreign, never mind that Winston Churchill was one of the people who established it after the Second World War. The reasons then were obvious. Its purpose has grown since then to reach beyond human rights for Europeans and now encompasses those of anyone seeking refuge.
As a Guido Fawkes reader explained (H/T to him or her for the above quotation from the 1688 Bill of Rights):
New or old Bill of Rights, it will make no difference if lawmakers continue to deny that we have a constitution which is set out in different constitutional documents that define our constitutional principles.
Guido's reader then cited the quotation, which is found in the Supremacy section. He/She then went on to say that the extension of human rights began during the Tony Blair era:
Yet they have signed us up to the EU and since the late 1990's have accepted that ECHR ruling are binding on us (Protocol 11). Labour's Human Rights Act 1998 even makes our own courts have to consider 'any judgment, decision, declaration or advisory opinion of the European Court of Human Rights'.
The only part of the Bill of Rights 1688 they have seemed interested in has been the section "That the Freedome of Speech and Debates or Proceedings in Parlyament ought not to be impeached or questioned in any Court or Place out of Parlyament."
True.
Dominic Raab's announcement was largely a waste of time. He never mentioned the 1688 Bill of Rights. Furthermore, I do not understand exactly how a new Bill of Rights will circumvent the ECHR.
Going back to the unsuccessful flight to Rwanda, British courts ruled that the flight policy is legal and that the one from June 14 could proceed. Then the Government caved into the ECHR decision that followed. I don't understand that, nor do I understand how the Government can prevent that from happening in future, new Bill of Rights or not, especially since the Government says that it has no intention of withdrawing from the ECHR.
In 2010, I wrote about the Glorious Revolution, which opposed James II's efforts to take Britain back to the Catholic Church. As a result, we got William of Orange and his wife Mary as our King and Queen. Both were Protestants. The Bill of Rights came forth during their reign.
After the long list of rights and liberties, the Supremacy section also states:
… the Rights and Liberties asserted and claimed in the said Declaration are the true auntient and indubitable Rights and Liberties of the People of this Kingdome and soe shall be esteemed allowed adjudged deemed and taken to be and that all and every the particulars aforesaid shall be firmly and strictly holden and observed as they are expressed in the said Declaration And all Officers and Ministers whatsoever shall serve their Majestyes and their Successors according to the same in all times to come.
Well, as we can see, that no longer happens. The Home Office caved into the ECHR. It was not the first time in the past 20+ years, and it will not be the last.
I have no solution other than to suggest that Dominic Raab and other MPs read the original Bill of Rights and decide whether it should prevail.
We do not need a new Bill of Rights. We already have one. For the most part, it is perfectly adequate as it is.
One of my good friends and I occasionally discuss whether all calories are alike.
His perspective on losing weight involves eating less, full stop.
Mine involves eating the right kind of foods, which the body has to work harder to digest.
On Monday, June 20, 2022, an article appeared in the Daily Mail, 'Counting calories is a waste of your time, says gut health guru Dr Megan Rossi'.
Here is the essential part of the article (emphases mine):
… with highly processed foods, most of the food matrix has already been broken down for us by machines, making the calories more accessible (so the figures on the labels for ultra-processed foods are a more accurate measure of what our body absorbs).
Another reason for not focusing on calories is that not all calories are equal, because of food's thermogenic effect. This is when you burn calories while eating and digesting. In other words, your body's processing will counter some of the calories — and here's the important bit — depending on the specific food.
Whole foods such as fruit, veg and nuts that need chewing, breaking down and more digesting have a higher thermogenic effect than ultra-processed foods.
And the calories from highly processed foods are much more readily available. For example, a KitKat and a banana might contain similar calories and your food-tracking app won't treat them any differently — but your body will.
One study in particular (published in 2010 by Pomona College, Claremont, in the U.S.) found that the body burns nearly 50 per cent fewer calories digesting a meal of processed foods than after a whole-food meal, even if both contain the same total of carbs, fat and protein.
It might not sound enough to make a lot of difference, but over a month, a year, a lifetime, it certainly adds up.
Further research in the journal Cell Metabolism in 2019 found that people told to eat as much as they liked gained more weight when given ultra-processed foods than when having unprocessed options — again, even when the meals were matched for carbs, fat and protein.
This supports what I've seen in clinic: limiting processed foods is a better weight-management strategy than counting calories.
These sorts of findings are repeated time and time again, and explain why we often don't experience a lasting feeling of fullness after eating processed foods. For instance you might feel stuffed after a fast-food meal, yet weirdly ready to eat more an hour later.
If a food has already been broken down for you, your body has less work to do and it's less satisfying. An apple takes longer to eat and is way more filling than apple sauce, which itself is more satiating than a glass of apple juice. That's because a whole fruit contains fibre and water bound up in that food matrix.
Unlike me, Dr Rossi is big on plant-based diets. However, she did have something interesting to say about gut bacteria, which she says is a:
secret weapon … These, and the chemicals they make when they digest plant fibre, can affect appetite.
These chemicals, such as short-chain fatty acids, tell our body we've had enough. This halts the production of hunger hormones such as ghrelin, and increases the 'I'm full' hormones such as leptin.
Other chemicals produced by our gut microbiota are thought to target the reward network in the brain, which influences our relationship with food and our tendency towards emotional eating.
Microbes and their by-products have also been linked with 'turning on' genes related to fat distribution. Added to the fact that our microbes may influence our taste receptors, it's pretty clear that having a higher body weight is way more complex than simply eating too much and not exercising enough. So feed your gut microbes and it's likely to keep everything else in check.
This is why it is important to prepare meals from scratch. Even at my busiest during my working years, which included being in the office at the weekends, I always made time to prepare two sets of dinners for the days ahead. I could take one portion out from the freezer every day and put it in the refrigerator. It was thawed by the time I got home that evening.
Ready meals never gave me as full a feeling, so to speak, as homemade dinners did.
The same goes for treats, such as cakes and biscuits. Baking with butter and sugar produces a more satisfying result than buying something off the shelf made with vegetable oil and corn syrup. Consequently, one eats less of a homemade sweet treat than an industrial product.
The answer to obesity is to eat fewer processed foods, especially carbohydrates, and to focus on natural fats and proteins instead.
The ketogenic diet is a way of eating, for life. It makes food more enjoyable and satisfying.
On Saturday, June 18, 2022, a group of Telegraph columnists shared the lessons they learned at the age of 40.
'What I wish I had known at 40' is a thought-provoking article and worth sharing with younger family members. I hope that Prince William, who is reaching this milestone on June 21, reads it.
Some of these columnists are well over 40 now, which makes their observations all the more worthwhile.
Excerpts follow, emphases mine.
Janet Daley had no choice but to leave her academic career abruptly, aged 40:
Not very long after my 40th birthday, I lost the career to which I had devoted my adult life. From the time I arrived at university – which seemed to me like heaven on earth – I had never wanted to be anything other than an academic …  But then came one of those brutal moves for which academic life is notorious: my department was closed down and I was out. It was like a bereavement. My family were for a time seriously worried about my emotional stability.
But there was, as you may have guessed, to be a whole new chapter. By an extraordinary stroke of luck, newspapers were at that time expanding exponentially. This was just after the Wapping revolution when the press was freed from the decline to which the domination of the print unions had once condemned it. This liberation also encompassed the old National Union of Journalists rule, which had made it very difficult for Fleet Street to hire writers who had not served years of apprenticeship on provincial newspapers. Those two factors combined to allow me to enter what would always have been a natural alternative profession. I started out as a commentator for The Times. Then The Independent – only recently launched and very fashionable – offered me a column. Then, a year later, The Times brought me in as a columnist. Five years after that, I joined The Telegraph, where I have had a happy home ever since.
So what do I wish I had known back in that period of grief and hopelessness in my 40s? That you can reinvent yourself at almost any point in your life, and that there is a world of possibilities out there if you refuse to be defeated by despair.
Bryony Gordon is still learning, every day:
It wasn't that long ago that I turned 40 – I will be 42 in a couple of weeks – but two years in pandemic years is like 20 years in normal human years, so perhaps I have managed to gather some pieces of advice for my marginally younger self. Namely: don't trust your Prime Minister, don't imagine you'll ever go abroad again, and don't wait to get work done on the kitchen, because building materials are going to be more pricey than printer's ink.
Practical matters aside, I wish I had known that I didn't have to live in fear. Fear of failure, fear of not doing enough, fear of losing everyone I love. If I have learnt anything in the past two years, it's that I have very little control over anything, so I might as well start enjoying life, instead of waiting anxiously for it to end. At 40, nothing is certain any more – not immortality, not oestrogen, not the 8.47 to Waterloo. You can sit around railing at the unfairness of it all, or you can start sucking the delicious juice out of what you do have. This is the option I have decided to take, but only after a fair bit of railing, flailing and pain.
But what do I wish I'd known most at 40? That I barely know anything at all, and if I'm lucky, I've got a whole lot of learning on the way. Bring it on, I say.
Christopher Howse recounts the mistakes of his his middle years and says:
At 40 I still hadn't realised that almost everyone's troubles were as big as mine. It took a few more years to swim along with other people cheerfully. The worst thing would have been to make my woes define me against a world that was to blame for my miseries. But now, like minnows in a stream lit up by the English sun, we swim one way, then swirl round in formation, then dart explosively apart. It's better than solitary splashing, exhilarated one moment and towed under a dark wave the next. To me it looks like the Prince learnt to swim some time ago.
Judith Woods says that it is important to be oneself:
I wish I'd known at 40 that it's not too late. To start a lifelong quest. To end a toxic friendship. To be reckless. To be careful. To be, in George Eliot's immortal words, what you might have been. If only your inner critic could be silenced …
I spent my early life worrying, ruminating and second-guessing what "other people" thought of me, would think of me if I went blonde, brought supermarket wine to a dinner party or let my baby daughter have a dummy. Silly things. Stressful things.
Finally, at 40 I started to realise that unless anyone (by which I mean someone who mattered) explicitly said something to the contrary, it was safe to assume my dress wasn't too short, my work was fine, I didn't say anything unforgivably awful in the pub and I was not a high-functioning failure, in danger of being outed at any moment.
Do princes suffer from impostor syndrome? Apart from the one moonlighting as a pauper in Mark Twain's classic novel, I suspect not. An heir to a throne is, of necessity, schooled in resilience as well as tireless public service.
Here in the cheap seats, I'm more than a decade ahead of the Duke of Cambridge and can joyfully report that not giving a monkey's about other people's (unvoiced and entirely putative) opinions of how dreadful I am is gloriously liberating. Curtailing the self-sabotage remains a work in progress of course. But it's never too late to begin.
On a similar note, Michael Deacon points out that, at age 40, one can finally ditch the conformity that defined one's youth:
We think of the young as rebels, but in reality the opposite is true. The young are conformists, desperate conformists. In everything they do they crave acceptance, perhaps not from their parents or teachers, but always from those their own age – and in particular from those they deem to be cooler or more attractive than they are.
And inevitably this frantic, fevered craving makes them unhappy, because it compels them to do things they don't really want to, things they don't actually enjoy. They force themselves to go to parties they'd been dreading, go clubbing even if they hate the music, buy clothes they know don't suit them, pretend to love books they've never read – and all in a neurotic attempt to impress others, or at least to avert their contempt.
By 40, however, all that nonsense has dissolved. We go out when we want to, and stay in when we don't. We choose the music, films and books we genuinely enjoy, rather than slog our way through unrelieved tedium in a miserable bid to seem clever and sophisticated. We lose all interest in the concept of cool, and accept our tastes and our views as they actually are. We allow ourselves to think what we really think, rather than what we think we should think. In short: we start being honest – both with others, and with ourselves.
No longer do we have time to worry about how we might look to people we don't even know. This is the wonderful thing about middle age. Things that don't matter don't matter any more.
I couldn't agree more. My 20s were miserable, especially as I was still trying to find my own identity as a person — and be accepted for my foibles.
I was so relieved to turn 30. It felt as if a shroud had been lifted from me.
At 40, I was even happier in myself. At 50 and 60, my personal happiness increased. Long may it continue.
I am closing with Philip Johnston's warning about weight increase after the age of 40. Monitor it and get rid of it:
My advice is mundanely practical. Remember that just putting on a mere 1lb in weight a year can add two stone by the time you are in your 60s, so watch what you eat. I wish I'd taken a friend's advice on reaching 40 to apply for MCC membership as I'd be in by now, just. I wish I'd taken up those Italian classes and properly learned the piano but didn't. Do it. As Housman said, the land of lost content cannot come again.
But I also like the somewhat opaque observation of the American rock singer Bob Seger: I wish I didn't know now what I didn't know then.
On the subject of weight gain and loss, one of the greatest British success stories is that of Labour's Tom Watson, who used to be the party's deputy leader.
On Monday, June 20, 2022, The Telegraph interviewed him to find out his dieting secrets. The article has before and after pictures.
Excerpts follow:
In 2018 the former Labour deputy leader astounded everyone when he lost eight stone, going from 22st to 14st in two years and reversing his type 2 diabetes, going on to write the bestselling book Downsizing. 
Watson still admits to the occasional eating binge and has to resist temptation when he goes down the biscuit aisle in the supermarket:
Watson will never be free of the urge to eat sugar. The mere thought of a Hobnob can still have him salivating. If he finds himself needing to re-fuel on the go he'll grab a packet of turkey slices from the likes of M&S. "But I could so easily go to the biscuit aisle and eat a packet there and then," he says.
He has another book out about his weight loss:
Calling his new book Lose Weight 4 Life might at first seem a bit of a boast. As Watson says: "That's a heavy and onerous responsibility I've given myself there".
However, the title in fact refers to the cycle of small setbacks followed by resets that are inevitable.
Not every day will be a success, and those losing weight will have to adapt to good days and bad:
"You are losing weight for life because you're going to have good days and bad days. You're going to put a bit of weight on and have to learn how to put yourself in the mood to shift it. Whether it's logging your food that week, or starting to take your measurements, as long as you've got a reset programme that brings you back to the journey, you're going to be OK."
Multiple times during our interview he tells me that weight loss is a "journey, not a destination".
In Week One, he advocates:
creating and maintaining a log of food consumption along with one's weight;
preparing oneself mentally;
avoiding getting down when one has not lost weight;
taking it one day at a time and reviewing the food log to see if any bad habits are apparent. If so, those are the ones on which to focus.
He makes it clear that what works for him might not work for someone else:
Not everything he did, he makes clear, will work for everyone else, but it's a place to start.
His overall strategy is to adopt the keto way of eating:
Watson's reset is to go keto, cutting back on the carbs.
If he was a minister now he'd be reengineering the British breakfast away from sugary cereals back to Fay Weldon's 'Go to work on an egg', he says.
Cutting carbs also means cutting out beer:
… he hasn't had a beer in five years ("Too much sugar"), now favouring spirits such as vodka and gin.
Correct. Dry wine is also good with meals.
He also advocates the following:
not eating straight from the fridge; place your food on a plate and eat it with cutlery;
avoid snacking when going to parties;
don't despair if your clothes suddenly feel tight; recalibrate and carry on;
pay attention to what is going on in your life and how it can affect your eating habits;
build a support group of friends who can help keep you on track;
get plenty of sleep; lack of it can cause people to gain weight.
I have a lot of posts about the ketogenic diet, which also improves mood, just the thing one needs at age 40 and beyond.
In closing, to my readers in the Northern Hemisphere, best wishes for the summer!
And many happy returns to Prince William on his special day.