Incredibly, some police forces now see fit to issue Summer Solstice greetings.
I picked this up online, creator unknown. Northamptonshire is nowhere near Stonehenge, either: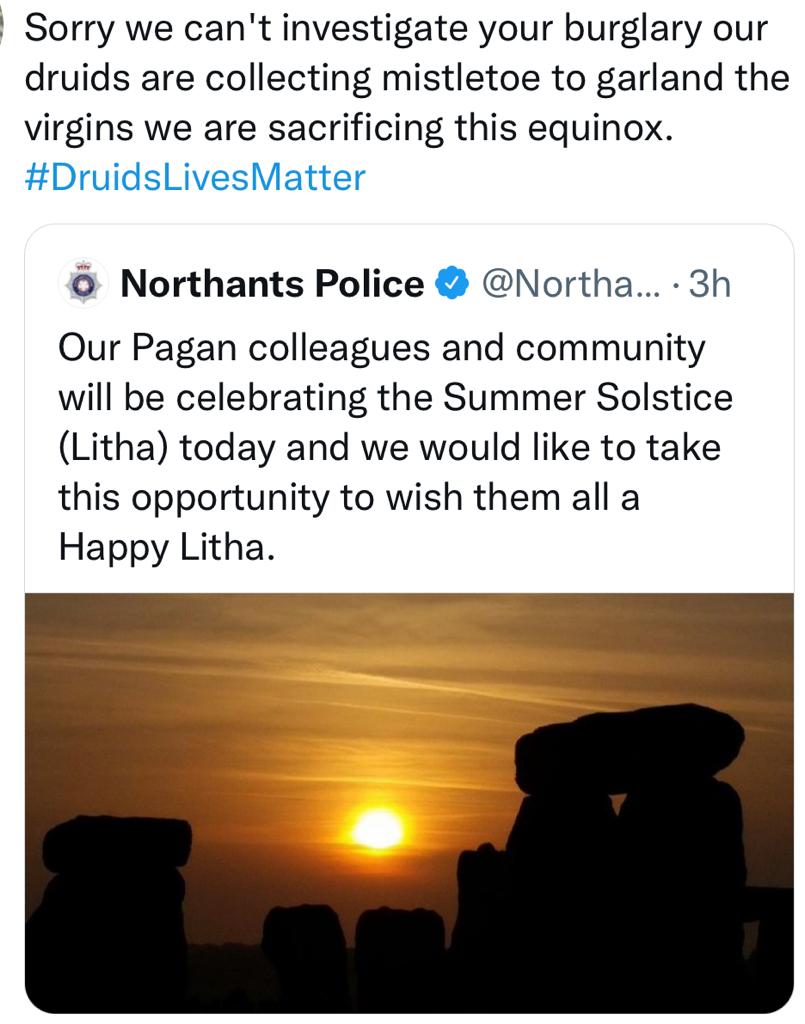 The following day, Wednesday, June 22, 2022, Justice Secretary and Deputy Prime Minister Dominic Raab announced the UK Government's publication of a nationwide Bill of Rights.
This is in response to the European Court of Human Rights (ECHR), based in Strasbourg, which put a stop to the June 14 deportation flight to Rwanda. Passenger numbers quickly went from 37 to 0. On the day, only a handful actually boarded the charter flight, because lawyers and human rights organisations had already filed successful petitions for delays.
Raab introduced the proposed Bill of Rights as follows (emphases mine):
With your permission, Mr Speaker, I will make a statement on the publication and introduction of a UK Bill of Rights as we take the next steps to fulfil our manifesto commitment and deliver human rights reform across the country.
We have a proud tradition of freedom under the rule of law in this country, and I remind hon. Members on both sides of the House that it dates back centuries to Magna Carta, not just to 1998. This Bill of Rights, published today, is the next chapter in the evolution and strengthening of our human rights framework, and it is available online and in the Vote Office.
If we look back to the original Bill of Rights from 1688, the year of the not-too-bloody Glorious Revolution, we see that it is lengthy.
This sentence, in particular, stands out:
I doe declare That noe Forreigne Prince Person Prelate, State or Potentate hath or ought to have any Jurisdiction Power Superiority Preeminence or Authoritie Ecclesiasticall or Spirituall within this Realme Soe helpe me God.
Yet, the ECHR is foreign, never mind that Winston Churchill was one of the people who established it after the Second World War. The reasons then were obvious. Its purpose has grown since then to reach beyond human rights for Europeans and now encompasses those of anyone seeking refuge.
As a Guido Fawkes reader explained (H/T to him or her for the above quotation from the 1688 Bill of Rights):
New or old Bill of Rights, it will make no difference if lawmakers continue to deny that we have a constitution which is set out in different constitutional documents that define our constitutional principles.
Guido's reader then cited the quotation, which is found in the Supremacy section. He/She then went on to say that the extension of human rights began during the Tony Blair era:
Yet they have signed us up to the EU and since the late 1990's have accepted that ECHR ruling are binding on us (Protocol 11). Labour's Human Rights Act 1998 even makes our own courts have to consider 'any judgment, decision, declaration or advisory opinion of the European Court of Human Rights'.
The only part of the Bill of Rights 1688 they have seemed interested in has been the section "That the Freedome of Speech and Debates or Proceedings in Parlyament ought not to be impeached or questioned in any Court or Place out of Parlyament."
True.
Dominic Raab's announcement was largely a waste of time. He never mentioned the 1688 Bill of Rights. Furthermore, I do not understand exactly how a new Bill of Rights will circumvent the ECHR.
Going back to the unsuccessful flight to Rwanda, British courts ruled that the flight policy is legal and that the one from June 14 could proceed. Then the Government caved into the ECHR decision that followed. I don't understand that, nor do I understand how the Government can prevent that from happening in future, new Bill of Rights or not, especially since the Government says that it has no intention of withdrawing from the ECHR.
In 2010, I wrote about the Glorious Revolution, which opposed James II's efforts to take Britain back to the Catholic Church. As a result, we got William of Orange and his wife Mary as our King and Queen. Both were Protestants. The Bill of Rights came forth during their reign.
After the long list of rights and liberties, the Supremacy section also states:
… the Rights and Liberties asserted and claimed in the said Declaration are the true auntient and indubitable Rights and Liberties of the People of this Kingdome and soe shall be esteemed allowed adjudged deemed and taken to be and that all and every the particulars aforesaid shall be firmly and strictly holden and observed as they are expressed in the said Declaration And all Officers and Ministers whatsoever shall serve their Majestyes and their Successors according to the same in all times to come.
Well, as we can see, that no longer happens. The Home Office caved into the ECHR. It was not the first time in the past 20+ years, and it will not be the last.
I have no solution other than to suggest that Dominic Raab and other MPs read the original Bill of Rights and decide whether it should prevail.
We do not need a new Bill of Rights. We already have one. For the most part, it is perfectly adequate as it is.