You are currently browsing the monthly archive for July 2022.
The three-year Lectionary that many Catholics and Protestants hear in public worship gives us a great variety of Holy Scripture.
Yet, it doesn't tell the whole story.
My series Forbidden Bible Verses — ones the Lectionary editors and their clergy omit — examines the passages we do not hear in church. These missing verses are also Essential Bible Verses, ones we should study with care and attention. Often, we find that they carry difficult messages and warnings.
Today's reading is from the English Standard Version with commentary by Matthew Henry and John MacArthur.
14 Do all things without grumbling or disputing, 15 that you may be blameless and innocent, children of God without blemish in the midst of a crooked and twisted generation, among whom you shine as lights in the world, 16 holding fast to the word of life, so that in the day of Christ I may be proud that I did not run in vain or labor in vain. 17 Even if I am to be poured out as a drink offering upon the sacrificial offering of your faith, I am glad and rejoice with you all. 18 Likewise you also should be glad and rejoice with me.
—————————————————————————————
Last week's post discussed Paul's very real hope that, with the Philippians' prayers and the provision of the Spirit of Jesus (the Holy Spirit), his imprisonment would work out for his deliverance and honour Christ.
As I go through Paul's letters to the various congregations, I still do not understand how he could have so much hope and joy with so much suffering.
Today's post helps me — and I hope others — understand how he was able to rejoice in truly hard times.
Of course, faith is the key, but how exactly did he maintain it?
This post's quotes from John MacArthur's sermons are hard-hitting and will take some time to consider. This will not be easy.
Before beginning, here is the first part of Philippians 2 (emphases mine):
Christ's Example of Humility
2 So if there is any encouragement in Christ, any comfort from love, any participation in the Spirit, any affection and sympathy, 2 complete my joy by being of the same mind, having the same love, being in full accord and of one mind. 3 Do nothing from selfish ambition or conceit, but in humility count others more significant than yourselves. 4 Let each of you look not only to his own interests, but also to the interests of others. 5 Have this mind among yourselves, which is yours in Christ Jesus,[a] 6 who, though he was in the form of God, did not count equality with God a thing to be grasped,[b] 7 but emptied himself, by taking the form of a servant,[c] being born in the likeness of men. 8 And being found in human form, he humbled himself by becoming obedient to the point of death, even death on a cross. 9 Therefore God has highly exalted him and bestowed on him the name that is above every name, 10 so that at the name of Jesus every knee should bow, in heaven and on earth and under the earth, 11 and every tongue confess that Jesus Christ is Lord, to the glory of God the Father.
Lights in the World
12 Therefore, my beloved, as you have always obeyed, so now, not only as in my presence but much more in my absence, work out your own salvation with fear and trembling, 13 for it is God who works in you, both to will and to work for his good pleasure.
Paul tells the Philippians to do 'all things' without 'grumbling or disputing' (verse 14).
Whenever I used to ask my late grandmother-in-law, a widow who began life as a Primitive Methodist before becoming a Baptist, how she was, she always replied cheerfully:
Mustn't grumble.
When I met her she was becoming arthritic. She used to journey by bus into Central London to buy her groceries at Marks & Spencer in Oxford Street. As the years passed, she was unable to continue those bus rides that gave her so much pleasure. She was also a regular churchgoer, again travelling by bus into the heart of the capital. By the end of her life, she had to enter a care home and had to give up those two pleasures.
I had not realised until today how many scriptural references there are to grumbling and how much God hates it. God actually killed many Israelites on several occasions for complaining.
The Bible uses the word 'grumble' but 'murmur' or 'mumble' means the same thing.
Reformed Wiki lists 25 verses against grumbling and complaining.
Bible Reasons has 19 of those verses along with Jude's warning about murmuring:
Jude 1:16 These are murmurers, complainers, walking after their own lusts; and their mouth speaketh great swelling words, having men's persons in admiration because of advantage.
Matthew Henry's commentary gives us the Greek origins of 'murmuring':
The children of God should differ from the sons of men. Without rebuke—amometa. Momus was a carping deity among the Greeks, mentioned by Hesiod and Lucian, who did nothing himself, and found fault with every body and every thing. From him all carpers at other men, and rigid censurers of their works, were called Momi. The sense of the expression is, "Walk so circumspectly that Momus himself may have no occasion to cavil at you, that the severest censurer may find no fault with you."
John MacArthur explains the Greek origins of 'grumbling' and 'disputing':
Now, those two words are very basic.  Grumblings is an onomatopoetic word; that is, it sounds like what it means.  The word is goggusmos.  Goggusmos, ruh-ruh-ruh.  It's a grouchy, grumbly, onomatopoetic word.  It means a murmuring, an expression of discontent, an expression of dissatisfaction, grumbling, actually muttering in a low voice.  Ruh-ruh-ruh-ruh, you know.  It's, by the way, the very word used in the Greek Septuagint translation of Exodus and Numbers where we read about the grumblings of Israel.  It is complaint expressed in a negative attitude.  It is an emotional rejection of God's will.  It is an emotional rejection of God's providence.  It is an emotional rejection of your circumstances that comes through in mumbling, grumbling, griping, verbiage.  It is an emotional rejection of the circumstances God has chosen for your life and the requirements He has for your conduct.
And then, there's a second word, disputings.  Dialogismos, dialogue we get from it.  It means questionings, criticism.  It is now an intellectual debate with God.  The first one is an emotional belly-aching.  The second is an intellectual debate with God.  You want to argue with God about why things are the way they are.  Or you want to argue with God about why you have to do what you have to do.  Or you want to argue with God about why you're in the circumstance you're in, the marriage, the job, the singleness, the residence, whatever it is.  Or even the church, for that matter.  Arguing with God out of discontent, debating with God because you've got a better idea.  While the first word means to just grumble, gripe, complain, murmur, almost an emotional guttural kind of thing.
MacArthur says that verse 14 refers to verses 12 and 13:
12 Therefore, my beloved, as you have always obeyed, so now, not only as in my presence but much more in my absence, work out your own salvation with fear and trembling, 13 for it is God who works in you, both to will and to work for his good pleasure.
MacArthur explains:
So, Paul is saying, look, in working out your salvation the basic attitude is an attitude that does not complain.  Why?  You're living in a very fallen world.  You're living in the fallen flesh.  It isn't always going to be the way you like it, the people around you aren't always going to be the way you'd like them.  The circumstances aren't always going to be euphoric and perfect.  It's not going to be an idealistic world.  You work out your salvation and in all the things that you do, and in all the circumstances you find yourself, don't ever complain because God hates that, and He has judged it severely as an example to you of how He feels about it.
MacArthur derives that from 1 Corinthians 10. God killed some moaners with fatal snakebites and also by the angel of death. He killed many more Israelites through other means, but, here, Paul mentions two:
Warnings From Israel's History
10 For I do not want you to be ignorant of the fact, brothers and sisters, that our ancestors were all under the cloud and that they all passed through the sea. 2 They were all baptized into Moses in the cloud and in the sea. 3 They all ate the same spiritual food 4 and drank the same spiritual drink; for they drank from the spiritual rock that accompanied them, and that rock was Christ. 5 Nevertheless, God was not pleased with most of them; their bodies were scattered in the wilderness.
6 Now these things occurred as examples to keep us from setting our hearts on evil things as they did. 7 Do not be idolaters, as some of them were; as it is written: "The people sat down to eat and drink and got up to indulge in revelry."[a] 8 We should not commit sexual immorality, as some of them did—and in one day twenty-three thousand of them died. 9 We should not test Christ,[b] as some of them did—and were killed by snakes. 10 And do not grumble, as some of them did—and were killed by the destroying angel.
11 These things happened to them as examples and were written down as warnings for us, on whom the culmination of the ages has come. 12 So, if you think you are standing firm, be careful that you don't fall! 13 No temptation[c] has overtaken you except what is common to mankind. And God is faithful; he will not let you be tempted[d] beyond what you can bear. But when you are tempted,[e] he will also provide a way out so that you can endure it.
MacArthur also cites Lamentations 3:39:
Why should the living complain
    when punished for their sins?
He says:
Listen now, would you do this?  Try your best to make it through today without complaining about something.  Would you do that?  And just make a note every time you complain, and you will find that for many of you it is a way of life.  And it is frankly so utterly habitual that you probably don't even realize what a dominant characteristic it is.  And then, remember Lamentations, would you please?  Just remember Lamentations 3 and 39 and memorize it: why should any living mortal or any man offer complaint in view of his sins?  What do you think you deserve?  Work on it today, will you?
In other words, we are all sinners who deserve God's eternal wrath. Fortunately, we have a Saviour in Jesus Christ. Let us be thankful for His ultimate sacrifice which reconciled us to God.
Furthermore, let us be grateful for our many blessings, all of which come from God.
MacArthur has more on this:
… we throw tantrums because we got seated at a poorly located table in a fancy restaurant.  Or we're frustrated because we can't lose ten pounds.  Or we gripe about our monthly debts.  You've got problems relative to what?  But you see, it's the mood of the mob to complain.  And then, the idealistic fantasy oriented consumptive culture feeds the sin of discontent.  How can we be discontent?  Remember Lamentations 3:39, "Why should any mortal being or anyone offer complaint in view of his sins?"  What do we have to complain about?  So, Paul gives us a general principle in verse 14.  And it really speaks to us at a time when we live in a culture of complaint.  "Do all things without grumbling or disputing.  Do all things without grumbling or disputing."  What do the "all things" refer to?  The living out of your inward salvation, the working out of your salvation.  Here is the pervasive attitude for the Christians' experience.  As we work out our salvation, as we live our godly life, we are to do it without ever complaining about the circumstances which God has put around us.  We are to live a life without complaint.  We are to rejoice always, to use Paul's later terminology, and again I say rejoice.  We are to be content whether we are based or whether we abound, whether we have much or whether we have little, whether we like the circumstances or don't like them.  There is no place for complaining. 
And I only submit to you that it's much more difficult it seems in this culture than in some because we are breeding a culture of complainers, absolute culture of complainers.  And Paul then gives us a general principle that does speak to us very directly.
Now, note as I pointed out last time, that this matter of doing all things without grumbling or disputing has reference to God.  Not so much grumbling disputing among others, that too is a sin, but the idea here is to accept that providential plan which God has ordained for your life, live out your salvation without any complaints directed at Him.  A joyful heart, a thankful heart, no emotional grumbling, that's the grumbling word, and no intellectual disputing or arguing with God.  But rather, without complaint, gratefully we live out our salvation.  That is what he calls for Christians to maintain in terms of an attitude that pervades all their living.
Paul goes on to give other reasons why we should not grumble or dispute: we should be blameless and innocent children of God, shining our light in the midst of a dark, fallen world (verse 15).
That means we really have to let our faith shine at its best. This, for me, is very difficult to do on a consistent basis.
MacArthur elaborates:
Now, he gives us three reasons why.  Okay?  And I'll just lay these before you.  They're not new, they're just a brief review, a summary, and I know you will be familiar with them.  But nonetheless, they are the word of the Spirit of God for us today.  Reason number one, in verse 15, "That you may prove yourselves to be blameless and innocent, children of God above reproach."  Let's say, first of all, then we are to stop complaining for our own sake, for our own sake, that we might be the kind of children that God has saved us to be.  It starts with us.  And this is, by the way, clearly a purpose result clause, a little particle hina with a subjunctive always indicates purpose result.  And so, it could be translated "in order that," or "with the result that," or "given the purpose that."  In other words, this is the very reason why you are to do this, so that you will be a blameless, harmless, above-reproach child of God.  You are called to be all that a child of God should be.  In Ephesians 5:1 that very, very important injunction of Paul where he says, "Be imitators of God as beloved children, be imitators of God as beloved children."  If God is your Father, then imitate God, then pattern your life after Him.  If you are a child of God then live the way a child of God should live, manifesting the character of God.  As it says in Titus 2, adorning the doctrine of God in the manner in which you live.
So, note again then, we'll look at the verse specifically, you are to stop complaining, doing all things without grumbling or disputing, in order that you may prove yourselves to be.  Now the Greek literally says, in order that you may become, in order that you may become.  And I believe here is a process, you are to be in the process of becoming a blameless innocent above-reproach child of God.  So, you are not to complain in order that process may work, that you may be in the process at the end of which you become a harmless, blameless, above-reproach child of God.
Now, those two words, blameless and harmless, or some of your translations will say blameless and innocent, really are not a great deal apart in terms of meaning.  They both speak of moral purity.  Blameless simply means a life that can't be criticized, a life that can't be criticized.  There's nothing for which you can be held responsible by way of sin, evil, wickedness.  It's a life without blame, it's a life that has no blemish, no blot on it, no sinful stain which people can discern and see.
And then, the word "innocent" could be translated "harmless."  It is so translated in Matthew 10:16 where Jesus says, "Be wise as serpents and harmless as doves."  It is also translated "simple" in Romans 16:19, I think it is, Paul says that we are to be simple concerning evil.  It has to do with being pure.  It has to do with being unmixed, unadulterated, undefiled; it is used, for example, to refer to unmixed wine and unalloyed metal.  So, he's simply using two somewhat basic terms, saying that your life is to be a life which cannot be criticized for sin, and which is pure and undefiled and unadulterated and unmixed with evil.  So, really two ways to say, essentially, a pure life, a life without fault and a life without flaw.  That's God's desire for His people, that their character and their conduct should be so pure that they cannot justly be accused, that they are above criticism that is legitimate, there is no foreign element which contaminates their life.  We are to be, in the terms of 2 Corinthians 11, a chaste virgin, a pure virgin, in terms of Ephesians 5, the church is to be a blameless without spot, without blemish bride.  Same concept.
Then, you'll note also in verse 15 he uses the term "above reproach."  That too is one word in the Greek, you have amemptos, akeraios, and then you have ammos, all of them have an alpha-privative which means they're negative terms, and this means above reproach: faultless, flawless, spotless, blemishless.  This word, by the way, is used in the Greek Old Testament in Numbers, I think it's several times, Numbers 6:14, Numbers 19:2, I found in both places, and it's there referring to a sacrifice, without blemish, without spot, the kind of sacrifice to be brought to the Lord.  So, really three ways he's saying the same thing: harmless, blameless, flawless, faultless, sinless, pure.  That's what he wants.  Why?  And the key is this, children of God.  You are to be becoming the proper kind of child of God.  In other words, the kind that would rightly represent God, that would be believable if you said I belong to God, He's my Father, I'm His son, I'm His child.  We are to be truly God's children not only by divine decree, but by testimony as well.  In Romans 12 we are to present our bodies a living and holy sacrifice, acceptable to God.  So, we are like a sacrifice, to be without spot, without blemish, without stain, undefiled, pure.  We're children of God.
We have to get in touch with that.  Who do you belong to?  Whose are you?  Who owns you?  Whose name do you bear?  Whose identity do you share?  Whose life do you share?  The very life of God.  And so, every believer needs to live in consistency with who He is.
MacArthur discusses 'a crooked and twisted generation':
Second point, when we talk about the reason for obedience, not only for our own sake but for the sake of the unsaved.  Here's a very basic principle here, for the sake of the unsaved.  He says in verse 15, "You are to become blameless and innocent children of God, above reproach, in the midst of a crooked and perverse generation among whom you appear as lights in the world holding forth the word of life."  Now, here he is saying this matter of how you live has a dramatic impact not only on whether or not you're consistent as a child of God, but how you affect the world in which you appear as lights.  Now, we're talking about the unsaved, now we're talking about our witnessing, now we're talking about our evangelistic mandate.  And this is the heart of the appeal, by the way.  The first part just led into this; the last part just leads out of it.  This is the main issue.  Evangelism is primarily a matter of God's children shining as lights in a dark world.  But doing that effectively comes down to two things: character and content, character and content, or personality and proclamation.  It's not just what you say; it's also what you are.  And we know that.  This is good reminder.
Now, would you notice verse 15, just to get you in touch with the specifics, he says, "In the midst of a crooked and perverse generation," and he there borrows a phrase from the song of Moses in Deuteronomy 32 and verse 5.  There, Moses was speaking to apostate Israel and saying you are no more the children of God for you are a crooked and perverse nation.  So, he borrows that same phrase, only this time he's not defining an apostate Israel; the writer of Scripture is now defining the society of the world in which the church exists.  In Deuteronomy 32, Moses characterized apostate Israel as a crooked and perverse nation, and here Paul borrows that phrase to characterize the whole world in which the church exists.  And we are living in the midst of a crooked and perverse generation.  And that is something we need to be very careful to understand. 
… Please note: we are in the midst of it.  Jesus said in John 17 when He prayed to the Father, I'm not going to ask you take them out of the world, I'm going to ask You to keep them in the world.  There we are as lights in the world.  It is a world of God-rejecters.  It is a world of Christ-haters.  It is a tragic world, morally warped, spiritually perverted.  It rejects God's message as Israel of old did.  Would you notice those two words, "crooked and perverse?"  The word generation is genea, could translate nation as well.  But the words "crooked and perverse" are interesting.  Crooked is a Greek word, skolios.  Have you ever heard of an illness called scoliosis of the spine?  It's a curvature of the spine.  It comes from this word because the word means curved, bent out of shape.  It describes something that is out of proper alignment, that is off and deviated from the standard.  Proverbs 2:15 describes the society of this world in these terms.  It says, "Their paths are crooked, and they are devious in their ways."  Isaiah 53 puts it this way in verse 6, "All we like sheep have gone," what?  "Astray."  And so, man has a spiritual disease, scoliosis of the heart, in which he is deviated from God, in which he has left the standard, moved away from the straight plumb line of righteousness. 
And then, an even stronger word is the word perverse.  This word means to be severely twisted or severely distorted.  So, man has deviated from the path, and in the deviation become severely twisted and severely distorted.  It is an abnormal condition.  By the way, our Lord also used this basic same expression in Luke 9.  Jesus said, "O unbelieving and perverted generation, how long shall I be with you and put up with you?"  So, this is a good characterization, one used in the Old Testament, one used in the gospels, one used by the writer of the epistle to describe someone who has deviated from the path of righteousness, deviated from the plan of God, become twisted, perverted.
Now, you'll notice here that it says "in the midst of a crooked and perverse nation," and then it says, "Among whom you appear as lights in the world."  So, in a sense, generation and world go together.  Generation speaks basically of the popul[ace]; world speaks of the moral, ethical, sinful system in which they think and by which they operate their lives and conduct their behavior.  So, we face a twisted distorted world.  This is continuously brought home to me.  It's a twisted perverted world.  Fornication is right, adultery is right, homosexuality is right, lying is right, cheating is right, and all the rest of it.  Not the Word of God.  So, the whole culture has deviated from the standard of righteousness, and in the deviation become distorted and twisted, and their thinking is so convoluted that we would never expect the natural man to understand the things of God.  They are to him what?  Foolishness.
Now, that leaves us then with two very important things.  We are to reach this perverse world, we are to reach this crooked world and there are two ways: one, what we are; two, what we say.  Let's look, first of all, at what we are.  Verse 15, "You are children of God, above reproach in the midst of a crooked and perverse generation, among whom you shine as lights in the world."  Now, this is what we are.  This is what we are.  Among whom you appear, phainomai, probably could be translated "you are shining," could be, "you must shine."  But he is saying you have to shine, and this is talking about now what we say but what we are, what we are.  You shine, and here's his analogy, as lights, phstr, that word in a metaphorical sense can refer to a lot of different lights.  But whenever it's used in a specific non-metaphorical sense it always refers to the sun, moon, or stars.  And I take it here that that is probably what Paul is saying. 
We find, for example, such a use of this term in the Septuagint in Genesis 1:14 and Genesis 1:16, we find some non-biblical sources where this word is used to refer to the sun, moon and the stars.  And what he is simply saying is you live in a dark universe, and you are the stars and the sun and the moon; you're the only light the world has.  As the sun and the moon and the stars shine in the heavens, and as they illuminate an otherwise dark sky, so you shine in the world, illuminating an otherwise totally dark society.  We shine.
Now, what do you mean by shine?  We demonstrate the light of God.  What is that?  It's the life of God.  I'm not going to go into a whole study, but light and life are one.  Life, the life of God in us emphasizes the character of that life.  The life of God in us as light emphasizes the impact of that life.  And you find John jumping back and forth to those concepts, light and life, as well as Paul on some occasions.  Jesus says in the Sermon on the Mount, "You are the light of the world."  You are a vessel in whom the light of God has been poured with the life of God and now you have life as to its quality and light as to its impact.  It is a shining life.  It is a living light.  And so, we are called to be what Israel failed to be.  You remember in Romans 2:19, Paul says, "You're confident that you're a guide to the blind and a light to those who are in darkness, but you're not."  Israel, the Jew as the Jewish leaders of Paul's time thought they were the lights but they weren't, and thus they are called the blind leading the blind, and both will fall in the ditch.  But we are the light of the world.  Why?  Because the light of life shines in us and the light of His life in us shines from us.  We are vessels.
In 2 Corinthians 4:6, Paul says God who first ordered the light to shine in the darkness has flooded our hearts with His light.  We can now enlighten men by giving them the knowledge of God's glory that comes through the gospel of Jesus Christ.  We are lights.  We are children of light.  In Ephesians 5:8, there's a good reminder of that and you know it very well.  "You were formerly darkness now you are light in the Lord, walk as children of light."  Then, he even talks about the fruit of light and what is it?  The fruit of light is goodness, and righteousness, and truth, trying to learn what is pleasing to the Lord and not participating in the unfruitful deeds of darkness.  Our light shines in our deeds: goodness, righteousness, truth, what we are, that's how the light shines.
You actually light people one way or another.  You send out an impulsive light, you as a child of God.  You cannot come in contact with other people in this crooked and perverse generation without impacting them in some way.  And if you are a godly, holy, obedient Christian, you will have an almost startling impact on most people.  And they will feel the light and they may even shy away from the light because it is so obvious that you possess something they don't possess.  They may feel the vibrations, to put it in another analogy, of your own holiness; they may feel a yearning to be something better than they are.  They may even sense the appetite, the hunger, the thirst for the unseen and the eternal which they know they don't have.  It's also true that if you're a bad person, you'll bring dark vibrations, and your life will touch someone else and it will put out a corresponding current that you've induced.  So, you affect people for good or for bad, everybody does.
MacArthur then quotes F B Meyer (1847-1929), a Baptist pastor and evangelist from London who also worked in the United States:
In a sense it's a terrible thing to think about.  FB Meyer wrote, "These thoughts press on one's heart that one can never speak a word, never transact a piece of business that one's face is never seen lighted up with the radiance of God or clouded and despondent without it being made harder or easier for other men to live a good life.  Every one of us every day resembles Jeroboam the son of Nebat who made other men sin, or we are lifting other men into the light and the peace and the joy of God.  No man liveth to himself and no man dieth to himself, but the life of everyone is telling upon an increasing number of mankind what a solemn responsibility it is to live."  And we have that responsibility.  You are light.  You have been called to light the dark world.  And the quality of your life is the platform of your personal testimony.  You have to understand that.  By the kind of life you live, you build a platform on which what you say is made believable.  If you have no platform because of your life, your message isn't believable.  And a murmuring discontent, grumbling, griping, complaining Christian is never going to have a positive influence on others.  You can't be talking about the gospel, forgiveness, joy, peace, gladness, comfort, and be moaning and grumbling and complaining all the time.  People are not going to believe the gospel will do what you're trying to say it will do.  That's why the philosopher Heine in Germany said, "Show me your redeemed lives and I might be inclined to believe in your Redeemer."
How true.
Returning to our text, Paul tells the Philippians to hold fast to the word of life, so that when he is finally with Christ he can be proud that he did not run (a spiritual marathon) in vain or labour in vain (verse 16).
The word of life is the Gospel.
MacArthur explains:
… in addition to our character is our content, it's what we say.  Look at verse 16.  Also he adds, in the process of shining as lights in the world you are "holding forth the word of life."  Now, some would translate it "holding fast."  Now, my own feeling is that if Paul wanted to say "holding fast" he probably would have used katech, instead he uses epech, holding forth or holding out.  That same verb used here is used in Homer's "Odyssey" to refer to holding out a gift of wine for someone to take and drink, so it's kind of an offer.  It can mean holding firmly, holding tightly, but the context here is one of shining in a dark world.  It's one of sending light into a dark world.  So, both the word, its uses, its comparison to other terms and its context seems to me to favor holding forth, holding out.  We are shining as stars in terms of character.  We are holding out the Word of life.  What is that?  The Word that gives life.  What Word gives life?  The gospel, the gospel, the message which gives life, the gospel of salvation that gives life, the life of God to the soul, the soul of man.  Men are dead in trespasses and sin, Ephesians 2:1 says, they need life.  We hold out that life.  We hold forth that life.  That's proclamation.  So, on the one hand it's personality; on the other, it's proclamation, it's character, and it's content.  It's what we are, it's what we say.
MacArthur tells us what Paul meant by his own evangelistic efforts on the Philippians' behalf:
Look at verse 16, "So that in the day of Christ I may have cause to rejoice because I did not run in vain nor toil in vain."  He says, "Look, if you'll obey this command, I'll be happy in the day of Christ, and I'll look back on my life and I'll say it wasn't in vain, it wasn't in vain."  So, he says, do it for my sake.  And his pastoral heart is showing here.  He says, "Be pure, be godly, without complaint, for the sake of the one who has given his life in service to you, for the sake of the one who has been called by God, for the sake of the one who has been commissioned by God, for the sake of the one who has extended himself that he might minister to you.  Please do this for my sake, and not for my temporal sake but for my eternal sake," he says.  Not to make me like my ministry better.  No, but to give me a greater joy in eternity.  Why?  I believe it's very simple.  This isn't proud, this isn't self-serving.  Paul's saying this, look, "I love God.  I love God with all my heart, soul, mind and strength.  I live in this life to serve God.  And I look forward to heaven for one great reason: I want to glorify God.  And the more effective my service has been in this world, the greater my capacity to glorify Him will be in the world to come.  So, don't limit my capacity to glorify Him in the world to come by rendering my labors here in vain because you have not followed through."
And so, here's his third and compelling motivation: do it for your sake that you might be a proper child of God.  Do it for the lost's sake that you might shine as a light in the world holding forth the Word of life.  And do it for my sake that out of love for me and esteem for me and desire to see me fully able to glorify God in eternity, do it.  Marvelous point, isn't it?  He had given his life for them.  He was the human instrument of their salvation.  It's recorded in Acts 16 how the Philippian church was born.  Now, he's in prison.  He doesn't know how long he has.  For all he knows at this point he may lose his life.  It turned out he didn't lose it until later in a second imprisonment.  But at the time he faced that prospect.  He looks forward to meeting the Lord and he says, "When I meet the Lord," verse 16, "in the day of Christ," and that, by the way, is different than the day of the Lord.  It's a different emphasis.  Day of the Lord emphasizes judgment; day of Christ emphasizes rewards.  Day of the Lord focuses on the unbeliever; day of Christ focuses on the believer.  So, he says, … "As I look forward to the day when I see Christ and I receive my reward," he says, I will have cause to glory," or better, "cause to rejoice, cause to rejoice."  And why will I rejoice?  "Because I will know that I didn't run in vain," and that's a word that's used to speak of runners in a stadium, making a maximum effort to win a great event, "and I didn't toil in vain," that's kopia, work to the point of sweat and exhaustion.  In other words, I want to get to the end, I want to see Christ and know that none of the tremendous effort that I made was for nothing …
It's not egotistical.  It's that you so cherish the responsibility of ministry that you want God to know you have rendered the very best effort possible.  Paul, if he's going to boast, Romans 15 says, in Christ Jesus, I have found reason for boasting, but I will not presume to speak of anything except what Christ has accomplished through me.  He knows.  Whatever we rejoice in Christ has done, whatever good happens in your life Christ has done.  But be faithful for the sake of those who have poured their life into you.  Be faithful for the sake of those who planted the seed and those who watered the seed. 
Paul, considering his ongoing imprisonment, says that even if he becomes a drink offering on the sacrificial offering of the Philippians' faith, he is happy and rejoices with all of them (verse 17).
MacArthur explains what a drink offering was in the ancient world when an animal sacrifice was made:
Paul is talking about an altar and he's talking about an animal and he's talking about blood and he's talking about suffering and he's talking about pouring out a libation, or otherwise called a drink offering. That's the imagery that's in his mind. And as he looks at his life and realizes that he is to humbly and without complaint work out his salvation, he recognizes that in doing that he will have to offer himself as a sacrifice which he gladly does. And he says this is what you are, of course, to follow, this is the pattern …
Well, in the ancient world of sacrifice…by the way, both the Jewish and the pagan world had these kinds of drink offerings…this is what typically would happen. After the animal on the altar had been killed and was being burned up, there was a final sort of capper, a final topping off of that sacrifice where the offerer came and took wine, sometimes they used water, occasionally we even have illustration of them using honey, but predominantly wine, and pouring wine either on the ground in front of the altar or on top of the burning sacrifice in which case it would vaporize immediately into steam and go into the air, symbolizing the rising of that sacrifice into the nostrils of the deity for whom it was being offered.
So Paul says I am now offering my life as this final topping off libation or drink offering upon another sacrifice. This is the completion of this full sacrifice. By the way, if you want some Scriptures to look up on that, 2 Kings 16:13 describes the Jewish drink offering. Jeremiah 7:18 talks about the pagan drink offerings. And Hosea 9:4 notes that the drink offering was wine. And those are just selected out of a number of Scriptures.
The process went like this. The offerer came and before the altar the animal was killed, put on the altar, burned. At some point during the burning the drink offering was poured out as the final sacrificial act. And that is exactly what Paul has in mind. He sees this whole sacrificial scene…now note this…but what he sees his sacrifice as is the drink offering, the final touch to another sacrifice.
MacArthur says Paul was speaking of his circumstances at the time he wrote to the Philippians, not the prospect of death:
"Even if" is a first-class conditional in the Greek which means that it indicates something that is so. So it should be translated "since." But since I am being poured out. "I am being poured out" is in the present tense, so whatever it is he's referring to it is going on right now. Some people have tried to make this verse refer to his martyrdom, to his future death in the event that he would be executed while imprisoned here, or whenever his martyrdom came that he had that in mind. No, this is not a future, this is a present tense. There is no reason to push this into a future interpretation, he is talking about something that is going on right now. So he is saying even if, and it is the case, I am presently being poured out as a drink offering. Note this, he saw then not his death as a sacrifice, but his life as a sacrifice in which his death was only the culmination. His whole life was a drink offering. His whole life had been poured out. It is happening right now. I am being spendomi, I am being poured out presently. It cannot mean his death, it can end with his death but he is talking about his sacrificial life. Here he is because of the cause of Christ a prisoner, chained to a Roman soldier twenty-four hours a day, he is bound, he cannot carry on his ministry the way he had been free to carry it on prior to this time. And in the difficulty of being chained to a Roman soldier, no privacy and under whatever kind of abuse that might have involved, he sees himself as pouring out his life as an offering to be pleasing to God.
Now note this. This kind of sacrifice is a willing one and Paul was making it with a willing heart. By the way, those who think that Paul's referring to his death are assuming that he was anticipating that he might die. But I don't sense that he really felt he was going to die, it was a remote possibility.
MacArthur explains 'the sacrificial offering' of the Philippians faith. In short, they were suffering persecution:
Now did you notice there is a greater sacrifice than the drink offering? The drink offering is Paul's sacrifice, the greater sacrifice he indicates is that of the Philippian church. Did you see that? This is a very powerful point. I'm poured out as a drink offering on top of or upon the real sacrifice which is your sacrifice. You are making the great sacrifice, I am just the topping off of it …
Well, in the first place, we know that the Philippians were suffering greatly for their faith. Go back to chapter 1 verse … 28, he says, "I don't want you to be in any way alarmed by your opponents." Don't be alarmed by your opponents. Then go down into verse 29, "For to you it has been granted for Christ's sake not only to believe in Him but also to suffer for His sake." So they have opponents, they are suffering for the sake of Christ. Then verse 30 says, "You're even experiencing the same conflict which you saw in me and now here to be in me." You're going through what I'm going through. They were in a hostile environment. They were in an ungodly environment. They were in a pagan culture. And it was bringing on them that persecution which is indicated there in those verses. So Paul says yours is the great sacrifice. You are the one suffering as you proclaim Christ in Philippi. Mine is just the pouring out a libation on top of your great sacrifice …
Some translations add 'service' so that the verse reads 'the sacrifice and service of your faith':
Now notice that phrase "upon the sacrifice and service of your faith." The sacrifice they were making was really the giving of their lives the cause of Christ…preaching, teaching, proclaiming, living for Christ. And he calls it "the service of your faith…the service of your faith." The word "service" is leitourgia from which we get liturgy. Why? Because it means sacred service, religious service, priestly service.
Paul tells the Philippians to be glad in the midst of their suffering and to rejoice, just as he is rejoicing (verse 18):
So Paul looks at them and he sees them as priests. Just like Peter says, holy priests, royal priests, 1 Peter 2. And he sees the Philippians as priests who are offering up their lives as a sacrifice, and his by comparison is just a little topping off compared to theirs. They were a faithful people. They were a sacrificial people. He rejoiced over them. He just rejoiced over them because of their faithfulness to the Lord …
Well, you're going through suffering and you're going through persecution and you're going through opposition, you rejoice too and I'll rejoice and we'll rejoice together that you have put your lives on the altar, that I have poured my life on the altar that it is all well pleasing to God and in that is our great joy.
MacArthur poses difficult questions for us in the context of these verses:
You look at trials and difficulties, hard places, physical discomfort, pain and even death as dark and forbidding. But when you get to the point where you totally abandon yourself to the will of God to be pleasing in His sight, nothing is dark, nothing is forbidding, light is shed on everything and ultimate sacrifice leads to ultimate joy. And the reason we know so little about that kind of joy is because we know so little about that kind of sacrifice.
For us, you see, the only thing that brings joy is what we do for ourselves, and once in a while the joy of seeing something done for someone else. But I wonder how many Christians really aren't consumed with the joy that is theirs because of the total sacrifice they have made for Christ. We get joy out of what we do for ourselves, we get some joy out of what we do for others as a satisfaction in feeding the hungry, helping the poor, whatever it might be, helping little children, sick people. But how many of us are exhilarated with joy in the sacrifices we make for the cause of Christ? Let me ask the question, what are you sacrificing in service to Christ? What amount of treasure, what amount of time, what are you sacrificing for the cause of Christ? I'll put it another way. What have you said no to in order to say yes to God's will? What have you said no to in order to say yes to God's Kingdom? What have you said no to in order to say yes to God's church? That's the question. Paul lived a life of sacrificial joy. And I'm telling you, and I'll say it probably till I die some day, the reason we have such a discontent, unhappy society is because, and even among Christians, they are trying to find joy in possessions rather than in sacrifice where ultimate joy lies. And so they are chasing an illusion.
You say, "Well I don't mind my life, it's not that bad." Well that may be true, God is gracious and you may have a modicum of happiness. But you will never know true joy, surpassing joy, sacrificial joy, the joy that allows a man being burned at the stake to sing with expressions of joy in his lips, the hymns of his great God and Savior, you may never know that exhilarating joy, the joy that comes out of sacrificial giving, sacrificial effort, the greatest joy.
… Jesus is the perfect illustration of ultimate sacrifice and ultimate joy. Jesus in giving His life, enduring the cross, did so for the ultimate joy of offering to God the ultimate sacrifice that was well-pleasing to Him. Paul learned it from Jesus. And he longed…he longed to learn Christ in his own life.
MacArthur contrasts our spiritual condition today with that of St Paul:
Let me make the point that needs to be made. The reason that we are reluctant to set ourselves up as the spiritual model is because we know so much about ourselves as to know the model is not what it ought to be. But listen carefully. When a person is truly spiritual and truly godly and truly deep and truly walks in intimacy with God, there is the utter lack of self-consciousness that is present in the hypocrite. And so Paul can rather readily, in fact almost easily use himself as an illustration because it is the reflection of the purest intent and the purest motive, and so it is done with no self-consciousness. It is the expression of a genuinely humble man, of a genuinely spiritual man, of a genuinely godly man and thus it is not a problem for him, as he said in 1 Corinthians, to literally say to us, "Be ye followers of me as I am of Christ." If you find it difficult for you to say that about yourself, and to establish yourself as the standard for others to follow, it is because there is a self-consciousness there about that. That self-consciousness is born out of a sense of inadequacy because you are not before God what you ought to be. Paul, on the other hand, knows none of that self-consciousness and freely does he express the fact that he is the standard and the model and freely does the Spirit of God encourage him to do that knowing full well what is in his heart. So this is not a wrong thing to do, it is a right thing to do. It is just that there are very few who can be self-conscious and humble and so deeply godly that they can do it as Paul does it so easily. So he is the first illustration, rightly so, and it is godly for him to say so because it is the truest reflection of his pure heart.
In closing, here is another F B Meyer quote, which really brings home the sacrificial spiritual passion we see in Scripture:
It is certain that before any service that we do for God or man is likely to be of lasting or permanent benefit, it must be saturated with our heart's blood. That which costs us nothing will not benefit others. If there is no expenditure of tears and prayer, if that love of which the Apostle speaks in another place which costs is lacking, we may speak with the tongues of men and of angels, may know all mysteries and all knowledge, may bestow all our goods to feed the poor but it will profit nothing. Let us rather seek to be poured forth as an offering, then to do much without feeling the least travail of soul. As the fertility of Egypt in any year is in direct proportion to the height that the waters of the Nile measure, so the amount of our real fruitfulness in the world is gauged by the expenditure of our spiritual force. It was because Moses was prepared to be blotted from the book of God for his people that he carried them for forty years through the desert and deposited them on the very borders of the promised land. It was because Jesus wept over Jerusalem that He was able to send a Pentecost on that guilty city. It was because Paul was prepared to be accursed for his brethren according to the flesh that he was able to turn so many from darkness to light and from the power of Satan unto God … No heart pangs, no spiritual seed.
Never mind the length of this post, the question is whether the content is difficult to comprehend and digest. I will be considering it for some time to come.
Next week, the tone changes as Paul discusses Timothy's faithful ministry.
Next time — Philippians 2:19-24
The Seventh Sunday after Trinity is on July 31, 2022.
The readings for Year C can be found here.
The Gospel is as follows (emphases mine):
Luke 12:13-21
12:13 Someone in the crowd said to him, "Teacher, tell my brother to divide the family inheritance with me."
12:14 But he said to him, "Friend, who set me to be a judge or arbitrator over you?"
12:15 And he said to them, "Take care! Be on your guard against all kinds of greed; for one's life does not consist in the abundance of possessions."
12:16 Then he told them a parable: "The land of a rich man produced abundantly.
12:17 And he thought to himself, 'What should I do, for I have no place to store my crops?'
12:18 Then he said, 'I will do this: I will pull down my barns and build larger ones, and there I will store all my grain and my goods.
12:19 And I will say to my soul, 'Soul, you have ample goods laid up for many years; relax, eat, drink, be merry.'
12:20 But God said to him, 'You fool! This very night your life is being demanded of you. And the things you have prepared, whose will they be?'
12:21 So it is with those who store up treasures for themselves but are not rich toward God."
Commentary comes from Matthew Henry and John MacArthur.
For those who have not been following the Year C Gospel readings from Luke, we are now in the final six months of our Lord's temporal life.
Luke 9 through Luke 19 give us the bulk of His lessons to the disciples and to the people who heard Him.
By now, Jesus has sadly accumulated many detractors, some of whom want to end His life.
John MacArthur tells us more about the composition of the crowds who saw and heard Him, particularly with relation to Luke 12:
Jesus, of course, attracted people in huge crowds with His message and His miracles. But as the three years of His ministry progressed, it became apparent that the people were rejecting Him and His message. In fact, they were increasingly moving from being interested, to being curious, to being hostile.
The crowds are still huge. Verse 1 says there were many thousands. It really means tens of thousands who were following Him – huge crowds. The majority of those crowds had drunk deeply of the Pharisees' and scribes' propaganda. In spite of the miracle power, in spite of the clarity of His teaching, in spite of the winsomeness of His person, they had bought into the spin that the Pharisees and scribes had put on Jesus, that He was of Satan, not God.
More and more people are now buying into that. He must be of Satan, they think, because He contradicts their Jewish religion; and their Jewish religion must be of God, for they're the people of God. And so the idea is to surface everywhere that Jesus disagrees with them and therefore point out that He must be satanic. They are, however, still curious. Jesus is still the best show in town – stunning, riveting, compelling – and they follow Him if only to trap Him in some opposition to their law.
But inside this increasingly hostile crowd, inside these tens of thousands, inside this mass of curious rejecters, there are still some who haven't made up their mind, and they are described in verse 1 as disciples. That's not a technical term for the twelve, that's a nontechnical word in the Greek, mathētēs, that simply means "learners." There are some still studying Jesus, still learning, still trying to come to a conclusion; and it is to them that He directs this sermon, this discourse that starts there in verse 1 and runs all the way to verse 9 of chapter 13. It's a long sermon and discourse directed, heard by all, but directed at those still trying to decide concerning Jesus. That's why verse 1 says, "He began saying to His disciples, first of all."
Jesus had two themes here:
Beware of hypocrisy and beware of greed …
These are not randomly selected sample sins among many. Rather, these are the two essential realms which exist.
There are only two realms which exist: one is the material realm, and the other is the immaterial; one is the spiritual, the other is the physical; one is the natural, the other is the supernatural. There are only those two realms. Hypocrisy relates to the spiritual realm, and greed relates to the material world. Both the material and the immaterial world threaten to damn eternal souls …
And by the way, though they can be separately described and separately defined, they don't exist separately. That is to say, they are blended together in the lives of the unregenerate. And that is true even of those who are most involved in the religious world. Religious hypocrites, the architects of and the perpetrators of false religion are invariably motivated by money …
In fact, if you look at the world of false religion today, you will see the purveyors and the architects of those false religions inevitably become fat cats, inordinately wealthy, as all false teachers do what they do for money. That's what's behind this discussion because it's a warning. You can be seduced right into hell from the immaterial or the material, from the spiritual or the physical, from the world above or the world below. And that's why Jesus gives this double warning of bewares. Let's turn to the text, verse 13; and the story flows fairly quickly.
Luke 12 begins with Jesus giving the crowd powerful lessons about this world and the next:
Warnings and Encouragements
12 Meanwhile, when a crowd of many thousands had gathered, so that they were trampling on one another, Jesus began to speak first to his disciples, saying: "Be[a] on your guard against the yeast of the Pharisees, which is hypocrisy. 2 There is nothing concealed that will not be disclosed, or hidden that will not be made known. 3 What you have said in the dark will be heard in the daylight, and what you have whispered in the ear in the inner rooms will be proclaimed from the roofs.
4 "I tell you, my friends, do not be afraid of those who kill the body and after that can do no more. 5 But I will show you whom you should fear: Fear him who, after your body has been killed, has authority to throw you into hell. Yes, I tell you, fear him. 6 Are not five sparrows sold for two pennies? Yet not one of them is forgotten by God. 7 Indeed, the very hairs of your head are all numbered. Don't be afraid; you are worth more than many sparrows.
8 "I tell you, whoever publicly acknowledges me before others, the Son of Man will also acknowledge before the angels of God. 9 But whoever disowns me before others will be disowned before the angels of God. 10 And everyone who speaks a word against the Son of Man will be forgiven, but anyone who blasphemes against the Holy Spirit will not be forgiven.
11 "When you are brought before synagogues, rulers and authorities, do not worry about how you will defend yourselves or what you will say, 12 for the Holy Spirit will teach you at that time what you should say."
With all those powerful teachings, it seems incongruous that a man in the crowd would interrupt and demand that Jesus tell his brother to share his inheritance with him (verse 13).
While not defending the man, MacArthur explains that this was not such an odd demand, because rabbis were seen to be arbiters of the law:
… the word "teacher" informs us – didaskale in the Greek – he identifies Jesus as a rabbi. And rabbis did this as a routine in their villages and their regions. Rabbis were approached by people to bring the law to bear upon civil issues. This is pretty routine stuff. They often did this. And so his request is within the framework of cultural expectation: "Tell my brother to divide the family inheritance to me." He probably pointed to his brother who had to be there, or Jesus couldn't have told him. He feels like he's not getting what he deserves.
Now it's useless to speculate the facts, you know, whether who's the older brother, who's the younger brother, you know, did he have a right to this. He didn't want any discussion about the facts, he just said, "Tell him." We don't know whether he had a legitimate claim on it or not, but I would find it hard to believe that he had any legitimate claim. This was just a manifestation of his greed.
Matthew Henry's commentary goes through the possible family situations prompting the man's demand and concludes:
… whereas the law gave the elder brother a double portion of the estate, and the father himself could not dispose of what he had but by that rule (Deut 21 16, 17), he would have Christ to alter that law, and oblige his brother, who perhaps was a follower of Christ at large, to divide the inheritance equally with him, in gavel-kind, share and share alike, and to allot him as much as his elder brother. I suspect that this was the case, because Christ takes occasion from it to warn against covetousness, pleonexia—a desire of having more, more than God in his providence has allotted us. It was not a lawful desire of getting his own, but a sinful desire of getting more than his own.
MacArthur says that some of the Old Testament laws had been in abeyance in our Lord's era. In addition, the rabbis found or created loopholes to exploit in terms of everyday religious law:
There were ancient laws in Israel about the inheritance, Deuteronomy 21, the book of Numbers. The estate was left to the oldest son. The estate therefore was kept intact and the oldest son would manage the estate, and use all of its wealth and all of its products and all of its possessions for the benefit of the whole family. He sort of became the new father of the family. He didn't waste it all on himself, he simply managed it. That's what the law of primogenitor was intended to do, not to divest certain members of the family of the care they needed, but rather to pass on the responsibility of headship and leadership to the father, the next generation.
But changes have come so much in the intervening centuries since those laws. There were laws in the early years of the theocracy that said if a teenager is disobedient, kill him. That was a real quick way to stamp out juvenile delinquency. But that had long since gone by the way, as the theocratic kingdom was no longer really ruled by God at all. And many of these things that were established early on had changed; and the culture less agrarian at this point, long moved away from the Old Testament laws, although they certainly kept the ones they wanted to keep.
The man is a materialist. He's greedy, he's covetous, and he wants Jesus to tell his brother with some kind of authority, because it was obvious Jesus had great power and authority to give him his money.
So Jesus replied, addressing the man as 'friend' — some translations use 'man', indicating an insult — asking who appointed Him to be judge and arbiter (verse 14).
Henry says that Jesus responded in that way because He was solely concerned with health and the spiritual world:
He could have done the judge's part, and the lawyer's, as well as he did the physician's, and have ended suits at law as happily as he did diseases; but he would not, for it was not in his commission: Who made me a judge? Probably he refers to the indignity done to Moses by his brethren in Egypt, with which Stephen upbraided the Jews, Acts 7 27, 35. "If I should offer to do this, you would taunt me as you did Moses, Who made thee a judge or a divider?" He corrects the man's mistake, will not admit his appeal (it was coram non judice—not before the proper judge), and so dismisses his bill. If he had come to him to desire him to assist his pursuit of the heavenly inheritance, Christ would have given him his best help; but as to this matter he has nothing to do: Who made me a judge? Note, Jesus Christ was no usurper; he took no honour, no power, to himself, but what was given him, Heb 5 5. Whatever he did, he could tell by what authority he did it, and who gave him that authority. Now this shows us what is the nature and constitution of Christ's kingdom. It is a spiritual kingdom, and not of this world.
Jesus then gave the man and the crowd a sharp warning, beginning with 'beware', a word that demands attention and awareness. He said that they — and we — should be on our guard against all kinds of greed, because the purpose of life is not about piling up possessions (verse 15).
Our commentators explain the words from the Greek manuscript.
Henry says:
Take heed and beware of covetousness; horate—"Observe yourselves, keep a jealous eye upon your own hearts, lest covetous principles steal into them; and phylassesthe—preserve yourselves, keep a strict band upon your own hearts, lest covetous principles rule and give law in them." Covetousness is a sin which we have need constantly to watch against, and therefore frequently to be warned against.
MacArthur tells us:
Beware, horate, look – present imperative – behold, mark, observe, and then guard. Phulassō is a military term: "Provide protective vigilance against every form of greed, all covetousness, pleonexias," – strong word – "all covetousness." And the word basically means "an inordinate desire for riches," "grasping," "extorting." "Scheming" is included in this kind of thing. This is as damning as false religion. This is the thirst. Pleonexias is the thirst for more. It's like drinking salt water: the more you drink, the thirstier you get.
In Ecclesiastes it is wisdom. What Solomon says in chapter 5, verse 10, "He who loves money will not be satisfied with money, nor he who loves abundance with its income." People who worship money and who love money and who love abundance and love possessions are never satisfied when they get it; it's just like drinking salt water.
It is not wrong to be blessed with material things. The sin comes in wanting more of them:
The sin is not in having more, the sin is being discontent. The sin is not in having wealth, the sin is in what you do with it. It's not the amount, it's the attitude. Abraham was wealthy. Job was wealthy. Solomon was wealthy. Even in the New Testament, no doubt Joseph of Arimathea was wealthy. And there were wealthy people in the New Testament who had the church in their home because they had a large enough home to have a church. It's not about what you have, it's about how you feel about what you have. And that's what the Scripture warns about. It warns about greed and covetousness and the lust for more, so as to consume it on your own desires.
Then Jesus related a parable about a man whose land produced crops in abundance (verse 16).
He thought about what he should do because he had no place to store his abundant crops (verse 17).
So, he decided on a plan: tearing down his existing barns and building larger ones for his grain — and his goods (verse 18).
Note that the pronoun 'I' appears five times in total in verses 17 and 18. It was all about him.
MacArthur analyses the parable thus far:
To define life as an acquisition of material possessions is to commit the deadly sin of serving the creature rather than the Creator, Romans 1:25. "Beware of this," – Jesus says, back to verse 15, and here's why – "for not even when one has an abundance does his life consist of his possessions." Not even when you have – and the word "abundance" means "more than enough," "more than sufficient." It could be "excess." It could be "surplus." That's the way it's used three other times in Luke: Luke 9:17, Luke 15:17, Luke 21:4.
Even if you have more than enough, it still doesn't provide real life. By the way, the word "life" in Greek can be one of two words: bios, which is simply life as opposed to being dead, biological life. You might translate it existence. Then the word for life which is used here, zōē, encompasses all that makes life worth living, all that is real life: satisfaction, fulfillment, enjoyment, meaning, purpose. And he says, "Even when you have surplus and you have excess, that doesn't make really living, that doesn't take care of giving you real life." In fact, the life He's referring to here is eternal life, because that's the only kind of life that is fulfilling, satisfying, meaningful, purposeful, producing peace and joy and hope and blessing. You're never going to get that real life from the material world even if you have more than enough …
Jesus said in John 10:10, "I've come that they might have life, the real life, and have it more abundantly." He wants to give you the life that truly is abundant, and it's that eternal life. That's the admonition.
Look at the anecdote; story's simple. He told them a parable, parabolē. The second part of that word, bole from ballō, "to place," para, "alongside." "To place alongside." That's what a parable is, it's a story placed alongside a principle to illustrate the principle.
So He said the land of a certain rich man was very productive. Now that's good. No dishonesty here, no extortion, no crime, nothing; he just had a great crop. By the way, I love that verb where it says "very productive." That is the verb euphoreō, and it means "to yield a good crop." And we get an English word out of it, "euphoria." Now for us, euphoria has nothing to do with a crop. Euphoria is "elation," "being filled with joy," kind of "over the top satisfaction," "fulfillment," "feelings of happiness," "feelings of well-being." But how interesting that that came in an agrarian culture from having a good crop, being successful.
And he had this crop, it was just absolutely huge. No dishonesty, no ill-gotten gain, no extortion, no evil, no immorality, no illegality; he came to honest wealth. That's fine. And you know what? If you're a farmer, of all things that human beings do, that one is most dependent upon circumstances and factors that are outside your control, right? If ever you should thank God, you should thank God for a good crop, since providentially He controls all the elements in the factors. And so, verse 17, "This man began reasoning to himself, saying, 'What shall I do, since I have no place to store my crops?'" …
You know what strikes me about that, two verses: eight "I's" and four "my's": "I, I, I, I. My, my, my, my." And here you get the insight into the materialist. This is an imaginary story. But I mean, wouldn't there be in the minds of the people standing there listening to this – an imaginary group of people who went out and pulled in the harvest. And maybe you might say to those hard-working people, "I'll share some with them"? And wouldn't there be an imaginary village with some widows and some orphans? And wouldn't there be an imaginary village with some poor people? And isn't there a temple, and isn't there a synagogue, and isn't there the work of God? And wouldn't He be up for consideration for some of this stuff? "I, I, I, I, I. My, my, my, my, my."
What's wrong with this picture? No, he's a smart guy. He is crafty. You say, "Well, he could just sell it all and make some money." Nah, nah, nah, you don't want to do that. You flood the market with too much stuff and the price goes down. So what do you do? You restrict what? Supply. So you build bigger barns on the same pad, higher ones so you don't take up any more of your fields, and you store it all, and then you let it out at whatever pace you want. And then you become the fat cat, you become the Middle Eastern local guru. You're going to control the prices.
By the way, he didn't just store his grain there, he stored his goods there, "and my goods." What's that? This is the only biblical storage unit I know of. This guy's got other stuff he's storing up.
The greedy gentleman farmer was consumed by the abundance of his crop which impressed him. He did not consider that the new, larger barns might catch fire or that someone might steal his grain or that the grain might spoil.
He thought of none of that. Instead, he told himself that he would have 'ample goods' laid up for years to come, so he could 'relax, eat, drink, be merry' (verse 19).
Henry has this observation:
It is the great absurdity which the children of this world are guilty of that they portion their souls in the wealth of the world and the pleasures of sense.
But God intervened, addressing him as 'you fool', telling him that his life was now demanded of him, meaning he was going to die. God asked him who would then possess what he now has (verse 20).
MacArthur explains the phrasing in that verse:
"This night your soul is required of you," and the actual Greek says, "This night they demand your soul." That's an old rabbinic expression, a common plural construction used by the rabbis to refer to an act of God, because God is plural: Elohim. "They" – God, the Trinity, the very Trinity He had been referring to a few minutes before this – "are going to require your soul."
How foolish to make all your grandiose plans – forget God, forget others, forget your own mortality.
Jesus concluded by saying that this is the fate of those who store up treasure on Earth for themselves but are stingy towards God (verse 21), from whom all blessings come.
MacArthur says:
You never saw a hearse pulling a U-Haul. You can't take it with you, it doesn't go. And if you haven't sent it on ahead somehow, you're a fool. If you haven't used what God does give you for His glory and for the benefit of others, and if you haven't dealt with your own mortality and prepared for eternity, you're a fool.
If you give it to God, it'll be there to welcome you. If you've invested in His kingdom, Jesus said, "Lay not up treasure for yourselves on earth, but lay up for yourselves treasure in heaven, where moth and rust do not corrupt, and where thieves don't break through and steal. For where your treasure is, there will your heart be also." You can reverse that. "If your heart's there, that's where your treasure will go, It'll go." It'll invest in your family, it'll invest in the kingdom work, it'll invest in the needs of others, because that's where your heart is.
How foolish to be a materialist – to be greedy, covetous, self-indulgent, to horde what you have and leave it all behind. So is the man who lays up treasure for himself. It's not about how much you have, it's what you do with it.
No doubt there will be many more sermons on this denouncing wealth, but as MacArthur says, it's what one does with one's wealth that counts. This is how Christendom developed the ethos of charity and philanthropy over the centuries. Some today would use the expression 'give back'. It's the same concept.
As for the materialist's nightmare of losing all that he has to someone else after his death, Henry points out:
If many a man could have foreseen to whom his house would have come after his death, he would rather have burned it than beautified it.
How true, how true.
Henry also lays out tenets of Christianity that we have long forgotten. Remembering that Christ's kingdom is not of this world, please note that our faith is not a socio-political construct:
It is a spiritual kingdom, and not of this world. 1. It does not interfere with civil powers, nor take the authority of princes out of their hands. Christianity leaves the matter as it found it, as to civil power. 2. It does not intermeddle with civil rights; it obliges all to do justly, according to the settled rules of equity, but dominion is not founded in grace. 3. It does not encourage our expectations of worldly advantages by our religion. If this man will be a disciple of Christ, and expects that in consideration of this Christ should give him his brother's estate, he is mistaken; the rewards of Christ's disciples are of another nature. 4. It does not encourage our contests with our brethren, and our being rigorous and high in our demands, but rather, for peace' sake, to recede from our right. 5. It does not allow ministers to entangle themselves in the affairs of this life (2 Tim 2 4), to leave the word of God to serve tables. There are those whose business it is, let it be left to them, Tractent fabrilia fabri—Each workman to his proper craft.
May all reading this have a blessed Sunday.
After a few weeks' hiatus to cover the Conservative Party leadership contest, I am now able to conclude my series on Red Wall MP Marco Longhi, who represents Dudley North in the West Midlands.
Those who missed them might find Parts 1 and 2 of interest.
Boris tribute
Marco Longhi paid Boris Johnson a brief but heartfelt tribute during the Prime Minister's final PMQs on July 20, 2022:
A long time ago, when I trained as a pilot, I had the luxury of being able to fly around turbulent storms. I also had the ability to rely on a team who kept my aircraft airworthy. As the Prime Minister prepares his new flight plans, may I suggest that he resets his compass to true north and stops off in Dudley, where he will always be welcomed with open arms and sincere affection, and where he will be able to see his legacy?
Boris replied:
I thank my hon. Friend for that renewed invitation. I have spent many happy days with him in Dudley; let us hope that there are more to come.
The Archbishop of Canterbury on Rwanda
After the first scheduled deportation to Rwanda on June 14, 2022 proved to be a non-starter, the Archbishop of Canterbury made his views known yet again.
On June 15, The Express reported (emphases mine):
In a Tweet he wrote: "To reduce dangerous journeys to the UK we need safe routes: the church will continue to advocate for them.
"But deportations — and the potential forced return of asylum seekers to their home countries — are immoral and shame us as a nation."
This, rightly, elicited reaction from some Red Wall MPs:
Red Wall Conservative MPs were furious at the attack on Home Secretary Priti Patel and suggested that Welby give up his two palaces, which come with his Archbishopric, to house illegal migrants and use his personal wealth to pay for their needs.
Ashfield MP Lee Anderson said: "If the Archbishop of Canterbury truly believes that we should do more to keep illegal immigrants in this country and love thy neighbour as thyself then perhaps he should give up his two palaces and pay for all the accommodation costs.
"He can then instruct every Church in the UK that their vicarages should also be given up to illegal immigrants to stay in. These are practical measures he could take to assure the great British public that the Church is doing all it can during these difficult times."
The Archbishop's main residence is Lambeth Palace – south of the River Thames from the Houses of Parliament.
As well as numerous bedrooms the 800-year-old palace boasts extensive gardens, a large library, an atrium, "the pink drawing room" and a state dining room.
Meanwhile, his residence in Canterbury is the Old Palace or Archbishop's Palace, another grade I-listed 800-year-old building where one of the bedrooms was used by the Queen.
Marco Longhi echoed those sentiments:
In a personal message directed at the Archbishop, Dudley North MP Marco Longhi added: "Archbishop, as you appear to feel so strongly about this, will you give up two of your palaces for illegal migrants and pay for their accommodation?
"I note how it is the liberal privileged elite, unaffected by the impact of illegal immigration, whose moral outrage is loudest."
Well said.
Policing
When Boris won the December 2019 general election, increasing the numbers of police around England was a manifesto pledge.
On December 14, 2021, Longhi recognised the efforts the Government had made thus far in the West Midlands:
This Government value all our police officers. That is why, with our 11,053 extra police officers, we are not on target, but ahead of target to deliver our manifesto pledge of 20,000 new officers; there are 867 new officers already working in the West Midlands.
The financial settlement gave West Midlands police an inflation-busting 5.8% increase to its budget—a staggering £36 million. In addition, the rises in local tax that residents pay, together with council tax, put West Midlands police at the top of league tables across the country for precept increases; since 2012, a staggering increase of 79% has been imposed on people in Dudley North and across the West Midlands by the Labour police and crime commissioner.
Dudley people—and those across the West Midlands, I am certain—can see that effective policing is about more than just money. It is about local decision making and how that filters down from the chief constable and the police and crime commissioner.
Longhi was having a go at Labour for taxing West Midlands residents excessively but delivering little value for money with regards to policing. A Labour MP asked him to give way for an intervention, but he refused:
I would rather not, just now. The facts sadly speak for themselves. We need the right strategy for deploying all the new police officers we recruit, making the right decisions locally, and having the will and competence to deliver on them. The Labour police and crime commissioner has closed dozens of police stations, while spending more than £30 million on refurbishing plush offices at his headquarters in Lloyd House in Birmingham.
Another Labour MP asked to intervene, but Longhi refused to do so.
A commotion arose.
This took place in Westminster Hall, where niche debates take place rather than in the House of Commons. This one focused on West Midlands policing.
Sir Edward Leigh (Conservative) was the chair:
Order. Calm down. The hon. Gentleman does not have to give way if he does not want to.
Longhi continued, pointing out Labour's ability to rake in tax money then do nothing for local people:
Meanwhile, Dudley and Sedgley police stations have closed. Some hope was given to Dudley people when a new police station was promised in Dudley. It was hailed by my predecessor—the noble Lord Austin—as a new multimillion-pound station to replace the one in Brierley Hill. Several years later, we are still waiting for it. In 2019, it was announced that it would open in 2021, yet no detailed plans have been submitted by the police and crime commissioner to the council planning department.
Dudley is a major metropolitan town—I believe it is the largest town in the country that is not a city—and it has been without a central police station since late 2017. We are paying the price for no presence as a result of inaction and incompetence. Perhaps the Minister might inquire of the police and crime commissioner when Dudley people might see shovels in the ground and the promised new station.
I have great respect for a local police inspector in Dudley by the name of Pete Sandhu and his team. They are trying their utmost to make do with offices borrowed from Dudley Council that are, quite frankly, not fit for purpose. Inspector Pete Sandhu, the local police teams and PCSOs in Dudley town, the surrounding villages and those across the West Midlands not only deserve but need a station that is fit for purpose. Unfortunately, time and again, Labour police and crime commissioners have failed their constituents—including mine.
At the end of the debate, Kit Malthouse, the then-Minister of State for Crime and Policing, responded on behalf of the Government:
I have never shied away from those difficult financial decisions that have to be taken. Nevertheless, generations will pass, and maybe in 50 years the Labour party will stop talking about that period of austerity and talk about what is happening today. Today, I thought I was coming to a debate about the value of neighbourhood policing. However, it has become obvious that this is a pretty naked political manoeuvre in advance of some difficult financial decisions that the police and crime commissioner for the West Midlands will have to make as he moves towards setting his council tax. My hon. Friend the Member for Dudley North (Marco Longhi) has highlighted how significantly council tax has increased over the past few years …
… I find these debates a bit disheartening because of the lack of curiosity exhibited by Members about the performance in the West Midlands. For example, they never ask themselves why other police forces are doing better. Why is Liverpool doing better than the West Midlands? Why is Humberside doing better than the West Midlands? …
I will give way in a moment. Those Members are unwilling to acknowledge the reason, which is that decisions were made by the previous Labour police and crime commissioner that set the West Midlands back. They have to take responsibility for those decisions; they cannot, I am afraid, just come to this Chamber and keep saying that everything that goes wrong in the West Midlands is the Government's fault, and that everything that goes right is the Labour party's achievement. Nobody is buying that in Edgbaston, Selly Oak, or anywhere else in the West Midlands. They recognise that difficult decisions had to be made, and I urge the Labour party to acknowledge those difficult decisions.
David Jamieson was not all good, and he was not all bad. He had difficult things to do, and he made a set of choices that produced a particular outcome and a particular baseline in the West Midlands. I have no doubt that that was what he said in the elections that he won, and that the people of the West Midlands took him at his word and believed him. They have re-elected a Labour police and crime commissioner, so presumably they are happy with that performance, but complaining that everything that goes wrong is down to the Government seems a little naive to me.
Malthouse concluded:
… The West Midlands made a certain matrix of decisions that resulted in the outcome today. A number of forces around the country made different decisions. As a result, they will have more police officers than they had in 2010. That is something with which hon. Members will have to wrestle; I am afraid that is the plain truth.
On neighbourhood policing, I am pleased to hear that there is a thrust in the West Midlands to invest in neighbourhood policing, not least because the neighbouring Staffordshire force has been doing that for some years, to great effect. The police and crime commissioner and the former chief constable there took the decision to invest in neighbourhood policing and, interestingly, traffic policing, as the basic building blocks of an excellent delivery of service to their people. As a result, they saw significant reductions in neighbourhood crime. My hon. Friend the Member for Dudley North referred to the uplift number, which is 800-odd. I encourage exactly that kind of intervention. It is what lies behind our desire to expand the number of police officers in the country.
Fireworks
I strongly disagree with Marco Longhi's desire to see ordinary people banned from using fireworks.
It has only been in recent years that virtue signallers have made complaints about a splendid celebratory tradition that has been going on for centuries.
In England, at least, fireworks may be used only a few months during the year and, even then, only on certain days:
15 October to 10 November;
26 to 31 December;
3 days before Diwali and Chinese New Year.
However, not everyone obeys the rules. Furthermore, the rules are not enforced in equal measure.
So, Longhi took a survey of his constituents on the matter.
On November 8, 2021, a debate on fireworks took place in Westminster Hall. Although this debate has taken place often in recent years, this particular one was triggered by an online e-petition. The number of signatures required a parliamentary debate.
Longhi said:
There is no denying that access to fireworks in the UK is easy and that enforcement of existing legislation is poor. Although many of us have enjoyed firework displays over the last week to celebrate Diwali or to remember the foiled plot to blow up this House, many, if not more, are traumatised by fireworks. Last year, following scores of pieces of correspondence from constituents, I decided to open a public survey so that all my constituents could share their thoughts on fireworks and the impact they have. I received both positive and negative feedback, but I was truly shocked by the sheer volume of responses I received, many of which were overwhelmingly negative. Given the nature of the internet, the survey spread widely—some might say it went viral—and I found myself with well over 1 million hits on Facebook and well over a 100,000 survey returns.
We have heard about the trauma to pets and livestock. As we approach Remembrance Day, let us also spare a thought for our veterans and those suffering from PTSD, for whom loud and unexpected bangs and flashing lights can have a devastating effect on quality of life.
We have had many Australian influences on legislation over the years, and perhaps it is time for some more. At present in the UK, there is no legal requirement to have any form of licence or training in order to let off consumer fireworks. Fireworks can be sold at any time of the year and can be bought online. In Australia, it is illegal for someone to buy, possess or discharge fireworks unless they hold a pyrotechnician's licence or single-use licence. Authorities must be notified of all firework displays, and authorised events can be found using the authorities' fireworks display search.
One question that I would ask all Members in this room and those unable to join us today is this: should local authorities take the location of public displays into consideration when granting them a licence and should they require displays to be well publicised in the surrounding area? Furthermore, is it right to place greater restrictions on the sale, purchase and use of fireworks? If we agree, surely we can then find an agreeable compromise that protects those who are traumatised by fireworks.
I have already had discussions with my hon. Friend the Minister about this issue and I greatly appreciate his time, but it is time we had a wider debate and an honest discussion. This debate is had every year, but there are no real legislative changes. Surely the time is right for that to happen now.
Paul Scully, who was the Parliamentary Under-Secretary for Business, Energy and Industrial Strategy at the time, responded for the Government.
I agree with what he said:
… I am grateful to the members of the public who took the time to sign the e-petition that has brought us here to Westminster Hall to discuss this important matter, because it has received more than 300,000 signatures and calls on the Government to limit the sale of fireworks.
Therefore, I will take the time to outline and explain the Government's position on this matter, and to say, first of all, why we believe—although I understand that it is not the subject of this debate, as has been outlined—an outright ban on fireworks or an outright ban on their sale to the public is not the appropriate course of action.
We have concerns that banning fireworks in that way could have significant adverse and unintended consequences for public safety, particularly in leading to the emergence of a black market in illicit fireworks. There was a reason why there was not a 2019 debate on this issue. Yes, it was the year of a general election, but more importantly in 2019 the Petitions Committee conducted an inquiry on this issue, which I was a part of as a Member of the Committee, and the evidence given by interested parties aligned with the Government's current view. Those interested parties included both the National Police Chiefs' Council and the National Fire Chiefs Council.
The petition being debated today also highlights the concerns that some people have—understandably—about the impact of fireworks on vulnerable groups and animals. These are issues that I was only too pleased to discuss with my hon. Friend the Member for Dudley North (Marco Longhi) when we met back in July to discuss the fireworks survey that he had carried out in his constituency; as he said, it went somewhat viral. I really sympathise with those views, and I am always sorry to hear the stories of how some individuals and animals have been affected by fireworks. That is why the Government are committed to promoting the safe and considerate use of fireworks, and why we have been carrying out a programme of action on fireworks to ensure that those who use them do so safely and appropriately.
It is important to say that this is a highly regulated area, with a comprehensive regulatory framework already in place to control the sale, availability and use of fireworks. We believe that this framework strikes the right balance for people to enjoy fireworks while aiming to reduce risks and disturbances to people and animals. For example, current legislation sets an 11 pm curfew on the use of fireworks, with later exceptions only for the traditional firework periods of 5 November, Diwali, New Year's Eve and Chinese New Year.
A load of concerned Opposition MPs from Labour and the Scottish National Party piled on with interventions.
Scully replied on noise and trading standards questions:
There is a 120 dB noise limit on fireworks available to consumers. Retailers are restricted to only selling consumer fireworks during a limited period around each of the seasonal celebrations that I just referred to, and retailers may only supply fireworks to the public outside those periods if they obtain a licence from their local licensing authority. However, I fully appreciate that it is just as important to ensure that legislation is enforced effectively. We have heard of some issues where that has fallen short, but I will describe what powers and mechanisms are in place against the illegal sale and use of fireworks.
Local authority trading standards work with retailers to ensure that the fireworks that are sold are safe, and have powers to enforce against those who place non-compliant fireworks on the market. Trading standards and local fire and rescue authorities in metropolitan counties can also enforce against those selling fireworks without an appropriate licence—for example, outside of the normal selling period.
He also said, in response to Opposition MPs:
In our polling, the Government found that 11% of the population want a total ban on fireworks, 36% want a ban on the private sale of fireworks, and, from memory, 64% enjoy the use of fireworks and want to be able to enjoy them both privately and publicly. We came to similar conclusions from our evidence as were reached by the Petitions Committee in its 2019 inquiry. In the extensive report setting out its findings, the Committee concluded that introducing further restrictions on fireworks was not the appropriate course of action, due to the potential unintended consequences. That was just two years ago. We agree with that position.
We acknowledge the experience of people who believe that banning fireworks would push the market underground and make it more difficult to regulate and monitor. We also agree with the Committee's conclusion that such a ban would have a substantial economic effect on those who have built their livelihood in the fireworks industry. Restricting fireworks would probably also have dire consequences for community displays, which raise funds for good causes.
Due to those significant concerns, the Government believe that the most balanced course of action is to continue to pursue non-legislative measures on fireworks to complement existing legislation. That is the position we set out and committed to in our response to the Petition Committee's inquiry.
Leave our fireworks alone!
I've only ever bought sparklers, but I have no idea where my neighbours purchase their fireworks.
For years, our local superette used to have a large, locked counter filled with fireworks at the appropriate time of the year. They got rid of that over a decade ago.
Our neighbourhood's home displays of fireworks, which I used to be able to watch from the comfort of my living room and kitchen, have also decreased over the past few years.
I disagree with Longhi on this subject. However, it is good that he respected his constituents' wishes, conducted a survey and presented the results to the Government.
Business of the House questions
Marco Longhi and Lee Anderson seem to have struck up a friendship. I often see them sitting together in the Commons.
Perhaps Lee's Ashfield food bank brought them together.
This is from the Business Debate of November 25, 2021, when Jacob Rees-Mogg was still Leader of the House.
Anderson said:
Last Friday I was joined by my hon. Friends the Members for Stockton South (Matt Vickers), for Bassetlaw (Brendan Clarke-Smith) and for Dudley North (Marco Longhi) in a "Ready Steady Cook" event in Ashfield. With the help of the local food bank, the college and local top chef Dave Marshall, we were able to produce 175 meals for just 50 quid. This is our fight against food poverty. Does the Leader of the House agree that we need a debate in this place on food poverty, so we can help people to cook on a budget and feed the nation?
Rees-Mogg replied:
I commend my hon. Friend for his amazing achievement and his hard work. I have a friend who teaches people to cook on a budget and runs something called Bags of Taste, which is a very successful way of encouraging people to cook on a budget. My hon. Friend is leading by example.
In the same debate, Longhi raised a complaint about a group of Travellers who refused to move on when they should have:
Yesterday, I received a three-page letter from the leader of Dudley Council. A designated Traveller site in Dudley has been occupied by Travellers who have overstayed the terms of their licence. After due process was followed in the courts in co-operation with the police, the police commander refused to support the council to give cover to bailiffs, citing the European Convention on Human Rights, as Travellers may have rights.
Will the Leader of the House agree to look into the matter and arrange a statement from the relevant Minister? This sets a terrible precedent for councils across the country, which may find that they have wasted taxpayers' money by following legislation set out by this place to invest in designated sites. It can provide indefinite leave to stay illegally, with no protection for landowners. It implies that the police can "woke interpret" and choose to follow laws other than this country's and its courts' instructions. Does that not give further credence to the need to repeal the Human Rights Act, as I have been calling for for many months?
Rees-Mogg gave a theoretically correct reply on policing by consent, which, as we saw during the pandemic, no longer works as such.
He also seemed reluctant to condemn the European Convention on Human Rights, of which the UK is still a signatory:
My hon. Friend asks an excellent question. It is really important that we are all equal under the law, and it is fundamental that the law is carried out by the police. We police by consent; the police are us, and we are the police. For that to work, people have to have confidence that the law will be enforced. Having said that, I do not know the specific details of the case or the reasons for the police decision, but the Government are taking more action to deal specifically with the issues around illegal campsites and associated criminality. I will pass on my hon. Friend's comments to the Lord Chancellor, and I note with great interest what he has to say about the Human Rights Act.
A new Human Rights Act is making its way through the Commons, with the intention that it frees us from EU conventions. However, why we cannot use and enforce the original one, the 1688 Bill of Rights, puzzles me.
King Kong
To end on a lighter note, on January 28, 2022, the Cultural Objects (Protection from Seizure) Bill debate took place.
Suzanne Webb, the Conservative MP for Stourbridge, discussed little-known artefacts and the importance of taking good care of them.
This includes a replica of King Kong:
I now want to tell the tale of an artefact of great distinction and notoriety that resided in the Midlands: an 8 foot tall, 890 kg fibreglass statue commissioned for display in Birmingham in 1972, as part of the sculpture for public places scheme in partnership with the Arts Council of Great Britain. It was commissioned to make something city-oriented, and the sculptor chose King Kong—I do not know whether my hon. Friend the Member for Dudley North (Marco Longhi) remembers the King Kong that resided in Birmingham. I do not want hon. Members to do a quick Google now, as I will be told off by Mr Speaker, but when they leave the Chamber, they can see the incredible artefact that was in Birmingham and supposed to represent it. It was down to the sculptor's association with New York City, and he created it for their own petty reasons. It was displayed in the heart of the city for many years—imagine if it was actually seized! It was something of a notoriety, and I loved it as a child growing up. We used to drive round to look at it. Hon. Members will be pleased to hear that King Kong lives on, and is now retired in Penrith.
Longhi made no reference to King Kong in his speech, but commended the Bill as an important contribution to preserving our culture and history, good and bad:
It is a pleasure to follow my hon. Friend the Member for Vale of Clwyd (Dr Davies) and to speak about this straightforward and reasonable Bill, which has been designed in a specific and targeted way, and will only help to support a sector that, like so many others, has been affected during the pandemic.
Our museums and cultural institutions in the United Kingdom do an incredible job. They have the power to transcend barriers, to preserve and to educate. Our museums, galleries and cultural institutions teach us about the past—the good, the bad and the ugly. By learning about the past, we can be inspired for the future to do better or learn from past mistakes. They stimulate our brains and make us smarter.
My Dudley North constituents are lucky that we have many rich cultural institutions on our doorstep: the Black Country Living Museum, Dudley Zoo and Castle, the Wren's Nest site of special scientific interest, the Dudley Canal Tunnel Trust, nature reserves, our microbreweries and pubs, and our bowling greens and parks. The list really does go on.
——————————————————————–
I am pleased to say that Longhi supported Kemi Badenoch in the Conservative Party leadership contest.
All the best to him for a long and satisfying parliamentary career.
On Tuesday, July 26, the UK's fledgling news channel TalkTV scheduled a Conservative Party leadership debate with The Sun for 6 p.m.:
Kate McCann was the moderator.
She was to have been joined by Guido Fawkes alumnus Harry Cole, The Sun's political editor, but he had coronavirus:
TalkTV asked for questions from viewers, as well as their audience, half of whom had voted Conservative in 2019.
It promised to be a debate quite unlike the ones on Channel 4 and the BBC:
With The Sun involved, one knew that the candidates would get hard-hitting questions rather than boring ones from the media establishment.
In the opening round, Kate McCann gave the candidates 60 seconds each to present themselves and their platform.
Rishi Sunak did well …
… even if he was still in Tony Blair mode and sounded like Labour's Keir Starmer …
… but Liz Truss had to glance at her notes:
Then it was on to the questions.
It was gratifying to see that the audience members, both in person and remotely, asked them of the candidates directly.
The first one came from John Hughes in Birmingham, who spoke remotely. He is a cancer patient and said that, since the pandemic, he has had a very difficult time getting the care and the support he needs. He said that a cancer charity has been helping him but the NHS and Macmillan Cancer Support nurses have not been available:
Rishi said that it was good that John was getting the support he needed. John retorted that he was not getting the support he needed. Rishi corrected himself.
Rishi gave a long answer, which did not respond to the question.
Sunak said that he had been criticised for raising national insurance contributions to tackle the NHS backlog and fund social care reform, but that it was a "brave decision" and the right thing to do.
Liz said that she would reform the NHS, reducing layers of management so that the focus could be on patient care rather than bureaucracy:
I want to see fewer layers of management in the National Health Service and less central direction because I simply don't think that people can sit there in Whitehall and direct everything that happens in local communities across our country.
It seemed that John preferred her answer to Rishi's. At least Liz offered a plan. Kate McCann asked John what he thought. He said that:
he remained unconvinced by their answers and stated that the Conservative Party had been given 12 years to fix the NHS.
The next question came from a member of the studio audience. A lady said that she was used to buying steak several times a week, however, the price has gone up so much that she can no longer afford to buy meat of any kind. She asked whether she should become vegetarian:
The Times reported:
The debate then moved on to the cost of living, with Gemma from Manchester, a Sun reader, telling the candidates about the rising cost of meat in supermarkets and asking if more people should go vegetarian to save money.
Rishi said:
he would ensure that prices came down by "making sure that the supermarkets and all the other people in the supply chain are being fair in how they price these things [and that] no one is taking advantage of the situation to pass on price rises."
Surely, although I agree with the principle, if everyone in the supply chain is being fairly remunerated, prices will go up even further.
Liz told Gemma that becoming vegetarian was 'a choice' and one that the Government leaves to individuals.
I understood what Gemma meant by asking about vegetarianism, because with this year's price rises, it does seem as if that is the end game.
Bloomberg's Alex Wickham summed up this refreshing debate well:
For once, we had real people asking about real problems.
However, the candidates reverted to a subject with which they were more comfortable — tax cuts.
As the i paper's Hugo Gye pointed out, it seemed as if Rishi and Liz still couldn't connect with the audience as well as a certain Prime Minister — Boris Johnson:
Harry Cole, watching from home, tweeted this at 6:27 p.m.:
The Times reported:
The candidates' response quickly turned to the economy, with Truss saying that Sunak's manifesto-breaking tax rises had been "morally wrong" as she accused the former chancellor of having policies which are "making us less competitive" as a country.
Sunak said that tackling inflation remained his priority but suggested that some businesses were also profiteering from the cost of living crisis. He said he would ensure that prices came down by "making sure that the supermarkets and all the other people in the supply chain are being fair in how they price these things [and that] no one is taking advantage of the situation to pass on price rises."
Sunak also defended his plans to increase corporation tax. He said: "I think it's entirely reasonable to ask the largest companies in this country, just the top 10 per cent of companies, to pay a bit more because they're received a lot of help during the pandemic."
Truss countered by telling Sunak: "You've made it worse". "Companies have a choice about whether they invest in the UK or whether they invest elsewhere. Rishi's policies are making us less competitive," she said.
The Mail's Henry Deedes described other exchanges between the candidates and the optics. Rishi still looked vexed when Liz contradicted him. Liz almost fell into the same trap this time (emphases mine):
Rishi seemed to have eased a little on the caffeine since the night before.
He'd also rediscovered his manners and used his opening spiel to wish his opponent a happy birthday. Truss, 47 yesterday, shot him an icicle smile. 
The Foreign Secretary wore a purple dress the colour of a Cadbury's Dairy Milk wrapper. Très snazzy. She went into a brief monologue about how her upbringing was more modest than Sunak's. 'I know what it looks like when economic times are hard,' she said. Rishi bit down and resisted making a tart response. There was a bit of early tit-for-tat, but nothing that required Kate to pull them apart. The candidates had a brief struggle over who had the stronger family connections to the NHS. 'My father was GP,' said Rishi. 'Well, my mother was nurse!' countered Liz. 
Tempers frayed whenever Truss began to discuss her economic plans. Rishi's blood pressure would visibly spike, his eyes flickering from side to side as if to say: 'Leave the maths to me, luv.' 
Once again their main beef was over taxes – Liz wants to cut them, Rishi thinks it's unaffordable to do so. 
He accused Truss of funding her cuts by saddling future generations with more debt. 'That's not true, that's not true!' Liz retorted, shaking her head crossly. 
Kate McCann was doing an excellent job as moderator, keeping everything going at a rolling pace which made it interesting. I was settling into an unusual comfort zone, which I normally don't do when watching debates.
Just after 6:30 p.m., Kate asked Liz a question.
While Liz was speaking, viewers at home could hear a soft rocking noise, possibly a perspex podium against the floor.
Seconds later, there was a crash of perspex on the floor.
Viewers saw this:
The Telegraph's Tim Stanley was also watching from home and describes what happened:
It was one of the strangest, most shocking moments in TV history. Liz Truss was in the middle of denouncing Russia with her characteristic tics – her hands gripping that invisible tea tray for dear life – when there was an almighty crash off-screen.
"Oh my God!" Liz covered her mouth. Then she stepped towards the camera.
Turns out that poor Kate McCann, the talented journalist and host, had fainted.
Rishi also went to Kate's aid, but we didn't see that.
We didn't know what had happened.
The Mail reported:
A loud noise caused the clearly worried Foreign Secretary to hold her face in shock as she exclaimed: 'Oh my God!'. Ms Truss was then seen leaving her podium and walking towards where Miss McCann had been standing.
The broadcast feed was swiftly cut, with viewers shown the message: 'We're sorry for the disruption to this programme. We're working hard to fix the issue and will return to normal programming soon.'
Stanley wrote:
For 25 excruciating minutes, viewers speculated if a light had fallen, a bomb had gone off, or Boris Johnson had rushed the stage demanding to be heard – all the while that producers tried to carry on as normal by cutting to a promo for their other shows.
What were they thinking? That this was a great chance to promote their product? We're lucky they didn't try to flog us some diamante earrings …
… debating tax policy is exactly how Liz would want to spend her birthday – and though the evening took an alarming turn, the gods did her a favour by having the camera focused on her when Kate passed out. Liz's instinct to run towards the disaster did her credit, a reminder that whatever her job, she is first and foremost a mum.
And her mother was a nurse!
Just before 7 p.m., when the debate would have ended:
TalkTV put on two talking heads who calmly discussed what we'd been watching – vegetarian options, clown doctors – without substantial reference to the one bit we were all shouting at the telly about: "What the hell just happened?!"
It was surreal: the commercial equivalent of Soviet TV cutting from the coup against Gorbachev to 72 hours of Swan Lake. Thankfully, Twitter was still reporting the news: Kate was ok. By then it was 7pm and time for Piers Morgan's landmark show on Ukraine – at which point what was probably TalkTV's largest ever audience, all 250 of us, turned off.
Kate, you're a star and your peers wish you the very best.
Henry Deedes said:
Doctor's orders were that she was done for the evening. It must have been frustrating for Team Rishi, who are running out of time. The former chancellor has agreed to be interviewed by that fearsome rottweiler of an interviewer, Andrew Neil, on Channel 4 on Friday. For politicians, such encounters rarely end well.
The candidates spent the remaining half hour talking to the studio audience:
Kate received many supportive messages.
Harry Cole tweeted:
BBC Newsnight's Nicholas Watt complimented Kate on her moderation of the debate:
The candidates also sent their best wishes, saying they would like to return to finish the debate:
I hope the debate is rescheduled — and agree that it should pick up where it left off:
Harry Cole is an excellent journalist.
That night, The Sun reported that, after all these days of insisting his tax plan was the right thing to do, Rishi decided to do an about-face and cut VAT on energy bills.
But has he stolen Work and Pensions Minister Thérèse Coffey's idea? Hmm:
Polling results must have been eating away at the former Chancellor.
The Telegraph also carried the story on its front page for Wednesday:
The Mail alleges that this was Boris's plan but Rishi wouldn't allow it:
Rishi Sunak makes a desperate bid to claw back lost ground in the Tory leadership race today by promising a £4billion VAT cut on energy bills just hours after he and his rival Liz Truss led tributes to TalkTV presenter Kate McCann after she fainted live on air.
The former chancellor has repeatedly refused to match rival Liz Truss on cutting taxes, labelling her plans a 'fairytale' and insisted such cuts must wait until inflation is curbed.
But today he pledges to scrap the 5 per cent VAT rate levied on domestic energy bills for a year.
Last night No10 insiders told the Daily Mail that this plan was something Boris Johnson tried to implement to ease the burden on consumers – but was blocked by Mr Sunak.
'Boris begged him to do it – but he wouldn't budge', said the source. 'It's astonishing that he's now claiming it as his own policy.'
A source close to Liz Truss's campaign told The Telegraph: 'It's good that Rishi has finally woken up and decided to offer something to people struggling with the rising cost of living.
'However, this feels like a screeching U-turn from someone who has spent the last few weeks of the leadership campaign branding everyone else's tax cuts immoral and fairytales.'
The article states that this was also Labour's policy:
Mr Sunak's energy bill tax move, which would save an average household £160, has been Labour Party policy for nearly a year, and Mr Sunak voted against the proposal in the Commons in January.
He told the Commons in February that the policy would 'disproportionately benefit wealthier households'.
He added: 'This would become a permanent £2.5billion Government subsidy… when we are trying to rebuild the public finances.'
This month he argued that tax cuts are 'immoral because there is nothing noble or good about racking up bills on the country's credit card that we then pass on to our children and grandchildren'.
One can understand his point, but when the Work and Pensions Minister and the Prime Minister both want it, it's the right thing to do.
I read only this week that VAT is an EU tax. Therefore, we can scrap it.
No one ever mentions that VAT is an EU tax. Why not?
The Mail says:
Until yesterday [Wednesday] Mr Sunak had refused to consider tax cuts before autumn 2023, the earliest point when a 1p cut in the basic rate of income tax could come in.
Autumn 2023 would be way too late, especially if our next general election is held in May 2024.
The Telegraph reported that Rishi's team denied a U-turn:
The Sunak camp denied there had been a U-turn, adding that the tax cut was "a tool that was always in our arsenal".
"We didn't use it back in spring because the size of the jump of the bills was way bigger, and it wouldn't have touched the sides," a source said. "This is a response to latest estimates that suggest the rise might be £100-200 more than anticipated."
For me, this volte face comes too late in the contest, because Rishi was adamant in three debates that he would not cut taxes.
As such, in Truss we trust.
———————————————————–
UPDATE — Guido Fawkes posted TalkTV's ratings for Tuesday night. The debate's 'off air' message beat Piers Morgan's show by far:
Morgan tweeted McCann, who has since recovered:
On Wednesday, July 27, the i paper reported ructions at TalkTV about the interruption of the debate, with staff asking why it didn't continue with another presenter:
Rupert Murdoch's TalkTV is holding an inquest into why there was no "plan B" to keep its Prime Ministerial debate on air after presenter Kate McCann fainted.
Presenters at TalkTV and its sister radio station were said to be ready and able to jump in and replace the stricken presenter during the abandoned live broadcast, i has been told.
As panic spread, executives asked Rishi Sunak and Liz Truss to remain at their podiums at the Ealing studio, normally used for Piers Morgan's nightly programme, while they considered their options.
However it was decided that stunned viewers would continue to be shown a recorded message saying normal programming would resume, rather than restart with a new presenter.
Trouble began behind the scenes when planned co-presenter Harry Cole was forced to pull out on the morning of the debate after contracting Covid.
An insider said: "Tom Newton Dunn (presenter of TalkTV's 7pm news show) would have stepped up to co-present but the bosses wanted Kate to front it solo as a showcase for her."
McCann, Talk's political editor, was said to be "nervous" at fronting the high-profile event but had shown no sign of ill health, even during the broadcast's first half hour.
The source said: "It was very sudden. She crashed forward into the podium. That was the loud bang viewers heard."
Truss, speaking on camera at the moment, said "oh my god" and rushed over towards McCann. At that point, with the clock showing 6.31pm, the channel cut from the debate.
"Rishi also rushed over. He knelt on the floot and held Kate's hand, he was very comforting," the insider said.
Faced with a crisis playing out live on TV and social media, some in the building believed that the show must go on.
"There were plenty of experienced on-screen talent already there who felt they could have taken over. They could have winged it."
"All the News UK bigwigs were there. There was a panicked pow-wow. Some said 'who can we get to fill in?' but they decided against it."
Instead the candidates were asked to stay in the studio and take questions informally from The Sun readers in the audience.
The insider added: "Today there is an inquest into why there wasn't a Plan B to keep the debate on air. It's a given for any serious broadcast channel" …

The incident gave a brief boost to TalkTV's struggling ratings. The channel has recorded zero viewers at low points in its schedules and Piers Morgan's flagship show has even been beaten by rival GB News on occasions.
The screen message telling viewers TalkTV was off air was watched by one of the channel's highest ever audiences.
Some 141,000 people tuned in, numbers comparable to Morgan's opening week on Talk in April before his figures tumbled.
The debate peaked with 183,000 viewers tuning in shortly after its 6pm start. However Talk's numbers dropped across the night with Morgan's programme dropping to 14,000 viewers at its conclusion.
Despite the lure of the debate, Sky News, BBC News and GB News all recorded a greater audience than TalkTV across the whole of primetime, according to Barb data.
Insiders said this would disappoint NewsUK's bosses who had hoped to relaunch TalkTV off the back of the debate, which was shared with sister title, The Sun …
The podium "crash" even gave TalkTV what it has been seeking since it launched three months ago – highly-shareable viral content that creates a buzz on social media.
On this occasion though, that content, seized upon by media rivals including the BBC, was unintended.
On Monday, July 25, 2022, Conservative Party leadership candidates Liz Truss and Rishi Sunak headed to Stoke-on-Trent, comprised of three Red Wall constituencies, for a BBC debate:
Burning issues: earrings and China
The day began with controversies over handling China and how much each candidate had spent on their respective wardrobes.
Boris loyalist Nadine Dorries, Secretary of State for Digital, Culture, Media and Sport tweeted about the latter. The photo is from last week on the final day of Conservative MPs voting:
The normally charming Angela Richardson MP tweeted a rather sharp reply to Dorries, requesting that she be quiet.
On China, things were more complex, as Guido Fawkes reported:
Neither candidate has the edge here.
Guido wrote (red emphases his):
It's unsurprising, given his tacit endorsement from the Chinese propaganda arm Global Times, that Rishi has decided to go in hard on the country's security threat this morning. Declaring the Chinese Communist Party "the largest threat to Britain and the world's security and prosperity this century", Sunak attacks Liz for "[rolling] out the red carpet" and turning "a blind eye to China's nefarious activity and ambitions". He calls for a new NATO alliance to be set up to counter it the threat, and pledges to close all 30 Confucius centres, which teach Mandarin in the UK and are thought to be used as fronts by the Chinese intelligence services.
In response Team Truss returned fire last night, using Iain Duncan Smith to call the policy "surprising" and asking where Sinophobe Sunak has been for the last two years. Her team points to the above Sunak's endorsement by Global Times, and says he has been consistently soft on China.
Sunak's Confucius closure policy is directly levelled against Truss's supposed record at DfE, where during her two-year stint nine of the 31 centres were established:
"His team pointed out that nine of the 31 Confucius centres in Britain were established when Ms Truss was an education minister between 2012 and 2014."
Hmm.
Who is behind Rishi's race to No. 10?
Before I get to the debate, I have been thinking more about Rishi than Liz. Who is pulling Rishi's strings? I don't think Liz has an unseen agenda, but Rishi could well do.
On Thursday, July 21, The Express gave us background on Rishi, some of which not all of us knew (emphases in purple mine):
Rishi Sunak recently made headlines after he became the first frontline politician to make the Times Richlist. He and his fashion designer wife Akshata Murty's fortune stands at an eye-watering £730m. The recently resigned Chancellor owns four properties with his 42-year-old wife, including in Santa Monica, California, but now hopes to add another to his collection, in the shape of No 10.
Before landing a job with Goldman Sachs and making his millions, Mr Sunak studied at one of the most expensive private schools in the country before heading to the University of Oxford.
The 42-year-old was born in Southampton to GP mother Yashvir and pharmacist father Usha Sunak.
Mr Sunak — the eldest of three — first attended Oakmount Preparatory School in Southampton, Hants, before attending Stroud School, King Edward IV Preparatory, where the school fees grow alongside the student: the older they get, the higher the tuition.
It is thought Mr Sunak joined Stroud School in Year 4 after Oakmount closed suddenly in 1989.
In Lord Michael Ashcroft's biography, Going For Broke: The Rise of Rishi Sunak, it is claimed that the former Chancellor was well-liked, being both head boy and captain of the Stroud cricket team …
After leaving in 1992, Mr Sunak joined the 600-year-old Winchester College as a boarder, where the yearly school fees today amount to £45,936 per year, and £33,990 for day pupils …
Winchester College, founded in 1382 by William of Wykeham, has numerous notable alumni — known as "Old Wykehamists" — including several archbishops and Chief of Defence Staff, General Sir Nick Carter.
Why does Rishi want to be PM when he could be leading a charmed life?
His wife has non-dom status. Do they intend to move to India? It would be a return to that nation for her, as her father founded Infosys.
There's a story here.
In any event, so far, Rishi has more than 20,000 Conservative Party supporters, apparently.
He also agreed to allow Andrew 'Brillo' Neil, a notorious tough interviewer, to question him on Channel 4 this Friday evening:
In 2019, when Neil was still on the BBC, he was frustrated that Boris did not go on his television show to be grilled for the leadership contest that year.
Guido says that Liz Truss might follow Boris's example:
Rishi Sunak has agreed to do a sit-down Andrew Neil interview this Friday on his Channel 4 show at 19.30. Liz Truss's team are yet to say whether she'll also agree. Given she's the Boris continuity candidate, there's a past precedent she may not…
Boris petition gets 10,000+ signatures
Speaking of Boris, the petition from Conservative Party members to add him to the ballot surpassed 10,000 signatures on Monday:
Guido said:
On Wednesday, Guido reported that 3,500 Conservative Party members had signed a petition calling for Boris to be allowed to compete in the leadership contest. Since then, that number has tripled, with 10,000 fully paid-up Tories now adding their names to the list, and presumably ruining the CCHQ inbox. As Rishi and Liz take to the campaign trail, this demographic may well prove difficult to ignore. It's already over 20% of Boris's stonking majority from the last leadership election…
BBC debate
The BBC chose to hold Monday night's debate in Stoke-on-Trent — the Potteries.
Stoke-on-Trent has three constituencies, all of which are Red Wall. I wrote about their first-ever Conservative MPs earlier this year: Jo Gideon, Jonathan Gullis and Jack Brereton.
It was commendable of the BBC to get an audience of local residents who voted Conservative in 2019.
Sophie Raworth was the moderator. Off to one side were BBC experts Economics Editor Faisal Islam and Political Editor Chris Mason, who also asked questions of the candidates.
During the debate, one of the voters said that she was concerned about the ongoing issue of trust in the Government overriding the all-too-real need for strong policies.
The Express has the video. The woman spoke briefly and eloquently:
It just seems very very easy, and as we've heard a lot, to blame Boris over trust issues, as though everything is going to be fine now.
But it seems to me there is a more fundamental issue around a culture in Westminster.
It seems very much more focused on the short term, you know, the catnip of a media soundbite.
Rather, it should be focussing on, okay, 'What are the difficult things that need a long-term solution'.
She actually said, 'the short-term catnip of a media soundbite'.
She should copyright that. It sounds just like something Boris would say.
Liz had gravitas. I would rather have a reserved presentation from her than Rishi's Tony Blair impersonation, which was unsettling to watch — and hear.
Rishi also should have worn a tie. Maybe he wanted to look in touch with the audience. Even so, these debates are interviews for the next Prime Minister. One should look the part.
Overall, Rishi interrupted Liz too much. Guido counted a total of 14 times.
Often, Rishi looked as if he were mansplaining:
He was irritated. We saw this during his parliamentary campaign.
Rishi's facial expressions and voice inflection show that he does not like being contradicted:
That's not the best look and it will not go over well if he tries that with Andrew Neil on Friday. Neil will zero in on it.
Sophie Raworth only interrupted Rishi's interruptions of Liz once. That is likely because Liz is the 'continuity candidate', meaning she is loyal to Boris. By now, we should all know that the BBC, along with others, wanted desperately to get rid of Boris because of Brexit.
Ergo, Raworth was not there to do Truss any favours.
Rishi was adamant that his tax rises were the right thing. Liz said they were Project Fear:
Here's the video:
Nadine Dorries's tweet about attire came up:
Liz said that she would not give Rishi any fashion advice:
She did, however, advise him to be 'bolder' in carrying out Government policies. She did not specify any, but one that comes to mind is the amount we are still paying the EU for our exit. He should have nipped that in the bud in January 2020.
Rishi grilled Liz over her conversion to Brexit. She had been an active Remain campaigner before the 2016 referendum.
However, Guido points out that Rishi has not always been consistent. Corporation tax comes to mind:
Guido says:
Rishi's going in hard on Liz over her change of mind on Brexit – it turns out it's quite easy for them to hit back at him with even more recent examples of political conversions…
The debate ended with a quick-fire round of questions:
The candidates agreed on nearly everything. The only difference was when Sophie Raworth asked them to rate Boris on a scale of 1 to 10.
Liz Truss gave the former Party leader a 7.
Rishi hemmed and hawed a bit, then gave Boris a 10 for handling Brexit and the 2019 election well.
The Express has the exchange:
Mr Sunak said: "You know what, my views are clear: when he was great, he was great; but it got to a point where we needed to move forward."
BBC host Sophie Raworth asked: "What does that mean? Five out of ten?"
Mr Sunak replied: "Well, actually, in delivering a solution to Brexit and winning an election, that's a 10 out of 10.
"You have got to give the guy credit for that. No one else could have probably done that."
The crowd then erupted into a loud round of applause.
So, Liz did well on the topic of Boris …
… but did Rishi do better?
The hint might be that Conservatives prefer Liz.
Afterwards, Opinium took a snap poll. Liz won the Conservative vote hands down:
Guido offered this analysis:
Overall Rishi bests Liz by 1% among all voters. Rishi needed a slam dunk victory, this is the opposite of what he'd have wanted polling to show…
YouGov also polled Conservative Party members who watched the debate. Guido has the detail.
YouGov's summary results show that Liz is streets ahead of Rishi:
The UK's newest channel, TalkTV, hosted a debate sponsored by The Sun on Tuesday night:
Too bad that GB News couldn't have pipped them to the post. Then again, TalkTV and The Sun are Murdoch outlets.
More about that debate in a separate post.
John Redwood certainly has a bee in his bonnet over former Chancellor Rishi Sunak.
Unusually, Redwood has been tweeting several times daily in Trumpian style over which candidate — Sunak or Liz Truss — is better as the future leader of the Conservative Party and our new Prime Minister.
He has also continued to keep his readers updated in his eponymous diary.
On July 20, 2022, the final day of Conservative MPs voting for leadership candidates, he tweeted:
Later that day, he wrote a brief diary entry, 'Then there were two':
I am delighted Liz Truss will be in the final with Rishi Sunak. I want a change of economic policy as readers of this site will know. Liz Truss will give us that change. Rishi has accepted Treasury and Bank advice which has given us a high inflation and if unaltered will give us a recession next year. We can do better.
Redwood has been an MP since Margaret Thatcher was Prime Minister. Not only does he understand her monetary policy but also the way Treasury and Bank of England forecasts have gone wrong over the past 40 years. He advised Thatcher in the middle years of her long premiership.
Boris Johnson also understands that the Treasury gets things wrong. In his final PMQs on Wednesday, July 20, he gave advice to his successor, saying (emphases mine):
I love the Treasury, but remember that if we had always listened to the Treasury, we would not have built the M25 or the Channel Tunnel.
That day, the OBR (Office for Budget Responsibility) came out with a revised forecast.
On July 21, Redwood wrote 'Some funny numbers from the Treasury and OBR':
The OBR has had to explain why it was so far out in its forecasts of the deficit and borrowings last year. They have written:
"Our latest forecast for (Central government borrowing) 2021-2 is £48.3bn below the October forecast and £131.2bn below our March 2021 forecast (the Budget)". They accept they underestimate tax revenues by a massive £77bn and overstated state spending by £48.7bn. It should be easier to forecast what you spend when you are running the spending controls.
We can all make mistakes. Forecasting is difficult. What is more difficult to forgive is that this was not the first time they have underestimated the revenues and overstated the deficit. Worse still is they used their precise forecasts of revenue and deficit to tell the Chancellor he needed to raise more taxes to reduce the gap between spending and taxing. It turns out they need not have asked him to do that as the numbers were so much better than the numbers they tried to create with tax rises.  So when I am asked how do we pay for the tax cuts, the first answer is we are so far ahead of plan there is no problem. The second answer is if you cut the right tax rates to a sensible amount you can end up with more growth and more revenue, not less.
The Treasury also needs to come clean about the debt interest. They have been using their current high figure of £83bn which includes index costs on the repayment of inflation linked debt which does not entail making any cash payments before redemption. They use this figure to scare politicians into accepting more austerity to control the debt interest. What they omit to point out is on their definition of debt interest they forecast a collapse in the cost of it to £46.7bn by 2024-5. That is a fall of £36.3bn or 44% in debt interest.
The Treasury has a tradition of overstating deficits when there is good growth and understating them in recession. There is also a danger their policy advice based on very wrong forecasts could drive us unnecessarily into recession.
Redwood tweeted that our current inflation is likely to be temporary:
As soon as Truss and Sunak were the final two contenders in the Conservative Party leadership contest, The Times endorsed Sunak.
Much of the media have also swung behind Sunak, except for the more conservative news outlets which feature more articles on Liz Truss's candidacy and Kemi Badenoch as the future of the Conservative Party, even though she was eliminated from the leadership contest.
Redwood tweeted:
True.
The Remainer media have attacked Truss's proposed policies. Sunak's softness on the EU are why the media back him. They want a return to the EU:
Sunak has been pushing the line that Margaret Thatcher had an initial high tax policy that worked well. Therefore, Sunak is high tax, in a Thatcherite mode. In reality, once Thatcher got new advisers, she began cutting taxes, which brought economic growth.
Redwood tweeted:
Redwood believes that Liz Truss has the Thatcherite economic policy in this contest:
Redwood had more to say about Sunak's performance while he was Chancellor:
I particularly enjoyed this next tweet, in which Redwood compares Sunak to Labour Chancellor Gordon Brown, who later became Prime Minister, succeeding Tony Blair:
Redwood said that he tried to advise Sunak on the economy, but to no avail:
On Friday, July 22, Redwood correctly predicted that Rishi would send a message of panic:
Sure enough, the next day, Rishi said he wanted to declare a state of national emergency:
We can only hope that Redwood is right in saying that panic puts off voters:
Sunak made the statement in Grantham, Margaret Thatcher's home-town. Redwood finds it curious that Sunak never mentioned an interest in Thatcher until this leadership contest:
As I write on Monday afternoon, I will look at that day's BBC debate between the two candidates in a separate post.
Before the debate, Redwood shared his thoughts:
In closing, Redwood reiterates why Liz Truss is the better candidate:
Even though I have no vote in this contest, Liz Truss has accomplished far more in trade deals and foreign policy than Rishi Sunak as Chancellor. His time in No. 11 was disappointing for the most part.
Conservative Party members will receive their ballots early in August, enabling them to vote by post or online. The deadline for them is August 2. A new Prime Minister should be in place by September 5.
There's nothing better than a good conversion story.
I could read them all day long.
In 1988, John MacArthur gave a sermon on Philippians 1:19-21, which I used for my Forbidden Bible Verses post on that passage.
MacArthur began that sermon, 'Joy in spite of death', with an amazing conversion story effected through the Gospel according to St Matthew.
Emphases mine below:
As we come to the study of God's Word this morning, I – before we get into it – want to share with you a wonderful experience I had this week.  I met this week a gentleman who will fit into my rather short list of the most unforgettable people I have ever met.  I had about three or four days to spend with him off and on because we kept intersecting one another and at some times we spent hours together talking.  He's a fascinating man who reminded me again of the power of the Word of God.  His name is Ezekiel, and that's a great start.  Ezekiel is a man in his sixties, a man who for many, many years was one of the greatest generals in the Israeli army, who can tell you tale after tale after tale of battles and victories that he won with his troops that have no explanation other than divine intervention.  He was one of the master strategists in the history of Israel.  He is a true Israelite in the sense of geography and heritage.  His family lived in the land of Israel before it was the state of Israel.  In fact, his family goes back to the time of the Ottoman Turks before the British occupation.  So he is truly a man of the land.  He is of genius capacity intellectually, being the chess champion of Israel who has competed internationally and is renowned for his ability.  He is what is called a grand master in bridge and has won all over the world, defeating most of the world's teams with the team which he leads.
When he retired from military service in Israel after being very successful and very eminent as a strategist, he went into business for himself.  And in a matter of a few years, because of his abilities and his contacts, he became a multi-millionaire.  And it wasn't very long before he was making so much money that he had plenty of time and plenty of money on his hands and he became a compulsive gambler.  And so he traveled all over the world, everywhere from Atlantic City to Las Vegas to Monte Carlo to you name it.  Where there was gambling, he was there, gambling huge amounts of money up to the losses of one million dollars in a given year.
Finally he was about ten months ago struck with a heart attack – no, I guess a little longer than that – struck with a heart attack and almost died.  And while he was in the hospital his wife said to him, "This has got to stop.  I'm not going to live with this anymore, this running around wasting money and being gone all the time.  And I don't want you to do it, and now you've had a heart attack and you've got to stop this and settle down."  She said, "If you do it again, I'll leave you."  And so in good faith to her he put all of his assets in her name to protect himself from himself.  And no sooner was he over his heart attack then his compulsion dictated to him what he would do.  So he took off again to gamble, at which point she divorced him.  And so he came to Atlantic City, his wife divorced him and now had possession of everything which was in her name. And all he had was what he had in his pocket, which he proceeded to lose in gambling in Atlantic City.
With just a few thousand left in his pocket and destitute now and realizing that he had lost his marriage and that he had lost his dignity and he had no reason to live, he decided to go to the twenty-second floor of Trump Tower and dive out.  He planned the whole suicide.  And on the way from his hotel room to the top of the building to jump out, he got sick.  And he told me, interestingly enough, he got too sick to kill himself, which I thought was pretty curious.  And he went back to his room – he was too sick to jump.  And he went back to his room and he began to spit up blood and so he called the house doctor, and they determined that he had pneumonia, rushed him to the hospital.  On the way somebody rolled him and took all his money.  And he got to the hospital with no money.  They let him stay for about a week until he was cured of pneumonia.  And upon his release, all he had in his pocket was a ticket to Israel seventeen days later – no wallet, no identification, no money, no nothing.  He said, "Where am I going to go?"  And they suggested the Atlantic City rescue mission.
So this great Israeli general, this great genius, this chess champion, grand master bridge player, wealthy entrepreneur, world jet-setter landed at the Atlantic City rescue mission.  For fifteen years of his military life he had studied the Old Testament with a fine-toothed comb because he wanted to be the master of all the military strategy of the Old Testament so that he could apply it in the contemporary battles in which Israel fought.  So he became a master of Old Testament data.  Since the age of six he had systematically memorized the Old Testament, so he knew it all from beginning to end.
He went into that rescue mission with nothing but the clothes on his back and a ticket to Israel seventeen days later, figuring he would stay there as nothing more than an indigent until he could get on his plane and leave.  The first day he was there another person staying there came up to him and said, "You look Jewish."  He said, "I am."  He said, "Here's a Bible; read Matthew."  He said having nothing else to do he sat down and read Matthew twice.  At the end of the second reading, he knew Jesus was the Messiah and embraced Him as his Savior.
Two readings of the gospel of Matthew.  He said to me, he said, "When I finished the second reading of Matthew, I totally understood the whole Old Testament. I understood every bit of it."  And he said, "I want to tell you, Jesus is on every page, every page."  And he said to me, "In fact, Jesus is Jehovah.  And Jesus is Elohim.  And the lights were going on."
That was nine months ago.  He still hasn't used the ticket.  He is still here.  He has nowhere to go.  He has no home.  He is still here studying the Bible eight to ten hours a day.  And now he's beginning to understand the New Testament.  He said, "I understand the New. I understand everything Paul said. I understand everything Jesus confronted.  I know all about the Pharisees.  I understand that I was raised in Pharisaic Judaism."  He says, "The whole Bible has come alive to me from cover to cover."  And we sat by the hour and discussed the Word of God.
And he had a Hebrew Old Testament and a Hebrew New Testament, and we were going at it hour after hour after hour.  And he said, "All I want to do the rest of my life is study the Bible – study the Bible and tell my people about the Bible."  He said, "I'm going back to Israel.  I'm going to buy a yarmulke because you can't teach the law without a yarmulke.  I'm going to put on a yarmulke, and I'm going to teach the Bible."
Incredible mind.  In fact, he is overwhelming with his insight in Scripture because his culture is so totally Old Testament orientation that everything makes sense to him.  And I walked away from that thrilled again at the power of the Word of God.  And I thought to myself, "How do you approach a genius, Jewish, gambling, entrepreneurial military general?  What approach do you use?"  How about saying, "Read Matthew"?  What a powerful simplicity there is in that.
Hezzy, as he likes to be called – that's his nickname – Hezzy and I have become friends.  He wants to come here and meet you.  Some day I think he will, if the Lord gives him life.  He has angina.  But again, I was reminded of the power of the Word of God.
Now having made that justification, I will preach from it – Philippians chapter 1.  Let's open our Bibles together – with the confidence, the confidence in our hearts that the Word of God is alive and – What? – powerful, alive and powerful.
What an amazing story.
I hope that Hezzy returned to Israel eventually and that God blessed him abundantly, in life and in death.
Because he knew the Old Testament by heart, Matthew's Gospel tied everything together for him and made the Bible come alive.
Other Jews have become Christians by reading Matthew, which the Apostle purposely began with our Lord's earthly lineage for their benefit.
It is a pity that more people do not read the Bible regularly. Admittedly, it took a long time for me to do so. I was in my 50s when I started in earnest.
My advice is not to wait, because the sooner one understands Scripture, the sooner one truly embraces Jesus Christ as Lord and Saviour.
The three-year Lectionary that many Catholics and Protestants hear in public worship gives us a great variety of Holy Scripture.
Yet, it doesn't tell the whole story.
My series Forbidden Bible Verses — ones the Lectionary editors and their clergy omit — examines the passages we do not hear in church. These missing verses are also Essential Bible Verses, ones we should study with care and attention. Often, we find that they carry difficult messages and warnings.
Today's reading is from the English Standard Version with commentary by Matthew Henry and John MacArthur.
19 for I know that through your prayers and the help of the Spirit of Jesus Christ this will turn out for my deliverance, 20 as it is my eager expectation and hope that I will not be at all ashamed, but that with full courage now as always Christ will be honored in my body, whether by life or by death.
———————————————————————————————
Last week's post discussed Paul's joy that the Good News was travelling quickly around Rome thanks to preachers who were doctrinally sound, even though some of those men bore ill will and jealousy towards the Apostle, hoping to see him languish in prison so that they could usurp his position as the best teacher of the Gospel story.
Comparing those preachers with those who taught out of love for Christ and for Paul, the Apostle wrote that he would rejoice either way (Philippians 1:19):
What then? Only that in every way, whether in pretense or in truth, Christ is proclaimed, and in that I rejoice. Yes, and I will rejoice,
Here he says that with the Philippians' prayers and the help of the Spirit of Christ — the Holy Spirit — what he is experiencing will turn out well for his deliverance (verse 19).
John MacArthur tells us that Paul was confident of five things, which will become apparent as we look at these two verses.
First of all, Paul had confidence in the Lord (emphases mine):
Number one, he is confident in the precepts of the Lord, the precepts of the Lord, or the Lord's Word – what the Lord has said.  Verse 19, "For I know that this shall turn out for my deliverance."  Stop right there.  Great statement.  I know – "Why are you rejoicing?"  "Because I know this: that this shall turn out for my deliverance."  Now when he says, "For I know," oida, he is really asserting what to him is an absolute knowledge.  "I know this; it's unequivocal.  I know this; this is the knowledge of satisfied conviction.  I know," he says, "that this—" Now what is this?  The present circumstance – the present trouble, the chains, the detractors, the imprisonment, all of the difficulties, adversities in his life and ministry, the whole scenario, the whole thing he's going through.  He says, "I know that this present trouble shall turn out" – future tense; it's going that direction – "shall turn out for my deliverance, for my deliverance."
You say, "How do you know that?"  Well, because that was the promise of God.  He had received it first-hand, by the way, when he wrote down, "All things work together for good to them that" – What? – "love God and are the called according to His purpose" (Romans 8:28).  He knew that principle.  "For I know" – absolutely confident – "that this" – all this trouble – "shall" – future – "turn out for my deliverance."
MacArthur explains what Paul meant by 'deliverance':
The word here is stria, which is the word for salvation.  And some of your Bibles may say "for my salvation."  Well, what do you mean by that?  Well, that word can be translated "salvation"; it can be translated "deliverance"; it can be translated "well-being"; it can be translated "escape."  What does it mean?  Some say it means ultimate salvation.  Some say he is simply saying, "I know that this present trouble is going to turn out for my eternal salvation, ultimately to be in the presence of the Lord, my soul salvation."  He is confident that he will endure to the end and be fully, finally saved and glorified in the day of Christ, the day he sees Christ.  Some say, "No, it means his health, his well- being, his welfare, his benefit – that I'm going to benefit from this, that my well-being will be secured."  Some say "vindication."  Some say it means "vindication."  Some commentators think he's saying that, "I'll be vindicated in court and that my trial, when it reaches its second phase" – the first phase had already been held when no one defended him, and he's waiting for the second phase, namely the sentence – that he's saying, "It'll all work out for my vindication at my sentencing."  Others say it means his release from prison.  Since the primary meaning is deliverance from death, that he's saying, "All of this that's going on is going to ultimately end up in my being released from prison."
Well, which of those is right?  I would say that the truth is in all of those, and let me show you what I mean.  It is in my judgment fair to include in one way or another the whole of all of those things which I mentioned to you in this sense.  Paul believes – and here's the key thought; you need to get it – Paul believes that his current distress is only temporary.  That's really what he's saying.  It's temporary; that's the point.  It isn't going to last.  "I will be delivered from it.  Maybe I'll be vindicated at my second phase of the trial.  Maybe I will be released from prison.  Maybe I will go to heaven to be with Jesus Christ, and therefore be delivered in the sense of ultimate salvation.  Maybe my well-being will be at last the issue."  I don't think he knows.  But what he is saying is, "I do know this that what I'm going through now is temporary, and the future holds my deliverance, whether it's vindication in court, release from prison, well-being, or eternal heaven – I'll be delivered out of this."
Paul quotes Job verbatim in verse 19:
… this statement that he makes, "For I know that this shall turn out for my deliverance," is a verbatim quote of Job 13:16, a verbatim quote of the Greek Old Testament, Job 13:16 – word for word.  Paul was a scholar in Scripture.  And obviously identified his own problems and his own struggle with that of Job.  He knew the story of Job. All the Jews know the story of Job.  And he knew that Job was a righteous man and that God put Job the righteous man in a situation of suffering, but Job knew because he knew God delivered the righteous that no matter what he went through God would deliver him out of it.  Job knew that even to the point of death where he said, "Though worms destroy this body, yet in my flesh shall I" – What? – "see God."  He knew that one way or another, either temporally or eternally, God would deliver him.
Why?  Because God delivers the righteous.  That's an Old Testament principle.  Job knew it because it was the truth about God, even before the Old Testament was written.  Paul knew it, and Paul is identifying with Job, who is a righteous man going through very difficult times who also said, "I know that this shall turn out for my deliverance." And Paul quotes Job because he takes security in the precepts of the Lord, the truth of the Word of God.  He obviously viewed his present trouble like that of Job, and since Job was a faithful, righteous man, he was ultimately saved from his situation because God delivers the righteous. So Paul could quote the same thing, "I know that You will deliver me."  Because He knew his heart, his conscience was clear.  This wasn't the chastening of God or the punishment of God or the condemnation of God. So he is giving expression to the conviction that everything must work together for good to them that love God. And whether he was released from prison in this life, whether he was vindicated at his trial, or whether it worked out for his physical well-being, or whether he went to glory as a martyr, he would be delivered.
Personally I don't think you can isolate it to his release from prison, because he says right here, "Whether by life or death." So he didn't know that he was going to live.  He wasn't sure whether he would live or die, so he can't say, "I know this will turn out for my release from prison," or he wouldn't have said, "Whether I live or die."  He is simply saying God delivers the righteous. That's a great principle – confident, then, in the precepts of the Lord.
In addition to his trust in the Lord, Paul also had confidence in the power of prayer, also evidenced in verse 19.
MacArthur has more on the power of prayer:
Secondly, he was confident in the prayers of the saints.  He was confident in the prayers of the saints.  He says, "Through your prayers" – what a wonderful statement.  Listen, he knew the Word of God would come to pass.  He believed in the sovereignty of God.  He believed in the eternal purposes of God laid down from before time began, but he also knew that God effected His work and brought His purposes to pass in concert with the prayers of the saints.  And so he says, "Through your prayers."  One of the most wonderful truths of Scripture is that God works His purposes through the prayers of His people – and he says to the Philippians who loved him so dearly and to whom he was bonded in a very unique way, maybe unlike any other congregation, as we pointed out earlier – he knew he had their prayers, and he knew that the effectual, fervent prayer of righteous men produces much fruit and has great effect. And he knew that God working out His purpose through the faithful prayers of these people would bring his deliverance.  He believed in prayer.  He was confident in prayer.  And he called people to pray on his behalf; in Romans 15:30, "Now I urge you, brethren, by our Lord Jesus Christ and by the love of the Spirit, to strive together with me in your prayers to God for me."  He says, "Please pray for me."
In Ephesians chapter 6, as he draws to a conclusion the passage on the armor, he says, "Pray on my behalf, that utterance may be given to me in the opening of my mouth, to make known with boldness the mystery of the gospel, for which I am an ambassador in chains" (Ephesians 6:18-19).  "Pray for me."  And there are other places we don't have time to examine: 1 Thessalonians 5:25, "Brethren, pray for us."  Beloved, he believed that God worked His purpose through the prayers of His people.  And so he said, "This will work out for my deliverance. My joy is fixed. My joy is fixed. My joy is fixed in the face of trouble, in the face of detractors, in the face of death." Why, Paul?  Because the Word says God vindicates the righteous, and because the prayers of the saints are effective.
Paul also had confidence in the power of the Spirit.
MacArthur's translation says 'the provision of the Spirit of Jesus Christ':
Thirdly, he was confident of the provision of the Spirit.  In verse 19, "And the provision of the Spirit of Jesus Christ."  "I know this will turn out for my deliverance through your prayers and – implied – through the provision of the Spirit of Jesus Christ."  And these are the three things that always work together: the Word, prayer, and the Spirit, right?  The Word, prayer, and the Spirit.  And they always work together for the benefit of the servants of God.
"The provision of the Spirit," a wonderful statement. It means "the provision given by the Spirit," not "the provision which is the Spirit," although that certainly is true. I think the emphasis here is "the provision which the Spirit gives."  In other words, the Spirit will grant to me whatever is necessary to sustain me.  The word "provision," by the way, epichorgias, means "help" or "supply."  It can be translated "bountiful supply" here. It could be translated "full supply."  I like "full resources," "full resources."  And the full resources of "the Spirit of Jesus Christ." That's the Holy Spirit, who is called here "the Spirit of Jesus Christ." Who is called in Romans 8 and 9 "the Spirit of Christ," so that's not an unfamiliar designation.  The Spirit can either be the Spirit of God or the Spirit of Christ within the Trinity.
So he is confident that the Holy Spirit – his indwelling teacher, interceder, guide, source of power – will provide what he needs.  Boy, what a tremendous confidence, tremendous confidence.  The Spirit is the provider.  Acts 1:8, Jesus said, "You'll receive power after the Holy Spirit has come upon you."  In John 14 Jesus said, "I'll send you the Helper, the Comforter, and He'll give you everything that you need. He'll bring all the resources of God to you."  That's right, He'll bring you all the resources of God.  And the fruit of the Spirit is even listed in Galatians 5, "Love, joy, peace, gentleness, goodness, faith, meekness, self-control" – whatever you need He'll bring it to you.  If you need power, He brings you power.  He is the provider who brings the provision.  And every Christian possesses the Holy Spirit, and every Christian then has that resource, that provision.  He knew what Zechariah 4:6 says, "'Not by might nor by power, but by My Spirit,' says the Lord."
So, Paul is confident in the presence of the Spirit.  By the way, that's why everything works out together for good.  In Romans 8:28 it says, "All things work together for good to them that love God, and are called according to His purpose."  But in the verse before it says, "We know not what to pray for as we ought, so the Holy Spirit makes intercession for us with groanings which cannot be uttered," and that's why everything works out together for good.  That doesn't happen in a vacuum. That happens as a result of the provision of the Spirit of God, the supply of the Spirit of God, the intercession of the Spirit of God in an unutterable language between Himself and the Father.
Wow. I wish I'd had that lesson in Confirmation class. Even though Confirmation is all about the Holy Spirit, the Third Person of the Trinity was underemphasised. It is only now in my teatime years that I have begun to appreciate Him. It is a sad admission to make. I mention it because it is essential for those who are parents or in charge of children to make the power of the Holy Spirit abundantly clear to young people.
Another thing I would like to mention is the serendipity of today's verses with the Year C Gospel reading for the Sixth Sunday after Trinity, July 24, 2022, in which Jesus taught the disciples how to pray — boldly. Note Luke 11:13, in which Jesus mentions the Holy Spirit:
If you then, who are evil, know how to give good gifts to your children, how much more will the heavenly Father give the Holy Spirit to those who ask him!"
Also note Paul is confident that the Holy Spirit will provide his daily bread, so to speak. The Holy Spirit will ensure his survival, what he needs to stay alive.
Amazing. I love it when verses and themes coincide. It makes the Bible come alive.
Paul goes on to say that he has an eager expectation and hope that he will not be at all ashamed and that, with full courage now and always, he will honour Christ in his body, in life and in death (verse 20).
MacArthur explains:
Fourthly, he was confident in the promise of Christ, he was confident in the promise of Christ.  This is really implicit here rather than explicit … 
What he is saying there is simply this: "I'm confident in the promise of Christ, that if I'm faithful to Him, He'll be exalted in me. That if I'm never ashamed of Him, He'll never be ashamed of me" (Mark 8:38).  Jesus said, "If you confess Me before men I'll confess you before My Father. But if you're ashamed of Me before men, I'll be ashamed of you before My Father."
And Paul is saying, "I have this earnest expectation and this hope that I will never be put to shame in anything, never. And I just move with all boldness so that Christ, as always, can be exalted in my body."  He had this earnest expectation, this tremendous hope that he would never be shamed.  He had no fear of being disappointed by Christ.  He trusted His promise.  He trusted that Christ would never fail him, that Christ would never forsake him, that Christ would never leave him, that Christ would never abandon him, that Christ would never let go of him.  He trusted the words of Christ when he was converted, "You're a chosen vessel; you're a chosen vessel to represent Me."  He knew the promise of Christ – to be with him, to strengthen him, to empower him, to serve through him.
And so he says in verse 20, "My earnest expectations" – a very graphic word, apokaradokia. The "earnest expectation" is "to stretch your head." That's kind of the literal picture here – "concentrated eagerness"; "intense, fixed gaze," straining with the neck as far as you can.  And then he adds the word "hope," and the New English Bible translates it well: "my hope-filled, eager anticipation."  He says, "I live in this eager anticipation that I'll never be put to shame, I'll never be shamed, not before the world, not before the courts of Caesar, not before God, because Christ will be exalted in my body – that's His promise to me.  So with all boldness I go forward."  That's why he's confident facing death.  "I'll never be ashamed.  I'll never be put to shame" …

And he says, "This is, I know this is the promise of God," and I think he's reaching back to the promise of our Lord that those who are not ashamed of Him will never have Him be ashamed of them.  In fact, in Isaiah 49:23 the Lord says this: "Those who hopefully wait for Me will not be put to shame." Maybe he had that in mind. Maybe he had that very verse in mind. "Those who hope or hopefully wait for Me will not be put to shame," almost a parallel to that statement.  He says, "I've got the Word of the Lord on this thing. I'll never be shamed, so I'll preach and preach faithfully and not fear death."  He never feared God because He knew God was on His side – never feared Him in the negative sense.  He never feared man because, what could man do to him?  The promise of Christ belonged to him. The promise of Christ was his that he would never be shamed or disappointed or disillusioned.  Listen to Romans 9:33 – wonderful statement taken out of Isaiah again – "And he who believes in Him will not be disappointed."  Oh how wonderful, and that's what he's saying.
MacArthur discusses 'whether by life or by death':
… he adds this one phrase at the end of verse 20, "whether by life or by death," and he introduces us to the fifth aspect of confidence.  He is confident in the plan of God. He doesn't know what it is. It might be life; it might be death; but he's confident in it – "whether by life or by death, I will boldly move on, for God's plan is God's plan, and I rejoice in it." Confident in the plan of God.
He's resigned to God's plan.  He didn't know whether he was going to live; he didn't know whether he was going to die.  In fact, if he had a choice he'd die. Verse 23, he says, "I'm hard-pressed, I really have a desire to depart and be with Christ, for that's very much better.  So if you really want to know what I'd like to do, I'd like to die."  "But," he says (verse 24), "to remain in the flesh is more necessary for your sake. So I know that I shall remain and continue with you for your progress and joy in the faith."  He says, "My feeling is, the Lord's going to let me live because you need me.  But for the time being," he says, "I'd rather die if I had my choice, but whatever the plan is, I leave it with Him" …

And he sums it up in this great statement in verse 21.  This is the capstone, "For to me, living is Christ and dying is gain."  That's it.  That is the summum bonum of his life, "living is Christ, dying is gain."  I live only to serve Him, only to commune with Him, only to love Him.  I have no concept of life other than that.  Now follow this thought.  He is saying, "I am totally wrapped up in Christ – loving Him, knowing Him, preaching Him, serving Him.  Christ is the raison d'etre, the reason for my being, the reason for my existence."  He doesn't mean Christ is the source of his life, though He is.  He doesn't mean Christ lives in him, though He does.  He doesn't mean Christ controls him, though He does.  He doesn't mean that Christ wants him to submit to Him, though He does.  He simply means "living is Christ."  Life is summed up as Christ.  "I'm filled with Christ.  I am occupied with Christ.  I trust Christ, love Christ, hope in Christ, obey Christ, preach Christ, follow Christ, fellowship with Christ, Christ is the center circumference of my life. It's all Christ.  Christ and Christ alone is my inspiration, my direction, my meaning, my purpose – consumed, dominated by Christ."
Matthew Henry's commentary says this about verse 20:
Here observe, (1.) The great desire of every true Christian is that Christ may be magnified and glorified, that his name may be great, and his kingdom come. (2.) Those who truly desire that Christ may be magnified desire that he may be magnified in their body. They present their bodies a living sacrifice (Rom 12 1), and yield their members as instruments of righteousness unto God, Rom 6 13. They are willing to serve his designs, and be instrumental to his glory, with every member of their body, as well as faculty of their soul. (3.) It is much for the glory of Christ that we should serve him boldly and not be ashamed of him, with freedom and liberty of mind, and without discouragement: That in nothing I shall be ashamed, but that with all boldness Christ may be magnified. The boldness of Christians is the honour of Christ. (4.) Those who make Christ's glory their desire and design may make it their expectation and hope. If it be truly aimed at, it shall certainly be attained. If in sincerity we pray, Father, glorify thy name, we may be sure of the same answer to that prayer which Christ had: I have glorified it, and I will glorify it again, John 12 28. (5.) Those who desire that Christ may be magnified in their bodies have a holy indifference whether it be by life or by death. They refer it to him which way he will make them serviceable to his glory, whether by their labours or sufferings, by their diligence or patience, by their living to his honour in working for him or dying to his honour in suffering for him.
What follows are the remaining verses of Philippians 1. Once again, he uses the words 'standing firm':
21 For to me to live is Christ, and to die is gain. 22 If I am to live in the flesh, that means fruitful labor for me. Yet which I shall choose I cannot tell. 23 I am hard pressed between the two. My desire is to depart and be with Christ, for that is far better. 24 But to remain in the flesh is more necessary on your account. 25 Convinced of this, I know that I will remain and continue with you all, for your progress and joy in the faith, 26 so that in me you may have ample cause to glory in Christ Jesus, because of my coming to you again.
27 Only let your manner of life be worthy[h] of the gospel of Christ, so that whether I come and see you or am absent, I may hear of you that you are standing firm in one spirit, with one mind striving side by side for the faith of the gospel, 28 and not frightened in anything by your opponents. This is a clear sign to them of their destruction, but of your salvation, and that from God. 29 For it has been granted to you that for the sake of Christ you should not only believe in him but also suffer for his sake, 30 engaged in the same conflict that you saw I had and now hear that I still have.
Paul has more advice on how the Philippians — and we — should live a Christian life. More on that next week.
Next time — Philippians 2:14-18
The Sixth Sunday of Trinity is on July 24, 2022.
Readings for Year C can be found here.
The Gospel reading is as follows (emphases mine):
Luke 11:1-13
11:1 He was praying in a certain place, and after he had finished, one of his disciples said to him, "Lord, teach us to pray, as John taught his disciples."
11:2 He said to them, "When you pray, say: Father, hallowed be your name. Your kingdom come.
11:3 Give us each day our daily bread.
11:4 And forgive us our sins, for we ourselves forgive everyone indebted to us. And do not bring us to the time of trial."
11:5 And he said to them, "Suppose one of you has a friend, and you go to him at midnight and say to him, 'Friend, lend me three loaves of bread;
11:6 for a friend of mine has arrived, and I have nothing to set before him.'
11:7 And he answers from within, 'Do not bother me; the door has already been locked, and my children are with me in bed; I cannot get up and give you anything.'
11:8 I tell you, even though he will not get up and give him anything because he is his friend, at least because of his persistence he will get up and give him whatever he needs.
11:9 "So I say to you, Ask, and it will be given you; search, and you will find; knock, and the door will be opened for you.
11:10 For everyone who asks receives, and everyone who searches finds, and for everyone who knocks, the door will be opened.
11:11 Is there anyone among you who, if your child asks for a fish, will give a snake instead of a fish?
11:12 Or if the child asks for an egg, will give a scorpion?
11:13 If you then, who are evil, know how to give good gifts to your children, how much more will the heavenly Father give the Holy Spirit to those who ask him!"
Commentary comes from Matthew Henry and John MacArthur (as indicated below).
This is another long post, so please be prepared with refreshment.
Unlike the Jewish hierarchy who prayed aloud in public, reciting the same prayers several times a day, the ordinary Jew in our Lord's era had forgotten how to pray in a heartfelt way as exemplified by the Psalms.
Jesus never prayed aloud in public. He said that those who did, i.e. the hierarchy, already had their reward. They prayed so that they would be seen and admired by other Jews. Jesus said that God was having nothing of their showy rituals.
Recall that Luke 9 through to Luke 19 documents how Jesus taught His disciples. Here, by request, He teaches them how to pray.
Now, at this point, Jesus was teaching and preaching in Judea. These were the final months of His life.
We are not sure exactly where He was at this point except that He was likely praying away from the crowds in a private place, as He always did. His disciples might have been praying with Him, using their own prayers. Luke does not tell us.
At this place, one of His disciples requested that He teach them to pray in the manner that John the Baptist taught his followers (verse 1).
Matthew Henry explains the request:
Their plea is, "As John also taught his disciples. He took care to instruct his disciples in this necessary duty, and we would be taught as they were, for we have a better Master than they had." Dr. Lightfoot's notion of this is, That whereas the Jews' prayers were generally adorations, and praises of God, and doxologies, John taught his disciples such prayers as were more filled up with petitions and requests; for it is said of them that they did deeseis poiountai—make prayers, ch. 5 33. The word signifies such prayers as are properly petitionary. "Now, Lord, teach us this, to be added to those benedictions of the name of God which we have been accustomed to from our childhood" … This disciple needed not to have urged John Baptist's example: Christ was more ready to teach than ever John Baptist was, and particularly taught to pray better than John did, or could, teach his disciples.
Students of the Bible know that Jesus had already laid out the Lord's Prayer earlier in His ministry at the Sermon on the Mount. Matthew's account has our Lord's instructions in his sixth chapter.
Henry lays out the differences between Matthew's and Luke's accounts:
There are some differences between the Lord's prayer in Matthew and Luke, by which it appears that it was not the design of Christ that we should be tied up to these very words, for then there would have been no variation. Here is one difference in the translation only, which ought not to have been, when there is none in the original, and that is in the third petition: As in heaven, so in earth; whereas the words are the very same, and in the same order, as in Matthew. But there is a difference in the fourth petition. In Matthew we pray, "Give us daily bread this day:" here, "Give it us day by day"—kath hemeran. Day by day; that is, "Give us each day the bread which our bodies require, as they call for it:" not, "Give us this day bread for many days to come;" but as the Israelites had manna, "Let us have bread to-day for to-day, and to-morrow for to-morrow;" for thus we may be kept in a continual dependence upon God, as children upon their parents, and may have our mercies fresh from his hand daily, and may find ourselves under fresh obligations to do the work of every day in the day, according as the duty of the day requires, because we have from God the supplies of every day in the day, according as the necessity of the day requires. Here is likewise some difference in the fifth petition. In Matthew it is, Forgive us our debts, as we forgive: here it is, Forgive us our sins; which proves that our sins are our debts. For we forgive; not that our forgiving those that have offended us can merit pardon from God, or be an inducement to him to forgive us (he forgives for his own name's sake, and his Son's sake); but this is a very necessary qualification for forgiveness, and, if God have wrought it in us, we may plead that work of his grace for the enforcing of our petitions for the pardon of our sins: "Lord, forgive us, for thou hast thyself inclined us to forgive others." There is another addition here; we plead not only in general, We forgive our debtors, but in particular, "We profess to forgive every one that is indebted to us, without exception. We so forgive our debtors as not to bear malice or ill-will to any, but true love to all, without any exception whatsoever." Here also the doxology in the close is wholly omitted, and the Amen; for Christ would leave them at liberty to use that or any other doxology fetched out of David's psalms; or, rather, he left a vacuum here, to be filled up by a doxology more peculiar to the Christian institutes, ascribing glory to Father, Son, and Holy Ghost.
Some might wonder why this disciple asked again, if he had heard Jesus teach the prayer before.
It could be that some among them needed reminding of how to pray, as John MacArthur explains:
… they had been raised in a Judaistic environment of apostate religion.  They had been raised with heresy.  They had been raised under the leadership of rabbis and scribes and priests and Pharisees and Sadducees who didn't know God.  They thought they did but they did not, and so they had invented a false kind of praying; a ritualistic, vainly repetitious kind of praying. It was external, ceremonial that was used for hypocritical purposes to demonstrate one's supposed self-righteousness publicly.  They had been cheated out of the examples of what it really is to pray.  And as we saw, listening to Jesus pray here in verse 1, waiting till He was finished they were hearing a kind of prayer that was very different from what they were experiencing in the Judaism in which they were raised.  And so one of them says, "Teach us to pray like You pray. Teach us to pray the way John the Baptist taught his followers to pray," which gives us a wonderful insight. John the Baptist, of course, was a true man of God, a true servant of God, a true saint of God, a true believer in God and so in the midst of apostate Judaism there were those true believers, John being one, who did know how to pray.  And John's disciples had the same problem Jesus' disciples had, they had been raised in that apostate environment, they had been raised in the environment of false and hypocritical prayers and they also needed to know how to pray the right way.  And John the Baptist had instructed them. Even the Pharisees comment on that in Luke 5:33, they say, "John's disciples always fast and pray." And so here the disciples of Jesus bring up the question: How are we to pray?
He had already taught His apostles to pray.  He had already given this prayer in the Sermon on the Mount so we might conclude that this was a different group of disciples this time.  Certainly there were some who had departed from Him and there were others who had been attracted to Him.  We don't know specifically who these people were, but it may well have been as well that the others who knew the prayer when it was given in Galilee needed to hear it again here in Judea many months later.  It's really important to know how to pray the right way.  If we have access to all of the supply of heaven, if we have entrance given to us, if the gates to the treasure house of heaven have been kicked wide open and God has invited us to come and put no constraints or limits on our coming, we certainly know then how to access that is critical for us.  They understood it and I think they heard the way Jesus prayed and it was different than the way they were used to hearing people pray.  And they needed Him to teach them.
Note that the Lord's Prayer begins first by acknowledging God's power and glory and ends with personal petitions for sustenance and forgiveness.
Jesus told the disciples to first say, 'Father, hallowed be your name. Your kingdom come' (verse 2).
'Hallowed be your name' means 'Holy is your name'.
MacArthur has more on the word 'hallowed', which has two meanings:
First, to hallow, to make holy, to set apart as holy, can mean to make an ordinary thing holy by bringing it into contact with something that is holy, to make an ordinary thing holy by bringing it into contact to something that is holy. Now that's biblical because that's what happened to us. I'm not holy and you're not holy but God views us as holy because He's united us to whom? To Christ. So in our union with Christ, that which is unholy has been made holy. So we are now called holy ones. We are called saints. That's what the word "saint" is. So we are holy in the sense that we have been made holy by being brought into contact with one who is holy.
That's not the usage here because God doesn't need to be made holy by being brought into contact with someone else who is holy. It simply means here to treat as holy, to hold as holy. That is to say, to recognize that God is different, separated, separated, separated, separated, holy, holy, holy, a different sphere, a different quality of being, a different power, a different knowledge, a different wisdom way beyond us. God is supremely separate from us. He absolutely belongs to a different sphere of life and being. And we come acknowledging that. He is vastly beyond us and above us.
MacArthur advises us on how to consider the words 'Thy kingdom come':
When you come to Christ and you're sick of yourself and sick of your sin and your selfish ways and you bow the knee to the lordship of Jesus Christ and receive from Him eternal salvation, from then on the objective is expressed in this praise and prayer, "Thy kingdom come." Confessing Jesus as Lord and King is to say, "Take over my life, fit me into Your purpose, put me somewhere in Your objectives and agenda and program." When I say, "Thy kingdom come," I am affirming that I have relinquished the rule over my own life. And I allow You to do whatever it is that You want to do. It's very like the next phrase, "Thy will be done on earth as it is in heaven." Now this petition is based on one great assumption and that is that God is sovereign and Jesus is Lord and at salvation we are submitting to that glorious reality …
"Thy kingdom come." This puts His interest first. Do whatever advances Your kingdom …
First: the logical flow. You know He cares, He's your Father, you have access, He has wisdom; He has resources. At the same time you know He's holy and only does what is right. And then, thirdly, you concern yourself with His kingdom and not your own. There are only really two kingdoms. There is the kingdom of God, and there is the kingdom of Satan. There is the kingdom of darkness, as Paul called it, or the kingdom of God's dear Son, just those two. And everybody is in one or the other. We are either the children of God in His kingdom, or the children of the devil in his kingdom. We either serve God, or we serve Satan. Jesus said, "You're either for Me or against Me." There really is no middle ground. And as believers, it shouldn't be any stretch for us to understand that all of our desires and longings and hopes would be toward the kingdom of which we are a part and in honor and affirmation of the King whom we love and serve.
Then Jesus prayed, 'Give us each day our daily bread' (verse 3).
He used 'bread' as an all-encompassing word symbolising what we need to survive this life.
MacArthur says:
Now let's break this request in verse 3 down into several little features.  OK?  Just break it down a little bit.  Number one, the substance, what is it that we're praying for?  Bread, see it there.  "Give us each day our daily bread."  What do we mean by bread?  Well we mean more than cooked or baked wheat or flour.  Don't we?  What do we mean by bread?  Well basically that simply stands for all the temporal issues of life, physical care; food, clothing, housing, basics to survive, to stay alive.  Martin Luther wrote that bread was the symbol for everything necessary for the preservation of this life.  Luther said, "Like food, health, good weather, a house, a home, wife, children, good government and peace."  It's a way of saying, "Lord, if I'm to survive physically You have to be the source of my survival.  And again, it's not the necessities of life, it doesn't talk about what kind of house or what kind of food, or what quality of life.  It just says, "Lord, sustain my life because I cannot advance Your kingdom, I cannot do Your will, I cannot honor Your name, I cannot bring You glory unless I am alive."
Finally, Jesus said to petition God to 'forgive us our sins, for we ourselves forgive everyone indebted to us. And do not bring us to the time of trial' (verse 4).
Henry explains that we cannot expect God to forgive our sins if we do not forgive those who sin against us. We also pray that we are not tempted to sin:
(9.) That we have no reason to expect, nor can with any confidence pray, that God would forgive our sins against him, if we do not sincerely, and from a truly Christian principle of charity, forgive those that have at any time affronted us or been injurious to us. Though the words of our mouth be even this prayer to God, if the meditation of our heart at the same time be, as often it is, malice and revenge to our brethren, we are not accepted, nor can we expect an answer of peace.
(10.) That temptations to sin should be as much dreaded and deprecated by us as ruin by sin; and it should be as much our care and prayer to get the power of sin broken in us as to get the guilt of sin removed from us; and though temptation may be a charming, fawning, flattering thing, we must be as earnest with God that we may not be led into it as that we may not be led by that to sin, and by sin to ruin.
Jesus then illustrates God's infinite love for them — and us — by giving them a hypothetical situation of a disciple who goes to a friend in the middle of the night to ask for three loaves of bread (verse 5) because he has an unexpected houseguest and nothing to give him to eat (verse 6).
The friend doesn't want to give him anything because it is the middle of the night, he is drowsy from being awakened and his wife and children are asleep (verse 7).
Yet, persistence, Jesus said, will cause the friend to relent in the end and give the man what he needs, if only to get rid of him and go back to bed (verse 8).
Jesus was saying that God is different to that friend. We have only to ask and if it be His will, He will give us what we request; if we knock, He will open His door to us (verses 9, 10).
MacArthur explains our Lord's illustration leading into His Father's response:
What happened here was this guy finally got out of bed and gave the man what he wanted because he was annoyingly persistent.  He was overly persistent.  He was troublesomely urgent.  It's the word in the Greek anaideian, it's hapax legomena, that is, once said in the New Testament, the only place it ever appears.  And really what it means – and you might see this in your marginal reading in the NAS – is "shamelessness, somebody who just sets aside all sense of shame."  It's, one lexicon said, "overly bold."  Another one said, "utter shamelessness."  Somebody who is just brash, and bold, somebody who has a lot of nerve.  Are we supposed to pray like that?
That's what Jesus is going to teach us here to pray like that, and thus to participate in the means by which God achieves His ends … 
"Lend me three loaves."  Now he doesn't mean three great big bakery loaves, like we're used to.  A loaf would be basically one piece of flat bread.  He wants three pieces of flat bread, which would be a normal meal dipped in perhaps some kind of olive oil, or spread with some kind of fruit, or whatever.  This would be sufficient for an evening meal.
Now this is not an emergency.  He isn't saying, "My wife is having a baby.  My wife is dying.  My kid broke his leg.  We've got a robber in the house."  He's in the middle of the night and he says, "I want these three loaves."  And the guy is probably thinking, "What in the world?  He is waking me up for a midnight snack.  This is ridiculous."  Actually, it's a very generous and unselfish act on his part because he's been awakened himself.
Because verse 6 says, "For a friend of mine has come."  I'm just passing on the joy here.  "Friend of mine has come to me from a journey and I have nothing to set before him."  People often traveled at night in that hot part of the world, and his friend came at midnight, and he had to get up and host him.  He arrived unexpectedly. 
Hospitality, by the way, was expected in the ancient world, very much expected among the Jewish people.  They majored on hospitality.  It was part of their social duty, more a part of their religious duty.  Part of their duty to God to care for the stranger, right?  I mean, that's Old Testament stuff.  They knew what they had to do.  And so this poor man who had this guest arrive at midnight at his house, he had sort of a difficult dilemma: I can be a poor host or a poor neighbor, right? 
Being a poor host was not an option because hospitality was at the high level of priorities in cultural considerations.  And he knew his neighbor knew it, as well.  So both of then would really be doing what's right, even though it was a bit inconvenient for both of them.  So he says, "It's really not for me.  I don't want a midnight snack.  It's a friend of mine that's come to me from a journey, and I have nothing to set before him."  He's obviously hungry, hasn't had anything to eat, no shops, restaurants, no stockpile of food, nothing.  Very different, by the way, from our world, isn't it?  When you just make it every day with the bread you have …
"The door has already been shut."  It wasn't a door like we have that you shut it easily.  Sometimes doors actually dropped through rings, a combination of metal and iron, and removing it was not just a simple thing to do, and opening would make a lot of racket.  And there was a whole family there.  And he says, "My children and I are in bed."  Usually the same bed.  They had a big mat, one-room houses, right?  One-room houses.  The kitchen in one corner, living space over here, and bedroom in the same place.  Just roll out the mat and everybody goes down on the mat with some pillows, or whatever.  And the colder it got, the closer they all got together.  That's how they all kept themselves warm. 
So if he gets up, everybody's up, all the kids are up, everybody's up.  And probably by now the people living close next door are up because they're listening to the conversation, as well.  The whole thing seems very presumptuous, very bothersome.  It really isn't a big emergency.  I mean, couldn't he – would he die if he waited till breakfast?  Isn't he – aren't you a little bit overdoing this hospitality thing?  Tell the guy to go to bed.  You'll forget it when you fall asleep.  You know, give him a speech.  You've been on a long journey.  You're probably tired.  Just lay down.  You'll fall asleep and you'll forget.  The man says, "I'm not going to get up and give you anything.  This is too much trouble."
And then Jesus, skipping any prolonged narrative, jumps to the point of the story in verse 8.  "I tell you, even though he will not get up and give him anything because he is his friend, yet because of his persistence – " his importunity, his brashness, his boldness " – he will get up and give him as much as he needs."  There's really no sense in not getting up because he's not going away.  And you've already awakened me, and you've already awaken the kids. 
I tell you, he's going to get what he asks for because of his shamelessness.  That's the word, anaideian, because of his shamelessness, his brashness, his gall.  The emphasis here is on this boldness.  It isn't so much on persistence and much asking, it's just the boldness of asking at such an inopportune time, just took a lot of gall to do this. 
Well, it's a perfect illustration.  It's just a perfect illustration of us going to God and saying, "I know it's inappropriate to interrupt You because You're running a universe and You've got all these things going.  But I just need You to sit down and listen to me, and look at this, and don't be distracted.  I've got some things I need to – "  That is just – that's over the top.
But it isn't.  The picture here is of shameless nerve, boldness, importunity, things that seem almost ludicrous to us going into the presence of the God of the universe.  But our Lord is teaching us how to be invasive, how to be bold in our prayers.  This man responded not for friendship, but for irritation.  He is in contrast to God who, by the way, the Old Testament says, "Never sleeps and never – " what? " – slumbers."  So you're not waking Him up.  And if this man would give this man what he wanted not for friendship, but just because of his shameless boldness, what will God who loves you perfectly give you when you come into His presence? …

Here's how you pray.  "Father, hallowed be – " what? " – Your name, Your kingdom come – " and then we add, of course, from Matthew 6, "Your will be done."  So it's always according to God's name, according to God's kingdom, and according to God's will that we ask.  It's not a blank check.
The generosity of the statement in verses 9 and 10 is absolutely amazing.  And because verse 9 is so shocking, verse 10 repeats the same thing.  It's not necessary to say the same thing twice, especially when you don't really change anything.  But he does because of the first verse, verse 9, just sort of leaves you stunned.  "Come on," God says, "you can start whispering if you want through the wall, and you can raise your voice and begin to make demands, and you can even bang on the door, if you want, and I'll tell you this.  When you ask, you'll find; and when you knock you will receive what you desire.  I will open the door."  What a great statement …
And what comes out of this?  I'll tell you what comes out of this, an experience of the goodness of God.  An experience of communion with God.  This is the richness of what we enjoy in this life and in the life to come, the eternal reward for being eager participants in the purposes of God.  Next time you pray, be bold.  Next time you pray, which should be at all times, praying without ceasing, be shameless.  Next time you pray, go into the presence of God eager to pour out your heart.  Next time you pray, ask God to listen and to see, and not to turn away, and to hear the cry of your heart.  And as you pray and God unfolds His purpose, you will be enjoying the experience of having been a part of what He accomplishes and enjoy His goodness. 
This concept, this great truth, this great promise is built on a sort of axiom, an obvious principle, and that is built on a divine foundation. 
Then Jesus spoke of a father's innate goodness.
I realise that with all the horrible news stories we read, some will think that few fathers have innate goodness, but most of them do — and that's why we do not read about them in the newspapers. They get on with providing well for and loving their children.
Jesus asked the disciples, a number of whom must have been fathers themselves, if their child asks for a fish, will these men give them a snake instead (verse 11).
Or, if their child asks for an egg, would they give them a scorpion (verse 12).
MacArthur says that Jesus was asking them to follow His logic by moving on from friendship to fatherhood:
Friendship is one thing and friendship goes so far. Fatherhood is something else, isn't it? This again is a typical common Jewish pattern of reasoning from the lesser to the greater. If a friend will respond to your boldness, what will a father do? …
My children certainly didn't hesitate to ask me for what they wanted.  Do yours?  They certainly have never hesitated to ask their mother what they wanted.  And the expectation is that if it's something they need and we know they need it, they're going to receive it, because they understand the relationship that we have is one of love, and care, and responsibility, and affection.  And that's the point here. 
So Jesus is then saying this promise.  You can ask, and seek, and knock, and you will receive, and you will find, and the door will be opened, is based on the fact that you're coming to a father.  This is the analogy.  This is the principle here.  And it's very interesting how he lays it out.  He says one of you fathers, one of you of the disciples that are listening to this – it says back in verse 1 that He was speaking to His disciples.  "One of you fathers is asked by his son for a fish.  Your son's hungry.  He wants a fish.  He wants fish."  That was kind of the staple meat. 
And so what are you going to give him?  You're going to give him a snake instead of a fish?  I mean, if he wants to eat and he's hungry, you're not going to mock his hunger and you're certainly not going to give him a snake.  Some suggest that this is also the word for eel, I think it's best to see it as a snake.  You wouldn't give him an animal that could poison him.  When he wants food and he wants to be fed, you're not going to give him something that could kill him.
And then He gives another simple analogy. "If he asks for an egg, he will not give him a scorpion, will he?"  Why that comparison?  Because scorpions were kind of a yellowy color.  There are different breeds that are different kinds of scorpions.  But historians tell us the kinds in those days were of a sort of a yellow color, not unlike the color of an egg, and they would curl up, and when they curled up in a little ball, they looked like a small egg.  So there was some kind of a similarity there to make the analogy work.  He says, "If your son wants an egg because he's hungry, you're not going to give him a deadly scorpion."
Now when Jesus taught this elsewhere in the Sermon on the Mount in Matthew 7:9, He added a third analogy.  He said, "If your son asks for bread, you're not going to give him – " what?  " – a stone."  You're not going to mock your son's hunger.  You're not going to mock your son's need.  And you're not going to give him something that he can't eat.  You're not going to give him something that will kill him.  That's the principle.  The principle is that fathers take care of their children.  And when children come and they have needs, the father meets the needs.
And so we see the parable which illustrates that we are to come at any time, no matter how simple the need, and to be overly bold in our asking.  The promise that underlies our coming is that whatever it is that we seek, if it's within the framework of His will, we'll receive it.  That is based upon the principle that God is a father.
Jesus ended by saying that if the disciples, who are evil — inherently sinful — know how to give good gifts to their children, how much more will God the Father give the Holy Spirit to those who ask Him (verse 13).
MacArthur explains 'how much more', a longstanding Jewish comparison used to emphasise the greater of two things:
You, being evil.  However, have the residual imago dei, you have left in you the residue of the image of God that was defiled in the fall, but it's still there, because even though you are at heart evil, "the heart is deceitful above all things and desperately wicked," Jeremiah 17:9; "there is none good, no not one," Romans chapter 3.  We are evil. "Yet know how to give good gifts to your children."  That's the residual of the image of God. 
Whenever you see what we call "the milk of human kindness," whenever you see people who don't know God parent well, love their children, show kindness, give their children what they need, be philanthropic; you're seeing the residual of the image of God, so warped and scarred in the fall, but still there.  And so He says, "You, being evil, know how to give good gifts to your children – " and here comes the key " – how much more – "
This is an old rabbinical way to argue, an old Jewish way to argue, the "how much more" argument, the "how much more" approach.  "How much more than you who are evil shall your heavenly Father – " implied, who is not evil, who is perfectly holy " – give?"  I mean, if you who are at heart evil give good gifts to your children, how much more shall your heavenly Father who is holy give to His children?  If you who can only love imperfectly give good gifts to your children, how much more will your heavenly Father who loves perfectly give to His children?  If you who are limited in your wisdom give to your children what you think is best, how much more will your Father who is perfectly wise give the best to His children?
The whole thing sets a huge gulf in our understanding.  You can go to God because He's a loving Father.  But He's a loving Father far beyond the most loving father in this world who is by nature evil and who does his best to give good gifts out of a corrupt and fallen heart.  How much more will your heavenly Father love you with a perfect love?  How much more with perfect wisdom, and perfect compassion, and perfect mercy and grace, and perfect understanding of your situation, and perfect goodness give to you?
So when you go to God, and you go with boldness, and you go with persistence, and you rush in and you unload what's on your heart, and first you ask, and then you start pleading, and then you start banging, know this, that God is delighted with that – delighted with that – because He, with His perfect love, and perfect wisdom, and perfect power, and perfect provision is able to give the best to His children.  In fact, Psalm 84:11 says, "He withholds no good thing from those who walk uprightly," His children.  He holds nothing back.  So how much more shall your heavenly Father give than any earthly father? 
I must confess that I have been praying boldly for something in the distant future for some time now.
I do end my petition by asking if it be His will. I have no idea if it is His will and, just by praying that, I accept that it might not be.
But I most certainly know one thing: if what I ask for is not His will, then He will grant me something far better than I had ever imagined.
Therefore, I pray boldly.
MacArthur summarises the Lord's Prayer as follows, which will help put us in the right mind when we recite it. Note that this great prayer ends just as it started with an affirmation of God's supreme nature:
… as you look back at the prayer, this is a pattern, a framework for praying.  It gives us what it is that God expects to be the character of our prayers.  It is a marvelously simple, memorable little framework.  And as I've been saying each week, you learn to pray your way through this framework.  It's sequential. It's designed that way, and if you blend together the Luke passage with the Matthew passage, you get the full prayer in terms of our Lord's instruction and we're doing that, importing what we need to from Matthew to get the whole thing.  It sets the record straight once and for all as to how we are to pray, how we are to access the throne of God for the glory of God.  You remember our little verse, John 14:13, "Whatever you ask in My name, that will I do that the Father may be glorified in the Son."  In the end, all our prayers are for the glory of the Father through the Son.  And this prayer points that out.  When you say, "Father," you acknowledge God as source.  When you say "Hallowed be Thy name," you acknowledge God as sacred.  When you say, "Thy kingdom come," you acknowledge God as sovereign.  When you say, "Thy will be done," you acknowledge Him as superior.  When you say, "Give us this day our daily bread," you acknowledge Him as supporter.  When you say, "Forgive us our sins," you acknowledge Him as Savior.  When you say, "Lead us not into temptation," you acknowledge Him as shelter.  And when you say, "Thine is the kingdom and the power and the glory forever and ever, amen," you acknowledge Him as supreme.  It really is praying to the end that God is glorified.
May all reading this have a blessed Sunday.
Picking up from where I left off yesterday with Dan Wootton's GB News poll on the next Conservative Party leader, 60,000 people responded and 49 per cent said that Boris Johnson should be the next one.
On Thursday, Wootton remarked:
The Prime Minister's swashbuckling and energetic PMQs farewell today just emphasised that point further.
Boris participated in his final Prime Minister's Questions on Wednesday, July 20, 2022, just under three years since he first stood behind the despatch box as Prime Minister.
It was one of Boris's best performances and can be viewed here. Hansard's transcript is here.
Highlights follow, emphases mine.
Labour's Sir Keir Starmer had a go at the leadership contest, particularly last week's debates and the refusal of a third debate on Sky News. The debates were a bit spiky at times, but pretty tame overall.
Boris replied:
I am not following this thing particularly closely, but my impression is that there has been quite a lot of debate already, and I think the public have ample opportunity to view the talent, any one of which—as I have said before—would, like some household detergent, wipe the floor with the right hon. and learned Gentleman. Today happens to be just about the anniversary of the exit from lockdown last year, and do you remember what he said? He said—[Interruption.] No, I am going to remind him. He said it was "reckless". It was because we were able to take that decision, supported by every single one of those Conservative candidates, opposed by him, that we had the fastest economic growth in the G7 and we are now able to help families up and down the country. If we had listened to him, it would not have been possible, and I do not think they will be listening to him either.
Starmer had a go at Rishi Sunak's accusation of Liz Truss's proposed tax cuts as 'fantasy economics'.
Boris said:
Well, Labour know all about fantasy economics, because they have already committed to £94 billion of extra tax and spending, which every household in this country would have to pay for to the tune of about £2,100. It is thanks to the former Chancellor's management of the economy—thanks to this Government's management of the economy—that we had growth in May of 0.5%. We have more people in paid employment than at any time in the history of this country. I am proud to be leaving office right now with unemployment at or near a 50-year low. When they left office, it was at 8%. That is the difference between them and us.
Then Starmer quoted Liz Truss's criticism of Rishi's economic policy for its lack of growth.
Boris answered:
I think that everybody would agree that what we saw in the last two and a half years was because of the pandemic, with the biggest fall in output for 300 years, which this Government dealt with and coped with magnificently by distributing vaccines faster than any other European Government—faster than any other major economy—which would not have been possible if we had listened to the right hon. and learned Gentleman. That is why we have the fiscal firepower that is necessary to help families up and down the country, making tax cuts for virtually everybody paying national insurance contributions. There is a crucial philosophical difference between Labour and the Conservatives: under Labour, families on low incomes get most of their income from benefits; under us, they get most of it from earnings, because we believe in jobs, jobs, jobs. That is the difference.
Starmer went on to quote Penny Mordaunt on Britain's sluggish public services.
Boris said:
… This is the Government who are investing £650 billion in infrastructure, skills and technology. He talks about public services; what really matters to people in this country right now is getting their appointments and their operations, fixing the covid backlogs—that is what we are doing—and fixing the ambulances. That is what he should be talking about. That is why we voted through and passed the £39 billion health and care levy, which Labour opposed. Every time something needs to be done, Labour Members try to oppose it. He is a great pointless human bollard. That is what he is.
Starmer referred to Kemi Badenoch's criticism of Rishi's handling of covid loans.
Boris replied:
This is one of the last blasts from Captain Hindsight, at least to me. They were the party, I remember, that was so desperate for us to be hiring their friends—they wanted a football agent and a theatrical costumier to supply personal protective equipment. Do you remember, Mr Speaker? We had to get that stuff at record speed. We produced £408 billion-worth of support for families and for businesses up and down the country. The only reason we were able to do it at such speed was that we managed the economy in a sensible and moderate way. Every time Labour has left office, unemployment has been higher. The Opposition are economically illiterate, and they would wreck the economy.
You can read more on Guido Fawkes about Labour's hilarious — well, it would be were it not so tragic — attempts to get the Government to employ their friends for pandemic related equipment.
Starmer went on for another few minutes about the nation being an utter shambles at the moment.
That is true in many instances, but Boris cited the good things that the Conservatives have accomplished over the past three years:
What does it say about the right hon. and learned Gentleman that no one can name a single policy, after three years, of the Opposition apart from putting up taxes? He is one of those pointless plastic bollards you find around a deserted roadworks on a motorway. We got Brexit done; he voted against it 48 times. We got this country fast out of covid, in spite of everything, when he would have kept us in lockdown. We are fixing social care, when the Opposition have no plan and no ideas of their own. We are now bringing forward measures, in the face of strikes, to outlaw wildcat strikes.
I can tell the House why the Leader of the Opposition does that funny wooden flapping gesture—it is because he has the union barons pulling his strings from beneath. That is the truth—£100 million.
We have restored our democracy and our independence. We have got this country through covid. I am proud to say that when it comes to tackling climate change or sticking up for Ukraine, we have led the world on the international stage. I want to thank my friends and colleagues on these Benches for everything they have done.
Guido posted the video of that portion, which is Boris at his best. Viewers will also get the mood of the Chamber, which was very noisy indeed:
After Starmer had finished, it was the turn of Ian Blackford from the Scottish National Party (SNP). As ever, he criticised the Government and put in yet another plug for a second independence referendum:
Boris said:
That is not what I observe. The right hon. Gentleman talks about records; I point to the fastest vaccine roll-out in Europe, the lowest unemployment for at or near 50 years as I have said, the lowest youth unemployment, and the fastest growth in the G7 last year, in spite of everything. As for the Scottish nationalists' record, look at where they are. I am afraid to say that Scottish school standards are not what they should be, because of the failure of the SNP. It is failing people who are tragically addicted to drugs in Scotland, and the people of Scotland are facing another £900 million in tax because of the mismanagement of the SNP.
True. All of it.
Blackford ranted once more on partygate. Incidentally, he is a multi-millionaire who likes to paint himself as a humble crofter.
Boris replied:
On the personal abuse stuff, I think the right hon. Gentleman is talking a load of tosh, but when he has retired to his croft—which may be all too soon—I hope that he will reflect on his long-running campaign to break up the greatest country in the world. I hope that he will reflect on the pointlessness of what he is trying to do, and think instead about the priorities of the people of Scotland, which are all the issues that he thought were trivial: education, crime, and the burden of taxation that the SNP is unnecessarily placing on the people of Scotland.
After Blackford sat down, Sir Ed Davey, leader of the Liberal Democrats, had his say. He indirectly accused Boris of being ambitious and 'tyrannical'. He asked whether Boris would now be devoting time to completing his book on Shakespeare. He also said there should be a general election.
Boris answered:
Polonius—that's who the right hon. Gentleman is; he needs more matter with less art. The only thing we need to know is that if there were to be a general election, the Liberal Democrats would rightly get thrashed, because that would be the moment when the public looked with horror at what the Liberal Democrats' policies really are and all those rural voters would discover the massive green taxes that they would like to apply. The only risk is that there could be some kind of crackpot coalition between those guys on the Labour Benches, the Lib Dems and the Scottish nationalists to put that into effect. That is what we must prevent.
Felicity Buchan, a Conservative who represents London's Kensington constituency, expressed her concerns about rising crime under the current Mayor of London (Sadiq Khan).
Referring to himself, Boris replied:
London once had a Mayor who cut crime by 25%, cut the murder rate by 30% and built twice as many affordable homes as the current incumbent. What London needs is another Conservative Mayor.
Another Liberal Democrat, Scotland's Jamie Stone (Caithness, Sutherland and Easter Ross) wanted a freeport in his Highlands constituency.
Boris said:
I can confirm that we are committed to funding two new green freeports in Scotland to the tune of £52 million. That would not be possible, of course, if the SNP got its way and we returned to the EU.
Boris defined levelling up:
It is not just inequality; it is inequality of opportunity, and that is what levelling up addresses.
A Labour MP moaned about the railways in the north of England.
Boris replied:
Actually, this Government are responsible for three new high-speed lines, including Northern Powerhouse Rail, which no previous Government have done.
Boris gave his advice with regard to hot weather when an MP asked about disposable barbeques and Chinese sky lanterns:
The key thing is for people to behave responsibly with the use of these things. It is clearly insane to take a disposable barbecue on to dry grass.
Another SNP MP, Dr Philippa Whitford, talked about poverty in Scotland, ending with a plug for independence.
Boris said:
Actually, we increased the living wage across the whole of the UK by £1,000, we made sure that people on universal credit got their tax bills cut by £1,000, and over the last couple of weeks we have cut national insurance contributions by an average of £330. It was because of the Union that we were able to support families up and down the country, in Scotland, with the furlough and other payments, to the tune of £408 billion.
One of the nicest contributions came from Conservative MP Andrew Bowie, who represents West Aberdeenshire and Kincardine:
May I thank my right hon. Friend for his commitment to Scotland and the entire United Kingdom over his years in Downing Street? I also thank him and my right hon. Friend the Secretary of State for Scotland for improving and increasing the visibility and involvement of the UK Government in Scotland over the past three years. Does my right hon. Friend the Prime Minister agree that whoever takes his job, and whatever comes next, the United Kingdom will always be stronger together than it ever would be apart?
Boris replied:
That was brilliantly put; I could not have put it better myself.
Then a young Labour MP asked about the slow compensation for Windrush victims.
Boris said:
Actually, I think more people have got compensation. I renew my apologies to the Windrush generation for what they have suffered, but we have greatly increased the compensation available. We have paid out, I think, more than £51 million. We are working with voluntary groups to ensure that people get what they are entitled to. I may say that Labour has never apologised for its own part in the Windrush scandal.
An MP from Northern Ireland accused the Government of ruining relationships between Ulster and the Republic.
Boris replied:
I completely disagree with that. The whole objective of the Northern Ireland (Protocol) Bill that we have passed is to support the balance and symmetry of the Belfast/Good Friday arrangements. I was very pleased that the Bill advanced to the House of Lords with no amendments.
GB News has more on the legislation:
A Conservative MP, Crispin Blunt, is not my favourite. However, here is where I agree with him. He paid a splendid tribute to Boris:
In recalling the situation that the Prime Minister inherited in July 2019, of a Parliament with a majority determined to frustrate the result of the 2016 referendum, led by a Speaker who was just slightly partial—the seemingly impossible situation he found—does my right hon. Friend understand that he has the gratitude of my constituents, who can identify the wood from the trees, and of myself, for his leadership over the last three years?
Boris replied:
I am very grateful to my hon. Friend. There is a fair amount of wood on the Opposition Benches and I think that is why we will prevail at the next general election.
Another SNP MP banged on about a second independence referendum.
Boris said:
This is the country that secured furlough and that delivered the vaccine across the whole of the UK, while the SNP gets on with overtaxing to the tune of £900 million—that is how much they are overtaxing in Scotland. And we had a referendum in 2014.
Another SNP MP complained spitefully about Boris being a nobody and about the honours list he might draw up before he leaves office.
Boris answered:
I am sure that everybody who has served this Government loyally and well deserves recognition of some kind, but as for the honours list, I am afraid the hon. Gentleman will have to contain his excitement.
Conservative MP Sir Edward Leigh was the last to speak. He, too, paid Boris tribute for the past three years:
On behalf of the House, may I thank the Prime Minister—[Interruption.] On behalf of the House, may I thank the Prime Minister for his three-year record of service? On behalf of some of the most vulnerable people in the country, can I thank him for his insistence on rolling out the AstraZeneca jab, which has saved thousands of lives around the world? On behalf of the 17.4 million people who voted Brexit, may I thank him for restoring people's faith in democracy? On behalf of northern towns, may I thank him for his commitment to levelling up? And most of all, on behalf of the people of Ukraine, may I thank him for holding high the torch of freedom and ensuring that that country is not a vassal state? For true grit and determination, keep going and thank you.
Boris replied, giving his closing remarks and advice for the future PM:
I thank my right hon. Friend, and I want to use the last few seconds to give some words of advice to my successor, whoever he or she may be.
No. 1: stay close to the Americans; stick up for the Ukrainians; stick up for freedom and democracy everywhere. Cut taxes and deregulate wherever you can to make this the greatest place to live and invest, which it is. I love the Treasury, but remember that if we had always listened to the Treasury, we would not have built the M25 or the Channel Tunnel. Focus on the road ahead, but always remember to check the rear-view mirror. And remember, above all, it is not Twitter that counts; it is the people that sent us here.
And yes, the last few years have been the greatest privilege of my life. It is true that I helped to get the biggest Tory majority for 40 years and a huge realignment in UK politics. We have transformed our democracy and restored our national independence, as my right hon. Friend says. We have helped—I have helped—to get this country through a pandemic and helped save another country from barbarism. Frankly, that is enough to be going on with. Mission largely accomplished—for now.
I want to thank you, Mr Speaker. I want to thank all the wonderful staff of the House of Commons. I want to thank all my friends and colleagues. I want to thank my right hon. Friend the Member for Ross, Skye and Lochaber (Ian Blackford). I want to thank everybody here. And hasta la vista, baby. [Applause.]
Here's the 'Hasta la vista, ba-by' video — a must-see:
The Conservatives gave him a standing ovation, with everyone applauding him, except for Theresa May, who merely stood.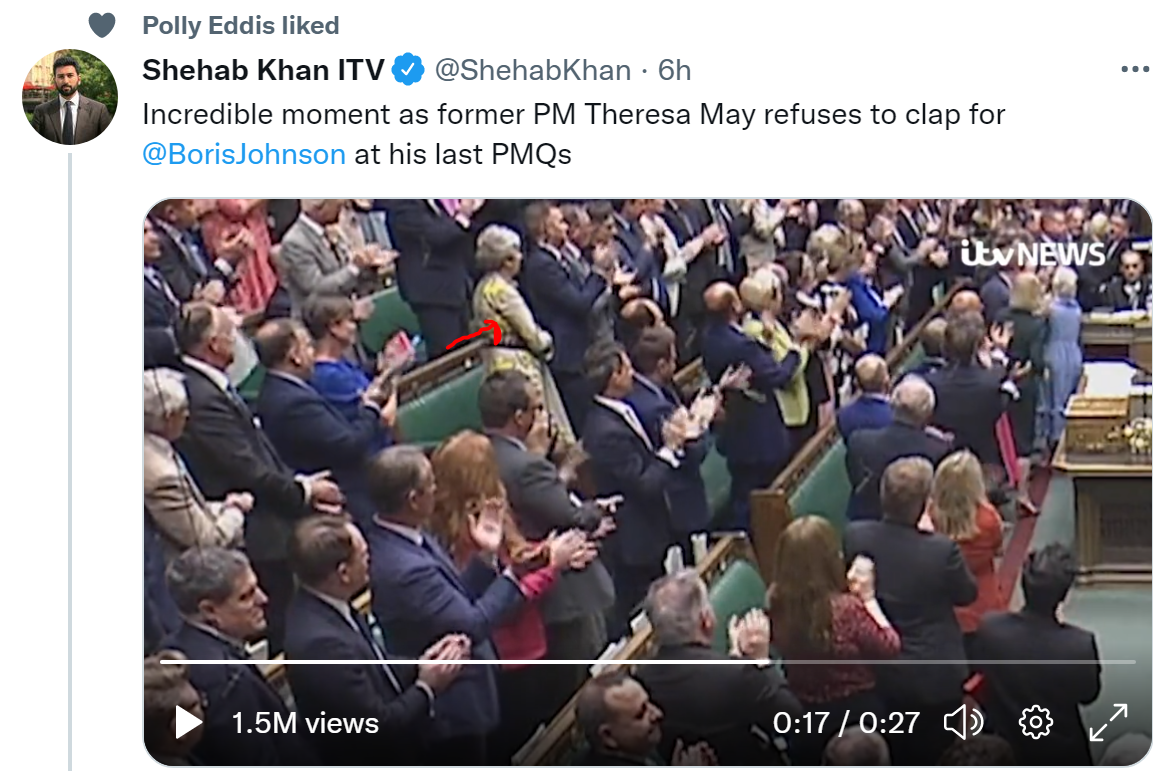 The Opposition either sat in silence or walked out.
One of Guido's readers wrote:
Lack of class from opposition MPs who can't possibly give a polite round of applause for a political opponent.
I agree. On the other hand, they hate Boris because he represents Brexit.
In Guido's comments on the same post, someone said that Boris was Britain's 'worst ever PM', which garnered this response, rightly pointing out the greater moral failings of Tony Blair, John Major and Theresa May as well as today's world leaders:
What, even worse than a Prime Minister who took the UK into an illegal war which resulted in the deaths of millions as well as thousands of UK soldiers and for which the UK is still feeling reverberations in the form of terrorist attacks? What a worse PM than a Prime Minister who signed the UK up to the Maastricht Treaty without putting it to the British people in the form of a referendum? What worse than a Prime Minister who put forward the idea of making the elderly sell their homes to pay for Health Care …
But instead listened to the people and secured an 80 seat majority to leave the EU (admittedly still leaving a lot to do). Invested in Vaccine development and procurement to ensure the UK had enough supplies for every citizen, and that the UK was at the front of the queue, and didnt go overboard on Covid restrictions, not when you look at what other countries got up to, namely Canada, China and France with Macron's "I want to punish those that won't get vaccinated" this after he was responsible for sowing Vaccine doubt simply because the Vaccine was developed in the UK – but then Johnson commited a crime so heinous – he had a piece of Birthday cake brought to him buy his wife – and that's 'your' worst Prime Minister, lol …
Journalist and former Conservative adviser Amanda Platell said she wept after PMQs:
Boris will be missed for his powerful performances at the despatch box …
… and Labour know it. One of their former advisers admits that's why Boris had to go:
Keir Starmer was often petty and unpleasant towards Boris:
That is because he knows Boris can win elections. In fact, earlier this week, Starmer was so frustrated with the Prime Minister that he insulted him on a podcast.
Starmer's deputy leader Angela Rayner said on Monday, July 18, that she would be happy with either Truss or Sunak as his successor. At the time she gave this interview, five candidates were still in the race:
I'm quite happy with any one of them. Because the one thing, and I kind of could see it… [Boris] had this, like, teflon coating… It's like a little magic. Where he was able to get through to the public and get through to the places that I actually don't see any of the five candidates that are standing having at the moment… Boris had so much going for him. He got an 80-seat majority and the country was really behind him… the five that we've got now I don't think have got that…
Here's the video:
Boris's former adviser Dominic Cummings thinks that Boris, like Arnie, will be back, if the next Conservative leader is too lacklustre:
As I wrote yesterday, thousands of voters do not want until then. Dan Wootton's viewers think that Boris's name should be on the ballot going out to Conservative Party members early in August:
Wootton's poll follows on from the ongoing petition by Party members to have Boris's name on the ballot:
The petition is being spearheaded by Lord Cruddas of Shoreditch, the Tory donor, and David Campbell Bannerman, a former Conservative Euro MP:
The Mail also has a report on the petition.
GB News interviewed David Campbell Bannerman on Thursday, July 21:
However, Labour are planning a rearguard action to prevent Boris from ever being Party leader again.
They hope to depose him as MP for Uxbridge and South Ruislip in west London:
On Thursday, July 21, GB News reported:
Boris Johnson could be forced to face a by-election if he is found to have lied to Parliament and is handed a suspension for 10 or more sitting days.
The Privileges Committee is examining whether the Prime Minister committed a contempt of Parliament by misleading MPs over the Partygate scandal.
Commons Speaker Sir Lindsay Hoyle [Labour] confirmed that the committee's findings would fall within the remit of the Recall of MPs Act, following advice from a leading lawyer.
That would mean that a suspension of 10 or more sitting days, or 14 calendar days, would trigger a recall petition.
If at least 10 percent of voters in Mr Johnson's Uxbridge and South Ruislip seat demand a by-election he would lose his place as an MP, but would be eligible to stand again in the contest.
The cross-party committee also published advice from the Clerk of the Journals, Eve Samson, the Commons' expert on parliamentary privilege, which suggested that whether or not Mr Johnson intended to mislead MPs was not a factor that needed to be considered.
But she said that intent could be seen as an "aggravating factor" when considering penalties …
The MPs intend to call Mr Johnson to give oral evidence in public in the autumn, under oath.
The committee has already said that whistleblowers will be able to give evidence about the Prime Minister anonymously.
Mr Johnson has also been ordered to hand over a cache of documents to the MPs investigating whether he lied to Parliament with his partygate denials.
The committee wrote to the Prime Minister and Cabinet Secretary Simon Case demanding details relevant to its inquiry.
On Friday, July 22, Guido posted on the upcoming inquiry, saying (emphases in red his):
While the committee will now disregard the PM's intent, the Clerk's report does say that can feed into deciding a sanction. This is all, in the understated words of The Telegraph, "a departure from precedent"…
It seems the Speaker's also got in on the act of changing rules. The Privileges Committee's announcement yesterday said Hoyle has ruled that "any suspension of the requisite length (10 sitting days or 14 calendar days) ) following on from a report from that Committee will attract the provisions of the Recall of MPs Act". Previously only recommendations of suspension from the Standards Committee would apply the recall act. Now the PM faces a by-election being forced by [Labour MP Harriet] Harman. Tory MPs are now having to fight back on his behalf, launching a petition to scrap the investigation altogether in light of his resignation…
For now, let's remember the happier times of earlier this week.
Boris held his final Cabinet meeting on Tuesday, July 19:
Despite the heat, Guido reports that there were no refreshments or food:
… there were a few presents, and a round of applause for the PM. Nigel Adams also gave a speech commending Boris's time in office, followed by a school photo.
Boris was gi[ven] a six-set first edition of Churchill's war books; surprisingly not something the ex-PM's biographer didn't already own. Guido also learns Boris was given wines that reflected significant dates in his life and political career: 1964, 2008, 2012 and 2019. He also got wine from other countries that mean a lot to him, including Ukraine and Greece …
Here's the Cabinet photo:

I hope all goes well for the Prime Minister in the weeks to come.
No doubt if Labour try to get at him, he'll find a way out.
All being well, I'll have a post next week on what really happened leading to his ouster.