You are currently browsing the daily archive for July 15, 2022.
Before I get into Thursday's voting results in the Conservative Party leadership contest, readers should note that Labour are no longer afraid of losing the next election.
Please, someone, bring back Boris:
The only candidate who could put the frighteners on Labour is Kemi Badenoch, who is excellent at the despatch box when facing the Opposition.
Thursday's vote result
Sir Graham Brady, chairman of the 1922 Committee of backbench Conservative MPs, announced yesterday's result promptly at 3 p.m.
Unfortunately, Suella Braverman had the lowest votes and had to drop out of the race. She had only 27 MPs backing her.
Going into the weekend, we have the following five candidates:
Guido Fawkes has a summary of Thursday's activity, excerpted below.
Rishi Sunak has received over 100 votes, but overall, he is not doing as well as candidates in past leadership elections:
Rishi is one of the weakest first-place candidates in recent Tory leadership elections, comparing leads in the second round of MP ballots:* … *Hat-tip: Tom Harwood
Penny Mordaunt's work ethic was slammed on Thursday. I covered Lord Frost's damning comments in yesterday's post.
Mordaunt also ran into trouble over past statements she has made on gender identity:
Ran into problems and heightened scrutiny over her trans stance, not least with a blow from newly-eliminated Suella Braverman, who accused her of not standing up for women when pushing for gender-neutral language in the ministerial maternity leave bill

Accused of lying about her trans stance by Team Truss
Kemi Badenoch is, happily, still in the race and is ahead of Tom Tugendhat, who is likely to be the next to be dropped when voting resumes on Monday.
Badenoch received 49 votes and Tugendhat 32, a decrease of five votes for him.
Early news on Friday
Much happened overnight, which I will review in recent campaign activity below.
Suella Braverman is now supporting Liz Truss.
There is likely to be increasing pressure put on Kemi Badenoch to bow out of the race. If anything, pressure should be brought to bear on Tom Tugendhat, who is in last place.
Guido calls our attention to three debates this weekend. One will be online and two will be televised (red emphases his, those in purple mine):
Today things get really interesting: it's debate time. So far candidates have taken lumps out of each other from their respective trenches, today they finally have to go over the top – a special metaphor just for Penny and Tom. Things kick off at ConservativeHome at 1pm, and continue over to Channel 4 at 19.30, where all candidates have confirmed their attendance. Followed by ITV on Sunday and Sky on Monday. 
Debates can make or break candidates at this stage, especially when there are a decent number of votes up for grabs and no one knows who's going to win. In 2019, one debate made Rory Stewart – securing his place in the next round – and the subsequent debate 24 hours later broke him, as he decided to get undressed live on air. In a sign of how febrile things are, even Rishi's agreed to join tonight's Channel 4 debate, an unedifying challenge the frontrunners are sometimes able to duck out of. Will some MPs finally have to recognise that their candidate makes Theresa May's public speaking look relaxed and charismatic? Guido looks forward to finding out…
Let's see what is going on with the various candidates.
Suella Braverman
Suella Braverman, Attorney General for England and Wales, is a committed Conservative, especially when it comes to social issues.
In 2019, along with Northern Ireland's DUP MPs and several other Conservative MPs, she voted to keep abortion illegal in Northern Ireland. However, the Government has since legalised abortion there.
Last Sunday, Danny Kruger, a thoughtful MP and Prue Leith's son, gave his reasons for backing Braverman:
Two days later, on July 12, a Conservative Home poll showed that Rishi Sunak would lose were Braverman the second remaining candidate on the ballot going to Party members:
Were Braverman up against Liz Truss, the vote would have been tied.
This was Braverman's platform — lower taxes, border control, no identity politics and commitment to the Conservatives' 2019 election manifesto:
What's not to like?
She also would have taken us out of the ECHR (European Convention on Human Rights), which is preventing us from deporting faux refugees and serious foreign criminals: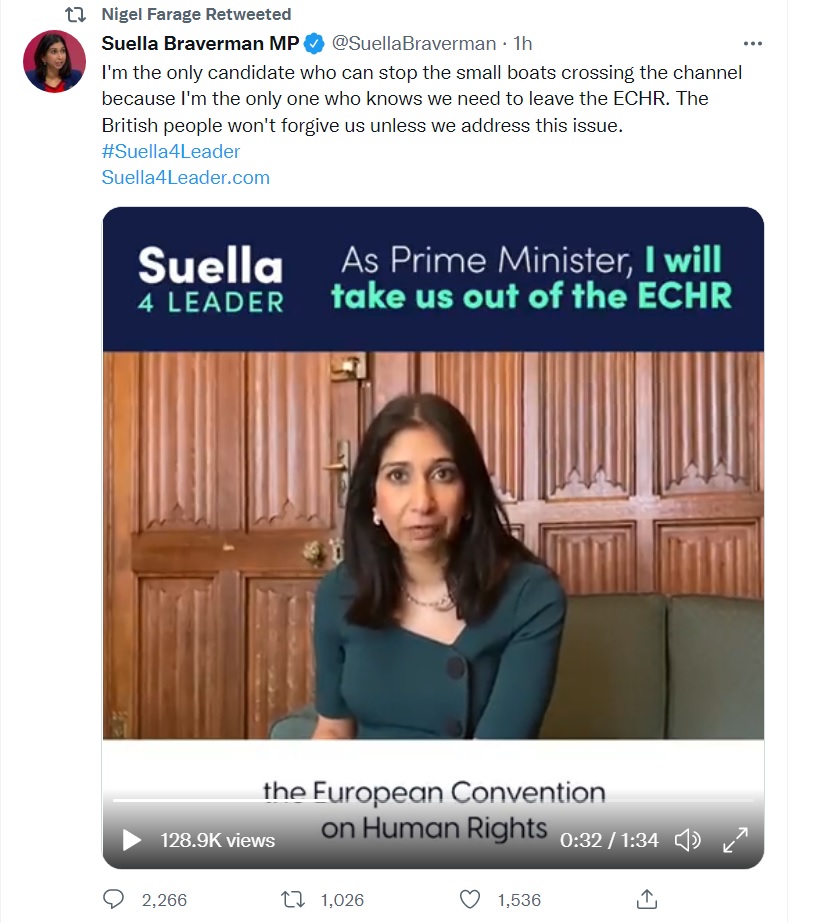 She refused to engage in 'blue on blue' sniping. Here she is with Kemi Badenoch, my other favourite:
Braverman was gracious in defeat:
She swiftly began a media round on Thursday afternoon.
Speaking to Tom Harwood of GB News, she expressed her gratitude for being able to run in the leadership contest, saying it was a real privilege. I agree that she would make an excellent Home Secretary:
She said that she sees both Rishi Sunak and Penny Mordaunt as being on the left. So true:
She criticised Penny Mordaunt's stance on gender identity and accused her of being a 'false Brexiteer':
In an interview with BBC Radio 4, Braverman pointed out that Hansard has a record of what Mordaunt has said in past debates on the Maternity Bill:
She told TalkTV's Tom Newton Dunn why she has decided to support Liz Truss:
I hope that whoever wins will retain Braverman in their Cabinet. She is a true asset to the Conservatives.
Rishi Sunak
Could the wheels be about to fall off for Rishi Sunak, our erstwhile Chancellor?
On Friday, July 15, news emerged that the Chinese government hopes Rishi will be our next Prime Minister:
Guido reported:
This morning Rishi Sunak has successfully won the leadership endorsement none of the candidates wanted: from the Chinese Government's propaganda outfit. Global Times has published an article entitled "China-UK ties 'might improve' with arrival of new PM"; subheading, "Most candidates are tough on Beijing, but 'pragmatic' one wins first round". In the piece, Beijing's mouthpiece notes concern that, despite Rishi winning among MPs, party members might vote for a rival candidate because of tax policy…
Former chancellor of the exchequer (finance minister) Rishi Sunak, the one candidate with a pragmatic view of developing balanced ties with China, has won the first round of voting by MPs.
When Sunak was the finance minister in July 2021, he used his annual Mansion House speech to insist that Britain should beef up its trading relationship with China
Apart from Sunak, almost all of the other candidates hold a very tough stance on China
As I write, mid-day, Guido is awaiting comment from Rishi's team.
In other news, Rishi is losing traction with the bookmakers. He's now in third place:
Guido tells us:
Rishi has fallen from hot favourite to his chances being third rated, with Penny as favourite and an overnight re-evaluation by punters seeing Liz move into the second favourite spot.
Allow me to repeat myself with the aforementioned Conservative Home poll from July 12. According to their readership, likely all Conservative Party members, Rishi could only beat Sajid Javid, who is no longer in the running and Tom Tugendhat, who is currently in last place:
Tom Tugendhat
I do not think that Tom Tugendhat's candidacy will last beyond Monday's vote.
I formed my opinion of him through his participation in House of Commons debates.
He is chair of the Foreign Affairs Committee.
Last August, he spoke about Biden's withdrawal from Afghanistan, where he served with the Army. His contribution gained him a round of applause, which is normally forbidden in Parliament:
America's back – back home.
In 2020, he wrote an editorial on terrorism for the Mail, calling for a return of treason laws, which Tony Blair got rid of:
In 2020, he was critical of China's lockdown policy:
Last year, when there was a suspicion that vaccine passports could be turned into digital identity cards, Tugendhat rightly opposed such a development. talkRADIO's Julia Hartley-Brewer interviewed him on the subject:
Tugendhat announced his candidacy for Conservative leadership on July 7, via an editorial for The Telegraph:
It seems to me that he makes more of his military career than perhaps he should. In one recent interview, he made himself out to be a general (H/T to my reader dearieme):
'What's the worst thing you've ever done?'
'Invaded two countries.'
Guido thinks so, too:
He has the relevant clip:
Anyway, his campaign, increasingly weak, calls for 'a clean start':
A clean start:
On July 8, the Sun featured a profile of him, including his French connection:
Tugendhat is married to Anissia Tugendhat (née Morel).
She is a French judge and civil servant and Tugendhat holds dual citizenship for France and Britain.
According to a tweet from journalist Richard Eden, the pair got engaged in 2013.
Together they have two children, a boy and a girl.
Tugendhat's mother Blandine de Loisne is also French.
Anissia comes from a family of diplomats and her brother has worked in the Foreign Ministry and the French embassy.
We did not know that before, did we? At least Tobias Ellwood told Parliament that he has dual US/UK nationality.
That's probably why he voted Remain in the 2016 Brexit referendum.
He would not be drawn on the subject of whether he regretted his vote. Probably not, then:
The public are suspicious. As he is currently in last place, MPs must be, too:
He launched his campaign on July 12. To calm his nerves, he had a crafty ciggie on the tiny balcony outside his office, forbidden on the parliamentary estate. This, in my opinion, is the only decent thing about him:
I hope he was smoking a Gauloise …
At his launch, he took only two questions from the media:
Perhaps he feared questions about his Frenchness, such as this one:
Candidates, including those running for a position as MP, should declare their nationality or nationalities:
———————————————————————————
I will have more on the leadership contest next week.
For now, I am looking forward to the debates. It will be interesting to see how Rishi and Tugendhat, both of whom are short, look next to Penny Mordaunt, much taller than either of them. Optics are important.