You are currently browsing the daily archive for July 21, 2022.
Before I get to the latest round of voting in the Conservative Party leadership contest, here's an update on our weather.
Tuesday was quite warm. Allegedly, temperatures reached over 40°C for the 'first time ever'. I do wonder, because I remember a day or two in the mid-1990s when we reached 100°F. Furthermore, my reader dearieme wrote in to say that Greenwich recorded 100°F way back in 1911.
I say 'allegedly' because temperature readings came from airports. Certainly, it was at least 38°C.
Everyone in the media was banging on about how many people would die. Yet, cold weather kills many more than does hot weather.
That should not need pointing out, but The Lancet has just published a new study on winter deaths:
In the UK, on average, 791 people die from heat, compared with 60,753 every winter:
Guido Fawkes summarised the findings and concluded (red emphases his, purple ones mine):
With 60,000 annual deaths due to the cold compared to 800 resulting from extreme heat, Guido can only hope that rising average temperatures will save more lives in the future, as a real demonstration of climate justice in action. Always see the sunny side…
I agree. One would think activists would hope for hotter days. Warm weather saves lives.
In any event, it rained in southern England Tuesday night. Wednesday morning was quite cool. Temperatures are now back to normal.
Crisis averted — for the most part.
That said, there was a spate of fires because of dry weather, including a terrible blaze in a village east of London that lasted for hours. It was breezy, so the firefighters had a horrible job on their hands. My prayers go to the residents of that village and those elsewhere who have lost their homes and property.
Wednesday's vote
On Wednesday morning, we had three candidates left. Political geeks hoped for a three-way tie, which would have forced an immediate run-off:
Guido wrote:
At 4 pm today we will learn who the final two are. MPs vote from 1 pm to 3 pm, though we're still not clear whether they'll vote for the candidate they want to win, or the candidate Grand Marshall Gavin Williamson has told them to vote for. Kemi Badenoch's 59 ex-backers won't have had a moment's silence since she got knocked out yesterday. If this were a TV drama, today would be a fantastic half-time series final. 
… If that wasn't enough excitement, we also get Boris's last PMQs proper. His attendance may be a bit awkward, however, given he's already said his goodbyes and bowed out during last week's session, implying he may be unavailable to do today. Now his No. 10 team will be having to come up with more perorations and Starmer put-downs. Will the Tories clap him out? 
… there's the numerical possibility all candidates could tie on 119 votes each. Already Sir Graham's had to draw up contingency plans for an emergency re-vote tomorrow if such an event [occu]rs. There are concerns Westminster could be facing an imminent popcorn shortage…
In the end, while the vote was close, Penny Mordaunt lost.
Rishi Sunak had the most votes — 137 — and Liz Truss came in second:
Membership ballots
Meanwhile, 3,500+ disgruntled Conservative Party members are demanding that Prime Minister Boris Johnson's name be added to their ballots.
On Wednesday, July 20, Guido reported:
More than 3,500 Conservative Party Members have written to the Conservative Party Chairman demanding Boris Johnson is allowed to compete in the forthcoming leadership election. The petition, launched by Conservative Post, claims "our first choice has been removed without our involvement" and has the backing of prominent party figures like Lord Cruddas and David Campbell Bannerman … Guido understands it has at least annoyed CCHQ by clogging their phone lines…

The petition does say a lot about the sentiment within the Tory grassroots, just as they are about to choose the next Prime Minister. Thousands of members have signed up to a letter that describes how morale is low, with grievances arising at a Parliamentary party with a "vested interest" against Boris. No doubt such strong feelings towards Boris, and those who ousted him, could prove an interesting dynamic in the election. The Tory members share a similar belief to the Labour Party: Boris is a vote winner.
CCHQ plans to send ballots to Conservative Party members out the first week in August. Online voting is also available. Members will receive security codes for online votes.
Members may vote more than once, should they change their minds, although only their most recent vote will count.
A debate on the BBC between the top two candidates is scheduled for Monday evening.
One of Rishi Sunak's backers had told Guido that, if the ballots are available too early, his candidate might fare poorly. With ballots going out after the debate, that is no longer a concern. Yet, it is worth noting:
One Sunak backer told Guido this could be especially damaging to their preferred candidate should he make the final two, given he knows all too well he faces an uphill battle among members to win over support – not least proved by this afternoon's YouGov poll. Sunak's key strategy is to win members over with his ability to perform during the regional debates and hustings, as his team believes he proved he could do during the TV debates. The fear is that if CCHQ sends ballots out at the very start of the debate – and opens electronic voting at the same time – the vast majority of members will return their forms immediately, not giving Sunak time to win over doubters. 
Even MPs supporting rival camps worry that while their candidate might benefit from this CCHQ timetable, there's an essential need to "kick the tyres" on the final two candidates to make sure there isn't a repeat of only discovering Theresa May's inability to communicate come the election. Expect this row to take off the moment the final two are confirmed on Thursday…
Early signs that Rishi won't win
At this juncture, it looks unlikely that Rishi Sunak will win the Conservative membership contest.
A YouGov poll published on Tuesday, July 19, shows that every other candidate would beat him:
Think of it this way: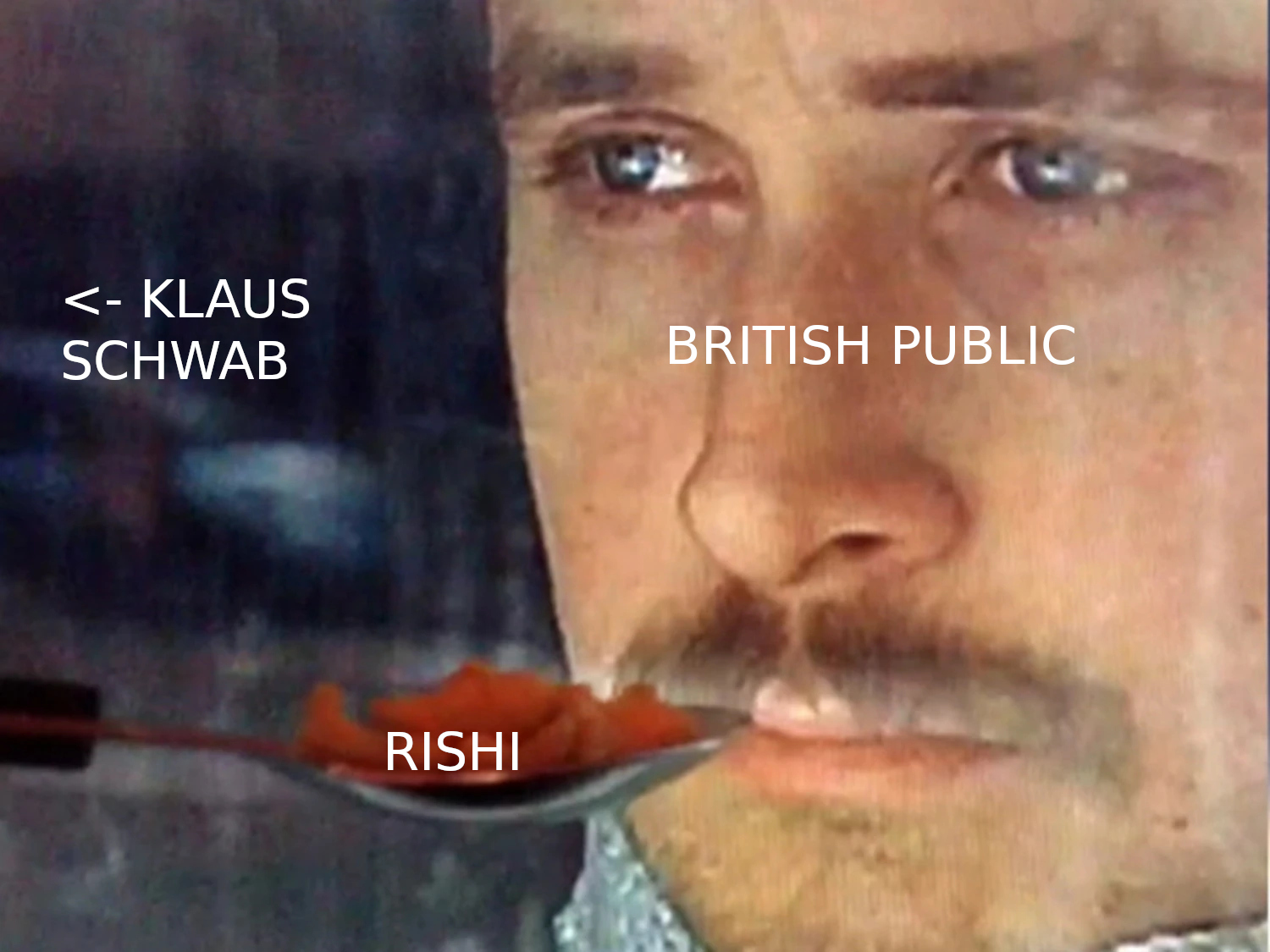 Why Rishi could lose
After Rishi resigned as Chancellor, Nadine Dorries, the Secretary of State for Digital, Culture, Media and Sport, appeared on GB News to give us the lowdown on Rishi. She told Dan Wootton that he didn't work very hard:
She alleged that neglecting his duties gave him a lot of time to prepare his leadership candidacy:
Another MP who thinks that Rishi did not do a good job as Chancellor is John Redwood: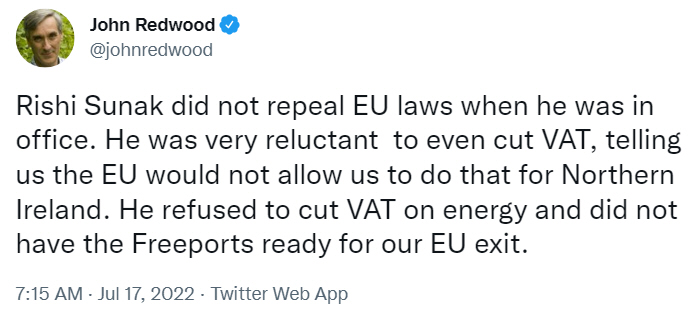 Returning to Nadine Dorries, the public had been disgruntled with Rishi prior to her interview, largely because of his financial and immigration situation, as GB News explains:
his stock has taken a tumble recently following disclosures that his wife had non-dom status for tax purposes and he held on to his US green card while serving in Government.
She suspects that Boris's former adviser Dominic Cummings has a hand in Rishi's candidacy:
Ms Dorries also warned about Mr Sunak's relationship with former Downing Street adviser Dominic Cummings.
She said: "His support for Rishi is off the scale.
"I think it's only because Dominic wants to be back at the heart and that should be a terrifying thought for anybody."
Dorries, probably Boris's staunchest supporter, told Wootton that the Prime Minister should not have been ousted as Party leader:
… the 65-year-old went on to say that "the Remain establishment, Labour and Putin were the three that wanted him out the most."
Referring to the Prime Minister, Ms Dorries added: "He got us through Covid, he lifted the restrictions, he delivered Brexit, so many policies I could just list them forever, all of these have been delivered."
Wootton also had a panel discussion about whether Rishi was trustworthy. One participant said that Rishi should have done his job rather than plot against Boris:
People will not forget his disloyalty:
Early in the contest, The Sunday Times took a poll of the British public and Conservative voters as to whom should succeed Boris. Together, 'Don't know' and 'None of the above' totalled 58 per cent; read 'Boris'. Also note the response from Pippa Crerar of the Labour-friendly Mirror:
A poll that YouGov took for The Sunday Times, conducted on July 12 and 13, showed that Rishi would lose against any of the remaining candidates: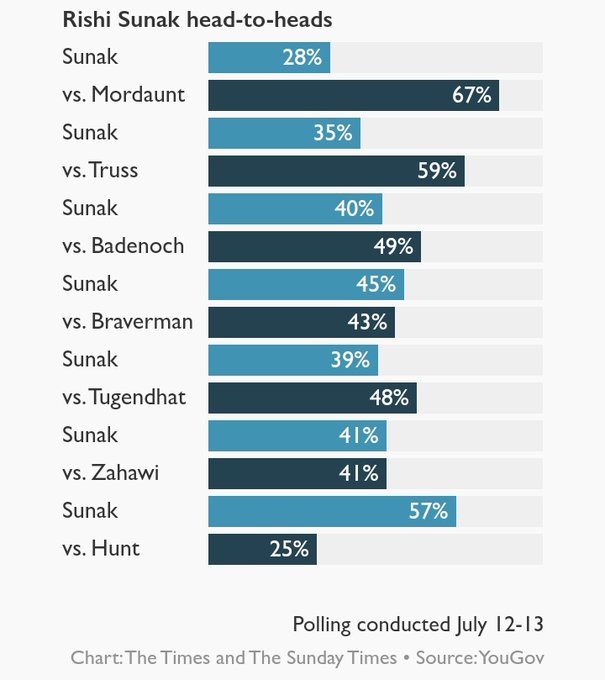 Rishi launched his campaign on July 12. Oddly, he took questions from television news reporters but none from newspapers, except from The Sun's Harry Cole. Cole had to embarrass him into it:
Rishi's campaign message of unity did not go down well with the public:
Dan Wootton had another editorial and discussion on Rishi that evening. Wootton called him 'a big state globalist assassin' and said that Conservative Party members would not back him:
Here's the video:
In the panel discussion, the Revd Calvin Robinson called the former Chancellor 'a socialist':
The next day, Wootton had more, urging MPs to listen to Party members when voting:
GB News has a transcript of his editorial, in which he said:
So all week the usual suspects in the political establishment and the MSM, especially the BBC, ITV News and Sly News, have been trying to convince you that Rishi Sunak was the inevitable candidate to replace Boris Johnson as Conservative Party leader and thus become the Prime Minister of this great country.
As ever, they've been selling you a load of utter piffle cooked up in the Westminster bubble.
But, from the moment Boris was brutally deposed in that completely unnecessary coup, I've been telling you there's zero chance Tory Party members – many of whom are horrified about the treatment of the Prime Minister – will elect the knife-wielding ex-Chancellor …
Tory grandees might think Sunak can win it, but he won't.
Spiked's Brendan O'Neill fears that Sunak is, at heart, a technocrat who does not care about the people:
Body language analyst Judi James says that Rishi's delivery is awful, from his speech patterns to his awkward gestures. She says that it would not take long for his insincerity to turn into smugness:
Guido discovered that Rishi's earliest backers among MPs were Remainers:
A drilldown of the MPs supporting him this afternoon shows that only 30% of Rishi's supporters backed Brexit in 2016.
Hmm.
On July 14, Lord Moylan appeared on Michelle Dewberry's GB News show to say that Sunak is 'deeply unpopular' among Party members. He also said that Conservatives will pay the price for getting rid of Boris, as he could win elections:
Here's the full video:
Dan Wootton was not letting up on Rishi:
That night, his guests discussed the top candidates, agreeing on 'Anybody but Rishi':
Here's the video:
Boris also urged MPs to back 'anyone but Rishi'.
On July 15, The Mail reported:
Boris Johnson is pushing for failed Tory leadership candidates to back 'anyone but Rishi' Sunak, it was claimed today, amid reports that the whole team at 10 Downing Street 'hates' the former chancellor for causing the PM's downfall.
Johnson, who announced last week that he will step down as party leader when his replacement is decided, has said he will not publicly endorse any candidate or get involved in the increasingly bitter leadership race.
However, Johnson has reportedly made clear in private discussions with failed leadership hopefuls that Sunak should not be his successor.
Citing a source close to one such conversation, The Times said Johnson appeared to be most enthusiastic about his Foreign Secretary Liz Truss becoming Prime Minister.
That day, Bev Turner and her guests discussed the likelihood of Rishi or the other candidates being able to win an election:
While people thought that Kemi Badenoch was 'too young' to progress in the contest, she is actually older than Rishi:
Look how far ahead Kemi was in the Conservative Home poll of July 16. Note that Rishi was in fourth place:
It will be hard for Rishi to shake off public opinion.
A poll done for the Mail on Sunday of July 17 shows that 41 per cent of participants think that he is out of touch with voters:
That's Rishi Sunak.
I would enjoy knowing what his real ambitions are for the future. Becoming Prime Minister would be a stepping stone for something that probably only he, his wife and his in-laws know about.
I do not have a vote in this contest, but if I did, I'd cast it for Liz Truss.
In closing, Dan Wootton started a poll last night asking GB News viewers who their choice was for the next Conservative leader. Halfway through his show, he announced that tens of thousands (he cited two different figures) of viewers had participated.
These were the results halfway through his show:
Boris Johnson 49%
Penny Mordaunt 22%
Liz Truss 15%
Rishi Sunak 14%
Bring back Boris — about whom more will follow in another post. His last PMQs was terrific.