You are currently browsing the daily archive for July 22, 2022.
Picking up from where I left off yesterday with Dan Wootton's GB News poll on the next Conservative Party leader, 60,000 people responded and 49 per cent said that Boris Johnson should be the next one.
On Thursday, Wootton remarked:
The Prime Minister's swashbuckling and energetic PMQs farewell today just emphasised that point further.
Boris participated in his final Prime Minister's Questions on Wednesday, July 20, 2022, just under three years since he first stood behind the despatch box as Prime Minister.
It was one of Boris's best performances and can be viewed here. Hansard's transcript is here.
Highlights follow, emphases mine.
Labour's Sir Keir Starmer had a go at the leadership contest, particularly last week's debates and the refusal of a third debate on Sky News. The debates were a bit spiky at times, but pretty tame overall.
Boris replied:
I am not following this thing particularly closely, but my impression is that there has been quite a lot of debate already, and I think the public have ample opportunity to view the talent, any one of which—as I have said before—would, like some household detergent, wipe the floor with the right hon. and learned Gentleman. Today happens to be just about the anniversary of the exit from lockdown last year, and do you remember what he said? He said—[Interruption.] No, I am going to remind him. He said it was "reckless". It was because we were able to take that decision, supported by every single one of those Conservative candidates, opposed by him, that we had the fastest economic growth in the G7 and we are now able to help families up and down the country. If we had listened to him, it would not have been possible, and I do not think they will be listening to him either.
Starmer had a go at Rishi Sunak's accusation of Liz Truss's proposed tax cuts as 'fantasy economics'.
Boris said:
Well, Labour know all about fantasy economics, because they have already committed to £94 billion of extra tax and spending, which every household in this country would have to pay for to the tune of about £2,100. It is thanks to the former Chancellor's management of the economy—thanks to this Government's management of the economy—that we had growth in May of 0.5%. We have more people in paid employment than at any time in the history of this country. I am proud to be leaving office right now with unemployment at or near a 50-year low. When they left office, it was at 8%. That is the difference between them and us.
Then Starmer quoted Liz Truss's criticism of Rishi's economic policy for its lack of growth.
Boris answered:
I think that everybody would agree that what we saw in the last two and a half years was because of the pandemic, with the biggest fall in output for 300 years, which this Government dealt with and coped with magnificently by distributing vaccines faster than any other European Government—faster than any other major economy—which would not have been possible if we had listened to the right hon. and learned Gentleman. That is why we have the fiscal firepower that is necessary to help families up and down the country, making tax cuts for virtually everybody paying national insurance contributions. There is a crucial philosophical difference between Labour and the Conservatives: under Labour, families on low incomes get most of their income from benefits; under us, they get most of it from earnings, because we believe in jobs, jobs, jobs. That is the difference.
Starmer went on to quote Penny Mordaunt on Britain's sluggish public services.
Boris said:
… This is the Government who are investing £650 billion in infrastructure, skills and technology. He talks about public services; what really matters to people in this country right now is getting their appointments and their operations, fixing the covid backlogs—that is what we are doing—and fixing the ambulances. That is what he should be talking about. That is why we voted through and passed the £39 billion health and care levy, which Labour opposed. Every time something needs to be done, Labour Members try to oppose it. He is a great pointless human bollard. That is what he is.
Starmer referred to Kemi Badenoch's criticism of Rishi's handling of covid loans.
Boris replied:
This is one of the last blasts from Captain Hindsight, at least to me. They were the party, I remember, that was so desperate for us to be hiring their friends—they wanted a football agent and a theatrical costumier to supply personal protective equipment. Do you remember, Mr Speaker? We had to get that stuff at record speed. We produced £408 billion-worth of support for families and for businesses up and down the country. The only reason we were able to do it at such speed was that we managed the economy in a sensible and moderate way. Every time Labour has left office, unemployment has been higher. The Opposition are economically illiterate, and they would wreck the economy.
You can read more on Guido Fawkes about Labour's hilarious — well, it would be were it not so tragic — attempts to get the Government to employ their friends for pandemic related equipment.
Starmer went on for another few minutes about the nation being an utter shambles at the moment.
That is true in many instances, but Boris cited the good things that the Conservatives have accomplished over the past three years:
What does it say about the right hon. and learned Gentleman that no one can name a single policy, after three years, of the Opposition apart from putting up taxes? He is one of those pointless plastic bollards you find around a deserted roadworks on a motorway. We got Brexit done; he voted against it 48 times. We got this country fast out of covid, in spite of everything, when he would have kept us in lockdown. We are fixing social care, when the Opposition have no plan and no ideas of their own. We are now bringing forward measures, in the face of strikes, to outlaw wildcat strikes.
I can tell the House why the Leader of the Opposition does that funny wooden flapping gesture—it is because he has the union barons pulling his strings from beneath. That is the truth—£100 million.
We have restored our democracy and our independence. We have got this country through covid. I am proud to say that when it comes to tackling climate change or sticking up for Ukraine, we have led the world on the international stage. I want to thank my friends and colleagues on these Benches for everything they have done.
Guido posted the video of that portion, which is Boris at his best. Viewers will also get the mood of the Chamber, which was very noisy indeed:
After Starmer had finished, it was the turn of Ian Blackford from the Scottish National Party (SNP). As ever, he criticised the Government and put in yet another plug for a second independence referendum:
Boris said:
That is not what I observe. The right hon. Gentleman talks about records; I point to the fastest vaccine roll-out in Europe, the lowest unemployment for at or near 50 years as I have said, the lowest youth unemployment, and the fastest growth in the G7 last year, in spite of everything. As for the Scottish nationalists' record, look at where they are. I am afraid to say that Scottish school standards are not what they should be, because of the failure of the SNP. It is failing people who are tragically addicted to drugs in Scotland, and the people of Scotland are facing another £900 million in tax because of the mismanagement of the SNP.
True. All of it.
Blackford ranted once more on partygate. Incidentally, he is a multi-millionaire who likes to paint himself as a humble crofter.
Boris replied:
On the personal abuse stuff, I think the right hon. Gentleman is talking a load of tosh, but when he has retired to his croft—which may be all too soon—I hope that he will reflect on his long-running campaign to break up the greatest country in the world. I hope that he will reflect on the pointlessness of what he is trying to do, and think instead about the priorities of the people of Scotland, which are all the issues that he thought were trivial: education, crime, and the burden of taxation that the SNP is unnecessarily placing on the people of Scotland.
After Blackford sat down, Sir Ed Davey, leader of the Liberal Democrats, had his say. He indirectly accused Boris of being ambitious and 'tyrannical'. He asked whether Boris would now be devoting time to completing his book on Shakespeare. He also said there should be a general election.
Boris answered:
Polonius—that's who the right hon. Gentleman is; he needs more matter with less art. The only thing we need to know is that if there were to be a general election, the Liberal Democrats would rightly get thrashed, because that would be the moment when the public looked with horror at what the Liberal Democrats' policies really are and all those rural voters would discover the massive green taxes that they would like to apply. The only risk is that there could be some kind of crackpot coalition between those guys on the Labour Benches, the Lib Dems and the Scottish nationalists to put that into effect. That is what we must prevent.
Felicity Buchan, a Conservative who represents London's Kensington constituency, expressed her concerns about rising crime under the current Mayor of London (Sadiq Khan).
Referring to himself, Boris replied:
London once had a Mayor who cut crime by 25%, cut the murder rate by 30% and built twice as many affordable homes as the current incumbent. What London needs is another Conservative Mayor.
Another Liberal Democrat, Scotland's Jamie Stone (Caithness, Sutherland and Easter Ross) wanted a freeport in his Highlands constituency.
Boris said:
I can confirm that we are committed to funding two new green freeports in Scotland to the tune of £52 million. That would not be possible, of course, if the SNP got its way and we returned to the EU.
Boris defined levelling up:
It is not just inequality; it is inequality of opportunity, and that is what levelling up addresses.
A Labour MP moaned about the railways in the north of England.
Boris replied:
Actually, this Government are responsible for three new high-speed lines, including Northern Powerhouse Rail, which no previous Government have done.
Boris gave his advice with regard to hot weather when an MP asked about disposable barbeques and Chinese sky lanterns:
The key thing is for people to behave responsibly with the use of these things. It is clearly insane to take a disposable barbecue on to dry grass.
Another SNP MP, Dr Philippa Whitford, talked about poverty in Scotland, ending with a plug for independence.
Boris said:
Actually, we increased the living wage across the whole of the UK by £1,000, we made sure that people on universal credit got their tax bills cut by £1,000, and over the last couple of weeks we have cut national insurance contributions by an average of £330. It was because of the Union that we were able to support families up and down the country, in Scotland, with the furlough and other payments, to the tune of £408 billion.
One of the nicest contributions came from Conservative MP Andrew Bowie, who represents West Aberdeenshire and Kincardine:
May I thank my right hon. Friend for his commitment to Scotland and the entire United Kingdom over his years in Downing Street? I also thank him and my right hon. Friend the Secretary of State for Scotland for improving and increasing the visibility and involvement of the UK Government in Scotland over the past three years. Does my right hon. Friend the Prime Minister agree that whoever takes his job, and whatever comes next, the United Kingdom will always be stronger together than it ever would be apart?
Boris replied:
That was brilliantly put; I could not have put it better myself.
Then a young Labour MP asked about the slow compensation for Windrush victims.
Boris said:
Actually, I think more people have got compensation. I renew my apologies to the Windrush generation for what they have suffered, but we have greatly increased the compensation available. We have paid out, I think, more than £51 million. We are working with voluntary groups to ensure that people get what they are entitled to. I may say that Labour has never apologised for its own part in the Windrush scandal.
An MP from Northern Ireland accused the Government of ruining relationships between Ulster and the Republic.
Boris replied:
I completely disagree with that. The whole objective of the Northern Ireland (Protocol) Bill that we have passed is to support the balance and symmetry of the Belfast/Good Friday arrangements. I was very pleased that the Bill advanced to the House of Lords with no amendments.
GB News has more on the legislation:
A Conservative MP, Crispin Blunt, is not my favourite. However, here is where I agree with him. He paid a splendid tribute to Boris:
In recalling the situation that the Prime Minister inherited in July 2019, of a Parliament with a majority determined to frustrate the result of the 2016 referendum, led by a Speaker who was just slightly partial—the seemingly impossible situation he found—does my right hon. Friend understand that he has the gratitude of my constituents, who can identify the wood from the trees, and of myself, for his leadership over the last three years?
Boris replied:
I am very grateful to my hon. Friend. There is a fair amount of wood on the Opposition Benches and I think that is why we will prevail at the next general election.
Another SNP MP banged on about a second independence referendum.
Boris said:
This is the country that secured furlough and that delivered the vaccine across the whole of the UK, while the SNP gets on with overtaxing to the tune of £900 million—that is how much they are overtaxing in Scotland. And we had a referendum in 2014.
Another SNP MP complained spitefully about Boris being a nobody and about the honours list he might draw up before he leaves office.
Boris answered:
I am sure that everybody who has served this Government loyally and well deserves recognition of some kind, but as for the honours list, I am afraid the hon. Gentleman will have to contain his excitement.
Conservative MP Sir Edward Leigh was the last to speak. He, too, paid Boris tribute for the past three years:
On behalf of the House, may I thank the Prime Minister—[Interruption.] On behalf of the House, may I thank the Prime Minister for his three-year record of service? On behalf of some of the most vulnerable people in the country, can I thank him for his insistence on rolling out the AstraZeneca jab, which has saved thousands of lives around the world? On behalf of the 17.4 million people who voted Brexit, may I thank him for restoring people's faith in democracy? On behalf of northern towns, may I thank him for his commitment to levelling up? And most of all, on behalf of the people of Ukraine, may I thank him for holding high the torch of freedom and ensuring that that country is not a vassal state? For true grit and determination, keep going and thank you.
Boris replied, giving his closing remarks and advice for the future PM:
I thank my right hon. Friend, and I want to use the last few seconds to give some words of advice to my successor, whoever he or she may be.
No. 1: stay close to the Americans; stick up for the Ukrainians; stick up for freedom and democracy everywhere. Cut taxes and deregulate wherever you can to make this the greatest place to live and invest, which it is. I love the Treasury, but remember that if we had always listened to the Treasury, we would not have built the M25 or the Channel Tunnel. Focus on the road ahead, but always remember to check the rear-view mirror. And remember, above all, it is not Twitter that counts; it is the people that sent us here.
And yes, the last few years have been the greatest privilege of my life. It is true that I helped to get the biggest Tory majority for 40 years and a huge realignment in UK politics. We have transformed our democracy and restored our national independence, as my right hon. Friend says. We have helped—I have helped—to get this country through a pandemic and helped save another country from barbarism. Frankly, that is enough to be going on with. Mission largely accomplished—for now.
I want to thank you, Mr Speaker. I want to thank all the wonderful staff of the House of Commons. I want to thank all my friends and colleagues. I want to thank my right hon. Friend the Member for Ross, Skye and Lochaber (Ian Blackford). I want to thank everybody here. And hasta la vista, baby. [Applause.]
Here's the 'Hasta la vista, ba-by' video — a must-see:
The Conservatives gave him a standing ovation, with everyone applauding him, except for Theresa May, who merely stood.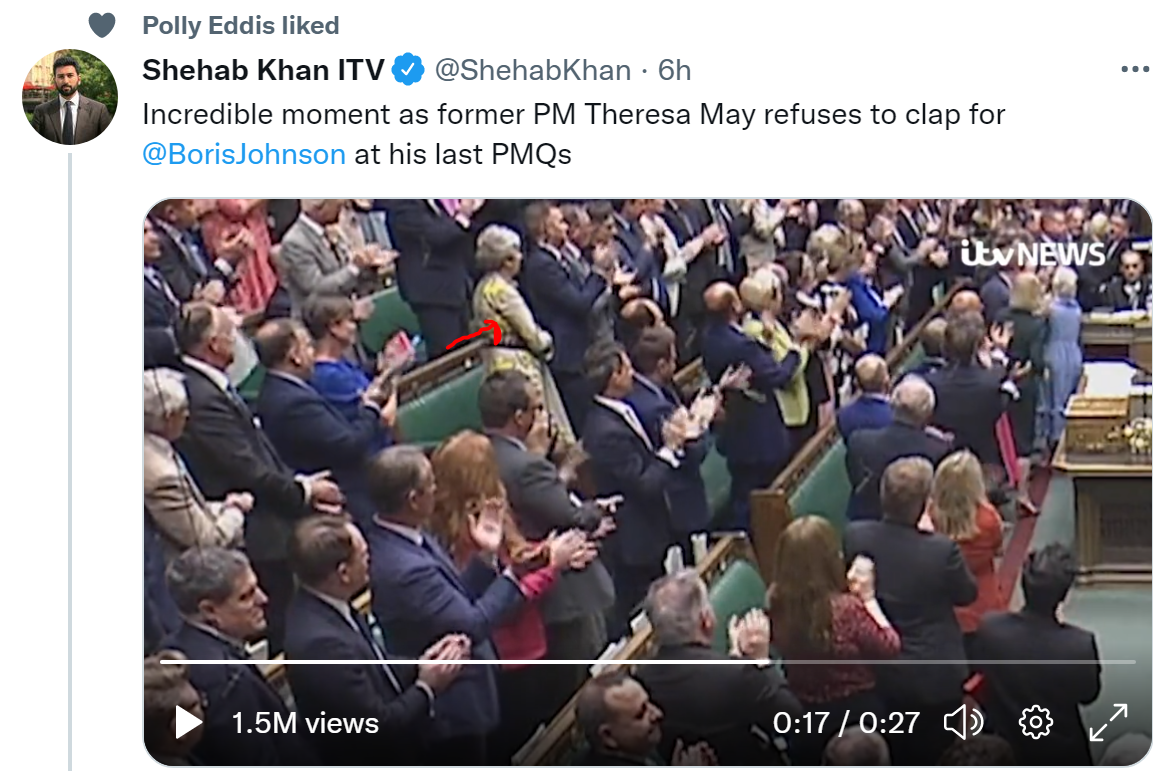 The Opposition either sat in silence or walked out.
One of Guido's readers wrote:
Lack of class from opposition MPs who can't possibly give a polite round of applause for a political opponent.
I agree. On the other hand, they hate Boris because he represents Brexit.
In Guido's comments on the same post, someone said that Boris was Britain's 'worst ever PM', which garnered this response, rightly pointing out the greater moral failings of Tony Blair, John Major and Theresa May as well as today's world leaders:
What, even worse than a Prime Minister who took the UK into an illegal war which resulted in the deaths of millions as well as thousands of UK soldiers and for which the UK is still feeling reverberations in the form of terrorist attacks? What a worse PM than a Prime Minister who signed the UK up to the Maastricht Treaty without putting it to the British people in the form of a referendum? What worse than a Prime Minister who put forward the idea of making the elderly sell their homes to pay for Health Care …
But instead listened to the people and secured an 80 seat majority to leave the EU (admittedly still leaving a lot to do). Invested in Vaccine development and procurement to ensure the UK had enough supplies for every citizen, and that the UK was at the front of the queue, and didnt go overboard on Covid restrictions, not when you look at what other countries got up to, namely Canada, China and France with Macron's "I want to punish those that won't get vaccinated" this after he was responsible for sowing Vaccine doubt simply because the Vaccine was developed in the UK – but then Johnson commited a crime so heinous – he had a piece of Birthday cake brought to him buy his wife – and that's 'your' worst Prime Minister, lol …
Journalist and former Conservative adviser Amanda Platell said she wept after PMQs:
Boris will be missed for his powerful performances at the despatch box …
… and Labour know it. One of their former advisers admits that's why Boris had to go:
Keir Starmer was often petty and unpleasant towards Boris:
That is because he knows Boris can win elections. In fact, earlier this week, Starmer was so frustrated with the Prime Minister that he insulted him on a podcast.
Starmer's deputy leader Angela Rayner said on Monday, July 18, that she would be happy with either Truss or Sunak as his successor. At the time she gave this interview, five candidates were still in the race:
I'm quite happy with any one of them. Because the one thing, and I kind of could see it… [Boris] had this, like, teflon coating… It's like a little magic. Where he was able to get through to the public and get through to the places that I actually don't see any of the five candidates that are standing having at the moment… Boris had so much going for him. He got an 80-seat majority and the country was really behind him… the five that we've got now I don't think have got that…
Here's the video:
Boris's former adviser Dominic Cummings thinks that Boris, like Arnie, will be back, if the next Conservative leader is too lacklustre:
As I wrote yesterday, thousands of voters do not want until then. Dan Wootton's viewers think that Boris's name should be on the ballot going out to Conservative Party members early in August:
Wootton's poll follows on from the ongoing petition by Party members to have Boris's name on the ballot:
The petition is being spearheaded by Lord Cruddas of Shoreditch, the Tory donor, and David Campbell Bannerman, a former Conservative Euro MP:
The Mail also has a report on the petition.
GB News interviewed David Campbell Bannerman on Thursday, July 21:
However, Labour are planning a rearguard action to prevent Boris from ever being Party leader again.
They hope to depose him as MP for Uxbridge and South Ruislip in west London:
On Thursday, July 21, GB News reported:
Boris Johnson could be forced to face a by-election if he is found to have lied to Parliament and is handed a suspension for 10 or more sitting days.
The Privileges Committee is examining whether the Prime Minister committed a contempt of Parliament by misleading MPs over the Partygate scandal.
Commons Speaker Sir Lindsay Hoyle [Labour] confirmed that the committee's findings would fall within the remit of the Recall of MPs Act, following advice from a leading lawyer.
That would mean that a suspension of 10 or more sitting days, or 14 calendar days, would trigger a recall petition.
If at least 10 percent of voters in Mr Johnson's Uxbridge and South Ruislip seat demand a by-election he would lose his place as an MP, but would be eligible to stand again in the contest.
The cross-party committee also published advice from the Clerk of the Journals, Eve Samson, the Commons' expert on parliamentary privilege, which suggested that whether or not Mr Johnson intended to mislead MPs was not a factor that needed to be considered.
But she said that intent could be seen as an "aggravating factor" when considering penalties …
The MPs intend to call Mr Johnson to give oral evidence in public in the autumn, under oath.
The committee has already said that whistleblowers will be able to give evidence about the Prime Minister anonymously.
Mr Johnson has also been ordered to hand over a cache of documents to the MPs investigating whether he lied to Parliament with his partygate denials.
The committee wrote to the Prime Minister and Cabinet Secretary Simon Case demanding details relevant to its inquiry.
On Friday, July 22, Guido posted on the upcoming inquiry, saying (emphases in red his):
While the committee will now disregard the PM's intent, the Clerk's report does say that can feed into deciding a sanction. This is all, in the understated words of The Telegraph, "a departure from precedent"…
It seems the Speaker's also got in on the act of changing rules. The Privileges Committee's announcement yesterday said Hoyle has ruled that "any suspension of the requisite length (10 sitting days or 14 calendar days) ) following on from a report from that Committee will attract the provisions of the Recall of MPs Act". Previously only recommendations of suspension from the Standards Committee would apply the recall act. Now the PM faces a by-election being forced by [Labour MP Harriet] Harman. Tory MPs are now having to fight back on his behalf, launching a petition to scrap the investigation altogether in light of his resignation…
For now, let's remember the happier times of earlier this week.
Boris held his final Cabinet meeting on Tuesday, July 19:
Despite the heat, Guido reports that there were no refreshments or food:
… there were a few presents, and a round of applause for the PM. Nigel Adams also gave a speech commending Boris's time in office, followed by a school photo.
Boris was gi[ven] a six-set first edition of Churchill's war books; surprisingly not something the ex-PM's biographer didn't already own. Guido also learns Boris was given wines that reflected significant dates in his life and political career: 1964, 2008, 2012 and 2019. He also got wine from other countries that mean a lot to him, including Ukraine and Greece …
Here's the Cabinet photo:

I hope all goes well for the Prime Minister in the weeks to come.
No doubt if Labour try to get at him, he'll find a way out.
All being well, I'll have a post next week on what really happened leading to his ouster.