You are currently browsing the daily archive for September 16, 2022.
My two previous posts about the Queen's death in Scotland are here and here.
Thanks to the Queen's and Princess Anne's Operation Unicorn plan for the monarch's death in Scotland, we saw their capital and the monarchy depicted magnificently.
Unicorn ticked all the boxes, especially at St Giles' Cathedral in Edinburgh.
A filmmaker could not have done better — and that was the Queen's intention.
History of St Giles' Cathedral
The Times has an excellent history of St Giles' Cathedral, the High Kirk: 'Beauty and peace of St Giles' make it a fitting place to lie at rest for Queen Elizabeth II'.
Excerpts follow, emphases mine:
St Giles' Cathedral in Edinburgh, High Kirk of the Church of Scotland, where the Queen will lie at rest, has been at the centre of Scottish history for more than 800 years. It has seen war, violence, rebellion and desecration, never more so than during the Reformation, when it was stripped to the bone by the firebrand Calvinist John Knox.
Kings and queens have left their mark on it down the ages. From it, Elizabeth's Stewart forebears in particular have tried at various stages to impose their religious beliefs on an unwilling and recalcitrant Scottish people.
Charles I gave it cathedral status in 1633 but when he insisted on introducing a common prayer book, based on the English order of worship, he provoked a riot, famously culminating in a tirade from a market trader called Jenny Geddes, who hurled a stool at the dean, forcing him to end the service abruptly.
It is also a place of beauty, its architecture lovingly restored, its 15th-century crown steeple one of Edinburgh's most distinctive landmarks — described by a historian as "a serene reminder of the imperial aspirations of the late Stewart monarchs". Here, in 1416, a graceful pair of storks made their nest, an event hailed as a portent of peace at a time of civic strife. Not until March 2020, when three birds nested at the Knepp Estate in Sussex, would storks return to Britain.
No one quite knows why the church, as it originally was, took its name from St Giles, the patron saint of lepers, but in its early days it was seen as a place with healing powers. The arm bone of the saint was brought as a relic from France, and at one stage the church had no fewer than 50 altars for those who came to pray for salvation. In the aftermath of the disastrous Battle of Flodden in 1513, when most of the Scottish nobility, and their king, James IV, were killed, Bishop Gavin Douglas held a requiem mass, a powerful act of mourning and renewal.
Knox was less forgiving. He ordered workmen to clear stone altars and monuments from the church. Precious items used in pre-Reformation worship were sold. The church was whitewashed, its pillars painted green, and St Giles's arm was hurled into the Nor' Loch. In 1558 Knox published his First Blast of the Trumpet Against the Monstrous Regiment of Women, a polemical work attacking female monarchs, and arguing that rule by women is contrary to the Bible …
The Queen will lie at peace in a place of singular beauty, close to the elegant Thistle Chapel, with which she was so familiar. Created by the great Scottish architect Robert Lorimer in 1909, it was the place where she, as senior member of the ancient Order of the Thistle, Scotland's equivalent to the Order of the Garter, welcomed new members, 16 in number, appointed on her personal recommendation.
The cathedral's interior is now a place of colour, its crown steeple is gilded with gold, its stained glass windows filter in the daylight, thanks to a renewal appeal, headed by the late financier Sir Angus Grossart, which led to the conservation of the medieval tower, the restoration of the stained glass windows, and the moving of the altar to the centre of the building. A thanksgiving service in the presence of the Princess Royal in January 2011 marked the conclusion of the project.
September 12, continued
In covering the events of Monday, September 12, 2022 in Edinburgh, I left off with the service at St Giles' Cathedral.
Afterwards, mourners were already queuing to pay their respects:
The Guardian reports that former Prime Minister Boris Johnson gave an interview to the BBC's Fiona Bruce that day. She asked him what his final meeting with the Queen at Balmoral on Tuesday, September 6, was like:
Johnson said: "In that audience, she had been absolutely on it. She was actively focused on geopolitics, on UK politics, quoting statesmen from the 50s, it was quite extraordinary.
"She seemed very bright, very focused. She was clearly not well. I think that was the thing that I found so moving when I heard about her death on Thursday, I just thought how incredible that her sense of duty had kept her going in the way that it had, and given how ill she obviously was, she could be so bright and so focused. It was a pretty emotional time."
Johnson gave a memorable tribute to the Queen in parliament on Friday, the day after her death. He told the broadcaster that her death was a "colossal" thing for him and that he felt a "slightly inexplicable access of emotion".
Shortly after 5:30 p.m., the King and Queen Consort arrived at Holyrood, Scotland's parliament, not far from the Palace of Holyroodhouse (emphases in the original):
King Charles and Camilla, Queen Consort have processed into the Scottish parliament in Holyrood, as trumpets played in the background.
They had met political leaders from Scotland beforehand, including first minister, Nicola Sturgeon, Labour leader, Anas Sarwar, and leader of the Conservative party, Douglas Ross.
Presiding officer, Alison Johnstone, opened the session and paid tribute to the Queen, who was there for the assembly's first session in 1999.
Two minutes' silence is now being held. Sturgeon will shortly move a motion of condolence.
She recounted an amusing anecdote from one of her visits to Balmoral:
I did, however, experience one rather tense moment at Balmoral. My husband and I were with the Queen before dinner when the drawing room light started to flicker. To my great alarm … my husband suddenly leapt up and darted across the room. Peter had spotted the cause of the flickering light, one of the Queen's young corgis, a beautiful pup called Sandy was eating through a lamp switch. Thankfully tragedy was adverted, not before a ticking off from his mistress.
Sturgeon, the woman who refused to deliver a message of loyalty on the occasion of the Platinum Jubilee, then waxed lyrical:
I deeply valued the time I spent alone with the Queen. Her words of wisdom, counsel, and humour will stay in my heart for the rest of my life …
The Queen has been intrinsic to the story of modern Scotland, from the opening of the Forties oil pipeline, to the Forth bridge, the Queensferry Crossing, three Commonwealth Games, she was present at so many of our iconic moments. She was a true and steadfast friend of this parliament.
Our nation is in mourning today for a Queen whose loss we have not yet begun to come to terms with. We are deeply honoured by the presence today of His Majesty King Charles III and the Queen Consort. Your Majesty, we stand ready to support you as you continue your own life of service and build on the extraordinary legacy of your mother. Queen Elizabeth, Queen of Scots, we are grateful for her life, may she now rest in peace.
After Sturgeon spoke, the other Party leaders had their turns: Douglas Ross from the Conservatives, Anas Sarwar from Labour and Patrick Harvie from the Greens.
Patrick Harvie's remarks once again revealed how far left he is. He praised all the social advances made during the Queen's reign — more than enough for most people — then said that much more needed to be done. He sounded ungrateful.
Harvie evidently did not want to meet the King. He sent the Greens' deputy leader Lorna Slater instead.
The session concluded with an address from the King:
Wearing a kilt, he stands and says:
I know that the Scottish parliament and the people of Scotland share with me a profound sense of grief at the death of my beloved mother. Through all the years of her reign, the Queen, like so many generations of our family before her, found in the hills of this land, and in the hearts of its people, a haven and a home.
My mother felt as I do, the greatest admiration for the Scottish people, for their magnificent achievements and their indomitable spirit. It was the greatest comfort for her to know, in turn, the true affection in which she was held. The knowledge of that depth and abiding bond must be a solace as we mourn the life of incomparable service.
If I might paraphrase the words of the great Robert Burns, my dear mother was the friend of man, the friend of truth, the friend of age, and guide of youth. Few hearts like hers with virtue warned, few heads with knowledge so informed.
While still very young, the Queen pledged herself to serve her country and her people and to maintain the principles of constitutional government. As we now mark with gratitude a promise most faithfully fulfilled, I am determined with God's help and with yours to follow that inspiring example.
The title of Duke of Rothesay and the other Scottish titles which I have had the honour of carrying for so long, I now pass to my eldest son, William, who I know will be as proud as I have been to bear the symbols of this ancient kingdom.
I take up my new duties with thankfulness for all that Scotland has given me, with resolve to seek always the welfare of our country and its people, and with wholehearted trust in your goodwill and good counsel as we take forward that task together.
The King and Camilla, Queen Consort, then leave the chamber while the bagpipes are being played.
By the time that the Holyrood session ended, mourners were entering St Giles' Cathedral to pay their respects.
The Vigil of the Princes took place that evening, with the Royal Family returning to St Giles' from Holyroodhouse.
The Vigil of the Princes was devised for George V's funeral in 1936. His four sons stood at his casket for a short time. It took place in Westminster Hall at 12:15 a.m. on January 28 that year, after it closed to the public.
In 2002, the Queen Mother's grandsons participated in a similar vigil in Westminster Hall.
For the first time, this silent ceremony included a woman. The Princess Royal, being one of the Queen's four children, participated in it at St Giles'.
This time, the public were able to see them in their solemn ten-minute vigil:
They have chosen not to be armed with swords, as they have the right to do so.
Charles stands at the head of the coffin, the crown behind him on top of it. He and his siblings, facing outwards, bow their heads. They are stood next to the Royal Company of Archers. Camilla is sat off to the side alongside Sophie, Countess of Wessex.
Prince Andrew and Princess Anne can be seen with their eyes closed.
Members of the public are still filing past the coffin.
It was incredibly moving. Two videos follow:
The Royals then returned to Holyroodhouse to spend the night.
The Queen lay at rest in the cathedral until early Tuesday afternoon, at which point staff and the military prepared for her casket to be put in the hearse for the journey back to London.
People queued all night. By the time the viewing closed on Tuesday, 26,000 people paid their respects. They were of all ages and included quite a few children, some dressed in their school uniforms.
The Guardian had a report on the mourners at the close of Monday:
Many thousands of people are waiting for hours in long queues through central Edinburgh to see the Queen lying in rest at St Giles' Cathedral, with some facing a wait until early morning before they pass the coffin.
Mourners queueing in George Square, an early Georgian square now part of the University of Edinburgh, have been waiting for over three hours, with the line six to eight people abreast in places.
The Scottish government responded by increasing the number of lines at the security checkpoint on George IV Bridge, dramatically increasing the numbers of people being cleared to move on to the cathedral. Officials estimate that up to 6,000 people per hour were being allowed through.
Aaron Kelly, 32, a psychotherapist originally from Belfast, who lives close to George Square, had been timing his wait on iPhone. It had clocked up three hours and five minutes by about 8.15pm. He felt it was essential to be there.
"This is a moment in history and I think the Queen has done so much for the nation; it just felt it was apt to come and pay our final respects," he said.
Behind him stood Corey Docherty, 14, and his mother, Mary, and their friend Janis. After travelling from the Glasgow area, and with school tomorrow, he faced getting home after midnight. Docherty has visited Balmoral, Buckingham Palace and Clarence House, the king's former residence in London.
"It's just the most famous royal family in the world," he said. Of the new king, he said: "He's the king. We must support him. He has waited 73 years."
Norman Davenport, 68, who recently retired after 18 years as an officer in the RAF reserve and before then 20 years as an army reservist, began queueing for the cathedral at 2pm on Monday, in good time for it to open to the public at 5.30pm, and arrived there by around 7pm. By 8.30pm, he was in George Square for a rest and a sandwich.
The queen was honorary air commodore of his RAF reserve unit, 603 (City of Edinburgh) Sqdn. He had met her twice. "I have a huge connection with her, from that point of view, as a personal thing. She was my sovereign, my commander in chief, my honorary air commodore."
The City of Edinburgh Council's website had a helpful list of guidelines for mourners.
The Guardian's Murdo MacLeod has an excellent photo compilation of the long queue as it grew throughout the night.
September 13
On Tuesday morning, September 13, The Guardian had an update on the mourners:
Tens of thousands of people, including royalists, "soft republicans" and the plain curious, have queued through the night in Edinburgh to view the Queen's coffin lying at rest.
The queues stretched several kilometres from St Giles' Cathedral on the Royal Mile – with the route winding past security checks, Scotland's national museum, Edinburgh university's student union and library on George Square, then on to The Meadows, a tree-lined park on the city's south side – in an event without modern parallel in Scotland.
Over Monday night, the queues were eight to 10 people abreast in places, with mourners and well-wishers – helped by dry and temperate weather – waiting more than five hours to reach the Queen's coffin.
At 5am on Tuesday, they queued in the open for more than hour to view the coffin, which was guarded by four green-garbed members of the Royal Company of Archers, each holding an upright bow, and four police officers wearing white gloves.
The Scottish government expects the queue – remarkable in its size – to grow again on Tuesday morning, before public viewing ends at 3pm. At about 5pm, the Queen's coffin will be taken by hearse to Edinburgh airport, accompanied by Princess Anne, the Princess Royal, then flown by military aircraft to RAF Northolt, before being driven to Buckingham Palace …
Victoria, 53, an artist, and her daughter Grace, 20, an art and philosophy student, woke up at 3.45am to come from Linlithgow, West Lothian, by train. Both women said they had an emotional response to the Queen's death, which contradicted their republican sympathies.
"We're not royalists but it has been a very strange thing, to be affected by the Queen dying," Victoria said. "And Grace was very affected too, so we thought: 'Let's go.'
"From a political point of view, I'm just a bit confused because it's what I'm against politically, but I just felt an emotional desire to come. I wasn't expecting to feel this way" …
Brian Todd, 51, who had joined the Royal Navy at 16 before serving as a fire fighter, and his partner, Allison Pearson, 55, a property manager, travelled from Livingston, West Lothian, getting up at 3.30am. They said they were monarchists, born to monarchist parents …
For Todd, originally from County Durham, the three days of events in Scotland attached to the Queen's death at Balmoral – events which began with the funeral cortege's slow 170-mile drive through eastern Scotland to Edinburgh on Sunday – were significant and resonant.
"Scotland needed this as well," he said. "Everything seems to be London-centric and set down south. It's not great that the queen has passed away, but it has been great for Scotland. At least we can say we did her proud. It's not just about London."
Meanwhile, at Holyroodhouse, the King and Queen Consort were preparing for a day in Northern Ireland while Princess Anne steeled herself to accompany her mother's casket on a flight back to London to rest overnight at Buckingham Palace. Her husband, Vice Admiral Sir Tim Laurence, accompanied her.
The plan was for the King and Queen Consort to arrive at Buckingham Palace in time to meet his mother's casket.
At 12:15, the Scottish Government reported on the visitors at St Giles':
The queue was still long, but by the end of the viewing, everyone was accommodated at St Giles':
The King and Queen Consort touched down in Belfast shortly after noon that day:
At 12:30 p.m., the King and Queen Consort had arrived at the official Royal residence in Northern Ireland, Hillsborough Castle, which had a huge crowd waiting to greet them.
The Royal couple did a walkabout before viewing an exhibition about the Queen's long association with Northern Ireland.
The Guardian reported that the crowd chanted 'God save the King':
He and the Queen Consort Camilla were greeted by delighted crowds. He went along the line smiling and laughing and receiving flowers for over five minutes.
"I spoke to him and he spoke back!" yelled one woman in delight as he passed.
The Daily Mail has a video of well-wishers, including a corgi:
The floral tributes were many.
Just before 1:30, the King met the new Northern Ireland Secretary, Chris Heaton-Harris, inside the castle.
The Northern Ireland Assembly, which meets at Stormont in Belfast, gathered at the castle to present official condolences to the monarch. This took place a short time after the King's meeting with the Northern Ireland Secretary.
The Assembly's speaker, Alex Maskey MLA, opened proceedings:
Maskey, a Sinn Féin member of the assembly, directly addressed the political context of the changes in Northern Ireland during Queen Elizabeth's lifetime, saying:
On the walls of parliament building in Stormont are images from two of Queen Elizabeth's visits during the coronation year 1953 and the second for the diamond jubilee in 2012. It is extraordinary to consider how much social and political change Queen Elizabeth witnessed in the time between those visits, and indeed throughout her long reign. Yesterday an assembly of Unionists, Republicans, nationalists met to pay tribute to the late Queen. When she first came to the throne, no one would have anticipated an assembly so diverse and inclusive.
Also:
It was notable that neither the speaker of the Northern Ireland assembly, Sinn Féin's Alex Maskey, nor the new King, shied away from talking about the history of Northern Ireland or the long years of conflict, and Maskey alluded to the current stalemate.
Maskey said that at one point it would have been unthinkable for someone "from my own background and political tradition" being in the position to deliver this address. He said:
… Queen Elizabeth was not a distant observer in the transformation and progress of relationships between these islands. She proudly demonstrated that individual acts of positive leadership can help break down barriers and encourage reconciliation. Queen Elizabeth showed that a small but significant gesture – a visit, a handshake, crossing the street or speaking a few words of Irish can make a huge difference and change attitudes and build relationships. Her recognition of both British and Irish citizens as well as the wider diversity of our community was undoubtedly significant.
Of course, such acts of leadership do not come without risks, or the need for courage and determination to see them through. I represent the elected assembly of a society which has struggled with the legacy of our past and how to move on from it without leaving those who have suffered behind.
During her visit to Dublin, Queen Elizabeth said that whatever life throws at us, our individual responses will be all the stronger for working together and sharing that load. Let us all pay heed to that. As we remember Queen Elizabeth's positive leadership, let us all reflect that such leadership is still needed. And let us be honest with ourselves enough to recognise that too often, that leadership has been lacking when it has been most required.
Maskey's reference to 'a handshake' recalled the time she shook Martin McGuinness's hand in 2012. She was wearing gloves. McGuinness was a pivotal figure in the IRA, which was responsible for assassinating one of the Queen's relatives, Lord Moutbatten, in 1979.
The King responded to Maskey's speech:
Charles says that his mother, the Queen, was aware of her own role, saying:
My mother felt deeply the significance of the role she has played in bringing together those who history had separated, and extending a hand to make possible the healing of long-held hurts.
He said he would dedicate himself to a similar role, saying:
At the very beginning of her life of service, she made a pledge to dedicate herself to her country and her people and to maintain the principles of constitutional government.
This promise she kept with steadfast faith.
Now with that shining example for me, and with God's help, I take up my new duties resolved to seek the welfare of all the inhabitants of Northern Ireland.
He recalled Lord Mountbatten's death:
King Charles thanked Northern Ireland for the condolences, and said that his mother never ceased to pray for the best of times for its people, "whose sorrows our family had felt", in a reference to the death of Lord Mountbatten in 1979.
Here is the video:
Then, the King met Northern Ireland's political leaders. The Guardian has photos of him with DUP (Democratic Unionist Party) leader Sir Jeffrey Donaldson MP, Northern Ireland Assembly speaker Alex Maskey, Alliance Party leader Naomi Long and Sinn Féin vice president Michelle O'Neill, who is the most senior member of the Assembly.
At the end of the Royal couple's visit, the King experienced pen problems once more as he signed the visitors' book. This time, it was more than a misplaced tray of pens. His fountain pen was well and truly leaking. The Queen Consort helped to dry it with a handkerchief, which ended up soaked with ink. Sky News has a subtitled version:
The Daily Mail's description reads:
'Can't bear this bloody thing!' King Charles frustrated by leaking pen, but Queen Consort Camilla saves the day. This is the moment King Charles blasts a leaking pen that threatens to ruin his mood just hours after the new monarch was warmly embraced by the people of Northern Ireland during his inaugural trip as monarch. King Charles III, sitting inside the royal residence of Hillsborough Castle appeared visibly frustrated as he tried wiping off dripping ink during a book signing towards the end of his visit. Charles complained about the faulty instrument he was using to sign his name, pronouncing he 'can't bear this bloody thing' as he briskly turned on his heels and left the room flanked by aides. The leaky pen was swiftly replaced by flustered courtiers before Queen Consort Camilla sat down to sign the book herself from inside the historic residence.
Afterwards, the Royal couple returned to Belfast for a Service of Reflection at St Anne's Cathedral (Anglican).
It was very moving, as have been all the religious services for the late Queen. You can find the Order of Service here.
Clergy representing Northern Ireland's main Christian denominations all participated.
Alex Maskey MLA read Philippians 4: 4-9:
Rejoice in the Lord always; again I will say, rejoice. Let your gentleness be known to everyone. The Lord is near. Do not worry about anything, but in everything by prayer and supplication with thanksgiving let your requests be made known to God. And the peace of God, which surpasses all understanding, will guard your hearts and your minds in Christ Jesus. Finally, beloved, whatever is true, whatever is honourable, whatever is just, whatever is pure, whatever is pleasing, whatever is commendable, if there is any excellence and if there is anything worthy of praise, think about these things. Keep on doing the things that you have learned and received and heard and seen in me, and the God of peace will be with you.
Also notable was the prayer before the sermon for its use of 'felicity', a word I have not heard in decades:
O Lord, our heavenly Father, high and mighty, King of kings and Lord of lords, the only ruler of princes, who from your throne beholds all who dwell upon earth; grant to us understanding of your will and thankfulness of heart for the life and reign of our most beloved Queen, and to her everlasting joy and felicity, through Jesus Christ our Lord. Amen.
The Most Reverend John McDowell, Archbishop of Armagh and Primate of All Ireland delivered the sermon, which was gentle in tone yet hard hitting in content when it came to reconciliation.
To me, this was the best sermon of all from the Services of Reflection.
Excerpts follow:
In the Name of the Father and of the Son and of the Holy Spirit. In anim a Athair, agus a Mhic agus a Spiorad Naomh. Amen.
For many of us in the United Kingdom there were two people whose deaths we could never imagine. Our own and the Queen's. I think that is one of the reasons why the death of Queen Elizabeth was literally felt so keenly by so many people when the news broke on Thursday afternoon. It was as though the nation's collective grief was gathered up in those remarkable words of Christopher Marlowe's:
"If I had wept a sea of tears for her, it would not ease the sorrow I sustain".
And if that was how those of us felt who were her adopted family through her coronation oath, how much more profound must that feeling of loss be to those of the Queen's blood family; those who knew her best and loved her most; Your Majesty, our prayers will be with you and your family for a long time to come.
St Paul could be a bit of a gloomy old moralist at times and some of the injunctions contained in his letters are far from easy to put into practice. It is pretty difficult to "have no anxiety about anything". But I would dare to suggest that for the family of the late Queen and for millions of others, there will be no difficulty whatsoever, when she comes to mind, in following St Paul's command to think on "whatever is true, whatever is just, whatever is pure, whatever is lovely, whatever is gracious and whatever is worthy of praise".
There were many other words used about the late Queen during her long reign. Faithfulness, care, dutifulness, love and devotion. All of these could be employed to describe her relationship with Northern Ireland (with patience binding them all together) but paying attention especially to what she said most recently, the word which I think will be most associated with Queen Elizabeth and Ireland, north and south, is reconciliation.
It is a great New Testament word and it is a great civic word; and it is a hard word. So hard in the religious sense that it was beyond the power of humanity to achieve, and God himself had to give it to us as a gift in his Son. And as a disciple of Jesus Christ, Queen Elizabeth followed where Jesus led as women often have in the elusive and unfinished work of reconciliation here in Ireland.
For where the Master is, there will his servant be also.
It has always been love's way that in order to rise, she stoops; so the bowing of her head in respect was far more powerful than much grander gestures would have been. Love listens far more than she speaks, so a few words in an unfamiliar language and a judicious sentence or two of heartfelt regret and wisdom said far more than ceaseless volubility. Love never rushes into anything for fear of overwhelming the beloved, but when the moment is right she walked the few steps between two Houses of Prayer in Enniskillen alongside the beloved, in encouragement and affection. Although love is easily injured, she keeps no record of wrongs and extends the open hand of sincerity and friendship, with courage, to create an environment and an atmosphere where reconciliation has a chance.
And love never fails; for where the Master is there will his servant be also.
Reconciliation is about the restoration of broken relationships. And the word should never be cheapened by pretending it is an easy thing to achieve. By and large in the work of reconciliation most of our victories will be achieved quietly and in private: and most of our humiliations will be in public.
Reconciliation requires the greatest of all religious virtues, love; and it requires the greatest of all civic virtues, courage. But as the great apostle of reconciliation says: "What you have learned and received and heard and seen in me, do; and the God of peace will be with you" …
It is only an impression, but it seemed to me that in the last years of her reign the tone and content of the Queen's broadcasts became more overtly religious and perhaps a little more personal. On Christmas Day 2017 she said this:
Although we are capable of great acts of kindness, history teaches us that we sometimes need saving from ourselves – from our recklessness and greed. God sent into the world a unique person – neither a philosopher or a general, important as they are; but a saviour with the power to forgive. Forgiveness lies at the heart of the Christian faith. It can heal broken families, it can restore friendships and it can reconcile divided communities. It is in forgiveness that we feel the power of God's love.
At her baptism Elizabeth Alexandra Mary was signed on her forehead with the sign of sacrifice; the cross. And for 96 years in a life which was a prodigy of steady endeavour she offered herself, her soul and body, as a living sacrifice to the God who loves her with an everlasting love.
So, I want to finish by reminding you of those final words spoken by Mr Valiant for Truth in Bunyan's Pilgrim's Progress, some of which the Queen herself used in her very first Christmas televised broadcast in 1957:
Then he said, I am going to my Fathers, and though with great difficulty I am got hither, yet now I do not repent me of all the trouble I have been at to arrive where I am. My sword I give to him who shall succeed me in my pilgrimage, and my courage and skill to him that can get it. My marks and scars I carry with me, that I have fought his battles who will now be my Rewarder. When the Day that he must go hence was come, many accompanied him to the riverside, into which as he went he said, Death where is thy sting; and as he went down deeper he said, Grave where is thy victory? So he passed over, and the trumpets sounded for him on the other side.
All these words I have offered from an unworthy heart.
God save the King
Oecumenical prayers followed.
Two verses of the National Anthem followed:
God save our gracious King,
Long live our noble King,
Thy choicest gifts in store
On him be pleased to pour,
To sing with heart and voice,
God save the King.
The service closed with a Celtic blessing.
The Belfast News Letter has a collection of photos from the service, leading with one of Prime Minister Liz Truss sitting next to Ireland's Taoiseach (pron. 'Tee-shuck') — Prime Minister — Micheal (pron. 'Mee-hull') Martin.
According to television reports, various politicians, including Truss and Martin, spent a long time in the cathedral talking after the service.
The Daily Mail reported that Truss and Martin will meet after the Queen's funeral on Monday, September 19:
Liz Truss is expected to hold talks with Irish premier Micheal Martin about Northern Ireland's Brexit political impasse when he visits London for the Queen's funeral.
They are expected to meet after the Taoiseach represents Ireland at the Westminster Abbey ceremony on Monday …
It comes after Mr Martin suggested the Queen's death was an opportunity to 'reset' relations between Britain and Ireland following bitter Brexit disputes.
Northern Ireland is currently gripped by heightened political tensions at Stormont and between the UK and Irish governments over post-Brexit arrangements for Northern Ireland. 
Sinn Fein became the largest party at the assembly in May's election but the DUP has refused to restore the power-sharing executive until the Northern Ireland Protocol of the UK/EU Brexit deal is replaced.
Ms Truss is also threatening to push ahead with legislation at Westminster to scrap key elements of the Protocol if negotiations with the EU on revamping trade rules continue to stall.
This has caused a furious response from both Dublin and Brussels, with the bloc launching fresh legal action against the UK.
After greeting clergy and other dignitaries, the King and Queen Consort returned to Belfast Airport to return to RAF Northolt in north west London.
The Daily Mail has a video showing the amazing crowds in Belfast and Hillsborough:
Back in Edinburgh, the military attending during the Queen's lying in state at St Giles' carefully placed her coffin in the hearse to go to Edinburgh Airport.
Princess Anne and her husband were there to accompany it.
People lined the roads on the way to the airport.
The Daily Mail has an article with many photographs showing the Princess and her husband making the sorrowful six-hour journey from Balmoral to Edinburgh on Sunday. Undertakers William Purves, which have been operating since the 19th century, provided the service. They followed up with a second article with more photos.
At least the ride to Edinburgh Airport was much shorter.
The number on the RAF aircraft, a C-17 Globemaster — also used to transport our military home from Afghanistan — was ZZ177, or Liz. Note that the Scottish Crown was removed, as it stays in Scotland: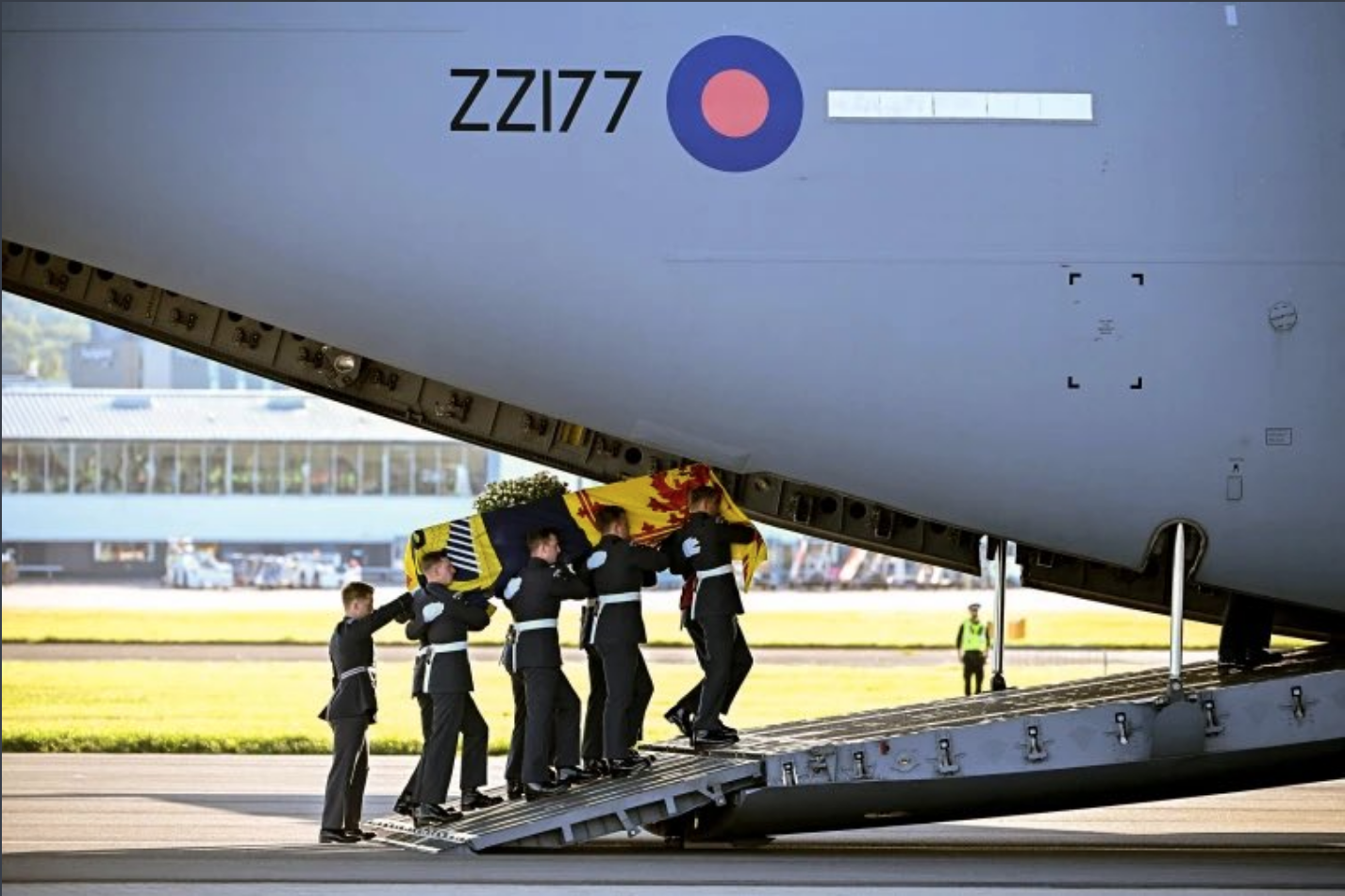 As Princess Anne and her husband prepared for takeoff, the King and Queen Consort arrived in London.
Crowds gathered around Buckingham Palace to welcome them.
The flight with the Queen's casket landed at RAF Northolt just after 7 p.m. Liz Truss and a senior Anglican clergyman, who offered a blessing, were present.
Crowds lined the route on the way into the capital. Rod Stewart's wife Penny Lancaster was outside RAF Northolt as a special constable, keeping order. You could not make this up:
The 51-year-old, who is married to crooner Rod Stewart, began working as a special constable last year and earlier confirmed she would be working during the Queen's funeral on Monday.
On Tuesday evening she was pictured engaging and marshalling expectant crowds and helping a wheelchair user.
The cortege arrived at Buckingham Palace an hour later:
The Queen's casket rested in the Bow Room of the palace overnight before moving to Westminster Hall on Wednesday.
On Wednesday, September 13, the Mail reported on the statement the Princess posted online after she reached London on Tuesday evening:
The Princess Royal has paid tribute to her mother and said it had been 'an honour and a privilege' to accompany the Queen on her final journeys as she travelled with the monarch's coffin back to London.
Princess Anne, the late monarch's only daughter, told how she was 'fortunate to share the last 24 hours of my dearest mother's life'.
She said the love and respect shown to the Queen on her journey from Balmoral to Edinburgh and onto London had been 'both humbling and uplifting'.
Anne also thanked the nation for the 'support and understanding offered to my dear brother Charles' as he takes on his duties as King.
She ended her statement with the words: 'To my mother, The Queen, thank you.' 
More will follow beginning next Monday, continuing on with Wednesday's events in London, Friday's trip to Wales and the Queen's funeral.
This has been an incredible period not only in British history, but also the world's.
We are experiencing the end of an era.