With the late Queen's casket in London, those who wished to pay their respects at Westminster Hall began to queue.
This post covers the events of Wednesday, September 14 and Friday, September 16.
Parliament and commerce act 'out of respect'
Some rather unusual developments in Parliament and elsewhere in the United Kingdom occurred, notionally 'out of respect' for the late monarch.
On Tuesday, September 13, Guido Fawkes posted a tweet about a fire drill for Tuesday, September 20, that would be turned into a virtual one, as it was 'too close to Her Majesty the Queen's funeral', which took place on the 19th:
In Parliament, two female MPs — one Labour, one Conservative — decided to stop working 'out of respect':
Guido's post conveyed the absurdity of it all. Note the first paragraph in particular (emphases his):
The Queen's passing led many across the country to suspend their duties as a mark of respect over the weekend: the Met Office stopped reporting the weather, the football was called off, and the Bank of England delayed its decision on interest rates for a week, Norwich council have stopped residents locking up their bikes, and Wetherspoons has reportedly stopped selling condoms in its loos*. All as Her Majesty would have wanted.
A few MPs are also throwing themselves into a period of mourning. Both Victoria Atkins and Alex Davies-Jones closed their offices on Friday. "Out of respect" for the sovereign…
Alex Davies-Jones (Labour) was first. She left a Facebook message.
Victoria Atkins (Conservative) followed suit, also via Facebook.
Guido posted the messages and followed up:
This morning Davies-Jones clarified that her constituency office had "only closed on Friday out of respect for HM The Queen's sad passing", and is now open. If you're a constituent of Victoria Atkins and you haven't heard from her since Friday, though, you can probably assume your problems have been sent to the "non-urgent" pile. Presumably neither MP will be forgoing last Friday's salary as a similar mark of respect…
*Guido remains sceptical about the truthfulness of this tweet…
More followed from the Palace of Westminster.
IPSA — the Independent Parliamentary Standards Authority — the independent body that regulates and administers the business costs and decides the pay and pensions of the 650 elected MPs and their staff in the UK, announced a delay in publishing MPs' expenses because the Queen had died:
Guido recalled that something similar happened nearly a year ago after the murder of Sir David Amess MP:
This latest nonsensical expression of sympathy with His Majesty the King's recent bereavement comes just days after Guido revealed two MPs had suspended "non-urgent" casework as a mark of respect. IPSA's move also comes almost a year after they stopped publishing MPs' expenses details in the wake of Sir David Amess's murder. It's almost like they're looking for any excuse…
Everyone knew there was going to be a long queue for four days in order to see the Queen lying at rest in Westminster Hall. The queue was quickly dubbed the Elizabeth Line, which is a nod and a wink to London's Crossrail route of the same name which the Queen opened in May 2022. It was one of her last public appearances.
The public were angry over arrangements for MPs, peers and some parliamentary staff to get priority and to bring at least one guest to Westminster Hall while everyone else — including MPs' staffers — would have to queue, day and night, for many hours. Guido's tweet below received a lot of angry responses:
Guido posted the official instructions and said:
The parliamentary staffer squabble over the Queen's Lying-in-State is about to get worse. Despite rumours that Commons Leader Penny Mordaunt is reviewing the decision to ban MPs' staffers from skipping the queue, a new announcement on the parliamentary intranet reveals those who already have priority access – including grey passholders such as cleaners and cooks – are now even allowed to invite a guest as they pay their respects …
MPs and Lords are entitled to up to four guests; grey passholders are allowed one. Staffers, many of whom have a not dissimilar sense of entitlement, will have to queue up for 20 hours like everyone else. Unless they make friends with a priority attendee pretty quickly…
I do not know how that ended.
Meanwhile, the Royal Family, particularly the King and Queen Consort, were undertaking daily engagements around the country.
Speaking of the Royal Family, some staff at Clarence House, which, for a while, continues to be the residence of King Charles, received redundancy notices while he and the Royal Family were in Edinburgh.
On September 13, The Guardian reported (purple emphases mine):
Dozens of Clarence House staff have been given notice of redundancies as the offices of King Charles and the Queen Consort move to Buckingham Palace after the death of the Queen, the Guardian has learned …
Private secretaries, the finance office, the communications team and household staff are among those who received notice during the thanksgiving service for the Queen, at St Giles' Cathedral in Edinburgh on Monday, that their posts were on the line.
Many staff had assumed they would be amalgamated into the King's new household, claiming they were given no indication of what was coming until the letter from Sir Clive Alderton, the King's top aide, arrived. One source said: "Everybody is absolutely livid, including private secretaries and the senior team. All the staff have been working late every night since Thursday, to be met with this. People were visibly shaken by it."
In his letter, seen by the Guardian, Alderton wrote: "The change in role for our principals will also mean change for our household … The portfolio of work previously undertaken in this household supporting the former Prince of Wales's personal interests, former activities and household operations will no longer be carried out, and the household … at Clarence House will be closed down. It is therefore expected that the need for the posts principally based at Clarence House, whose work supports these areas will no longer be needed."
That said, staff will receive assistance in finding other posts:
Staff who are made redundant are expected to be offered searches for alternative employment across all royal households, assistance in finding new jobs externally and an "enhanced" redundancy payment beyond the statutory minimum.
A Clarence House spokesman said: "Following last week's accession, the operations of the household of the former Prince of Wales and Duchess of Cornwall have ceased and, as required by law, a consultation process has begun. Our staff have given long and loyal service and, while some redundancies will be unavoidable, we are working urgently to identify alternative roles for the greatest number of staff."
However, former Royal Butler Grant Harrold told GB News at the weekend that staff contracts state they are in the employ of specific members of the Royal Family, e.g. Prince/King Charles. Therefore, most staff know that they might not have jobs for life.
The same thing happened when the Queen Mother died in 2002:
When the Queen Mother died, the Duke of York took over Royal Lodge at Windsor. While some of her 83 members of staff were redeployed within other royal households, others were let go.
The Guardian also reported that King Charles will not be paying inheritance tax as those assets are surrendered to the Government in return for a sovereign grant to the Royal Family:
King Charles will not pay tax on the fortune he has inherited from the late Queen, although he has volunteered to follow his mother's lead in paying income tax.
Under a clause agreed in 1993 by the then prime minister, John Major, any inheritance passed "sovereign to sovereign" avoids the 40% levy applied to assets valued at more than £325,000.
The Crown Estate has an estimated £15.2bn in assets, of which 25% of the profits are given to the Royal Family as the sovereign grant. The estate includes the royal archives and the royal collection of paintings, which are held by the monarch "in right of the crown".
These assets cannot be sold by the King and they are in effect surrendered to the government in return for a grant. The government's guidance concludes that it would therefore be "inappropriate for inheritance tax to be paid in respect of such assets".
Separately, Charles also inherits from the Queen the Duchy of Lancaster, a private estate that includes portfolio of lands, properties and assets held in trust for the sovereign.
He is exempt from inheritance tax on these assets, among others, in order to preserve "a degree of financial independence from the government of the day".
And rightly so.
September 14
On Wednesday, September 14, the Queen's casket lay at Buckingham Palace until the middle of the afternoon when the King, his siblings, his sons, his nephews Peter Philips and the Earl of Snowdon along with the Duke of Gloucester and Princess Anne's husband Sir Tim Laurence walked behind it in a ceremonial procession to Westminster Hall.
The King and Queen Consort made the short journey from Clarence House to Buckingham Palace mid-morning, where the crowd warmly cheered them:
While the Elizabeth Line began building near Westminster Hall near Parliament, other people remained at Buckingham Palace:
Mourners' flowers accumulated in the park, said to be more fragrant as the days passed. Nearby, this was the scene on The Mall:
Those in the Elizabeth Line could be assured of help throughout the ensuing four days:
Nearly 2,000 law enforcement officers, stewards, other officials and volunteers were on hand for mourners:
The procession from Buckingham Palace began around 2:30 p.m. Other members of the Royal Family followed in cars in the cortege:
Once the cortege, which included other members of the Royal Family, arrived at Westminster Hall, a 20-minute service took place:
This video has the end of the procession, the placing of the Queen's casket on the catafalque in Westminster Hall and the service, much of which is in traditional language and includes the funeral Collect from the 1662 Book of Common Prayer. The Archbishop of Canterbury is there and the choir from Westminster Abbey sound like angels.
I'm not sure why the video shows an 'unavailable' message. Click on 'Watch on YouTube' and you should be able to see it. I still can, although it might expire in time:
Afterwards, the Royal Family returned to Buckingham Palace.
Outside, no one complained about waiting in the Elizabeth Line. These two women told Sky News why they were there.
Vanessa was first in the queue:
Even the unpredictable weather couldn't keep this lady away:
Many people made friends quickly in the queue. It was wonderful hearing their stories, many more of which followed into the weekend.
September 15
On Thursday, September 15, The King and Queen Consort had a well deserved rest day at home. They left London on Wednesday evening via helicopter.
It is thought that Camilla was dropped off first at her home in Wiltshire. From there, Charles journeyed to his estate.
We discovered that Camilla had a broken toe. That must have made her walkabouts quite painful.
September 16
September 16 is an important date to the Welsh who resent having non-Welsh Princes of Wales. It is Owain Glyndŵr Day.
The last true Welsh prince was Owain ap Gruffydd (c. 1359 – c. 1415), also known as Owain Glyndŵr, Glyn Dŵr and, in English, Owen Glendower. Shakespeare gave him the name Owen Glendower in Henry IV, Part 1.
He took up his rightful place as Prince of Powys on September 16, 1400, at his estate. Owain became the last Welsh Prince of Wales in 1404, a ceremony witnessed by emissaries from Scotland, France and Castile (Spain).
He had been fighting the English under Henry IV for some time and continued to do so until 1412. Henry IV appointed Hotspur of Shakespeare fame, Henry Percy, to lead the English side of the battle.
In 1412, Owain disappeared, not to be seen for the next three years. Meanwhile, in 1413, Henry IV died and Henry V was more conciliatory towards the Welsh.
In 1415, one of Owain's supporters, Adam of Usk, wrote in his Chronicle:
After four years in hiding, from the king and the realm, Owain Glyndŵr died, and was buried by his followers in the darkness of night. His grave was discovered by his enemies, however, so he had to be re-buried, though it is impossible to discover where he was laid.
Owain was 56 years old.
As of 2015, his final resting place remained uncertain.
The Tudors effectively conquered Wales and found little resistance in so doing. It is said that they made the Welsh more prominent in English society.
Future English monarchs installed non-Welsh Princes of Wales, including the new one, Prince William. One Welshman started a petition, 'End "Prince of Wales" title out of respect for Wales'. As I write, it has over 32,000 signatures.
The petition reads, in part:
… the title has been held exclusively by Englishmen as a symbol of dominance over Wales. To this day, the English "Princes of Wales" have no genuine connection to our country.
The title remains an insult to Wales and is a symbol of historical oppression. The title implies that Wales is still a principality undermining Wales' status as a nation and a country. In addition, the title has absolutely no constitutional role for Wales, which is now a devolved country with a national Parliament. Neither the Welsh parliament nor the people of Wales were notified, let alone consulted about this controversial decision.
The Welsh Nationalist Party, Plaid Cymru (pron. 'Plied Cuhm-ree'), is not happy about Prince William's appointment or the possible investiture in to follow in Wales within the next year or two.
On September 13, Guido reported that Plaid's leader, Adam Price, made his views known:
Guido's post says that the Welsh First Minister, Labour's Mark Drakeford, opposes Prince William's probable investiture in Wales, which his father had in 1969:
With Prince William assuming the Prince of Wales role last week, thousands of furious Welsh nationalists have signed a change.org petition demanding he be stripped of the title "out of respect for Wales" given its symbolism of "historical oppression". Now Plaid leader – and Mark Drakeford's right-hand man – Adam Price has waded in to pour fuel on the fire:
I welcome what the First Minister, Mark Drakeford, had to say on the question of an investiture. I've seen stories in the London press that an investiture is going to happen and I think that a line is crossed because that gives the Prince of Wales a quasi-official status in Welsh life. I think that's a decision that we in Wales should make in a time when we're living in a modern democratic Wales – it's a decision we need to make here before any announcement is made […] I'm a republican, and there is sensitivity and pain around the [Prince of Wales] title for many of us…
However, not everyone in Wales was upset either by the prospect of King Charles or a new Prince of Wales. These residents of Caerphilly seemed content:
It was against this historical backdrop that King Charles and Camilla Queen Consort visited Wales on Friday.
While the new Prince and Princess of Wales visited Sandringham to greet mourners and view their tributes …
… the King and Queen Consort attended a service in memory of the Queen at Llandaff Cathedral then travelled to Cardiff to the Senedd, where they received condolences in the chamber from members and speak with them afterwards.
I was hoping to find a video of them on walkabout. The crowds were warm and welcoming. Unfortunately, the news videos for that day are mostly about London with only two about Wales.
The service at Llandaff Cathedral was beautiful, especially the hymns, which I sang when I lived in the United States. Part of it was in Welsh. The bilingual Order of Service is here. This article from the Church in Wales (Anglican) has more.
The full video is available from the BBC for another 26 days.
The Bidding Prayer (p. 7) was exquisite, touching all the right notes for the late Queen and for the new King:
We are gathered in the sight of Almighty God
to give thanks for the life
of our Most Gracious Sovereign Lady Queen Elizabeth the Second,
for her steadfastness and devotion to her sacred calling,
her courage and unwavering sense of duty
to the people of this Realm and Commonwealth.
As we entrust her to our Redeemer and Lord,
in whose promises she gained assurance and hope,
we pray for our Most Gracious Sovereign Lord
King Charles the Third,
that God may grant him peace in these days of mourning,
wisdom as he faces the challenges of sovereignty
and grace to accept the mantle of his calling.
First Minister Mark Drakeford read 1 Kings, 3:4-15:
The king went to Gibeon to sacrifice there, for that was the principal high place; Solomon used to offer a thousand burnt-offerings on that altar. At Gibeon the Lord appeared to Solomon in a dream by night; and God said, 'Ask what I should give you.' And Solomon said, 'You have shown great and steadfast love to your servant my father David, because he walked before you in faithfulness, in righteousness, and in uprightness of heart towards you; and you have kept for him this great and steadfast love, and have given him a son to sit on his throne today. And now, O Lord my God, you have made your servant king in place of my father David, although I am only a little child; I do not know how to go out or come in. And your servant is in the midst of the people whom you have chosen, a great people, so numerous they cannot be numbered or counted. Give your servant therefore an understanding mind to govern your people, able to discern between good and evil; for who can govern this your great people?'
It pleased the Lord that Solomon had asked this. God said to him, 'Because you have asked this, and have not asked for yourself long life or riches, or for the life of your enemies, but have asked for yourself understanding to discern what is right, I now do according to your word. Indeed, I give you a wise and discerning mind; no one like you has been before you and no one like you shall arise after you. I give you also what you have not asked, both riches and honour all your life; no other king shall compare with you. If you will walk in my ways, keeping my statutes and my commandments, as your father David walked, then I will lengthen your life.' Then Solomon awoke; it had been a dream.
The motion of condolence and subsequent reception at the Senedd went well.
The Conservative leader, Andrew R T Davies, was happy with the Royal visit:
This lady, who was at the religious service, remembered the visits the Queen made after the Aberfan Disaster, 21 October 1966, which involved a huge slag heap destroying a school while children were in class. Five teachers and 109 pupils died. The lady in the video was 11 years old at the time:
This was the first time a monarch visited a disaster outside of wartime, with pressure from the usual quarters urging her to go to Aberfan. It was one of the rare times she came close to tears: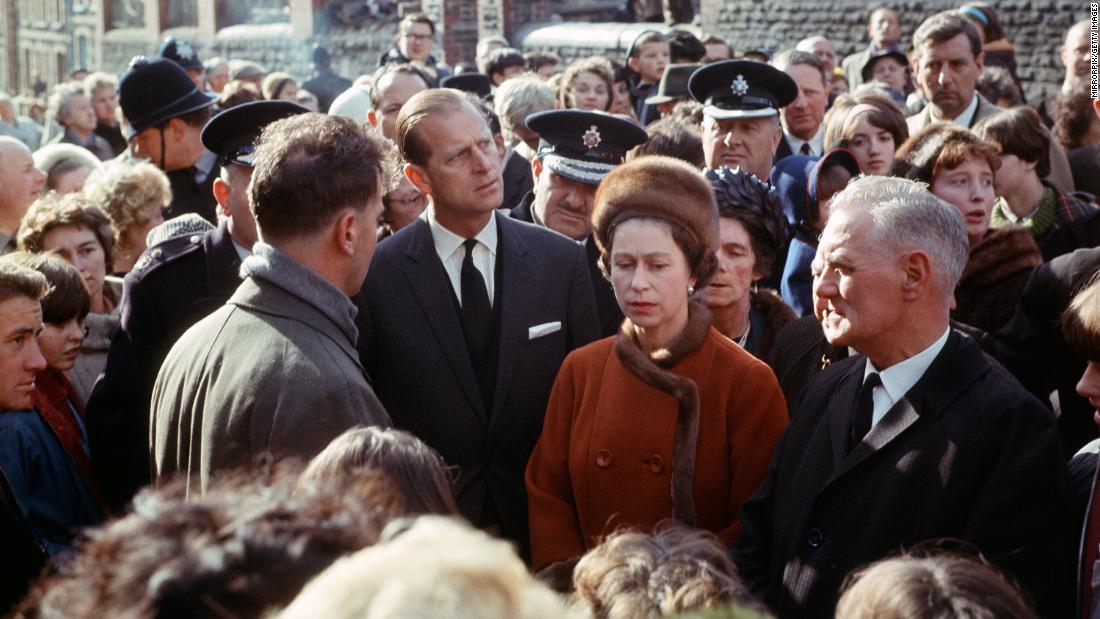 The lady whom GB News interviewed said that the Queen could not have done anything to help. What had happened was already done. She and other residents appreciated the Queen's visits nonetheless.
The Royal Couple left Cardiff for London in the late afternoon.
That evening, at 7:30, the King, his sister and two brothers held the first of two Vigils of the Princes at Westminster Hall:
As in Edinburgh, the public were allowed to file past to pay their respects to the late monarch. This was a first both at St Giles' Cathedral and at Westminster Hall, where the tradition started with the death of George V in 1936. It was closed to the public that time and again in 2002, when the Queen Mother died.
Another Vigil of the Princes took place on Saturday, this time with the Queen's grandchildren.
More to come tomorrow.