You are currently browsing the daily archive for September 25, 2022.
The three-year Lectionary that many Catholics and Protestants hear in public worship gives us a great variety of Holy Scripture.
Yet, it doesn't tell the whole story.
My series Forbidden Bible Verses — ones the Lectionary editors and their clergy omit — examines the passages we do not hear in church. These missing verses are also Essential Bible Verses, ones we should study with care and attention. Often, we find that they carry difficult messages and warnings.
Today's reading is from the English Standard Version with commentary by Matthew Henry and John MacArthur.
2 For I want you to know how great a struggle I have for you and for those at Laodicea and for all who have not seen me face to face, 2 that their hearts may be encouraged, being knit together in love, to reach all the riches of full assurance of understanding and the knowledge of God's mystery, which is Christ, 3 in whom are hidden all the treasures of wisdom and knowledge. 4 I say this in order that no one may delude you with plausible arguments. 5 For though I am absent in body, yet I am with you in spirit, rejoicing to see your good order and the firmness of your faith in Christ.
———————————————————————————–
Last week's post concluded my study of Paul's letter to the Philippians.
This week, we begin looking at Paul's letter to the Colossians. This was another letter that the Apostle wrote as a prisoner in Rome. It is dated AD 62.
As Matthew Henry says:
He was not idle in his confinement, and the word of God was not bound.
Paul never met the Colossians. Epaphras founded the church in Colossae (pron. 'Co-loss-see'). Epaphras learned about Christ and the doctrine of the faith from Paul in Ephesus and took those truths back to his home city. It is likely that Timothy also ministered there.
Although Paul did not know the Colossians, he felt every ounce of love for them that he did for the congregations he knew personally.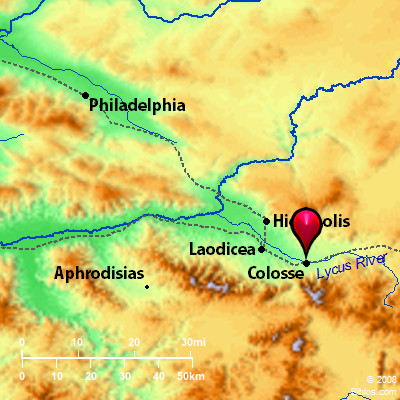 The illustration of Colossae's location in Asia Minor — today's Turkey — comes from Bible Map, along with this description (emphases mine):
ko-los'-e (Kolossai, "punishment"; the King James Version Colosse): A city of Phrygia on the Lycus River, one of the branches of the Meander, and 3 miles from Mt. Cadmus, 8,013 ft. high. It stood at the head of a gorge where the two streams unite, and on the great highway traversing the country from Ephesus to the Euphrates valley, 13 miles from Hierapolis and 10 from Laodicea. Its history is chiefly associated with that of these two cities. Early, according to both Herodotus and Xenophon, it was a place of great importance. There Xerxes stopped 481 B.C. (Herodotus vii.30) and Cyrus the Younger marched 401 B.C. (Xen. Anab. i.2, 6). From Colossians 2:1 it is not likely that Paul visited the place in person; but its Christianization was due to the efforts of Epaphras and Timothy (Colossians 1:1, 7), and it was the home of Philemon and Epaphras. That a church was established there early is evident from Colossians 4:12, 13 Revelation 1:11; Revelation 3:14. As the neighboring cities, Hierapolis and Laodicea, increased in importance, Colosse declined. There were many Jews living there, and a chief article of commerce, for which the place was renowned, was the collossinus, a peculiar wool, probably of a purple color. In religion the people were specially lax, worshipping angels. Of them, Michael was the chief, and the protecting saint of the city. It is said that once he appeared to the people, saving the city in time of a flood. It was this belief in angels which called forth Paul's epistle (Colossians 2:18). During the 7th and 8th centuries the place was overrun by the Saracens; in the 12th century the church was destroyed by the Turks and the city disappeared. … The ruins of the church, the stone foundation of a large theater, and a necropolis with stones of a peculiar shape are still to be seen. During the Middle Ages the place bore the name of Chonae; it is now called Chonas.
Wikipedia has more information, excerpted below:
Despite a treacherously ambiguous cartography and history, Colossae has been clearly distinguished in modern research from nearby Chonai (Χῶναι), now called Honaz, with what remains of the buried ruins of Colossae ("the mound") lying 3 km (1.9 mi) to the north of Honaz.[6][7][8]
The medieval poet Manuel Philes, incorrectly, imagined that the name "Colossae" was connected to the Colossus of Rhodes.[9] More recently, in an interpretation which ties Colossae to an Indo-European root that happens to be shared with the word kolossos, Jean-Pierre Vernant has connected the name to the idea of setting up a sacred space or shrine.[10] Another proposal relates the name to the Greek kolazo, "to punish".[9] Others believe the name derives from the manufacture of its famous dyed wool, or colossinus.[11]
… the wool of Colossae gave its name to colour colossinus.[14]
The town was known for its fusion of religious influences (syncretism), which included Jewish, Gnostic, and pagan influences that, in the first century AD, were described as an angel-cult.[17] This unorthodox cult venerated the archangel Michael, who is said to have caused a curative spring to gush from a fissure in the earth.[4] The worship of angels showed analogies with the cult of pre-Christian pagan deities like Zeus.[18][19] Saint Theodoret of Cyrrhus told about their surviving in Phrygia during the fourth century.[20]
… in the Epistle to Philemon Paul tells Philemon of his hope to visit Colossae upon being freed from prison.[26] Tradition also gives Philemon as the second bishop of the see.
The city was decimated by an earthquake in the 60s AD, and was rebuilt independent of the support of Rome.[27]
The Apostolic Constitutions list Philemon as a bishop of Colossae.[28] On the other hand, the Catholic Encyclopedia considers Philemon doubtful.[29]
The first historically documented bishop is Epiphanius,Council of Chalcedon, but whose metropolitan bishop Nunechius of Laodicea, the capital of the Roman province of Phrygia Pacatiana, signed the acts on his behalf.
who was not personally at the
The city's fame and renowned status continued into the Byzantine period, and in 858, it was distinguished as a Metropolitan See. The Byzantines also built the church of St. Michael in the vicinity of Colossae, one of the largest church buildings in the Middle East. Nevertheless, sources suggest that the town may have decreased in size or may even been completely abandoned due to Arab invasions in the seventh and eighth centuries, forcing the population to flee to resettle in the nearby city of Chonai (modern day Honaz).[11]
Colossae's famous church was destroyed in 1192/3 during the Byzantine civil wars. It was a suffragan diocese of Laodicea in Phyrigia Pacatiane but was replaced in the Byzantine period by the Chonae settlement on higher ground.[4]
As of 2019, Colossae has never been excavated, as most archeological attention has been focused on nearby Laodicea and Hierapolis,[30] though plans are reported for an Australian-led expedition to the site. The present site exhibits a biconical acropolis almost 100 feet (30 m) high, and encompasses an area of almost 22 acres (8.9 ha). On the eastern slope there sits a theater which probably seated around 5,000 people, suggesting a total population of 25,000–30,000 people. The theater was probably built during the Roman period, and may be near an agora that abuts the cardo maximus, or the city's main north-south road. Ceramic finds around the theater confirm the city's early occupation in the third and second millennia BC.
The holiness and healing properties associated with the waters of Colossae during the Byzantine era continue to this day, particularly at a pool fed by the Lycus River at the Göz picnic grounds west of Colossae at the foot of Mt. Cadmus. Locals consider the water to be therapeutic.[32]
John MacArthur has more on the city's topography, which was beneficial for raising sheep and producing wool:
… from the Lycus River there were chalk deposits that were left. And some historians have said that they left amazing configurations all over the area where the water would spill out, and it would rise at flood time, and it would leave this chalk, and all kinds of strange formations that looked like monuments would result. Now, on the land where there wasn't any chalk, the land was super fertile and they grew pasture there and had excellent, excellent pasture land for sheep, and it became the wool center of the ancient world. And they used the chalk, also, for making dyes. They would raise the sheep, get the wool, and then dye the wool right there.
MacArthur's estimation of Colossae's population is higher than those mentioned above:
It was a Gentile city, but there are estimates that in those three cities there could be as many as fifty thousand Jews, and the reason they estimate that is they found some papers about a tax that the Jewish community there was sending back to Jerusalem. And by the amount of the tax they can deduct how many Jews there would have been in order to give that amount, and they estimate about fifty thousand Jews. So, there would be a large Gentile population and a rather large Jewish population.
He gives us a timeline of Paul's ministry and the founding of various churches in Asia Minor:
On Paul's third missionary journey, he went to Ephesus. Ephesus was a great center of Asia Minor. And Paul went there on his third journey, and he stayed there for three years. Remember? During the three years that he was in Ephesus, he never visited Colossae, as far as we know, but people started coming to him from all over Asia Minor. And do you know that during those three years the church at Ephesus was founded, and all seven churches of Revelation 2-3 were founded. You have Ephesus, Laodicea, Smyrna, Philadelphia, Pergamum – all of those – Thyatira; all of those churches were founded during that time, and so was the church in Colossae, and so was the church in Hierapolis. They were all outgrowths of Paul's ministry on his third missionary journey as he ministered there.
In Acts chapter 19, verse 10, it says – and this is part of his ministry there in Ephesus – "And this continued for the space of two years." This was the first part of it, "so that all they who dwelt in Asia" – that's Asia Minor, a province – "all that dwelt in Asia Minor heard the word of the Lord Jesus, both Jews and Greeks." Verse 26, when they wanted to throw him out, they said, "Morever you see and hear, that not alone in Ephesus, but almost throughout all Asia Minor, this Paul has persuaded and turned away many people, saying they are no gods which are made with hands." So, it is the comment of Luke in verse 10, and it is the comment of his persecutors in verse 26 that his gospel had filled the whole of Asia Minor. From the vantage point of Ephesus people would come hear the gospel and go back. From Colossae came a group of people – Epaphras, Philemon, Apphia, Archippus. From Laodicea came Nymphas. All of them received Christ under the ministry of Paul. All of them went back to be used of God to begin churches. The most influential person in the beginning of those three churches in those cities was Epaphras.
Epaphras founded the churches in Colossae, Laodicea and Hieropolis. Today, we would call them a 'tri-city area'.
After Paul's three years of ministry in Ephesus ended:
He spent a winter in Greece writing, and then he started back to Jerusalem. He gathered the collections to take to the poor saints – went all the way back to Jerusalem.
He arrived at Jerusalem, and you remember the terrible trouble that happened? They threw him in jail. The next thing you knew he wound up in Caesarea in jail. He pleaded his case to Caesar and  they shipped him to Rome.
Epaphras went to Rome to seek Paul's spiritual counsel about the Colossians, who were pure of heart but prone to heresy:
Here is a congregation of Gentiles, and they've got a smattering probably of Jewish believers, maybe, just a very little, and they've got a problem. There's a heresy that's beginning to creep into the congregation and Epaphras, their pastor, is really concerned. He makes a trip of a thousand to thirteen hundred miles, depending upon which way he took, to go to Rome and see Paul – and he pours his heart out to Paul. He says, in effect, "the people are super, Paul, but there's an imminent danger; there's a peril." And Paul writes to them and says, "Hey, you are super people, but let me warn you about something." Further on you'll hear him say, "Don't let anybody beguile you." It wasn't that they'd already been, it was that they were in danger of being beguiled. This is prevention.
You say, "Well, what is the heresy?" Well, it was a twofold heresy. First of all, it was coming from paganism. Those people were living on the verge of paganism all the time. You know, in that one region historians tell us that the deities such as Cybele, Men, Issus, Serapis, Helios, Selene, Demeter, and Artimus dominated the worship of the people. I mean, there were gods – you know, ad nauseam, plenty of them. And the basic evil that faced that church was a relapse into paganism. For the most part they were new Christians, and the pull of the darkness and the sensuality of the old life was strong.
… I call it sometimes, as I think it's Hendriksen uses the term (William Hendriksen), "the cable of the past." Life is like a cable; habit makes cables. A person weaves a thread every day until it becomes an unbreakable cable – and then you can't cut it, and the cable of the past tends to pull. And there was the environment of the present that they were living in. It was hard to row against the current. And then they had their own undertow of passion pulling them. And so, Paul's telling them, "Don't go back, don't go back."
… And this false doctrine – let me give it to you very simply – this false doctrine basically had two features. We don't know what brand it is. We don't have any title for it. It really isn't any particular system that we know about historically, but I'll define it for you. This false doctrine that Satan was beginning to spread, or at least was going to try to spread in Colossae, had two basic features.
Number one: it included a false philosophy. Chapter 2, verse 8, "Beware, lest any man spoil you through philosophy." Boy, a lot of people have been spoiled through philosophy. "And empty deceit." Hmmm. This is interesting.
… Here's what they were saying: the Greeks loved knowledge; oh did they love it. They literally gloated over what they knew, and the higher you got in knowledge, and the more difficult you were to understand, and the further you got spaced out with strange, weird understanding, the more snobbish you became. The heretics were saying this, they were saying: "The simplicity of the gospel is not adequate." Now listen. "The simplicity of the gospel is not adequate." Jesus Christ is not enough; you must have elaborate knowledge in addition to having Him. Salvation is – watch – Christ plus knowledge equals salvation. They claimed secret visions … This guy's pretending to see a vision, and he comes and says, "I have seen a vision. I have seen the supernatural." And he assumes an air of deep insight into divinely revealed mysteries. And he prides himself on his superior knowledge, and this is what became later Gnosticism. From gnosis, "to know" – superior knowledge. It isn't Gnosticism yet because Gnosticism isn't really defined for many years after this. But here are the seeds of it, intellectual snobbery. Somebody was saying, "It isn't enough to know Jesus. You can't defeat the powers of the emanating demons, you can't crack the barriers to get to the divine realm by Jesus alone – you've got to have superior knowledge." And so, they were talking about weird philosophies, and they were intruding, verse 18 says, "into things they had seen and their fleshly mind was being puffed up." Jesus isn't adequate. You see Jesus, they believed, was one of the emanations …
There's a second factor in this heresy. The first one was false philosophy. The second was Judaistic ceremony, legalism. Now, you say, "Well, that's a strange bedfellow for Greek philosophy." You're right, but it was there. Somehow this strange heresy was a combination of Greek philosophy and Jewish ceremonialism, or legalism. Look at chapter 2, verse 11. Some of them were saying you had to be circumcised to be saved. "In whom also you are circumcised with the circumcision made without hands," he says. You don't need a circumcision. What was this part of the heresy saying? Watch. Christ-plus-works-equals-salvation. The philosophy said, "Christ plus knowledge equals salvation." This is Christ plus works. And God says, "Christ plus nothing equals salvation." That's the message of Colossians. Chapter 3 tells us a little more about – chapter 3, he says, "There is neither Greek nor Jew, circumcision or uncircumcision." Don't get into that. That's not an issue. There's no need to even be concerned about that.
And so, they were concerned with things that there was no reason to be concerned with – none whatsoever. It even went so far as, for example, in chapter 2, verse 20, "If you're dead with Christ from the rudiments of the world, why, as though living in the world, are you subject to ordinances, (Touch not; taste not; handle not…)." This is like asceticism, you know. They couldn't do anything. "(Which are all to perish with the using;) after the commandments and doctrines of men. These things have indeed a shew of wisdom or self-imposed worship." And so, he really says, "You don't need those things – touch not; taste not; handle not" and all that. It's pointless …
So, here they were, wrapped up in Greek philosophy and Jewish ceremonialism, these false teachers. And they were just beginning to attack the church at Colossae.
You say, "What a weird mixture. Where did it come from?" We don't know. We don't even know who these people were, but there is a, there's precedent for this. There was a group of people in Israel called the Essenes. Have you ever heard of them? The three major groups among the Jews, the three major religious sects in Judaism: Pharisees, Sadducees, and Essenes. The Essenes were ascetics, and by that I mean they were far out. In fact, they believed that you shouldn't have anything, that you should be totally deprived of everything. I mean, they were really far out. They were Gnostics. That's interesting. They believed that the body was corruptible, that matter was corruptible, and spirit was good and imperishable.
So, they had that same philosophical strain. They saw the soul in the prison of the body, which was a Greek concept. It was their concept, and the reason the Greeks had it and they had it was the devil – the same devil, whether he's working with the Greeks or with anybody else. They were super-strict legalists. They went way beyond the Pharisees. They were celibate. And they adopted children in order to propagate their theology. Some of them married, but if they did marry they gave their wife a three year probation period. I don't know on what criteria they decided whether they should continue it after that or not. They hated riches. You know what Josephus says about them? Josephus says they worshiped angels. Isn't that interesting? It's amazing, but all of the things that this strange group of people did affecting the Colossian church are also characteristic of these people, the Essenes. The Essenes were vegetarians, super legalistic. That may well be that the influencing group behind the picture at Colossae was this group of Essenes, but whatever. They were saying, "Christ plus rules and laws equal salvation" – "Christ plus knowledge equals salvation." Paul wants to say in Colossians, "Christ plus" – What? – "nothing equals salvation."
… They talked about Christ, but it was Christ plus some super-knowledge. They had not only all of the philosophy that was into their heresy in Colossae, but they had all of the Jewish legalism. What a mess. But the one attack was this: Satan had concerted all of this hodgepodge to attack – What? – the sufficiency of – Whom? – Christ. And that's always where he attacks. And listen to Paul's response in Colossians 2:9, "For in him dwelleth all the fullness of the Godhead bodily." Listen to me, "and you are" – What? – "complete in him." Isn't that beautiful? There's the answer. You want to know God? Christ is the image of God. You want knowledge? In Him are hidden all the treasures of wisdom and knowledge. You want to be accepted by God? Worship Christ not angels or celestial intercessors. You want to fulfill God's will? Don't fool with the shadow. The substance is Christ. You want holiness? It doesn't come from abusing your body. It comes from setting your affections on Him …
Paul has one thing in mind in Colossians: Christ-sufficient.
MacArthur points out that things are very much the same today. New Age philosophy mixes with Christianity and produces syncretism. There are many different types of syncretism, vaudou being yet another, mixing the veneration of canonised saints with animal sacrifices and evil spells.
We also have the personal beliefs of celebrities and media personalities which we can read on a daily basis.
He says:
Let me take you to verse 8. "See to it that no one takes you captive" – chapter 2 – "See to it that no one takes you captive through philosophy." This is human opinion, the mind of man. There are no human solutions to spiritual problems. There are no human insights that take us places the Bible doesn't or can't. That is to say there is nothing necessary for life and godliness that is not delivered to us by the Word through the Spirit. We don't need Christ plus insights into human wisdom, spiritual intuition. You can take all the philosophers the world has ever known, in ancient and modern times, all the authors, all the writers, all the playwrights, all the movie producers, all the talk show hosts, all the psychologists, sociologists, religious leaders, and you can take all their endless verbosity about truth and life and morality, and all their solutions to human problems and dilemmas, and they add nothing to what is already in Christ.
We don't even have much classic philosophy anymore. New Age philosophy is not about thinking; it's about feeling. Philosophy used to be a rational exercise. Now, in a postmodern world, it is an irrational exercise.
With that in mind, let's look at Colossians 1, which is included in the Lectionary:
Greeting
1 Paul, an apostle of Christ Jesus by the will of God, and Timothy our brother,
2 To the saints and faithful brothers[a] in Christ at Colossae:
Grace to you and peace from God our Father.
Thanksgiving and Prayer
3 We always thank God, the Father of our Lord Jesus Christ, when we pray for you, 4 since we heard of your faith in Christ Jesus and of the love that you have for all the saints, 5 because of the hope laid up for you in heaven. Of this you have heard before in the word of the truth, the gospel, 6 which has come to you, as indeed in the whole world it is bearing fruit and increasing—as it also does among you, since the day you heard it and understood the grace of God in truth, 7 just as you learned it from Epaphras our beloved fellow servant.[b] He is a faithful minister of Christ on your[c] behalf 8 and has made known to us your love in the Spirit.
9 And so, from the day we heard, we have not ceased to pray for you, asking that you may be filled with the knowledge of his will in all spiritual wisdom and understanding, 10 so as to walk in a manner worthy of the Lord, fully pleasing to him: bearing fruit in every good work and increasing in the knowledge of God; 11 being strengthened with all power, according to his glorious might, for all endurance and patience with joy; 12 giving thanks[d] to the Father, who has qualified you[e] to share in the inheritance of the saints in light. 13 He has delivered us from the domain of darkness and transferred us to the kingdom of his beloved Son, 14 in whom we have redemption, the forgiveness of sins.
The Preeminence of Christ
15 He is the image of the invisible God, the firstborn of all creation. 16 For by[f] him all things were created, in heaven and on earth, visible and invisible, whether thrones or dominions or rulers or authorities—all things were created through him and for him. 17 And he is before all things, and in him all things hold together. 18 And he is the head of the body, the church. He is the beginning, the firstborn from the dead, that in everything he might be preeminent. 19 For in him all the fullness of God was pleased to dwell, 20 and through him to reconcile to himself all things, whether on earth or in heaven, making peace by the blood of his cross.
21 And you, who once were alienated and hostile in mind, doing evil deeds, 22 he has now reconciled in his body of flesh by his death, in order to present you holy and blameless and above reproach before him, 23 if indeed you continue in the faith, stable and steadfast, not shifting from the hope of the gospel that you heard, which has been proclaimed in all creation[g] under heaven, and of which I, Paul, became a minister.
Paul's Ministry to the Church
24 Now I rejoice in my sufferings for your sake, and in my flesh I am filling up what is lacking in Christ's afflictions for the sake of his body, that is, the church, 25 of which I became a minister according to the stewardship from God that was given to me for you, to make the word of God fully known, 26 the mystery hidden for ages and generations but now revealed to his saints. 27 To them God chose to make known how great among the Gentiles are the riches of the glory of this mystery, which is Christ in you, the hope of glory. 28 Him we proclaim, warning everyone and teaching everyone with all wisdom, that we may present everyone mature in Christ. 29 For this I toil, struggling with all his energy that he powerfully works within me.
In Colossians 2, Paul says he has a great struggle for the congregations in Colossae and Laodicea and for those he does not know personally (verse 1).
Henry says Paul's struggle is one of agony:
Observe, 1. Paul's care of the church was such as amounted to a conflict. He was in a sort of agony, and had a constant fear respecting what would become of them. Herein he was a follower of his Master, who was in an agony for us, and was heard in that he feared.
MacArthur says that Paul would have had to truly love the Lord to get to this point in feeling for strangers:
… a man of God must have that basic commitment that he really loves the church, that he first loves the Lord, and then that he loves the Lord's people.
He, too, points to Paul's agony:
Now because of his great love for the saints, he says, in verse 1 of chapter 2, "I would that you knew what great agōn, agony I have for you, and for them at Laodicea and for as many as have not seen my face in the flesh. Not just you, but anybody else. It's obvious I love the people I've been with, but I love even the people who've never even seen me, those people who make up the church. And because of that, when I see the difficulty that you're in, when I see the attack that you're under in terms of false teaching, when I know the anxieties of living the Christian life and walking the walk, I have a great sense of agony and struggle and striving on your behalf." And that comes because he loved them.
Paul truly wants their hearts to be encouraged, to be knit together in love, to reach those riches of full assurance in understanding and knowing the mystery of God in Jesus Christ (verse 2).
MacArthur's translation uses 'strengthened' instead of 'encouraged', but he explains how both words can tie together and include 'comforted':
Now we translated that term "strengthened" rather than "comforted," because we think that that is the more particular emphasis that the apostle is making here. The word means to comfort, to console, or to strengthen. It embodies all of that idea. It even means to grant endurance. So it's a lot of things. But it seems to me that the sum of it all, and what Paul is really working on, is that their hearts would be strengthened …
Now what he's saying is, "I want your mind to be strengthened. I want strong minds." Why? Because the mind is the first thing that Satan assails. You understand that? Satan assails the mind with lies. He is the father of – what? – of lies. He brings around false truth and false information, and assaults the mind with it; and that directs the behavior that responds. And so it is necessary to have a strong mind.
Now the term in the Bible "heart" generally is used to refer to the mind or the intellect. That's its technical meaning. I would add though that there are times when heart is used in a general non-technical sense to refer to the totality of man's inner being. But when it is used in its technical sense, it has reference to the mind, or the seat of knowledge, which is basically the beginner of action.
So it is necessary to have a powerful, fruitful Christian life to have a strong mind. And the way your mind is strengthened is by filling it with divine truth that can trigger a positive behavior pattern in your will; and then your emotions will be responding.
MacArthur has more on the biblical use of 'heart' as 'mind' in another sermon, which I'll discuss more in tomorrow's post:
What then does the heart picture? Not the emotions, but the mind. The intellect and the mind is made up of two things: the intellect and the will. That's the heart in biblical terminology.
… the heart was the seat of thought. It was the seat of thinking. And so that the heart represents the mind that sets the pace, and the bowels [gut, as in instinct] represent the responding emotion …
But how did they get the heart out of the brain? Well, some have surmised that because when the brain is really functioning, the heart is really working, and they could feel it throbbing and pulsing. But that's the way they did it. Real serious thinking, says a Hebrew, can be felt in the beat of the heart. So the heart thinks, and the bowels respond with emotion. That's the way you are.
Now remember this. In the mind of the Hebrew, and in the Revelation of God, emotions never initiate, they always respond. The heart thinks, and the emotions respond. That is the divine pattern.
MacArthur discusses Paul's notion of hearts being knit together in love:
… all of that theology, and all of that knowledge, and all of that brain power is balanced off by love. And so hastily, Paul says, "I pray that their hearts might be comforted," – now watch the next line – "being knit together in love, being knit together in love." He wants a one-mindedness of hearts, that are knit together in love. And as I said, this is the balancer to doctrine.
The word "knit," or "knit together," simply means to unite. But it really is a beautiful picture of the body of Christ, all of us being knit together in an indivisible kind of oneness. Your body is a combination of billions of cells, all knit together. You can't pick any one of them apart, because they blend indiscriminately together. And that's the thing that the apostle Paul is after. "As the cells of a body are indistinguishable because they're lost in the mass, so should you be indistinguishable as you're lost in the unity of love that exists among the brethren."
The sense of the word here as it appears – and also it appears later on in chapter 2, verse 19, you'll see it, "knit together again;" they're talking about the body again being joined together and knit together – is the idea of all the parts being put together in a way that leaves them almost without any personal identity. And they're held together, like atoms are held together in your body by, what we called a few weeks ago, nuclear glue, which is nothing more than a funny name for God. God holds it all together. So in the spiritual sense, we are to be united; and the nuclear glue, if you will, that holds us together, is being knit together in – what? – love. Love is the thing that ties believers together …
We do not have to create unity, the Spirit has already created it. We just have to – what? – guard it. We have to guard that unity. You say, "How do you guard it?" By being a peacemaker. It is the unity of the Spirit that is guarded by the bond of peace, that is that you and I have a covenant that we will be at peace with each other. That's the bond of peace, that you and I agree that we will not argue, that we will not fight, that we will not hassle, but that we will be at peace. We're peacemakers; and we will keep, we will guard the unity the Spirit has already put there positionally. We will guard it, and allow its practical manifestation by being peacemakers.
Paul says that in Christ are hidden all the treasures of wisdom and knowledge (verse 3).
This verse relates to the end of verse 2. The more we understand the more we appreciate the riches (verse 2) and the treasures (verse 3) of the eternal truth in Christ.
MacArthur says that we arrive at this point through regular prayer and study of Scripture:
The unregenerate man does not have truth connected to conduct. His mind is a blank. Paul says, "I want you to have settled understanding. I want you to understand." "Paul," – you say – "what do you want me to understand?" "I want you to understand the will of God and all that's involved in it" …
What does God want you to understand? The revelation of God's will.
And I'll tell you; the more you study, the more your mind is filled; the more it begins to flow through you, in terms of operation, in terms of behavior; the more you understand how really rich you are. And you can enjoy the Christian life. And the things of the world mean less, and less, and less; and you find that the things you initially couldn't let go of, you finally can let go, because you know where the true riches are.
And you can begin to do what Jesus says with confidence, "Lay up for yourselves" – what? – "treasure in heaven," because you know now that's where your confidence is. Because where your heart is, that's where your treasure's going to be. And until you have a heart that is settled, and assured, and confident in God, you're going to hang on to some things in the world. But when your mind is confident, and your behavior roots that confidence, you're going to have the kind of assurance that let's you let go and trust the true riches.
You say, "How do you get that assurance? How do you get that confidence?" Well, you need to pray for it, I think. Praying just keeps you acknowledging the source of it.
MacArthur says that Paul is urging them to have convictions — strong principles — about their faith that they can articulate to themselves and to others. This is something we need as Christians even today:
He says, "All of this stuff comes from one source, so you've got to have a settled conviction about one thing," – verse 2, he says – "the full assurance of understanding to the acknowledgement" – I'm going to read this the way it is in the Greek – "to the acknowledgement of the mystery of God, Christ; to the acknowledgement of the mystery of God, Christ, in whom are hidden all the treasures of wisdom and knowledge."
Now listen to me. Paul says, "I want you to have a basic, settled, assured conviction; and the place that that thing has to start is that you have to be convinced that the mystery of God is Christ. Now listen. "What do you mean, Paul?" "You have to be convinced of the deity and all-sufficiency of Christ," – is what he's saying – "that the hidden God has manifested Himself in the revealed Christ."
You see what he's saying? "I want you to have absolute, unwavering assurance, and acknowledge that the mystery of God, that is, the hidden God, is revealed as Christ;" – what is that saying? That Christ is deity – "and that in Him are hidden all the treasures of wisdom and knowledge." That is sufficiency. And why does he say this? Because those are the two things that the false teachers in Colossae were attacking: the deity of Christ, and His sufficiency to save.
And he says, "You have to start there. You have to have a settled conviction about the deity of Christ and His sufficiency." And these people would come into Colossae attacking the deity of Jesus Christ. They were saying that Jesus was just one of those emanations … just a sort of an angelic being down the line, a good emanation, a good spirit, like many others. And they were saying, "It isn't enough to come to Christ for salvation; He's just one step on the ladder. You've got to have super wisdom, and you've got to go for some mysterious knowledge, and et cetera, et cetera."
And Paul is saying, "Look, I don't want you to fuss with that. I want you to have an absolute, settled assurance about the riches that you have. And the first thing that you have to be sure of is that this Christ is none other than the hidden God revealed. He is deity," – number 2 in verse 3 – "that in Him is all sufficiency." That's his point: a settled conviction about Christ …
Over the years, a lot of people have said to me, 'I believe in God, but I don't believe in Jesus.'
It seems to me that, in stopping church early in their teenage years, they never really came to a true understanding of Jesus Christ. Perhaps they got bored. However, anyone truly paying attention in church and in Sunday School learns that there is nothing boring or ambivalent about our Lord and Saviour.
Paul then makes a reference to the heretical philosophy the Colossians have been hearing. He says that he wants them to understand the mysteries of God in Christ in order not to be 'deluded' by 'plausible arguments' (verse 4).
The heretics were peddling plausible arguments. That is how heresy works. It is the work of the devil and, as such, seductive.
MacArthur says:
The heretics and the false teachers believed there was a great mass of divine knowledge necessary for salvation, and it was hidden in secret books; and the secret books were called apokruphos, and only those super-intellects could open them. And Paul says, "Baloney." The only apokruphos where all of this stuff is hidden is Jesus Christ. And the day you opened your heart to Christ, God took the lid off the diamond mine, and just said, "Go ahead; take what you need. It's all there."
You don't need the special books of the secret intellect …
… in verse 4, "And I'm saying this, lest any man should beguile you with enticing words." Lightfoot translates it, "I wish to warn you against anyone who would lead you astray by specious arguments and persuasive rhetoric." He's saying, "I don't want you to exchange proven riches for speculation."
Boy, it's sad when a Christian would come to a place where he'd listen to some of that garbage about Christ. "Well, I don't know. I've always believed the other way." See? Paul is saying, "Look, have a settled conviction. And I'm telling you this, lest anybody is going to beguile you with enticing words, clever phrases – and they're clever, and their arguments are good."
This is the basic attack of all false systems. They'll deny two things. They'll deny the deity of Christ – now mark it in your mind – they'll all do it. They'll deny the deity of Christ, and they'll deny His sufficiency to save; one or the other, or both. They'll come and say, "Oh, yes. Yeah, Christ saves, plus works." Right? Or, "Oh, yes, Christ isn't God."
But these are the two things around which all that false stuff revolves. It is a denial of the deity of Christ and/or His sufficiency to save alone. And the cults are all brought to the bar of God right here and condemned, folks, all of them. Anything that reduces Christ to less than deity, or anything that adds anything to His saving sufficiency belongs in the beguiling activity of Satan.
Paul ends this section by saying that, although he isn't with them in body, he is with them in spirit, rejoicing to see their good order — personal conduct — and the firmness of their faith in Christ (verse 5).
In MacArthur's translation the final words are 'your order and steadfastness'.
He says that Paul was using military terms:
Both of those words are military terms. The word "order," taxis, is an interesting word. It means rank, and it means a single-file line of soldiers. "You're still holding rank." You know what happens when an army begins to lose the battle? The ranks begin to become depleted. They begin to shoot them down. This comes from way back. The army would do out in a phalanx, and they'd start shooting them down, and they'd be falling …
And then he uses another term, "steadfast," stereōma. This again speaks of a solid front of soldiers, ready to stand the shock of attack. And it speaks of more of not the unbroken rank, but the solidarity. "Not only are you unbroken in your rank, but, man, you are standing firm. And when the shock of battle hits, boom, you're going to stop it; and I rejoice. You're obedient, you're disciplined, you're holding rank, and you're going to stand the attack; and that makes me happy. Yet I warn."
Next week's post will look at Paul's warning about asceticism, another system of works which cannot save.
Next time — Colossians 2:20-23