You are currently browsing the monthly archive for October 2022.
All Saints Day is officially and traditionally November 1 every year.
However, some churches commemorate it on the Sunday before, i.e. October 30, 2022.
Readings for Year C follow, emphases mine.
First reading
Daniel has a dream of four winds — four neighbouring kingdoms — and an attendant (angel) interprets the dream saying that the faithful will receive and be part of the kingdom of God for eternity.
Daniel 7:1-3, 15-18
7:1 In the first year of King Belshazzar of Babylon, Daniel had a dream and visions of his head as he lay in bed. Then he wrote down the dream:
7:2 I, Daniel, saw in my vision by night the four winds of heaven stirring up the great sea,
7:3 and four great beasts came up out of the sea, different from one another.
7:15 As for me, Daniel, my spirit was troubled within me, and the visions of my head terrified me.
7:16 I approached one of the attendants to ask him the truth concerning all this. So he said that he would disclose to me the interpretation of the matter:
7:17 "As for these four great beasts, four kings shall arise out of the earth.
7:18 But the holy ones of the Most High shall receive the kingdom and possess the kingdom forever–forever and ever."
Psalm
This Psalm of praise (Psalms 145 to 150) looks forward to the kingdom of the Messiah, Jesus Christ.
Psalm 149
149:1 Praise the LORD! Sing to the LORD a new song, his praise in the assembly of the faithful.
149:2 Let Israel be glad in its Maker; let the children of Zion rejoice in their King.
149:3 Let them praise his name with dancing, making melody to him with tambourine and lyre.
149:4 For the LORD takes pleasure in his people; he adorns the humble with victory.
149:5 Let the faithful exult in glory; let them sing for joy on their couches.
149:6 Let the high praises of God be in their throats and two-edged swords in their hands,
149:7 to execute vengeance on the nations and punishment on the peoples,
149:8 to bind their kings with fetters and their nobles with chains of iron,
149:9 to execute on them the judgment decreed. This is glory for all his faithful ones. Praise the LORD!
Epistle
Paul impresses upon the Ephesians the glory of Jesus Christ and his thanks that they are part of His divine inheritance.
Ephesians 1:11-23
1:11 In Christ we have also obtained an inheritance, having been destined according to the purpose of him who accomplishes all things according to his counsel and will,
1:12 so that we, who were the first to set our hope on Christ, might live for the praise of his glory.
1:13 In him you also, when you had heard the word of truth, the gospel of your salvation, and had believed in him, were marked with the seal of the promised Holy Spirit;
1:14 this is the pledge of our inheritance toward redemption as God's own people, to the praise of his glory.
1:15 I have heard of your faith in the Lord Jesus and your love toward all the saints, and for this reason
1:16 I do not cease to give thanks for you as I remember you in my prayers.
1:17 I pray that the God of our Lord Jesus Christ, the Father of glory, may give you a spirit of wisdom and revelation as you come to know him,
1:18 so that, with the eyes of your heart enlightened, you may know what is the hope to which he has called you, what are the riches of his glorious inheritance among the saints,
1:19 and what is the immeasurable greatness of his power for us who believe, according to the working of his great power.
1:20 God put this power to work in Christ when he raised him from the dead and seated him at his right hand in the heavenly places,
1:21 far above all rule and authority and power and dominion, and above every name that is named, not only in this age but also in the age to come.
1:22 And he has put all things under his feet and has made him the head over all things for the church,
1:23 which is his body, the fullness of him who fills all in all.
Gospel
This is Luke's version of the Beatitudes, which are about spiritual as well as temporal wants that the Lord will satisfy. These verses were read earlier this year over two Sundays: the Sixth and Seventh after Epiphany. Those links contain the exegeses to the following reading.
Luke 6:20-31
6:20 Then he looked up at his disciples and said: "Blessed are you who are poor, for yours is the kingdom of God.
6:21 "Blessed are you who are hungry now, for you will be filled. "Blessed are you who weep now, for you will laugh.
6:22 "Blessed are you when people hate you, and when they exclude you, revile you, and defame you on account of the Son of Man.
6:23 Rejoice in that day and leap for joy, for surely your reward is great in heaven; for that is what their ancestors did to the prophets.
6:24 "But woe to you who are rich, for you have received your consolation.
6:25 "Woe to you who are full now, for you will be hungry. "Woe to you who are laughing now, for you will mourn and weep.
6:26 "Woe to you when all speak well of you, for that is what their ancestors did to the false prophets.
6:27 "But I say to you that listen, Love your enemies, do good to those who hate you,
6:28 bless those who curse you, pray for those who abuse you.
6:29 If anyone strikes you on the cheek, offer the other also; and from anyone who takes away your coat do not withhold even your shirt.
6:30 Give to everyone who begs from you; and if anyone takes away your goods, do not ask for them again.
6:31 Do to others as you would have them do to you.
All Souls Day is November 2. On that day, Christians remember the faithful departed in the hope of their rising again in Christ.
The three-year Lectionary that many Catholics and Protestants hear in public worship gives us a great variety of Holy Scripture.
Yet, it doesn't tell the whole story.
My series Forbidden Bible Verses — ones the Lectionary editors and their clergy omit — examines the passages we do not hear in church. These missing verses are also Essential Bible Verses, ones we should study with care and attention. Often, we find that they carry difficult messages and warnings.
Today's reading is from the English Standard Version with commentary by Matthew Henry and John MacArthur.
10 Aristarchus my fellow prisoner greets you, and Mark the cousin of Barnabas (concerning whom you have received instructions—if he comes to you, welcome him), 11 and Jesus who is called Justus. These are the only men of the circumcision among my fellow workers for the kingdom of God, and they have been a comfort to me.
———————————————————————————————–
Last week's post was about Tychicus, whose ministry involved everything from being a messenger to preaching, and Onesimus, Philemon's slave who was working with Paul for the Lord.
Today's verses reacquaint us with Aristarchus and Mark and introduce us to Jesus Justus, the only three Jews with Paul in Rome.
Aristarchus is Paul's fellow prisoner, and the Apostle has already sent the Colossians instructions with regard to Mark, i.e. welcome him (verse 10).
Got Questions tells us that the name Aristarchus means 'best ruler' or 'best prince'.
He must have been one prince of a fellow because he was loyal to Paul through thick and thin, even to the point of wanting to stay with his friend in prison.
Aristarchus shows up multiple times in Acts.
John MacArthur walks us through his ministry, which, whilst not notable, was certainly of benefit to Paul and, by extension, to the Lord (emphases mine):
Aristarchus is the man with a sympathetic heart, the man with a sympathetic heart. You know what you need if you're a leader, if you're in the Lord's work? You need some people who are just around to feel your burdens with you. You need some burden-bearers. They aren't whirlwinds at anything, they just care. You know, they don't put on great programs, and do great things, and astounding, prominent, out-front things, they just care; and you've got to have them. And Aristarchus was one of those people with a sympathetic heart.
Verse 10: "Aristarchus my" – now here it comes – "my fellow prisoner greets you." Those are deep words. Aristarchus is a Jew with a Greek name, which was common in the dispersion. When the Jews were scattered they often took Greek names. So he says, "Aristarchus sends his love and his blessing, he greets you."
Greeting someone in that era involved more than saying 'hello'. It was an emotional embrace.
Aristarchus was probably from Thessalonica originally:
Now Aristarchus' name appears elsewhere in the New Testament in association with the town of Thessalonica. It's very likely that he came from that town. And at Ephesus, you remember Paul ministered at Ephesus for three years; and during those three years, Aristarchus was with him. And you remember when finally in Ephesus the riot broke out? When the riot broke out, Aristarchus and Gaius were seized by the mob, and Aristarchus found out what it was to be a prisoner. They recognized him as one of Paul's companions, and so they seized him. Now that's in chapter 19.
I wrote about Acts 19 in 2018. Here are the relevant verses relating to Aristarchus and the riot:
Acts 19:28-34 – Ephesus, riot for Artemis (Diana), Paul's companions Gaius and Aristarchus, Paul, Asiarchs, Alexander
Acts 19:35-41 – Ephesus, town clerk calms down mob
In Acts 20, Paul left Ephesus after the riot and took several companions with him to visit other churches he helped build. Aristarchus was one of the men accompanying him. Tychicus, discussed last week, was another:
Acts 20:1-6 – Paul, third missionary tour, Timothy, Sopater the Berean, Thessalonians Aristarchus and Secundus, Gaius of Derbe, Asians Tychicus and Trophimus, Luke, Greece, Macedonia and Troas
Acts 20:13-16 — Paul, third missionary tour, Assos, Mitylene, Chios, Samos, Miletus, Timothy, Sopater the Berean, Thessalonians Aristarchus and Secundus, Gaius of Derbe, Asians Tychicus and Trophimus, Luke
From Miletus, Paul and some of these men, including Aristarchus, went on to Jerusalem, where Paul was going to present the church there with a gift from the Gentile churches.
Paul was imprisoned in Jerusalem for a long time. Festus the Roman governor granted Paul's request that his case be heard in Rome. As a Roman citizen, Paul could make such a request. Aristarchus was allowed to travel to Rome with Paul, as was Luke:
Acts 27:1-8 – Paul, Luke, Aristarchus, Julius
MacArthur picks up the story:
Now Paul decides to go to Jerusalem. You know what happens? He takes Aristarchus along. So he goes on that trip. Paul gets on the boat. You remember he was captured as a prisoner in Jerusalem, then he was moved to Caesarea on the coast where he stayed as a prisoner. And then finally, in Acts 27, he gets on a boat to go to Rome to be tried in Rome, and he's a prisoner on the ship; and Acts 27:2 says when he got on the boat, Aristarchus was with him. Had Aristarchus been with him through all the imprisonment? Very possible. Very possible since the time he identified with Paul in the city of Ephesus, and escaped from the riot, and went to Jerusalem.
From that time until now he has stayed with Paul; as a prisoner in Jerusalem, he hung around. Caesarea, he may have hung around.
When they arrived in Rome, having survived a shipwreck, Aristarchus was in prison, too — just to stay with Paul:
Now here he is back in Rome. And guess who's there? Aristarchus. And Paul calls him "my fellow prisoner." And the guy hasn't committed a crime, he just hangs around with criminals, so he spends his time in jail.
Now the word "fellow prisoner" is a beautiful word; sunaichmalōtos. You know what it means? It means one caught with a spear. Literally it means a war captive or a prisoner. "Aristarchus is a captive like me."
You say, "Well, why did they capture him? They never did. "Well, why did they put him in prison?" They never did. "But why does he call him that?" Because he just spent his time with a prisoner, he might as well have been a prisoner. He is chosen to be beside Paul. If Paul's in prison, he's in prison; that's his choice. It's unlikely that he actually became a prisoner in Rome; more likely that he chose to make Paul's lifestyle his lifestyle, because he was sympathetic, because he cared, because he loved, because he knew Paul needed him. He was a man with a sympathetic heart.
Listen, as I said, there are people who can't lead a meeting, and they can't speak, and they can't be prominent in the church; and maybe they're the most beloved of all, because they're the burden-bearers. And you know, we don't know what Aristarchus did, it doesn't tell us. It doesn't tell us he delivered anything or did anything. But you know something? We know that whatever he did, he gave up his freedom to do it, to be a prisoner with Paul. And I'll tell you something. The Lord's work would never be done if it weren't for people like this who are willing to give up their liberty to be a prisoner to accomplish what God wants to be accomplished.
Here's a sympathetic man. I call him the "man for all seasons," the "bad weather friend." Thank God for men who stick with you when it's hard, because all of them won't, when it gets rough, and really rough. And Paul says, "Who will volunteer?" Aristarchus, the first one with his hand up. "Me, Paul. Where we going? To what prison?" Yeah, true greatness for those who help, believe me.
The story of Aristarchus reminds me of John Milton's sonnet which ends with:
They also serve who only stand and wait.
Milton was writing about the loss of his eyesight when he had so much more written work he wanted to accomplish.
To put it into context, here are the final verses of the sonnet:
But Patience, to prevent
That murmur, soon replies, 'God doth not need
Either man's work or his own gifts; who best
Bear his mild yoke, they serve him best. His state
Is Kingly. Thousands at his bidding speed
And post o'er Land and Ocean without rest:
They also serve who only stand and wait.'
Interesting Literature explains the meaning:
In other words, God does not require work or gifts from mankind, because God is a king. There are thousands of people travelling all over the world, who are able to work and who work hard serving God; but those who merely stand and wait patiently (instead of running about actively serving in other ways) also serve God just as well as those who go out into the world and work hard to please him through their great deeds. Or, to put it more pithily, 'They also serve who only stand and wait.'
As the word 'wait' suggests, patience is a virtue, and especially a Christian one …
Now we come to Mark, Barnabas's cousin.
Matthew Henry's Bible says:
10 Aristarchus my fellow prisoner saluteth you, and Marcus, sister's son to Barnabas, (touching whom ye received commandments: if he come unto you, receive him;)
The ESV says:
10 Aristarchus my fellow prisoner greets you, and Mark the cousin of Barnabas (concerning whom you have received instructions—if he comes to you, welcome him),
Henry interprets Mark as being Barnabas's nephew. We first saw Mark, the Gospel writer, as John Mark in Acts. A row over John Mark took place between Paul and Barnabas. Now, years later, Paul has mended fences with Mark.
Henry says:
Paul had a quarrel with Barnabas upon the account of this Mark, who was his nephew, and thought not good to take him with them, because he departed from them from Pamphylia, and went not with them to the work, Acts 15 38. He would not take Mark with him, but took Silas, because Mark had deserted them; and yet Paul is not only reconciled to him himself, but recommends him to the respect of the churches, and gives a great example of a truly Christian forgiving spirit. If men have been guilty of a fault, it must not be always remembered against them. We must forget as well as forgive. If a man be overtaken in a fault, you who are spiritual restore such a one in the spirit of meekness, Gal 6 1.
It's hard to forget as well as forgive, but time heals all wounds where there cannot be an active reconciliation.
MacArthur looks at verse 10, worded as Henry's was, and says Mark was Barnabas's cousin.
Whatever the case, it was clear they were related and Barnabas stood up for him. Mark's mother was very active in the church at Jerusalem.
MacArthur recaps the row:
… Mark, verse 10: the man with a surprising future, the man with a surprising future.
Verse 10, in the middle, "And Mark, sister's son to Barnabas," – he's a cousin of Barnabas – "concerning whom you received commandments; if he come unto you, receive him. Mark sends his greeting along." Now maybe we shouldn't call him Mark, the man with a surprising future; maybe we ought to call him Mark, the man with a second chance.
You remember about Mark? Early on in the story of the book of Acts, as the apostle Paul is moving into the excitement of the ministry as God has called him to the ministry, he decides to take this marvelous young man along. Saul and Barnabas are separated to the work of the Holy Spirit calls them to in Acts 13, and verse 5 says, "And when they were at Salamis, they preached the Word of God in the synagogues of the Jews, and they also had John as their helper." And it's John Mark. "Hey, we've got this young helper along." Paul always took somebody. He was always discipling somebody.
He took this young man along. You say, "Boy, it's great for him. Oh, fantastic; just fantastic." But in verse 13 of Acts 13, it says, "Now when Paul and his company loosed from Paphos, they came to Perga in Pamphylia." Now that was going to be the dangerous part of the trip. They had to cross those dangerous mountains to get up into Galatia. They were full of robbers and brigands, and you were taking your life in your hands. And it says, "And John departing from them returned to Jerusalem." When the going got rough, Mark bailed out. He can't hack it. If it was easy, smooth sailing, he was gung-ho. They hit the tough part, and he caught the quickest ship back to Mother. And Mother's house was the center of the Jerusalem church, remember? And later on he caused a problem because of this.
Mark — John Mark — and his mother Mary (a commonly given name, as it is now) appear in Acts 12:
Acts 12:24-25 – Saul of Tarsus, St Paul, St Barnabas, St Mark, John Mark, increasing the Church
Acts 13 sees the Church shift from a Jewish one to a Gentile one. John Mark is there:
Acts 13:4-7 – Barnabas, Saul of Tarsus, John Mark, Cyprus, Sergius Paulus, Bar-Jesus, Elymas
Later in Acts 13, John Mark returns to Jerusalem:
Acts 13:13-14a and Acts 13:40-43 — Paul, Barnabas, companions, Antioch, Pisidia, Anatolia, Jewish – Gentile audience
Paul and his companions — including Barnabas — sailed from Paphos in Cyprus first to Perga in Pamphylia then on to Antioch in Pisidia. John (John Mark, Mark of the Gospel) returned to Jerusalem.
The row over John Mark takes place in Acts 15, at which point Paul and Barnabas go their separate ways:
Acts 15:36-41 — Paul, Barnabas, Silas, John Mark, Mark, Antioch (Syria), Cyprus, Syria and Ciclilia
Upon leaving Antioch (Syria) after presenting the Gentiles at the church there with a comforting, biblical letter from the Jerusalem Council, Paul and Barnabas quarrelled about whether to bring John Mark — Mark (verse 37) — on a continuing ministry.
Although later reconciled, as my post explains, based on New Testament verses, Paul and Silas continued on in Syria and Paul's homeland of Cicilia. Barnabas took his young relative John Mark — St Mark of the Gospel — en route to his (Barnabas's) homeland of Cyprus.
Key verse:
38 But Paul thought best not to take with them one who had withdrawn from them in Pamphylia and had not gone with them to the work.  (Acts 15:38)
MacArthur recaps the row in the vernacular:
… they're going to go on their second missionary journey, and Barnabas says to Paul, "Let's take Mark." And Paul goes, "You've got to be kidding. No deal." "Paul thought it not good to take him with them, who departed from them from Pamphylia, and went not with them to the work." "I don't want a guy like that along," Paul says.
"And the fight was so sharp between them" – and the reason Barnabas was championing his cause, now we find out in Colossians, is because he was his cousin; he was a blood tie, see. "So they started a big fight and they split, and Barnabas took Mark and sailed to Cyprus, and Paul chose Silas and departed." And there was the split between Paul and Barnabas, and Mark was the point of contention.
As we see in verse 10, Paul tells the Colossians to welcome Mark. As 'greet' implied more than 'hello' in those days, 'welcome' meant to receive someone warmly, with generous friendship.
MacArthur says that it is unclear who wrote the instructions about Mark, but they imply that he is now a changed character:
You know why they normally wouldn't receive him? He had the reputation of being a failure. He had the reputation of being a washout. And so they were commanded. Now we don't know whether Peter wrote that, Barnabas wrote that, Paul wrote that, or whoever wrote that. But he told them, somebody had spread the word around the Asian churches, "If Mark shows up, he's reformed, you can receive him. He's all right guy; he's come around."
"So Mark sends his greeting – you know Mark, the one you're supposed to receive if he comes. Mark is changed." Oh, it's good to know. Eleven, twelve years later, Mark has been restored to a place of usefulness. I mean this guy was really useful.
Mark also shows up in Paul's letter to Philemon:
Philemon 24, He names, "Mark, Aristarchus, Demas, Luke, my fellow workers." Hey, he was a fellow worker. This guy was in it with Paul. He was doing it.
MacArthur thinks Peter worked with Mark and brought about constructive change, to the point where he considered the future Gospel writer to be like a son:
You say, "Well, what turned him around?" Well, I personally believe it probably was the ministry of Peter in his life. Somehow Peter got a hold of this guy.
In 1 Peter 5:13, "The church at Babylon, elected together with you, greet you; and so does Mark, my son," says Peter. What happened was, Peter was used to failure; he knew how to handle it. So somewhere along the line, he ran into Mark, and he said, "Guy, I know the route. Come along, I'll help you." And so he calls him his son.
When Mark turned himself around, Peter sent him to Paul:
So what happened was – no question about it in my mind – Peter took on a restoration project in Mark, it worked, and then he turned him back over to Paul. Hey, that says something about being able to use your past to help somebody, doesn't it? Peter, no doubt, was the influence. And Mark had a part. Hey, you want to know something exciting? Mark got the wonderful privilege that belonged only to four men in the whole history of humanity: to write one of the gospels – the gospel of Mark.
Even at the end of Paul's life, Mark was there:
And listen to this, I love it, 2 Timothy 4:11. Paul's writing, closing out his life, he says to Timothy, "Only Luke is with me, only Luke is left. Take Mark and bring him with you, for he's profitable to me for the ministry." Isn't that good? "Hey, Timothy, when you come, I just want you to bring one guy. I want you to bring Mark, you know, the former washout. Bring him along, because he's profitable to me in the ministry."
Paul never ever thought he was going to quit ministering, I don't think. He said, "Listen," – in effect – "you, Timothy, and me, and Mark, I mean we can get it rolling again. Bring him along." You see, something had happened in Mark's life from the time that Paul said, "I don't want him with me," until the time that Paul is dying at the end of his life, and says, "If there's anybody I want here to minister with me in my last days, it's Mark." And so you look at the picture of Mark, and you say, "Hey, there's a man with a surprising future."
A few years after this, maybe six at the most, he sat down under the inspiration of the Holy Spirit and wrote the gospel of Mark. I've often thought, I imagine what he was thinking in his heart when he was writing the gospel of Mark, and the Holy Spirit said this to him: "And when He had called the people unto Him with the disciples also, He said to them, 'Whosoever will come after Me, let him deny himself, and take up his cross, and follow Me. Whosoever would save his life, shall lose it. Whosoever shall lose his life for My sake and the gospel, the same shall find it. What shall it profit a man if he gained the whole world and lose his soul, or what shall a man give in exchange for his soul?" I can imagine that Mark would have understood a little bit about what it was to deny self and die daily for the cause of Jesus Christ. He learned the hard way.
Beloved, there's a second chance. There's a future for failures. Paul had one, and he had a great future, great future. Praise God for restoration.
So Paul's friends: a man with a servant's heart, a man with a sinful past, a man with a sympathetic heart, a man with a surprising future. What a team!
The third person in today's verses is Jesus who is called Justus; he, Aristarchus and Mark are the only men of the circumcision — Jews — among Paul's fellow workers for the kingdom of God, and they have been of great comfort to the Apostle (verse 11).
Henry tells us more about the man's name and his reputation:
Here is one who is called Jesus, which is the Greek name for the Hebrew Joshua. If Jesus had given them rest, then would he not afterwards have spoken of another day, Heb 4 8. Who is called Justus. It is probable that he changed his name for that of Justus, in honour to the name of the Redeemer. Or else Jesus was his Jewish name, for he was of the circumcision; and Justus his Roman or Latin name. These are my fellow-labourers unto the kingdom of God, who have been a comfort unto me. Observe, What comfort the apostle had in the communion of saints and ministers! One is his fellow-servant, another his fellow-prisoner, and all his fellow-workers, who were working out their own salvation and endeavouring to promote the salvation of others. Good ministers take great comfort in those who are their fellow-workers unto the kingdom of God. Their friendship and converse together are a great refreshment under the sufferings and difficulties in their way.
MacArthur says it is lamentable that, out of all the Jews who heard Paul in Rome, he had only three with him in ministry in that great city:
These are the only Jewish fellow workers who were a comfort to Paul. Isn't that sad? Do you know that the Jews, for the most part, had rejected him; except for Aristarchus, and he'd been around for a long time; and Mark, and he'd been around for a long time too. And then this new one, Jesus Justus. He was a man with a strong commitment; I know that, because he had to step out from his people.
You know, in Acts chapter 28, when the apostle Paul arrived, the first thing he did was begin with Jewish evangelism, and he started to preach to the Jews. And some believed; that's true, verse 24 of Acts 28, "Some believed the things were spoken, but some believed not. And when they agreed not among themselves, they departed."
Here are the pertinent verses:
Acts 28:17-22 — Paul, Rome, Rome's Jewish leaders, chain
Paul explains to Rome's Jewish leadership why he is there. Paul says he has never done anything against the Jewish nation, his people, to whom he belonged. Paul stated that He believes in the resurrection of the dead — the 'hope of Israel' — which the Messiah delivers.
Acts 28:23-28 – Paul, Rome, Roman Jews, Christianity — 'the sect', Isaiah 6:9-10, the Holy Spirit
After giving a discourse, or dialogue, lasting several hours, Paul warns Rome's Jews against ignoring his scriptural discussion about Christ. He mentions that Isaiah's words came from the Holy Spirit. Yet, the Gentiles will listen to this message without any prior religious background on the subject.
MacArthur elaborates on what happened. As Paul already knew Aristarchus and Mark, Jesus Justus would have been the only Roman Jew to join him in ministry:
… even the ones that believed, apparently, never got behind Paul, they just got into an argument with their own people. And Paul says, "Well-spoke the Holy Spirit by Isaiah saying, 'Go to this people and say, "Hearing, you shall hear, and not understand; seeing, you shall see, and not perceive," for the heart of this people has become obtuse;' – or fat – 'their ears are dull of hearing; their eyes have they closed, lest they should see with their eyes and hear with their ears and understand with their heart be converted, and I should heal them. Be it known, therefore, unto you that the salvation of God is sent to the Gentiles, and they will hear it.' And when he had said these words, the Jews departed and had great arguments among themselves."
Even the ones that believed apparently never made a commitment to Paul, only three. Only three Jewish fellow workers stuck by him. Two of them have been around a long time; but this one, Jesus Justus, just may have been one right out of that Roman group. And so I call him the man with the strong commitment, because he paid a big price, didn't he? He walked right out of his own people.
It's hard to believe the pettiness that occurred in the life of Paul; but it did. He calls him a fellow worker, a fellow worker for the kingdom, sunergoi, co-laborer. And notice this beautiful statement about Jesus Justus. It says, "These have been a comfort to me" …

Paul mentions more of his close friends, to be continued next week.

Next time — Colossians 4:12-14
The Twentieth Sunday after Trinity is on October 30, 2022.
The readings for Year C can be found here.
The Gospel reading is as follows (emphases mine):
Luke 19:1-10
19:1 He entered Jericho and was passing through it.
19:2 A man was there named Zacchaeus; he was a chief tax collector and was rich.
19:3 He was trying to see who Jesus was, but on account of the crowd he could not, because he was short in stature.
19:4 So he ran ahead and climbed a sycamore tree to see him, because he was going to pass that way.
19:5 When Jesus came to the place, he looked up and said to him, "Zacchaeus, hurry and come down; for I must stay at your house today."
19:6 So he hurried down and was happy to welcome him.
19:7 All who saw it began to grumble and said, "He has gone to be the guest of one who is a sinner."
19:8 Zacchaeus stood there and said to the Lord, "Look, half of my possessions, Lord, I will give to the poor; and if I have defrauded anyone of anything, I will pay back four times as much."
19:9 Then Jesus said to him, "Today salvation has come to this house, because he too is a son of Abraham.
19:10 For the Son of Man came to seek out and to save the lost."
Commentary comes from Matthew Henry and John MacArthur.
This is a long post, as it discusses not only Jericho but also tax collectors and the purpose of our Lord's ministry.
As I have said over the past several weeks of Luke's Gospel passages this year — Year C — Luke 9 through most of Luke 19 contain our Lord's lessons to His disciples and also to the Pharisees, along with the miracles that Jesus performed during this time.
John MacArthur says:
Jesus is headed for Jerusalem, leaving His ministry behind as He heads for the cross in a few days.  He's about to give His life as the only acceptable sacrifice that satisfies God, the only ransom price paid to God for sin.  It is imminent.  He's wrapped up His earthly ministry.  Spent most of that last year in Judea, just before this occasion had made a little foray into Galilee and then down through Perea, crossing the Jordan to the east so as not to go through Samaria, which the Jews did not traverse normally, and coming down the east side of Jordan back across the river, headed through Jericho up to Jerusalem for the Passover.  This would be His last time. 
Luke tells us that Jesus entered Jericho and was passing through it (verse 1), meaning that He would not be staying there long.
Matthew Henry's commentary says of Jericho and the purpose of our Lord's visit:
This city was build under a curse, yet Christ honoured it with his presence, for the gospel takes away the curse. Though it ought not to have been built, yet it was not therefore a sin to live in it when it was built. Christ was now going from the other side Jordan to Bethany near Jerusalem, to raise Lazarus to life; when he was going to do one good work he contrived to do many by the way. He did good both to the souls and to the bodies of people; we have here an instance of the former.
Compelling Truth explains why some believed the city should not have been rebuilt:
After the defeat of Jericho, Joshua delared, "Cursed before the LORD be the man who rises up and rebuilds this city, Jericho: 'At the cost of his firstborn shall he lay its foundation, and at the cost of his youngest son shall he set up its gates'" (Joshua 6:26). Why did he give this curse?
First, Joshua clearly did not want to see this city that worshiped other gods to be rebuilt. A curse was upon its citizens and their memory due to their worship of false gods.
Second, the destruction of Jericho served as an example to other cities that opposed Israel and its God. When the Israelites crossed the Jordan River, Jericho was the first major city they encountered. Its devastation would serve as a powerful warning to other people in the land of God's power.
Third, Joshua realized the negative influence the city could have on the Israelites. In fact, the very next chapter records the account of Achan, an Israelite who secretly kept some of the plunder from the battle. His sin caused the Israelites to lose their next battle. Eventually, Achan's sin was revealed and punished.
During the reign of King Ahab, the curse was fulfilled:
We read in 1 Kings 16:34, "In his days Hiel of Bethel built Jericho. He laid its foundation at the cost of Abiram his firstborn, and set up its gates at the cost of his youngest son Segub, according to the word of the LORD, which he spoke by Joshua the son of Nun."
The cost of rebuilding Jericho came at a price for Hiel of Bethel. Jesus then removed any taint of curse by visiting it during His ministry:
Some have misunderstood this curse, believing Jericho would never be rebuilt. However, the curse only referred to the one who attempted to rebuild the city. The rebuilt Jericho appears in the New Testament as the place where Jesus healed two blind men (Matthew 20:29; Mark 10:46; Luke 18:35) and where Jesus met Zacchaeus (Luke 19:1–3). It is also mentioned in the account of the Good Samaritan (Luke 10:30). The city of Jericho exists still today, home to approximately 18,000 residents in the West Bank.
MacArthur says that Jericho was a beautiful, prosperous — and fragrant — city:
… He arrives at the City of Palms, as it was called, the city of Jericho six miles north of the Dead Sea and six miles west of the Jordan River.
… it was really a wonderful city.  It was the garden city of the ancient world, certainly of the land of Israel at that time; a far more wonderful place then than it is frankly is now.  It was fed by springs that were producing ample amounts of water which was brought by aqueduct into the city and used to irrigate the area so that it bloomed in a magnificent way.  It was a walled city, new walls, not the ones that fell down in the Jericho of the Old Testament.  There was a theater there. There was an amphitheater there built by Herod.  There was a new palace as well.  Gardens designed by Archelaus, it was a magnificent, magnificent place.  Edersheim, the great historian, says, "It was characterized by groves of feathery palms rising in stately beauty, stretched gardens of roses and sweet-scented balsam plantations.  The largest behind the royal gardens of which the perfume is carried by the wind almost out to the sea and which may have been given to the city…may have been used as the reason the name was given to the city, Jericho, Jericho meaning 'the perfumed.'" Edersheim says, "It was the Eden of Palestine, the fairy land of the Old World."
Deep down in a hallowed valley it sits; massive limestone mountains to the west.  The sunken Jordan Valley to the east and off in the distance the purple mountains of Moab, a remarkable place, its streets filled with a motley throng.  Pilgrims from Galilee and Perea, priests who lived there and served there, traders from all lands, it was one of the high density trading centers, there were routes going north, east, west and south, it was a busy, busy place, full of good people in a human sense, full of the wretched, the worst who occupied places where there was lots to steal.  The robbers were there en masse.  The great caravans came through there.  There was ample supply for those who stole, as well for those…as well as for those who bought and sold.  Soldiers were there, courtiers were there, the worst of everything, the best of everything. Tax collectors had a high profile there because it was one of the three regional tax centers in the land of Israel, the northern one being Capernaum, the central one on the coast being Caesarea, the southern one being Jericho.
MacArthur sets the scene for us as Jesus arrived:
So here Jesus came with His disciples headed for Jerusalem, not just His disciples but all other kinds of followers that had collected with Him, plus all the pilgrims headed for a Passover.  It was a huge crowd that crossed the Jordan and came into…entering says verse 1, and passing through Jericho.  And the question was on people's minds: Is this Jesus the Messiah?  Is He going to bring the promised kingdom?  They knew He had miracle power. He had filled the land with His miracles.  They knew He was a teacher like no other teacher.  And in Jericho they knew He had raised Lazarus from the dead because just up the hill a little ways from Jericho is Bethany, before you enter into Jerusalem, where Lazarus lived and was well known and it was only a matter of weeks before this event that He had raised him from the dead.  And the word would have spread everywhere. We know it spread. It spread right up to the upper echelons of the leadership of Jerusalem.  We can be certain that it spread down the hill into Jericho that He had power over death as well as disease, as well as demons.
Interestingly, MacArthur says that Jesus had already raised Lazarus from the dead. Henry says that Jesus resurrected Lazarus after this visit. I'll leave it to you to decide.
Whatever the timeline, one thing we know for certain: wherever Jesus went, His crowds were well known.
Returning to the reading, Luke says that a man named Zacchaeus was there, a chief tax collector who was very rich (verse 2),
MacArthur says that this story is unique to Luke:
It is only recorded by Luke, does not appear in the other three gospels, but Luke's account is rich and instructive. 
Henry tells us about Zacchaeus:
His name bespeaks him a Jew. Zaccai was a common name among the Jews; they had a famous rabbi, much about this time, of that name. Observe, 1. His calling, and the post he was in: He was the chief among the publicans, receiver-general; other publicans were officers under him; he was, as some think, farmer of the customs. We often read of publicans coming to Christ; but here was one that was chief of the publicans, was in authority, that enquired after him. God has his remnant among all sorts. Christ came to save even the chief of publicans. 2. His circumstances in the world were very considerable: He was rich. The inferior publicans were commonly men of broken fortunes, and low in the world; but he that was chief of the publicans had raised a good estate. Christ had lately shown how hard it is for rich people to enter into the kingdom of God, yet presently produces an instance on one rich man that had been lost, and was found, and that not as the prodigal by being reduced to want.
MacArthur has more on tax collection in Jericho and explains that God instituted government, therefore, tax is (an unfortunate) part of that structure:
Highway going through the west through Jerusalem, headed to Caesarea and Joppa, great trade centers also on the Mediterranean Sea.  Highway going through heading to Egypt in the south and cities east of the Jordan into Moab and the far east from which all kinds of products came and went, great exchange center.  This city would have had many, many tax collectors.  This man is identified as a chief tax gatherer.
As you know, because we've seen our tax gatherers before, this is number six in the gospel of Luke.  This is the sixth time our Lord has an encounter with a tax gatherer.  And by the way, all of them are favorable.  So He defies the conventional wisdom and the attitude of the people toward these men; and in so doing, reminds us that it's not a crime to be a tax collector.  That may encourage those of you who are.  It is a noble calling if you do it right because taxation is a divine institution.  Jesus said, "Render to Caesar the things that are Caesar's."  Pay your taxes. He did.  Paul said, "Custom to whom custom is due, tribute to whom tribute is due, tax to whom tax is due," Romans 13.  The entire theocratic kingdom of Israel in the Old Testament was basically functioning by a very carefully laid out taxation system in which every Jewish person paid essentially twenty-three and a third of their average income to the theocratic kingdom in order to fund the government.  The Lord instituted taxation because He instituted government.  Powers that be are ordained of God.  The Lord never had a problem with the people who collected tax because He never had a problem with tax as such.  But the Lord does have a problem with abusive taxes, with illegitimate taxes, with corruption, dishonesty, crime, and separating people from their money illegitimately by use of physical force and cruelty, which is what the tax collectors in the ancient world did.
MacArthur explains why the Jews considered tax collectors to be unclean. It was because they had made a conscious decision to be in league with Rome:
In order to have a tax franchise, you had to buy it from Rome.  So you were a traitor from the very outset to your own people who were occupied by the Roman idolatrous and despised pagans.  Rome would set a certain amount that the tax gatherer had to pay.  Whatever else he could collect, he could keep; a formula for corruption for sure.  And there were so many ways to tax.  The people had no idea what they were supposed to pay.  Yes, there were some sort of foundational taxes.  There was, for example, an individual tax, kind of a poll tax for men from 14 to 65 and women from 12 to 65 and they paid that tax.  There was a ground tax they called like a property tax, one tenth of all grain or something the equivalent of grain, one fifth of wine and oil. So there were some fixed taxes; even a kind of income tax which was about 1 percent of a person's income.  So they had those that were fixed.  But beyond that, you could tax anything that you could get away with taxing.  You could tax everybody's commerce by taxing every wheel, every axle on their cart, taxing every animal pulling the cart, taxing every product that they bought and sold, every way imaginable.  And so tax collectors became filthy rich because what they paid Rome was only a portion of what they actually collected.  They also became despised and hated.  They couldn't attend the synagogue.  They couldn't have any social relationships with people because the people wouldn't get near them because they were considered unclean and anybody who came near one of them would be polluted.  So the only people they could associate were the people who were also unclean, and so they were the collection of people called the tax collectors and sinners that we meet so often in Jesus' ministry, the very people that God loves to save.  "He came not to call the righteous, but sinners to repentance."  In fact, Jesus spent so much time with the scum and the riff-raff, the tax gatherers and their assorted criminals, that they called Him, Luke 7:34, Matthew 11:9, "a friend of tax gatherers and sinners." They would have said that with such disdain you couldn't imagine it.  And it is really why they thought that He represented Satan because He spent so much time with the people that they thought belonged to Satan.
Well here's one of them.  There was a man called by the name of Zacchaeus.  Now his mom and dad had good intentions for him when he was born.  Zacchaeus means — Are you ready for this? — clean, innocent, pure, and righteous.  Nice try, things didn't go the way they intended them to go.  So he in his life defies the intent of his parents and becomes unclean, guilty, impure, and unrighteous.
… He was, it says, architelns, architelns, actually means commissioner of taxes, commissioner of taxes.  He was at the top of the pyramid, top of the pile.  Everybody who collected everything, and there were lots of tax collectors, had to pay him a piece of the action.  So everything came up the…up the pyramid and landed eventually in his pocket.  Everybody extorted for him.  He got a piece of everybody's action.  And as a result, he was rich, a combination of legitimate and illegitimate activity.
Zacchaeus was trying to see who Jesus was, but, because he was short, he could not do so (verse 3).
Henry points out that Jesus was never carried on a sedan chair or anything that elevated Him above the people, which would have made Him more easily visible:
He could not get his curiosity gratified in this matter because he was little, and the crowd was great. Christ did not study to show himself, was not carried on men's shoulders (as the pope is in procession), that all men might see him; neither he nor his kingdom came with observation. He did not ride in an open chariot, as princes do, but, as one of us, he was lost in a crowd; for that was the day of his humiliation. Zaccheus was low of stature, and over-topped by all about him, so that he could not get a sight of Jesus. Many that are little of stature have large souls, and are lively in spirit.
In order to see Jesus, Zacchaeus ran on ahead of the crowd and climbed a sycamore tree, because our Lord was going along that way (verse 4).
When Jesus got to the place where Zacchaeus was, He called out to him by name, telling him to come down because He was going to stay at his house that day (verse 5).
MacArthur explains that Jesus intended to spend the night, not just go for lunch or dinner:
… that phrase, "stay at your house," indicates to spend the night.  I'm coming and I'm going to stay overnight.  This is not, by the way, a request and he didn't run a Bed and Breakfast.  This is a divine command.  Zacchaeus never could have anticipated anything like this because he knew he was a defiled person and no one who considered himself righteous or clean would ever come near him, let alone near his house, and worst of all, eat a meal with him, which was tantamount to affirmation and partnership.  Yes, Zacchaeus wanted to see who Jesus was, but far more than that, Jesus wanted to see Zacchaeus.
Zacchaeus hurried down and was happy to receive — welcome — Jesus (verse 6).
He was happy because he was an outcast in society, even lower than the blind, the lame and the beggars. Despite all his riches, he had no friends other than tax collectors and could not worship with the other Jews because of his occupation.
Henry says that our Lord's request of Zacchaeus was an efficacious call:
The notice Christ took of him, the call he gave him to a further acquaintance (v. 5), and the efficacy of that call, v. 6. 1. Christ invited himself to Zaccheus's house, not doubting of his hearty welcome there; nay, wherever Christ comes, as he brings his own entertainment along with him, so he brings his own welcome; he opens the heart, and inclines it to receive him. Christ looked up into the tree, and saw Zaccheus. He came to look upon Christ, and resolved to take particular notice of him, but little thought of being taken notice of by Christ. That was an honour too great, and too far above his merit, for him to have any thought of. See how Christ prevented him with the blessings of his goodness, and outdid his expectations; and see how he encouraged very weak beginnings, and helped them forward. He that had a mind to know Christ shall be known of him; he that only courted to see him shall be admitted to converse with him. Note, Those that are faithful in a little shall be entrusted with more. And sometimes those that come to hear the word of Christ, as Zaccheus did, only for curiosity, beyond what they thought of, have their consciences awakened, and their hearts changed. Christ called him by name, Zaccheus, for he knows his chosen by name; are they not in his book? He might ask, as Nathanael did (John 1 48), Whence knowest thou me? But before he climbed the sycamore-tree Christ saw him, and knew him. He bade him make haste, and come down. Those that Christ calls must come down, must humble themselves, and not think to climb to heaven by any righteousness of their own; and they must make haste and come down, for delays are dangerous. Zaccheus must not hesitate, but hasten; he knows it is not a matter that needs consideration whether he should welcome such a guest to his house. He must come down, for Christ intends this day to bait at his house, and stay an hour or two with him. Behold, he stands at the door and knocks. 2. Zaccheus was overjoyed to have such an honour put upon his house (v. 6): He made haste, and came down, and received him joyfully; and his receiving him into his house was an indication and token of his receiving him into his heart. Note, When Christ calls to us we must make haste to answer his calls; and when he comes to us we must receive him joyfully. Lift up your heads, O ye gates. We may well receive him joyfully who brings all good along with him, and, when he takes possession of the soul, opens springs of joy there which shall flow to eternity. How often has Christ said to us, Open to me, when we have, with the spouse, made excuses! Cant 5 2, 3. Zaccheus's forwardness to receive Christ will shame us. We have not now Christ to entertain in our houses, but we have his disciples, and what is done to them he takes as done to himself.
All who saw this began to grumble — complain — and said that Jesus was going to be the guest of a sinner (verse 7).
Once again, Jesus spurned the self-righteous for the notional sinner, something He did often.
MacArthur analyses the crowd's reaction and our Lord's magnanimity:
It would have been the first time any righteous, clean, noble, respected person had come to his house.  And here is the Lord, like that father, throwing his arms around a stinking, prodigal son, kissing him all over the head and reconciling him and embracing him.  Of course he received Him gladly, profusely, because he was so overjoyed.  Contrast that with the crowd in verse 7 and you understand the difference between the heart of God and apostate first century Judaism.  "And when they saw it, they all said, 'Isn't it wonderful to see the grace of God toward a sinner.'" Oh, is that what it says?  Afraid not.  What it says is, "They all began to grumble." That is in the Greek an onomatopoetic word.  You remember what an onomatopoeia is?  It is a word whose meaning sounds like it.  The word is diagogguz, da-ga-da-goo-goo, diagogguz, rr-rr-rr-rr. It's a compound strong term.
This is absolutely predictable.  This is…you know they're going to do this, outraged propriety, religious incorrectness, no self-respecting Jew would ever expose himself to such severe pollution by staying at the house of the chief administrator of taxation, the most corrupt of all tax gatherers and then to eat a meal with him, to sleep at his house, absolute outrage.  And then you've got to realize that there are people in the crowd who are just looking for some action on the part of Jesus to take them on the last few steps to being convinced that He's the Messiah, and instead He does something that would literally undo all of their previous idea that He would be the Messiah by defiling Himself in this way.  It's just against the grain of everything that was a part of their religious thinking.  He's gone to be the guest of a man. That is a Greek verb, katalu, and it means to loose in a…in a compound sense, to take off.  What it means is to be a guest. He went to take His clothes off to stay the night. He went to loose His clothing.  It's also used to unhitch an animal.  It's only here and in Luke 9:12.  But it means to take everything apart, to take all your clothes off, get ready for the night.  And this man is a hamartl. He's in the category of the wretched, the despised and the rejected, the category of those people who are the unclean and the untouchable.
Anyone who went to a notional sinner's house automatically assumed that person's sins, merely by association:
No Jew would go to his house because then he would be basically a partaker in his evil deed.  He would be guilty of all his crimes and all his corruption.  But Jesus goes to his house because He seeks to save this lost man.  He is on a divine mission, established by divine, sovereign grace and a divine timetable.  He knows exactly who he is though he's never met Him.  He knows his name though he's never heard it.  And he has an appointment with salvation.  He received Him gladly.  What a contrast.  And when they saw it, they began to grumble.  They never got it.  People of Israel never got it.  All the way to the end they're holding on to their vile, damning, self-righteous religion while Jesus is saving sinners who have no merit, nothing to commend them to Him.
Zacchaeus then stood and made a declaration, saying that he would give half of his possessions to the poor and, if he had defrauded anyone, he would pay them back four times as much (verse 8).
That went far beyond the stipulation of Jewish law, yet Zacchaeus felt it necessary. He was being regenerated, right then and there.
Henry analyses that verse as follows:
The proofs which Zaccheus gave publicly that, though he had been a sinner, he was now a penitent, and a true convert, v. 8. He does not expect to be justified by his works as the Pharisee who boasted of what he had done, but by his good works he will, through the grace of God, evidence the sincerity of his faith and repentance; and here he declares what his determination was. He made this declaration standing, that he might be seen and heard by those who murmured at Christ for coming to his house; with the mouth confession is made of repentance as well as faith. He stood, which denotes his saying it deliberately and with solemnity, in the nature of a vow to God. He addressed himself to Christ in it, not to the people (they were not to be his judges), but to the Lord, and he stood as it were at his bar. What we do that is good we must do as unto him; we must appeal to him, and approve ourselves to him, in our integrity, in all our good purposes and resolutions. He makes it appear that there is a change in his heart (and that is repentance), for there is a change in his way. His resolutions are of second-table duties; for Christ, upon all occasions, laid great stress on them: and they are such as are suited to his condition and character; for in them will best appear the truth of our repentance.
Recall last week's reading, the Parable of the Pharisee and the Publican, Luke 18:9-14, when the publican — tax collector — prayed that the atonement sacrifice he had just witnessed at the temple would be applied to him for his sins.
MacArthur says that the isolated status of the tax collector and his inability to worship in the temple, even a synagogue, made Zacchaeus's joy and repentence all the more profound:
Zacchaeus received Him gladly, rejoicing.  That tells us that he came for more than curiosity.  That tells us that he came for more than some kind of superficial interest.  He didn't just come because he had some kind of a little idea that maybe this was a unique guy and he wanted to have a novel experience.  He responds with joy because he's got some things going on his heart that are pretty profound and pretty deep.  Now remember, he is alienated, he is isolated.  He has no relationships with anybody that matters, with anybody that's good or noble or pure.  His only companions are the riff-raff, the worst of the worst, the scum.  But remember, deeper than that is the fact that he is an extortioner and a thief and a robber who has abused and harmed and hurt people and stolen from them, and impoverished them, and abused them in every sense possible.  And he feels the weight of that and he feels the guilt of that.  He can't worship.  He can't go to the temple.  He can't have a…an atonement offered for him.  That's why in Jesus telling the story of the Pharisee and the publican, you remember the publican goes to the temple and says, "God, please apply this atonement to me," because that was not how it was.  They were outcasts.  And typically of a Pharisee…if a publican went to the temple ground, they would be discovered there as one of the unclean and thrown out the eastern gate.  So he was isolated from God.  He was isolated from religion.  He was isolated from hope.  And then he was bearing the full weight of this massive burden of extortion and corruption which is the way he had lived his life in his heart.  And to hear that a holy prophet of God with miracle power who may well be in the eyes of some the Messiah of Israel was going to come to his house?  It wasn't just that now in spite of the way he was treated by everybody else, the most significant person in all of Israel would come to his house. It wasn't a yeah, yeah, yeah, yeah, yeah, yeah attitude.  Too bad for you, He's coming to my house.  It wasn't that.  It is just the overwhelming unbelievable joy of an aching heart, of an empty heart having a meeting with someone who represents God.  He was eagerly joyous though he must have been stunned.  It doesn't say he received Him with fear.  It doesn't say, "Whoa, I don't want to go that far, I just wanted to know who You were.  I don't want to get that close."  He received Jesus with joy.
The self-righteous called the unclean sinners, which dates from the Old Testament, most noticeably in the Book of Job. However, the self-righteous did not, to paraphrase Elizabeth I, have eyes into their souls.
This is what Jesus is actively opposing:
… again in typical fashion, he stands in direct contrast to the rest of the populace.  When they saw it, verse 7, they all began to grumble saying, "He's gone to be the guest of a man who is a sinner."  That may have been sort of orchestrated by some Pharisees in the crowd, or some of their more devout disciples.  "Sinner" not meaning…meaning in some personal sense they knew about his life, although that were true, sinner in the sense that he belongs to the category of the despised, the category of the rejected, the category of the outcasts.  You don't go to their house.  This is more of the cantankerous criticism that came against Jesus Christ from the self-righteous people who thought He worked for Satan because He hung around Satan's people so much.
Please notice verse 7, "When they saw it, they all began to grumble." This is universally the viewpoint.  This man belongs in the category of rejected, despised, defiled, corrupted people.  No Jew with any sense of purity would ever go to his house, stay and eat; you share his corruption.  But Jesus says, "I'm coming to your house."  He hurried and came down and received Him gladly. 
MacArthur analyses Zacchaeus's pledge to Jesus:
Look at verse 8 again with that in view.  Zacchaeus stopped.  I don't know if that's the best word for that, statheis, statheis in the Greek.  It really means he…he took a stand…he…he set himself with a fixed attitude.  It could be used for a formal act.  It is really saying this: Zacchaeus, after the conversation is over that we can assume took place, rises, sets himself, and makes this confession.  That's the idea.  "And said to the Lord…" This is where he takes his formal stand.  Obviously the Lord made everything clear.  The Lord talked of salvation.  He believed by the power of the Spirit of God at work in his heart, not apart from his will but through his will.  And so he rises, takes his stand and said to the Lord, "Behold, Lord." That's enough right there.  He's confessing Jesus as what? As Lord.  This is foundational.  This isn't something that comes later.  This is foundational.  If you confess Jesus as Lord, you're saved, Romans 10:9 and 10.  It's essential.  "Behold, Lord," and behold is an exclamation.  I suppose today we would say, "Wow, Lord, whoa, Lord."  And this is just a way to exclaim something that speaks of the dramatic transformation that has taken place in this man's life.  First thing he says when he takes his stand is, "You're my Lord."  Second thing, "Half of my possessions I will give to the poor."  Wow that is a change.  This is self-denial.  This is, "If any man will come after Me, let him deny himself." That's it.  "Take up his cross and follow Me."  He has affirmed that Jesus is his Lord and he says immediately, "I'm going to give half of everything that I possess to the poor."  Now he possessed a lot.  Remember back in verse 3…pardon me, verse 2…he was…he was rich, he was really, really rich.  In one day he was so totally transformed that he went from being a thief to being a benefactor; that he went from being selfish to being unselfish; that he went from being a taker to being a giver.  It's stunning, stunning.  Ah, it's very much different than the rich young ruler back in chapter 18 verse 22. "Jesus said, 'One thing you still lack, sell all that you possess and distribute it to the poor, you'll have treasure in heaven, come follow Me.' When he heard these things he became very sad, he was extremely rich."  There was a man who wasn't about to be parted from his riches.  It's impossible, Jesus says, for rich men to give up their riches on their own.  Verse 24 of 18: "How hard it is for those who are wealthy to enter the kingdom of God!"  How hard is it?  "It's easier for a camel to go through the eye of a needle than for a rich man to enter into the kingdom of God."  Wow, that sounds like impossible, not hard.  Verse 27: "Things impossible with men are possible with God."  It's impossible for a rich man on his own to give up his riches. Here's an illustration in the very next chapter of a rich man who immediately gave up his riches.  Why?  Because he was sought and saved by a sovereign Lord.  True righteousness results in a transformation, a transformation that hits at the very core of your dominant category of sin.  Now you can pick a lot of categories.  For this guy it was money and extortion.  For somebody else, it might be something else.  It might be anger, it might be immorality. It might be homosexuality.  It might be whatever.  But when true salvation comes and real transformation comes, it strikes a death blow at the core category of one's wretchedness.
… You remember that Ephesians 2:10 says that "you were saved unto good works which God has before ordained that you should walk in them."  That is a natural consequence of a supernatural transformation.  And here you see it.  You don't need to know what the conversation was.  You don't need to know what he said about believing.  All you need to see is this massive miracle of a transformed soul: Half of my possessions I'll give to the poor.  And now he's got half left. What about the other half?  "If I have defrauded any one of anything, I'll give back four times as much."  Wow!  Anybody that I've defrauded, I'll give back four times as much.  Now how many people would that be?  Hundreds?  Thousands?  Just play that scene out in your mind.  This isn't a parable, this is a real man in a real story in a real place …
Now where did he get that idea?  Did that just come out of the air?  If you go back to Leviticus, chapter 6 verse 5, or Numbers.  In fact, you might look at Numbers. I think it's chapter 5 verse 6 and 7. There is an Old Testament prescription for restitution.  Numbers 5, go down to verse 6, The Lord said…spoke to Moses saying, "Speak to the sons of Israel, when a man or woman commits any sin of mankind acting unfaithfully against the Lord and that person is guilty" verse 7 "he shall confess his sins which he has committed, he shall make restitution in full for his wrong" to the person he has wronged, obviously, "and add to it one fifth of it and give it to him whom he has wronged." So this was pretty much the Jewish standard.  If you read any Jewish literature, 20 percent, one fifth, would have been what was necessary in restitution.  You…you stole somebody from something…something from somebody, you defrauded somebody, you gave them back plus 20 percent, which would cover something of the lost interest or accumulation that could have been gained by whatever it was you stole.  That would be typically what Judaism would honor.  Judaism at that time would honor the 20 percent.  So he could have said that.  He could have said, "I'll tell you what, I'll follow the Old Testament prescription in Leviticus and Numbers and I'll give back everything I've taken plus one fifth." And he would have been…Well he would have been right on target.
Or he could have done it another way.  He could have based it…and I won't take time to go to that…He could have based it on Exodus 22.  In Exodus 22 if you read the first seven verses, you find that in the case of an ordinary robbery which was what he was doing, according to Exodus 22 verses 4 and 7, you paid back double. You paid back double.  So he could have said, "You know what?  I'll pay back two fold." That would have been more generous than 20 percent. Now you've gone to 200 percent.  That's pretty good…or 100 percent, that's pretty good.
Well, why did he say fourfold?  Because in Exodus 22:1, if you robbed someone with violence and destruction, a fourfold response was required.  He went to the max.  He said, "I've done this, I've done it violently, I've done it destructively.  I will gladly pay back the max."  He knew his Old Testament Law.  And this is the evidence of transformation.  It's not a, "Oh, is that what I'm supposed to do?  Oh do I have to do that?  How little can I do and get away with it?  How little can I obey and still be considered a Christian?  How close can I walk to the edge?"  It's, "Look, just show me the maximum demonstration of obedience, that's what I want to do." This is the real deal, folks, the real deal.  He was determined to do more than was asked, more than the law required.  There wasn't any law that said give half of everything you have to the poor.  He would have probably given more, but he needed to keep half because he was going to give back 400 percent of what he had defrauded people of to the maximum of Old Testament allowance.  This is the kind of obedience that marks the one who has denied himself, taken up his cross and followed Christ and doesn't live on the minimal but lives at the maximum level of obedience.  He acted as if every illegitimate, defrauding taxation was destructive, violent, devastating.  And he strips himself of everything he has, even his honest gain.
Jesus said to him that salvation had come to his house that day because, he, too, is a son of Abraham (verse 9).
Well, if that wasn't a shot across the bow of the self-righteous witnessing that scene.
The self-righteous Jews were fond of calling themselves the sons of Abraham. They meant by lineage and, therefore, automatically saved. Jesus called Zacchaeus a son of Abraham in terms of faith, Abraham's absolute faith and trust in God.
MacArthur says:
It's a similitude, it's a similarity.  Abraham was a man of faith, Genesis 15:6, he believed God and God accounted to him for righteousness.  Here's another one, here is an ethnic, genetic son of Abraham who is a spiritual son of Abraham as well.  He is a true Jew.  Paul says in Romans, "Not all Israel is Israel.  Not all Israel is Israel." In fact, he says, "I…I have heaviness of heart and great sorrow" for Israelites, "I could almost wish myself accursed" for the Israelites, because the Israelites do not know God. 
MacArthur explains that when Jesus said salvation had come to Zacchaeus's house, He probably meant just him, not the whole household:
"And Jesus said to him, 'Today salvation has come to this house.'" Sure, and salvation can even refer to Him, that is to Jesus, because you remember back in Luke 2:30 Simeon took the little baby Jesus in his arms and says, "My eyes have seen Your salvation."  Salvation in Christ came to his house and salvation as an act of transformation happened in his soul.  The proof: transformation.  "House," does that mean his whole household?  It doesn't say that. There are times when like in the Philippian jailor's case, he believed, and his household.  Probably just means house and Zacchaeus and salvation in a moment turned an essentially greedy man into a gracious, generous man, turned a passion of his life from abuse and gain to kindness and giving.  And Jesus says, "Because he, too, is a son of Abraham."
Jesus says that the Son of Man came to seek out and save the lost (verse 10).
MacArthur interprets that all-important verse as follows:
… this is the very reason Jesus came, to seek and save that which was lost.  And this is one final comment made to Israel.  You haven't gotten it all along and you don't get it now.  You're still grumbling and you're still complaining because you don't get it.  I'[ve] come to seek and save the lost and I can't do anything for the self-righteous.  In the Middle Eastern mind, to include this man in the community of salvation was outrageous.  But for us, it is the most magnificent expression of the redeeming grace and love of God.  Jesus came to seek and save sinners and then to totally transform them.
MacArthur gives us the secret of salvation. God seeks us first, then we seek Him. However, we cannot seek Him without Him seeking us first:
In our sinfulness, in our fallenness, in our reprobation, in our blindness, in our ignorance, in our association and relationship to the kingdom of darkness and under the power of Satan, we cannot seek after God. We do not seek after God.  There would then be no reconciliation, no salvation, no forgiveness, no hope of heaven if God did not seek after us.  God does the initial seeking.  God does the saving of those who apart from Him would hide themselves from Him like Adam and Eve, running from His presence with no capacity in them to ever turn and pursue Him.
MacArthur explains why Jesus referred to Himself so often as the Son of Man:
He is the seeker.  He is the saver of those who are lost.  And the story is an illustration.  A man out of a massive crowd sitting in a tree has a divine appointment with the seeking, saving Lord who spots him, names him and by divine necessity says, "I'm coming to your house because this is the day of your salvation."  This is one of the great biblical illustrations of sovereign salvation, of God seeking not just sinners in a general or vague way but seeking sinners in a very specific, personal way.  And this is the work of the Son of Man.  The Son of Man in verse 10 is a title which Jesus used of Himself more than any other, by far.  It refers to Him as man, that is His humanity, but far more than that, it is a messianic title referring to Him as the all-glorious, chosen One by God to rule and reign over an ever-lasting kingdom.  That is prophesied as He is there identified in Daniel chapter 7.  So it sees Him, yes, in His humanity, but far more in His divine glory and everlasting rule.  Son of Man has come. "Has come" refers to His incarnation, not has come to Jericho, but has come into the world. At His birth He came, incarnation, for the purpose of seeking and saving.  Those are two infinitives which means it starts with to, t-o.  That's an infinitive. These are what we call in Greek infinitives of purpose, two purposes to seek, to save.  The word "seek," zte, means to pursue, to look for, to search for.  To save means basically to rescue from harm, to deliver from danger.  And the amazing irony of it all is that God sends Christ to seek and to save those who are headed for His own wrath and judgment.
When we read of being 'lost', we think of it rather loosely. MacArthur explains that, in the Greek, it means to be destroyed, damned:
… God seeks to save people from Himself, from His own wrath and His own holy judgment.  The ones that He seeks to save are identified here as that which was lost, that which was lost.  Literally in the Greek it's a condition of being, the having been lost one, the one who is in a permanent state of lostness.  But even being lost doesn't express the fullness of this word.  It's a very strong word in the Greek, apollumi. Any Greek students know it's a familiar word. It means to be ruined. It means to be destroyed.  The Son of Man then was incarnated, coming into this world for the purpose of pursuing and saving those who are in a condition of ruination and destruction and headed for damnation.  Couldn't be more clear … 
Sin has devastated all of humanity and all of humanity is marred, corrupted, evil, ruined, headed for eternal damnation.  We are all in that same condition.  In fact, that condition needs to be understood, and so we read in Romans 3, starting in verse 10, a very careful description of that condition.  "There is none righteous, not even one.  There is none who understands.  There is none who seeks for God.  All have turned aside.  Together they have become useless.  There is none who does good.  There is not even one.  Their throat is an open grave.  With their tongues they keep deceiving.  The poison of asps" or snakes "is under their lips.  Whose mouth is full of cursing and bitterness.  Their feet are swift to shed blood.  Destruction and misery are in their paths.  The path of peace have they not known.  There is no fear of God before their eyes." So writes the apostle Paul and every single sentence he drew from the Old Testament.  This is not a new description of man. This is God's description of man's sinful condition from the start.
In Ephesians chapter 4, an even more concise description of the human condition, verse 17, "We walk in the futility of our minds, darkened in our understanding, excluded from the life of God because of the ignorance in us, because of the hardness of our hearts we are callous given over to sensuality for the practice of every kind of impurity with greediness." We can never get enough impurity.  This is the human condition.  And the purpose of the coming of the Son of Man, the Lord Jesus into the world, is to rescue sinners from this condition with its inevitable result of eternal damnation.
Knowing the true purpose of our Lord's earthly ministry is exceedingly important:
Jesus did not come into the world to be a good teacher.  He did not come to be a moral leader.  He did not come to espouse religious ideas.  He did not come to raise the religious consciousness of the people in His community and His society.  He did not come into the world to show us what a good life looks like.  He came into this world to rescue doomed sinners.  That is the Christian message.  That is the only Christian message.  Everything in the Old Testament points to that.  Everything in the New Testament defines that.
We all want to know what happened to Zacchaeus.
MacArthur has a highly possible answer as to why Luke has this story and named him:
It's interesting that he gave him a name.  This is the first for us to see a tax gatherer who actually named other than Matthew who is called an apostle by Jesus.  Why the name?  Well again, remember when we studied Bartimaeus and we suggested the church historians have said that Bartimaeus later became a very prominent Christian and his name was used because everybody knew who he was and this would have associated him with that great moment in his life when he was given sight and saved in Jericho.  Well, here you have, according to some church historians, a similar situation.  It's Clement of Alexandria, one of the church fathers, who says that this man, Zacchaeus, became a very prominent Christian leader and ended up a pastor of the church in Caesarea, later to be succeeded by none other than Cornelius, the centurion.  That's from church history.  We can't find that in the Word of God.  So perhaps it's so and that's why his name was used.
Amazing.
Acts 10 has the story of Peter and Cornelius, which I wrote about a few years ago:
Acts 10:1-8 – Cornelius, divine vision, angel, Peter, God-fearer
Acts 10:9-16 – Peter, divine vision, allegory, animals, Gentiles, forbidden food is now clean
Acts 10:17-23 — Peter, Holy Spirit, obedience, Gentiles, hospitality
Acts 10:24-29 — Peter, Cornelius, Jewish converts, Gentile converts
Acts 10:30-33 – Peter, Cornelius, Jew, Gentile, Jesus Christ
Acts 10:44-48 – Peter, Cornelius, the Holy Spirit, baptism, Gentile, Jew
May all reading this have a blessed Sunday.
This post concludes the story of how Rishi Sunak became Prime Minister.
Those who missed them might find parts 1 and 2 of interest.
Before concluding, an important anniversary took place this week.
On October 26, 2012, UKIP MP Douglas Carswell introduced a private member's bill, 'The People's EU Withdrawal Bill'.
The groundswell of support from Guido Fawkes's readers helped bring it to the Commons:
Guido has the video and a brief comment (emphases his):
Today history was made as the first-ever crowd-sourced Bill was debated in Parliament. The majority of 5,000 readers of this website voted for Douglas Carswell to propose Britain to withdraw from the European Union, and today Carswell stood up in the House to argue the case for the People's Bill. The debate can be watched at length here. 
Here is a short video of proceedings:
A few years later, then-Prime Minister David Cameron, frightened by the overwhelming support for UKIP in the European election, decided to give the British people a referendum. It ended up being the largest plebiscite in the history of the United Kingdom. On Thursday, June 23, 2016, in pouring rain, voters said they wanted the UK to leave the EU: 52% to 48%.
In current news, during Rishi Sunak's first week as PM, as I wrote yesterday, questions were being asked in the Commons and the Lords about Suella Braverman's reappointment as Home Secretary.
The Telegraph's Madeline Grant called Braverman 'Houdini' for not showing up for an Urgent Question in the Commons about the horrifying state of the Manston processing centre in Kent, which is turning from a short-stay to a longer-term residence for Channel migrants (emphases in purple mine):
At a second Home Office UQ, this time courtesy of Labour's Diana Johnson, the Home Secretary was a no-show again …
In truth, there were unhappy campers on both sides of the House; enough to populate Butlins, if not quite Calais …
Deputising for Houdini was Robert Jenrick – a junior Home Office minister and close ally of the PM who, some say, was appointed to keep a watchful eye on Braverman and prevent her from doing anything too mad …
Yet Jenrick's arguments were more true-blue, or at least Red Wall. He had little sympathy with illegal migrants, and the diversion of resources away from their legal counterparts, and seized eagerly on Priti Patel's pet phrase, "evil people-smuggling gangs". Reinforcements soon began to arrive from the Tory backbenches. What gave Labour the right to complain, wondered Steve Double, the MP for St Austell, when they'd voted against Patel's Nationality and Borders Bill. Lee Anderson and Richard Graham warned of Britain's imminent inundation by Albanian men.
Christopher Chope reminded the Commons that whatever the state of the Manston processing centre, conditions were a darn sight worse in the Calais Jungle. Labour MPs looked scandalised, but Jenrick agreed wholeheartedly.
When asked why he was deputising for Braverman:
Jenrick, in the spirit of Sunak, came back with an answer that was simultaneously boring and unimpeachable. "Because I'm the Minister of State for Immigration" …
It is estimated that from 1% to 2% of Albanian men are in the UK. They have places to go to once they arrive. The Albanian drug trade is the latest development in our migration story.
The situation in Dover is intensifying. The Times reported the story of the week: '"Desperate" new arrivals drive Dover into taking up arms'. Sledgehammers, more like, as firearms are largely illegal here:
Sue Doyle, 59, was sitting in her living room sipping a cup of coffee on Sunday morning when a 16-year-old Albanian migrant got in through the back door, which she had left open for her dog.
"All of a sudden he was there standing in my front room," she told The Times. "He didn't seem very friendly. He kept saying: 'no police, no police'."
Doyle, a full-time carer for her mother, said she was made to her lock her dog in a bedroom and that the teenager then asked her to drive him to Manchester. When she refused he demanded her mobile phone and used it to arrange to be picked up by a contact.
… Doyle managed to sneak out of the front door and alert a neighbour, who contacted the police and confronted the young migrant.
The neighbour, Louise Monger, 36, said she became more sympathetic when she realised his age and tried to assist him. Police arrived and he was detained before the driver arrived, she said …
The teenager who was arrested was said to be in tears as he was driven away in a police car …
A few doors down from Doyle, Kerry Jones, 45, a mother of a young autistic girl, said she now sleeps with a sledgehammer next to her bed after a migrant tried to enter her home through the back door in August …
The residents complained that not enough was being done by the council, police and border force to deal with the problem. Many spoke of seeing migrants running through the streets and residential areas or "hiding in bushes" in local parks …
When a Times reporter arrived at Dover Priory station yesterday a Syrian mother and her young child approached and asked for help getting to an "army base" where their money and belongings were.
The mother, Nur Taha, 27, said she and her son, Mohammad Salu, six, arrived in Dover ten days ago in an overcrowded dinghy that was rescued on the water and were separated from her partner Akram Salu, 49, who was detained by military police, and their possessions …
When a reporter called Kent Police to request assistance for the mother and son, he was told that no officers were available as they had more pressing priorities. The advice given was to let them roam in Dover and hope that they were safe.
In a statement on Doyle's report, the force said it received a call at about 10.45am on Sunday that a man had entered "an insecure door at a property in Dover and was seeking the use of a phone".
The force added: "He was initially arrested, then de-arrested at the scene once the circumstances had been established by speaking to both parties. The man was then detained on behalf of immigration officers."
In Nur Taha's case, it is understood she and Mohammad had been processed by Border Force officers …
The council was approached for comment.
Mass migration started during Tony Blair's government and has only become worse, as the backlog of cases is through the roof.
Twenty years on, the Home Office again needs more information on those arriving, as well as stronger co-operation with France to stem the flow. Officials often have little information on claimants, whose lack of identification may be a deliberate ploy — case workers have little choice but to believe them: 75 per cent of asylum seekers were given the right to stay in the 12 months to March, the highest rate since 1990.
Meanwhile, claims are taking longer to assess, having climbed to an average of 480 days for an initial decision to be reached.
Some in the Home Office have suggested there is a deliberate policy of slowing down the processing of claims given the high rate of people granted asylum. A six-month target for assessing claims has been ditched and the rate of cases completed in that time has fallen from 80 per cent in 2015 to 17 per cent. But this looks set to change, given the soaring cost of housing those waiting for their claim to be assessed in hotels, which now stands at £6.8 million per day.
This month, the idea of erecting tent cities in London's parks was mooted, something Paris has tried with shocking effect. Most Parisian women living near one of these tent cities can no longer go out at night. Drugs, violence and noise prevail once it turns dark.
The same Times article reported that London tent cities are unlikely to come to fruition:
The idea was raised by civil servants in meetings with leaders of London councils this month, sources said.
It was considered after efforts to persuade London boroughs and local authorities in other parts of the country to accommodate more asylum seekers failed. The Home Office had issued an emergency appeal to councils for more places earlier this year as officials struggled to cope with the growing numbers of migrants crossing the Channel.
Council leaders in the meeting dismissed the prospect of installing marquees in parks in the capital and instead urged the Home Office to lift the ban on asylum seekers being able to get a job …
The Home Office made clear last night that the plans to erect tents in London parks were no longer under consideration. It said: "It is categorically untrue to suggest that the Home Office is planning to erect tents to house asylum seekers in London parks."
The idea arose during discussions on how to deal with overcrowding at the temporary asylum processing site at Manston Airport, which is only designed to hold Channel migrants for up to 24 hours.
It is unclear what Rishi Sunak has planned for Suella Braverman.
On the one hand, Sunak's people say everything is in hand, and MI5 say they have no problem working with the Home Secretary, the Times revealed:
A former Conservative minister in the Home Office told The Times: "You can't even have the vague notion that you might leak because then all the security services will clam up on you — which is not what you need."
However, responding to claims that MI5 could withhold information from Braverman, a security source said: "This is completely untrue. The home secretary and MI5 have a strong and trusted working relationship. She will continue to receive regular intelligence briefings, as was the case when the home secretary was in post previously and with other home secretaries."
Rishi Sunak's spokesman insisted that Braverman had "strong relationships" with the security services and the prime minister's full confidence.
Oh, dear: 'the prime minister's full confidence'. Those are dangerous words, dating back from the 1990s. That means a resignation or a sacking could be coming soon.
The Star wasted no time in putting 'Leeky Sue' on their Friday front page:
On the other hand, the Times said that Sunak's allies are waiting for Braverman to go, possibly so that Jenrick can step in. He wouldn't be very good, I don't think, but that seems to be charactistic of Sunak's government — business as usual, nothing gets done:
Sunak's close ally and Braverman's deputy in the Home Office, Robert Jenrick, responded to an urgent question on crossings yesterday in her place. The sole hope now, Sunak allies have whispered, is that Braverman makes a further error and goes for good, leaving Sunak and Jenrick to press on peacefully in her absence.
That doesn't surprise me in the slightest.
The Guardian continued to cast shade on Braverman:
London's Evening Standard, however, went with the story about Cabinet minister Nadhim Zahawi's defence of the Home Secretary at the bottom of their front page:
One good thing that Rishi has done is to decline going to COP27:
A new poll shows that the Conservatives are doing better than Labour, but still have a huge hill to climb:
I disagree with Guido's assessment here. The poll decline started with Boris and Partygate nearly a year ago:
That said, Guido rightly sees this as an uphill battle:
Add to that the impending storm of budget cuts, Rishi certainly faces an uphill battle.
The poll also strengthens Reform UK's claims of a resurgence, with their support at 6% and growing representing a relatively strong showing. The Conservatives face challenges from all sides…
Finally, there's the idiocy of America's Trevor Noah calling Britain racist towards Rishi Sunak. I haven't read one negative comment about his heritage from conservatives, ever. Labour — our equivalent of the Democrats — are the ones making the racist remarks.
Rishi Sunak does not believe Britain is a racist country, a Downing Street spokesman said, following claims by Trevor Noah that there was a "backlash" after he became the UK's first British-Asian Prime Minister …
"But you heard the words in the House [of Commons] on Wednesday with regard to the [appointment of the] Prime Minister," the spokesman said. When asked whether Mr Sunak believes Britain is a racist country, the spokesman said: "No he doesn't."
His words were echoed by Sajid Javid, the former chancellor and health secretary, who said Noah was "detached from reality" when he claimed Mr Sunak's appointment provoked a racist "backlash".
… Tom Holland, a popular historian and podcaster, wrote:
—————————————————————————————————————–
Now back to the leadership contest, where we pick up on the events of Saturday, October 22, 2022.
Boris returns to the UK
The Sun's Harry Cole told TalkTV that Boris and Rishi could come up with a plan to save the country:
Sky News's Mark Stone was tracking Boris's progress back to the UK:
Sky News interviewed Chris Heaton-Harris MP, who said that Boris definitely had 100 backers (see video):
Guido was eager to confirm, as Boris's numbers were far behind Rishi's at that point:
Boris landed at Gatwick mid-morning:
Guido was hopeful for his prospects:
One German newspaper, however, was less than enthusiastic, asking, 'Seriously?':
Former Home Secretary and Boris loyalist Priti Patel declared her support:
However, the never-Boris MP, Sir Roger Gale, did not mince words in an interview with LBC:
Scottish Conservatives would agree. The Telegraph's Alan Cochrane wrote:
Just when an air of undisguised relief began to filter through the higher reaches of the Scottish Tories at the resignation of Prime Minister Liz Truss, along came Boris Johnson to dampen their ardour.
They may not have been the greatest fans of Ms Truss and were glad to see the back of her. But their view of Boris bordered on the certain belief that he was a major electoral liability north of the border. And as the news emerged that the former PM aims to stand again for the top job, one former senior minister commented: "It will destroy the Conservative Party if he does."
At lunchtime, Harry Cole produced a poll for the Sun saying that Boris still topped the charts. That must have been in England, then:
However, Lord Frost thought that Rishi was the right man for the job:
One Twitter user reminded us that Boris plucked David GH Frost from obscurity and elevated him to the House of Lords:
However, the BBC's Laura Kuenssberg and ITV News's Anushka Asthana spotted a trend. Former Boris supporters, such as Lord Frost, who also supported Liz Truss, now preferred Rishi Sunak:
That afternoon, Boris's father Stanley appeared again on GB News, saying he would vote for his son if the contest went to Party members:
Just before 3 p.m., Boris backers told the BBC's Chris Mason that the former PM had the numbers:
However, the Evening Standard's Nicholas Cecil sounded a note of caution — Boris's MPs did not want their names made public:
A Mail+ report couldn't shed much more light on the names, either:
On Saturday morning, former Home Secretary Priti Patel said she was backing Mr Johnson in the leadership race because he had a 'proven track record'. Ms Truss, Defence Secretary Ben Wallace and former Home Secretary Suella Braverman are also in Mr Johnson's camp, while former No10 chief of staff Steve Barclay and ex Brexit Minister Lord Frost have publicly backed rival Rishi Sunak.
Just before 3 p.m., another Twitter user provided this analysis, saying that Rishi had the momentum and numbers:
Just after 3 p.m., Guido's spreadsheet showed that Rishi was on 120 MPs with Boris on 71:
Red Wall MP Lee Anderson declared his support for Boris after 3:30:
That was about it for Boris's afternoon.
Shortly after 6 p.m., Guido described how he and his team were compiling their spreadsheet. The following points stood out:
Here is some insight into what has happened in the last few days: the Rishi campaign has decided in their wisdom to freeze Guido out – no briefing, no contact, effectively pretending we don't exist as a fact of political life. Petulantly putting us in the penalty box for giving Rishi a hard time in the last leadership campaign. We started reporting and publicly recording the support of MPs for Boris on Thursday, and by yesterday evening the Rishi campaign was instructing their supporting MPs to contact us to confirm their support for him. As our records showed support for Rishi catching up with and then pulling ahead of Boris, his campaign reminded supporters to confirm their pledges to us. All can now see the relative strength of candidates' support.
… MPs who have not pledged can be seen by all sides. They are either genuinely undecided – waiting to see which way the wind blows – or biding their time for Machiavellian reasons, or simply ransoming their vote for the highest bid or best favour. What MPs can't do is double pledge any more. If they tell a campaign they are backing their candidate the campaign expects them to go public. If they don't go public, they are suspect.
Yesterday the site was visited three quarters of a million times, such was the demand for data.* This kind of transparency is now a fact of political life, the game has changed. Changed for the better…
*Team Rishi's strategy of ignoring the website read by so much of the membership doesn't bode well for their success if the contest goes to the membership.
Penny who?
Meanwhile, Penny Mordaunt's leadership bid wasn't the best.
Although this was strictly for MPs, The Guardian went to her Portsmouth North constituency to find out what the public thought:
Penny Mordaunt may have been the MP for Portsmouth North for 12 years, and could perhaps be the next prime minister, but some of her constituents were perplexed when hearing her name on Friday.
"Who's she? I don't know nothing about her," said James McLeish, who added he would not recognise her if she passed him on the street. "Never seen her, don't even know what she stands for."
McLeish's bemusement came hours before Mordaunt formally announced she was standing to replace Liz Truss – stealing a march on her presumed rivals Rishi Sunak and Boris Johnson.
Speaking in Cosham High Street, which runs through the centre of a suburb to the north of the port city, McLeish, 82, had a much clearer view on Truss's resignation after a disastrous 45 days in office.
The Telegraph's Tim Stanley gave us a tongue-in-cheek profile of the Leader of the House:
What about Penny Mordaunt, bringing up the rear? She was the first candidate to declare – and she surprised everyone last time by how far she went. The Tory grassroots appear besotted with this lady, thanks to her naval career and taste for innuendo; she exudes an impression of authority that was bolstered during the accession of Charles III when she managed to read aloud from an official document clearly and without error. That's all it takes nowadays. If only she were in Parliament, Angela Rippon would be a shoe-in.
Ms Mordaunt has reportedly told Jeremy Hunt that if she wins, he can write economic policy. And Mr Hunt, no doubt, rang the Bank of England and said, "If Penny wins, you can write economic policy." The Bank rang the IMF… and on it went all the way to Joe Biden, who put a call through to his wife, even though she was lying next to him, and said, "Honey, if Penny Farthing is made Queen of England, you can write economic policy."
Stanley spoke with Conservative Party members:
What do the members think? I've put out feelers. They want Boris.
They know he's not Jesus. He might have spent 40 days in the desert, but if the Devil tried to tempt him, he'd give in on every occasion. Yet they voted for Truss, the suits kicked her out – so now they want the good times back with BoJo. He likes pina coladas and dancing in the rain. And if they want him, and assuming he can find his passport – last seen in a swimming pool locker – he'll be right with us.
Harry Cole said that Penny's backers during the Liz Truss contest during the summer were now plumping for Boris or Rishi this time around:
Deal? No deal
Boris and Rishi met on Saturday evening. The meeting lasted three hours. The Times reported it took place at Boris's office in Millbank Tower. I've been to Millbank Tower. It has lovely offices and a spectacular view of the Thames.
The Sun put the talks on its front page on Sunday, October 23:
The paper's Harry Cole tweeted when the meeting ended, which was after 11 p.m.:
On Sunday, Cole said that Boris's backers did not want to make themselves public until they were sure there was no deal:
There was no deal.
The Mail on Sunday reported that Suella Braverman was backing Rishi:
She wrote in the Telegraph: 'I have backed Boris from the start. From running alongside him in London in 2012, to supporting him to be our leader in 2019 and willing him to succeed throughout the travails of this year. His resignation in July was a loss for our country.
'But we are in dire straits now. We need unity, stability and efficiency. Rishi is the only candidate that fits the bill and I am proud to support him.'
The article gave us scant information on the meeting between Boris and Rishi:
Last night's crunch summit between Mr Johnson and Mr Sunak, which is believed to have ended shortly before 11.20pm, comes ahead of tomorrow's deadline for Tory leadership hopefuls to secure the backing of 100 MPs.
The headline banners read:
Ex-Chancellor fomally confirms candidacy for Tory leadership after late-night talks with Boris Johnson

It was claimed this morning that no agreement was struck between the pair in their three-hour negotiations

Some had been hoping for a power-sharing pact between the pair in order to avoid a divisive battle
Sunday's hope would not last
The day began well, but with Boris's numbers stagnant, reality began to set in.
That morning, Redfield & Wilton Strategies released a positive poll for Boris, taken on October 20 and 21:
Guido showed us the Mail on Sunday poll, which also showed that Boris had the best chance of stemming a Labour majority were a general election to take place that day. Guido meant 'Tory' not 'Toy', by the way:
Liz Truss's Business Secretary Jacob Rees-Mogg told Laura Kuenssberg that Boris had the numbers (video):
Rees-Mogg also defended Boris's record (video):
Later that morning, Guido said that some MPs were sounding out their constituents:
Just before 2 p.m., Foreign Secretary James Cleverly tweeted that he was backing Boris:
Meanwhile, Rishi already had 150 MPs signed up to vote for him, including names:
The Mail on Sunday reported that Boris allegedly contacted Penny Mordaunt to ask her to stand aside. The sign of a desperate man:
Penny Mordaunt, who officially declared her leadership bid on Friday, was claimed to have rebuffed Mr Johnson's attempts to get her to drop out of the Tory leadership race in a phone call this afternoon.
He was reported to have told the ex-PM that, even if she did quit, most of her supporters would switch to Mr Sunak and not Mr Johnson. 
'I'm in this to win it,' the Leader of the House of Commons declared, despite signs she is struggling to win backers.
Boris bows out
Around 9 p.m., Boris announced that he was withdrawing from the contest. The time was not right for him to return, he said.
Afterwards, the Telegraph recapped the past 24 hours and said the meeting between him and Rishi on Saturday night lasted only one hour:
It was as he sat with Rishi Sunak, face-to-face for 60 minutes with no one else in the room, that Boris Johnson rolled the dice for the last time …
Barely a word had been passed between Mr Sunak and Mr Johnson since their relationship imploded in July.
Yet on Saturday night, the two biggest names in Tory politics agreed to down tools and meet, with the keys to Number 10 the prize on the table …
But the truth was that he believed a joint ticket between the two men, with him back as prime minister, was his route back to Downing Street.
The meeting was called at the behest of Mr Johnson, not Mr Sunak.
It was also, according to one figure who was in touch with one of the two candidates on Sunday, a surprisingly convivial affair. "It was perfectly pleasant," said the source.
But Mr Johnson had been forced into a meeting with his old foe in an attempt to regain control of the corridors of power.
Above all, it was no Granita pact [one between Tony Blair as PM and Gordon Brown as Chancellor, done in a London restaurant of the same name] because of one simple reality – there was no deal. Mr Sunak did not agree to stand aside. Nor did Mr Johnson. They parted ways unresolved.
On Sunday morning, Boris rang his supporters:
His gamble to take control of Mr Sunak's bigger list of backers had failed.
That much became clear at 8am on Sunday, when Mr Johnson gathered his supporters on a video call and informed them no agreement had been reached.
We found out more about his appeal to Penny to stand aside:
Ms Mordaunt gave him short shrift. The Commons Leader, who remembers being ejected from the Cabinet by Mr Johnson on his first day in office in July 2019, told him most of her MP supporters would prefer to back Mr Sunak – and that he should consider dropping out of the race and leave her to face him alone. Her offer was refused.
On Saturday, Boris's aides even said he would keep Jeremy Hunt as Chancellor:
Searching, perhaps, to persuade MPs he had credibility as a "unity candidate", Mr Johnson's aides let it be known he would keep Jeremy Hunt in post as Chancellor if he won the contest.
Little did he know that at that moment, Mr Hunt was preparing to make his first public declaration of the leadership race since ruling himself out – by backing Mr Sunak in an article for The Telegraph.
King Charles would have said, 'Dear, oh dear'.
On Sunday, around 9 p.m., Boris threw in the towel:
By 9pm, the answer was clear.
Writing to his supporters on a WhatsApp group, Mr Johnson himself conceded defeat – but claimed he had the numbers all along.
Telling friends he had been "overwhelmed" by support from MPs, he maintained that he was "uniquely placed to avert a general election".
Stressing that he had cleared the "high hurdle" of 102 nominations including a proposer and a seconder, he said he was confident he could be "back in Downing Street on Friday".
But it appeared the concern among Tory MPs about the return of their former leader had rattled Mr Johnson.
Confirming he had "reached out" to Mr Sunak and Ms Mordaunt in an attempt to strike a deal, his message concluded: "I am afraid that the best thing is that I do not allow my nomination to go forward and commit my support to whoever succeeds."
… As he told MPs on Sunday night: "I believe I have much to offer but I am afraid this is simply not the right time."
One of Boris's main supporters, Sir James Duddridge MP, was nonplussed:
An hour later, he changed his support from Boris to Rishi:
Jonathan Gullis, a Red Wall MP, didn't wait that long:
Braverman pivotal to Rishi's support
On Monday, October 24, the Times had two articles about the importance of Suella Braverman backing Rishi.
The European Research Group of Eurosceptic backbenchers [Brexit supporters], which in previous leadership contests has acted as a bloc, is increasingly fractured.
Suella Braverman, the former home secretary who was once one of Johnson's most ardent supporters, came out for Sunak. The party, she said, could not afford to indulge in "parochial or nativist fantasies" given the "dire straits" it was in now. The world was "fundamentally different" from when Johnson was elected in 2019.
Braverman's endorsement of Sunak surprised even some of her allies, with one speculating about whether she had been offered the chance to return as home secretary. "She wouldn't have settled for much less," said one.
Braverman's support was not just a blow to Johnson, it also allowed Sunak to make the case to wavering MPs that he could command support across the party. As well as Braverman, Sunak won the backing of other former ERG stalwarts such as Steve Baker and Theresa Villiers. He has even persuaded MPs who had joined a "Back Boris 22" WhatsApp group to jump ship, including Chris Loder, MP for West Dorset.
It suggests that Sunak has made assurances to the ERG on policy and jobs, given that senior ERG figures were briefing on Friday that they would seek "guarantees" before endorsing candidates, which ranged from no concessions on the Northern Ireland protocol, reaffirming the manifesto commitment to reduce immigration and senior cabinet roles for their members.
Braverman suggested as much, saying in an article for The Telegraph website that the party needed to "move beyond Leaver or Remainer; One Nation or ERG; right of the party or left of the party; wets or Thatcherites," adding: "One person can build that team: Rishi Sunak."
The other said that Boris's team had approached her for support on Saturday but was rebuffed:
Johnson's team had made a "big pitch" to her yesterday in the hope that winning her over would persuade fellow right-wing MPs to back him. She is a former head of the European Research Group of Brexiteer MPs. It is a further sign that the ERG is split down the middle between Sunak and Johnson …
Her endorsement will deliver a big blow to Johnson's efforts to attract the remaining MPs on the right of the party, as she is seen as one of their flag-bearers and rising stars.
She is the latest figure on the right to endorse Sunak following Kemi Badenoch, the trade secretary, and Lord Frost.
Braverman also signalled that Sunak had agreed to continue with reforms she had begun working on during her short spell as home secretary, including a new law to prevent the European Convention on Human Rights allowing migrants and criminals to avoid deportation. It also suggests that Sunak has agreed to press ahead with the government's controversial Rwanda policy.
I hope that all works out for her.
Unfortunately for James Duddridge, the Boris loyalist, even though he voted for Rishi, he was sacked as Trade minister on Wednesday:
Jacob Rees-Mogg also got the sack this week and has returned to the backbenches.
Rishi's 'coronation'
On Monday morning, October 24, the outspoken Lee Anderson refused to back Rishi, swapping his vote from Boris to Penny. Interesting, to say the least:
Just before 1 p.m., Rishi had over 200 backers, double of what he needed:
At 2 p.m., the all-powerful 1922 Committee assembled at Conservative Party headquarters (CCHQ) to announce the results.
They had to meet at CCHQ, because while Rishi was the new Party leader, he was not yet Prime Minister and would not be able to enter No. 10 until he met with the King, who would grant him permission to form a government. The monarch returned to London on Tuesday, at which time Rishi's premiership was formalised.
According to the 1922 Committee, Boris had real numbers behind him — and had passed the threshold:
Guido reported:
For the historical record Nigel Adams says he met this morning with Bob Blackman, Joint Secretary of the 1922 Committee.
He has independently verified the nomination paperwork and confirmed to me that Rt Hon Boris Johnson MP was above the threshold required to stand for the Conservative Party leadership in this leadership election. Therefore Mr Johnson could have proceeded to the ballot had he chosen to do so.
The nominations process is confidential and it is up to individual MPs whether they wish to publicly announce who they back in leadership elections – Bob Blackman is verifying nominations today for the remaining candidates in this leadership election. Those still suffering from Boris Derangement Syndrome may need to seek help…
At the very last minute, Penny Mordaunt withdrew from the contest.
That meant Rishi had his 'coronation' as the only candidate left.
As such, the vote did not need to go to the Party members.
Conservative MPs were happy as Larry as they rejoiced that they finally got their man in office at last.
That evening, GB News reported that the Party's phone lines and website could not handle the amount of calls and clicks from members trying to cancel their membership.
They weren't angry at Rishi as much as they were the MPs who denied them a say.
End of series
Before going into Rishi's win in last weekend's leadership contest, a few items of current news follow.
Wednesday, October 26 saw Rishi at the despatch box for PMQs, which he handled well. Labour's Sir Keir Starmer was still going around in circles with his six questions, achieving nothing, as usual.
Home Secretary Suella Braverman's security breach dominated PMQs and Shadow Home Secretary Yvette Cooper asked an Urgent Question about it.
This morning's Telegraph editorial said (purple emphases mine):
There is something about Mrs Braverman that seems to drive the Left borderline hysterical. Her robust views on issues such as controlling the borders and tackling crime put her in the mainstream of public opinion. Somehow that is enough to earn her the sobriquet "hard-Right" among her Leftist critics.
In the Commons, Mr Sunak defended Mrs Braverman's return to the Home Office, saying that she had made an error of judgment but that she had recognised that and accepted her mistake. Her resignation last week also took place amid a row within government over immigration levels: Mrs Braverman is a firm advocate of cutting numbers.
Many Conservative voters will be reassured that she is back in office. Mrs Braverman has the right political instincts, taking a hard line for instance on the need to clamp down on disruptive climate protesters. In her previous roles, she has shown that she has the ability to master the details of complex policy areas, including on sensitive matters such as transgender rights. Now, she should be given the time and space to get on with the job.
A retired Squadron Leader wrote the Telegraph to say:
SIR – Congratulations to the new Prime Minister and to Suella Braverman on her return as the Home Secretary.
… The situation in the English Channel, with migrants entering Britain with impunity and without permission, at a cost of millions of pounds a day for hotel accommodation alone, cannot go on.
In 2021, 28,526 migrants landed in Britain without permission. This year, more than 38,000 migrants have arrived so far, with a projection of up to 50,000 by the new year.
Mrs Braverman would seem to have the answers to this problem. One can only hope that her return to the Home Office will make a difference, and quickly.
Another issue Braverman will have to deal with are alleged Chinese 'police stations' in two Glasgow restaurants.
Today — Thursday — the Times reported:
Ministers have been called on to intervene after China was accused of operating a "shadowy and chilling" secret police hub in the heart of Glasgow.
A report compiled by a human rights organisation claims that the Chinese government is operating a global network of undeclared "police stations", which are being used to intimidate and silence dissidents.
The Home Office said the claims were "very concerning" and would be taken "extremely seriously". A spokesman said: "Any foreign country operating on UK soil must abide by UK law. The protection of people in the UK is of the utmost importance and any attempt to illegally repatriate any individual will not be tolerated."
Safeguard Defenders, a Madrid-based civil liberties group, alleges one of the outposts is running from 417 Sauchiehall Street in central Glasgow, alongside two others in London. The address houses the premises of Loon Fung, one of the city's oldest and best-known Chinese restaurants …
A spokesman for Safeguard Defenders:
claimed the Scottish Fujian Chamber of Commerce, registered at the premises of Sichuan House, another Chinese restaurant based on Sauchiehall Street, also had links to the Chinese state.
The Times attempted to confirm the allegations:
The Chinese consulate in Edinburgh did not respond to a request for comment …
Loon Fung has strongly denied any involvement. "There's no secret police here," a spokesman said. Sichuan House did not respond to a request to comment. A man who answered a mobile number published online as being the contact for the Scottish Fujian Chamber of Commerce hung up when The Times introduced itself.
Returning to Braverman, on Wednesday night, Sir Jake Berry MP, the short-lived chairman of the Conservative Party under Liz Truss, gave an interview on TalkTV's Piers Morgan Uncensored, on which Nadine Dorries MP was a guest host, Morgan being on holiday.
The Times reported what Berry said, in part:
From my own knowledge, there were multiple breaches of the ministerial code …
That seems a really serious breach. The cabinet secretary had his say at the time. I doubt he's changed his mind in the last six days but that's a matter for the prime minister.
Also:
Asked whether Braverman had rapidly owned up to the mistake as she claimed, Berry replied: "I wasn't in the meeting but as I understand it the evidence was put to her and she accepted the evidence rather than the other way around" …

Berry's comments are likely to prompt further questions about the circumstances of Braverman's re-appointment as Sunak completes a reshuffle of the government's junior ranks.
Hmm. Interesting.
Berry's interview was up for discussion this morning in the House of Lords. Labour peer Baroness Smith of Basildon, leader of the Opposition, asked an Urgent Question about it. Baroness Neville-Rolfe, responding for the Government, gave a brief statement in support of the Prime Minister and the Home Secretary, which was met with audible groans from many of the peers. Several of them, including a Lord Spiritual (Anglican bishop), asked questions for several minutes.
Labour will continue to press this issue, it seems.
Guido Fawkes caught up with Sir Keir Starmer on Wednesday:
Guido wrote (emphases his):
Finding himself behind Keir Starmer in a coffee-queue this afternoon, Guido took the opportunity to ask the Leader of the Opposition about his future attack lines on the Government. The case of Suella Braverman, the Labour leader said, "wasn't going away."
It was a relatively inconspicuous item in his PMQs: "Have officials raised concerns about his decision to appoint her?" It caused a frisson among those who know how important process is, and how deadly the advice given by officials can be …
Obviously no PM is going to answer such questions, nor will he willingly surrender written advice given in ministerial confidence. However, there is a route to get it. By a Humble Address (a procedural device resurrected from ancient obscurity by the previous Speaker, John Bercow), documents of all sorts, including electronic, can be demanded by an Opposition Motion.
Labour has had next week's Opposition Day nicked by the SNP. But the issue will probably fructify rather than decay over time. It may be a little early in the new administration for 35 Tories to defy the Whip and vote for the  documents to be revealed – but if recent history is anything to go by …
Questions about Braverman continued in the House of Commons on Thursday during Cabinet Office Questions and, later, Business Questions to Leader of the House Penny Mordaunt.
A Telegraph article by Gordon Rayner said that recent Home Secretaries ended up doomed from the start:
Almost as soon as Rishi Sunak reappointed Mrs Braverman as Home Secretary, the civil service was letting it be known that there were "concerns" about whether she could be trusted with sensitive information. Simon Case, the Cabinet Secretary and head of the Civil Service, was "livid" about her appointment, sources said.
If the ultimate goal of the poisonous briefings by civil servants was to suggest the department cannot function with Mrs Braverman in charge, it will be a familiar scenario to previous holders of the post.
Priti Patel only just survived a concerted campaign to force her out by civil servants who accused her of bullying. Amber Rudd lasted two years before she was forced to resign for misleading a Commons committee, having been wrongly briefed by her department on deportation targets. As far back as 2006 Labour's John Reid declared the department "not fit for purpose".
In 2006, Labour was in power, by the way.
Gordon Rayner rightly includes Braverman's allies in his analysis:
Allies of Mrs Braverman say that her enemies in the Home Office, and on the Left, have used a technical breach of the ministerial code as a convenient excuse to attack a woman with whom their true battle lies over immigration.
Conservative Party members are likely to support Braverman:
As the current "queen of the Right" in the Government, every carping comment from a Labour MP or BBC commentator simply reinforces her popularity with Conservative Party members and a significant chunk of MPs.
Rishi Sunak reinstated her at the Home Office because he knows that to stand any chance of uniting his party, he needs a figurehead of the Right in a senior position, and in Mrs Braverman he has a former chairman of the European Research Group of Right-wing Eurosceptic Tories.
It is significant that Braverman backed Rishi last weekend:
If, as has been suggested, a return to the Home Office was the price she demanded for backing his leadership bid (and effectively killing off Boris Johnson's attempted resurrection) it simply proves the clout she now has within the Party.
Other news from Wednesday included a confirmed ban on fracking, overturning Liz Truss's decision to allow fracking in communities that overwhelmingly allow it.
——————————————————————————————————————
Now back to the leadership contest.
In the early hours of Friday, October 21, Boris Johnson was leading Rishi Sunak and Penny Mordaunt:
I left off yesterday with Stanley Johnson saying that morning that his son Boris was 'on a plane'.
Meanwhile, Liz Truss made a brief return to Downing Street, probably to collect something. The Guardian's photos show her in sportswear, a heretofore unseen Liz.
'Bring Back Boris'
Express readers opened their Friday paper to find an article by one of Boris's main backers, Sir James Duddridge MP, a champion of the Bring Back Boris, or BBB, campaign:
I was his Parliamentary Private Secretary and stayed with him right until the end. It was a mistake to force him out but now is the time to bring him back.
He is the only one who can unite the party after the turbulent last few weeks and I trust him to right the ship …
He always remained hugely popular with the party's grassroots and with large parts of the country.
There will always be socialists and angry Twitter mobs who rail against him but he is an election winner, twice in London as well as nationally.
My constituents regularly tell me they want Boris back and he still has a mandate from the country …
He has the star quality and inspirational leadership the country needs during the challenging months ahead.
It's time to Bring Back Boris.
Jacob Rees-Mogg, Truss's Business Secretary, declared his support for the former Prime Minister — 'Boris or Bust':
Pollster Matt Goodwin pointed out that while Rishi is more popular overall with British voters, Boris still leads those who voted in the 2019 election:
The video from 2012 showing Boris, who was then Mayor of London and promoting the Olympics that year, went viral: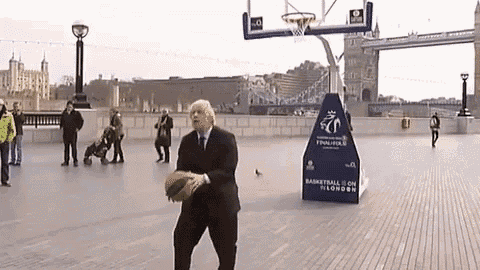 However, The Sun's Harry Cole reminded everyone that Boris still had the upcoming Privileges Committee investigation to deal with. If it goes badly, he might have to resign as an MP:
Conservative MPs could schedule a motion to cancel the investigation. That would have to be approved by the Commons, but as the Conservatives have a current majority of 71, it could still be overturned. This Sun reporter thinks it is unlikely, however:
Truss's Deputy Chief Whip Craig Whittaker requested that his name be removed from Guido's list of Boris supporters. His post requires impartiality:
Emily Maitlis, formerly of the BBC, reacted characteristically to news that Boris was running in the leadership contest:
Guido has the audio and reported:
Emily Maitlis meanwhile learnt the Boris news live on her News Agents podcast. You'll never guess her reaction…
Shouldn't hurt Boris's chances…
Rishi takes the lead
Maitlis needn't have worried.
By 11 a.m. on Friday, Rishi had just edged past Boris:
A half hour later, Rishi's momentum was beginning to build:
Boris backers hadn't lost hope, however. The fact that Ben Wallace, the Defence Secretary, supported him was an added fillip:
That afternoon, Opinium posted their snap poll on who the public supported. Rishi was the clear winner. Even Penny beat Boris:
Boris gained support from more of the Red Wall. Teesside mayor Ben Houchen is a Party member and not an MP. Simon Clarke was Truss's Levelling Up Secretary:
Guido excerpted their letter to the Telegraph …
Boris is the person we need to lead our country and our party. 
He won the greatest election victory for years on a mandate to unite and level up the UK, and inspired millions of people who had never voted Conservative before to get behind a generous, optimistic vision of what Britain can be.  
People on Teesside love Boris because he recognised that while talent is evenly distributed across the country, opportunity is not. Boris gave us that opportunity. 
…
Teesside has had difficult times and is now levelling up because of Boris. We know that for us, like Boris, the comeback will be greater than the setback.
… adding:
Houchen is a real loss for Rishi…
By 3:45, Rishi was well on his way to 100 backers. Boris was now lagging behind, and Penny was stuck:
In the early evening, an MP from the 2019 intake, Antony Higginbotham, representing the traditionally Labour constituency of Burnley, came out for Boris:
Two hours later, veteran MP Bill Cash also announced his support for Boris:
It seemed that most Boris backers were traditional Conservatives and Red Wall MPs.
Guido pointed out the Red Wall loyalty:
By contrast, Matt Hancock felt the need to produce a lengthy statement explaining why he was supporting Rishi:
Saturday's papers
Saturday's papers were a mixed bag.
Not surprisingly, the Financial Times said that investors were alarmed at the prospect of Boris's return:
The Telegraph reported that Rishi was expected to pass the threshold of 100 MPs:
The Star came up with an aubergine motif for Boris and couldn't resist featuring Lettuce Liz again:
Their Thought for the Day was:
Haven't we all suffered enough?
The lead paragraph reads:
Just when you thought all salad-based puns had been exhausted, posh aubergine Bozo Johnson has emerged as one of the favourites to replace Lettuce Liz as PM.
Rumours began circulating about joint talks between Rishi and Boris:
Two papers played to Boris supporters — the Express …
… and the Sun:
The paper's veteran Trevor Kavanagh explored both sides of the Boris equation in 'Boris Johnson is a political Humpty Dumpty with a giant ego who had such a great fall — but if he runs for PM, he'll win':
… Boris Johnson, the political Joker who makes half the nation smile while the rest are spitting chips, is gearing up for another pitch at the premiership.
He needs 100 MPs' votes and may well get more.
If he runs, he wins — that's my prediction for what it's worth in this tumultuous here-today, gone-tomorrow blur of Tory leaders, challengers and assassins.
And even if he doesn't win, what a pleasure to hear the screams of fury from Labour, Lib Dems and Scot Nats — amplified through the impartial BBC's 100-decibel speakers …
These puce-faced wets don't seem to realise they are fuelling the pro-Boris momentum which might propel him back into Downing Street and even produce another sensational election win.
Happily, their moans are drowned out by cheers from Red Wall Tory MPs who credit Boris with winning their seats in Parliament.
They want Boris back and so do millions of voters across the land.
It may be deeply irresponsible to say so, but this is diamond-studded 24-carat political entertainment and I for one am enjoying the ride.
Don't get me wrong — I am not ­watching BoJo: The Movie through rose-coloured glasses, or even suggesting that it makes sense.
Boris Johnson must take much of the blame for the catastrophic mess the country is in, politically and economically.
But he won his 2019 80-seat landslide majority fair and square.
It was an almost entirely personal achievement beyond the reach of any other politician.
He used that majority to achieve great things, ramming Brexit through Parliament, the Covid vaccination triumph and leading global support for Ukraine.
He also blew it as the "Greased Piglet" PM who believes rules are for little people, not him …
It was such casual conduct that handed Labour grounds for a kangaroo court trial for lying to Parliament — a hurdle still to be cleared.
But for such careless affronts to good governance, Boris Johnson would still be Prime Minister right now.
The Pound would be steady, mortgages manageable, inflation past its peak.
We would not have seen the eye- popping political convulsions which turned Britain into a global laughing stock.
The soap opera is not over yet.
Whoever wins next week must choose a new Cabinet and pick a way through the ruins.
If it is Boris, it should at least end the clamour — choreographed yesterday across all BBC networks — for a snap General Election.
Boris won't have to face the tricky ­question: "Who Voted for You?" …
Without Boris, the Conservative Party faces certain defeat by 2025.
Boris has the magical Heineken ability to reach voters other politicians cannot reach.
It's a gamble, a glitterball Who Dares Wins test of luck and daring.
Even Netflix couldn't make it up.
But for the Tories, it is the only game in town.
For the next 24 hours I had hope.
More on the contest will follow tomorrow.
Before analysing the latest Conservative Party leadership contest last weekend, I am pleased to report that …
Rishi Sunak reappointed Suella Braverman as Home Secretary.
Braverman resumed work late in the afternoon on Tuesday, October 25, on Rishi's first day as Prime Minister.
More about Braverman follows later in this series.
1922 Committee changes rules
On Thursday, October 20, no sooner had Liz Truss resigned as Party leader than Sir Graham Brady, the chairman of the 1922 Committee representing Conservative backbenchers and Jake Berry MP, the then-chairman of the Conservative Party, devised a rule change for the election of the next leader.
Late that afternoon, The Sun's Harry Cole tweeted:
NEW: Brady and Berry about to announce 100 threshold for nominations… means maximum of 3 candidates will go to vote of MPs. That will happen Monday then likely online voting by membership – with result announced next Friday.
Guido Fawkes had more. Jake Berry said there would be a Party members vote only if there were two final candidates:
Brady is pictured on the left of this photo, with Berry on the right:
Guido's post announced the timeline (emphases his):
If there's one candidate, the UK will get its new PM on Monday, if two we'll know on Friday.
There is one interesting aspect to those rules. They were designed to eliminate Boris Johnson, who had been in Colorado giving a speech and, at the time the contest was announced, was enjoying a holiday in the Dominican Republic.
The chairman — so far, it has always been a man — of the 1922 Committee is one of the most powerful men in the UK.
The committee forced out the formidable Margaret Thatcher in 1990 and made her cry. She called them 'the men in the grey suits'.
When Conservative MPs want a new Party leader, they write to the chairman of the Committee. The chairman may choose to let the Party leader know that opposition is gathering against him or her.
One thing that the chairman never reveals, however, is the number of no-confidence letters he has received.
During Liz Truss's last week in office, she and Sir Graham Brady spoke every day.
She knew the men in the grey suits were on their way when she sacked Kwasi Kwarteng the week before:
Shortly before her resignation last Thursday, Harry Cole wondered if their meeting that day would be their last. He had heard that Truss asked to see Brady, rather than the other way around:
Perhaps Truss had seen the column that her fellow Conservative Robert Largan (High Peak) had written for the Glossop Chronicle on Tuesday, October 18: 'Warning of the danger of dumpster fires'. Excerpts follow, emphases mine:
I've spent a lot of my time issuing warnings this year.
Back in January, I first highlighted the danger of rising energy bills …
In July, I started warning about the precarious economic situation and the Government's limited fiscal room for manoeuvre, urging politicians to resist the temptation of unfunded tax cuts or unfunded spending commitments.
The subject of this week's column, however, concerns warning about another important and oft overlooked phenomenon: dumpster fires.
Fire and rescue services attend around 300 significant fires at waste sites each year. The two most common causes of these fires are spontaneous combustion and arson.
Without action, dumpster fires can rage on for long periods of time, spreading quickly and causing major structural damage.
For some, watching these fires rage elicits a grim fascination and the chance to speculate about just how long it will continue to burn.
Extinguishing a dumpster fire is risky business and likely to be messy …
I am deeply committed to protecting our environment and our beautiful country. I firmly believe that we need to tackle dumpster fires when they occur, regardless of how messy or unappealing this may be.
Indeed, the act of extinguishing the flames could well be the end of the skip they originated in. But urgent action is necessary nevertheless.
Guido Fawkes posted a link to the article that day, interpreting it as a dog whistle about Liz Truss:
Guido's post read:
Chapeau to Red Wall Tory MP Robert Largan who has used a local campaign to warn about the state of the Tory party. His weekly column focuses on the clear and present danger of dumpster fires. Beyond the otherwise ironic headline, it reads like a normal campaigning piece from a constituency MP. Up until the final sentence:
Indeed, the act of extinguishing the flames could well be the end of the skip they originated in. But urgent action is necessary nevertheless.
Quite…
The Telegraph also picked up on Largan's article on Wednesday, October 19:
… He wrote: "The longer the fire is left to rage, the greater the danger to the integrity of the skip, as the metal starts to warp and twist out of shape, beyond all recognition, eventually becoming completely unusable."
The piece was viewed in Westminster as a not-very-subtle shot across the bows of the Government.
His Tory MP colleague, William Wragg, has now said he agrees with Mr Largan's assessment of the situation.
Wragg is a vice-chairman of the 1922 Committee.
Last Thursday morning, hours before Truss resigned, The Times reported:
Liz Truss's government is teetering on the brink after a day of chaos for the Tory party.
Members of the 1922 Committee, in charge of running Conservative Party leadership contests, are set to meet later today to discuss the escalating crisis.
Speculation is growing that Sir Graham Brady, the committee's chairman, has already received more than 54 letters calling for a no-confidence vote in the prime minister — the threshold for triggering one if Truss was not in the 12 months' grace period for new leaders.
Last night senior Conservative MPs warned that Truss's departure may be accelerated. "We could be talking days, not weeks," they added.
It was early that afternoon:
Polls slipping since November
The Conservative Party's slide in the polls began when Boris Johnson's involvement in Partygate was revealed late in November 2021.
Labour's rise accelerated during the summer. On Friday, October 21, their lead increased to a historic 35 points in this People Polling poll commissioned by GB News, 'the People's Channel':
Guido's post includes two other polls:
Polling since Liz Truss's resignation paints one of the bleakest pictures ever for the party. People Polling puts Labour on 53%, with the Conservatives on a miserable 14%. The Liberal Democrats are just 3 points behind. Pollster Matt Goodwin points out it is the lowest level of support for the Tories in British polling history.  He adds the party is "on life support".
This isn't the only psephological headache for the Conservatives. A poll from Omnisis, conducted after the resignation, gives Labour a stonking 57% with the Conservatives on 22%. The 35-point lead is an increase of 14 on Omnisis' previous poll.
Meanwhile, according to YouGov's Daily Question, 63% of the public, and 38% of Conservative voters, want a general election.
Call for Boris
Most MPs, regardless of party, think that their voters are stupid.
However, it was hard for voters to dismiss what had happened in one week.
On October 19, Toby Young, founder of the Daily Sceptic, wrote 'Are We Witnessing a Globalist Coup?':
As listeners to my London Calling podcast will know, I'm deeply sceptical about conspiracy theories …
But my scepticism has been sorely tested by the events of the last few days. The reaction of the bond markets and the currency markets to the mini-budget, the U-turn over cutting the top rate of tax, Kwasi Kwarteng's defenestration, his replacement by arch-Remainer and Zero Covid zealot Jeremy Hunt and now the sudden departure of sound-as-a-pound Suella Braverman and the elevation of Grant Shapps … it all seems like a globalist coup. Indeed, Suella used the word 'coup' to describe the attempts to discredit the mini-budget at the Conservative Party Conference.
Liz Truss, when she gave her press conference on the steps of Downing Street last Friday, looked as though someone had kidnapped her children and she was reciting from a script the kidnapper had handed her. And now Suella has gone too. It seems every genuinely conservative, pro-Brexit member of the Government is being picked off, one by one. Suella might have actually done something about the boats crossing the channel. She'd already spoken up about the police acting like the paramilitary wing of the Guardian and she is a steadfast Brexiteer who did some work on dismantling the Northern Irish Protocol as Attorney General. Was she really forced out because of what looked like a very minor security breach? Or have her children been kidnapped, too?
… it's getting increasingly hard to persuade the conspiracy theorists they're wrong.
That morning, Foreign Secretary James Cleverly had the unenviable task of doing the morning news round. The Telegraph summarised what he said:
James Cleverly has suggested the same Tory MPs who ousted Boris Johnson are now working to do the same to Liz Truss. 
The Foreign Secretary said it is "many of the same people" who "defenestrated Boris" who are now criticising the new Prime Minister.
Mr Cleverly argued that none of the challenges facing the UK would be solved by "removing another prime minister" as he said the Government must focus on delivery if it wants to reverse dire opinion polls.
Told that a poll of Tory members found 55 per cent want Ms Truss to resign, Mr Cleverly said: "We have gone through quite recently a situation where lots of people were saying Boris has got to resign and at the time I said okay, you might not be happy, but what is your plan for what happens next?
"For those people who defenestrated Boris, they didn't have a plan for what's happening next, they are now criticising the new Prime Minister, many of the same people, and I just say again, look, what we need at this point is we need to get focused on delivery, delivering those minimum service agreements so communities can get to work, delivering the infrastructure so that we can grow the economy, deliver calm, confidence to the markets. I don't think any of those things would be served by removing another prime minister."
The next day, Thursday, Toby Young wrote, 'It's Got to be Boris':
I can see a lot of readers balking at that headline …
But my gut says that Rishi would be worse …
It's true that the Tory Party will look absurd if it makes Boris leader again six weeks after defenestrating him. But it's going to look absurd whatever it does. Would it be any less ridiculous to appoint a third leader in as many years? …
Suppose you think Rishi would be preferable to Boris. Maybe so, but would Keir Starmer be preferable to Boris? On lockdowns, vaccine passports and Net Zero he's even more of a zealot than BoJo, and with Rishi at the helm Labour's victory at the next General Election is almost inevitable.
Finally, just think of how angry all the Boris-haters will be. As I've written about before, the reason Boris is so unpopular with the Establishment – the reason he brings certain members of the ruling class out in hives – is because he's the embodiment of Merrie England. They detest his devil-may-care attitude, his disregard for conventional morality, the fact that he has three wives and god knows how many children. He's Sid James and Falstaff and Benny Hill rolled into one. He's a saucy seaside postcard come to life … It would be like the restoration of Charles II, except the Interregnum will only have lasted six weeks.
I'm sure many people are unconvinced and Boris hasn't even said he's going to run yet. But I expect he will and if he does I'll be holding my nose and backing him.
That afternoon, Guido tweeted a YouGov poll from that week showing most Conservative Party members thought that Boris should be the next leader:
Guido added that, if Boris became leader again, Labour would have no grounds on which to demand a general election:
A short time later, Guido heard Boris was returning to the UK:
The news also circulated from other sources.
At 4 p.m., Boris loyalist and Red Wall MP Marco Longhi tweeted, showing the Black Country flag from his part of the Midlands:
Fifteen minutes later, The Telegraph's Ben Riley-Smith tweeted the names of Longhi and seven other loyal MPs who were backing Boris, who, it should be noted, had not officially declared:
Shortly afterwards, one of them, Brendan Clarke-Smith, made an articulate case as to why Boris should be the next leader. Guido has the video:
Guido and his team started a new leadership contest spreadsheet, which the BBC referenced that evening. The Boris backers had a clear lead, with Penny Mordaunt in third:
Some Boris backers also came from the 1922 Committee, rather surprisingly. That said, many of the MPs wished to remain anonymous:
An Opinium poll showed that Boris in charge would save the most Conservative seats were a general election held. It is worth noting that, in this contest, only Rishi, Penny and Boris were in the running. Suella Braverman and Kemi Badenoch were not:
Conservative Party members began contacting their MPs with 'strongly worded' pro-Boris emails:
Millions of British voters rejoiced at the prospect of Boris's return:
The Sun put the news on Friday's front page:
The Telegraph reported it, too:
The BBC's Newsnight referenced Guido's spreadsheet in their coverage that night:
The morning of Friday, October 21, a fishmonger in Birmingham told a BBC Breakfast reporter that Boris needed to succeed Liz Truss. Look at her facial expression:
Guido mentioned the interview as well as another pro-Boris one from the evening before, in Rushcliffe, also on the BBC:
Stanley Johnson told Good Morning Britain that he thought his son was on a plane:
The enthusiasm for Boris was palpable.
Friday saw more developments, which I will go into tomorrow.
Tuesday, October 25, 2022, was a historic day for the United Kingdom.
We have our first minority Prime Minister, Rishi Sunak — and, always remember, he is Conservative.
Labour, with all their waffling about equality and short-lists designed to produce the desired result, have not even come close to attaining what the Conservative Party has accomplished organically.
India cheers, on Diwali
When the 1922 Committee, which represents Conservative backbench MPs, announced on Monday, October 24, that Sunak was the winner of the leadership contest, India cheered.
Sunak's victory as the last man standing with an overwhelming amount of MPs' votes took place on Diwali.
The Times reported (emphases mine):
The prospect of Rishi Sunak being named as the UK's first British-Asian prime minister today has been headline news in India's media.
Newspapers and broadcasters pointed out that his likely victory in the Conservative leadership race would come on Diwali, the festival of lights marking the victory of light over darkness and the most important celebration in the Hindu religious calendar.
The former chancellor's mother and father are both Hindu Punjabis whose parents migrated from India to Tanzania and Kenya respectively before coming to the UK in the 1960s. But that has not stopped Indian journalists and commentators claiming him as one of their own.
India's press has not forgotten how then-Chancellor Sunak celebrated Diwali:
The Press Trust of India, a national news agency, noted that Sunak is a devout Hindu and a regular at the temple close to where he was born in Southampton. It reported that he had made history when he was the first chancellor of Indian origin by lighting Diwali lanterns at 11 Downing Street.
Sunak's rise to the premiership is important to India as it comes 75 years after the nation's independence in 1947:
The prominent Indian TV anchor Rajdeep Sardesai tweeted: "To think that on Diwali day, UK could have its first prime minister of Indian origin. That too in the 75th year of independence! Yeh hui na baat! [that's the spirit]" …

The former Bihar state government chief secretary MA Ibrahimi tweeted: "Revenge of history as well. Destiny." Another Twitter user, Ranjan Kumar, who described himself as a banker, joked: "Reverse colonisation."
Indian media also celebrated Sunak's wealth and billionaire in-laws:
Sunak is also married to Akshata Murty, the daughter of NR Narayana Murthy, the Indian billionaire and founder of Infosys, the information technology giant, who has a net worth of $3.2 billion. Many have noted that, through his family ties, Sunak is effectively richer than the King.
"Advantage Rishi Sunak: Narayana Murthy's son-in-law could be UK's next prime minister", read a headline in the Mint newspaper this morning.
Star adopts new motif: calendar PMs
The Star newspaper, having finished comparing Liz Truss's shelf life with that of a lettuce, put Sunak on the front page as their Prime Minister of the Month for October:
Their Tuesday Thought for the Day says:
Who'll be the PM for November? Stay tuned …
Liz Truss's final hours as Prime Minister
Although Liz Truss had not been Party leader after she resigned on Thursday, October 20, she did remain Prime Minister until she tendered her resignation to Charles III on Tuesday morning.
At 9 a.m., she held her final Cabinet meeting, as is customary on a Tuesday.
Meanwhile, a moving van arrived at No. 10 to remove the Truss family's belongings:
Most PMs use Bishop's Move removals company. Not so this time around. Liz Truss was always going to be different, and, if Harrow Green was her choice, it was further proof of her standing out in a crowd.
Various Cabinet members filed in through the front door of No. 10. It is likely that Chancellor Jeremy Hunt will keep his job under Sunak.
For the competent and calm Defence Secretary Ben Wallace, however, things could be different.
The Guardian's daily diary reported:
Wallace is very popular with Tory party members, but there is a good chance that he will be moved. In recent months people have been briefing papers on his behalf saying that he would resign if a new prime minister refused to stick to the plan to raise defence spending to 3% of GDP by the end of the decade. But Rishi Sunak is refusing to make that commitment.
The two also clashed when Sunak was chancellor, and in the summer Wallace publicly critcised Sunak's stance on defence spending. Wallace backed Liz Truss for the leadership.
Another capable MP, Welsh Secretary Robert Buckland, could be out, too:
In the summer leadership contest Buckland originally supported Sunak. But then, in a highly unusual move, he switched to backing Liz Truss. By that point she was the favourite, and Buckland's move raised a lot of eyebrows because MPs who pledge allegiance to one candidate almost never normally switch in public, because it makes them look inconsistent and opportunist.
Buckland kept his Welsh secretary job in Truss's first reshuffle (although if he was hoping for a return to his previous cabinet job, justice secretary, which was going to be vacant when Truss sacked Dominic Raab, he was disappointed). But this morning, Buckland may be thinking his summer Judas performance was not so wise after all.
Another MP who will probably be gone is the veteran Jacob Rees-Mogg, the current Business Secretary. Under Boris Johnson he was Leader of the House then the minister for Brexit efficiencies. He is very much a Boris loyalist:
Yesterday he said he would support Rishi Sunak as PM. But during the summer leadership contest he said he could never serve in a Sunak cabinet. He told Sky News in July:
I think as a chancellor, he made decisions that were of the left rather than on the right, that he was a tax increasing chancellor. I didn't support the decisions he made.
When asked whether he would serve in a Sunak government, he replied:
No, of course I wouldn't. I believe his behaviour towards Boris Johnson, his disloyalty means that I could not possibly support him. And he wouldn't want me in his cabinet anyway.
He will be sorely missed.
At 9:30, the Cabinet meeting ended.
Truss gave her final speech as Prime Minister at 10:15, before going to Buckingham Palace, to tell the King that she was standing down.
Her lectern appeared shortly before 10:00:
On GB News this morning, Darren McCaffrey explained that, starting 50 years ago, each Prime Minister has had his or her own podium. He showed us the various ones from Gordon Brown's to Truss's.
Liz Truss's has a terrible Zenga style to it, so I was relieved that McCaffrey said that Rishi Sunak would have his own lectern.
Truss's staff and closest MPs gathered off to one side of Downing Street:
At the appointed time, she left Downing Street for the final time, joined by her husband Hugh and daughters Frances and Liberty. The three stood off to one side of No. 10.
Truss approached the Zenga podium with a black folder.
On Monday, she pledged Sunak her full support:
However, her valedictory speech struck another tone, that her boldness and ideas were the correct ones.
This is the full transcript:
It has been a huge honour to be Prime Minister of this great country.
In particular, to lead the nation in mourning the death of Her Late Majesty The Queen after 70 years of service,
and welcoming the accession of His Majesty King Charles III.
In just a short period, this government has acted urgently and decisively on the side of hardworking families and businesses.
We reversed the National Insurance increase.
We helped millions of households with their energy bills and helped thousands of businesses avoid bankruptcy.
We are taking back our energy independence…
…so we are never again beholden to global market fluctuations or malign foreign powers.
From my time as Prime Minister, I am more convinced than ever we need to be bold and confront the challenges that we face.
As the Roman philosopher Seneca wrote: "It is not because things are difficult that we do not dare. It is because we do not dare that they are difficult."
We simply cannot afford to be a low growth country where the government takes up an increasing share of our national wealth…
and where there are huge divides between different parts of our country.
We need to take advantage of our Brexit freedoms to do things differently.
This means delivering more freedom for our own citizens and restoring power in democratic institutions.
It means lower taxes, so people keep more of the money they earn.
It means delivering growth that will lead to more job security, higher wages and greater opportunities for our children and grandchildren.
Democracies must be able to deliver for their own people…
We must be able to outcompete autocratic regimes, where power lies in the hands of a few.
And now more than ever we must support Ukraine in their brave fight against Putin's aggression.
Ukraine must prevail.
And we must continue to strengthen our nation's defences.
That is what I have been striving to achieve… and I wish Rishi Sunak every success, for the good of our country.
I want to thank Hugh, Frances, Liberty, my family and friends, and all the team at No10 for their love, friendship and support.
I also want to thank my protection team.
I look forward to spending more time in my constituency, and continuing to serve South West Norfolk from the backbenches.
Our country continues to battle through a storm.
But I believe in Britain.
I believe in the British people.
And I know that brighter days lie ahead.
Her speech was Johnsonian in so many ways. Like Boris, she had no apologies: good. After all, she'd made enough already. No backing down from her beliefs. Justification of her actions for her ideals. All good.
She was the first Prime Minister to thank her protection team: outstanding. More PMs should do so.
GB News criticised her for saying that brighter days lie ahead. It was her way of saying what President Lincoln did in the 1860s: 'This, too, shall pass'. In other words, don't give up hope.
As for Truss's future, being a backbench MP will be difficult for her, because she has had ministerial or Cabinet positions since the days of the Coalition government, dating from 2012. That's a decade ago. She began her Cabinet posts in 2014.
Perhaps she will find a continuing cause to champion:
Immediately after her speech, she and Hugh went in one vehicle and her daughters in another, escorted by police and special security detail to Buckingham Palace. Truss arrived shortly afterward.
At 10:56, GB News reported that Truss had tendered her resignation. At that point, King Charles was in charge of the UK, as we had no Government.
That sort of thing used to unnerve his mother, the late Queen, so she tried to make those time periods as brief as possible.
The King's conversation with Truss was lengthy.
After her motorcade left, it was time for Rishi Sunak to request the King's permission to form a new government.
The Queen received 15 Prime Ministers during her reign. King Charles, who ascended to the throne just days after Truss became Prime Minister, is already on his second.
Sunak's first hours as PM
Sunak's motorcade, also comprised of police and special security, arrived at the Palace immediately after Truss's left.
Sir Clive Alderton, principal private secretary to the king and queen consort, the monarch's equerry, Lt Col Jonny Thompson, and Sir Edward Young, joint principal private secretary to the king, PA Media reports.
Sunak also spent a long time with the King.
Just before 11:30, the monarch turned the Government over to Sunak. The King had been in charge of us for half an hour. With his mother, it was a matter of minutes. Fascinating.
Someone on GB News quipped that perhaps we should reconsider having an absolute monarchy.
Sunak was due to give his first speech at No. 10 at 11:35. In the event, it was closer to 11:50.
He and the King already know each other through a Prince's Trust event from a few years ago.
When Sunak arrived in Downing Street, he left his vehicle and immediately approached — thankfully — a new lectern.
There were no MPs around him. If there had, it would have been a phalanx, as he had the support of nearly half of them:
Sunak's speech lasted exactly five minutes.
It is possible that he knew what Truss had said in hers, because he wasted no time in blaming her for the mess he was about to land in:
I have just been to Buckingham Palace and accepted His Majesty The King's invitation to form a government in his name.
It is only right to explain why I am standing here as your new Prime Minister.
Right now our country is facing a profound economic crisis.
The aftermath of Covid still lingers.
Putin's war in Ukraine has destabilised energy markets and supply chains the world over.
I want to pay tribute to my predecessor Liz Truss.
She was not wrong to want to improve growth in this country. It is a noble aim.
And I admired her restlessness to create change.
But some mistakes were made.
Not borne of ill will or bad intentions. Quite the opposite, in fact. But mistakes nonetheless.
He warned of 'difficult decisions' to come:
And I have been elected as leader of my party, and your prime minister, in part, to fix [those mistakes – see 11.52am.].
And that work begins immediately.
I will place economic stability and confidence at the heart of this government's agenda.
This will mean difficult decisions to come.
But you saw me during Covid, doing everything I could, to protect people and businesses, with schemes like furlough.
There are always limits, more so now than ever, but I promise you this – I will bring that same compassion to the challenges we face today.
The government I lead will not leave the next generation – your children and grandchildren – with a debt to settle that we were too weak to pay ourselves.
I will unite our country, not with words, but with action.
I will work day in and day out to deliver for you.
This government will have integrity, professionalism and accountability at every level.
Trust is earned. And I will earn yours.
I hope so.
Then he paid tribute to Boris and said he would continue the 2019 manifesto:
I will always be grateful to Boris Johnson for his incredible achievements as prime minister, and I treasure his warmth and generosity of spirit.
And I know he would agree that the mandate my party earned in 2019 is not the sole property of any one individual. It is a mandate that belongs to and unites all of us.
And the heart of that mandate is our manifesto. I will deliver on its promise: a stronger NHS, better schools, safer streets, control of our borders, protecting our environment, supporting our armed forces, levelling up and building an economy that embraces the opportunities of Brexit, where businesses invest, innovate, and create jobs.
I understand how difficult this moment is. After the billions of pounds it cost us to combat Covid, after all the dislocation that caused in the midst of a terrible war that must be seen successfully to its conclusions, I fully appreciate how hard things are.
And I understand too that I have work to do to restore trust after all that has happened.
All I can say is that I am not daunted.
I know the high office I have accepted and I hope to live up to its demands.
But when the opportunity to serve comes along, you cannot question the moment, only your willingness.
So I stand here before you, ready to lead our country into the future.
To put your needs above politics.
To reach out and build a government that represents the very best traditions of my party.
Together we can achieve incredible things.
We will create a future worthy of the sacrifices so many have made and fill tomorrow, and every day thereafter with hope.
Hmm. That I will be interested to see.
Afterwards, Boris tweeted his congratulations. Better late than never:
He was just in time.
Emmanuel Macron tweeted his congratulations one minute later:
Cabinet resignations roll in
Afterwards, Sunak went to the Commons to meet with Cabinet members who he sacked or demoted.
The Guardian explains why this is not done in No. 10:
Prime ministers normally do the sacking element of the reshuffle in parliament because people losing their jobs can come and go without being photographed, or seen by journalists. Lobby journalists have access to some areas of parliament, but other parts are off limits and trying to doorstep the PM's office is definitely not allowed.
Sunak started from the lesser end of the spectrum and moved up the ladder:
According Sky's Beth Rigby, Wendy Morton, the chief whip, and Ranil Jayawarena, the environment secretary, have both been summoned. But were Truss acolytes who were seen as lightweight appointments to cabinet.
Chloe Smith was Truss's Work and Pensions Secretary:
Boris loyalist Kit Malthouse, who worked for him when he was Mayor of London, is out as Education Secretary. His brief stint at Education was under Truss. Prior to that, Malthouse was in charge of Policing:
It is customary for sacked MPs to write a resignation letter.
Jacob Rees-Mogg, a devout Catholic, dated his letter 'St Crispin's Day':
Here's Robert Buckland's:
Brandon Lewis pointed out that he had been one of the longest serving Cabinet members — under four Prime Ministers:
On a positive note, Suella Braverman could re-enter Cabinet:
The Guardian's Pippa Crerar has more news. Glad to see that Grant Shapps will not continue as Home Secretary. Business is better suited to him:
Commiserations to Jake Berry, a Red Wall MP and, however briefly, chairman of the Conservative Party. I wonder what Sunak has against Simon Clarke, though. He's been in the Treasury since Sunak was Chancellor. Hmm. Glad to see that James Cleverly, Ben Wallace and Thérèse Coffey could be staying. I hope that Coffey continues as Health Secretary:
Jake Berry tweeted:
For Foreign Secretary Cleverly, it looks like business as usual. If so, excellent:
With regard to Simon Clarke, it seems there's a bit of a back story there involving Liz Truss:
Simon Clarke has left his post as levelling up secretary. It is not clear from his tweet whether he was sacked, or whether he quit "voluntarily" to save face.
But it is no surprise that he has gone. He was one of Liz Truss's key allies, and during the Tory leadership contest in the summer he often criticised Rishi Sunak quite harshly on her behalf, at one point co-authoring an article accusing him of favouring "a Labour-lite economic policy".
On another point, he is very tall. When he walked with Rishi, he made sure he kept several paces behind so that no one would notice the difference in height.
ITV's political editor Robert Peston summed up the departures as follows:
Around 2:30, Sunak walked into Downing Street to applause. It is customary for staff to applaud the incoming Prime Minister.
New Cabinet appointments took place.
I'll leave it here — at 3:14 p.m.:
I'll have more tomorrow, particularly on the leadership contest that took place over the weekend.
As I write, the latest Conservative Party leadership contest came to a close at 2 p.m. on Monday, October 24, 2022.
Once he meets with the King, Rishi Sunak, the new Party leader, becomes the next Prime Minister.
The other candidate, Penny Mordaunt, pulled out of the race earlier today. She had far fewer MPs backing her than did Sunak. Boris Johnson declined to run last night, even though he had the numbers. I'll write about the contest in another post.
Picking up from last Friday's post, Liz Truss's last day as Conservative Party leader started with a storm over the fracking vote and the resignation of Suella Braverman as Home Secretary.
Both events took place within hours on Wednesday, October 19, 2022.
Sir Charles Walker MP
On Wednesday night, the Conservative MP Sir Charles Walker gave an explosive interview in the Palace of Westminster on the dire state of the Government under Liz Truss.
It should be noted that on February 2, he stated that he would not be standing for re-election in his constituency, Broxbourne. The BBC reported (emphases in purple mine):
He will remain an MP until the next general election, due in May 2024.
Speaking on Channel 4, Sir Charles said that after 17 years as an MP he was "juiced out".
"It's just very difficult, the public are demanding and they're becoming more demanding," he said,
"They're becoming quite angry, some of them cross the line and at times I feel like it's a pretty toxic environment."
On March 26, in a debate on extending coronavirus laws for another six months, he said he would protest by carrying around a milk bottle to show his displeasure. To this day, many of us have no idea what he was talking about, but you can read more in The Independent.
In May, Walker said he was wrong for thinking Boris could survive Partygate:
He only had to wait another several weeks.
On July 28, after Boris Johnson resigned as Conservative Party leader, he said that Party members should not be able to vote for Boris's successor. The Times reported:
About 180,000 Tory members will choose between Rishi Sunak and Liz Truss over the summer, before casting their votes over who will lead the party and therefore the country …
Sir Charles Walker, a former vice-chairman of the 1922 Committee of backbench MPs, which sets the rules of the race, said that the electorate should be narrowed to just allow fellow politicians to vote to prevent the bitter blue-on-blue attacks seen so far.
He told The Guardian that the contest "should have got nowhere near" the members, adding: "It's a view shared by many of my colleagues privately who wouldn't dare say it publicly."
He added: "MPs should be left to pick party leaders because we know the strength and weaknesses of the candidates far better than the membership because we serve and work with them every day in Westminster."
On October 11, Walker became a member of two select committees, the one for Standards and the one for Privileges. Both focus on MPs' conduct:
That brings us up to his explosive interview of October 19, when Walker announced he'd 'had enough':
He said he was angry with his colleagues, but, watching it, I wonder if he was angrier at Party members for electing Liz Truss over Rishi Sunak.
I was completely put off when he said that he was worried for his fellow MPs paying off their mortgages. They're in a much better position to do so than their constituents are. Good grief. That says a lot about the man:
You can see the full version here:
He was angry that Liz Truss was Prime Minister:
Speaking to reporters on BBC News, the Tory MP said: 'To all those people that put Liz Truss in number 10, I hope it was worth it to sit round the cabinet table'. He went on to say, 'the damage they have done to our party is extraordinary', admitting he was 'livid' and 'furious'.
Although he was presumably talking about his fellow MPs, he was probably also angry with Conservative Party members for getting Truss into No. 10. It bears repeating.
The Telegraph had more:
Charles Walker branded the Truss Government "an absolute disgrace" and her ministers a group of "talentless people" on Wednesday night …
"I've had enough, I've had enough of talentless people putting their tick in the right box, not because it's in the national interest but because it's in their own personal interest to achieve ministerial position. And I know I speak for hundreds of backbenchers who right now are worrying for their constituents all the time but are now worrying for their own personal circumstances because there is nothing as ex as an ex-MP" …

"A lot of my colleagues are wondering, as many of their constituents are wondering, how they are going to pay their mortgages if this comes to an end soon," he added …
"But unless we get our act together and behave like grown-ups I'm afraid many hundreds of my colleagues, perhaps 200, will be leaving at the behest of their electorate.
"Patience reached the limit."
The Guardian has another quote, relating to Suella Braverman:
Speaking to BBC Radio 4's The World Tonight, he added: "Let's not beat around the bush here. And I expect the prime minister to resign very soon because she's not up to her job either … I will shed no tears for either of them."
When asked when Truss should quit, he replied: "Well, I hope, by tomorrow … She needs to go. She shouldn't have been made prime minister."
Walker got his wish.
Wendy Morton
As I wrote on Friday, the vote on Labour's motion on fracking was a complete disaster in the No lobby, where Conservative MPs were expected to vote.
After the vote, as I said, Labour's Chris Bryant alleged that bullying occurred there.
At the opening of the Commons session on the morning of Thursday, October 20, Speaker of the House Sir Lindsay Hoyle opened with this statement:
I wish to say something about the reports of behaviour in the Division Lobbies last night. I have asked the Serjeant at Arms and other senior officials to investigate the incident and report back to me. I will then update the House.
I remind Members that the behaviour code applies to them as well as to other members of our parliamentary community. This gives me another opportunity to talk about the kind of House that I want to see, and that I believe the vast majority of MPs also want to see. I want this to be a House in which—while we might have very strong political disagreements—we treat each other courteously and with respect, and we should show the same courtesy and respect to those who work with and for us. To that end, I will be meeting senior party representatives to seek an agreed position that behaviour such as that described last night is unacceptable in all circumstances.
Earlier that morning, photographs of the situation outside the No lobby had appeared online.
No photographs are allowed in the voting lobbies, yet here they were.
Chris Bryant had appeared on Sky News. He tweeted a still of himself from the interview, with the comment:
Yesterday was utter chaos!
Someone replied with a photo of Conservative MPs all over one of their own. A professional photographer, so it would appear, took a photo of them and someone else took a photo of that scene: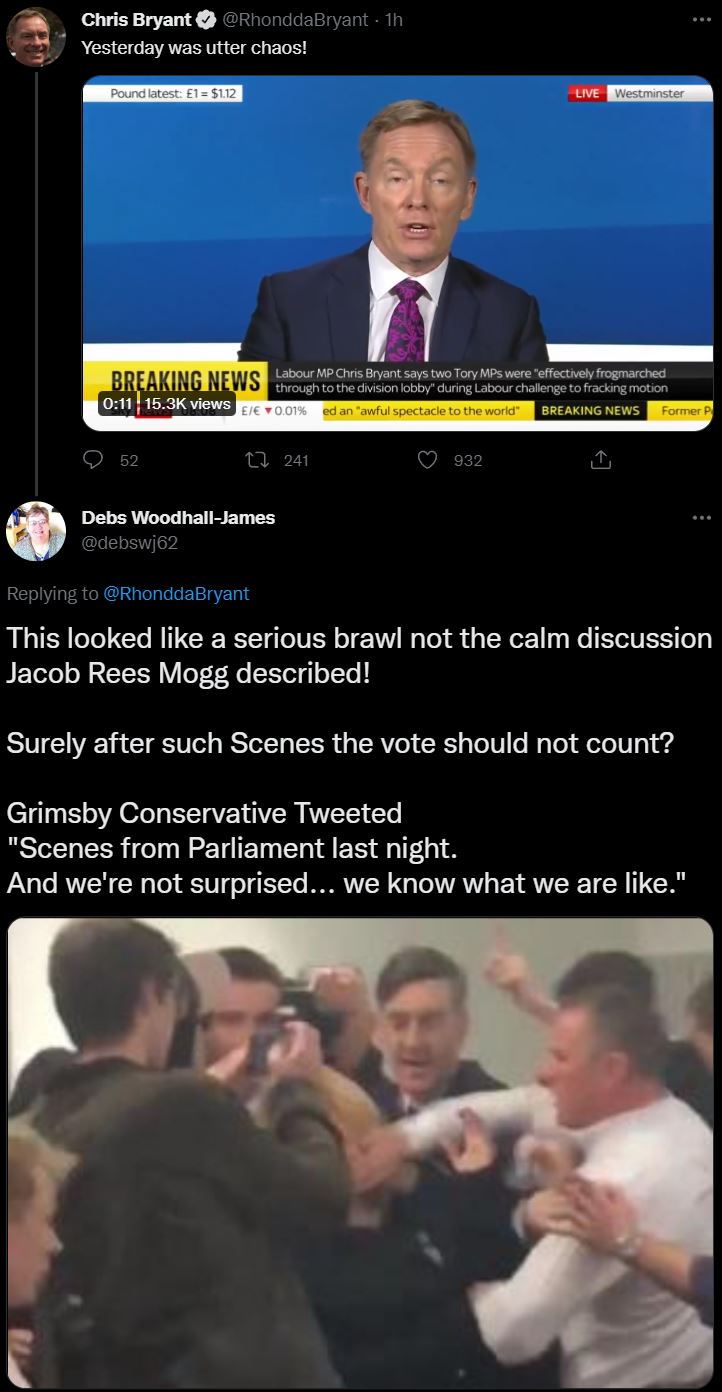 Here is another photo with Conservatives clustered in the middle of the room outside the voting lobbies. Labour MPs are standing off to the right. The No lobby is off to the left: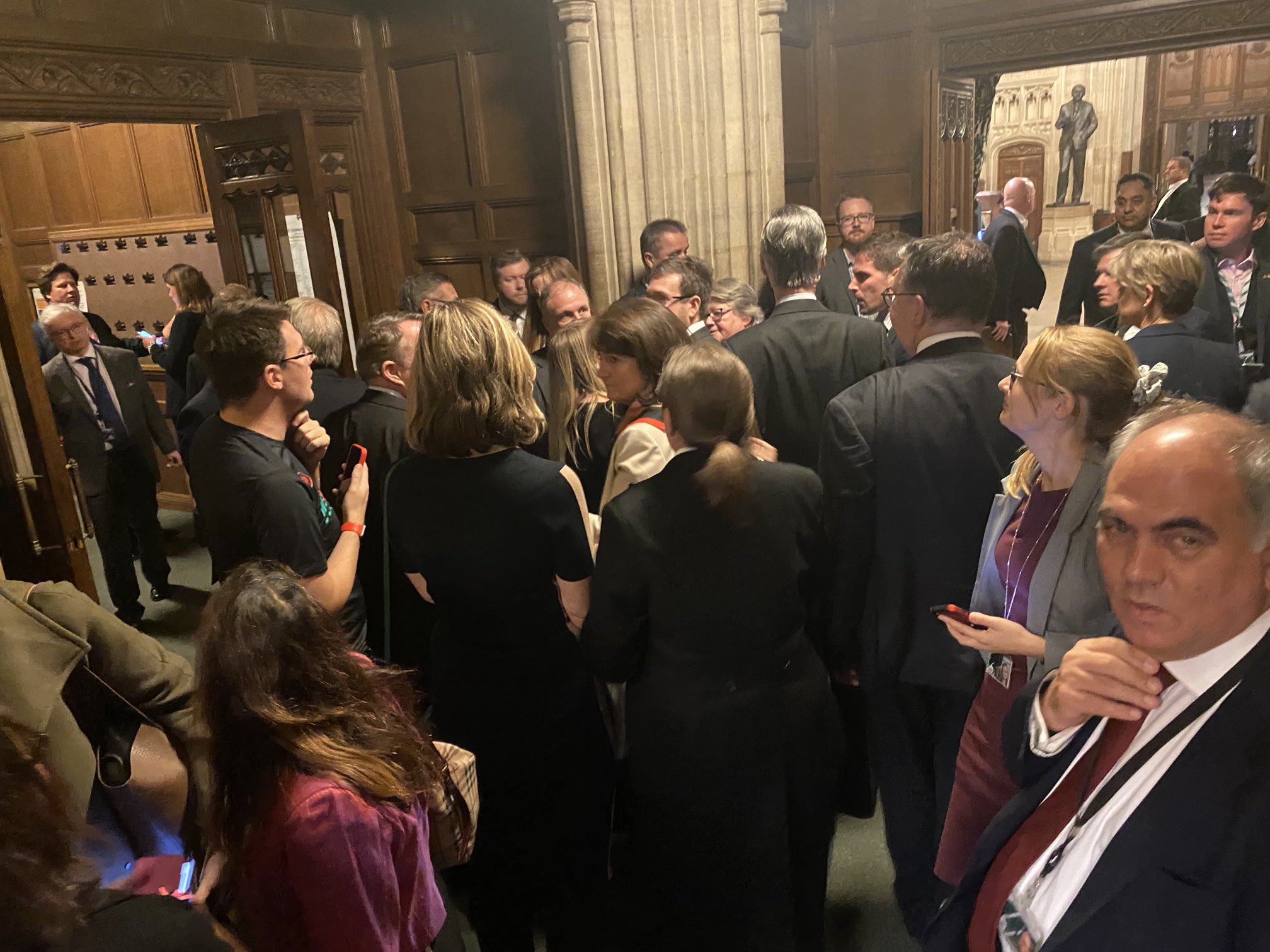 Business Secretary Jacob Rees-Mogg, tall with spectacles, is in the middle of both photographs. Deputy Prime Minister and Health Secretary Thérèse Coffey is the woman in front of Rees-Mogg's left shoulder.
Returning to the Speaker's statement, which I watched on BBC Parliament, Chris Bryant said that he had taken the photographs as evidence. Although Hansard does not record any responses to the Speaker, Bryant asked if photographs could be allowed in order to document these incidents in future. The Speaker said that it would be a matter for the House to decide together.
Confusion still reigned on the Conservative benches, particularly as some of their MPs strongly object to fracking.
And was Wendy Morton still Chief Whip at the time the vote took place? It was all a mystery, including to Conservative MP Ruth Edwards:
Edwards wrote about her experience in the voting lobby for ConservativeHome: 'Ruth Edwards: Why I am now calling on the Prime Minister to quit'.
Excerpts follow:
Shouting, confusion, allegations of bullying. Last night chaos reigned in the Commons. Anyone watching from the outside must have wondered what on earth was going on. It wasn't much clearer for those of us in the chamber either, but here is one bit-player's view from the benches.
Labour had tabled an Opposition Day motion that linked a bill to ban fracking to what was supposedly a confidence motion in the Government. If it passed it would have allowed the Labour party to take control of Parliamentary business in Government time. Like many colleagues, I don't think we should be reneging on our manifesto commitment to lift the moratorium on fracking. Why? Because I think it's poor energy policy and because I believe that manifesto commitments are there to be kept unless there is no other choice.
Edwards is against fracking. However, she did not want to vote with Labour, yet, this was supposed to be a three-line whip vote on Liz Truss's premiership:
None of us wanted to vote with Labour last night but some of us did want to abstain …
All day we were told by the whips that this was not just a strong three-line whip but a confidence vote. Voting against the government or abstaining would result in the whip being removed. That was very clear from the message sent to all Conservative MPs by the Deputy Chief Whip and confirmed by my whip when I messaged him to check.
That's why colleagues were in tears in the division lobbies and their offices. We were being told we had to choose between voting to lose the whip or voting against a manifesto commitment we believed in. For the front bench to allow the Opposition to put their MPs in this position is a special type of incompetence. But the tactic worked. The vast majority of colleagues, even the disillusioned and distressed, were prepared to go through the Government lobby.
I cited Edwards in my Friday post. In the debate wind up by the Government minister, she asked for clarification of a whipped vote after he said that it wasn't:
… the Minister lobbed a verbal hand grenade into the assembled crowd. By announcing at the despatch box that it wasn't in fact a confidence vote after-all. There was a sharp intake of breath. No one could believe what they had just heard. Surely he had misspoken?
So I bobbed up and down, asking him to 'give way'. That's the Parliamentary equivalent of putting your hand up in class to ask a question. After repeated efforts and a chorus of support from equally perplexed colleagues, he did so. But was unable to give a clear answer to my question.
That's when the chaos descended, because we now had no idea about the basis of the vote. MPs gathered in groups asking each other 'what are you going to do?'
Edwards spotted Chief Whip Wendy Morton in the lobbies and approached her:
I walked up to the Chief Whip to try and clarify what was going on. She cut me off mid-sentence 'I don't have to talk to you, I've resigned'.
The Deputy came through the lobby reiterating that it was a confidence vote and that the Minister would do a Point of Order to confirm that. So, eventually, we swiped our cards and shuffled back to the chamber. But no Point of Order came. Why is this even important? Because if you want to maintain trust and a good working relationship with your Parliamentary party, you can't lie to your MPs about the terms on which they are voting.
So what happened? It was still unclear:
I believe the whips office did act in good faith. I saw their faces as the Minister announced that it wasn't a confidence vote. One of them looked like she wanted to clobber him with the mace.
To be fair to the Minister I have it on good authority that he was relaying a message which had just come in from Number 10. This morning we are being asked to believe [by Jacob Rees-Mogg] it was a misunderstanding caused by a junior official. Anyone who believes that must be smoking something rather exotic.
Edwards had decided that Liz Truss should go and conveyed her sentiments formally to Sir Graham Brady, head of the 1922 Committee of Conservative backbenchers:
The trust between the Parliamentary Party and the Prime Minister no longer exists. You can only pull a stunt like that once. And you can't work as a team if the foot soldiers are treated with contempt by the general.
On Monday night the Prime Minister stood in front of the One Nation Caucus and promised to improve the communication between Number 10 and the party. Last night showed how deeply disingenuous that commitment was. I made my views known to Sir Graham Brady earlier this week. The Prime Minister has shown breath-taking economic and political incompetence during her short tenure in office. It is not responsible for the party to allow her to remain in power. Not when her actions can have such detrimental consequences for our constituents. So I add my small voice to the groundswell of others. Step aside, go, and let someone who is up to the task take on the great privilege and responsibility of leading our great country and party.
On October 20, The Sun's Political Editor Harry Cole wrote:
Within hours the government went into freefall as an extraordinary night of Commons drama saw claims that tearful Tory MPs were being physically manhandled by party enforcers.
During the carnage Chief Whip Wendy Morton threatened to resign – only to un-resign in a chaotic few hours where No10 could not confirm if she was in post.
Ms Truss could only watch on ashen-faced as she saw her authority drain away and more Tory MPs break cover calling for her to quit.
On Wednesday [at PMQs] Truss had insisted "I'm a fighter, not a quitter", but after scenes of Commons carnage that night after a botched confidence vote, it was clear her administration was on life support.
The Telegraph had much more:
The motion, which was defeated, would have guaranteed Commons time to debate a new law to ban fracking once and for all.
The vote meant that Ms Truss faced a showdown with rebellious MPs, many of whom have openly expressed their opposition to her plans to lift the moratorium on fracking …
On Wednesday morning, Tory MPs were told by the whips' office that the vote was a "100 per cent hard three line whip".
The message from Mr [Craig] Whittaker [Deputy Chief Whip] went on to say: "This is not a motion on fracking. This is a confidence motion in the Government.
"I know this is difficult for some colleagues, but we simply cannot allow this. We are voting no and I reiterate, this is a hard three line whip with all slips withdrawn."
If a vote is being treated as a matter of confidence in the Government, it usually means that MPs who vote against it would be expelled from the Conservative Party and have to sit as independent candidates …
But by Wednesday evening, the Government's position appeared to have changed. As the debate on fracking drew to a close, Graham Stuart, the climate minister, told the Commons that it was, in fact, "not a confidence vote".
Asked by Tory MPs whether they would lose the whip if they abstain, he said that it was a "matter for party managers".
Truss went to vote:
Ms Truss was reportedly yelled at by rebel MPs as she went through the lobby. Meanwhile, Mr Whittaker was reportedly overheard saying: "I am f***ing furious and I don't give a f*** any more."
According to some reports, Ms Morton resigned and left the Chamber as the voting was taking place, with Ms Truss grabbing her arm in an attempt to persuade her to reconsider …
What an unholy mess.
The Government won the vote, but:
It was unclear how many of the 40 abstentions were because MPs were unavoidably away from Parliament – Boris Johnson, for example, is currently on holiday – or because they were abstaining as a point of principle.
The Telegraph mentioned Bryant's Sky News interview implicating Rees-Mogg and Truss's confidante Thérèse Coffey:
Mr Bryant told Sky News that Cabinet ministers Therese Coffey and Mr Rees-Mogg were among a group of senior Tories who were putting pressure on Conservative MPs to vote against the Labour motion on fracking.
"There was a bunch of Conservative Members obviously completely uncertain whether they were allowed to vote with the Labour or against it," he said.
"There was a group including several Cabinet ministers who were basically shouting at them. At least one member was physically pulled through the door into the voting lobby. That is completely out of order.
"I know that Therese Coffey was in the group. I know that Jacob Rees-Mogg was in the group and there were others as well. The group all moved forward with one member."
One furious MP said they felt the Government had deliberately tried to trick backbenchers into supporting it with the mix-up over whether the vote was a confidence matter. They said this amounted to a "breach of trust" between No 10 and MPs that would be almost impossible to repair.
Another senior Tory MP put the confusion down to a "cock up" between No 10 and the whips office and said the confidence vote was in fact meant to be attached to the Government's motion, and not the one tabled by Labour.
Speaking to Sky News after the vote had ended, Mr Rees Mogg said he did not know whether Ms Morton was still in post or not, saying: "I am not entirely clear on what the situation is with the Chief Whip."
He explained that the confusion arose over whether the Commons vote on fracking was a confidence vote because of a message sent by a "junior official in 10 Downing Street", suggesting they did not have the authority to do so.
As for the two main whips, The Guardian reported:
Amid chaotic scenes in the Commons, it was reported that Wendy Morton, the chief whip, and her deputy, Craig Whittaker, had left the government. However, after hours of confusion Downing Street released a statement saying the two "remain in post".
The Mail+ reported that Truss had always wanted Coffey to be Chief Whip, but Coffey wanted to be able to stand up to the media for her friend:
A source said: 'We also had trouble finding a Chief Whip. Therese [Coffey] turned it down because she wanted to be free to defend the PM in the media, so we ended up with Wendy [Morton]. The whole thing became an absolute mess, Downing Street was cobbled together on compromise.'
Suella Braverman
At 10:30 a.m. on Thursday, an Urgent Question (UQ) was raised about the circumstances of Home Secretary Suella Braverman's departure the preceding day:
Shadow Home Secretary Yvette Cooper (Labour) raised the question.
Ably answering and clearly staying within his boundaries as Parliamentary Secretary, Cabinet Office was the brilliant Brendan Clarke-Smith.
He replied, beginning with this:
I thank the right hon. Lady for her question. My right hon. and learned Friend the Member for Fareham (Suella Braverman) resigned yesterday, following a contravention of the ministerial code relating to a breach of Cabinet confidentiality and the rules relating to the security of Government business. The Prime Minister has made clear the importance of maintaining high standards in public life, and her expectation that Ministers should uphold those standards, as set out in the ministerial code. All Ministers are personally responsible for deciding how to act and conduct themselves in the light of the code, and for justifying their actions and conduct to Parliament and the public. However, Ministers remain in office only so long as they retain the confidence of the Prime Minister. She is the ultimate judge of the standards of behaviour expected of a Minister, and the appropriate consequences of a breach of those standards. My right hon. and learned Friend has explained her decision to resign, and to be clear, the information that was circulated was subject to Cabinet confidentiality and under live discussion within the Government. In the light of that, it would not be appropriate to discuss the specifics of the matter further in the House, but the Prime Minister is clear that the security of Government business is paramount, as is Cabinet responsibility.
Cooper was unhappy with Clarke-Smith's answer, referencing Braverman's statement of 'tofu-eating wokerati' from her Tuesday debate and the Star's front page campaign of comparing Truss to a lettuce, implying a short shelf life:
… We have a third Home Secretary in seven weeks. The Cabinet was appointed only six weeks ago, but the Home Secretary was sacked, the Chancellor was sacked and the Chief Whip was sacked and then unsacked. We then had the unedifying scenes last night of Conservative MPs fighting like rats in a sack. This is a disgrace …
Has a check been made of whether she sent other documents through personal emails, putting security at risk? Was there a 90-minute row about policy between the Prime Minister and the former Home Secretary? Given the huge disagreements we have seen in the last few weeks between the Prime Minister and the former Home Secretary on drugs policy, Rwanda, the India trade deal, seasonal agriculture, small boats—and with a bit of tofu thrown in over the lettuce for good measure—is anything about home affairs agreed on in the Cabinet?
… who is taking decisions on our national security? It is not the Prime Minister, nor the past or current Home Secretaries. Borders, security and policing are too important for that instability, just as people's livelihoods are too important for the economic instability that the Conservative party has created. It is not fair on people. To quote the former Home Secretary, this is indeed a total "coalition of chaos". Why should the country have to put up with this for a single extra day?
Clarke-Smith replied:
I am mindful that it is not usual policy to comment in detail on such matters, but, if some background would be helpful—I appreciate that much of this is already in the public domain—the documents in question contained draft Government policy, which remained subject to Cabinet Committee agreement. Having such documents on a personal email account and sharing them outside of Government constituted clear breaches of the code—under sections 2.14 and 2.3, if that is helpful to look at. The Prime Minister is clear that the security of Government business is paramount, as is Cabinet responsibility, and Ministers must be held to the highest standards.
He took questions from other MPs, mostly from the Opposition. He did not cave in.
Guido Fawkes's sketch writer Simon had high praise for Clarke-Smith and was still hopeful at that point that Truss could survive:
The Home Secretary had been fired for infringing the ministerial code. The ministerial code was the responsibility of the Cabinet Office. He was from the Cabinet Office and had no view on migrants, boats, flights to Rwanda or pigs' ears, come to that.
It was a rare display of governmental competence. They managed to say nothing of interest, and say it convincingly. It's a low bar but they cleared it comfortably. Is this the start of a Conservative revival? There's a wee way to go, if it is. 
Liz Truss resigns
On Wednesday night, The Sun's Harry Cole said:
We are watching a hostile takeover of the government.
A short while later, the new Home Secretary — formerly the Transport Secretary until Truss sacked him — Grant Shapps said in an interview that Truss's chances of leaving Downing Street were high:
Guido reported that Shapps said, in part (emphases in the original, with the full quote here):
… I think the 80% [chance of failure] is closer to where we've got to… she needs to thread the eye of a needle with the lights off …

For weeks, the Star had been running with their lettuce campaign, showing a photo of Truss next to an iceberg lettuce on the front page. They had also a webpage.
On Wednesday, The Telegraph's Madeline Grant wrote, 'The Liz Truss lettuce lives to wilt another day':
Contrary to any number of rumours, where Westminster gets its kicks is the scent of blood – and most of all when there's a resignation in the air. The Tory WhatsApp groups pinged mutinously. Hastily-assembled spreadsheets did the rounds, detailing who'd called for the PM to resign, and when. The Daily Star outdid the competition; hosting a live stream of a lettuce to see if it outlives Liz Truss's premiership.
Then came Suella Braverman's resignation and the lettuce claimed its first victim …
… For now, the lettuce lives to wilt another day.
But only one more day.
The Mail+ had an insightful piece on October 22 about what went on with the Prime Minister between Wednesday night and Thursday afternoon. The article also recaps how disastrous Truss's choices were from the beginning of her brief tenure:
WHEN LIZ Truss finally accepted that her Premiership was over, late on Wednesday evening, she went to the fridge in the No10 flat and pulled out a bottle of sauvignon blanc to share with her husband, Hugh …
As she nibbled on a pork pie, the couple agreed that it was now a matter of when, not if, she resigned. One of the main considerations was the impact of the growing turmoil on their two teenage daughters.
Ms Truss then slept fitfully until 4.30am, when she started messaging aides for advice. Later that morning, No10 asked Sir Graham Brady, the chairman of the 1922 Committee of backbench Tory MPs, to come in to see the Prime Minister.
When she asked him if the situation was retrievable, he replied: 'I don't think so Prime Minister.' The game was up.
As she delivered her resignation statement, her former No10 consigliere, Jason Stein, was watching the live feed on his phone at a table in The Ivy in London's Marylebone …
Until his suspension on Wednesday pending an investigation by the Government's Propriety and Ethics Team over claims of unauthorised briefings against colleagues, Mr Stein had been at the centre of the doomed Truss premiership as an all-purpose fixer and adviser.
He has told friends that the Downing Street operation was 'dysfunctional from the outset', and blames 'muddled lines of command' for the single greatest error – the mini-Budget which even the Prime Minister herself now privately describes as 'a colossal f***-up'.
Sources also describe fractious meetings in the run-up to the mini-Budget, which led to the sacking of her Chancellor Kwasi Kwarteng and the reversal of the vast majority of its measures, with Ms Truss being so enraged by one member of her staff on one occasion that she talked about 'stabbing him in the leg'.
The sources are scathing about the role played by Ms Truss's Chief of Staff Mark Fullbrook, describing his appointment as 'a disaster'.
One said: 'Liz offered that job around everywhere, but no one would take it. We were left with no option but to give it to Fullbrook. He was part of a secret meeting in the Downing Street flat on September 13, during the official mourning period for the Queen, when the Budget was drawn up behind the back of Kwasi.
'It was just Liz, Fullbrook and a couple of other aides eating sushi takeaways and coming up with that brilliant plan to cut the top 45p rate of tax.
'The Treasury and the Cabinet Secretary [Simon Case] warned against it' …
The sources also claimed that Mr Stein had warned Ms Truss against appointing Mr Fullbrook in August, describing him as 'a trickster', but that Ms Truss had 'gone ballistic' at him in return.
Another source claimed that Ms Truss had regretted appointing Matthew Sinclair, the former chief executive of The TaxPayers' Alliance think-tank, as her Chief Economic Adviser, adding: 'He was always talking over her in meetings and "mansplaining". She said on one occasion that if he kept it up she would stab him in the leg. He never shut up' …
It would appear that Truss lacked a close coterie of people she could trust:
Another source also claimed that Mr Case had been concerned about Ms Truss's morale, telling colleagues that 'while all Prime Minister's end up lonely in office, it has happened at warp speed to Liz.
'He grew very, very concerned,' the source said.
On Thursday, she reportedly felt relieved she was leaving:
Downing Street staff were in tears as Ms Truss prepared her resignation, but she reassured them, 'Don't worry, I'm relieved it's over,' before adding, 'At least I've been Prime Minister.'
At least her staff were in tears, meaning that she must have been nice to them, which is vital.
Guido kept us apprised of the morning's events, beginning with Graham Brady's arrival:
Guido said there were different versions of who called the meeting:
Graham Brady has just been escorted into the back door of No. 10, with Downing Street confirming that he's meeting the Prime Minister. The Telegraph reports there was no meeting planned in her diary. The meeting of the two comes as ITV's Paul Brand reports One Nation Tory MPs have been meeting this morning "to try and coalesce around a single candidate to replace Liz Truss." May just be a lot more noise without any movement. Eyebrow-raising nonetheless…
UPDATE: Downing Street saying Truss requested the meeting herself…
UPDATE 12:25 – Therese Coffey enters Downing Street
UPDATE 12:49 – Jake Berry [MP, chairman of the Conservative Party] enters Downing Street
Just after 1:15 came the news that Truss would make a statement:
And then, at 1:25 p.m., Truss announced her resignation as leader of the Conservative Party (video here):
It was brief and to the point. Her husband was out of shot by a front window.
Thankfully, there were no tears as there were with Theresa May who broke down while giving her speech in 2019.
Because it is an afternoon newspaper, London's Evening Standard was the first out of the traps with the historic headline:
Let's have a look at the victorious lettuce:
It's hard to know whether to laugh or to cry.
Truss remains Prime Minister until Rishi Sunak meets with the King. In her final message on Monday, October 24, she sent her wishes for a happy Diwali, celebrating the triumph of light over darkness. We certainly could do with that. More importantly, what a memorable Diwali it will be for the Sunaks — and Rishi's in-laws:
I wish Liz Truss and her family all the very best for the future.
I had so much hope for her, but that's all gone by the wayside.
More analysis on the leadership contest and what happens next will follow this week.
The three-year Lectionary that many Catholics and Protestants hear in public worship gives us a great variety of Holy Scripture.
Yet, it doesn't tell the whole story.
My series Forbidden Bible Verses — ones the Lectionary editors and their clergy omit — examines the passages we do not hear in church. These missing verses are also Essential Bible Verses, ones we should study with care and attention. Often, we find that they carry difficult messages and warnings.
Today's reading is from the English Standard Version with commentary by Matthew Henry and John MacArthur.
Final Greetings
7 Tychicus will tell you all about my activities. He is a beloved brother and faithful minister and fellow servant[a] in the Lord. 8 I have sent him to you for this very purpose, that you may know how we are and that he may encourage your hearts, 9 and with him Onesimus, our faithful and beloved brother, who is one of you. They will tell you of everything that has taken place here.
——————————————————————————————
Last week's post discussed Paul's final instructions to the Colossians, principally on prayer and speech.
As was Paul's wont at the end of most of his letters, he mentions the men working with him to further the Gospel message.
John MacArthur says that people skim through or skip these verses, but they do serve a purpose (emphases mine):
… it's easy to assume that this is the dull part of the book, that this is just the ending and a few little amenities that don't really have anything to do with us, because we haven't got the faintest idea who that first guy is, and we're not too sure it even matters. But it does matter.
What you have here at the close of Colossians is a group photograph, frankly. Paul signs his letter and it includes a group photograph. He has grouped together in one portrait at the end of this epistle, all of the people who helped him in his ministry while he was a prisoner in Rome. And so we've called this section "With a Little Help from My Friends," because it expresses the very deep-down satisfaction in the life of the apostle Paul that he is able to accomplish his ministry only because of the faithfulness of many dear friends who have stuck by him and who've been helpful to him in his ministry. And in order to use them as an encouragement to the Colossians and to all the churches that would read this letter, including Grace Community, he tells us a little bit about them. And it adds a very warm, personal touch to what is a very doctrinal letter. It also indicates to me something of the magnetism of his personality, and the deep, rich love of which he was capable, because of the fact that he had so many of these people with him for so many years, and they had such a deep loyalty and love for the man.
So to Paul, these are indispensable folks. These are the folks who have been making his ministry possible. He couldn't do it by himself; nobody ever can, not even the finest – not even the apostle Paul could do it alone, he had to have help from his friends; and they supported him …
Paul, as we look at Colossians 4, is a prisoner in the city of Rome. It is the first of two imprisonments. The second one will issue in his death. During this imprisonment he has some friends with him, and he gives us a portrait of each one of them in a composite photograph. These are the friends who helped.
Sometime during this two-year imprisonment he wrote the letter to the Colossians, around 60 A.D. or so, and during that time these are the people who were very special people in his life. They are heroes of a sort, because there was a price to pay to be associated with a prisoner. There was a certain social association that maybe didn't put you in the classiest group when you were attendant upon a prisoner. There was a certain element of looking down the nose of somebody like that, and there was always the possibility that you could find yourself in the same fate as that prisoner, should the tide turn against him. So they were kind of heroes. They paid a price to associate themselves with Paul who was a prisoner in Rome. But they counted the cost, they made the commitment, they hung in there, and Paul tells us about them in this tremendous passage. Let's meet them.
Paul says that Tychicus will tell them all about his activities as a prisoner in Rome, describing him as a beloved brother, faithful minister and fellow servant in the Lord (verse 7). The Greek word for 'servant' there is 'sundoulos', a bond servant.
We first ran across Tychicus in Acts 20:1-6, which I wrote about in 2018. Luke, the author of Acts, tells us:
4 Sopater the Berean, son of Pyrrhus, accompanied him; and of the Thessalonians, Aristarchus and Secundus; and Gaius of Derbe, and Timothy; and the Asians, Tychicus and Trophimus. 5 These went on ahead and were waiting for us at Troas,
From 'Asians' in verse 4, we can deduce that Tychicus was from Asia Minor.
Paul says that he was sending Tychicus for the purpose of conveying Paul's news as well as encouraging their hearts (verse 8).
Matthew Henry's commentary says that Tychicus would not only talk at length about Paul's evangelistic experiences in Rome but also, in return, convey the Colossians' news to him. He would also be delivering Paul's letter to them, implied in verse 8:
By him this epistle was sent; and he does not give them an account in writing of his present state, because Tychicus would do it by word of mouth more fully and particularly. He knew they would be glad to hear how it fared with him. The churches cannot but be concerned for good ministers and desirous to know their state. He gives him this character, A beloved brother and faithful minister. Paul, though a great apostle, owns a faithful minister for a brother and a beloved brother. Faithfulness in any one is truly lovely, and renders him worthy our affection and esteem. And a fellow-servant in the Lord. Ministers are servants to Christ, and fellow-servants to one another. They have one Lord, though they have different stations and capacities of service. Observe, It adds much to the beauty and strength of the gospel ministry when ministers are thus loving and condescending one to another, and by all just means support and advance one another's reputation. Paul sent him not only to tell them of his affairs, but to bring him an account of theirs: Whom I have sent unto you for the same purpose, that he might know your estate, and comfort your hearts, v. 8. He was willing to hear from them as they could be to hear from him, and thought himself as much obliged to sympathize with them as he thought them obliged to sympathize with him. It is a great comfort, under the troubles and difficulties of life, to have the mutual concern of fellow-Christians.
MacArthur cites several examples from the Old Testament of great persons who needed companions in order to fulfil God's will. There are also proverbs that indicate companionship serves a godly purpose:
In Proverbs, there are many, many statements about how important it is for a man to have companions. One significant one is Proverbs 27:17, which says; "Iron sharpens iron; and so does a man sharpen the countenance of his friend." Men help men. They increase their effectiveness; and as the case is indicated in Proverbs, they increase even their satisfaction, as it shows up on their countenance.
… Ecclesiastes chapter 4, verse 9, it says this: "Two are better than one, because they have a good reward for their labor" …
Ecclesiastes 4:9, Ecclesiastes 4:9, 10, and 11 tell us, "Two are better than one. If one prevail against him, two shall withstand him; and threefold chord is not quickly broken."
Paul always had companions in ministry:
In fact, the only time you'll ever see him alone in the entire book of Acts is a brief period of time in Athens while he was waiting for his friends to arrive. So the apostle Paul has always been the kind of person who needed help from his friends. As great as he was he could never do it alone. And it's still true. We can't do it alone. We have to have each other. And that's the message of this text …
MacArthur tells us more about Tychicus, who is mentioned five times in the New Testament:
… Tychicus – "ch" is pronounced like a "k" – Tychicus. I call him the man with a servant's heart.
The name "Tychicus" means fortuitous or fortunate; and indeed he was fortunate. We don't know much about him; there isn't much said in the Bible. He's mentioned five times, and every time it's very, very brief. But we know one thing: he lived up to his name, because he was a fortunate man to be able to spend as much time, in fact, as many years as he did in the ministry with the apostle Paul.
MacArthur recaps the aforementioned passage from Acts 20 and how Tychicus fits into it:
The first time we meet him is in the twentieth chapter of Acts, and the fourth verse. And in that chapter, the apostle Paul is at Ephesus … He's kind of winding down his third missionary journey, and he has a plan. His plan is to go to Macedonia. And over in Macedonia he wants to collect some money – you remember that? – and he has in mind collecting from the Thessalonian church, the Philippian church, and the Corinthian church, which were the major churches of the area of Macedonia. He has the idea of collecting from those congregations money as a love gift to the saints in Jerusalem.
He is going to return to Jerusalem, because he wants to get there to conciliate with them the Gentile church. He realizes the Jews have one thing going; even the Jewish Christians and the Gentile Christians have their own thing going, and he's fearful that they'll never be that unity that he really was really supposed to preach.
And not only did he want to take money, but he had in mind taking certain Gentile Christians, some from each of those congregations. And if you were to read the twentieth chapter of Acts, and the fourth verse, you would simply be reading the names of the people who accompanied him back to Jerusalem. There were certain Gentiles who went along with him on the journey to confirm their love to the Jerusalem Christians. One of those was Tychicus. And so he appears, first of all, as he joins the apostle to go to Jerusalem.
Now this gives something of the indication of his spirit. He is a man with a servant's heart. He realizes this is a long journey. He's leaving his home, his job, his friends, the fellowship of his church; he's going on a definite adventure. One step out of town with Paul was an adventure; one step into town was equally an adventure. Now he knew that this was going to be an adventure. He really didn't know how long it was going to take.
A journey in those days wasn't hopping on a jet, landing, turning around, and hopping back. It was very arduous, very difficult, and very long-range; and yet he was willing to do it. And all along the way – you remember in the book of Acts as Paul goes? – at every city, somebody warns him what's going to happen when he gets to Jerusalem. And yet nobody – at least not recorded in the book of Acts – nobody bailed out; they stuck with him. So that when you get to Jerusalem, it's obvious that Tychicus is still there. And already we begin to see his servant's heart. A lot of people gave money, but a few people gave themselves; he was one of those.
And so now when we see him, as Paul writes Colossians, he's still with Paul; he's still around. He's stuck by him for a long time now. He went to Jerusalem with him. It may be that he returned with him. He for sure is with him now in the imprisonment in Rome. And at the end of Titus chapter 3, verse 12, he says, "When I shall send Artemas unto thee, or Tychicus, be diligent to come to me to Nicopolis; for I have determined to spend the winter there." Here's a loyal man. And you know what? He says, "I'm going to send him, Titus, to take your place," either he or Artemas. We don't know which one he sent, but it may well have been Tychicus.
Now what Paul wanted was – Paul loved Titus. Titus was the pastor of the congregations in the island of Crete, and Paul wanted Titus to come and spend the winter with him. Paul knew it wasn't only the winter of the year, but it was the winter of his life; and Paul wanted the fellowship and the love of Titus. And so he said to Titus, "Look, if you'll come and meet me in Nicopolis and spend the winter with me, I will send this man Artemas, or this man Tychicus, to take care of your church."
Now it's kind of an interesting thing. Here is a man who started out as a messenger, and wound up substituting for a very great man, the man by the name of Titus. The man with a servant's heart made himself available, and God used him in ways, I'm sure, he never dreamed possible.
Now later on, I want you to notice something: Paul wrote the last letter that we believe he wrote, 2 Timothy chapter 4, verse 12, and he says this, writing to Timothy: "And Tychicus have I sent to Ephesus. The cloak that I left at Troas" – I'm glad he has that same problem that all of us have; he left his coat somewhere. "The cloak that I left at Troas with Carpus, when you come, would you please bring it, and my books, and especially the parchments?" Good to know he's human, isn't it? He left almost everything there. So he says, "When you come, will you bring all that stuff I left over there?"
Now you see, what he's saying here is, "Timothy, I want you to come and be with me; I need you. And in order that you can come and be with me, I know you'll have to leave your congregation in Ephesus so I'm going to send somebody to take your place." And who is it? Tychicus again. He's making a career out of being an interim pastor, and he's filling in for some pretty, pretty high-class men: Titus and Timothy. He would reflect to both of those congregations the character of Paul, the life of Paul, the ministry of Paul; and they would love him because he would bring Paul to them. Now that's the kind of man he was. He was a messenger, and he was a pastor. In fact, he was anything Paul wanted him to be. We never find any bit of argument, we never find any bit of anxiety; we only find Tychicus doing what Paul told him to do. 
For now, in Colossians, Tychicus, as mentioned earlier, is delivering Paul's letter. He is a messenger this time around, four years into his service to Paul and to the Lord:
This is during the first imprisonment. We aren't as far as the Titus event or the Timothy event, that's yet in his future. And by the time Colossians is written, four years have passed since Tychicus joined Paul in the trip to Jerusalem. He's proven his loyalty. He's still available; he's still open to Paul. And this is a great thing, folks. You know, it isn't everybody who can keep somebody for four years, you know that. It isn't every great man who can keep people for four years, five years, six years, ten years like Paul did.
But this is a faithful servant. He loves Paul. He's loyal. He'll be a messenger; he'll be a pastor; he'll be anything. And Paul here has in mind sending him with the letter to the Colossians. He isn't going to pastor, he's just going to be a delivery boy.
Tychicus also delivered the Ephesians' letter to them. I wrote about Ephesians 6:21-24 in June 2022:
21 So that you also may know how I am and what I am doing, Tychicus the beloved brother and faithful minister in the Lord will tell you everything. 22 I have sent him to you for this very purpose, that you may know how we are, and that he may encourage your hearts.
Note how he says the same thing to the Colossians.
MacArthur reminds us that Paul's letter to the Ephesians probably didn't go just to Ephesus but to other cities nearby. Tychicus would have been a busy man:
In the whole book of Ephesians there's not one allusion to a person in Ephesus. There's not one statement relative to the city of Ephesus. There's not one statement relative to an incident in Ephesus. It's a general letter, and we find that there could be any name stuck in. Maybe he was taking it to Colossae and Laodicea and Hierapolis, and then to Ephesus, and who knows where. But those are the two letters that he had.
A third letter that Tychicus delivered was the one to Philemon, who had owned Onesimus, the slave.
Now things get really interesting, because Philemon was a member of the congregation in Colossae. His former slave was going to accompany Tychicus. Onesimus ran away from Philemon to Rome, where, amazingly, he encountered Paul. Talk about the hand of God at work. Since his time away, Onesimus became a faithful and beloved brother to him. He would also convey news of what has happened with the Apostle in Rome (verse 9).
MacArthur recaps Paul's letter to Philemon and tells us more about him and Onesimus:
Let's meet another man. Looking back at our group photograph, the second man in line, second from the left: Onesimus, the man with a sinful past. We met the man with the servant's heart, now let's meet the man with the sinful past. It's great, people, to know you can have a sinful past and still be useful. Isn't that great?
This ties us to Philemon, because Philemon is the book about Onesimus. Now let me give you a little picture here. Colossians was written to the church at Colossae. Philemon was written to one family in that church, the family of a man named Philemon.
Now Philemon was one of the pillars of the Colossian church. He loved the Lord. His family was very involved. It's most likely, if you were to look at Philemon and read it, it's most likely that the church met in Philemon's house. It says in verse 2 of Philemon, "The church in your house."
Now Philemon was a convert of the apostle Paul. Verse 19 of Philemon he says that, "You owe to me your own self." So he was a convert of Paul. And he's a very wealthy man; he owns some slaves. One of the slaves Philemon owned was a man named Onesimus, this man. But Onesimus didn't like living in Philemon's house, and he didn't like being a slave, so he ran away. And you know what a slave was to do when he ran away if he was caught? He was to give his life; he was executed. Runaway slaves were executed.
But this one was willing to make the gamble, and he ran away, and he ran all the way to Rome. And you know what happened? Amazing thing: he ran right into the apostle Paul. And you know something? Just as the apostle Paul had led Philemon to Christ, the apostle Paul led Philemon's runaway slave to Christ. Isn't that amazing when you think there were two million people in Rome? Not so amazing when you see what God had in mind.
Now Paul writes a letter, the letter of Philemon, and sends Onesimus back, and the letter says, "Say, Philemon, I know he ran away; but don't kill him. He may have gone away a slave; he's coming back a brother, and he's willing to serve you as a slave and a brother in Christ. So open your arms of love and take him, will you?" And so here's Tychicus with Philemon, the letter in his pocket, and Onesimus the slave walking beside him. Paul writes the letter to establish in Philemon's heart acceptance for a returning slave who's now a brother.
This story shows that the Lord forgives our sins. Onesimus was a thief, yet, like Paul, who persecuted the Church as Saul, He had a divine design for both men:
Think of it. When he left Colossae, he must have been shrinking from his master with stolen property in his clothes, and that vice burning in his heart; sensualities, the carnality that was driving him to the excitement of Rome; and he gets there, and he meets Paul; and when he comes back, all he desires is holiness, all he desires is to be a servant to his master that he left. All he wants is the light of the knowledge of the pure God in his soul. And so the two go off with the message. And what does Paul say about Onesimus? Look at it. "Onesimus, a runaway slave"? – no – "a faithful, beloved brother who is one of you."
You want to hear something great? Christ makes sure a man with a past has a past that's passed. He says to the Corinthians, "And such were" – what? – "some of you." He says to the Ephesians, "And you were once dead in trespasses and sins, but Christ has made you alive." Man, I'm telling you, it's exciting to know that in Christ, people with a past have a past that's passed.
A lot of people today are disappointed that the Bible, especially the New Testament, doesn't condemn slavery outright.
Yet, MacArthur tells us that when slaves in America began learning to read, they were given the Bible and contemplated their state in life. They also became Christians. The slave owners then stopped them reading Scripture:
… in Galatians 3:28, Paul said, "There is neither Jew nor Greek, bond nor free, male nor female; you're one in Christ." "He's a brother now, Philemon. Take him in." You see, Christianity ultimately destroys slavery, because it breaks the caste system and makes everybody brothers. That's one reason in America they stopped educating the slaves was because when the slaves got educated, they started to read; and when they read, they read the Bible; and when they read the Bible, they got converted; and when they started getting converted, they could see the end of the slave trade; so they stopped teaching them to read.
He calls him a brother. Then notice he calls him "beloved," he calls him "faithful." And in the letter to Philemon he says, "Onesimus is" – and I love this – "is my very heart. Onesimus is my very heart. I love this man, this once slave, now brother."
You know I think one reason why Paul loved this man was because he was just another illustration of the principle that moved Paul: "If any man be in Christ he's" – what? – "a new creature. Old things are passed away; behold, all things are become new." I just think having Onesimus around was just another great testimony to what God's transforming power can do in a life. And Paul loved to see the past in the past.
Later on, Onesimus might have become the pastor of the church in Colossae:
We have found a letter written by Ignatius, one of the early church fathers, a few years after the New Testament era. And in that letter, Ignatius, who is a pastor of the Smyrna church, writes these words: "Since then, in the name of God, I received your entire congregation." He's writing to the Colossians. "Since then in the name of God, I received your entire congregation in the person of Onesimus, a man of inexpressible love, and your pastor. I beseech you in Christ Jesus to love him and all who are like him."
The statement of Ignatius may mean that Onesimus actually became the pastor of the Colossian church. It's a great ending to a story, isn't it? It tells us whether Philemon took him back or not; he became his pastor. Ha-ha, terrific. From runaway slave to your pastor, and only Christianity is going to do that. So what do we find? We take a look at the picture: we see a man with a servant's heart, and a man with a sinful past.
Onesimus means 'useful'. He was certainly useful, not only to Paul but also to the Lord. He is venerated in the Catholic Church, the Eastern Orthodox Church and in the Lutheran Church-Missouri Synod.
Tychicus is venerated in the Catholic Church on April 29.
Paul's 'group photo' continues next week.
Next time — Colossians 4:10-11
The Nineteenth Sunday after Trinity is on October 23, 2022.
Readings for Year C can be found here.
The Gospel reading is as follows (emphases mine):
Luke 18:9-14
18:9 He also told this parable to some who trusted in themselves that they were righteous and regarded others with contempt:
18:10 "Two men went up to the temple to pray, one a Pharisee and the other a tax collector.
18:11 The Pharisee, standing by himself, was praying thus, 'God, I thank you that I am not like other people: thieves, rogues, adulterers, or even like this tax collector.
18:12 I fast twice a week; I give a tenth of all my income.'
18:13 But the tax collector, standing far off, would not even look up to heaven, but was beating his breast and saying, 'God, be merciful to me, a sinner!'
18:14 I tell you, this man went down to his home justified rather than the other; for all who exalt themselves will be humbled, but all who humble themselves will be exalted."
Commentary comes from Matthew Henry and John MacArthur.
This reading picks up from where we left off last Sunday. Jesus told a parable about a widow who cried for justice from an ungodly judge. He gave in and granted her justice only because he did not want to be beaten down (the Greek words used) by her wailing anymore. Jesus said how much more merciful God would be to those who cry out to Him:
18:7 And will not God grant justice to his chosen ones who cry to him day and night? Will he delay long in helping them?
18:8 I tell you, he will quickly grant justice to them. And yet, when the Son of Man comes, will he find faith on earth?"
Of today's parable, John MacArthur says:
There is no time indicator here. There is no transitional statement here so we don't know exactly whether or not Jesus said this on the same occasion He was talking about the kingdom. Perhaps He did, perhaps He didn't, but certainly in Luke's inspired order of the text, this is the right discussion because we've just been talking about the kingdom and that Jesus is coming and you must be ready for His coming. And when He comes, there's going to be separation and there's going to be the death of the ungodly and carcasses are going to be everywhere. You want to be ready for the coming King. You want to be in His kingdom. And so that begs the question: How does one enter the kingdom? Who is in the kingdom and why? And so the parable fits in the flow of thought.
Regular readers of this column over the past few months will know that Jesus was in His final six months of public ministry. Luke 9 through Luke 19 documents His lessons to the disciples and to the Pharisees before He entered Jerusalem for the final time.
Jesus addressed this parable to the self-righteous who regarded others with contempt (verse 9).
Matthew Henry's commentary explains:
He designed it for the conviction of some who trusted in themselves that they were righteous, and despised others. They were such as had, 1. A great conceit of themselves, and of their own goodness; they thought themselves as holy as they needed to be, and holier than all their neighbours, and such as might serve for examples to them all. But that was not all; 2. They had a confidence in themselves before God, and not only had a high opinion of their own righteousness, but depended upon the merit of it, whenever they addressed God, as their plea: They trusted in themselves as being righteous; they thought they had made God their debtor, and might demand any thing from him; and, 3. They despised others, and looked upon them with contempt, as not worthy to be compared with them. Now Christ by this parable would show such their folly, and that thereby they shut themselves out from acceptance with God. This is called a parable, though there be nothing of similitude in it; but it is rather a description of the different temper and language of those that proudly justify themselves, and those that humbly condemn themselves; and their different standing before God. It is matter of fact every day.
MacArthur says:
… in particular who did He have in mind? Who were the real leaders of this religion in Israel of trusting in yourself that you were righteous? The Pharisees, the scribes. Go back to chapter 16 verse 14. The Pharisees…says Jesus…First of all it says Luke. "The Pharisees who were lovers of money were listening to all these things and were scoffing at Him and He said to them," and here are the words of Jesus, "You are those who justify yourselves in the sight of men. You make yourselves righteous in the sight of men, but God knows your hearts. That which is highly esteemed among men is detestable in the sight of God."
MacArthur would agree with Henry about self-righteouness continuing to be a matter of fact every day:
… the people believed that trusting in yourself to become righteous was the way that you gained a place in the kingdom of God and the way you would eventually get to heaven. The benchmark of their system: self-confidence in one's ability to achieve righteousness by their own power and works … trusting in their own righteousness. These are the Pharisees for sure. These are the people who followed the Pharisees. But these are also all the people of all time who have developed any kind of self-styled approach to God in which they believe they have the power to live a life that satisfies God, that somehow they are good enough to be acceptable to God, into His kingdom, into His goodness and into His heaven. These are all the people in the religion of human achievement. Basically that's how people think in the world …
The Pharisees were sickeningly self-righteous, or as Walter Liefeld says, "They are obnoxiously self-righteous." And that's why you have a further description of them at the end of verse 9.  Not only did they trust in themselves that they were righteous, but they viewed others with contempt.  They viewed others with contempt.  Contempt is the worst scorn that you can heap on somebody.  In Luke 23:11 the only two times this word is used in the gospels, once here in 18 and once again in 23:11, Herod with his soldiers after treating Jesus with contempt and mocking Him, dressed Him in a gorgeous robe and sent Him back to Pilate.  Scorn, ridicule, mockery, sarcasm, the lowest form and the most biting form of derision; the Pharisees were that way.  They looked at anybody below them outside their group with contempt.  The word, I think, is interesting enough to kind of break down, exoutheneō.  It comes from two words, as do many Greek terms, many of the verbs combining a preposition at the beginning.  Ek, out of, ouden, not, not even; out of not even anything, the nobodies, the nothings, the non-existents.  They viewed them as if they didn't exist.  By the way, that same word is used by Peter in Acts 4 when he preached a sermon, and he said this about Jesus, "He is the stone which the builders rejected." That's the same verb.  Jesus was treated as if He was nothing, absolutely nothing.  By the way, the word is also used in 1 Corinthians 1 where the Lord has chosen the base things and the despised. The nothings and the nobodies God has chosen.
So, there's in this self-righteousness, in this pride, a contempt for anybody beneath you.  The Jews, the law keepers were called the habarim and the lawbreakers were called the amharitz, the low-lifes.  And in the eyes of the Pharisee, he couldn't get near to anybody who was an amharitz.  That was an absolutely unthinkable thing for him to do.  Kenneth Bailey writes, "In the eyes of a strict Pharisee, the most obvious candidate for the classification of amharitz would be a tax collector.  But there was a particular kind of uncleanness that was contracted by sitting, riding, or even leaning against something unclean. This uncleanness was called midras uncleanness. And for Pharisees, he writes, "The clothes of an amharitz count as suffering midras uncleanness."  They didn't get near any of the low-lifes and the riff-raffs that they disdained. Remember I told you earlier, not even so much as to teach them the law of God.
And so here we have these two men.  And they are at extreme poles.  And they're going to be the ones that convey the message Jesus wants to convey to the people who think they can be good enough to get to heaven on their own.  The audience is really universal, a comprehensive audience.
Jesus began the parable by saying that two men went up to the temple to pray: a Pharisee and a tax collector (verse 10).
In old money, this parable was known as the one of the Pharisee and the publican. Publican in this context means tax collector, not someone who runs a pub.
Henry says that the custom of praying in the temple dated from the time of Solomon:
Two men went up into the temple (for the temple stood upon a hill) to pray. It was not the hour of public prayer, but they went thither to offer up their personal devotions, as was usual with good people at that time, when the temple was not only the place, but the medium of worship, and God had promised, in answer to Solomon's request, that, whatever prayer was made in a right manner in or towards that house, it should therefore the rather be accepted.
MacArthur says an atonement sacrifice was offered twice a day, dating back to Leviticus:
What's the scene here?  Two men went up to the temple to pray.  That happened twice a day, basically, every day, 9 A.M., 3 P.M., morning and evening sacrifice prescribed for the burnt offering which was laid out in the 1st chapter of Leviticus.  They were to go up and make an animal sacrifice, a blood sacrifice as a symbol of atonement.  That was a very, very important thing.  They were very, very fastidious people who made sure they showed up at 9 A.M. and at 3 P.M. every day, particularly Pharisees who were in the proximity and could do that.  Now the crowd would go up the steps at the prescribed time.  The sacrifices would be offered on the altar.  Following the sacrifices which would symbolically open the way to God because atonement had been made, incense would be burned symbolizing prayer.  Now because atonement has been made, prayers can be offered. And prayers would be offered.  There would come a priestly benediction upon the people who were faithful enough to be there as well, and that would be the typical scene.  When it says they went up to the temple to pray, "pray" would embody all the worship, all of the activities that went on.  The temple, according to Matthew 21:13 by the mouth of Jesus Himself is a house of prayer.  Remember Jesus said, "My Father's house is a house of prayer," taking the language from Isaiah 56:7, "and you've turned it in to a den of thieves."  A house of prayer: "Prayer" synonymous with worship, a house where you go to offer yourself and your petitions and your praise to God.  It was that time and the crowd ascended the long, steep steps up to the temple mount.  They went up, anabainō. They ascended up there to worship.  The two men are in the crowd and everybody would understand.  It's a very familiar scene, every morning, every afternoon the same scene went on.
They're going up there because an atonement is going to be made for sin.  Some are going up there feeling they need the benefits of that atonement.  Some are going up there to display themselves and they're just looking for a crowd to gather for that purpose.  There would be a time when all of the people would gather around the altar as the sacrifice was being made, after which the incense being burned, people would then pray.  The Pharisee, very familiar to us, we don't need to say any more about them, you know all there is to know: self-righteous, self-promoting, self-satisfied purveyors and protectors of the religion of human achievement.  Tax collector, also familiar; we've seen tax collectors already in four chapters. This is the fifth time.  We know they were the low-lifes of that society because they had purchased tax franchises from the Romans who were the idolaters, oppressors, thus desecrating themselves.  They then extorted money from their own people using strong-armed thugs and any intimidation, manipulation or criminal activity they could and were surrounded by the low-life, riff-raff of society.  So, they are shown going up together with the crowd, but they separate when they get there.
The Pharisee stood by himself, praying to God with an erroneous thanksgiving that he was not like other people he considered to be unclean and beneath himself: thieves, rogues, adulterers — 'or even like this tax collector' (verse 11).
Henry says:
Here is the Pharisee's address to God (for a prayer I cannot call it) … he was wholly intent upon himself, had nothing in his eye but self, his own praise, and not God's glory; or, standing in some conspicuous place, where he distinguished himself; or, setting himself with a great deal of state and formality, he prayed thus. 
MacArthur comes to the same conclusion:
Jesus even talks about in Matthew 6:5 standing in a posture of prayer but not doing it to be seen of men.  He says don't be like the hypocrites who stand in order to be seen by men.  Well here's one of those hypocrites.  Not wrong to stand but to stand to be seen by men. Again you go back to the issue of the heart.  Very likely he would take his place in a most visible location and nearest to the holy place that he could get to show his proximity to God.  He wants to be wherever God is believed or deemed to be, to give the unwashed around him a good look at a truly righteous man.  He takes his posture there.
The Pharisee said that he fasted twice a week and tithed a tenth of all his income (verse 12).
Henry offers this analysis:
The Pharisees and their disciples fasted twice a week, Monday and Thursday. Thus he glorified God with his body: yet that was not all; he gave tithes of all that he possessed, according to the law, and so glorified God with his worldly estate. Now all this was very well and commendable. Miserable is the condition of those who come short of the righteousness of this Pharisee: yet he was not accepted; and why was he not? (1.) His giving God thanks for this, though in itself a good thing, yet seems to be a mere formality. He does not say, By the grace of God I am what I am, as Paul did, but turns it off with a slight, God, I thank thee, which is intended but for a plausible introduction to a proud vainglorious ostentation of himself. (2.) He makes his boast of this, and dwells with delight upon this subject, as if all his business to the temple was to tell God Almighty how very good he was; and he is ready to say, with those hypocrites that we read of (Isa 58 3), Wherefore have we fasted, and thou seest not? (3.) He trusted to it as a righteousness, and not only mentioned it, but pleaded it, as if hereby he had merited at the hands of God, and made him his debtor. (4.) Here is not one word of prayer in all he saith. He went up to the temple to pray, but forgot his errand, was so full of himself and his own goodness that he thought he had need of nothing, no, not of the favour and grace of God, which, it would seem, he did not think worth asking.
MacArthur says:
… the construction lends itself better to understand that he was actually directing his prayer in a self-congratulatory fashion. And that is fairly well indicated by the fact that in two verses he refers to himself five times. That's pretty hard to do. You have to have short sentences and a lot of first person pronouns. This is a self-congratulatory prayer and the translation of the NAS is a good translation. "The Pharisee stood and was thus praying to himself." He is parading himself. This is no prayer to God. He gives God no praise. He asks nothing from God, no mercy, no grace, no forgiveness, no help. But he does refer to God. "God," because you're supposed to, that's the way all prayers are supposed to begin, "I thank you that I'm not like other people." Wow. Well, what's there to thank God for? You've done this on your own. This is sheer hypocrisy. This is an unequivocal confession to God of his worthiness, of his righteousness. Thanking God for what you are on your own? This is where self-righteousness leads you. I'm good enough. God, I thank You that I'm good enough. I'm good enough to have a relationship with You. I'm good enough to be here in Your temple. I'm good enough to be standing by this holy place. I'm good enough to be the paragon of religious righteousness and virtue. I'm good enough to stand here so all the low-lifes can see what a really godly man looks like.
MacArthur says that when the prayers began, the notionally unclean were separated and ushered out of the temple:
And he must have kept himself a little bit of distance away.  If he were to brush against any amharitz, he would be unclean.  And physical isolation for a Pharisee was a statement.  They stood aloof from others when they gather around the altar, they stood aloof from others at all time in society, they never had a dinner or a lunch at their house with anybody but another Pharisee, unless they invited somebody in which to trap Jesus.  According to the Mishnah, by the way, the Jewish law, at the time of the incense, after the sacrifice in the morning and evening service, prayers were made. And when the prayers began, according to Mishnah, there was a delegation of Jews that was responsible at the time of the beginning of the prayer, of the praying, to find the unclean people in the crowd and clear them away to the eastern gate, get all the unclean people out.  And maybe a Pharisee like this would wonder why there was even a tax collector in his vision who should have been ushered off and out the eastern gate.
MacArthur also has more on the Monday and Thursday fasting of that era:
Verse 12: "I fast twice a week."  Impressive, huh?  By the way, the Old Testament only prescribed one fast, Day of Atonement, preparation for the Day of Atonement. Leviticus 16:31 called for a fast.  There are no other required fasts.  There were times of sorrow, times of penitence, times of mourning when people fasted and that was something you could choose to do.  But there was only one prescribed fast.  But as I said, these self-styled, self-righteous, external legalists like to invent rituals and ceremonies as all false religions do.  And they get more complicated and more complicated and more complicated and more symbolic and more symbolic in direct proportion to the absence of truth and reality.  And so they had developed a scheme of fasting on Monday and Thursday, Monday and Thursday.  Why Monday and Thursday?  Because those were the market days and the crowds were bigger, so you could go into the big crowd and throw a bunch of ashes on your head and look sad, and fast, spiritual impression would be made.  And why Monday and Thursday?  Some other writers say, well because it was a Monday, according to some rabbi, that Moses went up to Sinai and forty days later he came down on a Thursday. So Monday and Thursday.  Some other rabbi offers this explanation, "Because Monday and Thursday are equal distant from the Sabbath while being as far from each other as possible."
Jesus condemned showy fasting:
Jesus condemned that, remember, in the 6th chapter in the Sermon on the Mount when He said, "Don't fast like the hypocrites fast, in the public streets and in the corners, calling attention to yourself." It's talking exactly about this. People putting on external spiritual displays by ritualistic, ceremonial behavior by the clothing they wear, the garb, the way they dress as if this is the mark of real holiness.
The Pharisee's tithes were in addition to the Old Testament tithes, something they invented, therefore, man-made:
Further he says, "I pay tithes of all that I get."  Sounds like a good Baptist, but not really.  I pay tithes of all that I get.  The Old Testament laid down prescription for tithing, 10 percent of what you get goes to fund the national theocratic government, 10 percent goes to fund the national festivals and feasts on high holy days, and 10 percent every third year for the poor.  So it was three and a third a year, so about a 23 and a third percent tax, that's what funded the theocratic kingdom of Israel.  Now that's all the Lord required.  Then there was a half-shekel temple tax and that was it.  But again, they wanted to invent laws to appear righteous, so in Matthew 23:23 and Luke 11:42, I think it is, it says that they tithe of mint and anise and cumin.  Those are tiny little spices.  They tithed the tiny little seeds and leaves of the spices as a way to demonstrate their virtue, their holiness, their law-keeping.  They went beyond the law.
MacArthur gives us an actual prayer from the Pharisees' era:
A Pharisaic prayer dating from about the time of Jesus goes like this, "I thank Thee, Jehovah, my God, that Thou hast assigned my lot with those who sit in the house of learning and not with those who sit in the street corners. I rise early and they rise early. I rise early to study the words of the Torah and they rise early to attend to things of no importance. I weary myself and they weary themselves. I weary myself and gain thereby while they weary themselves without gaining anything. I run and they run. I run toward the life of the age to come. And they run toward the pit of destruction." That was self-righteousness in the Pharisaic mind.
Jesus said (verse 13) that the tax collector stood far off, would not look upward to heaven, but instead beat his breast saying, 'God, be merciful to me, a sinner!'
Henry discusses the tax collectors stance and gesture:
He expressed his repentance and humility in what he did; and his gesture, when he addressed himself to his devotions, was expressive of great seriousness and humility, and the proper clothing of a broken, penitent, and obedient heart. (1.) He stood afar off. The Pharisee stood, but crowded up as high as he could, to the upper end of the court; the publican kept at a distance under a sense of his unworthiness to draw near to God, and perhaps for fear of offending the Pharisee, whom he observed to look scornfully upon him, and of disturbing his devotions. Hereby he owned that God might justly behold him afar off, and send him into a state of eternal distance from him, and that it was a great favour that God was pleased to admit him thus nigh. (2.) He would not lift up so much as his eyes to heaven, much less his hands, as was usual in prayer. He did lift up his heart to God in the heavens, in holy desires, but, through prevailing shame and humiliation, he did not lift up his eyes in holy confidence and courage. His iniquities are gone over his head, as a heavy burden, so that he is not able to look up, Ps 40 12. The dejection of his looks is an indication of the dejection of his mind at the thought of sin. (3.) He smote upon his breast, in a holy indignation at himself for sin: "Thus would I smite this wicked heart of mine, the poisoned fountain out of which flow all the streams of sin, if I could come at it." The sinner's heart first smites him in a penitent rebuke, 2 Sam 24 10. David's heart smote him. Sinner, what hast thou done? And then he smites his heart with penitent remorse: O wretched man that I am? Ephraim is said to smite upon his thigh, Jer 31 19. Great mourners are represented tabouring upon their breasts, Nah 2 7.
Henry analyses the publican's prayer:
His prayer was short. Fear and shame hindered him from saying much; sighs and groans swallowed up his words; but what he said was to the purpose: God, be merciful to me a sinner. And blessed be God that we have this prayer upon record as an answered prayer, and that we are sure that he who prayed it went to his house justified; and so shall we, if we pray it, as he did, through Jesus Christ: "God, be merciful to me a sinner; the God of infinite mercy be merciful to me, for, if he be not, I am for ever undone, for ever miserable. God be merciful to me, for I have been cruel to myself." (1.) He owns himself a sinner by nature, by practice, guilty before God. Behold, I am vile, what shall I answer thee? The Pharisee denies himself to be a sinner; none of his neighbours can charge him, and he sees no reason to charge himself, with any thing amiss; he is clean, he is pure from sin. But the publican gives himself no other character than that of a sinner, a convicted criminal at God's bar. (2.) He has no dependence but upon the mercy of God, that, and that only, he relies upon. The Pharisee had insisted upon the merit of his fastings and tithes; but the poor publican disclaims all thought of merit, and flies to mercy as his city of refuge, and takes hold of the horn of that altar. "Justice condemns me; nothing will save me but mercy, mercy." (3.) He earnestly prays for the benefit of that mercy: "O God, be merciful, be propitious, to me; forgive my sins; be reconciled to me; take me into thy favour; receive me graciously; love me freely." He comes as a beggar for an alms, when he is ready to perish for hunger. Probably he repeated this prayer with renewed affections, and perhaps said more to the same purport, made a particular confession of his sins, and mentioned the particular mercies he wanted, and waited upon God for; but still this was the burden of the song: God, be merciful to me a sinner.
MacArthur reminds us that the heart is the centre of evil:
An old Jewish commentary says, and I quote, "Why do the righteous beat on their heart as though to say all is there?  The righteous beat their heart because the heart is the source of all evil longing."
This is a recognition of what our Lord taught, that it's out of the heart that all evil comes.  You remember the words of our Lord Jesus, Mark 7:21 and Matthew 15:19, parallel passages.  Let me read you Matthew 15:19 and 20, "Out of the heart come evil thoughts, murders, adulteries, fornications, thefts, false witness, slanders. These are the things which defile the man."  He understands. This is a man who understands his own sinfulness. His location demonstrates it, his posture demonstrates it. His behavior demonstrates it.  He knows what's in his heart.  He knows that what Jeremiah said is true, that the heart of man is deceitful above all things and desperately wicked.  He is anguished over his guilt.  He is broken over his shame, his unworthiness.  He is crushed and humbled.  And it comes out in everything about him and even in his words.  He says, "God," and he is truly talking to God. That's not just doing what is expected, he is talking to God. "Be merciful to me, the sinner."  Those are the words of a true penitent.  Start with the sinner, not a sinner; toh hamartōlō, definite article, the sinner.  Like Paul in 1 Timothy 1:15, "For I am the chief of sinners."  This is an unequivocal confession of his extreme and supreme sinfulness and there's no comparing him with others. He is the worst sinner.  And that is a legitimate response because of all the sinners in the world he knows he knows himself to be the worst because no sinner knows so much about himself as the individual himself.  He knows about other sinners, but he knows his own heart better than he knows anybody else.  "Who knows the spirit of a man but the spirit of the man that is within him?" says the Scripture.  He is the worst sinner in the world, as far as his personal knowledge is concerned.
MacArthur says that the Pharisee thought he himself was a sinner but that, unlike the publican, he had more right to be forgiven. As such, the Pharisee thought God would overlook his sins:
The Pharisee had faith in God. He believed in God. He believed in the true and living God, the God of Abraham, Isaac and Jacob. He believed in the God who was the Savior God. He believed in the sacrificial system. He believed in atonement for sin. He believed in God's forgiveness.
You say, "You mean he really did believe in God's forgiveness?" Sure. A Pharisee didn't believe that he never committed any sin ever in his entire life. He just believed that he had earned the right to be forgiven.
MacArthur cites a modern day example of this type of belief, that of the Mormons:
When I was meeting with some of the leaders of the Mormon church, we were having a conversation, one of the stunning statements they made to me and they wanted to affirm it again and again, is we believe salvation is all of grace, all of grace. And I said, "Okay, well then if I want to be sure to go to heaven, what do I need to do?" And they said, "Well, first of all you have to be baptized in this Mormon ritual, and then you have to join the Mormon church, and then you would have to adhere to…" and they started down this list.
I said, "Wait a minute. It doesn't sound like grace. That sounds like works." And as I pressed the issue, it came around to this: Isn't God gracious that He allows us to earn our salvation? … That's the way religious people think. It isn't that the world is full of people who don't think they've ever done anything wrong. It's just that they think they have not done as much wrong as they have done right. And so they've tipped the scales in their favor and God is going to forgive the stuff that they've done because they've earned it.

MacArthur discusses the publican's prayer for God's mercy in light of the atonement sacrifice:
The defining distinction here is that the first man has nothing for which to what?  Repent.  He's like the rich young ruler. He says, "I've kept everything since my youth.  I can't find anything I need to confess or repent of."  That is the issue.  There is no possibility of salvation apart from this kind of repentance because this is the defining element.
Now notice what he says.  "Be merciful to me."  The Greek is, very important phrase, hilaskomai, hilaskomai. Hileos tati is not to show mercy. That's a different word.  If you go down to verse 38, Jesus meets a blind man in verse 38 of this chapter, and the blind man calls out and says, "Jesus, Son of David, have mercy on me." That is a true translation of eleēson me, different word, from the verb eleeō, which means to show mercy.  That's exactly what that means, to show mercy.  Hilaskoimoi comes from the Greek verb hilaskomai, which means to propitiate, to appease, to make propitiation, to make satisfaction.  And every word attached to that verb root, hilas, whether it's alasmos, halasterios, hilaos, they all have to do with the same idea.  This is what he said, "God, be propitious to me.  God, be appeased toward me."
What is he saying?  He's saying this, "God, please apply the atonement to me."  He understood the theology of atonement.  He understood the wages of sin is death, the soul that sins it shall die.  He understood all the way back to the wonderful story of Abraham and Isaac that God would provide a sacrifice that would satisfy Himself and would satisfy His justice, a substitute.  He understood that the millions of animals that had been offered throughout all of Jewish history were symbolic of the fact that God could be appeased by a sacrifice, though none of those sacrifices ever gave the final appeasement to God. Otherwise they would have ceased.  He's talking atonement language here.  This is not a general plea for mercy.  And this needs to be expressed clearly because sometimes when we present the gospel, all we want to do is say God loves you and has this wonderful purpose for your life and God wants you to have the joy and happiness and all of this and if you just ask Him, He'll be merciful to you.
That's not what he's saying.  He is saying, "I am a wretched sinner.  I am unworthy to stand near you.  I am unworthy to look up toward you.  I am in profound agony and anguish over my wretchedness.  I need an atonement for my sins to be applied to me."  That's what he's saying.  This is about sin and atonement.
This verb is only used two times in the New Testament, one here and the second use in Hebrews 2:17 where it says, concerning Jesus Christ, that He is a faithful high priest in things pertaining to God to make propitiation for the sins of His people, to make satisfaction, to satisfy the wrath of God, to satisfy the justice and holiness and vengeance of God.  And that's what this man is crying for. Oh God, please apply the atonement to me, make atonement for me.  That very day a sacrifice had been made on that altar. He pleads that it would apply to him.  He understood the theology of substitution, imputation and atonement.  They knew that there would come one day a Son of David, a root out of Jesse, Isaiah 53, and He would bear our iniquities and He would die in our place.  That's what Isaiah 53 says, "He was wounded for our transgressions, bruised for our iniquities.  And by His sacrifice we have peace with God.  Please, oh God, please make the atonement apply to me.  May Your anger with me over."  That's the plea of a penitent sinner.  "Oh God, cease being justifiably, righteously angry with me.  May Your justice be satisfied through atonement."
One historian says this, "One can almost smell the pungent incense, hear the loud clash of ceremonial cymbals, see the great cloud of dense smoke rising from the burnt offering.  And the tax collector is there, stands afar off, anxious not to be seen, sensing his unworthiness to stand with the participants.  In brokenness he longs to be a part of it all.  He yearns that he might stand with the righteous.  In deep remorse he pounds his chest and cries out with repentance and hope, 'Oh God, let it be for me.  Make an atonement for me, a sinner.'"  There in the temple, this humble man aware of his own sin and unworthiness, with no merit of his own to commend him, longs that the great dramatic atonement sacrifice might be applied to him."
Jesus ended the parable by saying 'I tell you' — making it most emphatic on His authority — that the tax collector went home justified, not the Pharisee; those who exalt themselves will be humbled and those who humble themselves will be exalted (verse 14).
MacArthur explains why Jesus began that ending the way He did:
Jesus says, "I tell you." Why does He say that? Why begin like that? Because He knows He couldn't get this anywhere else in Judaism. He can't quote a rabbi. He speaks with absolute authority, "I tell you." Here is sound soteriology from incarnate God. "I tell you, this man went down to his house…" That's not what the rabbis tell you, that's not what the scribes tell you, that's not what you have heard. "I tell you, this man went down to his house having been made just," having been made righteous, having been made acceptable. And speaks of a completed condition, the verb form, a state of having been declared righteous and that's permanent.
MacArthur says that our Lord's statement about instantaneous and permanent divine justification of the publican would have shocked the legalists listening to Him:
This would draw gasps from the legalists. Think of it, Jesus, God in human flesh, the holy one, the perfect sinless one says that in one moment an extreme sinner can be pronounced instantly righteous without any works, without any merit, without any worthiness, without any law-keeping, without any moral achievement, religious achievement, spiritual accomplishment or ritual. No time lapse, no penance, no works, no ceremony, no sacrament, no meritorious activity whatsoever, nothing to do, instant declaration of justification on the spot, permanent. Wow! How can that be? Because the only righteousness that God will accept is perfect righteousness and since you can't earn it, He gives it as a gift to the penitent who put their trust in Him. That's the gospel. All the sinner ever does is receive the gift, coming in penitent trust, pleading for atonement to be made to satisfy the wrath of God against his sin.
Here is the broken-hearted, self-confessed sinner, humble, unworthy, trusting only in God's atonement, pleading that God would apply it to him, who is instantaneously made perfect before God, as perfect as God, for the righteousness of God is credited to him. He's the one who enters the spiritual and will be in the earthly and will live forever in the eternal kingdom, rather than the other. The self-righteous pride of the Pharisee and everybody like him only intensifies the alienation. His soliloquy up there just solidified his self-confidence and he went down even more wretched than when he went up. Atonement is worthless to the self-righteous.
So the listening crowd who heard Jesus say this and anybody who reads it is forced to reassess how a person enters the kingdom of God. It's not by human morality, goodness, or religion, but by repentance and conviction of sin and a plea for an atoning sacrifice.
MacArthur says this is the only time that Jesus ever spoke of justification:
The work of our Lord is not mentioned because it's not yet occurred.  But what is clear is this, that righteousness and justification is a gift from God apart from works that is only made possible through the application of an atoning sacrifice.  We leave it to Paul after the cross to teach the rich meaning of the atonement of Jesus Christ being that one and only sacrifice that satisfies God.  But isn't it interesting that the starting point for Paul, the starting point for the New Testament understanding of righteousness through atonement is traceable back to this story which Jesus told?
When I wrote the book The Gospel According to Jesus and I rewrote a later edition and a newer edition of it, I wanted to include in that the doctrine of justification.  This is the only place in the teaching of Jesus where you have this explicit instruction.  It is here that the foundations for the teaching of Paul are found.  Christ becomes that sacrifice and it's His death who's applied… it's applied to all in the past and all sins.  However, know this, that there is no salvation on this side of the cross apart from recognizing Christ and His work on the cross, for there is no salvation in any other name.
MacArthur then discusses the second half of verse 14, a truth mentioned throughout the Bible:
The Lord ends this amazing story with what I'll call the central axiom. The audience, the analogy, the answer, the central axiom in verse 14, this is a truism, a proverb, "For everyone who exalts himself shall be humbled, but he who humbles himself shall be exalted." "Exalted" here is a synonym for salvation, a synonym for righteousness. It's used in an Old Testament sense. In the Old Testament, only God is truly exalted and only God can exalt men. Men can't exalt themselves successfully to His level. So this refers to spiritual salvation, reconciliation, righteousness, justification, being in the kingdom. All efforts to doing that on your own are going to leave you humiliated. Everyone who exalts himself — that is, tries to save himself or make himself righteous — shall be humbled in the severest sense of the word, crushed in eternal loss and punishment. The path of self-exaltation ends up in eternal judgment. God resists the proud and gives grace to the humble.
On the other hand, all who humble themselves, confessing they cannot do anything to save themselves, will be lifted high into eternal glory. The damned think they're good. The saved know they're wicked. The damned believe the kingdom of God is for those worthy of it. The saved know the kingdom of God is for those who know they're unworthy of it. The damned believe eternal life is earned. The saved know it's a gift. The damned seek God's commendation. The saved seek His forgiveness.
May everyone reading this have a blessed Sunday.