On Friday, September 23, 2022, just four days after the Queen's funeral, Chancellor Kwasi Kwarteng delivered a 'fiscal event' designed to kick start the British economy.
In the days leading up to the fiscal event, so-called because it wasn't a full budget, the media and Labour were clamouring for it. However, the nation was in mourning for the late monarch and, accordingly, Parliament was in recess.
Conservative critics — i.e. Brexit critics — asked, 'Where's Liz? Where's the Chancellor? Something must be done!'
Parliament reconvened on that Friday to hear Kwarteng deliver a big, bold and beautiful economic plan, which included the abolition of the 45% upper tax rate.
Even Nigel Farage approved, going back in history to Margaret Thatcher's time as PM:
What happened? The same critics blasted Kwarteng and Prime Minister Liz Truss for their rather Thatcherite plan, designed to reverse the nation's economic course since the Labour days of the early Millennium under Gordon Brown to the present Conservative government:
Small-c conservatives hoped that Boris Johnson would have done this, but it was too big to take on. With the flak Truss and Kwarteng caught, it now appears that Johnson probably feared it would dent his popularity. That's only my guess, but it makes sense.
Mortgage rate fears
I went to a small local event on Saturday, September 24. Before it began, one woman of pensionable age asked, 'Has anybody seen the news today? I didn't have time to look. Has the economy crashed yet?' It was clear she was angry. Other people in attendance responded with jokes about supply-side economics.
Throughout the week, it was nothing but doom and gloom, even on GB News, which offered few correctives. The Labour Party conference took place last week, which did not help.
I went to the shops on Wednesday, September 28. On my walk, I overheard an estate agent talking to an older couple about their mortgage rate fears as a result of the fiscal event. The media had sent out ominous messages about rising interest rates. The estate agent told the couple that the turbulence would be short term and that it was taking place all over Europe — which is true.
On Thursday, September 29, the BBC's Question Time aired. One young woman stoked fears about a hike in interest rates on mortgages, claiming — claiming — that hers was going up to over 10%: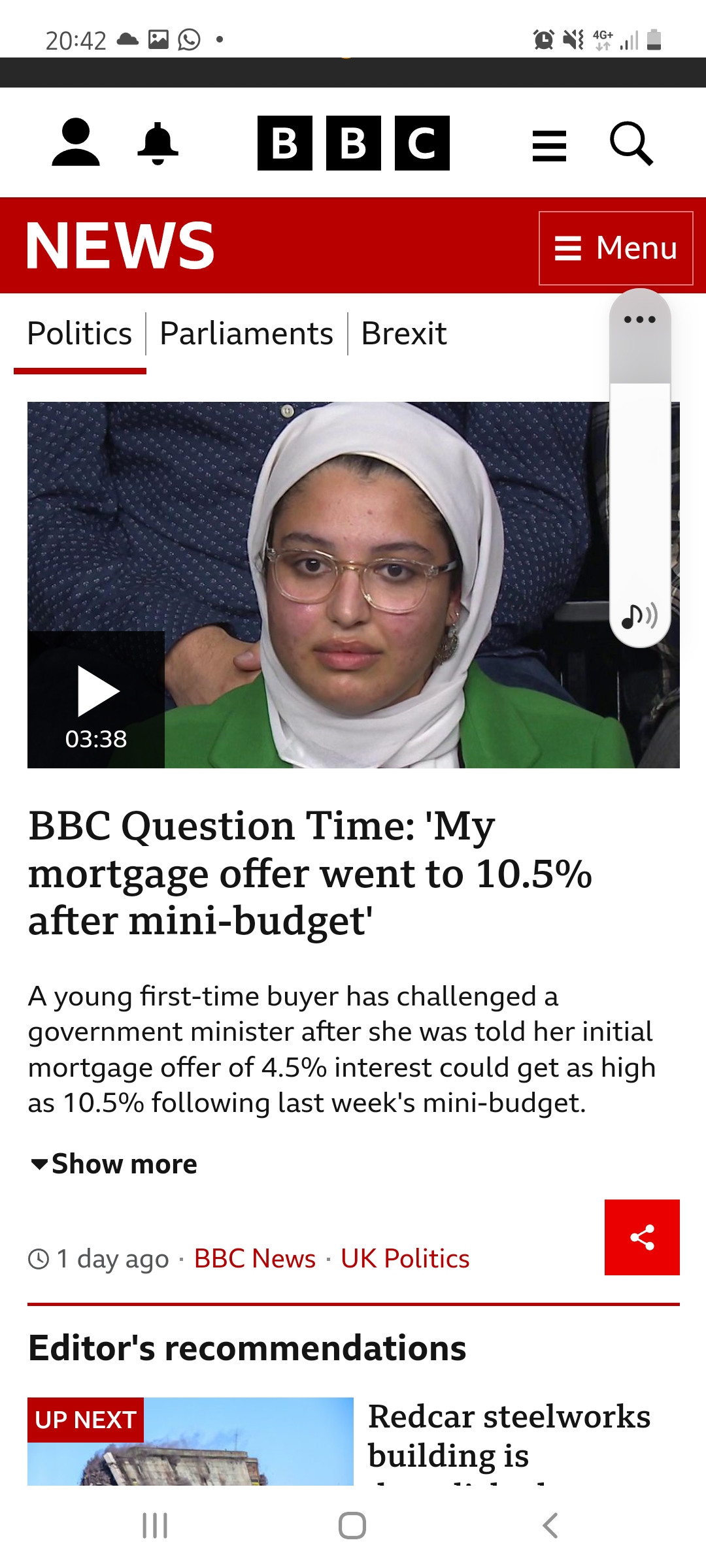 But was this claim true?
Apparently, the claim is false: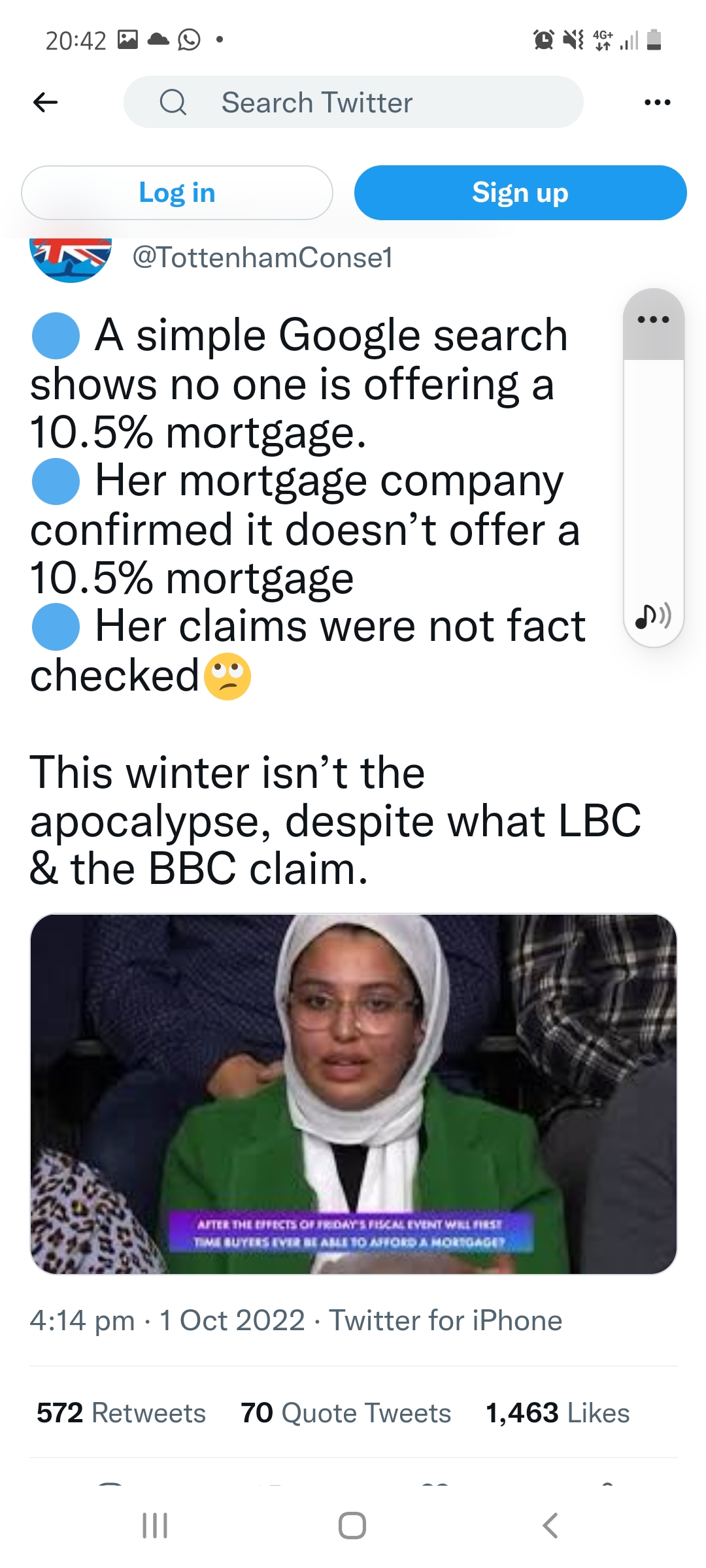 Skipton Building Society said they had not offered a 10%+ mortgage rate for many years: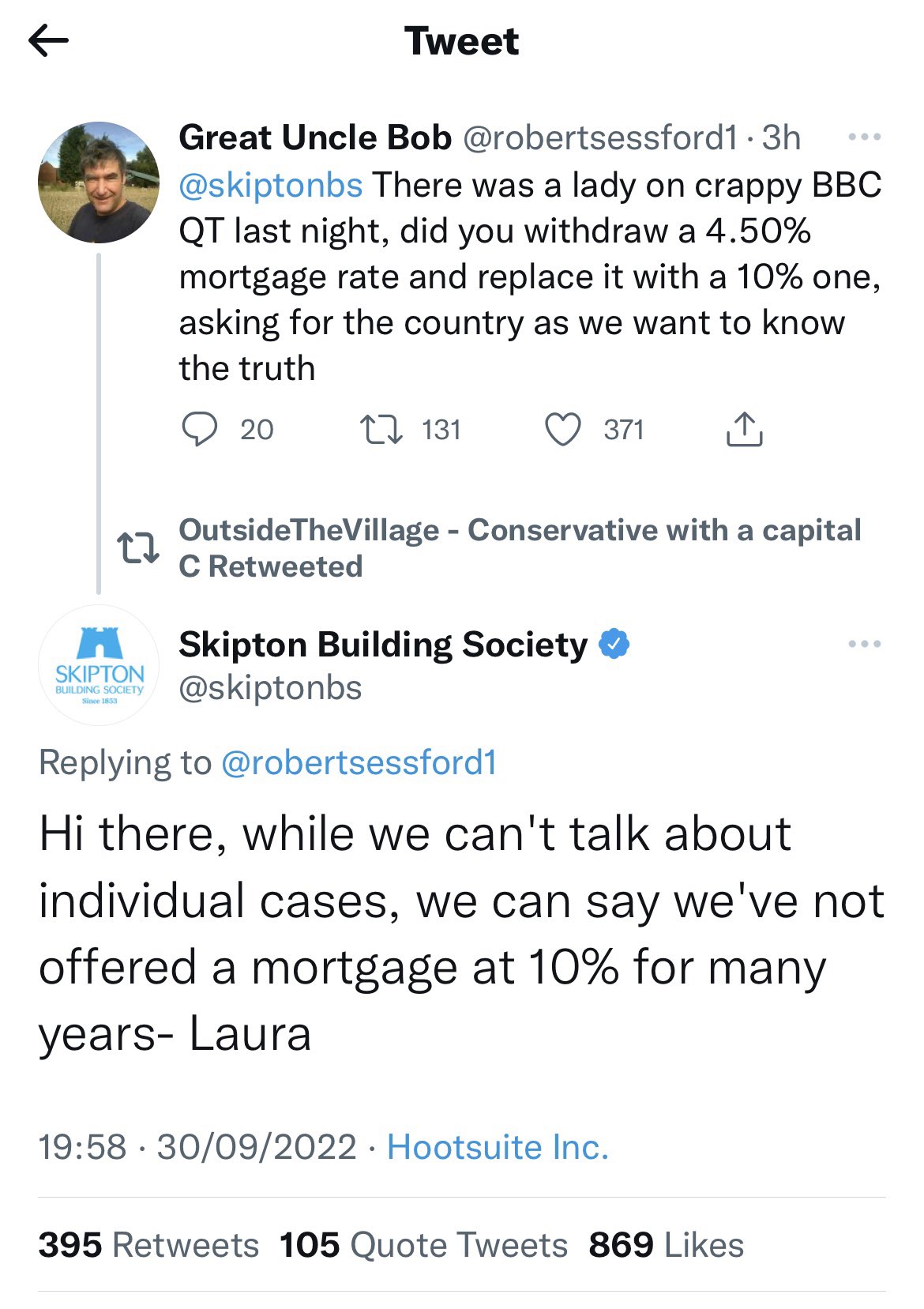 Once again, the Left — including the media — took charge of the Conservative narrative. They're still at it.
Conservative Party conference opens
On Sunday, October 2, the Conservative Party conference began in the UK's Second City, Birmingham, once our industrial capital:
Penny Mordaunt MP, Leader of the House of Commons, paid an excellent tribute to our late Queen, which was followed by a minute's silence and the singing of the National Anthem.
Having seen the first few speeches on GB News, the mood from the MPs speaking was upbeat. However, the mood in the conference hall was sombre.
Rishi Sunak and several of his supporters, prominent MPs, did not attend. Sunak said he wanted to be absent so that Truss 'could own the moment'. Ouch.
Boris Johnson also sent in his regrets.
Earlier that day, Truss appeared on Laura Kuenssberg's Sunday show on BBC1.
Kuenssberg asked her about the abolition of the 45% tax rate. Truss said that was Kwarteng's decision. Oh, dear. Guido Fawkes has the video:
Because the fiscal event had to be done quickly, Truss and Kwarteng did not consult other Cabinet members.
Also, because it was such a departure from the norm, it appeared shocking to Britons expecting more of the same. Truss told Kuenssberg that she and the Chancellor could have communicated it better (see video):
Truss rightly pointed out that 'optics' — rather than reality — dominated the fiscal event:
In the video, Kuenssberg ended by saying that optics were terribly important, implying that they make just as much of an honest representation as does reality. Oh, my days!
Returning to the Conservative Party conference opening day, Michael Gove stuck his oar in, saying that tax cuts are not conservative.
Whaaat?
Former Conservative MP Michael Portillo explained on his GB News show that Gove became an MP during David Cameron's time as Prime Minister and, therefore, has a different take on economics.
The economy wasn't the only issue on MPs' minds. Other of Truss's leadership rivals in this summer's contest for PM were not happy.
As is common with party conferences, smaller events took place outside of the main venue.
Last week, Truss said she would like to see more immigration, something that won't please folks who voted Conservative for the first time in 2019.
On Sunday evening, Trade Secretary Kemi Badenoch — the MP whom conservatives deeply admire — attacked Truss's immigration plans:
Guido has the story, which reveals rifts in the Party (emphases his):
If Liz Truss thought the furore over the 45p rate would distract attention from MPs rebelling on other policy areas, Guido's sorry to disappoint her. At the IEA/TPA DrinkTanks reception last night, guest of honour Kemi Badenoch openly rebuked the PM's plans to let in more immigrants to boost growth. The Trade Secretary ignored any sense of collective responsibility as she told the assembled free marketeers:
Simply taking in numbers to boost GDP while GDP per capita falls is not the right way to do that. We need to look again at resolving our productivity issues and that means using capital better, not just getting cheaper and cheaper labour.
Kemi's brazen and deliberate speech last night all but confirmed The Times' article on Sunday reporting major Cabinet divisions over the plan, with Kemi and Suella Braverman at odds with the PM's preferred free market solution. Like Liz, Guido doesn't have a problem with skilled, legal immigration, it is the illegal immigration which is concerning. It seems Tory Cabinet ministers aren't even pretending to play happy families anymore…
Also that evening, Leader of the House Penny Mordaunt spoke at a small gathering to complain — rightly — about poor Conservative communication over policy making:
She made her views known at an event called 'Conservatives in Communication'.
Sadly, Guido points out:
… host Adam Honeysett-Watts had to tell the crowd to shut up and listen. Unfortunately, most of the attendees were far more interested in guzzling free booze and chatting to each other.
Meanwhile, Truss addressed a group of Conservatives, explaining the need for growth — now. She, too, said that Party communications are lacking:
She is not wrong, and she has to make up for the past two years, consumed by dealing with the pandemic.
The second day of conference brings U-turn on 45% tax rate
Did Michael Gove, the Scot who wants to become PM, exercise his influence once again?
Nothing against Scots, but their politicians do seem to think that people need to be micro-managed, which Gove does, and that we should continue a globalist agenda in, well, nearly everything.
For the first time in years, Gove is not in Cabinet.
That said, he has never supported PMs he has served, going all the way back to David Cameron. This comment comes from one of Guido's readers (purple emphases mine):
Cameron, don't forget Cameron. Gove mortally wounded him too with Brexit. I don't disagree with Gove supporting Brexit obviously but the way he went about it was like a serpent to someone who called him his friend. His whole front line career has been poisonous towards the sitting leader.
At 7:17 a.m., Guido tweeted that Truss and Kwarteng were backing down on abolishing the 45% tax rate:
Kwarteng said he would still be going ahead with the rest of the fiscal event policy.
That U-turn will empower Gove and the Left — again, media included — to control the narrative even more.
Baroness Thatcher would have been so disappointed:
And I know what Thatcher would have done with Gove: withdrawn the Party whip.
Guido says that the reversal came about on Sunday evening and that The Sun had the exclusive:
After The Sun broke the exclusive of conference late last night, the Lobby's just been informed that the government will now not be going ahead with the 45p rate abolition, with a u-turn expected to be announced within the next hour. Just yesterday the press were briefed that Kwasi was to tell conference "We must stay the course. I am confident our plan is the right one."
This morning the course has not been stayed – it has been re-directed in another direction altogether. Kwasi's statement:
From supporting British business to lowering the tax burden for the lowest paid, our Growth Plan sets out a new approach to build a more prosperous economy. However, it is clear that the abolition of the 45p tax rate has become a distraction from our overriding mission to tackle the challenges facing our country. As a result, I'm announcing we are not proceeding with the abolition of the 45p tax rate. We get it, and we have listened. This will allow us to focus on delivering the major parts of our growth package. First, our Energy Price Guarantee, which will support households and businesses with their energy bills. Second, cutting taxes to put money back in the pockets of 30 million hard-working people and grow our economy. Third, driving supply side reforms – including accelerating major infrastructure projects – to get Britain moving.
The move came after crisis talks yesterday between the PM and Chancellor; their hands forced by Tory MPs continuing to state on the record they couldn't vote for the plans, despite an open warning from [new Party chairman, MP] Jake Berry that they'd lose the whip. Gove was at the forefront of the rebellion…
Guido's cartoonist came up with this:
It is unclear how much of this has to come up for a vote in Parliament in order to proceed.
However, it is becoming apparent that a significant number of MPs have not united behind Liz Truss:
If enough Conservative MPs rebel in a vote, the Government could collapse. A collapse could trigger an imminent general election (GE). With the way things are, Labour could win and form a coalition with the other Opposition parties. That would be a disaster, particularly in voting reform if they push through a vote for 16-year-olds and immigrants to vote in a GE. Furthermore, they would probably also want some type of proportional representation to replace the centuries-old first-past-the-post.
Of course, the alternative is that Conservative MPs have another leadership contest, but that would look as if they were incompetent. One MP suggested that Conservative Party members be locked out of that vote altogether, which would anger them deeply.
An hour after Kwarteng announced the U-turn, he was on BBC Radio 4 with Conservative-loathing Nick Robinson. This is so sad:
Then Kwarteng went on Nick Ferrari's LBC breakfast show. Ferrari pressed him to say 'no more U-turns' but the Chancellor repeated, 'I've said what I've said'. Guido has the video:
As a result of the U-turn, the markets were no longer predicting a 6% rise in interest rates, but something slightly lower — 5.5% and 5.75%. Guido is right in saying this is an emotional response:
Sterling was also slightly up, but not hugely:
In closing, let's return to Gordon Brown, who succeeded Tony Blair as PM — without an election, I might add.
Conservative MP Gillian Keegan put the blame squarely on Brown in an interview with Times Radio on Monday morning.
Guido has the story:
Foreign Office Minister Gillian Keegan was spot on when she told Times Radio this morning that the top rate of tax was a political time bomb left behind by Gordon Brown:
I always knew that it was going to be a political problem. I mean, let's be honest, this was a political trap that was set by Gordon Brown in the dying days of his role as PM, right. And I paid the 50% tax. I was in business then. And I remember how devastating it was because actually, it meant you were paying about 65% tax. And there's something in your mind, which is like, really, you know, only 35% for me? And I'm doing all these hours. I was a business person, then it was set as a political trap…. In theory it [the top rate of tax] should never have been there.
There is something immoral about the government taking the majority of your income in tax. It is also a disheartening disincentive; reversing this spiteful tax is the correct policy, though this might perhaps be the wrong time. Getting rid of a political tax that was only set up by Gordon Brown when he knew he was likely to be ousted –to hurt the Tories rather than raise revenue – was the right thing to do. Even the IFS' Paul Johnson thinks in revenue terms "It might plausibly cost nothing at all". The tax was not about raising revenue – it was about political positioning.
Back in Fife, Brown will be rocking in his chair laughing that his tax booby trap, announced only weeks before he left office, and which was expected to cause problems for his successor David Cameron, has finally exploded in the face of a Tory Chancellor. The fuse wire on Brown's time bomb turned out to be 12 years long…
Truss and Kwarteng have learned a lot in the past month.
I do hope that they have learned something from their baptism by fire, especially Truss, for whom I have the greatest empathy. The Queen's death delayed her getting off the ground running. Then when she was finally able to do something, the media attacked her even more for it. Now the Party's MPs are angry with her. Some have already submitted no confidence letters to Sir Graham Brady of the 1922 Committee. The polls have been tanking. Two show voters giving Labour a 30% lead in the polls, something not seen for decades.
No one has even given Truss or the Chancellor a chance.
I will continue to pray for hers and Kwarteng's success against all odds.
They are doing the right thing …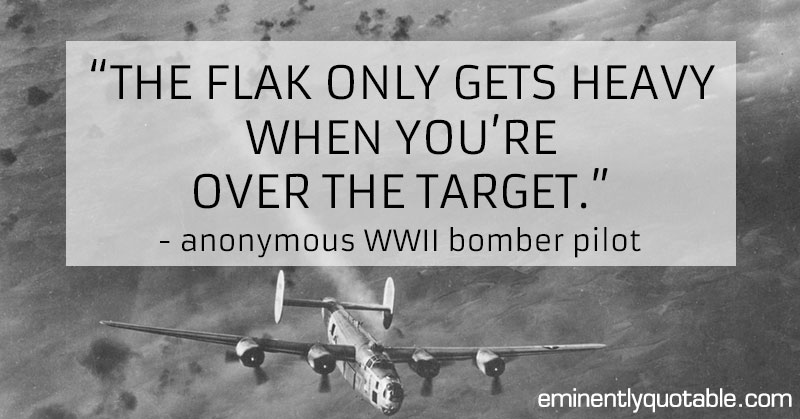 … which is why they are being attacked mercilessly.