After the gloomy opening of the Conservative Party Conference this year, dominated by U-turns, rebels and division, I promised good news.
Liz Truss's closing speech
Prime Minister Liz Truss gave an excellent closing speech and, despite the train strike that day, the conference hall in Birmingham appeared to be filled.
Her speech is 36 minutes long, but it went by very quickly indeed:
I watched a bit of GB News on Wednesday afternoon. One of their reporters interviewed Party members leaving conference. Nearly all said that they were 'pleasantly surprised' and reassured by what the new Prime Minister had to say.
Writing for The Telegraph, veteran journalist Patrick O'Flynn concluded, 'Liz Truss might just have rescued her premiership' (emphases in purple mine):
Strip away the depressing context surrounding Ms Truss's speech, of backbench rebellions and media pile-ons, and what we heard and saw was a well-crafted address that attempted to place her culturally on the side of "normal working people" – especially in the private sector. More notably, she has positioned herself firmly against an "anti-growth coalition" whose members she characterised as being driven from north London town houses to BBC studios to preach "more tax, more regulation, more meddling".
"They don't understand the British people. They don't understand aspiration," she said, adding: "The real heroes are the people who go out to work, take responsibility and aspire to a better life for themselves and their families and I am on their side."
This was an attempt to glue back together an old alliance between a female prime minister and her natural supporters: that which existed between Margaret Thatcher and "our people". So was a key message towards the end of the speech. Not the grandiose "the lady is not for turning" which had after all been made untenable by the U-turn on top rate tax, but the more sober phrase "we must stay the course".
Guido Fawkes has the transcript, excerpted below.
Truss began by thanking Andy Street, the Conservative mayor of Birmingham, which is the United Kingdom's second largest city. She praised Teesside's mayor, Ben Houchen, as he transforms the North East of England.
She acknowledged that we are in difficult days:
Together, we have mourned the death of Queen Elizabeth II, the rock on which modern Britain was built.
We are now in a new era under King Charles III.
We are dealing with the global economic crisis caused by Covid and by Putin's appalling war in Ukraine.
In these tough times, we need to step up.
I am determined to get Britain moving, to get us through the tempest and put us on a stronger footing as a nation.
I am driven in this mission by my firm belief in the British people.
She said she would not meddle in our personal affairs but resolve the concerns that unite us:
… I'm not going to tell you what to do, or what to think or how to live your life.
I'm not interested in how many two-for-one offers you buy at the supermarket, how you spend your spare time, or in virtue signalling.
I'm not interested in just talking about things, but actually in doing things.
What I'm interested in is your hopes and fears that you feel every day.
Can you get a good job locally?
Is it safe to walk down the high street late at night?
Can you get a doctor's appointment?
I know how you feel because I have the same hopes and fears.
I want what you want.
I have fought to get where I am today.
I have fought to get jobs, to get pay rises and get on the housing ladder.
I have juggled my career with raising two wonderful daughters.
I know how it feels to have your potential dismissed by those who think they know better.
She then related an anecdote from her childhood, which may over-40s will recognise:
I remember as a young girl being presented on a plane with a "Junior Air Hostess" badge.
Meanwhile, my brothers were given "Junior Pilot" badges.
It wasn't the only time in my life that I have been treated differently for being female or for not fitting in.
It made me angry and it made me determined.
Determined to change things so other people didn't feel the same way.
This I did not know:
I stand here today as the first Prime Minister of our country to have gone to a comprehensive school.
She gently reminded her audience that the Government has already addressed the fuel price crisis. The cap is £2,500:
Let's remember where we were when I entered Downing Street.
Average energy bills were predicted to soar above £6,000 a year.
We faced the highest tax burden that our country had had for 70 years.
And we were told that we could do nothing about it.
I did not accept that things had to be this way.
Around that point, two protesters waved a Greenpeace banner (Guido has the video):
They would have had to sign up to be Party members in order to get in, just as the protesters did who infiltrated the Party leadership hustings in July and August.
Conservative men quickly took the banner away. The women had a spare to unfurl. That too, was swifly removed.
Truss quipped:
Now later on in my speech my friends I am going to talk about the anti-growth coalition.
But I think they arrived in the hall a bit too early, they were meant to come later on.
We will get onto them in a few minutes.
She paused while security removed the women from the conference hall.
She concluded on the fuel price cap:
We made sure that the typical household energy bill shouldn't be more than around £2,500 a year this winter and next.
We followed up with immediate action to support businesses over the winter.
We are determined to shield people from astronomically high bills.
So much so, that we are doing more in this country to protect people from the energy crisis than any other country in Europe.
Our response to the energy crisis was the biggest part of the mini-Budget.
Later, she borrowed one of Michelle Obama's phrases from the 2008 presidential campaign:
We need to fund the furthest behind first.
And for too long, the political debate has been dominated by the argument about how we distribute a limited economic pie.
Instead, we need to grow the pie so that everyone gets a bigger slice.
That is why I am determined to take a new approach and break us out of this high-tax, low-growth cycle.
She also used John McCain's 'my friends' in addressing the audience, more than the transcript references. That, too, came from the 2008 presidential campaign:
When the government plays too big a role, people feel smaller.
High taxes mean you feel it's less worthwhile working that extra hour, going for a better job or setting up your own business.
That, my friends, is why we are cutting taxes.
We have already cut Stamp Duty, helping people on the housing ladder – especially first-time buyers.
We are reversing the increase in National Insurance from next month.
We are keeping corporation tax at 19%, the lowest in the G20.
We are helping 31 million working people by cutting the basic rate of income tax …
The fact is that the abolition of the 45p tax rate became a distraction from the major parts of our growth plan.
That is why we are no longer proceeding with it.
I get it and I have listened.
She reiterated pledges for post-Brexit and post-pandemic Britain.
She made a good point about Western complacency, something I have been saying for years:
One of the reasons we are facing this global crisis is because collectively the West did not do enough.
We became complacent.
We did not spend enough on defence.
We became too dependent on authoritarian regimes for cheap goods and energy.
And we did not stand up to Russia early enough.
We will make sure this never happens again.
She pledged continued support for Ukraine, which earned her a standing ovation.
Then it was time for her to talk about the anti-growth coalition — the metropolitan elite — which was lengthy. This was her opening:
I will not allow the anti-growth coalition to hold us back.
Labour, the Lib Dems and the SNP…
…The militant unions, the vested interests dressed up as think-tanks…
…The talking heads, the Brexit deniers and Extinction Rebellion and some of the people we had in the hall earlier.
The fact is they prefer protesting to doing.
They prefer talking on Twitter to taking tough decisions.
They taxi from North London townhouses to the BBC studio to dismiss anyone challenging the status quo.
From broadcast to podcast, they peddle the same old answers.
It's always more taxes, more regulation and more meddling.
Wrong, wrong, wrong.
Guido has the video:
She praised our unsung heroes:
My friends, does this anti-growth coalition have any idea who pays their wages?
It's the people who make things in factories across our country.
It's the people who get up at the crack of dawn to go to work.
It's the commuters who get trains into towns and cities across our country.
I'm thinking of the white van drivers, the hairdressers, the plumbers, the accountants, the IT workers and millions of others up and down the UK.
The anti-growth coalition just doesn't get it.
This is because they don't face the same challenges as normal working people.
She concluded:
We cannot give in to those who say Britain can't grow faster.
We cannot give in to those who say we can't do better.
We must stay the course.
We are the only party with a clear plan to get Britain moving.
We are the only party with the determination to deliver.
Together, we can unleash the full potential of our great country.
That is how we will build a new Britain for a new era.
A strong cross-party coalition, helped powerfully by the media, is clearly trying to do away with Truss's premiership.
These were her YouGov ratings before her speech:
Keep in mind that YouGov was founded by former Chancellor, Nadhim Zahawi, who was caretaker during the leadership contest over the summer.
Guido wrote:
If memory serves Guido correctly, [former Labour leader] Jeremy Corbyn managed a minus 60 net approval rating at his worst. Liz has a net approval rating of minus 59. Guido is told it is the lowest rating ever recorded of a Conservative Party leader. Her speech today needs to be the beginning of a turnaround.
Borrowing from the 1960s protest tune: all we are say-ing, is give Truss a chance …
Truss, with the help of Party whips, has finally been able to complete the rest of her parliamentary appointments.
Guido said:
The Government's reshuffle is finally coming to a close, as appointments to a number of Parliamentary Private Secretary (PPS) positions gave been confirmed. Co-conspirators will recall the whips had been experiencing some difficulty in recruiting enough parliamentary bag-carriers, though they have now managed to fill each position. Even if the vast majority are eager 2019ers…
The Government also seems to have granted whips greater individual responsibility for departments, with specific roles also listed. If recent trends are anything to go by, the government could use all the help to party discipline it can muster.
Having mustard keen 2019 MPs in on the act can only be a good thing. Most of them are from Red Wall seats, so their minds will be focused on growth and other Truss objectives, many of which dovetail with their own.
Other high points — Foreign Secretary Cleverly and Home Secretary Braverman
Other well-received speeches came from Foreign Secretary James Cleverly and Home Secretary Suella Braverman, both of whom appeared on Tuesday, October 4.
Here is a short clip from James Cleverly's speech:
Cleverly's speech is at the 2:05:00 mark in this video. Braverman's comes before, beginning at 1:35:00:
Suella Braverman said many of the same things that her predecessor Priti Patel did as Home Secretary. We can but wait and see what happens.
One of the big problems in processing migrants without papers, such as those who come across the Channel in dinghies, is that they are hard to trace to their true countries of origin.
Another issue is that many in the civil service who are assigned to the Home Office are pro-immigration. Patel tried her best to counter them, but they stood firm, citing EU laws under which we are still beholden. The Brexit process continues. There wasn't enough time to renegotiate everything we should have, e.g. the Dublin Agreement. As we are no longer in the EU, we are no longer subject to that agreement whereby migrants have to apply for asylum in the first safe country they are in — in our case, France. We have to draw up a new agreement along the same lines, which will require EU co-operation.
On top of that, during Theresa May's time as PM, a modern slavery law came into force in the UK. In short, anyone claiming to have been a modern slave is automatically allowed to stay here. No proof is required.
With that burden, we can also add human rights charities and their lawyers who effectively scuppered the first UK flight to Rwanda last summer. It never happened. Everyone's case was challenged before take-off, leaving an empty aircraft.
Euronews reported on that part of Braverman's speech:
In a Tuesday evening speech at the Conservative Party's autumn conference in Birmingham, immigration minister Suella Braverman said that people who arrive by unauthorised means should not be allowed to claim asylum in the UK and she doubled down on contentious plans to send some asylum-seekers on a one-way trip to Rwanda.
However, Braverman acknowledged that a legal challenge to the policy means it's unlikely anyone will be deported to the east African country this year. 
"We need to find a way to make the Rwanda scheme work," said Braverman.
"We cannot allow a foreign court to undermine the sovereignty of our borders," she continued, to cheers and applause from the audience.
"A few months ago the European Court of Human Rights in Strasbourg did just that. By a closed process, with an unnamed judge, and without any representation by the UK. A European Court overruled our Supreme Court. And as a result our first flight to Rwanda was grounded. We need to take back control."
She didn't say how the government intends to 'take back control'. The European Court of Human Rights is not part of the EU, and membership is not affected by Brexit …
Braverman said many migrants were "leaving a safe country like France and abusing our asylum system," adding that she wanted to work more closely with French authorities "to get more out of our partnership."
"We've got to stop the boats crossing the Channel," she said, to more applause.
So far this year, 30,000 migrants have crossed the Channel:
The one advantage that Braverman has over Patel is that she is a lawyer, so she will be finely attuned to legal turns of phrase.
Those interested can read more of her views in this article from The Telegraph.
Quentin Letts, The Times's political sketchwriter, concluded:
the day belonged to Braverman. As bids for popularity go, it wasn't particularly subtle or cerebral. Effective, though.
Proper membership cards make comeback
In an eco-friendly move under Boris Johnson, the Conservative Party began issuing paper certificates instead of plastic membership cards.
Thankfully, those days are over, for lifetime Party members at least:
Guido reports:
Tory party Chair Jake Berry has just confirmed the return of plastic membership cards for lifetime Tory members, replacing the much-maligned 'membership certificates' introduced by Amanda Milling back in 2020. At the time, Milling introduced the paper certificates to save the environment, or something like that. Even MPs were upset; Michael Fabricant complained the certificate wouldn't fit in his trinket box of membership cards and hair clips. Jane Stevenson pointed out they could just be made of card instead. Now the debate has been put to rest – Berry's bringing the real deal back, having just revealed the move at a fringe event this morning. Expect to see the cards' triumphant return from January.
That ends the positive conference news.
Kwarteng's U-turn U-turn U-turn
Chancellor Kwasi Kwarteng did a third U-turn on bringing forward his more detailed fiscal event plans.
It appears that he will be going ahead with presenting them to Parliament on November 23 after all:
Or is it October 23?
Mel Stride, who supported Rishi Sunak in the leadership contest and heads the Treasury Select Committee, says that it will be October 23. So did the Financial Times, apparently. They, too, supported Sunak.
Hmm. I sense mischief making.
Guido reports:
Except Kwasi later insisted on GB News that it definitely wasn't moving:
'Shortly' is the 23rd. People are reading the runes […] it's going to be the 23rd.
"People reading the runes" in this case including the Chair of the Treasury Select Committee. Liz herself later said it's coming in November, and Treasury Civil Servants were told in a team meeting this morning that anything to the contrary was just "press speculation". Guido understands, however, that the people reading the runes are onto something: the Treasury is still considering adjusting the date after all…
Kwasi must stick to his guns and stop the U-turns.
Rebel, rebel …
The rebels were active throughout the conference.
Michael Gove
On Wednesday's Dan Wootton Tonight show on GB News, panellists were split on whether Sunak-supporting Michael Gove should have the whip removed.
The Daily Express's Carole Malone said that Truss should have given Gove a Cabinet post so that he would have made less mischief. However, Wootton countered by saying that Gove always undermines the Prime Ministers he has worked for in Cabinet.
Someone who wasn't on the show and thinks Gove should have the whip removed is Nigel Farage. I fully agree with him. We saw the trouble that rebel Conservatives made for Theresa May and Boris Johnson in 2019 over Brexit. David Gauke was one of them. Boris had the whip removed and we did not see him again after the 2019 general election; his Conservative association deselected him:
Grant Shapps
Grant Shapps, another Sunak supporter, has been working in tandem with Michael Gove to thwart Truss's leadership.
He has made no secret of his threat to go to Sir Graham Brady, chairman of the 1922 Committee, with a letter of no confidence — not only from himself but other MPs:
On Tuesday, October 4, he told Times Radio:
I want Liz to succeed. So I'm hoping that she can turn us around, I think there is a window of opportunity for her to do it. I'm cheering her on, if you like, to succeed. Y'know, in the end I don't think members of parliament, Conservatives, if they see the polls continue as they are, are going to sit on their hands. A way would be found to make that change. You know, it's important, not for members of parliament, but for the country, still two years to go to another election, that we have good, stable, sensible, smart government in place doing things that are required for the people in this country. So of course that could happen. In the meantime, I hope Liz can turn this around.
'A way would be found' means urging Brady to change the rules whereby a PM could be ousted sooner than 12 months of assuming the Party leadership.
Shapps had the gall to suggest Truss had ten days to turn around her leadership!
Nadine Dorries
Nadine Dorries was the Secretary of State for Digital, Culture, Media and Sport while Boris was PM.
When he stood down as party leader, she was gutted. She had at least one defender:
She stayed loyal beyond the end of his premiership, perhaps embarrassingly so: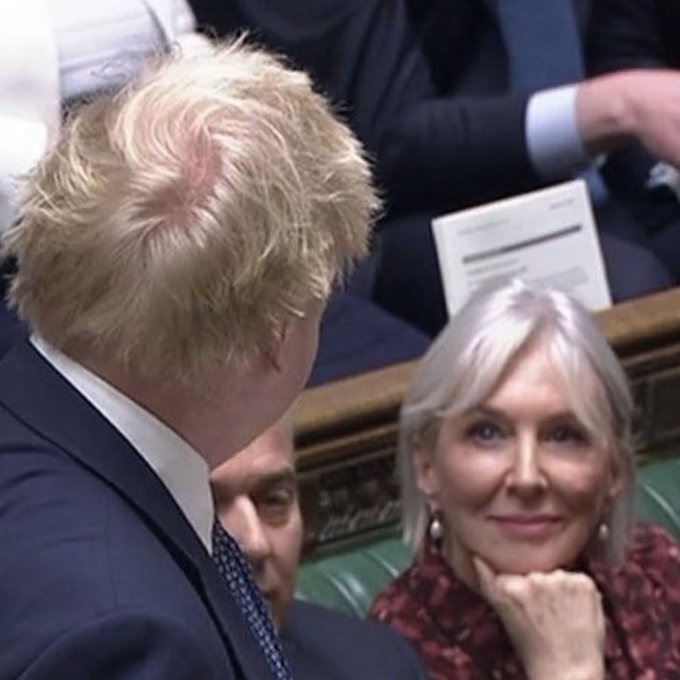 She had a lot to say when he stood down as Party leader:
In the end, she didn't run for Party leadership:
Dorries resigned from Cabinet on Tuesday, September 6. Boris was in his final hours as PM that day, when he and Truss flew separately to Balmoral to see the Queen.
Guido posted Dorries's letter to Boris, commenting:
She added that while Liz had offered her the chance to continue, she's stepping down anyway.
She is now unhappy that her Online Safety Bill might be kicked into the long grass. Millions of us certainly hope so. It is deeply embedded in censorship, principally the 'legal but harmful' clause.
On Monday, October 3, Dorries said that Truss should hold a general election. Utter madness, all because her censorship legislation is up for cancellation. Even madder is the fact that she was a Truss supporter.
The Spectator had the story:
To inspire one Nadine Dorries tweet may be regarded as a misfortune, to inspire two looks like carelessness. Less than 24 hours after the former Culture Secretary criticised Truss for appearing to blame her Chancellor for the 45p tax debacle, she's back at it again. Frustrated by Truss's decision to junk much of the Johnson agenda from 2019, the high priestess of online harms took to her favourite medium of Twitter to write:
Widespread dismay at the fact that 3 years of work has effectively been put on hold. No one asked for this. C4 sale, online safety, BBC licence fee review – all signed off by cabinet all ready to go, all stopped. If Liz wants a whole new mandate, she must take to the country.
The repeated criticisms are all the more interesting, given the importance of Dorries and other Johnson loyalists in ensuring that Truss made the final two earlier this summer. Dorries was something of an unruly attack dog, savaging Truss's opponent Rishi Sunak at ever opportunity …
Guido posted Dorries's tweet …
and wrote:
We appear to be at the "everybody losing their mind" stage of Conservative Party conference a day early.
The next day, she seemed to walk back what she said by citing Boris's support of Truss. This is a clip of her interview with LBC radio's Iain Dale:
Embarrassing.
Benefits rebels
Truss-backer Sir Iain Duncan Smith is now opposing her in wanting benefits increased in line with inflation:
Guido has the video:
Iain Duncan Smith has added his voice to the chorus of rebels piling on Liz to raise benefits with inflation. Speaking at a ConservativeHome fringe the former Work and Pensions Secretary argued giving to the poorest was a more efficient way of going for growth, as they would spend it quicker. He's had a quick change in tune since backing Liz for leader…
That sounds very cynical, indeed.
Kemi Badenoch
Trade Secretary Kemi Badenoch, the popular Party leadership candidate for British voters, openly opposed Truss's bid for even more migration.
It is hard to disagree with Badenoch. Even so, as a Cabinet minister, perhaps she should have held back from expressing them publicly.
She aired her views on Sunday evening:
At the IEA/TPA DrinkTanks reception last night, guest of honour Kemi Badenoch openly rebuked the PM's plans to let in more immigrants to boost growth. The Trade Secretary ignored any sense of collective responsibility as she told the assembled free marketeers:
Simply taking in numbers to boost GDP while GDP per capita falls is not the right way to do that. We need to look again at resolving our productivity issues and that means using capital better, not just getting cheaper and cheaper labour.
Kemi's brazen and deliberate speech last night all but confirmed The Times' article on Sunday reporting major Cabinet divisions over the plan, with Kemi and Suella Braverman at odds with the PM's preferred free market solution. Like Liz, Guido doesn't have a problem with skilled, legal immigration, it is the illegal immigration which is concerning. It seems Tory Cabinet ministers aren't even pretending to play happy families anymore…
45% tax rate rebels
Prominent Conservative Cabinet members disagree with Truss and Kwarteng over their Sunday night U-turn on abolishing the 45% upper tax rate.
Home Secretary Suella Braverman seemed to accuse Conservative MPs of forcing the change in plan, going so far as to claim it was 'a coup':
Guido has a photo of Braverman, along with Jacob Rees-Mogg and Simon Clarke, two other Cabinet members who want the upper rate abolished:
Simon Clarke agrees with Braverman's assessment of 'a coup':
Guido has more:
Jacob Rees-Mogg was also quick to voice his disappointment at the scrapped cut at a fringe event this afternoon, although he claimed to recognise the politics of the move. This all comes in the context of public cabinet battles over benefits, and Penny Mordaunt's attacks on government comms. Meanwhile backbench agitators continue briefing out plans to rebel, with some now even claiming they're holding "crisis" talks about Liz's leadership. Truss has been PM for 28 days. Not quite the honeymoon period she would've hoped for…
Wow. For Jacob Rees-Mogg to speak out about his disappointment is surprising. He is normally respectful of parliamentary boundaries and procedure.
There is a way to get rid of this tax rate. I will have more on that next week.
James Cleverly warns Cabinet rebels to 'shut up'
In much the same way that Welsh Secretary Robert Buckland did, Foreign Secretary James Cleverly warned Cabinet rebels to 'shut up':
On Wednesday, October 5, Guido reported:
James Cleverly has diplomatically warned Cabinet colleagues to shut up after yesterday's day of chaos, in which collective responsibility broke down on everything including the 45p u-turn, immigration numbers and uprating benefits in line with inflation. Speaking on the BBC this morning ahead of Liz's big speech, the foreign secretary warned:
All Cabinet colleagues ultimately are going to have to abide by collective responsibility… I think it's always better and easier to feed ideas, particularly when you're in government and have access to the Chancellor and the PM, feed your ideas directly into the centre of the system…
On TimesRadio he also implied yesterday's comments from Braverman, Mordaunt and Clarke – among others – were inappropriate. Guido hears Cleverly's speechwriter had to edit a swear word out of the Foreign Secretary's speech earlier this week; we can only imagine how many expletives Cleverly wanted to use in response to yesterday's farce…
Conclusion
Here endeth the news about the Conservative Party Conference.
MPs must give Truss a chance. She has gone through the hardest beginning to her premiership of any PM in known history.
She deserves time to lead us. With everyone against her, she must be doing something right.
She is representing British voters' interests. That is only right and fair.