Pity our Prime Minister Liz Truss.
The choice of Conservative Party members, the lady who wanted a Thatcherite premiership of low taxation and high growth, is now silent.
On Thursday, October 13, in her private weekly meeting with King Charles, he greeted her with 'Dear, oh dear':
He could have at least waited until the press were out of the way.
On Friday, October 14, she was forced to sack her Chancellor and good friend Kwasi Kwarteng.
The two of them were not playing the globalist game for high taxation and low growth.
Kwarteng's brilliant mind
Kwarteng was elected as MP for Spelthorne in 2010, part of Prime Minister David Cameron's fresh, youthful Conservative intake that year.
He worked on Brexit in 2019 as part of Theresa May's government. Later that year, he was keen for Nigel Farage to stand down candidates in order for Conservatives to win convincingly in the general election — and get Brexit done:
Under Boris Johnson, in 2021, as Business Secretary, he became the first black — and first Conservative — Secretary of State. In that role, he refused to lift the moratorium on fracking. On the other hand, on July 6, 2022, he ensured that two coal plants are staying open to help ensure that the UK has adequate energy supplies this winter.
He was not a man in favour of high taxes, even in the wake of the pandemic, telling LBC radio on March 2, 2021:
Obviously we have to balance the books over time, but I'm a low tax conservative. The real key is to grow the economy. The best remedy for the deficit, the best remedy for the economy is to open up the economy, allow people to get on with their lives, allow businesses to start trading again.
In July 2021, he politely opposed the National Insurance tax hike.
In June that year, he supported the Government's caution on lifting final coronavirus restrictions in England and sagely predicted that there would be no more lockdowns in England.
Once Liz Truss was made Prime Minister, we found out more about his friendship with her, which began when she, too, was first elected to Parliament in 2010.
On September 6, 2022, the Mail posted an old photo from earlier parliamentary days of the new Chancellor and the new Prime Minister with this caption:
The new Chancellor Kwasi Kwarteng is a close friend of Liz Truss, so close that he lives 350 yards away in Greenwich.
The article also told us more about his towering height and intellect (emphases mine):
Although he is not widely known to the public, the 47-year-old MP for Spelthorne, Surrey, comes equipped with a solid academic background.
At 6ft 5in, Mr Kwarteng is a powerhouse physically and intellectually …
He speaks German, Greek and French, and writes poetry in Latin.
One friend recalled how, when the school introduced Italian to the curriculum, 'the teachers were trying to teach rudimentary Italian but Kwasi learnt the whole language – the teachers were struggling to keep up with him'.
Like Boris Johnson, who attended Eton a decade earlier, Mr Kwarteng shone at the Wall Game, a hybrid of football and rugby, where he played First Wall, described by an Etonian as 'an almost suicidal position that involved spending much of the match having his head scraped against brickwork' …
He was a prefect at the school and is still, it is said, held up as an example of how to succeed in Oxbridge interviews.
He went up to Trinity College, Cambridge:
He excelled at Cambridge where friends described him as 'supremely confident, but not arrogant'.
One said he 'had quite a few girlfriends – he had catching up to do after his boys' private school upbringing'.
Professor Tim Whitmarsh, who taught him Latin and Greek, was quoted as describing him as 'a bit of a young fogey', saying: 'I once saw a 19-year-old Kwasi in full brown tweed bumbling around with a pipe in his mouth on a baking hot day.' 
More recently:
Last year, Mr Kwarteng bought a Victorian villa just 350 yards from Miss Truss's £1.5million four-storey townhouse in Greenwich, south London.
Now they are neighbours in Downing Street too.
At one point Mr Kwarteng was dating Amber Rudd, the former Conservative home secretary, but the pair split up.
He then met Harriet Edwards, 36, a former pupil of Cheltenham Ladies' College and now a high-flying corporate lawyer specialising in advising private clients on 'succession' planning.
The pair married in 2019 and have a baby daughter, Ida, born last year …
Said to be a 'pragmatist rather than an ideologue', the free-marketeer's ministerial office allegedly boasts a large whiteboard on which are scrawled the letters 'MSH', standing for 'making s*** happen'.
With the multiple challenges facing the new chancellor, it is a mantra that may serve him well.
On September 7, The Telegraph had a profile of Kwarteng, which gave Truss supporters further hope.
We discovered that he wrote for the newspaper and had decidedly conservative opinions even in his 20s. The article featured a screenshot of his column of August 1, 1997 about higher education — 'Don't go to university, make money instead':
The man appointed the 109th Chancellor of the Exchequer had been considered a rising star well before he entered Parliament and first made his name at the age of 22 with a column in The Telegraph.
From higher education to the rise of "lad mags", Mr Kwarteng left a trail of published evidence showing his youthful thinking on the state of Britain. 
According to Mr Kwarteng, universities were not just a waste of time for those hoping to make lots of money but "a trick of the mind". They offered value of a sort as "a place for reflective thought, like the monasteries of the Middle Ages," but were only really popular as a way of proving one's smarts …
While universities might be conducive to research, on the whole, Mr Kwarteng thought, "the university added little to the talent which was already in them". 
For that reason, the MP for Spelthorne thought it "ridiculous" that everyone should go to university.
Also in August 1997, he also wrote about his scepticism of those who know best in '"Experts": it's the same old story', wherein he expressed his doubts about climate change:
"We live in the age of the expert," he declared, "of course, all these experts are invariably self-appointed, and they all contradict each other."
Mr Kwarteng lamented the loss of Western "reason and objective investigation" and said that the witchdoctors of "simple peoples" had been "reincarnated in a modern, Western, suit-wearing capacity.
"They are the consultants, health gurus, constitutional experts, psychologists and sociologists who seem to spring from the ground at every opportunity."
… In his column, he highlighted global warming as an example of "conjecture" dressed up as "granite fact".
It's a pity he later changed his mind. Perhaps he did it for political expediency. Who knows?
On at least one issue, however, Mr Kwarteng has clearly come to accept the views of the experts …
As Business Secretary, he has declared it essential for governments to intervene to tackle climate change. 
The Telegraph article has several more of his columns to explore.
Kwarteng as Chancellor
A fortnight before he delivered his fiscal event to Parliament, he pledged that his focus on growth would be 'relentless'. The Times reported:
The new chancellor has promised a shift in economic policy towards an "unashamedly pro-growth agenda" rather than worrying about redistribution.
Kwasi Kwarteng promised "to do things differently" as he acknowledged the need for higher borrowing over the winter to help households with their energy bills. However, he promised "fiscal discipline over the medium term" by ensuring the economy would grow faster than government debt, saying this would require deregulation and tax cuts.
After meeting key City figures, including the chief executives of Barclays, NatWest, Lloyds Banking Group and HSBC, Kwarteng said that he wanted to deal with economic problems through growth, with a goal of getting the underlying rate up to 2.5 per cent.
"The prime minister and I are committed to taking decisive action to help the British people now," he said. "That means relentlessly focusing on how we unlock business investment and grow the size of the British economy, rather than how we redistribute what's left."
He and Truss needed to work quickly to come up with the fiscal event. The nation had been in mourning for the Queen from September 8 through September 19. Meanwhile, the Conservatives' opponents were braying for a statement.
On Thursday, September 22, Kwarteng tweeted:
That day, The Spectator's Katy Balls explained that Truss wanted to move quickly:
Liz Truss is in a race against time. It's not just the prospect of an election in two years. It's the political problems – from party management to events outside of one's control – that quickly clog up a prime minister's in-tray. It's why for all the efforts to play down Friday's fiscal event as a mini-Budget, it is likely to be anything but small. Truss and her Chancellor Kwasi Kwarteng plan to push through as much as possible while their stock is highest …
Truss and Kwarteng have said their priority is to boost growth. In order to do that, they are undoing plenty of policies by their predecessors. The plan for investment zones – areas that could benefit from a lighter planning regime and various tax breaks – has already been briefed as a change of priorities compared to the former Levelling Up secretary Michael Gove. A government insider told the Financial Times this week: 'The plans make Gove look like a socialist.' There will also be further measures to undo more of the policies brought in by Rishi Sunak as Chancellor. 
Coffee House understands one plan under consideration is the return of tax-free shopping for tourists. As Chancellor, Sunak axed the 20 per cent discount for foreign visitors – leading to an outcry from MPs who said it would make Britain less attractive to businesses. At the time, the Treasury defended his decision on the grounds that 'this is getting rid of a tax cut that mainly benefits foreign billionaires.' However, the sector has voiced frustrations that this has led UK business to drop off while European capitals have seen business go up.
How will all this go down? As the Bank of England raise interest rates by 0.5 percentage points to 2.25 per cent in an attempt to combat inflation, already there are warnings about the effect of the government's planned borrowing. The Institute for Fiscal Studies has said that the planned tax cuts are likely to push UK borrowing and debt to unsustainable levels. The hope in government is that rather than spark alarm, the markets will have already priced in the new direction they are taking, and what happened in August suggests they may well have done so.  
'The strategy is do everything now,' says one person close to Liz Truss. 'This government has balls of steel'. In adopting this approach, Truss and Kwarteng are taking a gamble – and it won't be too long before it becomes clear whether or not it is paying off.
True conservatives cheered the package Kwarteng delivered to Parliament on Friday, September 23:
We felt as if Brexit would finally become the reality that would thwart Labour:
Our debt would remain the second lowest in the G7:
Guido Fawkes posted Kwarteng's economic plan in full as well as a summary, excerpted below:
Price of Energy
Government freezes household energy bills at £2,500

Government will

subsidise wholesale energy prices for businesses

Total cost of energy package for 6 months from October will be approximately £60 billion
Inflation
Government plan will reduce peak inflation by 5%

Chancellor: Bank of England independence is "sacrosanct"
Growth
Government will focus on growth target of 2.5%
Barriers to Enterprise
Government will bring forward bill to unpick regulation and launch a review into decision making

Increase disposal of government land to build more homes

Government will remove cap on bankers' bonuses

…



Tax
Planned rise in corporation tax is cancelled, it will remain at 19%

Annual investment allowance will not fall to £200,000 as planned, will remain at £1 million

Office of tax simplification abolished,

tax simplification mandated in all government departments

IR35 rules changed: 2017 and 2021 reforms scrapped

Planned increases in duty for beer, wine and spirits cancelled

VAT free shopping for overseas visitors

Increases to National Insurance contributions cancelled

Stamp duty threshold raised from £125,000 to £250,000; for first time buyers it will rise from £300,000 to 425,000

Kwasi will abolish the highest 45% rate of income income tax. Top rate now 40%.

Basic rate of income tax cut to 19% from April
Ahead of Kwasi's statement:
FTSE 100 is at 7,120
£/$ 1.1163
£/€ 1.1435
10 year gilt yield 3.49%
That afternoon, The Telegraph's Allister Heath was over the moon:
This was the best Budget I have ever heard a British Chancellor deliver, by a massive margin. The tax cuts were so huge and bold, the language so extraordinary, that at times, listening to Kwasi Kwarteng, I had to pinch myself to make sure I wasn't dreaming, that I hadn't been transported to a distant land that actually believed in the economics of Milton Friedman and FA Hayek.
But Liz Truss and Kwarteng are very much for real, and in revolutionary mood. The neo-Brownite consensus of the past 20 years, the egalitarian, redistributionist obsession, the technocratic centrism, the genuflections at the altar of a bogus class war, the spreadsheet-wielding socialists: all were blown to smithereens by Kwarteng's stunning neo-Reaganite peroration.
Hardcore, unapologetic liberal Toryism is back. This fiscal statement is in some ways an even bigger deal than that previously greatest of Budgets, Lord Lawson's extravaganza of 1988, so long ago that my generation cannot remember it. All the taboos have been defiled: the fracking ban, the performative 45pc tax rate, the malfunctioning bonus cap, the previous gang's nihilistic corporation tax and national insurance raids. The basic rate of income tax is being cut, as is stamp duty, that dumbest of levies. There will be more reforms, more deregulation from a Chancellor explicitly committed to a flatter and simpler tax system.
It wasn't merely the policies that were astonishingly good: just as remarkable was Kwarteng's language, the arguments he deployed to explain his decisions, the lucid free-market philosophy from which they emanated. He spoke of the need to bolster incentives, to encourage business investment, to increase work, to reward savings. He explained that this meant that the returns on capital and labour had to be improved. He wants to usher in a new Big Bang in the City and launch dozens of new Canary Wharfs on steroids.
At a stroke of a pen, Britain's competitiveness, its attractiveness to investors and top talent, has been transformed. Money and jobs will flow in, especially from the Eurozone. Britain's central pathology is low growth, held back by faulty economic, fiscal, monetary and regulatory policies: higher spending begets higher taxes, which lead to a vicious cycle of even lower growth, and hence yet more taxes, and so on.
I watched Kwarteng's speech to Parliament and the debate that followed. Allister Heath was right in everything he wrote.
On Sunday, September 25, The Sun wrote that its polls indicated the British public supported nearly all of Truss's proposals that Kwarteng delivered:
DELIGHTED Brits overwhelmingly back Kwasi Kwarteng's key income tax and stamp duty cuts, a poll found …
And PM Liz Truss says their radical plan will usher in a "decade of dynamism" …
A Deltapoll survey for The Sun on Sunday found many of his central policies have gone down a storm.
His pledge to slash the basic rate of income tax from 20p in the £1 to 19p from next April, benefitting 31million workers, got the backing of 63 per cent of respondents.
A majority of Labour and Tory supporters like the plan.
Meanwhile, the decision to ditch stamp duty for first-time buyers on homes worth up to £425,000 was approved by 61 per cent of respondents.
The move to reverse the 1.25 percentage point hike in National Insurance Contributions was liked by 59 per cent of the 1,553 people surveyed.
Some parts of the mini Budget, however, were far less popular. Just 30 per cent of voters backed the decision to scrap the bankers' bonus cap.
And even fewer — 28 per cent — approved of the move to do away with the 45p top rate of income tax, which will put more cash in the pockets of society's top earners …
Some delighted Tory MPs punched the air in delight after Mr Kwarteng detailed his mini Budget to the Commons.
One senior Tory said: "I am delighted. Finally, we have a proper Thatcherite budget."
But others warned it was a punt that may cost the Tories the next election.
One minister crossed his fingers as he said: "It is a huge gamble. If we see growth then it will have worked. It's a roll of the dice."
The annual Labour Party conference convened that Sunday.
The Spectator's editor Fraser Nelson pointed out that their leader Sir Keir Starmer opposed only the abolition of the 45% tax rate:
The Sun's editorial that day reminded Britons that it was Gordon Brown who put the 45% rate in place — and that was late in his premiership, around 12 years ago. His predecessor Tony Blair had not. As such, Labour had no room to complain:
For too long — if partly by necessity of the pandemic in recent years — the Conservatives have been parked on the centre ground, often operating from a Blairite or Brownite playbook.
The spleen-venting over Mr Kwarteng's most controversial call — ditching the 45 per cent top tax rate for those on over £150,000 — ignores the fact that, throughout the Blair years, it was the exact same as the new 40 per cent levy.
Nonetheless it's true that the move does give Labour an easy line of attack, as does the Government's reluctance to trumpet the fact that it IS already subjecting energy giants to a windfall tax — one which is raising around £30billion.
Yesterday Labour leader Sir Keir Starmer confirmed he would retain the vast majority of the Chancellor's tax cuts if he gained power.
Already, however, the doomsayers, including Torsten Bell, were already weighing in, as Guido Fawkes wrote that day (emphases his):
… Labour have accepted two thirds of the personal income tax cuts. They are only rejecting one cut, the top rate cut…
So the the dividing line between the parties is: Will "new era" economics work and crank growth up to 2.5% before the next election?
Not a chance say Rachel Reeves and the assembled hardline-centrists of the broadsheet punditry, plus all the orthodox economists from the IFS, Institute for Big Government and gloomy Torsten Bell with his distribution charts. Kwasi and Liz say it will work. It won't surprise co-conspirators that Guido thinks it is less of a gamble than the BBC's Faisal Islam reckons. Barring oil going to $300 or some other catastrophe, it is far more likely to work than the doomsters would have you believe. If Kwasi and Liz fail to hit the 2.5% target they have set for themselves, they will deservedly lose the next election. The choice now is pull out all the stops and go for growth, or go into opposition…
At conference, two Labour MPs of colour criticised the Conservatives' choice of Chancellor in Rishi Sunak, his successors and Kwasi Kwarteng. Guido reported on Rupa Huq's words about Kwarteng, which earned her a suspension from the Party, despite her apology. Shadow Rail Minister Tan Dhesi said he wanted to see white males in the Conservative Cabinet rather that persons of colour:
Guido doesn't consider Tan's comments to be half as bad as Rupa Huq's. His quote about Boris having an Asian do his dirty work for him, alongside Huq's referral to Rishi as "a little brown guy", is indicative that Labour somehow questions the legitimacy of non-white Tory Cabinet ministers. Does anyone get the sense Labour are slightly panicked about the Tories having a more diverse front bench than they do?
Fatal criticism despite global problems
But that was nothing compared to the big anti-Truss, anti-Kwarteng fallout that took place elsewhere that week.
On Monday, September 26, the IMF criticised the fiscal event.
Lord Frost defended Truss and Kwarteng in an article for The Telegraph: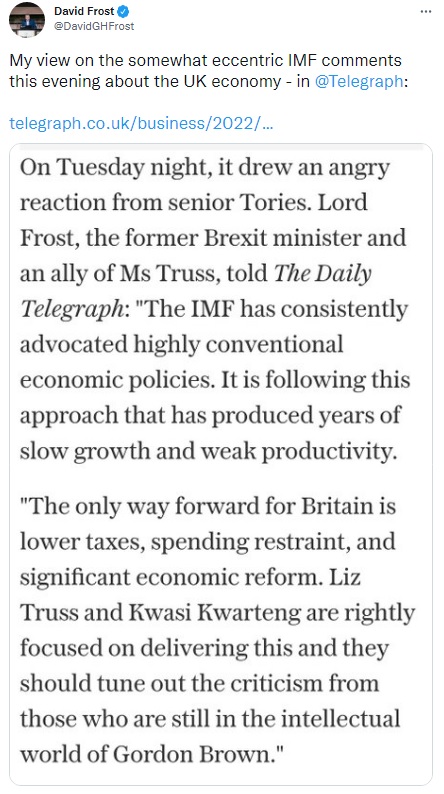 The IEA's head of public policy said that one of Margaret Thatcher's budgets — that of then-Chancellor Geoffrey Howe — was similarly criticised and ended up being wildly successful: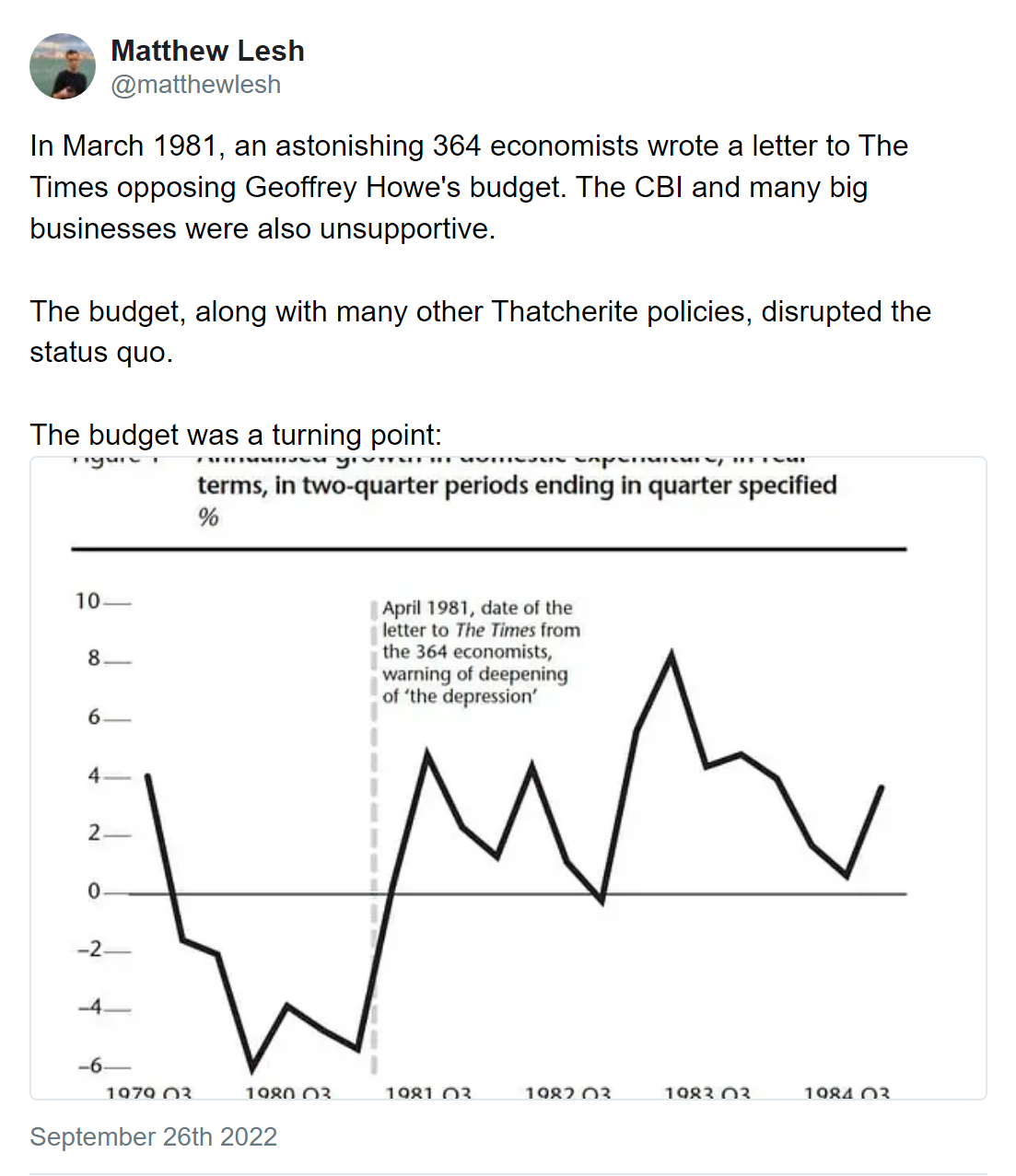 On Thursday, September 29, Labour MPs were back at home but outside criticism of the Truss-Kwarteng plan continued from globalist sources.
The US Treasury had weighed in against the plan after the IMF had.
The markets wobbled that week.
It should be noted that the UK was not the only country suffering from jitters — it was every other main economy, too.
With regard to us, however, the Bank of England had to step in with a fortnight of measures, too complicated to explain here, that put an end to risky measures that British pension funds had been using for several years.
Nevertheless, Truss and Kwarteng got it in the neck.
The Telegraph had a running diary of events that Thursday morning. Excerpts follow, covering the period from 7:30 to 10:30 a.m.:
The Prime Minister is due to undertake a tour of regional BBC radio stations this morning when she will be grilled on her tax cuts and spending plans after they sparked economic turmoil.
Lord Clarke, the Tory former chancellor, has argued this morning that no other Conservative government would have made a "mistake" like Kwasi Kwarteng's mini-Budget. 
The Tory former chancellor told Times Radio: "If the pound sinks any further, then they will have to perhaps retract some of the measures because the more the pound goes down, the more inflation goes up."
The Treasury has said Kwasi Kwarteng will deliver a follow up statement to the mini-Budget in November in which he will set out the Government's medium-term economic plans. 
But the Chancellor is under mounting pressure to deliver a statement to reassure the markets and the nation much sooner than that.
Chris Philp, the Chief Secretary to the Treasury, has defended the Government's decision to scrap the 45p top rate of income tax.
Asked why it was necessary to make the move now, he told Sky News: "The top rate of now 40 per cent, reducing from 45, makes us internationally competitive, it puts us on a par with a number of other economies."
After the Bank of England was forced to step in to calm the markets, Mr Philp told Sky News: "No one's perfect but I'm not going to apologise for having a plan to grow the economy …"
Chris Philp, the Chief Secretary to the Treasury, has dismissed suggestions that Kwasi Kwarteng should resign as Chancellor over his handling of the mini-Budget. 
Liz Truss has defended her mini-Budget plans as she said as Prime Minister she is prepared to take "controversial and difficult decisions". 
Liz Truss has said the world is facing "very, very difficult economic times" as she also insisted Kwasi Kwarteng is working "very, very closely" with the Bank of England.
Liz Truss said that "we have seen difficult markets around the world because of the very difficult international situation we face". 
Liz Truss has defended the decision to scrap the 45p top rate of income tax as she argued that lower taxes "help everybody".
BBC Radio Bristol presenter James Hanson challenged Liz Truss over her repeated claim that financial markets around the world have been facing turmoil. 
Daisy Cooper, the deputy leader of the Liberal Democrats, has claimed Liz Truss is in "complete denial" following the Prime Minister's morning media round. 
The Conservative Party is due to meet in Birmingham from Sunday this weekend for its annual conference. 
Sir Ed Davey, the leader of the Liberal Democrats, has called on the Tories to scrap the event.
Sir Ed said repeated his call for Parliament to be recalled.
Chris Philp, the Chief Secretary to the Treasury, was told this morning that the mini-Budget needs to be changed. 
Speaking to LBC Radio, he said: "No, well, if you listen to the reaction of British business organisations to Kwasi Kwarteng's growth plan on Friday, like, for example, the Confederation of British Industry, the CBI, the Federation of Small Businesses, the British Chambers of Commerce, they all strongly welcomed the growth plan, and they are the organisations that represent British business…"
The Bank of England's £65 billion intervention in the UK economy yesterday is a "very targeted, time-limited intervention", according to the Chief Secretary to the Treasury. (You can read the full story on the bailout here) …
Chris Philp was asked during an interview on LBC Radio this morning if that bailout indicated the economy is experiencing "serious problems".
He said: "Look, they were making a very targeted, time-limited intervention. There was a particular idiosyncrasy to do with the way that particular pension vehicles used long-dated gilts.
"It was a very targeted, very specific intervention to address that issue, which they've successfully done – independently, of course, the Bank of England act independently.
"And they're not the only central bank to have had to make an intervention. Like I said, the Bank of Japan intervened in the Yen dollar market just a few days ago."
Chris Philp, the Chief Secretary to the Treasury, has rejected the suggestion that the UK is now in the middle of a financial "crisis". 
Asked if he accepted it is a "crisis", Mr Philp told LBC Radio: "Look, I don't accept the word crisis at all. Look, in the last six to nine months… the financial markets have been in some volatility around the world."
Sterling has fallen sharply again as former Bank of England governor Mark Carney accused Liz Truss of "undercutting" the central bank …
He said there was an "undercutting" of key City institutions, pointing to the lack of an OBR forecast, a lack of detail about costing and working at "cross-purposes" with the Bank of England.
Ms Truss later told BBC Radio Kent that she is "very clear the Government has done the right thing by taking action urgently to deal with inflation, to deal with the economic slowdown, and to deal with high energy bills".
Were those accusations from globalists really true?
Was day-to-day business in Britain disrupted so dramatically? And wasn't the Government helping Britons with their energy bills? As to the latter question, the UK has been providing the most assistance of any European government:
That week, Kwarteng was under much pressure to meet with the Office for Budget Responsibility (OBR), which, as I posted on October 6, has a lot of Torsten Bell alums from his charity, the Resolution Foundation.
On Friday, September 30, he met with the OBR. Guido reported:
The highly-anticipated meeting between the OBR and government wrapped up after 48 minutes. The OBR says they'll deliver an initial forecast on the October 7, however the government's readout of the meeting sticks to the line that it will be published alongside Kwarteng's medium-term growth plan on November 23 …
Meanwhile, Labour were still banging on about the abolition of the 45% tax rate. The cost of subsidising Britons' energy bills kept increasing, too. Naysayers were pumping up the total expenditure from £60bn to £100bn:
That morning, The Telegraph posted Kwarteng's editorial defending his fiscal event, which ended with this:
Even in the face of extreme volatility in global markets, with major currencies wrestling an incredibly strong US dollar, we will show financial markets and investors that our plan is sound, credible and will work to drive growth.
By combining our immediate energy support with bold action to reset the fundamentals of the UK economy, we are helping households and businesses today – and putting the United Kingdom on a more prosperous, competitive path for years to come.
That evening, The Times reported that the Scottish Secretary Alister Jack said that Truss delivered what she had promised in the leadership hustings and reminded us that she and former Chancellor Rishi Sunak disagreed on how the British economy should proceed:
Speaking to BBC Radio Scotland on Friday, Jack said: "When you say 'huge shock', over the summer [Truss] was very clear that her strategy was to reduce taxes.
"She and Rishi Sunak argued that out over the summer, he said one thing, she said the other, but it shouldn't come as a shock to anyone when she said she believed the strategy was to be more of an Asian tiger economy, where you keep your higher spending but you grow your economy, and she said to do that she would be cutting taxes.
"To anyone paying any attention to that leadership contest it was plain as day what was going to happen" …
In response to the plans announced by Kwarteng last week, the International Monetary Fund said it was monitoring the situation and urged a rethink, while the Bank of England began buying government bonds to avert what it described as a "material risk to UK financial stability".
More controversy, ending with Truss's sacking of Kwarteng, followed.
I will dissect the tragic conclusion tomorrow and, on Thursday, what it means for Truss's premiership.