You are currently browsing the monthly archive for November 2022.
Yesterday's post looked at the new biography of Liz Truss, Out of the Blue.
Her life has been a fascinating one in many ways.
On Saturday, September 3, 2022, shortly before Conservative Party members elected Liz Truss as their leader, The Times published an excellent article complete with photos, 'Just where is Liz Truss from? Her incredible journey spans three countries and two continents'.
Excerpts follow, emphases mine.
Early years
Mary Elizabeth Truss was born in Oxford in 1975 to a couple who lived in Cowley, known for the Anglican religious order, the Cowley Fathers, and car making:
The Truss odyssey begins amid the rackety student townhouses of James Street in Cowley, Oxford. She was born on July 26, 1975 at the nearby John Radcliffe Hospital, the second of five children, to Priscilla, a nurse and teacher and John, a mathematics professor. Their first child, Matthew, died when he was a baby. James Street today is inhabited by a mixture of posh students and local families, with a dash of Cowley seediness thrown in.
Like many of the places where Truss grew up, the area is middle class, left-leaning and studenty, home to a variety of public sector workers and professionals on a budget.
A series of moves followed, all connected with John Truss's work:
When her father's junior research fellowship at Oxford University ended, he spent a couple of years as a teacher at King Charles I High School in Kidderminster [Worcestershire], where Truss's younger brother Chris was born in 1978. After that, he found employment at Paisley College of Technology in Renfrewshire, and in 1979 took the family on the long journey up the M6 to Glasgow. Truss was four at the time.
Handsome civic buildings aside, Paisley is a fairly down-at-heel town, its high street a parade of betting shops, tattoo parlours and discount stores. But leafy Low Road, where the Truss family lived, is a bourgeois haven of Range Rovers and birdsong nestled among council estates and main roads. The Trusses lived in two different houses on the street, one a capacious detached villa, the other a sturdy semi-detached. Her other two brothers, Patrick and Francis, were born in this period.
Liz attended West Primary School and once drew the short straw in having to play Margaret Thatcher in a mock election. Most Scots detest Conservatives, especially in the western half of the country:
"I ended up with zero votes," she recalled. "I didn't even vote for myself. Even at that age, we knew it was simply unpopular to be a Tory in the west of Scotland."
In her spare time, young Liz embraced her parents' left-wing politics and attended protests:
It was in Paisley that Truss's mother first introduced her to political activism, taking her on Campaign for Nuclear Disarmament marches with the local CND chapter, including the famous Greenham Common protests, which she attended as a seven-year-old. A picture from the Paisley Daily Express on October 23, 1985 shows a 10-year-old Liz with her mother and brother Chris proudly holding aloft a new Paisley CND banner, ahead of a planned protest trip to London. The article recounts how the family spent two weeks painstakingly making the flag.
Truss has recalled the DIY nature of her family's 1980s radicalism. "We did a number of things like marches, protests," she told an interviewer in 2014. "On one occasion when we went down to London in a bus we had made some nuclear bombs made out of carpet rolls — ours didn't quite work because it had floral wallpaper on it."
In 1987, John Truss got a new job as a visiting professor at Simon Fraser University in British Columbia. The year the family spent in Canada transformed Liz's life:
In July she posted a picture on Instagram of her class at Parkcrest Elementary School in Burnaby, a suburb of Vancouver, which also boasts the actor Michael J Fox as an alumnus. The caption read: "30 years ago I spent a year in Canada that changed my outlook on life #pioneerspirit #optimism."
Moving 6,000 miles across the world would be a challenge to any 12-year-old, but the wide-open spaces and artless optimism of western Canada appear to have invigorated Truss.
The Times was able to find a Canadian classmate of hers, Brenda Montagano, who now teaches at the school both women attended:
"I remember her accent and I remember her being very smart," Montagano recalled. "Now that I'm a teacher, I recognise that it's no small feat to change schools, never mind countries, at that age. She came in and was confident, chatty, tried to get to know everyone. She made her mark."
Upon returning to England, the Trusses settled in Roundhay, a suburb of Leeds:
the closest thing Truss and her brothers had to a permanent family home. It was a household of music lessons and political debate, books and board games, the latter of which Truss "had to win", her brother Francis once told Radio 4.
Roundhay was an affluent area in the 1980s and remains so now, with the villas that overlook the park selling for more than £1 million. As a teenager, Truss would play tennis here with her brothers and drink cider with schoolfriends. Although the constituency of Leeds East was still Conservative when the Trusses first moved there, Roundhay today is solidly middle-class Labour, with the tapas bars and bookshops to prove it.
Liz was highly critical of Roundhay on the campaign trail during the summer, denouncing its Labour element. The Roundhay ward is part of Leeds City Council, so perhaps that was what she referred to. She was also critical of Roundhay School, which she attended:
"All of my parents' friends worked in public sector jobs," Truss has recalled. "The teachers at my school were quite often card-carrying members of the Labour Party and it just was not part of the culture to approve of what the government was doing."
Truss is profoundly unpopular in Roundhay today. Beyond her politics, locals were outraged when she made disparaging remarks about Roundhay School, which is now a successful comprehensive (motto: "Courtesy, co-operation and commitment"), situated in a handsome redbrick building by the park.
"The reason I am a Conservative is that I saw kids at my school being let down in Leeds," Truss said during a debate with Rishi Sunak in July.
It's true that Roundhay was not a particularly good school in the late 1980s. "The fabric of the school was crap, really awful," said one Roundhay teacher who overlapped with Truss. "There were ceilings collapsing, water leaks, gas leaks. The GCSE pass rate would have been 40 per cent A-C."
It is possible that Truss thinks that more effort should have been made across the board. She was clearly a gifted student:
… the school improved markedly for sixth form and Truss reportedly received extra tuition along with other Oxbridge applicants, which helped her gain acceptance to Merton College, Oxford, to study philosophy, politics and economics (PPE).
Her years in Roundhay might not have been her best with regard to friendships:
On Ingledew Crescent, neighbours of John Truss, whose politics diverge considerably from his daughter's, have been asked to keep their views to themselves. Some are too furious to hold back though. "She's a lying b***h," said Louise, a long-time neighbour. "She told lies about our local school. She told lies about the assistance she was given. I despise the woman and I feel sorry for her father. It's not his fault"…
One pupil at Roundhay remembered Truss as "aloof" and a "loner".
The Oxford years
Going up to Oxford probably came as a relief for Liz Truss:
Like many bumptious high-achievers, it seems she found a more comfortable groove when she went to university in 1993. Even among Oxford colleges, the secluded, introspective Merton has a reputation for academic excellence. "For those of us from regional comprehensives, we'd often had to hide how clever we were," said one contemporary from her year at Merton. "But at Merton you could meet all these amazing people with similar interests. It was very liberating."
Oxford was a bastion of Conservatism in those days:
"I met Tories and [found] these people don't have two heads and they don't eat babies," she said of this experience.
That said, she joined the Liberal Democrats:
Unlike most of her Merton contemporaries, though, Truss threw herself into life outside the college, joining the university Liberal Democrat society and becoming its president in the spring term of 1995. Student politics seems to have provided the stage she had been looking for.
Truss's politics in the Oxford years were a typical Lib Dem mishmash. On social issues she still espoused the left-wing radicalism of her parents. During her speech to the Lib Dem party conference in 1994, made while she was still an Oxford student, she made an impassioned plea to abolish the monarchy.
Roger Crouch, who became president of the Lib Dem society the year after Truss, met her at a freshers' fair in which she was determined to carpet the party's entire stall with entreaties to legalise cannabis.
"Even at the time she was determined and willing to pick a fight and stand her ground," Crouch recalled. "She knew what she thought and was willing to defend it. She was determined, slightly eccentric and challenging. She had an acerbic sense of humour, which I think is why we got on."
The termcard for Truss's presidency of the society included events on the legalisation of drugs and prostitution. "She liked to challenge the orthodoxy, often a male orthodoxy," said Crouch, who is now a teacher.
Even so, she was too libertarian to remain a Liberal Democrat for long:
"Liz was always quite a libertarian Liberal Democrat," he says. Truss was also involved with the free-market Hayek Society at the university and Crouch recalls one particular discussion in which she advocated for the privatisation of lampposts. "I didn't see her as someone with a longer-term future in the Lib Dems," he said. "I think she would have found us quite annoying."
Liz and her boyfriends made the fringe student newspaper columns, one of which said:
Liz had mad ideas.
Her acceptance of a job with Shell also garnered criticism in the student gossip columns.
Life in London
Liz completed her studies in 1996 when John Major was Prime Minister, one year before Tony Blair's Labour landslide:
Truss migrated to London after college and the not-quite-northerner became an entrenched southerner. She worked as an economist for Shell and then Cable and Wireless, but she was quickly captivated by the siren call of Tory politics, baffling some of her university peers.
"We came out of Oxford and it was the summer of Euro 96 and Britpop," said her Merton contemporary. "Then Tony Blair got in. It was a breath of fresh air. The country was full of optimism. To then go and join the Conservative Party, I was like: 'How does that happen?' It was really perplexing."
It was at this time that politics took hold of Liz, even if she was not an immediate success. However, her tenacity saw her through:
In 1998, aged 23, Truss ran for a seat on Greenwich council, a Labour-leaning borough. She lost, and it would be a 12-year political slog before she eventually became MP for South West Norfolk.
Running alongside her in 1998 was Douglas Ellison, who later won a seat on the council. "She was definitely resilient," he recalled. "I don't know how many selection processes she went through. There was this enormous self-belief to keep on getting up in front of these audiences and voters to eventually try and get that break. She was a sucker for punishment."
Ellison wouldn't necessarily have expected her to become prime minister, but noticed her obvious political skill. "Her manner could be a bit matronly, but she was very good at working people," he said. "She's been very lucky in a sense. Sometimes it can be better to be lucky than talented."
Even though she never got a seat on Greenwich council, she settled in the borough, marrying her accountant husband Hugh O'Leary in 2000, at St Alfege church in Greenwich, just half a mile walk from their current home.
Her Oxford classmate Roger Crouch attended the reception:
It must have been a good one, because I can't really remember it.
The couple have two daughters:
Frances, 16, and Liberty, 13, who she says is looking forward to hosting sleepovers in Downing Street.
I hope Liberty acted quickly.
Hugh O'Leary
On Tuesday, September 6, after Liz became Prime Minister that day, the Daily Mail told us more about Hugh O'Leary, complete with lots of photos:
Liz Truss' 'true blue' husband watched proudly as the Tory leader was crowned Britain's third female Prime Minister.
Hugh O'Leary listened on as Ms Truss delivered her first Downing Street address on Tuesday, vowing to to create an 'aspiration nation' during her reign as the nation's 56th Prime Minister …
Mr O'Leary was also by her side when she won Tory leadership on Monday, marking the first high-profile joint appearance by a hitherto private couple.
Ms Truss, 47, described her 'dry-witted' accountant spouse as the 'love of my life' on Valentine's Day three years ago. She met Mr O'Leary at the Tory Party Conference in 1997 and said of their first date: 'I invited him ice skating and he sprained his ankle.' 
Mr O'Leary was born in 1974 and grew up in Allerton, Liverpool, before his family moved to Heswall, Wirral.
A former neighbour said 'Hugh was much more serious' than his two younger siblings and that 'he was very earnest and very quiet but a lovely boy,' the Times reported last week.
O'Leary, 48, became a chartered accountant after studying econometrics and mathematical economics at the London School of Economics (LSE). 
The couple started dating and married three years later, settling in Greenwich, South-East London. They have two daughters, Frances and Liberty. O'Leary has worked from home as a house-husband.
A close family friend, cookery writer Mallika Basu, said: 'They are a great team. Both are keen cooks and very good cooks. She does lovely roasts, he does a good curry.'
There was only one dark period, when Liz had an affair with a fellow Conservative MP. Fortunately, her marriage withstood the strain:
Only once has their relationship been rocked. In 2006, it was revealed Truss had been having an affair with married Tory MP Mark Field. Her marriage survived; his ended.
The only damaging moment came when Tory members in her Norfolk constituency complained they had been kept in the dark about the affair and tried to oust her. 
But they were defeated and Truss triumphed.
'I remember when the tabloid furore was roaring … both times, her friends locally rallied around,' a source told The Times. 
'There were a number of occasions when the two of them came to various parties and it was quite good to see that people were sympathising and rallying round, particularly when it was over her selection in 2009. It was extremely unfair the way that came up.
'I don't really know much about what went on but from my impression, they [O'Leary and Truss] have always been a really strong couple and I have never seen any real sign that it's had much of an impact.'
What her family think
The article said that Liz's father John was sad and furious about his daughter's Conservatism — and probably her ascent to No. 10:
Truss' left-wing academic father was apparently 'so saddened' at her metamorphosis from an anti-monarchist Lib Dem to a Tory that he finds it difficult to talk about it, according to reports. 
A former neighbour of maths professor John Truss claims he was 'sometimes furious' and could 'barely bring himself to speak about' her being a Conservative candidate when she first stood in 2005. 
His college, the University of Leeds, has also reportedly banned his colleagues from speaking about Truss as well, The Times reports …
In July, the Daily Express also alleged that the Foreign Secretary's relationship with her father has been impacted by her 'conversion to extreme right-wing politics' and he is really 'appalled' by it, a colleague said.
Another university source said: 'John is distraught at the policies his daughter is advocating in her bid to become PM.'
Also:
Another report claimed Professor Truss was 'so appalled' by his child's 'conversion to extreme Right-wing politics' that it had impacted their relationship.
We understand that this is considerably wide of the mark. It may be coincidence but we understand Prof Truss has spent part of the time that his daughter has been campaigning abroad in Finland.
'I think it's fair to say there is a diplomatic element to this,' says a source. Family figures have indicated to us that the move was almost certainly to avoid being a distraction to his daughter.
But if he has been dismayed by her transformation from the spirited girl in whom he proudly instilled a strong social conscience into the standard bearer for the Tory Right, he is not saying.
All the same it is worth noting Prof Truss, whose colleagues at Leeds have been ordered not to give interviews about him, declined to campaign for his daughter when she first stood for election in 2001. (Again it may be a coincidence but she was standing in a strongly Labour-supporting constituency.) An indication of how this must have been testing family bonds comes from Prof Truss's older brother Richard, a retired Church of England vicar who officiated when his niece married accountant, Hugh O'Leary, 22 years ago.
The Truss family, he said, had liberalism 'in its blood' adding: 'It must still be in her blood as well.'
He last saw his niece in March at a party to mark his 80th birthday.
He was, he says, 'touched' that the Foreign Secretary had flown in from overseas in order to be there. Of the family politics, he explained: 'My grandfather lived and died quite young but he used to turn up and campaign for the Liberals before the First World War, so it's kind of in our genes.'
His understanding of liberal, he says, is of being 'open and concerned for those who are in need'.
It is also why he hopes the girl he remembers as 'fun, very bright… questioning and determined' will do something to heal 'the division between people in poverty' as well as changing the Government's approach to immigration and refugees. 'I hope she might do something on both fronts,' he says.
Fortunately, Priscilla Truss supports her daughter:
The former neighbour also said that Truss' mother, nurse and teacher, Priscilla – who he spoke to before she was selected as a Tory candidate in 2005 – is backing her daughter.
'She said she was quite torn. She'd agonised over whether to support her because she was her daughter, or not to support her because she was a Tory,' he told The Times. 'In the end, she decided that family ties should win out.'
Liz's three brothers also support her:
Paradoxically for all this apparent family dissent, there is also considerable support for a politician whose list of jobs in government reads like a cut-out-and-keep guide to becoming PM: Under-secretary of state for childcare and education; Environment, Food and Rural Affairs Secretary; Justice Secretary and Lord Chancellor; Chief Secretary to the Treasury, International Trade Secretary; and finally heading the Foreign and Commonwealth Office.
Her three brothers, Chris, Patrick and Francis, turned out to support her at the final hustings at Wembley on Wednesday evening. As for her mother Priscilla, she has been a near constant presence as her daughter has criss-crossed the country seeking support.
'For the children, Priscilla has always been there for them,' says a family friend. 'They always knew that if they needed her she would be there.
'The fact is Liz is proud of her politics but she is also proud of her mother's political views, too.'
The article says that her mother's family's politics have been pivotal in shaping Liz's worldview:
If anything, it is from her mother's side of the family that we find the crucible of Liz Truss's convictions.
The roots of the Grasby family, Priscilla's maiden name, are deep in the rural landscape around Driffield, East Yorkshire. Priscilla's grandfather George fought in the Great War with the East Yorkshire regiment and lost a leg at the Battle of Passchendaele.
After the war, he married Mary and became a cobbler on Adelphi Street. Mike Kennie, who lived next door, said the old soldier's disability was no handicap and that he would 'often be climbing ladders outside the building.'
His father William was a shepherd and inn keeper. Today the pub he ran, The Ship Inn at Langtoft, is still in business. But the link came as a shock to the current publican Martin Weaver.
'Can you repeat that? Liz Truss, our probable next Prime Minister, is connected to this pub. I'm astonished.
'In fact I'm shocked. This has been a pub since the days of Queen Victoria but I never knew that Truss's great-grandfather was brought up here as a boy. I can't wait to tell the locals.'
The local Tory MP, Sir Greg Knight, looks forward to having a drink with Miss Truss in her great-grandfather's former home as a matter of urgency.
I hope he hurried.
Anyway:
'Why not? It's a great part of the countryside and I am pleased to learn of the family connection.' It was George who laid the foundation for the socially-upward Truss family. His son, also George, won a place to read classics at Queen's College, Oxford.
During World War II he served with the Army in India in an intelligence role. After the war he became a teacher, later a head of classics at Bolton School for 25 years. His daughter, Liz's mother, was one of his pupils.
According to one former pupil, the pipe-smoking Mr Grasby was very much a 'post-Second World War socialist'. It was into this Left-leaning family tradition that Miss Truss was born in 1975. An older brother Matthew died in infancy the previous year. Three brothers followed her.
Here's something we didn't know:
When Liz was two, they moved to Poland and then, when she was three to Paisley, where her father had been appointed a maths lecturer at Paisley College of Technology. She started at the West Primary School, where she recalls, discipline was still imposed with the leather strap for miscreants.
Liz's brothers talked about what it was like growing up with her. Let's begin with a neighbour's reminiscence:
… she revelled in her position as the only girl in a family of boys. 'Her brothers were very sporty and her parents active so there was always something going on,' says a Roundhay neighbour.
Youngest brother Francis said it was a very musical home: 'We'd do music practice every night because my dad's a very keen musician, and that was sort of enforced.' Recalling playing board games such as Cluedo and Monopoly, Francis said of his sister: 'My dad would say she cheated to win. She was someone who had to win. She created a special system to work out how she could win, and then if she was losing she might sort of disappear rather than lose.'
What her friends say
The paper reported that Liz's friends were on board with her candidacy as Party leader and had every confidence in her:
We have spoken to family, friends, foes and even former romantic partners. They all agree on one thing: the Liz Truss they know is brighter and far more intelligent than some of her leaden appearances on hustings and in interviews might have suggested.
There is, too, something of a chameleon character to her that manages to identify her with practically everyone. That, of course, may be her skill as a politician — she is after all the longest-serving Cabinet minister in recent times.
But as a one-time ally says: 'The key to understanding her is that she actually says what she believes.' What perhaps is even more bizarre is the contempt she has these days for liberal group-think.
The paper caught up with friends of hers from Roundhay:
While still at school she joined the youth branch of the Lib Dems. A fellow student was Kiron Reid and the two were photographed holding a party flag at a mass trespass at Twyford Down, Hampshire, in protest at then Home Secretary Michael Howard's Criminal Justice Bill clamping down on illegal raves.
Reid was also a friend of her then boyfriend, Wyn Evans, another Lib Dem supporter who was at Leeds Polytechnic.
Reid, who is still a party activist, told us: 'Liz always had a liberal social and economic view of the world. Am I surprised she's now a Tory?
'Well, even back then she was a huge fan of Mrs Thatcher which was not a commonly held position in the North of England. She regarded her as a strong woman leader.
'It was a long time ago and I was often drunk or hung over at Lib Dem conferences but she always argued her position strongly.
'Wyn and Liz went out with each other for at least a year, maybe 18 months or more.'
Mr Evans is clearly no longer a fan of his former girlfriend, tweeting in April: 'Biggest war in Europe for 75 years and our Foreign Secretary, in a major speech, can barely utter the word Europe. This is a speech of an isolated, detached nation still carrying notions of being a global power. Depressingly sad and woefully dangerous.'
A professor speaks
The Mail's article ends with the words of one of Liz's lecturers at Oxford:
Perhaps Marc Stears, one of her Oxford lecturers, offers the most intriguing insight on our next PM.
'That Truss appears to be on the cusp of becoming Prime Minister, rather than those candidates from central casting of PPE at Oxford, shows not only that I grossly underestimated her 25 years ago but also that the qualities our politics rewards have changed beyond recognition,' he says.
'Truss lacks the media elan of Tony Blair and David Cameron. She lacks the dogged determination of Gordon Brown or the patient, long-term vision of Margaret Thatcher.'
Then again, he will not be the first person to have underestimated Mary Elizabeth Truss.
Maybe the prof nailed it in saying she lacked a patient, long-term vision. Then again, with the Conservatives having lost two years' worth of policy making to the pandemic, time was against her.
Tomorrow's post looks at the New Statesman's fascinating profile of Liz Truss's brand of politics and The Guardian's analysis of her time in Parliament as well as Downing Street.
My most recent post on Liz Truss explored the background to her final week in office as Conservative Party leader for 44 days.
She remained Prime Minister until Rishi Sunak took over and was in post for 50 days.
The book
On Thursday, November 24, 2022, Out of the Blue, the biography of Liz Truss by The Sun's Harry Cole (right) and The Spectator's James Heale (left), went on sale:
They had to frantically rewrite parts of it and add the sad denouement:
The Guardian's Gaby Hinsliff gave it a good review, considering that The Sun and The Spectator are not aligned with the paper's politics:
More excerpts from Hinsliff's review follow (emphases mine):
… Liz Truss was also the first [Prime Minister] to unravel almost faster than a biographer can type. She quit eight days before the Sun's political editor Harry Cole and Spectator diarist James Heale were due to deliver a portrait already being written at breakneck speed, and for a book to emerge at all in the circumstances arguably represents something of a heroic technical achievement. True, the writing is clunky in places. But nobody is going to be buying this book for its literary elegance; the point is to rubberneck at what remains of the crash site, and if that isn't what Cole, Heale or most of their interviewees originally intended to deliver – well, life comes at you fast in British politics nowadays.
Then comes the bit in the tweet about the book being of two parts.
The review introduces tantalizing details into Liz's life, past and present, that are in the book:
Most of the clues as to what went wrong however lie in the first part, a very readable gallop through Truss's childhood as the daughter of Guardian-reading, mildly eccentric leftwing parents, via her political awakening at university – first as a free market Lib Dem, then as libertarian Conservative – right the way through to her stint as foreign secretary, careering round the world in pursuit of the perfect Instagram shot. (It was during this stage that her ministerial "rider" was said to include multiple espressos in a flat white-sized cup and a bottle of sauvignon blanc chilling at every overnight stay.)
I was intrigued by Truss's mother, Priscilla, who briefly moved to eastern Europe in the 1970s to "try out life under the communists", took her children on Greenham Common protests and made herself a bright yellow banana costume in which to promote fair trade back home in Leeds. When Truss recalls schoolmates shouting "saw your mum in Tesco's dressed as a banana again", other 70s children of free-thinking parents may understand her seeming obliviousness to criticism a little better. You don't grow up with a banana-clad mother, I suspect, without developing a certain sturdiness.
The book shows Truss's self-belief from the time she entered Parliament in 2010, when David Cameron became Prime Minister:
Obliviousness isn't always a blessing in politics however, as becomes clear in her first job as early years minister under David Cameron. Truss had hatched a plan to cut childcare costs by slashing the number of adults required to supervise children, which unsurprisingly proved controversial. Instead of patiently trying to build public and political support for it, she simply put her head down and charged – much as she would a decade later with her mini-budget, and about as successfully. All young politicians make mistakes. What's unusual about Truss is that the lesson she seemingly took from hers was to believe in herself even more, and listen to others even less …
But it's perhaps significant too that she had got away with so much in the past, leading to an overconfidence about her ability to wing it – as she did even in the early days of her leadership campaign.
Interestingly, a Conservative plan to expand the number of adults who can care for children was debated earlier this month. It would allow people to mind children in their own homes rather than at a day care centre.
As with anyone else, there are darker sides to Truss, most of which will never be fully known. Cole and Heale were unable to interview her a third time for the book:
The authors recount sympathetically the well-trodden story of how an earlier extramarital affair with the married former Tory MP Mark Field nearly wrecked Truss's search for a parliamentary seat, rightly noting the double standard that it never seemed to damage Field. But they also touch on some of the more explosive smears circulated about her during the leadership contest – including claims of an affair with an aide, allegations of predatory behaviour towards staff, and even one wild suggestion that there might be a sex tape of her in circulation. The authors interviewed her twice but their planned third session was canned when she resigned, so perhaps they simply never got to put these to her.
As to how things went wrong, perhaps she should have listened a bit more to others:
Despite his professional closeness to Truss, Cole and his co-author strive to put some distance between them in their final reflections on where it all went wrong. Putting aside her own fear, reportedly expressed to a visitor to the Foreign Office, that "I am weird and I don't have any friends", plausible theories for her implosion include that vaulting self-belief (even in her post-resignation speech to staff, she was still insisting she'd been on the right track) and determination to put the wrong people in cabinet.
How to read the books on Boris and Liz
In addition to a book on Truss, there is also one about Boris Johnson, by the Financial Times's Sebastian Payne.
How can one read both in chronological order?
Harry Cole says to read the first ten chapters of Out of the Blue, then Payne's biography of Boris, then end with the final four chapters of Liz's biography:
An MP writes
Recently, Simon Clarke, the Conservative MP for Middlesbrough South and East Cleveland who served as Secretary of State for Levelling Up, Housing and Communities in Liz Truss's Government, and before that as Chief Secretary to the Treasury under Boris Johnson, wrote an article for the December 2022/January 2023 edition of The Critic on Truss's premiership: 'How did it all go so wrong for Liz Truss?'
Simon Clarke is one of the better Conservatives, in my estimation. He is diligent, good at the despatch box and is self-effacing. He is also very tall and, as such, when pictured with Rishi Sunak, walked some distance behind him so as not to accentuate the difference in height between the two of them.
Clarke begins his article with a weekend at Chevening, the Foreign Secretary's country residence, and concludes with Truss's last one at Chequers, as she closed out her premiership:
From Chevening to Chequers. For me, two weekends, eight weeks apart, will forever bookend my friend Liz Truss's time as prime minister. The first, a wash of August Bank Holiday sunshine over the Kent countryside. Walking the grounds of the Foreign Secretary's home with her on one of the last days of a leadership contest she had already won, listening as she outlined her vision for government, stalking ahead impatiently through the yellowing grass.
The second, an October Sunday in Buckinghamshire, an afternoon of bruised clouds and close heat foreshadowing the storm which broke as we dispersed. A small circle of family, ministers and aides, gathered in the Great Hall to say goodbye. A day defined by the quiet dignity and absence of self-pity of its principal protagonist, entirely typical of our host.
These memories are appropriate, because so much of what happened in between was decided at Chevening in the dog days of August.
Clarke has read Out of the Blue, which he liked, calling it:
a brisk and insightful canter through Liz's career and the forces that shaped her …
In four breathless chapters at the close of their book, Heale and Cole do a good job of unpicking what went wrong, and why.
However, Clarke is disappointed they did not reach the conclusion he did — that Truss was right all along:
they largely decline to address an inconvenient truth — a truth perceived by those much-maligned Tory members all summer. Namely that in her diagnosis of the situation at home and abroad and what should be done about it, Liz Truss was fundamentally and importantly right. 
He goes through the failed mini-budget from September but points out that some of the fallout would have happened anyway:
In the eyes of millions of British voters, the fallout from the mini-budget meant the Government alone took responsibility for sharp spikes in both interest and mortgage rates, even though the majority of those increases were already in motion independently. 
He admits his error in the mini-budget but adds that Truss had a different economic plan during the summer:
The whole package was an exercise in Reaganomics without, fatally, the support of a reserve currency. Indeed, it was launched at the very moment when the strength of the dollar left sterling desperately exposed. As one of her Cabinet ministers, I take my share of the responsibility. But it is important to note that for much of the summer, there was a different plan. 
In July, in the days following Boris Johnson's resignation, I spoke with Liz about how best to implement her vision for a higher growth, lower tax economy. The role of Chief Secretary to the Treasury is to be a voice of caution, and speaking as the incumbent to a predecessor, I highlighted the need for credible savings options to accompany her tax cuts, warning that without these we would be monstered. She agreed.
We settled on a new spending review, the exercise by which departmental budgets and priorities are determined in conjunction with Number 10 and the Treasury. Events in Ukraine meant the review conducted in September 2021 now strays close to being a fiction: the world has changed. It was time for a reassessment.
We discussed the relative merits of requiring five and ten per cent reductions in expenditure, achievable given how far spending has soared in recent years, and capable of being cushioned by the size of so many Whitehall departments' Covid-driven underspends. 
Her only caveat, quite reasonably, was that it would be better to identify specific saving plans in the run-up to a budget once safely in office, as opposed to in the heat of a brutal campaign. But the overall approach of securing those savings was not, I believed, in any doubt. 
There was, therefore, a conscious and spectacular change in her policy from mid-July to the end of August. The latter two weeks of August seem to have been pivotal. With an unassailable polling lead and most votes already safely cast by party members, Liz settled in at Chevening for a blizzard of meetings. Here her distaste for "abacus economics", always present, won out over caution. 
She was well within her rights to point out that the guardians of Treasury orthodoxy are bad at conducting dynamic modelling of the positive impact of both lower taxes and supply side reforms. But this was not the time to try to test that weakness.
Clarke thinks that Truss should have brought on board some of Sunak's people. Personally, I do not think they would have helped. Perhaps they would have if she were a man:
As the storm broke from the mini- budget, so a second fundamental error of the Chevening days was laid bare: Liz's choice of personnel. It was a mistake to have excluded from government so many of those who had backed Rishi Sunak. Her administration had too few allies when its momentum faltered, while a pared-back Downing Street operation found itself fighting on too many fronts.
The opposition was real and it was destructive:
What Heale and Cole could acknowledge more clearly is that there was a sizeable group of MPs who were unpersuadable from the beginning. From those who shivered at the thought of making the case for lowering the top rate of income tax back to the level at which it had stood at for all but the last six weeks of New Labour's 13 years in office, even if it would raise more revenue, to those who did little to hide their desire for revenge for the summer's reversal, the kindling was dry. 
Clarke says it is now important for Conservatives to look ahead to the next general election or face a Labour government:
And so we return to the fundamental point: that for all the brickbats, the platform on which Liz was elected PM remains important and urgent, and still needs to be delivered …
Who can dispute the need for a plan for growth, at a time of flagging living standards when the Bank of England is forecasting a two-year recession? Taxes are at a 70-year high, and she was right to ease the burden by cutting National Insurance.
The opportunity for further tax cuts may have passed with the mini-budget, but supply-side reform is now more important, not less. Growth since the 2008 crash has been sluggish, and some of the principal reasons for this are the result of policy challenges that a Conservative government with a majority of 70 ought to confront.
I disagree with his plan to build more houses on the green belt but agree that the Conservatives need to maximise Brexit opportunities:
Productivity matters. We need to curb the culture of judicial review that ensures major infrastructure projects take years longer to deliver than they should. We also need to grasp the opportunities of Brexit, rather than just talk about them. Reform of EU rules such as Solvency II, proceeding with painful slowness, desperately needs to be accelerated if the City is to succeed. 
Liz saw this with total clarity and planned a series of interventions this autumn. If we are to get our economy moving, it is essential that we should act. None of these problems will resolve themselves of their own accord.
If her instinct for action on the home front was sound, it was doubly so abroad. The Northern Ireland Protocol legislation, so vital to ensuring that all parts of our country get to leave the EU, is very much Liz's legacy from her time as Foreign Secretary. She understood better than almost anyone in the senior ranks of Government that Brexit cannot be a partial or half-hearted endeavour. Delivering this will be a central test for the new Government. 
And then there's China:
With regard to China, Liz again rose to the level of events. Too many in British and European politics still cling to the German dream of Wandel durch Handel, or inspiring change through trade. Liz did indeed aim to deliver change through trade, but of a different kind. In one of the boldest policies of recent years, she had set out plans to build a democratic alternative to the Chinese "Belt and Road" initiative, not least by championing UK membership of the CPTPP trading bloc.
When she fell, she was poised to designate China officially as a threat to the UK. From the suppression of democracy in Hong Kong to the genocide being perpetrated against the Uighurs, we should be in no doubt as to the true nature of Xi's regime. The West will only be able to resist this challenge if we readopt the Cold War trinity of moral confidence, economic dynamism and military strength, and Liz instinctively recognised this.
He concludes:
It was precisely because Liz's sense of the kind of country we ought to be was so compelling that the Conservative party gave her their decisive backing this summer. It is her tragedy that the mistakes made at Chevening risk diminishing the vision she set out of a more successful Britain, walking tall abroad and better able to offer opportunity and dignity to her citizens at home …
In words which could be the epitaph for her short, extraordinary time as our prime minister, she reflected: "I think I could have gone out and done a better defence, and got on the front foot. On the other hand there is no point in doing these jobs unless you stand up for what you believe in." 
Rishi laughs, but should he?
At last week's Spectator Awards, everyone was there except Liz Truss.
The notional great and the good, politicians and journalists, gathered together. Pictured on the left is Grant Shapps MP and ex-BBC presenter Emily Maitlis:
Those who received awards and/or gave speeches, included witticisms:
Defence Secretary Ben Wallace won Minister of the Year:
As we had four Chancellors this year, it must have been hard for the magazine to choose, so they opted for Labour's Rachel Reeves for Chancellor of the Year:
Labour leader Sir Keir Starmer won Politician of the Year:
Ukraine's Volodymyr Zelenskyy won Parliamentarian of the Year. It looks like Transport Secretary Mark Harper gave the speech on his behalf:
During this annual starry schmoozefest, Prime Minister Rishi Sunak felt free to get a dig or two in about Liz Truss and the book:
Sunak quipped that the BBC turned down a request to make a television series about Cole and Heale's book, because 'it is hard to work with just one episode'. How they laughed:
Except things aren't so funny for Rishi.
He had no honeymoon as Prime Minister and, within a month, Conservative backbenchers began rebelling.
On Wednesday, November 23, the aforementioned MP, Simon Clarke, tabled an amendment to relax the ban on onshore wind farms in England:
Late on Thursday, November 24, The Telegraph reported that Clarke's proposed amendment was gaining traction. Furthermore, it had support from none other than Boris Johnson and Liz Truss:
Boris Johnson and Liz Truss have launched a challenge to Rishi Sunak's authority by joining a Tory rebellion backing wind farms to tackle the energy crisis.
In their first major interventions since leaving Downing Street, the two former prime ministers have demanded an end to the ban on new onshore wind farms.
They both signed an amendment to the Government's Levelling Up and Regeneration Bill, just days after Mr Sunak's government was derailed by a separate Tory revolt on the same legislation.
The bill is designed to speed up housebuilding, which is crucial to Mr Sunak's growth agenda.
The two former prime ministers have had tense relationships with Mr Sunak.
Mr Johnson's supporters view Mr Sunak as having dealt the fatal blow to his premiership by resigning as chancellor.
Ms Truss and Mr Sunak clashed repeatedly during the leadership race.
It is unusual for former leaders to oppose their successors, with Theresa May choosing the issue of partygate to make a rare criticism of Mr Johnson. 
Mr Johnson signed the pro-onshore wind amendment, tabled by Simon Clarke, who was levelling up secretary under Ms Truss – even though he supported the ban, which has been in place since 2015, during his three years in office.
Ms Truss said she wanted to end the ban when she was in Number 10, because she believes the energy crisis means Britain needs more energy independence …
The onshore wind revolt is the second blow to Mr Sunak's bill. 
On Tuesday night, more than 50 Conservative MPs rebelled against his plans to impose centrally-dictated housebuilding targets – forcing the Prime Minister to delay the votes until December.
That revolt risked the prospect of Mr Sunak only being able to get the measure through with Labour support.
The latest rebellion looks set to be even more serious – not only because it has attracted the support of two former prime ministers, but because it is considered more likely that Labour would back measures to promote onshore wind.
By Thursday night, a total of 18 Conservative MPs had signed the amendment.
It demands that Michael Gove, the present Levelling Up Secretary, revises the National Planning Policy Framework to allow councils to grant new onshore wind applications.
The amendment would also force the Town and Country Planning Act to be amended to allow the installation of "new onshore wind sites not previously used for generating wind energy or for repowering existing onshore wind applications".
On Monday, November 28, The Guardian reported that Sunak was likely to give in to Clarke, Boris, Liz and the other Conservative rebels:
Good morning. Rishi Sunak has only been prime minister for about a month, but already he is learning that a large part of his job consists of playing Whac-a-Mole with Tory party rebellions.
All party leaders face backbench rebellions from time to time but, with its poll ratings still in landslide defeat territory and MPs rushing for the post-parliament lifeboats, the Conservative party is more ungovernable than usual.
Sunak has had to postpone votes on the levelling up and regeneration bill (originally scheduled for today) because of two rebellions on it. One group of Tory MPs (the anti-growth coalition, as Liz Truss would call them), want to amend the bill to ban mandatory housebuilding targets, while another group of Tories (from the pro-growth coalition) are backing an amendment tabled by Simon Clarke, the former levelling up secretary, that would lift the ban on onshore windfarms. Although only 25 Tories have signed the Clarke amendment (less than half the number backing the one on housebuilding targets), Clarke's is more dangerous because it has Labour backing.
This morning Grant Shapps, the business secretary, was doing the morning interview round and he signalled that the Whac-a-Mole mallet is coming down on the Clarke rebellion. As my colleague Peter Walker reports, Shapps hinted that the government will avert the onshore windfarm rebellion by giving in.
In immigration news that morning, Conservative backbencher David Davis told Sky News that the easiest way to stop the influx of Albanians via the English Channel is to send them back home. Albania is classified as a safe country, therefore, claiming asylum should be discounted. Davis has the backing of 50 other Conservative MPs. He said:
[Legislation] would go through and basically we would say to the Albanian population, anybody else who comes across the Channel will be sent back. When that starts to happen, there is no bigger deterrent … than if somebody in your village pays thousands of pounds to a human trafficker and then ends up back in the village three weeks later.
We shall see what happens on both wind farms and immigration.
For now, the Conservatives will have to make the best of Sunak's premiership, as they cannot reasonably have any more Prime Ministers before the general election, which, all being well, is some time away, either near the end of 2024 or early in 2025.
Returning to Liz Truss, there was no question that she had insurmountable enemies, a subject I will explore later this week. In some respects, if she were a man, she would have been allowed to remain in office. Perhaps men deal with contrarian men better than contrarian women.
Tomorrow's post looks at Liz Truss's life.
We are now in the season of Advent, a time of preparation for our Lord's coming to earth, two millennia ago and in future.
How does that work and why? Advent readings are often gloomy or apocalyptic just as we are preparing for the happiest season in the Christian calendar.
A reflection from Calvin Theological Seminary's Center for Excellence in Preaching explains the purpose of Advent (emphases mine):
The Church has traditionally begun the Season of Advent with apocalyptic passages about the end of history and Christ's return for one very simple reason: if the events Jesus foretells (and forthtells) in Matthew 24 will never happen, then there is actually not much to celebrate surrounding his first arrival in Bethlehem. If Jesus is not coming back fully to usher in the kingdom of heaven that he preached about, then his original birth is drained of meaning too.
It ought not spoil anyone's "Christmas spirit" if we spend the first Sunday in Advent pondering the ultimate things to which Jesus points. In a world as full of sorrows as this one, would it hurt to have a longing and an expectation for Christ's Parousia [presence, Second Coming] and his ushering in a better day?  … We live in a world of hunger and want, of economic crises and incessant sorrow.
At Christmas of all times, how can we look at all that and not long for the second Advent of Jesus? If Christ is coming again, then and only then does his first Advent mean anything. In fact, then and only then Christ's first arrival means flat out everything.
Below are links to my past posts on Advent which include a variety of resources and reveal why Christians place a heavy emphasis on charity at this time of year:
Advent resources for Catholics and Protestants
Advent reflections: John the Baptist and the Apocalypse
Advent: Make straight a highway
Advent: John the Baptist's message of Good News — and repentance
Advent: a time to examine one's conscience
Advent: Mary's Magnificat and Zechariah's prophecy in Luke 1
John the Baptist, charity and Advent
The Advent wreath: symbolism and history
Advent and Christmas in colonial America
I hope you find these helpful.
The three-year Lectionary that many Catholics and Protestants hear in public worship gives us a great variety of Holy Scripture.
Yet, it doesn't tell the whole story.
My series Forbidden Bible Verses — ones the Lectionary editors and their clergy omit — examines the passages we do not hear in church. These missing verses are also Essential Bible Verses, ones we should study with care and attention. Often, we find that they carry difficult messages and warnings.
Today's reading is from the English Standard Version Anglicised (ESVUK) with commentary by Matthew Henry and John MacArthur.
Paul's Longing to See Them Again
17 But since we were torn away from you, brothers, for a short time, in person not in heart, we endeavoured the more eagerly and with great desire to see you face to face, 18 because we wanted to come to you—I, Paul, again and again—but Satan hindered us. 19 For what is our hope or joy or crown of boasting before our Lord Jesus at his coming? Is it not you? 20 For you are our glory and joy.
——————————————————————————————————————————-
Last week's post discussed Paul's displeasure with the Jews who prevented the Thessalonians from extending his ministry there, saying that the congregation suffered as much as the Judean converts did.
In true Pauline fashion, the Apostle wears his heart on his sleeve in today's verses.
I want to show you the difference in the first few words of verse 17 in three translations, the first being from the ESVUK above:
But since we were torn away from you, brothers,
The second is Matthew Henry's:
But we, brethren, being taken from you
The third is John MacArthur's:
But we, brethren, having been bereft of you for a short while
The verb, whether 'torn away', 'taken' or 'bereft' denotes an unwilling and forced departure, in this case, to Berea, as I explained last week. Paul's time in Berea was similarly short-lived for the same reasons.
Henry's commentary says (emphases mine):
Here observe, 1. He tells them they were involuntarily forced from them: We, brethren, were taken from you, v. 17. Such was the rage of his persecutors. He was unwillingly sent away by night to Berea, Acts 17 10.
John MacArthur tells us:
He doesn't say "having been gone from you" in just sort of generic terms. The verb here, "having been bereft of you" is used only here in the New Testament, but we know its meaning from other uses. It means "to be orphaned, to be bereaved." It literally means "to be torn away from." And that's what he felt.
Henry's and MacArthur's respective translations begin with 'But we, brethren', meaning in contrast with the Jews who would not allow the Gospel to be preached at all.
MacArthur explains:
Look at verse 17. "But we," boy, that is a strong contrast, "But we," compared to whom? We're going back to the prior passage. He talks about the Jews in verse 14 who killed the Lord Jesus and the prophets and drove us out, the Jews who are hostile to all men, hindering us from speaking to the Gentiles that they might be saved. Contrary to the Jews who don't care that you get the gospel, contrary to the Jews who don't care that you know Christ, contrary to the Jews who don't care about your spiritual condition, we do. That's the contrast. "But we," in contrast to the Jews who resented Christianity, Christians and Christ, we do, brethren.
Paul says that, even though he was torn away from them physically for a short while, but not in heart — not emotionally — he tried all the more, eagerly and with great desire, to see them face to face (verse 17).
That is one powerful verse.
MacArthur analyses Paul's emotions as well as the quality of the Thessalonian congregation in faith and love:
The work was not done. He stayed in Ephesus three years, and, Ephesus, it's questionable whether they had the quality of Thessalonica. He stayed in Corinth 18 months and the Corinthian church certainly didn't have the quality of Thessalonica. There's no way he wanted to stay only a few weeks in Thessalonica. He was ripped out of there, torn out of there. He experienced a forced, sudden separation and he felt orphaned. Remember back in verse 7 he talked about himself as a nursing mother who cares for his children, and back in verse 11 as a father who encourages and exhorts and implores his children. He had that parental heart and now he feels like a parent who has been torn away from his beloved children …
… he says, "We've been ripped away from you," note this, please, "for a short while." It indicates that though it had only been a brief separation so far, and though it might be only a temporary one as he, on his third journey, may have gone back to them, he still had a great longing in his heart for them. Even though Timothy had brought word back and said they're progressing, they love you, Paul, they love you, their faith is solid, their faith is growing, he still wanted to be with them. That's the heart of the shepherd; you can't rip him away from his sheep. That's the heart of a spiritual mother; you can't tear her away from her children. That's the heart of a spiritual father; you can't rip him away from his children.
… though they are physically separated, they are still in his thoughts. "I have you in my heart." His inward affection for them was strong, even though the physical separation existed. They had his heart, if not his face. I'm reminded of Colossians 2:5 where Paul says to the Colossians, "Even though I am absent in body, nevertheless I am with you in spirit." Why? "I want to see your good discipline and the stability of your faith." I want to see how you live, how you walk, you're on my heart.
… It had to do with the weight that was laid on the man's emotion, on his heart, because of the immense capacity he had to care about people. And because he cared so deeply and so widely, he bore this immense burden of care.
MacArthur discusses Paul's passion, as evidenced by 'more eagerly' and 'great desire'. These are strong words:
… he says, "We were all the more eager with great desire to see your face." Now that little phrase is just a sort of an emotional stack, just a piling of words with intense significance. He starts out, "We were all the more." That means abundantly, excessively, fervently and it's a comparative. We were more abundantly, more excessively, more fervently. Then he adds the word "eager" which means haste; you're in a hurry. It's sort of a compelling thing, short of breath, anticipation. He's saying we were more abundantly, more excessively, more fervently eager.
And then he adds, if that isn't enough, "With great desire." And he throws in the word epithumia which most often is used of sexual desire, sexual passion. It is a neutral word. It can be used of any kind of passion, any kind of compelling, any kind of driving desire, any kind of desire that dominates. And so he is saying we have a fierce passion driving us greatly into an abundant, excessive, fervent eagerness. Boy, that's pretty strong stuff.
Paul specifies he wants to see them 'face to face' or 'to see your face'.
MacArthur looks at that, combined with Paul's passion for the Thessalonians:
If we had time, we'd find that that's a rich biblical statement, to see your face. It means to come into intimacy with you ... Seeing the face is the full expression of the person … That's why the telephone is only marginal. Sometimes we'll say, "Ah, this is too important to talk on the telephone, I want to see you face to face," right? Because there's…there's an interchange of life, not just words. And so he says, "I want to be intimate with you, I want to make contact with your eyes. I want to look in your face. I want to be there." That was his strong, compelling, fierce, passionate, abundant, successive, fervent desire. Boy, that's strong language.

From verse 17, we can feel Paul's passion for the Thessalonians' spiritual well being. It's obvious that, even if he did not get to know them well, he loves them like a spiritual father.
The next thing we discover about the Apostle is that he knows his enemy.
He says that he wanted to see the Thessalonians again and again, but Satan hindered him (verse 18).
Henry says that Satan worked through Paul's enemies to get him out and prevent him from returning:
He tells them that Satan hindered his return (v. 18), that is, either some enemy or enemies, or the great enemy of mankind, who stirred up opposition to Paul, either in his return to Thessalonica, when he intended to return thither, or stirred up such contentions or dissensions in those places whether he went as made his presence necessary. Note, Satan is a constant enemy to the work of God, and does all he can to obstruct it.
Sometimes Paul refers to himself as 'we' rather than 'I'. MacArthur says that here, he is referring to Silas and Timothy, too, then himself:
He's "we" in verse 17 and "we" in verse 18, embracing Timothy and Silas, and now, all of a sudden, he says, "I, Paul, more than once." And he says, "I'm not just talking about the group here, I, Paul." "More than once" means repeatedly. It's the same term used in Philippians 4:16, the Philippians gave money to Paul repeatedly. And here he says, "Repeatedly, I, Paul, personally want to see your face." Can't delegate compassion, can't delegate concern, can't delegate love, can't leave it to someone else to be concerned about the condition of your flock while you're only concerned about the expansion of your ministry.
Paul did send Timothy back, but Paul as much as he wanted to go couldn't go. It wasn't from a lack of concern. It wasn't from a lack of effort. He loved his people. He desired to be with them. He didn't want to drop a load of information on them and then get out of there. He wanted to find out their spiritual condition, nurture that spiritual condition.
MacArthur points out that Paul knew when the Holy Spirit prevented him from going places and when Satan hindered him:
Paul was very discerning. You know, in Acts chapter 16 verses 6 and 7 the apostle Paul was moving on his missionary enterprise when he was stopped by the Holy Spirit. Acts 16:6, they passed through the Phrygian and Galatian region, having been forbidden by the Holy Spirit to speak the Word in Asia. When they had come to Mysia, they were trying to go to Bithynia and the Spirit of Jesus didn't permit them. Now here he is being stopped by the Holy Spirit. Over here he says, "I'm being stopped by Satan." Here was a man of discernment. I believe this man walked with God in such a way that he knew the Spirit of God from Satan. He understood when Satan invaded his territory. "Satan thwarted us."
This is another relationship that any servant of the Lord has to take into account. If you're going to be an effective servant of the Lord, plan on satanic attack. That malignant, evil, spiritual, supernatural person, Satan, that fallen angel, is going to get in the way of effective ministry. Here was Paul separated from these believers, longing to be with them. His heart was there. His parental instincts were there. He had been ripped apart from them. He wanted to go there. More than once he tried to go there. He could never get there. Why? Satan was thwarting him. Satan is very active in doing that. I'm not under any illusions about that. There are many times when I believe that I need to accomplish something for the Lord, to speak some place, to get a radio program on in a certain city, to accomplish some ministry here in the church and it just never happens. It's a good and noble effort and you make it several times, but it never happens. Satan thwarts it …
MacArthur gives us instances in the New Testament where Satan was on the attack:
Now when he comes to attack, he desires to attack the church. No question about that. He desires to attack the church. He attacked the first church in Jerusalem. He moved right inside Ananias and Sapphira to make them lie to the Holy Spirit and God had to kill them before the whole church. He was attacking the integrity of the first church, the only church right after its birth in Acts 5. He attacks the church. That's one of his major ploys, to thwart the church, to prevent it from doing what it would otherwise do. Paul told the Corinthians, don't be taken advantage of by Satan. He's after the church. You read Revelation if you have any question about that. Just listen to this, Revelation 2:9, the church at Smyrna, "You have there" He says "blasphemy by those who say they are Jews and are not, but are a synagogue of Satan, an assembly of Satan." Pretty strong. You find in chapter 2 verse 13, the church at Pergamum. "I know where you dwell, where Satan's throne is." And He says there are some who died, even Antipas, who was killed among you where Satan dwells. Satan always attacks the church. Chapter 2, verse 24, the church at Thyatira, He says, "The rest who are in Thyatira who do not hold this teaching, who have not known the deep things of Satan." There were some in the church who were into the deep things of Satan, wittingly or unwittingly. Chapter 3 verse 9, it says here about the Philadelphia church, "I will cause those of the synagogue of Satan who say they are Jews and are not but lie…" and so forth and so on. Satan's always in and around the church.
Let me go a step further. He particularly attacks the leaders. In 1 Timothy chapter 3 it tells us that when we choose elders and deacons, "They must have a good reputation with those outside the church so that they may not fall into reproach and the snare of the devil." The devil wants to snare leaders. Why do you think there are so many scandals among leaders? Money scandals, sex scandals, why? Because he wants to snare leadership in the church. He's after the church. He's after the church's leaders. He went to God one day and he said, "I want Job. I'll destroy him." God said, "Have at him." Couldn't destroy him. But he wanted the most righteous man who was the most faithful representative of the true God and he wanted to tear him down. He wanted to devour him. He didn't succeed.
You come into the New Testament, who is the leading apostle? Who is it? Who is number one of the twelve? Peter. Satan again comes to God and according to Luke 22:31 Satan says to God, "I want Peter." God…Christ said, "Satan has asked for you, he wants you, Peter, to sift you like wheat." What does that mean? You know how they sifted wheat? They took a big basket; they threw it in the air like this. They sifted it that way. And then they would put it through a process where that which was heaviest would fall back down. Obviously the wind would blow the chaff away. And there were other processes of turbulence. And so what is being said here is Satan wants to shake your life up. He wants to flip everything in the air and shake it all loose. He went after Peter. Why? Because Peter was the key guy. Peter said, "I'll go to prison and I'll die for You, I don't care what he does." Huh. The Lord said, "No you won't, you'll deny Me but you'll get restored." He'll get you temporarily but he won't get you permanently. So he tried Peter and didn't succeed.
Satan came back to God and he said, "There's another guy I want, I want Paul. I want Paul." And he gave to Paul, according to 2 Corinthians 12, a thorn what? In the flesh, a messenger of Satan sent to buffet me. Satan went to God because he can't go to any of God's servants without permission. He said, "I want Paul, You give me Paul, I'll destroy him. I'll destroy him." Couldn't do it. Paul prayed three times for that satanic thorn to be removed. God said no every time and then Paul said, "Fine, my weakness becomes God's (what?) strength." He's always after the leaders.
He got Judas. Satan entered into Judas and he betrayed Christ. But he was never God's to begin with. He can only get his own, he can't get God's. But he'll come after the church and he'll come after the Jobs and the Peters and the Pauls and anyone who is in spiritual leadership. He's not omnipresent, he can't be everywhere. but he goes after certain leaders.
And what does he want to do? He wants to hinder the progress. That word "hinder" or "thwart," very interesting word, it's a military word. It means to dig a trench or to break up a road. If you've got your army sitting here and here comes the enemy, one of the ways that you would defeat the enemy is by making sure he can't get access to you. What you would do is send your soldiers out and dig a massive trench. They can't cross the trench. Or you would go out and break up the road, tear up the road. Roads would be made of stone. You just tear it up so that they can't traverse. You hinder their progress.
Paul says, I want to come, Satan's breaking up the road. Satan's dug a bunch of trenches, I can't get there. I can't get it done. A warring tactic.
And it shows that the…the servant of God must understand not only loving his people but he has to understand his enemy. He's got to recognize satanic opposition.
MacArthur explains that God sometimes allows satanic attacks if they further His plan:
Now remember this, though Satan is opposing us, he is controlled by the overruling providence and sovereignty of God. He can only do what he can do within the limits that God allows. God allowed him to go after Job. God allowed him to sift Peter. God allowed him to deal with Paul. Why? Because in Job's weakness he was made strong. In Peter's weakness he was made strong. In Paul's weakness he was made strong. And the end product benefits God's work. So within the limits that God allows, Satan hinders, prevents God's servant from doing what he desires to do.
MacArthur cites the Lutheran theologian and Bible scholar Richard C H Lenski (1864-1936), who wrote the following:
This by no means excludes divine providence which rules in the midst of our enemies. Satan entered the heart of Judas so that he made plans to betray Jesus and God permitted the betrayal for His own divine and blessed ends. So Satan succeeded in frustrating Paul's plans to return to Thessalonica, but only because this accorded with God's own plans regarding the work Paul was to do. Satan has brought many a martyr to his death and God permitted it. The death of these martyrs was more blessed for them and for the cause of the gospel than their life would have been. It is ever so with Satan's successes. No thanks to Satan, his guilt is the greater.
Paul turns his attention to the Thessalonians' spirituality, paying them a great compliment in saying that they are his hope, his joy, his heavenly crown; he hopes to boast of them to the Lord at His Second Coming (verse 19). He repeats himself, telling them that they are his glory and his joy (verse 20).
Henry says:
They were his hope, and joy, and crown of rejoicing; his glory and joy. These are expressions of great and endeared affection, and high estimation. And it is happy when ministers and people have such mutual affection and esteem of each other, and especially if they shall thus rejoice, if those that sow and those that reap shall rejoice together, in the presence of our Lord Jesus Christ at his coming.
MacArthur says this brings us to the third aspect of a good servant of the Lord — anticipating His return:
If you are to be a good servant, you must love your people; you must understand your enemy; thirdly, you must anticipate your Lord.
MacArthur explains these verses in light of any detractors Paul might have had who infiltrated the Thessalonian congregation:
Paul lived in the light of the return of Christ. He says in verse 19 that very thing. "For who is our hope or joy or crown of exultation? Is it not even you in the presence of our Lord Jesus at His coming, for you are our glory and joy." The great motivation of the apostle Paul was that the Lord was coming, the return of the Lord. This is a marvelous statement. Listen very carefully to what he's saying here, very rich. He says this, "Who is our hope? Who is it that we are hoping to see? Who is that which is all bound up with our future hope?" He's talking about his hope of eternal reward, his hope of eternal blessing. Who will be that hope? Who will fulfill that anticipation? And he secondly says, "Who is our joy? Who is the source of our eternal happiness? Who is the source of our eternal bliss? Who is the source of our eternal satisfaction?"
Then he adds this, "Who is our crown of boasting?" That's what exultation means. "Who is our crown to boast about?" He's using crown, festive wreath, victor's crown. "Who is my hope in? Who is my source of joy? Who will be my eternal reward? Who will cause the burst of joy coming out of my heart when Jesus comes? Who?" Well, you'd think it would be Christ and surely it is, but that's not his point here. Look what he says, verse 19, "Is it not even you in the presence of our Lord Jesus?" It's the whole thing, it's the presence of the Lord Jesus but it's you in His presence. That's my joy. That's my hope. Paul is saying, "Can you imagine that the critics are right in suggesting I don't care about you when you are my hope and you are my joy and you are my eternal reward?" You're it. What a statement, what a marvelous statement.
And it wasn't just them. To the Corinthians he wrote, 2 Corinthians 1:14, "We are your reason to be proud as you also are ours in the day of our Lord Jesus." Paul said, "I'm going to boast about you in the day of the Lord Jesus. When I see the Lord Jesus you're going to be my boast, you're going to be my joy, you're going to be the fulfillment of my hope." Oh did he understand ministry. What he understood was, when you get to glory you're not going to get a crown for your glorified head.
Here is the application for us:
Your crown is going to be the presence of the people that you were responsible to lead to the knowledge of Christ, the people with whom you planted the seed or watered or harvested, the people whose lives were influenced by your teaching and your living and your praying. That's your eternal reward. It isn't something you stick on your head and parade around saying, "I've got more of these than you." It isn't something like that. It is the accumulated impact of your life on the lives of others. That's why in Luke 16 Jesus says, "Use your money to purchase friends for eternity." Spend your money as well as your time and effort to bring people to the knowledge of Christ so that you can know them forever as your friends and the source of your eternal joy.
Henry and MacArthur disagree on whether Paul saw the Thessalonians once more.
Henry says:
The apostle here puts the Thessalonians in mind that though he could not come to them as yet, and though he should never be able to come to them, yet our Lord Jesus Christ will come, nothing shall hinder this.
MacArthur thinks that Paul returned, as alluded to in Acts 20:
… in God's providence things cooled down and apparently he was able to get back on his third missionary journey. You can read Acts 20 and take note of that.
Acts 20:1-6 might well be that passage, as Luke says two Thessalonians joined him:
4 Sopater the Berean, son of Pyrrhus, accompanied him; and of the Thessalonians, Aristarchus and Secundus; and Gaius of Derbe, and Timothy; and the Asians, Tychicus and Trophimus.
In closing, MacArthur describes his own personal longing to check in with his own church when he is away:
I, while not comparing myself in any measure to Paul, understand this to some degree. People always ask me, "When I'm gone why I call back to the church every day?" For the days that I'm gone, there's a very few days that I would not call back and the reason is not because I have something to do or some question to ask, but because I must know the state of the congregation. I need to know how it is with the sheep. I find it very difficult to think about leaving this church, as many as offers as I might have to do that, I find it difficult to consider any of them because I feel I would spend the rest of my life wondering about your spiritual condition. That's just how it is.
It isn't that the leader seeks the socialization and the sentiment of fellowship, but he seeks the responsibility of fellowship, which is to see the spiritual condition of the people, to be sure that all is well …
There are people in ministry, I fear, who care very little, who care a lot about their sermons, who care a lot about how they come across, who care a lot about their popularity, who care a lot about drawing a crowd, who care a lot about traveling around and being well known, who care a lot about their preeminence, who care a lot about satisfaction, who care a lot about success, who care very little about their people. There are, on the other hand, many faithful servants of God who care much about their people, who in continuous prayer and concern hold up their people before God, who are very uncomfortable when being dispossessed from their people, who long to be in the place of responsibility, the place of accountability, so they know the condition of their flock. That's Paul. These people were new to him. It wasn't that there was some lifelong sentimentality. It wasn't that there was some bonding, as they say today, that was deep and profound over a long period of time, not at all. These were strangers in a sense. And yet because they had become his charge and he was now their spiritual mother and father, his heart was there. That's how it must be in ministry. You cannot effectively serve whom you cannot love and be concerned about.
In next week's verses, Paul explains why he sent Timothy back to the Thessalonians.
Next time — 1 Thessalonians 3:1-5
The First Sunday of Advent is on November 27, 2022.
It is the first day of the new Church year.
As such, we move to a new year in the Lectionary, from C to A, for our readings, which can be found here.
In addition, as we are in Advent, the colour of the celebrant's vestments is purple until the midnight service on Christmas Eve.
The Gospel reading is as follows, emphases mine:
Matthew 24:36-44
24:36 "But about that day and hour no one knows, neither the angels of heaven, nor the Son, but only the Father.
24:37 For as the days of Noah were, so will be the coming of the Son of Man.
24:38 For as in those days before the flood they were eating and drinking, marrying and giving in marriage, until the day Noah entered the ark,
24:39 and they knew nothing until the flood came and swept them all away, so too will be the coming of the Son of Man.
24:40 Then two will be in the field; one will be taken and one will be left.
24:41 Two women will be grinding meal together; one will be taken and one will be left.
24:42 Keep awake therefore, for you do not know on what day your Lord is coming.
24:43 But understand this: if the owner of the house had known in what part of the night the thief was coming, he would have stayed awake and would not have let his house be broken into.
24:44 Therefore you also must be ready, for the Son of Man is coming at an unexpected hour.
Commentary comes from Matthew Henry and John MacArthur.
If this reading sounds familiar, we had Luke's version a fortnight ago on the Twenty-second Sunday after Trinity, Year C.
The Gospel readings for Advent and the last Sundays after Trinity/Pentecost are designed to encourage us to think about our own mortality and repentance.
Our Lord's discourses on His Second Coming take place in the same circumstances, just a few days before the Crucifixion. In Luke 21, His disciples admired the beauty of the temple.
We have the same in Matthew 24:
1 Jesus left the temple and was walking away when his disciples came up to him to call his attention to its buildings. 2 "Do you see all these things?" he asked. "Truly I tell you, not one stone here will be left on another; every one will be thrown down."
Luke places his Second Coming discourse at the temple. By contrast, Matthew's is at the Mount of Olives:
3 As Jesus was sitting on the Mount of Olives, the disciples came to him privately. "Tell us," they said, "when will this happen, and what will be the sign of your coming and of the end of the age?"
Note Matthew 24:35:
35 Heaven and earth will pass away, but my words will never pass away.
Matthew Henry's commentary says:
Christ here assures us of the certainty of them (v. 35); Heaven and earth shall pass away; they continue this day indeed, according to God's ordinance, but they shall not continue for ever (Ps 102 25, 26; 2 Pet 3 10); but my words shall not pass away. Note, The word of Christ is more sure and lasting than heaven and earth. Hath he spoken? And shall he not do it? We may build with more assurance upon the word of Christ than we can upon the pillars of heaven, or the strong foundations of the earth; for, when they shall be made to tremble and totter, and shall be no more, the word of Christ shall remain, and be in full force, power, and virtue. See 1 Pet 1 24, 25. It is easier for heaven and earth to pass, than the word of Christ; so it is expressed, Luke 16 17. Compare Isa 54 10. The accomplishment of these prophecies might seem to be delayed, and intervening events might seem to disagree with them, but do not think that therefore the word of Christ is fallen to the ground, for that shall never pass away: though it be not fulfilled, either in the time or in the way that we have prescribed; yet, in God's time, which is the best time, and in God's way, which is the best way, it shall certainly be fulfilled. Every word of Christ is very pure, and therefore very sure.
John MacArthur summarises the events of that Passover week leading up to this discourse and what was going through the disciples' minds:
He has done signs and wonders to prove His kingdom power. He has recently denounced the false religious leaders of Israel. He has cleansed out the temple of all of the godless enterprises that were being done in that place. He has also announced that there will come soon a desolation of the whole temple complex, and He even has pronounced the truth that He would come in glory. And all of these things have led them to believe that it must be very, very soon. In fact, Luke 19:11 says they thought that the kingdom of God should immediately appear. I mean it seemed to them that He was there announcing Himself as King, He was there destroying the false religious system that existed in order that He might establish the true spiritual kingdom promised to them by the prophets of old. And so they were filled with anticipation.
Jesus said that, of the day and the hour of His Second Coming, no one knows when it will happen, not the angels, not He Himself, only the Father (verse 36).
MacArthur explains why no one knows:
It is a day and an hour we're looking at, not an era. We don't know what generation it'll come upon, but we do know this, that whatever generation it starts with, it'll end with, right? That's verses 32 to 35. The generation that sees the beginning is going to see the end because it's going to come so fast …
God has chosen not to reveal that specific moment and to give no specific sign of that specific moment. And there's reason in His great wisdom for that. If men knew the exact moment when the Lord would come, they might be godless until just short of that moment. Or even the people who were prepared might be living in panic or might be giving up, thinking the time was too short. Life would become hopeless if you knew exactly when the Lord was going to come. There could be no plans, there could be no ongoing relationships, and everything would be affected dramatically by that knowledge. So the Lord has chosen not to give us that knowledge but to live every moment expecting His coming, every moment expecting His intervention, so that there is preparedness all the time. If the world knew the very moment of the coming of Christ, it would dawdle itself away thinking that in that last and final moment it might take the steps to make things right just in time and so God has not told us that. So no man knows that. It is hidden from men.
And then He says, "No, not the angels of heaven." Even the angels don't know it. The natural world does not know it and neither does the supernatural world …
Furthermore, if you remember in Matthew 13, it tells us that the angels are the agents of judgment in the second coming. When God reaches out to judge the world and gather men into that judgment, He sends His angels who are the reapers, you remember, to gather the wheat and the tares in. So angels are very involved in the judgment activity. In verse 31 of our chapter we're looking at now, the angels are the ones sent out to gather the elect as well. So though angels are the intimates of God and though they are face-to-face with God in a spiritual sense, doing His bidding, and though they are the agents of judgment and the gathering in of the godly and the ungodly in that time of Christ's coming, they – in spite of all of that – do not know the exact moment. God has chosen not to reveal it to them. And He has His reasons.
Then we come to the question of when Jesus Christ came to know the day and the hour. From the time of either His resurrection or ascension, He knew:
Now, the better manuscripts of Matthew indicate to us that it also should be included in the text "nor the Son" – "nor the Son." In Mark 13:32, which is the parallel passage, it is definitely included by Mark, "Of that day and that hour knoweth no man, no not the angels who are in heaven, neither the Son, but the Father." And it would be best to include it here in Matthew. I think in the New American Standard and the New International version, they correctly do include it. Jesus says, "Even the Son of Man doesn't know" – "even I don't know." And, of course, this has created all kinds of interesting discussion. How is it that Jesus Christ, who is God, cannot know something? How is it that Jesus Christ, who is God, who is omniscient – which means He knows everything – can't know something or doesn't know something?
Well, that's, I believe, rather easily explained if we understand the meaning of His incarnation. Jesus Christ is fully God, very God of very God, theologians used to say. He is God fully and totally because you can't be part God, He is all God. But when He became a man, He voluntarily restricted the use of His godhood, of His divine attributes. It wasn't that He laid the attributes aside; it wasn't that He set His deity aside; it was that He restricted the use of those things. He had them as instruments but chose not to pick them up and use them. So He lived, as it were, without using His omniscience unless the Father told Him to use it.
We know He was omniscient on some occasions. John 2, He says He needed not that anybody should tell Him what was in the heart of a man because He knew what was in the heart of a man. There are many indications of His great knowledge, of His divine knowledge. But He restricted the use of His omniscience to those things which the Father desired Him to know. That is the design of the incarnation. When the Bible says He became a Son, He took upon Him the form of a servant. It means that He submitted Himself to that which the Father wanted Him to do, that which the Father wanted Him to say, and that which the Father wanted Him to know. That's why in John 15:15, you have a very, very important verse in understanding Christ. It says this – Jesus speaking to the disciples – "Henceforth, I call you not servants for the servant knows not what his lord does. But I have called you friends" – now listen to this – "for all things that I have heard of My Father, I have made known unto you."
In other words, Jesus' knowledge in His incarnation was qualified by what the Father had revealed to Him. And the Father revealed things to Him through Scripture; that is, the Old Testament, as He studied the Scripture, through experience as He walked in the world and saw the moving of the power of God, and through direct revelation. But Jesus limited His knowledge to what the Father chose to reveal to Him. He didn't have to do that but He chose to do that to play the role of a servant to accomplish the redemption of mankind. It's a very important concept so that when it says He humbled Himself and took upon Him the form of a servant, was made in fashion as a man, and so forth, it means that He limited the use of those attributes. And if you studied, for example, in the passages that deal with His early life, you will remember that it says Jesus grew in wisdom and stature, you remember, and favor with God and man. He grew in wisdom …
Now, it is my own personal feeling that after the resurrection, this was revealed to Him. That when He came out of the grave in the glory of His resurrection life, it says in Matthew 28:18, He said to His disciples, "All authority is given unto Me in heaven and earth." And I think what that's saying is nothing is missing; I have authority over all things. And then in Acts 1:7, He said this: "But unto you it is not given to know the times and the seasons which My Father has put in His own power," and He doesn't include Himself anymore. He says "unto you it isn't given." So it may well be that after the resurrection, His knowledge was complete. It's as if the Father only revealed to Him the next great event, and He never revealed to Him the full moment of His second coming until He had already come out of the grave and accomplished the resurrection, and then the Father opened to Him the next event in His marvelous, marvelous work.
Therefore, Jesus knew the day and the hour, if not at His resurrection, then at His ascension:
… when Jesus entered into His glory, if not immediately after His resurrection, certainly after His ascension, He then was entered back into the fullness of that which He had before the incarnation and this moment right now, He knows fully when that second coming moment will be. But in the midst of that incarnation, that had been abandoned in favor of learning what the Father would tell Him and nothing more.
MacArthur believes that God is waiting for an excess of sin, iniquity that has reached its limit:
He is allowing sin to run its reckless course, to spend itself, to ripen to the point where it will be fully, finally, and forever harvested.
Paul wrote similarly to the Thessalonians about the Jews who had prevented the Gospel from being spread. My Forbidden Bible Verses post from Sunday, November 20 discussed Thessalonians 2:16:
16 by hindering us from speaking to the Gentiles that they might be saved—so as always to fill up the measure of their sins. But God's wrath has come upon them at last![a]
The persecuting Jews of Paul's time hadn't been divinely judged at that time, which was 20 years before the destruction of the temple. Nonetheless, Paul was saying that they had sinned to such an extreme that God's judgement was as good as done, on earth and in the next life. When iniquity has reached its full extent, God acts.
However, there is another equally important reason God has timed the Second Coming perfectly, and that is because He wishes to save as many people as possible from judgement, Jew and Gentile alike:
… that reason is indicated to us in Romans chapter 11 verse 25. And it says, "I would not, brethren, that you should be ignorant of this mystery, this unrevealed truth, lest you should be wise in your own conceit, but blindness, that blindness in part is happened to Israel until the fullness of the Gentiles be come in." The fullness of the Gentiles speaks of the gathering in of the church in this age. And I believe another reason the Lord waits is for the gathering of the church. I believe He is waiting to gather all the saints whose names are written in the Lamb's book of life. He is waiting to collect the Gentiles who will forever and ever and ever throughout eternity give Him glory, give Him praise, give Him honor, give Him adoration and serve Him. He is gathering together occupants for His eternal heaven to praise and glorify His name. And also, after "the fullness of the Gentiles be come in" – verse 26 says – "so all Israel will be saved." There has to be also in the future the salvation of Israel, that Jew and Gentile together through all eternity may praise God.
So there's been a time going on since the first coming. We've waited all this two thousand years and He's not yet come. And the reasons are twofold. One, that sin may ripen; two, that the redeemed who have been planned for His glory eternally may be brought to that eternal glory. So it is for sin and for salvation.
Jesus said that, as things were in the time of Noah, so they will be when the Son of Man comes again (verse 37).
It took Noah 120 years to build the ark to God's specifications. Noah was not a natural builder. He was originally a preacher. Those who lived around him laughed at him, because they lived in a desert.
Consider that every moment of every day for those 120 years, every bit of that ark was a daily call for them to repent of their sins or be destroyed in the flood, which did come to that part of the world. Talk about the patience of God! And still, the people laughed.
Imagine what it will be like just before the Second Coming.
MacArthur illustrates it for us:
You know, not only do people not know the day and the hour the Lord is coming, but most of them aren't even going to care. Even with all the signs and all the wonders and all the things going on, they're not going to care. They're not even going to think about it. They won't even be considering that as an alternative. It's hard to imagine that. I mean it's really hard to imagine that. They'll be scoffing and mocking like in 2 Peter chapter 3. And they'll be getting out their little slide rules and they'll be getting out their little charts and they'll be fussing around with their computers and they'll be analyzing the universe to try to explain scientifically why everything's going haywire. Why there are earthquakes and why there are all kinds of movements in the heavens and why the tides are all messed up and why the moon goes out and why the sun isn't working properly and why daylight has been shortened and why there's blood in the seas and there's bitterness in the fresh water and why people are slaughtering each other and why there are terrible massacres all around the world. They're going to be trying to figure all this out sociologically, scientifically, rationally. But they're not going to look to the truth of the Word of God.
Jesus had more to say about Noah's era. People were preoccupied with a comfortable life, eating and drinking, marrying and giving people in marriage, until the day Noah entered the ark (verse 38).
Henry says that their comforts and passions consumed them. The same was true before the destruction of the temple in AD 70:
Eating and drinking are necessary to the preservation of man's life; marrying and giving in marriage are necessary to the preservation of mankind; but, Licitus perimus omnes—These lawful things undo us, unlawfully managed. First, They were unreasonable in it, inordinate and entire in the pursuit of the delights of sense, and the gains of the world; they were wholly taken up with these things, esan trogontes—they were eating; they were in these things as in their element, as if they had their being for no other end than to eat and drink, Isa 56 12. Secondly, They were unreasonable in it; they were entire and intent upon the world and the flesh, when the destruction was at the door, which they had had such fair warning of. They were eating and drinking, when they should have been repenting and praying; when God, by the ministry of Noah, called to weeping and mourning, then joy and gladness. This was to them, as it was to Israel afterwards, the unpardonable sin (Isa 22 12, 14), especially, because it was in defiance of those warnings by which they should have been awakened. "Let us eat and drink, for to-morrow we die; if it must be a short life, let it be a merry one." The apostle James speaks of this as the general practice of the wealthy Jews before the destruction of Jerusalem; when they should have been weeping for the miseries that were coming upon them, they were living in pleasure, and nourishing their hearts as in a day of slaughter, Jam 5 1, 5.
Jesus continued, saying that the people of Noah's time knew nothing of the flood until it came to sweep them away; so shall it be when the Son of Man returns (verse 39).
Henry says that material security breeds carnality:
First, Therefore they were sensual, because they were secure. Note, the reason why people are so eager in the pursuit, and so entangled in the pleasures of this world, is, because they do not know, and believe, and consider, the eternity which they are upon the brink of. Did we know aright that all these things must shortly be dissolved, and we must certainly survive them, we should not set our eyes and hearts so much upon them as we do. Secondly, Therefore they were secure, because they were sensual; therefore they knew not that the flood was coming, because they were eating and drinking; were so taken up with things seen and present, that they had neither time nor heart to mind the things not seen as yet, which they were warned of. Note, As security bolsters men up in their brutal sensuality; so sensuality rocks them asleep in their carnal security. They knew not, until the flood came. 1. The flood did come, though they would not foresee it. Note, Those that will not know by faith, shall be made to know by feeling, the wrath of God revealed from heaven against their ungodliness and unrighteousness. The evil day is never the further off for men's putting it far off from them. 2. They did not know it till it was too late to prevent it, as they might have done if they had known it in time, which made it so much the more grievous. Judgments are most terrible and amazing to the secure, and those that have made a jest of them.
He has a present day application for us:
The application of this, concerning the old world, we have in these words; So shall the coming of the Son of man be; that is, (1.) In such a posture shall he find people, eating and drinking, and not expecting him. Note, Security and sensuality are likely to be the epidemical diseases of the latter days. All slumber and sleep, and at midnight the bridegroom comes. All are off their watch, and at their ease. (2.) With such a power, and for such a purpose, will he come upon them. As the flood took away the sinners of the old world, irresistibly and irrecoverably; so shall secure sinners, that mocked at Christ and his coming, be taken away by the wrath of the Lamb, when the great day of his wrath comes, which will be like the coming of the deluge, a destruction which there is no fleeing from.
MacArthur provides this analysis of the comparisons with the people of Noah's time:
It's almost unbelievable that they knew not, that the people in the time of Noah didn't know it was going to rain because they had had somebody telling them that for 120 years. Noah was a preacher of righteousness. And he preached righteousness and judgment. And he gave them a very large sign of coming judgment by building a massive boat, an ark. Literally the word means "wooden chest." This was the symbol and the sign, 120 years in building, that God was going to bring a devastation to drown the world. And it says until the Flood came and engulfed them, they didn't realize it. They just went on eating, drinking, marrying, and giving in marriage. In other words, they went on with the routines of life, literally ignoring the preaching of judgment, literally ignoring the sign and the symbol of the coming Flood. And so it will be in the day of the second coming of Christ …
They will ignore even the sign of the Son of Man in heaven; they will explain it away; they will rationalize it away. They will do something with it other than accept what it intends to purvey, what it intends to communicate, what it intends to say. And when Jesus comes, they'll be shocked. Hard to imagine, but such is the blindness of the human heart. Such is the darkness of the human mind. Listen, they couldn't even tell when God Himself walked in their midst. Why should they be better able in that period to understand than they were when Jesus was here? When the truth is, all hell having broken loose on the earth in that age, sin will be worse than it's ever been.
So they'll not see the truth. Oh, there will be a great salvation. The Jews will be redeemed and there will be a great redemption among the Gentiles, as Revelation 7 says. But there will still be a massive, worldwide populace of people who, having lived through all of the unbelievable events which we've chronicled in chapter 24, will still find the second coming of Jesus Christ occurring to them in an unexpected way. It's unbelievable. In spite of all the signs …

Also:
You see, in the days of Noah, people ignored the truth, didn't they? Do you know how long Noah preached? Second Peter 2:5 calls Noah a preacher of righteousness. Do you think he just built a big wooden chest – that's the word ark, it's a – the word is the word for a wooden chest, he built a big wooden chest in the middle of the desert and told people there was going to be a flood. And they laughed because it had never rained. There was no such thing as rain. And there was no water there. And you know how long he built that boat? A hundred and twenty years and they laughed and they ridiculed and they mocked and they derided him.
But 2 Peter 2:5 says he was a preacher of righteousness. He wasn't just a boat builder, he was a preacher. Before he was a boat builder, he was a preacher. And for 120 years while he built the boat, he must have been asked a million times, "Why are you building the boat?" Right? "Why are you building the boat?" And that was the trigger for the sermon, "Because God is going to judge the wickedness of this world, and only those who put their faith in Him are going to escape. And I'm building the boat as a way of escape. Would you like to come on?" And they laughed and they laughed and they mocked. For 120 years, they went on with life as usual while he preached judgment, preached judgment, preached judgment, and demonstrated it to them by building a great big wooden chest right in the middle of everywhere so everyone could see it. And they didn't buy it. And I'm sure the first time a raindrop hit somebody's nose, they thought a dinosaur sneezed behind a hill or something. Still wouldn't believe it. They didn't want to believe that. They could have come up with all kinds of excuses not to believe that.
Jesus described simultaneous salvation and damnation in the next two verses.
Henry says that this took place when the temple was destroyed. No Christians in Jerusalem perished, a historic fact:
When ruin came upon Jerusalem, a distinction was made by Divine Providence, according to that which had been before made by divine grace; for all the Christians among them were saved from perishing in that calamity, by the special care of Heaven. If two were at work in the field together, and one of them was a Christian, he was taken into a place of shelter, and had his life given him for a prey, while the other was left to the sword of the enemy. Nay, if but two women were grinding at the mill, if one of them belonged to Christ, though but a woman, a poor woman, a servant, she was taken to a place of safety, and the other abandoned. Thus the meek of the earth are hid in the day of the Lord's anger (Zeph 2 3), either in heaven, or under heaven. Note, Distinguishing preservations, in times of general destruction, are special tokens of God's favour, and ought so to be acknowledged. If we are safe when thousands fall on our right hand and our left, are not consumed when others are consumed round about us, so that we are as brands plucked out of the fire, we have reason to say, It is of the Lord's mercies, and it is a great mercy.
Jesus said that two — two men, that is — are in the field working, one will be taken and one will be left (verse 40).
MacArthur confirms that Jesus spoke of men:
The word "one" in verse 40 is masculine in gender … The man's task in that particular agricultural part of the world in that time was to be in the field …

Not forgetting women, Jesus said that two of them would be grinding meal — grain — together; one will be taken and one will be left (verse 41).
MacArthur says:
The "one" in verse 41 is feminine in gender … the women were there with the stone, the mill, grinding that which was harvested by the men.
We can interpret 'taken' as being saved or judged. Either is correct.
Henry leans towards salvation:
We may apply it to the second coming of Jesus Christ, and the separation which will be made in that day. He had said before (v. 31), that the elect will be gathered together. Here he tells us, that, in order to that, they will be distinguished from those who were nearest to them in this world; the choice and chosen ones taken to glory, the other left to perish eternally. Those who sleep in the dust of the earth, two in the same grave, their ashed mixed, shall yet arise, one to be taken to everlasting life, the other left to shame and everlasting contempt, Dan 12 2. Here it is applied to them who shall be found alive. Christ will come unlooked for, will find people busy at their usual occupations, in the field, at the mill; and then, according as they are vessels of mercy prepared for glory, or vessels of wrath prepared for ruin, accordingly it will be with them; the one taken to meet the Lord and his angels in the air, to be for ever with him and them; the other left to the devil and his angels, who, when Christ has gathered out his own, will sweep up the residue. This will aggravate the condemnation of sinners that others shall be taken from the midst of them to glory, and they left behind. And it speaks abundance of comfort to the Lord's people. [1.] Are they mean and despised in the world, as the man-servant in the field, or the maid at the mill (Exod 11 5)? Yet they shall not be forgotten or overlooked in that day. The poor in the world, if rich in faith, are heirs of the kingdom. [2.] Are they dispersed in distant and unlikely places, where one would not expect to find the heirs of glory, in the field, at the mill? Yet the angels will find them there (hidden as Saul among the stuff, when they are to be enthroned), and fetch them thence; and well may they be said to be changed, for a very great change it will be to go to heaven from ploughing and grinding. [3.] Are they weak, and unable of themselves to move heavenward? They shall be taken, or laid hold of, as Lot was taken out of Sodom by a gracious violence, Gen 19 16. Those whom Christ has once apprehended and laid hold on, he will never lose his hold of. [4.] Are they intermixed with others, linked with them in the same habitations, societies, employments? Let not that discourage any true Christian; God knows how to separate between the precious and the vile, the gold and dross in the same lump, the wheat and chaff in the same floor.
MacArthur interprets 'taken' as if in judgement:
It's based on that picture of the flood sweeping men away into death. Two are going to be in the field when that final devastating flood of fire comes. And one is taken in judgment. Two at the mill and one is taken in judgment. And the other left – the other left – what are they left for? They're left to go into what? Into the kingdom ... They are the redeemed. So you'll have people on the job. Some will be believers and some will be unbelievers. The unbelievers will be swept away and the believers will be preserved.
Jesus told His disciples — and us — to stay awake, to be aware, for we do not know what day the Lord is coming (verse 42).
Henry tells us that sleep is akin to sinfulness. All of us will die, so we need to be prepared:
Note, It is the great duty and interest of all the disciples of Christ to watch, to be awake and keep awake, that they may mind their business. As a sinful state or way is compared to sleep, senseless and inactive (1 Thess 5 6), so a gracious state or way is compared to watching and waking. We must watch for our Lord's coming, to us in particular at our death, after which is the judgment, that is the great day with us, the end of our time; and his coming at the end of all time to judge the world, the great day with all mankind. To watch implies not only to believe that our Lord will come, but to desire that he would come, to be often thinking of his coming, and always looking for it as sure and near, and the time of it uncertain. To watch for Christ's coming, is to maintain that gracious temper and disposition of mind which we should be willing that our Lord, when he comes, should find us in. To watch is to be aware of the first notices of his approach, that we may immediately attend his motions, and address ourselves to the duty of meeting him. Watching is supposed to be in the night, which is sleeping time; while we are in this world, it is night with us, and we must take pains to keep ourselves awake.
… Be ye also ready. We wake in vain, if we do not get ready. It is not enough to look for such things; but we must therefore give diligence, 2 Pet 3 11, 14. We have then our Lord to attend upon, and we must have our lamps ready trimmed; a cause to be tried, and we must have our plea ready drawn and signed by our Advocate; a reckoning to make up, and we must have our accounts ready stated and balanced; there is an inheritance which we then hope to enter upon, and we must have ourselves ready, made meet to partake of it, Col 1 12.
Jesus gave a practical analogy: if the owner of a house knew when the thief was coming, then he would have stayed awake and not allowed his house to be broken into (verse 43).
Jesus meant that He will return suddenly, like a thief in the night. Thieves move quickly. By prefacing it with 'understand this', He was putting emphasis on it.
MacArthur explains the verse:
"But know this" – or "I think this" – it could be an imperative, it could be an indicative. I like to think it's an indicative. That is, it states a fact. Comparing with verse 42, "You do not know what hour your Lord does come, but you do know this." I mean this is obvious. You do know this. "That if" – and it's "if" with a condition in the Greek that is contrary to fact – if and he doesn't, but if he did, if the householder had known in what watch, that is, in what three-hour period during the night. The Jews divided the night into four three-hour periods from 6:00 p.m. to 6:00 a.m. 6:00 to 9:00, 9:00 to 12:00, 12:00 to 3:00, 3:00 to 6:00. He says, "If a householder knew what hours in the middle of the night the thief would come, he would have watched and allowed his house – not allowed his house to be broken into." Literally the Greek word for breaking in is "digging through" …
So He says you don't know when the Lord's coming, but you do know this, if a man knew when a thief was coming, if he knew in general, not the minute or even the hour, but if he just knew the general watch, if he knew the general timeframe, he sure would be ready for him when he got there, right? He sure would. And that's what He's saying. That you do know. Any fool knows that if a robber's coming and you know he's coming, you're going to be ready for him when he gets there.
And the Lord's coming is often likened to the coming of a thief. And it would be good at this point to say that it is not because it is a criminal coming. The likening of the Lord's coming to a thief, which occurs here, 2 Peter 3:10, Revelation 3:3, Revelation 16:5, Luke 12:35-40, which I'll show you in a moment. It also occurs in 1 Thessalonians 5:2 and following. And those places where the Lord's coming is likened to a thief, it is not that Christ is like a thief, it is that Christ will come suddenly and unexpectedly like a thief comes suddenly and unexpectedly. That's the only analogy. That's the only analogy.
Jesus ended His discourse by saying that we must also be ready, for the Son of Man is coming at an unexpected hour (verse 44).
This refers to death as well as the Second Coming, as Henry explains:
We know not the day of our death, Gen 27 2. We may know that we have but a little time to live (The time of my departure is at hand, 2 Tim 4 6); but we cannot know that we have a long time to live, for our souls are continually in our hands; nor can we know how little a time we have to live, for it may prove less than we expect; much less do we know the time fixed for the general judgment. Concerning both we are kept at uncertainty, that we may, every day, expect that which may come any day; may never boast of a year's continuance (James 4 13), no, nor of tomorrow's return, as if it were ours, Prov 27 1; Luke 12 20 …
… his saying "I come quickly." obliges us to be always expecting him; for it keeps us in a state of expectancy. In such an hour as you think not, that is, such an hour as they who are unready and unprepared, think not (v. 50); nay, such an hour as the most lively expectants perhaps thought least likely. The bridegroom came when the wise were slumbering.
It is best for us to get our spiritual house in order, starting now, so that we are ready for our deaths:
Note, First, We have every one of us a house to keep, which lies exposed, in which all we are worth is laid up: that house is our own souls, which we must keep with all diligence. Secondly, The day of the Lord comes by surprise, as a thief in the night. Christ chooses to come when he is least expected, that the triumphs of his enemies may be turned into the greater shame, and the fears of his friends into the greater joy. Thirdly, If Christ, when he comes, finds us asleep and unready, our house will be broken up, and we shall lose all we are worth, not as by a thief unjustly, but as by a just and legal process; death and judgment will seize upon all we have, to our irreparable damage and utter undoing. Therefore be ready, be ye also ready; as ready at all times as the good man of the house would be at the hour when he expected the thief: we must put on the armour of God, that we may not only stand in that evil day, but, as more than conquerors, may divide the spoil.
In studying the Gospels, we notice that Jesus often told parables about being prepared for the master or the bridegroom.
MacArthur gives us one example:
… the Lord very often taught the same lessons using the same illustrations or very closely related ones. As any good teacher knows, you repeat good things and you repeat good illustrations in different settings because they're helpful to people. And the Lord here in Luke chapter 12 is also concerned in warning people about His second coming. He says, "Let your loins be girded about and your lamps burning, and you yourselves like men that wait for their lord when he will return from the wedding, that when he comes and knocks you may open unto him immediately." I mean, be ready so that when he comes back, everything is as it ought to be. "Blessed are those servants whom the lord when he comes shall find watching. Verily I say unto you that he shall gird himself and make them to sit down to eat, and will come forth and serve them."
Amazing. When the Lord comes back, if you've been faithful, He'll sit you down to eat and He'll serve you. That's the kingdom. If you're prepared when He comes, you'll sit down with Him in His kingdom and He will serve you. And if He should come in the second watch or come in the third watch and find them so, then blessed are those servants because they're ready whenever He comes. They know He's coming. They don't know when it is, but they're ready. "And this know, that if the owner of the house had known what hour the thief would come, he would have watched and not permitted his house to be broken through. Be ye therefore ready also for the Son of Man comes at an hour when you think not."
Now you can go back to Matthew 24. It's the same idea. It's the same basic lesson. It's the same idea that He has given here, that when He comes is a devastating judgment. When He comes is an immediate glory for the redeemed. So be ready. And since we don't know when it is, and no one knows when it is, and no one can know when it is, we need to be ready at all times – at all times. So alertness and readiness.
Advent readings are to remind us of repentance and new life. John the Baptist preached before Jesus began His ministry. Advent is that time of preparing ourselves for His coming to earth as a humble infant to save us as the adult who died humiliatingly for our sins.
My most recent post on Liz Truss left off with the beginning of the end in her final week as Conservative Party leader.
Friday, October 14
Her sacking of Kwasi Kwarteng and installation of Jeremy Hunt as Chancellor on Friday, October 14, meant only one thing — her end was nigh:
Liz Truss's first Chancellor Kwasi Kwarteng: what he expected, what he got instead (October 13, 14)
Liz Truss and Kwasi Kwarteng illustrate that one DAY is a long time in politics (October 13, 14)
The Times's headline on the morning of the 14th said that Conservative MPs were already plotting to install Rishi Sunak and Penny Mordaunt in Truss's place. One of them would be Prime Minister and the other would be Chancellor or Foreign Secretary:
The article also said (purple emphases mine):
Truss and Kwasi Kwarteng, the chancellor, are expected within days to make a humiliating climbdown over corporation tax in an effort to calm the markets and see off a mounting revolt.
Indeed, that is what Truss announced at her disastrous press conference that afternoon. By then, Jeremy Hunt was already Chancellor:
It was hard to believe, especially as Ireland's corporation tax is half that: 12.5%. What is to stop businesses in Northern Ireland from moving south of the border?
Liz prefaced the announcement with:
This is difficult.
Guido Fawkes has the video and another quote preceding her announcement about corporation tax:
It is clear that parts of our mini-Budget went further and faster than markets were expecting… so the way we are delivering has to change…
He concluded (emphases his):
The mother of all U-turns…
Later in the afternoon, Wendy Morton, the Chief Whip, summoned Conservative MPs to an online call with the Deputy Prime Minister Thérèse Coffey.
One hundred of them dialled in. Coffey allegedly kept staring at her notes:
Saturday, October 15
Saturday's papers were scathing.
The Daily Mail asked, 'How much more can she (and the rest of us) take?'
The i paper led with 'Tory MPs tell Truss: "It's over"':
The Telegraph's Tom Harris wrote about the symbiotic relationship between the Prime Minister and the Chancellor from Margaret Thatcher's time to Truss's.
When that relationship goes wrong in a big way, it's nearly always bad news for the PM, although there are exceptions:
When a prime minister loses a long-serving chancellor and ally – as Margaret Thatcher did when Nigel Lawson walked out of her government in 1989 – the political ramifications are enormous. In Thatcher's case, that event signalled the beginning of her long defeat. When a prime minister loses a friend too, it becomes, as Liz Truss stated in her press conference, "not an easy" personal moment. 
Their closeness also makes it impossible for Truss to distance herself from the mess left at the Treasury. It is not clear which policy Kwarteng implemented that the prime minister was so unhappy with that she had to fire him. In 1989, Lawson resigned over his objection to the prime minister's reliance on her economic adviser, Sir Alan Walters, but there were already disagreements between Numbers 10 and 11 over whether Britain should join the European Exchange Rate Mechanism. 
[John Major's Norman] Lamont was fired over his handling of Britain's departure from the same institution. Javid resigned over personnel issues. Rishi Sunak's reasons for resigning were similar, though in his case the personnel issue involved the then prime minister himself.
In Jeremy Hunt, Liz Truss might be given a chance to form the kind of reassuring, mutually supportive – and, crucially, stable – relationship with her chancellor that good government demands. It would be foolish, however, to assume that when such a relationship breaks down, it is always the chancellor who is next to go.
The Telegraph's Camilla Tominey looked at the backbench Conservative MPs, wondering how Conservative they actually were. I was glad to see that she mentioned Alicia Kearns, who does not seem very Conservative to me.
Tominey's article shows that a significant number of Conservative backbenchers do not hold traditional Conservative Party values:
Never underestimate the Conservative Party's unparalleled ability to turn the gun on itself when coming under enemy fire. As the pot shots continued to rain thick and fast on Liz Truss's troubled premiership, what did the Tories decide to do? With Labour's help, they elected Alicia Kearns as chair of the Foreign Affairs Select Committee.
For those unfamiliar with Ms Kearns, she is the former Amnesty International activist who led the so-called "Pork Pie Plot" to oust Boris Johnson over partygate. Despite having been an MP for all of five minutes, the 34-year-old, who won the safe seat of Rutland and Melton in 2019 (hence the pork pie theme) decided that the Conservatives' wisest move was to remove the man who secured the party's biggest election win since 1987. Well, dip me in jellied pork stock and cover me in hot-crust pastry, that went swimmingly!
Having declared last year that she came into Parliament with "one legislative change I wanted to deliver, which was to ban conversion therapy", inexperienced Kearns now occupies one of the most influential posts in the House of Commons.
Her first intervention? Following hot on the heels of her fellow chair, Mel Stride, of outspoken Treasury select committee fame, she used a radio interview on Thursday night to urge the Prime Minister to reverse the tax-cutting measures in the mini-Budget.
I've got nothing personally against Ms Kearns – she is clearly a thoughtful and intelligent woman. But if she isn't for cutting tax, then what on earth is she doing in the Tory party, let alone now apparently in the running to enter a future Conservative Cabinet?
One former minister was this week quoted as saying: "Everything [the Government] are doing is everything that I don't believe in." Why, then, is that senior politician – apparently so opposed to spending controls and economic growth – not currently residing on Sir Keir Starmer's shadow front bench or drinking Remaineraid with Sir Ed Davey?
As former Brexit negotiator Lord Frost put it on Thursday: "There are too many … social democrats operating under Conservative cover."
It is one thing to be a broad church, but the Tories are currently taking on the mantle of a Blue Labour cult.
Not only are many of them perfectly comfortable with taxing people more, despite the tax burden being at its highest in 70 years, but they are also apparently as opposed to fracking as Ed Miliband. They seem to love the status quo and appear happy to watch Britain slowly sink into decline – along with their own party.
Tominey says that Liz Truss's platform was clasically Conservative, and so was the one upon which Alicia Kearns was elected.
These are the MPs who will determine the outcome of Brexit and the next election. Both are in peril.
Tominey rightly lays the blame at the feet of former PM David Cameron, a wet who wanted a different type of Conservative MP:
David Cameron's decision to introduce open primaries in the late 2000s, which saw wannabe MPs selected by non-members as well as members, was perhaps the most obvious mistake. The Conservatives ended up with "yellow" Tories in its ranks, such as Sarah Wollaston, who later defected to the Liberal Democrats.
Funnily enough, Sarah Wollaston is no longer an MP. Others like her, most of whom had the whip removed, were defeated or chose not to run in 2019.
This is the issue:
But more broadly, by inviting people with no background in Conservative politics to stand for Parliament, they ended up with people with no Tory backbone either. Holding successive snap elections only made the selection process less rigorous and open to people high on ambition and low on ideology.
This is a problem for the next general election. GEs depend upon local activists — party members — who are willing to canvass door-to-door:
We now have the Sunak squadders, calling for people to keep less of their wages, for businesses to pay more in corporation tax and for benefits to be linked to inflation, Corbyn-style …
Conservatives have become so detached from reality that they actually believe this will help them to win the next general election – even though it promises to prompt a mass walkout by the very grass-roots activists they rely on to run a campaign.
However, Tominey says that Rishi Sunak's coronavirus handouts have also altered the public perception of the role of the state. We can but see how this will play in 2024 or early 2025 when the next GE comes along.
Monday, October 17
On Monday, October 17, Leader of the House Penny Mordaunt had to stand in for Truss during a debate. Opposition MPs accused Truss of hiding under a desk.
Mordaunt had to deny that more than once, saying that Truss had a 'very genuine reason' for not being present.
I don't often feel sorry for Penny Mordaunt, but I did that day:
However, one Labour MP, Andrew Gwynne, tweeted that Liz Truss was the victim of a 'coup' — his word — and that Jeremy Hunt was the acting PM: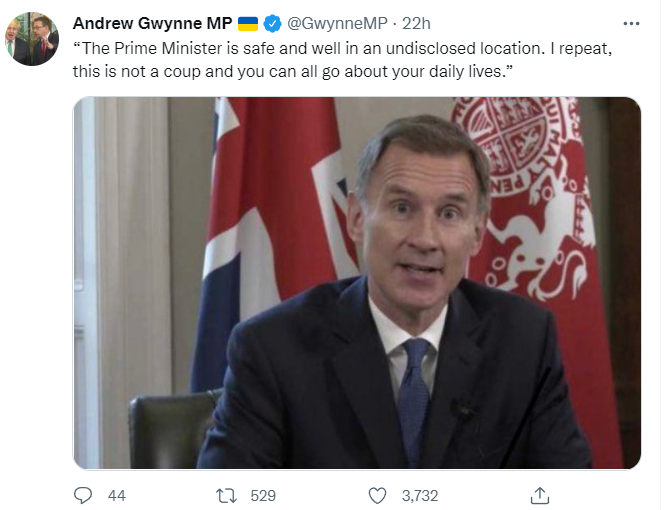 On Tuesday, October 18, The Times explained why Truss did not turn up at the despatch box the day before:
For much of the day Truss was conspicuous by her absence. She refused to respond to a question by Sir Keir Starmer in the Commons, prompting accusations from Labour that she was "frit". Penny Mordaunt, the leader of the Commons, answered questions in her stead. She said that the prime minister had "a very good reason" for her absence but refused to explain further, prompting misplaced speculation that Truss had resigned.
That reason for her absence turned out to be a meeting with Sir Graham Brady, the chairman of the backbench 1922 Committee. Sources said that the meeting was routine and had been arranged before Kwarteng's dismissal. But the issue of her leadership, and a potential revolt by Tory MPs, was said to have been discussed.
One source on the committee said there were a "number of views" on the way ahead but that there were concerns that an immediate move to defenestrate the prime minister could further destabilise the markets.
"The question is whether it is more damaging to create further uncertainty by getting rid of the prime minister when the chancellor [Hunt] appears to have settled the markets," said an MP on the committee.
Some Tory MPs believe that with the unravelling of her tax-cutting agenda and signature energy policy she is finished politically. Sir Charles Walker became the fifth Conservative MP to publicly call for her to go, saying her position was "untenable".
A senior Conservative source added: "It's the biggest unforced humiliation for a British government since Suez. Eden did the decent thing and resigned."
"The trouble is there is no consensus for who should replace her," said one former backer of Rishi Sunak. "And the last thing we need now is to be seen to be causing more uncertainty on the financial markets."
Monday night was grim.
On the subject of a coup, Nigel Farage agreed that Jeremy Hunt was in charge, and that this was a 'globalist coup':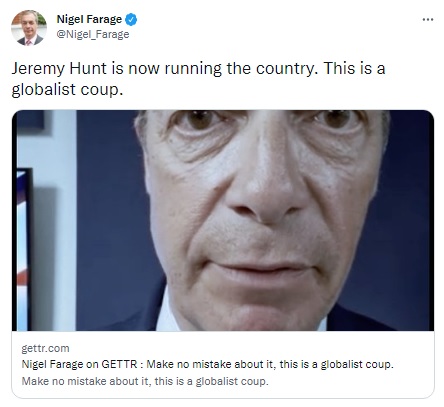 On his GB News show that night, Dan Wootton also said that there had been a coup. He agreed that the unpopular Hunt was in charge and that no one liked him, except for the Establishment. He said that if the Conservatives allowed this to continue, then they deserve to lose the next GE:

Truss surfaced to give an interview to the BBC's Chris Mason, wherein she apologised for the mini-budget. She said:
First of all, I do want to accept responsibility and say sorry for the mistakes that have been made. I wanted to act, to help people with their energy bills, to deal with the issue of high taxes, but we went too far and too fast. I have acknowledged that.
Tuesday, October 18
Tuesday's headlines were deeply discouraging for her. Nearly all had photos of her alongside Hunt:
The new biography of Truss, Out of the Blue, was not even ready for publication. Someone photoshopped the cover with a remainder sticker on it, saying, 'Reduced for quick sale — please just take it':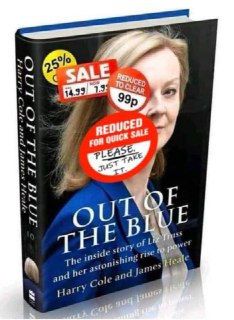 The Sun's political editor, Harry Cole, one of the book's co-authors, posted an article about the MPs plotting against her:
TORY plotters dubbed the "Balti Bandits" carved up Liz Truss's future last night over a korma and bhuna feast, The Sun reveals.
Leading rebel Mel Stride hosted more than a dozen "miserable" Conservative MPs in his large House of Commons office for an Indian takeaway – with the PM's fate also on the table.
Ex-Ministers John Glen, Nick Gibb, Mark Garnier and Shailesh Vara tucked into "lashings of curry and naan" ordered in by Mr Stride, alongside outspoken backbencher Simon Hoare. 
2019 intake MPs Angela Richardson and Simon Baynes were also said to have joined the "poppadum plot" – but sources say the meeting ended with "no credible solution" to their woes …
Contenders include ex-Chancellor Rishi Sunak, Defence Secretary Ben Wallace, new Chancellor Jeremy Hunt and Commons Leader Penny Mordaunt – but given the party is deeply split, the plotters admitted the chances of a rapid "coronation" of a new PM were "almost zero."
One attendee told The Sun: "the vast majority of attendees were Rishi Sunak supporters, but there were Penny people too. It was not a Rishi thing." 
On Tuesday evening, Truss had another group angry with her — her own supporters in the European Research Group, the pro-Brexit group of backbench Conservative MPs.
The Telegraph's Tim Stanley wrote about it, as he was there in the corridor for Truss's meeting with them:
Liz Truss launched her fightback at 6pm in Committee Room 11. The meeting was actually set for 5pm; Commons voting ran late so Mark Francois advised us hacks to go away and come back later, but I hung around on the suspicion that the moment we left, Liz would slip out of her hiding place in the roof of the lift and jog, unseen, into the Room …
These are the true believers: if they're angry at Liz for anything, it's for not keeping the mini-Budget …
What we saw of her on TV on Monday night, interviewed by Chris Mason, did not spark confidence as she uttered that dread word "sorry", thus accepting personal responsibility for blunders past and future. It is the mark of an "honest politician", she said, to admit mistakes. That's true, but it's also a dead giveaway for a not-very-good one, trying to turn a repeated error into a display of moral virtue. As Samuel Johnson might have said, "Honesty is the last refuge of the incompetent".
… She bobbed into view in a dark blue dress and black tights – fresh-faced, one suspects, from a good night's sleep. Instinctively, I stood: she might be a PM, but she's still a lady. I earnt a cheeky nod. Those who can't fathom the rise of Ms Truss haven't met her. She has a way of compromising you, of making you think you're on her side, and it's the most fun side of the room to be on.
The ERG roared as she entered. She entertained them behind a closed door for about 45 minutes. Then she left, followed by Mr Francois who told us it was "a very positive meeting".
The PM evidently spoke about Northern Ireland and her commitment to raising defence spending by the end of the decade, which is ambitious for a woman who could be out of office by Friday. And he noted that David Canzini, the clever political operative, was with her, an eminence so grise, none of us had noticed he'd gone in.
No 10 confirmed it: he was hired as of that morning.
Too little too late. That might have been Canzini's shortest job.
Wednesday, October 19
On Wednesday, October 19, Guido Fawkes posted that the Reform Party — formerly the Brexit Party — was climbing in the polls. The photo shows their chairman, businessman Richard Tice:
Guido's post said, in part:
Guido can reveal that in the 48 hours before close of play yesterday afternoon, the old Brexit Party received almost 1000 new £25 membership sign-ups. That new five-figure cash boost was joined by 300 members registering a new interest in standing as a party candidate at the next election. The first time the Tories dipped below Labour in the polls – September 2021 – Reform saw one in 10 Tory voters switching to them. Can they continue capitalising on Liz's woes? …

It's not just Reform benefitting from the dire state of No. 10. Last night the LibDems revealed five new donors, each giving £50,000 to the party, one of whom is a former Tory donor. While the last 36 hours have been calmer for Truss, it does feel like the ship has sprung one too many leaks to be repaired by a strong PMQs performance…
Wednesday was another fateful day. Home Secretary Suella Braverman resigned, then a confusing scene took place in the voting lobby over a division (vote) on fracking, which resulted in more chaos when it was unclear whether Wendy Morton had resigned as Chief Whip:
Liz Truss's final 24 hours: Suella Braverman's resignation, question over Whips' resignations (October 19)
Truss appointed Grant Shapps, former Transport Secretary, in Braverman's place:
Holy mole, guacamole!
Nigel Farage repeated 'coup' in his tweet about the news:
As with Hunt, Truss had to scrape the barrel.
The Telegraph reported that, like Hunt, Shapps was not a Truss supporter:
It is a remarkable turnaround for Mr Shapps, the transport secretary under Boris Johnson who went on to become a prominent supporter of Ms Truss's leadership rival Rishi Sunak.
Only on Monday night, Mr Shapps was telling a theatre audience that he believed Ms Truss had a "Mount Everest to climb" to remain in power.
"I don't think there's any secret she has a mountain, a Mount Everest to climb," he told Matt Forde's podcast. "What she needs to do is like threading the eye of a needle with the lights off."
Now he is one of her most senior ministers – and another example of the way a weakened Ms Truss is being forced to offer olive branches to the Sunak supporters she had previously shunned.
Not only was Mr Shapps questioning her chances of success until as early as this week – he was working proactively to get rid of her.
Mr Shapps has been viewed in Westminster as one of the leaders of the opposition to Truss's libertarian policies.
He spoke up at the Tory party conference in Birmingham earlier this month against her plans to scrap the 45p rate of income tax, and warned that Ms Truss had "10 days" to turn things around or MPs "might as well roll the dice and elect a new leader".
This is what the aforementioned Camilla Tominey was lamenting in Conservative MPs. Some of the recent ones have no appreciation of or allegiance to Conservative values. Shapps was a Cameronian MP.
The article also discussed Shapps's famous spreadsheets which appear to work as well as the 1922 Committee in making or breaking a Prime Minister:
The veteran MP – known by some as the "Duracell Bunny" for his enthusiasm – is also well-known for his "Star Wars" spreadsheet, with which he has spent the past few weeks recording the views of MPs on Ms Truss and her plans.
Mr Shapps used an earlier version of his famous spreadsheet to lead a rebellion against Theresa May, and also utilised its information to help guide Boris Johnson into Downing Street.
The spreadsheet is said to contain more than 6,000 historical "data points" from previous conversations with MPs.
It was rumoured that he had been in contact with Mr Johnson and Mr Sunak to see if they would join an effort to oust Ms Truss. And some rebel MPs claimed he had even offered himself up as a caretaker prime minister.
Let us not forget that Shapps himself is hardly a paragon of virtue:
… unfortunately for Mr Shapps, some elements of his past may make a shot at No 10 less than likely – not least the Michael Green saga.
This was an alter-ego he employed to enable him to run a series of get-rich-quick schemes on the internet while he was an MP.
Mr Shapps originally denied he had a second job, and threatened legal action against a constituent who said he had. But he was forced to admit practising business under a pseudonym in March 2015.
All this happened while he was Tory chairman, in charge of David Cameron's efforts to win the 2015 election.
He was demoted soon after to aid minister, and resigned from that role after claims he had ignored repeated allegations of bullying involving the Tories' youth organiser. It was said the alleged bullying, which took place on the party's RoadTrip 2015 campaign, may have caused one party member to commit suicide.
On Wednesday evening, Camilla Tominey reprised her warning about un-Conservative MPs and their takeover of the Government. She, too, used the word 'coup':
… the departure of Suella Braverman as home secretary speaks to a bigger problem for Liz Truss than sheer optics.
In sacking two key allies on the Right, only for them to be replaced by opponents more to the Left of the party, the Prime Minister is increasingly looking like the victim of a Conservative coup.
It is certainly ironic that the former home secretary, in post for just 43 days, first used that word to describe those who plotted against Ms Truss's original plan to link benefit to wages rather than inflation. 
With that, and most of her mini-Budget up in flames thanks to a rebellion by the moderates, Jeremy Hunt now appears to be the de facto Prime Minister.
He will now be joined by his fellow Sunakite Grant Shapps, who despite being rejected from Ms Truss's original cabinet, has now been appointed to replace Mrs Braverman at the Home Office.
Braverman, at one point, had headed the aforementioned European Research Group:
… her swift exit from one of the highest posts in public office will anger her European Research Group supporters.
It was only on Tuesday evening that Ms Truss was said to have charmed the backbench group of Eurosceptics with her honest, straight-talking approach.
They are unlikely to take kindly to their former chairman, a darling of the grassroots, being ejected in such unseemly fashion.
Mrs Braverman, a Conservative leadership candidate herself over the summer, received the longest standing ovation at the Tory Party conference two weeks ago.
Fortunately, Rishi Sunak re-appointed Braverman as Home Secretary. He probably realised he had to, in order to keep Party members on side.
Returning to Wednesday, October 19, The Telegraph posted an article stating that Conservative backbenchers were asking Labour for help in ousting Truss. Unbelievable:
Rebel Tories have been asking Labour MPs to help them overthrow Liz Truss, The Telegraph has been told.
Conservative backbenchers are growing increasingly frustrated with the Prime Minister's leadership, but currently lack any mechanisms to remove her given the one-year immunity she has from a no confidence vote.
As things stand, the only way to oust Ms Truss would be to change the rules – which is a decision that only the executive of the 1922 committee of backbenchers can make – or if she resigns of her own volition.
One Labour MP told The Telegraph: "Tories are speaking to us saying 'this is a complete nightmare and there is no way out'. We are being asked 'can't you do something about her?'"
The MP, who said their colleagues have reported similar experiences, said they were approached by one Red Wall MP whose constituency was in the north and another MP who is a member of the One Nation group of moderates …
A Labour source said: "There is very little Labour can do. Even a vote of no confidence doesn't have the constitutional standing that it used to. The Tory party are the ones that elected her, they need to get rid of her."
The paper's Michael Deacon wrote that Conservative MPs were entirely to blame for the mess. Furthermore, he said, they risked angering Party members, the campaigning activists, if they pushed ahead with a rule change saying that the members would no longer be able to vote for future Party leaders. The members elected Truss over Sunak in August:
This week, The Telegraph reported that Tory MPs want to bar members from voting in future leadership elections. Supposedly the reason is to speed up the process of choosing a leader. But this is blatantly a smokescreen. Quite plainly, MPs just want to prevent the members from landing them with another turkey like Truss.
Many members are appalled by this suggestion. And so they should be. Such a plan is not just arrogant and undemocratic, it's delusional. Because party members aren't to blame for the current mess.
Tory MPs are.
After all, who put Truss on the ballot paper in the first place? Tory MPs. No fewer than 113 of them, in fact. A third of the parliamentary party. Out of an initial field of 11 candidates for the leadership, Truss was the MPs' second favourite.
Unlike the MPs, however, the party members weren't allowed to choose between the initial field of 11. If they had been, it's extremely unlikely that they would have chosen Truss. They'd have been far more likely to choose Penny Mordaunt or Kemi Badenoch, to name just two. In fact, if the MPs had deigned to ask them, I suspect that the greatest number of members would have wanted their leader to be Boris Johnson – the person they chose to be leader in the first place.
The truth is, the members voted for Truss simply because they didn't want to vote for Rishi Sunak. In leadership contests, they're only ever given two candidates to choose from. And why? Because Tory MPs don't trust them. They fear that, if presented with a wide-open field, party members will choose the "wrong" candidate. Funny how things turn out.
All things considered, then, it seems clear that, if anyone should be barred from voting in leadership contests, it should be Tory MPs. In future, just leave it to the wiser judgment of the members instead.
That night, The Telegraph posted an article by Lord Frost saying that the Party was moving towards a status quo, if not anti-Brexit, stance, going all the way back to David Cameron's time as Prime Minister, with George Osborne as Chancellor and Philip Hammond in the same post under Theresa May:
… the Government is implementing neither the programme Liz Truss originally advocated nor the 2019 manifesto. It is going in a completely different direction. We are back to Osbornomics, the continuity Hammond view of the world. There is no shred of a mandate for this. It's only happening because the Truss Government messed things up more badly than anyone could have imagined, and enabled a hostile takeover by its opponents …
… the correct account of the past few weeks is the simplest. Truss tried to deliver worthwhile reforms and set the country onto a much-needed new direction. I supported this policy direction and still do. But it was rushed and bungled. The markets were spooked. The mistakes were opportunistically seized on by her opponents to undermine her leadership, to blame Brexit, and to stop the party getting out of the social democratic tractor beam of the past few years. And now, under pressure, the Prime Minister has reversed tack completely.
The risk now is that we lose for a generation the opportunity to do anything better. Every time the PM defends her approach, she denounces the policies on which she was chosen. The danger is that necessary and correct reforms are discredited.
Frost held that Truss was ultimately responsible for her own downfall.
As such, she had to go:
We are where we are. I am very sorry about it, because I had such high hopes. Whatever happens to her ministers or the stability of the Government in the next few days, Truss just can't stay in office for one very obvious reason: she campaigned against the policies she is now implementing. However masterfully she now implements them – and it doesn't seem that it will be very masterfully – it just won't do. She said she wouldn't U-turn, and then she did. Her fate is to be the Henry VI of modern politics – a weak figurehead, unable to control the forces around her, occasionally humiliated, and disposed of when she has become inconvenient. Better to go now.
As for her successor and the Party:
Then the party must do two things: avoid making the economic situation even worse by repeating the policies of the Cameron government in totally different circumstances; and recover some political legitimacy for carrying on – because in our system legitimacy does matter.
Thursday, October 20
After 44 days, Liz Truss resigned as Conservative Party leader on Thursday, October 20.
She served as Prime Minister for 50 days, beating George Canning's record of 118 days. Also a Conservative, he died of tuberculosis in 1827.
She remained PM until Rishi Sunak succeeded her:
Liz Truss's final 24 hours: Suella Braverman's resignation, question over Whips' resignations (October 19)
Liz Truss's final 24 hours: fallout over Braverman and Morton, no tears in exit speech (October 19, 20)
Rishi Sunak becomes Prime Minister: a momentous morning of historic significance (October 24, 25)
How Rishi Sunak won the Conservative Party leadership contest — part 1 (October 20, 21, 25)
How Rishi Sunak won the Conservative Party leadership contest — part 2 (October 21, 26, 27)
How Rishi Sunak won the Conservative Party leadership contest — part 3 (October 22-24, 27, 28)
On Thursday morning, The Telegraph posted a Planet Normal podcast in which Lord Frost said he could see Brexit being reversed:
In the wide-ranging discussion, Lord Frost also said that he could see a future where Brexit is reversed. 
"Brexit was about giving us the power to do things ourselves and to give responsibility back to British ministers, British governments. And they've shown that many of them are not up to the job in the last year or two."
"I can easily see a situation where Keir Starmer gets in. We drift back closer into the single market and go back into the Customs Union. And then everyone says why are we in these things where we don't get a say in them? Wouldn't it be better to be a member? So I can easily see how it could happen. And the way you stop it happening is to prove, while we have the levers of power, that we can do things differently and better. And at the moment we're not making a very good job of that, unfortunately."
Little did Truss know that, the day before, she had stood at the despatch box for her last PMQs:
She resigned early on Thursday afternoon. Thankfully, she didn't cry, unlike Theresa May, who broke down at the podium (Guido has the video):
Sterling began surging the second Truss finished her announcement:
In less than 24 hours, the Conservative Party website deleted her presence from their home page (Guido has the before and after screenshots):
It was a sad ending to a sad episode of British parliamentary history.
Next week, I will look at who, besides Truss herself, was also responsible for it.
Truss is currently spending time in her own constituency and has not yet appeared on the backbenches, an alien place for someone who had been a minister of state for most of her career.
Following on from my news items of November 21, I have more, this time on Thanksgiving, crossword puzzles, technology and health.
Thanksgiving everywhere!
It is hard to disagree with Jordan Cracknell, the American wife of Olympic rower James Cracknell.
On November 22, 2022, she wrote an article for Metro: 'Thanksgiving is a holiday that all Brits need in their lives'.
I couldn't agree more, and I wouldn't restrict it to the UK, either.
The problem is turkey, which the British associate with Christmas dinner. The other problem is the lack of sausage links — chipolatas — which the British associate with turkey and are absent from Thanksgiving dinner.
Not surprisingly, when Mrs Cracknell took her husband to his first Thanksgiving dinner in 2019 at a friend's house:
he grumbled about 'the bastardisation of British dishes'.
Oh, yes. My far better half thought similarly three decades ago.
Now things are different, in both our households. James Cracknell's reaction sums up that of those Britons who taste Thanksgiving dinners and become converts:
By the time we'd eaten, he was in awe of the 'un-Britishly moist and juicy' turkey.
Indeed. Americans can definitely roast turkey to perfection.
His wife writes:
Now, I am firmly of the belief that this American holiday needs to become a British fixture.
Of course, the United States celebrates Thanksgiving in honour of our earliest settlers who learned from the Native Americans to cultivate the land and local livestock. That partnership and its bounty was the focus of the feast. The settlers gave thanks to God for that first harvest.
Admittedly, in Florida, initially settled by the Spanish, the menu might not include turkey. However, most Americans follow the New England menu celebrated in Massachusetts in the 1620s: turkey and corn being mainstays.
Jordan Cracknell explains what Americans give thanks for today. Her second paragraph below explains why I prefer Thanksgiving to Christmas (emphases mine):
Sometimes it can just be having gratitude for being able to see relatives, who might have travelled thousands of miles across the US. Other times we give thanks for our health.
It is as simple and lovely as that, and unlike Christmas there's no exchange of presents. A positive and non-materialistic holiday, where all the family get together, is something that seems to be missing from the British annual calendar …
I'm one of around 166,000 Americans living in the UK, and in my experience, other US expats would also be hard-pressed to give up the holiday …
Since being here, I have managed to convince a handful of UK friends to mark the day by inviting them to dinner. Going in with an open mind, they too have enjoyed it.
Thanksgiving is now James' favourite US holiday, and not just because of the food. 'It just makes sense to have two major holidays back-to-back to spend with family,' he says. 'Why try and fit it all in over Christmas where inevitably someone gets disappointed?'
I agree – and there are also a lot of benefits to having a holiday where the focus is merely on giving thanks and spending time with your family.
She is the descendant of one of those first settlers in Massachusetts who arrived on the Mayflower and learned from the Wampanoags (pron. 'Wom-pa-nogs') how to cultivate the land. As she says:
My ancestors would have starved to death without the help of the Wampanoag people.
True!
There are two other advantages to Thanksgiving, for me, anyway. First, turkey is out of the way for another year, enabling us to eat goose at Christmas. Secondly, it is the start of the holiday season, so we start decorating the house for Christmas in the days that follow.
The Telegraph's new Cross Atlantic crossword
Speaking of things American, The Telegraph is introducing a new crossword puzzle called Cross Atlantic.
The article says that The Telegraph was the first British paper to feature crosswords, an American creation. That was around 100 years ago:
It is that rare treat: a new puzzle, to be published every weekend and daily online, in our own Telegraph, a newspaper that knows a thing or two about the genre, having delivered its first crossword to readers almost a century ago, years before Fleet Street rivals cottoned on. The name of the new game gives a hint of its origins: American crosswords whose clues engagingly blend wordplay, odd definitions, colloquialisms, general knowledge and current affairs, stretching and testing the brain without the forbidding challenge that the cryptic grid presents to the uninitiated (and which, in the 1940s, prompted Bletchley Park to use the Telegraph crossword as a test to recruit new code-breakers).
The article shows the first Telegraph crossword, which is splendidly symmetrical and a joy to behold, unlike the new Cross Atlantic, which looks ugly by comparison. I can do the original puzzle, which has quick rather than the cryptic clues that are so characteristic of British newspaper crosswords.
My British readers will be interested to know that the geeky comedian Dave Gorman already sets the paper's cryptic crosswords and offers this advice to neophytes like me:
The formulations are unavoidable. The most frequent are hints that an anagram may be involved – using words like 'unsettled' that indicate other parts of the clue are anagrams of the answer. Then there are substitutes for letters. For example, 'sailor' often indicates the use of 'AB' for Able Bodied. Most solutions blend several such elements in directing the reader to a single answer.
I am lost already. I would not connect the word 'sailor' with the terms 'AB' or 'Able Bodied'.
Anyway:
To the inexperienced, says Gorman, all this can seem impossibly complicated, not to say convoluted – an off-putting ritual only for those initiated into its dark arts.
But there is a shortcut, he says, a way that smug solvers rarely mention. This is the fact that each clue contains a simple, straightforward pointer to the whole answer. What surrounds it are small elements of the whole. But if you can find that critical definition, usually at the beginning or end of the clue, you can leap straight to guessing at the answer. Then, says Gorman, 'you can work backwards', to confirm your guess using the other elements of the clue.
Take a poser of which Dave is extremely proud. The elements are as follows: sea eagles are known as ernes. 'Min' is an abbreviation of minimum, or smallest. Golf, as military folk know, is the letter 'G' in the Nato alphabet. And a way, or path, is also a course.
Again, that would not even enter my head.
Continuing on:
Armed with all that, try deciphering the clue: Eagles on the smallest golf course.
Did you get it?
No, I did not.
Here's the solution:
ERNES+THE+MIN+G+WAY. Which may still look baffling. But that's before you add the clue to the whole answer and the number of letters:
Writer eagles on the smallest golf course (6,9) = Ernest Hemingway.
Gorman says that 'it's far from being the best clue I've written but the discovery of it – the idea that a real person's name can also quite sensibly be rendered as a meaningful sentence – is somewhat delightful. There's no wrestling it into submission, adding an initial of something here or the last letter of something there. So it feels like it's been hiding in plain sight for ever. It's like discovering a fossil on a Dorset beach – the setter doesn't invent a clue, they find it.'
I'll leave cryptic crosswords there. Life is too short.
Old technology fans
On Wednesday, November 23, The Guardian had a fascinating article about fans of old technology, from 100-year-old typewriters to Atari. A number of the people interviewed would have been too young to experience the initial rush when these items first appeared.
The comments were equally fascinating. I read them all. It's amazing what people still enjoy and why.
Definitely an article to enjoy on Black Friday, while the rest of the family is out Christmas shopping.
The 'big night out' returns
Thankfully, after two years of pandemic fears, the big night out has returned.
This is the complete opposite to staying in with old tech.
On Saturday, November 19, The Times reported that disco-style skating rinks are this year's hot venue for Christmas parties:
This month has seen the arrival of Flipper's, a vast rink in a disused power station in west London, large enough to house 1,800 guests. Whatever you do, though, don't call it a roller disco — it is a roller "boogie palace", insists the venue, which has become one of the hottest places to host a Christmas party this year …
And it is not the only new skate venue to open in recent months. Two new rinks have opened in Manchester, including Paradise Skate World, which has seen Christmas bookings flood in. It's billed as an intergalactic experience, with tunnels you whizz through on the dancefloor and the option to hire "space visors".
"The obvious route was to go down the retro 1980s style, but we didn't want to regurgitate old ideas," says Chris Legh, the co-founder, who was also behind Junkyard Golf Club, another so-called "competitive socialising" format. This is the term used to describe a phenomenon of the past decade which has transformed the nightlife of many towns. Instead of going out drinking with your friends, you take part in some low-level sporting competition: ping-pong, crazy golf, cricket nets or axe-throwing …
Flipper's is co-owned by Liberty Ross, the model and daughter of Ian "Flipper" Ross, who founded the original rollerskating nightclub in Los Angeles in the late 1970s. It was swifty dubbed "Studio 54 on wheels" because it attracted Prince, Robin Williams, Elton John, Nile Rodgers, Cher and other hard-partying celebrities. It lasted until 1981 before it shut down …
At Flipper's it costs £22.50 for a two-hour session for an adult, including the hire of skates in a funky electric-blue suede.
Legh has another theory as to why rollerskating has become the new party craze: "If you are in charge of your Christmas party and you only have a £30-a-head budget, do you really want to spend £20 of it throwing drinks down your throat? Because so many young people don't drink now, there is still quite a bit of discretionary spending, and skating feels active and wholesome.
"For a couple of hours, it is escapism from the digital world," he adds. "Sure, people will take photos and post them on Instagram, but you can't be on WhatsApp while you're skating."
Partying deplored in 1922
Every generation thinks it is the first to decry partying.
To the finger-waggers, any and every party is bad, especially where seemingly endless alcohol and — gasp! — cigarettes are involved.
On November 23, The Times dug out an article on the topic from its 1922 archive: 'What cocktails, cigarettes and unhealthy meals meant for "society girls"'.
In reality, most socialites, then and now, get parties out of their system early on and settle down with a husband and a family.
But there's always someone, then and now, who wants to make them out to be physical and psychological wrecks.
Such was the case with Dr Agnes Savill, who delivered a lecture on partying socialites a century ago:
Dr Agnes Savill delivered a lecture on "The Dangers of Society to Health" at the Institute of Hygiene last evening. She said that the development of communities was found in the earliest stages of human society, and this gathering together of families to share a common life had many advantages, provided the individuals concerned were of a high grade and had a sound organization.
… the girl who could command her parents' wealth left school for a life of continual excitement which resulted in mental and physical deterioration …
"I have seen some of these girls after a few years of society life aged by ten years and, before the age of twenty, as worn out and nerve-tired as if they were forty.
The hectic life of continual excitement, the absence of all repose, all time for meditation, the perpetual change, the cigarette smoking, irregular and unhealthy meals — no wonder these girls become the prey of disease. And though the physical consequences are disastrous, even of greater importance is the evil effect of this life upon the character.
"Society life is responsible for deficient sleep and consequent deterioration of the nervous system. It encourages the pernicious habit of the too-frequent cigarette. It encourages the girls to take cocktails and whiskies-and-sodas, which ruin their digestion, impair their livers, and upset the nervous system, and it encourages them to take rich foods, which upset the rhythm of the body.
"The ill-health of modern society girls is in a measure the fault of their parents, who have it in their hands to postpone the downfall of our modern civilization."
My diagnosis of Dr Savill? She was deeply envious, as are all killjoys — then and now — who wish to restrain us, young and old, from having a bit of fun.
Most socialites have taken great care of themselves throughout their lives. Very few deteriorate. They cannot. They are in the public eye all the time.
Online gambling 'addiction' damaging young adults
Unlike cocktails, ciggies and rich food, there is a serious phenomenon affecting some twenty-somethings, especially young men on low incomes: the lure of online gambling.
I first read about this phenomenon in a French newsweekly earlier this year. Young lads place bets on sporting events, most often football fixtures, often prompted by frequent texts from gambling firms. Enough young men are going into debt and are sometimes driven to suicide because of it to be a worry.
In fact, the French government is currently running an advert about the lure of online gambling, showing some of the texts those who bet often receive. I've seen them on M6. If they were in English, they'd be something along the lines of:
Hi there, haven't heard from you in a while. Fancy a flutter?
The more the recipient ignores the messages, the more frequent they become, driven by algorithms.
The Times has a good article from November 22 on what is happening in the UK, especially in England. It says that victims also come from the middle classes. Furthermore, young women are also affected:
Health bosses urged betting firms to "think hard about the human cost behind their profits" after a 42 per cent annual rise in demand for NHS gambling clinics was revealed.
Doctors said more patients were attending A&E after losing all their money in online betting sprees. NHS gambling clinics are full of "young men in football shirts" who have fallen foul of "predatory tactics" by betting firms, including a boom in addictive "in-play" sports betting.
The health service will announce tomorrow that it has opened clinics in Southampton and Stoke, adding to a national network of five commissioned in 2019. Figures seen by The Times show that 599 patients have been referred to the service in the past six months, a 42 per cent increase on the same period last year and up 65 per cent from 2020-21.
The clinics offer addiction therapy, including medication usually given to opioid users to reduce cravings. Patients can be sent by GPs or hospitals or self-refer and usually spend several months in treatment. One in three have attempted suicide; 57 per cent report thinking they would be better off dead. There are more than 400 gambling-related suicides a year in England.
Matthew Gaskell, a consultant psychologist and clinical lead at NHS Northern Gambling Service, said that almost all the patients it saw were hooked on online gambling, including in-play betting, which allows fans to bet on every aspect of a live game. He said: "People start gambling as soon as they wake up in the morning; they're gambling in the shower, gambling while they're driving to work. The NHS is picking up the tab.
"There has been an increase in people turning up at A&E in crisis, in a state of suicide. People are completely desperate, begging for help and seeing suicide as a genuine escape." The service opened in 2019 and has clinics in Leeds, Manchester and Sunderland.
With football's World Cup going on as I write, one can only imagine the damage.
The article profiles a 34-year-old woman who developed an online slot machine addiction at the age of 24:
Jennifer, a young mother, spent weeks in hospital and lost custody of her children after her gambling addiction triggered a mental breakdown.
Jennifer — a pseudonym because she did not want to reveal her real name — began gambling a decade ago aged 24, and became addicted to online slot machines, feeling trapped "in a never-ending spiral with no escape".
By 2019 Jennifer had £40,000 of debt and was declared bankrupt. Her mental health collapsed and she was admitted to hospital, with social services taking control of her children …
She has not placed a bet for two years. She said: "The group therapy made me realise there's gambling addicts from all walks of life. By giving me the tools to manage gambling addiction, I've had the platform to rebuild my life financially and it means the world to me to be with my kids again as a happy family."
The article briefly mentioned two young men who took their lives, one of whom was an English teacher:
Jack Ritchie, 24, an English teacher, killed himself in 2017 after six years of battling his addiction to gambling.
Joshua Jones, 23, a talented jazz musician, leapt to his death from a ninth-floor balcony in 2015 after an addiction that culminated in him gambling all his money away and even selling his prized trombone.
I'm not the world's biggest fan of betting shops, but at least, I would imagine, they have some human control. Men who frequent betting shops often have a group of mates they meet up with there. They might tell their friend that he's been betting too much too often. The staff behind the counter are also likely to have a kind word with someone they see a bit too frequently.
Feet rule knees and hips
On November 19, The Times had an instructive article on the importance of our feet and how they affect other parts of our body.
While this is intended mostly for women, sedentary men would do well to pay attention, too:
According to Dalton Wong, the founder of Twenty-Two Training and who has worked with a host of celebrities including Jennifer Lawrence and Olivia Colman, stretching and strengthening the lower limbs can prevent pain in the feet and postural problems elsewhere in the body. Yet most of us neglect to focus on strengthening the 29 muscles of the foot and ankle.
"I am seeing an increasing number of clients coming in with hip, lower-back and knee issues that can be traced back to weakness and instability of their foot and ankle," Wong says. "What so many don't realise is that if you are not working your foot muscles enough, then it is reflected further up the body as ankle, knee and hip joints don't work well." Anatomically, these interconnecting body parts, joints and muscles that work together to perform particular movements are referred to as the kinetic chain. "Our toes, feet, ankles, lower legs, knees, upper legs, hips, pelvis and spine are all part of the body's lower kinetic chain," Wong says. "If one part is weak or out of kilter it has the potential to affect the rest of the chain."
A strong, healthy foot has a moderately high arch, minimal overpronation — rolling inwards — and some natural spreading of the toes. There are four layers of muscle and soft tissue in the feet that help to lock them into position and keep us upright. A team of Harvard researchers writing in the British Journal of Sports Medicine described how the foot has an intertwining central "core" of muscles that work to maintain a naturally raised arch, providing us with the stability needed to hold us in good posture or to support even the most basic movement patterns, such as walking. It follows that misuse of these muscles through, say, lots of sitting or the wearing of ill-fitting shoes can play havoc with foot performance and structure. For starters, too little strength of muscles in the feet can lead to decreased ankle mobility. "If your ankles are stiff and inflexible, you will be less able to transfer weight from foot to foot in a walking or running stride," says Lucinda Meade, a physiotherapist at Twenty-Two Training.
We should be able to flex our toes easily:
Big toe mobility is particularly important for better balance and gait. "If you can't bend and flex the big toe, your posture and functional movement will deteriorate," Meade says. "We should be moving all of our toes, especially our big toes, freely for at least 15 minutes every day."
Walking around in bare feet is also helpful:
Wong recommends that his clients perform some weekly workouts barefoot. "We spend so little time without shoes that even 20-30 minutes a couple of times a week going barefoot is helpful for strengthening the feet," he says. Not that you should ditch shoes for workouts overnight. "It takes time to strengthen the muscles in the feet, so build up your barefoot time gradually, starting with 5-10 minutes daily," Wong says.
Your ability to walk around in bare feet is dictated not just by the feet but by the strength of your glutes in supporting the pelvis and hips, and if these muscles are not strong enough the inside of the foot will collapse if you suddenly go shoeless, Wong says.
At the very least, practise some foot moves for ten minutes each day. "Setting aside some time for your feet will pay huge dividends," Wong says. "And if your feet are tired or tight, roll them on a cold bottle of water to release the fascia underneath the foot."
The article has simple foot exercises that anyone can do.
Who knew the role feet played in governing the body? I certainly didn't.
Egg news latest
And finally, barely a day goes by without a story about Britain's notional egg shortage. My last news post had an article about egg substitutes.
On Tuesday, November 22, The Telegraph reported that supermarkets will be rationing eggs and that the shortage is expected to last six months.
The second sentence below irritated me:
Both M&S and Morrisons have confirmed its customers are now limited to two boxes each. A spokesperson for Morrisons, which only sells British eggs, said the rationing followed "unprecedented demand" at the end of last week.
The reason for 'unprecedented demand' came from the media, blasting news of a 'shortage' here, there and everywhere.
At my supermarket, egg prices have remained relatively static for around two years: £1.10 for six, then $1.20 and, only within the past few weeks, £1.40.
Someone's not getting paid properly — the farmers:
… farmers are grappling with double-digit inflation in the price of feed and soaring energy costs to store eggs. The National Farmers' Union has warned the supply chain issues causing egg shortages on supermarket shelves could last until next summer …
Farmers who are currently making a loss on eggs are not reinvesting in new flocks of hens, leading to a shortage for shoppers.
Robert Gooch, of the British Free Range Egg Producers Association, said the egg shortages would last until "retailers pay a fair price to farmers" …
Ioan Humphreys, a fourth generation farmer in Wales, has 32,000 birds, for which the cost of feed has risen from £250 a tonne last year to £400 today. Meanwhile his electric bill on the farm has more than tripled.
But since December, Mr Humphreys has only received a 5p increase from retailers for each dozen eggs he sells them and is operating at a loss.
He said: "I have got to sell them even if at a loss to get some money in.
"Retailers are blaming bird flu for the shortages, but I haven't culled one bird from my flock this year. There are shortages on the shelves because farmers are not being paid fairly by supermarkets."
An M&S spokesperson said the company had provided "additional support, including for animal feed" to help suppliers manage rising costs. Meanwhile Sainsburys said it had increased the amount it paid to its own-brand egg packers, not directly to farmers, by 40pc in the past year.
A spokesman for Asda said the supermarket was "working hard" with its egg suppliers to resolve industry challenges.
Tesco and Ocado did not respond to requests for comment.
——————————————————————————————————-
In conclusion, I hope that my American readers had an enjoyable turkey day and that they've got plenty left over to enjoy this weekend.
Happy Thanksgiving to all my American readers, wherever they are in the world.
The readings for Year C can be found here.
Emphases mine below.
First reading
When the Israelites arrived in the Promised Land, the Lord commanded that they offer Him a tithe of their first fruits. This is still commemorated at Shavuot, which takes place 50 days after Passover. From God all good things come.
Deuteronomy 26:1-11
26:1 When you have come into the land that the LORD your God is giving you as an inheritance to possess, and you possess it, and settle in it,
26:2 you shall take some of the first of all the fruit of the ground, which you harvest from the land that the LORD your God is giving you, and you shall put it in a basket and go to the place that the LORD your God will choose as a dwelling for his name.
26:3 You shall go to the priest who is in office at that time, and say to him, "Today I declare to the LORD your God that I have come into the land that the LORD swore to our ancestors to give us."
26:4 When the priest takes the basket from your hand and sets it down before the altar of the LORD your God,
26:5 you shall make this response before the LORD your God: "A wandering Aramean was my ancestor; he went down into Egypt and lived there as an alien, few in number, and there he became a great nation, mighty and populous.
26:6 When the Egyptians treated us harshly and afflicted us, by imposing hard labor on us,
26:7 we cried to the LORD, the God of our ancestors; the LORD heard our voice and saw our affliction, our toil, and our oppression.
26:8 The LORD brought us out of Egypt with a mighty hand and an outstretched arm, with a terrifying display of power, and with signs and wonders;
26:9 and he brought us into this place and gave us this land, a land flowing with milk and honey.
26:10 So now I bring the first of the fruit of the ground that you, O LORD, have given me." You shall set it down before the LORD your God and bow down before the LORD your God.
26:11 Then you, together with the Levites and the aliens who reside among you, shall celebrate with all the bounty that the LORD your God has given to you and to your house.
Psalm
The Psalm, which is one of my favourites, calls us to rejoice in the Lord with thanksgiving.
Psalm 100
100:1 Make a joyful noise to the LORD, all the earth.
100:2 Worship the LORD with gladness; come into his presence with singing.
100:3 Know that the LORD is God. It is he that made us, and we are his; we are his people, and the sheep of his pasture.
100:4 Enter his gates with thanksgiving, and his courts with praise. Give thanks to him, bless his name.
100:5 For the LORD is good; his steadfast love endures forever, and his faithfulness to all generations.
Epistle
Writing from prison in Rome, Paul was still full of joy in Jesus Christ and exhorted the Philippians to also rejoice, continuing in the ways he taught them.
Philippians 4:4-9
4:4 Rejoice in the Lord always; again I will say, Rejoice.
4:5 Let your gentleness be known to everyone. The Lord is near.
4:6 Do not worry about anything, but in everything by prayer and supplication with thanksgiving let your requests be made known to God.
4:7 And the peace of God, which surpasses all understanding, will guard your hearts and your minds in Christ Jesus.
4:8 Finally, beloved, whatever is true, whatever is honorable, whatever is just, whatever is pure, whatever is pleasing, whatever is commendable, if there is any excellence and if there is anything worthy of praise, think about these things.
4:9 Keep on doing the things that you have learned and received and heard and seen in me, and the God of peace will be with you.
Gospel
This episode in our Lord's ministry took place the day after the Feeding of the Five Thousand. The people hoped that He would perform another miracle in multiplying food for them. Instead, He told them that spiritual food is far more important and that He, sent by His Father, is the bread of life. Those who believe in Him will not want and will share eternity with Him.
John 6:25-35
6:25 When they found him on the other side of the sea, they said to him, "Rabbi, when did you come here?"
6:26 Jesus answered them, "Very truly, I tell you, you are looking for me, not because you saw signs, but because you ate your fill of the loaves.
6:27 Do not work for the food that perishes, but for the food that endures for eternal life, which the Son of Man will give you. For it is on him that God the Father has set his seal."
6:28 Then they said to him, "What must we do to perform the works of God?"
6:29 Jesus answered them, "This is the work of God, that you believe in him whom he has sent."
6:30 So they said to him, "What sign are you going to give us then, so that we may see it and believe you? What work are you performing?
6:31 Our ancestors ate the manna in the wilderness; as it is written, 'He gave them bread from heaven to eat.'"
6:32 Then Jesus said to them, "Very truly, I tell you, it was not Moses who gave you the bread from heaven, but it is my Father who gives you the true bread from heaven.
6:33 For the bread of God is that which comes down from heaven and gives life to the world."
6:34 They said to him, "Sir, give us this bread always."
6:35 Jesus said to them, "I am the bread of life. Whoever comes to me will never be hungry, and whoever believes in me will never be thirsty.
I hope that everyone celebrating Thanksgiving has a splendid day with good food, warm conviviality — and lots of leftovers.
May we also thank God for our many blessings and for the Bread of Heaven, our Saviour Jesus Christ.
My most recent post on Liz Truss examined her first two weeks in office as Conservative Party leader and Prime Minister, from September 6th through the 16th.
Things had started out so well. Ironically, Jeremy Hunt, who is now Chancellor, told ITV's political editor Robert Peston on September 7 that Truss would be 'formidable'. An amazing endorsement from someone who was her natural ally:
Hmm. Did he know anything at that point? We'll probably never know.
On September 20, The Sun's political editor Harry Cole was delighted to announce his and James Heale's book on Truss, Out of the Blue, which later had to have hastily written chapters added to it:
Yes, it is still coming out by Christmas — November 24, to be precise:
King Charles and COP27
Liz saw King Charles on Sunday, September 18, the day before the Queen's funeral. It was not their usual day to meet, but the Royal Family went into private mourning until the end of September:
On Saturday, October 1, The Times reported that Liz had asked the King not to attend COP27, which ran between November 6 and 18, despite an invitation from the organisers.
This was a good move, in my opinion, as climate change, or whatever it's being called this week, has turned highly political.
The article said (emphases mine):
The King, a passionate environmental campaigner, has abandoned plans to attend next month's Cop27 climate change summit after Liz Truss told him to stay away.
He had intended to deliver a speech at the meeting of world leaders in Egypt.
Had she remained PM, Liz would not have attended, either:
Truss, who is also unlikely to attend the Sharm el-Sheikh gathering, objected to the King's plans during a personal audience at Buckingham Palace last month.
There were no hard feelings between the Palace and No. 10:
… a Downing Street source claimed the audience had been cordial and there had "not been a row".
No doubt he was expecting it:
A senior royal source said: "It is no mystery that the King was invited to go there. He had to think very carefully about what steps to take for his first overseas tour, and he is not going to be attending Cop."
They said the decision was made on the government's advice and was "entirely in the spirit of being ever-mindful as King that he acts on government advice".
In the end, the King held a reception at Buckingham Palace for world leaders before they flew to the summit. In light of that, this was rather interesting:
Charles is still determined to make his presence felt there, and how he will do that is "under active discussion". A senior royal source said: "Just because he is not in physical attendance, that doesn't mean His Majesty won't find other ways to support it."
A source who knows Charles said he would be "personally disappointed" to miss it and was "all lined up to go", with several engagements planned around his Sustainable Markets Initiative (SMI) which aims to persuade businesses to invest in environmentally friendly initiatives.
Public v parliamentary opinion
In late September, a poll showed that Truss was ahead of Labour's Keir Starmer in Red Wall seats, boosting the Conservatives by eight points:
Admittedly, that was before Kwasi Kwarteng's fiscal event, or mini-budget, of Friday, September 23.
That said, I will go out on a limb and say that most conservative voters thought that Kwarteng's — Truss's — plan was the right one. My better half and I thought it was refreshingly libertarian.
However, Conservative MPs vehemently disagreed with the public and started writing in to Sir Graham Brady, the chairman of the 1922 Committee, the all-powerful group that Margaret Thatcher dubbed 'the men in grey suits'.
On September 26, the Northern Echo reported:
A former Tory minister MP has told Sky News the new Prime Minister is "f*****" and the party are already looking to bring her down following Friday's mini-budget.
The MP said: "They are already putting letters in as they think she will crash the economy. The tax cuts don't matter as all noise anyway – mainly reversing back to the status quo this year …
Another Tory MP told the broadcaster that Friday's announcement – which included reversing a 1.25% hike in National Insurance – had been a "s***show".
Note that MPs were siding with the Bank of England. Very establishmentarian of them:
"The issue is government fiscal policy is opposite to Bank of England monetary policy – so they are fighting each other. What Kwasi [Kwarteng] gives, the Bank takes away."
The mood among Conservative 'wets', to borrow Thatcher's name for such weaklings, only escalated.
At Liz's one — and only — appearance before the 1922 Committee on Thursday, October 13, Robert Halfon, a wet, told Truss she had 'trashed the past ten years'.
Liz Truss was accused by a senior MP of trashing "the last ten years" of Conservative government as her party turned on its new leader over the mini-budget.
Robert Halfon, a former minister who chairs the education select committee, unleashed a furious attack on her financial measures, saying they disproportionately benefited the wealthy and meant she had abandoned "workers' conservatism".
Anything but, however:
According to an MP present, Halfon told Truss in a meeting of the 1922 Committee of backbenchers — her first as prime minister — that "in the last ten years we had the living wage, a focus on apprenticeships and skills", contrasting that with "bankers' bonuses, benefits cuts and now cuts to affordable housing targets".
His intervention came after Truss tried to assuage Conservative MPs by saying she had "shielded families and businesses from bills of up to £6,000 this winter and for the winter ahead, while Labour has no plan beyond the next six months".
The meeting did not go well. Halfon seemed to voice other MPs' concerns:
… a Tory MP who has been in the Commons for more than a decade said: "It was the worst 1922 I've ever been to." They added: "With each tough question she looked like she'd had the wind knocked out of her — the 31st of October could finish her off on the basis of the reception she got in that room."
Halloween — who schedules these things? — was supposed to be the day Kwasi was going to set out more detail behind his fiscal event. Liz's friend and neighbour in Greenwich was on hand to support her:
Thérèse Coffey, the deputy prime minister, told reporters outside the 1922 meeting that the chancellor would meet MPs before presenting his medium-term plan on Halloween, stressing that engagement was key.
In the event, Truss had to sack Kwarteng and appoint (ahem) the aforementioned Jeremy Hunt as Chancellor. He delivered his shocking budget on Thursday, November 17, to Prime Minister Rishi Sunak's approval. Sunak nodded several times during the presentation.
Returning to The Times's article of October 13, what other wets said presaged the future:
Even those who back the prime minister expect some sort of climbdown. One MP said: "She will have to unwind everything fiscal in the statement. They have to backtrack. There is no alternative. They've done it on the 45p and they'll have to do it on the rest.
"Then if we are still 20 points behind in the polls we will have to change leader. We are cold-blooded like that."
Another admitted there was "definitely still a big split between her and the Rishi [Sunak] side of the party". Asked if Truss would have to perform another U-turn, they said: "Ultimately, I suppose it depends if she's leveraged into that position by our own party, but it's all by those with 20,000 majorities."
Hmm … Hmm.
However, one Rishi Sunak supporter — Esther McVey — is deeply unhappy over his Chancellor's budget:
On Tuesday, November 22, McVey rightly tore the budget apart in ConservativeHome, saying that Hunt's tax rises are 'socialist measures' that are 'punishing Conservative voters':
… It wasn't helped by the Chancellor's statement being such a pendulum swing from the Liz Truss / Kwasi Kwarteng mini budget. People went from thinking they were getting their taxes cut to seeing them hiked.
The Autumn Statement was clearly an over-correction to that mini-budget. Going from one extreme to the other is hardly reassuring for people. A middle ground was needed: an acceptance of Conservative principles, with a costed plan and the accompanying narrative to reassure the markets.
Instead, Hunt delivered his statement with a doom and gloom that would have appropriate were the country on the brink of financial collapse. However, despite some serious challenges, things are not so dire that we had to have such excessive medicine.
For instance, the ten-year gilt yield – the interest rate the Government must pay on a new decade-long loan – was 3.14 per cent, whereas, even before the notorious mini-Budget in late September, that same yield was much higher at 3.49 per cent.
Britain is no more indebted than other comparable countries. Our national debt (albeit too high) stands at 97 per cent of GDP, whereas France, Canada and the US stands at 115 per cent, 116 per cent and 132 per cent respectively. Across the G7, only Germany has lower levels of government debt than the UK.
So when I stood up in the House of Commons at PMQs the day before the budget and said –
Given that we have the highest burden of taxation in living memory, it is clear that the Government's financial difficulties are caused by overspending and not due to undertakings. Does the Deputy Prime Minster therefore agree, if the government has got enough money to proceed with HS2 at any cost then it has sufficient money not to increase taxes, if however, it has so little money it has to increase taxes (which is the last thing for a conservative government to do) then it doesn't have sufficient money for HS2 [High Speed Rail 2]?
So can I gently urge the Deputy Prime Minister not to ask Conservative MPs to support any tax rises, unless and until, this unnecessary vanity project is scrapped, because I for one won't support them.
– it was to remind everyone there are better choices for our Conservative government than hiking up taxes.
In fact, given that unprecedented tax burden, any self-respecting Conservative would instinctively know that the answer is to spend less. Dropping HS2 – an out-of-date white elephant, costing north of £150 billion which (as Andrew Gilligan revealed on my show on GB News) the Ministers themselves know will deliver less economic benefit than the cost of it – would have been an ideal place to start. That would certainly have been more desirable than increasing taxes on hard-working families who are already feeling the severe pain of higher energy prices and increased mortgage payments.
If a Conservative government with a sizeable majority – in a time of financial pressure – won't cut public expenditure to start living within our means, then when on earth will that ever happen? …
Parliament is debating Jeremy Hunt's budget this week. In Monday's proceedings, a number of Conservative MPs spoke out against it.
Liz's U-turn on windfall tax
On October 12, two days before she sacked her friend and neighbour Kwasi Kwarteng, she appeared to do a U-turn on 'no new taxes' by allowing an announcement for a new levy on green energy firms.
Her ally, then-Business (BEIS) Secretary Jacob Rees-Mogg, defended the move and claimed it was not a windfall tax:
Guido Fawkes reported (emphases his):
The government has announced a new plan to impose a multi-billion pound levy on green energy firms to fund support to consumers. Renewable and nuclear electricity generators in England and Wales will now have their revenues capped after windfall tax-hating Liz Truss seemingly bowed to pressure to limit profits. The announcement came from BEIS last night, which is calling the new policy a "Cost-Plus-Revenue Limit" and spinning that it isn't in any way a windfall tax "as it will be applied to 'excess revenues' as opposed to profits". If it walks like a tax, swims like a tax and quacks like a tax…
The latest backtracking on free market values by the government comes just 41 days after Liz Truss told party members at the London husting that they could read her lips, and there would be no new taxes under her leadership …
On Today this morning, Rees-Mogg tried performing a Jedi mind trick, saying "this is not a windfall tax…this is rationalising the market"…
Despite the government's denial that the new revenue limit is a tax, the boss of RWE – the third biggest renewable power generator in Britain – has told The Times the move "is a de facto 'windfall tax' on low-carbon generators that, if not designed and implemented correctly, could have severe negative consequences for investment in the renewable and wider energy market and so for the energy transition."
Guido warned that Labour's support for the new levy is not a good sign:
Ed Miliband welcoming the policy with open arms should give the government sufficient pause for thought before it buys its own spin…
The mystery of Liz signing UK up to EU's PESCO
Early in October, Liz did a strange thing, considering she is a staunch Brexit supporter.
She attended the first ever meeting of the European Political Community in Prague. The European Political Community is Emmanuel Macron's brainchild.
This group is made up of EU member countries, yet, somehow Liz got an invitation. No one knows for certain.
However, she went.
She met with Macron on Thursday, October 6, in an effort to get the Channel dinghy crossing issue resolved.
GB News reported:
Liz Truss hailed Emmanuel Macron as a "friend" on Thursday, as the two countries signalled that a new agreement could be close to tackle small-boat crossings in the Channel.
The pair met at the first summit of the European Political Community in Prague, a gathering pushed for by the French president.
There, the pair said they looked forward to "an ambitious package of measures this autumn" to address issue of migration across the Channel.
And in a sign that Ms Truss hopes to improve relations with Mr Macron, she had no hesitation in labelling him a "friend", just weeks after refusing to do so …
Mr Macron later suggested it was a "problem" if Britain could not call itself a friend of France.
But Prime Minister Ms Truss adopted a different tone ahead of a meeting with Mr Macron in Prague on Thursday.
She told broadcasters: "I work very, very closely with President Macron and the French government and what we're talking about is how the UK and France can work more closely together to build more nuclear power stations and to make sure that both countries have energy security in the future.
"We're both very clear the foe is Vladimir Putin, who has through his appalling war in Ukraine threatened freedom and democracy in Europe and pushed up energy prices which we're now all having to deal with."
Asked if he was then a friend, Ms Truss said: "He is a friend."
The bi-lateral meeting between the two leaders, which took place towards the end of the day, appeared to signal some progress on the issues of migration and energy, both areas Ms Truss had raised as priorities ahead of the summit.
"Thank you for being here," Mr Macron told the PM when they met.
It also emerged that the two countries have agreed to hold a joint summit next year to "take forward a renewed bilateral agenda", in a further sign of the desire for warmer relations between the two countries.
On migration, a joint statement said the leaders "agreed to deepen cooperation on illegal migration within the bounds of international law, to tackle criminal groups trafficking people across Europe, ending in dangerous journeys across the Channel".
But the big, and secret, news was that Liz had signed the UK up to the EU's PESCO — Permanent Structured Co-operation — which is a military initiative.
Nigel Farage announced the move on his GB News show as soon as he had heard.
On Friday, October 7, The Express said that the move could affect British armed forces by dragging them into an EU army:
The Prime Minister has been warned not to allow the UK to be dragged into an EU Army by accident after she signed a military deal this week at Emmanuel Macron's European Political Community (EPC) summit in Prague. The decision to go into part of the PESCO has alarmed some Brexiteers who fear it could undermine the UK's sovereignty.
Former defence minister Sir Gerald Howarth, a leading Brexiteer has led the campaign to resist joining PESCO for many years.
He said: "This is very serious and we must be very careful. The issue around PESCO is that the structures are permanent.
"We must not sign up to anything which undermines our sovereignty and where we do not have a veto.
"Second, we must not do anything that undermines NATO. If we have learnt anything over the last few months is that we need NATO for the defence of western values and Europe against our enemies which at the moment is clearly Russia."
Even if this has to do with Ukraine, and enables us to move troops and military equipment more easily, it still raises questions:
At the EPC meeting on Thursday, the EU member states voted unanimously to allow the UK to join the the mobility project that would allow the UK to move troops and military equipment more quickly.
The UK Government decided to enter the strand in case Britain is called upon as a NATO ally to defend the Baltic states from a Russian invasion.
However, staunch Brexiteer Mark Francois MP was relaxed about it:
One senior Brexiteer, former Armed Forces Minister, Mark Francois, who now chairs the powerful group of Tory Brexiteers the European Research Group (ERG), said he believes that the move was the right one.
He said: "As we are outside the EU, we can opt in to individual PESCO projects if they have merit and looking at how we could speed up reinforcing the Baltic States from the UK, across internal EU borders, may well have military advantages.
"However, it is NATO that remains the bedrock of our security, especially in deterring further Russian adventurism and we should never forget that."
On October 9, David Kurten, a former London Assembly member and founder of the Heritage Party, said that signing the UK up to PESCO was a betrayal of Brexit:
One month ago, the aforementioned Sir George Howarth appeared on Farage to say that we still do not know what part of PESCO Liz signed us up to. He was clearly concerned, saying that the implications could be important, especially as none of the countries involved has a veto. The EU calls all the shots:
Today, one month on, we are none the wiser about our involvement in PESCO.
Someone must know what's going on. In fact, a lot of people probably do know.
Liz's final week
All of Liz's opponents, whether on the right or the left, told us that Liz and Kwasi, joined at the hip politically, had to go.
Project Fear started as soon as Kwasi delivered his mini-budget on September 23.
On September 27, Bloomberg told us that UK markets had lost $500 billion in combined value since Liz Truss became PM. Really?
'Investor confidence' means international markets, ergo part of the Establishment.
Also at that time, former Conservative Chancellor George Osborne, who served under David Cameron, stuck the boot in.
On September 29, a comment from an UnHerd reader appeared in response to one of their articles, beginning with 'Is this the end for Liz Truss?':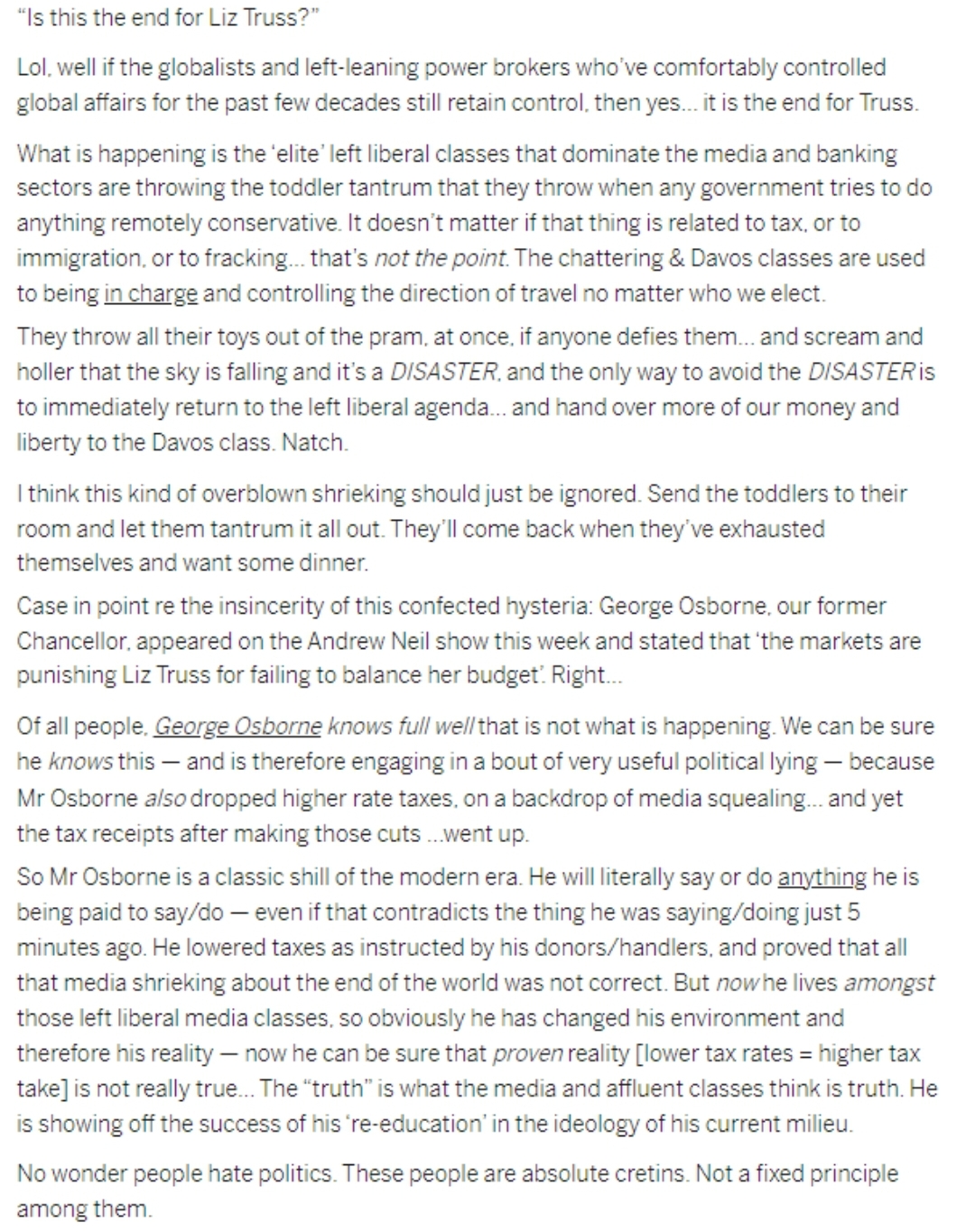 Osborne features heavily in it. The reader quotes him saying, 'The markets are punishing Liz Truss for failing to balance her budget'.
The UnHerd reader says:
Right.
Of all people, George Osborne knows full well that is not what is happening. We can be sure he knows this — and is therefore engaging in a bout of very useful political lying — because Mr Osborne also dropped higher rate taxes [the 50% rate], on a backdrop of media squealing … and yet the tax receipts after making those cuts … went up.
So Mr Osborne is a classic shill of the modern era …
As to whether Liz would have to go, the reader supplies the answer at the top of his message:
… well, if the globalists and left-leaning power brokers who've comfortably controlled global affairs for the past few decades still retain control, then yes … it is the end for Truss …
… It doesn't matter if that thing is related to tax, or to immigration, or to fracking … that's not the point. The chattering and Davos classes are used to being in charge and controlling the direction of travel no matter who we elect.
Speaking of such people, on Wednesday, October 12, King Charles greeted Liz with, 'Dear, oh dear', while the press were still there to record it for posterity:
What did he know and when?
The beginning of the end came two days later on Friday, October 14, when Liz sacked Kwasi and appointed (ahem) Jeremy Hunt as Chancellor. This was the shortest and most painful press conference — she only took four questions — in living memory. She looked like a rabbit in the headlamps or a hostage being forced at gunpoint to read out a message:
As soon as she announced it, we knew Hunt was, at that point, the de facto Prime Minister.
Hours later, The Telegraph reported:
Mr Hunt, a former foreign secretary, took the helm at the Treasury following the sacking of Kwasi Kwarteng over the mini-Budget fiasco. Ms Truss turned to him even though the pair have strongly disagreed on economic policy.
Mr Hunt, also an ex-health secretary, endorsed Rishi Sunak for the Tory leadership after being voted out of the race in July, saying: "This is the wrong time for populist crowd-pleasing and the right time for honesty."
He will hold huge power over a weakened Prime Minister, raising the likelihood that much of her growth plan will now be axed. Allies said that he would act as her "chief executive".
Mr Hunt ran for the Conservative leadership on a platform of slashing corporation tax to 15 per cent to boost growth but also opposed cuts to personal levies such National Insurance and income tax, with which Ms Truss still intends to press ahead.
His appointment was announced moments before the Prime Minister unveiled her U-turn on corporation tax at a press conference. She ditched what had been a core leadership pledge, meaning the rate companies pay on their profits will go up from 19 to 25 per cent in April. It means she has reverted to the plan put in place by Mr Sunak when he was chancellor.
Quelle surprise!
Conservative Party members had voted Liz Truss in largely on her economic policy.
The elites took out her Chancellor. Soon afterwards, they came for her in the form of Conservative MPs and the 1922 Committee. It was a grand game of political chess, not seen since Margaret Thatcher was removed from office in 1990.
To be continued on Friday.
A number of recent news items popped up over the past week covering a variety of interesting topics.
Food
Food is always a favourite topic, and those who read the British papers last week will not have been disappointed.
Egg substitutes
In my post from Friday, November 18, I suggested eating more eggs, the world's most complete food.
On Wednesday, November 16, The Times helpfully brought to light several egg substitutes, relevant as the UK is apparently undergoing an egg shortage. I haven't noticed it, so it could be another short chapter in the everlasting narrative, Project Fear.
The paper tells us that Delia Smith, the doyenne of British home cooks, uses condensed milk:
in her egg-free prune and date cake from Delia's Cakes, which she says makes it "dark, sticky and moist".
By now, most of us have heard of aquafaba, which literally means chickpea water. In an episode of the UK version of MasterChef : The Professionals last year or the year before, top chef Monica Galetti whipped it to make a meringue-like substance. It came as news to me.
The Times says that aquafaba is a versatile ingredient (emphases mine):
Cooks only realised its potential in 2014, when a French vegan started experimenting in his kitchen and published his innovative recipes for chocolate mousse, floating islands and meringues online. Now TikTok abounds with home chefs sharing their trials and errors with the egg substitute.
As a general rule, 30ml of aquafaba is equivalent to one medium egg white, and 45ml to a whole egg.
As well as meringues, aquafaba can be used to make macarons, ice cream, fudge and marshmallows, and even the foamy top on a whisky sour.
"It's amazing for adding a fluffy texture to mousses and cakes once whipped," says the plant-based chef Niki Webster, founder of RebelRecipes (rebelrecipes.com). "It's also brilliant for making vegan mayonnaise as an emulsifier. Be patient. It works and tastes delicious."
The best, and cheapest, way to get it is by simply draining the liquid from a can of chickpeas via a sieve and whisking it using a balloon or electric whisk. You can also use the water from white beans, kidney beans, black beans, lentils or peas, although the consistency may vary — so chickpeas are your best bet.
You can now also buy it alone, without the chickpeas: London-based OGGS sells 200ml and 1 litre cartons of aquafaba from £1 in Waitrose, Sainsbury's, Asda and the Co-op.
Interestingly, powdered 'egg', which harks back to rationing from the Second World War, has also made a comeback:
Longer-lasting than a box of eggs and made from a variety of veggie ingredients (such as potato flour, bean flour, pea fibre and tapioca), all you have to do is add water.
Whisk according to your recipe.
Be careful to check whether the powder mimics whole eggs or just egg whites.
Food additives
Every so often, we get another Project Fear article about food additives.
Those who make their meals and desserts from scratch don't really have to worry about them. People who buy everything ready made off the supermarket shelf, however, probably do need to pay more attention.
On November 15, The Telegraph covered all the different types of food additives, from colourings to emulsifiers. Each one plays its own role in making food more appealing to the eye or better on the tongue.
Whilst not panicking over additives, I do wonder whether they are partly responsible for a rise in cancer rates over the past 50 years. The article does mention nitrates and nitrites in this regard, but that is old news.
The bigger issue is obesity, likely to be fuelled by ultra-processing. The gut has less to do and, consequently, we feel less full, therefore, we want more processed food.
The article concludes:
What should consumers do to avoid scary additives? These scientists were unanimous: avoid ultra-processed foods.
That means cooking from scratch, which brings me neatly on to the next article.
'Soaring' food prices
Food prices are always going up, and not just in the UK.
I remember going back to the US many years ago and was astounded to see that my favourite whole grain breakfast cereal had soared to $4.50 and was in a considerably smaller box.
In the UK today, Heinz tomato ketchup has gone up the most. In fact, my British readers will know that one of our supermarket chains temporarily took several Heinz products off its shelves in June. They are back now, but the supermarket wanted to send a message to Heinz that they were price gouging.
The Times reviewed a list of foods that have increased in price the most in 2022, according to consumer watchdog Which?'s analysis.
Note that most of them are ready made products:
The research found that Heinz tomato ketchup had the biggest average increase in price, going up by 53 per cent (91p) on average. The second biggest increase was for Dolmio lasagne sauce, which went up by 47 per cent (61p) on average. Batchelors Super Noodles, the student staple, went up by an average of 43 per cent to 82p.
Prices also went up on branded bread: a loaf of Hovis granary wholemeal increased by an average of 43 per cent to £1.97.
The increases compare with average food inflation of 14.6 per cent since this time last year, and 0.8 per cent during the preceding 12 months, suggesting that some manufacturers may have been taking the opportunity to increase profit margins. In June Tesco stopped stocking products from Heinz during a row about price rises that the US food maker was trying to impose.
The research found that branded butter had some of the biggest price increases in absolute terms. A 500g tub of Anchor Spreadable, for example, has gone up by £1.31 on average. The single biggest price rise was on a box of 100 Everyday tea bags by Twinings, which jumped by £2.33 at one supermarket.
Who buys Twinings for regular tea? I have it in my cupboard, but only when I fancy a cuppa, which isn't that often. For everyday tea breaks, PG Tips and Yorkshire Tea are perfectly good and cost a lot less.
Heinz Classic Cream Of Chicken Soup is another items which has gone up considerably.
The message here is to start making your own tomato sauces and soups as well as preparing dried noodles from scratch. A tin of supermarket own brand tomatoes costs 50p. Dried noodles are pretty cheap, as are the vegetables to add to them. Chicken is still cheap. YouTube must be full of videos with instructions on how to make cream of chicken soup.
Making one's own bread also saves a fortune. My brand of flour has not increased noticeably this year, so I would highly recommend tuning in to YouTube for tutorials.
Honestly, once you make your own meals, you'll never buy another ready made product again.
British cheese popular in France
It's been 30 years in the making, but British artisan cheese has finally found its place in France.
On November 15, The Telegraph reported:
Find yourself in a Parisian restaurant these days and chances are that alongside roquefort and comté you will see cheddar or stilton on the cheese board. In fact, having shaken off its reputation for wax-wrapped, mass-produced, tasteless blocks, British cheese is the hot new thing. 
Over the past decade, overall exports of British cheese have been growing. Wyke Farms, the large Somerset producer, now sends 6,000 tonnes of cheese per year to over 160 countries. According to the Agriculture and Horticulture Development Board, in the second quarter of 2022, exports to Europe were up 22 per cent on the same period the year before (although 2021 was hampered by Brexit uncertainties). 
Our neighbour across the Channel is emerging as a key market. In 2014, the artisan cheesemonger Neal's Yard Dairy exported €500,000 of British cheese to France; by 2021, the figure had jumped to €1 million, with France becoming the second-largest market after the United States. 
British cheese is en vogue. Artisan fromagerie Taka & Vermo, near the Gare du Nord in Paris, stocks cheddar and stilton. At restaurants like Frenchie and L'Entente, diners can end a meal with a British board featuring classics including stilton and cheddar and less well-known cheeses. Oliver Woodhead, the British owner of L'Entente, has even been on French TV to espouse British fromage. British cheese is no longer a joke. 
It comes as no surprise. There are around 150,000 French people in Britain, and many more in France who have lived here at some point and developed a taste for British food. As adventurous as anyone else, young French people are searching for new exciting foods to try. Most importantly, British cheese has improved dramatically over the past 40 years. Once the poor man of Europe, it's now up there with the best. 
Neal's Yard Dairy sales director Jason Hinds has done more than most to promote British cheese in France. When he started working for the London-based cheesemonger and wholesaler in the early 1990s, its exports to France totalled a big fat zero. "My goal was always to export the best British cheese to France," Hinds explains. "The perception of British food generally in the early 1990s was that, in culinary terms, we were savages. But while it seemed like a fanciful idea to some at the time, the cheese was good so I knew it could be done." 
Well done, everyone!
British cheese is every bit as good as French cheese, of which I eat a lot.
Champagne scion dies
While we're on the subject of France, I have two more stories to cover which concern that lovely country and our own sceptred isle.
The first is about Christian de Billy, who oversaw the Pol Roger Champagne house for decades. He died at the age of 93 on August 26, 2022. The Telegraph brought his demise to our attention on November 18.
The Pol Roger family have been involved in civic life for over a century as well as producing one of the world's finest Champagnes, which is one of my favourites:
Christian de Billy, who has died aged 93, was the great-grandson of Pol Roger, founder of the Champagne house which remains in independent family ownership to this day. Among the smaller of the great Champagne houses, Pol Roger is known for its wines of unimpeachable finesse, which have long attracted a following on this side of the Channel, where de Billy was a regular visitor and ebullient ambassador.
Christian de Billy devoted more than 70 years to the family business, joining in the company's centenary year (1949) under the watch of his redoubtable grandfather Maurice Pol-Roger, who had been Mayor of Epernay in the First World War, narrowly escaping execution under the German occupation and renowned for fighting one of the last recorded duels in France with the Préfet de la Marne, whom he had accused of deserting his post.
From an early apprenticeship in the cellars and offices on the Avenue de Champagne (whose No 44 was to be described by Pol Roger's most famous customer, Sir Winston Churchill, as "the world's most drinkable address") Christian de Billy rose to become Export Director in 1953 and President Directeur General in 1977, later forming a supervisory Conseil de Surveillance of which he remained President until his retirement in 2019, when he passed the reins to his daughter Véronique …
Today, his daughters Laurence, Evelyne and Véronique, together with his son Hubert and grandson Bastien, are all closely involved in the direction of the company.
The article has more about the family's friendship with Sir Winston Churchill and his descendants:
… it was Christian de Billy who took on the legacy of his glamorous aunt Odette Pol-Roger, who had so captivated Sir Winston Churchill at their first meeting at the British Embassy in Paris in the closing days of the Second World War, both maintaining and strengthening the friendship with successive generations of the Churchill family. 
Together with Christian Pol-Roger, he created, and received the family's blessing for, the Cuvée Sir Winston Churchill, which was launched at Blenheim Palace in 1984 and is now in its 20th edition …
It was also de Billy who oversaw the creation in 1990 of the British subsidiary, Pol Roger Ltd, which has become a successful presence on the company's leading export market.
Come to think of it, the first time I tried Pol Roger was in the UK in the early 1990s.
The article includes this video of the history of Pol Roger:
Christian de Billy had a wide variety of outside interests:
Appointed to the Légion d'honneur, he was as comfortable in the company of presidents (including General de Gaulle) and prime ministers (including Jacques Chirac) as he was with the remueurs in the Pol Roger cellars. His smallness of stature belied the generosity of spirit within, combining an innate warmth with a mischievous sense of humour. A bon vivant, Christian was a keen follower of the pleasures of the table and a long-standing member of the Académie des Gastronomes.
De Billy, like his grandfather, was a keen sportsman, presiding over extensive shoots in the forests of Boursault and Milan, near Reims. His large collection of wild boar models, pictures and other memorabilia testified to his love of the sport: at his funeral, his coffin was driven off to a lively serenade of hunting horns. A skilled fly-fisherman, he had a cherished beat on the Andelle, one of Normandy's finest chalk streams.
A life well lived. I'm delighted the family have maintained their business in Britain.
British veteran reunites with Frenchwoman
One week after Remembrance Day, The Telegraph related a moving Second World War story involving a young British Royal Engineer who shared his Army ration with a starving French girl.
By way of thanks, she wrote a note on the back of her First Communion photo and left it for him.
The two were reunited in 2022, 78 years later. Reg Pye is now 99 and Huguette is 92. They certainly don't look that old.
The Telegraph reported the story, complete with photos, including the one from Huguette's First Communion:
Reg Pye, from Burry Port, South Wales, served with the 224 Field Company, Royal Engineers, as a driver carrying sappers, mines and ammunitions, during the Battle of Normandy.
While moving through Normandy in June 1944, 14 days after D-Day, Mr Pye spotted a 14-year-old girl staring at him as he ate his evening meal – a slice of bread with jam and a tin of pilchards.
The then 21-year-old immediately gave the girl his bread with jam and she ran away to eat it.
When he woke the next morning, he found that she had half-filled his mess tin with milk and left a picture of herself with a written message on the back, which he kept in his wallet.
In November this year, the girl was identified as Huguette, now 92, and was reunited with Mr Pye in France where he showed her the picture he had held for 78 years, and gave her another jam sandwich.
When meeting Huguette, Mr Pye said: "Nice to see you again after such a long time. We got older but we're still the same."
One wonders if they drank Pol Roger:
They drank champagne with their extended families and a translator.
Incredibly, Reg Pye spent years trying to find Huguette:
Mr Pye said: "The memory of my very brief encounter with this young girl will stay with me forever.
"In the bleakest of times, this bit of human interaction made a huge mark on my life. I have carried her picture in my wallet for 78 years always hoping we might meet again."
Mr Pye went back to Normandy 20 years ago to try to find Huguette but was unsuccessful.
Taxi drivers helped the veteran find his erstwhile friend:
After hearing the story, volunteer Paul Cook, from the Taxi Charity for Military Veterans, an organisation run by London black taxi drivers which arranges free trips for veterans to the Netherlands, Belgium and France, started a social media campaign which eventually reunited the pair.
Mr Pye added: "I cannot believe that she has finally been found and I wish to thank everyone, including our friend Emma, our cab driver Paul and the Taxi Charity's French adviser Nathalie Varniere, who have helped to make my dream come true."
Mr Cook said: "There are no words to describe how elated I am that Reg has found Huguette, this is like a Hollywood blockbuster and I wouldn't be surprised if this beautiful story was made into a film."
I hope it is made into a film. It's a beautiful story.
Perseverance is always rewarded. Never give up on a dream.
Good taste 'nothing to do with money or class'
On November 15, The Telegraph's Melissa Twigg interviewed socialite India Hicks, who has featured in Tatler over the decades.
I was surprised to find that she is now 55. She still looks like a twenty-something.
Hicks has a proper pedigree. Some might have seen her mother, Lady Pamela Hicks, in television documentaries about the Royal Family.
Twigg tells us that India is:
the third child of Lady Pamela Hicks (whose parents were the Earl and Countess Mountbatten of Burma) and the late interior designer David Hicks. She is also the second cousin and goddaughter of King Charles – like him, she spent her teenage years in the no-nonsense Scottish boarding school of Gordonstoun. Her glamorous life is put somewhat in perspective when you realise that, aged 11, she was on holiday with her family in Ireland when her grandfather's fishing boat was blown up by the IRA. He died, as did her 14-year-old cousin, Nicholas, and this frightening period of British history was memorably dramatised in the fourth series of The Crown, with Mountbatten played by Charles Dance. I ask if she has seen it and she quickly says no. "We don't really get Netflix out here." 
I have no doubt that Hicks could watch the show if she wanted to – but I also understand why she doesn't want to discuss it. She has built a successful career in Britain and America from being stylish, beautiful and royal-adjacent; distant enough from the family to freely write books and launch clothing and interiors collections, but close enough to attend the funeral of Elizabeth II and be a patron of the Prince's Trust. 
"It was extraordinary being there for [Elizabeth II's] funeral," she says. "I was very relieved to find myself in England with my mother during that period. The Queen's death was a chapter closing for all of us, but for my mother [who was a bridesmaid and lady-in-waiting to the Queen] it was grief on a more personal level. I often wondered how she was and she kept using the word 'acceptance'." 
Here's the high point — on good taste:
… when I ask if her aristocratic roots have influenced her taste, she pauses. "I definitely shy away from the word 'class'," she says. "Good taste is everything, but in the end it has nothing to do with class. My father came from an ordinary background but he was anything but ordinary. He was a difficult father but a brilliant designer and made me realise good taste and design are by no means dependent on money." 
True!
Furthermore, this is my own observation: good taste offends no one and pleases nearly everyone.
I have a few more news stories to share on Thursday. I think you will like them.