Yesterday's post looked back at Liz Truss's leadership campaign during the latter half of August 2022.
As September started, most ordinary conservatives were happy to know that Liz was likely to be the next Party leader.
On September 3, the veteran journalist Janet Daley wrote an empathetic column about her for The Telegraph, 'Ignore conventional wisdom: the new prime minister is not doomed'.
CCHQ — Conservative Party headquarters — had not yet finished counting the members' votes, but Daley thought that people would give Liz their support in the face of the cost of living crisis (emphases mine):
Given that virtually everyone in the country accepts that the current dilemma is both desperately urgent and, in the short term, utterly hopeless, Liz Truss will begin her premiership with the lowest possible expectations and, given the inherent fair mindedness of the British population, even a little sympathy …
Whether Daley realised it or not at the time, she hit the proverbial on the head in the second paragraph:
Standing up in the House – or better, at that podium in Downing Street – to address a nation that has been terrified out of its wits by predictions of the devastation that is to come, will look like an act of singular bravery and resolve. Most of the country, apart from sworn partisan enemies (the most pathologically vicious of whom are inside her own party), will be willing her to succeed in whatever terms success can be measured, against the impossible odds. She will not have a honeymoon as such, but she can gain points for rigorous resolve and determination – especially if she seems to be in touch with the justifiable fears of real people. That will be the key to it. Every word, every pronouncement, every policy will have to be communicated with infinite humaneness: genuine compassion for the impact that this crisis is having on daily life and future prospects …
Although this was Daley's prediction at the time, this is how things played out with most fair-minded voters:
Ordinary people who do not have an ideological dog in the fight know that this is uncharted territory. What disagreements there are – and will continue to be – over the right way to proceed will be accepted as reasonable argument and not necessarily discrediting to the sitting government providing that it remains proactive and committed.
I particularly liked the next bit, which posited that, as the year went on, things might turn out to be less gloomy than forecast during the summer:
… there is the possibility of some good (or less bad) news in the coming months. What if the combined efforts and ingenuity of the Western economies produce more optimistic projections for energy subsistence sooner than was expected? Already we hear that gas storage in Europe is exceeding expectations and, as a result, commodity prices are beginning to fall.
However, Daley, for all her brilliance, did not foresee the savage attack from Liz's fellow MPs.
North of the border, Scotland's First Minister Nicola Sturgeon was still seething that Liz had called her an 'attention seeker' during the campaign:
During her premiership, Liz never did contact Nicola Sturgeon.
On Monday, September 5, these were the main news stories. We could rely on The Independent for negative stories about our new Prime Minister: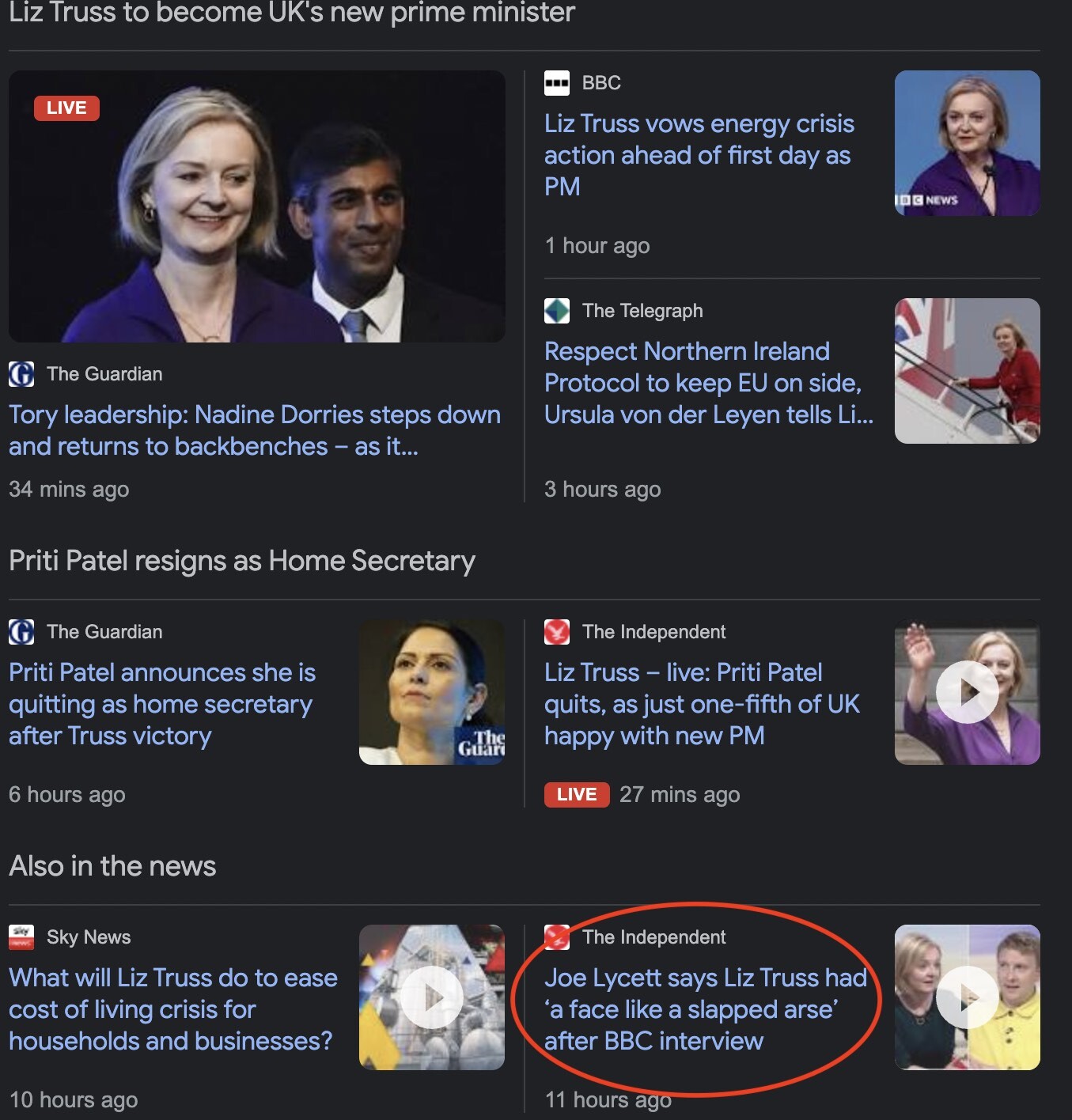 The Mail on Sunday's Dan Hodges was thrilled. He had predicted Liz's ascendancy on Boxing Day 2021:
His article says that Liz's rise began when she replaced Dominic Raab as Foreign Secretary. During his time in post, he said that all ministers (MPs) serving under him were to be called Junior Ministers (JMs) rather than Ministers. The MPs were none too happy with that move.
Then, when Biden's sudden withdrawal from Afghanistan took place in mid-August 2021, Raab was on holiday in the Mediterranean with his family. Boris replaced him with Liz:
On her first day in the job, she issued a note to her officials ordering the JM designation be dropped.
'Liz gets it,' a Minister said. 'She knows how to treat her colleagues properly. It's one of the reasons she's been so successful.'
Spectacularly successful. 2021 has been Liz Truss's year …

She's now in charge of masterminding the final fraught stages of Britain's EU exit.
And – were Boris to suddenly fall beneath a heavily laden wine-and-cheese platter – favourite to replace him in No 10 Downing Street.
At the time Hodges had written his article, Boris was becoming more embroiled in Partygate allegations, which had begun in November 2021.
We thought that Boris had a diverse Cabinet. It was nothing like Liz's, however:
The Mail reported:
Ms Truss is expected to make long-term ally Kwasi Kwarteng chancellor, with Suella Braverman moving to the Home Office and James Cleverly to the Foreign Office.
If selected, Mr Kwarteng would be the fourth non-white chancellor in a row, directly following Sajid Javid, Rishi Sunak and Nadhim Zahawi.
And Ms Braverman would become the third minority home secretary, after Priti Patel and Mr Javid. 
Mr Cleverly, currently the Education Secretary, would become the first ever non-white foreign Secretary.
Cleverly continues in post today under Rishi Sunak, as does Kemi Badenoch, International Trade Secretary and Minister for Women and Equalities:
Would the media — our diversity champions — give her, our third female Conservative PM, any credit? Never:
On a related note, Liz gave us a Health and Social Care Secretary with a fondness for cigars, the likes of which we had not seen since Kenneth Clarke in the 1990s. Here is Thérèse Coffey, one of her close friends, pictured at a Spectator summer party a few years ago:
However, just as important were the people no longer in Cabinet. This is worth noting. Some said later that this is where Liz's premiership became unstuck, that she should have held on to some opponents:
There is expected to be a clear out of Rishi Sunak and his supporters after a bitter blue-on-blue campaign in which he seems almost certain to be defeated.
Into the political wilderness too will go Michael Gove, after serving under the three previous PMs. Dominic Raab, the First Secretary of State, and Boris Johnson himself, are expected to return to the backbenches. Both have question marks over whether they can hold on to their seats at the next election.
I think she did the right thing. We'd seen enough of all of them over the past three years and, in Gove's case, much longer than that.
They would not have been friendly:
Other backbench Conservative MPs were unfriendly, too:
Rishi was unaccustomed to being on the backbenches, and his first opportunity to participate in a debate came that Tuesday afternoon. Guido Fawkes reported:
Backbencher Rishi Sunak making a debate intervention today on "unavoidably small hospitals":
Thank you for accommodating me at a late stage in this debate. I hadn't planned on speaking but this morning I saw the order paper and it turns out I had more time on my hands than I anticipated.
Tuesday's Mail pointed out the Conservatives have had three women PMs. Labour have had none, not even a female Party leader:
We were also entering a new generation of PMs who were younger than we:
Liz's supporters in the media were hopeful:
James Johnson's Politico article said:
The main qualities the public look for from their leaders in the 2020s are honesty, strength and authenticity. It will require care and calibration, but Truss has a path to come closer to these than Starmer.
If she stands in Downing Street on Tuesday and levels with the public about the challenge ahead and tells them to judge her on results in two years' time she will not only create a reputational shield for herself but also have the opportunity to make a novel mark on the public — many of whom will be tuning into her for the first time — as someone who gives it to them straight.
Some have suggested that her more libertarian instincts and views, such as decrying a focus on redistribution, make her unelectable. But voters, especially those new Tory converts in the Red Wall, value consistency — a quality they feel is so lacking in modern politicians — as much as an individual policy position. Focus group attendees praise Thatcher and Blair when asked if there are any politicians they admire not because they agreed with them on everything, but because they felt they held beliefs and stuck with them.
One of Truss' biggest applause lines in one of the early debates was that she is not the slickest media performer, but she gets things done. If she successfully harnesses that sentiment, the ideological gap between her and the public on specific issues or an awkward communication style may matter less …
It could all come undone, of course. Moments in the summer would have been similarly disastrous for Truss in a live election campaign environment. The calibre of her team will be crucial …
There is a pathway for the Conservative Party. If followed, the optimistic scenario for Liz Truss is underpriced.
Like the aforementioned Janet Daley, James Johnson underestimated the opposition on the Conservative backbenches.
After flying back from Aberdeen, the closest airport to Balmoral, Liz gave her first address as Prime Minister. Heavy downpours punctuated the afternoon. The weather, combined with London's rush hour traffic, delayed her. The rain let up long enough for her to give her speech, in which she borrowed a line from Churchill, 'Action this day'. Her husband, Hugh O'Leary, stood on the sidelines:
Liz's first call to a foreign leader was to Volodymyr Zelenskyy to reassure him that the UK would continue to support Ukraine:
One of her economic advisers, Gerard Lyons, was confident that a low-tax economic plan would help to stave off recession:
The cost of living crisis made Wednesday's papers, September 7. These front pages show Liz's husband:
The Telegraph borrowed words from her speech, 'We can ride out the storm':
Wednesday saw Liz's first Prime Minister's Questions (PMQs). This is the full half hour:
She managed to lob a few witty grenades Keir Starmer's way.
To roars of applause from Conservatives, Liz pointed out that there is nothing new about a Labour leader wanting tax rises:
Guido noted that the comment painted Starmer the same colour as his predecessor, the very left-wing Jeremy Corbyn (emphases his):
It only took a free marketeer PM to bring out Starmer's inner Corbynite…
Directing her aim at both Starmer and Corbyn, she asked aloud why Labour can't find a leader who lives outside of north London, home of the metropolitan elite. She also wondered why there had been no female Labour Party leaders (video):
After PMQs ended, Guido said that Liz's Cabinet was more diverse than Labour's shadow team, although you cannot see that in the photo that he posted. He calculated:
… up to seven BAME members: 23% of the total. 
By Guido's reckoning, Labour's shadow cabinet has six ethnic minority members, or a mere 20%.
Meanwhile, Labour continue thrashing the Tories on gender and state school educations. All completely irrelevant, but nonetheless, interesting to note …
That evening, The Telegraph analysed Liz's first full day as PM.
Madeline Grant provided a sketch of PMQs:
Therese Coffey, radiating gung-ho enthusiasm, looked ready to crack out another celebratory cigar. A dazed Suella Braverman wandered into the Chamber via the Westminster Hall route used by most MPs, then remembered she is Home Secretary now and hot-footed it to the "VIP entrance" at the back.
Notable by their absence were Rishi Sunak, and, predictably, Boris Johnson, though Sajid Javid was there …
A huge roar enveloped Liz Truss as she sashayed in, looking sleek in a blue pantsuit – shades of Keeley Hawes in the Bodyguard. The Tory troops, clearly desperate for things to go well, cheered raucously no matter what she said or did. Yet again beating Labour in the identity politics stakes seemed to have sparked particular joy. When Sir Keir Starmer congratulated Truss on her appointment, a Tory backbencher snarled "3-nil!". James Cleverly, the Foreign Secretary, brandished three fingers and jabbed them in the air.
Theresa May also congratulated Truss on becoming Britain's third female prime minister. "Why does she think it is that all three female prime ministers have been Conservative?", she asked. Truss positively beamed at her. "I look forward to calling on her advice," she said. (Oh no).
"There does seem to be an extraordinary inability of the Labour Party to find a female leader," continued Truss, "or indeed a leader who doesn't come from north London." The Tory hordes roared at this, and even Starmer repressed a chuckle.
Her presentation was as wooden as ever:
But her replies were assured, refreshingly direct. There were even a few one-word answers – no to a windfall tax, for instance – a quasi-mythical event in Westminster. It was almost as if the sphinx was at the despatch box. All of this seemed to flummox Keir Starmer, who is more used to spending PMQs trying to prise answers out of Boris Johnson – occasionally wincing as if pulling out his own teeth with a pair of rusty pliers.
Truss's true-blue rhetoric seemed to bring out Starmer's inner Corbyn too. He railed against "excess profits" with the wild-eyed conviction of a politburo member sounding off about Kulaks. "Same old Tories… There is nothing new about the Tory fantasy of trickle-down economics", he scoffed.
The Times's Quentin Letts noted Liz's calm demeanour:
The Tory benches mooed when they saw her but once Truss started answering questions, the composure was striking. Most of all it was the slower pace that one noticed, and the evaporation of most of the performance-venom that tarnished the late Johnson era. Where Boris used to gabble, Truss spoke slowly. The voice, which seems to emanate from near the tip of her nose, was clear. It may pink a little, like a novice musician's recorder, but it is strong enough to cut through a full Commons …
Truss referred to "my chancellor" and "my new health secretary". She was asserting her power. There wasn't a quiver visible in her fingers and she maintained a consistent tempo, andante rather than allegretto. Talking slowly makes you sound more authoritative and means you need not say so much. Helen Hayes (Lab, Dulwich & West Norwood) essayed a zinger. Would the government's response to some report be published by the end of the year? "Yes," said Truss, and she slowly, serenely resumed her seat, suffused with calmness. One should not over-interpret this performance. PMQs debuts usually go well. But the story is not quite conforming to the catastrophists' narrative.
Returning to The Telegraph's articles, Daniel Martin told us that Liz wanted proper dress in Downing Street:
The Prime Minister has made it clear she wants to re-introduce a dress code, with officials told to wear shirts and ties as part of a new, more formal style of government …
One government source said Ms Truss had made her views plain when she arrived back to Admiralty House from her victory party in the City of London, the night before she became Prime Minister.
The source said: "This is all born from Liz coming back from winning and telling the staff in Admiralty House that ties were back."
We also found out that she wanted a leaner operation:
Ms Truss has also ordered a wider operational shake-up at Downing Street, including a new economic unit whose role is to help her take on "Treasury orthodoxy".
She has brought in Matthew Sinclair, the former director of the TaxPayers' Alliance, as her chief economic adviser …
In a bid to strengthen the relationship between Ms Truss and her most important ministers, new offices are being created in Downing Street for both Wendy Morton, the new chief whip, and Thérèse Coffey, the Deputy Prime Minister.
An aide told The Spectator: "We've blown up the No 10 floor plan", saying the idea is to create a leaner, nimbler operation.
Allister Heath was fully behind Liz and her plans:
I'm optimistic about the Truss Government. Yes, of course, nobody can possibly know how well it will do – whether it will outwit the Blob to push through genuine improvements. But it is absurd to state, almost as self-evident fact, that it is bound to collapse, that it cannot last even two years, based in part on an insulting dismissal of the credibility and intellect of all of the members of the new Government.
It is astonishing that pundits with no understanding of economics dismiss the Prime Minister's ability in this area: she actually worked as an economist for Shell (ideal in the current climate) and as an economic director for Cable and Wireless. The first accountant ever in No 10 – she holds the qualification from the Chartered Institute of Management Accountants – she is more financially literate and comfortable with complex policy matters than almost all of those who patronise her. The fact that she is reflexively written off as lightweight, a dilettante even, is more a reflection of the bizarrely misogynistic and classist minds of some of her more extreme critics than of any objective reality.
Kwasi Kwarteng, the Chancellor, holds a PhD in economic history from Cambridge, perhaps the ideal qualification for the moment; his War and Gold and Ghosts of Empire remain timely. Thérèse Coffey, Truss's deputy, is another PhD: in her case, in chemistry, showing how much more intelligent she is than the ignoramuses who hate her.
Suella Braverman, the Home Secretary, is an extremely competent, bright and personable lawyer who drives the Left crazy. Kemi Badenoch holds degrees in engineering and law, and is fiendishly clever. Jacob Rees-Mogg, with his background in finance, is the perfect pick for Business (and Energy), given the technical and intellectual complexity of his mission. Kit Malthouse, the Education Secretary, another accountant, has experience running a medium-sized business; Chris Philp, the Chief Secretary, has a degree in physics.
The list goes on. Of course, some ministers are weaker than others, but the average quality is a great improvement on many past governments. Matthew Sinclair, one of Truss's advisers, is the best free-market economist of his generation in Britain today.
The paradox is that it is a policy that I'm uncomfortable with that is likely to send the Government's poll ratings surging, discrediting its Leftist critics. Truss's energy plan is rightly a big bazooka; it is regrettable that, for a variety of practical and political reasons, she appears to have decided to freeze all energy bills, rather than to opt for targeted subsidies to small firms and the bottom half of earners. The Government's bill will be at least 5 per cent of GDP, with enormous potential liabilities. This is the biggest welfare programme in British history, one that helps the well-off as much as the needy.
But we are where we are. The Government felt that an alternative, non-universal plan could not be targeted correctly, that the cliff-edge from means testing would be too extreme, that the public's allergy to high prices had become too toxic. Truss feared she would be destroyed on arrival if she didn't go for broke. Her gambit is that the scale of this intervention will cripple the Left: it's a statist umbrella protecting her free-market reforms …
Our new Prime Minister likes economic growth, not merely because she values material prosperity, but because she buys into the very idea of progress, of improvement. Boris Johnson agreed in theory, but didn't understand what to do. Unlike Theresa May, Truss is inherently anti-Malthusian: her Chancellor talks of growing the economy, rather than arguing about how to redistribute a stagnant pie, the vanishing "proceeds of growth" taken for granted by David Cameron.
Yes, Truss will address our immediate crisis via costly, short-term policies. But she's deadly serious about principled long-term measures to accelerate the economy by boosting energy output, housebuilding, private investment, scientific innovation and entrepreneurship. It will be tough, but the Twitter Lefties are entirely wrong to be betting so emphatically against her.
The Telegraph's main editorial compared her to Margaret Thatcher:
Opinion polls indicate that Labour's windfall levy is popular, but Ms Truss is right to identify the flaws in this approach. Her declaration that we cannot tax our way to higher growth could have been uttered by the first woman prime minister 30 years ago.
Balancing short-term expediency with long-term economic requirements will require skill and determination. Ms Truss has set out her position and is clearly intent on sticking to her guns, even if the polls are tempting her to abandon them. It was an encouraging start.
The Mail provided us with short takes from the more left-of-centre broadcasters, who also thought Liz did a great job at PMQs. These were not her natural allies.
The BBC's Chris Mason noted:
As Prime Minister's Questions finished, there appeared to be a warm, one-on-one brief chat between Liz Truss and Keir Starmer.
I think Starmer said "well done" to his opponent: all party leaders regularly acknowledge that PMQs is a tough gig …
It felt less personal, much less theatrical and more ideological …
TalkTV's Tom Newton Dunn said:
Liz Truss is not a legendary orator, and some Tory MPs lived in terror at the thought of her robotic despatch box style.
But that was a very strong debut …
The Mail had several more comments, so I will end with this one from the i newspaper's Richard Vaughan:
If Liz Truss's aim for her first PMQs was to kill the usual heat and rancour in the Commons chamber, then she succeeded. It was a solid, no-frills performance.
… Ms Truss's arrival onto the front bench was greeted with cheers, but it was by no means a deafening welcome by backbenchers to their new leader – perhaps a portent of things to come.
On the evidence of her no-nonsense opening appearance in her new role, they would be wise not to underestimate her. Her next trick will be to try and inspire those on the benches behind her.
Aye, there's the rub.
To be continued tomorrow.