You are currently browsing the daily archive for November 25, 2022.
My most recent post on Liz Truss left off with the beginning of the end in her final week as Conservative Party leader.
Friday, October 14
Her sacking of Kwasi Kwarteng and installation of Jeremy Hunt as Chancellor on Friday, October 14, meant only one thing — her end was nigh:
Liz Truss's first Chancellor Kwasi Kwarteng: what he expected, what he got instead (October 13, 14)
Liz Truss and Kwasi Kwarteng illustrate that one DAY is a long time in politics (October 13, 14)
The Times's headline on the morning of the 14th said that Conservative MPs were already plotting to install Rishi Sunak and Penny Mordaunt in Truss's place. One of them would be Prime Minister and the other would be Chancellor or Foreign Secretary:
The article also said (purple emphases mine):
Truss and Kwasi Kwarteng, the chancellor, are expected within days to make a humiliating climbdown over corporation tax in an effort to calm the markets and see off a mounting revolt.
Indeed, that is what Truss announced at her disastrous press conference that afternoon. By then, Jeremy Hunt was already Chancellor:
It was hard to believe, especially as Ireland's corporation tax is half that: 12.5%. What is to stop businesses in Northern Ireland from moving south of the border?
Liz prefaced the announcement with:
This is difficult.
Guido Fawkes has the video and another quote preceding her announcement about corporation tax:
It is clear that parts of our mini-Budget went further and faster than markets were expecting… so the way we are delivering has to change…
He concluded (emphases his):
The mother of all U-turns…
Later in the afternoon, Wendy Morton, the Chief Whip, summoned Conservative MPs to an online call with the Deputy Prime Minister Thérèse Coffey.
One hundred of them dialled in. Coffey allegedly kept staring at her notes:
Saturday, October 15
Saturday's papers were scathing.
The Daily Mail asked, 'How much more can she (and the rest of us) take?'
The i paper led with 'Tory MPs tell Truss: "It's over"':
The Telegraph's Tom Harris wrote about the symbiotic relationship between the Prime Minister and the Chancellor from Margaret Thatcher's time to Truss's.
When that relationship goes wrong in a big way, it's nearly always bad news for the PM, although there are exceptions:
When a prime minister loses a long-serving chancellor and ally – as Margaret Thatcher did when Nigel Lawson walked out of her government in 1989 – the political ramifications are enormous. In Thatcher's case, that event signalled the beginning of her long defeat. When a prime minister loses a friend too, it becomes, as Liz Truss stated in her press conference, "not an easy" personal moment. 
Their closeness also makes it impossible for Truss to distance herself from the mess left at the Treasury. It is not clear which policy Kwarteng implemented that the prime minister was so unhappy with that she had to fire him. In 1989, Lawson resigned over his objection to the prime minister's reliance on her economic adviser, Sir Alan Walters, but there were already disagreements between Numbers 10 and 11 over whether Britain should join the European Exchange Rate Mechanism. 
[John Major's Norman] Lamont was fired over his handling of Britain's departure from the same institution. Javid resigned over personnel issues. Rishi Sunak's reasons for resigning were similar, though in his case the personnel issue involved the then prime minister himself.
In Jeremy Hunt, Liz Truss might be given a chance to form the kind of reassuring, mutually supportive – and, crucially, stable – relationship with her chancellor that good government demands. It would be foolish, however, to assume that when such a relationship breaks down, it is always the chancellor who is next to go.
The Telegraph's Camilla Tominey looked at the backbench Conservative MPs, wondering how Conservative they actually were. I was glad to see that she mentioned Alicia Kearns, who does not seem very Conservative to me.
Tominey's article shows that a significant number of Conservative backbenchers do not hold traditional Conservative Party values:
Never underestimate the Conservative Party's unparalleled ability to turn the gun on itself when coming under enemy fire. As the pot shots continued to rain thick and fast on Liz Truss's troubled premiership, what did the Tories decide to do? With Labour's help, they elected Alicia Kearns as chair of the Foreign Affairs Select Committee.
For those unfamiliar with Ms Kearns, she is the former Amnesty International activist who led the so-called "Pork Pie Plot" to oust Boris Johnson over partygate. Despite having been an MP for all of five minutes, the 34-year-old, who won the safe seat of Rutland and Melton in 2019 (hence the pork pie theme) decided that the Conservatives' wisest move was to remove the man who secured the party's biggest election win since 1987. Well, dip me in jellied pork stock and cover me in hot-crust pastry, that went swimmingly!
Having declared last year that she came into Parliament with "one legislative change I wanted to deliver, which was to ban conversion therapy", inexperienced Kearns now occupies one of the most influential posts in the House of Commons.
Her first intervention? Following hot on the heels of her fellow chair, Mel Stride, of outspoken Treasury select committee fame, she used a radio interview on Thursday night to urge the Prime Minister to reverse the tax-cutting measures in the mini-Budget.
I've got nothing personally against Ms Kearns – she is clearly a thoughtful and intelligent woman. But if she isn't for cutting tax, then what on earth is she doing in the Tory party, let alone now apparently in the running to enter a future Conservative Cabinet?
One former minister was this week quoted as saying: "Everything [the Government] are doing is everything that I don't believe in." Why, then, is that senior politician – apparently so opposed to spending controls and economic growth – not currently residing on Sir Keir Starmer's shadow front bench or drinking Remaineraid with Sir Ed Davey?
As former Brexit negotiator Lord Frost put it on Thursday: "There are too many … social democrats operating under Conservative cover."
It is one thing to be a broad church, but the Tories are currently taking on the mantle of a Blue Labour cult.
Not only are many of them perfectly comfortable with taxing people more, despite the tax burden being at its highest in 70 years, but they are also apparently as opposed to fracking as Ed Miliband. They seem to love the status quo and appear happy to watch Britain slowly sink into decline – along with their own party.
Tominey says that Liz Truss's platform was clasically Conservative, and so was the one upon which Alicia Kearns was elected.
These are the MPs who will determine the outcome of Brexit and the next election. Both are in peril.
Tominey rightly lays the blame at the feet of former PM David Cameron, a wet who wanted a different type of Conservative MP:
David Cameron's decision to introduce open primaries in the late 2000s, which saw wannabe MPs selected by non-members as well as members, was perhaps the most obvious mistake. The Conservatives ended up with "yellow" Tories in its ranks, such as Sarah Wollaston, who later defected to the Liberal Democrats.
Funnily enough, Sarah Wollaston is no longer an MP. Others like her, most of whom had the whip removed, were defeated or chose not to run in 2019.
This is the issue:
But more broadly, by inviting people with no background in Conservative politics to stand for Parliament, they ended up with people with no Tory backbone either. Holding successive snap elections only made the selection process less rigorous and open to people high on ambition and low on ideology.
This is a problem for the next general election. GEs depend upon local activists — party members — who are willing to canvass door-to-door:
We now have the Sunak squadders, calling for people to keep less of their wages, for businesses to pay more in corporation tax and for benefits to be linked to inflation, Corbyn-style …
Conservatives have become so detached from reality that they actually believe this will help them to win the next general election – even though it promises to prompt a mass walkout by the very grass-roots activists they rely on to run a campaign.
However, Tominey says that Rishi Sunak's coronavirus handouts have also altered the public perception of the role of the state. We can but see how this will play in 2024 or early 2025 when the next GE comes along.
Monday, October 17
On Monday, October 17, Leader of the House Penny Mordaunt had to stand in for Truss during a debate. Opposition MPs accused Truss of hiding under a desk.
Mordaunt had to deny that more than once, saying that Truss had a 'very genuine reason' for not being present.
I don't often feel sorry for Penny Mordaunt, but I did that day:
However, one Labour MP, Andrew Gwynne, tweeted that Liz Truss was the victim of a 'coup' — his word — and that Jeremy Hunt was the acting PM: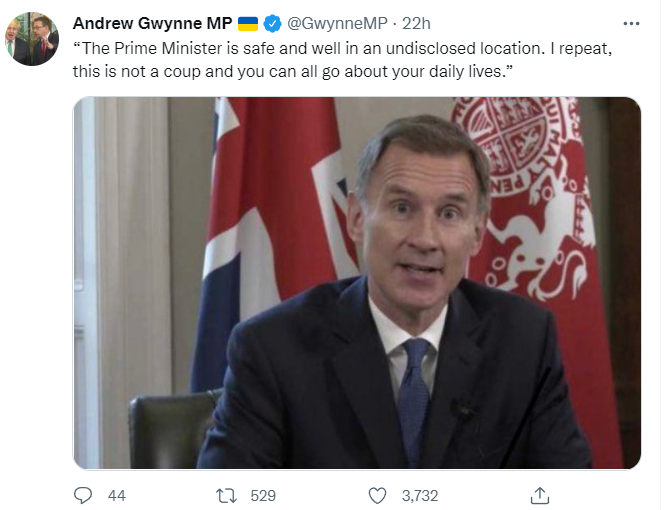 On Tuesday, October 18, The Times explained why Truss did not turn up at the despatch box the day before:
For much of the day Truss was conspicuous by her absence. She refused to respond to a question by Sir Keir Starmer in the Commons, prompting accusations from Labour that she was "frit". Penny Mordaunt, the leader of the Commons, answered questions in her stead. She said that the prime minister had "a very good reason" for her absence but refused to explain further, prompting misplaced speculation that Truss had resigned.
That reason for her absence turned out to be a meeting with Sir Graham Brady, the chairman of the backbench 1922 Committee. Sources said that the meeting was routine and had been arranged before Kwarteng's dismissal. But the issue of her leadership, and a potential revolt by Tory MPs, was said to have been discussed.
One source on the committee said there were a "number of views" on the way ahead but that there were concerns that an immediate move to defenestrate the prime minister could further destabilise the markets.
"The question is whether it is more damaging to create further uncertainty by getting rid of the prime minister when the chancellor [Hunt] appears to have settled the markets," said an MP on the committee.
Some Tory MPs believe that with the unravelling of her tax-cutting agenda and signature energy policy she is finished politically. Sir Charles Walker became the fifth Conservative MP to publicly call for her to go, saying her position was "untenable".
A senior Conservative source added: "It's the biggest unforced humiliation for a British government since Suez. Eden did the decent thing and resigned."
"The trouble is there is no consensus for who should replace her," said one former backer of Rishi Sunak. "And the last thing we need now is to be seen to be causing more uncertainty on the financial markets."
Monday night was grim.
On the subject of a coup, Nigel Farage agreed that Jeremy Hunt was in charge, and that this was a 'globalist coup':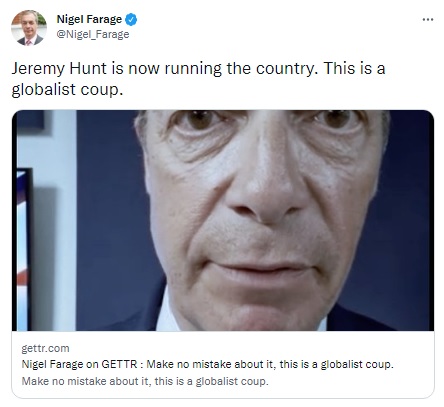 On his GB News show that night, Dan Wootton also said that there had been a coup. He agreed that the unpopular Hunt was in charge and that no one liked him, except for the Establishment. He said that if the Conservatives allowed this to continue, then they deserve to lose the next GE:

Truss surfaced to give an interview to the BBC's Chris Mason, wherein she apologised for the mini-budget. She said:
First of all, I do want to accept responsibility and say sorry for the mistakes that have been made. I wanted to act, to help people with their energy bills, to deal with the issue of high taxes, but we went too far and too fast. I have acknowledged that.
Tuesday, October 18
Tuesday's headlines were deeply discouraging for her. Nearly all had photos of her alongside Hunt:
The new biography of Truss, Out of the Blue, was not even ready for publication. Someone photoshopped the cover with a remainder sticker on it, saying, 'Reduced for quick sale — please just take it':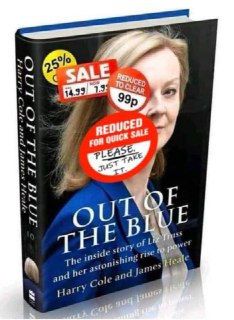 The Sun's political editor, Harry Cole, one of the book's co-authors, posted an article about the MPs plotting against her:
TORY plotters dubbed the "Balti Bandits" carved up Liz Truss's future last night over a korma and bhuna feast, The Sun reveals.
Leading rebel Mel Stride hosted more than a dozen "miserable" Conservative MPs in his large House of Commons office for an Indian takeaway – with the PM's fate also on the table.
Ex-Ministers John Glen, Nick Gibb, Mark Garnier and Shailesh Vara tucked into "lashings of curry and naan" ordered in by Mr Stride, alongside outspoken backbencher Simon Hoare. 
2019 intake MPs Angela Richardson and Simon Baynes were also said to have joined the "poppadum plot" – but sources say the meeting ended with "no credible solution" to their woes …
Contenders include ex-Chancellor Rishi Sunak, Defence Secretary Ben Wallace, new Chancellor Jeremy Hunt and Commons Leader Penny Mordaunt – but given the party is deeply split, the plotters admitted the chances of a rapid "coronation" of a new PM were "almost zero."
One attendee told The Sun: "the vast majority of attendees were Rishi Sunak supporters, but there were Penny people too. It was not a Rishi thing." 
On Tuesday evening, Truss had another group angry with her — her own supporters in the European Research Group, the pro-Brexit group of backbench Conservative MPs.
The Telegraph's Tim Stanley wrote about it, as he was there in the corridor for Truss's meeting with them:
Liz Truss launched her fightback at 6pm in Committee Room 11. The meeting was actually set for 5pm; Commons voting ran late so Mark Francois advised us hacks to go away and come back later, but I hung around on the suspicion that the moment we left, Liz would slip out of her hiding place in the roof of the lift and jog, unseen, into the Room …
These are the true believers: if they're angry at Liz for anything, it's for not keeping the mini-Budget …
What we saw of her on TV on Monday night, interviewed by Chris Mason, did not spark confidence as she uttered that dread word "sorry", thus accepting personal responsibility for blunders past and future. It is the mark of an "honest politician", she said, to admit mistakes. That's true, but it's also a dead giveaway for a not-very-good one, trying to turn a repeated error into a display of moral virtue. As Samuel Johnson might have said, "Honesty is the last refuge of the incompetent".
… She bobbed into view in a dark blue dress and black tights – fresh-faced, one suspects, from a good night's sleep. Instinctively, I stood: she might be a PM, but she's still a lady. I earnt a cheeky nod. Those who can't fathom the rise of Ms Truss haven't met her. She has a way of compromising you, of making you think you're on her side, and it's the most fun side of the room to be on.
The ERG roared as she entered. She entertained them behind a closed door for about 45 minutes. Then she left, followed by Mr Francois who told us it was "a very positive meeting".
The PM evidently spoke about Northern Ireland and her commitment to raising defence spending by the end of the decade, which is ambitious for a woman who could be out of office by Friday. And he noted that David Canzini, the clever political operative, was with her, an eminence so grise, none of us had noticed he'd gone in.
No 10 confirmed it: he was hired as of that morning.
Too little too late. That might have been Canzini's shortest job.
Wednesday, October 19
On Wednesday, October 19, Guido Fawkes posted that the Reform Party — formerly the Brexit Party — was climbing in the polls. The photo shows their chairman, businessman Richard Tice:
Guido's post said, in part:
Guido can reveal that in the 48 hours before close of play yesterday afternoon, the old Brexit Party received almost 1000 new £25 membership sign-ups. That new five-figure cash boost was joined by 300 members registering a new interest in standing as a party candidate at the next election. The first time the Tories dipped below Labour in the polls – September 2021 – Reform saw one in 10 Tory voters switching to them. Can they continue capitalising on Liz's woes? …

It's not just Reform benefitting from the dire state of No. 10. Last night the LibDems revealed five new donors, each giving £50,000 to the party, one of whom is a former Tory donor. While the last 36 hours have been calmer for Truss, it does feel like the ship has sprung one too many leaks to be repaired by a strong PMQs performance…
Wednesday was another fateful day. Home Secretary Suella Braverman resigned, then a confusing scene took place in the voting lobby over a division (vote) on fracking, which resulted in more chaos when it was unclear whether Wendy Morton had resigned as Chief Whip:
Liz Truss's final 24 hours: Suella Braverman's resignation, question over Whips' resignations (October 19)
Truss appointed Grant Shapps, former Transport Secretary, in Braverman's place:
Holy mole, guacamole!
Nigel Farage repeated 'coup' in his tweet about the news:
As with Hunt, Truss had to scrape the barrel.
The Telegraph reported that, like Hunt, Shapps was not a Truss supporter:
It is a remarkable turnaround for Mr Shapps, the transport secretary under Boris Johnson who went on to become a prominent supporter of Ms Truss's leadership rival Rishi Sunak.
Only on Monday night, Mr Shapps was telling a theatre audience that he believed Ms Truss had a "Mount Everest to climb" to remain in power.
"I don't think there's any secret she has a mountain, a Mount Everest to climb," he told Matt Forde's podcast. "What she needs to do is like threading the eye of a needle with the lights off."
Now he is one of her most senior ministers – and another example of the way a weakened Ms Truss is being forced to offer olive branches to the Sunak supporters she had previously shunned.
Not only was Mr Shapps questioning her chances of success until as early as this week – he was working proactively to get rid of her.
Mr Shapps has been viewed in Westminster as one of the leaders of the opposition to Truss's libertarian policies.
He spoke up at the Tory party conference in Birmingham earlier this month against her plans to scrap the 45p rate of income tax, and warned that Ms Truss had "10 days" to turn things around or MPs "might as well roll the dice and elect a new leader".
This is what the aforementioned Camilla Tominey was lamenting in Conservative MPs. Some of the recent ones have no appreciation of or allegiance to Conservative values. Shapps was a Cameronian MP.
The article also discussed Shapps's famous spreadsheets which appear to work as well as the 1922 Committee in making or breaking a Prime Minister:
The veteran MP – known by some as the "Duracell Bunny" for his enthusiasm – is also well-known for his "Star Wars" spreadsheet, with which he has spent the past few weeks recording the views of MPs on Ms Truss and her plans.
Mr Shapps used an earlier version of his famous spreadsheet to lead a rebellion against Theresa May, and also utilised its information to help guide Boris Johnson into Downing Street.
The spreadsheet is said to contain more than 6,000 historical "data points" from previous conversations with MPs.
It was rumoured that he had been in contact with Mr Johnson and Mr Sunak to see if they would join an effort to oust Ms Truss. And some rebel MPs claimed he had even offered himself up as a caretaker prime minister.
Let us not forget that Shapps himself is hardly a paragon of virtue:
… unfortunately for Mr Shapps, some elements of his past may make a shot at No 10 less than likely – not least the Michael Green saga.
This was an alter-ego he employed to enable him to run a series of get-rich-quick schemes on the internet while he was an MP.
Mr Shapps originally denied he had a second job, and threatened legal action against a constituent who said he had. But he was forced to admit practising business under a pseudonym in March 2015.
All this happened while he was Tory chairman, in charge of David Cameron's efforts to win the 2015 election.
He was demoted soon after to aid minister, and resigned from that role after claims he had ignored repeated allegations of bullying involving the Tories' youth organiser. It was said the alleged bullying, which took place on the party's RoadTrip 2015 campaign, may have caused one party member to commit suicide.
On Wednesday evening, Camilla Tominey reprised her warning about un-Conservative MPs and their takeover of the Government. She, too, used the word 'coup':
… the departure of Suella Braverman as home secretary speaks to a bigger problem for Liz Truss than sheer optics.
In sacking two key allies on the Right, only for them to be replaced by opponents more to the Left of the party, the Prime Minister is increasingly looking like the victim of a Conservative coup.
It is certainly ironic that the former home secretary, in post for just 43 days, first used that word to describe those who plotted against Ms Truss's original plan to link benefit to wages rather than inflation. 
With that, and most of her mini-Budget up in flames thanks to a rebellion by the moderates, Jeremy Hunt now appears to be the de facto Prime Minister.
He will now be joined by his fellow Sunakite Grant Shapps, who despite being rejected from Ms Truss's original cabinet, has now been appointed to replace Mrs Braverman at the Home Office.
Braverman, at one point, had headed the aforementioned European Research Group:
… her swift exit from one of the highest posts in public office will anger her European Research Group supporters.
It was only on Tuesday evening that Ms Truss was said to have charmed the backbench group of Eurosceptics with her honest, straight-talking approach.
They are unlikely to take kindly to their former chairman, a darling of the grassroots, being ejected in such unseemly fashion.
Mrs Braverman, a Conservative leadership candidate herself over the summer, received the longest standing ovation at the Tory Party conference two weeks ago.
Fortunately, Rishi Sunak re-appointed Braverman as Home Secretary. He probably realised he had to, in order to keep Party members on side.
Returning to Wednesday, October 19, The Telegraph posted an article stating that Conservative backbenchers were asking Labour for help in ousting Truss. Unbelievable:
Rebel Tories have been asking Labour MPs to help them overthrow Liz Truss, The Telegraph has been told.
Conservative backbenchers are growing increasingly frustrated with the Prime Minister's leadership, but currently lack any mechanisms to remove her given the one-year immunity she has from a no confidence vote.
As things stand, the only way to oust Ms Truss would be to change the rules – which is a decision that only the executive of the 1922 committee of backbenchers can make – or if she resigns of her own volition.
One Labour MP told The Telegraph: "Tories are speaking to us saying 'this is a complete nightmare and there is no way out'. We are being asked 'can't you do something about her?'"
The MP, who said their colleagues have reported similar experiences, said they were approached by one Red Wall MP whose constituency was in the north and another MP who is a member of the One Nation group of moderates …
A Labour source said: "There is very little Labour can do. Even a vote of no confidence doesn't have the constitutional standing that it used to. The Tory party are the ones that elected her, they need to get rid of her."
The paper's Michael Deacon wrote that Conservative MPs were entirely to blame for the mess. Furthermore, he said, they risked angering Party members, the campaigning activists, if they pushed ahead with a rule change saying that the members would no longer be able to vote for future Party leaders. The members elected Truss over Sunak in August:
This week, The Telegraph reported that Tory MPs want to bar members from voting in future leadership elections. Supposedly the reason is to speed up the process of choosing a leader. But this is blatantly a smokescreen. Quite plainly, MPs just want to prevent the members from landing them with another turkey like Truss.
Many members are appalled by this suggestion. And so they should be. Such a plan is not just arrogant and undemocratic, it's delusional. Because party members aren't to blame for the current mess.
Tory MPs are.
After all, who put Truss on the ballot paper in the first place? Tory MPs. No fewer than 113 of them, in fact. A third of the parliamentary party. Out of an initial field of 11 candidates for the leadership, Truss was the MPs' second favourite.
Unlike the MPs, however, the party members weren't allowed to choose between the initial field of 11. If they had been, it's extremely unlikely that they would have chosen Truss. They'd have been far more likely to choose Penny Mordaunt or Kemi Badenoch, to name just two. In fact, if the MPs had deigned to ask them, I suspect that the greatest number of members would have wanted their leader to be Boris Johnson – the person they chose to be leader in the first place.
The truth is, the members voted for Truss simply because they didn't want to vote for Rishi Sunak. In leadership contests, they're only ever given two candidates to choose from. And why? Because Tory MPs don't trust them. They fear that, if presented with a wide-open field, party members will choose the "wrong" candidate. Funny how things turn out.
All things considered, then, it seems clear that, if anyone should be barred from voting in leadership contests, it should be Tory MPs. In future, just leave it to the wiser judgment of the members instead.
That night, The Telegraph posted an article by Lord Frost saying that the Party was moving towards a status quo, if not anti-Brexit, stance, going all the way back to David Cameron's time as Prime Minister, with George Osborne as Chancellor and Philip Hammond in the same post under Theresa May:
… the Government is implementing neither the programme Liz Truss originally advocated nor the 2019 manifesto. It is going in a completely different direction. We are back to Osbornomics, the continuity Hammond view of the world. There is no shred of a mandate for this. It's only happening because the Truss Government messed things up more badly than anyone could have imagined, and enabled a hostile takeover by its opponents …
… the correct account of the past few weeks is the simplest. Truss tried to deliver worthwhile reforms and set the country onto a much-needed new direction. I supported this policy direction and still do. But it was rushed and bungled. The markets were spooked. The mistakes were opportunistically seized on by her opponents to undermine her leadership, to blame Brexit, and to stop the party getting out of the social democratic tractor beam of the past few years. And now, under pressure, the Prime Minister has reversed tack completely.
The risk now is that we lose for a generation the opportunity to do anything better. Every time the PM defends her approach, she denounces the policies on which she was chosen. The danger is that necessary and correct reforms are discredited.
Frost held that Truss was ultimately responsible for her own downfall.
As such, she had to go:
We are where we are. I am very sorry about it, because I had such high hopes. Whatever happens to her ministers or the stability of the Government in the next few days, Truss just can't stay in office for one very obvious reason: she campaigned against the policies she is now implementing. However masterfully she now implements them – and it doesn't seem that it will be very masterfully – it just won't do. She said she wouldn't U-turn, and then she did. Her fate is to be the Henry VI of modern politics – a weak figurehead, unable to control the forces around her, occasionally humiliated, and disposed of when she has become inconvenient. Better to go now.
As for her successor and the Party:
Then the party must do two things: avoid making the economic situation even worse by repeating the policies of the Cameron government in totally different circumstances; and recover some political legitimacy for carrying on – because in our system legitimacy does matter.
Thursday, October 20
After 44 days, Liz Truss resigned as Conservative Party leader on Thursday, October 20.
She served as Prime Minister for 50 days, beating George Canning's record of 118 days. Also a Conservative, he died of tuberculosis in 1827.
She remained PM until Rishi Sunak succeeded her:
Liz Truss's final 24 hours: Suella Braverman's resignation, question over Whips' resignations (October 19)
Liz Truss's final 24 hours: fallout over Braverman and Morton, no tears in exit speech (October 19, 20)
Rishi Sunak becomes Prime Minister: a momentous morning of historic significance (October 24, 25)
How Rishi Sunak won the Conservative Party leadership contest — part 1 (October 20, 21, 25)
How Rishi Sunak won the Conservative Party leadership contest — part 2 (October 21, 26, 27)
How Rishi Sunak won the Conservative Party leadership contest — part 3 (October 22-24, 27, 28)
On Thursday morning, The Telegraph posted a Planet Normal podcast in which Lord Frost said he could see Brexit being reversed:
In the wide-ranging discussion, Lord Frost also said that he could see a future where Brexit is reversed. 
"Brexit was about giving us the power to do things ourselves and to give responsibility back to British ministers, British governments. And they've shown that many of them are not up to the job in the last year or two."
"I can easily see a situation where Keir Starmer gets in. We drift back closer into the single market and go back into the Customs Union. And then everyone says why are we in these things where we don't get a say in them? Wouldn't it be better to be a member? So I can easily see how it could happen. And the way you stop it happening is to prove, while we have the levers of power, that we can do things differently and better. And at the moment we're not making a very good job of that, unfortunately."
Little did Truss know that, the day before, she had stood at the despatch box for her last PMQs:
She resigned early on Thursday afternoon. Thankfully, she didn't cry, unlike Theresa May, who broke down at the podium (Guido has the video):
Sterling began surging the second Truss finished her announcement:
In less than 24 hours, the Conservative Party website deleted her presence from their home page (Guido has the before and after screenshots):
It was a sad ending to a sad episode of British parliamentary history.
Next week, I will look at who, besides Truss herself, was also responsible for it.
Truss is currently spending time in her own constituency and has not yet appeared on the backbenches, an alien place for someone who had been a minister of state for most of her career.