You are currently browsing the daily archive for December 2, 2022.
My most recent post discussed Liz Truss's commitment to libertarianism and the part she played in her own downfall.
At the end, I mused whether she would still be in office were she a man. Having thought about it some more, I do believe that would have been the case. Truss has better morals than Boris Johnson and more integrity than Rishi Sunak. Furthermore, she is far more trustworthy than our de facto Prime Minister, Chancellor Jeremy Hunt. She has flaws. They have flaws.
It is curious that all of them, men, are given a pass. Truss, an honest woman, was not afforded that opportunity.
Let us look at who was out to finish Liz Truss's premiership.
The media
During the summer Conservative Party leadership campaign, most papers — right and left — came out in favour of Rishi Sunak.
Only the Daily Mail and The Telegraph consistently supported Truss. Truss also saw The Sun as a friendly paper, particularly its political editor Harry Cole.
Broadcast media also largely favoured Sunak. Only GB News supported Truss for the most part.
Why that was is unclear.
One could point to Truss's U-turns, evident as soon as the leadership campaign for Party members' votes started, but most of the media — print and broadcast — were already in the tank for Sunak when Conservative MPs were still voting in July.
On November 16, veteran columnist Andrew Gimson wrote about the media outlets covering Parliament, known as the 'lobby': 'Lobby journalism holds power to account. But it's often cruel, trivial — and unfair'.
Guido Fawkes liked what he had to say:
Gimson's article for ConservativeHome discussed the attacks on other Conservative ministers in Rishi Sunak's Cabinet. Suella Braverman, Home Secretary once again, is one of them and Justice Secretary/Deputy Prime Minister Dominic Raab is another.
Gimson says that journalists find their witch hunts as exhiliarating as blood sports (emphases mine):
Hunting is reckoned to improve the health of the fox population.
That is not, however, why people want to hunt them. They yearn to do so because it is a wonderful, exhilarating sport.
Forget for a moment any impulse to moralise. High-minded theories are all very well. Politics as actually practised is a blood sport.
Dominic Raab, Gavin Williamson and Suella Braverman are or were the most recent quarry, closely preceded by Liz Truss and Kwasi Kwarteng, before which a blond beast rampaged across the political landscape for three years with excited members of the Westminster lobby in close pursuit.
Four of the six were hunted down, while Raab and Braverman have so far (with intermissions) survived, but might at any moment find themselves once more in mortal danger.
The lobby is trained and ready at a moment's notice to follow any scent, no matter how faint, rival correspondents for different newspapers acting as a pack of hounds, each leaping at whichever politician is the hunted animal, drawing blood and emboldening the others to fresh frenzies of aggression …
It is impossible, if one is a lobby correspondent at Westminster, to stand aside from the full-blown crisis which rages, and any case, few experiences are more exhilarating than to be in at the death of a Prime Minister.
Every journalist, indeed everyone in the slightest bit interested in politics, will remember the first time he or she witnessed such a drama: in my case I was lucky enough in November 1990 to be in the Press Gallery to watch the fatal resignation speech delivered by Sir Geoffrey Howe, and 19 days later was in the crammed Committee Corridor on the evening it was announced amid almost unbearable excitement that Margaret Thatcher had fallen four votes – four votes! – short of beating Michael Heseltine by the necessary margin in the first round.
Such crises becomes all-consuming. You surrender yourself to the experience, and nothing else seems to matter. If you are a reporter, your news editor and editor demand constant reports from the front, and you want to distinguish yourself by revealing dramatic new charges, whether solid or flimsy, against the embattled minister, rather than just repeating what your rivals have said.
Such work requires the ruthless expertise to spot in an instant the two or three words in some dreary speech or answer which can be held to constitute a new development. The lobby are brilliant at this: they see the new angle, the incriminating admission, where a normal person would notice nothing.
News becomes an artificial commodity, an esoteric language only comprehensible to highly intelligent and practised correspondents, who translate it into the latest thrilling episode of a story which is intelligible to the dimmest of us, for it is as old as history: will the ruler live or die?
This question of life and death simplifies everything, and lends it a personal flavour. Does one like the look of whichever minister is just then being hunted, and hope he or she will get away? Or would one much rather see him or her bumped off?
The tyranny of the story extends to the comment pages. Leading articles and columns are written for or against the hunted person, most likely against, for it is much easier to write a vivid piece denouncing a politician for being disreputable than to compose a vivid defence.
In order to purify public life, the offending minister must be drummed out of it. Nothing which might serve this noble end is too cruel to be said; too piffling to be taken down and repeated.
Let the victim and his or her family cope as best they can. It would be wrong to spare them the full blast of public disgust. We find ourselves in a primitive world where human sacrifice is demanded; not in a rational one where events can be weighed and assigned their due importance, or unimportance …
There is a deep satisfaction to be derived from getting rid of a Prime Minister, so deep that we have in recent years got rid of three. For a short time, very short in the case of Liz Truss, we allow them to triumph, before restoring equality, for which all democracies have a deep yearning, by dragging them down with brutal abruptness to our own level …
What the lobby does, or helps Conservative politicians to do, is the modern version of an ancient and savage tradition. All else is forgotten while the tribe slays its chief.
And no tribe is better at slaying its chiefs than the Conservative Party.
Afterwards, some enemies of the prey express their empathy for the slain, such as Jenny Murray did for Truss on October 27 in The Mail. Murray's headline read 'I never expected to feel sorry for Liz Truss' and, upon closer inspection, she doesn't really feel sorry at all. She uses the piece to lick her own wounds after retiring from the BBC at the age of 70:
I was not sorry to see her go. Her short time in power was a disaster.
I'd known her professionally for a good few years and had often found her a bit weird with her oddly truncated speech patterns, bizarre facial expressions and apparent lack of emotional intelligence. She was no public speaker and I certainly never saw her as Prime Ministerial material.
In that I was right, but despite her self-serving, unapologetic final speech and her typically arrogant and selfish, 'Well at least I've been Prime Minister!' goodbye, I can't help sympathising with what she has to face next.
As an ordinary constituency MP, she'll join what I have dubbed, from bitter personal experience, the 'Once I Was Hot, But Now I'm Not,' club. I know she'll be asking herself, 'Who am I now?'
It's two years since I left the job that defined me for 33 years. I was Jenni Murray, presenter of Radio 4's Woman's Hour.
It had been my greatest ambition since childhood. I'd presented Newsnight and Today, but the moment I heard the announcer first say on Monday, September 14, 1987, 'And now Woman's Hour, with Jenni Murray' remains the most thrilling of my life.
I loved every minute of those 33 years and, unlike Liz Truss, I was not forced out of my position (though even when you leave a top job of your own volition, it doesn't stop others speculating). I made the choice to leave as my 70th birthday came and went.
So, nothing like Liz Truss after all. The rest of Murray's lengthy column is all about herself. Sickening.
On a positive note, I was surprised to read that Andrew Neil, normally a supporter of the status quo, supported Truss and Kwarteng's mini-budget just after it was announced in Parliament:
After 12 years of Tory government we finally get a Tory budget. Yesterday's not-so-mini-budget was a watershed event, taking the country in a new economic direction and creating clear blue water between government and opposition.
The Tory faithful couldn't quite believe it. Labour struggled to grapple with its implications. The political dividing lines will now be starker and fiercer than they've been for a generation.
No more tax rises by stealth (or, more recently, in plain sight). Or endless, futile tinkering with the minutiae of spending and taxation to give voters a false impression of constructive activity. Or the relentless doling out of taxpayers' dosh to whatever fashionable vested interests managed to catch ministers' attention.
Instead, Prime Minister Liz Truss and her Chancellor, Kwasi Kwarteng, junked all of that in favour of one overriding economic priority: higher economic growth. Many of the verities of Britain's economic establishment have been slaughtered in the process …
Scrapping next April's planned rise in corporation tax (on businesses' profits) won't win any popularity contests outside company boardrooms. But an essential part of Britain's post-Brexit future is surely to be a magnet for foreign investment. Whacking up the country's key business tax was a strange way of going about it …
New ways require new justifications. The Treasury estimates that abolishing the 45 per cent top rate of income tax will cost £2 billion a year.
This is a typically static official calculation. If it results in more top earners declaring their income in Britain, then it could soon more than pay for itself.
Ditto bankers' bonuses. The cap is a relic of EU regulation. Banks simply increased pay to compensate for reduced bonuses, thereby making their compensation costs more fixed and less flexible.
Frankfurt, Paris and Amsterdam have tried hard to lure our financial services away from the City since Brexit, with only limited success. Bonuses in those centres are still capped. London now has the advantage.
And, remember, with the new top rate of tax at an internationally competitive 40 per cent, every £1 million banker's bonus is £400,000 more for schools and hospitals …
… for more than a decade now I've watched chancellors take tough, painful decisions on tax and spending based on OBR borrowing forecasts that turned out to be huge over-estimates, so much so that in retrospect neither the tax rises nor spending cuts were necessary.
Indeed, as Truss attempts to take the country in a new, less orthodox direction, I'd argue that it's a blessing that she's been able to do so unencumbered by the OBR's dubious forecasting.
We'll get the OBR's latest workings in two months anyway, when it might have a better idea of what 2023 will look like. Nor are we entirely in the dark. The Treasury says the tax cuts and energy price cap measures will increase borrowing this year from £162 billion to £234 billion — an extra £72 billion.
The IFS thinks we'll still be borrowing £100 billion a year through the middle years of the decade.
These figures have spooked the markets. The pound continued its decline against the dollar after Kwarteng's statement and the yield (or interest rate) on short-term government debt rose to close to 4 per cent, making it a lot more expensive to borrow than only two years ago, when it was 0.4 per cent.
These are real constraints on the Government's ability to borrow even more. A falling pound merely fuels inflation, especially when it comes to imported energy, which is priced in dollars.
Interest rates are already rising. If excessive government borrowing forces them even higher, that will merely choke off the economic growth the Government so desperately seeks.
There's another factor at work here. The global currency and debt markets have had a 'down' on Britain for some time. It's not clear why. Britain's debt-to-GDP ratio is among the lowest in the G7 club of big economies. Our budget deficit is on a par with many other major economies. Economic growth is anaemic — as it is everywhere, from the Eurozone to America to China.
I suspect it's a Brexit hangover. The publications global market players read most closely include the New York Times, the Economist, the Financial Times and leading European papers such as Le Monde and the Frankfurter Allgemeine Zeitung. All — and others like them — have been relentlessly negative about Britain since the 2016 referendum …
It is said she's taking a great gamble. That's true. But sticking with the failed policies of the recent past was probably an even a bigger gamble. The stakes are certainly high.
If by this time next year the economy is still in the doldrums, then it's not just Truss who will be finished. So will any prospect of the Tories winning the next election.
Read it and weep. We are back to square one.
There is much that the media didn't tell us about the global picture of economic pandemonium.
Early in the week following Kwarteng's mini-budget, US mortgage rates went up to 7%:
The EU's average deficit is worse than the UK's: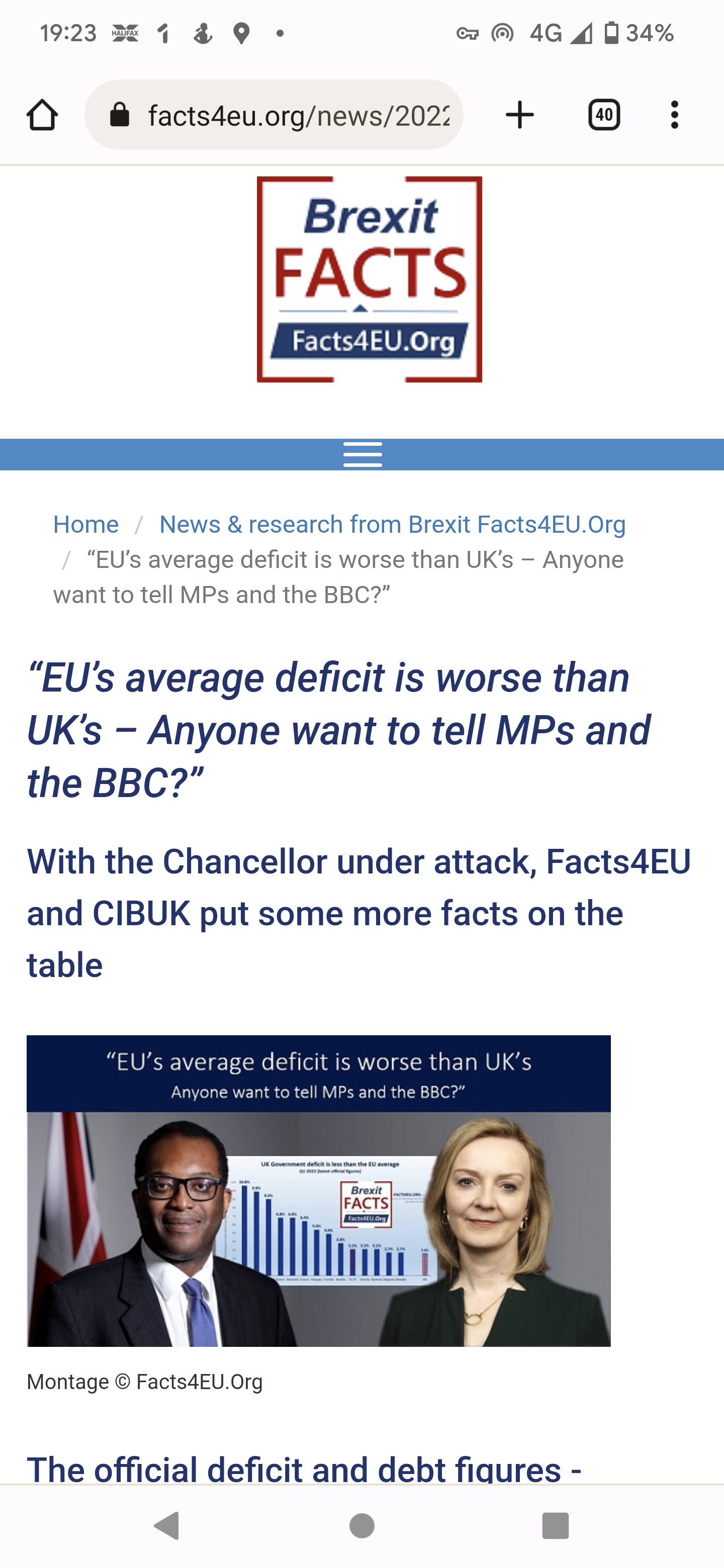 At the end of October, by which time Truss had gone, inflation in the Euro zone increased to 10.7% as growth slowed:
At the beginning of November, a Fed hike caused sterling to trade below £1.13 against the dollar:
And, finally, within three weeks of becoming Prime Minister, Rishi Sunak made new spending commitments, pledging billions to the world. This graphic appeared on November 7: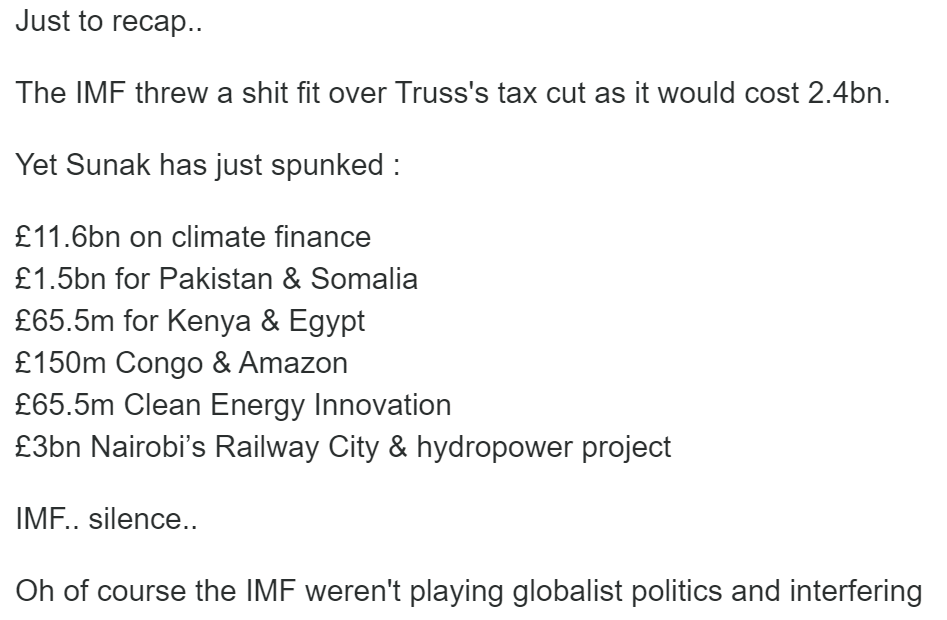 Objection from the media came none.
Conservative MPs
On October 20, in the immediate aftermath of Truss's stoic resignation, The Sun gave us the reaction from three Conservative MPs:
Responding to today's bombshell announcement, former minister and Red Wall poster boy Neil O'Brien tweeted: "The next PM must return to the national conservatism represented by our election winning 2019 manifesto and put us back on the side of normal working people."
If anyone was going to have done that, it would have been Truss, for whom Party members voted in the majority. Sunak and Hunt certainly aren't on the side of 'normal working people': tax 'em until the pips squeak.
Next up was Steve Baker, now an apologetic Northern Ireland Minister:
Brexit hardman Steve Baker urged colleagues that whatever the result, "we must accept and back the new Prime Minister".
Millions of us wish he had shown the same allegiance towards Truss.
The only one to say anything complimentary was Greg Hands, who served as an International Trade Minister:
He said:
A dignified exit as Prime Minister from Liz Truss. A difficult day for the country, the Party and for Liz personally.
She wasn't long as PM, but served at the Cabinet table longer than any of her three predecessors. She has long served the country – and I wish her very well.
At least Truss wasn't removed from the top table Chinese-style:
On October 27, one week after Truss's resignation, The Telegraph's Matthew Lynn said that backbench Conservatives just could not bring themselves to support Truss's economic plan, which Kwasi Kwarteng fronted.
In other words, Conservative MPs shy away from libertarianism, even though I think it would do the UK a lot of good:
The timing, to put it mildly, was unfortunate. It was a difficult transformation to pull off at the best of times, but against the backdrop of rising inflation and an out-of-control dollar, it was doubly difficult. 
Truss's programme did not have the necessary support within the Parliamentary Conservative Party either. Massive opposition from Labour, the Scottish Nationalists, and the Twitter mob was to be expected. 
But very few MPs were willing to support the plan, and without that backing it was always going to be hard to push through. Even before it got on to the genuinely difficult stuff – investment zones, planning reform, the green belt – the opposition was overwhelming. 
The Bank of England
Matthew Lynn points the finger of blame at the Bank of England (BoE):
… the real failure of Trussonmics may well have been the fault of the Bank of England. As Narayana Kocherlakota, a former President of the Minneapolis Fed, and now Professor of Economics at New York's Rochester University, argued in an opinion piece for Bloomberg this week, it was the Bank's failure to support the gilt market that killed the plan. 
"The way the Truss government collapsed should concern all who support democracy," he warned. 
In his Bloomberg article of October 26, Narayana Kocherlakota defended Truss and criticised the BoE:
Markets didn't oust Truss, the Bank of England did — through poor financial regulation and highly subjective crisis management.
… Truss won the leadership of the Conservative Party, which the UK electorate had voted into power, by promising a range of deep tax cuts and government spending increases. Whatever one might think of her policies, they were her mandate. I agree with the many observers who expected them to lead to higher inflation, higher interest rates and quite possibly higher unemployment. But such adverse outcomes take months and years to play out. Her government fell in a matter of weeks. How could this happen?
The common wisdom is that financial markets "punished" Truss's government for its fiscal profligacy. But the chastisement was far from universal. Over the three days starting Sept. 23, when the Truss government announced its mini-budget, the pound fell by 2.2% relative to the euro, and the FTSE 100 stock index declined by 2.2% — notable movements, but hardly enough to bring a government to its knees.
The big change came in the price of 30-year UK government bonds, also known as gilts, which experienced a shocking 23% drop. Most of this decline had nothing to do with rational investors revising their beliefs about the UK's long-run prospects. Rather, it stemmed from financial regulators' failure to limit leverage in UK pension funds. These funds had bought long-term gilts with borrowed money and entered derivative contracts to the same effect — positions that generated huge collateral demands when prices fell and yields rose. To raise the necessary cash, they had to sell more gilts, creating a doom loop in which declining prices and forced selling compounded one another.
The Bank of England, as the entity responsible for overseeing the financial system, bears at least part of the blame for this catastrophe. As a result of its regulatory failure, it was forced into an emergency intervention, buying gilts to put a floor on prices. But it refused to extend its support beyond Oct. 14 — even though its purchases of long-term government bonds were fully indemnified by the Treasury. It's hard to see how that decision aligned with the central bank's financial-stability mandate, and easy to see how it contributed to the government's demise.
The way the Truss government collapsed should concern all who support democracy. The prime minister was seeking to fulfill her campaign promises. She was thwarted not by markets, but by a hole in financial regulation — a hole that the Bank of England proved strangely unwilling to plug.
Two days before Truss resigned, Daniel Lacalle wrote an article for Mises Wire: 'The Bank of England Made Liz Truss a Scapegoat'.
Lacalle points out that economic turmoil was worldwide, something not reported widely in the British media. No surprise there:
I find it astonishing that not one of the so-called experts that have immediately placed the cause of the British market volatility on Liz Truss's budget have said anything about the collapse of the yen and the need for Bank of Japan intervention, which has been ongoing for two weeks.
Why did so many people assume the Truss minibudget was the cause of volatility when the euro, the yen, the Norwegian krone, and most emerging market currencies have suffered a similar or worse depreciation versus the US dollar this year? What about the bond market? This is the worst year since 1931 for bonds all over the world, and the collapse in prices of sovereign and private bonds in developed and emerging market economies is strikingly similar as those of the UK fixed income peers.
He blames British pension funds' liability-driven investing (LDI) strategies on the abuse of quantitative easing (QE) over the years. Who was in charge of that? The BoE.
Lacalle wrote while Truss was still Prime Minister:
British pension funds are not selling sovereign bonds because of lack of trust in this or another government's budget. They are selling negative-yielding sovereign bonds because they jumped wholeheartedly into the debt bubble created by artificially cheap money believing that central banks would keep fixed income prices elevated with constant repurchases.
British pension funds' unfunded liabilities are not a problem caused by the mini budget nor solely a UK problem. It was an enormous problem in 2019–20 disguised by insane currency printing. Unfunded global liabilities for state pension funds in the US were already $783 billion in 2021 and rose to $1.3 trillion in 2022 according to Reason Foundation. The funded ratio of state pensions was just 85 percent in 2021 and has fallen below 75 percent in 2022.
What happened in the years of negative rates and massive currency printing? Pension funds used liability-driven investing (LDI) strategies. Most LDI mandates used derivatives to hedge inflation and interest rate risk. And what happens when inflation kicks in and rates rise? "As interest rates have risen, the notional value of some of the derivatives held in LDI portfolios has fallen. The result: increased collateral calls. The speed at which rates have risen means some pension plans have had to liquidate portfolios to meet collateral calls" according to the Investment Association's latest report in September and Brian Croce at Pensions and Investment.
The total assets in LDI strategies almost quadrupled to £1.6 trillion ($1.8 trillion) in the ten years through 2021. Nearly two-thirds of Britain's defined benefit pension schemes use LDI funds, according to TPR and Reuters. Liz Truss and Kwasi Kwarteng are not to blame for this insanity. The policy of negative real rates and massive liquidity injection of the Bank of England is. Kwarteng and Truss are only to blame for believing that the party of policies of spending and printing defended by almost all mainstream Keynesian economists should work even when the music stopped …
Liz Truss and Kwasi Kwarteng are not to blame for the insanity of the past years or Rishi Sunak's ultra-Keynesian budgets. They are only to blame for believing that another dose of Keynesian deficit insanity would not harm.
Mr. Kwarteng's demise is just a casualty delivered by the modern monetary theory crowd and the monetary laughing gas city to justify that the problem was a ludicrous tax cut not years of currency printing and deficit increases.
What has happened in the UK or Japan is likely to happen soon in the eurozone, which accumulated more than twelve billion euro of negative-yielding bonds in the years of cheap money and reckless stimulus plans.
Liz Truss is not to blame for twenty years of monetary insanity and fiscal irresponsibility. She is to blame for a budget that increases spending without cutting unnecessary expenses.
The irony of it all is that the defenders of monster deficits and borrowing if it comes from bloating the size of government feel vindicated. It was the evil tax cuts!
The political analysis of the mini budget is astonishing. No one in the UK parliament sees any need to cut spending it seems, yet those expenses are consolidated and annualized, which means that any change in the economic cycle leads to larger fiscal imbalances as receipts are cyclical and, with it, more currency printing. The assumption that raising taxes will generate perennial annual increases in receipts no matter what happens to the economic cycle can only be defended by a bureaucrat.
Well, Rishi Sunak and Jeremy Hunt are those bureaucrats.
There are global players in pension fund management, BlackRock being one of them, as The Conservative Woman revealed on October 27:
BlackRock is heavily involved in the charity sector, managing over £4.5billion for more than 3,000 UK charities alone. 'Sustainability', food security and renewable energy rank very highly in their priorities in that sector.
The role of BlackRock in the recent selling off of derivatives by UK pension funds, said to be behind the triggering of a fall in sterling following the ill-fated Kwasi Kwarteng mini-Budget, is an intriguing one. BlackRock executives would defend their actions by stating they were merely protecting clients who were financially overcommitted in that sector and that pension fund managers ought to have known the risks involved in leveraged investment strategies in the first place, and that there is far more to that type of riskier investment than just following trends. Either way the political fallout was profound, triggering a chain of events which led to the fall of Prime Minister Liz Truss. BlackRock executive defends pensions strategy that fuelled UK crisis
Interestingly, Jeremy Hunt has appointed a BlackRock executive who is pro-Net Zero and anti-Brexit as one of his chief advisers:
A business with the financial resources of BlackRock will naturally attract well-connected people to its payroll. People such as Rupert Harrison, chief of staff to Chancellor George Osborne from 2006 to 2015. An opponent of Brexit, he tweeted in July 2017 that 'the rest of Europe is booming and we're not'.
Intriguingly, Harrison is now one of new Chancellor Jeremy Hunt's most senior advisers. On the surface, Hunt seemed to have been parachuted in from nowhere, having failed in two leadership elections and spending more than two years on the back benches, yet from the moment he was appointed he already had a highly expert team, including Harrison, ready to start at once and acting promptly with great self-assurance as though he knew he already had the backing of those who really matter.
However, Conservative Party members are unhappy with Hunt and Sunak's economic policy based on higher taxes, which are, in reality, much higher than they read on paper. This poll is from November 29:
Guido Fawkes wrote (emphases his):
The Tory membership doesn't support their own government's economic policy, according to the latest Conservative Home panel poll. Opposition stands at 48.78% and support at 41.87%. 9.35% don't know. 
It can't come as much surprise. As Rishi's supporters point out, he was warning of the consequences of Liz Truss's policies during the summer contest, and the membership still voted for Liz's low tax package. Support at 41.87 is actually 0.8% lower than Rishi received from the members during the summer…
Let us return to the BoE.
In the December 2022/January 2023 issue of The Critic, Jon Moynihan published 'How the Bank broke the Government', which refers to Narayana Kocherlakota's aforementioned article for Bloomberg and expands on the use of LDIs in pension fund management:
Kocherlakota's view was that the Bank of England was responsible for the crisis, through "poor financial regulation and highly subjective crisis management". Outside the UK chatterati, this view is widely supported.
The beef against the mini-budget was that it spooked the market. But virtually all of the policy announcements made by Kwasi Kwarteng on the day were not new; they had been pledged during the Truss campaign or — in the case of the energy price guarantee — confirmed shortly after her arrival in Downing Street. 
Sure, the mini-budget stated that clarifying how all the spending/lowered tax revenue would be paid for was to be put off until the later financial statement, due some weeks later. But the only new thing was the change to the top rate of income tax from 45 per cent to 40 per cent. 
Given the well-known dynamic impact of lowered tax rates, this change would arguably have been revenue neutral or even beneficial; even without any dynamic benefit, it could have cost at most £2 billion in tax revenue. That is a rounding error compared to the amounts already absorbed by the market and a fraction of the costs Rishi Sunak has accepted at COP 27 — to which the markets have reacted entirely complacently. It is just not credible to blame the mini-budget for the market turmoil.
Moynihan explains more about how LDIs work:
The prime obligation of a pension fund is to match its assets (the money it uses to make payments) to its liabilities (the payments it expects make to its pensioners over the years). For a fund to be as sure as it can that it will be able to pay its future pension liabilities, it buys assets whose coupons and maturity match its (actuarially expected) future pension payments.
So far, all well and good. The problem is with LDI funds. These, like so many pension funds these days, use gilts to accomplish that matching (in a popular meme of the past couple of decades, "gentlemen prefer bonds"). However, in addition the idea has been sold that they can goose up their returns a bit, to compensate for the low yields they are getting on their gilts. 
This little bit of extra profit is accomplished by borrowing some further money, short-term, and with it buying long, higher-yielding assets — either real assets, or derivatives. It's a well-known and always risky bet on interest rate movements; in some markets it's known as the "Carry Trade"; in the Japanese markets it's known as the "Widow Maker". It's entirely inappropriate for "safe" pension funds. 
If rates move against the bet, the bet sours. To cover the risk they are taking, the funds are required to give over their other assets (the gilts) as collateral to the bank that lent them the money. 
When the bet sours, the bank that lent them the money "calls the collateral", selling off the gilts in order to repay the borrowing … a wave of such sales can destabilise the gilts market and create a disorderly environment, as happened in late September 2022.

Some would say that the Bank of England should have known all of this and not allowed such risk to be taken by this huge market in LDI funds. Some would raise an eyebrow at the news that until the middle of 2022, the Bank of England itself held 100 per cent of its £5 billion pension fund in just one single LDI Fund, and therefore blithely seemed to believe it was OK for such risks to be taken (their 100 per cent recently was reduced to a scarcely less concerning 82 per cent).
For whatever reason, the Bank and other regulators did allow LDI funds to become more and more the fashion … The total value of liabilities hedged with LDI strategies was $1.8 trillion in 2021, around half of the total of LDI funds in the world, a sure sign that the Bank Of England had been far too lenient in allowing LDIs to flourish in the UK. That is Strike One.

Why then did the LDI funds start collapsing specifically in late September? It starts with the rapid appearance this year of inflation, caused in no small part — as the Bank has finally admitted — by the bank's excessive growth of the money supply in recent years. As inflation consequently shot up, so, all year, did gilt yields rise, putting increasing pressure on those rickety LDI funds. That is Strike Two against the BoE for its role in worsening inflation in the UK, leading to this instability.
Two days before Kwarteng delivered his mini-budget, Saxo Bank and Deutsche Bank correctly predicted a fall in sterling.
Saxo predicted:
"If the BoE fails to hike 75 basis points, let's shield our eyes for what is going to happen to the pound here." (They were predicting a fall in sterling, which duly happened. Low sterling leads to higher inflation leads to higher gilt yields.) 
Deutsche Bank said that the BoE needed a 'hawkish response'. It never materialised.
In the end:
Both Deutsche and Saxo were right. Only days after the Bank failed to step up to the 75 basis points mark, sterling momentarily dropped to $1.04, just as Deutsche had predicted — yet for reasons that remain to be explained, the drop was blamed on the mini-budget, not on the Bank's failure to sufficiently raise rates. The failure to raise rates enough, two days before the mini-budget, is Strike Three.
In addition, the BoE announced a fortnight-long programme of selling £40 billion of gilts, which ended in mid-October.
In other words, it moved from QE to QT, quantitative tightening.
Reuters noted the BoE was the first central bank to do that, at least in recent years. Bloomberg called the move 'historic' for the same reason:
In 2013, all it had taken was the Fed to announce it was doing less QE — not stopping, just doing less — for the markets to go into a "Taper Tantrum".
Ever since, most central banks have been cautious not to move too fast in shutting down their QE. But not the BoE. Why did it see itself as in a position to be the first in the world to take this very risky step, aware as they were that the mini-budget was about to be announced?
Not surprisingly, the markets responded:
… market participants move fast to get ahead: they quickly sell their own bonds before their value is hammered by the BoE sales. Yields immediately go up and the price of bonds immediately falls. Which is why it was — Strike Four — stupid for the central bank to announce its moves ahead of time: it's like the time that Gordon Brown announced he was selling all our gold, and the price collapsed so he made much less from the sale. But now the LDI pension funds started to get really hammered: as the market moved to dump gilts, the price of gilts fell and fell — this is still before the mini-budget — and collateral calls began to come thick and fast on the LDI funds.
The doom loop began:
And even more collateral calls then came in, and we were in an accelerating doom loop. All this was happening as the mini-budget was announced, and the lazy financial press, not seeing what had happened earlier, blamed the rout in the gilts market on the mini-budget. But it was started by the Bank of England's earlier decision to go full tonto QT. Strike Five.
Cue the headlines that Liz Truss 'crashed the economy', to borrow Labour's words, which they are still using in Parliament:
The Prime Minister is accused the following day of destroying the economy.
The BoE backtracked immediately, announcing it would move from QT back to QE:
The Bank of England, of course, immediately announces that it is not after all going to sell £40 billion of gilts — it is going to buy £60 billion of them — back from QT to QE in a blink of the eye. 
Of course, by then, it was too late for Truss and Kwarteng. Their collective goose was well and truly cooked:
… by now the gods of havoc have been unleashed. Truss's enemies in the Conservative party get to work, using the mini-budget narrative to undo the mini-budget, to oust the Chancellor, and finally to oust the Prime Minister herself. Job Done. 
The BoE defended its actions:
The post-mortem speech by the Bank's director for financial stability, entitled "Risks from leverage: how did a small corner of the financial industry threaten financial stability?" makes for interesting reading; in this telling, the Bank staved off a crisis from what, for anyone, would have been an unexpected direction, dealing more than adequately with the non-bank sector. If anything, the director claims, the UK was ahead of the curve!
As for the current Sunak-Hunt government, Jon Moynihan has also noted the presence of David Cameron's Chancellor and the former BlackRock executive:
George Osborne and Rupert Harrison, late of BlackRock, the UK's second largest provider of LDI funds, are now advising the new government.
Moynihan ends his article by pointing out that the BoE's governor, Andrew Bailey, has the nickname of 'Lullaby' because he tended to doze off during meetings in a prior position:
As head of the Financial Conduct Authority from 2016 to 2020, he saw first-hand the sort of shenanigans firms and funds will get up to if, pressed by smooth talking salesmen, they are given the freedom to act as they will.
It has been alleged that while in that role, Bailey "dozed off" during meetings over a pensions scandal. Now, the organisation he runs is accused of being asleep at the wheel on LDI pension funds, not to mention on inflation, the currency, the stability of markets.
It looks like the BoE's laxity led to the fall of a government:
All that led to the end of a government, in a way that will continue to reverberate, to the detriment of many people's view of democracy in this country, for decades to come.
What the British think
Only last week, on November 23, IPSOS published a poll saying that politicians are the least trustworthy of working Britons. Pictured alongside Rishi is a very young Piers Morgan when he edited The Mirror. Journalists have a trustworthiness rating of 29%, compared to politicians in general at 12%:
Guido has the full chart of occupations participants were asked to rank in order of trustworthiness:
Hardly unsurprisingly, public trust in politicians to tell the truth has fallen to its lowest level ever, according to the latest Ipsos poll. Just 12% of the public now trusts politicians to tell the truth, lower than advertising executives (14%) and government ministers (16%).
Unfortunately for journalists they don't fare much better, at just 29% – one percent above estate agents…
Nurses and doctors ranked the highest at 89% and 85%, respectively.
Television news readers ranked at 58%, above clergy/priests and the man in the street, both of which tied on 55%.
Conclusion
On November 22, roughly one month after Truss resigned, Dan Wootton did a follow up on GB News.
Nigel Farage told him:
Hunt was the coup. Sunak is little more than a puppet.
Wootton also interviewed Ranil Jayawardena, who served as Secretary of State for DEFRA, the Department of Environment, Food and Rural Affairs. He was very gracious and didn't want to get into any controversies. Wootton, who was a big Truss supporter, wanted to know how both of them were faring. He said that they were fine.
I'm including the nine-minute interview here just so you can hear Ranil Jayawardena's voice. He should record audio books in his retirement. Someone in the comments to the video said that he sounds like Boris. He sounds a thousand times better than Boris. This is received pronunciation, rarely heard today in such mellifluous tones:
The Liz Truss saga ends here.
I fear the worst, for the Conservative Party and for the British.
End of series