You are currently browsing the monthly archive for January 2023.
January 31, 2023 marks the third anniversary of Brexit:
As I have written before, those parliamentary debates early in 2020 were splendid. Newly and re-elected Conservative MPs, giving the Government a majority of 80 thanks to Boris Johnson's 2019 'Get Brexit Done' campaign slogan, were full of optimism about how Britain could — and would — be transformed.
Unfortunately, the pandemic put paid to those dreams in mid-March. We couldn't move past it. Even now, we are still suffering financially from the decisions the Government made, forced to do so by Opposition MPs. If Boris had just not given into SAGE, we probably could have stuck to the Swedish policy of no lockdown and minimal restrictions, which would have saved us hundreds of billions of pounds. Then again, Boris got coronavirus and had to be hospitalised for a week in early April. He came back a different man. SAGE were able to exercise power over him.
Even in 2022, once England finally returned to normal, the Government seemed to be treading water. We had three Prime Ministers and four Chancellors of the Exchequer last year. Very little of the optimistic legislation from the 2019 manifesto got started. Instead, Net Zero seemed to take over. It was in the manifesto, but as the final point, not the main one. The Online Safety Bill is a piece of intrusive legislation. The Conservatives are only getting started on pushing legislation through to get rid of thousands of EU laws on our books. Taxes are at a 70-year high. We have tens of thousands of migrants crossing the Channel in small boats. The possibility of any real progress for the Brexit agenda between now and the end of 2024 or January 2025 looks dim.
That said, Guido Fawkes reminds us (emphases his):
… we've signed about 71 new trade deals, led the European response to Putin's war in Ukraine and saved countless British lives with an independent vaccine rollout. And that's without any politicians actually making a concerted effort to capitalise on independence…
Of course, there is always a dismal economic forecast with which to deal. We must remember that Brexit was never about the economy but taking back control of our own national destiny.
Still, here is the latest dismal economic forecast and the danger ahead for Brexit in late 2024 or early 2025:
… even today's IMF report on growth forecasts couldn't bring itself to attribute any faults in the UK economy to our decision to leave the bloc. Now preparations must be made to save Brexit from a Starmer-led Labour government…
Because the IMF is the IMF, its forecasts receive undue attention. It is important to look back on the IMF's track record. They did a terrible job in predicting 2022:
Guido points out:
The 'good' news is the IMF has upped its forecast for 2024, now predicting 0.9% growth from 0.6%. It is also worth bearing in mind the IMF's analysis isn't gospel; it underestimated 2021's growth by 2 points. Chancellor Jeremy Hunt is doing his best to remind everyone of that:
Short-term challenges should not obscure our long-term prospects — the U.K. outperformed many forecasts last year.
A number of these forecasts are shaped to comply with political narratives. One of Guido's readers commented (purple emphases mine):
Rather a lot of years ago, I worked with a fellow who had, in previous employment, worked at the Board of Trade. He told me that every month, their top guy would get together with some other top guy from the Treasury and they would concoct the monthly trade figures to broadcast to the media. T'was all mainly fiction, of course, depending on what political message was required. I doubt if anything much has changed in the intervening years.
Here is another forecast gone wrong: Germany's. Keep in mind that Germany is at the heart of the EU, so we cannot blame Brexit for their woes:
Going back to August 2022, Germany and France joined the UK in having either flat or negative GDP:
Opposition MPs of all flavours, except for Northern Ireland's DUP, tell us that if we were still an EU member country, we wouldn't have inflation.
Yet, on January 26, 2023, Euronews informed us that food prices continue to rise across the EU:
Food prices have continued to rise across Europe despite inflation dropping for a second consecutive month in December, according to data shared on Wednesday by Eurostat, the European statistics agency.
The inflation of food prices in the EU was 18.2 per cent, and 16.2 per cent in the eurozone in December, which is a slight decrease compared to November on average. But some basic food items like sugar, milk cheese and eggs, oils, and fats prices are still going up.
One month earlier, Euronews reported on the plight of French university students who were forced to use food banks:
20% of students in France live below the poverty line. Rising food prices and energy bills soaring are exacerbating their situation. And yet, France gives more financial aid to students than many other European countries …
The government has recently allocated 10 millions euros to support the associations that organise food distributions for students. A consultation between the governement and student unions on the reform of the student grant system is ongoing, but concrete change is not expected anytime soon.
Our Opposition MPs also tell us that if we were still part of the EU, we would not be experiencing the multi-sector strikes that have been plaguing us.
However, let us look at France. Today, January 31, Euronews reported:
A new wave of strikes on Tuesday to protest French government plans to raise the retirement age to 64 has already impacted transport links and electricity production. 
TotalEnegies says between 75% and 100% of workers at its refineries and fuel depots are on strike, while electricity supplier EDF said they're monitoring a drop in power to the national grid equivalent to three nuclear power plants. 
"Following the call for a strike, shipments of products from TotalEnergies sites are interrupted today but TotalEnergies will continue to ensure supplies to its service station network and its customers," the group's management said.
In EDF power stations, strikers reduced loads by "nearly 3,000 MW" on Monday night, but without causing any cuts, the company said.
Hundreds of thousands of workers are expected to take to the streets across France on Tuesday, for a second day of industrial action that unions hope will be even more massive than the first, earlier this month … 
The government had warned in advance of Tuesday's strike about likely disruption to France's transport network. 
In the Paris region the metro and local rail services are "very disrupted" say officials. Long distance TGV train services are also impacted, as are regional trains with intercity services almost at a standstill. 
Rail operator SNCF said only one in three high-speed TGV trains will operate on Tuesday while disruptions are also expected at French airports and on transnational rail services …
French doctors were on an extended strike on January 2: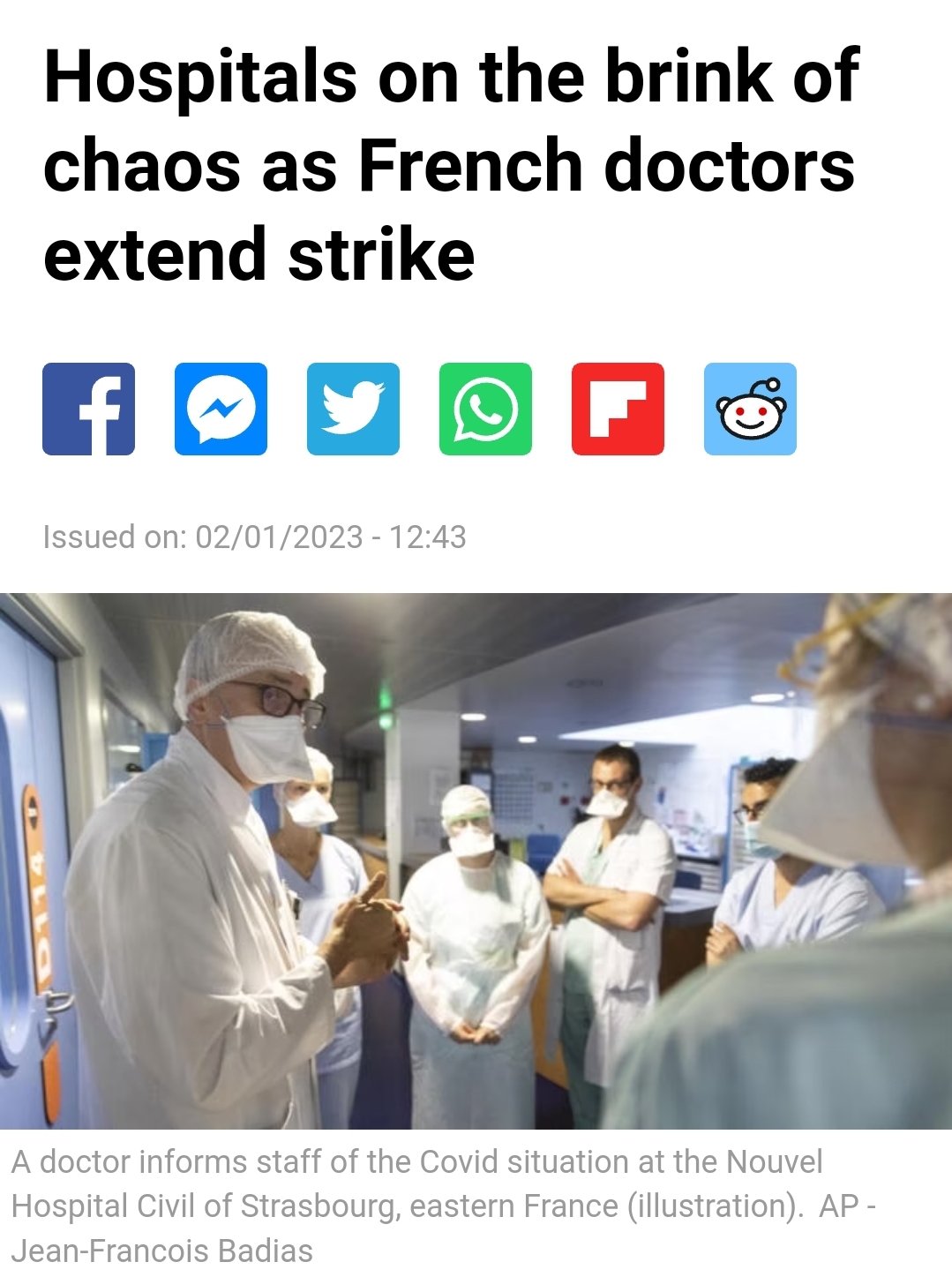 Then there is Ukraine. Nearly a year ago, Remainers told Leavers that Vladimir Putin would use Brexit to his advantage — an entirely erroneous talking point, as Boris was the first Western leader to champion Ukraine. If we had been part of the EU, he would not have been able to do so. By contrast, Germany was buying Russian gas and Italy was sending handbags to Russia:
Then there was the pandemic. In May 2022, the WHO published excess death statistics for 2020 and 2021. The UK had lower excess deaths than Spain, Italy and Germany, although France had fewer excess deaths than we did:
As for migration, France still has as much of a problem as we do, yet our Opposition MPs tell us that if we were still part of the EU, we would not have a Channel crossing issue.
On December 26, 2022, The Times reported that the French government opened the Château de Grignon to house them, which isn't too different to our policy, egregious as it is, of opening hotels to those coming nearly daily across the Channel:
A row has broken out in France over a government decision to shelter homeless families, notably migrants, on the estate of a Renaissance château …
Under a plan to provide shelter for the homeless during the winter, up to 200 people are to be housed in the château estate until March. The first 62, including 37 children, arrived this week.
Officially, they are classified as people of no fixed abode who have been sleeping rough. In practice, most are migrants unable to find shelter upon their arrival in France and often forced to live in squalid, makeshift camps around the Paris ring road.
In conclusion, EU nations share many of the major problems that the UK has.
Brexit has nothing to do with it. In fact, Brexit will probably help us get out of these issues more quickly than EU nations will.
Therefore, Happy Brexit Day! May many more follow!
In the UK, polls have showed that Britons, particularly younger ones, have no intention of working.
The latest Government findings came out on January 22, 2023. The BBC reported (emphases mine):
Most of the 2.7 million "inactive" people under 25 are students, according to the Office for National Statistics (ONS). The majority of them don't want a job.
This was also true in 2021, as CityAM informed us:
Data from the Office for National Statistics shows of the 13m Brits who are not looking for work, over half said they were doing so because they did not want to work.
In 2015, a student posted the following message on The Student Room forum. Granted, she sees the possibility of owning her own small business but only just:
I'm 22 now and it's slowly dawned on me that I have no intention of working/having a career. I find most work boring and I am simply not inspired by the rat race. I think I want to be a small business owner and a stay at home mother.
It seems with feminism most women just aren't looking to go down the 'small job, husband and babies' route anymore. Am I the only one who doesn't want to work…at all ?
Maybe a small online store or something and a husband and kids. Nothing more (?)
Anyone else ?
The benefits balloon stretches back at least to 2013, possibly earlier. On April 24 that year, the Conservative MP Iain Duncan Smith, the then-Secretary of State for Welfare and Pensions said:
Around 1 million people have been stuck on a working-age benefit for at least three out of the past four years, despite being judged capable of preparing or looking for work.
Ten years on, The Spectator reports that real figures show that five million Britons are receiving out-of-work benefits. Their figures have been disputed, but in November 2022, the magazine's editor Fraser Nelson explained how the data were put together. For now, this is the message:
How can 20 per cent of people in our great cities be on benefits at a time of mass migration and record vacancies? It's perhaps the most important question in politics right now, but it's not being given any scrutiny because the real figures lie behind a fog of data …
Every month, an official unemployment figure is put out on a press release – and news organisations are primed to cover it. It's normally about 1.2 million looking for work: the problem, of course, is so few Brits are actually doing so …
The true benefits figure is not to be found on a press release, but buried in a password-protected DWP [Department for Work and Pensions] database with a six-month time lag …
The five million figure 'seems to be incorrect,' Full Fact said in their email to us. 'According to the most recent statistics, there are around 1.5 million people claiming out-of-work benefits.' But the real figure is more than three times higher – but rather than reply to them, I thought I'd write this blog for anyone interested …
DWP data is now on Stat-Xplore, a versatile open data tool. The password bit is deceptive: you can bypass by clicking 'Guest log in' to find an Aladdin's Cave of data. Look at the dataset 'Benefit Combinations – Data from February 2019'. Click Table 5, then click 'Open table' to get the numbers …
Nelson has posted graphs and a map to illustrate his figure of five million.
He concludes:
To fail to match up 1.2 million vacancies with at least some of those on out-of-work benefits is not just an economic failure but a moral one. But to solve a problem, you need to recognise a problem. Officially counting all five million people on out-of-work benefits would be a good way to start.
Living a life of idleness, however, is nothing new.
St Paul grappled with the same problem two millennia ago when he planted a church in Thessalonika (present day Saloniki).
The following passage, 2 Thessalonians 3:6-12, is one example of his command to work:
Warning Against Idleness
6 Now we command you, brothers, in the name of our Lord Jesus Christ, that you keep away from any brother who is walking in idleness and not in accord with the tradition that you received from us. 7 For you yourselves know how you ought to imitate us, because we were not idle when we were with you, 8 nor did we eat anyone's bread without paying for it, but with toil and labour we worked night and day, that we might not be a burden to any of you. 9 It was not because we do not have that right, but to give you in ourselves an example to imitate. 10 For even when we were with you, we would give you this command: If anyone is not willing to work, let him not eat. 11 For we hear that some among you walk in idleness, not busy at work, but busybodies. 12 Now such persons we command and encourage in the Lord Jesus Christ to do their work quietly and to earn their own living.[d]
John MacArthur explains why we must work in 'Work: A Noble Christian Duty, Part 3', from July 19, 1992.
There were reasons why some in the congregation were not prepared to work:
As we have said in the past … they perhaps have been influenced by some of the Jewish background of the scribes who thought that anything other than studying the law was an unworthy way to spend your life.  They surely were affected by the general Greek attitude that work was demeaning and sordid and base and low and belonged only to slaves and not to freemen. 
And they probably had had those predispositions somewhat exaggerated by virtue of the fact that someone had come along and told them that they were already in the day of the Lord and the return of Christ was imminent and there probably wasn't much use in doing anything other than evangelizing and studying the Word of God.  And so they had given themselves to that happily because of their disdain for work anyway.  Problem was, at least long term, if you can call several months long term for the Thessalonians in that Paul had dealt with it when he was there.  Several months later, when he wrote them the first letter, he dealt with it, and here he is writing a second letter and dealing with it a third time.  They didn't want to work.  It was beneath them. 
Homer, the famous Greek writer, had said that the gods hated man.  And the way they demonstrated their hatred was to invent work and punish men by making them work.  This kind of philosophy being existent in that time, it found its way into the lives of those people and thus, when they became converted, it found its way into the church.  Becoming a Christian doesn't change everything immediately.  We will always have residuals of our past, and we will always to one degree or another be affected by our culture.  And so here in this church in which so many good things had happened, a genuine conversion, a genuine godliness, they were not slack in spiritual service, they had a work of faith and a labor of love, and they did it with patience and endurance because they hoped in the return of Christ.  They worked hard at ministry, but they didn't want to do the jobs that they had to do in the world, at least some of them. 
And so Paul was dealing with a church that had its spiritual life on target and was doing well, excelling spiritually, but they had this one problem that dominates the church in terms of its conduct, and that was that there were people there who didn't work.  They then became a burden on everybody else, and it wasn't that they couldn't work, it wasn't that they had a physical disability, it wasn't that there wasn't a job available, they refused to work, seeing it as beneath them or not a priority for those engaged in kingdom enterprises. 
MacArthur cites American statistics on work from 1980 to 1991:
I suppose 25 years ago, a situation like this would have struggled to be relevant in our time then because America was a hard-working country 25 years ago.  In fact, the American work ethic has always been hailed as sort of the supreme work ethic of the industrialized world.  We have always sort of set the pace for productivity and enterprise – up until more recent years, that is.  Last year, Charles Colson and Jack Eckerd, who heads the Eckerd Company, which operates drug stores in other parts of America, they wrote a book and the title of their book is Why America Doesn't Work.  Now, that's really a new thought, a new concept for our culture, for our society.  The subtitle is, "How the decline of the work ethic is hurting your family and future."  The future of America is changing dramatically.  There are other nations that are putting us to shame in terms of work habits and a work ethic. 
In their book, they point out that we have in America declining rates of productivity, the loss of competitive position in some world markets, and workers who aren't working.  And they concluded it is a bleak picture.  And I suppose they ask the right question, the question we would all ask at that point:  What has happened to the industry and productivity that made this country the marvel of the world at one time? …
We have an ethical malaise all the way from the jet set corporate leaders down to the person working at the bench.  The whole concept of work has so dramatically changed, it no longer has a transcendent motive.  There's no longer something beyond me to make me perform at a certain level.  Thus, the meaning of work has been sapped from everybody from the top to the bottom, to some degree.  Obviously, some people still work harder than others. 
A 1980 Gallup Poll conducted for the Chamber of Commerce found that people still believed in work-ethic values, 1980, they still believed.  That's over ten years ago.  Eighty-eight percent said working hard and doing their best on the job was personally important.  But were they doing it?  They said they believed it, it was still sort of in the air in 1980, but were people working hard?  1982 survey came along.  In that survey, it was reported that only 16 percent said they were doing the best job they could at work.  Eighty-four percent admitted they weren't working hard – 84 percent.  So you can see they were still holding on to a residual ethic that didn't translate into how they functioned, which meant that it was somebody else's transcendent value, somebody else's ethical value imposed on them externally but not truly believed. 
Working hard, they said, was important but they weren't doing it, so how important was it?  Eighty-four percent also said they would work harder if they could gain something from it.  And now you can see that the ethic is not transcendent, the ethic is utilitarian.  It's all tied in to what I get out of it, what's in it for me.  And that's part of the cynicism of our society.  That's part of the direct consequence of the 60s' moral revolution, which is a rejection of transcendent values. 
God is not an issue in anything.  He is not an issue in the way I conduct my sexual life, He is not an issue in my marriage, He is not an issue at my job, He is not an issue in education, He is not an issue anywhere.  God is not an issue; therefore, there is no value beyond myself.  So whatever is enough to get me what I want is enough.  It is a kind of societal economic atheism.  In fact, psychologist Robert Bellah calls it radical individualism.  Surveying 200 middle-class Americans, this UCLA professor discovered that people seek personal advancement from work, personal development from marriage, and personal fulfillment from church.  Everything, he says, their perspective on family, church, community, and work is utilitarian.  It is measured by what they can get out of it, and concern for others is only secondary. 
Down to specifics, James Sheehy, an executive with a computer firm in the upper echelons of the work strata, saw first-hand how this kind of utilitarian value was affecting work.  He wanted a better understanding of the expectations and psyche of younger employees.  Looking at what the future held, what kind of people were going to come up in this generation to work in his company?  What would they be like?  So he decided the best way to find out was to spend his vacation taking a job in a fast-food restaurant.  He wrote most of his coworkers were from upper income families, they didn't need to work but they wanted extra spending money.  He watched and listened as his coworkers displayed poor work habits and contempt for customers.  His conclusion was, "We have a new generation of workers whose habits and experiences will plague future employers for years." 
He writes, "Along with their get-away-with-what-you-can attitude and indifference to the quality of performance, their basic work ethic was dominated by a type of gamesmanship that revolved around taking out of the system or milking the place dry.  Theft, skimming, and baiting management were rampant and skill levels surprisingly low.  The workers saw long hours and hard work as counter-productive.  'You only put in time for the big score,' one said."  After recounting his experience, Sheehy concluded, "Get ready, America.  There's more of this to come from the workforce of tomorrow." 
Doesn't sound too good if you happen to be an employer, does it?  A recent Harris Poll showed 63 percent of workers believe people don't work as hard as they used to.  Seventy-eight percent say workers take less pride in their work.  Sixty-nine percent think the workmanship they produce is inferior, and 73 percent believe workers are less motivated and that the whole trend is worsening and the numbers are going up. 
Imagine. If people felt that way in the 1980s, and it is probable that Britons also did at the time, we are now into a second generation of people who don't care about work, with a third generation on the way.
MacArthur says:
The more and more people demand recreation and idle time, the more corrupt they will become.  The two go hand-in-hand.  An escalating pornographic, sinful, wicked culture is sped on, the slide is greased, by a shrinking commitment to work.  And we fill up all that time with things that feed the lust of the eyes, the lust of the flesh, and the pride of life. 
He lays out why work is a God-given command:
Now, our society may not have a choice but they have to accept this, but as Christians, we can't accept this.  The Christian faith does not accept a utilitarian work ethic.  The Christian view of work is transcendent.  That is, it escapes me and my world and directs its attention toward God. 
… First, work is a command from God.  Six days shall you labor.  God commands us to work.  Secondly, work is a model established by God for it was God who worked for six days and then rested on the seventh, and God, of course, is the worker who continually sustains the universe.  Man, being created in the image of God, then, is created as a worker.  Thirdly, work is a part of the creation mandate.  In other words, what I mean by that is it is the role of man.  Stars shine, suns shine, moons shine, on the earth plants grow, animals do what they're supposed to do, rocks do what they're to do, mountains do what they're to do, water does what it's to do, clouds do what they're to do, and we do what we're to do.  As Psalm 104 says, all of creation moves in a normal course and part of it is man rises, goes to work until the setting of the sun.  It is creation mandate.  It is how we contribute to the processes of life in God's wondrous creation. 
Work is a command.  Work is established as a model by God.  Work is part of the natural creation.  Fourthly, work is a gift from God.  It is a gift from God.  It is a gift through which we glorify Him and the wonder of His creation as we produce things, putting on display the genius of God who created us, in all of our abilities.  It is a means by which we can glorify our Creator.  Just as the beast of the field gives me honor, as Isaiah said, and just as the heavens declare the glory of God by what they do, and we sit in awe of them, so man declares the glory of God, the wonder of His creative genius by doing what he has been given the ability to do.  Work is a gift from God, not only to glorify Him but to give meaning to life.  Work is a gift from God to give us something to do, which avoids the idleness that leads to sin …
Work is a gift from God also to provide for needs.  Work is a gift from God so that we can serve each other.  And lastly, in the Christian work ethic, work is to be done as if the boss was the Lord Himself.  It says in Colossians chapter 3 and Ephesians 6 that we're to work as unto the Lord and not men. 
So the Christian faith does not sanctify the kind of attitude we're seeing in our own country toward work.  In fact, as I said, 25 years ago, this message may have seemed a bit obscure when America was working productively.  Now it seems to be rather on target for we are suffering today with some of the things that Paul faced in the Thessalonian church.  But as Christians, we have to establish the standard. 
I often watch BBC Parliament, not because I love MPs or the Lords, but in order to gain a better insight in to what they are doing to us, the British people.
The number of Opposition — Labour, Liberal Democrat, SNP — MPs who complain that the Conservative government isn't giving enough handouts, when clearly it is, as we can see from the aforementioned statistics, is mind-numbing.
Moving to MacArthur's and his congregation's personal experience, and still tied in to that, this is what happens when work is suggested:
It is an aberrant unbeliever that doesn't work.  The tragedy of those people, the real tragedy, is that they are so deep in sin and so deep particularly in the sin of drunkenness and irresponsibility and immorality that they have put themselves in the position they're in.  And I again say I'm not talking about people who are genuinely in despair, and I've seen those people all around the world.  But there is a mass of people who shouldn't eat because they will not work. 
We see them here at the church.  They come by and they want money and they want food and we suggest work and they leave.  I was told today by one of the gentlemen in our church, serves with the police department, that they will hold a sign – they've tracked them – they will hold a sign, "I need work, homeless, need work," and recently in one of the shopping centers just a couple of days ago they were tracking to find out what was going on.  None of them got jobs but they were averaging $15.00 an hour in donations.  One policeman told me he went by and offered a lady a sandwich purchased at a fast food place and she said, "What's this?" and he said, "Well, it says 'homeless and hungry,' so I'm just giving you this to eat."  She put it in a bag and he said to her, "Well, aren't you hungry?"  She said, "I'll eat it when I get home." 
So you need to be careful about that.  Sometimes the car is parked around the block and the stash is growing in the back of the car.  Just have to be careful because there are people who don't work because they won't work, not because they can't work.  And if you don't work and won't work, then you don't eat, that's what the Bible says.  There needs to be an opportunity for you to earn your own food and you need to take that opportunity, and again I want to say this:  It may be that in some cultures there is not enough work to go around and that a person couldn't do enough work to really make the whole living, then in generosity and charity and love, we make up the lack, but we don't feed the indolence. 
Even our blessed Jesus encountered a crowd of this type. After He had fed the Five Thousand, they returned the next day for another miraculous meal. They became angry when He refused them and said that He was the bread of life, which is infintely more important, then and now. John 6 has the story.
MacArthur interprets the episode:
Jesus, you remember, in John chapter 6, fed the multitude and it was a large crowd.  We talk about feeding the 5,000 but it says 5,000 men, so wherever there are 5,000 men, there have to be 5,000 women, at least, and throw in a few thousand mother-in-laws and grandmas, sisters and aunts, and throw in 15,000 kids, at least, and you've got a crowd somewhere between 20 and 50 thousand.  It could have been a massive crowd and Jesus fed them all.  You remember He had those five little cakes, five loaves, they're actually little barley cakes, and two pickled fish and He just created food.  And I'll promise you, it was the best lunch they'd ever had because it bypassed the world …
Now, do you realize when He said no to breakfast, I really believe that their anger was turned on Him because in an agrarian society like that, they had to work with the sweat of their brow to produce their own food.  They didn't go down to some market and flip out food stamps or a check or a credit card or whatever it is, they didn't go to a fast food restaurant.  If they didn't work that day, they didn't have the food to eat.  And not only a matter of preparation, but a matter of provision.  And so when Jesus – when they saw Jesus make food, they thought they had just found the Messiah who would bring the ultimate and eternal welfare state.  "We don't even need food stamps, just show up and He passes it out.  And you don't even have to get in line to collect it, they serve it."  And when time for breakfast came, they were there and he left, and I think their anger and hostility turned on Him because they knew then what He could do but He refused to do it.  He could have done it for us as well, but He knows the value and the benefit and the purpose of work.
Concluding on Paul's message to the Thessalonians, MacArthur says:
So here were these Thessalonians and they wouldn't work.  And so he says if they don't work, don't let them eat.  That will help them get the message.  That's survival. 
In our world, able-bodied people, believers or not, should be made to feel guilty for depending on the taxpayer for their daily bread. As The Spectator's Fraser Nelson said above, it is a moral issue.
Whether we like it or not, work is the order of the day. We must provide for ourselves to the fullest extent possible.
The three-year Lectionary that many Catholics and Protestants hear in public worship gives us a great variety of Holy Scripture.
Yet, it doesn't tell the whole story.
My series Forbidden Bible Verses — ones the Lectionary editors and their clergy omit — examines the passages we do not hear in church. These missing verses are also Essential Bible Verses, ones we should study with care and attention. Often, we find that they carry difficult messages and warnings.
Today's reading is from the English Standard Version Anglicised (ESVUK) with commentary by Matthew Henry and John MacArthur.
13 As for you, brothers, do not grow weary in doing good. 14 If anyone does not obey what we say in this letter, take note of that person, and have nothing to do with him, that he may be ashamed. 15 Do not regard him as an enemy, but warn him as a brother.
Benediction
16 Now may the Lord of peace himself give you peace at all times in every way. The Lord be with you all.
17 I, Paul, write this greeting with my own hand. This is the sign of genuineness in every letter of mine; it is the way I write. 18 The grace of our Lord Jesus Christ be with you all.
—————————————————————————————————————————–
Last week's post discussed Paul's prayer request for his ministry, the threat of evil men with no faith, the constancy of the Lord in protecting His faithful from Satan and the Apostle's statement of confidence in the Thessalonians' Christian journey.
As he closes his second of two letters to the congregation, he gives general reminders, particularly about the importance of work (emphases mine):
Warning Against Idleness
6 Now we command you, brothers, in the name of our Lord Jesus Christ, that you keep away from any brother who is walking in idleness and not in accord with the tradition that you received from us. 7 For you yourselves know how you ought to imitate us, because we were not idle when we were with you, 8 nor did we eat anyone's bread without paying for it, but with toil and labour we worked night and day, that we might not be a burden to any of you. 9 It was not because we do not have that right, but to give you in ourselves an example to imitate. 10 For even when we were with you, we would give you this command: If anyone is not willing to work, let him not eat. 11 For we hear that some among you walk in idleness, not busy at work, but busybodies. 12 Now such persons we command and encourage in the Lord Jesus Christ to do their work quietly and to earn their own living.[d]
Paul has a message for those in Thessalonica who are hard working and supporting the church: do not weary in doing good (verse 13).
John MacArthur says:
When I first read it, I thought, "Well, what does this have to do with anything?" and then as I thought, I saw it.  "But as for you, brethren" – that's the rest, those of you that are working, those of you that are having to pay for these people, having to pass out your money and give them food – "the rest of you, brethren, do not grow weary of doing good."  You see, the potential was they would become so tired of these deadbeats, they'd become so fed up with giving this money and this charity to these lazy people, that they would become very weary of the whole process, and then when somebody came with a real need, they would be indifferent to it.  So he's saying, "Look, don't you grow weary of doing what is really good."  The assumption is they were weary of taking care of these people who should have been taking care of themselves, and he says don't let your weariness translate over to weariness in doing what you really should do, doing what is good.  Kalos is the term that's attached to the verb there.  It means what is perceived by others to be noble, so says Milligan in his lexicon.  What is perceived to be noble.  Do what is noble. 
You go back to the Psalms and you're going to find out over and over again that we're to take care of the poor and that when you take care of the poor, God will bless you.  Go back to Proverbs, you're going to find the same thing.  Go back to Isaiah, go to Luke chapter 14 verses 12 to 14, and what does Jesus say?  When you have a dinner, when you have a reception, don't invite the wealthy people who are going to reciprocate, invite the blind and the lame and the halt and the maimed and the poor who can never pay you back, and God will pay you back in eternity in the resurrection.  Take care of the poor. 
Matthew Henry's commentary has a more uplifting message about the verse:
He exhorts those that did well not to be weary in well-doing (v. 13); as if he had said, "Go on and prosper. The Lord is with you while you are with him. See that whatever you do, that is good, you persevere therein. Hold on your way, and hold out to the end. You must never give over, nor tire in your work. It will be time enough to rest when you come to heaven, that everlasting rest which remains for the people of God."
Paul has strong words about those who refuse to obey the content of his letter: the congregation should take note of that person and, effectively, shun them so as to shame him into obedience (verse 14).
Paul really wanted everyone in the congregation to earn their own way. There were cultural reasons why people didn't work. The Greeks considered work a punishment from the gods. Even though the people Paul wrote about were Christians, old habits die hard. There was also another group who thought that the Second Coming was imminent; therefore, they questioned the need to work when Jesus could be returning at any moment.
MacArthur says that:
they perhaps have been influenced by some of the Jewish background of the scribes who thought that anything other than studying the law was an unworthy way to spend your life.  They surely were affected by the general Greek attitude that work was demeaning and sordid and base and low and belonged only to slaves and not to freemen. 
And they probably had had those predispositions somewhat exaggerated by virtue of the fact that someone had come along and told them that they were already in the day of the Lord and the return of Christ was imminent and there probably wasn't much use in doing anything other than evangelizing and studying the Word of God.  And so they had given themselves to that happily because of their disdain for work anyway.  Problem was, at least long term, if you can call several months long term for the Thessalonians in that Paul had dealt with it when he was there.  Several months later, when he wrote them the first letter, he dealt with it, and here he is writing a second letter and dealing with it a third time.  They didn't want to work.  It was beneath them. 
MacArthur explains Paul's reasoning:
Not only does disfellowship, example, survival, and harmony constitute a motive for going to work, but shame.  Look at verse 14.  "If anyone doesn't obey our instruction in this letter, take special note of that man and do not associate with him so that he may be put to shame."  If anybody doesn't obey the instruction in this letter, I'm telling you, they are really obstinate.  He said it over and over again when he was there.  He wrote it a couple of times in the first letter.  He's now saying it again, and if these people don't obey this instruction, you take special note of that man.  Mark him out.  Give him serious attention.  Keep on noticing that person.  Keep your eye on that person for the purpose of not associating with him.  Watch him so that you can avoid him.  Stay away from him. 
Withdraw your fellowship, a double compound verb meaning do not get mixed up with.  Put the pressure of isolation.  Only this time, you're pushing him further.  This continues to be that third step of discipline where you're isolating him but your isolation is keeping him at a distance.  You take note, you watch the pattern, and you avoid the man in order that he may be put to shame.  Now you've gone beyond just his isolation, you're trying to make him feel shame.  That's a distasteful word.  Literally in the Greek it means to turn on yourself, to feel what you really are.  Let him see what he really is, a wicked, disobedient, recalcitrant sinner.  Shame him because he won't work. 
Can you imagine someone saying that today, especially on social media? The Conservative MP Lee Anderson ventured partially into that territory on food banks last year and got hammered for it. He also said that those visiting his local food bank in Ashfield, Nottinghamshire, had to sign up for courses on budgeting and cooking in order to continue to use it. He's been there and done it as a single father, so he knows whereof he speaks, but that didn't matter. St Paul would have backed him up, that's for sure.
Henry is gentler, yet no less firm on the censure:
The directions of the apostle are carefully to be observed in our conduct towards disorderly persons. We must be very cautious in church-censures and church-discipline. We must, First, Note that man who is suspected or charged with not obeying the word of God, or walking contrary thereto, that is, we must have sufficient proof of his fault before we proceed further. We must, Secondly, Admonish him in a friendly manner; we must put him in mind of his sin, and of his duty; and this should be done privately (Matt 18 15); then, if he will not hear, we must, Thirdly, Withdraw from him, and not keep company with him, that is, we must avoid familiar converse and society with such, for two reasons, namely, that we may not learn his evil ways; for he who follows vain and idle persons, and keeps company with such, is in danger of becoming like them. Another reason is for the shaming, and so the reforming, of those that offend, that when idle and disorderly persons see how their loose practices are disliked by all wise and good people they may be ashamed of them, and walk more orderly.
Paul says that the shunned person should not be considered an enemy but rather as a brother in need of correction (verse 15).
Henry says there is always hope that such a person can mend his errant ways:
if they be reclaimed and reformed by these censures, they will recover their credit and comfort, and right to church-privileges as brethren.
MacArthur goes further, citing Paul's first letter to the Corinthians:
No matter what the sin is, it's the same things that should motivate.  The threat of losing the fellowship with other believers, the fact that you have not followed the holy example of those who have walked before you, even the issue of survival – because you can die from continued sin, some Corinthians did – and certainly the idea of harmony, you're disrupting and ripping and tearing the unity of the church, and certainly shame, you should feel guilt and shame, and certainly love should call you back as those who are in the body of Christ and are your brothers and sisters woo you.  And so this is how we deal with any believer in any pattern of sin. 
And if they resist this, then you can treat them like an enemy.  Then you can turn them over to Satan.  Then Paul says in 1 Corinthians 5, "I don't want you to have any fellowship with them, I don't even want you to eat with them."  I want you to turn them out totally.  But here, Paul, one more time, for the third time in three steps, is pleading with the church to call them back. 
Paul concludes with his benediction, his prayer of blessing, to the Thessalonians.
He prays that the Lord of peace himself gives the Thessalonians peace at all times, in every way and that the Lord be with them all (verse 16).
MacArthur explains that Paul wants to ensure they know they have to rely on the Triune God, not themselves:
This is the fourth time he has had, what we would call, a prayer wish, a benediction, in which he expresses the desire of his heart.  It's almost as if he can only go so far and he's got this uncapped desire to ask God to enable them to do what he says.  And every so often the praying just bursts forth.  He goes a little while in chapter 1 and then prays for God's enabling, a little while in chapter 2 and prays for God's enabling, and twice he does it in chapter 3.  You see, he understands that no matter what you know as a Christian, you don't pull it off on your own.  You must be aided by the Lord, you must lean on His resources.  And so in this last simple little closing section Paul calls on divine resources.  He calls on personal blessings from the Lord to enable the Thessalonians, and all the rest of us, to respond to what he has taught.  And he really is speaking about four things that we need.  We need the Lord's peace.  We need the Lord's strength.  We need the Lord's truth.  And we need the Lord's grace.  And all four of them are in those three little verses; the Lord's peace, strength, truth and grace …
First of all then he prays or wishes for their experience of God's peace, verse 16, "Now may the Lord of peace Himself continually grant you peace."  The first two words, "now may" mark a transition.  The word "now" is transitional.  He's moving from command and exhortation to petition and to prayer.  He is now turning to the Lord.  He is expressing not the prayer itself but the wish in his heart that shows up when he prays.  And his wish is for them to experience peace, peace.  He's asking for what God has already promised, for God has promised His own peace and strength and truth and grace.  It isn't that he is asking something that God gives reluctantly or not at all.  In fact, prayer really is asking God for what it is His will to give.  Prayer really is lining up with what God has promised to do.  He recognizes that God has promised His people peace and strength and truth and grace.  And he pleads for God to fulfill His promise.  He lines himself up with what God has expressed as His own intention and purpose.  His first request is for that lovely, that most sought after, that most evasive and that most elusive reality called peace.
We hear and read the word 'peace' all the time, so much so that it has lost its meaning.
Here Paul writes of an inner peace that only God can give each one of us. He can only give us that peace when we are reconciled to Him as believers through Jesus Christ.
MacArthur says:
We're talking about a spiritual peace.  And spiritual peace — the true, deep-down peace — is the attitude of the heart and mind that calmly, confidently believes and thus knows that all is well between the soul and God.  That's the peace we're talking about.  It's that confidence that everything is right between myself and God and He is lovingly in control of my life in time and eternity.  It is the presence of a calm assurance built on the knowledge that my sins are forgiven, God is concerned with my well-being and heaven is ahead.  It's a deep-down peace. It has nothing to do with what anybody says to you, it has nothing to do with what anybody does to you, or doesn't do to you, it has nothing to do with any circumstance in life whatsoever.  It is the peace that God gives to His beloved children.  It is their possession and their privilege by right.
This peace is defined for us in several ways in verse 16.  First of all, it is divine.  "Now may the Lord of peace Himself grant you peace."  The Lord of peace is the one who gives it.  He is the one who grants it.  "Himself," by the way, that pronoun is emphatic in the sentence and it's emphasizing His personal involvement in this.  "Himself, the Lord of peace, may He give you peace."  May God, the Lord, personally give it to you because it comes personally from Him.  It is the very essence of His nature.
To say it simply, peace is an attribute of God.  I don't know if you think of it that way, you think of God being characterized by attributes of grace, and mercy and justice and righteousness and wisdom and truth and omnipotence and immutability and eternality and whatever. But do you ever think of God as being characteristically peace?  He is peace.  Whatever it is that He gives us He has and He is.  God is love, we don't argue about that.  And God is also peace.  He has no lack of perfect peace in His being.  God is at all times at perfect peace.  There's no stress.  God is never stressed.  God is never in anxiety. God never worries, God never doubts, and God never fears. God is never at discord with Himself.  He is never at cross purposes, it's never so that He can't make up His mind.  He is never troubled.  He is never indecisive.  He is never unclear.  He is never unsure.  He is never threatened.
God lives in perfect calm, God lives in perfect tranquility, God lives in perfect contentment.  Why?  Because He's in charge of everything and He can operate everything perfectly according to His own will exactly the way He wants it all the time.  There is nothing in the entire universe that goes on that He doesn't know about and there is nothing in the entire universe that can withstand His purposes.  He knows there are no surprises for His omniscience.  There are no unknowns to His omnipresence.  There are no changes, no doubts, no fears.  Even His wrath is clear, controlled, calm, and confident.  There are no threats to His omnipotence.  There is no possible sin that can stain His holiness. There is no sinner who can appear before Him who is beyond His grace.  There is no threat to His immutable plan.  There is no guilt in His mind. There is no shame in His mind. There is no regret in His mind for He has never done anything, said anything, or thought anything that He would in any way change.
He enjoys perfect and eternal harmony within Himself.  He therefore is peace.  And here He is called "the Lord of peace," the Lord of the peace, literally, the definite article is there.  The peace, not the kind the world has, but the real peace, the divine kind.  He is peace, He is the source of peace.  And what Paul wants is that the Lord of peace would give His kind of peace.  If you look at the Trinity you find that it's clear in Scripture that every member of the Trinity is peace and gives peace.  First Thessalonians 5:23 says, "The God of peace," so does Romans 15:33, Romans 16:20, 2 Corinthians 13:11, Philippians 4:9, and Hebrews 13:20, a common name for God, the God of peace.  He is the author of peace.  First Corinthians 14:33 says, "He is not the author of confusion but of peace."  He is peace, the originator, the source and the author of it.
The second member of the Trinity, the Son, the Lord Jesus Christ is here called "the Lord of peace."  Interestingly enough at the end of 1 Thessalonians Paul refers to the God of peace, here to the Lord of peace, both the first and second member of the trinity equally being God, equally being Lord, equally being the source of peace.  Ephesians 2:14 says, "Christ who is our peace."  He is called in Scripture "the prince of peace."  He is peace.  He is the source of peace.  Colossians 1:20, He has made peace.
Also the Holy Spirit is the source of peace. The fruit of the Spirit is love, joy, peace.  Romans 14:17 says the kingdom is peace in the Holy Spirit.
So, God is peace.  It is that divine peace possessed by the Trinity — Father, Son and Holy Spirit — that Paul wants us to have, that well-being that is deep-down settled and confident that all is well with God.
Divine peace is a free gift from God, one that He bestows on the truly faithful:
… we learn that it's not only divine but it is a gift.  "Now may the Lord of peace Himself grant you peace."  The word "grant" is the verb to give.  It speaks of a gift.  It is a sovereign gracious gift from the Trinity, bestowed on those who believe in the Lord Jesus Christ.  It is a gift from God.
In Psalm 85, a wonderful verse, verse 8, you might not read this verse and think about it, but in Psalm 85:8 I read it to you because it ought to be kept in mind. "I will hear what God the Lord will say, for He will speak peace to His people, to His godly ones."  God grants peace to those who belong to Him.
This is so much a part of the New Testament.  Start at Romans some time and read it in the first chapter of each of the letters: Romans, 1 Corinthians, 2 Corinthians, Galatians, Ephesians, Philippians, Colossians, 2 Thessalonians, Titus, Philemon, go into 2 John, and as you read you'll find in all of those epistles peace, peace, peace given to God's people.  Sometimes it says grace and peace.  Peace is a gift from the Lord.  It is given to us by the Lord Jesus Christ and an example of that, you remember, in John 20 as he walked in the upper room to meet His disciples He said, "Peace be unto you," in verse 19.  In verse 21 He said, "Peace be unto you," and again in verse 26, "Peace be unto you."  He was the giver of peace.  It's as if the Father authored peace, the Son purchased peace, and then gives it to us now in this age through His Holy Spirit …
There's a third element in what he says and that is that this peace is not only divine and a gift but it is always available.  "May the Lord of peace Himself continually give you peace."  By throwing the word "continually" in there, he is affirming that it is constantly available.  This is not presumptuous as if God can only give it intermittently. He knows it's always available.  And he says, "I want God to give it to you all the time."
Henry addresses the second half of verse 16, about the Lord's presence:
That the presence of God might be with them: The Lord be with you all. We need nothing more to make us safe and happy, nor can we desire any thing better for ourselves and our friends, than to have God's gracious presence with us and them. This will be a guide and guard in every way that we may go, and our comfort in every condition we may be in. It is the presence of God that makes heaven to be heaven, and this will make this earth to be like heaven. No matter where we are if God be with us, nor who is absent if God be with us, nor who is absent if God be present with us.
So that the Thessalonians know the letter is authentic, Paul writes his greeting in his own handwriting (verse 17). He would have dictated the rest of his letter to someone else to write.
MacArthur explains that false teachers sometimes sent not only the Thessalonians but also other of Paul's congregations counterfeit letters:
Back in chapter 2, look at verse 2 for a moment.  Somebody had come along and told them some lies ...  And they lied to them about the Day of the Lord.  This was a false teacher.  But in order to make his lies believable, the middle of verse 2 says, he had "a letter as if from us," to the effect that the Day of the Lord has come.  In other words, to be believable, the false teacher said, "I've got a letter from Paul," and he was waving around this thing, "this is my letter from Paul."  And Paul realized he had to deal with this. And I guess he hadn't really faced this before.  But when he wrote the first epistle it probably came to his attention that people were, one, not accepting it as from him.  That became a reality soon and is still a reality today.  You still have people today who want to deny that Paul wrote his letters.  But there were…there are those people who would say, "Nah, nah, that's not from Paul, we don't accept that as authoritative."  If they didn't like what it said they wouldn't accept it as authoritative.
Well, Paul hadn't…hadn't really faced that until he wrote a letter.  So he wrote 1 Thessalonians and now he becomes very much aware that people are going to deny his authorship. Secondly, they're going to forge letters that aren't written by him as if they were and therefore they're going to take truth away from the church and they're going to add lies to the church and confuse the church.  Well he's so burdened that they get the truth that what he says to them at the end of this letter is to seal the fact that this is indeed his own letter, he has written it.  He says, "I, Paul, write this greeting with my own hand." He's dictated the letter, as was his custom.  And he comes to the very end and he takes the pen away from his amanuensis or his secretary and with his own hands he says, "I am writing this greeting with my own hand and this is a distinguishing mark in every letter."  From now on, every single letter that comes from me is going to have something I have personally written with my own hand at the end, and then he adds, "This is the way I write."  You can tell whether it's authentic because it's going to have my writing, which is inimitable.  We still do that.  We authenticate documents today by a signature.
And what is he saying?  He's saying I am very concerned that you have the truth of God.  There's a lot more to come.  I mean, you've got two letters. You're going to be exposed before this deal is over to more of them from me, to some from John, to some from Peter, to some from Jude, to one from James.  And you need to know all of that is the truth of God.  I don't want any doubt about mine and so I'm going to sign off every time like this.  The only time he deviates from that in the future is in the book of Philemon which apparently, according to Philemon 19, he wrote all in his own handwriting and didn't dictate it in any part.  And perhaps Galatians, according to chapter 6 verse 11, he may have written the whole of the letter to the Galatians as well.  But always his own inimitable handwriting was there because he was so consumed with the fact that God's people needed to have the revealed truth and not be confused about what was authentic.  He was the inspired instrument of truth and God wanted His people to have truth.  And Paul could say with John, he had no greater joy than to see his children walk in the truth.  He wanted them to have the truth.  He knew they needed it.  And so he throws in this which also expresses his wish for them to have the truth and to know it is the truth.
He was very concerned about that.  In Romans chapter 9 and verse 1, "I am telling the truth," he says.  In 1 Timothy chapter 2 and verse 7, "And for this I was appointed a preacher and an apostle, I am telling the truth, I am not lying."  And why does he say that?  Well, because there were people who were denying him.  In chapter 11 of 2 Corinthians verse 10, "As the truth of Christ is in me," and he goes on.  He was concerned about people knowing he spoke the truth.  God is a God of truth, He is the only true God, He is the God who cannot lie.  And Christ is His incarnate truth.  And the Holy Spirit is the Spirit of truth.  And the Word is the body of truth. Thy Word is truth, John 17:17.  God wants us to have His truth.  He's given us the indwelling Spirit of truth who is the anointing, who leads us into all truth so that we need not be taught by any human source.  So Paul says, I wish you truth, and I don't want you to be confused about it.
Paul ends by praying that the grace of our Lord Jesus Christ be with them all (verse 18).

MacArthur discusses grace:
What is grace?  God's goodness, God's benevolence given to those who don't deserve it.  God's goodness, God's benevolence given to those who don't deserve it.  It is grace decreed by God given to us through Christ.  Grace and truth, it says, came through Jesus Christ.  The grace of God has appeared, Paul said to Titus.  It has appeared through the work of Christ.  It comes to us as the Spirit of God brings saving grace.  And once we become a Christian then there is enabling grace.  And that's what he's praying about, the enabling grace, grace for endurance, grace that is sufficient, as 2 Corinthians 12:9 says, for every serious trial.  Grace for service, the kind Paul talked about in 1 Timothy 1, when he says as explicitly as it could be said, "I thank Christ Jesus our Lord, who has strengthened me because He considered me faithful, putting me into the service, (or into the ministry) even though I was a blasphemer and a persecutor and a violent aggressor and it was the grace of our Lord that did it."
Grace for service, grace for endurance, grace for growth spiritually, grow in grace, 2 Peter 3:18.  Grace for love and grace for humility and grace for sacrifice and grace for generosity.  All of those things typified by the Macedonians in 2 Corinthians 8 and 9.  In fact, they summed it up.  They summed it up.  They were examples, Paul said, of the surpassing grace of God which is in you.  He wants God's grace.  There…God's enabling grace to take them through their trials, to make them effective in ministry, to cause them to grow, to strengthen their love and their humility and their sacrifice and their generosity that they would be overwhelmed with this grace.
It's available.  There's no limit to it.  And again, the conditions to receive it are: trusting God, obeying His Word, enduring His refining process, doing good, walking in the Spirit, living your Christianity from the heart, living by the Word of God and praying.  As we are what we ought to be, God infuses us with His peace and His strength and His truth and His grace.
Anyone who wants to know how to live in a godly manner can read the reflections from MacArthur and Henry in my exegesis on the Beatitudes (Matthew 5:1-12), a long read, granted, but one that explains those eight tenets thoroughly. Jesus gave us the blueprint. It is up to us to live by it, with the help of divine grace.
Henry has a beautiful prayer at the end of his commentary on 2 Thessalonians 3:
Let us be thankful that we have the canon of scripture complete, and by the wonderful and special care of divine Providence preserved pure and uncorrupt through so many successive ages, and not dare to add to it, nor diminish from it. Let us believe the divine original of the sacred scriptures, and conform our faith and practice to this our sufficient and only rule, which is able to make us wise unto salvation, through faith which is in Christ Jesus. Amen.
This concludes my study of 2 Thessalonians.
Next week, I will begin a study of 1 Timothy, along with an introduction to its content and purpose.
Next time — 1 Timothy 1:1-2
The Fourth Sunday after Epiphany is January 29, 2023.
Readings for Year A can be found here.
The Gospel is as follows (emphases mine):
Matthew 5:1-12
5:1 When Jesus saw the crowds, he went up the mountain; and after he sat down, his disciples came to him.
5:2 Then he began to speak, and taught them, saying:
5:3 "Blessed are the poor in spirit, for theirs is the kingdom of heaven.
5:4 "Blessed are those who mourn, for they will be comforted.
5:5 "Blessed are the meek, for they will inherit the earth.
5:6 "Blessed are those who hunger and thirst for righteousness, for they will be filled.
5:7 "Blessed are the merciful, for they will receive mercy.
5:8 "Blessed are the pure in heart, for they will see God.
5:9 "Blessed are the peacemakers, for they will be called children of God.
5:10 "Blessed are those who are persecuted for righteousness' sake, for theirs is the kingdom of heaven.
5:11 "Blessed are you when people revile you and persecute you and utter all kinds of evil against you falsely on my account.
5:12 Rejoice and be glad, for your reward is great in heaven, for in the same way they persecuted the prophets who were before you.
Commentary comes from Matthew Henry and John MacArthur (as specified below).
This is another long post. John MacArthur preached ten sermons on these verses in 1979, one verse a week for the most part.
Jesus gave this sermon in Galilee. When He saw the crowds, He went up a mountain, and after He sat down, His disciples came to Him (verse 1).
Then, He began to speak and taught them (verse 2).
Recall that last week's reading for the Third Sunday after Epiphany, Matthew 4:12-23, ended as follows:
4:23 Jesus went throughout Galilee, teaching in their synagogues and proclaiming the good news of the kingdom and curing every disease and every sickness among the people.
Keep that in mind while reading the rest of this post, which is the beginning of the Sermon on the Mount (Matthew 5-7), with the eight Beatitudes.
Matthew Henry's commentary sets the scene beautifully:
The many miraculous cures wrought by Christ in Galilee, which we read of in the close of the foregoing chapter, were intended to make way for this sermon, and to dispose people to receive instructions from one in whom there appeared so much of a divine power and goodness; and, probably, this sermon was the summary, or rehearsal, of what he had preached up and down in the synagogues of Galilee. His text was, Repent, for the kingdom of heaven is at hand. This is a sermon on the former part of that text, showing what it is to repent; it is to reform, both in judgment and practice; and here he tells us wherein, in answer to that question (Mal 3 7), Wherein shall we return?
Henry elaborates on these verses, using contrasts from the Old Testament to illustrate what a welcome occasion this is. Note that Zebulun was mentioned in last week's first reading, Isaiah 9:1-4:
II. The place was a mountain in Galilee. As in other things, so in this, our Lord Jesus was but ill accommodated; he had no convenient place to preach in, any more than to lay his head on. While the scribes and Pharisees had Moses' chair to sit in, with all possible ease, honour, and state, and there corrupted the law; our Lord Jesus, the great Teacher of truth, is driven out to the desert, and finds no better a pulpit than a mountain can afford; and not one of the holy mountains neither, not one of the mountains of Zion, but a common mountain; by which Christ would intimate that there is no such distinguishing holiness of places now, under the gospel, as there was under the law; but that it is the will of God that men should pray and preach every where, any where, provided it be decent and convenient. Christ preached this sermon, which was an exposition of the law, upon a mountain, because upon a mountain the law was given; and this was also a solemn promulgation of the Christian law. But observe the difference: when the law was given, the Lord came down upon the mountain; now the Lord went up: then, he spoke in thunder and lightning; now, in a still small voice: then the people were ordered to keep their distance; now they are invited to draw near: a blessed change! If God's grace and goodness are (as they certainly are) his glory, then the glory of the gospel is the glory that excels, for grace and truth came by Jesus Christ, 2 Cor 3 7; Heb 12 18, etc. It was foretold of Zebulun and Issachar, two of the tribes of Galilee (Deut 33 19), that they shall call the people to the mountain; to this mountain we are called, to learn to offer the sacrifices of righteousness. Now was this the mountain of the Lord, where he taught us his ways, Isa 2 2, 3; Mic 4 1, 2.
III. The auditors were his disciples, who came unto him; came at his call, as appears by comparing Mark 3 13, Luke 6 13. To them he directed his speech, because they followed him for love and learning, while others attended him only for cures. He taught them, because they were willing to be taught (the meek will he teach his way); because they would understand what he taught, which to others was foolishness; and because they were to teach others; and it was therefore requisite that they should have a clear and distinct knowledge of these things themselves. The duties prescribed in this sermon were to be conscientiously performed by all those that would enter into that kingdom of heaven which they were sent to set up, with hope to have the benefit of it. But though this discourse was directed to the disciples, it was in the hearing of the multitude; for it is said (ch. 7 28), The people were astonished. No bounds were set about this mountain, to keep the people off, as were about mount Sinai (Exod 19 12); for, through Christ, we have access to God, not only to speak to him, but to hear from him. Nay, he had an eye to the multitude, in preaching this sermon. When the fame of his miracles had brought a vast crowd together, he took the opportunity of so great a confluence of people, to instruct them. Note, It is an encouragement to a faithful minister to cast the net of the gospel where there are a great many fishes, in hope that some will be caught. The sight of a multitude puts life into a preacher, which yet must arise from a desire of their profit, not his own praise.
IV. The solemnity of his sermon is intimated in that word, when he was set. Christ preached many times occasionally, and by interlocutory discourses; but this was a set sermon, kathisantos autou, when he had placed himself so as to be best heard. He sat down as a Judge or Lawgiver. It intimates with what sedateness and composure of mind the things of God should be spoken and heard. He sat, that the scriptures might be fulfilled (Mal 3 3), He shall sit as a refiner, to purge away the dross, the corrupt doctrines of the sons of Levi. He sat as in the throne, judging right (Ps 9 4); for the word he spoke shall judge us. That phrase, He opened his mouth, is only a Hebrew periphrasis of speaking, as Job 3 1. Yet some think it intimates the solemnity of this discourse; the congregation being large, he raised his voice, and spoke louder than usual. He had spoken long by his servants the prophets, and opened their mouths (Ezek 3 27; 24 27; 33 22); but now he opened his own, and spoke with freedom, as one having authority. One of the ancients has this remark upon it; Christ taught much without opening his mouth. that is, by his holy and exemplary life; nay, he taught, when, being led as a lamb to the slaughter, he opened not his mouth, but now he opened his mouth, and taught, that the scriptures might be fulfilled, Prov 8 1, 2, 6. Doth not wisdom cry—cry on the top of high places? And the opening of her lips shall be right things. He taught them, according to the promise (Isa 54 13), All thy children shall be taught of the Lord; for this purpose he had the tongue of the learned (Isa 50 4), and the Spirit of the Lord, Isa 61 1. He taught them, what was the evil they should abhor, and what was the good they should abide and abound in; for Christianity is not a matter of speculation, but is designed to regulate the temper of our minds and the tenour of our conversations; gospel-time is a time of reformation (Heb 9 10); and by the gospel we must be reformed, must be made good, must be made better. The truth, as it is in Jesus, is the truth which is according to godliness, Tit 1 1.
We all know the eight Beatitudes, however, as we go through them, we will see that one builds on the other. Jesus did not randomly arrange these. Nor did He intend them to be socio-political platitudes. He never preached about politics or social conditions.
John MacArthur points out:
There's no politics in the Sermon on the Mount. None. There is not one reference to the social, political aspect of the kingdom made here, not one. The Jews were so concerned about the politics and the social life. Jesus makes no reference to that at all. The stress – I want you to get this – the stress is on being. That's the word you're going to have to see. The stress is on being. It's not on ruling or possessing it is on being …
This is a different kind of a kingdom. It even advocates persecution without retaliation and blesses those who live that way. It's a spiritual kingdom. So the political aspect of this message was devastating. It was absolutely everything was the opposite of what they expected a Messiah to say …
What he was saying is this, "My kingdom is inside." Do you see? It's inside. That's the whole point. That's the whole message of Jesus to the world. That's the whole basis of the Sermon on the Mount. It's inside, not outside. Not outside rituals, not outside philosophy, not outside location or monasteries or any of that stuff, not outside activism, it's inside.
Jesus said that blessed are the poor in spirit, for theirs is the kingdom of heaven (verse 3).
MacArthur gives us the meaning of 'blessed', which runs through the Bible and our prayers:
In Matthew chapter 5 through 7, our Lord is establishing and counter standard of living, counter to everything the world knows and practices, a new approach to living that results in blessedness, makarios.  And we saw that this makarios is deep inner happiness, a deep and genuine sense of blessedness, a bliss that the world cannot offer, not produced by the world, not produced by circumstances, and not subject to change by the world or circumstances.  It is not produced externally.  It cannot be touched externally.
The promise of Christ, then, in the Sermon on the Mount is at the very beginning.  He is saying if you live by these standards you will know blessedness.  And so in verse 3, it's blessed, in verse 4, it's blessed.  In verse 5, blessed.  Verse 6, verse 7, verse 8, verse 9, 10, 11, and finally, as a result of all this blessedness, verse 12, rejoice and be exceeding glad.
The whole Sermon on the Mount introduces itself with a promise of blessedness, happiness, deep, inner satisfaction.  Now we said also last time that this blessedness, this well being, this bliss, this happiness, in which believers live and which they enjoy, is really a gift of God.  For makarios or blessedness is characteristic of God. 
The greatest possible understanding of the term "blessed" comes when you understand that God is blessed.  So happy is the people whose God is the Lord.  Blessed is the people whose God is the Lord, for he, above all, is blessed.  "Blessed be God," says the Bible.  "Blessed be the Lord Jesus Christ."  And if they are blessed, if they have this deep inner bliss, this deep sense of contentment and blessedness because of the virtue of divine nature, then only those who partake in that divine nature can know that same blessedness.
MacArthur points out — as does Henry's commentary — that each beatitude is a spiritual paradox. In other words, how can we be without and yet have so much?
MacArthur says:
Now as you look at the Beatitudes, you'll see that they're like sacred paradoxes.  They're almost given in absolute contrast to everything the world knows.  And let me just say a word that I want as a little footnote here.  You see the word "blessing."  The word "blessing" or "blessed" has an opposite word in the Bible.  The opposite of makarios is ouai and we translate it "woe."  The opposite of blessing is cursing.  The opposite of blessed, Jesus said in the Sermon on the Mount "blessed" and he turned around to the Pharisees later and said, "Woe unto you."  Those are opposites. 
And let me hasten to say this.  The word "blessed" and the word "woe," neither one of them are really a wish.  They are a judgmental pronunciation.  Jesus is saying, "I" – he's not saying, "I wish you blessedness."  He is saying, "Blessed is the man who goes this way, does this, thinks this way."  And other places, "Woe to the man who does this."  They are judicial pronunciations.  They are not simply wishes.
MacArthur gives us a sense of progression in the ordering of the Beatitudes:
We see a sequence.  Look with me quickly at verse 3.  First we see the poor in spirit.  "Poor in spirit" is the right attitude towards sin, which leads to mourning, in verse 4, which leads after you've seen your sinfulness and you've mourned, to a meekness, a sense of humility, then to a seeking and hunger and thirst for righteousness.  You can see the progression. 
It is important to remember that the verse says 'poor in spirit', not simply 'poor':
When you have two records in the Bible in the Gospels, you compare them.  "Blessed are the poor."  What poor?  There are all kinds of poverty, right?  You could be poor in terms of money.  You could be poor in terms of your education.  You could be poor in terms of friends.  You could be poor in terms of a lot of things.  So when you read Luke say, "Blessed are the poor," and you find Matthew, "Blessed are are the poor in spirit," you make the conclusion simply that Matthew tells us what kind of poverty Luke was referring to.  That's all.  It's no big problem.  We just put the two together, comparing scripture with scripture.
'Poor in spirit' implies humility, the sort of humility that depends on God's grace, says MacArthur:
Nobody yet ever entered God's kingdom on the basis of pride.  Poverty of spirit is the only way in.  The door to the kingdom of the Lord Jesus Christ is very low and the only people who come in crawl. 
Jesus begins by saying, "There's a mountain you have to scale.  There are heights you have to climb.  There is a standard you must attain, but you are incapable of doing it, and the sooner you realize it the sooner you'll be on your way to finding it."  In other words, he's saying you can't be filled until you're empty.  You can't be worthwhile until you're worthless.
You know, it amazes me that in modern Christianity today there is so little of the self emptying concept.  I see a lot of books on how to be filled with joy and how to be filled and how to be filled with this and how to be filled with the spirit and so forth.  There's lots of books on how to be filled, but I don't think I've ever seen a book on how to empty yourself of yourself …
You know, if you don't have poverty of spirit, beloved, you might as well expect fruit to grow without a tree as the graces of the Christian life to grow without humility.  They can't.  As long as we're not poor in spirit, we can't receive grace.  Now even at the beginning, you can't even become a Christian unless you're poor in spirit. 
And as you live your Christian life you'll never know the other graces of the Christian life as long as you violate poverty of spirit.  And this is tough.  Jesus is saying, "Start here.  Happiness is for the humble."  Happiness is for the humble.  Until we are poor in spirit, Christ is never precious to us.  Because we can't see him for the looking at ourselves.  Before we see our own wants and our own needs and our own desperation, we never see the matchless worth of Christ.  Until we know how really damned we are, we can't appreciate how really glorious he is.  Until we comprehend how doomed we are, we can't understand how wondrous is his love to redeem us.  Until we see our poverty, we cannot understand his riches. 
And so out of the carcass comes the honey.  It is in our deadness that we come alive.  And no man ever comes to Jesus Christ, no man ever enters the kingdom who doesn't crawl with a terrible sense of sinfulness, repentance. 
MacArthur examines the meaning of 'poor' in the Greek:
Now let's take that term.  The word "poor," ptchos, interesting word.  From a verb – now watch this one – the verb in the Greek means "a shrinking from something or someone to cower and cringe like a beggar."  That's what it means.  Like you just kind of cringe and cower like a beggar does. 
Classical Greek uses this word to refer to one who is reduced to beggary, who crouches in a corner of the dark wall to beg for alms.  And the reason he crouches and cowers is because he doesn't want to be seen.  He is so desperately ashamed to even allow his identity to be known.  Beggars have all that stuff piled on, all those things pulled over their face, and they reach like this, lest they should be known.
By the way, the word "poor" here, the very word, is the word used in Luke 16 when it says, "Lazarus the beggar."  That is what the word means.  It is not just poor, it is begging poor.  And by the way, there is another word in the Bible for normal poverty, pens.  Pens means you're – generally and sometimes there's an overlap – but generally pens means you're so poor you have to work just to maintain your living. 
Ptchos means you're so poor you have to beg.  You're reduced to a cringing, cowering beggar.  Pens you can earn your own living.  You can earn your own sustenance.  Ptchos, you are totally dependent on the gift of somebody else.  All you've got going for you, no skill, no nothing.  In many cases, you're crippled, you're blind.  You're deaf.  You're dumb.  You can't function in society and you sit in the corner with your shamed arm in the air, pleading for grace and mercy from somebody else.  You have no resource in yourself to even live.  Total dependence on somebody else. 
MacArthur moves on to 'in spirit':
Well, what does it mean in spirit?  Let me talk about that for a minute.  It means with reference to the spirit, which is the inner part of man, not the body, which is the outer part.  That's all.  He's begging on the inside, not necessarily on the outside.
Isaiah put it this way.  Isaiah 66:2.  "But to this man will I look."  Here's God talking.  Now listen.  "To this man will I look, even to him that is poor and of a contrite spirit, and who trembles at my word."  It's the man who shakes on the inside because of his destitution.  Psalm 34:18 put it this way.  "The Lord is nigh unto them that are of a broken heart and saveth such as be of a contrite spirit."  Psalm 51:17.  "The sacrifices of God are a broken spirit, a broken and contrite heart, Oh God, thou wilt not despise."
… It's the broken and the contrite.  "Blessed are the beggars," says Jesus.  Blessed are those whose spirit is destitute.  Blessed are the spiritual paupers, the spiritually empty, the spiritually bankrupt who cringe in a corner and cry out to God for mercy.  They are the happy ones.  Why?  Because they're the only ones who tapped the real resource for happiness.  They're the only ones who ever know God.  They're the only ones who ever know God's blessedness.  And theirs is the kingdom.
James put it this way.  It's not just the Sermon on the Mount, James said it.  He said in James 4:10, "Humble yourselves in the sight of God and he will – " what? " – lift you up."  The poverty here is not a poverty against which the will rebels, but it's a poverty under which the will bows in deep dependence and submission.  I'm afraid this is a rather unpopular doctrine in the church today.  We emphasize celebrities and experts and superstars and rich, famous Christians.  But happiness is for the humble …
The sum of the great truth is simply stated.  The first principle of the Sermon on the Mount is that you can't do it by yourself.  There's a new lifestyle to live and that new lifestyle promises eternal happiness for you, but you can't do it by yourself, so that the only standard for living is for those who know they can't do it …
We have the grace now, the grace of the kingdom.  We have the glory later.  The kingdom as I see it is grace and glory.  Grace now, glory later.  What a tremendous thing.  Do you know what it is, people to possess the kingdom?  That's what the word means, to possess.  You possess the kingdom.  It is yours.  The rule of Christ, the reign of Christ, you know what that means?  You're his subject, he takes care of you …
And by the way, you can't do it by looking at yourself.  Also, you can't do it by looking at other people.  Don't try to find somebody else who will set the standard for you.  There's only one place to look if you want to become poor in spirit, that's to concentrate on God.  That's the first thing.  Look at God.  Read his Word.  Face his person in its pages.  Look at Christ.  Look at Christ constantly.  As you gaze at Jesus Christ, you lose yourself.  You lose yourself. 
Secondly, not only look at God.  I'll give you three little principles.  If you're going to know what it is to be poor in spirit, look at God, not at you, not at anybody else.  Look at God.  Two, starve the flesh.  Starve the flesh.  You know, even the ministries, even the ministries of this generation feed on pride in so many cases.  We have to seek the things that strip the flesh naked … 
I'd say a third thing.  These are the things I see in my own life.  I've got to look at God all the time.  Secondly, I got to starve my flesh.  I don't want to run to the thing that compliments.  But there's a third thing and I think it's simple.  Ask.  You want to be poor in spirit?  Ask.  There's one thing about a beggar.  He's always what?  Asking.  You ever notice that.  Always.  Ask.  "Lord," said the sinner, "be merciful to me, a sinner."  Jesus said, "That man went home justified."  Happy is the beggar in his spirit.  He's the one who possesses the kingdom.  Why did Jesus begin with this?  Because it's the bottom line.
What does it mean?  It means to be spiritually bankrupt and know it.  What is the result?  You become a possessor of the kingdom here and now and forever.  How do you become poor in spirit?  Look at God.  Starve your flesh.  And ask, beg.  He doesn't mind a bit …
How do you know if you're poor in spirit?  You'll be weaned from yourself, lost in the wonder of Christ, and you'll never complain about your situation because the deeper you get the sweeter the grace. 
Fourth.  You will see only the excellencies of others and only your own weakness.  You will see only the excellencies of others and only your own weakness.  Poor in spirit, the truly humble, is the only one who has to look up to everybody else. 
Fifth.  You will spend much time in prayer.  Why?  Because a beggar is always begging.  He knocks very often at heaven's gate and he doesn't let go until he's blessed.  You want to know if you're poor in spirit?  Are you weaned from yourself?  Are you lost in the wonder of Christ?  Are you never complaining no matter what the situation?  Do you see only the excellencies of others and only your own weakness?  Do you spend much time begging for grace? 
Six.  If you're poor in spirit, you'll take Christ on his terms, not yours.  You will take Christ on his terms, not yours.  The proud sinner will have Christ at his pleasure, Christ and his covetousness, Christ and his immorality.  The poor in spirit is so desperate he will give up anything just to get Christ, see.
Then Jesus said that blessed are those who mourn, for they will be comforted (verse 4).
The interpretation which is often heard is that when we mourn the death of our loved ones or another type of loss, God will comfort us. That is true.
However, Jesus intended a spiritual mourning for the state of our souls.
MacArthur says that this has to do with repentance:
Listen, you can cry your eyes out about your problems and you can weep all you want about loneliness, and about discouragement, and about disappointment, and out of earnest love, and you can weep all you want about all those things, and you can cry your head off about your unfulfilled lusts, and when you're said and done, every bit of that worldly sorrow will not bring you life.
There's only one kind of sorrow that brings life, and that is godly sorrow, which leads you to – what? – repentance.  Therefore, we conclude that it is sorrow over – what? – sin that is the issue.  That's the issue.  It is godly sorrow, sorrow over sin.  The sorrow of the world is useless.  It works death where godly sorrow works repentance, which brings salvation, which brings comfort.  That's the whole idea.  That's the key.  Godly sorrow is linked to repentance, and repentance is linked to sin …
You're not mourning here over circumstances, human circumstances.  Over sin is what you're mourning about.  Remember verse three, where the beatitudes all began?  "Blessed are the poor in spirit for theirs is the kingdom of heaven."  What does it mean to be poor in spirit?  I told you.  It's a sense of being spiritually bankrupt.  It is the thing that says "in my flesh there dwelleth – " what? " – no good thing."  That's what it is. 
And that's the intellectual part, and verse 4 is the emotional part.  Because your mind is convinced that you are spiritually bankrupt, your emotion takes over and you mourn that bankruptcy.  Such are kingdom people.
David's Psalm 51 is one of many illustrations of mourning the state of one's soul:
In Psalm 51, reflecting on the same sin with Bathsheba he said, "Have mercy upon me, O God, according to thy loving kindness, according to the multitude of thy tender mercies blot out my transgressions.  Wash me thoroughly from mine iniquity; cleanse me from my sin.  For I acknowledge my transgressions and my sin is ever before me."  I can't get it out of my vision.  I can't get it out of my mind. 
Verse 10, "Create in me a clean heart, O God.  Renew a right spirit within me.  Cast me not away from thy presence, and take not thy Holy Spirit from me.  Restore unto me the joy of thy salvation, and uphold me with a willing spirit."  Listen.  When he mourned his sin and he confessed his sin, he was cleaned out.  It was a whole different attitude. 
Verse 32 illustrates the comfort that God's forgiveness of sin brings:
And you know what he said in Psalm 32 when he got it all out?  He said, "Blessed, happy.  Happy is the man who mourns, because happy is the one whose transgression is forgiven, whose sin is covered.  Happy is the man unto whom the Lord does not impute iniquity."  You know why mourners are happy?  Because mourners over sin who are the only ones who are – what? – forgiven.  The rest of the world has to live with that guilt endlessly with no relief.
Beloved, let me say this.  The happiness doesn't come in the mourning.  It comes in what God does in response to it.  You just try as a Christian to keep sin in your life and bottle it up and you just see how ruinous it becomes.  You confess it and see the freedom and the joy that comes in forgiveness …
Listen.  Nobody ever came into the kingdom of God who didn't mourn over his own sinfulness.  And you can't verify to me that you're a true Christians or to anyone else unless throughout your life there is the same sense of grief over the sin in your own life.
Now I don't mind being happy because I'm forgiven, but I can't enjoy that happiness until I have dealt with sin.  A child of God is one constantly broken over sinfulness.  You know it's hard for me to be happy much any more.  It really is.  I used to be a lot happier than I am now.  I know too much to be happy. 
MacArthur means this:
… going back to Matthew chapter 5, the verb here is a present tense, penthountes, continuous action, "the ones who are continually mourning are the ones continually being comforted."  Luther in his 95 Theses said that our entire life is a continuous act of repentance and contrition.  David cried it out, Psalm 38, "For my iniquities are gone over my head.  Like a heavy burden they are too heavy for me."  It was a way of life.  He just faced his sin as a reality all through his life.
You know something?  In all of the New Testament we find so much about Jesus, but one thing we never see Jesus do in the whole New Testament account is laugh.  He never laughed.  Oh, I don't know if he did laugh or not, but it isn't recorded.  Hard for me to imagine that he had much to laugh about.  He was hungry.  He was angry.  He was thirsty, but it never says he laughed, and that's such a part of human emotion.  But it does say he wept.  He was a man of sorrows acquainted with grief. 
I think we've left that.  We have been sucked into an entertainment, thrill seeking, pleasure mad, silly world of fools and jesters and comedians, some of them even trying to ply their trade in the church.  Do you know that it was man introduced the other night on Christian television program as the leading Christian comedian?  Who needs that?  That's what it means.  You understand now don't you what it means to mourn over your sin?
What's the result of it?  Second question.  These will be shorter.  And I didn't say all I wanted to say, either, about that.  You realize that you just get the tip of the iceberg week after week.  Living with that frustration is very difficult.  What is the result of mourning?  You say, "So what's it going to get me?  I mourn around, mope around, sorry for my sin, what do I get?"  Comfort, comfort.  By the way, as I said before, mourners are not blessed because they mourn, mourners are blessed because they comfort.  You don't mourn, you don't get comforted.  You just try to hide your guilt and it eats away.  There's no happiness in the sorrow of the world because it can't be comforted.
And by the way, they use the emphatic pronoun autoi here, which means "blessed are they who continue to mourn for they alone shall be comforted."  It is only the mourners who know the comfort of God.  It is only those who mourn for sin who know what it is to have their tears dried by the loving hand of Jesus Christ.  They shall be comforted, parakale from which we get paraclte, the one called alongside to help, the one that Jesus referred to, the comforter. 
By the way, the Bible tells us God is a comforter, Psalm 30:5, Psalm 50:15, Isaiah 55:6-7, Micah 7:18-20, and on and on and on talks about the comfort that God gives us.  He helps us, he succors us, he hears our cry, he meets our need, he's always there beseeching, and admonishing, and consoling, and sympathizing, and encouraging, and strengthening, and forgiving, and restoring, and that adds up to comfort.
As our mourning rises to the throne of God, His unsurpassed and matchless comfort descends from Him by Christ to us.  "God is a God of all comfort," the Bible says.  And did you know who the comforter was?  … Jesus … said, "When I go away, I'll send another – " what? " – comforter."  …  God, the God of all comfort, Christ, the first Paraclete, called alongside to help, and the Holy Spirit followed up on the work.  God is a God of comfort.  Christ is a Christ of comfort.  The Holy Spirit is a Spirit of comfort.
Jesus said that blessed are the meek, because they will inherit the earth (verse 5).
Meekness is similar to yet different from humility.
MacArthur explains the progression, which related to the urge for political domination, something the Jews wanted over the Romans. Yet, Jesus addressed the spiritual side and proclaimed meekness, recognising God's holiness and pursuing godliness:
Meek.  It's different from broken in spirit.  Let me show you how.  The root word is the same idea – different word, same idea.  But let me show you.  In fact, some places in the Bible these two words could be used interchangeably, but there's a beautiful distinction made here.  Now watch.  "Broken in spirit" centers on my sinfulness, okay?  Verse 3, "Broken in spirit" centers on my sinfulness.  "Meekness" centers on God's holiness.  Two sides of the same thing.  Broken in spirit because I'm a sinner and meek because God is so holy by comparison.  Two sides of the same thing.
Look at it another way.  Broken in spirit is negative and it results in mourning.  Meekness is positive and it results in seeking righteousness.  See?  It's just the other side of this thing.  That's the beauty of the sequence.  There's a progression here.  First of all, there is this brokenness, this tremendous sense of sinfulness and it's negative and it results in mourning.  And then, all of a sudden, you begin to see the other side of it.  You begin to see a holy God, and that's meekness.  And then you begin to hunger after his holiness.  You see the sequence, the flow? 
"Happiness," Jesus says, "Happiness, blessedness.  Oh, that's for people like this, people who are – watch – realistic about their sin, who are repentant about their sin, who are responsive to God."  And the unblessed and the unhappy and those shut out of the kingdom are the arrogant, self-sufficient, self-righteous, unrepentant, stiff-necked, proud people.  Man this was devastating.  Ooh. 
You see, the Zealots were saying, "We want a military Messiah.  We want a military kingdom."  The Pharisees were saying, "We want a miraculous Messiah.  We want a miraculous kingdom."  By the way, the Sadducees were saying, "We want a materialistic one."  They were the materialists.  I suppose the Essenes were over in the corner saying, "We want a monastic one."  But Jesus said, "I'll give you a meek one."  The kingdom is not going to be materialism.  It's not going to be monasticism.  It's not going to be militarism, and it's not going to be just flashy miracles.  It's going to be for the meek. 
And, you know, our world will still have trouble with that. Our world is, associates happiness and success with strength, and confidence, and self assurance, and survival of the fittest, and conquest, and power. That wasn't Jesus' way. His kingdom is for people who are meek.
MacArthur says that meekness also ran throughout the Old Testament and cites several passages.
He then gives us the biblical definition, which does not mean being a doormat, by the way. It means to be submissive towards God:
Look further.  "The meek" comes from a Greek word.  The root is praus.  And it means basically, here's the root, "mild, gentle, and soft."  Mild, gentle, and soft.  So the idea is a person who is gentle, mild, tenderhearted.  Somebody who's patient.  Somebody who's just submissive, and so forth.  Now that's the root concept:  Mild, gentle, soft, patient, kind, quiet, willing, submissive … 
It is a byproduct of self emptying, of self humiliation. It is a brokenness before God.
Meekness also means exercising self-control over one's own power:
When Jesus came into the city, you see, he didn't come on a white charger conquering and to conquer. He came riding in on the colt, the foal of a jackass. I mean, that was really low-class transportation. He was meek. Further, let me say something to you about it. It is a gentleness, and a mildness, and a subdued character – watch this – it is not weakness. It is power under control. Get that definition …
It's Ephesians 4:26.  It's okay to be angry, but don't sin.  In other words, let it be a righteous anger, a controlled anger for God's purposes.  Don't be angry because you've been offended, be angry because God has, see?  It's anger for the right reason at the right time. 
Meekness doesn't mean impotence.  It is power under control.  And if you examine Proverbs 25:28 it says, "He that hath no rule over his spirit is like a city that is broken down and without walls."  That's power out of control.  You've got power, but there's nothing to contain it, and it's like a destroyed city.  On the other hand, Proverbs 16:32 says, "He who is slow to anger is better than the mighty, and he who rules his spirit than he who takes a city."  In other words, to rule the spirit is meekness.  To be out of control is the lack of meekness.  It is power under control … 
Power under control.  They trust in God.  They delight in him.  And God promises to give them the earth.  It isn't cowardice.  It isn't flabbiness.  It isn't a wishy-washy lack of conviction.  It isn't just human niceness.  Meekness says, "In myself, nothing is possible.  But in God, everything is possible."  Meekness says, "For me, I offer no defense.  For God, I'll give my life.  For God I'll die."  It's not a passive acceptance of sin, but it's an anger under control.  It's holy indignation. 
Illustration. "For even hereunto were you called, because Christ also suffered for us, leaving us an example that you should follow his steps."  Now here's real meekness.  He did no sin.  Neither was guile found in his mouth.  Now start right there.  He never did anything wrong.  So, whatever anybody accused him of was false accusation.  So whatever anybody punished him for was wrong.  Whenever they abused him, they were out of line.  Whenever they slandered him, they were wrong.  Whenever they mocked him, it was a lie, because he never did anything wrong.  He never sinned.  He never deceived.  He never did anything wrong. 
And even though he never deserved any criticism, when it came – in verse 23 – and when he was reviled, he didn't revile again.  And when he suffered, he didn't threaten.  He just committed Himself to him that judges righteously.
Stop right there.  That's meekness.  Jesus never defended himself, never.  But when they desecrated his Father's temple, he made a whip and started beating them, didn't he?  Meekness says, "I'll never defend myself, but I'll die defending God."  That's meekness.  "I'll never defend myself.  I'll die defending God." 
As for inheriting the earth, MacArthur says:
The people in the kingdom shall inherit the earth and the only ones who enter my kingdom are the meek, not the proud. The ones that are broken over their sin, not the ones who think they have no sin. The ones who are mourning over the fact that they're lost, not the ones who are laughing about the fact that they're supposedly all right.
Jesus said that blessed are those who hunger and thirst for righteouness, for they will be filled (verse 6). This is another verse that is often misinterpreted in a socio-political context, yet it builds on the preceding Beatitudes and has spiritual, not temporal, significance.
MacArthur explains:
… in your meekness before God, you realize that the only hope you have of ever knowing righteousness is to seek it at His hand, and so you come to the fourth Beatitude and you hunger and thirst after what you know is not yours on your own. 
So the progression is simple.  Martyn Lloyd-Jones writes:  "This Beatitude follows logically from the previous ones.  It is a statement to which all the others lead.  It is the logical conclusion to which they come.  It is something for which we should all be profoundly thankful and grateful to God.  I do not know of a better test that anyone can apply to himself or herself in this whole matter of the Christian profession than a verse like this.  If this verse is to you one of the most blessed statements of the whole of Scripture, you can be quite certain you're a Christian.  If it is not, you had better examine your foundations again." 
Because if you have been broken in your spirit and are overwhelmed with your sinfulness and you mourn over your sinfulness and then you look up to recognize the holiness of God, the response should be that you hunger and thirst for what He has that you need.  And if you do not hunger and thirst after righteousness, you are not a citizen of God's kingdom.  Our society chases all the wrong things, you see.  They chase money, materialism, fame, popularity, pleasure, usually all because of greed, not need, but it's all the wrong stuff.  And you know the sad part of it is, even though the United States grants us the pursuit of happiness, people don't find it because they define happiness in a wrong way.  Happiness is money.  Happiness is pleasure.  Happiness is having material things.  Here it says happiness is brokenness, happiness is mourning, happiness is meekness, happiness is hungering and thirsting after righteousness. 
This is spiritual thirst, spiritual hunger, neither of which abates in the true believer:
The Greek verbs are just very powerful.  Peinntes means to be needy, to suffer hunger.  It has the idea of a deep hunger, not just superficiality.  The word dipsa, to suffer thirst.  Again, it carries the idea of a genuine thirst.  And here they are, the strongest impulses in the natural realm.  And by the way, they are in a continuous present participle.  The ones who are hungering.  The ones who are thirsting.  It is a continuous thing.  And so I say to you, beloved, this is not only the one – the condition of the one coming in, but this is the condition of the one in the kingdom. 
You know – I'll put it this way:  When I came to Jesus Christ, I hungered and thirsted for His righteousness, and now that I know Him, I hunger and thirst for more of it, right?  That's what He's saying.  In fact, Lenski, the great commentator, says:  "This hunger and this thirst increases in the very act of being satisfied."  Luke adds a note to this.  Luke has a parallel passage and he adds the word "now."  "Blessed are they who are hungering now."  It is a present, it is a continuous thing.  It is a moment-by-moment way of life.  When you become a Christian, you don't stop …

This is because sanctification is involved. Paul urged the Thessalonians, even in their abundant faith and love, to improve on that. It is part of the Christian journey:
Happiness is a byproduct.  Happy are those who hunger and thirst after what?  Righteousness.  You want to be happy, it comes as a byproduct of righteousness.  It's not any holy high you get with some zap.  It's not some experience you find.  That isn't what it is.  Dikaiosun, righteousness, justification to be made right with God.  And what am I saying?  Listen, simple, the only real happiness in life is to be right with God.  That's it.  The only real happiness in life is to be right with God.  And I believe this points to two things.  First of all, salvation and second of all, sanctification.  First of all, salvation and second, sanctification … 
Now let me say it in simplicity:  Happiness belongs to the holy.  That's what he's saying.  If you're unhappy in your life, somewhere along the line, you're unholy.  Jesus was talking to Jews who thought they were righteous.  To them holiness was a conformity to rules, it was an external thing.  But it wasn't enough.  That's why Jesus said, "Unless your righteousness exceeds that of the scribes and Pharisees, you'll never enter the kingdom."  Their righteousness doesn't cut it.  The Beatitudes took the external, stripped it away and forced us to look at the inside.  And when you hunger and thirst for salvation, then you'll be filled. 
But there's a second element.  I think it also implies sanctification.  I don't think once you get saved you stop hungering and thirsting, as I said.  Then you hunger and thirst for sanctification, for an increasing holiness.  Beloved, I don't know how to express this as strongly as I feel it.  I hope in your life there is this hunger, hunger that never stops, the desires to be more and more like Christ.  This is a mark of a Christian.  You keep on hungering, you keep on thirsting to desire more virtue, a greater purity, more Christlikeness.  You never get to the place where you've arrived. 
Jesus said that blessed are the merciful, for they will receive mercy (verse 7).
MacArthur says that the first four Beatitudes point to the inner life. The one about those who are merciful points towards outward actions:
These first four Beatitudes were entirely inner principles.  They dealt entirely with an inner attitude.  They dealt entirely with what you see of yourself before God.  But now, as He comes to the fifth Beatitude, this, while being also an inner attitude, begins to reach out and touch others.  There is a manifestation in this that is the fruit of the other four … 
So we've made a transition now.  Now we're going to talk about the character that is manifest when that inward attitude is there in the first four Beatitudes.  When you have those first four, there are going to be four characteristics of your character that will be made manifest, and we'll see them as we study these last four areas in this wonderful introduction. 
Now, you know, there are a lot of people who've tried to use this Beatitude in kind of a humanistic way …

It isn't simply the idea that if you're merciful to everybody, then everybody's going to be merciful to you.  That's wishful thinking in a Roman society, and I'll tell you something else:  It's wishful thinking in our selfish, grasping, competitive society.  You know, in our society we could say, "You be merciful to somebody else and he'll step on your neck."  That doesn't always work.  But the best illustration of the fact that it's not just a human platitude is our Lord, Jesus Christ.  He proves once and for all that it isn't a human platitude. 
MacArthur gives us examples of our Lord's mercy:
Jesus Christ came into the world and was the most merciful human being that ever lived.  Jesus Christ came into the world and never did anything to harm anybody.  Never.  Jesus Christ came into the world, He reached out to the sick and He healed them.  And He reached out to the crippled and He gave them legs to walk.  And He reached to the eyes of the blind and they saw and to the ears of the deaf and they heard and to the mouths of the dumb and they spoke.  And He found the prostitutes and the tax collectors and those that were debauched and He drew them into the circle of His love and He redeemed them and He set them on their feet.  He picked up the sorrowing, He wept with them, and He took the lonely and He made them feel like they were loved.  And He took little children and He gathered them into His arms and He loved them.  Never was there a human being who ever lived in the face of the earth with the mercy of this one. 
Once He was going along the streets and a funeral procession came by, and He saw a mother weeping because her son was dead and who would care?  No son, no husband.  And Jesus reached out in the midst of the funeral procession, stopped the casket, put His hand on it, and raised the child from the dead and gave him back to his mother.  In John chapter 8, some men had caught a woman in adultery and they dragged that woman into the presence of Jesus, and He looked at that woman after He had talked with her and after He'd confronted her accusers and He forgave her and He said, "Neither do I condemn thee.  Go and sin no more."  What mercy. 
He ate with tax collectors, He ate with sinners, and when the scribes and Pharisees saw Him eat with the tax collectors and the sinners in Mark chapter 2, verse 16, they said to His disciples, "How is it that He eats and drinks with publicans and sinners?  He runs around with the riffraff."  From start to finish, the life of the blessed Lord Jesus was one of constant mercy.  He was merciful to everyone.  Listen, I'm telling you something, people:  Mercy given doesn't mean mercy returned.  You can't work that human platitude in Jesus' case.  You know what?  He was the most merciful human being that ever lived and they screamed for His blood and they slammed Him to a cross and they nailed Him there.  That's not a human platitude.  Doesn't make it.  That's not what it's talking about.  If mercy carried its own reward, they wouldn't have nailed the most merciful being that ever lived to a cross and spit in His face and cursed Him.  The most merciful one who ever lived received from the people to whom He gave mercy no mercy at all. 
MacArthur explores the Greek and the Hebrew words for mercy:
Let's look at the word "merciful."  Elemnes.  The word is only used twice in the entire New Testament.  Once it is used here and once it is used in Hebrews chapter 2 and verse 17, and there it says, "Wherefore in all things it behooved him to be made like his brother and that he might be a merciful and faithful" – what? – "high priest."  Christ is the great illustration of mercy.  He is our high priest who intercedes for us, and it is from Him that mercy comes.  The verb form, however, is used many, many times in the Bible.  It is very, very common.  It is common in the Old Testament, Septuagint, the Greek edition.  The Hebrew synonym would be chesed and it is also very common.  The word simply means to have mercy on – now listen – to succor the afflicted, to give help to the wretched, and to rescue the miserable.  It's a very broad idea. 
Anything you do that is of benefit to someone in need, that's mercy.  Very broad idea, we think of mercy so much in terms of its aspect of forgiveness in salvation, but it's a very broad term.  It means compassion in action.  It goes beyond compassion.  It goes beyond sympathy.  It means compassion in action, sympathy in action toward anyone who has any need.  And when our Lord talks about it here, the real elemnes, the real stuff, is not a weak sympathy which carnal selfishness feels but never does anything to help.  It is not that false mercy which really indulges its own flesh in salving of conscience by giving tokenism.  It is not the silent, passive pity which could be genuine but never seems to be able to help in a tangible way.  It's not any of those superficial things.  It is genuine compassion with a pure, unselfish motive that reaches out to help somebody in need.  That's what it is. 
In other words, Jesus was saying to them, "The people in my kingdom aren't takers, they're givers.  The people in my kingdom aren't condemners, they're mercy givers.  The people in my kingdom aren't the ones who set themselves above everybody, they're the people who stoop to help everybody."
Forgiveness and love are also connected to mercy:
We cannot think of mercy without its expression in forgiveness.  We cannot think of forgiveness without its source: mercy.  But listen, people, forgiveness is not the only expression of mercy … 
Forgiveness flows out of mercy, mercy flows out of what?  Love.  Why has God been merciful?  It is based on love.  But God, who is rich in mercy – why?  For His great love wherewith He loved us.  You see the sequence?  God loves and love is merciful and mercy is forgiving, among many other things.  And so love is behind mercy, but love is bigger than mercy, if you can imagine this. 
You say, "Now wait a minute.  You said mercy was bigger than forgiveness."  That's right.  Mercy is bigger than forgiveness and love is bigger than mercy.  Because love can do a lot of things, a lot more than just show mercy.  Because mercy presupposes a problem and love can act when there isn't a problem, right?  The Father loves the Son, the Son doesn't need mercy.  The Son loves the Father and the Father doesn't need mercy.  The Father loves the angels and the angels love the Father and neither one of them need mercy.  Love is bigger than mercy.  Mercy is the physician.  Love is the friend.  Love acts out of affection, mercy acts out of need.  Love is constant, mercy is reserved for times of trouble.  But there's no mercy without love.  But love is bigger than mercy. 
Then there is grace:
What about mercy and grace?  People say, "Well, is mercy like grace?" and "Is grace like mercy?"  Well, yes and no.  Now listen, you're going to really get a theological exercise, so hang on.  The term "mercy" and all of its derivatives – listen – always deal with elements of pain and misery and distress.  Always the result of sin, whether it's individual sin or just the sin of the world, just the problem of being in a sinful world.  You see, mercy always presupposes problems.  It deals with the pain and the misery and the distress.  But grace deals with the sin itself.  Mercy deals with the symptoms, grace deals with the problem. 
You see, mercy offers relief from punishment.  Grace offers pardon for the crime.  You understand?  First comes grace and grace removes the sin and then mercy eliminates the punishment.  They're different.  You know, in three of his letters – and he never does it in a letter to a church, he only does it in letters to individuals, 1 Timothy, 2 Timothy, and Titus, Paul says "mercy and grace and peace."  Mercy and grace are different.  Mercy eliminates the pain and grace grants a better condition.  Let me give you an illustration.  The Good Samaritan, right?  He's lying – the man's lying on the side of the road, he's been beaten to the point of dying, he's been robbed, and the priest goes by and walks along and doesn't want to get involved.  And the Levite goes by, doesn't want to get involved.  All the sudden, a half-breed Samaritan comes by and he sees this poor Jew all beaten and maimed and so forth, and he goes over and he cares for him.  You know what mercy does?  Mercy relieves his pain.  Mercy pours oil in his wombs and mercy binds up his wounds.  And mercy relieves the suffering.  And you know what grace does?  Grace goes over and rents him a room so he can live in an inn. 
You see, mercy deals with the negative and grace puts it in the positive.  Mercy takes away the pain and grace gives a better condition.  Mercy says no hell, grace says heaven.  Mercy says I pity you, grace says I pardon you.  So mercy and grace are two sides of the same marvelous thing.  And God offers mercy and grace. 
However, we cannot forget justice:
People say, "Well, if God is a God of justice, how can He be merciful?"  If you look at it that way, if God's a just, holy, righteous God, can He just negate justice?  Can He say, "Well, I know you're a sinner and I know you've done awful things, but oh, I love you so much and I have so much mercy, I'm just going to forgive you"?  Can He do that?  Yeah, He can.  You know why?  Because He came into the world in human form and died upon a cross, and at the cross when Jesus died – don't ever forget it – justice was satisfied. 
Did you get that?  God said there would be no forgiveness of sin without the shedding of blood and God said there had to be a perfect sacrifice to bear the sins of the world, and Jesus was that and justice was satisfied.  And now mercy does no violation to justice.  I'm not – when I talk about the mercy of God, it's not some foolish sentimentality that excuses sin.  Listen, we got too much of that going on, even in the church.  The only time God ever extended mercy to anybody was when somebody paid the price for the sin involved.
And God will never violate the truth of His justice and His holiness to be merciful.  He will be merciful, but only when truth has been dealt with …

We're not talking about sentimentality.  I'm not telling you that if you sin your life away and never acknowledge Jesus Christ, God's going to be merciful and accept you.  That's not true.  You will have judgment without mercy.  And I believe that the only time God can really give mercy is when the truth has been accepted.  Only when we accept the sacrifice of Christ or as Christians who've done that, if God is to be merciful to us, then we must confess sin as sin and repent and turn from it, and then we'll know His mercy. 
So, mercy is special.  It is more than forgiveness.  It is less than love.  It is different than grace.  And it is one with justice.  It is more than forgiveness, less than love, different than grace, and one with justice.  To sum up the significance of being a merciful person, listen to this:  The merciful not only hears the insults of evil men, but his heart reaches out to the very same evil men in compassion.  The merciful one is sympathetic.  He is forgiving.  He is gracious.  He is loving.  He's not so sentimental that He will excuse evil.  He's not so sentimental that He will allow for sin to go unpunished or unconfronted just because somebody is kind of sad or tragic.  No, mercy means you reach out in sympathy and total forgiveness and love and grace when truth is accepted.  Psalm 37:21 says this:  "The wicked borrows and pays not back, but the righteous shows mercy."  We're going to be merciful to those who accept the truth. 
Jesus said that blessed are the pure in heart — the holy — for they will see God (verse 8).
Matthew Henry tells us:
This is the most comprehensive of all the beatitudes; here holiness and happiness are fully described and put together.
1. Here is the most comprehensive character of the blessed: they are pure in heart. Note, True religion consists in heart-purity. Those who are inwardly pure, show themselves to be under the power of pure and undefiled religion. True Christianity lies in the heart, in the purity of heart; the washing of that from wickedness, Jer 4 14. We must lift up to God, not only clean hands, but a pure heart, Ps 24 4, 5; 1 Tim 1 5. The heart must be pure, in opposition to mixture—an honest heart that aims well; and pure, in opposition to pollution and defilement; as wine unmixed, as water unmuddied. The heart must be kept pure from fleshly lusts, all unchaste thoughts and desires; and from worldly lusts; covetousness is called filthy lucre; from all filthiness of flesh and spirit, all that which come out of the heart, and defiles the man. The heart must be purified by faith, and entire for God; must be presented and preserved a chaste virgin to Christ. Create in me such a clean heart, O God!
2. Here is the most comprehensive comfort of the blessed; They shall see God. Note, (1.) It is the perfection of the soul's happiness to see God; seeing him, as we may by faith in our present state, is a heaven upon earth; and seeing him as we shall in the future state, in the heaven of heaven. To see him as he is, face to face, and no longer through a glass darkly; to see him as ours, and to see him and enjoy him; to see him and be like him, and be satisfied with that likeness (Ps 17 15); and to see him for ever, and never lose the sight of him; this is heaven's happiness. (2.) The happiness of seeing God is promised to those, and those only, who are pure in heart. None but the pure are capable of seeing God, nor would it be a felicity to the impure. What pleasure could an unsanctified soul take in the vision of a holy God? As he cannot endure to look upon their iniquity, so they cannot endure to look upon his purity; nor shall any unclean thing enter into the new Jerusalem; but all that are pure in heart, all that are truly sanctified, have desires wrought in them, which nothing but the sight of God will sanctify; and divine grace will not leave those desires unsatisfied.
MacArthur lays out the progression of the Beatitudes thus far and prepares us for the next, that of the peacemakers:
… you begin with the reality of being poor in spirit.  And when you see yourself as a cowering beggar in a corner, reaching out a hand that can only be given a gift, you have no power to earn anything.  And as a cowering beggar, ashamed to show your face, you reach out in tremendous sense of inadequacy.  You reach out to God.  That's where it begins, and then in your reaching out as a beggar, your next response is to mourn over the sin that has put you in that position.  And out of your total sense of sinfulness, you fall meek before an absolutely holy God.  You couldn't be anything else but humble.  And in your humility, all you can do is cry out and hunger and thirst for a righteousness which you can't attain and yet you've got to have.  And you cry that God would give it.  And then what happens?  He gives you mercy and that's the next Beatitude and you become one of those who are merciful.  And once you have been granted mercy and once God by His mercy has cleansed your heart because you hungered for His righteousness, then and then alone do you become pure in heart, and only when you are pure in heart could you ever be a peacemaker. 
Jesus said that the peacemakers are blessed, for they will be called children of God (verse 9).
MacArthur says that the peacemakers are not politicians, statesmen or diplomats:
God's peacemakers are vastly different, which is good because the world's peacemakers have a terrible failure record … 
I'll never forget reading a statistic.  The question was:  How many peace treaties have been broken?  The answer:  All of them.  You see, peace is that glorious brief moment in history when everybody stops to reload.  The United Nations was concerned in the aftermath of World War II with developing an agency for world peace, and so in 1945, the United Nations brought itself into existence, and since that time there has not been one single day of peace on the earth — not one.  The world is filled with never-ending upheavals.  The motto of the United Nations was set in 1945:  "To have succeeding generations free from the scourge of war."  So far they haven't done it for one day.  It's a pipe dream.
He defines peace through the Jewish greeting, 'Shalom':
Peace is not just stopping the war; peace is creating the righteousness that brings the two parties together in love.  When a Jew says to another Jew, "Shalom," which is the word for peace, he doesn't mean "May you have no wars, may you have no conflict," he means "I desire for you all the righteousness that God can give, all the goodness that God can give."  Shalom means "God's highest good for you."  It's a creative force for goodness.  So if we are to be peacemakers, we do not only stop the war, we replace it with the righteousness of God.  We replace it with all the goodness of God.  Peacemakers are those who not only call a truce but a real peace where all is forgotten, and they embrace one another.  It is an aggressive good.  What I'm trying to say is that peace is not creating a vacuum.  Peace is not creating the absence of something, but the presence of something …

The peace of the Bible does not evade issues.  It never evades issues.  The peace of the Bible is not peace at any price.  It isn't a gloss.  The peace of the Bible conquers the problem.  You see the difference?  It conquers that problem in the middle ground so that the two can come together.  It builds a bridge to two sides.  Sometimes it means struggle.  Sometimes it means pain.  Sometimes it means anguish.  Sometimes it means a little more strife but in the end, real peace can come. 
Peace is linked to holiness — purity of heart:
The wisdom that is from God finds its way to peace through what?  Purity.  First pure, then peaceable.  Peace is never sought at the expense of righteousness.  You have not made peace between two people unless they have seen the sin and the error and the wrongness of the bitterness and the hatred and they have resolved to bring it before God and make it right, then through purity comes peace.  Peace that ignores purity is not the peace that God talks about.  In Hebrews 12:14, it says this, and another word that you must remember:  "Follow peace with all men and holiness."  In other words, you cannot divorce peace from holiness.  You cannot divorce peace from purity.  You cannot divorce peace from righteousness.  Psalm 85:10 says, "Righteousness and peace have kissed each other."  Where there is real peace, there is righteousness.  Where there is real peace, there is holiness.  Where there is real peace, there is purity, because that resolves the issue. 
Paradoxically, biblical peace is not without conflict:
When Jesus says, "Be a peacemaker in the world," that doesn't mean you don't ever bring up anything that is true if it offends somebody.  On the contrary, you better bring it up if it's true and it better offend them so they can get past that to the real peace.  Biblical peace is real peace.  We are not peacemakers in the world in the sense that we never make strife.  We make strife all the time.  But we are peacemakers in the world in this sense, that when the strife is over the real peace is there.  Biblical peace is that kind of peace.  Now, we are not agreeing to just settle things without dealing with truth.  We will deal with truth.  And if you're going to deal with truth, beloved, you're going to be a divider.  You're going to be a disturber, you're going to be a disrupter.  There's no way to get around it. 
And you know, you see that, don't you?  You go to work and you start to live for Christ and you start to give your testimony and all of a sudden, here you are trying to be a peacemaker and help people to make peace with God and help them make peace with each other and help them make peace in their own hearts, but you're doing your best to get them to make peace and all they can do is get mad at you.  Because the whole premise of your message is that they have to deal with sin, and people don't like to hear that so they get very upset.  Our Lord said in Luke 12:51, "Do you suppose that I am come to give peace on earth?  I tell you nay, but rather division.  From henceforth there shall be five in one house divided, three against two and two against three.  The father shall be divided against the son, the son against the father, the mother against the daughter, the daughter against the mother, the mother-in-law against the daughter-in-law, and the daughter-in-law against the mother-in-law."  In other words, Jesus said it's very obvious at the beginning that when people come to Jesus Christ there will be conflict.  And He knows that true peace can only come when truth reigns and it's more than a truce.  It's a real peace. 
MacArthur gives us a practical application for us to discern if we are peacemakers. This follows on from the previous Beatitudes:
You have righteousness in your life, you have purity in your life, you have holiness in your life and you'll have peace in your life.  And if you've got problems in your marriage and there's conflict in your marriage and conflict in your family or in your home, I'll tell you one thing: You have righteousness, holiness, and purity in your marriage and your home and you'll have peace in your home.  Because that's always the way.  Once you have righteousness, you're at peace with God, peace with man, peace with self. 
And so to be a peacemaker, you've got to go through all the Beatitudes.  You've got to come to the place where you see your own sinfulness, you see yourself as a wretched soul, miserable, deserving nothing with no rights or privileges, hating your natural self, crying out to a holy God to give you a righteousness you could never get but must have.  And God, in His great, great love, gives you mercy, purifies your heart, and then and only then will you ever be a peacemaker …

Peace belongs to God.  It doesn't belong to man at all.  In fact, you want to hear something?  Since the fall of man, in Genesis 3, man has never known peace unless he took it as a gift from God, because man doesn't have it.  God is perfect peace.  In fact, God is at perfect peace with Himself.  God is characterized by perfect oneness.  The Trinity has perfect oneness.  It is absolutely tranquil.  It is in absolute harmony.  It is perfectly united.  In the Trinity, there is no conflict.  There is only peace and that radiates from God.  The only way we'll ever know peace is if God comes to us.  And I love the statement of Ephesians 2:14 that tells us that's exactly what He did.  It says, "For He" – that is Christ – "is our peace."  When Christ came into the world, He was the peace of God coming to take the hand of God and the hand of man and by His own sacrifice make man righteous and join his hand to God. 
MacArthur says that true peacemakers help people make peace with God:
There's a second thing:  A peacemaker is one who has peace himself with God and, secondly, one who helps others make peace with God.  One who helps others make peace with God.  I think Jesus had in mind here evangelism.  I think that's the greatest thing about peacemaking.  You can go to somebody who's at war with God and make peace between that person and God, right?  And I'll tell you something else.  Anybody who is unsaved is at odds with you, too, because they're out of the family.  They're cursed by God.  They're set apart from the kingdom.  And the minute they come to Jesus Christ, they make peace with God and peace with you, they become God's child and your brother, right?  Evangelism is peacemaking.  What a fabulous thought.  The best way to be a peacemaker is to preach the gospel of peace.  To impart to men the gospel so that their alienation from God can be ended.  So that their alienation from the church, the body of Christ, from your fellowship, can be ended.  And they can be at peace.  No wonder it says in Romans 10:15, "How beautiful are the feet of them that preach the gospel of" – what? – "peace." 
You see, it's a beautiful thing to bring people to a peaceful relationship with God.  You want to really be a peacemaker?  Just tell somebody about Jesus Christ.  That's infinitely beyond what any mortal politician or statesman has ever accomplished in a political sense.  That's ultimate, eternal, real peace. 
Jesus discusses the final beatitude — the blessed state of those who are persecuted for righeteousness' sake, for theirs is the kingdom of heaven — in verses 10 and 11.
MacArthur explains why:
Now, I really believe that this is one Beatitude.  The reason I believe it's the same one is because the term "persecute" is used in verse 10, and the term "persecute" is used again in verse 11.  It's really the same thing, it's just expanded in verse 11.  Another reason I believe it's really only one Beatitude is that there's only one result given.  You take verse 10 and 11, and the only result is at the end of verse 10:  "For theirs is the kingdom of heaven."  Now, all of the Beatitudes have a promise with the character, and there's only one promise in verses 10 and 11, and that's at the end of verse 10.  You say, "Well, if it's only one promise, then why does it have two 'blesseds'?"  I believe that God double-blesses those who suffer.  I believe God double-blesses those who are persecuted.  It's almost as if we need it in this particular case.  Double-blessed are those who are persecuted. 
This beatitude carries on nicely from being a peacemaker:
There was never anyone more loving than Jesus Christ.  There was never a greater peacemaker than Jesus Christ.  And for some people, they responded to that love, and for some people, they entered into that peace.  But even though Jesus was the most loving, magnanimous, gracious, kind, peaceful person who ever lived, everywhere He went, He created antagonism.  Why?  Because He was confrontive about the issues.  And it is so with all the righteous.  You chart the course of the righteous throughout history, and they have always suffered for their godliness.  Always.  It began in the very beginning, in the book of Genesis, when a godly, righteous man named Abel was murdered by an ungodly, unrighteous brother who simply could not tolerate his righteousness, and it's been so ever since.  Moses had to choose rather to suffer affliction with the people of God than compromise himself in the pleasures of Egyptian society, Hebrews 11 tells us.  There was always a price to pay. 
MacArthur says that not all of us will be persecuted. Nonetheless, we need to be prepared for that possibility:
It doesn't mean that every single one of us is going to know constant persecution all our lives to an intense degree, he is simply saying the world will pick some of us out.  And I believe anyway that all of us who live righteously in the world, at some time or another, are going to know the rebuke of the cross …

Maybe it's going to affect how they get their living.  Maybe they're going to have to believe God to supply the thing that they don't know the source for if they turn their back on what they've known in the past.  And so it could affect their secular job and it still can today. 
We return to an internal Beatitude here:
This is an attitude.  It is an attitude of a willingness to be persecuted.  That's what He's saying.  It is that lack of fear, that lack of shame, that presence of boldness that says, "I will be in this world what Christ would have me be.  I will say in this world what Christ will have me say.  And if persecution results, let it be."  It's that attitude.  It is a passive participle in the Greek and it indicates a permissiveness.  Those who allow themselves to be persecuted.  Blessed are they who allow themselves to be persecuted. 
There is the matter of being reviled as well as being slandered or libelled (verse 11):
There's a second element.  He says in verse 11 they'll revile you.  Oneidiz.  It literally means to cast in one's teeth.  To cast in one's teeth.  It's used in the crucifixion of Christ in Matthew 27:44.  They cast in His teeth.  They mocked Him.  They made fun of Him.  They reviled Him.  They scorned Him.  It's to throw something in your face, is what it is.  It's to abuse somebody with vile, vicious, mocking words.  That's essentially what it means.  So we not only are going to be chased out of the groups we used to be in, we'll be ostracized from the activities that we used to be a part of.  Not only that, there are going to be people who are going to speak evil of us, they're going to say things about us, they're going to use unkind words when our name comes up.  They did it with Jesus.  They said, "Ah, he hangs around with prostitutes and winebibbers," and so forth.  So if you're going to live the Beatitude life, you've got to be willing to be persecuted and reviled, and there are going to be some people who are going to say unkind things about you.  Some people maybe you may care about, too. 
There's a third thing, and this is really a hard one to take.  You know, I've always found that I could take the chasing me away.  Nobody wants me around much after they find I'm a minister.  It's amazing how fast people want to get out of my presence.  After they find out I'm not like a minister like other ministers they've known, that I'm a little more confrontive.  And so they'll find that out as I begin to maybe confront them a little with the things of Christ, and then they're really itchy to get out of there.  I'm rarely invited to the activities that they engage in.  I can handle that and I can even handle people saying unkind and vile and vicious things about me and I get some of that …
And I know what it is to be arrested from preaching.  I preached a sermon in a certain place in the South and I didn't go very far from there until a police car caught up with me and arrested me and threw me in jail and threatened to strip my clothes off and beat me with a whip and so forth and so on if I continued to do what I was doing.  That's in the United States of America.  I guess those things, can tolerate, but then there's that third thing where he says here that they'll "say all manner of evil against you falsely."  And you know, sometimes that's so hard to take.  I don't mind if they don't like what I do say, but when they make me say things that I don't say, that's hard to take.  And then you got to try to defend yourself for something you never even said. 
"They say slanderous and evil things against you."  They tried to say about Jesus that he was the illegitimate son of a Roman soldier.  That wasn't true.  They've tried to say things about God's people throughout all of history.  Arthur Pink well says that "it is a strong proof of human depravity that men's curses and Christ's blessings should meet on the same person."  Isn't that interesting?  What a picture of depravity.  Christ's blessings and men's curses meet on the same person. It's the people He blesses that the world curses.  That shows you how far they are from God.  Such a life provokes the ungodliness of men to be resentful.  It is the enmity of the serpent against the holy seed. 
MacArthur discusses the Greek word for 'persecution':
"Persecution" is from a Greek word that means "to harass, to treat evilly."  Literally, in its root, it means "to pursue."  You're going to come after us.
Even in 1979, he could feel the winds of change. And lo, it has come to pass:
I really feel in America, we're on the threshold of some days that are going to be real different than what we've known in the past.  I think that we've been sort of lollygagging around in the post-American Awakening era.  You know, we've been living off the revivalists of the past and the benefits that America had from its heritage of those days.  That is fast coming to an end.  Not only is government acting against religion, and religion is acting against itself by proliferating all of the cults and -isms and schisms and spasms and everything else.
And we're seeing the government crack down on religious groups.  We're seeing changes in attitudes.  We're seeing the IRS and other agencies begin to make laws that are going to directly impact those of us who are in the church of Jesus Christ.  We're seeing reactions to things that once were held to be sacred, the whole idea of church and all of those kinds of things, you know, it's all gone with mom and apple pie.  That's gone too, and so, "They're going to come after us," He says.
How?  Verse 11.  Remember what we told you?  "Revile."  That's abuse to the face.  "…say all manner of evil against you falsely…," that's slander behind the back.  They're going to come at those who are God's people right on the nose and around the back.  They're going to talk about us when we're gone, and they're going to react to us when we're there.  There will be open confrontations, and there will be that private slander.
This is why:
It isn't you.  It's that they don't know God.  And because they don't know God, they don't know Christ.  And because they don't know Christ, they don't understand righteousness.  And because they aren't willing to accept righteousness, they want their sin and will not tolerate a confrontation at that point.
Jesus ends the Beatitude section by saying that the persecuted and reviled should be glad, for their reward will be great in heaven, because, in the same way, were the prophets who went before were subject to the same treatment (verse 12).
MacArthur says persecution probably won't be a constant event, but God will watch over us:
It is not the idea that we are going to be incessantly, unmitigatedly persecuted, an unceasing stream of persecution.  That wasn't true in Paul's time.  That wasn't true in Christ's time.  There were times when Christ enjoyed the respite of a family time with Mary and Martha and Lazarus.  There were times when Jesus retreated to the Mount of Olives.  There were wonderful times with the Twelve in Galilee.
No, it isn't going to be incessant, unending, unceasing.  But whenever – hotan – whenever it happens, then God will be there to bring His blessedness to bear upon that willing soul.  He always makes it bearable, doesn't He?  "There's no trial taken you but such as is common to man, but God is faithful who will never allow you to be tried above that you are able, but will, in that trial, make a way of – " what? " – escape…"  …
Whatever loss here could never be compared with what gain in God's Kingdom.  "Blessed," he says.  Twice he says it, emphatically repeating, "Blessed.  Blessed again," because those who would willingly stand up for Jesus Christ will know the bliss of obedience and the blessedness of being a part of God's eternal kingdom …
MacArthur points out the circularity of the first and the eighth Beatitude:
Listen.  The kingdom is the gift of the Beatitudes.  Did you note the first Beatitude began with the promise, "Theirs is the kingdom of heaven," and the last Beatitude ends with the promise, "Theirs is the Kingdom of Heaven"?  And what it's really saying to us is that the major promise of the Beatitudes is you become a kingdom citizen now and forever, and the ones in between are just elements of kingdom life.
What we can conclude is that, if we want to be a part of God's eternal kingdom, we would do well to heed the Beatitudes, live by them, pray that we can further fulfil them by studying the Word of God regularly. The more we read of the Bible, the better we understand God's purpose for us.
May all reading this enjoy a blessed Sunday.
Previous instalments in my series on Harry and Meghan can be found here, here, here and here.
I left off at the end of 2019, with The Sun publishing a story on the Sussexes imminent extended visit to Canada, which enraged the Duke and Duchess:
On December 21 that year, Sky News reported:
Harry and Meghan's spokeswoman ended speculation over their whereabouts by confirming the couple and their seven-month-old son Archie are spending their six-week Christmas break in the country Meghan called home for seven years.
"The decision to base themselves in Canada reflects the importance of this Commonwealth country to them both," she said.
"The Duke of Sussex has been a frequent visitor to Canada over many years, and it was also home to The Duchess for seven years before she became a member of the Royal Family.
"They are enjoying sharing the warmth of the Canadian people and the beauty of the landscape with their young son."
The duchess lived in Toronto before joining the Royal Family as the popular US drama Suits, in which she starred in, was filmed in the Canadian city.
Harry and Meghan were famously pictured in Toronto in 2017 at the Invictus Games.
The Sussexes are likely to have spent the US Thanksgiving celebrations on 28 November with the duchess' mother Doria Ragland.
Prince Harry's grandmother, the Queen, is said to be supportive of the Sussexes' plan to take a long break and not join the rest of the Royal Family at Sandringham on Christmas Day.
The Duke and Duchess of Cambridge have previously spent Christmas with Kate's parents in Berkshire instead of with the Queen.
Harry's grandfather, Prince Philip, 98, was taken to hospital in London on Friday from Sandringham for treatment for a pre-existing condition, Buckingham Palace said.
The Queen had just arrived at the Norfolk estate for her Christmas break after the State Opening of Parliament on Thursday …
By Christmas Eve, the Mail reported that the Royal Family wanted the couple to return home in light of Prince Philip's stay in hospital:
Prince Harry and Meghan Markle have been urged by Royal family members to return from abroad to spend Christmas in the UK, as Prince Philip spends a fourth night in hospital …
It comes after a family Christmas card of the royal couple smiling in front of a Christmas tree, with Archie's adorable face staring down the camera lens, was revealed.
On December 28, news emerged in the UK that:
THE Duke and Duchess of Sussex have registered the trademarks for hundreds of products with their Sussex Royal brand.
That same day, Blind Gossip posted 'The Big Plan':
Think back to a few months ago when we talked about the baby.
Our married couple was oddly reluctant to let the public see the baby, citing concerns over safety and a desire to bond privately.
We told you that wasn't true. Plenty of their family members have managed to keep their children safe and secure over many generations while meeting their obligations as public figures.
We told you that the couple was actually trying to keep sightings of the baby rare while they figured out how to monetize the situation… without the rest of the family finding out.
They bungled that scenario.
However, it's now full steam ahead with The Big Plan!
What is The Big Plan?
To brand and monetize everything.
You are now seeing that plan being put into motion. And if you question what they are doing, you will be met with anger, misdirection, and insistence that their motives are pure.
We hid the baby because… Privacy! Motherhood!
We take private planes and stay in posh private digs because… Environment! Wellness!
We isolate ourselves from 99% of our family and surround ourselves with celebrities because… Family! Safety!
We are engaging our own outside lawyers and PR team because… Protection! Charity!
How dare you question our motives!
See how that works?
Fortunately, the Queen put paid to Sussex Royal on February 18, 2020, as the Mail reported:
The Duke and Duchess of Sussex must drop their 'Sussex Royal' label after deciding to step down as working royals.
Following lengthy and complex talks, the Queen and senior officials are believed to have agreed it is no longer tenable for the couple to keep the word 'royal' in their 'branding'.
Harry and Meghan have spent tens of thousands of pounds on a new Sussex Royal website to complement their hugely popular Instagram feed.
They have also sought to register Sussex Royal as a global trademark for a range of items and activities, including clothing, stationery, books and teaching materials. 
In addition, they have taken steps to set up a new charitable organisation: Sussex Royal, The Foundation of the Duke and Duchess of Sussex.
It has now been made clear that they will need to 're-brand'.
Returning to December 2019 and January 2020, Harry was eager to work out some sort of arrangement for his and Meghan's future with the then-Prince Charles. Charles told his son that such things had to be done in person, not via email. Prior to that, Harry had contacted the Queen, who said she would be happy to meet with him until it turned out her diary was full.
Various excerpts in this post come from investigative-turned-royal reporter Valentine Low and his 2022 best-seller, Courtiers. Royal insider Lady Colin Campbell said on GB News a few weeks ago that Low's book must be the definitive one he had so much access to the people who run the Palace.
On a personal note, I read all of Valentine Low's work when he wrote for the London Evening Standard around the Millennium. Low left no stone unturned in his lengthy exposés, and it is good to see that he continues to doggedly investigate his subject matter.
Another book I would recommend is Tom Bower's 2022 best-seller Revenge, which concerns the Sussexes lives. It, too, is packed with detail. Again on a personal note, I read his biography of the late Robert 'Bob' Maxwell in the 1990s. Maxwell died an unresolved mysterious death on his yacht. Maxwell was larger than life, both physically and figuratively. Bower's biography was a page-turner, from start to finish.
I sent both Courtiers and Revenge as Christmas gifts in 2022. I commend them to my readers.
'Cornered, misunderstood, deeply unhappy'
Valentine Low's excerpt, which The Times published on September 25, 2022, explains what happened between December 2019 and January 2020 (emphases mine):
The current set-up was not working for them, and they wanted to go and live in North America. Harry seemed to be under the impression that they could just sort it out by email before he and Meghan got back to London on January 6. The reply they got, however, was that this would require a proper family conversation. They were also told that the first date that the family would be available was January 29. It is not clear if this inflexibility was on the part of Charles, who was due to be in Davos, or that this was the response of his long-time private secretary Clive Alderton, pulling the strings. Either way, from the Sussex point of view, this went down incredibly badly. It fed into the narrative that they were not being taken seriously by the palace machinery, or by the rest of the family.
Harry had tried to speed up matters by arranging to see his grandmother alone before he left Canada. However, the message was conveyed to him that the Queen had been confused about her diary, and was no longer available. Harry was incensed, because it was not true: the courtiers had got in the way, it seemed, because they saw the meeting with the Queen as an attempt to pick the Queen off before Harry started talks with the rest of the family. As one source put it, "There was a danger that a private conversation could be interpreted very differently by two people."
And so it turned out with other conversations concerning the Sussexes, leaving the Queen to state that 'some recollections may vary'.
Harry considered travelling directly to Sandringham to see his grandmother:
He eventually dropped the idea, but it was a sign of his frustration that he even contemplated such a move.
Royal diaries opened up early in January 2020:
Given that the couple announced their plans to stand down on January 8, and the royal family met to discuss it all five days later on January 13 — the so-called Sandringham summit — it seems that the family diary was rather more flexible than originally appeared.
Harry and Meghan could be maddening, of course; they had already infuriated the royal family by pushing out their Megxit announcement on January 8 with the minimum of notice when all the talks had been about issuing a joint statement. But the palace also showed the sort of initial inflexibility that was always guaranteed to infuriate them. Harry and Meghan felt cornered, misunderstood and deeply unhappy. If the rest of the institution failed to appreciate that, even if their demands were unreasonable, the departure negotiations were never going to end happily. It is uncontroversial to suggest that the Sussexes would regard the talks as a failure. They wanted to find a compromise whereby they could live part of the year abroad but carry out some royal duties at home. No such compromise was found. Instead, they lost their royal duties, their patronages, Harry's military affiliations, their security, their income from the Prince of Wales and, for official purposes anyway, their HRH titles. They pretty much lost everything, except for the freedom to do exactly what they want.
This is what I meant yesterday by the mess of pottage.
The courtiers were busy:
In the immediate aftermath of the Sussex bombshell on January 8, when the Queen said she wanted all four households to "work together at pace" to find a workable solution, Edward Young, the Queen's private secretary, was with the Queen at Sandringham. The first negotiations took place in Clarence House — Charles's home ground — over the following four days, with the private secretaries and communications secretaries from the four households all trying to find a way to make the Sussexes' dreams a reality. They gathered in Alderton's office, a sunny first-floor room where paintings from the Royal Collection sit alongside photographs of Alderton's own family. Young would join the talks on the phone from Norfolk, but for the first few days it was Alderton who was leading the discussions. (Later, they would all have talks at Buckingham Palace.) Simon Case, Prince William's private secretary, who is now cabinet secretary, also played a pivotal role. "He was talking to both sides," said a source.
The people sitting around the table went through five different scenarios, which ranged from Harry and Meghan spending most of their time being working members of the royal family, but having a month a year to do their own thing, to them spending most of their time privately, but doing a select number of royal activities. There was, according to more than one source, a positive atmosphere in the room: they wanted to find a solution. At one stage, Alderton made the point that if they could get this right, they would be solving a problem for future generations of the royal family who were not in the direct line of succession.
Ultimately, the Queen decided that the couple could not be both in and out of the Royal Family:
By the end of the week, the five scenarios had been worked through. The view from the palace establishment was that, however much time Harry and Meghan spent away from royal duties, anything they did would reflect on the institution. That meant that the normal rules about royal behaviour would apply. They should not act or take decisions in order to gain financial or other material benefits for themselves, their family, or their friends.
But the Sussexes wanted their freedom: freedom to make money, freedom to dip their toes into American politics. There was no way for the two sides to reach an agreement on that point. Crucially, it was the Queen who took the view that unless the couple were prepared to abide by the restrictions that applied to working members of the royal family, they could not be allowed to carry out official duties. One source said: "There was a very clear view: you can't be in and out. And if you've got such clarity of view, it's very difficult to say, 'Why don't we go 10 per cent this way instead of 20 per cent?' " Compromise was off the table, removed by the Queen.
Low wonders whether the courtiers could have handled the situation 'differently', but it seems the previous paragraph would say that they could not have done so. The Queen took the final decision — and the right one, in the estimation of most Britons.
Mismatched expectations
It would appear that Meghan thought she would be the star of the Royal Family, whereas the Palace, rightly, expected her to slot into her role as the Duchess of Sussex.
Low found empathisers with both sides then adds his view:
One former palace insider believes the way the developing crisis was handled was "incompetent beyond belief". They said: "I think Meghan thought she was going to be the Beyoncé of the UK. Being part of the royal family would give her that kudos. Whereas what she discovered was that there were so many rules that were so ridiculous that she couldn't even do the things that she could do as a private individual, which is tough . . . It just required the decision-makers to sit around a table and say, 'OK, what are we going to do about this? What do you need to feel better? And what can we give?' "
There is, however, another view: that nothing could have ever saved the situation. The two sides were just too far apart. Another palace source, who has been critical of the Queen's private secretary Edward Young in the past, said: "I think that it was an impossible task. I think in Meghan and the household, you had two worlds that had no experience of each other, had no way to relate to each other, had no way to comprehend each other. And Meghan was never going to fit in that model and that model was never going to tolerate the Meghan who Meghan wanted to be. So I think that it was inevitable that they would not be able to work together. I don't think there's anything Edward could have done about that that other members of the royal family would have accepted."
Both things are probably true. There was a collective failure on the part of those who work for the royal family to recognise that there was a serious problem, to flag it up, and to try to do something about it. There were no high-level discussions any time in the first eight months of 2019 — when Meghan was later to say that she had suicidal thoughts and the first clues were emerging that the Sussexes were plotting an escape — about the nature of their unhappiness and what could be done about it.
But even if that had happened, I do not believe that it would have solved the problem. Their grievances were too deep-rooted, and the distance between what the Sussexes wanted and what the royal family felt able to give was just too great. Perhaps the best that could have happened is that the divorce could have been handled without all the acrimony that followed the events of January 2020. One thing is definitely true, however. If there were any failings, they were during the first year or so of Harry and Meghan's marriage.
There is one final thought on this, and it comes from a surprising source, someone who knows Harry well but remains upset about what Harry and Meghan did. Their view is that perhaps the Sussexes' departure was not the untrammelled disaster that so many think it was. "There is a part of me that thinks Meghan did Harry the greatest kindness anyone could do to him, which was to take him out of the royal family, because he was just desperately unhappy in the last couple of years in his working life. We knew he was unhappy, but we didn't really know what the solution would be. She came along and found the solution."

Dear, oh dear.
The Sussexes ignored staff advice
In an article from January 10, 2020 for The Times, written as the formal separation took place, Low tells us what was going on between the Sussexes and their staff before the couple sent out their statement:
This reveals how Harry has his own sense of the truth:
There was talk of putting out a statement — not the one that was eventually released but a blander version merely confirming that talks were taking place, and giving none of the detail about their plans to become financially independent and to split their time between Britain and North America.
Once more, Harry spoke to the Queen. Versions of how the conversation went differ. According to one narrative she made it clear that he should not go public with his plans. However, a source close to Harry told The Times: "He certainly thinks she said it was fine."
His closest advisers did not think it was fine. Both Sara Latham, the couple's communications secretary, and Fiona Mcilwham, their private secretary, argued strongly against putting out a bombshell statement without consulting the other members of the family. Harry and Meghan, however, were determined to press ahead.
The other royal households were given the statement shortly after 6pm on Wednesday. Ten minutes later it was sent out to the world.
It seems that the Duke and Duchess hadn't listened to their staff on other occasions:
Harry and Meghan's closest advisers are a devoted team who believe in the values, aims and ambitions espoused by the duke and duchess. But that does not mean that their advice is always listened to: and it also does not mean that some of them are not anxious about their future as the couple carve out their new role.
It also does not mean all of them have been involved in the plans. The Sussexes' website, sussexroyal.com, was created by Made by Article, a Canadian company, without input from their Buckingham Palace press team. Instead much of the content, criticised for inaccuracies, was created by the couple with Sunshine Sachs, a PR company in New York.
The Sussexes' most senior advisers are Sara Latham, their communications secretary, and Fiona Mcilwham, their private secretary, both appointed in the past year. Until last year the couple's household was part of Kensington Palace, home of the Duke and Duchess of Cambridge, and they were a closely knit team and funded by the Prince of Wales.
Then came the falling out and the decision for the Sussexes to set up on their own. In theory they are answerable to the Buckingham Palace team, but in reality they operate as a separate fiefdom. Most staff costs are paid for by the Duchy of Cornwall, but communications staff under Ms Latham are paid for by the sovereign grant.
Public unhappy
Low then explores the view of the general public in January 2020, which was quite negative, especially as their money went towards the refurbishment of Frogmore Cottage, where the Sussexes lived for only a short while:
… the announcement that the Duke and Duchess of Sussex aimed to be financially independent has raised questions about their future income. The duke has personal wealth — the money left to him by his mother, Diana, Princess of Wales — but is supported by money from his father and public cash.
In the narrow streets that surround Windsor Castle, locals grumbled at the cost of a recent renovation to the couple's residence, Frogmore Cottage, which sits in the castle grounds. Taxpayers paid £2.4 million to renovate the grade II listed building, into which the pair moved nine months ago. Jess Hunter, 28, manager of the Queen Charlotte pub, said: "It seems a bit rich to then turn around and walk away from it all. I like Meghan but she knew what she was getting into when she married Harry. If you don't want to be a princess, don't marry a prince."
About 32 per cent of people thought the decision would "damage" the royal family, while 49 per cent did not. "He's a normal human being and he's wanting to carve out a little bit of space for his new family to grow in," added Michael Smith, 52, a prison officer. "It's what his mother would have wanted."
The Sussex Survivors' Club

The Times featured another excerpt from Low's book on September 24, 2023.
It gives examples of how unaccustomed courtiers are to incivility — and so should they be. It is hard to imagine what they went through from 2018 to early 2020.
Low takes us back to 2018, when he was part of the press pack on the couple's South Pacific tour:
It is normally a standard part of a royal tour, the moment when the royals venture to the back of the plane, where the media sit, to say hello and have a chat. But the tour of the South Pacific by the Duke and Duchess of Sussex in 2018 was different …
… Harry had looked out of sorts. His relations with the media pack had been prickly and strained. Where Meghan smiled, always putting on her best face whenever she was on show, Harry glowered. On the five-hour flight back from Tonga to Sydney, his press handlers promised that he would come and thank the media for being there. It was only after the plane had landed that the couple finally appeared.
I remember the scene well. Harry looked like a sulky teenager, Meghan stood behind him, smiling benignly. Her only contribution was a comment about how much everyone must be looking forward to Sunday lunch at home. Harry sounded rushed, as if he couldn't wait to get back into the first-class cabin. "Thanks for coming," he said, "even though you weren't invited."
This was spectacularly rude — and incorrect. The media had been invited to cover the tour. Later, Harry's staff told him how badly his remarks had gone down. He replied: "Well, you shouldn't have made me do it." Harry's petulant behaviour revealed much about the couple's deteriorating relationship with their own staff.
So bad did things eventually become that Harry and Meghan's team would later refer to themselves as the Sussex Survivors' Club. The core members were Sam Cohen, whom the Queen had personally asked to step in as private secretary and who worked for the couple from after their wedding until the end of their South Africa tour in September 2019; Sara Latham, the former Freuds PR managing partner, hired in 2019 to be in charge of communications; and assistant press secretary Marnie Gaffney. Sources say the team came up with a damning epithet for Meghan: a "narcissistic sociopath". They also reportedly said on repeated occasions: "We were played."
Fast forward to the Oprah interview in March 2021, and all close advisers' support was forgotten:
Meghan takes pains to highlight the difference between the Queen and those who surrounded her. In Meghan's account, they were the people who refused to help when she was in her hour of greatest need. They were the ones who "perpetuate falsehoods" about her.
Watching Meghan describe how she considered ending her life in the year after her marriage was an uncomfortable experience. And yet a succession of perfectly decent people, all of whom believed in Meghan and wanted to make it work, came to be so disillusioned that they began to suspect that even her most heartfelt pleas for help were part of a deliberate strategy that had one end in sight: her departure from the royal family. They believe she wanted to be able to say 'Look how they failed to support me'.
Sam Cohen, who had 17 years' experience of working at the Palace, would frequently say to Edward Young, the Queen's private secretary, and Clive Alderton, Charles's private secretary, that if it all went wrong, the Palace needed evidence of the duty of care it had shown to Harry and Meghan. The duty of care was crucial. "[Sam] was a broken record with them on that," said a source.
But by the time of the Oprah interview, everything the Palace had done to support the couple — including giving them a team that would have done anything to help them succeed — was forgotten.
Instead, Meghan was able to point out all the times the institution had failed her. One of them was when she says she went to the head of HR, where she was given a sympathetic hearing but sent on her way. This was inevitable: HR is there to deal with employee issues, not members of the royal family. Meghan would presumably have known that, so what was she doing there? Laying a trail of evidence, would be the cynical answer.
Another former staff member goes even further. "Everyone knew that the institution would be judged by her happiness," they say. "The mistake they made was thinking that she wanted to be happy. She wanted to be rejected, because she was obsessed with that narrative from day one."
Courtiers are unaccustomed to untoward behaviour:
Part of the problem, according to one source, was that everyone in the Palace was too genteel and civil: "When someone decides not to be civil, they have no idea what to do. They were run over by her, and then run over by Harry."
The situation was not helped by Harry and Meghan's deteriorating relationship with Alderton and Young. "As things started to go wrong," a source told royal biographer Robert Lacey, "Meghan came to perceive Young as the inflexible, bureaucratic figure who summed up what was with the BP [Buckingham Palace] mentality, and the feeling was mutual. Young really came to dislike Meghan's style." Harry was just as dismissive of the two senior courtiers as Meghan. An insider said: "He used to send them horrible emails. So rude."
Meghan's secrecy
If Meghan criticised the courtiers, she was not exactly above criticism herself.
She used secrecy to her advantage:
When Harry and Meghan went to Canada for their six-week break in November 2019, their escape plans were already laid, amid the greatest secrecy. Meghan would not even tell their nanny, Lorren, where they were going. According to one source, she did not know where they were going until the plane — a private jet — was in the air.
Shortly before the end of the year, Meghan confided in a member of her staff that the couple were not coming back. The rest of the team did not find out until they held a meeting at Buckingham Palace at the beginning of January 2020. They found it hard to accept they were being dumped just like that. Some of them were in tears. "It was a very loyal team," said one.
Money, money, money
By the end of March 2020, Meghan was allegedly panicking about money:
On March 31, The Express reported:
Meghan Markle and Prince Harry agreed to pay back the money spent for the refurbishment of Frogmore Cottage into the Royal Purse as part of their deal with the Queen. As part of their bid for independence from the Royal Family, the Duke and Duchess of Sussex said they want to become financially separate from the Queen and will be looking for new sources of income. Meghan last week was confirmed to have struck up a deal with Disney to narrate their latest documentary Elephant but the Duchess donated the money as the project was filmed before she and Harry announced their departure from the Royal Family.
A royal insider claimed Meghan is terrified because of the financial pressure they are now under and suggested the Duchess has ordered Prince Harry to find a job.
Speaking to US tabloid National Enquirer, the anonymous source said: "This debt is a blow to their ambitious plan to become freewheeling billionaires in the world.
"Meghan is terrified that her dreams of being a Hollywood queen will be destroyed by this financial nightmare and she is insisting that Harry make a move and resolve the crisis."
The insider however noted the lack of previous working experience could make the search for a new job difficult for the Duke of Sussex.
That is too funny. On a serious note, we see again the mess of pottage looming large.
Harry's lack of work experience led him to dish the dirt on the world's most famous royals. I hope he's happy.
Ending on the present day — January 2023 — it is rumoured that Harry might be offered a contract to be a television commentator in the US on his father's May 6 coronation.
On January 25, The Express reported:
Prince Harry has been tipped to skip King Charles III's coronation after two US broadcasters allegedly approached the Duke of Sussex to commentate on the ceremony. The Duke's potential coronation role was first tipped in this weekend's Sunday Express where TV companies were suggested to be attempting to lure him to join their media teams. Harry's relationship with his father and the Royal Family has been frosty after a series of digs levelled at the institution in recent months. Royal correspondent Charles Rae said the couple may still be invited to attend the ceremony but suggested Prince Harry may instead opt to strike a deal with US TV channels to act as a commentator and stay in the US …
Speaking on behalf of Spin Genie, Rae added: "There are also rumours that Harry has been offered a lot of money by two broadcasters to commentate on the Coronation …
Networks CBS and NBC are believed to have approached the Duke to get him joining their reporting team in the lead-up to the coronation.
The Venn diagram: Diana
The intersection of the Venn diagram linking Harry and Meghan is clearly Princess Diana.
On August 4, 2021, at the time the Duchess turned 40, her half-sister Samantha told GB News's Dan Wootton how obsessed Meghan was with the princess:
Here's the full video, just under 20 minutes long. In it, Samantha discusses how difficult it is to love someone who has caused so much hurt, her disappointment that Meghan has not contacted their ailing father and her book about the Duchess:
As for Harry, Prince Charles's and Princess Diana's chef at Kensington Palace, Darren McGrady, says that William and Harry had very different personalities (see at the 1:25 mark).
He says that one day Diana entered the kitchen after the boys had just been in — a favourite place for them to go — and said:
You know, the boys are so different. William's deep, like his father, and Harry is just an airhead like me.
What more can I say? Nothing.
Cottage pie
In closing, Darren McGrady prepares cottage pie the authentic way. The recipe dates from the 1700s.
There is a note early on in the video that says shepherd's pie is made with lamb and cottage pie is made with beef, something non-Brits do not realise.
It is also called cottage pie because it was for peasants. Peasants lived in cottages.
But I digress.
Cottage pie was a favourite of Wills and Harry. Perhaps one day, in the years to come, they might enjoy it again together.
End of series
Anyone who missed previous entries in this series can find them here, here and here.
Every time I read about Prince Harry, I cannot help but think of the story of Jacob and Esau.
Mess of pottage
Esau sold his birthright for a mess of pottage (Genesis 25:29-34). Harry, too, sold his place in the Royal Family for ephemeral media coverage. Who knows what will happen to him in future years?
Like Jacob and Esau (Genesis 27:41), Princes William and Harry are embroiled in a feud, one which the current Prince of Wales is handling with dignity. All being well, in time, perhaps they will mend fences, as Jacob and Esau did (Genesis 33).
The expression 'mess of pottage' is still used today (emphases in purple mine):
A mess of pottage is something immediately attractive but of little value taken foolishly and carelessly in exchange for something more distant and perhaps less tangible but immensely more valuable. The phrase alludes to Esau's sale of his birthright for a meal ("mess") of lentil stew ("pottage") in Genesis 25:29–34 and connotes shortsightedness and misplaced priorities.
It seems pertinent because on January 20, 2023, The Telegraph featured an article, 'Meghan stays in the shadows as Prince Harry flies solo on Spare publicity blitz':
"We're like salt and pepper," Meghan opined in an interview. "We always move together" …
But, since Christmas, Prince Harry has been left to soak up the limelight alone.
As he embarked on an unprecedented publicity blitz to promote his memoir, Spare, this month, Meghan has remained below the radar – and sent a clear message: This is Harry's project, not mine …
While the Duchess has backed her husband to the hilt over this deeply personal outpouring, she was not quite the driving force behind the project that many have assumed.
Sources suggest that media-savvy Meghan was slightly more circumspect about the concept of a memoir and may have raised gentle concerns about whether it was the right move.
A January 23 article in the New York Post reported on the article:
Prince Harry's wife Meghan Markle had previously expressed worries that his recent bombshell memoir "Spare" could ruffle the wrong feathers.
The former actress, 41, had raised "gentle concerns" about the book, wondering if it was the "right move," sources recently told the Telegraph.
Meanwhile, on Saturday, January 21, The Express reported 'Royal Family news: Palace have "pulled a blinder" as Harry and Meghan "plan" destroyed':
The Royal Family have "pulled a blinder" by not publicly responding to the recent bombshell claims from Prince Harry and Meghan Markle, with an expert destroying the Sussex's "ill-conceived game plan" …
More than a week after Harry's book was released, both Buckingham Palace and Kensington Palace have yet to make any comment on the claimes made by the prince.
Edward Coram-James, a PR, reputation and crisis management expert and CEO of Go Up, claimed this shows the Royal Family had a strong "game plan" in place and were prepared for any such accusations, while blasting Harry and Meghan's strategy as "ill-conceived".
He told Express.co.uk: "What should the Royal Family do in response to these claims? In a word: nothing. They have pulled a blinder.
"The biggest mistake that they could make would be to respond to any of the allegations. They are simply not serious enough allegations to warrant them breaching their long held code of silence.
"Breaching that silence will imply guilt. Remaining silent gives an air of maturity and remaining above the fray.
"The Royal family have had a game plan and, unlike the Sussexes, whose game plan has appeared ill-conceived and often strayed from, the royals have toed the line throughout."
Mr Coram-James poured cold water over the accusations made by Harry in his book, adding the Royal Family have only taken a "mild bruising" and "never came close to being on the receiving end of any knock out blows".
He continued: "The Royal Family know that it will all blow over soon enough, as the news cycle moves on and today's news becomes old hat.
A scathing, painfully accurate Spare review
My reader Katherine sent in two articles from Dominic Green about Spare. Thank you, Katherine!
These are the best yet.
'The Tragedy of Prince Harry' is Dominic Green's scathing, painfully accurate review of the book for The Washington Free Beacon. I cannot commend it more highly to my readers. It's long and captivating from the start.
As such, I will excerpt it as briefly as possible:
This is not Prince Harry's autobiography. It is a biography of a character called "Prince Harry," assembled from conversations with the real Harry by a ghostwriter, J.R. Moehringer. It is to autobiography as one of those Philip Roth novels where the main character is called "Philip Roth" are to fiction, only less tedious. It is fascinating in its way, though not in the way the real Harry intends. It is a collaboration between two unequal partners, one an accomplished ventriloquist, the other believing that he has finally found his voice.
Harry recorded the audiobook, so he knows exactly what is in Spare. He wants us to know that animals give him spirit messages from the beyond. These are usually sent by his late mother Diana, Princess of Wales, who died violently in 1996, when Harry was 12 and his older brother William was 15. The messages begin when Harry is 14. He and William are on safari in Botswana, eating dinner in their tent, when a leopard appears. "Everyone froze," Harry says. "Except me."
"I took a step towards it. … I was thinking about Mummy. That leopard was clearly a sign from her, a messenger she'd sent to say, 'All is well. And all will be well.'"
The leopard lied. Harry is not well. He and William are traumatized by Diana's death. Their father, now Charles III, struggles to comfort them, and sends them to boarding school. Harry refuses to believe that Diana is dead. He tells himself that she is hiding in a Swiss chalet, and she comes to him in his dreams. Soon, Harry is binge-drinking and smoking weed. Smoking a fat one with his mates in a bathroom at Eton, perhaps Britain's top boarding school, Harry looks out on the moonlit grounds and meets his spirit animal …
Green provides the passage from Spare, which involves a fox. Harry sees it as a portent some years later:
In 2008, more than a decade later, Captain Harry Wales, now serving as a gunner on an Apache helicopter in Helmand Province, Afghanistan, is camped for the night, drinking hot chocolate and watching the radio. Around one in the morning, a flurry of messages about "Red Fox" come through …
Green gives us the relevant paragraphs then continues:
An Australian magazine had got hold of the story that Harry was in Helmand. He was a target for the Taliban, so his superiors decided to extract him, for his own safety and that of his fellow soldiers. At 24, his active military career was over. The Army made the "spare" a leader, and valued his talents. It gave him a purpose for the first time, and kept him busy enough to forget his sorrows.
The ensuing years see Harry floundering:
Nearly a decade will pass until he meets Meghan Markle in 2016. These are the lost years. The spirit animals fall silent, and Harry self-medicates. He drinks and smokes weed every day. He does coke, magic mushrooms, ayahuasca, and LSD in an effort to lift the veil of reality and stroke the lost leopard. He falls out of night clubs, too drunk to walk. He picks fights with photographers and his own bodyguard. He has panic attacks whenever he meets the public. He stays in Courteney Cox's house when she is away, drinks loads of tequila, takes loads of mushrooms, and hallucinates that her toilet is speaking to him.
Harry does not explain why Courteney Cox's talking toilet was a hallucination, but the spirit animals are real. At this point in his life, he cannot explain anything to himself. He is so overwhelmed with loss and grief that he cannot recall his mother. He is trapped in a "red mist," a rage that he directs at his feeble father Charles, his scheming stepmother Camilla, his cold, conformist brother William, and above all at the British press, which he blames for his mother's death.
Diana is a leopard, Harry is a fox. Charles is a cowardly lion. William has surrendered his "autonomy," so he doesn't get an animal at all. Kate is the bitch who takes William away from Harry. Alone, he unravels further. By 2013, he cannot control his panic attacks and agoraphobia.
Harry is tormented by the death of his mother, which seems to dictate his reality.
Green tells us the truth about Diana, a name that means 'huntress', yet the huntress turned into the hunted:
After divorcing Charles and leaving the royal security envelope, Diana fell in love with an Egyptian playboy, Dodi al-Fayed. It was a Fayed chauffeur who crashed that car in Paris, by speeding downhill into the underpass so fast that the Mercedes limo took off, hit one side of the underpass, then ricocheted across into a concrete pillar. Three of the four passengers died. The survivor was the bodyguard who, being a mere mortal, had worn his seatbelt.
Harry cannot name al-Fayed; he calls him "Mummy's friend." He does not mention that Diana dumped William and Harry in Scotland with the grandparents, so she could pursue her summer romance with Dodi. Nor does he mention Mummy's earlier lover, Dr. Hasnat Khan, whom she smuggled into the Kensington Palace apartment she shared with William and Harry. Like Oedipus, Harry is blind to Mummy's true nature. Diana manipulated the press, too. Before she was taken from Harry, she abandoned him.
Princess Diana was hunted by the jackals, but the Diana she was named for, the Greek goddess, was the huntress. She pursued fame in revenge for Charles's faithlessness, staging teary confessionals for the cameras and driving the pack of paps at him and his family. Charles retaliated with his own staged confessions. Harry now retaliates with his. The Windsors survived Edward VIII's dalliances with Wallis Simpson and Hitler. They survived Charles and Diana's war for public sympathy. They will survive Harry's assault, too. But will he?
Harry is sure that Meghan never 'googled' him and that it was just a sublime coincidence that she wore his mother's favourite perfume, but Green reminds us of the facts:
Meghan's childhood friend insists that Meghan was an avid reader of royal biographies, especially about Diana. Meghan was photographed outside Buckingham Palace when she visited London as a teenager. When William married Kate, Meghan blogged about the "pomp and circumstance surrounding the Royal Wedding," and the "endless conversations about Princess Kate."
A 2014 photo shows Meghan, sitting in an airport with her laptop, reading about Elizabeth II. In Tom Bower's recent book Revenge, Meghan's former business adviser Gina Nelthorpe-Cowne attests that Meghan told her, "I've googled Harry. I've gone deeply into his life." Harry tells us that he googles Meghan as he falls in love, but he insists that she, like Diana, is entering the royal circus as a naif. His first "marathon" Instagram session with her happens to fall on what would have been Diana's 55th birthday. Who is the naif here?
Harry has followed in his mother's sad footsteps:
Harry and Meghan flee from Britain because they believe that his family is colluding with the press against them …
For the first time, Harry must fend for himself. Like Diana, he has left the royals' state-funded and highly professional security envelope …
When their children are born, Diana is in the room too. At night, when Meghan and the kids are asleep, Harry slips out and gets high on his own. The clear night sky over Montecito reminds him of the stars over Africa. The Red Fox communes with the spirit of the leopard, but he is never safe. There is no clarity in this freedom. There is no real guidance, either. Meghan, his savior, is pushing him back into the limelight.
Harry must fund his family's security or risk bringing Diana's fate upon Meghan and his children. The only way to save them is to sacrifice himself: to sell his story, to seek out the hated camera, to sit with the hated journalists, to dissolve himself in the flashbulbs, to be lost forever in their refractions, and join his mother. "Keeping people tuned to the show, that was the thing."
Like Hamlet, Harry has now hoist himself on his own petard, the hot wind of his rage and resentment. Like Hamlet, he will fall on his own poisoned sword. Harry, his father's dim, damaged, delusional, doomed "darling boy," has sold his family and his soul. Meghan and Moehringer have served him on a platter, like a roast swan at a royal banquet. There is no return after this, only the final act of the tragedy.
On January 19, the Wall Street Journal published Green's article about Harry's personal beliefs and how they tie in with those of his contemporaries with regard to Christianity: 'Prince Harry's Pagan Progress'.
This, too, is excellent. Excerpts follow:
Harry's father, King Charles III, may be supreme governor of the Church of England, but when it comes to the inner life, Harry, who was born in 1984, is a typical millennial. Pew Research reported in 2010 that Americans 18 to 29 were "considerably less religious than older Americans." Twenty-six percent of millennials said they had no religious affiliation, and they were also less likely to pray every day than members of Generation X (41% vs. 54%). Yet the percentage of millennials claiming "absolute certainty" in God's existence (53%) wasn't far off the figures for baby boomers (59%) and Generation X (55%) when they were young.
For Harry's grandmother Elizabeth II, personal faith was indistinguishable from her constitutional duty. King Charles describes himself as a "committed Anglican Christian," and Harry says he set a "deeply religious" example and "prayed every night." Harry attended church regularly as a child, obligatory given the Windsor family's alliance with the church.
Harry was 12 when his mother died in a car crash in Paris. The Christian rites at her funeral in Westminster Abbey couldn't console him. His only regular contact with the Bible came when a teacher, punishing teenage misdemeanors, delivered "a tremendous clout, always with a copy of the New English Bible." This, Harry writes, "made me feel bad about myself, bad about the teacher, and bad about the Bible."
Instead, Harry turned to the animal world:
At around 15, Harry experienced a ritual induction into manhood. Guided by Sandy, a family retainer, he shot a stag. Sandy slit the dying animal's throat and belly and told Harry to kneel. "I thought we were going to pray," the prince writes. Instead, Sandy pushed Harry's head inside the carcass and held it there. "After a minute I couldn't smell anything, because I couldn't breathe. My nose and mouth were full of blood, guts, and a deep, upsetting warmth."
"So this," Harry tells himself, "is death." Yet he's ecstatic. "I wasn't religious," Harry writes, "but this 'blood facial' was, to me, baptismal." Finally, he has lived the "virtues" that had been "preached" to him since childhood. Culling the herd is being "good to Nature" and "good to the community." Managing nature is "a form of worship," and environmentalism is "a kind of religion" for his father. For the first time Harry feels "close to God."
This pagan rebirth carries strong symbolic overtones for Harry. Monarchy is a survival from the earliest times. So is the hunt, with its symbolic echoes of religion's roots in animal sacrifice and seasonal rites. The Windsors live in urban captivity, but their spiritual home is the Scottish Highlands, where the stag is the monarch of the glen. Diana shared her name with the Greek goddess of the hunt—and Harry writes that she was "hunted" to her death, the cameras still "shooting, shooting, shooting" as she lay trapped in the wreckage.
Green concludes:
Harry's narrative of resurrection bears formal resemblance to the Gospels, but its content owes more to Carl Jung, Joseph Campbell and the Californian gospel of self-care. His neopagan progress is that of many millennials—especially those who, like Harry, are white men with no college education. By 2017, Pew found that 38% of Americans 30 to 49 were "spiritual but not religious." Sixty-seven percent of the unchurched were "absolutely certain" of God's existence, and 24% "fairly certain." Fifty-seven percent prayed "at least daily," but 76% "never" participated in group study or prayer. Like Harry, they are solitary and syncretic, inward travelers with no direction home.
'Faustian bargain'
On January 9, UnHerd posted an article about Spare: 'Prince Harry's Faustian Bargain'.
Its author, Darran Anderson, says:
… The most telling line, which reaches towards the heart of the matter, comes back to the Faustian nature of fame and particularly the media's gaze and how that can distort, "After many, many years of lies being told about me and my family, there comes a point where, going back to the relationship between, certain members of the family and the tabloid press, those certain members have decided to get in the bed with the devil" … Again and again, in his recollections in interviews and writing, Prince Harry comes back to the media as a baleful destructive force in his life …
What is particularly illustrative and sympathetic about Prince Harry's relationship with fame is that it was not chosen. In the traditional Faustian transaction, the would-be genius or celebrity sells their soul, knowing that the cost is damnation and believing that the gains will be worth it. With the royals, fame is hereditary, which is as much of a curse as a blessing. The transaction is one-sided. No deal is made and yet the individual assumes precisely the same debt. In a world, even a country, where children are born into horrendous poverty and deprivation, it's difficult to have sympathy for someone born into immense privilege. Yet it is warranted, given that child we watched walking along forlorn at his mother's funeral did not choose any of this.
The problem is that Prince Harry is now a man and no longer a lost boy. Though he has chosen an arguably noble route of walking away from an environment that had shunned him, and he has the right to speak his mind and tell his own story, he has not walked away from fame. Sympathy, like any resource, is finite …
It is even more understandable to wish to escape the glare of the lens that played a part in the death of a beloved parent. Having chosen Meghan and America, Prince Harry had the chance to transcend fame and to effectively defeat the presence that has seemingly haunted his life. He could go semi-privately into any number of ventures. Harry was not, after all, a signatory to the Faustian pact. One of the most tragic aspects to what has been unfolding is not just the painful reality of a family schism, but rather that at the brink of escape, Harry decided to return to the table to sign the contract.
… The point where sympathy dissipates is with this issue of fame, the courting of it rather than the walking away. This is where the public's role in the Faustian bargain comes in. This is what differentiates celebrities from the rest of us, the point of departure, and the judgement can and may well be merciless. By aiming for the echo chamber of the terminally online and the patronage of the American establishment, the wider sympathy is lost. It is especially frustrating as the prince had a chance to get out.
Harry's case is not helped by a mixed tone of grievance and sanctimony. One moment, he is referring to the killing of Afghan militants as a game of chess, the next he is engaging in flagellation about his previous lack of social consciousness. At its worst, it seems distasteful and condescending, the opposite of a spiritual confessional. It undoes the undoubtedly brave work of speaking about trauma, autonomy, or even his right to speak. As George Orwell put it, "Autobiography is only to be trusted when it reveals something disgraceful", but here even the disgrace feels performative. It feels grubby and out of touch, both too intimate and too remote. It feels, in other words, like fame …
Summer of 2019: too much PDA
Returning to the summer of 2019, where I left off, articles were circulating about the inability of the couple to keep their hands off each other in public.
On August 11 that year, The Sun reported:
MEGHAN Markle and Prince Harry's friends have "stopped inviting" the couple to dinner parties because they "frown upon their PDAs", insiders have claimed.
According to the Mail on Sunday, the Duke and Duchess of Sussex make a point of sitting together at events – even if their host has seated them separately.
Meghan's excuse was that she finds dinner party etiquette:
too "exclusive" and "traditional".
Tough. You sit where your hosts seat you. In Britain, it often means splitting up couples at table to enliven conversation. No one with any manners minds that.
Harry's friends found his wife's American attitudes tiresome:
Along with ignoring the seating plans, insiders have also claimed that the Duchess is openly affectionate with her husband on these occasions which causes Harry's friends to "roll their eyes" at her "American ways".
What's more, Harry's inner circle has "stopped inviting her to dinner" over the "frowned upon" PDAs (public displays of affection) at the dinner table.
The Sun lays out dinner party etiquette for the uninitated. This would be useful for the Duchess:
While it might not seem like THAT big a deal to sit next to your partner at a party, the high society occasions Meghan and Harry have been attending ask guests to follow the three rules of "placement".
To avoid sounding too "common" or American, the first rule is that "placement" must be pronounced the French way which involves emphasising each of the three syllables.
The second rule dictates that couples should NOT sit together in case any affectionate behaviour puts others off their meal.
And in order to truly grasp the rules of "placement", guests must always sit where they have been asked to achieve the perfect, balanced high society table.
'Snubbing protocol'
And there was more.
Meghan wanted to hold Harry's hand when it was clearly not the done thing:
Shortly after she married into the Royal Family last year, Prince Harry refused to hold Meghan's hand at a royal event out of respect for The Queen.
Because she wore jeans to Wimbledon in 2019, she could not enter the Royal Box:
An insider claimed Meghan was a "nightmare" during the visit when her security guards infamously BANNED guests from taking photos of her and her casual attire meant she wasn't allowed to watch the action from the Royal Box.
They told The Times: "They couldn't invite her into the Royal Box because she was wearing jeans."
On August 19, the Mail reported on what the editor of Majesty, Ingrid Seward, had to say about the Sussexes' protocol breaches:
Ingrid Seward, editor of Majesty magazine, suggested that the Sussexes' attempts to move away from tradition might 'bother' the Duke of Cambridge, 35.
Appearing on Saturday's Channel 5's documentary William & Harry: Princes At War?, Ingrid suggested that Harry and Meghan had 'snubbed protocol' in a way that was unexpected from royals.
She said: 'I would think it might bother William a little bit, because he might see the way that Harry and Meghan do things as being detrimental to the business of the monarchy as a whole.'
The couple have faced a growing backlash over the summer over their privacy demands, including holding a top secret christening for son Archie and refusing to tell the public who his godparents are …
Critics have hit out at Meghan recently for 'considering herself more of an A-lister than a member of the royal family', after she selected a handful of celebrity friends for the cover of Vogue.
Speaking about Harry and Meghan 'snubbing protocol', Ingrid said: 'It wasn't done in a very royal way, or the way we'd come to expect.'
The 'eco-lecturers' and their private jet flights
Between August and September 2019, the Sussexes took several trips on private jets.
There is nothing wrong with that other than Prince Harry used one of those flights to deliver a lecture in Italy on how everyone had to cut back on air travel in order to save the environment.
On August 15, The Sun reported on Piers Morgan's disgust at the couple's hypocrisy. At the time, he was still co-presenting Good Morning Britain. The British public were also disgusted:
PIERS Morgan has criticised Meghan Markle and Prince Harry after they took a private jet to Ibiza for a six day break – despite the Duke warning of the "terrifying" effects of climate change.
The GMB presenter, who has previously criticised the couple, took to Twitter following the news where he made a dig at the Sussexes.
Sharing an article about their trip, he wrote: "Saving the planet, one private jet at a time."
Many were in agreement with Piers, dubbing the "eco-warrior" couple hypocrites following the holiday.
One wrote: "You're absolutely correct, virtue signalling and full hypocrisy!!"
Another agreed adding: "Utterly ludicrous! If you're going to take private jets, fine but then don't preach about climate change. Hopeless!" …
According to local reports Harry and Meghan flew to Ibiza with their son Archie Harrison to celebrate her 38th birthday on August 4.
The jet created seven times more C02 per person than any one of nine daily scheduled flights from London to the Spanish holiday isle.
Harry and Meghan, who took baby son Archie, landed in Ibiza on Tuesday last week – along with publicly-funded Met Police protection officers.
Five Spanish security officers then whisked them to their secluded luxury private villa.
The family returned to the UK on Monday.
It was the second time that the prince had used a private jet in two weeks after he flew to Sicily to attend the Google Camp to deliver a "barefoot speech" on saving the environment the week before.
But Harry has been accused of hypocrisy over his use of private jets following his speeches urging everyone to "take action" on climate change.
In a post on his SussexRoyal Instagram site in July, he wrote: "With nearly 7.7 billion people inhabiting this Earth, every choice, every footprint, every action makes a difference."
… Buckingham Palace refused to comment on the Ibiza trip.
On August 19, the Mail reported on another private jet trip, to Nice:
The Duke and Duchess of Sussex were embroiled in another hypocrisy row today after being pictured leaving the south of France over the weekend in a fourth trip by private jet in just 11 days.
Prince Harry and Meghan, who have been outspoken on environmental issues in recent months, generated an estimated seven times the emissions per person compared to a commercial flight when flying home from Nice.
Photographs of the royal couple and three-month-old Archie showed the family stepping on board the Cessna 680 Citation Sovereign jet on Saturday at about 3pm local time, having arrived in France three days earlier.
Royal experts said the British public do not want to be 'lectured on climate change by those who don't do follow their own advice', while MPs said the trips do not 'fit with their public image' they project as eco-warriors.
The couple are believed to have visited the £15million palatial home of Castel Mont-Alban owned by Sir Elton John and his husband David Furnish overlooking the Promenade des Anglais during their holiday to the French Riviera.
The trip to Nice came shortly after Harry and Meghan, who married in May last year, had returned by private jet to the UK from Ibiza after a six-night break on the Spanish island to mark the Duchess's 38th birthday.
Veteran royal watcher Phil Dampier gave his views about the anger of Britons about the flights and the Sussexes' behaviour as a whole:
They are not unique – other royals have taken private jets, but they have been criticised over the years as well.
I certainly don't believe they are getting a bad press because the British public are racist.
It is simply that people don't like to be lectured on climate change by those who don't do follow their own advice.
Some families slave away all year to afford one nice holiday and they shouldn't be made to feel guilty about harming the planet when Harry and Meghan are swanning about in luxury.
It's really sad to see all the goodwill that people had towards this couple disappear in such a short space of time.
They really need to understand quickly the damage they are doing and take steps to turn it around.
They could start by taking on some of the 1500 patronages of the Queen and Prince Philip, and get out there and do some run-of-the-mill royal jobs and shake a few hands.
Meghan gives the impression she wants to live like a Hollywood star protected by publicists, agents and lawyers and that's not how the royal family works.
It only survives because there is give and take and the public- who are paying for it – want it to succeed.
If they lose the public's support they are in trouble.
Sir Elton John stepped in to stop the turbulence, as it were.
The Mail reported:
Sir Elton John today confirmed he had paid for the Duke and Duchess of Sussex to fly to and from his £15million mansion in Nice by private jet for a holiday 'inside the safety and tranquillity of our home'.
The 72-year-old singer claimed he had ensured Prince Harry and Meghan's flights to and from the French Riviera last week were carbon neutral by making the 'appropriate contribution' to a carbon footprint fund.
That angered people all the more. Who among us can do that?
More flights followed until early September.
The Africa tour
That autumn, the Sussexes toured southern Africa, an official trip of goodwill towards the Commonwealth countries.
They left behind strained relations with their Palace staff.
Even Africa, a place the Queen thought the couple would enjoy, considering Harry's Sentebale charity was there, could not bring them happiness or escape:
While there, they gave an interview to ITV's Tom Bradby, who also interviewed Harry about Spare in January 2023. Where they are concerned, Bradby is more a friend than an objective reporter.
The interview with Bradby aired in October 2019, while the then-Duke and Duchess of Cambridge were touring Pakistan, another initiative to show goodwill towards the Commonwealth.
Valentine Low, author of 2022's Courtiers, wrote:
The first real intimation the public had that all was not well in Meghan's world came in October 2019, when ITV released a trailer for its documentary, Harry & Meghan: an African Journey. As Meghan spoke to Tom Bradby in a garden in Johannesburg, she spoke about how she had struggled with life in the spotlight as a newlywed and as a new mother. Almost as if she were trying to hold back tears, she said she had found it hard and added, "And also, thank you for asking, because not many people have asked if I'm OK. But it's a very real thing to be going through behind the scenes."
The trailer came out while William and Kate were on a tour of Pakistan. The resulting coverage inevitably overshadowed reporting of the last day of the Cambridges' tour. The Cambridge team was not happy and saw it as a deliberate attempt to knock the Cambridges out of the headlines. Relations between the two households became quite tense.
When the documentary came out, it also showed how far Harry and William had drifted apart. Asked by Bradby about the rift between him and William, Harry chose not to deny it, but said instead, "We are certainly on different paths at the moment, but I will always be there for him, as I know he will always be there for me."
William, back home after the Pakistan tour, appears to have been taken aback at such a stark portrayal of his brother and sister-in-law's unhappiness. He realised they were in crisis. The day after the documentary aired, William whatsapped his brother to ask if he could come and see him. This put Harry and Meghan into a spin. What should they do? Initially, Harry was in favour. Then he spoke to his brother again and asked him who he would tell. William explained that he would have to clear his schedule, which would mean telling his private secretary. At that point, Harry said don't come. He was so concerned that William's team would leak the visit to the press that he would rather they did not come than risk it getting into the papers. It highlighted once again the dysfunction at the heart of so many royal relationships and that members of the royal family so rarely pick up the phone and speak to each other directly.
The final months
The Times featured several excerpts from Valentine Low's Courtiers, one of which explained the time before the African tour through to the beginning of 2020:
As one senior source put it, when they gave an interview in the autumn to Tom Bradby of ITV News in South Africa "they had made it clear that they were finding it very difficult. They were anxious and excited to chart their own course, knowing that they had more flexibility as they were not in the line of succession."
Moves were already afoot to create their own website with the help of the American PR company Sunshine Sachs. The site was originally intended to promote their charitable foundation, but later to explain — when the time came — how they planned to branch out on their own.
As they took an extended break with their son, Archie, now eight months, in Canada, the negotiations over their plans began to take shape. Harry originally contacted the Prince of Wales just before Christmas about spending more time in North America but was told he needed to come up with a thought-out plan, the London Evening Standard reported. When he sent a draft proposal to Prince Charles early in the new year he was told more time was needed to think through the complex implications, particularly over funding.
A source told The Times: "It reached an impasse where his father said, 'We need to have these conversations in person. This is not something we can negotiate over email.'"
That much was agreed, but Harry also wanted to talk to his grandmother.
"He wanted to go and see the Queen," a source said. "He has been communicating with her on the phone throughout. He wanted to see her, not to negotiate with her but to talk to her grandson to granny, to say, 'This is how we have come to this.'" It was intended to be a gesture of respect, rather than an attempt to open negotiations with her.
He called her suggesting that he visit her at Sandringham when he returned home. "She says, 'Yes, love to see you, come and see me,'" the source said.
Then came what has been described as a "classic" move from the Palace.
"A message was conveyed: 'Oh, sorry, misunderstanding, she might have said she was available, but actually she is not available.'" Harry, it seemed, had fallen victim to family politics. The source said this was, in part, because the family were worried that he would use anything she said in their meeting as a negotiating tactic. Nothing, apparently, could have been further from the truth. But the result was that Harry was angry and upset at the rebuff.
By the time he and Meghan were back home, their press team was aware that The Sun was on to a story about their plans to spend more time in Canada. It prompted anxious negotiations between the Sussexes and the rest of the family about how to proceed. Should they sweat it out and say nothing, in the knowledge that such delicate negotiations are best conducted out of the public eye? Or should they release a statement and thereby try to set the agenda? The matter was taken out of their hands when the story appeared in Wednesday's paper under the headline "We're orf again".
Never fans of the tabloid press, Harry and Meghan were incandescent. "They were so angry," said the source.
The final instalment will come tomorrow.
What a sad story. It seems to get more desperate by the day and will not end well.
Last Friday's post was about the friction between the Duke and Duchess of Sussex and the then-Duke and Duchess of Cambridge but also Palace staff. (You can read my first post on them here.)
There were other signs that the Sussexes were a rather unusual Royal couple, which might have tainted the public's opinion of them.
Political ambitions
Just days after their wedding in May 2018, Sebastian Shakespeare wrote an article for the Mail, 'Why Meghan Markle for President isn't crazy' (emphases mine):
Meghan Markle is said to have told a former close associate that her ultimate ambition is to be president of the U.S. The conversation apparently took place after Meghan began her romance with Prince Harry.
'Meghan was quite clear that she wanted to be president one day,' the source claims.
It may sound fanciful, but the new Duchess of Sussex has held the ambition since she was a little girl. In 2015, she reportedly told the journalist Piers Morgan that she had not always sought showbusiness success.
'As a kid, I wanted to be either the president or a news broadcaster like you,' she told him …
And the claim appears to have caused consternation at Kensington Palace yesterday, with the Duchess giving her official spokesman permission to take the unusual step of issuing a public denial.
'This conversation you describe with an associate is fictitious,' the spokesman insisted.
I am, though, not the only one to hear rumours that Meghan still holds political ambitions.
Former Times editor Sir Simon Jenkins says: 'Her friends and associates affirm that she is a political animal.
'Such is her fame, she could perfectly well follow a route taken by a certain Ronald Reagan. She might lead for the Democrats against a Republican Ivanka Trump. All I can say is, why not?'
On November 17, 2018, the Duchess practised interfaith outreach in an official visit to a mosque near Kensington Palace:
PJ Media reported on the visit a week later, taking their source from The Telegraph:
In yet another shocking failure in a long line of interfaith outreach by Western governments since 9/11, The Daily Telegraph reports today that the American-born Duchess of Sussex, Meghan Markle, has been recently promoting a program associated with the notorious Al-Manaar mosque not far from Kensington Palace. The mosque has produced as many as nineteen terrorists — including "Jihadi John" and his Islamic State "Beatles" who tortured and beheaded Western captives in Syria.
The duchess has helped raise more than $250,000 for the Hubb Community Kitchen operated out of the mosque by promoting a cookbook that royal press agents have billed as celebrating "the power of cooking to bring communities together" …
The Grenfell Tower fire had taken place in June 2017, one of the worst blazes in London in decades. It is still spoken of today. Much community rebuilding had to be done, so one can understand that, but, according to The Telegraph, the Duchess had made earlier, 'secret visits' to the mosque:
In February it emerged the 37-year-old royal had made secret visits to the mosque in Westbourne Grove, which has also hosted Princes William and Harry, Theresa May and Jeremy Corbyn in recent months.
An investigation by the Henry Jackson Society (HJS), the anti-extremism think tank, has linked the mosque, opened by Prince Charles in 2001, to 19 jihadists, including Islamic State executioner Mohammed Emwazi, also known as Jihadi John.
Research by the HJS suggests the mosque was once attended by three of the four "Beatles", the Isil terror cell charged with guarding, torturing and killing hostages in Syria and Iraq. As well as Emwazi, Choukri Ellekhlifi, Alexanda Kotey and Aine Davis, all from west London, also have links with Al Manaar.
PJ Media pointed out that ITV News had also picked up on the Duchess's prior visits:
An ITV News report earlier this week reported that the duchess has made numerous unreported visits to the notorious mosque in recent months:
Also:
The Sun reported last night that Kensington Palace was trying to distance Markle from the mosque, claiming that the community kitchen housed in the mosque is an independent project.
But this does raise questions about how royal officials decided to promote an effort so closely tied to the Al-Mannar mosque when reports going back to 2014 chronicled the role that the mosque played in the radicalization of "Jihadi John" and the ISIS "Beatles."
The move to Frogmore Cottage: strain with the Cambridges
As my post from Friday says, by the time the wedding took place, many Palace staff as well as the Cambridges saw too much tension and outbursts involving the new Duke and Duchess of Sussex. It could no longer be contained.
On November 23, 2018, The Sun reported that the Sussexes were leaving Kensington Palace for the 10-bedroom Frogmore Cottage in the grounds of the Windsor estate:
The brothers have always been incredibly close, but Harry and Meghan are setting up their home in the grounds of Windsor Castle.
The Queen has given them Frogmore Cottage, which is having a multi-million pound refit paid for by the taxpayer.
It will provide ten bedrooms and a nursery for their baby, due in April. The couple are expected to move in next year.
A royal source said: "The initial plan was for Harry and Meghan to move out of their cottage in the grounds of Kensington Palace and into one of the main apartments.
"But there has been a bit of tension between the brothers.
"Now Harry and Meghan don't want to live next to William and Kate and want to strike out on their own."
The cosy cottage the pair currently live in as previously home to the Duke and Duchess of Cambridge before the couple moved into a 20-room apartment inside the palace.
"They need more room and hope Frogmore Cottage will be ready in time for when they have the baby."
Frogmore Cottage needs major building work to turn it back into a luxury family home, boasting 10 bedrooms & a new nursery plus space for a gym & yoga studio.
Currently it's been chopped up into 5 units where palace staff have been living.
News of Meghan and Harry's decision to leave Kensington Palace comes weeks after it was first reported that Harry and William would have separate courts in the future instead of using Kensington Palace as a joint office for them.
Nearly a year later, on August 27, 2019, The Sun reported that the Sussexes actually wanted to live in Windsor Castle, but the Queen said no:
MEGHAN Markle and Prince Harry wanted to move in with his grandparents and set up home in Windsor Castle, reports say.
It's claimed the Duke and Duchess of Sussex asked the Queen if living quarters in the historic castle could be made available for them after they were married but the answer was a firm 'no', so they went on to renovate Frogmore Cottage in the grounds of the estate …
The original castle in Berkshire dates back to the 11th century when construction was started following the Norman invasion of England by William the Conqueror.
Since the time of Henry I it has been used by the reigning monarch.
Henry III built a luxurious royal palace within the castle during the middle of the 13th century which were later expanded upon by Edward III.
Frogmore Cottage, in the grounds of Frogmore House on the royal estate, was built in 1801.
On Christmas Day 2018, The Sun reported that all seemed to be well between the Duchesses of Cambridge and Sussex at Sandringham:
MEGHAN Markle placed a hand on Kate Middleton's back in a show of unity as they today brushed aside rumours of a rift for a Christmas Day church service.
The sisters-in-law were all smiles as they joined the royal family at Sandringham for the annual service this morning.
And Meghan and Kate brushed off feud rumours as the former actress placed a hand on the Duchess of Cambridge's back as they appeared to share a joke.
The pregnant Duchess of Sussex looked radiant in a navy £2,250 Victoria Beckham coat with £1,350 black boots as she held tightly to Prince Harry's arm.
The Duchess of Cambridge, who wore a £3,000 red Catherine Walker coat and £650 burgundy "Halo Band" made by milliner Jane Taylor, walked apart from Prince William.
Kate teamed the festive look with matching gloves and a clutch bag, while the Queen was vibrant in a grey feathered hat and jacket with a bright pink trim.
Three weeks later, in January 2019, royal reporters were none the wiser about whether a feud was actually taking place.
On January 17 that year, The Daily Caller reported:
According to new reports by royal insiders Katie Nicholl and Leslie Carroll, the Duchesses may not be as at odds as we were previously led to believe.
Contrary to mainstream narratives pushed over the past several weeks, Markle and Middleton may not be feuding as much as just feeling each other out.
"When [Prince] Harry met Meghan [as] the relationship was progressing, he was really keen to get Kate's stamp of approval," Nicholl tells ETOnline. "He wanted them to be close as sisters-in-law. I think they're still in an early stage of their relationship."
And while there very well could be some jealousy, that doesn't necessarily equate hard feelings.
"Possibly, Kate does feel a little eclipsed by Meghan, who's just come along to such huge media interests, public interests and being so successful from the start," Nicholl added.
Of course, Harry and Meghan's decision to move out of Kensington Palace this year — a rare decision for the Royal Family, who usually resides together at the palace during most of the year — fanned the flames of a rumored feud. It didn't help that a report that Middleton left a meeting with Markle in tears before her May wedding quickly dominated headlines for weeks …
For what it's worth, Ingrid Seward, editor-in-chief of Majesty Magazine, isn't buying the candy-coated reporting.
"People forget Meghan is an LA girl," Seward suggested. "It's very different for her to suddenly come here and marry into the royal family…I think Meghan thought she had an ally in Kate…Kate was pregnant and unwell. And then she had a new baby. So she couldn't give Meghan the attention she expected. And I think that's when things started to sour."
So is it a case of misunderstanding? Or did the two women get off on the wrong foot? We'll have to wait and see…
On February 5, The Daily Caller told its readers that it was Princes Harry and William who were allegedly feuding, not their wives:
Meghan Markle and Kate Middleton's alleged feud is reportedly really between Prince Harry and Prince William after the eldest offered some "brotherly advice."
It reportedly happened when Prince William shared that he was "quite concerned that the relationship [with the Duchess of Sussex] has moved so quickly," Katie Nicholl said in a clip from TLC's "Kate v. Meghan: Princesses at War," per E! News Monday.
And that "'You know, this seems to be moving quickly. Are you sure?' And I think what was meant as well-intended brotherly advice, just riled Harry," she added.
That advice reportedly translated to Harry that William wasn't behind his decision to marry Meghan Markle.
Nicholl continued, "Harry is hugely protective of Meghan. He saw that as criticism. He interpreted that as his brother not really being behind this marriage. And I don't think things have been quite right ever since."
However, royal biographer Lady Colin Campbell explained that the alleged distance between the brothers is all about Markle's influence on her husband.
"Everything I hear is that Harry is completely beguiled by Meghan, and completely enthralled to her and has changed considerably," Lady Campbell shared.
Baby Archie
On March 4, 2019, Gateway Pundit's Niall McCrae didn't sit on the fence when discussing the Duchess of Sussex's baby shower:
Keep your seatbelts on, folks. According to Vanity Fair, Meghan revealed at her baby shower that her imminently expected will be raised as a gender-fluid child. Of course, this was denied by Buckingham Palace. But nobody would be surprised if this progressive princess, supported by her widely popular and slightly wild husband Harry, fully meant what she allegedly said.
It was predictable from the outset that Meghan would be a wrong 'un (should anyone imply such inference, I attribute none of this to her ethnicity or American nationality, which freshen the Windsorhood). She is the epitome of the self-righteous, virtue-signalling, celebrity social justice warrior. Narcissistic Meghan wants to emulate and exceed Diana, and ensure that in future movies she will be not the actress but the actual heroine.
Never being a fan of Diana, my response to her untimely death in 1997 was coolly detached as I saw all those flowers, all those personal messages from people who never met her. However, Diana obviously fulfilled a need in society, and the outpouring of grief after the tragedy marked a turning point in British culture, from the traditional stiff upper lip to open emoting. As Tony Blair said when taking office earlier that year, 'A new dawn has broken, has it not?'
We all wish Meghan and Harry a healthy and happy child. A boy is rumored, and perhaps that explains the gender fluidity. As a devout feminist, Meghan would probably be less keen on undermining the sex of a daughter: instead, she would be raised a strong female, preparing to right the wrongs of the patriarchal world.
On Monday, May 6, The Independent reported on ancient rules regarding royal custody of grandchildren. Keep in mind that this now pertains to King Charles:
… there is a fascinating law in place that means that Prince Harry and Meghan may not always have full legal custody of their child.
More than three centuries ago, a law was enacted that means the sovereign has full legal custody of their minor grandchildren, royal expert Marlene Koenig explains.
The law, called "The Grand Opinion for the Prerogative Concerning the Royal Family," was introduced by King George I in 1717.
"George I did not get along with his son, the future George II," Koenig tells The Independent.
"I believe it came about when the Prince of Wales [George II] did not want to have the godparent for his son that his father wanted – so George I got Parliament to come up with something."
This means that when Charles, Prince of Wales becomes sovereign, he will have custody of his minor grandchildren.
According to Koenig, issues surrounding the law arose in 1994 when Diana, Princess of Wales separated from Prince Charles.
Diana expressed wishes to take their sons, Harry and William, to live with her in Australia, but couldn't due to the regulations laid out by the custody law …
Hmmm …
CNN tries to trap Trump on Markle
On June 1, CNN tried to trap President Trump into saying that the Duchess was 'nasty'. Instead, he said (29-second point in the video):
No, I didn't know that she was nasty.
Here's the full exchange:
Another Twitter user, since deleted, observed — nearly correctly:
List of women Trump has used the word "nasty" to describe: -Hillary Clinton -Nancy Pelosi -Meghan Markle -Kamala Harris -San Juan mayor -Danish prime minister.
August 2019: the turning point
Valentine Low, the author of 2022's best-seller Courtiers, tells us that, by August 2019, things were unravelling quickly for the Sussexes, who already had a US PR team lined up:
By August 2019, things were "awful and tense" within the Sussex household. There were also clues that Harry and Meghan did not see their long-term future as working members of the royal family. Their Africa tour was coming up, but there was nothing in the diary after that. Meanwhile, staff were increasingly aware of the presence in the background of Meghan's business manager, Andrew Meyer, and her lawyer, Rick Genow, as well as her agent, Nick Collins, and Keleigh Thomas Morgan of Sunshine Sachs. The US team had been very busy, working on deals not only with Netflix but also a deal for Harry's mental health series for Apple+ with Oprah Winfrey and Meghan's voiceover for a Disney film about elephants.
The most the public knew at the time was that the Queen had arranged for the couple to go on a tour of Africa, as part of a goodwill sign towards the Commonwealth countries there:
While preparing for the Africa tour, the team was trying to persuade the couple that it would be appropriate to do an interview with the British media. Sam Cohen suggested Tom Bradby of ITV, who already had a relationship with Harry. Meghan was reluctant at first. Her attention was focused on the prospect of doing an interview with Oprah Winfrey. After thinking about it, however, Harry said they would agree. There was one proviso: he and Meghan could not do interviews together or be in the same shot. That would go against their deal with Oprah, which at that point was slated for the autumn of that year. (It eventually went ahead more than a year later, in March 2021.)
The Express was on to the Sussexes at that time.
On Saturday, July 28, the paper reported that the Sussexes' job vacancies were no longer on the Clarence House recruitment site:
The American and the Duke of Sussex are no longer listed on the recruitment page of Prince Harry's father Prince Charles' website. Prince William and wife Kate however, remain there. One family friend said of Harry: "He wants to control everything and everyone he's involved with. How he's going to pay for it is another question."
Under the recruitment tab of the Clarence House website vacancies are listed for staff keen to work for Charles and Camilla and the Cambridges.
Regardless of there being any vacancies available, the Duke and Duchess of Sussex were listed at the top of the site, along with Charles, Camilla, William and Kate.
The couple are no longer there.
The suspicion the Duke and Duchess of Sussex have now split from Prince Charles on his website also raises questions about funding.
The costs of Harry's office and his royal duties are met by a stipend from the Prince of Wales.
Between them Harry and William share about £4million a year, with the lion's share going to the direct heir to the throne.
But without his father's support, Harry would have to turn to the Queen for funding – and she already has a lengthy list of people to support.
… Meghan and Kate seemed to have patched up their differences with a visit to Wimbledon this summer.
But Meghan and Harry aides sparked outrage when it emerged there were rules on how to approach them in Windsor.
The Sun reports neighbours are advised against initiating conversations with the couple.
However, if Meghan or Harry start a discussion they are welcome to exchange pleasantries with the young couple.
They are also asked not to play with the couples' dogs or request to see their baby, the report claims.
On Thursday, August 1, The Express had a follow-up article:
Meghan Markle and Prince Harry made big changes in their lives during recent months as they simultaneously became parents for the first time. The royal couple split from their charity partnership with Prince William and Kate, Duchess of Cambridge in January. Three months later it was announced Prince Harry would team up with US talk show legend Oprah Winfrey on a new TV series about mental health.
This was followed by the birth of their first son Archie Harrison Mountbatten-Windsor on May 6, 2019.
Since then, Meghan and Harry have planned a forthcoming royal visit to South Africa in autumn.
They also raised eyebrows after citing their intention to raise Archie as a "private citizen" despite him being seventh-in-line to the throne.
The royal baby lives with the Duke and Duchess of Sussex at their Windsor Estate home where they can maintain strict privacy …
Her mum, Doria Ragland, lives in Los Angeles where she is a yoga instructor.
Doria has crossed the pond to visit her daughter and grandson but a royal expert has now revealed Meghan may be looking to set up house over there.
Emily Andrews told Yahoo's The Royal Box the Duke and Duchess of Sussex may well purchase a property in the USA for work and personal reasons …
The royal expert did not suggest that any purchase would mean a permanent move to the United States …
She and Harry are expected to travel to the Queen's official Scottish residence, Balmoral Castle, along with other senior royals this summer.
The idyllic holiday home becomes the Queen's two-month break from royal duties every July and August.
Vogue
On August 2, Meghan's issue of Vogue that she had guest-edited appeared on the shelves.
The Spectator rightly objected to the Duchess's perceptions of life. She appears to think that it's not what you do that matters, it's what you look like that counts. Look at Harry in the photo — a completely different person:
The issue featured the Duchess's supposed heroines.
Author and journalist Douglas Murray wrote about it for UnHerd — 'Meghan and Harry are playing a dangerous game':
… Meghan Markle, otherwise known as the Duchess of Sussex, has guest-edited the September edition of Vogue. The contents of the issue are perhaps unsurprising. As well as inevitably celebrating prominent women, such as the teenaged school truant Greta Thunberg, the Duchess has also set out to prove that women don't need men to give them status. Something she has done by including an interview with her husband, Prince Harry.
This in itself has drawn a certain amount of comment, and will not have calmed fears some people had that a highly political figure marrying into the nation's most necessarily non-politically opinionated family might cause problems down the line. The fact that Meghan Markle's pre-Harry politics might be best described as 'woke' is in some ways unimportant – a prominent Donald Trump-supporting Republican marrying into the Royal Family would raise similar concerns, to say the least.
The worry was that Prince Harry's marriage to Ms Markle would end up tipping him towards her political path, fears that will not have been calmed by his appearance in the high-end fashion magazine. In the royally-guest-edited issue, Prince Harry talks about a number of things, the headline-grabber being his claim that he and his wife would not have more than two children because of its impact on the environment and climate change …
It is the Prince's follow-up comments, however, that dish up the problem, less for his audience than for the Prince himself. Watching Prince Harry beginning to play the game of identifying 'unconscious bias' is like gazing at a hapless amateur juggling with loaded pistols; it is enough to make any well-disposed person want to scream "Stop" and seize the guns from his unsuspecting hands.
The comments appear in a conversation between the Prince and primatologist Dr Jane Goodall, on the subject of what humans can learn from chimpanzees. At one point Dr Goodall says that children do not notice skin colour, to which Harry adds: "But again, just as stigma is handed down from generation to generation, your perspective on the world and on life and on people is something that is taught to you. It's learned from your family, learned from the older generation, or from advertising, from your environment." Well perhaps …
One of the most extreme forms of – generally unconscious – bias that people demonstrate throughout their lives is towards attractive people, and not only in the selection of partners. Study after study shows that good-looking men and women stand a better chance of promotion in their chosen field of work than people who are average-looking or actively unattractive.
For instance, it may be carefully suggested that the editor of September's issue of Vogue would not be editing September's edition of Vogue if, rather than the acclaimed beauty she is, she looked rather more like a member of the Addams family. Or indeed an average-looking member of the general public. There may be many reasons why Prince Harry requested Meghan Markle's hand in marriage, but her looks must have – consciously or otherwise – at least counted in her favour on the way to the altar.
Another form of bias that people express throughout their lives – again, consciously or otherwise – might be an inclination towards someone who is financially or socially secure. I should never want to accuse a Duchess – or any other member of the Royal Family – of any variety of bias. And yet it seems possible that in her search for a husband Ms Markle may have demonstrated some form of bias (unconscious or otherwise) towards thrones and their heirs. I will put the point no stronger. But in her search for love, Ms Markle must have met many people. Perhaps she met many princes and mingled with many a duke. But it is striking, at the very least, that of all the people who appeared across her path, the one she ended up marrying in a low-key ceremony at Windsor Castle happened to be the second son of the Prince of Wales.
Balmoral no-show — part 1
It was a given that the Royals joined the Queen during her summer holiday at Balmoral and participated in her favourite country pursuits.
However, the Duchess was fussy.
On August 11, The Sun reported:
MEGHAN Markle might fake a headache to avoid taking part in blood sports when she visits the Queen in Balmoral, a royal expert has claimed.
Sports like hunting and fly fishing are much-loved group activities at the Queen's summer retreat in the Scottish highlands.
With a 50,000 acre estate comprising of grouse moors, forestry and farmland, animals to hunt are in no short supply in Balmoral.
But the Duchess of Sussex, 38, who follows a vegan diet during the week, isn't a fan of hunting – despite her husband Prince Harry being taught from a young age.
Writing for the Mail on Sunday, royal editor Robert Jobson said: "Meghan, however, who rather disapproves of such blood sports, may choose to feign a headache."
BBQs and picnics are thought to take place daily at Balmoral, regardless of the Scottish weather, as the royals are so fond of all things outdoorsy.
"It is hunting which is perhaps the biggest passion", Robert added of the royal hobby, which includes shooting birds and deer.
"Her Majesty shot her last stag in 1983 near to the Spittal of Glenmuick, in a spot that is now called The Queen's Corry.
"But she still attends shoots and drove Kate to a grouse shoot when the couple visited a couple of years ago."
This I did not know. Wow:
The Queen was taught to stalk deer by her late cousin, and best friend, Margaret Rhodes.
Returning now to Meghan:
Earlier this week, a source told Fabulous pescatarian Meghan would try fly fishing to appease her father-in-law Prince Charles.
They added: "But there will no softening on Meghan's stance against hunting, any stag or deer hunting fills her with horror.
"Venison will not be one of her menu choices for sure."
However, the Queen was also fussy. And, after all, Balmoral was her estate.
Five days later, on August 16, The Sun told us that Her Majesty despised ripped jeans and wedge heels. Meghan loves both:
It has been reported that the Duke and Duchess of Sussex will make their first trip to the Scottish castle this summer, but the Queen has her firm views on correct attire.
Speaking to Fabulous Digital, the source said: "The Queen is no favourite of jeans so the US boyfriend look and ripped jeans will be left in Frogmore Cottage along with any wedges which her Majesty hates with a passion."
Meghan Markle has often demonstrated she is a fan of wearing denim, and recently caused a stir when she showed up at Wimbledon wearing jeans …
It is thought this year Meghan will visit the castle for the first time, where the Sussexes will be given their own wing, as well as enjoying a traditional afternoon tea with Her Maj.
A source told the Sun on Sunday: "The Queen and Prince Philip adore the couple and, of course, their new great-grandson Archie, and they have invited them to Balmoral for a few days.
"It is testament to Meghan that she has been given this invite. It's a huge honour."
However, they did not go, according to the Mail's September 6 report:
aides insisted the Sussexes were too busy working on charitable projects to join the Queen at Balmoral this weekend …
There had been rumours that the Sussexes would be joining the monarch at Balmoral in the Scottish Highlands this week with their baby son Archie.
But while most of the Royal Family have made the long trek up to Aberdeenshire, Harry and Meghan actually have no plans to fly to Scotland at all.
Sources close to the couple insist that the decision should not be seen as a 'snub' – and Harry only rarely goes up to the Queen's Deeside estate nowadays.
The US Open
Instead, the Duchess made plans to fly to New York to see her friend Serena Williams compete at the US Open.
Serena Williams was said to be hesitant as she lost at Wimbledon when the Duchess was in the stands:
Despite the long flight and a stressful delay for Meghan, sources have claimed that Williams' coaches aren't massively thrilled that the Duchess has come to support her friend, as she could distract her from the game in hand.
They are said to be concerned due to the fact that Williams lost when Meghan attended her last match at Wimbledon.
A source told Page Six: 'Serena asked her coach about Meghan coming when she won last night and everyone is worried, as tennis players are very superstitious, and Serena lost when Meghan came to watch her at Wimbledon.'
The source added that Williams' aides were concerned that the trip was a publicity stunt.
However Williams is said to 'adore' Meghan and 'wouldn't have a word of it'.
It is not yet known where in New York Meghan will be staying and who she will be staying with, however she is thought to have flown first class for the two-day trip across the Atlantic.
It comes just days after her husband spoke out about sustainable travel at an environmentally-friendly tourism event in Amsterdam.
And last month he is understood to have given a passionate barefoot speech about saving the planet at Google's £16million climate change summit in Sicily.
Meghan's 7,000 mile journey to New York and back is expected to generate 986kg of carbon dioxide.
The article has a helpful map showing all seven flights that the Sussexes took between August 6 and September 6 in Europe.
Harry excused his flights as follows:
He took a scheduled flight to Amsterdam this week to promote Travalyst, a scheme for environmentally-friendly tourism.
Speaking at the event, the prince refused to apologise for his recent private flights, saying: 'I spend 99 per cent of my life travelling the world by commercial.
'Occasionally there needs to be an opportunity [to fly privately] based on a unique circumstance to ensure that my family are safe – it's as simple as that.
'For me it's about balance. It's not a decision I would want to take, but if I have to do that, I will ensure that I balance out the impact that I have.'
Harry dismissed concerns over his carbon footprint by insisting that he 'offsets' his emissions by donating to renewable energy incentives and planting trees.
Returning to tennis, it seems that Serena Williams's coaches were correct. Meghan's presence and Williams's loss coincided, as the Mail told us on September 8:
Tennis fans have accused Meghan Markle of jinxing Serena Williams last night as she watched the tennis star lose and fail to secure an historic 24th Grand Slam at the US Open, just months after she attended Williams' defeat at Wimbledon.
The Duchess of Sussex, 38, was called a 'bad luck charm,' with fans citing the resounding loss at the Wimbledon final to Simona Halep and the year before at SW19 to Angelique Kerber.
The Royal was the centre of attention in New York as she watched with Williams' mother Oracene Price but the pair were left disappointed as the former number one was beaten 6-3, 7-5, by Canadian Bianca Andreescu.
Balmoral no-show — part 2
As for Balmoral, the Mail article continued:
Prince Harry and Meghan's absence from the trip has left Her Majesty 'hurt and disappointed,' the Mail on Sunday understands, at a time when she likes to bring her friends and family together at her favourite time of the year.
The Queen is already said to be 'baffled' by Meghan and Harry's inability to steer clear of PR calamities, and is concerned that her beloved grandson and his new wife are failing to listen to their team of advisers.
On September 8, The Sun told us:
THE QUEEN was left "hurt and disappointed" when Meghan Markle skipped visiting Balmoral in favour of her last-minute trip to New York over the weekend.
In opting for the US Open instead:
she snubbed the Queen's invite to attend the Highland Games – something that proved a disappointment according to royal insiders.
The Mail on Sunday described the move as an "outright snub" adding that Her Majesty "is 'hurt and disappointed' at a time when she likes to bring her friends and family together."
According to insiders the monarch had been looking forward to "a few days of merry chaos" with her great-grandchildren, including Archie who is still yet to visit the Queen's summer home with Harry and Meghan claiming he is "too young."
While Meghan was watching Serena Williams:
the Queen was joined by Prince Charles and Camilla at the Braemar Gathering Highland Games on Saturday …
The Queen is currently staying at her nearby summer residence Balmoral where she last night hosted Boris Johnson and girlfriend Carrie Symonds.
But the Prime Minister was forced to cut short the anticipated weekend-long visit after a turbulent week.
One week later on September 16, The Express reported:
The Queen "does not want to talk about the Sussexes" according to claims from a royal insider. People spending time with Her Majesty, 93, have reportedly been told not to mention Meghan Markle or Prince Harry. Leading royal expert Quentin Letts tweeted the bombshell remark this week, claiming it was the only subject that was strictly banned from discussion.
That is really bad.
As the King would say, 'Dear, oh dear'.
The article continues:
Letts tweeted on Friday: "Friend of an acquaintance was about to go riding with HMQ.
"Was given v firm advice 'Talk about anything except one subject.' Brexit? 'No, The Sussexes.'"
This comes after claims of clashes within the royal family.
The Queen was reportedly left "deeply disappointed" by Meghan and Harry's hostile behaviour.
Several royal sources claimed the monarch was not impressed with the way Prince Harry and Meghan Markle have acted since marrying last year.
She is reportedly "disappointed" with their behaviour as representatives of the British monarchy around the world.
There is plenty more to come about the Sussexes. Stay tuned.
Those who have been following the Year A Lectionary readings during the season of Epiphany have good reason to be confused.
On the Second Sunday of Epiphany (January 15, 2023), the Gospel reading was John 1:29-42. The following Sunday, the Gospel was Matthew 4:12-23. Both tell how Jesus called John the Gospel writer, who goes unnamed in his own account, and brothers Simon Peter and Andrew to follow Him.
Why are they so different?
This is why.
John's account relates how John the Baptist told his followers that Jesus is the Lamb of God and that they should follow Him. From this, we can see that John the Gospel writer, Andrew and Simon Peter became disciples of John the Baptist. John and Andrew spent several hours, probably an overnight stay, with Jesus learning from Him. The following day, Andrew told his brother Peter (John 1:41):
He first found his brother Simon and said to him, "We have found the Messiah" (which is translated Anointed).
It was at this point that Jesus named Simon Peter Cephas, meaning 'rock' (John 1:42). The name Peter also means 'rock'. Cephas is pronounced 'KEFF-us', by the way:
He brought Simon to Jesus, who looked at him and said, "You are Simon son of John. You are to be called Cephas" (which is translated Peter).
In John 1:43-51, Jesus calls two more of His initial disciples, Philip and Nathanael.
Because John was with Jesus from the beginning, his Gospel has accounts that the other three — Matthew, Mark and Luke — do not have. John 2 has the miracle of the wedding in Cana and our Lord's first cleansing of the temple courts. John 3 recounts His first encounter with Nicodemus and the brief simultaneous ministries of Jesus and John the Baptist along the Jordan. John the Baptist says (John 2:30):
He must become greater; I must become less."[h]
In John 4, we have the encounter between Jesus and the Samaritan woman. Thanks to her testimony, many other Samaritans from her town believed in Jesus and asked Him to spend more time with them. John begins his account of our Lord's Galilean ministry in verse 43:
After the two days he left for Galilee.
The Gospels of Matthew, Mark and Luke are known as the synoptic Gospels because they have the same episodes from our Lord's ministry, with slight variations. Of those three writers, only Matthew was an Apostle.
Matthew lived in Galilee, in Capernaum. Therefore, he knew Jesus only when He began His public ministry there. His account in Matthew 4 is our Lord's second calling to the same men. It is an escalated call, one designating apostleship, although it is the first in a series of apostolic calls. Each of these calls took the men higher up the rungs of evangelism.
Consider that when a person receives a call to become a priest or a pastor, he goes to seminary. He has received what we know as a divine calling, one to a vocation. However, at that point, the seminarian has not been ordained nor does he go out to preach and to teach until later in his studies. After ordination, he is assigned a church and its flock. He may move on to another church, perhaps a larger one. In some denominations, he might become a bishop or, again where applicable, an archbishop. Those are examples of escalated divine callings, each carrying with it greater responsibilities.
John MacArthur explains our Lord's calls to His first disciples, who later became Apostles, in his 1978 sermon, 'Fishing for Men'. Excerpts follow, emphases mine.
In the first instance, we go back to John, Andrew and Peter in John 1 and Matthew 4, two different calls, Matthew's being the second:
Now, this is their call, but I want you to notice something.  This is phase two of their call.  I'm going to give you a little technical thing that'll help you in your study of the gospels.  We have several different calls of the disciples in the gospel. Each gospel writer, for his own purposes, chooses one or the other.  There was a sequence of things.  In other words, there were at least five different times when Jesus sort of called them; each one taking them to a different level, kind of like you.  Once you were called to salvation, right?  Then, maybe there was a time in your life when you were called to a new level of commitment.  Then, maybe there was a time in your life, like in my life, when you were called to serve Jesus Christ in a specific way.  Then, maybe there was a time in your life when you were called to a specific place, to Grace Church, or some other specific ministry.  In other words, the way God directs us may have phases, and that is true in the case of the disciples.
The first call is in John chapter 1 ... This was their call to salvation.  Andrew, John, Simon, Phillip, Nathaniel and James called to salvation.  This was the initial call, and you remember it was when John the Baptist said, "Don't follow me anymore.  Follow Him."  They took off after Jesus Christ, and it was the call to salvation. 
Now, this is phase two in Matthew 4:18.  This is the call to be fishers of men.  They're now going to follow Jesus, but it was only a kind of a momentary thing here.  It isn't the full final departing from everything. For now, they followed Him. For this moment, for this day, for this time, they were called to win souls.  They were called to fish for men.  They were called to come after Him.
Before I continue with MacArthur's train of thought, another question popped up at the service I attended on Sunday. We had a guest vicar preach who pointed out Matthew 4:21 and 4:22:
4:21 As he went from there, he saw two other brothers, James son of Zebedee and his brother John, in the boat with their father Zebedee, mending their nets, and he called them.
4:22 Immediately they left the boat and their father, and followed him.
The guest preacher wondered how they could leave their father Zebedee behind.
I suspect that John, having followed John the Baptist and being with Andrew in spending many hours with Jesus once being told that He was the Lamb of God, went home and told his brother James as well as his parents Zebedee and Salome what he had experienced.
In my post 'John MacArthur on the synagogues of our Lord's era', there are several citations from the Gospels on the power of our Lord's words when He taught and proclaimed the Good News. Imagine you and a friend are sitting alone with Jesus as He discourses on the kingdom of God. It's just the three of you and He would answer any questions you put to Him. It must have been the most life-changing experience ever for Andrew and John.
No doubt Zebedee and Salome gave their blessing to John to follow Jesus.
In my post on Matthew 4's account, I cited Matthew Henry's commentary, which has a follow-up on them:
James and John left their father: it is not said what became of him; their mother Salome was a constant follower of Christ; no doubt, their father Zebedee was a believer, but the call to follow Christ fastened on the young ones. Youth is the learning age, and the labouring age. The priests ministered in the prime of their life.
Returning to MacArthur, Jesus made further calls to His first disciples. The third occurs in Luke 5:1-11 with the bursting fishing nets. This took place in the daytime, which is even more extraordinary as big hauls are caught at night:
Jesus Calls His First Disciples
5 One day as Jesus was standing by the Lake of Gennesaret,[a] the people were crowding around him and listening to the word of God. 2 He saw at the water's edge two boats, left there by the fishermen, who were washing their nets. 3 He got into one of the boats, the one belonging to Simon, and asked him to put out a little from shore. Then he sat down and taught the people from the boat.
4 When he had finished speaking, he said to Simon, "Put out into deep water, and let down the nets for a catch."
5 Simon answered, "Master, we've worked hard all night and haven't caught anything. But because you say so, I will let down the nets."
6 When they had done so, they caught such a large number of fish that their nets began to break. 7 So they signaled their partners in the other boat to come and help them, and they came and filled both boats so full that they began to sink.
8 When Simon Peter saw this, he fell at Jesus' knees and said, "Go away from me, Lord; I am a sinful man!" 9 For he and all his companions were astonished at the catch of fish they had taken, 10 and so were James and John, the sons of Zebedee, Simon's partners.
Then Jesus said to Simon, "Don't be afraid; from now on you will fish for people." 11 So they pulled their boats up on shore, left everything and followed him.
MacArthur says:
There's a third call.  Luke records it in chapter 5.  This comes after the one in Matthew; it's different.  There are some similarities, but there are some distinct differences.  As you look at Luke chapter 5 for a moment, you'll see them.  I'll show you the level of call here.  In Luke 5, He comes along, and the situation is a little different.  They're still fishing, which indicates that the second phase, they did not leave their profession permanently.  They simply followed Him for that moment, and now it's going to be a little more firm.  He's not going to say, "I want you to just be fishers of men," generally.  He's going to say, "I want you to be fishers of men only."  This is the next step, and this time He stood by the Lake of Genessaret, which is another name for the Sea of Galilee.  Of course, Luke calls it a lake, as I said, because he's been around.  He's seen some big stuff, and that doesn't rank with it.
He saw two boats standing by the lake, and the fishermen were gone out of them and so forth.  He entered into one of the boats, Simon's, and now there's a difference here.  All of a sudden, we're in a boat.  Different than the situation in Matthew.  He says, "Launch out, let down your nets," and there's a whole fishing miracle that occurs here.  This is a completely different account.  What it is, is a time for them to come to grips with a real commitment, and Jesus reiterates it in verse 10.  There were, "James and John, the sons of Zebedee, partners with Simon, and Jesus said to Simon, 'Fear not from henceforth,'" doesn't matter you can't catch fish anymore.  You remember the story?  They couldn't catch fish on their own, not without the Lord.  He was going to control the fish. 
He said, "You want fish?  Put it down where I say, and you'll get fish.  Without me, you won't get anything.  Don't worry about whether you're going to be able to catch them without me. "From now on you shall," what? "catch men.  When they had brought their boats to land they forsook," what? "all and followed Him."  You see this is another level of commitment.
I guess this is a part of our life, isn't it?  At some point in time you come to Christ, and it isn't long after that somebody says to you, "You are to fish for men."  But maybe it's a long time after that, and maybe it's never for a lot of folks, that you forsake all to catch men.
The next call comes in Mark 3. Why so early in that Gospel? Because Mark's is the shortest of the four. He wrote in a journalistic style and for the people of Rome that they might know Christ. Every Gospel has a different theme. Mark focuses on Christ's miracles. In my 2012 post on Mark, I wrote:
Mark's Gospel focusses on Jesus's divinity as He expressed it through His miracles. Many men have profited greatly from reading Mark. Some fell on their knees and embraced Christianity as a result …
Mark's Gospel also ends suddenly. Some translations provide a smoother conclusion in an attempt to tie up loose ends. I read somewhere that the last part of Mark's scroll might have gone missing, which may account for this.
In the 1930s, a playwright or theatre critic — I don't recall — fell to his knees one night in New York after having read Mark's Gospel into the early hours of the morning. I no longer have the link, but, one evening, a Christian friend of his stopped by to chat. Their conversation developed and the friend brought up Christianity. The theatre chap said that he was an atheist. His friend suggested reading Mark's Gospel. The man said he'd think about it. After his friend left, he couldn't get to sleep. So he pulled out a Bible — again, I don't remember if his friend left him a copy or if he had one already — and read through Mark. He read it in its entirety then fell to his knees in awe. He still couldn't get to sleep, so he walked the streets of Manhattan until early in the morning. That was his conversion story. He never looked back.
But I digress.
This is what Mark 3 says about the calling of the Apostles:
Jesus Appoints the Twelve
13 Jesus went up on a mountainside and called to him those he wanted, and they came to him. 14 He appointed twelve[a] that they might be with him and that he might send them out to preach 15 and to have authority to drive out demons. 16 These are the twelve he appointed: Simon (to whom he gave the name Peter), 17 James son of Zebedee and his brother John (to them he gave the name Boanerges, which means "sons of thunder"), 18 Andrew, Philip, Bartholomew, Matthew, Thomas, James son of Alphaeus, Thaddaeus, Simon the Zealot 19 and Judas Iscariot, who betrayed him.
MacArthur says this was the official apostolic calling:
In Mark 3, there was another call.  They were not just going to catch men.  They were going to be official apostles.  In verse 14, "He appointed twelve," Mark 3:14, "that they should be with Him, that He might send them forth to preach, and to cast out demons."  Boy, now they've got miraculous power, and they were given the power also to heal diseases.  So they went from salvation to a general call, to a specific total commitment, and now to a miraculous power.
He says that the fullest calling came in Matthew 10, when Jesus sent the Apostles out to teach, preach (proclaim) and heal:
Jesus Sends Out the Twelve
10 Jesus called his twelve disciples to him and gave them authority to drive out impure spirits and to heal every disease and sickness.
2 These are the names of the twelve apostles: first, Simon (who is called Peter) and his brother Andrew; James son of Zebedee, and his brother John; 3 Philip and Bartholomew; Thomas and Matthew the tax collector; James son of Alphaeus, and Thaddaeus; 4 Simon the Zealot and Judas Iscariot, who betrayed him.
The rest of the chapter gives our Lord's full instructions on what the Apostles were to do and not do. It is the blueprint of Christian ministry to this day. Admittedly, not all clergy follow it.
MacArthur says:
Then finally, the fifth phase is recorded in the tenth chapter of Matthew in the first verse. "And when He had called to Him those twelve, He gave them power against unclean spirits to cast them out, to heal all manner of sickness and diseases."   He said, "Go," in verse 7, and He told them all how to go, and He sent them out, verse 16, "As sheep in the midst of wolves," and they went to preach. 
Now, do you see the progression here, beloved?  It is to be so with us.  It all begins at some point in time when we meet Jesus Christ, and we accept Him as Savior.  Then a little later the prodding of the Spirit of God, fish for men.  Then, hopefully later, you forsake all and your life is geared for that.  Then the time comes when, in the midst of that, you sense the power of God, and you move out, an official sent one to do His work.
As students of the Gospels know, it took Jesus three years to smooth the Apostles' rough edges. Sadly, among them was His betrayer, Judas Iscariot. The process did not finish until the Holy Spirit appeared upon them at the first Pentecost, by which time Matthias had replaced Judas. Then the Church took off in leaps and bounds. The powers that Jesus gave them to teach, preach and heal in His name lasted during the Apostolic Era, or Apostolic Age, which lasted until around AD 100. The Book of Acts chronicles some of those events, including those of Saul of Tarsus who became Paul, arguably the greatest of the Apostles, also personally instructed by Christ in his three days of blindness on the way to Damascus and later in an African desert, after which Paul evangelised everywhere he could possibly travel.
One might ask how it works in our time, if all of us, like the everyday men Jesus called, are to do likewise.
Here, too, MacArthur has an answer. He tells the story of a man on the Grace Community Church staff who trained other church members to evangelise:
Several years ago, we brought – I guess all of you know Jim George on our staff.  We could have hired a man to do visitation, to go out and evangelize.  You know what we did?  We decided to support a man, who would train others to evangelize.  If we had just hired a man to evangelize, you know what we'd have now five years later?  We'd have a man evangelizing, but instead we've got between 200 and 300 people trained to catch men.  That's what Jesus did.
As to how we evangelise effectively, MacArthur begins by talking about the Apostles then tells us that obeying the Gospel commands is the surest way:
You say, "Well did they have a great passion for souls?"  I doubt it, seriously doubt it.  I'm quite confident they didn't have a passion for anything.  So what they'd do it for?  Listen, you want to know something? You want to know how to get a passion for souls?  Try obeying to start with.  That's where it all begins.  Just be obedient.  I put it this way; obedience is the spark that lights the fire of passion.  The way to gain a passion for souls, the way to have your heart burn for the lost is to obey God and move out, and watch God take the pilot light of obedience and fan it into a forest fire.
Amazing.
Does Jesus want us to evangelise? Yes, He does.
Matthew's Gospel ends with the Great Commission, Matthew 28:16-20:
The Great Commission
16 Then the eleven disciples went to Galilee, to the mountain where Jesus had told them to go. 17 When they saw him, they worshiped him; but some doubted. 18 Then Jesus came to them and said, "All authority in heaven and on earth has been given to me. 19 Therefore go and make disciples of all nations, baptizing them in the name of the Father and of the Son and of the Holy Spirit, 20 and teaching them to obey everything I have commanded you. And surely I am with you always, to the very end of the age."
MacArthur reminds us:
Listen, God's greatest concern is to win people to Himself; Christ's greatest concern, the Spirit's greatest concern, the greatest concern of the apostles, and it was the greatest concern of the early church.  When they were scattered in Acts chapter 8, they went everywhere preaching Jesus Christ, endeavoring to win people to Him.
Even in the Old Testament, it was no different.  In the Old Testament God's great heart was a concerned heart, and it was concerned for those that were lost.  In fact, in Proverbs 11:30, we have this great statement, "He that winneth souls is," what? "is wise."  If you know anything about the term "wise" in the book of Proverbs, you know that the term wise is a synonym really for righteous living.  The truly righteous person, the person who really lives with understanding, the person who doesn't just know but lives it out, is the one who wins souls.  He is truly wise.
MacArthur's closing words on evangelising are useful:
You say, "Can I do that?"  Yeah.  You say, "How?"  Listen, number one, be a believer.  You can't be on the team unless you are.
Number two, be available.  Learn how to win people to Christ.  If that means getting involved in an evangelism ministry, then get involved.  If that means reading the New Testament and underlining everything about evangelism and cataloging it and learning it, do it.  Be a believer and be available.
Three, be concerned, be concerned.  Maybe that means reading some books.  Surely, it means meeting some unsaved people.  It all starts with obedience, so be obedient.  Go out and do it.  Even if the passion isn't there, do it.  Reach out to that neighbor.  Speak the words you've always wanted to speak and never have.  Then, realize Jesus is your pattern. Study how He did it.  Then, find somebody else you can follow, and let them be your model.
Be a believer, be available, be concerned, be obedient, be following Jesus, and be taught by an example.  So, Jesus began at the right point, in the right place, with the right proclamation, and the right partners.  The light dawned, beloved, and we're to carry it to the rest of the world. 
The easiest way to evangelise is to lead by example, wherever we are in life. Combine that with studying Scripture and praying regularly. Our good Lord will take it from there.
This year's Gospel reading for the Third Sunday of Epiphany — January 22, 2023 — was Matthew 4:12-23.
It was about the beginning of our Lord's ministry in Galilee and His calling of two sets of brothers to be among His Apostles, to be fishers of men: Andrew and Simon Peter as well as John and James.
Verse 23 says:
Jesus went throughout Galilee, teaching in their synagogues and proclaiming the good news of the kingdom and curing every disease and every sickness among the people.
Jesus, as did the Apostles after the first Pentecost, particularly Paul, taught in the synagogues regularly.
John MacArthur describes these houses of worship and their additional functions in 'The Healing Work of Jesus' which he preached in 1978.
Excerpts follow, emphases mine.
MacArthur begins by commenting on the verse itself and how it fits in with Matthew's Gospel as a whole, with its theme of Jesus as the Messiah, the King of Kings:
Let's look at verse 23: Jesus began on the right plan.  "And Jesus went about all Galilee, teaching in their synagogues, and preaching the gospel of the kingdom, and healing all manner of sickness and all manner of disease among the people."  Now here we come right to those two dimensions of messianic credentials: His words and His works.  Let's look at some specifics here.  "And Jesus went about," that's an interesting verb.  I want to stop for a minute; it's an imperfect tense verb, and when you have the imperfect it doesn't mean it's less than perfect. It's just a term used for something that's continuous action in the past tense.  It means that He was constantly going about, the idea of a constant endeavor.  You might even translate it, "He was continually going around" – incessant effort is the idea.  And really what you have in verse 23 – hang on to this thought – is a one-verse summary of the whole Galilean ministry.
Now notice, Matthew will take this one-verse summary and expand it in chapter 5, 6, 7, 8, and 9, so that those chapters to come – 5 through 9 – are an expansion of verse 23.  In fact, His words are the subject of chapter 5, 6, and 7.  His works are the subject of chapter 8 and 9.  So Matthew simply introduces those two elements here and then he begins to expand them in the next section, verses 5:1 through 9:38.  First, 5, 6, and 7 – His words – the great truth of the Sermon on the Mount that was absolutely shocking, devastating, and divine. And then His mighty works and miracles, chapters 8 and 9.
So He went all over the place incessantly and constantly, and you'll notice it says, He "went about all Galilee."  He was moving all the time.  Now "all Galilee" is a strong expression.  The term "all" is a very strong term, and when it says "all" in this sense it really does mean in a comprehensive sense …
The point is this: that to cover 204 villages and to move around through all of that mass of humanity required much time and constant travel and Jesus was busy.  Somebody figured out just to touch every town, moving at a rate of one town a day, is gonna take a half a year, and that would be only if you stayed one day in each place …
And so Jesus moved about.  He was going to touch as many as He could.  It was important that the whole of all those people – and remember they were Jew and Gentile mixed, and even the Jewish ones had been exposed to Gentile culture.
That is because Galilee was along the trade route to and from Africa.
The local synagogue was the heart of the community:
First of all it says, in verse 23, "Teaching in their synagogues."  Within Galilee Jesus chose to kind of center His ministry in the synagogues.  Now the synagogue was the most important institution in the life of any Jew.  Keep that in mind.  It was the most important institution.  It is very like the church is to you, you that are Christians. You love the Lord Jesus Christ, you're active at Grace Community Church, you're involved here – this is the most important institution in your life.  Your family is here, your kids are here, your friendships are here, this is your life.  No different in those days.  The whole of Jewish life centered around the synagogue.  In fact, in some cases it would be even more intense because even the politics of life and the economics of life – you traded there, you learned to sort of match up your businesses with people of like trade because they sat according to trade.  It was everything to the Jewish people.  In fact, the worst thing that could ever happen to a Jew was to be unsynagogued.  Aposunaggos, "to be unsynagogued" was it.  And you see, that's exactly what happened when a Jew became a Christian.  He was dis-fellowshiped from the synagogue.  It was vital.  That's why the whole book of Hebrews is written.  It was written to Christians, but also there are warnings throughout that book to certain Jewish people who were so afraid of being unsynagogued that even though they believed the gospel, they wouldn't receive Christ.  This synagogue was the key to their life.
He describes the physical location of the synagogue:
In most cases, the synagogue was built on a hill, using the most prominent hump in the city of the little town, and every town had one.  And there would be the synagogue, and it would be the highest place in the city and usually would be distinguished by a tall pole shooting up in the sky so that everybody could focus on that.  It was as familiar a sight to go into a Jewish town and see a synagogue spire as it is to go in the middle of New England and see a little church spire in the little villages.  It's common.
Sometimes, if there weren't any hills, they would build along the river and the bank of the river, and very often they built synagogues without a roof.  They just let their worship go up to God … the synagogue they've uncovered in Capernaum and have reconstructed really doesn't have any roof.  We don't know if it did or didn't have one or what kind of one it had, but it was where they gathered.
This was the pattern of worship:
Divine worship was held in the synagogue every Sabbath, every Saturday.  Sabbath ran from Friday at sundown to Saturday at sundown, and on the second and fifth day of every week they had special services, every Sabbath they had special services.  Of course, they had special services every festival day, all the feast days and all the special days.  Now basically when they came together on the Sabbath, if it wasn't a special day, this is how the format went: first there was the reading of the Law and the reading of the Prophets by certain people who were called upon, and then there were prayers offered by the leader, and then there were responses by the people.  They would respond with amens and various praises to God.
Following that there would be an exposition of some text of the Scripture, and that went all the way back to the return under Ezra and Nehemiah.  When they read the Scripture – You remember in Nehemiah? – "and then Ezra the scribe stood up and gave the sense of it" – expository preaching is not something new in this generation.  It is the kind of preaching in the restoration under Ezra and Nehemiah, and it is historically what the Jews have done in their synagogue, first the reading, then the prayer, and then the exposition.  And it was interesting, if there was a visiting dignitary or a visiting rabbi, he would be given the right to speak the exposition very often. And that's where, of course, Paul moved right into the synagogue and used some Old Testament text and took off.  That was very common.
This is how the synagogue was organised and how it ruled over the community:
The affairs of the synagogue were administered by ten men; basically, ten elders of whom three were called the rulers of the synagogue.  They acted as judges.  They would admit proselytes or not admit them.  They settled issues.  There was a fourth ruler called the angel of the church who was sort of the chairman of the board.  There were others who were called servers who carried out the direction of the three and the one.  There was an eighth one, according to Jewish tradition, that was the Hebrew interpreter who took the ancient Hebrew and translated it into the vernacular.  There was a ninth one who headed up the theological school.  And by the way, every synagogue had a theological school in it.  And there was a tenth one who interpreted the theological school instructor stuff because it was usually over the heads of the people.  So they had this whole organization, this incredible structure.
Listen, the synagogue became the court of law, and any disputes or court problems or civil things, they came there; their judgment was made and execution was even pronounced.  Listen, you know the Roman government only took away from the Jews the right of execution at the time of Jesus.  They could do everything else.  They could run their own affairs.  The only thing they couldn't do was take somebody's life.  That's why they had to take Jesus to the Romans to have Him crucified.
… They ruled their own affairs.  And as we see, the small villages and towns in the time of Jesus, they would have their own court of law.  Also the synagogue was a public school for boys, and the little boys would go there, in their childhood, and learn the Talmud.  And further, the synagogue was a theological school for the men.  So this was the center of the whole concentration of Jewish life.  And when Jesus went there to that place, He would be stepping right into the midst of Israel.
The temple in Jerusalem differed from the synagogue, as it was only there where sacrifices and monetary offerings could be made:
Now there's a vast difference, remember, between the synagogue and the temple.  There's only one temple, and that is at Jerusalem.  That's the only temple.  There isn't one there now, as you know, not since 70 A.D. when Titus came in and wiped it out.  But there was only one temple, but wherever there was a small colony of Jews, wherever there was a handful of Jewish men, they could start a synagogue.  And so they were every place, and they were the platform for Jesus, and they were the platform for the apostle Paul.
By the way, the temple was not a place for teaching, and the temple was not a place for preaching, unless like Jesus you happened to stand up in there and take off.  The temple was a place for offering sacrifice and making offerings.  But the synagogue was a place of teaching and preaching.  It was essentially a preaching/teaching place.  In fact, the church today pretty well has modeled its patterns after the synagogue.  Now we still have Jewish synagogues with us.  There's one right down the street, only now they call it a – What? – a temple. But it isn't, because there's no blood sacrifice being offered there.  It's simply a synagogue, a gathering place.
MacArthur describes how Jesus made use of the synagogues for His teaching:
Well, Jesus took advantage of the opportunity for any dignitary, any visiting rabbi or teacher, to have the opportunity to speak.  And so Jesus would go in the synagogue and He would teach – Why? – because this would reach the heart of Israel.  Listen, the most zealous people for God were in the synagogue.  That's where you'd find the true hearts, if there were any in Israel.  That's where the remnant would be, wouldn't they?  They'd be there worshiping the true God in the best way they knew how. So Jesus went where they would listen to Him, where they would hear Him – the synagogue.  And He would go in, and He would teach the Scripture.  That was His pattern – to open the Scripture, to give exposition.  This is exactly what He did throughout the pattern of His ministry.  Even when He was in Nazareth He broke open His whole ministry by doing an exposition on an Old Testament scripture that referred to Him.  Even in the Sermon on the Mount He kept referring, "You have heard it said, and the Scripture says, and I say," and He'd take off from there, either from a scripture of God's authorship or from some ancient tradition that they had held to. Jesus would move off from there to do the exposition and turn the whole thing to Himself.
And so Jesus was teaching in the synagogues.  By the way, the word didask has to do with didactic, instructive relating of truth.  The word concentrates on the passing of information.  The word emphasizes the content, the passing on of information.  That's what Jesus did.  And by the way, His method, I'm quite confident, was expository, taking the text and out of it teaching the principles.  I really believe this is the greatest way to preach and teach the Word of God.
Proclaiming, MacArthur notes, is different to teaching:
Secondly, it says in verse 23, "Not only was He teaching in their synagogue, but He was also preaching the gospel of the kingdom."  Now this is a different word – kruss – and it means "to proclaim," and it concentrates not so much on the didactic method, the relating of truth, the content, as it does on the very voice, the very style of proclamation. And it simply means "He heralded it out," "He cried out."  Often about Jesus you see the word ekraxan, "he cried out." That's preaching.  Teaching is where there is the careful, instructive relating of content.  It's kind of from the mind to the mind.  Preaching is the crying out, the impassioned cry of Jesus Christ to the people.  And there it wasn't so much in the synagogues, although He did both there as well, and the two are mixed up in His ministry so you can't separate 'em.  There was never teaching without preaching, and there was never preaching without teaching, but the preaching is the crying out.  It is the heralding of the gospel.
Some have said preaching is the heralding of the gospel and teaching is the explaining of the gospel that's been heralded.  Jesus did both – preaching, making a public announcement.  William Hendrickson, who's a great commentator, says this:  "Between preaching and teaching there is a difference.  Though it is true that good preaching is also teaching, the emphasis is nevertheless not the same.  Preaching means proclamation.  Teaching, on the other hand, indicates imparting more detailed information regarding the proclamation that was made," end quote.  That's the idea.
… The proclamation is what is called the krugma, and the teaching is what is called the didach.  You may see those terms sometime in your reading, and there's never any good krugma without didach.  It doesn't do any good to proclaim something if you don't explain what it is.
MacArthur points out that Jesus avoided teaching about the socio-political issues of the day. He focused only on the kingdom of God:
Look at it in verse 23, the gospel of the kingdom, the good news of the kingdom.  This is what He was always talking about, always.  He was always talking about this.  In fact in Acts chapter 1, after He had risen from the dead, until He ascended, He had 40 days with His disciples, and it says in verse 2 of Acts 1, "Until the day in which he was taken up after he through the Holy Spirit had given commandments unto the apostles whom he'd chosen: to whom also he showed himself alive after his passion by many infallible proofs" – now watch this – "being seen by them forty days, and speaking of the things pertaining to the kingdom of God."
From the time He began His ministry in Matthew right here, to the time that He was silenced in His ascension, He never spoke of anything other than the kingdom of God.  He never got dragged into social issues that were unrelated; He never got dragged into politics, into revolutions, into economics – He spoke of the kingdom of God.  And it's a great pattern.  I feel in my heart I need to follow that kind of pattern.  Sometimes people ask me why I don't say things about this and that and the other thing, and I guess maybe it's because Jesus, until He was taken up, spoke to them the things concerning the kingdom of God. And if that was His priority, then that's going to be my priority.
Jesus began His ministry gently by speaking of the good news of the Gospel: repent and be saved. As He neared the end of His ministry, however, He began to pass righteous judgement on wilful unbelief:
… first of all, the word "gospel" means something simple, good news, good news.  It's good news and the world is full of bad news – Isn't it? – all bad news.  This is the only good news, really good news.  The teaching and preaching of Jesus Christ was filled with good news.  You know something interesting?  Listen to this: John the Baptist's preaching is never called good news, never.
Now maybe it was good news, and maybe it might have been called good news, but it never is.  I began to think about why.  Perhaps it is because the note of judgment is so strong, the ax is laid at the root, the winnowing fan is moving, the fire is consuming, and John fired out so much judgment and so much condemnation and cried for such repentance that maybe his message was too strong to win the gracious title "good news."  But it really was good news, wasn't it?  It's kind of like the deal you've gotta have bad news before you get good news. But I think the reason John's is never called good news is because there never really was good news until Jesus arrived.  There never really was any good news until Jesus came.  And it is Jesus who is said to preach the good news.  John was saying, "Get right, repent, get ready, and avoid judgment."  And then Jesus came along and gave the other side of it, and come to Me and I'll take you to heaven.  That was the good news.
After the Messiah had encountered more and more of the hypocrisy and more and more of the hostility of the hierarchy of Israel, His preaching became even more stern than John's.  You know that?  But at the very beginning there was no strong word of condemnation.  Jesus didn't come saying there's going to be an ax, and there's going to be a winnowing fan, and there's going to be a fire consuming you.  You don't hear that at the beginning of Jesus' ministry.  That comes later.  It was just the good news.  And what is the good news? – the kingdom, the kingdom.  That God is going to establish His rule.  That we can be a part of God's dominion, that as Paul said we can be translated out of the kingdom of darkness into the kingdom of His dear Son, that our sins can be forgiven.  Listen, the gospel of the kingdom is the same gospel preached today.  It's just the message of salvation.
The good news is this: God has a kingdom; He wants you to be a citizen; here's how.  That's the good news.  Oh, it has all kinds of ramifications, as we'll see as we go through Matthew.  But it's the good news of salvation because that's the way you get in His kingdom.  Once you're in it has all kinds of features.  There is the element of the kingdom now in us in the Holy Spirit.  There is the element of the millennial kingdom for a thousand years on earth.  There is the element of the eternal kingdom and glory in the new heaven and the new earth forever with God.  It has different facets and wondrous things that we're gonna see, but for now all we need to know is that the good news is that God has a kingdom and you can be in it.  You can be a part of it.  That's good news.
I'll tell you the alternative is pretty sad, isn't it?  These people had long had a weariness of being in the kingdom of Rome, before that the kingdom of the Greeks, before that the kingdom of the Medes and the Persians, before that the Babylonians.  And even when they tried to do it on their own with their own kings, it was nothing but debauchery and evil.  And the very fact that there could be a kingdom with God was what they had longed for.  This was good news.  Jesus was saying, there's a way to escape.  There's good news, there's a kingdom, and the good news is you can be a part of that kingdom.  How?  What is that good news that gets you into the kingdom?  First Corinthians, chapter 15 and verse 1, tells us.  Here's the gospel which I preach to you – listen – "For I delivered unto you, first of all, that which I also received" – here comes the good news – "that Christ died for our sins according to the scriptures…that He was buried…that He rose again the third day according to the scriptures."  That's the gospel, folks.
The good news is this: Jesus died for you.  He rose for you.  Your sin is paid for.  Your eternal life is purchased, and you can be in God's kingdom.  That's good news, isn't it?  And that's what Jesus came preaching and teaching.  The plan of salvation is the good news.  Oh, He didn't cover all the ground early on here.  He just simply announced, "I've got good news.  God has a kingdom for you.  God has a kingdom for you."  In fact it would have been an earthly kingdom if they had believed, wouldn't it?  If they had accepted Jesus as their Messiah, and they'd have been saved there, and the nation Israel had repented, and come to Christ, their kingdom would have been right then and there. 
It should be noted that everyone who heard Jesus understood the powerful accuracy of His teaching and preaching:
The words that He preached; "no man" – the officers had it right – "ever spoke like that man spoke."  His words about the kingdom for three years went across the land of Israel.  They should have known.  It should have been obvious.  To some it was.  Listen to Luke 4, verse 22, "And all bore him witness." This was when He was preaching in Nazareth.  And by the way, He did an exposition of an Isaiah passage; took Isaiah and just cracked it open for them.  Isaiah 61 – preached a sermon off of that text, and then they listened, and finally, in verse 22, they "bore him witness, and wondered at the gracious words that proceeded out of his mouth. And they said, 'Is not this Joseph's son?'"  I mean, "these words coming from this guy who grew up in our town, the son of a carpenter."  Verse 31, "And he came down to Capernaum, a city of Galilee, and he taught them on the sabbath days. And they were astonished at his doctrine: for his word was with power."  And in verse 36, they said, "What a word is this!"
In Matthew chapter 24, I think it's verse 35, He said this: "Heaven and earth shall pass away, but my words shall not pass away."  He spoke an eternal word, a powerful word, like no one ever spoke.  They could never confound Him in His words. They could never trap Him in His words. They could never stump Him in His words. They were literally devastated by His words.  They were so powerful that they were literally thrown down in their own tracks when they tried to encounter Him and catch Him in His words.
I pray that John MacArthur's exposition on our Lord's preaching and teaching bring His words to life for us, if they have not done so already.
The three-year Lectionary that many Catholics and Protestants hear in public worship gives us a great variety of Holy Scripture.
Yet, it doesn't tell the whole story.
My series Forbidden Bible Verses — ones the Lectionary editors and their clergy omit — examines the passages we do not hear in church. These missing verses are also Essential Bible Verses, ones we should study with care and attention. Often, we find that they carry difficult messages and warnings.
Today's reading is from the English Standard Version Anglicised (ESVUK) with commentary by Matthew Henry and John MacArthur.
Pray for Us
3 Finally, brothers,[a] pray for us, that the word of the Lord may speed ahead and be honoured,[b] as happened among you, 2 and that we may be delivered from wicked and evil men. For not all have faith. 3 But the Lord is faithful. He will establish you and guard you against the evil one.[c] 4 And we have confidence in the Lord about you, that you are doing and will do the things that we command. 5 May the Lord direct your hearts to the love of God and to the steadfastness of Christ.
———————————————————————————————————————
Last week's post explored Paul's discussion of the Antichrist, 'the lawless one', who will come one day, controlled by Satan. When Jesus returns, He will kill the Antichrist with 'the breath of His mouth', but not before unbelievers — the damned — are in thrall of what he does. This, Paul says, is because God has condemned them for refusing 'to love the truth and so be saved'. Therefore, God punishes them with 'a strong delusion' so that they can do nothing but 'believe what is false'.
Today's verses are in the final chapter of 2 Thessalonians.
As he did from all of his churches, Paul sought the prayers of the Thessalonians for his continuing ministry.
John MacArthur describes this message from Paul to his friends in Thessalonica:
It's very tender. It's very personal. It is Paul saying this is what I expect from you, this is what I cherish in terms of your Christian conduct.
He asks them to pray for him and his associates Timothy and Silvanus (Silas) that the Word of the Lord — the Gospel message — may speed ahead and be honoured, as was the case with in Thessalonica (verse 1).
Matthew Henry points out the importance of prayer, especially for our absent friends, including the clergy (emphases mine):
I. The apostle desires the prayers of his friends: Finally, brethren, pray for us, v. 1. He always remembered them in his prayers, and would not have them forget him and his fellow-labourers, but bear them on their hearts at the throne of grace. Note, 1. This is one way by which the communion of saints is kept us, not only by their praying together, or with one another, but by their praying for one another when they are absent one from another. And thus those who are at great distance may meet together at the throne of grace; and thus those who are not capable of doing or receiving any other kindness may yet this way do and receive real and very great kindness. 2. It is the duty of people to pray for their ministers; and not only for their own pastors, but also for all good and faithful ministers. And, 3. Ministers need, and therefore should desire, the prayers of their people. How remarkable is the humility, and how engaging the example, of this great apostle, who was so mighty in prayer himself, and yet despised not the prayers of the meanest Christian, but desired an interest in them.
MacArthur says:
He desires that they be prayerful. "Finally, brethren," verse 1, "pray for us." The shepherd wants the prayers of his people. Now think about it for a moment. Paul was without equal as a gifted, powerful, competent, effective minister. He had immense natural abilities, brilliant, logical, persuasive, erudite, educated, trained, religious, spiritually minded, perceptive, experienced. He had it all. But all that natural ability and all that education and all that religious training and all that experience and all of that skill, highly developed through the years, was not the source of his great power and it was not the source of his usefulness. It was the power of God at work in him that transcended his natural giftedness; that made him the man that he was for divine purposes. He himself confessed in Colossians 1 verse 29, "I labor, striving according to His power, which mightily works within me." He had no confidence in his flesh. And he knew that whatever success he had was not related to his natural giftedness or any of those things which had occurred in his life on the human level, but to the very power of God surging through him. He was dependent on the Lord entirely for every aspect of his ministry. He even said, "Nevertheless I live, yet not I but Christ lives in me." He knew where his power source was.
And consequently there are frequent pleas for his people to pray for him. And those pleas underline and underscore how strongly he leaned on divine power. I sometimes think that those in ministry who are least naturally gifted … get the most prayer because people assume that naturally gifted people don't need any. Nothing could be further from the truth. There may be greater temptation for those more gifted to trust in their own giftedness. There may be greater possibility for human ingenuity to take over for the power of God in the unusually gifted than in those who are more humbly gifted. Thus those with the greater gifts may be those with the greatest need for prayer.
Some translations use 'glorified' instead of 'honoured' in that verse.
Henry explains the prayer petition that Paul requests and applies it to us today:
Observe, further, what they are desired and directed to pray for; namely, (1.) For the success of the gospel ministry: That the word of the Lord may have free course, and be glorified, v. 1. This was the great thing that Paul was most solicitous about. He was more solicitous that God's name might be sanctified, his kingdom advanced, and his will done, than he was about his own daily bread. He desired that the word of the Lord might run (so it is in the original), that it might get ground, that the interest of religion in the world might go forward and not backward, and not only go forward, but go apace. All the forces of hell were then, and still are, more or less, raised and mustered to oppose the word of the Lord, to hinder its publication and success. We should pray, therefore, that oppositions may be removed, that so the gospel, may have free course to the ears, the hearts, and the consciences of men, that it may be glorified in the conviction and conversion of sinners, the confutation, of gainsayers, and the holy conversation of the saints. God, who magnified the law, and made it honourable, will glorify the gospel, and make that honourable, and so will glorify his own name; and good ministers and good Christians may very well be contented to be little, to be any thing, to be nothing, if Christ be magnified and his gospel be glorified … Note, If ministers have been successful in one place, they should desire to be successful in every place where they may preach the gospel.
MacArthur says that Paul has borrowed from Psalm 147:
Pray that God's Word, he says, may spread rapidly.  The Greek verb trechō means literally "to run."  Pray that the Word may run.  He's borrowing this concept, shows his knowledge of the Old Testament, from Psalm 147:15 where it says, "God's Word runs very swiftly."  So he says pray that the Word will run like a powerful runner, like a strong runner moving unobstructed and unhindered, making rapid progress …
Pray that the Word will go rapidly.  Pray that when I'm given opportunity I'll open my mouth.  Pray that when I'm ready to open my mouth God will open a door so I can speak, and then when I get the opportunity, pray that I'll say what needs to be said; always asking the church to pray for the success and the spread of the message.
In 2 Timothy 2:9 he reminded young Timothy the Word of God is not bound.  I might be; it isn't.  Pray that it will move powerfully through the land.
And then he adds this, "And be glorified," and be glorified.  What does that mean?  It simply means appreciated, honored, respected, extolled, admired.  He's simply saying that it will be received with a proper response, that people will hear the gospel and they will affirm it to be the gospel, the saving truth.  He's talking about acceptance.
Paul also wanted the Thessalonians to pray that he and his associates be delivered from wicked and evil men, for not all men have (the gift of) faith (verse 2).
MacArthur reminds us of the danger Paul constantly faced:
He also knew the meaning of persecution. He faced difficulty. He faced a solitary life. He faced danger constantly. He usually was self-supporting, usually had to preach to people who didn't want to hear what he said in places where he never was invited to start with. Life for him was one unending challenge and the threat of death was imminent. He bore in his body the marks of Jesus Christ. He faced death on a daily basis. And he knew he couldn't succeed in his own human flesh and he was dependent upon the power of the Lord and he knew that power was released through the prayers of his people.
He was experiencing trouble in Corinth, where he was writing this letter:
… as he writes this he's in the city of Corinth. Things haven't gone well. The 18th chapter of Acts records what was going on in the city of Corinth and as I said, it wasn't good. There was a hostile reaction to the gospel. Chapter 18, verse 6 tells us the Jews resisted and blasphemed and he shook out his garments and said to them, "Your blood be on your own heads, I'm clean. From now on I go to the Gentiles." He hit a stone wall there, not like Thessalonica, not like Galatia. And so he is in…in the context of that resistance as he writes. I believe that he wrote this letter some time after that initial resistance and he wants the gospel to break through, to really break through, and so he says, "Will you please pray that it will spread rapidly and be accepted?"
There's a second thing he asks in verse 2.  "And that we may be delivered from perverse and evil men for not all have faith." What is this?
First he asks for the success of the message.  Secondly: The safety of the messengers.  "That we may be delivered," rhuomai, rescued, saved.  "Not for self-preservation alone, not for personal comfort or safety alone, but because if we're not protected then the message won't be heard.  Pray that the message will go forth successfully and the messengers will be unhindered.  Paul was always facing hostility.  We've already read about it in the book of Acts.  I can remind you at the end of Romans 15, he says, "Pray for me that I may be delivered from those who are disobedient," disobedient to God. Pray for me that I'll be able to carry on my ministry.
In Corinth, as I said, there was tremendous resistance. And perhaps after he wrote this letter it really blew sky-high because in Acts 18 verse 12 it says, "Gallio was proconsul of Achaia. The Jews with one accord rose up against Paul and brought him before the judgment seat." The whole Jewish population were united in hostility against the gospel and they made an issue out of it. They even took, in verse 17, Sosthenes, the leader of the synagogue, began beating him in front of the judgment seat. A riot really ensued. Paul is in the context of this resistance and he's pleading with them to pray for the success of the message and the safety of the messenger.
Now would you note also that he identifies who is dangerous: Perverse and evil men. "Perverse" literally is the word "out of place." This is the only time in the New Testament it's used of a person. It's always used of some object that got lost, something that's out of its proper place, something improper. Here it means some person who is out of his proper place, who is perverse, unrighteous; one writer says "morally insane." And then he adds evil, malignant aggressive wickedness. Pray for us that we will be rescued from the threats and the power of morally insane, perverse, aggressively wicked people who want to shut our mouths so the message can't be preached. Pray for us.
I would echo that. Pray for the success of the message as I preach and pray for safety and security for the messenger. Maybe the persecution isn't the same today as it was then, but it's still out there.
And then he adds a note of explanation, "For not all have faith." The Thessalonians probably assumed that because they responded in such a wonderful way, because the Jews and the Gentiles together responded to the gospel, that this might be the norm. Now remember, Paul had just been with them a matter of really just a few months, weeks. And they probably thought their response would kind of be the pattern and he says to them, "Pray regarding this hostility because not all have faith." It is possible to interpret that two ways. Some might say, "Not all have the faith," the definite article being there, talking about the content of Christian faith. But I would take it that what he's saying here is not all believe. Either way, it comes out the same. Not all are Christians and unbelievers are the ones who are hostile. No, everyone isn't going to respond the way you did, so the beloved apostle calls for the intercession of the church so that the Word may move rapidly and triumphantly and the messengers will not be hindered by hostile unbelievers. That's his prayer.
Henry has a practical application of the verse for us:
(2.) For the safety of gospel ministers. He asks their prayers, nor for preferment, but for preservation: That we may be delivered from unreasonable and wicked men, v. 2. Note, Those who are enemies to the preaching of the gospel, and persecutors of the faithful preachers of it, are unreasonable and wicked men. They act against all the rules and laws of reason and religion, and are guilty of the greatest absurdity and impiety. Not only in the principles of atheism and infidelity, but also in the practice of the vice and immorality, and especially in persecution, there is the greatest absurdity in the world, as well as impiety. There is need of the spiritual protection, as well as the assistance, of godly and faithful ministers, for these are as the standard-bearers, who are most struck at; and therefore all who wish well to the interest of Christ in the world should pray for them. For all men have not faith; that is, many do not believe the gospel; they will not embrace it themselves, and no wonder if such are restless and malicious in their endeavours to oppose the gospel, decry the ministry, and disgrace the ministers of the word; and too many have not common faith or honesty; there is no confidence that we can safely put in them, and we should pray to be delivered from those who have no conscience nor honour, who never regard what they say or do. We may sometimes be in as much or more danger from false and pretended friends as from open and avowed enemies.
Then Paul segues to the Thessalonians by saying, 'But the Lord is faithful', meaning to him and to them; the Lord will establish them (keep them steady) and guard them against the evil one, Satan (verse 3).
Henry explains:
1. What the good is which we may expect from the grace of God-establishment, and preservation from evil; and the best Christians stand in need of these benefits. (1.) That God would establish them. This the apostle had prayed for on their behalf ( ch. 2:17), and now he encourages them to expect this favour. We stand no longer than God holds us up; unless he hold up our goings in his paths, our feet will slide, and we shall fall. (2.) That God will keep them from evil. We have as much need of the grace of God for our perseverance to the end as for the beginning of the good work. The evil of sin is the greatest evil, but there are other evils which God will also preserve his saints from—the evil that is in the world, yea, from all evil, to his heavenly kingdom.
2. What encouragement we have to depend upon the grace of God: The Lord is faithful. He is faithful to his promises, and is the Lord who cannot lie, who will not alter the thing that has gone out of his mouth. When once the promise therefore is made, performance is sure and certain. He is faithful to his relation, a faithful God and a faithful friend; we may depend upon his filling up all the relations he stands in to his people. Let it be our care to be true and faithful in our promises, and to the relations we stand in to this faithful God.
MacArthur sees the verse as Paul's exhortations to the Thessalonians to keep trusting God, regardless of what happens, e.g. persecution:
… he says, "This is what I want to happen in your life." There's a certain sense in which he feels at arm's length, "and I can't be there to insure it, but this is my desire for you."  Verse 3: "But the Lord is faithful and He will strengthen and protect you from the evil one."
What he's saying to them is, look, no matter what happens, no matter how hostile they are, no matter how severe the persecution and trials and trouble, no matter what might happen, you know this, your Lord is faithful. Keep trusting.
Any pastor who is away from his people would want from the depths of heart that his people remain faithful to the God who is faithful to them.  In contrast to faithless men in verse 2 is a faithful Lord in verse 3.  And no matter what may come in trials and no matter what may come in persecutions, the Lord's plan for you will come to pass, He is faithful.  Why Paul sure gave testimony to that at the end of his life in 2 Timothy 4:16, "At my first defense no one supported me, all deserted me but the Lord stood with me and strengthened me."  Everybody else was gone, but He was there, He's faithful.  I wish we had time to go through the Old Testament and the New to see how many times the Bible tells us the Lord is faithful. The Lord is faithful …
He will strengthen you, he says, he will strengthen you, stērizō. There's that word from which we get steroids, make you strong, make you firm, establish you.  That's talking about the inside, strengthening your inner man, giving you an inner security.  He'll build you up on the inside and protect you from the evil one on the outside.  He will fill you with internal strength and He will shield you from the evil one, most likely a reference to Satan.  It could be translated, "From the evil," but it is better to see it as "The evil one, Satan."
In the inside He'll strengthen you.  On the outside He'll shield you so that you're never hit with satanic arrows that are going to destroy you and you have the internal strength to maintain your faith.  There is your great security, beloved.  No matter what comes or goes, a faithful Lord will strengthen you on the inside and guard you from attacks by the enemy on the outside.
I suppose Jude had it all when he said this, "He is able to keep you from stumbling and to make you stand in the presence of His glory, blameless with great joy."  He will strengthen you so you don't fall.  He will protect you so Satan cannot destroy you.
Paul says that he has confidence in the Lord about the Thessalonians, that they are doing well and will do what he commands (verse 4), i.e. obey the Gospel message.
MacArthur reminds us that the Gospel is a command to obey God through obedience to Jesus Christ:
The pastor has spent his time teaching the Word of God, in a sense, commanding. Remember Paul said to Timothy, "Command and teach." Teaching has the note of authority because we give you the Word of God. And Paul has the desire for his people that they maintain a pattern of obedience. Verse 4, "We have confidence," and it's a very positive approach to this exhortation, "we have confidence in the Lord," not in your flesh, "but in the Lord concerning you, that you are doing and will continue to do what we command" …
Were these personal commands by Paul? No, he was simply passing them on. They came from God. He's essentially saying to them what he noted about them back in chapter 4 of his first letter. He said, "You ought to walk and please God just as you actually do walk, that you may excel still more." You're already doing it. I want you to do it more. I want you to do it better. Here he says it again. You're already doing it. I want you to continue to do it in the future.
Do what? Obey my commands. Scripture is command. Did you know that? It is command. Scripture in Psalm 19 is called, "the commandments of the Lord." Jesus said in the Great Commission, "Teach them to observe all things whatsoever I have commanded you." Do you know that even the gospel is a command to repent and believe? All injunctions are commands. And so he says I want to see your continued, sustained, ongoing obedience and I'm confident in the Lord that you will continue by His strength to obey as you have been obeying.
Paul concludes this section of his letter by praying that the Lord direct their hearts to the love of God and the steadfastness of Christ (verse 5).
Certainly, the Thessalonians were already experiencing that, but Paul wanted it to be enduring and ever-expanding.
Henry explains the beauty of the verse, which is one of blessing:
It is a prayer for spiritual blessings. Two things of the greatest importance the apostle prays for:—1. That their hearts may be brought into the love of God, to be in love with God as the most excellent and amiable Being, the best of all beings; and this is not only most reasonable and necessary in order to our happiness, but is our happiness itself; it is a great part of the happiness of heaven itself, where this love shall be made perfect. We can never attain to this unless God by his grace direct our hearts aright, for our love is apt to go astray after other things. Note, We sustain a great deal of damage by misplacing our affections; it is our sin and our misery that we place our affections upon wrong objects. If God directs our love aright upon himself, the rest of the affections will thereby be rectified. 2. That a patient waiting for Christ may be joined with this love of God. There is no true love of God without faith in Jesus Christ. We must wait for Christ, which supposes our faith in him, that we believe he came once in flesh and will come again in glory: and we must expect this second coming of Christ, and be careful to get ready for it; there must be a patient waiting, enduring with courage and constancy all that we may meet with in the mean time: and we have need of patience, and need of divine grace to exercise Christian patience, the patience of Christ (as some read the word), patience for Christ's sake and after Christ's example.
MacArthur says:
Paul's expectation, because of the Lord's faithfulness to His people, because they had an obedient inner man delighting in God's command, was that they were going to be all right.  But he wanted them to continue spiritual growth.  And in a sense, that's really what he's saying in this verse.  "May the Lord direct your hearts."  The word "direct" here means to make straight, "heart," your inner person.
The word "direct" is used in 1 Thessalonians 3:11 of removing all the obstacles and hindrances out of the way and opening up a path.  May the Lord open up a path for you so that your inner man can move down that path.  He doesn't want any static here, nothing stationary.  You aren't there yet.  I want the Lord to open the path to clear the trail and to move your inner man down that path. To what?  Into the love of God.
Is that objective or subjective?  Are we talking about into God's love for you, or your love for God?  And the answer is probably both.  I love that ambiguity in the epistles.  The Greek language provided the original writers a certain ambiguity that resulted in the fullness of the truth.  Down the path into God's love for you and your love for Him … For you technicians that's the objective and subjective genitive. And when you look at it, you can't tell the difference in the original language and we feel that that's because they're both there. 
Go down the path deeper and deeper into God's love for you which is going to cause you to love Him more and more. And secondly, he says, I want the Lord to lay out the path and push your inner being down the path into, notice it, the steadfastness or the patience of Christ. That can be either one; his patience with us or our patience in His strength through endurance. I want you to go down the path learning more and more how patient, how enduring Christ is over your sins and your problems and your struggles and even how greater you can understand His own endurance in His own struggles, and then consequently have a greater endurance of your own.
I want you to know more about God's love so you can love Him more. I want you to know more about Christ's endurance so you can endure more. I want you to grow spiritually in your love and in your endurance. That's his point. You're not there. I want you to advance in love and advance in patience under persecution as Christ did.
In other words, Paul wants them to pursue the lifelong process of sanctification, which they had already begun. He wants them to continue on that Christian journey, which should never be static.
MacArthur summarises the duty of congregations to their clergy:
What is the duty then of the people to the pastor? The sheep to their shepherd? To be prayerful on his behalf, that his message may succeed and that he may be safe in the proclamation of it. Their duty to him is to continue in their faithful trust in a faithful Lord who will never allow them to be weak on the inside and who will never allow them to be assaulted beyond what they are capable on the outside but will always be there to strengthen and protect them; and the duty to be obedient, to continue in the presence or absence of the shepherd to follow obediently the commands which he gave them from God …
So, with a growing love and a growing endurance of the difficulties of life, the pastor wants his congregation to obey, trusting in the faithfulness of the Lord and praying always for the shepherd. No pastor could ask more than that from his people, that they be prayerful, trusting, obedient and spiritually growing. That's my desire for you, that God may be glorified in His church.
Next week's verses conclude 2 Thessalonians.
Next time — 2 Thessalonians 3:13-18