January 31, 2023 marks the third anniversary of Brexit:
As I have written before, those parliamentary debates early in 2020 were splendid. Newly and re-elected Conservative MPs, giving the Government a majority of 80 thanks to Boris Johnson's 2019 'Get Brexit Done' campaign slogan, were full of optimism about how Britain could — and would — be transformed.
Unfortunately, the pandemic put paid to those dreams in mid-March. We couldn't move past it. Even now, we are still suffering financially from the decisions the Government made, forced to do so by Opposition MPs. If Boris had just not given into SAGE, we probably could have stuck to the Swedish policy of no lockdown and minimal restrictions, which would have saved us hundreds of billions of pounds. Then again, Boris got coronavirus and had to be hospitalised for a week in early April. He came back a different man. SAGE were able to exercise power over him.
Even in 2022, once England finally returned to normal, the Government seemed to be treading water. We had three Prime Ministers and four Chancellors of the Exchequer last year. Very little of the optimistic legislation from the 2019 manifesto got started. Instead, Net Zero seemed to take over. It was in the manifesto, but as the final point, not the main one. The Online Safety Bill is a piece of intrusive legislation. The Conservatives are only getting started on pushing legislation through to get rid of thousands of EU laws on our books. Taxes are at a 70-year high. We have tens of thousands of migrants crossing the Channel in small boats. The possibility of any real progress for the Brexit agenda between now and the end of 2024 or January 2025 looks dim.
That said, Guido Fawkes reminds us (emphases his):
… we've signed about 71 new trade deals, led the European response to Putin's war in Ukraine and saved countless British lives with an independent vaccine rollout. And that's without any politicians actually making a concerted effort to capitalise on independence…
Of course, there is always a dismal economic forecast with which to deal. We must remember that Brexit was never about the economy but taking back control of our own national destiny.
Still, here is the latest dismal economic forecast and the danger ahead for Brexit in late 2024 or early 2025:
… even today's IMF report on growth forecasts couldn't bring itself to attribute any faults in the UK economy to our decision to leave the bloc. Now preparations must be made to save Brexit from a Starmer-led Labour government…
Because the IMF is the IMF, its forecasts receive undue attention. It is important to look back on the IMF's track record. They did a terrible job in predicting 2022:
Guido points out:
The 'good' news is the IMF has upped its forecast for 2024, now predicting 0.9% growth from 0.6%. It is also worth bearing in mind the IMF's analysis isn't gospel; it underestimated 2021's growth by 2 points. Chancellor Jeremy Hunt is doing his best to remind everyone of that:
Short-term challenges should not obscure our long-term prospects — the U.K. outperformed many forecasts last year.
A number of these forecasts are shaped to comply with political narratives. One of Guido's readers commented (purple emphases mine):
Rather a lot of years ago, I worked with a fellow who had, in previous employment, worked at the Board of Trade. He told me that every month, their top guy would get together with some other top guy from the Treasury and they would concoct the monthly trade figures to broadcast to the media. T'was all mainly fiction, of course, depending on what political message was required. I doubt if anything much has changed in the intervening years.
Here is another forecast gone wrong: Germany's. Keep in mind that Germany is at the heart of the EU, so we cannot blame Brexit for their woes:
Going back to August 2022, Germany and France joined the UK in having either flat or negative GDP:
Opposition MPs of all flavours, except for Northern Ireland's DUP, tell us that if we were still an EU member country, we wouldn't have inflation.
Yet, on January 26, 2023, Euronews informed us that food prices continue to rise across the EU:
Food prices have continued to rise across Europe despite inflation dropping for a second consecutive month in December, according to data shared on Wednesday by Eurostat, the European statistics agency.
The inflation of food prices in the EU was 18.2 per cent, and 16.2 per cent in the eurozone in December, which is a slight decrease compared to November on average. But some basic food items like sugar, milk cheese and eggs, oils, and fats prices are still going up.
One month earlier, Euronews reported on the plight of French university students who were forced to use food banks:
20% of students in France live below the poverty line. Rising food prices and energy bills soaring are exacerbating their situation. And yet, France gives more financial aid to students than many other European countries …
The government has recently allocated 10 millions euros to support the associations that organise food distributions for students. A consultation between the governement and student unions on the reform of the student grant system is ongoing, but concrete change is not expected anytime soon.
Our Opposition MPs also tell us that if we were still part of the EU, we would not be experiencing the multi-sector strikes that have been plaguing us.
However, let us look at France. Today, January 31, Euronews reported:
A new wave of strikes on Tuesday to protest French government plans to raise the retirement age to 64 has already impacted transport links and electricity production. 
TotalEnegies says between 75% and 100% of workers at its refineries and fuel depots are on strike, while electricity supplier EDF said they're monitoring a drop in power to the national grid equivalent to three nuclear power plants. 
"Following the call for a strike, shipments of products from TotalEnergies sites are interrupted today but TotalEnergies will continue to ensure supplies to its service station network and its customers," the group's management said.
In EDF power stations, strikers reduced loads by "nearly 3,000 MW" on Monday night, but without causing any cuts, the company said.
Hundreds of thousands of workers are expected to take to the streets across France on Tuesday, for a second day of industrial action that unions hope will be even more massive than the first, earlier this month … 
The government had warned in advance of Tuesday's strike about likely disruption to France's transport network. 
In the Paris region the metro and local rail services are "very disrupted" say officials. Long distance TGV train services are also impacted, as are regional trains with intercity services almost at a standstill. 
Rail operator SNCF said only one in three high-speed TGV trains will operate on Tuesday while disruptions are also expected at French airports and on transnational rail services …
French doctors were on an extended strike on January 2: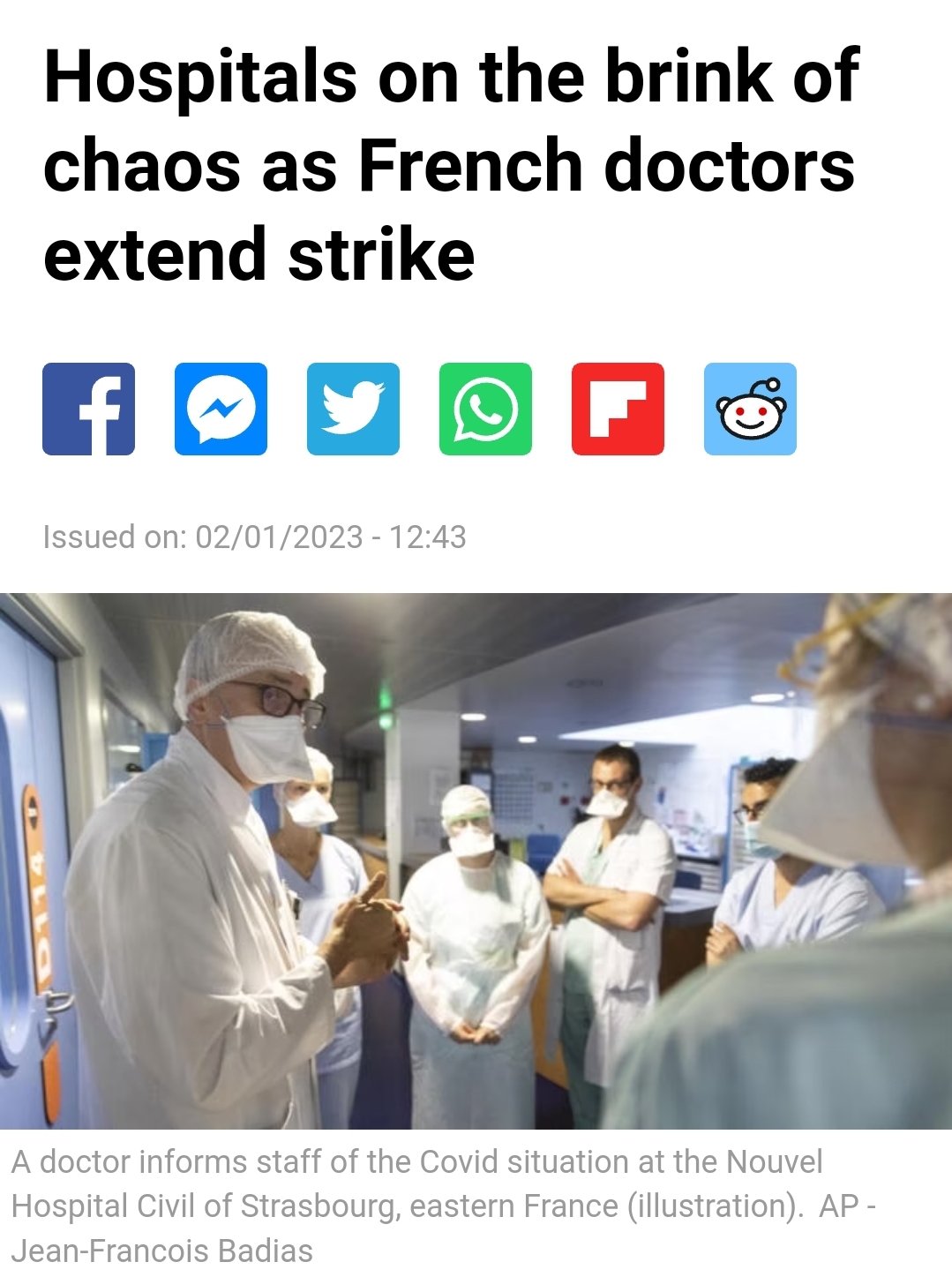 Then there is Ukraine. Nearly a year ago, Remainers told Leavers that Vladimir Putin would use Brexit to his advantage — an entirely erroneous talking point, as Boris was the first Western leader to champion Ukraine. If we had been part of the EU, he would not have been able to do so. By contrast, Germany was buying Russian gas and Italy was sending handbags to Russia:
Then there was the pandemic. In May 2022, the WHO published excess death statistics for 2020 and 2021. The UK had lower excess deaths than Spain, Italy and Germany, although France had fewer excess deaths than we did:
As for migration, France still has as much of a problem as we do, yet our Opposition MPs tell us that if we were still part of the EU, we would not have a Channel crossing issue.
On December 26, 2022, The Times reported that the French government opened the Château de Grignon to house them, which isn't too different to our policy, egregious as it is, of opening hotels to those coming nearly daily across the Channel:
A row has broken out in France over a government decision to shelter homeless families, notably migrants, on the estate of a Renaissance château …
Under a plan to provide shelter for the homeless during the winter, up to 200 people are to be housed in the château estate until March. The first 62, including 37 children, arrived this week.
Officially, they are classified as people of no fixed abode who have been sleeping rough. In practice, most are migrants unable to find shelter upon their arrival in France and often forced to live in squalid, makeshift camps around the Paris ring road.
In conclusion, EU nations share many of the major problems that the UK has.
Brexit has nothing to do with it. In fact, Brexit will probably help us get out of these issues more quickly than EU nations will.
Therefore, Happy Brexit Day! May many more follow!