You are currently browsing the daily archive for March 8, 2023.
Over the past week, I have been writing about The Telegraph's series, The Lockdown Files.
Previous entries can be found here, here, here and here.
Yesterday's post discussed reaction to Isabel Oakeshott's handing over Matt Hancock's 100,000 WhatsApp messages and Hancock's failed damage limitation to the compromising photo that led to his resignation as Secretary of State for Health and Social Care in June 2021.
This was The Telegraph's headline for Sunday, March 5, 2023:
The accompanying article, 'Matt Hancock's plan to "frighten the pants off everyone" about Covid', says (emphases mine):
Throughout the course of the pandemic, officials and ministers wrestled with how to ensure the public complied with ever-changing lockdown restrictions. One weapon in their arsenal was fear. 
"We frighten the pants off everyone," Matt Hancock suggested during one WhatsApp message with his media adviser.
The then health secretary was not alone in his desire to scare the public into compliance. The WhatsApp messages seen by The Telegraph show how several members of Mr Hancock's team engaged in a kind of "Project Fear", in which they spoke of how to utilise "fear and guilt" to make people obey lockdown.
In late June 2020, when Boris was preparing to reopen England on July 4, dubbing it our Independence Day, a rumour was circulating about rising coronavirus rates in a town in the Home Counties, Milton Keynes. Further north, the city of Leicester had already returned to a local lockdown:
… on June 30 2020, Leicester had just gone into a local lockdown. In a WhatsApp group called "Local Action Committee", Emma Dean, Mr Hancock's special adviser on policy, reported back to the group a rumour that Milton Keynes may be the next town plunged into a local lockdown. 
Jamie Njoku-Goodwin, Mr Hancock's media adviser, replied that it would not be "unhelpful" for the public to think they could be next.
The article shows several of WhatsApp exchanges. The screenshot pertaining to this one shows Emma Dean asking Dido Harding, now Baroness Harding, the then-head of Test and Trace, whether the Milton Keynes rumour was true. Harding replied:
False!
Despite England's reopening, which happened as scheduled:
The Government had started publishing a so-called "watchlist" of the worst-affected areas in the country, not least to justify and explain to the public the need for local lockdowns. 
A few months later, the watchlist was scrapped:
… on Oct 7 2020, ministers scrapped the list's publication – the thinking seemingly being that the numbers were increasing and that it would cause residents and politicians in places like Leicester to question why they had been singled out for local lockdowns. 
Furthermore:
the group agreed to scrap the surveillance data watchlist because no such local "interventions" were being planned.
However:
In a conversation with a civil servant, Damon Poole, Mr Hancock's media adviser, said that failing to publish the data can be turned to their advantage because it "helps the narrative that things are really bad".
Fast forward to November 2020, and Boris was talking about families reuniting at Christmas, something most of us welcomed:
He said foregoing long-awaited reunions "would be inhuman and against the instincts of many people in this country".
Behind the scenes, officials opposed Boris:
… his ministers and officials were increasingly aware that vast swathes of the public faced a grave disappointment and that the Johnson administration would take the blame for their frustration.
Hancock came up with the following plan:
The solution in December was "to frighten the pants off everyone" with a declaration of a new strain of Covid-19, known as the Alpha or Kent variant.
In a conversation between Mr Hancock and Mr Poole on Dec 13, the pair discussed how to survive the coming backlash and storm. On the day, there were 18,409 cases of Covid recorded and 410 deaths. Five days later, on Dec 18, Mr Johnson would scrap his planned five-day Christmas amnesty in an about turn.
The article provides a graph showing that the R rate (rate of infection) had already peaked when Lockdowns 2 and 3 were introduced in November 2020 and January 2021, respectively.
Not wanting to lose any of his momentum on panic, the article says that Hancock feared that the end of our Brexit transition year would knock the virus off the front pages:
That led them into a discussion about when to "deploy" the new variant, although Mr Hancock was seemingly wary that it could have led to closing schools.
In early 2021, Simon Case, the top civil servant who found quarantined holidaymakers 'hilarious', got involved. He still works at No. 10 for now, although The Lockdown Files have caused him to re-think his position.
According to the WhatsApp message, Case was all in for maximum restrictions wherever possible:
… on Jan 10, Mr Hancock and Simon Case, the Cabinet Secretary and therefore the country's most powerful civil servant, discussed more stringent measures that they could introduce.
They agreed that minor adjustments, such as banning angling, would be "parodied galore" – so decided that "fear" and/or "guilt" were vital tools in ensuring compliance. 
They discussed making mask-wearing mandatory in "all settings" because it had a "very visible impact". 
And Covid sceptics did say that at the time! Their advice was not to comply, because masks were such visible signs.
Incidentally, here is a note about the Nightingale hospitals:
In reality, the Nightingale hospitals across the UK were barely used. The one in London re-opened on Jan 12 2021 for non-Covid patients, but only a handful were admitted.
This short video from actor Laurence Fox's Reclaim Party sums up Hancock's manipulation well:
Below is the WhatsApp exchange where Hancock says:
We frighten the pants of [sic] everyone with the new strain
He asks:
When do we deploy the new variant?
He also expresses his disappointment that Brexit could take the shine off his fear factor. He also pumps up the propaganda for the vaccine: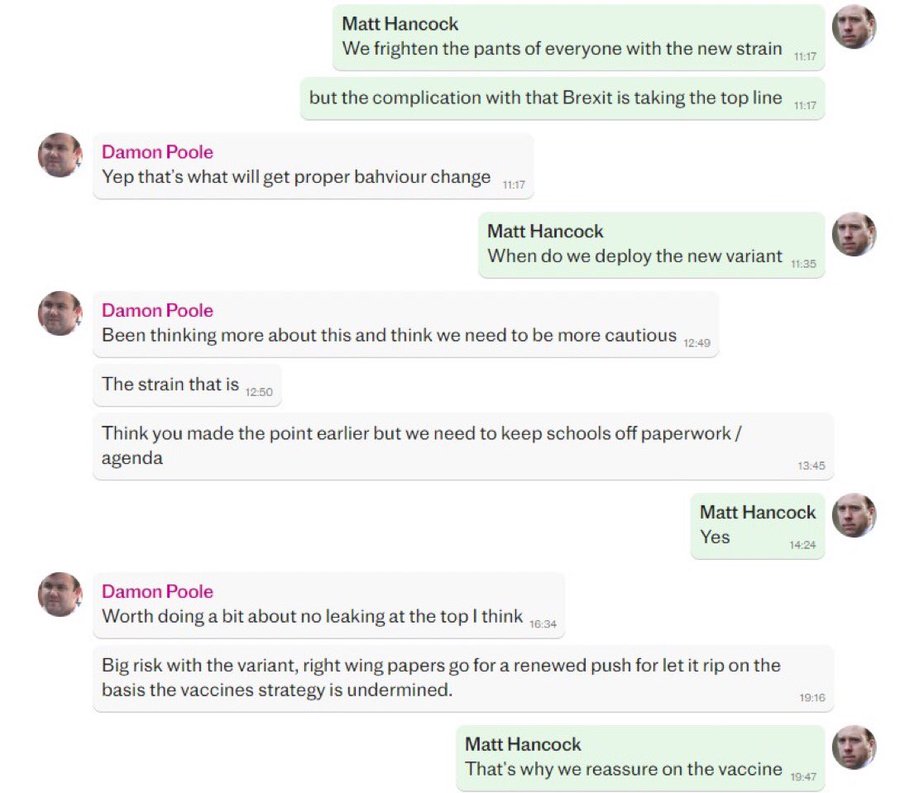 These two interviews show Hancock at work with the aforementioned strategy:
If we look at overall death figures between 2001 and 2021 (see the graph below), there were actually more deaths between 2001 and 2003 than there were in 2020 and 2021. Andrew Bridgen, who tweeted first, is a Conservative MP who has become a Covid sceptic:
Andrew Bridgen reminds us of the fear adverts on television, in the papers and, for that extra impact, at Piccadilly Circus:
Shameful, just shameful.
Freedom Day finally arrived (again) in England on July 19, 2021, one month later than anticipated — the decision was a Hancock holdover — and under a new Health Secretary, Sajid Javid, who was in post until Boris resigned in July 2022.
However, later in the year the R rate went up again, this time with the new and much milder South African variant. Another Christmas lockdown was put forward for a vote in Parliament in December. Fortunately, 101 rebel Conservative MPs opposed it and the Government lost. The truth of the matter was that not many died. Life went on.
At that debate was Andrew Bridgen, who discussed the Government's ramping up of fear among the public:
Bridgen believes the coronavirus story is far from over. He wants to know more about care home deaths and the vaccines:
Perhaps The Lockdown Files will cover those aspects of the pandemic.
There's plenty more to follow from Sunday's papers. Stay tuned.