Yesterday's post introduced Matt Hancock's hunger for absolute control during the coronavirus debacle.
The story, with excerpts from The Telegraph's The Lockdown Files, continues after a brief interlude.
Giles Coren: 'we all broke the rules'
On the afternoon of Wednesday, March 22, broadcaster and Times columnist Giles Coren, son of the late humourist and Punch editor Alan Coren, gave a radio interview in which he said that 'we all broke the rules', meaning during the pandemic.
The subject arose as former Prime Minister Boris Johnson was taking his place at the parliamentary Privileges Committee hearing to defend himself over Partygate.
As a result, Giles Coren trended on Twitter — and not in a good way:
A few of the cleaner tweets follow:
However, this next tweet nails it. Giles Coren doesn't mean average Britons. He's referring to the media class and other privileged oafs:
Which brings me neatly to Matt Hancock.
Hancock wants immunity over care home deaths
On March 4, 2023, Chronicle Live recapped an article from the Mirror about a talk that the former Health and Social Care Secretary gave to a group of top-flight London lawyers about who was to blame for care home deaths (emphases mine):
Matt Hancock told a gathering of city lawyers he should be immune from court action over Covid blunders, The Mirror reports – just days before shocking WhatsApp messages he sent during the pandemic were published.
Mr Hancock said he should not be held personally responsible for failings during the fight against Covid-19, such as the Department of Health and Social Care's failure to safeguard care home residents, simply because he was Secretary of State. Instead he said that "HMG" – the whole Government – should take the blame.
This comes even as prominent campaigners call for the ex-minister to be prosecuted.
He was heard saying that he believes lawyers pursuing him personally "were chasing tabloid headlines". He was speaking to lawyers from firm Mishcon de Reya in a talk over his book, Pandemic Diaries, coming just months after his stint in the I'm A Celebrity jungle.
Mr Hancock has furiously denied claims that his leaked WhatsApp messages show he ignored Chief Medical Officer Chris Whitty's advice to test all people going into care homes.
His department's policy of discharging untested patients into them from hospital was ruled unlawful by the High Court in April in a case brought by Dr Cathy Gardner, who lost her father. At the time of the ruling, union GMB said the department had shown a "callous disregard" for care homes.
The messages leaked to the Daily Telegraph this week by Isabel Oakeshott, journalist and the co-author of Mr Hancock's memoir, show he thought committing to testing people coming into care homes from the community – including staff – didn't "add anything" and "muddies the waters" …
And 12 days ago he held an online question and answer session with top lawyers from Mishcon de Reya and told them it was wrong that a Secretary of State of a department should be held legally responsible for failures and it should be "HMG" instead. Currently, the defendant in any judicial review against a Government department has to be the Secretary of State.
But Mr Hancock said: "I don't think it's an appropriate use of the courts to essentially go chasing tabloid headlines. You know, 'Hancock broke the law' – I didn't break the law." In the Q&A, Mr Hancock also claimed to have "banned alcohol" in his department to stop his team being "more social".
Some of the leaked WhatsApp messages reveal then-aide Gina Coladangelo – who is now his partner – telling him there were drinks in the fridge to celebrate hitting his testing target in May 2020. She wrote, adding a beer glasses emoji: "Drinks cold in fridge at DH. Feel free to open before we are back."
A spokesperson for Mr Hancock confirmed he did not introduce a booze ban until the next January. Mr Hancock also blasted criticism of the Tories' bungled PPE procurement as "offensive" in the Q&A and justified writing off £12billion of PPE, most of it unusable, saying: "I'd rather save lives."
… Meanwhile, activist Gina Miller, leader of the True and Fair Party and who took the Government to court over Brexit, has written to Met Police Chief Sir Mark Rowley calling for Mr Hancock to be prosecuted.
She wrote: "The threshold has been met to investigate Mr Hancock for gross negligence manslaughter… a common law offence that carries a maximum of life imprisonment."
'Mr Vaccine'
As 2020 dragged on for many of us, Hancock was keen for his moment of glory, as The Telegraph related in 'Inside Matt Hancock's desperate bid to be known as 'Mr Vaccine"'.
Emphases mine below:
Matt Hancock feared he would not get credit for the UK's vaccine success and described the speeding up of the jabs rollout as a "Hancock triumph".
The former health secretary's WhatsApp messages show he fought to be the face of Britain's vaccine campaign at the height of the pandemic and became furious if he thought others were getting the credit.
And he was told by his media advisers that fronting Britain's vaccine programme would allow the press and public to "forgive" him for imposing lockdowns and that "politically" he must balance the two. 
However, the Department of Health and Social Care had to work with the Department of Business, Energy and Industrial Strategy (BEIS) on the vaccine procurement.
Hancock was unhappy:
Mr Hancock had already battled with his Cabinet colleagues over who should have overall control of the procurement strategy, and struck an uneasy compromise between the Department of Health and Social Care and the Department of Business, Energy and Industrial Strategy.
The announcement of the Pfizer vaccine made things worse for him:
In November 2020, the Department of Health caught wind that Pfizer was planning an imminent announcement that its vaccine was more than 90 per cent effective against Covid-19.
The Pfizer vaccine was the first to report its interim trial data and went on to be the first to be administered to the public in the UK the following month …
On hearing that the news was about to break, Mr Hancock bemoaned he was not live on camera and worried he would be overshadowed by Alok Sharma, the then business secretary.
The article has a screenshot of the WhatsApps he exchanged with adviser Damon Poole:
Pity I'm not up in the Commons!
I should do a clip
We should pump out the NHS doc
Do No10 know?
When Poole answered in the affirmative, Hancock was eager to do the media round the next morning:
I should DEFINITELY do the round tmrw
Just to reinforce the point, he messaged Poole again:
It MUST NOT be Alok!
On December 8, Hancock appeared on ITV's breakfast show, Good Morning Britain (GMB), to watch the first Britons, a man and a woman, both elderly, get their 'jabs':
… Mr Hancock gave one of his most memorable interviews of the pandemic …
Wiping a tear from his eye, he told the programme it had "been such a tough year for so many people" and he was relieved that people could at last "get on with their lives".
The lady was Margaret Keenan, aged 90 at the time. She received her jab in Coventry.
The man's name was William 'Will' Shakespeare. He was 81 at the time and has since died (nothing to do with the vaccine). When the presenter announced his name, it was hard to know whether Hancock was laughing at it or crying about his step-grandfather who died of Covid (more here).
The frames extracted from that moment don't exactly make for comfortable viewing. Thank goodness someone online captured them for posterity. Don't miss the caption: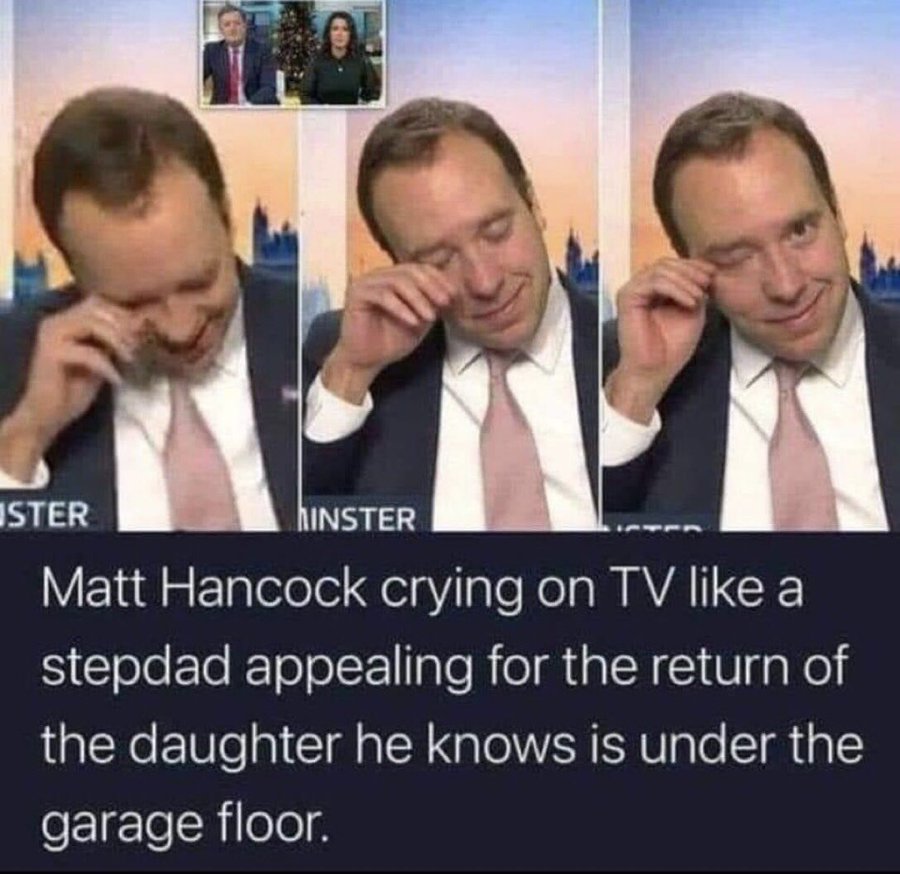 However, there was no immediate big media momentum for Hancock after those initial jabs, even though millions of people watch GMB.
On Boxing Day 2020, Damon Poole WhatsApped Hancock to ask if he had spoken with journalists from the Sunday papers. Poole did not like all the articles about the vaccine, which he called 'this vaccine spray'. As it was the day after Christmas, Hancock hadn't looked at the papers until he heard from Poole:
Now I've seen it. Sure it's not No10?
Poole replied:
I'm pretty sure it's them
MOS [Mail on Sunday]/Times/Tele[graph]
Hancock fired back:
The thing that p—–s me off is the Mail on Sunday links it to Rishi. What's that all about?
The first few days of 2021 proved no better for Hancock's desired media exposure. On January 7, Hancock asked Poole to send him the link to a Mail story with the headline 'Vaccine approval is finally cut from TWENTY days to five'. Poole sent him the link and added:
MHRA [Medicines and Healthcare Regulatory Agency] briefing [I'm] pretty sure
Hancock asked if that was true. Poole said he thought it was and sent him a link to a tweet of the Mail's front page:
Hancock replied:
I CALLED FOR THIS TWO MONTHS AGO. This is a Hancock triumph! And if it IS true we neeed [sic] to accelerate massively.
The Lockdown Files article continues:
The strategy of taking credit for the vaccine, and therefore the impact on lockdown restrictions, was eventually given its own slogan: "Own the exit."
The phrase is repeated several times between Mr Hancock and his aides in the months that followed.
Then, finally, there was success at last. On January 11:
… the day the official vaccine delivery plan was published, Mr Hancock sent Mr Poole screenshots of news articles about his announcement.
Hancock messaged Poole:
These shots are extraordinary. Positive coverage in the Sun AND Mail.
Poole replied:
Keep riding it through to spring – own the exit!
Well, Hancock owned his own exit that June. That's for sure.
'Headless chicken' over vaccines
Not everyone who worked with Hancock would call him 'Mr Vaccine'.
Clive Dix wrote a first-person article for The Telegraph about his experience, 'I worked with Matt Hancock on Covid vaccines – he's a headless chicken':
I worked with Matt Hancock the whole time I was at the Vaccine Taskforce and he was, without doubt, the most difficult of all the ministers because he didn't take time to understand anything.
He was all over the place, a bit like a headless chicken. He often made statements saying "we are going to do X and we want to let the world know about it", but we were dealing with an uncertain situation in bringing the vaccines forward.
The manufacturing process was brand new and any process like this is fraught with problems, which we need to fix as we go along, but normally you would spend two or three years stress-testing something like this.
Hancock was laying down timelines by saying things like "we will vaccinate the whole population", and these timelines drove his behaviour.
Hancock was upset when there was a problem with the AstraZeneca vaccine production:
When we said the AstraZeneca vaccine had manufacturing problems, that is when Hancock panicked. 
He didn't believe us. We were working night and day to make it work and he was turning around and saying: "I have said the UK population will all get vaccinated."
But we couldn't change the nature of the process and he didn't get that. He thought it was like procurement. That is where his behaviour came from. He panicked and that led to them going to India and taking vaccines that had been meant for the developing world.
I thought that ethically it was very wrong to take doses that it had been agreed would go to the developing world just to meet an arbitrary timeline. This is why I ended up resigning, because I could no longer advise a government that acted on these terms.
Nonetheless, the team pressed on with getting doses from India:
Here, we were taking 10 million doses from the developing world just to meet Hancock's timeline and it was a timeline that had just been plucked out of the air. We were still well ahead of the majority of the world, ministers should have been upfront and said that we can vaccinate everyone within a month, but we won't quite hit the timeline. They should have admitted that they were slightly wrong.
I couldn't stop them doing it, because it wasn't my job to make policy decisions about where we get the vaccine from. But I said if this is where you are, then I don't want to advise this government anymore. I didn't resign there and then, but I did resign in March 2021. I didn't want to disrupt the work.
It was all driven for the wrong reasons and then Hancock – rather than put his hands up – blamed the Vaccine Taskforce for stalling.
For him to be sending messages and saying Kate Bingham [head of the Vaccine Taskforce] was not reliable is appalling.
On October 4, 2020, Damon Poole WhatsApped Hancock a link to a Financial Times article: 'Less than half UK population to receive coronavirus vaccine, says task force head'.
Hancock replied that he didn't have a subscription to the paper, which is behind a paywall. He asked Poole:
… is that Kate?
When Poole responded in the affirmative, Hancock messaged back:
If so we absolutely need No10 to sit on her hard. She has view [sic] and a wacky way of expressing them & is totally unreliable. She regards anything that isn't her idea as political interference
Poole messaged back, agreeing, saying he'd had a 'blazing row' with her when he was working at No. 10.
Clive Dix resumes his story, alive with memories of Hancock:
We were working as hard as we could and he thought he could just come in and make a bold statement to the public and tell us that we have got to do it. I don't think he understood the process. He was a loose cannon.
Dix tells us more about how Health and Social Care worked with BEIS. Here, too, Hancock had to have his own way:
The taskforce sat in the Department for Business, Energy and Industrial Strategy (BEIS) and that is where the budget came from. We reported to Alok Sharma and then Nadhim Zahawi came in as vaccines minister. Hancock wanted to get involved and because he was secretary of state, Alok stepped aside.
He was using the vaccine to protect his reputation.
Dix, who was a volunteer, gives us an insight into the wider politics involved:
I had worked for nine months from 4am until midnight without any pay to do this.
It is certainly extraordinary to see how two-faced they are. They were all nice to me to my face but to see what they were saying to Boris Johnson was particularly unpleasant.
It reflects badly on Nadhim and all the civil servants who worked so hard to get this right. In my humble opinion, Hancock was actually the problem.
Hancock hoped to treat French Covid patients
Incredibly, during lockdown, Hancock wanted to appeal to French president Emmanuel Macron to allow his nation's coronavirus patients to be treated in the UK.
With the NHS under pressure, Hancock somehow thought he managed to find spare beds … for the French.
Don't get me wrong. I love the French as much as I love the British and the Americans, in no particular order. They're the three societies I know the best. But this was a step too far.
After all, the Government locked down the UK to save the NHS, right? So how was it that Hancock suddenly found spare beds, especially for patients from other countries?
Meanwhile, British patients with cancer, heart disease and other serious illnesses couldn't get a look in to a doctor, never mind a hospital.
The Telegraph's 'Matt Hancock's secret plan to import French Covid patients' says that, in November 2020:
Matt Hancock planned to bring French Covid patients to the UK for treatment during the second wave of the pandemic, despite national lockdown restrictions in force to protect the NHS.
Messages between the then health secretary, his advisers and Boris Johnson, then the prime minister, show he hoped to offer "spare" intensive care unit beds to Emmanuel Macron to help the French president deal with a major outbreak in his country in November 2020.
At that time, Britain was under a second national lockdown that was sold to the public as necessary to prevent the "medical and moral disaster" of an overwhelmed NHS.
But Downing Street and the Department of Health and Social Care created a secret plan to transfer Covid patients from the busiest French hospitals, bringing more cases of Covid to the UK.
However, that wasn't enough. Hancock also wanted to make the same offer to Italy. The article has screenshots of the relevant WhatsApp messages.
That aside, let's continue with France:
The plan is not thought to have ever been implemented, but Mr Hancock said: "We may need to make a similar offer to Italy," despite exponential increases in Britain's own case numbers.
On Nov 13, Mr Hancock shared with his top advisers a letter that he planned to send to Olivier Veran, the French health minister, offering to import French Covid patients to the UK for treatment.
"I have seen the pressure on your hospitals, and that some patients are being transferred abroad," the letter said. "We have our epidemic largely in the north of England, and some spare capacity in London and the south.
"We could provide some ICU beds to which you could transfer some patients. Would that be helpful to relieve pressure on your most affected regions? Our countries have always stood by each other in times of need."
By this point in the European second Covid wave, the UK was looking to Europe as case numbers exploded in France, Italy and Spain, with a second national lockdown imposed in an attempt to reduce transmission.
France had already been taken off the UK's travel corridor list, meaning that any person travelling to Britain from France was required to quarantine for 14 days or face a fine. By late November, France and Britain had similar rates of the virus, with around 275 cases per 100,000 people.
However, on October 31, Boris stated publicly that the UK had reached capacity:
In an address to the nation on Oct 31, Mr Johnson said that even in the south-west of England, where Mr Hancock had proposed housing French patients, "it is now clear that current projections mean they will run out of hospital capacity in a matter of weeks unless we act".
He said that if new measures were not imposed, the growth of Covid numbers would mean that "doctors and nurses would be forced to choose which patients to treat, who would get oxygen and who wouldn't", adding: "The overrunning of the NHS would be a medical and moral disaster beyond the raw loss of life.
"It is crucial to grasp that this general threat to public health comes not from focusing too much on Covid, but from not focusing enough, from failing to get it under control."
It should be noted that Hancock got this mad idea from a life peer and was immediately swept up by it:
An earlier WhatsApp conversation between Mr Hancock and Mr Johnson about the idea shows it originated with Lord Llewellyn of Steep, who was then serving as Britain's ambassador in Paris.
"I love this idea of Ed Llewellyn's to offer Macron (privately) to treat some of their cases where they have pressure on the health system," Mr Hancock wrote to Mr Johnson on Oct 2, 2020. "Because we have a regional problem we also have regional capacity in East Anglia (Cambridge?) or the SW."
Lord Llewellyn is now serving as the UK's ambassador to Italy. He is a former Downing Street chief of staff, serving in Number 10 under David Cameron.
The mind boggles.
That's enough Matt Hancock for one day.
Don't worry. There's more to come.
Soon.