You are currently browsing the category archive for the 'prayer' category.
Today's post was supposed to be a comprehensive retrospective of what people around the world experienced this week in seeing Queen Elizabeth II being laid to rest.
However, I have information and reflections for more than one post.
Today's will look at the religious aspects and history of Westminster and some Royal funeral traditions.
Westminster's religious history
One thing I learned is that the area that is called Westminster, which we connect with the Abbey and the Palace (where the Houses of Parliament meet) was originally a monastery with a church on the site.
'West' refers to the location being to the west of where most people were settled long before the Norman Conquest in 1066.
The word 'minster' is the Anglicised version of the Latin 'monasterii', 'monasterium' and 'monasteriensis', dating back to 669.
My curiosity was piqued when I read the inscription of the four tall candlesticks immediately flanking the Queen's catafalque. Unfortunately, I do not have the full wording, but 'Westmonasterii' and 'Petri' are on them, gold lettering on a red border, just underneath where the large, thick beeswax candles sit.
Then came the story of how the monastery became linked to St Peter, the fisherman who became a bold Apostle preaching Christ after the first Pentecost.
In 2017, Cambridge University Press published a paper by Bernhard W Scholz, Sulcard of Westminster: Prologus de construccione Westmonasterii.
An extract reads, in part (emphases mine):
Sulcard, a monk of Westminster in the eleventh century, is the author of the first history of his monastery, the unprinted Prologus de construccione Westmonasterii. In this brief tract he describes the foundation of Westminster in the days, as he claims, of King Æthelberht of Kent, and the patronage and endowment extended by various benefactors, notably Archbishop Dunstan of Canterbury and King Edward the Confessor. Sulcard also records the marvellous dedication of Westminster by St. Peter, patron of the church, and two other miracles worked in Westminster by the prince of the apostles.
Of the original church, replaced by the structure we know today, the Wikipedia entry for Westminster Abbey states:
According to a tradition first reported by Sulcard in about 1080, a church was founded at the site (then known as Thorn Ey (Thorn Island)) in the seventh century at the time of Mellitus, a Bishop of London. Construction of the present church began in 1245 on the orders of King Henry III.[5]
Here is where St Peter comes in. A tradition dedicated to him continues today:
A late tradition claims that Aldrich, a young fisherman on the River Thames, had a vision of Saint Peter near the site. This seems to have been quoted as the origin of the salmon that Thames fishermen offered to the abbey in later years, a custom still observed annually by the Fishmongers' Company …
Sulcard's entry reads:
The sole work which Sulcard is known to have produced is the so-called Prologus de Construccione Westmonasterii ("Prologue concerning the Building of Westminster"), dedicated to Abbot Vitalis of Bernay (c. 1076—?1085) and hence datable to about 1080.[2] It relates the history of the abbey, beginning in the time of Mellitus, bishop of London (604—17), with the foundation of its first church on what was then Thorney Island by a wealthy Londoner and his wife. It concludes with the dedication of a new church erected by King Edward the Confessor (r. 1042–1066) for the monastery. In the dedication to Vitalis, Sulcard writes that he intended his work to serve as a 'commemorative book' (codex memorialis) for his house. He was primarily interested in promoting the cult of St. Peter, the abbey's patron saint, who is said to have miraculously appeared in the early 7th century to dedicate the church in person. Two copies of the history are extant, the earliest being a chartulary from Winchester (c. 1300), BL, Cotton MS Faustina A.iii, fols. 11r—16v. The other copy is in BL, Cotton MS Titus A.viii, fols. 2r–5v. The title is not contemporary, but derives from the heading in the former chartulary, to which it serves as a prologue.[3]
Apart from relating local traditions about St. Peter's miraculous involvement, the narrative of Sulcard's prologus is relatively free of embellishments.[1]
It does not appear that the monks had an easy time of it on Thorney Island:
Thorney Island was the eyot (or small island) on the Thames, upstream of medieval London, where Westminster Abbey and the Palace of Westminster (commonly known today as the Houses of Parliament) were built. It was formed by rivulets of the River Tyburn, which entered the Thames nearby. In Roman times, and presumably before, Thorney Island may have been part of a natural ford where Watling Street crossed the Thames,[1] of particular importance before the construction of London Bridge.
The name may be derived from the Anglo-Saxon Þorn-īeg, meaning "Thorn Island". [2]
Thorney is described in a purported 8th century charter of King Offa of Mercia, which is kept in the Abbey muniments, as a "terrible place". In the Spring of 893, Edward the Elder, son of Alfred the Great, forced invading Vikings to take refuge on Thorney Island.[3] Despite hardships and more Viking raids over the following centuries, the monks tamed the island until by the time of Edward the Confessor it was "A delightful place, surrounded by fertile land and green fields". The abbey's College Garden survives, a thousand years later, and may be the oldest garden in England.[4]
Since the Middle Ages, the level of the land has risen, the rivulets have been built over, and the Thames has been embanked, so that there is now no visible Thorney Island. The name is kept only by Thorney Street, at the back of the MI5 Security Service building; but a local heritage organisation established by June Stubbs in 1976 took the name The Thorney Island Society.
In 1831 the boundaries of the former island were described as the Chelsea Waterworks, the Grosvenor Canal, and the ornamental water in St James's Park.[5]
Thorney Island is one of the places reputed to be the site of King Canute's demonstration that he could not command the tides, because he built a palace at Westminster.
In 2000, the politician John Roper was created a Life peer and revived the name of Thorney in Parliament by taking the title Baron Roper of Thorney Island in the City of Westminster.[6]
Royal traditions at Westminster Hall
The Daily Mail has an excellent article on Westminster Hall's history from 1087 to the present, beginning with William the Conqueror's son, William II, or William Rufus.
The Queen's lying in rest was another historic milestone. By September 15, just four days before her funeral, someone described it as a:
piece of history that will never be repeated.
Before the public viewing started, Westminster Abbey's clergy and the Archbishop of Canterbury conducted a 20-minute service, accompanied by the Abbey choir.
Although the Hall is unconsecrated ground, it nonetheless felt as if it were a church.
The hundreds of thousands of people who filed past over four days, until 6:30 a.m. on the morning of Monday, September 19, 2022, also respected it as such. The continuing silence was overwhelming in its beauty.
Although there are traditions relating to monarchs long ago, the Westminster Hall visitation is a relatively new one, as The Telegraph's Tim Stanley tells us:
The modern lying-in-state was invented in 1910, for the funeral of Edward VII. No tickets were issued; rich and poor queued in torrential rain. As the doors opened at Westminster Hall, a work girl was heard to cry, "They're givin' 'im back to us!"
When the ceremony was repeated for George V in 1936, cynics sneered at its elitist "pomp". The writer G K Chesterton advised them to open a history book. In aiming to modernise royalty by bringing George's body closer to the people, he said, the court turned the clock back to the Middle Ages, to when kingship was more personal and tangible. The coffin of a medieval sovereign was generally topped with a waxwork effigy, so that even the lowliest subject could see what he looked like.
The body of a monarch was, in a sense, sacred, transformed by coronation into an instrument of God. But, like Doubting Thomas, we need to see to believe. Hence even as monarchy became more absolutist over time, better convinced of its divine rights, the principal actors still felt the need to put on a show.
France's monarchy was even more open than ours. The public could watch Louis XIV and his family at Versailles:
Louis XIV, the Sun King of France, rose every morning, washed, shaved and dressed in front of an audience of around 100 people. Anyone could come to see him at Versailles; all you needed to get in w[ere] a hat and a sword, and the concierge did a nice sideline in selling both. Tourists could watch the royal family going to chapel, eating, even playing cards – you could say Versailles was the Center Parcs of its day, though reviews were scathing about the pickpocketing and the smell. The palace did not benefit from modern plumbing. People relieved themselves in the corridors. There's a story that Marie Antoinette once stepped out for a walk and a woman in the window above emptied a chamberpot over her head.
Returning to Westminster Hall last week, Stanley says:
Let's call it what it is: a pilgrimage. The body has been returned to the people; the people have come to see it, drawn by belief, by spectacle or raw instinct. When I entered Westminster Hall, I saw at once that it was a shrine, marked by candles and shrouded in silence. Phones were banned.
Alone at the coffin, some bowed, some curtsied, some crossed themselves. These ritual gestures, observed Chesterton back in 1936, are "not only more serious but more spontaneous" than the "ghastly mummery of saying a few words" … The poverty of the 21st-century imagination betrays the dead and the living. Tradition honours with awe, and it provides those left behind with the language and actions to articulate the inexpressible.
The person who willingly submits to the ritual of the lying-in-state, argued Chesterton, "may not be an exceptional person but at least he understands what is meant by an exceptional occasion." By contrast, the bright spark who stands above it all forfeits the wisdom of the crowd, and by rejecting history, discards a part of themselves, too – so that they are ignorant even of their own identity. Worse, they are without hope. If you believe, as we are encouraged to believe today, that death is it, the funeral is a "goodbye" that can't even be heard by the deceased. But if you believe, as the late Queen did, that there is a life after this one, then the rite is a demonstration of faith that things will continue.
To inhabit a tradition means not only to participate in it but to pass it on. Its survival is a tribute to the perseverance of life itself. We will be told that all we've seen is old hat; we'll be told that even if it was grand, Queen Elizabeth was its last shout. Well, they've said that a million times before, and yet here we are lining the streets, or crowding around the television, bearing witness to an ancient institution that has the audacity to claim its origin from King Solomon.
Bemusement? It renders clarity. Despair? It offers hope.
I will return to faith in a moment.
Also writing for The Telegraph, Christopher Howse described the 'sacred mysteries' surrounding royal ceremonies:
The lying-in-state of Queen Elizabeth, her coffin covered by the royal standard upon which rested the Imperial State Crown, made an argument hard to reduce to words. It argued for a constitutional monarchy and the ancient conventions surrounding it. Millions of people this week have quietly taken part in recognising that reality.
In religion, an old saw says: lex orandi lex credendi – the law of prayer is the law of belief. In other words, prayers and liturgy express implicit meanings behind them. Perform the rites and you learn what you believe.
Something similar operates in state ceremonial. I know that traditions are reinvented, and that the lying-in-state in Westminster Hall is little over a century old. But it incorporates remarkably old elements. In the Imperial State Crown, for example, is the sapphire of St Edward, said to have been part of the coronation ring of King Edward the Confessor, who came to the throne in 1042.
It is not too soon now … to consider the coronation of King Charles. There is antiquity here too, the inheritance of which should not be thrown away. The motet Zadok the Priest, for example, has been sung at every coronation since 973, for King Edgar. The words are based on the First Book of Kings (1:38): "Zadok the priest and Nathan the prophet anointed Solomon king. And all the people rejoiced and said: God save the King! Long live the King! God save the King!"
… Some of my fears have been assuaged by the words of King Charles. He had once spoken of being the defender of faiths, rather than the faith of the Church of England implied by the abbreviations found on our coinage: FID DEF – fidei defensor. In his first address on coming to the throne, King Charles called the Church of England "the church in which my own faith is so deeply rooted".
The Coronation takes place within the service of Holy Communion (even if films from 1953 omit images of Queen Elizabeth and the Duke of Edinburgh receiving the Sacrament, as they did).
And, no matter what, we are better off with an established church in England than without one, precisely for these reasons:
Sometimes I find the Church of England annoying. Who doesn't? But I'd rather have it as the Established Church than not … as the godly anointing of the head of state and supreme governor of the Church of England, the Coronation must retain the Christian elements that define it.
The only noise we heard was during the changing of the guard, which took place every 20 minutes. Unless one does it as a job, i.e. in front of one of the palaces, it is difficult to stand completely still in one place for much longer.
Lucy Denyer wrote an article for The Telegraph describing what an honour it was for her to see her husband as part of that guard:
My husband is – imperceptibly, infinitesimally – swaying. Backwards and forwards he goes, gently, so, so gently. Blink and you'd miss it; to all intents and purposes he is standing stock still, eyes front, unsmiling, upright. You'd only catch the tiny movement if you were looking very intently.
… The rocking – forwards and backwards from the heel to the ball of the foot – keeps the blood flowing; stops him passing out. Watch really carefully and they're all at it. 
The Queen herself also did that when standing for long periods of time. It does work.
She, too, commented on the silence:
Inside, under the bright lights hanging from the mediaeval beams, it is silent, bar the tapping of feet, the discreet click of an official photographer's lens and once, the wail of a baby.
Suddenly comes the bang of sword on stone, the signal for the guard to change. It is precisely 12:20am and the four on the corners swing their swords in a graceful arc in perfect time, before making their careful way down the steps of the dais on which the late Queen's catafalque stands …
My husband tells me afterwards that all he could think of, at this point, was not to trip, fall – and become a global meme.
She discussed the power of ritual and solemnity of a vigil:
A vigil can at once be grand or simple, awe-inspiring or strangely intimate – or all of those things – and Queen Elizabeth II's is no exception. Ignore the velvet ropes and the electric lights – and the anoraks, trainers and clutched plastic bags – and this could be a moment from another time; it is timeless.
Soothing, too; the endless river of people filing by the coffin. Most slow, some bow, others curtsey, some blow kisses. Many linger after they have passed by, reluctant to leave this sanctuary that it has taken them so long to reach. Exhaustion is etched on faces; there is the odd dazed-looking child stumbling along between its parents.
Among this stream of awkward humanity, the officers on guard stand in marked contrast – statues, doing their duty. They have been practicing all week: their entrances and exits, their synchronised sword drills run through at home in spare half hours with umbrellas. Standing orders have been dusted off, breastplates refitted, helmets adjusted, boots polished. I have seen the pomp and ceremony hundreds of times, yet never carried out so silently; there is no shouting of orders in here.
The sword bangs once more; it is time to leave. On top of the coffin, the Black Prince's Ruby suddenly flashes red. I pause, bow my head, say a prayer of thanks – for Her Majesty's life, but also, in her death, to have been able to see this, to watch my husband carry out this enormous honour.
Returning to Windsor — and to God
After the Queen's committal at St George's Chapel at Windsor Castle, Tim Stanley wrote a moving tribute for The Telegraph:
The Committal was a homecoming. To Windsor and to God.
This is one of England's holiest spots, burial site of kings, church of the Order of the Garter, it once hosted a splinter of Christ's cross. Its slender pillars are like the trunks of ash trees. 
Beneath its canopy of silver lattice, the coffin was borne to the quire and rested at the catafalque, to a setting of Psalm 121: "I will lift up mine eyes unto the hills."
Then the choir sang the Russian contakion of the departed, also performed at the Duke's funeral, a nod to the family's Orthodox heritage. Absent a eulogy, it was the music that expressed Her Majesty's character and convictions, including a motet arranged by Sir William Henry Harris who, it is believed, taught the young Princess Elizabeth how to play the piano. As a child, she could often be found in the organ loft listening to him play for the services down below, especially at Christmas.
The words by John Donne crystallised the message of the readings: "Bring us, O Lord God… into the house and gate of Heaven", where there shall be no darkness "but one equal light", no noise "but one equal music" and one "equal eternity".
Put another way, Elizabeth II lived as a queen but, in death, she is a soul equal to any other, returned to God. In an age of atheism, when Christians are persecuted across the world, it's remarkable that perhaps history's largest ever TV audience was given over to a statement of unafraid Christian belief – and over the course of the Committal, one cleric after another expressed the vision of their church with utter clarity.
There is the reality of mortality, as described by the Dean of Windsor in Psalm 103: "The days of man are but grass… As soon as the wind goeth over it, it is gone."
There is the certainty of life after death, as stated in the prayers: "We rejoice at thy gracious promise to all thy servants, living and departed, that we shall rise again at the coming of our Saviour Jesus Christ." And there is the vision of triumph at the end of times, as the Dean quoted from Revelation: "There shall be no more death, neither sorrow, nor crying."
This passage was read at the funerals of the Queen's grandparents and father, casting us back over an unbroken line of succession.
There was no qualification in any of these words, no Thought for the Day "some might say, others will feel differently", but instead pure hope rooted in unshakable faith. The Queen has died, but her story does not end. That's true for the monarchy, as well …
Finally, the coffin lowered into the ground as the Dean continued: "Go forth upon thy journey from this world, O Christian soul." The Garter King of Arms proclaimed the late Queen's titles; a bagpiper played a lament from the North Quire Aisle, slowly walking into the distance, till the figure and his tune became a ghost in the ash forest. You might say that physically we were in England, but spiritually we were in Balmoral.
And the congregation awoke from its reverie into a new era …
Later, of course, the family would say a very private farewell to Queen Elizabeth, and she would be laid next to her beloved husband – concluding a set of rites that, like Russian dolls, grew smaller and more precious in form. 
For the public, the emotional journey to this moment was intense. Over 10 days, the lying in state allowed us to participate in the Queen's farewell and, let's be honest, make it a little bit about us. How British were the queues, we said, how democratic the whole thing.
But at the Abbey and the Chapel, we saw what this was really all about: namely the late Queen, her precious traditions and the principles they exist to pass on. Ultimately, the Committal articulated love – for country, for family, for horses and dogs, all the things that make a life worth living.
The Church of England is preoccupied by church growth programmes.
They do not need that at all.
What they need is a continuous replay of the Queen's four days in Westminster Hall, her funeral at Westminster Abbey and her committal service at St George's Chapel.
My message to Anglican clerics is: build it and they will come.
————————————————-
It is not too late to send the Royal Family a message of condolence:
My better half and I were in London yesterday. Friends told us that floral tributes were still being laid in the relevant parks and at Windsor Castle.
It is good to see that mourners are still remembering our late monarch, especially as the Royal Family now have a chance to grieve in private for the next few days.
May God bless them on that difficult journey.
Long live the King.
Reflections on the Queen continue next week.
Shall we not call our late Queen Elizabeth the Good?
While everyone has been calling her Elizabeth the Great, historian David Starkey was right to point out last week on GB News that 'the Great' belongs to rulers who won great wars.
Our Queen has also been referred to as Elizabeth the Dutiful and Elizabeth the Faithful.
Yet, it seems we should find a monosyllabic word.
Therefore, Elizabeth the Good seems fitting.
Someone on GB News suggested that very briefly, and only once. It is a good suggestion.
Yesterday's post was about the Queen's state funeral in London, the first since Winston Churchill's in 1965.
Monday, September 19 concluded with her committal service at St George's Chapel at Windsor Castle.
The funeral cortege left London for Windsor, where the public viewing area was full of mourners. You could hear a pin drop.
The procession was smaller and made its way up the Long Walk to the castle.
The Queen's favourite pony stood quietly on the side to watch his mistress pass by one last time. Her two corgis were nearby and able to watch it. They were very well behaved. Do animals sense death? It would seem so.
Prince Andrew is now the keeper of the corgis.
The Times reported (emphases mine):
The Queen's corgis waited in the Quadrant at Windsor Castle as the funeral procession made its way to St George's Chapel.
Muick and Sandy — one on a red lead and one on a blue lead — were brought out on to the steps by two pages in red tailcoats for the arrival of the Queen's coffin.
Emma, the Queen's fell pony, was standing in a gap in the floral tributes lining the Long Walk as the procession moved towards the castle. Emma was among the Queen's favourites and is said to be still going strong at 24 years old.
The two corgis will now be looked after by the Duke of York and his ex-wife Sarah, Duchess of York.
Muick (pron. 'Mick') is named for one of Prince Philip's favourite places in Scotland, Loch Muick.
This video shows the crowds, the procession and her favourite animals:
The pallbearers carefully carried the Queen's casket, which, as it is lined with lead, weighs around 700 pounds. An even procession upwards mandates that all the pallbearers be the same height. The officer in charge gave them instructions on negotiating the steps of St George's Chapel as they progressed:
Around 800 invited mourners filled the chapel. That said, this was a more private service for those who live and work on the estate as well as for foreign royals, other dignitaries and for members of the military.
The Order of Service for the Committal is here:
The service began at 4:08 p.m., eight minutes later than scheduled. The procession in London took slightly longer than anticipated.
Senior members of the Royal Family, including young Prince George and Prince Charlotte, processed behind the casket in the chapel.
The full service is below. Access it via their tweet:
My far better half preferred the Committal Service to the one in the Abbey because it dealt with her instruments of state and her being lowered into the vault at the end.
I immediately noted the more modern English used in the prayers and the spoken readings.
Highlights of the service follow.
The pallbearers brought the Queen's casket up in front of the altar, over the lift that would take her down into the vault at the end. This also happened at Prince Philip's funeral:
The minister from Crathie Kirk near Balmoral joined the Chapel clergy and the Archbishop of Canterbury:
The service will be conducted by the Right Reverend David Connor, Dean of Windsor, with prayers said by the Rector of Sandringham, the Minister of Crathie Kirk and the Chaplain of Windsor Great Park and the blessing pronounced by the Lord Archbishop of Canterbury, The Most Reverend Justin Welby.
The Choir of St George's Chapel will sing during the Service, conducted by Director of Music James Vivian.
The choir sang Psalm 121:
I will lift up mine eyes unto the hills: from whence cometh my help.
My help cometh even from the Lord: who hath made heaven and earth.
He will not suffer thy foot to be moved:
and he that keepeth thee will not sleep.
Behold, he that keepeth Israel: shall neither slumber nor sleep.
The Lord himself is thy keeper: the Lord is thy defence upon thy right hand;
So that the sun shall not burn thee by day: neither the moon by night.
The Lord shall preserve thee from all evil:
yea, it is even he that shall keep thy soul.
The Lord shall preserve thy going out, and thy coming in:
from this time forth for evermore.
Then the choir sang The Russian Kontakion for the Departed, also sung at Prince Philip's funeral in 2021. He had been raised Greek Orthodox.
The musical arrangement was the Kiev Melody, in a nod to Ukraine.
These are the lyrics:
Give rest, O Christ, to thy servant with thy Saints:
where sorrow and pain are no more; neither sighing but life everlasting.
Thou only art immortal, the Creator and Maker of man:
And we are mortal, formed of the earth, and unto earth shall we return:
For so thou didst ordain, when thou createdst me, saying,
Dust thou art, and unto dust shalt thou return.
All we go down to the dust; and, weeping o'er the grave we make our song:
Alleluya, alleluya, alleluya.
Give rest, O Christ, to thy servant with thy Saints:
Where sorrow and pain are no more; neither sighing but life everlasting.
The Dean of Windsor recited the Bidding Prayer:
We have come together to commit into the hands of God the soul of his servant Queen Elizabeth. Here, in St George's Chapel, where she so often worshipped, we are bound to call to mind someone whose uncomplicated yet profound Christian Faith bore so much fruit. Fruit, in a life of unstinting service to the Nation, the Commonwealth and the wider world, but also (and especially to be remembered in this place) in kindness, concern and reassuring care for her family and friends and neighbours. In the midst of our rapidly changing and frequently troubled world, her calm and dignified presence has given us confidence to face the future, as she did, with courage and with hope. As, with grateful hearts, we reflect on these and all the many other ways in which her long life has been a blessing to us, we pray that God will give us grace to honour her memory by following her example, and that, with our sister Elizabeth, at the last, we shall know the joys of life eternal.
The Dean of Windsor, who is also the Register of the Most Noble Order of the Garter, for it is at St George's Chapel where the Garter ceremonies are conducted, read Revelation 21.1-7:
I saw a new heaven and a new earth: for the first heaven and the first earth were passed away; and there was no more sea. And I, John, saw the holy city, new Jerusalem, coming down from God out of heaven, prepared as a bride adorned for her husband. And I heard a great voice out of heaven saying, Behold, the tabernacle of God is with men, and he will dwell with them, and they shall be his people, and God himself shall be with them, and be their God. And God shall wipe away all tears from their eyes; and there shall be no more death, neither sorrow, nor crying, neither shall there be any more pain: for the former things are passed away. And he that sat upon the throne said, Behold, I make all things new. And he said unto me, Write: for these words are true and faithful. And he said unto me, It is done. I am Alpha and Omega, the beginning and the end. I will give unto him that is athirst of the fountain of the water of life freely. He that overcometh shall inherit all things; and I will be his God, and he shall be my son.
The minister of Crathie Kirk participated in the clergy prayers. These included one for the Royal Family and another for the Queen and her fellow Companions of the Order of the Garter:
Lord God Almighty, King of creation, bless our King and all Members of the Royal Family. May godliness be their guidance, may sanctity be their strength, may peace on earth be the fruit of their labours, and their joy in heaven thine eternal gift; through Jesus Christ our Lord. Amen.
God save our gracious Sovereign and all the Companions, living and departed, of the Most Honourable and Noble Order of the Garter. Amen.
The choir sang the prayer from John Donne that was also part of the Westminster Abbey service.
Then the drama began. I cannot think of a better word, so, please excuse me.
The Telegraph describes how the Queen's instruments of state were ceremonially removed from her coffin and placed on the altar. This was written beforehand, hence the future tense:
Queen Elizabeth II will finally part company with the Imperial State Crown, orb and sceptre as the final hymn is sung at her committal ceremony, in what is likely to be one of the most moving moments of today's funeral …
They will only be removed in the final moments before the public sees its last images of the monarch's coffin.
Before the final hymn is sung in St George's Chapel during the ceremony that begins at 4pm today, Mark Appleby, the Crown Jeweller, will remove the crown, orb and sceptre from the coffin, with the help of the Bargemaster and the Serjeants-at-Arms – royal servants who guard the regalia during state occasions. They will pass them one by one to the Dean of Windsor, who will place them on the high altar.
While the crown represents the sovereign's power over her subjects, the orb, made up of a cross above a globe, represents Christ's earthly dominion and symbolises the monarch's status as God's mortal representative. The sceptre, which holds the world's largest cut diamond, the Cullinan I, represents equity and mercy. They will be presented to the King at his coronation in 2023.
They are now back safely at the Tower of London.
Watching this ceremony, I was reminded of 1 Timothy 6:7:
For we brought nothing into this world, and it is certain we can carry nothing out.
Each instrument of state had its own purple cushion on the altar. The orb has a golden spike on the bottom to keep it anchored. Its cushion is specially designed with a metal recipient in the centre.
King Charles then had a role to play. He was sitting where the Queen used to sit.
He rose and stood before his mother's coffin to:
place a military flag on top of the coffin which, according to the Army, will be placed inside her coffin before she is interred.
The Grenadier Guards Queen's Company Camp Colour – a small flag which normally adorns the Company Captain's bunk designating his place of work – is unique to each sovereign and ceases to be used when they die …
The Grenadier Guards are the most senior of the Foot Guards regiments, and the Queen was their Colonel in Chief.
The full-sized version of the flag was draped at the foot of the Queen's coffin as she lay in state.
After that took place, the King took his place and the Lord Chamberlain, the Royal household's most senior member, broke his wand of office and placed it on top of the coffin. The wand is designed such that there is a break point in the middle, surrounded by metal on either side.
The Lord Chamberlain broke his wand because, with the Queen's death, his work has now ended — unless the King decides to reappoint him.
Here are photos of the instruments of state, King and the Lord Chamberlain:
The Queen's coffin was then lowered into the vault (see the 1:42:00 point in the Royal Family video). The complete lowering is never shown to the public.
While that took place, the Dean of Windsor recited Psalm 103:13-17 in traditional language:
Like as a father pitieth his own children:
even so is the Lord merciful unto them that fear him.
For he knoweth whereof we are made:
he remembereth that we are but dust.
The days of man are but as grass:
for he flourisheth as a flower of the field.
For as soon as the wind goeth over it, it is gone:
and the place thereof shall know it no more.
But the merciful goodness of the Lord endureth for ever and ever
upon them that fear him:
and his righteousness upon children's children.
He then recited a committal prayer, again in traditional language:
Go forth upon thy journey from this world,
O Christian soul;
In the name of God the Father Almighty who created thee;
In the name of Jesus Christ who suffered for thee;
In the name of the Holy Spirit who strengtheneth thee.
In communion with the blessèd saints,
and aided by Angels and Archangels,
and all the armies of the heavenly host,
may thy portion this day be in peace,
and thy dwelling in the heavenly Jerusalem.
Amen.
Then, the Queen's Piper, Pipe Major James M. Banks — the one who played the lament at Westminster Abbey — appeared in a side aisle to play another lament.
As he was ending, viewers could see him pass the doorway near the altar and vanish as the pipes faded away into silence.
You won't want to miss this:
The service was about to end but not before the Dean prayed for the King:
Let us humbly beseech Almighty God to bless with long life, health and honour, and all worldly happiness the Most High, Most Mighty and Most Excellent Monarch, our Sovereign Lord, now, by the Grace of God, of the United Kingdom of Great Britain and Northern Ireland and of His other Realms and Territories King, Head of the Commonwealth, Defender of the Faith, and Sovereign of the Most Noble Order of the Garter. God Save The King.
The Archbishop of Canterbury gave the blessing:
Go forth into the world in peace;
Be of good courage, hold fast that which is good,
render to no one evil for evil; strengthen the fainthearted,
support the weak, help the afflicted, honour all people,
love and serve the Lord, rejoicing in the power of the Holy Spirit;
And the blessing of God Almighty,
the Father, the Son, and the Holy Spirit
be among you and remain with you always. Amen.
The congregation sang one verse of the National Anthem.
They then processed out in order:
All remain standing as The King and The Queen Consort, preceded by the Archbishop of Canterbury and the Archbishop of York and accompanied by the Dean of Windsor, move to the Galilee Porch. At the Galilee Porch the Archbishop of York, the Archbishop of Canterbury and the Dean of Windsor take their leave.
Other members of the Royal Family, escorted by the Canons of Windsor, move to the Galilee Porch, where the Canons, the Archbishop of York, the Archbishop of Canterbury and the Dean of Windsor take their leave.
Members of Foreign Royal Families, Governors Generals and Realm Prime Ministers, escorted by Gentlemen Ushers, move to the West Doors.
The Choir and Succentor leave the Quire by way of the Organ Screen. The Clergy leave by way of the North Quire Gate. The Congregation sits.
His Majesty's Body Guard of the Honourable Corps of Gentlemen at Arms and The King's Body Guard of the Yeomen of the Guard move by way of the Centre Aisle, the North Nave Aisle and the North Quire Aisle to the Cloisters.
The Congregation will be asked by the Stewards and the Ushers to leave the Chapel.
However, the day was not yet finished for the Queen's children.
At 7:30 p.m., they returned to enter the tiny King George VI Memorial Chapel, which holds only six people maximum, to inter their beloved mother and father:
whose coffins will be moved from the royal vault to be interred alongside the Queen's parents and her sister Princess Margaret.
According to Royal experts, George VI often said to his wife and daughters before the Queen married, 'It's only the four of us'.
Here is a family portrait of them with the Duke of Edinburgh:
With the interment came the end of Operation London Bridge, which went brilliantly. It is likely to have been the first and the last occasion of its kind.
Well, the Queen was the first and last of her kind, too:
The Royal Family have another week of mourning. Until now, they have had no chance to grieve privately:
Visitors to Royal palaces should be aware that some exhibitions and tours will be closed, some for the rest of the year:
In closing, many of us will feel like this corgi, rather bereft:
My next post will analyse the significance of the funeral services and the past two weeks.
On Monday, September 19, 2022, the United Kingdom held its first state funeral since the death of Winston Churchill in 1965.
The public viewing of the Queen's casket at Westminster Hall ended at 6:30 a.m.:
I am certain that more than 250,000 people filed past in four days in London, because in 2002, 200,000 filed past her mother's coffin in three days. I was one of them. It was an unforgettable experience.
The Sky News article had more numbers before the Queen's funeral at Westminster Abbey began:
The Mayor of London's office said an estimated 80,000 people were in Hyde Park, 75,000 in ceremonial viewing areas and 60,000 on South Carriage Drive.
Overall numbers will be much higher as crowds formed on virtually the entire route to Windsor, where Thames Valley Police said 100,000 people had turned out.
The Telegraph reported much higher numbers for Westminster Hall. These seem more realistic to me:
The four-day lying-in-state ceremony has seen more than a million mourners packing the banks of the Thames, waiting in a queue which, at its peak, took 24 hours and stretched 10 miles, beyond London Bridge to Southwark Park.
On the final day, Westminster Hall was attended by dozens of foreign leaders and royals who have arrived in London ahead of the state funeral, which starts at 11am.
They included Joe Biden, the US President, Emmanuel Macron, the French leader, Olena Zelenska, the First Lady of Ukraine, President Jair Bolsonaro of Brazil and his wife Michelle, King Felipe and Queen Letizia of Spain, and King Phillipe and Queen Mathilde of Belgium.
On Sunday morning, the Government warned people not to travel to the queue "to avoid disappointment".
Another Telegraph article had more statistics about the Elizabeth Line (emphases mine):
At an average queueing time of 12 hours – perhaps even more – they had clocked up a total of 4.8 million hours between them as they shuffled forward, uncomplainingly, in the sunshine, and in the cold, and in the dark. It means that since the late Queen's lying in state began last Wednesday, her people had spent a cumulative 550 years saying their final thank you.
And if each of them entered the winding, folding queue at its end in Southwark Park, they would have walked 4 million miles between them, the equivalent of 153,846 marathons.
The fact that all of them knew how arduous the wait would be, having been given ample warning, is an even more reliable measure of how much Queen Elizabeth meant to them.
From children in push-chairs to pensioners and even global celebrities, they patiently waited their turn to spend only a few minutes in the presence of the late Queen's coffin, almost all of them pausing to bow or curtsy, many of them turning away in tears.
As one of my readers, dearieme, pointed out, this shows the trust our Queen had in her subjects and foreign visitors:
How often in the history of civilisations would governments, here or elsewhere, have allowed – even encouraged – huge mobs of the public to congregate, and trust largely to their natural instincts to keep themselves in order?
I think the answer might be "rarely".
Douglas Murray pondered all of the above in his Telegraph article: 'Our late Queen's final act was to bring her nation and the world deeply together'.
Excerpts follow:
The passing of Elizabeth II is remarkable for many reasons. But just one of them is the way in which the Queen's final act seems to have been to bring her nation deeply together.
There is the literal way in which that has happened, with the mini-nationalists across Britain ceasing – for a moment at least – their relentless task of trying to tear our country apart. The Scottish nationalists observed the death of our monarch without a series of "buts". Even Sinn Fein paid tribute and passed condolences to the Queen's son and heir – an act that would have been unthinkable beforehand.
People have rightly remarked on the way in which hundreds of thousands of people have queued to pay their own personal respects to the late Queen. But almost as remarkable is the way in which other nations around the world, as well as their media, have mourned her death …
The Queen leaves behind a Commonwealth that has been united in mourning – hardly the expected reaction if she had been the cruel tyrant of the New York Times's imagination.
What is more, although the dissenters have received an extraordinary amount of attention, more extraordinary by far is how united the world's response has been.
France, for instance, is not a country known for its love of monarchy. But on the death of Queen Elizabeth the French political and media class were united in paying tribute to her. She was honoured on the cover of almost every French magazine and periodical, as she was across the European and world media.
This reaction is largely a tribute to a reign of unparalleled length and dignity, a life given to the service of the country and the deepening of alliances with our friends and allies. But it also serves as a reminder of the way in which Britain is regarded around the world. With the exception of a few raucously noisy malcontents, we find that most people do not regard Britain as some terrible tyrannical power, either now or in history. Most see us, rightly, as having been among the fairer, certainly more benign, world powers …
This is the Britain that is still influential both in its impact abroad and also in the lives of its citizens. I doubt that there has been a figure in history whose death has led to such a voluntary outburst of feeling. There may have been despots whose death had to be mourned by their citizens and subjects, but there can have been few, if any, who have ever produced such willing devotion.
And there is a lesson in this for our institutions, and for institutions and nations around the world: people are loyal to institutions that are loyal to them. Break any part of that pact and you break the whole; sustain it and you sustain the whole.
Queen Elizabeth II swore an oath to this country as a young woman, and it was an oath she kept until her dying day. That loyalty is what is being honoured and mirrored today: the respect of people around the world for a life of service and duty. Something to remember, certainly. But something to emulate and live up to as well.
On the subject of tributes from abroad, a Belgian created this inspired photo montage of the Queen:
The next two short videos are well worth watching. The first is about Elizabeth II's 'Queenhood', probably written by the poet laureate with footage from her coronation. The second is a film montage of her entire life from beginning to end:
Operation London Bridge — the Queen's funeral plan — was now in its final phase in the capital and at Windsor Castle.
A military procession arrived at Westminster Hall to take the Queen for her final time to Westminster Abbey.
A new bouquet of pink and purple flowers with foliage and herbs — rosemary for remembrance and myrtle from the plant which supplied the sprigs for her wedding — replaced the white wreath for her lying in state:
Eight pallbearers from the military carefully placed her coffin onto a gun carriage. Naval ratings holding onto ropes in front and in back guided the gun carriage on its way.
This tradition began with Queen Victoria's funeral, which took place in January 1901. Horses were supposed to transport the gun carriage, but part of it snapped off in the cold, thereby making it impossible. Prince Louis Battenberg, who was Prince Philip's grandfather, came up with the solution, which, he said, had operated satisfactorily during the Boer War:
If it is impossible to mend the traces you can always get the naval guard of honour to drag the gun carriage.
The tradition continued throughout the 20th century:
The gun carriage is part of the materiel of the King's Troop, commanded for the first time by a woman, Captain Amy Hooper. She told The Telegraph that she was in Canada when the Queen's death was announced:
"BRIDGE, BRIDGE, BRIDGE," the text stated. "Operation LONDON BRIDGE has been activated. Initiate telephone cascade. All personnel are to return to camp" …
She was in Calgary when the news broke, along with soldiers exercising alongside Canadian mounted units. The British party was flying back to the UK within five hours …
Soldiers as far away as Turkey and America had to cancel their family holidays and return to the UK …
On Monday, she will be leading the gun team in Hyde Park for the Queen's funeral.
King's Troop, a unit of about 160 soldiers with an equal split of men and women, has one of the most important ceremonial roles in the British armed forces.
Their six 13-pounder quick-fire guns, built between 1913 and 1918, all of which have seen active service in the First and Second World Wars, are used regularly for royal salutes in Hyde Park, Green Park or Windsor Great Park for State Occasions and to mark royal anniversaries and royal birthdays …
The gun carriage is known as the George Gun Carriage, and carried King George VI's coffin from Sandringham Church to Wolferton Station in February 1952. It was also used in the funeral of the Queen Mother in 2002.
Queen Elizabeth's funeral had more troops and regiments than had ever been gathered at one time.
These included troops from around the Commonwealth, particularly Canada and Australia:
The soldiers walked at a 75 beat per minute pace, which is slow and difficult to sustain.
The Times reported on the use of a metronome, mimicked on the day by drum beats to ensure proper timing:
Military chiefs have been told to "up their game" for the Queen's funeral today and listen to a metronome at 75 beats per minute to ensure the right pace during the procession.
Admiral Sir Tony Radakin, the chief of the defence staff, admitted to nerves but said an enormous amount of planning for the event had gone on for "a very long time". He said more than 10,000 soldiers, sailors and airmen and women would perform their "last duty" to the Queen during the day's events.
Queen Elizabeth wished to have her funeral at Westminster Abbey because she had been married and crowned there.
The last monarch to have a funeral at the Abbey was George II on November 13, 1760. The other monarchs had theirs at St George's Chapel at Windsor Castle.
The Queen's children along with Princes William and Harry walked in the procession to the Abbey.
Meanwhile, heads of state and dignitaries took their places inside. Charity workers also were seated.
The Queen Consort and the Princess of Wales arrived with Prince George, 9, and Princess Charlotte, 7:
The procession arrived at the Abbey and the pallbearers carefully carried the Queen's coffin inside:
You can find the Order of Service here:
The Times has an excellent article on the service.
You can see the procession from Westminster Hall and the full funeral service. As with the other Royal Family YouTube links I have posted, if you get a message saying it cannot be viewed, click on 'Watch on YouTube' or this tweet:
The Queen chose the music, which held particular significance to her and to the Abbey:
Pardon the irreverence, but this is an aerial view of the seating plan in the transept. Look how far back Joe Biden was. Apparently, his Beasts and motorcade got caught up in traffic, although he arrived before the service began. By contrast, the dignitaries who took the white coaches in the 'podding' system got there on time. Even if he hadn't been late, he would still have been seated in the same place.
The altar is to the left and, out of shot, to the right are more seats for guests: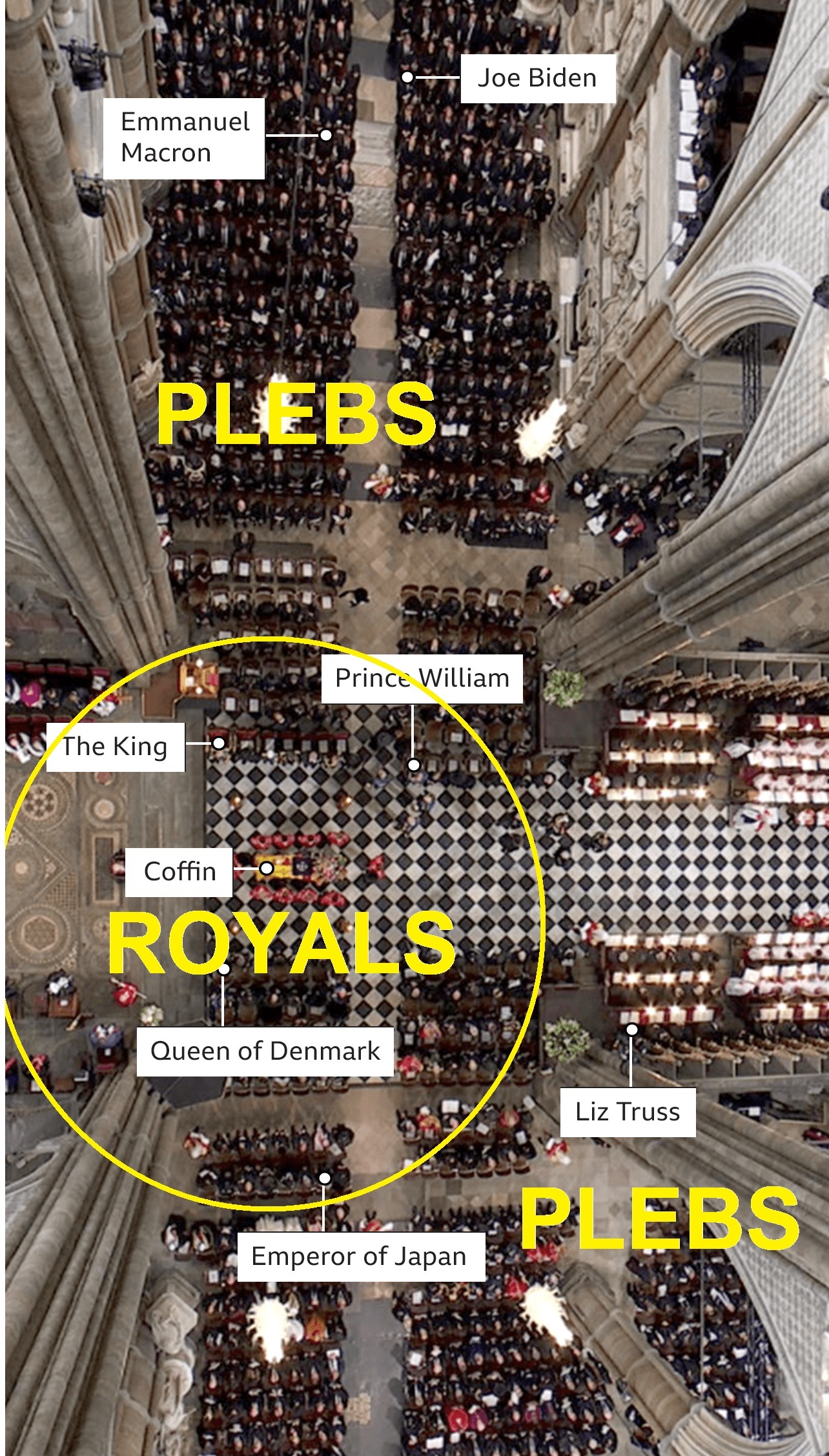 Likely sitting out of shot was, ironically, The Guardian's editor, Kath Viner:
Guido Fawkes has a quote from one of her recent editorials. I cannot bear to cite it in full, so here are the first and last sentences:
Royal rituals are contrived affairs meant to generate popular attachment to a privileged institution and to serve as reminders of a glorious past … How much Britain will be changed once this moment floats past the country is as yet unknown.
Guido commented (emphasis his):
Of course that didn't stop the Guardian's editor Kath Viner accepting a ticket to the funeral from the "privileged institution" herself. Maybe she's sentimental…
Another hypocrite turned up, Scotland's First Minister Nicola Sturgeon, she of the second independence referendum.
The Times has a photo of her and her husband, Peter Murrell, along with a few quotes:
Nicola Sturgeon has said it was an "honour to represent Scotland" as leaders from across the world joined the royal family and other mourners at the state funeral.
The first minister was among some 2,000 mourners at Westminster Abbey along with leaders of the other main Scottish political parties. She spoke of a "final and poignant goodbye to a deeply respected and much-loved monarch".
As I listened to the liturgy, I could not help but think that this is the last time we will hear language from the King James Version of the Bible and the 1662 Book of Common Prayer at a service for the Royals. How I will miss it. I hope I am wrong.
There was one prayer from an even earlier version of the Book of Common Prayer, Archbishop Cranmer's, from 1549. This was put to music. The choir did it full justice:
THOU knowest, Lord, the secrets of our hearts; shut not thy merciful ears unto our prayer; but spare us, Lord most holy, O God most mighty, O holy and most merciful Saviour, thou most worthy Judge eternal, suffer us not, at our last hour, for any pains of death, to fall from thee. Amen.
This was the Bidding Prayer:
O MERCIFUL God, the Father of our Lord Jesus Christ, who is the resurrection and the life; in whom whosoever believeth shall live, though he die; and whosoever liveth, and believeth in him, shall not die eternally; who hast taught us, by his holy Apostle Saint Paul, not to be sorry, as men without hope, for them that sleep in him: We meekly beseech thee, O Father, to raise us from the death of sin unto the life of righteousness; that, when we shall depart this life, we may rest in him, as our hope is this our sister doth; and that, at the general Resurrection in the last day, we may be found acceptable in thy sight; and receive that blessing, which thy well–beloved Son shall then pronounce to all that love and fear thee, saying, Come, ye blessed children of my Father, receive the kingdom prepared for you from the beginning of the world. Grant this, we beseech thee, O merciful Father, through Jesus Christ, our mediator and redeemer. Amen.

The entire liturgy was a lesson about faith and salvation. Even an unbeliver could not miss it.
I pray that it works on the hearts and minds of those in attendance who are indifferent.
The Queen always liked Psalm 42 for its reference to the hart, which reminded her of Scotland:
LIKE as the hart desireth the water–brooks : so longeth my soul after thee, O God.
My soul is athirst for God, yea, even for the living God : when shall I come to
appear before the presence of God?
My tears have been my meat day and night : while they daily say unto me, Where is
now thy God?
Now when I think thereupon, I pour out my heart by myself : for I went with the
multitude, and brought them forth into the house of God;
In the voice of praise and thanksgiving : among such as keep holy–day.
Why art thou so full of heaviness, O my soul : and why art thou so disquieted within
me?
Put thy trust in God : for I will yet give him thanks for the help of his countenance.
Prime Minister Liz Truss read the second Lesson, John 14:1-9a:
LET not your heart be troubled: ye believe in God, believe also in me. In my Father's house are many mansions: if it were not so, I would have told you. I go to prepare a place for you. And if I go and prepare a place for you, I will come again, and receive you unto myself; that where I am, there ye may be also. And whither I go ye know, and the way ye know. Thomas saith unto him, Lord, we know not whither thou goest; and how can we know the way? Jesus saith unto him, I am the way, the truth, and the life: no man cometh unto the Father, but by me. If ye had known me, ye should have known my Father also: and from henceforth ye know him, and have seen him. Philip saith unto him, Lord, shew us the Father, and it sufficeth us. Jesus saith unto him, Have I been so long time with you, and yet hast thou not known me, Philip? He that hath seen me hath seen the Father.

After Psalm 23 was sung, the Archbishop of Canterbury's sermon followed:
Near the end, clergy from the main Christian denominations recited their own prayers in thanksgiving for the Queen's long reign of service.
The Abbey's Precentor then recited a prayer from John Donne (1573-1631):
BRING us, O Lord God, at our last awakening into the house and gate of heaven, to enter into that gate and dwell in that house, where there shall be no darkness nor dazzling, but one equal light; no noise nor silence, but one equal music; no fears nor hopes, but one equal possession; no ends nor beginnings, but one equal eternity; in the habitation of thy glory and dominion, world without end. Amen.
After the blessing, the State Trumpeters of the Household Cavalry sounded The Last Post:
The congregation sang two verses of the National Anthem.
The funeral service closed with a poignant military lament, Sleep, dearie, sleep, performed by the Queen's Piper, Warrant Officer Class 1 (Pipe Major) Paul Burns. He stood on a balcony overlooking the congregation. Words cannot describe it.
This video has brief highlights from the funeral:
After the funeral ended, the Queen's coffin resumed its place on the gun carriage for a procession past Whitehall, down The Mall, then past Buckingham Palace, finishing at Wellington Arch on Constitution Hill.
A gun salute also took place:
The Royals walked with the military, as before. This was a long walk.
Every person in this procession has seen active military service. I put that in bold, because some living overseas think that these are 'toy soldiers', as it were. They are anything but.
Here they are in front of Buckingham Palace. Note that the Queen's household are standing in front of the gates in their normal working clothes to pay their respects:
The horses leading the procession were gifts to the Queen from the Royal Canadian Mounted Police (RCMP), or the Mounties. The Queen was their honorary commissioner.
George, Elizabeth, Darby and Sir John are the latest in a long line of horses given by Canada to the Queen and ridden by senior royals, including King Charles and the Princess Royal, during the annual ceremony of Trooping the Colour …
In 1969, the RCMP presented her with Burmese, a seven-year-old black mare who went on to become the Queen's favourite horse.
She rode her at Trooping the Colour for 18 years, including in 1981 when Marcus Sarjeant, then 17, shot six blank rounds at the Queen as she was travelling down The Mall to the parade that marks her official birthday.
Although Burmese was briefly startled, the horse won praise for remaining calm due to her RCMP training, in which she had been exposed to gunfire.
Burmese, who died in 1990, was the first of eight horses given to the Queen by the Mounties. George was given to her in 2009. Now 22, he has been ridden each year at Trooping the Colour by Charles.
Elizabeth, now 17, named in honour of the Queen Mother, was a gift to mark the Queen's Diamond Jubilee in 2012 …
Sir John, 14, was a 90th birthday present for the Queen and is ridden at Trooping the Colour by Princess Anne, a former Olympic equestrian.
Darby, a 16-year-old Hanoverian gelding, was one of two horses received by the late monarch in 2019.
[Sergeant Major Scott] Williamson is one of four RCMP officers who will ride at the front of tomorrow's funeral procession after the Westminster Abbey service.
It will travel up Whitehall and along The Mall, passing Buckingham Palace before ending at Wellington Arch. Here, the Queen's coffin will be transferred from the state gun carriage to a hearse for her final journey to Windsor.
I will cover the committal service at Windsor in tomorrow's post.
The three-year Lectionary that many Catholics and Protestants hear in public worship gives us a great variety of Holy Scripture.
Yet, it doesn't tell the whole story.
My series Forbidden Bible Verses — ones the Lectionary editors and their clergy omit — examines the passages we do not hear in church. These missing verses are also Essential Bible Verses, ones we should study with care and attention. Often, we find that they carry difficult messages and warnings.
Today's reading is from the English Standard Version with commentary by Matthew Henry and John MacArthur.
19 for I know that through your prayers and the help of the Spirit of Jesus Christ this will turn out for my deliverance, 20 as it is my eager expectation and hope that I will not be at all ashamed, but that with full courage now as always Christ will be honored in my body, whether by life or by death.
———————————————————————————————
Last week's post discussed Paul's joy that the Good News was travelling quickly around Rome thanks to preachers who were doctrinally sound, even though some of those men bore ill will and jealousy towards the Apostle, hoping to see him languish in prison so that they could usurp his position as the best teacher of the Gospel story.
Comparing those preachers with those who taught out of love for Christ and for Paul, the Apostle wrote that he would rejoice either way (Philippians 1:19):
What then? Only that in every way, whether in pretense or in truth, Christ is proclaimed, and in that I rejoice. Yes, and I will rejoice,
Here he says that with the Philippians' prayers and the help of the Spirit of Christ — the Holy Spirit — what he is experiencing will turn out well for his deliverance (verse 19).
John MacArthur tells us that Paul was confident of five things, which will become apparent as we look at these two verses.
First of all, Paul had confidence in the Lord (emphases mine):
Number one, he is confident in the precepts of the Lord, the precepts of the Lord, or the Lord's Word – what the Lord has said.  Verse 19, "For I know that this shall turn out for my deliverance."  Stop right there.  Great statement.  I know – "Why are you rejoicing?"  "Because I know this: that this shall turn out for my deliverance."  Now when he says, "For I know," oida, he is really asserting what to him is an absolute knowledge.  "I know this; it's unequivocal.  I know this; this is the knowledge of satisfied conviction.  I know," he says, "that this—" Now what is this?  The present circumstance – the present trouble, the chains, the detractors, the imprisonment, all of the difficulties, adversities in his life and ministry, the whole scenario, the whole thing he's going through.  He says, "I know that this present trouble shall turn out" – future tense; it's going that direction – "shall turn out for my deliverance, for my deliverance."
You say, "How do you know that?"  Well, because that was the promise of God.  He had received it first-hand, by the way, when he wrote down, "All things work together for good to them that" – What? – "love God and are the called according to His purpose" (Romans 8:28).  He knew that principle.  "For I know" – absolutely confident – "that this" – all this trouble – "shall" – future – "turn out for my deliverance."
MacArthur explains what Paul meant by 'deliverance':
The word here is stria, which is the word for salvation.  And some of your Bibles may say "for my salvation."  Well, what do you mean by that?  Well, that word can be translated "salvation"; it can be translated "deliverance"; it can be translated "well-being"; it can be translated "escape."  What does it mean?  Some say it means ultimate salvation.  Some say he is simply saying, "I know that this present trouble is going to turn out for my eternal salvation, ultimately to be in the presence of the Lord, my soul salvation."  He is confident that he will endure to the end and be fully, finally saved and glorified in the day of Christ, the day he sees Christ.  Some say, "No, it means his health, his well- being, his welfare, his benefit – that I'm going to benefit from this, that my well-being will be secured."  Some say "vindication."  Some say it means "vindication."  Some commentators think he's saying that, "I'll be vindicated in court and that my trial, when it reaches its second phase" – the first phase had already been held when no one defended him, and he's waiting for the second phase, namely the sentence – that he's saying, "It'll all work out for my vindication at my sentencing."  Others say it means his release from prison.  Since the primary meaning is deliverance from death, that he's saying, "All of this that's going on is going to ultimately end up in my being released from prison."
Well, which of those is right?  I would say that the truth is in all of those, and let me show you what I mean.  It is in my judgment fair to include in one way or another the whole of all of those things which I mentioned to you in this sense.  Paul believes – and here's the key thought; you need to get it – Paul believes that his current distress is only temporary.  That's really what he's saying.  It's temporary; that's the point.  It isn't going to last.  "I will be delivered from it.  Maybe I'll be vindicated at my second phase of the trial.  Maybe I will be released from prison.  Maybe I will go to heaven to be with Jesus Christ, and therefore be delivered in the sense of ultimate salvation.  Maybe my well-being will be at last the issue."  I don't think he knows.  But what he is saying is, "I do know this that what I'm going through now is temporary, and the future holds my deliverance, whether it's vindication in court, release from prison, well-being, or eternal heaven – I'll be delivered out of this."
Paul quotes Job verbatim in verse 19:
… this statement that he makes, "For I know that this shall turn out for my deliverance," is a verbatim quote of Job 13:16, a verbatim quote of the Greek Old Testament, Job 13:16 – word for word.  Paul was a scholar in Scripture.  And obviously identified his own problems and his own struggle with that of Job.  He knew the story of Job. All the Jews know the story of Job.  And he knew that Job was a righteous man and that God put Job the righteous man in a situation of suffering, but Job knew because he knew God delivered the righteous that no matter what he went through God would deliver him out of it.  Job knew that even to the point of death where he said, "Though worms destroy this body, yet in my flesh shall I" – What? – "see God."  He knew that one way or another, either temporally or eternally, God would deliver him.
Why?  Because God delivers the righteous.  That's an Old Testament principle.  Job knew it because it was the truth about God, even before the Old Testament was written.  Paul knew it, and Paul is identifying with Job, who is a righteous man going through very difficult times who also said, "I know that this shall turn out for my deliverance." And Paul quotes Job because he takes security in the precepts of the Lord, the truth of the Word of God.  He obviously viewed his present trouble like that of Job, and since Job was a faithful, righteous man, he was ultimately saved from his situation because God delivers the righteous. So Paul could quote the same thing, "I know that You will deliver me."  Because He knew his heart, his conscience was clear.  This wasn't the chastening of God or the punishment of God or the condemnation of God. So he is giving expression to the conviction that everything must work together for good to them that love God. And whether he was released from prison in this life, whether he was vindicated at his trial, or whether it worked out for his physical well-being, or whether he went to glory as a martyr, he would be delivered.
Personally I don't think you can isolate it to his release from prison, because he says right here, "Whether by life or death." So he didn't know that he was going to live.  He wasn't sure whether he would live or die, so he can't say, "I know this will turn out for my release from prison," or he wouldn't have said, "Whether I live or die."  He is simply saying God delivers the righteous. That's a great principle – confident, then, in the precepts of the Lord.
In addition to his trust in the Lord, Paul also had confidence in the power of prayer, also evidenced in verse 19.
MacArthur has more on the power of prayer:
Secondly, he was confident in the prayers of the saints.  He was confident in the prayers of the saints.  He says, "Through your prayers" – what a wonderful statement.  Listen, he knew the Word of God would come to pass.  He believed in the sovereignty of God.  He believed in the eternal purposes of God laid down from before time began, but he also knew that God effected His work and brought His purposes to pass in concert with the prayers of the saints.  And so he says, "Through your prayers."  One of the most wonderful truths of Scripture is that God works His purposes through the prayers of His people – and he says to the Philippians who loved him so dearly and to whom he was bonded in a very unique way, maybe unlike any other congregation, as we pointed out earlier – he knew he had their prayers, and he knew that the effectual, fervent prayer of righteous men produces much fruit and has great effect. And he knew that God working out His purpose through the faithful prayers of these people would bring his deliverance.  He believed in prayer.  He was confident in prayer.  And he called people to pray on his behalf; in Romans 15:30, "Now I urge you, brethren, by our Lord Jesus Christ and by the love of the Spirit, to strive together with me in your prayers to God for me."  He says, "Please pray for me."
In Ephesians chapter 6, as he draws to a conclusion the passage on the armor, he says, "Pray on my behalf, that utterance may be given to me in the opening of my mouth, to make known with boldness the mystery of the gospel, for which I am an ambassador in chains" (Ephesians 6:18-19).  "Pray for me."  And there are other places we don't have time to examine: 1 Thessalonians 5:25, "Brethren, pray for us."  Beloved, he believed that God worked His purpose through the prayers of His people.  And so he said, "This will work out for my deliverance. My joy is fixed. My joy is fixed. My joy is fixed in the face of trouble, in the face of detractors, in the face of death." Why, Paul?  Because the Word says God vindicates the righteous, and because the prayers of the saints are effective.
Paul also had confidence in the power of the Spirit.
MacArthur's translation says 'the provision of the Spirit of Jesus Christ':
Thirdly, he was confident of the provision of the Spirit.  In verse 19, "And the provision of the Spirit of Jesus Christ."  "I know this will turn out for my deliverance through your prayers and – implied – through the provision of the Spirit of Jesus Christ."  And these are the three things that always work together: the Word, prayer, and the Spirit, right?  The Word, prayer, and the Spirit.  And they always work together for the benefit of the servants of God.
"The provision of the Spirit," a wonderful statement. It means "the provision given by the Spirit," not "the provision which is the Spirit," although that certainly is true. I think the emphasis here is "the provision which the Spirit gives."  In other words, the Spirit will grant to me whatever is necessary to sustain me.  The word "provision," by the way, epichorgias, means "help" or "supply."  It can be translated "bountiful supply" here. It could be translated "full supply."  I like "full resources," "full resources."  And the full resources of "the Spirit of Jesus Christ." That's the Holy Spirit, who is called here "the Spirit of Jesus Christ." Who is called in Romans 8 and 9 "the Spirit of Christ," so that's not an unfamiliar designation.  The Spirit can either be the Spirit of God or the Spirit of Christ within the Trinity.
So he is confident that the Holy Spirit – his indwelling teacher, interceder, guide, source of power – will provide what he needs.  Boy, what a tremendous confidence, tremendous confidence.  The Spirit is the provider.  Acts 1:8, Jesus said, "You'll receive power after the Holy Spirit has come upon you."  In John 14 Jesus said, "I'll send you the Helper, the Comforter, and He'll give you everything that you need. He'll bring all the resources of God to you."  That's right, He'll bring you all the resources of God.  And the fruit of the Spirit is even listed in Galatians 5, "Love, joy, peace, gentleness, goodness, faith, meekness, self-control" – whatever you need He'll bring it to you.  If you need power, He brings you power.  He is the provider who brings the provision.  And every Christian possesses the Holy Spirit, and every Christian then has that resource, that provision.  He knew what Zechariah 4:6 says, "'Not by might nor by power, but by My Spirit,' says the Lord."
So, Paul is confident in the presence of the Spirit.  By the way, that's why everything works out together for good.  In Romans 8:28 it says, "All things work together for good to them that love God, and are called according to His purpose."  But in the verse before it says, "We know not what to pray for as we ought, so the Holy Spirit makes intercession for us with groanings which cannot be uttered," and that's why everything works out together for good.  That doesn't happen in a vacuum. That happens as a result of the provision of the Spirit of God, the supply of the Spirit of God, the intercession of the Spirit of God in an unutterable language between Himself and the Father.
Wow. I wish I'd had that lesson in Confirmation class. Even though Confirmation is all about the Holy Spirit, the Third Person of the Trinity was underemphasised. It is only now in my teatime years that I have begun to appreciate Him. It is a sad admission to make. I mention it because it is essential for those who are parents or in charge of children to make the power of the Holy Spirit abundantly clear to young people.
Another thing I would like to mention is the serendipity of today's verses with the Year C Gospel reading for the Sixth Sunday after Trinity, July 24, 2022, in which Jesus taught the disciples how to pray — boldly. Note Luke 11:13, in which Jesus mentions the Holy Spirit:
If you then, who are evil, know how to give good gifts to your children, how much more will the heavenly Father give the Holy Spirit to those who ask him!"
Also note Paul is confident that the Holy Spirit will provide his daily bread, so to speak. The Holy Spirit will ensure his survival, what he needs to stay alive.
Amazing. I love it when verses and themes coincide. It makes the Bible come alive.
Paul goes on to say that he has an eager expectation and hope that he will not be at all ashamed and that, with full courage now and always, he will honour Christ in his body, in life and in death (verse 20).
MacArthur explains:
Fourthly, he was confident in the promise of Christ, he was confident in the promise of Christ.  This is really implicit here rather than explicit … 
What he is saying there is simply this: "I'm confident in the promise of Christ, that if I'm faithful to Him, He'll be exalted in me. That if I'm never ashamed of Him, He'll never be ashamed of me" (Mark 8:38).  Jesus said, "If you confess Me before men I'll confess you before My Father. But if you're ashamed of Me before men, I'll be ashamed of you before My Father."
And Paul is saying, "I have this earnest expectation and this hope that I will never be put to shame in anything, never. And I just move with all boldness so that Christ, as always, can be exalted in my body."  He had this earnest expectation, this tremendous hope that he would never be shamed.  He had no fear of being disappointed by Christ.  He trusted His promise.  He trusted that Christ would never fail him, that Christ would never forsake him, that Christ would never leave him, that Christ would never abandon him, that Christ would never let go of him.  He trusted the words of Christ when he was converted, "You're a chosen vessel; you're a chosen vessel to represent Me."  He knew the promise of Christ – to be with him, to strengthen him, to empower him, to serve through him.
And so he says in verse 20, "My earnest expectations" – a very graphic word, apokaradokia. The "earnest expectation" is "to stretch your head." That's kind of the literal picture here – "concentrated eagerness"; "intense, fixed gaze," straining with the neck as far as you can.  And then he adds the word "hope," and the New English Bible translates it well: "my hope-filled, eager anticipation."  He says, "I live in this eager anticipation that I'll never be put to shame, I'll never be shamed, not before the world, not before the courts of Caesar, not before God, because Christ will be exalted in my body – that's His promise to me.  So with all boldness I go forward."  That's why he's confident facing death.  "I'll never be ashamed.  I'll never be put to shame" …

And he says, "This is, I know this is the promise of God," and I think he's reaching back to the promise of our Lord that those who are not ashamed of Him will never have Him be ashamed of them.  In fact, in Isaiah 49:23 the Lord says this: "Those who hopefully wait for Me will not be put to shame." Maybe he had that in mind. Maybe he had that very verse in mind. "Those who hope or hopefully wait for Me will not be put to shame," almost a parallel to that statement.  He says, "I've got the Word of the Lord on this thing. I'll never be shamed, so I'll preach and preach faithfully and not fear death."  He never feared God because He knew God was on His side – never feared Him in the negative sense.  He never feared man because, what could man do to him?  The promise of Christ belonged to him. The promise of Christ was his that he would never be shamed or disappointed or disillusioned.  Listen to Romans 9:33 – wonderful statement taken out of Isaiah again – "And he who believes in Him will not be disappointed."  Oh how wonderful, and that's what he's saying.
MacArthur discusses 'whether by life or by death':
… he adds this one phrase at the end of verse 20, "whether by life or by death," and he introduces us to the fifth aspect of confidence.  He is confident in the plan of God. He doesn't know what it is. It might be life; it might be death; but he's confident in it – "whether by life or by death, I will boldly move on, for God's plan is God's plan, and I rejoice in it." Confident in the plan of God.
He's resigned to God's plan.  He didn't know whether he was going to live; he didn't know whether he was going to die.  In fact, if he had a choice he'd die. Verse 23, he says, "I'm hard-pressed, I really have a desire to depart and be with Christ, for that's very much better.  So if you really want to know what I'd like to do, I'd like to die."  "But," he says (verse 24), "to remain in the flesh is more necessary for your sake. So I know that I shall remain and continue with you for your progress and joy in the faith."  He says, "My feeling is, the Lord's going to let me live because you need me.  But for the time being," he says, "I'd rather die if I had my choice, but whatever the plan is, I leave it with Him" …

And he sums it up in this great statement in verse 21.  This is the capstone, "For to me, living is Christ and dying is gain."  That's it.  That is the summum bonum of his life, "living is Christ, dying is gain."  I live only to serve Him, only to commune with Him, only to love Him.  I have no concept of life other than that.  Now follow this thought.  He is saying, "I am totally wrapped up in Christ – loving Him, knowing Him, preaching Him, serving Him.  Christ is the raison d'etre, the reason for my being, the reason for my existence."  He doesn't mean Christ is the source of his life, though He is.  He doesn't mean Christ lives in him, though He does.  He doesn't mean Christ controls him, though He does.  He doesn't mean that Christ wants him to submit to Him, though He does.  He simply means "living is Christ."  Life is summed up as Christ.  "I'm filled with Christ.  I am occupied with Christ.  I trust Christ, love Christ, hope in Christ, obey Christ, preach Christ, follow Christ, fellowship with Christ, Christ is the center circumference of my life. It's all Christ.  Christ and Christ alone is my inspiration, my direction, my meaning, my purpose – consumed, dominated by Christ."
Matthew Henry's commentary says this about verse 20:
Here observe, (1.) The great desire of every true Christian is that Christ may be magnified and glorified, that his name may be great, and his kingdom come. (2.) Those who truly desire that Christ may be magnified desire that he may be magnified in their body. They present their bodies a living sacrifice (Rom 12 1), and yield their members as instruments of righteousness unto God, Rom 6 13. They are willing to serve his designs, and be instrumental to his glory, with every member of their body, as well as faculty of their soul. (3.) It is much for the glory of Christ that we should serve him boldly and not be ashamed of him, with freedom and liberty of mind, and without discouragement: That in nothing I shall be ashamed, but that with all boldness Christ may be magnified. The boldness of Christians is the honour of Christ. (4.) Those who make Christ's glory their desire and design may make it their expectation and hope. If it be truly aimed at, it shall certainly be attained. If in sincerity we pray, Father, glorify thy name, we may be sure of the same answer to that prayer which Christ had: I have glorified it, and I will glorify it again, John 12 28. (5.) Those who desire that Christ may be magnified in their bodies have a holy indifference whether it be by life or by death. They refer it to him which way he will make them serviceable to his glory, whether by their labours or sufferings, by their diligence or patience, by their living to his honour in working for him or dying to his honour in suffering for him.
What follows are the remaining verses of Philippians 1. Once again, he uses the words 'standing firm':
21 For to me to live is Christ, and to die is gain. 22 If I am to live in the flesh, that means fruitful labor for me. Yet which I shall choose I cannot tell. 23 I am hard pressed between the two. My desire is to depart and be with Christ, for that is far better. 24 But to remain in the flesh is more necessary on your account. 25 Convinced of this, I know that I will remain and continue with you all, for your progress and joy in the faith, 26 so that in me you may have ample cause to glory in Christ Jesus, because of my coming to you again.
27 Only let your manner of life be worthy[h] of the gospel of Christ, so that whether I come and see you or am absent, I may hear of you that you are standing firm in one spirit, with one mind striving side by side for the faith of the gospel, 28 and not frightened in anything by your opponents. This is a clear sign to them of their destruction, but of your salvation, and that from God. 29 For it has been granted to you that for the sake of Christ you should not only believe in him but also suffer for his sake, 30 engaged in the same conflict that you saw I had and now hear that I still have.
Paul has more advice on how the Philippians — and we — should live a Christian life. More on that next week.
Next time — Philippians 2:14-18
The Sixth Sunday of Trinity is on July 24, 2022.
Readings for Year C can be found here.
The Gospel reading is as follows (emphases mine):
Luke 11:1-13
11:1 He was praying in a certain place, and after he had finished, one of his disciples said to him, "Lord, teach us to pray, as John taught his disciples."
11:2 He said to them, "When you pray, say: Father, hallowed be your name. Your kingdom come.
11:3 Give us each day our daily bread.
11:4 And forgive us our sins, for we ourselves forgive everyone indebted to us. And do not bring us to the time of trial."
11:5 And he said to them, "Suppose one of you has a friend, and you go to him at midnight and say to him, 'Friend, lend me three loaves of bread;
11:6 for a friend of mine has arrived, and I have nothing to set before him.'
11:7 And he answers from within, 'Do not bother me; the door has already been locked, and my children are with me in bed; I cannot get up and give you anything.'
11:8 I tell you, even though he will not get up and give him anything because he is his friend, at least because of his persistence he will get up and give him whatever he needs.
11:9 "So I say to you, Ask, and it will be given you; search, and you will find; knock, and the door will be opened for you.
11:10 For everyone who asks receives, and everyone who searches finds, and for everyone who knocks, the door will be opened.
11:11 Is there anyone among you who, if your child asks for a fish, will give a snake instead of a fish?
11:12 Or if the child asks for an egg, will give a scorpion?
11:13 If you then, who are evil, know how to give good gifts to your children, how much more will the heavenly Father give the Holy Spirit to those who ask him!"
Commentary comes from Matthew Henry and John MacArthur (as indicated below).
This is another long post, so please be prepared with refreshment.
Unlike the Jewish hierarchy who prayed aloud in public, reciting the same prayers several times a day, the ordinary Jew in our Lord's era had forgotten how to pray in a heartfelt way as exemplified by the Psalms.
Jesus never prayed aloud in public. He said that those who did, i.e. the hierarchy, already had their reward. They prayed so that they would be seen and admired by other Jews. Jesus said that God was having nothing of their showy rituals.
Recall that Luke 9 through to Luke 19 documents how Jesus taught His disciples. Here, by request, He teaches them how to pray.
Now, at this point, Jesus was teaching and preaching in Judea. These were the final months of His life.
We are not sure exactly where He was at this point except that He was likely praying away from the crowds in a private place, as He always did. His disciples might have been praying with Him, using their own prayers. Luke does not tell us.
At this place, one of His disciples requested that He teach them to pray in the manner that John the Baptist taught his followers (verse 1).
Matthew Henry explains the request:
Their plea is, "As John also taught his disciples. He took care to instruct his disciples in this necessary duty, and we would be taught as they were, for we have a better Master than they had." Dr. Lightfoot's notion of this is, That whereas the Jews' prayers were generally adorations, and praises of God, and doxologies, John taught his disciples such prayers as were more filled up with petitions and requests; for it is said of them that they did deeseis poiountai—make prayers, ch. 5 33. The word signifies such prayers as are properly petitionary. "Now, Lord, teach us this, to be added to those benedictions of the name of God which we have been accustomed to from our childhood" … This disciple needed not to have urged John Baptist's example: Christ was more ready to teach than ever John Baptist was, and particularly taught to pray better than John did, or could, teach his disciples.
Students of the Bible know that Jesus had already laid out the Lord's Prayer earlier in His ministry at the Sermon on the Mount. Matthew's account has our Lord's instructions in his sixth chapter.
Henry lays out the differences between Matthew's and Luke's accounts:
There are some differences between the Lord's prayer in Matthew and Luke, by which it appears that it was not the design of Christ that we should be tied up to these very words, for then there would have been no variation. Here is one difference in the translation only, which ought not to have been, when there is none in the original, and that is in the third petition: As in heaven, so in earth; whereas the words are the very same, and in the same order, as in Matthew. But there is a difference in the fourth petition. In Matthew we pray, "Give us daily bread this day:" here, "Give it us day by day"—kath hemeran. Day by day; that is, "Give us each day the bread which our bodies require, as they call for it:" not, "Give us this day bread for many days to come;" but as the Israelites had manna, "Let us have bread to-day for to-day, and to-morrow for to-morrow;" for thus we may be kept in a continual dependence upon God, as children upon their parents, and may have our mercies fresh from his hand daily, and may find ourselves under fresh obligations to do the work of every day in the day, according as the duty of the day requires, because we have from God the supplies of every day in the day, according as the necessity of the day requires. Here is likewise some difference in the fifth petition. In Matthew it is, Forgive us our debts, as we forgive: here it is, Forgive us our sins; which proves that our sins are our debts. For we forgive; not that our forgiving those that have offended us can merit pardon from God, or be an inducement to him to forgive us (he forgives for his own name's sake, and his Son's sake); but this is a very necessary qualification for forgiveness, and, if God have wrought it in us, we may plead that work of his grace for the enforcing of our petitions for the pardon of our sins: "Lord, forgive us, for thou hast thyself inclined us to forgive others." There is another addition here; we plead not only in general, We forgive our debtors, but in particular, "We profess to forgive every one that is indebted to us, without exception. We so forgive our debtors as not to bear malice or ill-will to any, but true love to all, without any exception whatsoever." Here also the doxology in the close is wholly omitted, and the Amen; for Christ would leave them at liberty to use that or any other doxology fetched out of David's psalms; or, rather, he left a vacuum here, to be filled up by a doxology more peculiar to the Christian institutes, ascribing glory to Father, Son, and Holy Ghost.
Some might wonder why this disciple asked again, if he had heard Jesus teach the prayer before.
It could be that some among them needed reminding of how to pray, as John MacArthur explains:
… they had been raised in a Judaistic environment of apostate religion.  They had been raised with heresy.  They had been raised under the leadership of rabbis and scribes and priests and Pharisees and Sadducees who didn't know God.  They thought they did but they did not, and so they had invented a false kind of praying; a ritualistic, vainly repetitious kind of praying. It was external, ceremonial that was used for hypocritical purposes to demonstrate one's supposed self-righteousness publicly.  They had been cheated out of the examples of what it really is to pray.  And as we saw, listening to Jesus pray here in verse 1, waiting till He was finished they were hearing a kind of prayer that was very different from what they were experiencing in the Judaism in which they were raised.  And so one of them says, "Teach us to pray like You pray. Teach us to pray the way John the Baptist taught his followers to pray," which gives us a wonderful insight. John the Baptist, of course, was a true man of God, a true servant of God, a true saint of God, a true believer in God and so in the midst of apostate Judaism there were those true believers, John being one, who did know how to pray.  And John's disciples had the same problem Jesus' disciples had, they had been raised in that apostate environment, they had been raised in the environment of false and hypocritical prayers and they also needed to know how to pray the right way.  And John the Baptist had instructed them. Even the Pharisees comment on that in Luke 5:33, they say, "John's disciples always fast and pray." And so here the disciples of Jesus bring up the question: How are we to pray?
He had already taught His apostles to pray.  He had already given this prayer in the Sermon on the Mount so we might conclude that this was a different group of disciples this time.  Certainly there were some who had departed from Him and there were others who had been attracted to Him.  We don't know specifically who these people were, but it may well have been as well that the others who knew the prayer when it was given in Galilee needed to hear it again here in Judea many months later.  It's really important to know how to pray the right way.  If we have access to all of the supply of heaven, if we have entrance given to us, if the gates to the treasure house of heaven have been kicked wide open and God has invited us to come and put no constraints or limits on our coming, we certainly know then how to access that is critical for us.  They understood it and I think they heard the way Jesus prayed and it was different than the way they were used to hearing people pray.  And they needed Him to teach them.
Note that the Lord's Prayer begins first by acknowledging God's power and glory and ends with personal petitions for sustenance and forgiveness.
Jesus told the disciples to first say, 'Father, hallowed be your name. Your kingdom come' (verse 2).
'Hallowed be your name' means 'Holy is your name'.
MacArthur has more on the word 'hallowed', which has two meanings:
First, to hallow, to make holy, to set apart as holy, can mean to make an ordinary thing holy by bringing it into contact with something that is holy, to make an ordinary thing holy by bringing it into contact to something that is holy. Now that's biblical because that's what happened to us. I'm not holy and you're not holy but God views us as holy because He's united us to whom? To Christ. So in our union with Christ, that which is unholy has been made holy. So we are now called holy ones. We are called saints. That's what the word "saint" is. So we are holy in the sense that we have been made holy by being brought into contact with one who is holy.
That's not the usage here because God doesn't need to be made holy by being brought into contact with someone else who is holy. It simply means here to treat as holy, to hold as holy. That is to say, to recognize that God is different, separated, separated, separated, separated, holy, holy, holy, a different sphere, a different quality of being, a different power, a different knowledge, a different wisdom way beyond us. God is supremely separate from us. He absolutely belongs to a different sphere of life and being. And we come acknowledging that. He is vastly beyond us and above us.
MacArthur advises us on how to consider the words 'Thy kingdom come':
When you come to Christ and you're sick of yourself and sick of your sin and your selfish ways and you bow the knee to the lordship of Jesus Christ and receive from Him eternal salvation, from then on the objective is expressed in this praise and prayer, "Thy kingdom come." Confessing Jesus as Lord and King is to say, "Take over my life, fit me into Your purpose, put me somewhere in Your objectives and agenda and program." When I say, "Thy kingdom come," I am affirming that I have relinquished the rule over my own life. And I allow You to do whatever it is that You want to do. It's very like the next phrase, "Thy will be done on earth as it is in heaven." Now this petition is based on one great assumption and that is that God is sovereign and Jesus is Lord and at salvation we are submitting to that glorious reality …
"Thy kingdom come." This puts His interest first. Do whatever advances Your kingdom …
First: the logical flow. You know He cares, He's your Father, you have access, He has wisdom; He has resources. At the same time you know He's holy and only does what is right. And then, thirdly, you concern yourself with His kingdom and not your own. There are only really two kingdoms. There is the kingdom of God, and there is the kingdom of Satan. There is the kingdom of darkness, as Paul called it, or the kingdom of God's dear Son, just those two. And everybody is in one or the other. We are either the children of God in His kingdom, or the children of the devil in his kingdom. We either serve God, or we serve Satan. Jesus said, "You're either for Me or against Me." There really is no middle ground. And as believers, it shouldn't be any stretch for us to understand that all of our desires and longings and hopes would be toward the kingdom of which we are a part and in honor and affirmation of the King whom we love and serve.
Then Jesus prayed, 'Give us each day our daily bread' (verse 3).
He used 'bread' as an all-encompassing word symbolising what we need to survive this life.
MacArthur says:
Now let's break this request in verse 3 down into several little features.  OK?  Just break it down a little bit.  Number one, the substance, what is it that we're praying for?  Bread, see it there.  "Give us each day our daily bread."  What do we mean by bread?  Well we mean more than cooked or baked wheat or flour.  Don't we?  What do we mean by bread?  Well basically that simply stands for all the temporal issues of life, physical care; food, clothing, housing, basics to survive, to stay alive.  Martin Luther wrote that bread was the symbol for everything necessary for the preservation of this life.  Luther said, "Like food, health, good weather, a house, a home, wife, children, good government and peace."  It's a way of saying, "Lord, if I'm to survive physically You have to be the source of my survival.  And again, it's not the necessities of life, it doesn't talk about what kind of house or what kind of food, or what quality of life.  It just says, "Lord, sustain my life because I cannot advance Your kingdom, I cannot do Your will, I cannot honor Your name, I cannot bring You glory unless I am alive."
Finally, Jesus said to petition God to 'forgive us our sins, for we ourselves forgive everyone indebted to us. And do not bring us to the time of trial' (verse 4).
Henry explains that we cannot expect God to forgive our sins if we do not forgive those who sin against us. We also pray that we are not tempted to sin:
(9.) That we have no reason to expect, nor can with any confidence pray, that God would forgive our sins against him, if we do not sincerely, and from a truly Christian principle of charity, forgive those that have at any time affronted us or been injurious to us. Though the words of our mouth be even this prayer to God, if the meditation of our heart at the same time be, as often it is, malice and revenge to our brethren, we are not accepted, nor can we expect an answer of peace.
(10.) That temptations to sin should be as much dreaded and deprecated by us as ruin by sin; and it should be as much our care and prayer to get the power of sin broken in us as to get the guilt of sin removed from us; and though temptation may be a charming, fawning, flattering thing, we must be as earnest with God that we may not be led into it as that we may not be led by that to sin, and by sin to ruin.
Jesus then illustrates God's infinite love for them — and us — by giving them a hypothetical situation of a disciple who goes to a friend in the middle of the night to ask for three loaves of bread (verse 5) because he has an unexpected houseguest and nothing to give him to eat (verse 6).
The friend doesn't want to give him anything because it is the middle of the night, he is drowsy from being awakened and his wife and children are asleep (verse 7).
Yet, persistence, Jesus said, will cause the friend to relent in the end and give the man what he needs, if only to get rid of him and go back to bed (verse 8).
Jesus was saying that God is different to that friend. We have only to ask and if it be His will, He will give us what we request; if we knock, He will open His door to us (verses 9, 10).
MacArthur explains our Lord's illustration leading into His Father's response:
What happened here was this guy finally got out of bed and gave the man what he wanted because he was annoyingly persistent.  He was overly persistent.  He was troublesomely urgent.  It's the word in the Greek anaideian, it's hapax legomena, that is, once said in the New Testament, the only place it ever appears.  And really what it means – and you might see this in your marginal reading in the NAS – is "shamelessness, somebody who just sets aside all sense of shame."  It's, one lexicon said, "overly bold."  Another one said, "utter shamelessness."  Somebody who is just brash, and bold, somebody who has a lot of nerve.  Are we supposed to pray like that?
That's what Jesus is going to teach us here to pray like that, and thus to participate in the means by which God achieves His ends … 
"Lend me three loaves."  Now he doesn't mean three great big bakery loaves, like we're used to.  A loaf would be basically one piece of flat bread.  He wants three pieces of flat bread, which would be a normal meal dipped in perhaps some kind of olive oil, or spread with some kind of fruit, or whatever.  This would be sufficient for an evening meal.
Now this is not an emergency.  He isn't saying, "My wife is having a baby.  My wife is dying.  My kid broke his leg.  We've got a robber in the house."  He's in the middle of the night and he says, "I want these three loaves."  And the guy is probably thinking, "What in the world?  He is waking me up for a midnight snack.  This is ridiculous."  Actually, it's a very generous and unselfish act on his part because he's been awakened himself.
Because verse 6 says, "For a friend of mine has come."  I'm just passing on the joy here.  "Friend of mine has come to me from a journey and I have nothing to set before him."  People often traveled at night in that hot part of the world, and his friend came at midnight, and he had to get up and host him.  He arrived unexpectedly. 
Hospitality, by the way, was expected in the ancient world, very much expected among the Jewish people.  They majored on hospitality.  It was part of their social duty, more a part of their religious duty.  Part of their duty to God to care for the stranger, right?  I mean, that's Old Testament stuff.  They knew what they had to do.  And so this poor man who had this guest arrive at midnight at his house, he had sort of a difficult dilemma: I can be a poor host or a poor neighbor, right? 
Being a poor host was not an option because hospitality was at the high level of priorities in cultural considerations.  And he knew his neighbor knew it, as well.  So both of then would really be doing what's right, even though it was a bit inconvenient for both of them.  So he says, "It's really not for me.  I don't want a midnight snack.  It's a friend of mine that's come to me from a journey, and I have nothing to set before him."  He's obviously hungry, hasn't had anything to eat, no shops, restaurants, no stockpile of food, nothing.  Very different, by the way, from our world, isn't it?  When you just make it every day with the bread you have …
"The door has already been shut."  It wasn't a door like we have that you shut it easily.  Sometimes doors actually dropped through rings, a combination of metal and iron, and removing it was not just a simple thing to do, and opening would make a lot of racket.  And there was a whole family there.  And he says, "My children and I are in bed."  Usually the same bed.  They had a big mat, one-room houses, right?  One-room houses.  The kitchen in one corner, living space over here, and bedroom in the same place.  Just roll out the mat and everybody goes down on the mat with some pillows, or whatever.  And the colder it got, the closer they all got together.  That's how they all kept themselves warm. 
So if he gets up, everybody's up, all the kids are up, everybody's up.  And probably by now the people living close next door are up because they're listening to the conversation, as well.  The whole thing seems very presumptuous, very bothersome.  It really isn't a big emergency.  I mean, couldn't he – would he die if he waited till breakfast?  Isn't he – aren't you a little bit overdoing this hospitality thing?  Tell the guy to go to bed.  You'll forget it when you fall asleep.  You know, give him a speech.  You've been on a long journey.  You're probably tired.  Just lay down.  You'll fall asleep and you'll forget.  The man says, "I'm not going to get up and give you anything.  This is too much trouble."
And then Jesus, skipping any prolonged narrative, jumps to the point of the story in verse 8.  "I tell you, even though he will not get up and give him anything because he is his friend, yet because of his persistence – " his importunity, his brashness, his boldness " – he will get up and give him as much as he needs."  There's really no sense in not getting up because he's not going away.  And you've already awakened me, and you've already awaken the kids. 
I tell you, he's going to get what he asks for because of his shamelessness.  That's the word, anaideian, because of his shamelessness, his brashness, his gall.  The emphasis here is on this boldness.  It isn't so much on persistence and much asking, it's just the boldness of asking at such an inopportune time, just took a lot of gall to do this. 
Well, it's a perfect illustration.  It's just a perfect illustration of us going to God and saying, "I know it's inappropriate to interrupt You because You're running a universe and You've got all these things going.  But I just need You to sit down and listen to me, and look at this, and don't be distracted.  I've got some things I need to – "  That is just – that's over the top.
But it isn't.  The picture here is of shameless nerve, boldness, importunity, things that seem almost ludicrous to us going into the presence of the God of the universe.  But our Lord is teaching us how to be invasive, how to be bold in our prayers.  This man responded not for friendship, but for irritation.  He is in contrast to God who, by the way, the Old Testament says, "Never sleeps and never – " what? " – slumbers."  So you're not waking Him up.  And if this man would give this man what he wanted not for friendship, but just because of his shameless boldness, what will God who loves you perfectly give you when you come into His presence? …

Here's how you pray.  "Father, hallowed be – " what? " – Your name, Your kingdom come – " and then we add, of course, from Matthew 6, "Your will be done."  So it's always according to God's name, according to God's kingdom, and according to God's will that we ask.  It's not a blank check.
The generosity of the statement in verses 9 and 10 is absolutely amazing.  And because verse 9 is so shocking, verse 10 repeats the same thing.  It's not necessary to say the same thing twice, especially when you don't really change anything.  But he does because of the first verse, verse 9, just sort of leaves you stunned.  "Come on," God says, "you can start whispering if you want through the wall, and you can raise your voice and begin to make demands, and you can even bang on the door, if you want, and I'll tell you this.  When you ask, you'll find; and when you knock you will receive what you desire.  I will open the door."  What a great statement …
And what comes out of this?  I'll tell you what comes out of this, an experience of the goodness of God.  An experience of communion with God.  This is the richness of what we enjoy in this life and in the life to come, the eternal reward for being eager participants in the purposes of God.  Next time you pray, be bold.  Next time you pray, which should be at all times, praying without ceasing, be shameless.  Next time you pray, go into the presence of God eager to pour out your heart.  Next time you pray, ask God to listen and to see, and not to turn away, and to hear the cry of your heart.  And as you pray and God unfolds His purpose, you will be enjoying the experience of having been a part of what He accomplishes and enjoy His goodness. 
This concept, this great truth, this great promise is built on a sort of axiom, an obvious principle, and that is built on a divine foundation. 
Then Jesus spoke of a father's innate goodness.
I realise that with all the horrible news stories we read, some will think that few fathers have innate goodness, but most of them do — and that's why we do not read about them in the newspapers. They get on with providing well for and loving their children.
Jesus asked the disciples, a number of whom must have been fathers themselves, if their child asks for a fish, will these men give them a snake instead (verse 11).
Or, if their child asks for an egg, would they give them a scorpion (verse 12).
MacArthur says that Jesus was asking them to follow His logic by moving on from friendship to fatherhood:
Friendship is one thing and friendship goes so far. Fatherhood is something else, isn't it? This again is a typical common Jewish pattern of reasoning from the lesser to the greater. If a friend will respond to your boldness, what will a father do? …
My children certainly didn't hesitate to ask me for what they wanted.  Do yours?  They certainly have never hesitated to ask their mother what they wanted.  And the expectation is that if it's something they need and we know they need it, they're going to receive it, because they understand the relationship that we have is one of love, and care, and responsibility, and affection.  And that's the point here. 
So Jesus is then saying this promise.  You can ask, and seek, and knock, and you will receive, and you will find, and the door will be opened, is based on the fact that you're coming to a father.  This is the analogy.  This is the principle here.  And it's very interesting how he lays it out.  He says one of you fathers, one of you of the disciples that are listening to this – it says back in verse 1 that He was speaking to His disciples.  "One of you fathers is asked by his son for a fish.  Your son's hungry.  He wants a fish.  He wants fish."  That was kind of the staple meat. 
And so what are you going to give him?  You're going to give him a snake instead of a fish?  I mean, if he wants to eat and he's hungry, you're not going to mock his hunger and you're certainly not going to give him a snake.  Some suggest that this is also the word for eel, I think it's best to see it as a snake.  You wouldn't give him an animal that could poison him.  When he wants food and he wants to be fed, you're not going to give him something that could kill him.
And then He gives another simple analogy. "If he asks for an egg, he will not give him a scorpion, will he?"  Why that comparison?  Because scorpions were kind of a yellowy color.  There are different breeds that are different kinds of scorpions.  But historians tell us the kinds in those days were of a sort of a yellow color, not unlike the color of an egg, and they would curl up, and when they curled up in a little ball, they looked like a small egg.  So there was some kind of a similarity there to make the analogy work.  He says, "If your son wants an egg because he's hungry, you're not going to give him a deadly scorpion."
Now when Jesus taught this elsewhere in the Sermon on the Mount in Matthew 7:9, He added a third analogy.  He said, "If your son asks for bread, you're not going to give him – " what?  " – a stone."  You're not going to mock your son's hunger.  You're not going to mock your son's need.  And you're not going to give him something that he can't eat.  You're not going to give him something that will kill him.  That's the principle.  The principle is that fathers take care of their children.  And when children come and they have needs, the father meets the needs.
And so we see the parable which illustrates that we are to come at any time, no matter how simple the need, and to be overly bold in our asking.  The promise that underlies our coming is that whatever it is that we seek, if it's within the framework of His will, we'll receive it.  That is based upon the principle that God is a father.
Jesus ended by saying that if the disciples, who are evil — inherently sinful — know how to give good gifts to their children, how much more will God the Father give the Holy Spirit to those who ask Him (verse 13).
MacArthur explains 'how much more', a longstanding Jewish comparison used to emphasise the greater of two things:
You, being evil.  However, have the residual imago dei, you have left in you the residue of the image of God that was defiled in the fall, but it's still there, because even though you are at heart evil, "the heart is deceitful above all things and desperately wicked," Jeremiah 17:9; "there is none good, no not one," Romans chapter 3.  We are evil. "Yet know how to give good gifts to your children."  That's the residual of the image of God. 
Whenever you see what we call "the milk of human kindness," whenever you see people who don't know God parent well, love their children, show kindness, give their children what they need, be philanthropic; you're seeing the residual of the image of God, so warped and scarred in the fall, but still there.  And so He says, "You, being evil, know how to give good gifts to your children – " and here comes the key " – how much more – "
This is an old rabbinical way to argue, an old Jewish way to argue, the "how much more" argument, the "how much more" approach.  "How much more than you who are evil shall your heavenly Father – " implied, who is not evil, who is perfectly holy " – give?"  I mean, if you who are at heart evil give good gifts to your children, how much more shall your heavenly Father who is holy give to His children?  If you who can only love imperfectly give good gifts to your children, how much more will your heavenly Father who loves perfectly give to His children?  If you who are limited in your wisdom give to your children what you think is best, how much more will your Father who is perfectly wise give the best to His children?
The whole thing sets a huge gulf in our understanding.  You can go to God because He's a loving Father.  But He's a loving Father far beyond the most loving father in this world who is by nature evil and who does his best to give good gifts out of a corrupt and fallen heart.  How much more will your heavenly Father love you with a perfect love?  How much more with perfect wisdom, and perfect compassion, and perfect mercy and grace, and perfect understanding of your situation, and perfect goodness give to you?
So when you go to God, and you go with boldness, and you go with persistence, and you rush in and you unload what's on your heart, and first you ask, and then you start pleading, and then you start banging, know this, that God is delighted with that – delighted with that – because He, with His perfect love, and perfect wisdom, and perfect power, and perfect provision is able to give the best to His children.  In fact, Psalm 84:11 says, "He withholds no good thing from those who walk uprightly," His children.  He holds nothing back.  So how much more shall your heavenly Father give than any earthly father? 
I must confess that I have been praying boldly for something in the distant future for some time now.
I do end my petition by asking if it be His will. I have no idea if it is His will and, just by praying that, I accept that it might not be.
But I most certainly know one thing: if what I ask for is not His will, then He will grant me something far better than I had ever imagined.
Therefore, I pray boldly.
MacArthur summarises the Lord's Prayer as follows, which will help put us in the right mind when we recite it. Note that this great prayer ends just as it started with an affirmation of God's supreme nature:
… as you look back at the prayer, this is a pattern, a framework for praying.  It gives us what it is that God expects to be the character of our prayers.  It is a marvelously simple, memorable little framework.  And as I've been saying each week, you learn to pray your way through this framework.  It's sequential. It's designed that way, and if you blend together the Luke passage with the Matthew passage, you get the full prayer in terms of our Lord's instruction and we're doing that, importing what we need to from Matthew to get the whole thing.  It sets the record straight once and for all as to how we are to pray, how we are to access the throne of God for the glory of God.  You remember our little verse, John 14:13, "Whatever you ask in My name, that will I do that the Father may be glorified in the Son."  In the end, all our prayers are for the glory of the Father through the Son.  And this prayer points that out.  When you say, "Father," you acknowledge God as source.  When you say "Hallowed be Thy name," you acknowledge God as sacred.  When you say, "Thy kingdom come," you acknowledge God as sovereign.  When you say, "Thy will be done," you acknowledge Him as superior.  When you say, "Give us this day our daily bread," you acknowledge Him as supporter.  When you say, "Forgive us our sins," you acknowledge Him as Savior.  When you say, "Lead us not into temptation," you acknowledge Him as shelter.  And when you say, "Thine is the kingdom and the power and the glory forever and ever, amen," you acknowledge Him as supreme.  It really is praying to the end that God is glorified.
May all reading this have a blessed Sunday.
The Seventh Sunday of Easter is on May 29, 2022.
Readings for Year C can be found here.
This particular Sunday, which falls between the Ascension and Pentecost, is traditionally known as Exaudi Sunday.
For centuries, a number of theologians deemed it the saddest of the Church year, because Jesus ascended into Heaven and would no longer physically be with His disciples.
I wrote about the history behind Exaudi Sunday several years ago. Here is an excerpt:
Exaudi is Latin, from the verb exaudire (modern day equivalents are the French exaucer and the Italian esaudire). It has several meanings, among them: hear, understand and discern, as well as heed, obey and, where the Lord is concerned, grant. The French version of the Catholic Mass uses exaucer a lot, as do hymns: 'grant us, Lord'.
Exaudi Sunday is so called because of the traditional Introit, taken from Psalm 17:1. The two first words in Latin are 'Exaudi Domine' — 'Hear, Lord'.
The Gospel reading is as follows (emphases mine):
John 17:20-26
17:20 "I ask not only on behalf of these, but also on behalf of those who will believe in me through their word,
17:21 that they may all be one. As you, Father, are in me and I am in you, may they also be in us, so that the world may believe that you have sent me.
17:22 The glory that you have given me I have given them, so that they may be one, as we are one,
17:23 I in them and you in me, that they may become completely one, so that the world may know that you have sent me and have loved them even as you have loved me.
17:24 Father, I desire that those also, whom you have given me, may be with me where I am, to see my glory, which you have given me because you loved me before the foundation of the world.
17:25 "Righteous Father, the world does not know you, but I know you; and these know that you have sent me.
17:26 I made your name known to them, and I will make it known, so that the love with which you have loved me may be in them, and I in them."
Commentary comes from Matthew Henry and John MacArthur.
John 17 is comprised of our Lord's three prayers before His arrest. He prays for God to glorify Him, then prays for His disciples, then — today's reading — for all believers throughout history into the future.
On Ascension Day, this past Thursday, we heard Luke's versions of the Ascension. The Gospel reading concluded his Gospel with Jesus blessing the disciples until they could see Him no more, and the Epistle is a fuller account from Acts 1 of that glorious event which meant that He could send the Holy Spirit to them at the first Pentecost.
Luke's Gospel says that the Apostles rejoiced at the Ascension. They were finally beginning to understand the full import of what Jesus had told them throughout His ministry.
Yet, later on in the ensuing ten days, they might have wondered what would truly happen next. They might also have realised that they would never see Jesus again in their lifetime. Hence, Exaudi Sunday. We cannot know for certain.
As today's reading opens, Jesus had just finished praying for His disciples. Therefore, He petitions His Father not only on their behalf but also those who will believe in the future through their word (verse 20), meaning those who heard the Apostles preach or read their Gospel accounts.
Matthew Henry's commentary offers the following analysis:
Note, here, 1. Those, and those only, are interested in the mediation of Christ, that do, or shall, believe in him. This is that by which they are described, and it comprehends all the character and duty of a Christian. They that lived then, saw and believed, but they in after ages have not seen, and yet have believed. 2. It is through the word that souls are brought to believe on Christ, and it is for this end that Christ appointed the scriptures to be written, and a standing ministry to continue in the church, while the church stands, that is, while the world stands, for the raising up of a seed. 3. It is certainly and infallibly known to Christ who shall believe on him. He does not here pray at a venture, upon a contingency depending on the treacherous will of man, which pretends to be free, but by reason of sin is in bondage with its children; no, Christ knew very well whom he prayed for, the matter was reduced to a certainty by the divine prescience and purpose; he knew who were given him, who being ordained to eternal life, were entered in the Lamb's book, and should undoubtedly believe, Acts 13:48. 4. Jesus Christ intercedes not only for great and eminent believers, but for the meanest and weakest; not for those only that are to be employed in the highest post of trust and honour in his kingdom, but for all, even those that in the eye of the world are inconsiderable. As the divine providence extends itself to the meanest creature, so does the divine grace to the meanest Christian. The good Shepherd has an eye even to the poor of the flock. 5. Jesus Christ in his mediation had an actual regard to those of the chosen remnant that were yet unborn, the people that should be created (Psalms 22:31), the other sheep which he must yet bring. Before they are formed in the womb he knows them (Jeremiah 1:5), and prayers are filed in heaven for them beforehand, by him who declareth the end from the beginning, and calleth things that are not as though they were.
John MacArthur points out:
He doesn't pray for unbelievers.
Jesus prayed that believers would all be as one, a commingling — a communion — of us with God the Father and God the Son, so that the world will believe that God sent Jesus (verse 21) to redeem us.
This is a prayer of unity, Henry says:
The heart of Christ was much upon this. Some think that the oneness prayed for in John 17:11; John 17:11 has special reference to the disciples as ministers and apostles, that they might be one in their testimony to Christ; and that the harmony of the evangelists, and concurrence of the first preachers of the gospel, are owing to this prayer. Let them be not only of one heart, but of one mouth, speaking the same thing. The unity of the gospel ministers is both the beauty and strength of the gospel interest. But it is certain that the oneness prayed for in John 17:21; John 17:21 respects all believers. It is the prayer of Christ for all that are his, and we may be sure it is an answered prayer–that they all may be one, one in us (John 17:21; John 17:21) …
Jesus expanded on His petition, saying that He has passed on His God-given glory to believers so that they may be one corporate body as are the Father and the Son (verse 22).
He prays that as He and His Father are one, so may we be one also, witnessing to the fact that God sent Him to love us just as much as the Father loves the Son (verse 23).
Henry tells us that this can happen only with the presence of the Holy Spirit:
This is plainly implied in this–that they may be one in us. Union with the Father and Son is obtained and kept up only by the Holy Ghost. He that is joined to the Lord in one spirit,1 Corinthians 6:17. Let them all be stamped with the same image and superscription, and influenced by the same power.
Henry explains what this unity means:
That they all may be one, (1.) In judgment and sentiment; not in every little thing–this is neither possible nor needful, but in the great things of God, and in them, by the virtue of this prayer, they are all agreed–that God's favour is better than life–that sin is the worst of evils, Christ the best of friends–that there is another life after this, and the like. (2.) In disposition and inclination. All that are sanctified have the same divine nature and image; they have all a new heart, and it is one heart. (3.) They are all one in their designs and aims. Every true Christian, as far as he is so, eyes the glory of God as his highest end, and the glory of heaven as his chief good. (4.) They are all one in their desires and prayers; though they differ in words and the manner of expressions, yet, having received the same spirit of adoption, and observing the same rule, they pray for the same things in effect. (5.) All one in love and affection. Every true Christian has that in him which inclines him to love all true Christians as such. That which Christ here prays for is that communion of saints which we profess to believe; the fellowship which all believers have with God, and their intimate union with all the saints in heaven and earth, 1 John 1:3. But this prayer of Christ will not have its complete answer till all the saints come to heaven, for then, and not till then, they shall be perfect in one, John 17:23; Ephesians 4:13.
Jesus added another petition, asking that those whom the Father has given Him be with Him in Heaven to see His glory, which the Father gave Him before the foundation of the world (verse 24).
MacArthur says:
Here is the ultimate; here is the ultimate: the Son prays for the Father to bring all His chosen sons to glory. Again, Jesus is praying us into heaven. We're going to heaven; that's a promise. The reason that promise is fulfilled, the means for that to be fulfilled, is the intercessory prayer of the Lord Jesus Christ.
Henry also says that this is the ultimate petition; the first three built up to this culmination:
He had prayed that God would preserve, sanctify, and unite them; and now he prays that he would crown all his gifts with their glorification. In this method we must pray, first for grace, and then for glory (Psalms 84:11); for in this method God gives. Far be it from the only wise God to come under the imputation either of that foolish builder who without a foundation built upon the sand, as he would if he should glorify any whom he has not first sanctified; or of that foolish builder who began to build and was not able to finish, as he would if he should sanctify any, and not glorify them.
Jesus then offered the closing verses of His prayer, first by addressing God as Righteous Father, then appealing on the believers' behalf by saying that although we have not seen God, we know — unlike the rest of the world — that He sent His Son to us (verse 25).
Henry explains:
(1.) The title he gives to God: O righteous Father. When he prayed that they might be sanctified, he called him holy Father; when he prays that they may be glorified, he calls him righteous Father; for it is a crown of righteousness which the righteous Judge shall give. God's righteousness was engaged for the giving out of all that good which the Father had promised and the Son had purchased.
(2.) The character he gives of the world that lay in wickedness: The world has not known thee. Note, Ignorance of God overspreads the world of mankind; this is the darkness they sit in. Now this is urged here, [1.] To show that these disciples need the aids of special grace, both because of the necessity of their work–they were to bring a world that knew not God to the knowledge of him; and also, because of the difficulty of their work–they must bring light to those that rebelled against the light; therefore keep them. [2.] To show that they were qualified for further peculiar favours, for they had that knowledge of God which the world had not.
(3.) The plea he insists upon for himself: But I have known thee. Christ knew the Father as no one else ever did; knew upon what grounds he went in his undertaking, knew his Father's mind in every thing, and therefore, in this prayer, came to him with confidence, as we do to one we know. Christ is here suing out blessings for those that were his; pursuing this petition, when he had said, The world has not known thee, one would expect it should follow, but they have known thee; no, their knowledge was not to be boasted of, but I have known thee, which intimates that there is nothing in us to recommend us to God's favour, but all our interest in him, and intercourse with him, result from, and depend upon, Christ's interest and intercourse. We are unworthy, but he is worthy.
(4.) The plea he insists upon for his disciples: And they have known that thou hast sent me; and, [1.] Hereby they are distinguished from the unbelieving world. When multitudes to whom Christ was sent, and his grace offered, would not believe that God had sent him, these knew it, and believed it, and were not ashamed to own it. Note, To know and believe in Jesus Christ, in the midst of a world that persists in ignorance and infidelity, is highly pleasing to God, and shall certainly be crowned with distinguishing glory. Singular faith qualifies for singular favours. [2.] Hereby they are interested in the mediation of Christ, and partake of the benefit of his acquaintance with the Father: "I have known thee, immediately and perfectly; and these, though they have not so known thee, nor were capable of knowing thee so, yet have known that thou hast sent me, have known that which was required of them to know, have known the Creator in the Redeemer." Knowing Christ as sent of God, they have, in him, known the Father, and are introduced to an acquaintance with him; therefore, "Father, look after them for my sake."
Jesus closed His prayer by saying that He made His Father's name known to believers and will continue to do so in order that the love God has shown Him will be in them and Jesus with them (verse 26).
Henry says that Jesus asked for communion between believers and God as well as their union in Him, the Son:
[1.] Communion with God: "Therefore I have given them the knowledge of thy name, of all that whereby thou hast made thyself known, that thy love, even that wherewith thou hast loved me, may be, not only towards them, but in them;" that is, First, "Let them have the fruits of that love for their sanctification; let the Spirit of love, with which thou hast filled me, be in them." Christ declares his Father's name to believers, that with that divine light darted into their minds a divine love may be shed abroad in their hearts, to be in them a commanding constraining principle of holiness, that they may partake of a divine nature. When God's love to us comes to be in us, it is like the virtue which the loadstone gives the needle, inclining it to move towards the pole; it draws out the soul towards God in pious and devout affections, which are as the spirits of the divine life in the soul. Secondly, "Let them have the taste and relish of that love for their consolation; let them not only be interested in the love of God, by having God's name declared to them, but, by a further declaration of it, let them have the comfort of that interest; that they may not only know God, but know that they know him," 1 John 2:3. It is the love of God thus shed abroad in the heart that fills it with joy, Romans 5:3; Romans 5:5. This God has provided for, that we may not only be satisfied with his loving kindness, but be satisfied of it; and so may live a life of complacency in God and communion with him; this we must pray for, this we must press after; if we have it, we must thank Christ for it; if we want it, we may thank ourselves.
[2.] Union with Christ in order hereunto: And I in them. There is no getting into the love of God but through Christ, nor can we keep ourselves in that love but by abiding in Christ, that is, having him to abide in us; nor can we have the sense and apprehension of that love but by our experience of the indwelling of Christ, that is, the Spirit of Christ in our hearts. It is Christ in us that is the only hope of glory that will not make us ashamed, Colossians 1:27. All our communion with God, the reception of his love to us with our return of love to him again, passes through the hands of the Lord Jesus, and the comfort of it is owing purely to him. Christ had said but a little before, I in them (John 17:23; John 17:23), and here it is repeated (though the sense was complete without it), and the prayer closed with it, to show how much the heart of Christ was sent upon it; all his petitions centre in this, and with this the prayers of Jesus, the Son of David, are ended: "I in them; let me have this, and I desire no more." It is the glory of the Redeemer to dwell in the redeemed: it is his rest for ever, and he has desired it. Let us therefore make sure our union with Christ, and then take the comfort of his intercession. This prayer had an end, but that he ever lives to make.
MacArthur says that this prayer defines Heaven:
… if you want to define heaven, you just got the definition. It's all glory and all love, all glory and all love. God is love and eternally loved His Son – infinitely loved His Son, intimately loved His Son; and eternally, infinitely, and intimately loves all of His sons, all of us. And His eternal Son wants to bring us all to glory so that we can see the manifestation of how much the Father loves Him, and so that we can also experience it ourselves. God cannot love His Son any more than He does; He cannot love us any more than He does. His mediatorial work, to bring us to glory, is to bring us into that incomprehensible love; and He will get us there.
What a marvellous meditation to contemplate as we near Pentecost Sunday, which is one week away.
The 70th anniversary of Queen Elizabeth's accession to the throne was Sunday, February 6, 2022:
She is the first British monarch — and likely to be the only one — who has reached this marvellous milestone.
The day before, she was at Sandringham House in Norfolk, where she welcomed members of the Women's Institute (WI), who presented her with a Platinum Jubilee cake.
The Queen cut half of a slice, then quipped:
Somebody else can do the rest of it.
Here's the video:
GB News reported (emphases mine):
On the eve of her Platinum Jubilee, the Queen was on "sparkling" form as she laughed and joked at a celebratory reception at Sandringham House.
The head of state cut a Jubilee cake, met members of the local Women's Institute and chatted to former cookery school student Angela Wood who helped to perfect the famous coronation chicken dish served to guests after her 1953 Coronation ceremony.
Wearing an Angela Kelly wedgwood blue crepe with white brocade dress, the Queen, who beamed with delight throughout, used a wooden walking stick to rest on and also carried her trademark black handbag.
The Queen was aptly wearing glittering platinum jewellery – The Nizam of Hyderabad Rose brooches – given to her as part of a diamond tiara set when she married Philip in 1947.
Members of the West Norfolk Befriending Society also attended the reception.
In thanking people around the nation and the Commonwealth for their support over the past seven decades, the Queen also issued a statement announcing that Camilla, Duchess of Cornwall, will become Queen Consort when Charles accedes to the throne:
There are two types of Queen in the United Kingdom: Queen Consort and Queen Regnant ('reigning' in French; traces of the Norman Conquest remain).
A Queen Consort does not have the same powers as a Queen Regnant. Queen Elizabeth is the latter and is our head of state.
In a written message to the country and Commonwealth, Her Majesty moved to resolve the key question that has been hovering over the Duchess of Cornwall since she married into the Royal family in 2005.
The Queen expressed her "sincere wish" that her daughter-in-law should become "Queen Consort" when the Prince of Wales one day becomes King.
As she marks the 70th anniversary of her accession to the throne on Sunday, she urged the public to support her eldest son and "his wife Camilla" in the same way they have shown their love and loyalty throughout her long reign.
"I remain eternally grateful for, and humbled by, the loyalty and affection that you continue to give me," the Queen said, in a message released in time for Accession Day.
"And when, in the fullness of time, my son Charles becomes King, I know you will give him and his wife Camilla the same support that you have given me; and it is my sincere wish that, when that time comes, Camilla will be known as Queen Consort as she continues her own loyal service."
Her words confirm that the current Duchess of Cornwall will one day be known to the public as Queen Camilla, and addressed as "Her Majesty".
She will be crowned side-by-side with her husband, with the couple henceforth called the "King and Queen".
The style follows that of the Queen's parents and grandparents, with the Queen Consorts of the 20th century known as Queen Elizabeth, Queen Mary and Queen Alexandra.
The Prince and Duchess were said to be "honoured and touched" by the Queen's warm words.
The Prince will be paying his own public tribute to his mother on Sunday, in a statement of congratulation upon reaching her Platinum Jubilee.
Personally, I think that Charles should have married Camilla in the first place. They were always well suited to each other. However, I remember at the time that the Queen Mother (the current monarch's mother) disapproved of Camilla's love life and wanted a spouse with less romantic history for her grandson.
The Queen is carefully planning for her succession so that there is no contention and no surprises.
The Telegraph article says:
Peter Hunt, former BBC royal correspondent, said: "This is the most extraordinary message. The Queen is ensuring the transition, when it comes, to her son as King is as seamless and trouble free as possible.
"She's future-proofing an institution she's served for seventy years. And for Camilla, the journey from being the third person in a marriage to queen-in-waiting, is complete."
Last month, the Telegraph reported that the Duchess of Cornwall was on track to be accepted as "Queen" after she received her highest public approval rating in a decade.
Camilla has done an admirable job as part of the Royal Family. I wish her the very best:
In church on Sunday, our vicar recited the Collect for Accession Day:
Almighty God, the fountain of all goodness,
bless our Sovereign Lady, Queen Elizabeth,
and all who are in authority under her;
that they may order all things
in wisdom and equity, righteousness and peace,
to the honour and glory of your name
and the good of your Church and people;
through Jesus Christ your Son our Lord,
who is alive and reigns with you,
in the unity of the Holy Spirit,
one God, now and forever. Amen.
This is a more traditional Collect for the day:
O God, who providest for thy people by thy power, and rulest over them in love: Vouchsafe so to bless thy Servant our Queen, that under her this nation may be wisely governed, and thy Church may serve thee in all godly quietness; and grant that she being devoted to thee with her whole heart, and persevering in good works unto the end, may, by thy guidance, come to thine everlasting kingdom; through Jesus Christ thy Son our Lord, who liveth and reigneth with thee and the Holy Ghost, ever one God, world without end. Amen.
Saturday's events officially opened the Queen's Platinum Jubilee year. May Her Majesty remain in good health throughout to enjoy the many celebrations, which culminate during the first weekend in June.
For at least ten years the Christians living in the Holy Land have been persecuted.
Over Christmas 2021, articles and interviews surfaced about their plight. Sadly, this is not new, but it does show how impossible a resolution to this situation seems.
In July 2011, The Sunday Times reported that the then-Archbishop of Canterbury Rowan Williams was launching an appeal for Christians suffering in the Holy Land (emphases mine below):
The Archbishop of Canterbury Dr Rowan Williams yesterday launched an appeal for "suffering" Christians in the Holy Land, calling for Anglicans to do more to help with community projects and job creation.
Dr Rowan Williams told the General Synod in York: "I returned from a visit to the Holy Land last year with a very, very strong sense that we had to do more to express our solidarity with the Christian communities there …
He said he hoped that Anglicans and others would give generously to help build a fund for projects that would contribute to the sustainability of the most vulnerable Christian communities, especially on the West Bank …
He launched the appeal prior to a joint conference on Christians in the Holy Land with England's Catholic Archbishop — now Cardinal — Vincent Nichols :
Dr Williams' appeal came ahead of a conference on Christians in the Holy Land which he and the Archbishop of Westminster Vincent Nichols are jointly hosting at Lambeth Palace in London next week.
In a video presentation to explain his appeal Dr Williams warns that the rate of Christian emigration from the Holy Land had reached the point of "haemorrhage" …
Archbishop Vincent Nichols says: "People are leaving, Christians are leaving, and we want to say the Christian presence in the Holy Land is important to its balance, to its — not just its historical reality but to its presence and future viability."
In January 2018, Patriarch Theophilos III, the Orthodox Patriarch of Jerusalem, wrote an article for The Guardian, 'Christians are at risk of being driven out of the Holy Land'.
The Patriarch is from the Holy Land and says that socio-political tension has been part of the problem:
Much attention has been paid recently to political decisions recognising Jerusalem in one light or another. The media attention highlights the seemingly intractable political struggle here. But as well as the threat to the political status quo, there is a threat also to the religious status quo, a threat instigated by radical settlers in and around Jerusalem, the heart of Christianity. And one group that has always been a pillar of society in the Holy Land – Christians – seems to have been rendered invisible in this standoff …
Now various sides want to claim the Holy Land, including Jerusalem, as the exclusive possession of only one people. This treats with contempt the mechanism that has maintained peace and our multi-religious landscape for generations.
A delegation of Christians had travelled to the UK only a short time before to discuss the seriousness of their plight:
Recently Christian communities from the Holy Land came to the UK to seek support for our plight in the face of legal and land threats to the Christian church in the Holy Land. We were moved that church leaders from across the UK came to our support. In meetings with Prince Charles and government ministers, as well as with church leaders, we highlighted a proposed "church lands" bill signed by 40 members of Israel's Knesset that would restrict the rights of churches to deal independently with their own land. We also discussed threats to church land around the Jaffa gate of the Old City of Jerusalem.
Cardinal Nichols was also there:
The UK's Catholic Cardinal Vincent Nichols summed up the view of many when he told us that the proposed bill represented "an intolerable infringement of the status quo and the legitimate rights of the churches, and should be recognised for what it is: an attack on the property rights of the Christian community".
'Radical settlers' added to the tension:
In addition to the church lands bill, one of the foremost threats to Christians in the Holy Land is the unacceptable activities of radical settler groups, which are attempting to establish control over properties around the Jaffa gate. The properties in question are in the heart of Jerusalem's Christian quarter, the seat of all the patriarchates and headquarters of the churches, and less than 500m from the Church of the Holy Sepulchre …
If the settler groups were to gain control of the properties, they would be able to pursue their aggressive campaign of removing non-Jews from the City and from these strategic centres at the heart of the Christian quarter, threatening the very presence of Christians in the Holy Land.
The Patriarch explains that the holy places are sacred because holiness is a divine characteristic, not a human one:
The Christian understanding of holy places is that all people have claims to the sanctity of their holy places, because holiness is a divine characteristic, not a human one. No party should ever be able to make an exclusive claim over a holy place – in this case, over the holy city of Jerusalem.
We shall continue the fight for this cause because it is right and because it is our basic pastoral duty.
Incidentally, in neighbouring Syria, in 2019, the Jerusalem Post featured a contrasting news story and a podcast: 'Muslims convert to Christianity in Syrian town once besieged by ISIS'.
This took place in the town of Kobani:
A community of Syrians who converted to Christianity from Islam is growing in Kobani, a town besieged by Islamic State for months, and where the tide turned against the militants four years ago.
The converts say the experience of war and the onslaught of a group claiming to fight for Islam pushed them towards their new faith. After a number of families converted, the Syrian-Turkish border town's first evangelical church opened last year.
Islamic State militants were beaten back by U.S. air strikes and Kurdish fighters at Kobani in early 2015, in a reversal of fortune after taking over swaths of Iraq and Syria. After years of fighting, U.S.-backed forces fully ended the group's control over populated territory last month …
Christianity is one of the region's minority faiths that was persecuted by Islamic State.
Critics view the new converts with suspicion, accusing them of seeking personal gain such as financial help from Christian organizations working in the region, jobs and enhanced prospects of emigration to European countries.
The newly-converted Christians of Kobani deny those accusations. They say their conversion was a matter of faith.
"After the war with Islamic State people were looking for the right path, and distancing themselves from Islam," said Omar Firas, the founder of Kobani's evangelical church. "People were scared and felt lost."
Firas works for a Christian aid group at a nearby camp for displaced people that helped set up the church …
The church's current pastor, Zani Bakr, 34, arrived last year from Afrin, a town in northern Syria. He converted in 2007.
That is a most positive step for the Good News.
Returning to Jerusalem, on Sunday, December 19, 2021, the current Archbishop of Canterbury, Justin Welby, and Hosam Naoum, the Anglican Archbishop in Jerusalem, co-authored an article for The Sunday Times: 'Let us pray for the Christians being driven from the Holy Land'.
The two men say that the radical settlers have increased their persecution of Christians in the Holy Land:
Last week church leaders in Jerusalem raised an unprecedented and urgent alarm call. In a joint statement they said Christians throughout the Holy Land had become the target of frequent and sustained attacks by fringe radical groups.
They described "countless incidents" of physical and verbal assaults against priests and other clergy, and attacks on Christian churches. They spoke of holy sites being regularly vandalised and desecrated, and the ongoing intimidation of local Christians as they go about their worship and daily lives.
The Romanian Orthodox monastery in Jerusalem was vandalised during Lent in March this year, the fourth attack in a month. During Advent last December, someone lit a fire in the Church of All Nations in the Garden of Gethsemane, the place where Jesus prayed the night before he was crucified. It is usually a place of pilgrimage for Christians from around the world, and the vandals are thought to have taken advantage of the lack of visitors due to the pandemic.
These tactics are being used by such radical groups "in a systematic attempt to drive the Christian community out of Jerusalem and other parts of the Holy Land", the Jerusalem church leaders said in their statement.
That is why, when you speak to Palestinian Christians in Jerusalem today, you will often hear this cry: "In 15 years' time, there'll be none of us left!"
This crisis takes place against a century-long decline in the Christian population in the Holy Land. In 1922, at the end of the Ottoman era, the number of Christians in the Holy Land was estimated at 73,000; about 10 per cent of the population. In 2019, Christians constituted less than 2 per cent of the population of the Holy Land: a massive drop in less than 100 years.
Elsewhere, in Jaffa, for example, there is good news, but not in Jerusalem:
In Israel, the overall number of Christians has risen. The imminent reopening of St Peter's Anglican Church in Jaffa, which has been closed for more than 70 years, is encouraging. But in east Jerusalem, the central place for pilgrimage and the site of the Church of the Holy Sepulchre — where Christ is believed to have been crucified — there is a steady decline. Church leaders believe that there are now fewer than 2,000 Christians left in the Old City of Jerusalem …
Christians in Israel enjoy democratic and religious freedoms that are a beacon in the region. But the escalation of physical and verbal abuse of Christian clergy, and the vandalism of holy sites by fringe radical groups, are a concerted attempt to intimidate and drive them away. Meanwhile, the growth of settler communities and travel restrictions brought about by the West Bank separation wall have deepened the isolation of Christian villages and curtailed economic and social possibilities.
All of these factors have contributed to a steady stream of Palestinian Christians leaving the Holy Land to seek lives and livelihoods elsewhere — a historic tragedy unfolding in real time.
What can be done?
This trend can be reversed — but action must be taken fast. We encourage governments and authorities in the region to listen to church leaders in their midst: to engage in the practical conversations that will lead to vital Christian culture and heritage being guarded and sustained. The time for action is now.
On Christmas Eve, Tom Harwood of GB News interviewed His Grace Bishop Dr Munib Younan from the Evangelical Lutheran Church of Palestine and Jordan:
He pleaded for the radicals to 'be brought to justice' and asked what Jerusalem would be like without its Christian community. He says that the city belongs to three faiths: Judaism, Christianity and Islam.
He said that love is at the heart of the Christian message and that those who are persecuted should pray for their attackers. He added that Christ died on the Cross to give us life and life abundantly.
He ended by saying that everyone has to work together to resolve this ongoing and desperate situation.
On Wednesday, 29 December, Janine di Giovanni, a journalist and Senior Fellow at Yale University's Jackson Institute for Global Affairs, wrote about this subject in a broader sense for The Telegraph: 'We need to talk about the persecution of Christians in the Middle East'.
She has reported from the Middle East for three decades and says:
I can tell you first hand, as a human rights reporter who spent three decades working in the Middle East, the situation there is urgent and it threatens to disrupt the entire demographic of the area. I made it my mission to work with embattled Christians, aiding them in their plight and trying to get the message out to the wider world: they are in peril. And so, I began in-depth field work on the most vulnerable Christian communities. I focused on four areas where I felt the risk was most prominent: Iraq, Syria, Egypt, and the minute group of Christians in the Gaza Strip. Their numbers are dwindling rapidly.
Social scientists estimate that some of them – such as the Iraqi Christians whose populations have plummeted from close to 1.5 million to an estimated 100,000 in 40 years – are in danger of extinction. It is unthinkable to me that Christianity in its birthplace, the land of the prophets where St. Thomas or Jonah had wandered, might disappear. Everywhere I went as a war reporter in my long career – Africa, Asia, the Balkans, Afghanistan – I always found a church. No matter where I was, these visits drew me back into a safe place where I found solace and freedom from gripping fear.
Even Kabul had a tiny Catholic chapel, Our Lady of Divine Providence, at the Italian Embassy, opened in 2002 after the fall of the Taliban. But unlike the Christians in the Middle East – whose ancestry can stretch back to the prophets two millenn[ia] ago – the tiny population of Afghan Christians were nearly all converts. Nonetheless, this month, Father Giovanni Scalese, the leader of that community, who has since fled, issued a plea that Christians need no "obstacles to religious freedom." Their situation is bad in Afghanistan, but even worse in the Middle East.
During lockdown, she began writing a book — The Vanishing: The Twilight of Christianity in the Middle East — based on journals of interviews that she has kept since the 1990s. Her article recounts some of what Christians are experiencing in that part of the world. It's a harrowing read.
However, one place stood out for her:
… it was the 800 Christian inhabitants of Gaza who perhaps touched me the most. Gaza was mostly Christian until the fourth Century. Today, the mainly Greek Orthodox Christians – but also Catholics, Lutherans Baptists – are sandwiched between Hamas, which is at war with the Palestinian Authority in Ramallah, and also with the Israelis.
The lives of these Christians (as all civilians in Gaza) are perhaps the most hellish on a day-to-day basis: the lack of electricity, fresh water and health services, the fear of more bombing and their inability to visit family in Bethlehem and Jerusalem during the holidays. They are isolated and abandoned. Last summer, I returned, my first trip since Covid – and the situation was the worst I had seen in 30 years.
Nonetheless, faith and love characterise the persecuted:
But faith somehow continues, even in these embattled communities. Throughout the hundreds of interviews I did for The Vanishing, there was one theme that was consistent: love. Whether it was Father Mario da Silva, an inspirational Portuguese priest who had left a comfortable posting in The Vatican to work in Gaza, or a family celebrating its existence after encountering Isil on a mountaintop near Mosul. These people continued to pray, to believe, to gain inner strength from something they could not see or even at times understand: their profound belief in God.
Their faith, in many ways, was more powerful than any of the forces that tried to destroy them.
Christians know that persecution is to be expected, but we can pray that God relieves believers in the Middle East of this daily scourge, a seemingly intractable — and tragic — situation.
On Tuesday, October 12, 2021, Sir David Amess MP (Conservative), posted the following tweet promoting his upcoming constituency surgery in Leigh-on-Sea, Essex:
These surgeries are an opportunity for constituents to present their problems to their MP. They might be seeking help with schooling, crime or health, among other things. Meetings are face-to-face, one-on-one. One's MP then cuts through bureaucracy to achieve a successful resolution to the problem.
It seems this type of in-person connection between a member of the public and an elected constituency politician is unique to the UK. Long may it continue.
Two days later, Sir David posted a photo of himself and the Emir of Qatar. Amess was the chairman of the All-party Parliamentary Group fostering good relations between Britain and Qatar:
That same day, the MP for Southend West tweeted his gratitude for the government aid to Southend-on-Sea, no longer a smallish, seaside resort, but a town with a population of 160,000. Sir David has been campaigning tirelessly in Parliament for it to have city status. Winter fuel poverty was another of his big causes:
Little did he realise those would be his final tweets.
Just before noon on Friday, October 15, I was watching a heart-warming segment on GB News about the Westminster Dog of the Year charity event, to be held on October 28 in Victoria Tower Gardens, London. Isabel Oakeshott was interviewing Matt Vickers MP (Conservative) and his dog Karen. Karen was paying attention to the conversation. As soon as it turned to dog-napping, she began barking.
The public can vote up for their favourite MP-dog pairing until October 27. Sir David had already registered with his French bulldog Vivienne. Recently, he said:
If I am feeling down, the dog lifts my spirits as she is always pleased to see me and she makes me smile.
Little did I know watching the GB News segment with Matt Vickers and Isabel Oakeshott that Sir David was minutes away from his last breath.
Amess's last meeting was a Zoom call about the Children's Parliament, which pairs up an MP with a young member of the public. The meeting ended at 12:02 p.m.
At 12:05, Sir David was gasping his final breaths, having been stabbed multiple times in the church hall.
It was just moments after midday on Friday when Sir David Amess had his last appointment.
Richard Hillgrove, a PR professional, shared a call with Amess to discuss the Children's Parliament, an event where kids are matched with members of parliament to debate the important issues of the day.
As usual, the MP for Southend West was firing on all cylinders, full of buzz and ideas for the event: the running order, the voting system, what software they should use. Hillgrove's daughter, Lola, 11, had been matched with Amess, who visited her at school so they could have their picture taken.
Hillgrove says he ended the Zoom call at 12.02pm, so that Amess could host a constituency surgery at the Belfairs Methodist Church in Leigh-on-Sea. It was his final farewell. By 12.05pm, Amess had been stabbed to death.
A few minutes later, Hillgrove saw the first reports of the murder on television. "I didn't even realise it was Sir David at first," he recalled. "I was absolutely horrified, every minute that came passed seemed like an hour, the longer it went, the more concerning it got."
Eventually the unimaginable news filtered through. Lola came home from school in tears. "I was honoured to have known him," said Hillgrove. "He was such an inspiration, his engagement was incredible. He made sense of a crazy world."
The events of Friday afternoon have pierced the quiet provincial calm of Leigh-on-Sea, leaving the tight-knit Essex community fearful and furious. A deep, heavy sadness hangs over this seaside town. Yesterday, the flower bins were empty at the Co-op on Eastwood Road, just 100 yards from where Amess was stabbed 17 times by a 25-year-old man. Every tulip, rose and pansy had been scooped up and deposited at the tribute for the man alternately known as "Sir David" or simply "Dave".
The Telegraph reported that Amess's staff, women, witnessed his horrifying murder. Paramedics from an air ambulance worked in vain for two hours trying to stabilise him:
Sir David was attacked seconds later, stabbed repeatedly in front of his horrified staff.
… Sir David's wounds were so many and severe that paramedics were unable to stabilise him sufficiently for a transfer to hospital. After two hours of vain struggle to stem his injuries, the air ambulance took off empty.
The Telegraph spoke with the aforementioned Richard Hillgrove:
Mr Hillgrove recalled how, during their conversation, Sir David had periodically glanced to his right.
He assumes this was towards trusted assistant, Rebecca Hayton, upon whom Sir David, not being the most technologically savvy parliamentarian, relied for help when making video calls.
It was she who witnessed at close quarters the full ferocity of the knife attack, running from the Belfairs Methodist Church hall screaming. Her screams alerted Sir David's other assistant, Julie Cushion, who was positioned in the church hall lobby.
Shortly after the attack, Stephan Aleyn, a former Southend Conservative councillor, spoke to Ms Cushion.
"She is in absolute bits," he said. "What she saw is going to stick with her for the rest of her life.
"It was a normal surgery and they were assisting Sir David in helping his constituents.
"Julie and Rebecca thought this man was just another constituent who needed help from their MP, when suddenly he launched his attack on Sir David.
"For anyone to witness that sort of shocking, unprovoked assault is awful. It was a lovely, normal, sunny day – then this."
After stabbing Sir David several times, his assailant sat down next to his body, making no effort to evade police, it has emerged.
A Southend Conservative Party source said: "One of Sir David's office staff was in the hall with him, and it now appears that after attacking Sir David, this man sat down and waited for police to arrive. It's absolutely chilling."
The article says that 999 calls were made at 12:05 p.m. Police, including an armed response unit, and the air ambulance responded immediately. The suspect went quietly with the police:
The 25-year-old suspect was detained inside the church hall and led out to a police van. A knife was recovered.
Amess's staff must have also contacted a Catholic priest he knew. The Revd Jeffrey Woolnough showed up shortly afterwards and asked police to be admitted to administer Last Rites — or Extreme Unction, as it used to be known. However, he was refused entry:
He was denied entry, however, and so stood on the street with another man reciting the rosary. He described it as a "great disappointment" for a Roman Catholic not to be able to receive the last rites.
"It was remarkably calm by the time I arrived," Fr Woolnough told The Telegraph.
"I prayed from outside and I just hope David received those. I know he would have done, because any prayer said that is sincere is received by the recipient.
"I was praying the rosary – it's a half hour prayer going through all of those intentions, asking that whatever was going on in there, for God's will to be done. That's all I could pray at that point in time."
I did not know until he died that Sir David was a devout Catholic, but, given his serene demeanour, sincere smile and gentle wit, it does not surprise me that he was a churchgoer.
The Spectator's Melanie McDonagh, also a devout Catholic, expressed her displeasure with the police response regarding Last Rites:
It's not known whether Sir David was alive when the priest arrived at the scene, but he still should have been there. Nothing should come between a dying man and the mercy of the Church. Of course the police were dealing with a tremendously difficult situation and would have been shocked and confused – how could they not have been? – but it doesn't excuse this failure of judgment, which we can assume stems from a failure of training.
Essex Police sent The Spectator a statement, which says, in part:
As with any police incident, it is of the utmost importance that we preserve the integrity of a crime scene and allow emergency services to tend to those in need. A cordon is put in place to secure and prevent contamination of the area. Access into a scene is at the discretion of the investigating officers. This is a fundamental part of any investigation to ensure the best possible chance of securing justice for any victim and their family.
McDonagh says that the priest was 'an emergency service'. I cannot disagree:
The most troubling element of the statement is that the police wanted to 'allow the emergency services to tend to those in need.'
A priest is an emergency service. In the case of Sir David, the priest was someone who could help see him into the next world, not just keep him in this one. You don't have to share a belief in the efficacy of confession to go along with this; you just need a very elementary knowledge of and respect for the faith to refrain from standing between a confessor and a dying man. As for the reference to the 'emergency services administering potentially life-saving treatment,' Catholic priests are used to operating together with medics for precisely this reason.
You might like to know that Essex police recently engaged in that exercise in cultural conformity, Hate Crime Awareness Week. Perhaps in future, some awareness of Christianity might be part of the training.
Monsignor Kevin Hale, who knew Sir David, told GB News how Catholicism informed the MP's life. Amess's mother was a Catholic and she brought him up in the faith:
Monsignor Hale said that Sir David had grown up in the East End of London and attended St Bonaventure's Roman Catholic School in Newham. It is a secondary school for boys.
The Right Revd Stephen Cottrell, the Anglican Archbishop of York, lived for a time in Amess's constituency and paid a warm, faith-filled tribute to his former MP and friend in The Telegraph:
It was said of Sir David Amess that though he had opponents, he didn't have enemies. As we come to terms with the horror of his murder on Friday, this is a distinction worth pondering.
I think of David Amess as a friend. Leigh-on-Sea is my home town and, for ten glorious years as Bishop of Chelmsford, part of the diocese I served. We often met: in parliament, but usually in his constituency, Southend West.
He was, as we have heard over the weekend, a dedicated, zestful, persevering constituency MP. He loved Southend, as I do. He rooted for it. He exemplified that vital, but overlooked, root of our democracy that Members of Parliament may get elected on a party ticket, but, once elected, serve everyone …
David Amess was a kind man. The word kind is related to the word kin. When we are kind to someone, it doesn't mean we necessarily agree with them, or even like them, but that we recognise a kinship, a common humanity and treat them accordingly; or as we sometimes say, "treat them in kind".
David's robust kindness came from his Christian faith. He was a devout Christian, a Roman Catholic. But the idea that we human beings belong to one another and have a responsibility to each other is not self-evident. Observation of our behaviour and attitudes shows us the opposite. Our worst desires can be seen everywhere, leading us to separation, fuelled by selfishness, and bearing fruit in hatefulness and the possession of each other.
The picture of humanity that God gives us in Jesus Christ offers something else. In this regard, perhaps the most radical words Jesus ever spoke are the ones most of us know and many of us say every day: "Our Father." In saying these words we don't just acknowledge we belong to God, we acknowledge our belonging to each other as kith and kin …
David Amess, the friend with whom I sometimes disagreed, had the same values and the same vision. It shaped his life and it is what made him such a loved and effective constituency MP and an exemplar of what our democracy can be.
He was always very kind to me. He supported the Church. He cared. He liked to build coalitions of goodwill so that people could work together. Kindness and kinship, it turns out, gets things done.
My heart goes out to his wife and family and the constituents of Southend West. I am praying for them …
David Amess didn't wear his faith on his sleeve. He wore it in his heart. That's the best place for it. It means it runs through your very being.
Late on Friday, the Metropolitan Police's Counter Terrorism Command took over the case from Essex Police:
Early on Saturday, October 16, it was established that the suspect is a Briton of Somali parentage.
The Mail on Sunday reported that the BBC's home affairs correspondent, Dominic Casciani, downplayed the suspect's parental origins:
The BBC's home affairs correspondent was accused yesterday of trying to downplay the suspect's reported Somali origins …
Although every national newspaper with the exception of the Financial Times mentioned that the suspect had Somali 'origins', 'heritage' or 'descent' yesterday, Casciani appeared to wrestle with the issue on Radio 4's Today programme.
Presenter Nick Robinson asked him: 'The suspect is a British citizen, but he's also of Somali origin. Is that regarded as significant?'
Casciani replied: 'The Somali element – erm, no. The reason why some reporters have established this fact is that there has been some misreporting …'
Twelve hours earlier, he had tweeted: 'We have learnt from official sources that detectives have established the individual is a UK national, seemingly of Somali heritage. We report this in the interests of accuracy' …
The BBC says Casciani 'focuses on stories relating to law, order, society and belonging – including immigration, ethnicity'.
The Telegraph reported on the Met's discoveries made on Saturday. The suspect lived in London, far from Sir David's constituency:
On Saturday, officers from the Metropolitan Police's counter-terrorism team, which is leading the investigation into his death, were searching three addresses in London – at least two of which were believed to be in the east of the capital. One search had ended but the others remained ongoing on Saturday night. The suspect, a British national of Somali origin, is thought to have acted alone and travelled by train from his north London home to Essex to carry out the attack.
The Daily Mail told us that the suspect lives among at least one celebrity in London, the rest of his neighbours clearly well-heeled, and might have spent a week planning the bloody attack:
Ali, who is thought to have been targeted by the Government's anti-terror Prevent programme, may have lived in Sir David's Southend West constituency in Essex in the past.
His most recent residence is believed to be in London. Officers have been carrying out searches at three addresses.
The security services are providing assistance to Scotland Yard, which is leading the investigation. Last night, detectives were granted a warrant of further detention, allowing them to keep Ali in custody until Friday.
Police officers were yesterday standing guard outside the North London council house where Ali lives. It is in a street of £2 million three-storey townhouses where the late actor Roger Lloyd Pack, who played Trigger in Only Fools And Horses, used to live.
That day, news emerged that Sir David had received a menacing threat just days before his murder. However, police believe that the two events are unconnected, according to The Telegraph:
The threat to the veteran MP was made in the past few days and reported to police …
It is understood that Essex Police received a report of the threat, but they are not connecting it with Friday's attack.
John Lamb, the former Mayor of Leigh-on-Sea and a close colleague of the murdered MP, said Sir David had received the "upsetting" threat in the past few days …
Mr Lamb said it had been Sir David's idea to hold his surgeries in places like the Methodist church, so he could be more accessible to his constituents, rather than in the local Conservative Party offices in Southend.
It is understood this came despite concerns being expressed by some of his staff over the potential security risk at more open venues.
Mr Lamb said: "Sir David used to hold them at the Conservative Association, but that made it hard for older people to see him so around a year ago he started going out into the community. He didn't want to hide away, he wanted to be visible and accessible. He told me: 'I want them to be able to see me in their local area'.
Before this, the last time an MP was murdered was in June 2016, just days before the Brexit referendum. A white male fatally stabbed Labour MP Jo Cox outside her own surgery. He was said to have had mental health problems, aggravated by the threat of eviction. His mother was also in poor health. That is not in any way to excuse his horrific crime of murdering a young wife, mother and MP. However, at the time, the media said the motive was because he was pro-Brexit and she was not.
Sir David, along with every other MP, was deeply affected by her death. He mentioned it and attendant security issues in his 2020 book, In Ayes and Ears: A Survivor's Guide to Westminster, published last November.
He wrote:
The British tradition has always been that Members of Parliament regularly make themselves available for constituents to meet them face to face at their surgeries. Now advice has been given to be more careful when accepting appointments. We are advised to never see people alone, we must be extra careful when opening post and we must ensure that our offices are properly safe and secure. In short, these increasing attacks have rather spoilt the great British tradition of the people openly meeting their elected politicians.
He also said that he had to check the locks on his property and that certain 'nuisance' (his word) members of the public occasionally showed up outside his home. Other MPs have installed CCTV cameras on their properties.
Jo Cox's sister, Kim Leadbeater, is now an MP in her former constituency, Batley & Spen. She tweeted her condolences:
The Emir of Qatar also sent a message of sympathy. Last week, he and Sir David were discussing Afghanistan refugees who are currently living in Qatar, awaiting settlement in other countries:
On Sunday, October 17, the father of the suspect in custody spoke. The Sunday Times reported:
The father of the suspected killer of Sir David Amess said he had been left "traumatised" by his son's arrest after the stabbing of the veteran Tory MP.
Harbi Ali Kullane, a former adviser to the prime minister of Somalia, confirmed that his British-born son, Ali Harbi Ali, 25, was in custody. Kullane said that anti-terrorist police from Scotland Yard had visited him.
Speaking at his sister's home in north London last night, Kullane said: "I'm feeling very traumatised. It's not something that I expected or even dreamt of."
The suspect was a "self-radicalised" lone operative known to counterterrorist police, according to Whitehall sources. He is believed to have been referred to Prevent, the government's deradicalisation programme, before allegedly stabbing Amess on Friday …
Investigators are examining the theory that he was radicalised online during lockdown.
Officers were yesterday granted a further warrant to detain him until Friday under terrorism laws. Scotland Yard said that early inquiries had uncovered "a potential motivation linked to Islamist extremism".
Amess, 69, an MP for almost 40 years, was a devout Roman Catholic who was guided in his daily life by his strong faith …
Intelligence sources said the suspect had not been on the radar of MI5, which is monitoring more than 3,000 people who it is feared could be plotting a terrorist attack. However, he is believed to be one of thousands of extremists who have been referred to the voluntary Prevent programme after displaying potentially disturbing behaviour such as inflammatory postings on social media.
More than 6,000 people were referred by police and other agencies to the programme in the year ending March 31, 2020.
By the way, referral to the Prevent programme does not include monitoring by police and/or security services.
That day, the Amess family issued a statement thanking the public for their messages of support and urged the Government to grant Southend-on-Sea city status.
Sir David Amess's family have said that achieving city status for Southend would be a way of paying tribute to a "patriot and man of peace".
In their first public comments since the MP's murder, his family thanked people for the "wonderful, wonderful tributes paid to David following his cruel and violent death. It truly has brought us so much comfort."
Amess, 69, was married with five children and in a statement tonight they said: "The support shown by friends, constituents and the general public alike has been so overwhelming. As a family it has given us strength."
They urged people "to set aside their differences and show kindness and love to all" so that some good might come from their father's death. His family said there was "still so much David wanted to do" insisting: "This is not the end of Sir David Amess MP. It is the next chapter and as a family we ask everyone to support the many charities he worked with."
They cited his efforts to raise money for a statue of Dame Vera Lynn and said: "Closer to home, David was working hard for Southend to gain city status. In his memory, please show your support for this campaign."
As I write on Monday, no known motive for Sir David's gruesome murder has emerged.
Some of his friends believe it was because he was a devout Catholic. I'm not sure about that. I did not know he was one until he died, and I'm a political junkie and frequent viewer of BBC Parliament.
A radical Islamist preacher says it was because Sir David was pro-Israel, as the MP had been an honorary secretary of the Conservative Friends of Israel since 1998.
However, let us not forget Qatar and the current tensions in Somalia.
In Monday's Times, speculation arose over whether Amess was murdered because he headed the APPG fostering relations between the UK and Qatar. Qatar supports the current regime in Somalia:
Meanwhile, members of the public are calling for those voting for the Westminster Dog of the Year to choose Sir David and Vivienne as a fitting posthumous tribute to the tireless yet cheerful MP, who will be sorely missed.
I will have more on Sir David's life in tomorrow's post.
My deepest condolences go to the Amess family, Sir David's staff and his many friends. May the good Lord grant them His infinite grace and comfort in the days and months ahead.
Eternal rest grant unto your servant David, O Lord, and let perpetual light shine upon him. May his soul and all the souls of the faithful departed rest in your eternal mercy and peace. Amen.
It is so important for Christians to pray for the unsaved.
The great Baptist preacher and Englishman from the 19th century, Charles Haddon Spurgeon, posed an interesting question on the subject:
It is also important to pray for missionaries, whether at home or abroad, as they follow Matthew 28:16-20, The Great Commission:
16 Now the eleven disciples went to Galilee, to the mountain to which Jesus had directed them. 17 And when they saw him they worshiped him, but some doubted. 18 And Jesus came and said to them, "All authority in heaven and on earth has been given to me. 19 Go therefore and make disciples of all nations, baptizing them in[b] the name of the Father and of the Son and of the Holy Spirit, 20 teaching them to observe all that I have commanded you. And behold, I am with you always, to the end of the age."
I have known Christians who object to missionaries, calling them busybodies, but those men and women are at the forefront of doing the Lord's work, often at great risk to themselves and their families.