You are currently browsing the category archive for the 'prayer' category.
The three-year Lectionary that many Catholics and Protestants hear in public worship gives us a great variety of Holy Scripture.
Yet, it doesn't tell the whole story.
My series Forbidden Bible Verses — ones the Lectionary editors and their clergy omit — examines the passages we do not hear in church. These missing verses are also Essential Bible Verses, ones we should study with care and attention. Often, we find that they carry difficult messages and warnings.
Today's reading is from the English Standard Version Anglicised (ESVUK) with commentary by Matthew Henry and John MacArthur (as specified below).
8 I desire then that in every place the men should pray, lifting holy hands without anger or quarrelling; 9 likewise also that women should adorn themselves in respectable apparel, with modesty and self-control, not with braided hair and gold or pearls or costly attire, 10 but with what is proper for women who profess godliness—with good works. 11 Let a woman learn quietly with all submissiveness. 12 I do not permit a woman to teach or to exercise authority over a man; rather, she is to remain quiet. 13 For Adam was formed first, then Eve; 14 and Adam was not deceived, but the woman was deceived and became a transgressor. 15 Yet she will be saved through childbearing—if they continue in faith and love and holiness, with self-control.
———————————————————————————————————————–
Last week's post discussed Paul's turning Hymenaeus and Alexander over to Satan and what that means both in the Old and the New Testaments, for good purposes and as judgements.
This is a long post, explaining the role of women in the church.
1 Timothy 2 begins as follows (emphases mine):
Pray for All People
2 First of all, then, I urge that supplications, prayers, intercessions, and thanksgivings be made for all people, 2 for kings and all who are in high positions, that we may lead a peaceful and quiet life, godly and dignified in every way. 3 This is good, and it is pleasing in the sight of God our Saviour, 4 who desires all people to be saved and to come to the knowledge of the truth. 5 For there is one God, and there is one mediator between God and men, the man[a] Christ Jesus, 6 who gave himself as a ransom for all, which is the testimony given at the proper time. 7 For this I was appointed a preacher and an apostle (I am telling the truth, I am not lying), a teacher of the Gentiles in faith and truth.
Occasionally, I read of pastors who do not say prayers for those in government. However, it is good, as Paul says, to pray for them and their leadership at whatever level.
Here is one such prayer from the Anglican 1662 Book of Common Prayer. This comes from the Communion liturgy:
Let us pray for the whole state of Christ's Church militant here in earth.
Almighty and everliving God, who by thy holy Apostle hast taught us to make prayers and supplications, and to give thanks, for all men: We humbly beseech thee most mercifully [*to accept our alms and oblations, and] to receive these our prayers, which we offer unto thy Divine Majesty; beseeching thee to inspire continually the universal Church with the spirit of truth, unity, and concord: And grant, that all they that do confess thy holy Name may agree in the truth of thy holy Word, and live in unity, and godly love. We beseech thee also to save and defend all Christian Kings, Princes, and Governors; and specially thy servant CHARLES our King; that under him we may be godly and quietly governed: And grant unto his whole Council, and to all that are put in authority under him, that they may truly and indifferently minister justice, to the punishment of wickedness and vice, and to the maintenance of thy true religion, and virtue. Give grace, O heavenly Father, to all Bishops and Curates, that they may both by their life and doctrine set forth thy true and lively Word, and rightly and duly administer thy holy Sacraments: And to all thy people give thy heavenly grace; and specially to this congregation here present; that, with meek heart and due reverence, they may hear, and receive thy holy Word; truly serving thee in holiness and righteousness all the days of their life. And we most humbly beseech thee of thy goodness, O Lord, to comfort and succour all them, who in this transitory life are in trouble, sorrow, need, sickness, or any other adversity. And we also bless thy holy Name for all thy servants departed this life in thy faith and fear; beseeching thee to give us grace so to follow their good examples, that with them we may be partakers of thy heavenly kingdom: Grant this, O Father, for Jesus Christ's sake, our only Mediator and Advocate. Amen.
Paul then discusses the role of men and women at prayer, going on to focus on women's role in church worship.
For those who are new to my posts on 1 Timothy, here is the context that John MacArthur provides for this letter from Paul to his 35-year-old protégé which concerns the churches in Ephesus and surrounding cities which were plagued by false teachers in leadership roles:
Paul has concluded his three missionary journeys.  He has just been released from his first imprisonment in Rome.  He is now a free man.  The book of Acts is completed.  And as he moves out of prison, he meets Timothy in the city of Ephesus.
Apparently word has reached him that things in Ephesus are not as they ought to be.  And Ephesus and the church there was close to his heart.  He had spent three years of his ministry there.  He had poured his soul into that church.  He had said about that ministry that he had not failed in Ephesus to declare all the council of God.  He had warned them night and day for three years that error would come from the outside and evil would rise from the inside.  And sure enough, his worst fears had come to pass.  The church had entered into doctrinal error.  The church had entered into ungodly living, and many things were wrong in that church.  Most significantly of all, the leadership had been corrupted doctrinally and morally.  The church then had pastors, and elders, and those who were the official deacons of the church who needed to be replaced with godly people.
Well, Paul met Timothy there, and I believe personally dealt with Hymenaeus and Alexander, as mentioned in 1:20.  Then Paul had to leave to go west for further ministry, but left Timothy there in Ephesus.  And Timothy was to straighten out the rest of the issues in the church.  Paul's only been gone a few weeks, and he writes this letter back to Timothy to strengthen his hand, to encourage him in the task, and to make sharp his focus as to what he was to be about.
Paul tells Timothy his desire is that, in every place, men should pray, lifting holy hands without anger or quarrelling (verse 8).
Paul had a true gift for saying a lot in one sentence. There are several aspects and a few different interpretations to the verse from our commentators.
Matthew Henry gives this a broad interpretation, especially of the words 'every place'. When he says 'men', he likely includes women. Furthermore, 'closet' refers to what were known centuries ago as prayer closets, small rooms where one could withdraw in silence for private prayer:
A direction how to pray, v. 8. 1. Now, under the gospel, prayer is not to be confined to any one particular house of prayer, but men must pray every where: no place is amiss for prayer, no place more acceptable to God than another, John 4 21. Pray every where. We must pray in our closets, pray in our families, pray at our meals, pray when we are on journeys, and pray in the solemn assemblies, whether more public or private. 2. It is the will of God that in prayer we should lift up holy hands: Lifting up holy hands, or pure hands, pure from the pollution of sin, washed in the fountain opened for sin and uncleanness. I will wash my hands, etc., Ps 26 6. 3. We must pray in charity: Without wrath, or malice, or anger at any person. 4. We must pray in faith without doubting ( Jam 1 6), or, as some read it, without disputing, and then it falls under the head of charity.
MacArthur has lengthy explanations of all aspects of this verse, beginning with the word 'desire', which is 'will' in his translation:
I want you to notice he says "I will," and he uses not the word thelō, which is the will of desire used back in verse 4 where it says God will have all men to be saved. That was the will of desire. This is boulomai, the will of mental purpose. It's almost like I demand or I command or I purpose that this should happen or I lay this down as an absolute. Paul is now in a commanding mode. Therefore because of what we have just seen, this tremendous, tremendous statement about why we are to pray for the lost, I'm telling you the men are to pray in every place.
MacArthur is certain that Paul is referring uniquely to men here. He sees this as leading prayer in church worship:
Now would you please notice that where it says men, it is tous andras, the plural of anēr, which is man not in the generic sense but man in the male sense, as opposed to gunē which is the female. So he is saying men as males, that is to say in the life of the church when the church comes together and it is time to pray for the lost, the men are to do the praying. Now this is the emphasis. It is very clearly used here. That is to say Paul selects his terms carefully. I will that the men, or the males, pray. Now in the Jewish synagogue in the Old Testament time, only men were permitted to pray. The stress here leads one to believe that this was carried into the church in terms of the leadership of the church, being as we know in Scripture, belonging to the men in the public worship. And apparently in Ephesus this was being tested by some women who were usurping the male role.
But nonetheless, it is God's pattern for the life of the church that men are those who lead in the public worship. And in this situation he is affirming that. He says I demand of you not just a simple wish of my heart, but I lay this down – boulomai – as a demand – that the men do the praying. The men do the praying.
MacArthur examines what Paul meant by 'every place':
The term everywhere in the Authorized is actually 'in every place.' Most interesting. Most interesting. That little phrase is used four times by Paul – in every place – here, 1 Corinthians 1:2, and 1 Thessalonians 1:8. It in all four places refers to the official assembly of the church. And what he is saying is that when the church comes together in its duly recognized and official assembly, I demand that the men do the praying. And the word here for pray is habitually pray. It is to be the common practice that this prayer go on in behalf of the unsaved people and that it be carried by the men.
MacArthur says that the lifting up of holy hands does not mean lifting up one's arms as well, which is a popular modern practice in some churches. Paul is referring to lifting one's hands upwards, which was an ancient Jewish gesture in prayer:
The attitude with which you pray, lifting up holy hands without wrath and dissension. Now what does this mean, lifting up holy hands? Does this mean – this? With the hands in the air and swaying? Or this? What? I've seen all of that …
It was customary in that time for the Jews to turn their hands as they prayed even in the Old Testament, you can look in the Old Testament, 1 Kings 8:22, Nehemiah 8:6, Psalm 63:4. I think also Psalm 134:2, Psalm 141:2 and also in Isaiah 1:15, you'll see illustrations of them lifting the hands to the Lord. The hands are one thing and the arms are something else. But there's nothing wrong with that.
We have a customary posture for prayer, we bow our heads and close our eyes. They didn't do that. That's right. That's not biblical. I don't know where that came from. I think it probably started maybe – well certainly since New Testament times and maybe not very long ago. And it's okay. Whatever the custom might be, that's nice. It doesn't really matter …
The point here is not that when you pray you've got to have your hands in the air.
Paul mentioned two adverse aspects of male life at the time: anger and quarrelling. The idea was that men were to put aside their differences before coming to worship, something Jesus also discussed during His ministry.
MacArthur explains:
The hand is the symbol of the activities of life. Most of the things you do in life involve your hands. And the point is whoever prays ought to be the kind of person who is living a holy life. That's the point. There are no such thing as holy hands in themselves. Purity of hands is simply a way to express the idea of purity of life. So who are the men who are to pray? Those who have clean hands. What does that mean? … Clean hands in the sense of pure living and a pure heart, as Psalm 24 says. So clean hands and a pure heart of Psalm 24, or here you have the same thing, holy hands and without wrath and dissension. The without wrath and dissension refer to the inner attitude – not anger, not dissenting against God or men. That is pure hearted with a loving heart.
By the way, the word "holy" here is not the word hagios which is the normal word for holy. It's hosios which means the opposite of polluted – unpolluted, unstained by evil. So when those men stand up to pray who are to pray for the lost, they're to be men whose lives are holy and men whose hearts are pure. Wonderful. That's the attitude. That's the attitude.
Then Paul moves on to women — 'likewise' — and with different directives for them: adorning themselves in respectable apparel, with modesty and self-control, not with braided hair and gold or pearls and costly attire (verse 9).
Briefly, in modern parlance, Paul is telling women to leave the 'bling' at home. They should not dress for church as if they were going to a nightclub.
Unfortunately, women's appearance was problematic in Ephesus and neighbouring churches. This letter of Paul's refers to women in several places.
As for today's verses, MacArthur says:
Now there were many problems in that church.  One of them – one of them – related to the place of women.  Obviously, if the church was entering into areas of false doctrine, obviously, if it was ungodly in its behavior, this would impact the women in the church as well as the men.  And since usually there are more women in a church then there are men, this could have indicated a great proliferation of problems.  Things were not right in that church and it impacted the women …
In this passage, we learn that not only were women having problems with purity, not only were they turning aside to Satan, breaking pledges they had made to Christ, being led around by their own diverse lusts, but here there were some of these women who were acting indecently.  That is to say bringing these improprieties, impurities, and immoralities into the worship of the church.  And under the pretense of coming to worship God were flaunting themselves, and desecrating that worship by the dress and demeanor that betrayed an evil intent rather than a heart of worship.
Whereas men had their own issues, being out and about in the world, women were at home and preoccupied by their appearance:
So the life and the heart of men were the issue in verse 8, and now the life and the heart of women become the issue in verse 9.
Since clothing is an issue of some importance with the fairer sex, Paul begins with a discussion of their appearance.  And that is the first point that I want you to see.  He discusses their appearance.  And without question in my mind, he is revealing a problem in the church at Ephesus, and not only there but, no doubt, their problems were symptomatic of problems in the church everywhere.
MacArthur discusses the word 'adorn':
Now let me just talk about the word "adorn."  The word "adorn" is kosme.  We get the word "cosmetic" from it.  It has to do with how a woman prepares herself.  It means basically "to arrange, to put in order, to make ready."  And he is saying a woman is to make herself ready.  I want to start with that very simple thought. 
When a woman comes to worship, there is a preparation involved.  A woman should prepare herself for worship.  She should make herself ready.  That is assumed, that is a given.  And when they prepare themselves, it should be in adorning apparel.  And here is another form of the word kosme from the same root, this is an adjective, kosmios and it simply carries the same idea.  She is to prepare herself with the proper preparation.  She is to adorn herself with the proper adornment.  The word kosmios, the adjective form, means "orderly, becomingly, properly, well-ordered, well-arranged."  So a woman, then, is to come to worship properly arranged.  That is to say that there is some preparation for worship, obviously.
'Apparel' here means more than just clothing, which is how we understand the word:
Now the word that is translated in the King James by the term "apparel" is really a bigger term than that.  It means not only clothing, but is used in many places to mean demeanor, or attitude, or action.  It can be the deportment of a woman.  The idea then is here is a total preparation.  When a woman comes to worship, she is to be totally prepared.  She is to be adorned from the inside out.  And one demonstration of that is in the proper kind of apparel.
Now we said the word kosme is to arrange and kosmios speaks of the orderness, orderliness, of that arrangement.  The noun that comes from that same root is the word kosmos from which we get the word "world."  It's translated very often "world."  It really means "order" or "system."  And the opposite of kosmos is chaos.  And so we could conclude that a woman is not to come to worship in a chaotic fashion.  That is in disorder, disarray, without a proper preparation, with an unbecoming demeanor, or an unbecoming wardrobe.
Now the idea we know here emphasis-wise is clothing, but the underlying idea is attitude, which we'll get to in a moment, which is godly fear and self-control.  But he is talking about clothing because he's very specific about hair, gold, pearls, and expensive garments. 
The point is this.  Initially, a woman is to prepare herself for worship.  And that preparation involves a heart attitude and it involves a proper adornment on the outside.  She is to come not in a disarray in spirit, and not in a disarray in clothing, not in a disarray in any way, but in proper respect for the matter of worship.  She is to be dressed in a manner that is well-suited to worship, that is orderly, that fits the God-intended spiritual purpose of the meeting of the church.  Her clothing should reflect a worshiping heart focused on God and focused on God's glory.
There were big criticisms of the way women dressed in that era and for a few centuries beyond that. Some women — believers and non-believers — were extravagant. Even pagans of the day took issue with them:
Now let me give you a little idea of what the culture was like and where these things might come from.  There was a man by the name of Juvenal who lived about 40 to – about 60 – to 140 A.D.  He was a poet and he has written many things that we have found, and so we get a little characterization of that time in the Roman Empire by reading his writing.  In one document that has been found, he wrote this.  "There is nothing that a woman will not permit herself to do.  Nothing that she deems shameful.  And when she encircles her neck with green emeralds and fastens huge pearls to her elongated ears, so important is the business of beautification.  So numerous are the tiers and stories piled one another on her head that she pays no attention to her own husband."
Now Juvenal gives us a little insight into women who were preoccupied with their appearance.  And certainly we would agree today that our culture is preoccupied with that.  Our culture has the cult of worshiping the human anatomy, and worshiping fashion, and worshiping hairdos.  I mean, it's just – it's our culture.  And if the church today falls influence to that system, why should we expect anything different in the early church?  It's always the world system that endeavors to encroach on the church, and tragically the church sooner or later seems to welcome that encroachment …

In Philo's description of a prostitute, which is quite interesting, in his writing called The Sacrifices of Cain and Abel, he writes this.  "A prostitute is often described as having hair dressed in elaborate braids, her eyes with pencil lines, her eyebrows smothered in paint, and her expensive clothes embroidered lavishly with flowers, and bracelets, and necklaces of gold and jewels hanging all over her."
Now in that particular culture, then, the woman of the world, the woman who wanted to flaunt her wealth, and flaunt her beauty, and call attention to herself and attract everybody's interest, and sexually allure someone was the woman who was overdressed, over-made up, and over painted in every sense.  Now this was the woman of the world.  This marked out the prostitute or the garish, gaudy, lavish kind of person.  And what the apostle Paul is saying.  That cannot come into a worship service without being an overt statement.  "Folks, I'm not here to worship God.  I'm here to attract your attention."  That's his intent.
In Rome, for example, Pliny tells of the bride of Caligula, whose name was Lollia Paulina, and it said that very often when attending some very special event, she was arrayed in pearls, emeralds, and gold which exceeded in value one million dollars.
Interestingly, pagans also forbade extravagant women's adornment:
… if you study the cults of Rome, that is the cultic religious systems, and study the mystery religions of that time, you will find that they had very stringent rules about the dress and the appearance of the women who came into those worship times.  The cults were very strong on this. 
For example, there is one inscription that has been discovered that reads like this.  "A consecrated woman shall not have gold ornaments, nor rouge, nor face whitening, nor a headband, nor braided hair, nor shoes, except they be of felt or the skins of sacrificed animals."
Now that religious cult was saying that no woman can come in here unless she is properly dressed … 
So, you can see the tension that is existing in the Ephesian congregation that is concerning Paul and Timothy.  And that is the fact that here is the church sitting in the middle of the corrupt world, endeavoring to be a testimony of godliness to everyone around it.  And if the church catches the disease of the world, then it brings reproach on Christ, and it destroys its own testimony.  To have the women in the church who are supposed to be the epitome of godliness appear like prostitutes or gaudy, showy women trying to call attention to themselves, or to have them come with the intent of alluring other men and making them discontent with their own wife, or even worse, to allure them into a sexual relationship, would be to blaspheme the intent of the church, certainly when it comes together to worship the living and holy God.
So, the point in all of this is that the world of that day and the world of this day has always had a preoccupation with the adornment of women.  And there are always women who want to put themselves on display.  And it's a very delicate balance and a very fine line for a godly woman to know when she is properly dressed to demonstrate the grace and the beauty of womanhood, to show her love for her own husband and submission to him, and yet to avoid being the center of attraction that causes people's thoughts to turn away from God to those things which are shameful.
MacArthur says that there was a high level of poverty at that time, which was another reason why extravagant women would not reflect well on the church:
In that day, people were very poor.  In fact, for example, a very costly dress worn by a very wealthy woman would cost up to 7,000 denarii.  Now a denarius is one day's pay for a common laborer.  So 7,000 days pay for one of those dresses.  And she would come flowing into church in one of these very expensive garments and the whole focus of worship would turn to her, and everything would be lost.  And the women would feel second class, and the men would take a look at their wife and look at her – (snap) – why couldn't I have married a rich one, you know?  It just did not contribute to worship.
Hair was another issue. It was elaborately plaited with ornaments here, there and everywhere:
The intent is that it was a sin to overdo and to develop such an elaborate hairdo that it did nothing but call attention to yourself.  And what happened was the women would literally take their gold, and silver, and pearls, and jewelry, and these tortoise shell combs, and things like that, and they would stack their fortune on their head.  This was the custom. 
A braid is one thing, a braid woven with a gold chain, another braid woven with pearls is something else.  This was a way of flaunting wealth.  And that's what Paul speaks to, the elaborate braiding of a fortune in jewelry in the hair.  Gold, of course, has always been valuable.  It was then, and in those days pearls were about three times the value of gold, so a woman could put a fortune on her head.  The women also wore gold on their fingers.  They wore them on their ears.  They wore them on their sandals.  They even hung gold on their dresses.  And it was out of place.
Now that is not to say that you shouldn't own gold and pearls … There's nothing in the Scripture to indicate that God wants everybody poor.  And I remember so well, and you do, too, don't you, remember reading in Song of Solomon 1:9-11 how that the bride is decked in beautiful things around her neck?  And I'm reminded of the Proverbs 31 woman in verse 22 who had such beautiful clothing in order to honor her husband and appear beautiful in his presence.  There's nothing wrong with that.  It's just that when that becomes the focus of your attention and the intent that you have is to draw attention to yourself by that, and you know that in your environment, and in your culture that's exactly what it does, you have violated the spirit of worship.
On the other hand, MacArthur also laments the opposite of extravagance. He preached this sermon in 1986:
Coming to church with no preparation will cause attention to be drawn to you, as well.  And it's amazing.  The world is coming to a, what looks to me like an anti-beauty fashion.  Do you feel that way?  I tell you, I have never seen so many ugly hairdos and wardrobes in my life.  It's almost as if women have bought the lie that womanhood is bad and they want to make it as ugly as possible.  It's amazing.  Amazing. 
Good grief. I'd say it's even worse today. I see many women who portray themselves as comic book characters: overly sized, ugly goggles for spectacles and hideous hair in either style or colour (sometimes both). The list goes on.
Paul says that women should adorn themselves with the good works — i.e. fruits of faith — that signify godliness (verse 10).
Henry simply says:
Note, Good works are the best ornament; these are, in the sight of God, of great price. Those that profess godliness should, in their dress, as well as other things, act as becomes their profession; instead of laying out their money on fine clothes, they must lay it out in works of piety and charity, which are properly called good works.
MacArthur says:
The point that I'm making is that the woman's adornment is to be that she has an adorned heart, she has a beautiful heart, she has a beautiful character.  You show me a woman with a beautiful character, you show me a woman with a meek and quiet spirit, you show me a woman who has an incorruptible heart, you show me a woman who comes to worship God, and I'll show you a woman whose wardrobe you don't have to worry about because the heart dictates that issue.
So, Paul calls Christian women then, as does Peter, to an adornment that exalts God, especially in the time of worship.  Now when you have a wedding, you can dress like a bride.  And when you go to some very formal occasion, you may dress properly for that.  And there may be a special time for everything.  But the worship of the church is a time for humility.  It's a time for meekness.  It's a time for a broken and a contrite spirit.  It's a time for confessing your sin … 
A woman's adornment starts with the heart.  Ladies, it all starts with the heart.  Godly fear is a word used only here [verse 9], the word aids, it means modesty mixed with humility.  It's a marvelous word.  It has at its heart the sense of shame.  That's right.  It has at its heart the sense of shame.  The root idea is a sense of shame … 
And a woman with a proper sense of shame will dress in such a way as not to be alluring and not to be the source of temptation.  The word carries in it the innate idea of morally rejecting anything dishonorable to God, of shrinking way back from the limits of womanly modesty.  One lexicographer, that is one translator of the Greek, suggests that the word implies something as strong as grief over the sense of sin, that a woman would be so grieved and so sensitive to sin, so hating sin that offends God that she would never come close to doing anything that could generate in another person's mind any sinful attitude. 
Now we get into something which is contentious these days but was not so in Paul's era. In fact, what he offered was positively liberating.
Women, for the most part, were practically sub-human. Consequently, whether they were Jews or Gentiles, they were not educated.
Paul was offering them doctrinal learning, at a time when any education for women was novel.
MacArthur explains how the Jews of the day viewed women:
… when the church comes together, Paul is saying, let the women learn.  Don't send them all out to get the potluck ready for what is going to happen afterwards.  Don't send them all into the nursery or whatever might need to be done outside, let the women learn.  They were to be included in the learning opportunity.  Now you say, isn't that rather obvious?  Well, might be obvious to us, but apparently it wasn't not obvious to them.  How is it that it wasn't obvious?  Well, one of the things that we learned in chapter 1 was that existing in the Ephesian church at this time were come Jews who were holding on to their Judaism.  They were into genealogies and fables, that is mentioned in chapter 1 verse 4.  Chapter 1 verse 7 talks about the fact that they were into being teachers of the law, they wanted to be rabbis.  There is little doubt in anyone's mind who studies 1 Timothy that there was an element within the church at Ephesus that was bringing a Judaistic mentality to the church.
And part of contemporary Jewish tradition of that day was low esteem for women.  Jewish tradition at the time of our Lord and the time of Paul had put women into a low profile position.  The mentality would be basically to keep them ignorant, barefoot, and pregnant.  That kind of thing.  Jewish men frankly, did not feel that women were a part of the learning process necessarily.  They were not forbidden to come to the synagogue.  They would come.  It was immaterial whether they did.  They could learn it was inconsequential whether they did.  They were not required by the traditions to attend the feasts.  They were not required to attend the festivals and most rabbis refused, upon meeting a woman to give her any kind of greeting at all.  The rabbis did not feel that they would waste their time instructing woman. Some of the rabbis actually said that teaching women is like throwing pearls to pigs, so there was a very depreciated view as a woman's role as learner in spiritual matters.  They really had not significant place at all.  They could listen, but it was of little consequence whether they listened or whether they learned anything at all.  Now you can understand that this kind of thing existed in the early church when Judaism with its mentality encroached upon that.  And what happens in this situation no doubt in Ephesus is that there is a certain amount of suppression of women. 
That said, some of the false teachers were allowing women to lead worship, which Paul objected to, because it was never part of Old Testament worship or that of Christ's ministry with the Apostles, for that matter. Recall that our Lord trained Paul himself through visions while the Apostle was in an African desert for three years.
So, we have women assuming authority, but Paul wants them to remain in the congregation — although he does want them to learn, quietly with all submissiveness (verse 11):
But before Paul gets into the details of how he corrects this, he starts by correcting this issue of whether women have a right to learn and he says basically, I command that the women be given the right to learn.
The women must be taught.  They must be discipled.  They must learn God's truth.  It is essential to their spiritual life and it is essential to their role in the plan of God.  And here we find in that brief four-word statement in English, let the women learn, which is actually two words.  The word women and then the verb in the Greek, we find there the equality of the sexes in spiritual life and blessing.  And that's what I want you to see as we begin.
Classic Old Testament Jewish worship included women along with men. I hadn't known until now that women could take a Nazarite vow at that time. Samson, Samuel and John the Baptist took lifelong Nazarite vows. Paul took a few customary short-term ones:
In terms of spiritual life and blessing, men and women enjoy equality. Now, that isn't anything new in the New Testament.  That was true in the Old Testament and I want to take a little bit of time to point that out to you.  In spite of Jewish tradition, the Old Testament did not teach the suppression of women in spiritual matters.  That was a non-biblical tradition.  The Old Testament elevated woman alongside men in an equal position of spiritual life and blessing, for example, in Exodus 19 and 20 God gave the law, you don't need to look it up, but just remember it.  In Exodus 19 and 20, God gave the law, the Ten Commandments, and he gave those commandments to men and women.  And he promised to men and woman, those who obeyed would be blessed and those who disobeyed would be punished or cursed and that was given equally to men and women, therefore it was from the very beginning laid down by God that both men and women are responsible for their spiritual life and their obedience before God.  In Deuteronomy 6, where you have the Shema, the Lord our God is one.  The Lord is one, and then you have the instruction that you are to love the Lord your God with all your heart, soul, mind, and strength.  That is not set apart only for men, that is for men and women.  And the families were to talk about it all the time, teach it to their children so that both the external Decalogue of Exodus 19 and 20 and the internal attitude of love toward God were required of men and women.
There was no difference in those areas.  In Exodus 12, when God ordained the Passover, which was the single greatest celebration in the calendar of the year for the Jews, that great celebration of God's redemptive power in delivering them from Egypt, that was for men and women.  Both of them were to be involved not only in responsible Christian or responsible biblical behavior, responsible obedience, but they were also responsible to be engaged in the praise and the worship festivals of the people.  Men and women.  Further, it is interesting to me that throughout the Old Testament penalties given for sin were given equally for all people, men or women.  I was reading one of them this morning in Exodus chapter 21 versus 28 to 31, where it talks about what do you do to an ox who gores a man or a woman?  A manservant or a maidservant, a brother or a sister and this position of the animal and that case under the law of the God was the same.  In other words, God valued the life of a man and a life of a woman equally and the punishment of the animal that did that was the same in either case.  So they had equality on the spiritual level, in terms of spiritual responsibility to obey the law, they had equality on the level of worship and praise and the great convocations of Israel, and they also were equal in terms of the value of life as indicated in the sentences and penalties given in regard to sins against them both.  It is also very interesting to me that in the Old Testament, the single greatest spiritual vow, known as a Nazarite vow, a vow of separation.  That single greatest Nazarite vow, that is a vow of separation from the world.  A vow of devotion to God, which cut a person off from the world around them.  They took a great giant step of total consecration to God.  That Nazarite vow belonged not just to men, although we are most familiar with men who took it but also to women.
However, although Jewish women of the Old Testament era had opportunities for some types of ministry:
This does not mean that they had the same role as men.  And that is something that we must understand.
… And let's talk about that aspect of it.  There are no women kings listed in the kings of Israel and there are no women kings listed in the kings of Judah.  There are none.  It would seem to me that that is a fairly significant statement about leadership.  There are none.  There are no women priests in the entire Old Testament.  None.  There are no women who wrote a book or a portion of a book in the Old Testament.  None, 39 books, no one of them or even a portion of one of them, was written by a woman.  Though two are named after women, Ruth and Ester, they were not written by women.  There is no woman in the entire Old Testament who had an ongoing prophetic ministry.  That fascinates me as well.  There is no woman who had an ongoing prophetic ministry, who winds up in the Minor Prophets or the Major Prophets or who stands alongside Elijah, Elisha, or any other great teacher or leader of the Old Testament with an ongoing ministry. 
Now people today want to advocate woman preachers want to say, but there are several women mentioned as prophetess in the Old Testament.  That is correct, there are five and I would like you to listen carefully as I describe those five to you.  The first woman listed as a prophetess is Miriam.  Miriam is called a prophetess in Exodus 15:20.  Miriam is the sister of Moses.  She is called a prophetess because and only because she on one occasion lead the women of Israel in a great hymn of praise with timbrel and dance, wherein God gave her a revelation to speak, a very brief one.  But at that time, she was a mouthpiece for God.  God chose to speak to those women at that time of praise through her.
We know of no other occasion where she ever acted in a prophetic office, and had no ongoing prophetic ministry.  The word prophet or prophetess or to prophecy means to speak forth.  Obviously, having reference to speaking forth the Word of God on that occasion and she did that, but shows no ongoing prophetic work.  The second of the five women called prophetess is a woman named Deborah, who appears as a unique instrument of God in Judges chapter 4.  And verse 4, she is therefore called a prophetess only because she was used by God to give a direct revelation from God to man named Barak.  She gave that direct revelation on that unique occasion on the battle that was going on and thus, at that moment, she was a prophetess.  She was speaking on behalf of God.  God used her at that time to speak that message to an individual.  Miriam gave her prophecy to women, and Deborah spoke her prophecy basically to a man, but again, we know of no other occasion wherever she engaged herself in any kind of ongoing prophetic work.  The third woman mentioned and called prophetess is Huldah, h-u-l-d-a-h.  She is mentioned in 2 Kings 22:14 and following and 2 Chronicles 34:22 and following, parallel passages.  She is called a prophetess only because she was given a revelation from God as Deborah was to be given to Hilkiah the priest about the coming judgment on Jerusalem and Judah.  God spoke through her on that occasion.  We know of no other such occasion, none other is ever recorded about her and we know of no ongoing prophetic ministry.
The fourth woman called a prophetess is a woman named Noahdiah, and she is mentioned in Nehemiah 6:14 and is called a false prophetess.  So, we eliminate her.  She was antagonistic against the rebuilding of the walls of Jerusalem and would have been an ally of Sanballat and Tobiah and the enemies that tried to keep the Jews from rebuilding their city.  She was a false prophetess.  And there have been many woman false prophetesses to be sure. 
The fifth one mentioned is the wife of Isaiah and in Isaiah chapter 8 verse 3, his wife is called a prophetess, only because, she gave birth to a child whose name had prophetic meaning.  She never spoke a prophecy.  She simply gave birth to a child whose name had prophetic meaning and she is called a prophetess only in that sense.  Now you can see from that illustration of the wife of Isaiah, that the word prophetess was used in a somewhat general way.  So you have five mentioned.  One is a prophetess simply because she gave birth to a child whose name had a prophetic meaning, another is a false prophetess and three are called prophetess because on one occasion, they spoke a word on behalf of God, but there is, and I repeat again, no ongoing prophetic ministry of a woman in the Old Testament.
Now what does that tell us?  Without woman kings, without women priests and without woman authors of Scripture and without woman prophets we learn very much about God's design for the role of man and women.  Please keep in mind that this is not to speak depreciating in any way, the woman's spiritual capability.  It is talking about her role.  And we'll fill that out as we go down through the rest of the passage.  No woman in the Old Testament is seen in an ongoing role of leadership under the authority and the plan of God or in any public preaching, teaching ministry.
The issue these days is a verse from Galatians which does pertain to equality, but only with regard to the open offer of salvation, not of ministry:
Let's go to Galatians chapter 3.  And this is the passage that seems to be creating the controversy.  Galatians 3:28 and this is where people who advocate women ordination and woman elders and women preachers and all that, this is where they like to go.  There is neither Jew nor Greek.  There is neither bond nor free, there is neither male nor female for you are all one in Christ Jesus.  Now, that's pretty simple and I don't have a problem with that and you don't.  No one really should.  All it is saying we are all one in Christ, in what sense?  In what sense are we one in Christ?  Well, you need to read the context to find out what he's talking about.  So you go back a little bit and you find out that he's talking about salvation, you go back, for example, well, you could go back to verse 13, Christ has redeemed us.  And he talks a little about redemption.  You could go back to verse 22, the Scriptures concluded everybody under sin and then the promise by faith of Jesus Christ is given to them that believe and of course, that is another way to look at salvation, we believe in the Lord Jesus Christ.  We are at the end of verse 24, justified by faith.  That is we are made right with God through our faith, verse 26, we are all the sons of God by faith in Christ Jesus, we have all been baptized into Christ.  We have put on Christ.  So the equality and the oneness he speaks of, listen carefully, is that we are all one in the sense of salvation.
You see that?  There is nothing to do with the role of a woman or a man.  We are all one in Christ.  The point is, everyone can come to Christ.  It doesn't matter if you are a Jew or a Gentile, it doesn't matter if you are a bond slave or a free man.  It doesn't matter if you are man or a woman, you can all receive eternal life in Christ, is that not the obvious intent of the passage, of course, we are all sons of God.
We are all the seed of Abraham.  That is we are connected to Abraham who is sort of like the father of those who have faith.  We are all heirs, verse 6 of chapter 4.  We are all sons.  We all possess the Holy Spirit.  The whole passage before and after is talking about the wonderful reality of salvation in Christ which is available to all people, Jew, Gentile, bond, free, male, or female, that's all it's talking about.  It has nothing to do with the role of women in the church.  And it certainly doesn't mean that when you become a Christian, all that is rubbed out …

For example, in the New Testament, there is no woman preacher, none.  There is not a woman pastor/teacher.  There is not a woman elder, there is not a woman evangelist.  There is not a woman who wrote and you have 27 books in the New Testament, any portion of the New Testament.  All 66 books are written by men and the New Testament is consistent with God's plan for women as revealed in the old.  No woman is an evangelist.  No woman is a preacher/teacher, no woman pastors a congregation.  No woman takes the role of an elder.  There is no recorded in the text of all the New Testament a sermon delivered by a woman or teaching given by a woman.  None.  They are not prophets, they are not evangelists, and so women will come along and say, but what about the four daughters of Philip in Acts 21:9 it says, and Philip had four daughters, virgins who did prophesy.  It does not say they were prophets.  It does not say they were evangelist.  It does not say they were missionaries.  It does not say they were elders.  It does not say they were pastor teachers.  It says they prophesied.  Some time, someplace like Deborah or Miriam by God's design and God's holy purpose, they gave a word from God.  We don't know why or how.  We don't know whether they spoke in unison like a quartet or whether they spoke independently of each other.  We just know that there was a time and a place that God spoke through them.  Listen, Mary, the mother of the Lord Jesus herself spoke prophetically when she received from the Word of God himself the response, you remember in the presence of Elizabeth and she poured out what is become known as her Magnificat, her glory to God.  She gives an utterance that is divine inspiration, in that sense, Mary prophesied, spoke forth, the word means.  Spoke forth the Word of God and I'm sure there were many occasions when other women spoke forth the Word of God.  In 1 Corinthians 11:5, it even says, a woman who prays or prophesies should have her head covered.  There were times and places for women to pray and to speak for the Word of God.
It says in Acts 2:17 that in the later times, quoting from Joel, women will prophesy.  It says your daughters will prophesy.  Your young men will dream dreams and your daughters will prophesy.  The words simply means speak forth.  There are times and places when women speak the Word of God.  I hope every woman in this church does that, but that is distinctly different than being identified as a pastor, teacher, elder, evangelist, apostles.  There are no woman apostles.  There are no women disciples, there are no woman pastors, evangelists, et cetera, et cetera, that has to be noted and no woman wrote any part of the New Testament Scripture.  They have different roles.  Does that mean that they were inadequate spiritually?  Not at all.  Not at all.
MacArthur tells us about the status of women among Gentiles from the Greek world:
Now remember, you have in the church of Ephesus, a gentile culture as the basic culture in which the church exists.  Asia Minor which is modern Turkey was a gentile place and women were ranked in gentile religion very low, very low.  In fact, if you were to go to the temple of Diana of the Ephesians of Ephesus, you would find hundreds and hundreds of priestesses there called "melissae" whose primary function was to act as prostitutes for the male worshipers.  They were chattel.  They were to be used and discarded.  Furthermore, any respectable Greek woman who was not some kind of prostitute, some kind of streetwalker led a very confined life.  She lived in her own quarters into no one but her husband could enter.  She had not even the privilege of appearing at the meal unless she was invited to be there.  She never at any time appeared on the street alone.  She never went to any public assembly and still less did she ever speak or take any active part in an assembly.
My counter to MacArthur's assertions is that education has made a significant difference to women's lives and opportunities. Women simply weren't educated throughout history until relatively recently.
I leave it to readers to make up their own minds.
Returning to Paul and verse 11 concerning learning quietly and with all submissiveness, MacArthur says:
Two things there, they are to be silent and subject.  The word silence means just that hsuchia it just means silence.  We have to define what that is intended to say by the context.  The word subjection is from hupotass which means to line up under.  In other words, to get in their proper line and not rebel.  They are not to be unruly.  They are to get inline in their proper place.  So women are to learn in silence and get in line in their proper place. 
MacArthur says Paul is talking about women removing themselves or being removed from positions of teaching authority:
What do you mean Paul?  I mean, I don't permit a woman to what?  Teach, that's the silence issue, nor usurp authority.  That's the subjection issue.  He defines exactly what he means.  What he means by the silence of a woman is that he does not permit a woman to take the role of teacher.  What he means by her subjection is, he does not permit her to rise, to usurp authority over men in the life of the church.  He doesn't mean that the woman can't sing a song.  He doesn't mean that in an appropriate place, a woman cannot pray a prayer, he does not mean that she cannot offer praise to God at an appropriate time.  It does not mean that she cannot participate in worship.  It doesn't mean that she can't even ask a question when a question is called for in a proper spirit and a proper way.  What it means is that she is not to be the teacher and she is not to rebel against the role of submission which God has designed for her in the life of the church.
Paul was no doubt concerned about another factor, which was the very real Oracle of Delphi, who was alive at that same time. She lived in Delphi, across the bay from Corinth:
… you want to get an idea of what's going on there, let me give you some background.  Right across the bay from Corinth is another city.  The name of that city is Delphi.  In the city of Delphi, there is a religious structure.  At the pinnacle of this religious structure is a woman by the name of Pythia.  She is known as the oracle of Delphi.  Have you ever heard that phrase?  She is known as the oracle of Delphi in this very time.  At the height of Delphic religion there were three such priestesses.  The dominant one that we know of in history is Pythia, this from Stuart Rossiter and his book on Greece in which he treats this whole thing.  This is a woman about 50 years of age and she is a medium who contacts demon spirits and everybody wants to know the future and everybody wants to know what it holds, and everybody wants to know the secrets and everybody wants to know how things are going to turn out and they want to know how to get rid of their problems and so forth and so forth and so everybody wants to go to get the oracle of Delphi to give them the truth. 
So it is a very popular religion controlled of course, by Satan and run through demons who speak to this medium and she gives out this stuff.  Now Rosseter in describing this tells us some very interesting things.  Someone who goes over there, first thing they do is make an animal sacrifice, it can be a sheep, a goat, a bear or some other animal.  They make an animal sacrifice well a few attendant priestesses stand around and evaluate the omens in the sacrifice.  I don't know how they did that.  Maybe it had to do with the way the thing burned or the way the inside of the animal fell, some kind of omen.  If the omens were favorable, based on the evaluation of the sacrifice, the person could then come into the inner shrine.  No woman could ever be admitted into that, only men.  So the man would come in, let's say the omens were good so they accepted a sacrifice so the man comes in.  He takes a tablet and on that tablet, he writes his request.  By the way, archeologists have dug up that area and found some of those tablets still intact, so we know something about what the people were asking. 
That tablet then as he waits in line is his consideration to be given to the oracle and finally, if all fortune goes well, he is ushered into the oracle.  She is sitting on a tripod.  Three legs going rather high over a huge chasm from which rises incense smelling heavy dense smoke.  And she is sitting over this chasm to answer this request.  Before she can take her throne she has to eat laurel [bay] leaves and she has to go through some kind of thing.  And then she gets up there and the request is taken and represented.  In response to the request, she gushes out some absolutely inarticulate babble.  Some kind of demon talk.  Standing beside her is a poet who interprets everything she says in perfect hexameter, which is a poetic form.  And that is the interpretation because nobody understands what she is saying.  And the person then hears a very obscure, a very confusing hexametric, poetic, bunch of babble from this guy that probably leaves them more confused than they were when they got there, but they have had an ecstatic experience and they have encountered the super natural.  Now think about that.  That's right across the bay from Corinth.  Now in the church at Corinth, and Satan always counterfeits something that God does.  If God has a true gift of languages and a true gift of interpretation.  And a true gift of prophesying and speaking forth the Word of God, then Satan is going to move in as close as he can and counterfeit the whole thing.  And so you have got some people coming to the Corinthian assembly and what they are doing is mediumistic, occultic, demon kind of stuff, they are putting these same babbles that came out of the Delphic oracle and the same kind of obscure nonsensical prophetic things that are coming over there and they are doing it supposedly in the name of Christ and the church, some people in the church are doing the true gifts and the people in the church are not rightly evaluating it and what you have in Corinth is absolute confusion, some people actually standing up, claiming to have the gift of tongues, cursing Jesus Christ and being patted on the back for it, because it must be of God because it's supernatural.
Now that is the background of 1 Corinthians.  Anybody is absolutely naive who comes into chapter 14 and starts reading about tongues and prophecy and doesn't have that as background.  Paul is correcting all of that.  So the issue here in the Corinthian church was not only that there were woman who were flaunting their sexuality, we know there was terrible sex in the Corinthian church, wasn't there?  Terrible sexual evil.  But here you have some women who are looking at religion that is all women, the Delphic thing and saying, boy we ought to be prominent in this religion too.  So they are pushing themselves into prominence by standing up and speaking in this unintelligible babble by standing up and giving their prophecies.  So when we come to this chapter look at verse 26, he says, what is going on with you?  When you come together, every one of you as a psalm, a doctrine, or a teaching, a tongue, a revelation, interpretation, let everything be done decently and in order.  Get this mess straightened out.  And then he says, no more than two or three people in tongues, never without an interpreter, don't let the prophets speak except two or three of them and everybody evaluate them to see if they really know the lord, they really speak the truth.  Get this thing together, verse 33 because God is not the author of what?  Confusion.  And then in verse 34 he said, let the women keep silent, keep silent about what?  Well, it's obvious, speaking publicly in the assembly of the church either in ecstatic speech or prophecy.  So if we look at 1 Timothy, we see that women are not to preach or teach.  If we look at 1 Corinthians 14:34 and 35, we can conclude women very simply woman are not to speak in tongues and women are not to give prophecies in the church.  They are not to speak forth in the church.  Why?  It's not permitted.  Why?  They are to be under obedience.  Why?  The law of God says that.  Here is comes, it is indecent for women to speak in the church.  It's not indecent for women to speak.  Speak all you want, unless you are usurping the role of authority, unless you are taking leadership in the church, this is so clear.  So what are we saying then, when it comes to the meeting of the church together, women are not to preach or teach.  They are not to speak forth the Word of God.  They are not to speak in ecstatic speech.  Obviously, the sum of those things is to say that the church when it comes together is to be spoken to by men.  That's just God's way.
As such, Paul says that he does not permit a woman to teach or excercise authority over a man; she is to remain quiet (verse 12).
MacArthur sums that verse up:
Silence, you'll remember, refers to not teaching.  It refers to not teaching.  Subjection refers to not ruling.  That is, women in the church are not to be the teachers when the church assembles itself in its constituted worship, women are not to be the teaching persons, and they are not to be the ruling ones.  The context makes it very clear that that's what he has in mind because verse 12 says, "I permit not a woman to teach," and therein does he define the kind of silence he's talking about, nor to usurp authority, and therein does he define the kind of subjection he is talking about.  In the assembly of the church women are not to teach and preach, and they are not to rule.  Now, there's no doubt that that's exactly what he is saying.  Obviously in Ephesus some were seeking to do both of those things and that's why he has to deal with this. 
Then Paul revisits Adam, Eve and Original Sin. Paul rightly says that Adam was formed first, then Eve (verse 13).
Henry says:
… Adam was first formed, then Eve out of him, to denote her subordination to him and dependence upon him; and that she was made for him, to be a help-meet for him.
Paul adds that Adam was not deceived, but Eve was and 'became a transgressor' (verse 14).
Henry reminds us what happened next in Genesis:
And as she was last in the creation, which is one reason for her subjection, so she was first in the transgression, and that is another reason. Adam was not deceived, that is, not first; the serpent did not immediately set upon him, but the woman was first in the transgression (2 Cor 11 3), and it was part of the sentence, Thy desire shall be to thy husband, and he shall rule over thee, Gen 3 16.
Thus began what used to be known as 'the war between the sexes', a dominant sociological theme between the 1960s and the 1980s. It has existed throughout history and has never been resolved.
Finally, Paul says that the woman will be saved through childbearing (verse 15).
MacArthur says:
What we have to understand here is that all women are delivered.  Now, listen carefully.  All women are delivered from the stigma of having caused the Fall of the race by childbearing.  In other words, women led in the Fall, but by the wonderful grace of God they are released from the stigma of that through childbearing.  What's the point?  Listen carefully.  They may have caused the race to fall by stepping out of their God-intended design, but they also are given the priority responsibility of raising a godly seed.  You understand that?  That's the balance.  Not soul salvation, not spiritual birth, but women are delivered from being left in a second-class permanently stigmatized situation for the violation of the garden.  They are delivered from being thought of as permanently weak, and deceivable, and insubordinate.  Can you imagine what it would be like if men had babies, and all women ever contributed to the human race was the Fall?  The balance of it: women led the race into sin, but bless God; God has given them the privilege of leading the race out of sin to godliness.
This has been an extremely difficult post to write.
Next time, Paul explains the qualities of a church leader.
Next week — 1 Timothy 3:1-7
The three-year Lectionary that many Catholics and Protestants hear in public worship gives us a great variety of Holy Scripture.
Yet, it doesn't tell the whole story.
My series Forbidden Bible Verses — ones the Lectionary editors and their clergy omit — examines the passages we do not hear in church. These missing verses are also Essential Bible Verses, ones we should study with care and attention. Often, we find that they carry difficult messages and warnings.
Today's reading is from the English Standard Version Anglicised (ESVUK) with commentary by Matthew Henry and John MacArthur.
Pray for Us
3 Finally, brothers,[a] pray for us, that the word of the Lord may speed ahead and be honoured,[b] as happened among you, 2 and that we may be delivered from wicked and evil men. For not all have faith. 3 But the Lord is faithful. He will establish you and guard you against the evil one.[c] 4 And we have confidence in the Lord about you, that you are doing and will do the things that we command. 5 May the Lord direct your hearts to the love of God and to the steadfastness of Christ.
———————————————————————————————————————
Last week's post explored Paul's discussion of the Antichrist, 'the lawless one', who will come one day, controlled by Satan. When Jesus returns, He will kill the Antichrist with 'the breath of His mouth', but not before unbelievers — the damned — are in thrall of what he does. This, Paul says, is because God has condemned them for refusing 'to love the truth and so be saved'. Therefore, God punishes them with 'a strong delusion' so that they can do nothing but 'believe what is false'.
Today's verses are in the final chapter of 2 Thessalonians.
As he did from all of his churches, Paul sought the prayers of the Thessalonians for his continuing ministry.
John MacArthur describes this message from Paul to his friends in Thessalonica:
It's very tender. It's very personal. It is Paul saying this is what I expect from you, this is what I cherish in terms of your Christian conduct.
He asks them to pray for him and his associates Timothy and Silvanus (Silas) that the Word of the Lord — the Gospel message — may speed ahead and be honoured, as was the case with in Thessalonica (verse 1).
Matthew Henry points out the importance of prayer, especially for our absent friends, including the clergy (emphases mine):
I. The apostle desires the prayers of his friends: Finally, brethren, pray for us, v. 1. He always remembered them in his prayers, and would not have them forget him and his fellow-labourers, but bear them on their hearts at the throne of grace. Note, 1. This is one way by which the communion of saints is kept us, not only by their praying together, or with one another, but by their praying for one another when they are absent one from another. And thus those who are at great distance may meet together at the throne of grace; and thus those who are not capable of doing or receiving any other kindness may yet this way do and receive real and very great kindness. 2. It is the duty of people to pray for their ministers; and not only for their own pastors, but also for all good and faithful ministers. And, 3. Ministers need, and therefore should desire, the prayers of their people. How remarkable is the humility, and how engaging the example, of this great apostle, who was so mighty in prayer himself, and yet despised not the prayers of the meanest Christian, but desired an interest in them.
MacArthur says:
He desires that they be prayerful. "Finally, brethren," verse 1, "pray for us." The shepherd wants the prayers of his people. Now think about it for a moment. Paul was without equal as a gifted, powerful, competent, effective minister. He had immense natural abilities, brilliant, logical, persuasive, erudite, educated, trained, religious, spiritually minded, perceptive, experienced. He had it all. But all that natural ability and all that education and all that religious training and all that experience and all of that skill, highly developed through the years, was not the source of his great power and it was not the source of his usefulness. It was the power of God at work in him that transcended his natural giftedness; that made him the man that he was for divine purposes. He himself confessed in Colossians 1 verse 29, "I labor, striving according to His power, which mightily works within me." He had no confidence in his flesh. And he knew that whatever success he had was not related to his natural giftedness or any of those things which had occurred in his life on the human level, but to the very power of God surging through him. He was dependent on the Lord entirely for every aspect of his ministry. He even said, "Nevertheless I live, yet not I but Christ lives in me." He knew where his power source was.
And consequently there are frequent pleas for his people to pray for him. And those pleas underline and underscore how strongly he leaned on divine power. I sometimes think that those in ministry who are least naturally gifted … get the most prayer because people assume that naturally gifted people don't need any. Nothing could be further from the truth. There may be greater temptation for those more gifted to trust in their own giftedness. There may be greater possibility for human ingenuity to take over for the power of God in the unusually gifted than in those who are more humbly gifted. Thus those with the greater gifts may be those with the greatest need for prayer.
Some translations use 'glorified' instead of 'honoured' in that verse.
Henry explains the prayer petition that Paul requests and applies it to us today:
Observe, further, what they are desired and directed to pray for; namely, (1.) For the success of the gospel ministry: That the word of the Lord may have free course, and be glorified, v. 1. This was the great thing that Paul was most solicitous about. He was more solicitous that God's name might be sanctified, his kingdom advanced, and his will done, than he was about his own daily bread. He desired that the word of the Lord might run (so it is in the original), that it might get ground, that the interest of religion in the world might go forward and not backward, and not only go forward, but go apace. All the forces of hell were then, and still are, more or less, raised and mustered to oppose the word of the Lord, to hinder its publication and success. We should pray, therefore, that oppositions may be removed, that so the gospel, may have free course to the ears, the hearts, and the consciences of men, that it may be glorified in the conviction and conversion of sinners, the confutation, of gainsayers, and the holy conversation of the saints. God, who magnified the law, and made it honourable, will glorify the gospel, and make that honourable, and so will glorify his own name; and good ministers and good Christians may very well be contented to be little, to be any thing, to be nothing, if Christ be magnified and his gospel be glorified … Note, If ministers have been successful in one place, they should desire to be successful in every place where they may preach the gospel.
MacArthur says that Paul has borrowed from Psalm 147:
Pray that God's Word, he says, may spread rapidly.  The Greek verb trechō means literally "to run."  Pray that the Word may run.  He's borrowing this concept, shows his knowledge of the Old Testament, from Psalm 147:15 where it says, "God's Word runs very swiftly."  So he says pray that the Word will run like a powerful runner, like a strong runner moving unobstructed and unhindered, making rapid progress …
Pray that the Word will go rapidly.  Pray that when I'm given opportunity I'll open my mouth.  Pray that when I'm ready to open my mouth God will open a door so I can speak, and then when I get the opportunity, pray that I'll say what needs to be said; always asking the church to pray for the success and the spread of the message.
In 2 Timothy 2:9 he reminded young Timothy the Word of God is not bound.  I might be; it isn't.  Pray that it will move powerfully through the land.
And then he adds this, "And be glorified," and be glorified.  What does that mean?  It simply means appreciated, honored, respected, extolled, admired.  He's simply saying that it will be received with a proper response, that people will hear the gospel and they will affirm it to be the gospel, the saving truth.  He's talking about acceptance.
Paul also wanted the Thessalonians to pray that he and his associates be delivered from wicked and evil men, for not all men have (the gift of) faith (verse 2).
MacArthur reminds us of the danger Paul constantly faced:
He also knew the meaning of persecution. He faced difficulty. He faced a solitary life. He faced danger constantly. He usually was self-supporting, usually had to preach to people who didn't want to hear what he said in places where he never was invited to start with. Life for him was one unending challenge and the threat of death was imminent. He bore in his body the marks of Jesus Christ. He faced death on a daily basis. And he knew he couldn't succeed in his own human flesh and he was dependent upon the power of the Lord and he knew that power was released through the prayers of his people.
He was experiencing trouble in Corinth, where he was writing this letter:
… as he writes this he's in the city of Corinth. Things haven't gone well. The 18th chapter of Acts records what was going on in the city of Corinth and as I said, it wasn't good. There was a hostile reaction to the gospel. Chapter 18, verse 6 tells us the Jews resisted and blasphemed and he shook out his garments and said to them, "Your blood be on your own heads, I'm clean. From now on I go to the Gentiles." He hit a stone wall there, not like Thessalonica, not like Galatia. And so he is in…in the context of that resistance as he writes. I believe that he wrote this letter some time after that initial resistance and he wants the gospel to break through, to really break through, and so he says, "Will you please pray that it will spread rapidly and be accepted?"
There's a second thing he asks in verse 2.  "And that we may be delivered from perverse and evil men for not all have faith." What is this?
First he asks for the success of the message.  Secondly: The safety of the messengers.  "That we may be delivered," rhuomai, rescued, saved.  "Not for self-preservation alone, not for personal comfort or safety alone, but because if we're not protected then the message won't be heard.  Pray that the message will go forth successfully and the messengers will be unhindered.  Paul was always facing hostility.  We've already read about it in the book of Acts.  I can remind you at the end of Romans 15, he says, "Pray for me that I may be delivered from those who are disobedient," disobedient to God. Pray for me that I'll be able to carry on my ministry.
In Corinth, as I said, there was tremendous resistance. And perhaps after he wrote this letter it really blew sky-high because in Acts 18 verse 12 it says, "Gallio was proconsul of Achaia. The Jews with one accord rose up against Paul and brought him before the judgment seat." The whole Jewish population were united in hostility against the gospel and they made an issue out of it. They even took, in verse 17, Sosthenes, the leader of the synagogue, began beating him in front of the judgment seat. A riot really ensued. Paul is in the context of this resistance and he's pleading with them to pray for the success of the message and the safety of the messenger.
Now would you note also that he identifies who is dangerous: Perverse and evil men. "Perverse" literally is the word "out of place." This is the only time in the New Testament it's used of a person. It's always used of some object that got lost, something that's out of its proper place, something improper. Here it means some person who is out of his proper place, who is perverse, unrighteous; one writer says "morally insane." And then he adds evil, malignant aggressive wickedness. Pray for us that we will be rescued from the threats and the power of morally insane, perverse, aggressively wicked people who want to shut our mouths so the message can't be preached. Pray for us.
I would echo that. Pray for the success of the message as I preach and pray for safety and security for the messenger. Maybe the persecution isn't the same today as it was then, but it's still out there.
And then he adds a note of explanation, "For not all have faith." The Thessalonians probably assumed that because they responded in such a wonderful way, because the Jews and the Gentiles together responded to the gospel, that this might be the norm. Now remember, Paul had just been with them a matter of really just a few months, weeks. And they probably thought their response would kind of be the pattern and he says to them, "Pray regarding this hostility because not all have faith." It is possible to interpret that two ways. Some might say, "Not all have the faith," the definite article being there, talking about the content of Christian faith. But I would take it that what he's saying here is not all believe. Either way, it comes out the same. Not all are Christians and unbelievers are the ones who are hostile. No, everyone isn't going to respond the way you did, so the beloved apostle calls for the intercession of the church so that the Word may move rapidly and triumphantly and the messengers will not be hindered by hostile unbelievers. That's his prayer.
Henry has a practical application of the verse for us:
(2.) For the safety of gospel ministers. He asks their prayers, nor for preferment, but for preservation: That we may be delivered from unreasonable and wicked men, v. 2. Note, Those who are enemies to the preaching of the gospel, and persecutors of the faithful preachers of it, are unreasonable and wicked men. They act against all the rules and laws of reason and religion, and are guilty of the greatest absurdity and impiety. Not only in the principles of atheism and infidelity, but also in the practice of the vice and immorality, and especially in persecution, there is the greatest absurdity in the world, as well as impiety. There is need of the spiritual protection, as well as the assistance, of godly and faithful ministers, for these are as the standard-bearers, who are most struck at; and therefore all who wish well to the interest of Christ in the world should pray for them. For all men have not faith; that is, many do not believe the gospel; they will not embrace it themselves, and no wonder if such are restless and malicious in their endeavours to oppose the gospel, decry the ministry, and disgrace the ministers of the word; and too many have not common faith or honesty; there is no confidence that we can safely put in them, and we should pray to be delivered from those who have no conscience nor honour, who never regard what they say or do. We may sometimes be in as much or more danger from false and pretended friends as from open and avowed enemies.
Then Paul segues to the Thessalonians by saying, 'But the Lord is faithful', meaning to him and to them; the Lord will establish them (keep them steady) and guard them against the evil one, Satan (verse 3).
Henry explains:
1. What the good is which we may expect from the grace of God-establishment, and preservation from evil; and the best Christians stand in need of these benefits. (1.) That God would establish them. This the apostle had prayed for on their behalf ( ch. 2:17), and now he encourages them to expect this favour. We stand no longer than God holds us up; unless he hold up our goings in his paths, our feet will slide, and we shall fall. (2.) That God will keep them from evil. We have as much need of the grace of God for our perseverance to the end as for the beginning of the good work. The evil of sin is the greatest evil, but there are other evils which God will also preserve his saints from—the evil that is in the world, yea, from all evil, to his heavenly kingdom.
2. What encouragement we have to depend upon the grace of God: The Lord is faithful. He is faithful to his promises, and is the Lord who cannot lie, who will not alter the thing that has gone out of his mouth. When once the promise therefore is made, performance is sure and certain. He is faithful to his relation, a faithful God and a faithful friend; we may depend upon his filling up all the relations he stands in to his people. Let it be our care to be true and faithful in our promises, and to the relations we stand in to this faithful God.
MacArthur sees the verse as Paul's exhortations to the Thessalonians to keep trusting God, regardless of what happens, e.g. persecution:
… he says, "This is what I want to happen in your life." There's a certain sense in which he feels at arm's length, "and I can't be there to insure it, but this is my desire for you."  Verse 3: "But the Lord is faithful and He will strengthen and protect you from the evil one."
What he's saying to them is, look, no matter what happens, no matter how hostile they are, no matter how severe the persecution and trials and trouble, no matter what might happen, you know this, your Lord is faithful. Keep trusting.
Any pastor who is away from his people would want from the depths of heart that his people remain faithful to the God who is faithful to them.  In contrast to faithless men in verse 2 is a faithful Lord in verse 3.  And no matter what may come in trials and no matter what may come in persecutions, the Lord's plan for you will come to pass, He is faithful.  Why Paul sure gave testimony to that at the end of his life in 2 Timothy 4:16, "At my first defense no one supported me, all deserted me but the Lord stood with me and strengthened me."  Everybody else was gone, but He was there, He's faithful.  I wish we had time to go through the Old Testament and the New to see how many times the Bible tells us the Lord is faithful. The Lord is faithful …
He will strengthen you, he says, he will strengthen you, stērizō. There's that word from which we get steroids, make you strong, make you firm, establish you.  That's talking about the inside, strengthening your inner man, giving you an inner security.  He'll build you up on the inside and protect you from the evil one on the outside.  He will fill you with internal strength and He will shield you from the evil one, most likely a reference to Satan.  It could be translated, "From the evil," but it is better to see it as "The evil one, Satan."
In the inside He'll strengthen you.  On the outside He'll shield you so that you're never hit with satanic arrows that are going to destroy you and you have the internal strength to maintain your faith.  There is your great security, beloved.  No matter what comes or goes, a faithful Lord will strengthen you on the inside and guard you from attacks by the enemy on the outside.
I suppose Jude had it all when he said this, "He is able to keep you from stumbling and to make you stand in the presence of His glory, blameless with great joy."  He will strengthen you so you don't fall.  He will protect you so Satan cannot destroy you.
Paul says that he has confidence in the Lord about the Thessalonians, that they are doing well and will do what he commands (verse 4), i.e. obey the Gospel message.
MacArthur reminds us that the Gospel is a command to obey God through obedience to Jesus Christ:
The pastor has spent his time teaching the Word of God, in a sense, commanding. Remember Paul said to Timothy, "Command and teach." Teaching has the note of authority because we give you the Word of God. And Paul has the desire for his people that they maintain a pattern of obedience. Verse 4, "We have confidence," and it's a very positive approach to this exhortation, "we have confidence in the Lord," not in your flesh, "but in the Lord concerning you, that you are doing and will continue to do what we command" …
Were these personal commands by Paul? No, he was simply passing them on. They came from God. He's essentially saying to them what he noted about them back in chapter 4 of his first letter. He said, "You ought to walk and please God just as you actually do walk, that you may excel still more." You're already doing it. I want you to do it more. I want you to do it better. Here he says it again. You're already doing it. I want you to continue to do it in the future.
Do what? Obey my commands. Scripture is command. Did you know that? It is command. Scripture in Psalm 19 is called, "the commandments of the Lord." Jesus said in the Great Commission, "Teach them to observe all things whatsoever I have commanded you." Do you know that even the gospel is a command to repent and believe? All injunctions are commands. And so he says I want to see your continued, sustained, ongoing obedience and I'm confident in the Lord that you will continue by His strength to obey as you have been obeying.
Paul concludes this section of his letter by praying that the Lord direct their hearts to the love of God and the steadfastness of Christ (verse 5).
Certainly, the Thessalonians were already experiencing that, but Paul wanted it to be enduring and ever-expanding.
Henry explains the beauty of the verse, which is one of blessing:
It is a prayer for spiritual blessings. Two things of the greatest importance the apostle prays for:—1. That their hearts may be brought into the love of God, to be in love with God as the most excellent and amiable Being, the best of all beings; and this is not only most reasonable and necessary in order to our happiness, but is our happiness itself; it is a great part of the happiness of heaven itself, where this love shall be made perfect. We can never attain to this unless God by his grace direct our hearts aright, for our love is apt to go astray after other things. Note, We sustain a great deal of damage by misplacing our affections; it is our sin and our misery that we place our affections upon wrong objects. If God directs our love aright upon himself, the rest of the affections will thereby be rectified. 2. That a patient waiting for Christ may be joined with this love of God. There is no true love of God without faith in Jesus Christ. We must wait for Christ, which supposes our faith in him, that we believe he came once in flesh and will come again in glory: and we must expect this second coming of Christ, and be careful to get ready for it; there must be a patient waiting, enduring with courage and constancy all that we may meet with in the mean time: and we have need of patience, and need of divine grace to exercise Christian patience, the patience of Christ (as some read the word), patience for Christ's sake and after Christ's example.
MacArthur says:
Paul's expectation, because of the Lord's faithfulness to His people, because they had an obedient inner man delighting in God's command, was that they were going to be all right.  But he wanted them to continue spiritual growth.  And in a sense, that's really what he's saying in this verse.  "May the Lord direct your hearts."  The word "direct" here means to make straight, "heart," your inner person.
The word "direct" is used in 1 Thessalonians 3:11 of removing all the obstacles and hindrances out of the way and opening up a path.  May the Lord open up a path for you so that your inner man can move down that path.  He doesn't want any static here, nothing stationary.  You aren't there yet.  I want the Lord to open the path to clear the trail and to move your inner man down that path. To what?  Into the love of God.
Is that objective or subjective?  Are we talking about into God's love for you, or your love for God?  And the answer is probably both.  I love that ambiguity in the epistles.  The Greek language provided the original writers a certain ambiguity that resulted in the fullness of the truth.  Down the path into God's love for you and your love for Him … For you technicians that's the objective and subjective genitive. And when you look at it, you can't tell the difference in the original language and we feel that that's because they're both there. 
Go down the path deeper and deeper into God's love for you which is going to cause you to love Him more and more. And secondly, he says, I want the Lord to lay out the path and push your inner being down the path into, notice it, the steadfastness or the patience of Christ. That can be either one; his patience with us or our patience in His strength through endurance. I want you to go down the path learning more and more how patient, how enduring Christ is over your sins and your problems and your struggles and even how greater you can understand His own endurance in His own struggles, and then consequently have a greater endurance of your own.
I want you to know more about God's love so you can love Him more. I want you to know more about Christ's endurance so you can endure more. I want you to grow spiritually in your love and in your endurance. That's his point. You're not there. I want you to advance in love and advance in patience under persecution as Christ did.
In other words, Paul wants them to pursue the lifelong process of sanctification, which they had already begun. He wants them to continue on that Christian journey, which should never be static.
MacArthur summarises the duty of congregations to their clergy:
What is the duty then of the people to the pastor? The sheep to their shepherd? To be prayerful on his behalf, that his message may succeed and that he may be safe in the proclamation of it. Their duty to him is to continue in their faithful trust in a faithful Lord who will never allow them to be weak on the inside and who will never allow them to be assaulted beyond what they are capable on the outside but will always be there to strengthen and protect them; and the duty to be obedient, to continue in the presence or absence of the shepherd to follow obediently the commands which he gave them from God …
So, with a growing love and a growing endurance of the difficulties of life, the pastor wants his congregation to obey, trusting in the faithfulness of the Lord and praying always for the shepherd. No pastor could ask more than that from his people, that they be prayerful, trusting, obedient and spiritually growing. That's my desire for you, that God may be glorified in His church.
Next week's verses conclude 2 Thessalonians.
Next time — 2 Thessalonians 3:13-18
My regular readers know that I have been writing about 2 Thessalonians over the past two weeks.
My January 8 post covered 2 Thessalonians 1:5-10, which is Paul's brief yet stark description of the Second Coming.
In the two verses that follow, Paul wrote that he prayed for the enduring faith and love of the Thessalonians, some of whom were preoccupied by the prospect of the Second Coming, expecting it to be imminent:
11 To this end we always pray for you, that our God may make you worthy of his calling and may fulfil every resolve for good and every work of faith by his power, 12 so that the name of our Lord Jesus may be glorified in you, and you in him, according to the grace of our God and the Lord Jesus Christ.
In 1992, John MacArthur preached a sermon on those verses, 'Praying for the Right Things, Part 1', which is an excellent examination of prayer.
Excerpts follow, emphases mine.
MacArthur contrasts Paul's prayer with many of our own:
That is what I would call a prayer report from Paul.  It is not a prayer, though his letters have many prayers in them, but it is a report of how he prays.  He is telling the Thessalonians the nature of his prayer for them.  And as you look at that prayer and consider it, you come to the conclusion that he is praying for the right stuff.  Sadly, the prayers of most Christians are directed toward the wrong stuff. 
Most of the time, Christians pray in regard to themselves and those they love for somewhat shallow things.  The prayers are often misdirected and very shortsighted and, in fact, selfish.  Christians typically pray for health and happiness and success.  They pray for personal benefit.  They pray for comfort.  They pray for solutions to fix all of the little problems of life.  They pray for a healed body or a home or food or a job or a car, a husband, a wife, a promotion, more money.  Those things, while they certainly make up part of life, are very low on Paul's priority list.  They're also very low on the priority list of Jesus, who said basically take no thought for what you eat or drink or wear, knowing full well that God supplies all of those things.  Get on with seeking matters that relate to the kingdom of God.  Often we ask, says James, and receive not because we ask amiss for the sole purpose of consuming it on our own lusts.  So very often we not only pray for the wrong stuff but we pray for the wrong reason ... 
I suppose at this particular point I could ask the question of you:  What do you pray for?  When it comes down to you and your life and your family and the people in your world, the people you love, your church, for what do you pray?  What do you desire for yourself?  What do you desire for your spouse?  What do you desire for your children?  What do you desire for the people that you love?  What do you desire for the people in your church?  What do you really want? 
If God showed up and said, "I want to give you three wishes.  Whatever you ask I will do," what would they be?  What would you ask God for?  Do you have the right values?  Do you have the right priority list?  We live in a world, of course, that is skewed, a world that is deviated, a world that knows little of true value.  We live in a world where people pursue all the wrong stuff.  And that massive overpowering pursuit that is all around us encroaches on our lives and gets us caught up in the very pursuit of things which mean nothing or should mean nothing to us …

The world is full of fools, fools who the hard way learn what is the right stuff and fools who never learn what is the right stuff.  We who know the Lord Jesus Christ and who have the Word of God need not be so foolish.  We need not waste our time endeavoring to get what is ultimately, after all, not even valuable.  We need to spend our time gaining what is priceless.  Three wishes Paul had for them:  worthiness, fulfillment, and powerful service.  Before we look at those requests and their implications, I want us to consider the text from the perspective of prayer.  Paul begins in verse 11 by saying, "To this end also we pray for you," and he introduces us to his resource.  Whatever it was that he wanted for the Thessalonians, he knew he could obtain only by prayer.  He did not turn to human ingenuity.  He did not turn to some program.  He turned to God. 
MacArthur looks at Paul in his role as shepherd of that flock, even though he was in Corinth at the time when he wrote his letter:
As we think about this great text and before we look at the requests and the reasons for the requests in verse 12, we need to look at this matter of the resource, which is prayer.  "To this end also we pray for you always."  Several things flow out of that.  First of all, obviously, that he prayed for them.  Secondly, that he prayed for them all the time, unceasingly, which, of course, was typical of Paul.  And thirdly, that in praying for them all the time he had a goal in mind, to this end or for this reason or for this purpose.  His prayers were very pointed.  They were very direct.  They were not generic.  They were not general.  They were specific.  And the three things that were the goal or the end or the purpose or the direction of his prayer were worthiness, fulfillment, and effective service.  That's what he prayed for.  He sought for them the right stuff. 
… The pattern of prayer for the shepherd is a prayer for the sanctification of his people, for the maturity of his people, for the growth of his people, for the development of his people spiritually, and that is that for which Paul prays.  Not only, of course, did he pray for them but he also taught them the Word of God.  That's the twofold responsibility …
There are brief times that we're able to teach.  There are unlimited times that we're able to pray.  And the prayer life of the shepherd is a constant thing.  He may not always be on his knees.  He may not always have his hands folded or his eyes closed, but there is seldom a waking moment when the shepherd doesn't have the sheep on his heart, and being on his heart they are thus carried to the heart of God, and the prayer for sanctification is a way of life.  So we're not surprised when Paul, in writing his epistles, stops at points to pray or inject a prayer report about how he's been praying and will continue to pray for them.  So here he says, "I know this, I want you to be sanctified.  I want you to be worthy.  I want you to be fulfilled.  And I want you to serve with power.  And the resource that I tap for that is God.  I go to God."  And here we're introduced to a wonderful balance.  We know we must teach the people because they must obey the Word to be sanctified.  But we also know that it is God alone who can prompt that obedience.  That's why when anything good happens in our life, who gets the credit?  God.  Because in our flesh, we can do no good thing. 
MacArthur discusses the spiritual tension that the true Christian experiences:
So there's a wonderful tension there that must be maintained in our hearts and minds that basically says if I'm going to be a sanctified Christian moving along the path to Christlikeness, if I'm going to be growing in grace and in the knowledge of the Lord, if I'm going to be more and more holy, moving from level of glory to the next level of glory, changed by the Holy Spirit to be more and more conformed to Christ, if that process is going on in my life, it demands my obedience.  I must obey the Word and the Spirit.  But I also know that the only way that that can happen is when God empowers it to happen.  And so I'm caught, as it were, on the vortex of that same tension that exists so many, many places in the Word of God and the truth of the Christian faith. 
But I want to speak to that, if I might, this morning because I think it's important.  There is a growing response among Christian people to the truth of God's sovereignty, and I thank God for that.  The church is finally awakening to the fact that God is an absolutely and utterly sovereign God, that God controls all things by the word of His power, that God will do what He will do when He will do it the way He will do it because He has so ordained and because He is absolutely in charge and because He has the power to do it.  God has set in motion His perfect purpose from before the world began.  It is all set and established by His infinite mind and will operate according to His infinite power and purpose.  I'm glad the church has affirmed that.  But I also am concerned that in the affirmation of the absolute sovereignty of God, there come not a depreciating sense of responsibility on the part of the believer, either on the one hand to pray or to obey. 
… Just as obedience is an element in which God works His sovereign purposes of salvation and sanctification, so prayer is a human element by which that purpose is effected.  That is a mystery which is not understood but is believed. 
MacArthur looks at the prayers of Jesus, who is all divine and all human — another holy mystery:
In Luke 22 – this is fascinating – Jesus says to Peter, "Simon, Simon," – and He called him by his old name when he was acting like his old self – "Simon, Simon, behold:  Satan has demanded permission to sift you like wheat."  "Satan wants to come after you."  And the implication is, "And I'm giving him permission."  But you could also fill in the white spaces, "I know you're going to survive."  Right?  He knew that.  He knew Peter wouldn't totally lose his salvation and be plunged into Satanic power and end up in hell, He knew that.  "Satan wants to have you and he's going to put you through a very sifting test, and I'm going to let him do it."  And He knew exactly how it would turn out.  But look at verse 32:  "But I have" – what? – "prayed for you." 
Do you know that the prayers of Jesus were even a part of the sovereign plan of God?  Jesus didn't say, "Well, there's no sense in me praying, I know how this whole deals going to come out."  Jesus didn't say, "Well, not only do I know how it's going to come out, I'm controlling the whole deal, so why should I pray?"  Jesus, in His humanity, gives us an example of one though knowing perfectly the plan of God who yet prayed for that plan to be fulfilled.  He knew Peter would pass the test, survive, ultimately give his life in the cause of Christ as a faithful servant, die a martyr, without renouncing his faith.  Jesus knew all of that, He planned all that, He made that all happen, He effected that in Peter's life, and yet He prayed for Peter right here.  If the Son joins in prayer along with the sovereign plan of the Father, then should we do less?  Prayer and sovereign power go together with pleading and human responsibility. 
MacArthur advises us how to pray, citing an example from Isaiah 38:
You want to pray for one another, this is how you pray.  These are the things you pray for because these are the things that concern God.  God doesn't really care about the little nuances of life as much as He cares about the big, spiritual issues of life.  You see, the purpose of God by the Holy Spirit is to conform you more and more to the image of Jesus Christ.  The little things in life that come and go are incidental to that process.  They work with that process maybe one way or another.  And so God has a sovereign plan which He will sovereignly fulfill, but within that sovereign plan there is a place for prayer as we line up ourselves up with that plan and as we even become the means to activate that plan for the effectual prayer of a righteous man does avail much – it does avail much. 
And do we need to be reminded of that most fascinating illustration about Isaiah?  Isaiah went to Hezekiah.  "This is what the Lord says," Isaiah told him, "Put your house in order because you're going to die.  You're not going to recover."  Isaiah 38:1.  Told him, "You're not going to recover; you're going to die."  After that, the king wept bitterly, you remember, and he prayed about his impending doom.  Well, it was Isaiah, then, who hadn't even gotten out of the king's house after delivering the first message who was told by God, "Go back and tell Hezekiah this:  This is what the Lord the God of your father David says, I've heard your prayer, seen your tears, I will heal you, I'll add fifteen years to your life."  Amazing.  The prophet's own account makes it very plain that had the king not prayed, if he hadn't prayed, he would have died.  So somehow the instrumentality of prayer fits into the plan as does obedience, for if you don't obey, you won't be sanctified.  If you don't obey the gospel you won't be saved. 
We cannot, then, believe in the sovereignty of God, we cannot just believe in the teaching of the Word of God if it somehow strips us of the passion to pray.  Prayer, then, is the heart longing to unite with the holy purposes of God for their accomplishment …

Paul then prays, "And to this end, that God may count you worthy of your calling, fulfill every desire for goodness and the work of faith with power," those three things.  They are magnificent things.  Worthiness, that has to do with spiritual character.  That the Lord would make you the kind of person you ought to be.  Fulfillment, that God would then fulfill in your life circumstances every holy longing.  And then, finally, that whatever service you do would be done with power.  That's what God's after.  A worthy life, a fulfilled life, a powerful life.  That's the right stuff to pray for.  When you pray for your spouse or you pray for your children or you pray for your friends or you pray for your church or you pray in behalf of your own spiritual life, you pray for those things: worthiness, fulfillment, power in service. 
MacArthur concludes:
Can you stay focused?  Can you stay at the speed God wants you to stay at, moving toward the goal He wants you to move at with all the stuff going on around you and be undistracted?  Can you stay with the right stuff?  That's the challenge.  You can't, on your own, and that's why Paul prays that you be able to by the power of God.
MacArthur's reflections add a whole new dimension to the purpose of and petitions in prayer, things to think about in the week ahead.
It's hard to know where to begin with this year's Christmas news, much of which is disappointing, to say the least.
That said, there is a bright Christmas message here, so please read on.
Scotland legislation latest
On Thursday, December 22, the Scottish Parliament — or Assembly, as I still call it — passed legislation for Gender Recognition Reform, specifically to grant Gender Recognition Certificates (GRCs).
The bill passed in the SNP-controlled government 86-39 with no abstentions. Only two Conservative MSPs voted for it. The rest were SNP (Scottish National Party), Scottish Greens (SNP coalition partners), Scottish Labour and Scottish Liberal Democrat MSPs.
The final contributions were largely made on the basis of feelings. Wednesday's transcript shows that every Conservative motion proposing greater controls over who can apply for a GRC and under what conditions was defeated. Debate had also taken place on Tuesday in an attempt to rush this through before Christmas break.
The Scottish Parliament thought this so important that it even cancelled their annual Christmas carol service, which, this year, was to feature Ukrainian refugees living just outside of Edinburgh.
A pro-independence — though not a pro-SNP — Scot who lives in England, the Revd Stuart Campbell, summed up the legislation in one of his Wings Over Scotland posts, 'On the hush-hush' (emphases mine):
The last few days have been perhaps the most turbulent in the entire history of the modern Scottish Parliament. Proceedings have been suspended repeatedly, members of the public thrown out and threatened with arrest, filibusters attempted, carol services cancelled, tempers frayed and sittings going on until the wee small hours.
All of this has happened in the service of the policy that the SNP has made its flagship priority for the last two years and more – the destruction not only of women's rights, but of the very CONCEPT of a woman …
So you'd imagine the party would have been tweeting about it constantly, keeping its supporters informed about all the dramatic events and the progress of the bill, if only to reassure them that they were determined to get it passed before the Christmas break come what may …
But there wasn't one solitary word about the thing it just spent three solid days forcing into law. And since it was a thing that most of its own voters, and indeed a huge majority of all Scots, were opposed to, readers might be forgiven for thinking that they just wanted it all kept as quiet as possible, as if they were ashamed.
We suspect, and very much hope, that their wish may not be granted.
The Revd Mr Campbell means that the Secretary of State for Scotland in Westminster might refuse to present the Bill for King's Assent. Let's hope so.
Another Wings over Scotland post explains what the Bill actually does:
… one of the most regressive, dangerous and frankly absurd pieces of legislation the modern world has ever seen. Last week, [First Minister Nicola Sturgeon's] government successfully managed to get the word 'woman' redefined from an adult human female to anyone to who has a piece of paper that says they are one.
Should obtaining this piece of paper involve a rigorous, measured process that takes psychological and criminal history into serious consideration and prioritises the safety of women and children, this would be permissible to the socially liberal. Alas though, the new GRA has shamelessly scrapped all safeguarding measures. For a man to legally become a woman now – and be entitled to access all female-only facilities, be it changing rooms or prisons, all he has to do is 'live as' a woman (whatever the hell that means) for three months followed by a three-month 'reflection period'.
TRA-adjacent politicians have nowhere to hide with this now. They can no longer deny that sex-based rights will be grievously compromised and that predators and fetishists now have ease of access to women (and children's) spaces, from bathrooms to sports teams.
In another post, Campbell linked to Tuesday's proceedings where a Conservative MSP tried to raise an amendment calling for greater scrutiny of sex offenders wishing to change gender. Unfortunately, 64 SNP/Green/Lib Dem MSPs voted it down. In 'The Disgraces of Scotland', Campbell wrote:
The events marked simply and unquestionably the most shameful and contemptible moment in the history of the Scottish Parliament since 1707.
1707 was the year when the Act of Union was established between England and Scotland.
He also pointed out that voting down the amendment resulted in:
ceding the moral high ground to the Scottish Conservatives …
Anyone who knows the Scots knows that anything Conservative is unpopular there. That said, the Scottish Conservatives are the official opposition party in Edinburgh.
It should be noted that anyone aged 16 1/2 and over can apply for a GRC. It would appear that no formal medical diagnosis will be required with this new legislation.
Campbell's readers have much to say on the matter. Some say this is a deleterious influence from American pressure groups. Others say that women will be in great danger.
Both are likely possibilities.
None of the MSPs supporting the Bill thinks that women will have any problem with sex offenders or deviants. However, a British substack begs to differ. 'This Never Happens' is a lengthy catalogue of gender-changers around the world who have committed horrific crimes, many of a sexual nature. Another site with a similar catalogue can be found here.
It is ironic that a woman is in charge of Scotland and she has overseen this legislation. In fact, she has supported it from beginning to end.
Scotland, like Canada, was such a beautiful country once upon a time. When I say 'beautiful', I'm referring to people. Another spirit — the devil — is moving through both nations.
One positive outcome is that the Scottish Conservatives can use this legislation to their advantage during the next election cycle. Unlike the SNP, Scottish Labour and Scottish Lib Dems, they alone voted en masse against it, showing that they are the true defenders of women and girls.
An UnHerd columnist, Joan Smith, says that this will come soon to England, should Labour win the next general election:
The man sitting next to you on a tram in Edinburgh, or turning up for a women-only swimming session, may self-identify as a woman — and the law will support him every step of the way. Centuries-old assumptions about what is real, about what people see in front of them, are being overturned. And it's coming to Westminster as well, if Sir Keir Starmer follows through on his proposal to 'update' the 2004 Gender Recognition Act.
We have less than two years before a Labour government comes to power, weighed down by promises to import the idiocy (I'm being polite here) of self-ID to the rest of the UK. Two years, in other words, to watch what happens when politicians reject biology, common sense and the imperative to protect women against male violence. 
In the meantime, prisons, hospitals and refuges outside Scotland will face the headache of what to do when a man with a Scottish Gender Recognition Certificate (GRC) — obtained with far fewer safeguards than elsewhere in the UK — demands access to women-only spaces. The prospect of expensive litigation is terrifying, but women's organisations on both sides of the border are already preparing for the fight of their lives.
So crazed are MSPs by this ideology that on Tuesday evening they voted down an amendment that would have placed barriers in the way of convicted sex offenders who seek to apply for a GRC, complete with a new female name. They even rejected an amendment — proposed by Michelle Thomson, an SNP MSP who has waived anonymity to reveal her own experience of being raped when she was fourteen years old — that would have paused the process of acquiring a certificate for men charged with sexual offences.
This is an extremely troubling development. Let's not forget that the SNP-Green government has pressed ahead with the legislation even after Lady Haldane's judgment established last week that a GRC changes someone's legal sex for the purposes of the 2010 Equality Act. Scottish women are now expected to accept that any man standing in front of them, waving a piece of paper, is a woman — even if they're in court and the man is accused of raping them. 
It's clear that a bill that was supposedly purely administrative has hugely expanded the number of individuals who can apply for a GRC, with catastrophic effects on women's rights.
The rest of the UK is about to find out what it's like living alongside a country in which observable sex no longer has any meaning. Welcome to Scotland, where the word 'woman' will now soon include any man who fancies it.
Conservatives in England and Wales can take heart from this for the general election in two years' time, pointing to their colleagues north of the border. Who are the great defenders of women and girls? It certainly won't be Labour.
Woman arrested for silent prayer
On December 6, a pro-life supporter from Worcestershire was arrested for praying silently in Birmingham in an exclusion zone around an abortion clinic.
Here is the video of her arrest:
A fundraiser is open for her:
BirminghamLive filed their report on Tuesday, December 20:
A woman has been charged with breaching an exclusion zone outside a Birmingham abortion clinic. Isabel Vaughan-Spruce, aged 45, from Malvern in Worcestershire, was arrested near the BPAS Robert Clinic in Kings Norton on December 6.
She was later charged with breaking a Public Space Protection Order, said by Birmingham City Council to have been introduced to ensure "people visiting and working there have clear access without fear of confrontation". Vaughan-Spruce will appear at Birmingham Magistrates' Court on February 2 next year.
A West Midlands Police spokesperson said: "Isabel Vaughan-Spruce, aged 45 from Geraldine Road, Malvern, was arrested on December 6 and subsequently charged on December 15 with four counts of failing to comply with a Public Space Protection Order (PSPO). She was bailed to appear at Birmingham Magistrates Court on February 2 2023."
The police must feel threatened by prayer, especially that of the silent sort.
On Friday, December 23, UnHerd 's Mary Harrington gave her thoughts on the arrest:
It's customary in these situations to decry the breach of liberal norms involved in arresting someone not for doing something wrong but merely thinking. But if, as I've suggested elsewhere, all politics is now post-liberal, that means it's once again explicitly the case that state power is aligned with a widely-shared moral order. 
This is a drum I've been banging for a little while, for contra the fond imaginings of some liberals we never really stopped ordering power to sacred values. After all, it's not really possible to have a functioning polity otherwise. This, I argued shortly before the pandemic, is why hate crime laws appeared a scant few years after the abolition of blasphemy laws: they are blasphemy laws. We've just updated what we considered blasphemous …
…  Vaughan-Spruce's arrest makes it clear that the zone surrounding an abortion centre is treated as sacred in a way that's evidently no longer meaningfully the case (at least as far as the European court is concerned) of a church. She is an activist and director of March for Life UK, and has been previously arrested for protesting against abortion. But this in no way diminishes the growing sense that the activity being protected is also increasingly treated as sacred …
We have sacralised autonomy to such an extent that laws uphold women's right to it, even at the cost of another radically dependent life. And the issue is growing ever more moralised, as evidenced by the fact that even thinking disapproving thoughts about this radical commitment to individual autonomy is now treated as blasphemous, in zones where its most extreme sacrifices are made. 
Wherever you stand on the practical issues surrounding abortion, this is indisputably a profound statement on the relative values we accord to freedom, care and dependency — one with profound ramifications for how we see the weak and helpless in any context. That the practice is taking on sacramental colouring, for a religion of atomisation, should give us all pause.
Indeed.
House of Lords Archbishop of Canterbury debate on asylum
On December 9, the House of Lords gave the Archbishop of Canterbury his annual debate. This year, the subject was the UK's asylum and refugee policy.
I hope that readers will understand if I do not excerpt his speech here. They are free to read it for themselves.
We have taken in a record annual number of illegal migrants crossing the Channel this year, expected to be over 50,000.
We have also taken in large numbers of legitimate refugees and asylum seekers. We have also given visas to many thousands of legal migrants this year, particularly from Africa and Asia, namely India and Hong Kong.
UnHerd had a good analysis of what Welby said and our current predicament:
The Archbishop says he aims to support action that would "prevent small boats from crossing the channel", but he also stresses that the UK is not taking many refugees and should take many more. 
Astonishingly, he dismisses the provision our country has made to welcome Hong Kong residents — well over 100,000 to date and many more to come — by saying "and that, by the way, is not asylum but financial visas". It may not involve an application for asylum as such, but it clearly involves flight from oppression. Welby also draws the wrong conclusion from the fact that developing countries host many more refugees than developed countries. This is much cheaper than settlement in the West and makes return more likely. Developed countries should help pay the costs, and the UK leads the way in this regard.
The control Welby claims to support does not presently exist. The small boats cannot safely be turned around in the Channel and France will not accept their immediate return. The Rwanda plan is a rational (if imperfect) attempt to address the problem, removing asylum-seekers to a safe third country, where they will be protected, yet the Archbishop decries the plan on the grounds that it outsources our responsibilities. This makes no sense, for the UK not only accepts that Rwanda must comply with international standards, but also commits to funding the protection of those who prove to be refugees. Welby asserts that the plan has failed to deter. Indeed, because it has not yet been tried at all. 
The UK has good reason to resettle in safe third countries those who enter unlawfully on small boats, which would discourage others from (dangerous) unlawful entry and restore control of our borders. The historic tradition on which the Archbishop relies is alive and well in the provision our government has made, with wide public support, for temporary protection for Ukrainians escaping Russian aggression and for resettlement of the new Huguenots, the Hong Kong residents seeking to escape the oppressive reach of the Chinese Communist state. 
Lord Lilley — former Conservative MP Peter Lilley — posed the conundrum of loving one's neighbour and not being able to accommodate everyone, especially those who arrive under false pretences:
This issue raises very difficult dilemmas for Christians. Being a very inadequate Christian myself, I take up the challenge from the most reverend Primate the Archbishop with trepidation: to try to formulate principles for governing our policy on asylum and migration. Not having direct access to the mind of God like the most reverend Primate the Archbishop, I seek those principles in the Bible.
I recall that our Lord said that the essence of Christianity is to love God and love our neighbour as ourselves. When asked who our neighbour is, he gave the parable of the good Samaritan, when a Samaritan helps a Jew—from which I deduce that our neighbour is not just the person next door to us and not necessarily a member of our own nation; it can be anyone. The first principle I therefore deduce is that, although charity begins at home, as a lot of my constituents used to tell me, it does not necessarily end at home. I am at one with the most reverend Primate the Archbishop on that.
Secondly, the Samaritan did what he practically could. We may be called on to help anyone we practically can, but we cannot help everyone. Again, the most reverend Primate the Archbishop recognised that and it is important that we recognise that our responsibilities are finite, in this respect.
Thirdly, when the Levite and the Jewish priest reached their destination, I have no doubt that they deplored how, owing to years of austerity, there had been insufficient spending on police and the health service to prevent the problem arising in the first place or to treat the person, instead of leaving it to the passing Samaritan. Therefore, my third principle is that, to be a good Samaritan, you have to give care, help and so on at your expense. We, as politicians, may have to take decisions on behalf of others but, in doing so, we should have consideration for the impact we are having on others and not imagine we are being virtuous when we do good at their expense.
The first principle is that charity begins at home, in how we treat people who have come to settle here. When I was a child, mass immigration into this country was just beginning. The parish in which I lived asked each family to link up with a migrant family, many of whom were lonely, isolated and, at worst, facing hostility. My family was linked up to a delightful Mauritian couple, whom we would invite to supper every few weeks. We became good friends. That was done by parishes across south London. I would love to hear from Bishops who have not yet spoken about what the churches are doing today to help integrate those who are here in our society and to be the good Samaritans to our neighbours from abroad.
But charity does not end at home. I pay tribute to those tens of thousands of people who opened their homes to families fleeing the bombing in Ukraine, while their menfolk remained to fight for their country. We should not imagine we are sharing in being good Samaritans if we throw open the doors of our country to everybody because, if we do that, we are doing good at others' expense. We are, in effect, saying that migrants, be they legal or illegal, asylum seekers or otherwise, through housing benefit and social housing, will have access to rented and social homes. We all have our own homes, so we will not be affected. Therefore, more young people will have to wait at home or live in cramp bed-sitters for longer, because of what we, as legislators, think we are doing generously, without taking the impact on others into account.
The second principle is that our neighbour can be anyone, but it cannot be everyone. Millions of people want to come here. Look at the impact of the green card system the Americans operate, when they make 30,000 visas to the US available to certain countries and say, "Anyone can apply; there is a ballot." Some 9% of the population of Albania applied when they heard about that being offered to them, as did 11% of the Armenian and 14% of the Liberian populations. These were only the people who heard about it and responded. The potential number who would like to come to America or Europe, if we open these so-called direct routes, would be enormous. Will we say to those who apply, at an embassy or some place abroad, that they would have the same legal rights, and opportunities to appeal or for judicial review if things are turned down? If so, potentially millions of people would join the queue. It would not shorten but lengthen it, so we have to restrict and to prioritise.
I submit to noble Lords that the priority should not be the boat people. They are not coming by boat from Basra, Somalia or Eritrea; they are coming from France, Belgium and Germany. Why are they coming here rather than staying in those safe countries? They are three or four times as likely to be rejected there. France, in the last year before the pandemic, forcibly repatriated 34,000 people. I find some strange double standards being applied here. There are no criticisms of France for being much stricter than us or of us for being much laxer than them, but one or the other must be the case.
I am coming to an end. If it is morally and legally right for the French to try to prevent people leaving their shores, and for us to pay and support the French in so doing, it should be morally and legally right for us to return them. If they cannot be returned, it is reasonable to try to deter them by saying, "If you come here, you will go to Rwanda. You always have the opportunity to stay in France." I submit that we do not always consider these opportunities.
Later on, the Archbishop of York, the Right Revd Stephen Cottrell, spoke, an excerpt of which follows. The transcript hardly does his indignation justice. He ripped right into Lord Lilley:
I say to the noble Lord, Lord Lilley, that everyone is our neighbour. Of course, we cannot take everybody, but that makes it even more important that we have a fair system for everyone.
Dehumanising language promotes fear. Threat of destitution is used as a deterrent. Children are treated as if they are adults. Yet in our own country, among our own people, in our churches, other faith groups and communities, some things have gone well, such as the Homes for Ukraine scheme, where many people have found a home, other family members have joined them, and people have been able to get work. This is really good.
But why has our response to people fleeing other conflicts been different? Currently, the definition of family in our asylum system would not allow someone to join their sibling even if they were the last remaining relative, and being able to work and contribute is a long way off. The tragedy of our system lies in its exceptionalism, meaning that people receive differential treatment usually because of their country of origin. That underpins the Nationality and Borders Act, and I fear that further legislative action will be the same.
But we could learn from what is happening in our communities. The noble Lord, Lord Lilley, asked us directly about integration. I do not know where to begin. In hundreds of parishes and schools, and in other faith communities up and down our country, that is what we are doing—in English language classes, in befriending and in teaching people. I would be the first to admit that there are lots of things about the Church of England that could be better, but that is something that we are doing, alongside others, and it shows the best of British.
We need a system that will simply provide safe and legal routes for everyone to have equal opportunities to apply for asylum. All I am saying is that I think that would be good for us, as well as for the people who are fleeing unimaginable conflict and evil.
Finally, when it comes to being able to work, the Church of England, alongside the Refugee Council and the Government's own Migration Advisory Committee, is a long-standing supporter of the Lift the Ban campaign.
I say all this—like many of us, I would wish to say more, but the most reverend Primate the Archbishop of Canterbury said most of it—as winter arrives, and it is cold, and a cost of living crisis will inevitably affect the British people's capacity to be hospitable. I say simply that a functioning asylum system is not a threat to our social cohesion as some fear or predict, but a dysfunctional, unfair one is.
As every small child knows at this time of the year, as the noble Lord, Lord Cormack, mentioned, Mary and Joseph came looking for somewhere to stay, but there was no room at the inn. Saying no, accusing those who are being hospitable of being naive, or passing the buck are easy, but saying yes, with a fair and equal system for everyone, opens up blessings for everyone.
A week later, Cottrell featured in an article in The Telegraph: 'Forgive my "predictable leftie rant" on asylum, says Archbishop of York'.
It seems he knew he was out of order with Lord Lilley, who deserved the same courtesy as the peers agreeing with the Archbishop. It was good for Lord Lilley to speak politely on behalf of the British public.
Britons are paying upwards of £7 million a day just to house those crossing the Channel.
GB News's Mark Steyn and his guest hosts have been covering the topic nearly every night:
Taxpayers are deeply upset, especially during our cost of living crisis, which is causing many to choose between food and fuel.
Combine that with taxpayers' personal expenses for Net Zero, and we are heading for disaster:
Red Wall Conservative MP Jonathan Gullis tried unsuccessfully to raise a Private Member's Bill to get illegal migrants to Rwanda sooner rather than later:
Hotels across England are being taken over by companies working for the Home Office to house the Channel-crossers:
Hospitality workers in those hotels are losing their jobs as the aforementioned companies install their own staff to manage them:
The December 22 show also featured the seemingly intractable problem:
Former Sun editor Kelvin MacKenzie then swung by to weigh in on how much migrants are costing Britons.
The Home Office — read 'civil servants' — must do something now.
It's obvious people are watching GB News, because they beat BBC News for the first time ever on December 14:
Onwards and upwards!
House of Commons recess debate
On Tuesday, December 20, the House of Commons held its Christmas recess debate.
Normally, these are rather jolly affairs where MPs air wish lists for their constituencies for the New Year. However, this year's contributions were rather grim, including those from Conservative MPs.
Once again, providentially, I tuned in at the right time to hear the member for Don Valley, Conservative MP Nick Fletcher. He closed his speech saying the following, the first part of which came as news to me:
Finally, Christian friends across the House tried to secure a Backbench debate on Christmas and Christianity, but by all accounts we were not successful. While I have this moment, I want to remind those in this place, and anyone who cares to watch, that although Christmas is celebrated in many ways across the world, the real reason is the birth of our saviour, Jesus Christ. He was sent as a saviour, and with the promise that whoever believes in him will have eternal life. I do not want anyone ever to forget that. Merry Christmas everybody.
Jim Shannon, a Democratic Unionist Party MP (i.e. from Northern Ireland), was one of the last MPs to speak. A devout Anglican — yes, they still exist — he gave a beautiful speech on the meaning of the season, most of which follows:
It is no secret that I love this time of year—I may have mentioned that a time or three in this House. There are so many things to love about Christmas: time with family; good food; fellowship; and, for me, the singing of an old Christmas carol as we gather in church. But the most wonderful thing about Christmas for me is the hope that it holds. I wish to speak this year about the Christ in Christmas, because, too often, we miss that. It would be good this year to focus on what Christmas is really all about. I ask Members to stick with me on this one.
The message of Christmas is not simply the nativity scene that is so beautifully portrayed in schools and churches throughout this country, but rather the hope that lies in the fact that the baby was born to provide a better future for each one of us in this House and across the world. What a message of hope that is; it is a message that each one of us needs. No matter who we are in the UK, life is tough. The past three years have been really, really tough—for those who wonder how to heat their homes; for those who have received bad news from their doctor; for those whose children have not caught up from the covid school closures; for those who mourn the loss of a loved one; for those who mourn the breakdown of a family unit; and for those who are alone and isolated. This life is not easy, and yet there is hope. That is because of the Christmas story. It is because Christ came to this world and took on the form of man so that redemption's plan could be fulfilled. There is hope for each one of us to have that personal relationship with Christ that enables us to read the scriptures in the Bible and understand that the creator, God, stands by his promises.
I want to quote, if I may, from four Bible texts. To know that
"my God will meet all your needs according to the riches of his glory in Christ Jesus."
That is from Philippians 4:19.
To trust that
"I am the Lord that heals you."
To believe that
"all things are possible."
That is Matthew 17:20.
We can be comforted by Psalm 147:3:
"He heals the brokenhearted, And binds up their wounds."
Isaiah 41:10 says:
"So do not fear, for I am with you; do not be dismayed, for I am your God. I will strengthen you and help you; I will uphold you with my righteous right hand."
The strength for today and bright hope for tomorrow come only when we understand who Christ is. One of my favourite Christmas passages is actually not the account of his birth, but the promise of who he is. We all know this:
"For to us a Child shall be born, to us a Son shall be given; And the government shall be upon His shoulder, And His name shall be called Wonderful Counsellor, Mighty God, Everlasting Father, Prince of Peace."
In a world where our very foundation seems to be shifting, how awesome it is to know that this our God is only a prayer away. A group of people come to the House of Commons two or three times a week, and pray for Parliament. I have to say how important it is to have those prayers.
As we think of this passing year—something that many of us do—we think about what has happened and perhaps look forward to 2023 with renewed hope for the future. I think we should look forward with hope; we have to do that. We should always try to be positive. In this passing year, my mind goes to the loss of Her Majesty the Queen. Many of us felt that so deeply, and yet her passing also carried the message of hope, because of Christ. I quoted this when we had the tributes to Her Majesty. It is important, I think, to put it on the record again.
The wonderful message that the Queen gave in one of her cherished Christmas messages—this one was in 2014—was crystal clear:
"For me, the life of Jesus Christ, the prince of peace, whose birth we celebrate today, is an inspiration and an anchor in my life."
That was Her Majesty talking.
"A role model of reconciliation and forgiveness, he stretched out his hands in love, acceptance and healing. Christ's example has taught me to seek to respect and value all people of whatever faith or none."
It is my firm belief that this true message of Christmas is what can bring hope and healing to a nation that can seem so fractured. When I look at the headlines, I sometimes despair, but that is also when I most enjoy my constituency work, and getting to see glimpses of community spirit and goodness that are done daily and yet are rarely reported. Her Majesty's speech in 2016 reflected that, when she said:
"Billions of people now follow Christ's teaching and find in him the guiding light for their lives. I am one of them because Christ's example helps me to see the value of doing small things with great love, whoever does them and whatever they themselves believe."
At that point, Conservative MP John Hayes intervened:
It is heart-warming and refreshing to hear the hon. Gentleman's plain and confident affirmation of his faith, and our faith too. By the way he speaks, he encourages all of us to reflect on the Judeo-Christian foundations on which our society and our civilisation are built, and I just wanted to thank him for that.
Jim Shannon thanked John Hayes before continuing:
The right hon. Gentleman is most kind. I am giving just a slight reminder of what Christmas is about. I think we all realise that, but sometimes it is good to remind ourselves of it. The example of Christ is one of humility, coming to the earth as a vulnerable baby, and of purpose, as we see the gold given that symbolises royalty, the frankincense to highlight his deity and myrrh to symbolise his purposeful death to redeem us all.
I am a strong advocate in this House for freedom of religion or belief, as the Leader of the House knows. She is always very kind; every week, when I suggest something that should be highlighted, she always takes those things back to the Ministers responsible. I appreciate that very much, as do others in this House. I am proud to be associated with that wonderful cause, and as long as God spares me I will speak for the downtrodden of my own faith and others. I speak for all faiths, because that is who I am, and so do others in this House with the same belief.
At the same time, however, like Her late Majesty, I am proud to be a follower of Christ. At this time of year I simply want the House to know the hope that can be found in Christ, not simply at Christmas, but for a lifetime. The babe of Bethlehem was Christ on the cross and our redeemer at the resurrection, and that gives me hope and offers hope for those who accept him and it.
From the bottom of my heart, Mr Deputy Speaker, I thank you in particular, since you have presided over this speech and the past few hours. I thank Mr Speaker and all the other Deputy Speakers, with all the things that are happening to them, the Clerks and every staff member in this place for the tremendous job they do and the graceful spirit in which everything has been carried out in the last year. I thank right hon. and hon. Members, who are friends all—I say that honestly to everyone.
I thank my long-suffering wife, who is definitely long-suffering, and my mum—
At that point, Shannon broke down in tears.
Leader of the House Penny Mordaunt stepped in quickly and graciously while Shannon composed himself:
The hon. Gentleman has often summed up how people feel, particularly at this time of year. I know he has had losses over the past few years, and he always manages to sum up the feeling of this House. Many Members in this debate have spoken about constituents or family they have lost, and we appreciate his bringing up these issues, as I appreciate all Members' doing so. There will be some people thinking about spending Christmas apart from family they are not able to see, or having suffered those losses. I thank him and we are all willing him strength as he continues his speech.
After a pause, Shannon resumed and concluded:
I thank the Leader of the House for that. I mentioned my long-suffering wife; we have been married 34 years, so she is very long-suffering, and that is probably a good thing, because we are still together. My mum is 91 years old and I suspect she is sitting watching the Parliament channel right now to see what her eldest son is up to and what he is saying, so again that is something.
I also thank my staff members. I told one of my Opposition colleagues last week that I live in a woman's world, because I have six girls in my office who look after me and make sure I am right …
Lastly, I thank my Strangford constituents, who have stuck by me as a councillor, as a Member of the Legislative Assembly and as a Member of Parliament in this House. This is my 30th year of service in local government and elsewhere. They have been tremendously kind to me and I appreciate them. I want to put on record what a privilege it is to serve them in this House and to do my best for them.
I wish everyone a happy Christmas, and may everyone have a prosperous, peaceful and blessed new year, as we take the example of Christ and act with humility and purpose in this place to effect the change that we all want and that is so needed in our nation—this great United Kingdom of Great Britain and Northern Ireland, always better together.
Mr Deputy Speaker Nigel Evans said:
Your mother and wife will be as proud of you as we all are, Jim. [Hon. Members: "Hear, hear!] As a person of faith, I thank you very much for putting the Christ back into Christmas in your speech. We come now to the wind-ups.
When acknowledging MPs' contributions in the debate, Penny Mordaunt said:
The hon. Member for Strangford (Jim Shannon) should never have to apologise for mentioning Christ in this place—especially at Christmas. We are in a place where the architecture is designed to turn our faces to God. I thank him for his Christmas message.
And, finally — best Christmas wishes to Mark Steyn
In closing, hearty Christmas wishes to Mark Steyn who is recovering from two successive heart attacks:
He is recovering in France but told viewers more on December 19. Incredibly, the first heart attack happened before he presented one of his nightly shows on the self-styled People's Channel. He presented it anyway. Wow:
The GB News host suffered the first one "without recognising" the symptoms, before hosting his show on The People's Channel.
Speaking on his current absence from GB News, Steyn said: "I'm too medicated to manage artful evasions.
"I had two heart attacks. Because I didn't recognise the first one, as such, the second one was rather more severe."
The experienced broadcaster spoke about the shocking ordeal, saying he "doesn't look right", looking back at images of himself presenting the Mark Steyn show during the first heart attack.
Speaking on SteynOnline, he said: "The good news is that the first one occurred when I was in London. If you get a chance to see that day's Mark Steyn Show, with hindsight, I don't look quite right in close-ups.
"By not recognising it as a heart attack, I deftly avoided being one of those stories we feature on the show every couple of nights about people in the UK calling emergency and being left in the street for 15 hours before an ambulance shows up.
"I had a second heart attack in France. With Audrey [his wife?] helping me in the ambulance, she told me I was 15 minutes from death."
The presenter also revealed he would remain in France over Christmas and New Year as he is unable to leave medical care and return to New Hampshire.
GB News viewers will be sending Mark every best wish for a speedy recovery — and a healthy, happy New Year! We look forward to seeing him on the airwaves soon!
The Nineteenth Sunday after Trinity is on October 23, 2022.
Readings for Year C can be found here.
The Gospel reading is as follows (emphases mine):
Luke 18:9-14
18:9 He also told this parable to some who trusted in themselves that they were righteous and regarded others with contempt:
18:10 "Two men went up to the temple to pray, one a Pharisee and the other a tax collector.
18:11 The Pharisee, standing by himself, was praying thus, 'God, I thank you that I am not like other people: thieves, rogues, adulterers, or even like this tax collector.
18:12 I fast twice a week; I give a tenth of all my income.'
18:13 But the tax collector, standing far off, would not even look up to heaven, but was beating his breast and saying, 'God, be merciful to me, a sinner!'
18:14 I tell you, this man went down to his home justified rather than the other; for all who exalt themselves will be humbled, but all who humble themselves will be exalted."
Commentary comes from Matthew Henry and John MacArthur.
This reading picks up from where we left off last Sunday. Jesus told a parable about a widow who cried for justice from an ungodly judge. He gave in and granted her justice only because he did not want to be beaten down (the Greek words used) by her wailing anymore. Jesus said how much more merciful God would be to those who cry out to Him:
18:7 And will not God grant justice to his chosen ones who cry to him day and night? Will he delay long in helping them?
18:8 I tell you, he will quickly grant justice to them. And yet, when the Son of Man comes, will he find faith on earth?"
Of today's parable, John MacArthur says:
There is no time indicator here. There is no transitional statement here so we don't know exactly whether or not Jesus said this on the same occasion He was talking about the kingdom. Perhaps He did, perhaps He didn't, but certainly in Luke's inspired order of the text, this is the right discussion because we've just been talking about the kingdom and that Jesus is coming and you must be ready for His coming. And when He comes, there's going to be separation and there's going to be the death of the ungodly and carcasses are going to be everywhere. You want to be ready for the coming King. You want to be in His kingdom. And so that begs the question: How does one enter the kingdom? Who is in the kingdom and why? And so the parable fits in the flow of thought.
Regular readers of this column over the past few months will know that Jesus was in His final six months of public ministry. Luke 9 through Luke 19 documents His lessons to the disciples and to the Pharisees before He entered Jerusalem for the final time.
Jesus addressed this parable to the self-righteous who regarded others with contempt (verse 9).
Matthew Henry's commentary explains:
He designed it for the conviction of some who trusted in themselves that they were righteous, and despised others. They were such as had, 1. A great conceit of themselves, and of their own goodness; they thought themselves as holy as they needed to be, and holier than all their neighbours, and such as might serve for examples to them all. But that was not all; 2. They had a confidence in themselves before God, and not only had a high opinion of their own righteousness, but depended upon the merit of it, whenever they addressed God, as their plea: They trusted in themselves as being righteous; they thought they had made God their debtor, and might demand any thing from him; and, 3. They despised others, and looked upon them with contempt, as not worthy to be compared with them. Now Christ by this parable would show such their folly, and that thereby they shut themselves out from acceptance with God. This is called a parable, though there be nothing of similitude in it; but it is rather a description of the different temper and language of those that proudly justify themselves, and those that humbly condemn themselves; and their different standing before God. It is matter of fact every day.
MacArthur says:
… in particular who did He have in mind? Who were the real leaders of this religion in Israel of trusting in yourself that you were righteous? The Pharisees, the scribes. Go back to chapter 16 verse 14. The Pharisees…says Jesus…First of all it says Luke. "The Pharisees who were lovers of money were listening to all these things and were scoffing at Him and He said to them," and here are the words of Jesus, "You are those who justify yourselves in the sight of men. You make yourselves righteous in the sight of men, but God knows your hearts. That which is highly esteemed among men is detestable in the sight of God."
MacArthur would agree with Henry about self-righteouness continuing to be a matter of fact every day:
… the people believed that trusting in yourself to become righteous was the way that you gained a place in the kingdom of God and the way you would eventually get to heaven. The benchmark of their system: self-confidence in one's ability to achieve righteousness by their own power and works … trusting in their own righteousness. These are the Pharisees for sure. These are the people who followed the Pharisees. But these are also all the people of all time who have developed any kind of self-styled approach to God in which they believe they have the power to live a life that satisfies God, that somehow they are good enough to be acceptable to God, into His kingdom, into His goodness and into His heaven. These are all the people in the religion of human achievement. Basically that's how people think in the world …
The Pharisees were sickeningly self-righteous, or as Walter Liefeld says, "They are obnoxiously self-righteous." And that's why you have a further description of them at the end of verse 9.  Not only did they trust in themselves that they were righteous, but they viewed others with contempt.  They viewed others with contempt.  Contempt is the worst scorn that you can heap on somebody.  In Luke 23:11 the only two times this word is used in the gospels, once here in 18 and once again in 23:11, Herod with his soldiers after treating Jesus with contempt and mocking Him, dressed Him in a gorgeous robe and sent Him back to Pilate.  Scorn, ridicule, mockery, sarcasm, the lowest form and the most biting form of derision; the Pharisees were that way.  They looked at anybody below them outside their group with contempt.  The word, I think, is interesting enough to kind of break down, exoutheneō.  It comes from two words, as do many Greek terms, many of the verbs combining a preposition at the beginning.  Ek, out of, ouden, not, not even; out of not even anything, the nobodies, the nothings, the non-existents.  They viewed them as if they didn't exist.  By the way, that same word is used by Peter in Acts 4 when he preached a sermon, and he said this about Jesus, "He is the stone which the builders rejected." That's the same verb.  Jesus was treated as if He was nothing, absolutely nothing.  By the way, the word is also used in 1 Corinthians 1 where the Lord has chosen the base things and the despised. The nothings and the nobodies God has chosen.
So, there's in this self-righteousness, in this pride, a contempt for anybody beneath you.  The Jews, the law keepers were called the habarim and the lawbreakers were called the amharitz, the low-lifes.  And in the eyes of the Pharisee, he couldn't get near to anybody who was an amharitz.  That was an absolutely unthinkable thing for him to do.  Kenneth Bailey writes, "In the eyes of a strict Pharisee, the most obvious candidate for the classification of amharitz would be a tax collector.  But there was a particular kind of uncleanness that was contracted by sitting, riding, or even leaning against something unclean. This uncleanness was called midras uncleanness. And for Pharisees, he writes, "The clothes of an amharitz count as suffering midras uncleanness."  They didn't get near any of the low-lifes and the riff-raffs that they disdained. Remember I told you earlier, not even so much as to teach them the law of God.
And so here we have these two men.  And they are at extreme poles.  And they're going to be the ones that convey the message Jesus wants to convey to the people who think they can be good enough to get to heaven on their own.  The audience is really universal, a comprehensive audience.
Jesus began the parable by saying that two men went up to the temple to pray: a Pharisee and a tax collector (verse 10).
In old money, this parable was known as the one of the Pharisee and the publican. Publican in this context means tax collector, not someone who runs a pub.
Henry says that the custom of praying in the temple dated from the time of Solomon:
Two men went up into the temple (for the temple stood upon a hill) to pray. It was not the hour of public prayer, but they went thither to offer up their personal devotions, as was usual with good people at that time, when the temple was not only the place, but the medium of worship, and God had promised, in answer to Solomon's request, that, whatever prayer was made in a right manner in or towards that house, it should therefore the rather be accepted.
MacArthur says an atonement sacrifice was offered twice a day, dating back to Leviticus:
What's the scene here?  Two men went up to the temple to pray.  That happened twice a day, basically, every day, 9 A.M., 3 P.M., morning and evening sacrifice prescribed for the burnt offering which was laid out in the 1st chapter of Leviticus.  They were to go up and make an animal sacrifice, a blood sacrifice as a symbol of atonement.  That was a very, very important thing.  They were very, very fastidious people who made sure they showed up at 9 A.M. and at 3 P.M. every day, particularly Pharisees who were in the proximity and could do that.  Now the crowd would go up the steps at the prescribed time.  The sacrifices would be offered on the altar.  Following the sacrifices which would symbolically open the way to God because atonement had been made, incense would be burned symbolizing prayer.  Now because atonement has been made, prayers can be offered. And prayers would be offered.  There would come a priestly benediction upon the people who were faithful enough to be there as well, and that would be the typical scene.  When it says they went up to the temple to pray, "pray" would embody all the worship, all of the activities that went on.  The temple, according to Matthew 21:13 by the mouth of Jesus Himself is a house of prayer.  Remember Jesus said, "My Father's house is a house of prayer," taking the language from Isaiah 56:7, "and you've turned it in to a den of thieves."  A house of prayer: "Prayer" synonymous with worship, a house where you go to offer yourself and your petitions and your praise to God.  It was that time and the crowd ascended the long, steep steps up to the temple mount.  They went up, anabainō. They ascended up there to worship.  The two men are in the crowd and everybody would understand.  It's a very familiar scene, every morning, every afternoon the same scene went on.
They're going up there because an atonement is going to be made for sin.  Some are going up there feeling they need the benefits of that atonement.  Some are going up there to display themselves and they're just looking for a crowd to gather for that purpose.  There would be a time when all of the people would gather around the altar as the sacrifice was being made, after which the incense being burned, people would then pray.  The Pharisee, very familiar to us, we don't need to say any more about them, you know all there is to know: self-righteous, self-promoting, self-satisfied purveyors and protectors of the religion of human achievement.  Tax collector, also familiar; we've seen tax collectors already in four chapters. This is the fifth time.  We know they were the low-lifes of that society because they had purchased tax franchises from the Romans who were the idolaters, oppressors, thus desecrating themselves.  They then extorted money from their own people using strong-armed thugs and any intimidation, manipulation or criminal activity they could and were surrounded by the low-life, riff-raff of society.  So, they are shown going up together with the crowd, but they separate when they get there.
The Pharisee stood by himself, praying to God with an erroneous thanksgiving that he was not like other people he considered to be unclean and beneath himself: thieves, rogues, adulterers — 'or even like this tax collector' (verse 11).
Henry says:
Here is the Pharisee's address to God (for a prayer I cannot call it) … he was wholly intent upon himself, had nothing in his eye but self, his own praise, and not God's glory; or, standing in some conspicuous place, where he distinguished himself; or, setting himself with a great deal of state and formality, he prayed thus. 
MacArthur comes to the same conclusion:
Jesus even talks about in Matthew 6:5 standing in a posture of prayer but not doing it to be seen of men.  He says don't be like the hypocrites who stand in order to be seen by men.  Well here's one of those hypocrites.  Not wrong to stand but to stand to be seen by men. Again you go back to the issue of the heart.  Very likely he would take his place in a most visible location and nearest to the holy place that he could get to show his proximity to God.  He wants to be wherever God is believed or deemed to be, to give the unwashed around him a good look at a truly righteous man.  He takes his posture there.
The Pharisee said that he fasted twice a week and tithed a tenth of all his income (verse 12).
Henry offers this analysis:
The Pharisees and their disciples fasted twice a week, Monday and Thursday. Thus he glorified God with his body: yet that was not all; he gave tithes of all that he possessed, according to the law, and so glorified God with his worldly estate. Now all this was very well and commendable. Miserable is the condition of those who come short of the righteousness of this Pharisee: yet he was not accepted; and why was he not? (1.) His giving God thanks for this, though in itself a good thing, yet seems to be a mere formality. He does not say, By the grace of God I am what I am, as Paul did, but turns it off with a slight, God, I thank thee, which is intended but for a plausible introduction to a proud vainglorious ostentation of himself. (2.) He makes his boast of this, and dwells with delight upon this subject, as if all his business to the temple was to tell God Almighty how very good he was; and he is ready to say, with those hypocrites that we read of (Isa 58 3), Wherefore have we fasted, and thou seest not? (3.) He trusted to it as a righteousness, and not only mentioned it, but pleaded it, as if hereby he had merited at the hands of God, and made him his debtor. (4.) Here is not one word of prayer in all he saith. He went up to the temple to pray, but forgot his errand, was so full of himself and his own goodness that he thought he had need of nothing, no, not of the favour and grace of God, which, it would seem, he did not think worth asking.
MacArthur says:
… the construction lends itself better to understand that he was actually directing his prayer in a self-congratulatory fashion. And that is fairly well indicated by the fact that in two verses he refers to himself five times. That's pretty hard to do. You have to have short sentences and a lot of first person pronouns. This is a self-congratulatory prayer and the translation of the NAS is a good translation. "The Pharisee stood and was thus praying to himself." He is parading himself. This is no prayer to God. He gives God no praise. He asks nothing from God, no mercy, no grace, no forgiveness, no help. But he does refer to God. "God," because you're supposed to, that's the way all prayers are supposed to begin, "I thank you that I'm not like other people." Wow. Well, what's there to thank God for? You've done this on your own. This is sheer hypocrisy. This is an unequivocal confession to God of his worthiness, of his righteousness. Thanking God for what you are on your own? This is where self-righteousness leads you. I'm good enough. God, I thank You that I'm good enough. I'm good enough to have a relationship with You. I'm good enough to be here in Your temple. I'm good enough to be standing by this holy place. I'm good enough to be the paragon of religious righteousness and virtue. I'm good enough to stand here so all the low-lifes can see what a really godly man looks like.
MacArthur says that when the prayers began, the notionally unclean were separated and ushered out of the temple:
And he must have kept himself a little bit of distance away.  If he were to brush against any amharitz, he would be unclean.  And physical isolation for a Pharisee was a statement.  They stood aloof from others when they gather around the altar, they stood aloof from others at all time in society, they never had a dinner or a lunch at their house with anybody but another Pharisee, unless they invited somebody in which to trap Jesus.  According to the Mishnah, by the way, the Jewish law, at the time of the incense, after the sacrifice in the morning and evening service, prayers were made. And when the prayers began, according to Mishnah, there was a delegation of Jews that was responsible at the time of the beginning of the prayer, of the praying, to find the unclean people in the crowd and clear them away to the eastern gate, get all the unclean people out.  And maybe a Pharisee like this would wonder why there was even a tax collector in his vision who should have been ushered off and out the eastern gate.
MacArthur also has more on the Monday and Thursday fasting of that era:
Verse 12: "I fast twice a week."  Impressive, huh?  By the way, the Old Testament only prescribed one fast, Day of Atonement, preparation for the Day of Atonement. Leviticus 16:31 called for a fast.  There are no other required fasts.  There were times of sorrow, times of penitence, times of mourning when people fasted and that was something you could choose to do.  But there was only one prescribed fast.  But as I said, these self-styled, self-righteous, external legalists like to invent rituals and ceremonies as all false religions do.  And they get more complicated and more complicated and more complicated and more symbolic and more symbolic in direct proportion to the absence of truth and reality.  And so they had developed a scheme of fasting on Monday and Thursday, Monday and Thursday.  Why Monday and Thursday?  Because those were the market days and the crowds were bigger, so you could go into the big crowd and throw a bunch of ashes on your head and look sad, and fast, spiritual impression would be made.  And why Monday and Thursday?  Some other writers say, well because it was a Monday, according to some rabbi, that Moses went up to Sinai and forty days later he came down on a Thursday. So Monday and Thursday.  Some other rabbi offers this explanation, "Because Monday and Thursday are equal distant from the Sabbath while being as far from each other as possible."
Jesus condemned showy fasting:
Jesus condemned that, remember, in the 6th chapter in the Sermon on the Mount when He said, "Don't fast like the hypocrites fast, in the public streets and in the corners, calling attention to yourself." It's talking exactly about this. People putting on external spiritual displays by ritualistic, ceremonial behavior by the clothing they wear, the garb, the way they dress as if this is the mark of real holiness.
The Pharisee's tithes were in addition to the Old Testament tithes, something they invented, therefore, man-made:
Further he says, "I pay tithes of all that I get."  Sounds like a good Baptist, but not really.  I pay tithes of all that I get.  The Old Testament laid down prescription for tithing, 10 percent of what you get goes to fund the national theocratic government, 10 percent goes to fund the national festivals and feasts on high holy days, and 10 percent every third year for the poor.  So it was three and a third a year, so about a 23 and a third percent tax, that's what funded the theocratic kingdom of Israel.  Now that's all the Lord required.  Then there was a half-shekel temple tax and that was it.  But again, they wanted to invent laws to appear righteous, so in Matthew 23:23 and Luke 11:42, I think it is, it says that they tithe of mint and anise and cumin.  Those are tiny little spices.  They tithed the tiny little seeds and leaves of the spices as a way to demonstrate their virtue, their holiness, their law-keeping.  They went beyond the law.
MacArthur gives us an actual prayer from the Pharisees' era:
A Pharisaic prayer dating from about the time of Jesus goes like this, "I thank Thee, Jehovah, my God, that Thou hast assigned my lot with those who sit in the house of learning and not with those who sit in the street corners. I rise early and they rise early. I rise early to study the words of the Torah and they rise early to attend to things of no importance. I weary myself and they weary themselves. I weary myself and gain thereby while they weary themselves without gaining anything. I run and they run. I run toward the life of the age to come. And they run toward the pit of destruction." That was self-righteousness in the Pharisaic mind.
Jesus said (verse 13) that the tax collector stood far off, would not look upward to heaven, but instead beat his breast saying, 'God, be merciful to me, a sinner!'
Henry discusses the tax collectors stance and gesture:
He expressed his repentance and humility in what he did; and his gesture, when he addressed himself to his devotions, was expressive of great seriousness and humility, and the proper clothing of a broken, penitent, and obedient heart. (1.) He stood afar off. The Pharisee stood, but crowded up as high as he could, to the upper end of the court; the publican kept at a distance under a sense of his unworthiness to draw near to God, and perhaps for fear of offending the Pharisee, whom he observed to look scornfully upon him, and of disturbing his devotions. Hereby he owned that God might justly behold him afar off, and send him into a state of eternal distance from him, and that it was a great favour that God was pleased to admit him thus nigh. (2.) He would not lift up so much as his eyes to heaven, much less his hands, as was usual in prayer. He did lift up his heart to God in the heavens, in holy desires, but, through prevailing shame and humiliation, he did not lift up his eyes in holy confidence and courage. His iniquities are gone over his head, as a heavy burden, so that he is not able to look up, Ps 40 12. The dejection of his looks is an indication of the dejection of his mind at the thought of sin. (3.) He smote upon his breast, in a holy indignation at himself for sin: "Thus would I smite this wicked heart of mine, the poisoned fountain out of which flow all the streams of sin, if I could come at it." The sinner's heart first smites him in a penitent rebuke, 2 Sam 24 10. David's heart smote him. Sinner, what hast thou done? And then he smites his heart with penitent remorse: O wretched man that I am? Ephraim is said to smite upon his thigh, Jer 31 19. Great mourners are represented tabouring upon their breasts, Nah 2 7.
Henry analyses the publican's prayer:
His prayer was short. Fear and shame hindered him from saying much; sighs and groans swallowed up his words; but what he said was to the purpose: God, be merciful to me a sinner. And blessed be God that we have this prayer upon record as an answered prayer, and that we are sure that he who prayed it went to his house justified; and so shall we, if we pray it, as he did, through Jesus Christ: "God, be merciful to me a sinner; the God of infinite mercy be merciful to me, for, if he be not, I am for ever undone, for ever miserable. God be merciful to me, for I have been cruel to myself." (1.) He owns himself a sinner by nature, by practice, guilty before God. Behold, I am vile, what shall I answer thee? The Pharisee denies himself to be a sinner; none of his neighbours can charge him, and he sees no reason to charge himself, with any thing amiss; he is clean, he is pure from sin. But the publican gives himself no other character than that of a sinner, a convicted criminal at God's bar. (2.) He has no dependence but upon the mercy of God, that, and that only, he relies upon. The Pharisee had insisted upon the merit of his fastings and tithes; but the poor publican disclaims all thought of merit, and flies to mercy as his city of refuge, and takes hold of the horn of that altar. "Justice condemns me; nothing will save me but mercy, mercy." (3.) He earnestly prays for the benefit of that mercy: "O God, be merciful, be propitious, to me; forgive my sins; be reconciled to me; take me into thy favour; receive me graciously; love me freely." He comes as a beggar for an alms, when he is ready to perish for hunger. Probably he repeated this prayer with renewed affections, and perhaps said more to the same purport, made a particular confession of his sins, and mentioned the particular mercies he wanted, and waited upon God for; but still this was the burden of the song: God, be merciful to me a sinner.
MacArthur reminds us that the heart is the centre of evil:
An old Jewish commentary says, and I quote, "Why do the righteous beat on their heart as though to say all is there?  The righteous beat their heart because the heart is the source of all evil longing."
This is a recognition of what our Lord taught, that it's out of the heart that all evil comes.  You remember the words of our Lord Jesus, Mark 7:21 and Matthew 15:19, parallel passages.  Let me read you Matthew 15:19 and 20, "Out of the heart come evil thoughts, murders, adulteries, fornications, thefts, false witness, slanders. These are the things which defile the man."  He understands. This is a man who understands his own sinfulness. His location demonstrates it, his posture demonstrates it. His behavior demonstrates it.  He knows what's in his heart.  He knows that what Jeremiah said is true, that the heart of man is deceitful above all things and desperately wicked.  He is anguished over his guilt.  He is broken over his shame, his unworthiness.  He is crushed and humbled.  And it comes out in everything about him and even in his words.  He says, "God," and he is truly talking to God. That's not just doing what is expected, he is talking to God. "Be merciful to me, the sinner."  Those are the words of a true penitent.  Start with the sinner, not a sinner; toh hamartōlō, definite article, the sinner.  Like Paul in 1 Timothy 1:15, "For I am the chief of sinners."  This is an unequivocal confession of his extreme and supreme sinfulness and there's no comparing him with others. He is the worst sinner.  And that is a legitimate response because of all the sinners in the world he knows he knows himself to be the worst because no sinner knows so much about himself as the individual himself.  He knows about other sinners, but he knows his own heart better than he knows anybody else.  "Who knows the spirit of a man but the spirit of the man that is within him?" says the Scripture.  He is the worst sinner in the world, as far as his personal knowledge is concerned.
MacArthur says that the Pharisee thought he himself was a sinner but that, unlike the publican, he had more right to be forgiven. As such, the Pharisee thought God would overlook his sins:
The Pharisee had faith in God. He believed in God. He believed in the true and living God, the God of Abraham, Isaac and Jacob. He believed in the God who was the Savior God. He believed in the sacrificial system. He believed in atonement for sin. He believed in God's forgiveness.
You say, "You mean he really did believe in God's forgiveness?" Sure. A Pharisee didn't believe that he never committed any sin ever in his entire life. He just believed that he had earned the right to be forgiven.
MacArthur cites a modern day example of this type of belief, that of the Mormons:
When I was meeting with some of the leaders of the Mormon church, we were having a conversation, one of the stunning statements they made to me and they wanted to affirm it again and again, is we believe salvation is all of grace, all of grace. And I said, "Okay, well then if I want to be sure to go to heaven, what do I need to do?" And they said, "Well, first of all you have to be baptized in this Mormon ritual, and then you have to join the Mormon church, and then you would have to adhere to…" and they started down this list.
I said, "Wait a minute. It doesn't sound like grace. That sounds like works." And as I pressed the issue, it came around to this: Isn't God gracious that He allows us to earn our salvation? … That's the way religious people think. It isn't that the world is full of people who don't think they've ever done anything wrong. It's just that they think they have not done as much wrong as they have done right. And so they've tipped the scales in their favor and God is going to forgive the stuff that they've done because they've earned it.

MacArthur discusses the publican's prayer for God's mercy in light of the atonement sacrifice:
The defining distinction here is that the first man has nothing for which to what?  Repent.  He's like the rich young ruler. He says, "I've kept everything since my youth.  I can't find anything I need to confess or repent of."  That is the issue.  There is no possibility of salvation apart from this kind of repentance because this is the defining element.
Now notice what he says.  "Be merciful to me."  The Greek is, very important phrase, hilaskomai, hilaskomai. Hileos tati is not to show mercy. That's a different word.  If you go down to verse 38, Jesus meets a blind man in verse 38 of this chapter, and the blind man calls out and says, "Jesus, Son of David, have mercy on me." That is a true translation of eleēson me, different word, from the verb eleeō, which means to show mercy.  That's exactly what that means, to show mercy.  Hilaskoimoi comes from the Greek verb hilaskomai, which means to propitiate, to appease, to make propitiation, to make satisfaction.  And every word attached to that verb root, hilas, whether it's alasmos, halasterios, hilaos, they all have to do with the same idea.  This is what he said, "God, be propitious to me.  God, be appeased toward me."
What is he saying?  He's saying this, "God, please apply the atonement to me."  He understood the theology of atonement.  He understood the wages of sin is death, the soul that sins it shall die.  He understood all the way back to the wonderful story of Abraham and Isaac that God would provide a sacrifice that would satisfy Himself and would satisfy His justice, a substitute.  He understood that the millions of animals that had been offered throughout all of Jewish history were symbolic of the fact that God could be appeased by a sacrifice, though none of those sacrifices ever gave the final appeasement to God. Otherwise they would have ceased.  He's talking atonement language here.  This is not a general plea for mercy.  And this needs to be expressed clearly because sometimes when we present the gospel, all we want to do is say God loves you and has this wonderful purpose for your life and God wants you to have the joy and happiness and all of this and if you just ask Him, He'll be merciful to you.
That's not what he's saying.  He is saying, "I am a wretched sinner.  I am unworthy to stand near you.  I am unworthy to look up toward you.  I am in profound agony and anguish over my wretchedness.  I need an atonement for my sins to be applied to me."  That's what he's saying.  This is about sin and atonement.
This verb is only used two times in the New Testament, one here and the second use in Hebrews 2:17 where it says, concerning Jesus Christ, that He is a faithful high priest in things pertaining to God to make propitiation for the sins of His people, to make satisfaction, to satisfy the wrath of God, to satisfy the justice and holiness and vengeance of God.  And that's what this man is crying for. Oh God, please apply the atonement to me, make atonement for me.  That very day a sacrifice had been made on that altar. He pleads that it would apply to him.  He understood the theology of substitution, imputation and atonement.  They knew that there would come one day a Son of David, a root out of Jesse, Isaiah 53, and He would bear our iniquities and He would die in our place.  That's what Isaiah 53 says, "He was wounded for our transgressions, bruised for our iniquities.  And by His sacrifice we have peace with God.  Please, oh God, please make the atonement apply to me.  May Your anger with me over."  That's the plea of a penitent sinner.  "Oh God, cease being justifiably, righteously angry with me.  May Your justice be satisfied through atonement."
One historian says this, "One can almost smell the pungent incense, hear the loud clash of ceremonial cymbals, see the great cloud of dense smoke rising from the burnt offering.  And the tax collector is there, stands afar off, anxious not to be seen, sensing his unworthiness to stand with the participants.  In brokenness he longs to be a part of it all.  He yearns that he might stand with the righteous.  In deep remorse he pounds his chest and cries out with repentance and hope, 'Oh God, let it be for me.  Make an atonement for me, a sinner.'"  There in the temple, this humble man aware of his own sin and unworthiness, with no merit of his own to commend him, longs that the great dramatic atonement sacrifice might be applied to him."
Jesus ended the parable by saying 'I tell you' — making it most emphatic on His authority — that the tax collector went home justified, not the Pharisee; those who exalt themselves will be humbled and those who humble themselves will be exalted (verse 14).
MacArthur explains why Jesus began that ending the way He did:
Jesus says, "I tell you." Why does He say that? Why begin like that? Because He knows He couldn't get this anywhere else in Judaism. He can't quote a rabbi. He speaks with absolute authority, "I tell you." Here is sound soteriology from incarnate God. "I tell you, this man went down to his house…" That's not what the rabbis tell you, that's not what the scribes tell you, that's not what you have heard. "I tell you, this man went down to his house having been made just," having been made righteous, having been made acceptable. And speaks of a completed condition, the verb form, a state of having been declared righteous and that's permanent.
MacArthur says that our Lord's statement about instantaneous and permanent divine justification of the publican would have shocked the legalists listening to Him:
This would draw gasps from the legalists. Think of it, Jesus, God in human flesh, the holy one, the perfect sinless one says that in one moment an extreme sinner can be pronounced instantly righteous without any works, without any merit, without any worthiness, without any law-keeping, without any moral achievement, religious achievement, spiritual accomplishment or ritual. No time lapse, no penance, no works, no ceremony, no sacrament, no meritorious activity whatsoever, nothing to do, instant declaration of justification on the spot, permanent. Wow! How can that be? Because the only righteousness that God will accept is perfect righteousness and since you can't earn it, He gives it as a gift to the penitent who put their trust in Him. That's the gospel. All the sinner ever does is receive the gift, coming in penitent trust, pleading for atonement to be made to satisfy the wrath of God against his sin.
Here is the broken-hearted, self-confessed sinner, humble, unworthy, trusting only in God's atonement, pleading that God would apply it to him, who is instantaneously made perfect before God, as perfect as God, for the righteousness of God is credited to him. He's the one who enters the spiritual and will be in the earthly and will live forever in the eternal kingdom, rather than the other. The self-righteous pride of the Pharisee and everybody like him only intensifies the alienation. His soliloquy up there just solidified his self-confidence and he went down even more wretched than when he went up. Atonement is worthless to the self-righteous.
So the listening crowd who heard Jesus say this and anybody who reads it is forced to reassess how a person enters the kingdom of God. It's not by human morality, goodness, or religion, but by repentance and conviction of sin and a plea for an atoning sacrifice.
MacArthur says this is the only time that Jesus ever spoke of justification:
The work of our Lord is not mentioned because it's not yet occurred.  But what is clear is this, that righteousness and justification is a gift from God apart from works that is only made possible through the application of an atoning sacrifice.  We leave it to Paul after the cross to teach the rich meaning of the atonement of Jesus Christ being that one and only sacrifice that satisfies God.  But isn't it interesting that the starting point for Paul, the starting point for the New Testament understanding of righteousness through atonement is traceable back to this story which Jesus told?
When I wrote the book The Gospel According to Jesus and I rewrote a later edition and a newer edition of it, I wanted to include in that the doctrine of justification.  This is the only place in the teaching of Jesus where you have this explicit instruction.  It is here that the foundations for the teaching of Paul are found.  Christ becomes that sacrifice and it's His death who's applied… it's applied to all in the past and all sins.  However, know this, that there is no salvation on this side of the cross apart from recognizing Christ and His work on the cross, for there is no salvation in any other name.
MacArthur then discusses the second half of verse 14, a truth mentioned throughout the Bible:
The Lord ends this amazing story with what I'll call the central axiom. The audience, the analogy, the answer, the central axiom in verse 14, this is a truism, a proverb, "For everyone who exalts himself shall be humbled, but he who humbles himself shall be exalted." "Exalted" here is a synonym for salvation, a synonym for righteousness. It's used in an Old Testament sense. In the Old Testament, only God is truly exalted and only God can exalt men. Men can't exalt themselves successfully to His level. So this refers to spiritual salvation, reconciliation, righteousness, justification, being in the kingdom. All efforts to doing that on your own are going to leave you humiliated. Everyone who exalts himself — that is, tries to save himself or make himself righteous — shall be humbled in the severest sense of the word, crushed in eternal loss and punishment. The path of self-exaltation ends up in eternal judgment. God resists the proud and gives grace to the humble.
On the other hand, all who humble themselves, confessing they cannot do anything to save themselves, will be lifted high into eternal glory. The damned think they're good. The saved know they're wicked. The damned believe the kingdom of God is for those worthy of it. The saved know the kingdom of God is for those who know they're unworthy of it. The damned believe eternal life is earned. The saved know it's a gift. The damned seek God's commendation. The saved seek His forgiveness.
May everyone reading this have a blessed Sunday.
The three-year Lectionary that many Catholics and Protestants hear in public worship gives us a great variety of Holy Scripture.
Yet, it doesn't tell the whole story.
My series Forbidden Bible Verses — ones the Lectionary editors and their clergy omit — examines the passages we do not hear in church. These missing verses are also Essential Bible Verses, ones we should study with care and attention. Often, we find that they carry difficult messages and warnings.
Today's reading is from the English Standard Version with commentary by Matthew Henry and John MacArthur.
4 Masters, treat your bondservants[a] justly and fairly, knowing that you also have a Master in heaven.
Further Instructions
2 Continue steadfastly in prayer, being watchful in it with thanksgiving. 3 At the same time, pray also for us, that God may open to us a door for the word, to declare the mystery of Christ, on account of which I am in prison— 4 that I may make it clear, which is how I ought to speak.
5 Walk in wisdom toward outsiders, making the best use of the time. 6 Let your speech always be gracious, seasoned with salt, so that you may know how you ought to answer each person.
—————————————————————————–
Last week's post discussed Paul's instruction to wives, children and bondservants, similar to those he gave to the Ephesians.
N.B.: This is another long post, so do grab a cuppa and a snack.
For whatever reason, Paul gave his final instruction to bondservants' masters at the beginning of Colossians 4, telling them to treat their slaves justly and fairly, being aware of the Master in heaven (verse 1).
John MacArthur says:
In other words, do unto others as you would have the Lord do unto you. Treat them fairly as God, you would hope, would treat you.
Matthew Henry's commentary has more specifics, however, his was an era when more household servants abounded (emphases mine):
Here observe, 1. Justice is required of them: Give unto your servants that which is just and equal (v. 1), not only strict justice, but equity and kindness. Be faithful to your promises to them, and perform your agreements; not defrauding them of their dues, nor keeping back by fraud the hire of the labourers, Jam 5 4. Require no more of them than they are able to perform; and do not lay unreasonable burdens upon them, and beyond their strength. Provide for them what is fit, supply proper food and physic, and allow them such liberties as may fit them the better for cheerful service and make it the easier to them, and this though they be employed in the meanest and lowest offices, and of another country and a different religion from yourselves. 2. A good reason for this regard: "Knowing that you also have a Master in heaven. You who are masters of others have a Master yourself, and are servants of another Lord. You are not lords of yourselves, and are accountable to one above you. Deal with your servants as you expect God should deal with you, and as those who believe they must give an account. You are both servants of the same Lord in the different relations in which you stand, and are equally accountable to him at last. Knowing that your Master also is in heaven, neither is there respect of persons with him," Eph 6 9.
MacArthur reminds us of the purpose of Paul's letter to the Colossians:
Now, remember that the book of Colossians is a defense of the sufficiency of Christ.  False teachers had come into the city of Colossae and were trying to deny that Christ was sufficient.  They were trying to deny that all you needed was Jesus Christ, and they were saying, "No, you need Christ plus a certain human philosophy.  You need Christ plus the Mosaic Law.  You need Christ plus certain mystical relationships to angelic beings.  You need Christ plus a certain life of self-denial."  And so they were really denying the sufficiency of Christ.  And in rebuttal to that, the great climax of the book comes in two passages.  One was alluded to earlier; it's in the first chapter, where he discusses the sufficiency of Christ, who is the image of the invisible God, and by Him were all things made, and He has all power, and so forth and so on.  And the second great climactic statement is in chapter 2, verse 10, which says, "And you are complete in Him." 
So the argument of the book, then, is that in spite of the errorists' teaching, Christ is indeed sufficient.  Christ is all we need, and he establishes that in the first two chapters.  Now, having established that Christ is sufficient, he begins, then, in chapter 3 to show what it means to have that sufficiency in Christ.  If Christ is sufficient to redeem me, if He has given me new life, if He has given to me eternal life or resurrection life, what does that mean to me?  Well, such a new life, says Paul, demands a new lifestyle.  And so chapter 3 and chapter 4 discuss the new lifestyle of the new man in Christ ... 
To that end, Paul gives the Colossians his final instructions.
MacArthur says that these verses pertain to Christian speech:
Now, in our text, Paul picks out four areas of the mouth, or related to it.  Four kinds of speech, here they come: the speech of prayer, the speech of proclamation, the speech of performance, and the speech of perfection.  Four distinct elements related to the mouth for the Christian lifestyle: the speech of prayer, the speech of proclamation, the speech of performance, and the speech of perfection ...
Paul encourages the Colossians to continue steadfastly in prayer, ensuring that they are careful to give thanks (verse 2).
Henry says that verse is connected to the first. In other words, masters should create a devout household with consistent prayer:
If this be considered as connected with the foregoing verse, then we may observe that it is part of the duty which masters owe their servants to pray with them, and to pray daily with them, or continue in prayer. They must not only do justly and kindly by them, but act a Christian and religious part, and be concerned for their souls as well as their bodies: "As parts of your charge, and under your influence, be concerned for the blessing of God upon them, as well as the success of your affairs in their hands."
Henry explains why continuing in prayer, including thanksgiving, is so important:
And this is the duty of every one—to continue in prayer. "Keep up your constant times of prayer, without being diverted from it by other business; keep your hearts close to the duty, without wandering or deadness, and even to the end of it: Watching the same." Christians should lay hold of all opportunities for prayer, and choose the fittest seasons, which are least liable to disturbance from other things, and keep their minds lively in the duty, and in suitable frames.—With thanksgiving, or solemn acknowledgment of the mercies received. Thanksgiving must have a part in every prayer.
MacArthur says:
First, the speech of prayer; a new lifestyle with a new man will mean a new mouth filled with a new kind of conversation … 
Prayer is the means by which the grateful soul pours out its spontaneous praise before the throne of God.  Prayer is the voice of the weeping soul calling on the sympathetic high priest in the time of need.  Prayer is the intercession of the concerned Christian, who calls on divine resources in behalf of another's trouble.  Prayer is the simple conversation of the beloved child with the caring Father, as they talk of love ... Prayer is toward God.  Prayer is to be in line with the Holy Spirit … 
… basically what it's saying here – and we've gone through this – is to have a general God consciousness, so that you see everything that happens in reference to God.  You see, the accident that happened to our young man in the high school department, somebody came by, no doubt, and drove by and said, "Poor kid, he probably ought to be careful on a motorcycle."  Or, "Boy, it's too bad". 
But somebody came by, and got out and went over because he was a Christian, and knelt down and prayed, and he saw it all different than anybody else saw it.  Because he had a God consciousness, and anything and everything became cause for communion with God.  God-consciousness means that if I see something bad, I pray for those involved.  If I see something good, I praise for Him who has brought it about.  You see, it's that conscious flow of God-consciousness …

I started chasing around that word "continue" in prayer, and the root word here, one word, kartere.  It's a very interesting word.  It basically comes from a noun that means "strong" – strong.  The verb means to be steadfast, to endure, to hang in there.  That's kartere, but the word used here is proskartere.  And anytime – and I've told you this before – you add a preposition to the front of a verb in Greek, you intensify the Greek verb.  So he's saying if the word kartere means to be strong and steadfast, this means to be super strong, and super steadfast, and really hang in there.  It's the idea of perseverance.
… It's a strong commitment to something, where you are steadfast, and you endure, and you don't bail out, and you don't give up, and you don't quit …
Regular readers of this column know that nothing pleases me more when Forbidden Bible Verses tie in with Sunday readings.
Today, we have not only one but two examples of such serendipity.
MacArthur calls our attention to Year C's Gospel for the Eighteenth Sunday after Trinity, which I wrote about yesterday.
Of continuing steadfastly in prayer, he says:
Now that's an exciting dimension of prayer.  Well, let me give you some illustrations.  You say, "MacArthur, I don't know whether this fits in my theology."  Well, let me do that for you, I'll slide it right in there.  Luke 18 – Luke 18, this is the great joy the Bible teacher has, is just the freedom not to get locked in a box, because the Bible isn't. 
You just get everything organized in one little corner, and all of a sudden something explodes at the very opposite end, and you've got to release a little bit there.  "He spoke a parable unto them to this end" – Well, what was Your purpose, Lord?  Why this parable?  "That men ought always to pray and not faint."  The whole purpose of the parable, people, is to do exactly what Paul said.  It's so that you'll keep praying and not fall asleep, and not quit, and not just hold your list up before God.  He said, "There was in a city a judge, and he feared not God, nor man.  And there was a widow in the city; and she came to him, saying, 'Avenge me of mine adversary.'"  Somebody did something wrong to me, I want to bring it into court and get a just disposition of this, and I want it to be avenged for the wrong. 
"And he wouldn't for a while."  The judge wouldn't do it.  "But afterward he said within himself, 'Though I fear not God, nor regard man; yet because this widow troubles me, I will avenge her, lest by her continual coming she wears me out.'"  Okay, okay – I've had it.  Now, you say, "Wait a minute, wait a minute, you mean that has a divine application?"  Sure, verse 6: "The Lord said, 'Hear what the unjust judge said'" – you listen.  "Shall not God avenge His own elect, who cry day and night unto Him, though He bear long with them?  I tell you, He will avenge them speedily."  God is going to do things to make things right, to gain His own honor, and to give you the place of blessing, when you cry out to Him day and night.
That's one reading.
The second is the alternative First Reading from Genesis 32 where Jacob wrestles with God and overcomes, thereby earning the name of Israel and divine blessing.
MacArthur continues:
Virginia Stem Owens wrote a most interesting article in a recent issue of Christianity Today, in which she said this – and I want to read you part of it because I think it's so related to this.  She said: "This is not a cosmic teddy-bear we are cuddling up to," speaking of God.  "As one of the children describes Him in C. S. Lewis' Chronicles of Narnia, 'He's not a tame lion.'"  Jacques Ellul is convinced, he says, "that prayer for persons living in the technological age must be combat.  And not just combat with the evil one, with one's society, or even one's divided self, though it is all of these, but his combat with God.  We must struggle with Him just like Jacob did at Peniel, where he earned his name Israel; and Israel means 'he who strives with God.'  We too must be prepared to say, 'I will not let you go till You bless me.'"
Amazing.
MacArthur concludes on this point:
You say, "Well, what is all that trying to say?"  All that is trying to say something that's true: prayer is a matter of struggling and grappling with God.  Prayer is a matter of proving to God the deepest concern of your heart. 
MacArthur cautions us about what we pray for, because we might just receive it — and not always in the way we expect:
Somebody told me this week, "You know, I get so much trouble in my life, just trouble all the time."  And they said, "You know, I pray and I say, 'God, all I want is Your will, and I just want to be what You want me to be.  O, Lord, make me what You want me to be.'  And all I ever get is trouble." 
I said, "Yeah, that's a dangerous prayer.  You say, 'God, make me what You want me to be,' and He says, 'Okay – and it will be My way, and you may come away limping.'" 
That is a reference to Jacob's limping away after his night-long wrestling match with God.
MacArthur has more on verse 2:
There's a tension, I know, between claiming and persisting on God's power, and God's grace, and at the same time, waiting on His will.  But listen to this, it is resolved not by holding your persistence; it is resolved by accepting His answer.  That's important.  Well, I kind of got wound up on that; I knew I would.  It's a lot for continuing prayer, but that's what he is saying; back to Colossians 4:2 …

"Continue in prayer" – and I like this – "watch in the same."  You know, one thing you can't do is pray without watching.  Now, you know what this simply means?  Just I mean the basic thing that it means?  Stay awake.  You can't pray in your sleep; very difficult.  Matthew 26, there's a good illustration of that.  The disciples fell asleep in prayer meeting.  Matthew 26 – it tells the story.  Jesus came into the garden, took with Him Peter, two sons of Zebedee, James and John, and they were there.  Jesus was praying.  Verse 40: "He came unto the disciples and He found them asleep.  And He said, 'Peter, you couldn't stay awake for one hour?'"  The word "watch" here means stay awake.  "You couldn't stay awake one hour?" …
But the thought here is broader than that.  It isn't just that; that's very obvious.  But when he says, "Watch in the same," I think he's carrying over to what Peter said, in 1 Peter, chapter 4, and verse 7: "But the end of all things is at hand: be sober minded, and watch unto prayer."  And what Peter means there is basically sober minded is the idea of knowing the priorities, and when he says, "watch unto prayer," he means look for the things that you ought to be praying about …  
MacArthur offers us a real-life illustration of that and how well it worked:
I hadn't been at Grace Church very long when a man came up to me and he said, "I'd like to pray for you."  And I said, "Well, wonderful; I sure would appreciate that."  He said, "Yes."  He took out a notebook, and he just opened it up, and he said, "Let's see, why don't you give me four things to pray for?" 
And I said, "Okay."  "Oh, just a minute [mumbles] – he wrote them all down.  He had this page divided in the middle, and he had all these request things on there, and he wrote it all down.  And then he walked away, and I thought, "A little strange."  You know, that's very uncommon.  So about two weeks later, I met him in the patio again; we were in the other building, there was another patio.  And he walked up to me, and he said, "Say," he said, "by the way," he said, "I've got these four requests, and I've been praying for two weeks.  Could you tell me what happened on those?"  And I said, "Yeah," and he said, "Well, just a minute, uh-huh – what day was that?  Oh yes, uh-huh, the 12th of February." 
He wrote the whole thing down on the right hand column.  And there was this big spiral notebook.  You know I had an occasion later on to be in his home, and I looked at his bookcase.  You want to hear something interesting?  There were 13 other books on the bookshelf all filled; this was number 14.  That's what I call watching to see what you're praying about.  You know, if you said to him, "Say there, Frank, do you believe God answers prayer?"  "Yeah, what kind would you like to know?  Uh-huh, we got – you know – I've got 485 of those, 796 of these" – see, that's watching unto prayer.  You'll never be persistent with God about something you're not concerned about, and you'll never get concerned about something until you know what something needs to be concerned about.  And we've got to watch.
That is very strange to read, because I am in a similar situation right now, praying for the well-being of someone I haven't seen in years and might never see again, but I had an urge last year to begin praying for that person and have done so every day since with equal fervency. That's never happened to me before.
MacArthur tells us why we should express thanksgiving in prayer:
Be thankful for your salvation, be thankful for your growth, be thankful for your fellowship, be thankful for your service.  And here he says, in verse 2, of chapter 4, "Be thankful."  Be thankful that when you pray, you have the guarantee that God is going to answer in accord with what's best for you.  Be thankful.  You know, no matter what happens in a prayer, you can be thankful.  When you're praying – you know, I was trying to think, "Now, what am I thankful for when I pray?" 
Number one, the first thing I'm thankful for as I pray is God's presence, because if it wasn't there, it wouldn't do me any good to pray.  So I thought, "No matter what He says or does – yes, no, maybe, wait, whatever – I'm thankful that He's listening.  I'm thankful for His presence."  The psalmist understood that.  Psalm 75:1: "Unto Thee, 0 God, do we give thanks."  Why?  "That Thy name is near."  I'm just thankful You're there.  Whatever Your answer is, it's just great to talk to You.
Second thing I thought of, I'm thankful not only for God's presence, but I'm thankful for God's provision.  You know there is no such thing as a prayer that doesn't get answered?  He always provides an answer, always, always, always.  And I'm thankful for that.  He always provides my bread; He always provides a place to stay.  He always provides the needs of life, and that's His promise, and I'm always thankful.  And maybe I'm asking for things beyond the needs, and I can be at the same time thankful that the needs I know are going to be met.  And as I pray, I'm not only thankful for His presence and His provision, but I'm thankful for His pardon.  Romans 6:17: "Thanks be unto God, that whereas we use to be the servants of sin, we've become the servants of righteousness."  I'm thankful that He saved me.
And then I thought of a thing that kind of sums it all up.  I'm thankful for all those things, and all the things I showed you in Colossians, but I think the thing that's just really exciting is I'm thankful for His promise.  I just – it excites me when I read 1 Corinthians 15:57.  "Thanks be to God, who always gives us" – what – "the victory."  Man, that's exciting.  I can pray, and no matter what the answer, no matter how God works, no matter whether I come away like Jacob, limping, no matter whether it costs me my life, or the life of somebody around me, I can come away and say, "The victory is mine," always; because "All things are working together for" – what – "good."  That's God's purpose for me.
Second Corinthians 2:14: "Thanks be unto God, who always causes us to triumph."  You can't lose in prayer.  You may not get what you ask for, but you won't lose, because God knows that what He got you was better than what you asked for.  So no matter what happens, we're thankful.  That never changes.  So Paul is telling us something very important about prayer.  He's saying, "Look, pray.  And when I mean pray, I mean pray.  Get in there and wrestle with it.  Get in there and persist at it.  And keep banging until he gives you the bread.  Hold on till you're blessed." 
Then Paul asks for prayers for himself, not for his well-being but for preaching the Gospel message.
He asks the Colossians to pray for him in prison, that God may open a door for the word, that he may declare the mystery of Christ (verse 3).
He wrote of the mystery of Christ in Ephesians 3:
The Mystery of the Gospel Revealed
3 For this reason I, Paul, a prisoner of Christ Jesus on behalf of you Gentiles— 2 assuming that you have heard of the stewardship of God's grace that was given to me for you, 3 how the mystery was made known to me by revelation, as I have written briefly. 4 When you read this, you can perceive my insight into the mystery of Christ, 5 which was not made known to the sons of men in other generations as it has now been revealed to his holy apostles and prophets by the Spirit. 6 This mystery is[a] that the Gentiles are fellow heirs, members of the same body, and partakers of the promise in Christ Jesus through the gospel.
With that in mind, Henry says:
The people must pray particularly for their ministers, and bear them upon their hearts at all times at the throne of grace. As if he had said, "Do not forget us, whenever you pray for yourselves," Eph 6 19; 1 Thess 5 25; Heb 13 18. That God would open to us a door of utterance, that is, either afford opportunity to preach the gospel (so he says, a great door and effectual is opened to me, 1 Cor 16 9), or else give me ability and courage, and enable me with freedom and faithfulness; so Eph 6 19, And for me, that utterance may be given to me, that I may open my mouth boldly, to speak the mystery of Christ, for which I am also in bonds; that is, either the deepest doctrines of the gospel with plainness, of which Christ is the principal subject (he calls it the mystery of the gospel, Eph 6 19), or else he means the preaching of the gospel to the Gentile world, which he calls the mystery hidden from ages (ch. 1 26) and the mystery of Christ, Eph 3 4. For this he was now in bonds.
MacArthur says that Paul is moving on to his second type of Christian speech. After prayer, comes proclamation. Note that his translation is different to the ESV, but the message is the same:
Here is Paul in prison, still thankful.  So the mouth of the new man, then, has the speech of prayer coming from it.  It is strong prayer, persistent prayer, watchful prayer, and grateful prayer.  Let's look at the second.  The second element of speech is the speech, not of prayer, but verse 3 and 4, the speech of proclamation – the speech of proclamation.  The new man's mouth utters this – notice in verse 3 – and Paul links it up with prayer as a prayer request: "Praying also for us, that God would open to us a door of utterance, to speak the mystery of Christ, for which I am also in prison: That I might make it manifest, as I ought to speak." 
Twice you see the word speak.  Once you see the word utterance.  Once you see the word manifest.  And here is the speech of proclamation.  Here is the apostle Paul saying, "Pray for me that I may open my mouth and proclaim."  And by allusion here – not, of course, by a direct statement to us – we see that another element in the speech of the new man is the speech of proclamation.  Notice the phrase at the end of verse 3: "For which I am also in prison," or "bonds" …
So we find the apostle Paul in that two year imprisonment when he writes the book of Colossians.  He uses his chains as a means to accomplish his ministry.  He gets a lot of letter-writing done, because he's not doing much traveling.  And another thing he gets a lot of done is a lot of evangelizing of soldiers.  The soldiers that came and went were no doubt evangelized.  He says in Philippians 1:13 – he also wrote Philippians during the same two years – "So that my bonds or my chains in Christ are manifest in all the palace, and in all other places."  He says, "This is the greatest platform I've ever had.  They just keep sending me soldiers, I keep winning them to Christ and sending them back, and they keep winning others." 
And crowds of people were coming to his own hired house, and he was preaching the gospel.  Philippians 4:22 says, "All the saints greet you, chiefly they that are of Caesar's household."  He had even won some of the people in Caesar's household.  Now, if you were to go backwards again, to the last verse of the book of Acts, Acts 28:31, it says this; "During the two whole years, he was preaching the kingdom of God, and teaching those things which concerned the Lord Jesus Christ, with all confidence" – and this great statement – "no man forbidding him."  For two years, with imprisonment as a platform, he preached and taught, and the prayer request in chapter 4 was answered, so that he had an open door, and nobody, during that whole time, ever forbid him to preach.  All the time of his bondage was a time of proclamation …
He was always proclaiming.  The only time his voice was silent was when the axe cut his head off.  What a great lesson.
He also requested that the Colossians pray that he would be able to explain the mystery of Christ clearly (verse 4).
MacArthur explains:
I see two thoughts in that phrase "I ought to speak" – that's the ought of doing it, and that's the ought of speaking it the way it ought to be spoken.  I'm afraid sometimes that a good message proclaimed in a bad way will do just about as much as a bad message.  Paul wants prayer about his own motivation, to speak the way he should, and about doing it right, to speak the way he should speak about the gospel.
Paul's teachings were always about Christ, doctrine and behaviour. He did not make false promises about Christ making us personally happy or making us rich or relieving us of all our problems. He spoke and wrote of faith and salvation, emphasising perseverance.
Paul closes this section with final words of advice for the Colossians.
He tells them to walk in wisdom with those who do not know Christ and making the best use of time when those opportunities occur (verse 5).
This is the third type of Christian speech, MacArthur says, that of perfomance:
The new man, then, is going to have the speech of prayer, and the speech of proclamation.  Thirdly, verse 5, the new man is going to have the speech of performance – the speech of performance.  Now, this departs from the mouth a little bit, but really is the most essential speech of all … 
The most important thing you say is not what you say, it's what you are.  Is that right?  Because it's what you are that gives credibility to what you say … Walk comes before talk.  Now he says, "Walk in wisdom."  What is wisdom?  Properly evaluating circumstances and making godly decisions.  Walk with a carefully planned, consistent, Christian lifestyle.  And if you have any question about what that walk is, you can just look at the book of Ephesians, chapter 4, 5 and 6, and it will tell you all about it. 

You have been saved, you have been given wisdom; you need to be filled with that wisdom that you might walk in it.  You know, a Christian can walk like a fool.  And then when he tries to talk, nobody believes him – nobody hears, nobody listens.  We've been given wisdom.  Sometimes we turn our back on it …
You want to be foolish?  Then work in the flesh.  Function in the flesh, operate in your own strength, or live for money.  There's just a couple of ways that a Christian can play the part of a fool.
Another way is in James 3, where he says, "Who is a wise man and endued with knowledge among you?"  I'll tell you who –"The one who shows out of a good life his works."  You know how you can tell a wise man?  The way he behaves.  "But if you have bitter envy, strife" – hmm, that's not wise.  That's foolish – "confusion, every evil work."  Oh, we see another way the Christian can play the fool – by envy, strife, division, confusion.  You see, these are just ways the Christian can play the fool in his lifestyle.  But Paul is saying here, "Don't do that.  Walk in wisdom."  And what is wisdom?  Right here, isn't it?  Set your priorities according to the book.  Set your priorities according to God's pattern.
Let me just give you four hints that will help you, four ways to get wisdom.  Number one: worship – worship.  "The fear of the Lord is the beginning of" – what – "wisdom," Proverbs 9:10.  When you begin to really worship God, that's wise.  That's where wisdom begins.  Secondly, prayer.  James says, "If any man lack wisdom, let him" – what – "ask."  Worship, ask; I'll tell you another way.  Study.  You will gain God's wisdom when you study God's truth.  Colossians, chapter 2, verse 2: "That their hearts might be comforted, being knit together in love, and unto all riches of the full assurance of understanding, to the acknowledgement of the mystery of God, Christ; In whom are hidden all the treasures of wisdom and knowledge."  All right, it's in Christ that all wisdom exists …

Through the act of worshipping God, God imparts to us His wisdom.  Through prayer, through study, through instruction from godly teachers, that wisdom is available, that wisdom is to be maintained, and that wisdom is to issue in a wise lifestyle …

So he says, "Walk in wisdom toward them that are on the outside."  Non-Christians.  Believers are on the inside.  Now he says, "Redeeming the time" … It is kairos, which means time only in terms of its opportunity.  It should translate "redeeming every opportunity."  Psalm 90: "So teach us to number our days that we may apply our hearts to wisdom."  It's a matter of buying opportunity.
Finally, Paul tells the Colossians to be of gracious speech, seasoned with salt, so that they can respond to each person appropriately (verse 6).
MacArthur says that this is the fourth type of speech, that of perfection:
Remember what I read you earlier from Luke about the speech of Jesus?  He opened His mouth, and it was always gracious.  "Let your speech be always with grace, seasoned with salt, that you may know how you ought to answer every man."  Now, he's not so much talking about preaching the gospel here.  He's just talking about general conversation.  The mouth of a Christian should utter the speech of perfection.  Never out of the mouth of a Christian should come that stuff that I listed for you last week: lust, evil, deceit, cursing, oppression, lying, perversity, destruction, vanity, flattery, foolishness, babble, madness, verbosity, idle talk, false teaching, plotting, boasting, hatred, swearing, filthy talk, or gossip. 
That's all characteristic of an unregenerate mouth, not a Christian.  Let your speech be always with grace.  Make gracious speech a habit, whether you're being persecuted, whether it's a stress situation, whether it's difficulty, whether you're before a worldly judge, whether you've been wronged.  Whether it's with your wife, whether it's with your child, your neighbor, whether you're teaching a Bible study, whether you're leading a class, whatever it is, let your speech be gracious.  You say, "Well, John, what do you mean talk with grace; do you mean speak the grace of God?"  That's not primarily what it means.  It means let your mouth speak what is spiritual, what is wholesome.  What is fitting, what is kind, what is sensitive.  What is purposeful, what is complimenting, what is gentle, what is truthful, what is loving, what is thoughtful. 
Then the element of salt comes in, which may sting or soothe — or even add gentle wit:
Now, what do you mean, seasoned with salt?  Well, salt does a lot of things.  It stings, once in a while, when there's a wound, right?  But after it does stinging, what does it do?  It heals.  Salt also prevents corruption.  And your speech should be a purifier that prevents corruption.  Your speech should act as a purifying, wholesome, cleansing influence, rescuing conversation from the filth that so often engulfs it.  Ephesians 4:29 says the very same thing.  Let your speech be gentle, gracious, thoughtful, but let it sting when it needs to.
When there's a wound to be healed, let it go right to the sore.  And let it be that which is pure and beautiful to rescue a conversation from corruption.  The Greeks had another thought here.  They said the idea of salt was the idea of wit.  And wit is the ability to say just the right thing at just the right time.  And isn't that what he's saying?  "That you may know how you ought to answer every man."  You've got just the right answer for just the right time, and just the right person.  The Greeks would translate this as Plutarch did, charm and wit.  The right word at the right time to the right person, the speech of perfection.  Never filthy communication, always answering every man who asks, a reason for the hope that is in you, 1 Peter 3. 
Paul then names several men who have helped him in his ministry. More will follow about them during the next few Sundays.
Next time — Colossians 4:7-9
The Eighteenth Sunday after Trinity is on October 16, 2022.
Readings for Year C can be found here.
The Gospel reading is as follows (emphases mine):
Luke 18:1-8
18:1 Then Jesus told them a parable about their need to pray always and not to lose heart.
18:2 He said, "In a certain city there was a judge who neither feared God nor had respect for people.
18:3 In that city there was a widow who kept coming to him and saying, 'Grant me justice against my opponent.'
18:4 For a while he refused; but later he said to himself, 'Though I have no fear of God and no respect for anyone,
18:5 yet because this widow keeps bothering me, I will grant her justice, so that she may not wear me out by continually coming.'"
18:6 And the Lord said, "Listen to what the unjust judge says.
18:7 And will not God grant justice to his chosen ones who cry to him day and night? Will he delay long in helping them?
18:8 I tell you, he will quickly grant justice to them. And yet, when the Son of Man comes, will he find faith on earth?"
Commentary comes from Matthew Henry and John MacArthur.
We are nearing the end of our Lord's lessons to His disciples and to the Jewish hierarchy, which began in Luke 9 and conclude in Luke 19.
The context for today's reading is set in light of our Lord's discourse in Luke 17 about His Second Coming.
This parable illustrates the need for perseverance and patience in God's justice delivered through His Son Jesus Christ.
Jesus told a parable to His disciples about the importance of praying always and not losing heart (verse 1).
Matthew Henry's commentary says:
When we are praying for strength against our spiritual enemies, our lusts and corruptions, which are our worst enemies, we must continue instant in prayer, must pray and not faint, for we shall not seek God's face in vain. So we must likewise in our prayers for the deliverance of the people of God out of the hands of their persecutors and oppressors.
Jesus said that in a certain town there was a judge who neither feared God nor respected the people (verse 2).
That means he was self-centred and corrupt.
John MacArthur says that this scenario would have been familiar to the disciples. The judge was a civil judge and not a religious one:
This is simply a city that Jesus fabricates in the story. But we can assume that since He's talking to people in the land of Israel, it would be typical of a city in Israel. And what follows would be all too familiar to the people of Israel, for Israel, frankly, had much experience with widows and much experience with unjust judges. And here we meet such a judge, a judge who did not fear God and did not respect man.
And while that seems a rather simple characterization, it is a very well chosen characterization because you find such references to people in literature from ancient times outside the Bible and this kind of description is used to describe the most wicked person, someone who has absolutely no reverence for God and no interest in people, no concerns regarding the law of God, the will of God and completely indifferent to the needs of people and their just causes.  This man is ultimately and finally wicked.  There is no way to penetrate this man's wickedness either from the viewpoint of the law of God or from the viewpoint of the need of man.  He is not moved by reverence or worship and he is not moved by compassion or sympathy.  He has no interest in the first commandment, loving God; no interest in the second commandment, loving his neighbor.  He is the most wicked man …
Now the kind of court that a judge like this would be a part of would be a civil court.   In towns and villages, or in large cities, these civil courts were in a lot of locations.  Every little town had to have one and a place like Jerusalem would have many of these civil courts.  This is not a position of national responsibility in a religious court where they were interpreting the religious things, or the traditions, or the law of the Old Testament. This is a civil court, but nonetheless the judge would have a very serious responsibility before God to uphold the law of God and to uphold sympathy and compassion toward people.  Any judge in Israel would be very familiar with Old Testament instruction regarding being a judge.  Second Chronicles chapter 19, Jehoshaphat is the king of Judah.  It says in verse 4, "Jehoshaphat lived in Jerusalem, went out again among the people from Beersheba to the hill country of Ephraim and brought them back to the Lord, the God of their fathers.  And he appointed judges in the land in all the fortified cities of Judah, city by city.  And he said to the judges, 'Consider what you are doing for you do not judge for man but for the Lord who is with you when you render judgment.'  "Now then," verse 7, 2 Chronicles 19:7, "let the fear of the Lord be upon you.  Be very careful what you do for the Lord our God will have no part in unrighteousness, or injustice, or partiality, or the taking of a bribe."
Everyone who was ever appointed to any judicial responsibility in Israel would know that passage very, very well.  But even in the Old Testament, in spite of the clear instruction of God, judges were corrupt.  Amos the prophet, chapter 5 verse 10, "They hate him who reproves him in the gate.  They abhor him who speaks with integrity.  Therefore because you impose heavy rent on the poor and exact a tribute of grain from them, though you have built houses of well-hewn stone, you will not live in them.  You have planted pleasant vineyards; you will not drink their wine, for I know your transgressions are many, your sins are great, you who distress the righteous and accept bribes and turn aside the poor in the gate."  The gate is normally where the civil law was adjudicated.  These judges that Amos mentions are corrupt and will know the judgment of God.
But this kind of judicial corruption was not limited just to the Old Testament. It was also true in the time of our Lord Jesus.  Alfred Edersheim, who has written the classic Life and Times of Jesus the Messiah, the great history of that period of time, describes the judges in Jerusalem as being so corrupt that the people changed their title.  They were known as dayyaney gezeroth. That was the term used to describe a judge and his responsibility to deal with the prohibitions of the law.  The people called them dayyaney gezeloth. They changed one letter in the Hebrew which turned the expression "a judge dealing with the law" to "a judge who is a robber." "Robber judges" became their title because they were so corrupt.  They did just exactly what the Bible said not to do, what God said not to do.  They showed partiality.  They were unjust and they took bribes.  The Talmud said they were so perverted in some occasions that they would actually pervert justice for one meal, for one meal.  And so, when our Lord says this is an unrighteous judge, adikia, meaning no sense of justice, dishonest and corrupt. He is defining what everybody would know by the description in verse 2, that he didn't fear God and he didn't respect man.
Let me look at that word "respect" for just a moment in verse 2, Entrepōmi, interesting verb, it means to be put to shame, to be put to shame.  In other words, this man had no shame.  Now remember the Middle Eastern culture then and even now is a shame-honor culture.  You do what brings you honor at all cost, you avoid all things that produce shame, you avoid shame like the plague.  That was typically the way life was lived.  And so the way to understand that expression "did not respect man" would be to understand it this way: He is not ashamed before people, he has no shame. He cannot be put to shame.  In fact, if you were to study Middle Eastern translations of this verse in Middle Eastern language, New Testament Syriac and Arabic, they never translate it any other way over the centuries than "he was not ashamed before people."  He had no shame. He could not be shamed no matter what he did.  Good social behavior in those cultures basically was encouraged by an appeal to shame. 
In that city, a widow repeatedly approached him appealing for justice against the person who wronged her (verse 3).
Widows, then and now, were — and are — often in a precarious position if they have no male to help them fight their cause.
Henry says:
Note, Poor widows have often many adversaries, who barbarously take advantage of their weak and helpless state to invade their rights, and defraud them of what little they have; and magistrates are particularly charged, not only not to do violence to the widow (Jer 21 3), but to judge the fatherless, and plead for the widow (Isa 1 17), to be their patrons and protectors; then they are as gods, for God is so, Ps 68 5.
MacArthur tells us that a court of law was a man's domain and that women were largely ignored. The Old Testament states that God's people were to protect widows:
"There was a widow in that city and she kept coming to him saying, 'Give me legal protection from my opponent.'"  Someone has defrauded her.  In fact, someone has so seriously defrauded her that she is destitute.  Not only is she destitute by virtue of the fact that she keeps coming and keeps coming and keeps coming, which is our Lord's way of pointing out that she really was in a situation where she had to have what was rightfully hers, but we know that her destitution goes beyond the financial, she apparently has no man in her life, no man in her family, not a brother, not a brother-in-law, not a father, not a son, not a cousin, not a nephew, not any man who could come to plead her case, because courts belonged to men. They did not belong to women, they belonged exclusively to men.  Men came to court. Women did not come to court.  The courts belonged to the men.  The only time a woman would come to court was when there was no man to plead her case.  This woman is alone. She represents the destitute, the powerless, the helpless, the deprived, the lowly, the unknown, the unloved, the uncared for, the desperate.  And it's wonderful to use the illustration of a widow because her case is clear-cut, as far as the Old Testament goes, if not on a legal basis, purely on the basis of mercy that he should have done something to care for her.   Exodus 22 verses 22 to 24 talks about the responsibility to show mercy to a widow.  Deuteronomy 24 verses 17 and 18, Isaiah 1:16 and 17, and many other places, widows were to be cared for. Their needs were to be met.  This judge is utterly indifferent to her on a sympathetic side, on the side of compassion, but apparently she had the law on her side as well because she is asking for legal protection.  She has been defrauded.  Property, money which was life to her has been taken from her.
By the way, as a footnote, there are a number of interesting widows that Luke focuses on both in his gospel and in the book of Acts as well.  They were an important part of the ancient world.  Corrupt judges, there were plenty of them; and there were even more needy widows.
The judge refused to entertain her plea for justice but later said to himself that, though he did not fear God or respect man (verse 4), he would grant her justice so that she would not wear him out by continually bothering him (verse 5).
Henry says:
bad as he was, would not suffer him to send her to prison for an affront upon the court.
MacArthur gives us this analysis:
His wickedness is obviously toxic, it is compounded because he is in the role of a judge and he renders his judgments in regard both to the law of God and the needs of people and since he is not moved by either, he is, as Jesus characterizes him, an unrighteous judge.  The word "unrighteous" would mean dishonest, corrupt, unjust.  Not only is he this evil but he knows it and he's comfortable with it.  In verse 4 he said to himself, "Even though I do not fear God nor respect men." This is not simply a definition of the man that has been placed upon him by those that know him, he agrees with it in full.  Here is the worst possible human being in a very, very important position of responsibility whose disregard for God and man has massive implications in regard to all the people who come into his court …
Well consistent with his utter disdain for the commandments of God and any sense of justice and his utter disinterest in showing compassion to anyone, even a lowly widow, verse 4 says, "And for a while he was unwilling."  He was just outright indifferent.  He is the worst kind of human being who is then the worst judge imaginable.  Just as the prodigal son was the worst possible profligate sinner and the older brother was the worst possible hypocrite.  Jesus is into painting these extreme pictures in his stories with just a minimum of language.  But if you can fill in the gaps, the people would understand that.  But it says in verse 4, "Though he for a while was unwilling, but afterward he said to himself…" Now we get a soliloquy like the soliloquy of the prodigal son who came to his senses and talked to himself. So this man speaks to himself, "Even though I do not fear God nor respect man." He's a self-confessed wretch, he holds nothing back.  He has no noble motive.  He is first to admit he has no noble motive whatsoever. 
The woman's appeals would have been loud, characteristic of a Middle Eastern culture of powerless women:
But he says, in spite of that, verse 5, "Yet because this woman bothers me." In the Greek, "She causes me trouble, she is irritating me."  Every day she's there.  Every day she's pleading her case.  It's becoming very troublesome.  I will give her legal protection "lest by continually coming…" "Continually" is eis telos, sometimes translated in the Bible "forever."  She will come forever if I don't get rid of her and "she will wear me out."
He has no regard for God.  He has no regard for man.  But he has regard for himself.  He cares not for what pleases God.  He cares not for what pleases men.  But he cares a lot for what pleases him and this does not please him.  This is an irritating, troubling harangue that he hears out of this widow every single day that is intrusive and interruptive.  And by the way, I like that little phrase, "She will wear me out."  But it's a little more benign than the Greek.  The Greek is a verb hupopiazo, which means it's a boxing term and it means to strike someone with a full blow in the eye.  She is punching me silly day after day after day. She is beating me up.  Some translations would be, "to blacken the face," to indicate the severity and the strength of the blows.  She's giving me a black eye, she's beating me.  It's used in 1 Corinthians 9:27 where Paul says, "I buffet my body, I punch my body with a fierce blow to beat it into submission."  This woman is not just troublesome, this woman is painful.  This is more than I can stand and she's going to do it eis telos, forever, if I don't get rid of her.  So the powerful and impervious judge is defeated by the weak widow through her persistence.
Now you need to know something else, a little bit more about the Middle Eastern culture.  Women were really powerless.  I guess that's a good way to say it.  They were powerless in the male-dominated culture; still largely true in Middle Eastern culture today.  But they were respected and they were honored.  And while they had no power, they did have honor and they could get away with things that men couldn't get away with.  I was reading one Middle Eastern scholar who said, "A woman could scream and complain at the top of her voice relentlessly and get away with it because women are to be honored and respected.  And if a man did the same thing, he would lose his life."  And so, even today sometimes you see pictures in the Arabic world of women who are pleading their case by screaming and yelling and this would be the crying day and night kind of relentless approach of this woman that is characterized here.  The crying day and night comes in the explanation in verse 7.  So she's driving this man to destruction in his own mind.  He's got to get rid of her.  And so he rules in her favor.  Go back to verse 5, "I will give her legal protection." That simply means I will vindicate her.  I will vindicate her.  It's got the word dikēo in it, from which we get the word dikaiōs, righteousness, justice.  I will execute justice, righteousness on her behalf.  I will vindicate her.  I will avenge her.  I will do justice to her because I cannot tolerate her…her harangue any longer.  So that's the story. That's the illustration.
Jesus called on the disciples to take heed of what the unjust judge said (verse 6).
It is interesting that both commentators use the same expression about this parable.
Henry says:
This parable has its key hanging at the door; the drift and design of it are prefixed. Christ spoke it with this intent, to teach us that men ought always to pray and not to faint, v. 1.

MacArthur says:
What's the intention of this story? Go back to verse 1. Now He was telling them a parable to show that at all times they ought to pray and not to lose heart. So here we find that the key to the parable is hanging on the door. Before you even get inside to the parable, the key is out there. This is a parable designed by our Lord to show that at all times they ought to pray and not to lose heart.
Then Jesus implied that if the corrupt judge showed justice — left unsaid — how much more will the righteous, all-merciful God grant justice to those who cry out to Him day and night, asking if He will delay helping them (verse 7).
MacArthur explains:
This is a "much more than" kind of comparison, this is a "lesser and greater" kind of comparison.  This is extreme.  You have the most wicked, impervious, impenetrable, indifferent human being doing what is right for someone about whom he has no feeling or interest.  And if a judge who is like that will do what is right for someone for whom he has no affection, do you think God will not do what is right for those who are His eternal elect, who are loved by Him before the foundation of the world?  And who cry out to Him day and night pleading for His glory to come and for them to be glorified with Him?
The elect are represented by the widow.  We are, in a sense, helpless.  We are, in a sense, at the mercy of our judge.  But this judge is not like God.  This judge is the opposite of God.  He is as unlike God as you can get.  God always does what is right by His own law.  God is always compassionate, merciful, gracious, tender-hearted, and kind.  And God will do what He says He will do to bring about the glorious manifestation of His own children who are loved by Him from before the foundation of the world.  The wicked, unjust, unloving judge will do what is right. What will a righteous, loving, holy God do?
The answer: verse 7, "Now shall not God bring about justice for His elect?"  Literally, "Make the vindication," make the vindication.  Again "the vindication" comes from that same verb, dikēo, which is related to the word group "justify."  Will He not justify?  Will He not vindicate His elect, those whom He has chosen for salvation?  First Peter 2:23 says, "God is the one who judges righteously."  Romans 12:19 says that, "God has said, 'Vengeance is Mine, I will repay.'"  Revelation 19:2, "True and righteous are His judgments."  He will do what He has promised for His elect because His Word is at stake and He's faithful to His Word, He's faithful to His law, because He's merciful, because He's compassionate, and because He loves those whom He has eternally chosen.
Henry refers to earnest prayer as wrestling with God, which is what Jacob did and was blessed afterwards with the name Israel. That passage from Genesis 32 is one of today's First Readings:
And herein we must be very urgent; we must cry with earnestness: we must cry day and night, as those that believe prayer will be heard at last; we must wrestle with God, as those that know how to value the blessing, and will have no nay. God's praying people are told to give him no rest, Isa 62 6, 7.
Jesus concluded by saying that, contrary to the corrupt judge, God will quickly grant justice to the faithful, however, on that day of the Second Coming, will the Son of Man — Jesus — find faith on Earth when He returns (verse 8)?
MacArthur says:
He closes with a question, verse 8, "However, when the Son of Man comes, will He find faith on the earth?"  What does that mean?  Jesus is just pensively asking the question that when He does come, given that it's going to be a long time, will there be anybody left persistent like this widow?  When He does come, and He will, will He find people praying for His return?  I kind of think that if He were to come now He would find a whole lot of people who call themselves Christians with very little interest in that.  Genuine Christianity never loses its grip on God, never loses its trust in Christ, never loses its hope.  But we get easily distracted, don't we?  And the Lord is trying to nail this down in a practical way.  When He comes, will He find His people still crying day and night eagerly waiting for His return?  Will we love His appearing?  Will we be crying out "Maranatha"? First Corinthians 16:22, even come, Lord, come, Lord.  Or will it be like in Noah's day with just a few, or Lot today with just a few?
We live in hope, beloved, we live in hope.  We…We are true Christians and we have been given a tremendous promise.  This is how it's all going to end.  In the meantime we suffer and we're rejected and persecuted and alienated and the gospel is resisted and Christ is dishonored and sometimes maybe we think it's going on too long and too long.  We continue to pray and plead for the glory of Christ, the honor of Christ.  And when you live that way and pray that way and plead that way, it changes everything about your life.  How you view every part of your life.  Yes it's been 2,000 [years]. But our hope burns shining bright, and our love for Christ is still true and pure and our confidence that He keeps His Word is fast and firm.  And so we pray persistently calling on Him to come, to glorify Himself, to vindicate Himself, to punish sinners, dethrone Satan, establish a righteous kingdom and peace on the earth, reign as King of kings and Lord of lords and create the eternal new heaven and the new earth. We say, "Even so, come, Lord Jesus," and it ought to be on our lips day after day after day, says our Lord.  Live in that kind of anticipation until He comes.  And watch how it changes your life.
Henry mentioned Jacob's earnest faith and the blessing he received.
I wrote more about the background of Genesis 32 a few years ago in 'The Parable of the Prodigal Son and brothers in Genesis'.
After he sold his birthright to Jacob for a mass of pottage, Esau wanted to kill him.
In Genesis 32, Jacob prayed fervently in this appeal to God:
9 And Jacob said, "O God of my father Abraham and God of my father Isaac, O Lord who said to me, 'Return to your country and to your kindred, that I may do you good,' 10 I am not worthy of the least of all the deeds of steadfast love and all the faithfulness that you have shown to your servant, for with only my staff I crossed this Jordan, and now I have become two camps. 11 Please deliver me from the hand of my brother, from the hand of Esau, for I fear him, that he may come and attack me, the mothers with the children. 12 But you said, 'I will surely do you good, and make your offspring as the sand of the sea, which cannot be numbered for multitude.'"
Today's alternate First Reading tells us of Jacob's wrestling with God and obtaining an enduring blessing for prevailing — overcoming:
Genesis 32:22-31
32:22 The same night he got up and took his two wives, his two maids, and his eleven children, and crossed the ford of the Jabbok.
32:23 He took them and sent them across the stream, and likewise everything that he had.
32:24 Jacob was left alone; and a man wrestled with him until daybreak.
32:25 When the man saw that he did not prevail against Jacob, he struck him on the hip socket; and Jacob's hip was put out of joint as he wrestled with him.
32:26 Then he said, "Let me go, for the day is breaking." But Jacob said, "I will not let you go, unless you bless me."
32:27 So he said to him, "What is your name?" And he said, "Jacob."
32:28 Then the man said, "You shall no longer be called Jacob, but Israel, for you have striven with God and with humans, and have prevailed."
32:29 Then Jacob asked him, "Please tell me your name." But he said, "Why is it that you ask my name?" And there he blessed him.
32:30 So Jacob called the place Peniel, saying, "For I have seen God face to face, and yet my life is preserved."
32:31 The sun rose upon him as he passed Penuel, limping because of his hip.
My follow-up post discussed God's blessing to Jacob in his 12 sons, 'The Parable of the Prodigal Son relates to the lost tribes of Israel'.
One day, Jesus will be seen by God's people as the Messiah.
For now, we can meditate on the faith and perseverance that Jacob showed.
May all reading this enjoy a blessed Sunday.
Today's post was supposed to be a comprehensive retrospective of what people around the world experienced this week in seeing Queen Elizabeth II being laid to rest.
However, I have information and reflections for more than one post.
Today's will look at the religious aspects and history of Westminster and some Royal funeral traditions.
Westminster's religious history
One thing I learned is that the area that is called Westminster, which we connect with the Abbey and the Palace (where the Houses of Parliament meet) was originally a monastery with a church on the site.
'West' refers to the location being to the west of where most people were settled long before the Norman Conquest in 1066.
The word 'minster' is the Anglicised version of the Latin 'monasterii', 'monasterium' and 'monasteriensis', dating back to 669.
My curiosity was piqued when I read the inscription of the four tall candlesticks immediately flanking the Queen's catafalque. Unfortunately, I do not have the full wording, but 'Westmonasterii' and 'Petri' are on them, gold lettering on a red border, just underneath where the large, thick beeswax candles sit.
Then came the story of how the monastery became linked to St Peter, the fisherman who became a bold Apostle preaching Christ after the first Pentecost.
In 2017, Cambridge University Press published a paper by Bernhard W Scholz, Sulcard of Westminster: Prologus de construccione Westmonasterii.
An extract reads, in part (emphases mine):
Sulcard, a monk of Westminster in the eleventh century, is the author of the first history of his monastery, the unprinted Prologus de construccione Westmonasterii. In this brief tract he describes the foundation of Westminster in the days, as he claims, of King Æthelberht of Kent, and the patronage and endowment extended by various benefactors, notably Archbishop Dunstan of Canterbury and King Edward the Confessor. Sulcard also records the marvellous dedication of Westminster by St. Peter, patron of the church, and two other miracles worked in Westminster by the prince of the apostles.
Of the original church, replaced by the structure we know today, the Wikipedia entry for Westminster Abbey states:
According to a tradition first reported by Sulcard in about 1080, a church was founded at the site (then known as Thorn Ey (Thorn Island)) in the seventh century at the time of Mellitus, a Bishop of London. Construction of the present church began in 1245 on the orders of King Henry III.[5]
Here is where St Peter comes in. A tradition dedicated to him continues today:
A late tradition claims that Aldrich, a young fisherman on the River Thames, had a vision of Saint Peter near the site. This seems to have been quoted as the origin of the salmon that Thames fishermen offered to the abbey in later years, a custom still observed annually by the Fishmongers' Company …
Sulcard's entry reads:
The sole work which Sulcard is known to have produced is the so-called Prologus de Construccione Westmonasterii ("Prologue concerning the Building of Westminster"), dedicated to Abbot Vitalis of Bernay (c. 1076—?1085) and hence datable to about 1080.[2] It relates the history of the abbey, beginning in the time of Mellitus, bishop of London (604—17), with the foundation of its first church on what was then Thorney Island by a wealthy Londoner and his wife. It concludes with the dedication of a new church erected by King Edward the Confessor (r. 1042–1066) for the monastery. In the dedication to Vitalis, Sulcard writes that he intended his work to serve as a 'commemorative book' (codex memorialis) for his house. He was primarily interested in promoting the cult of St. Peter, the abbey's patron saint, who is said to have miraculously appeared in the early 7th century to dedicate the church in person. Two copies of the history are extant, the earliest being a chartulary from Winchester (c. 1300), BL, Cotton MS Faustina A.iii, fols. 11r—16v. The other copy is in BL, Cotton MS Titus A.viii, fols. 2r–5v. The title is not contemporary, but derives from the heading in the former chartulary, to which it serves as a prologue.[3]
Apart from relating local traditions about St. Peter's miraculous involvement, the narrative of Sulcard's prologus is relatively free of embellishments.[1]
It does not appear that the monks had an easy time of it on Thorney Island:
Thorney Island was the eyot (or small island) on the Thames, upstream of medieval London, where Westminster Abbey and the Palace of Westminster (commonly known today as the Houses of Parliament) were built. It was formed by rivulets of the River Tyburn, which entered the Thames nearby. In Roman times, and presumably before, Thorney Island may have been part of a natural ford where Watling Street crossed the Thames,[1] of particular importance before the construction of London Bridge.
The name may be derived from the Anglo-Saxon Þorn-īeg, meaning "Thorn Island". [2]
Thorney is described in a purported 8th century charter of King Offa of Mercia, which is kept in the Abbey muniments, as a "terrible place". In the Spring of 893, Edward the Elder, son of Alfred the Great, forced invading Vikings to take refuge on Thorney Island.[3] Despite hardships and more Viking raids over the following centuries, the monks tamed the island until by the time of Edward the Confessor it was "A delightful place, surrounded by fertile land and green fields". The abbey's College Garden survives, a thousand years later, and may be the oldest garden in England.[4]
Since the Middle Ages, the level of the land has risen, the rivulets have been built over, and the Thames has been embanked, so that there is now no visible Thorney Island. The name is kept only by Thorney Street, at the back of the MI5 Security Service building; but a local heritage organisation established by June Stubbs in 1976 took the name The Thorney Island Society.
In 1831 the boundaries of the former island were described as the Chelsea Waterworks, the Grosvenor Canal, and the ornamental water in St James's Park.[5]
Thorney Island is one of the places reputed to be the site of King Canute's demonstration that he could not command the tides, because he built a palace at Westminster.
In 2000, the politician John Roper was created a Life peer and revived the name of Thorney in Parliament by taking the title Baron Roper of Thorney Island in the City of Westminster.[6]
Royal traditions at Westminster Hall
The Daily Mail has an excellent article on Westminster Hall's history from 1087 to the present, beginning with William the Conqueror's son, William II, or William Rufus.
The Queen's lying in rest was another historic milestone. By September 15, just four days before her funeral, someone described it as a:
piece of history that will never be repeated.
Before the public viewing started, Westminster Abbey's clergy and the Archbishop of Canterbury conducted a 20-minute service, accompanied by the Abbey choir.
Although the Hall is unconsecrated ground, it nonetheless felt as if it were a church.
The hundreds of thousands of people who filed past over four days, until 6:30 a.m. on the morning of Monday, September 19, 2022, also respected it as such. The continuing silence was overwhelming in its beauty.
Although there are traditions relating to monarchs long ago, the Westminster Hall visitation is a relatively new one, as The Telegraph's Tim Stanley tells us:
The modern lying-in-state was invented in 1910, for the funeral of Edward VII. No tickets were issued; rich and poor queued in torrential rain. As the doors opened at Westminster Hall, a work girl was heard to cry, "They're givin' 'im back to us!"
When the ceremony was repeated for George V in 1936, cynics sneered at its elitist "pomp". The writer G K Chesterton advised them to open a history book. In aiming to modernise royalty by bringing George's body closer to the people, he said, the court turned the clock back to the Middle Ages, to when kingship was more personal and tangible. The coffin of a medieval sovereign was generally topped with a waxwork effigy, so that even the lowliest subject could see what he looked like.
The body of a monarch was, in a sense, sacred, transformed by coronation into an instrument of God. But, like Doubting Thomas, we need to see to believe. Hence even as monarchy became more absolutist over time, better convinced of its divine rights, the principal actors still felt the need to put on a show.
France's monarchy was even more open than ours. The public could watch Louis XIV and his family at Versailles:
Louis XIV, the Sun King of France, rose every morning, washed, shaved and dressed in front of an audience of around 100 people. Anyone could come to see him at Versailles; all you needed to get in w[ere] a hat and a sword, and the concierge did a nice sideline in selling both. Tourists could watch the royal family going to chapel, eating, even playing cards – you could say Versailles was the Center Parcs of its day, though reviews were scathing about the pickpocketing and the smell. The palace did not benefit from modern plumbing. People relieved themselves in the corridors. There's a story that Marie Antoinette once stepped out for a walk and a woman in the window above emptied a chamberpot over her head.
Returning to Westminster Hall last week, Stanley says:
Let's call it what it is: a pilgrimage. The body has been returned to the people; the people have come to see it, drawn by belief, by spectacle or raw instinct. When I entered Westminster Hall, I saw at once that it was a shrine, marked by candles and shrouded in silence. Phones were banned.
Alone at the coffin, some bowed, some curtsied, some crossed themselves. These ritual gestures, observed Chesterton back in 1936, are "not only more serious but more spontaneous" than the "ghastly mummery of saying a few words" … The poverty of the 21st-century imagination betrays the dead and the living. Tradition honours with awe, and it provides those left behind with the language and actions to articulate the inexpressible.
The person who willingly submits to the ritual of the lying-in-state, argued Chesterton, "may not be an exceptional person but at least he understands what is meant by an exceptional occasion." By contrast, the bright spark who stands above it all forfeits the wisdom of the crowd, and by rejecting history, discards a part of themselves, too – so that they are ignorant even of their own identity. Worse, they are without hope. If you believe, as we are encouraged to believe today, that death is it, the funeral is a "goodbye" that can't even be heard by the deceased. But if you believe, as the late Queen did, that there is a life after this one, then the rite is a demonstration of faith that things will continue.
To inhabit a tradition means not only to participate in it but to pass it on. Its survival is a tribute to the perseverance of life itself. We will be told that all we've seen is old hat; we'll be told that even if it was grand, Queen Elizabeth was its last shout. Well, they've said that a million times before, and yet here we are lining the streets, or crowding around the television, bearing witness to an ancient institution that has the audacity to claim its origin from King Solomon.
Bemusement? It renders clarity. Despair? It offers hope.
I will return to faith in a moment.
Also writing for The Telegraph, Christopher Howse described the 'sacred mysteries' surrounding royal ceremonies:
The lying-in-state of Queen Elizabeth, her coffin covered by the royal standard upon which rested the Imperial State Crown, made an argument hard to reduce to words. It argued for a constitutional monarchy and the ancient conventions surrounding it. Millions of people this week have quietly taken part in recognising that reality.
In religion, an old saw says: lex orandi lex credendi – the law of prayer is the law of belief. In other words, prayers and liturgy express implicit meanings behind them. Perform the rites and you learn what you believe.
Something similar operates in state ceremonial. I know that traditions are reinvented, and that the lying-in-state in Westminster Hall is little over a century old. But it incorporates remarkably old elements. In the Imperial State Crown, for example, is the sapphire of St Edward, said to have been part of the coronation ring of King Edward the Confessor, who came to the throne in 1042.
It is not too soon now … to consider the coronation of King Charles. There is antiquity here too, the inheritance of which should not be thrown away. The motet Zadok the Priest, for example, has been sung at every coronation since 973, for King Edgar. The words are based on the First Book of Kings (1:38): "Zadok the priest and Nathan the prophet anointed Solomon king. And all the people rejoiced and said: God save the King! Long live the King! God save the King!"
… Some of my fears have been assuaged by the words of King Charles. He had once spoken of being the defender of faiths, rather than the faith of the Church of England implied by the abbreviations found on our coinage: FID DEF – fidei defensor. In his first address on coming to the throne, King Charles called the Church of England "the church in which my own faith is so deeply rooted".
The Coronation takes place within the service of Holy Communion (even if films from 1953 omit images of Queen Elizabeth and the Duke of Edinburgh receiving the Sacrament, as they did).
And, no matter what, we are better off with an established church in England than without one, precisely for these reasons:
Sometimes I find the Church of England annoying. Who doesn't? But I'd rather have it as the Established Church than not … as the godly anointing of the head of state and supreme governor of the Church of England, the Coronation must retain the Christian elements that define it.
The only noise we heard was during the changing of the guard, which took place every 20 minutes. Unless one does it as a job, i.e. in front of one of the palaces, it is difficult to stand completely still in one place for much longer.
Lucy Denyer wrote an article for The Telegraph describing what an honour it was for her to see her husband as part of that guard:
My husband is – imperceptibly, infinitesimally – swaying. Backwards and forwards he goes, gently, so, so gently. Blink and you'd miss it; to all intents and purposes he is standing stock still, eyes front, unsmiling, upright. You'd only catch the tiny movement if you were looking very intently.
… The rocking – forwards and backwards from the heel to the ball of the foot – keeps the blood flowing; stops him passing out. Watch really carefully and they're all at it. 
The Queen herself also did that when standing for long periods of time. It does work.
She, too, commented on the silence:
Inside, under the bright lights hanging from the mediaeval beams, it is silent, bar the tapping of feet, the discreet click of an official photographer's lens and once, the wail of a baby.
Suddenly comes the bang of sword on stone, the signal for the guard to change. It is precisely 12:20am and the four on the corners swing their swords in a graceful arc in perfect time, before making their careful way down the steps of the dais on which the late Queen's catafalque stands …
My husband tells me afterwards that all he could think of, at this point, was not to trip, fall – and become a global meme.
She discussed the power of ritual and solemnity of a vigil:
A vigil can at once be grand or simple, awe-inspiring or strangely intimate – or all of those things – and Queen Elizabeth II's is no exception. Ignore the velvet ropes and the electric lights – and the anoraks, trainers and clutched plastic bags – and this could be a moment from another time; it is timeless.
Soothing, too; the endless river of people filing by the coffin. Most slow, some bow, others curtsey, some blow kisses. Many linger after they have passed by, reluctant to leave this sanctuary that it has taken them so long to reach. Exhaustion is etched on faces; there is the odd dazed-looking child stumbling along between its parents.
Among this stream of awkward humanity, the officers on guard stand in marked contrast – statues, doing their duty. They have been practicing all week: their entrances and exits, their synchronised sword drills run through at home in spare half hours with umbrellas. Standing orders have been dusted off, breastplates refitted, helmets adjusted, boots polished. I have seen the pomp and ceremony hundreds of times, yet never carried out so silently; there is no shouting of orders in here.
The sword bangs once more; it is time to leave. On top of the coffin, the Black Prince's Ruby suddenly flashes red. I pause, bow my head, say a prayer of thanks – for Her Majesty's life, but also, in her death, to have been able to see this, to watch my husband carry out this enormous honour.
Returning to Windsor — and to God
After the Queen's committal at St George's Chapel at Windsor Castle, Tim Stanley wrote a moving tribute for The Telegraph:
The Committal was a homecoming. To Windsor and to God.
This is one of England's holiest spots, burial site of kings, church of the Order of the Garter, it once hosted a splinter of Christ's cross. Its slender pillars are like the trunks of ash trees. 
Beneath its canopy of silver lattice, the coffin was borne to the quire and rested at the catafalque, to a setting of Psalm 121: "I will lift up mine eyes unto the hills."
Then the choir sang the Russian contakion of the departed, also performed at the Duke's funeral, a nod to the family's Orthodox heritage. Absent a eulogy, it was the music that expressed Her Majesty's character and convictions, including a motet arranged by Sir William Henry Harris who, it is believed, taught the young Princess Elizabeth how to play the piano. As a child, she could often be found in the organ loft listening to him play for the services down below, especially at Christmas.
The words by John Donne crystallised the message of the readings: "Bring us, O Lord God… into the house and gate of Heaven", where there shall be no darkness "but one equal light", no noise "but one equal music" and one "equal eternity".
Put another way, Elizabeth II lived as a queen but, in death, she is a soul equal to any other, returned to God. In an age of atheism, when Christians are persecuted across the world, it's remarkable that perhaps history's largest ever TV audience was given over to a statement of unafraid Christian belief – and over the course of the Committal, one cleric after another expressed the vision of their church with utter clarity.
There is the reality of mortality, as described by the Dean of Windsor in Psalm 103: "The days of man are but grass… As soon as the wind goeth over it, it is gone."
There is the certainty of life after death, as stated in the prayers: "We rejoice at thy gracious promise to all thy servants, living and departed, that we shall rise again at the coming of our Saviour Jesus Christ." And there is the vision of triumph at the end of times, as the Dean quoted from Revelation: "There shall be no more death, neither sorrow, nor crying."
This passage was read at the funerals of the Queen's grandparents and father, casting us back over an unbroken line of succession.
There was no qualification in any of these words, no Thought for the Day "some might say, others will feel differently", but instead pure hope rooted in unshakable faith. The Queen has died, but her story does not end. That's true for the monarchy, as well …
Finally, the coffin lowered into the ground as the Dean continued: "Go forth upon thy journey from this world, O Christian soul." The Garter King of Arms proclaimed the late Queen's titles; a bagpiper played a lament from the North Quire Aisle, slowly walking into the distance, till the figure and his tune became a ghost in the ash forest. You might say that physically we were in England, but spiritually we were in Balmoral.
And the congregation awoke from its reverie into a new era …
Later, of course, the family would say a very private farewell to Queen Elizabeth, and she would be laid next to her beloved husband – concluding a set of rites that, like Russian dolls, grew smaller and more precious in form. 
For the public, the emotional journey to this moment was intense. Over 10 days, the lying in state allowed us to participate in the Queen's farewell and, let's be honest, make it a little bit about us. How British were the queues, we said, how democratic the whole thing.
But at the Abbey and the Chapel, we saw what this was really all about: namely the late Queen, her precious traditions and the principles they exist to pass on. Ultimately, the Committal articulated love – for country, for family, for horses and dogs, all the things that make a life worth living.
The Church of England is preoccupied by church growth programmes.
They do not need that at all.
What they need is a continuous replay of the Queen's four days in Westminster Hall, her funeral at Westminster Abbey and her committal service at St George's Chapel.
My message to Anglican clerics is: build it and they will come.
————————————————-
It is not too late to send the Royal Family a message of condolence:
My better half and I were in London yesterday. Friends told us that floral tributes were still being laid in the relevant parks and at Windsor Castle.
It is good to see that mourners are still remembering our late monarch, especially as the Royal Family now have a chance to grieve in private for the next few days.
May God bless them on that difficult journey.
Long live the King.
Reflections on the Queen continue next week.
Shall we not call our late Queen Elizabeth the Good?
While everyone has been calling her Elizabeth the Great, historian David Starkey was right to point out last week on GB News that 'the Great' belongs to rulers who won great wars.
Our Queen has also been referred to as Elizabeth the Dutiful and Elizabeth the Faithful.
Yet, it seems we should find a monosyllabic word.
Therefore, Elizabeth the Good seems fitting.
Someone on GB News suggested that very briefly, and only once. It is a good suggestion.
Yesterday's post was about the Queen's state funeral in London, the first since Winston Churchill's in 1965.
Monday, September 19 concluded with her committal service at St George's Chapel at Windsor Castle.
The funeral cortege left London for Windsor, where the public viewing area was full of mourners. You could hear a pin drop.
The procession was smaller and made its way up the Long Walk to the castle.
The Queen's favourite pony stood quietly on the side to watch his mistress pass by one last time. Her two corgis were nearby and able to watch it. They were very well behaved. Do animals sense death? It would seem so.
Prince Andrew is now the keeper of the corgis.
The Times reported (emphases mine):
The Queen's corgis waited in the Quadrant at Windsor Castle as the funeral procession made its way to St George's Chapel.
Muick and Sandy — one on a red lead and one on a blue lead — were brought out on to the steps by two pages in red tailcoats for the arrival of the Queen's coffin.
Emma, the Queen's fell pony, was standing in a gap in the floral tributes lining the Long Walk as the procession moved towards the castle. Emma was among the Queen's favourites and is said to be still going strong at 24 years old.
The two corgis will now be looked after by the Duke of York and his ex-wife Sarah, Duchess of York.
Muick (pron. 'Mick') is named for one of Prince Philip's favourite places in Scotland, Loch Muick.
This video shows the crowds, the procession and her favourite animals:
The pallbearers carefully carried the Queen's casket, which, as it is lined with lead, weighs around 700 pounds. An even procession upwards mandates that all the pallbearers be the same height. The officer in charge gave them instructions on negotiating the steps of St George's Chapel as they progressed:
Around 800 invited mourners filled the chapel. That said, this was a more private service for those who live and work on the estate as well as for foreign royals, other dignitaries and for members of the military.
The Order of Service for the Committal is here:
The service began at 4:08 p.m., eight minutes later than scheduled. The procession in London took slightly longer than anticipated.
Senior members of the Royal Family, including young Prince George and Prince Charlotte, processed behind the casket in the chapel.
The full service is below. Access it via their tweet:
My far better half preferred the Committal Service to the one in the Abbey because it dealt with her instruments of state and her being lowered into the vault at the end.
I immediately noted the more modern English used in the prayers and the spoken readings.
Highlights of the service follow.
The pallbearers brought the Queen's casket up in front of the altar, over the lift that would take her down into the vault at the end. This also happened at Prince Philip's funeral:
The minister from Crathie Kirk near Balmoral joined the Chapel clergy and the Archbishop of Canterbury:
The service will be conducted by the Right Reverend David Connor, Dean of Windsor, with prayers said by the Rector of Sandringham, the Minister of Crathie Kirk and the Chaplain of Windsor Great Park and the blessing pronounced by the Lord Archbishop of Canterbury, The Most Reverend Justin Welby.
The Choir of St George's Chapel will sing during the Service, conducted by Director of Music James Vivian.
The choir sang Psalm 121:
I will lift up mine eyes unto the hills: from whence cometh my help.
My help cometh even from the Lord: who hath made heaven and earth.
He will not suffer thy foot to be moved:
and he that keepeth thee will not sleep.
Behold, he that keepeth Israel: shall neither slumber nor sleep.
The Lord himself is thy keeper: the Lord is thy defence upon thy right hand;
So that the sun shall not burn thee by day: neither the moon by night.
The Lord shall preserve thee from all evil:
yea, it is even he that shall keep thy soul.
The Lord shall preserve thy going out, and thy coming in:
from this time forth for evermore.
Then the choir sang The Russian Kontakion for the Departed, also sung at Prince Philip's funeral in 2021. He had been raised Greek Orthodox.
The musical arrangement was the Kiev Melody, in a nod to Ukraine.
These are the lyrics:
Give rest, O Christ, to thy servant with thy Saints:
where sorrow and pain are no more; neither sighing but life everlasting.
Thou only art immortal, the Creator and Maker of man:
And we are mortal, formed of the earth, and unto earth shall we return:
For so thou didst ordain, when thou createdst me, saying,
Dust thou art, and unto dust shalt thou return.
All we go down to the dust; and, weeping o'er the grave we make our song:
Alleluya, alleluya, alleluya.
Give rest, O Christ, to thy servant with thy Saints:
Where sorrow and pain are no more; neither sighing but life everlasting.
The Dean of Windsor recited the Bidding Prayer:
We have come together to commit into the hands of God the soul of his servant Queen Elizabeth. Here, in St George's Chapel, where she so often worshipped, we are bound to call to mind someone whose uncomplicated yet profound Christian Faith bore so much fruit. Fruit, in a life of unstinting service to the Nation, the Commonwealth and the wider world, but also (and especially to be remembered in this place) in kindness, concern and reassuring care for her family and friends and neighbours. In the midst of our rapidly changing and frequently troubled world, her calm and dignified presence has given us confidence to face the future, as she did, with courage and with hope. As, with grateful hearts, we reflect on these and all the many other ways in which her long life has been a blessing to us, we pray that God will give us grace to honour her memory by following her example, and that, with our sister Elizabeth, at the last, we shall know the joys of life eternal.
The Dean of Windsor, who is also the Register of the Most Noble Order of the Garter, for it is at St George's Chapel where the Garter ceremonies are conducted, read Revelation 21.1-7:
I saw a new heaven and a new earth: for the first heaven and the first earth were passed away; and there was no more sea. And I, John, saw the holy city, new Jerusalem, coming down from God out of heaven, prepared as a bride adorned for her husband. And I heard a great voice out of heaven saying, Behold, the tabernacle of God is with men, and he will dwell with them, and they shall be his people, and God himself shall be with them, and be their God. And God shall wipe away all tears from their eyes; and there shall be no more death, neither sorrow, nor crying, neither shall there be any more pain: for the former things are passed away. And he that sat upon the throne said, Behold, I make all things new. And he said unto me, Write: for these words are true and faithful. And he said unto me, It is done. I am Alpha and Omega, the beginning and the end. I will give unto him that is athirst of the fountain of the water of life freely. He that overcometh shall inherit all things; and I will be his God, and he shall be my son.
The minister of Crathie Kirk participated in the clergy prayers. These included one for the Royal Family and another for the Queen and her fellow Companions of the Order of the Garter:
Lord God Almighty, King of creation, bless our King and all Members of the Royal Family. May godliness be their guidance, may sanctity be their strength, may peace on earth be the fruit of their labours, and their joy in heaven thine eternal gift; through Jesus Christ our Lord. Amen.
God save our gracious Sovereign and all the Companions, living and departed, of the Most Honourable and Noble Order of the Garter. Amen.
The choir sang the prayer from John Donne that was also part of the Westminster Abbey service.
Then the drama began. I cannot think of a better word, so, please excuse me.
The Telegraph describes how the Queen's instruments of state were ceremonially removed from her coffin and placed on the altar. This was written beforehand, hence the future tense:
Queen Elizabeth II will finally part company with the Imperial State Crown, orb and sceptre as the final hymn is sung at her committal ceremony, in what is likely to be one of the most moving moments of today's funeral …
They will only be removed in the final moments before the public sees its last images of the monarch's coffin.
Before the final hymn is sung in St George's Chapel during the ceremony that begins at 4pm today, Mark Appleby, the Crown Jeweller, will remove the crown, orb and sceptre from the coffin, with the help of the Bargemaster and the Serjeants-at-Arms – royal servants who guard the regalia during state occasions. They will pass them one by one to the Dean of Windsor, who will place them on the high altar.
While the crown represents the sovereign's power over her subjects, the orb, made up of a cross above a globe, represents Christ's earthly dominion and symbolises the monarch's status as God's mortal representative. The sceptre, which holds the world's largest cut diamond, the Cullinan I, represents equity and mercy. They will be presented to the King at his coronation in 2023.
They are now back safely at the Tower of London.
Watching this ceremony, I was reminded of 1 Timothy 6:7:
For we brought nothing into this world, and it is certain we can carry nothing out.
Each instrument of state had its own purple cushion on the altar. The orb has a golden spike on the bottom to keep it anchored. Its cushion is specially designed with a metal recipient in the centre.
King Charles then had a role to play. He was sitting where the Queen used to sit.
He rose and stood before his mother's coffin to:
place a military flag on top of the coffin which, according to the Army, will be placed inside her coffin before she is interred.
The Grenadier Guards Queen's Company Camp Colour – a small flag which normally adorns the Company Captain's bunk designating his place of work – is unique to each sovereign and ceases to be used when they die …
The Grenadier Guards are the most senior of the Foot Guards regiments, and the Queen was their Colonel in Chief.
The full-sized version of the flag was draped at the foot of the Queen's coffin as she lay in state.
After that took place, the King took his place and the Lord Chamberlain, the Royal household's most senior member, broke his wand of office and placed it on top of the coffin. The wand is designed such that there is a break point in the middle, surrounded by metal on either side.
The Lord Chamberlain broke his wand because, with the Queen's death, his work has now ended — unless the King decides to reappoint him.
Here are photos of the instruments of state, King and the Lord Chamberlain:
The Queen's coffin was then lowered into the vault (see the 1:42:00 point in the Royal Family video). The complete lowering is never shown to the public.
While that took place, the Dean of Windsor recited Psalm 103:13-17 in traditional language:
Like as a father pitieth his own children:
even so is the Lord merciful unto them that fear him.
For he knoweth whereof we are made:
he remembereth that we are but dust.
The days of man are but as grass:
for he flourisheth as a flower of the field.
For as soon as the wind goeth over it, it is gone:
and the place thereof shall know it no more.
But the merciful goodness of the Lord endureth for ever and ever
upon them that fear him:
and his righteousness upon children's children.
He then recited a committal prayer, again in traditional language:
Go forth upon thy journey from this world,
O Christian soul;
In the name of God the Father Almighty who created thee;
In the name of Jesus Christ who suffered for thee;
In the name of the Holy Spirit who strengtheneth thee.
In communion with the blessèd saints,
and aided by Angels and Archangels,
and all the armies of the heavenly host,
may thy portion this day be in peace,
and thy dwelling in the heavenly Jerusalem.
Amen.
Then, the Queen's Piper, Pipe Major James M. Banks — the one who played the lament at Westminster Abbey — appeared in a side aisle to play another lament.
As he was ending, viewers could see him pass the doorway near the altar and vanish as the pipes faded away into silence.
You won't want to miss this:
The service was about to end but not before the Dean prayed for the King:
Let us humbly beseech Almighty God to bless with long life, health and honour, and all worldly happiness the Most High, Most Mighty and Most Excellent Monarch, our Sovereign Lord, now, by the Grace of God, of the United Kingdom of Great Britain and Northern Ireland and of His other Realms and Territories King, Head of the Commonwealth, Defender of the Faith, and Sovereign of the Most Noble Order of the Garter. God Save The King.
The Archbishop of Canterbury gave the blessing:
Go forth into the world in peace;
Be of good courage, hold fast that which is good,
render to no one evil for evil; strengthen the fainthearted,
support the weak, help the afflicted, honour all people,
love and serve the Lord, rejoicing in the power of the Holy Spirit;
And the blessing of God Almighty,
the Father, the Son, and the Holy Spirit
be among you and remain with you always. Amen.
The congregation sang one verse of the National Anthem.
They then processed out in order:
All remain standing as The King and The Queen Consort, preceded by the Archbishop of Canterbury and the Archbishop of York and accompanied by the Dean of Windsor, move to the Galilee Porch. At the Galilee Porch the Archbishop of York, the Archbishop of Canterbury and the Dean of Windsor take their leave.
Other members of the Royal Family, escorted by the Canons of Windsor, move to the Galilee Porch, where the Canons, the Archbishop of York, the Archbishop of Canterbury and the Dean of Windsor take their leave.
Members of Foreign Royal Families, Governors Generals and Realm Prime Ministers, escorted by Gentlemen Ushers, move to the West Doors.
The Choir and Succentor leave the Quire by way of the Organ Screen. The Clergy leave by way of the North Quire Gate. The Congregation sits.
His Majesty's Body Guard of the Honourable Corps of Gentlemen at Arms and The King's Body Guard of the Yeomen of the Guard move by way of the Centre Aisle, the North Nave Aisle and the North Quire Aisle to the Cloisters.
The Congregation will be asked by the Stewards and the Ushers to leave the Chapel.
However, the day was not yet finished for the Queen's children.
At 7:30 p.m., they returned to enter the tiny King George VI Memorial Chapel, which holds only six people maximum, to inter their beloved mother and father:
whose coffins will be moved from the royal vault to be interred alongside the Queen's parents and her sister Princess Margaret.
According to Royal experts, George VI often said to his wife and daughters before the Queen married, 'It's only the four of us'.
Here is a family portrait of them with the Duke of Edinburgh:
With the interment came the end of Operation London Bridge, which went brilliantly. It is likely to have been the first and the last occasion of its kind.
Well, the Queen was the first and last of her kind, too:
The Royal Family have another week of mourning. Until now, they have had no chance to grieve privately:
Visitors to Royal palaces should be aware that some exhibitions and tours will be closed, some for the rest of the year:
In closing, many of us will feel like this corgi, rather bereft:
My next post will analyse the significance of the funeral services and the past two weeks.
On Monday, September 19, 2022, the United Kingdom held its first state funeral since the death of Winston Churchill in 1965.
The public viewing of the Queen's casket at Westminster Hall ended at 6:30 a.m.:
I am certain that more than 250,000 people filed past in four days in London, because in 2002, 200,000 filed past her mother's coffin in three days. I was one of them. It was an unforgettable experience.
The Sky News article had more numbers before the Queen's funeral at Westminster Abbey began:
The Mayor of London's office said an estimated 80,000 people were in Hyde Park, 75,000 in ceremonial viewing areas and 60,000 on South Carriage Drive.
Overall numbers will be much higher as crowds formed on virtually the entire route to Windsor, where Thames Valley Police said 100,000 people had turned out.
The Telegraph reported much higher numbers for Westminster Hall. These seem more realistic to me:
The four-day lying-in-state ceremony has seen more than a million mourners packing the banks of the Thames, waiting in a queue which, at its peak, took 24 hours and stretched 10 miles, beyond London Bridge to Southwark Park.
On the final day, Westminster Hall was attended by dozens of foreign leaders and royals who have arrived in London ahead of the state funeral, which starts at 11am.
They included Joe Biden, the US President, Emmanuel Macron, the French leader, Olena Zelenska, the First Lady of Ukraine, President Jair Bolsonaro of Brazil and his wife Michelle, King Felipe and Queen Letizia of Spain, and King Phillipe and Queen Mathilde of Belgium.
On Sunday morning, the Government warned people not to travel to the queue "to avoid disappointment".
Another Telegraph article had more statistics about the Elizabeth Line (emphases mine):
At an average queueing time of 12 hours – perhaps even more – they had clocked up a total of 4.8 million hours between them as they shuffled forward, uncomplainingly, in the sunshine, and in the cold, and in the dark. It means that since the late Queen's lying in state began last Wednesday, her people had spent a cumulative 550 years saying their final thank you.
And if each of them entered the winding, folding queue at its end in Southwark Park, they would have walked 4 million miles between them, the equivalent of 153,846 marathons.
The fact that all of them knew how arduous the wait would be, having been given ample warning, is an even more reliable measure of how much Queen Elizabeth meant to them.
From children in push-chairs to pensioners and even global celebrities, they patiently waited their turn to spend only a few minutes in the presence of the late Queen's coffin, almost all of them pausing to bow or curtsy, many of them turning away in tears.
As one of my readers, dearieme, pointed out, this shows the trust our Queen had in her subjects and foreign visitors:
How often in the history of civilisations would governments, here or elsewhere, have allowed – even encouraged – huge mobs of the public to congregate, and trust largely to their natural instincts to keep themselves in order?
I think the answer might be "rarely".
Douglas Murray pondered all of the above in his Telegraph article: 'Our late Queen's final act was to bring her nation and the world deeply together'.
Excerpts follow:
The passing of Elizabeth II is remarkable for many reasons. But just one of them is the way in which the Queen's final act seems to have been to bring her nation deeply together.
There is the literal way in which that has happened, with the mini-nationalists across Britain ceasing – for a moment at least – their relentless task of trying to tear our country apart. The Scottish nationalists observed the death of our monarch without a series of "buts". Even Sinn Fein paid tribute and passed condolences to the Queen's son and heir – an act that would have been unthinkable beforehand.
People have rightly remarked on the way in which hundreds of thousands of people have queued to pay their own personal respects to the late Queen. But almost as remarkable is the way in which other nations around the world, as well as their media, have mourned her death …
The Queen leaves behind a Commonwealth that has been united in mourning – hardly the expected reaction if she had been the cruel tyrant of the New York Times's imagination.
What is more, although the dissenters have received an extraordinary amount of attention, more extraordinary by far is how united the world's response has been.
France, for instance, is not a country known for its love of monarchy. But on the death of Queen Elizabeth the French political and media class were united in paying tribute to her. She was honoured on the cover of almost every French magazine and periodical, as she was across the European and world media.
This reaction is largely a tribute to a reign of unparalleled length and dignity, a life given to the service of the country and the deepening of alliances with our friends and allies. But it also serves as a reminder of the way in which Britain is regarded around the world. With the exception of a few raucously noisy malcontents, we find that most people do not regard Britain as some terrible tyrannical power, either now or in history. Most see us, rightly, as having been among the fairer, certainly more benign, world powers …
This is the Britain that is still influential both in its impact abroad and also in the lives of its citizens. I doubt that there has been a figure in history whose death has led to such a voluntary outburst of feeling. There may have been despots whose death had to be mourned by their citizens and subjects, but there can have been few, if any, who have ever produced such willing devotion.
And there is a lesson in this for our institutions, and for institutions and nations around the world: people are loyal to institutions that are loyal to them. Break any part of that pact and you break the whole; sustain it and you sustain the whole.
Queen Elizabeth II swore an oath to this country as a young woman, and it was an oath she kept until her dying day. That loyalty is what is being honoured and mirrored today: the respect of people around the world for a life of service and duty. Something to remember, certainly. But something to emulate and live up to as well.
On the subject of tributes from abroad, a Belgian created this inspired photo montage of the Queen:
The next two short videos are well worth watching. The first is about Elizabeth II's 'Queenhood', probably written by the poet laureate with footage from her coronation. The second is a film montage of her entire life from beginning to end:
Operation London Bridge — the Queen's funeral plan — was now in its final phase in the capital and at Windsor Castle.
A military procession arrived at Westminster Hall to take the Queen for her final time to Westminster Abbey.
A new bouquet of pink and purple flowers with foliage and herbs — rosemary for remembrance and myrtle from the plant which supplied the sprigs for her wedding — replaced the white wreath for her lying in state:
Eight pallbearers from the military carefully placed her coffin onto a gun carriage. Naval ratings holding onto ropes in front and in back guided the gun carriage on its way.
This tradition began with Queen Victoria's funeral, which took place in January 1901. Horses were supposed to transport the gun carriage, but part of it snapped off in the cold, thereby making it impossible. Prince Louis Battenberg, who was Prince Philip's grandfather, came up with the solution, which, he said, had operated satisfactorily during the Boer War:
If it is impossible to mend the traces you can always get the naval guard of honour to drag the gun carriage.
The tradition continued throughout the 20th century:
The gun carriage is part of the materiel of the King's Troop, commanded for the first time by a woman, Captain Amy Hooper. She told The Telegraph that she was in Canada when the Queen's death was announced:
"BRIDGE, BRIDGE, BRIDGE," the text stated. "Operation LONDON BRIDGE has been activated. Initiate telephone cascade. All personnel are to return to camp" …
She was in Calgary when the news broke, along with soldiers exercising alongside Canadian mounted units. The British party was flying back to the UK within five hours …
Soldiers as far away as Turkey and America had to cancel their family holidays and return to the UK …
On Monday, she will be leading the gun team in Hyde Park for the Queen's funeral.
King's Troop, a unit of about 160 soldiers with an equal split of men and women, has one of the most important ceremonial roles in the British armed forces.
Their six 13-pounder quick-fire guns, built between 1913 and 1918, all of which have seen active service in the First and Second World Wars, are used regularly for royal salutes in Hyde Park, Green Park or Windsor Great Park for State Occasions and to mark royal anniversaries and royal birthdays …
The gun carriage is known as the George Gun Carriage, and carried King George VI's coffin from Sandringham Church to Wolferton Station in February 1952. It was also used in the funeral of the Queen Mother in 2002.
Queen Elizabeth's funeral had more troops and regiments than had ever been gathered at one time.
These included troops from around the Commonwealth, particularly Canada and Australia:
The soldiers walked at a 75 beat per minute pace, which is slow and difficult to sustain.
The Times reported on the use of a metronome, mimicked on the day by drum beats to ensure proper timing:
Military chiefs have been told to "up their game" for the Queen's funeral today and listen to a metronome at 75 beats per minute to ensure the right pace during the procession.
Admiral Sir Tony Radakin, the chief of the defence staff, admitted to nerves but said an enormous amount of planning for the event had gone on for "a very long time". He said more than 10,000 soldiers, sailors and airmen and women would perform their "last duty" to the Queen during the day's events.
Queen Elizabeth wished to have her funeral at Westminster Abbey because she had been married and crowned there.
The last monarch to have a funeral at the Abbey was George II on November 13, 1760. The other monarchs had theirs at St George's Chapel at Windsor Castle.
The Queen's children along with Princes William and Harry walked in the procession to the Abbey.
Meanwhile, heads of state and dignitaries took their places inside. Charity workers also were seated.
The Queen Consort and the Princess of Wales arrived with Prince George, 9, and Princess Charlotte, 7:
The procession arrived at the Abbey and the pallbearers carefully carried the Queen's coffin inside:
You can find the Order of Service here:
The Times has an excellent article on the service.
You can see the procession from Westminster Hall and the full funeral service. As with the other Royal Family YouTube links I have posted, if you get a message saying it cannot be viewed, click on 'Watch on YouTube' or this tweet:
The Queen chose the music, which held particular significance to her and to the Abbey:
Pardon the irreverence, but this is an aerial view of the seating plan in the transept. Look how far back Joe Biden was. Apparently, his Beasts and motorcade got caught up in traffic, although he arrived before the service began. By contrast, the dignitaries who took the white coaches in the 'podding' system got there on time. Even if he hadn't been late, he would still have been seated in the same place.
The altar is to the left and, out of shot, to the right are more seats for guests: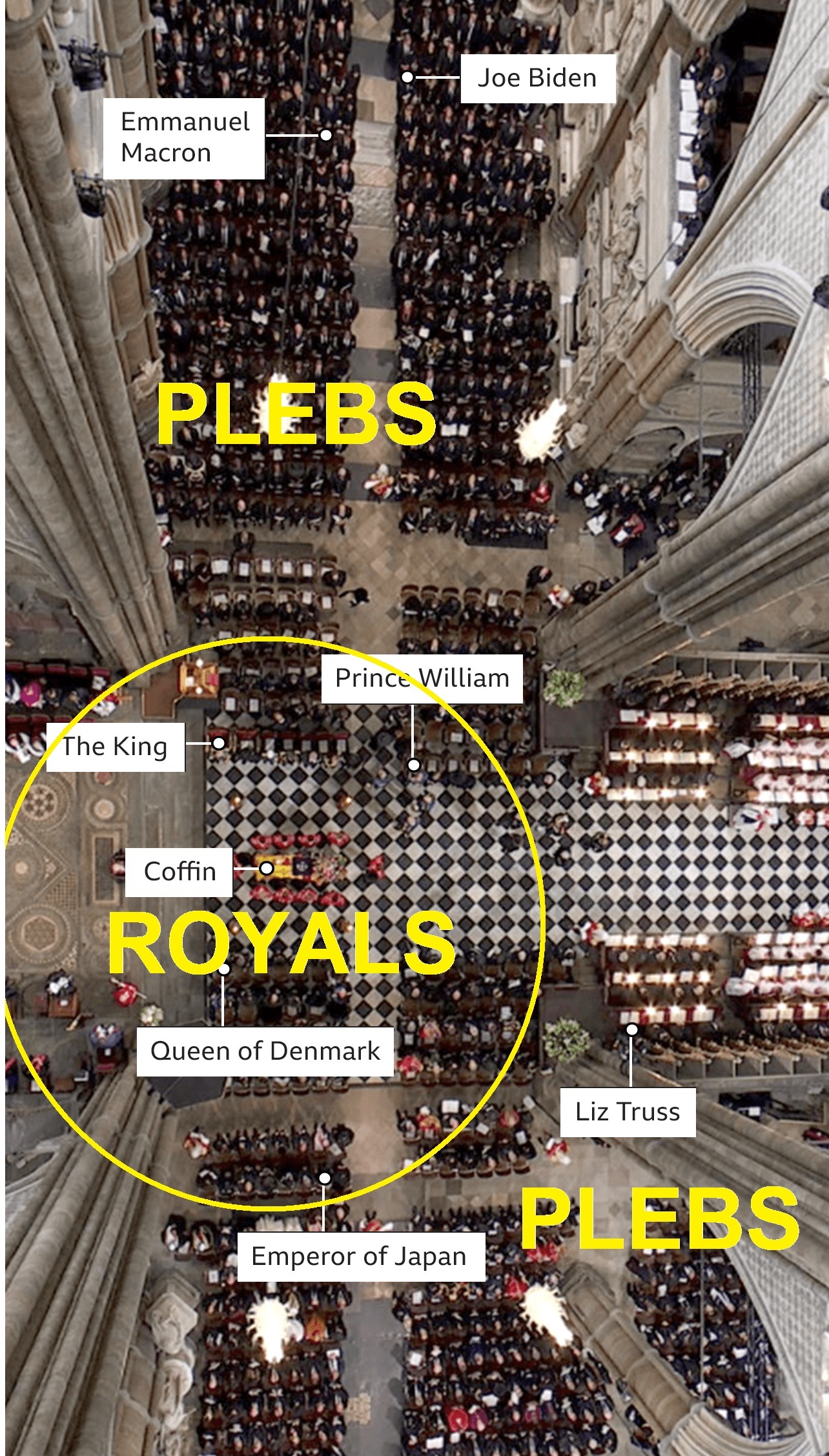 Likely sitting out of shot was, ironically, The Guardian's editor, Kath Viner:
Guido Fawkes has a quote from one of her recent editorials. I cannot bear to cite it in full, so here are the first and last sentences:
Royal rituals are contrived affairs meant to generate popular attachment to a privileged institution and to serve as reminders of a glorious past … How much Britain will be changed once this moment floats past the country is as yet unknown.
Guido commented (emphasis his):
Of course that didn't stop the Guardian's editor Kath Viner accepting a ticket to the funeral from the "privileged institution" herself. Maybe she's sentimental…
Another hypocrite turned up, Scotland's First Minister Nicola Sturgeon, she of the second independence referendum.
The Times has a photo of her and her husband, Peter Murrell, along with a few quotes:
Nicola Sturgeon has said it was an "honour to represent Scotland" as leaders from across the world joined the royal family and other mourners at the state funeral.
The first minister was among some 2,000 mourners at Westminster Abbey along with leaders of the other main Scottish political parties. She spoke of a "final and poignant goodbye to a deeply respected and much-loved monarch".
As I listened to the liturgy, I could not help but think that this is the last time we will hear language from the King James Version of the Bible and the 1662 Book of Common Prayer at a service for the Royals. How I will miss it. I hope I am wrong.
There was one prayer from an even earlier version of the Book of Common Prayer, Archbishop Cranmer's, from 1549. This was put to music. The choir did it full justice:
THOU knowest, Lord, the secrets of our hearts; shut not thy merciful ears unto our prayer; but spare us, Lord most holy, O God most mighty, O holy and most merciful Saviour, thou most worthy Judge eternal, suffer us not, at our last hour, for any pains of death, to fall from thee. Amen.
This was the Bidding Prayer:
O MERCIFUL God, the Father of our Lord Jesus Christ, who is the resurrection and the life; in whom whosoever believeth shall live, though he die; and whosoever liveth, and believeth in him, shall not die eternally; who hast taught us, by his holy Apostle Saint Paul, not to be sorry, as men without hope, for them that sleep in him: We meekly beseech thee, O Father, to raise us from the death of sin unto the life of righteousness; that, when we shall depart this life, we may rest in him, as our hope is this our sister doth; and that, at the general Resurrection in the last day, we may be found acceptable in thy sight; and receive that blessing, which thy well–beloved Son shall then pronounce to all that love and fear thee, saying, Come, ye blessed children of my Father, receive the kingdom prepared for you from the beginning of the world. Grant this, we beseech thee, O merciful Father, through Jesus Christ, our mediator and redeemer. Amen.

The entire liturgy was a lesson about faith and salvation. Even an unbeliver could not miss it.
I pray that it works on the hearts and minds of those in attendance who are indifferent.
The Queen always liked Psalm 42 for its reference to the hart, which reminded her of Scotland:
LIKE as the hart desireth the water–brooks : so longeth my soul after thee, O God.
My soul is athirst for God, yea, even for the living God : when shall I come to
appear before the presence of God?
My tears have been my meat day and night : while they daily say unto me, Where is
now thy God?
Now when I think thereupon, I pour out my heart by myself : for I went with the
multitude, and brought them forth into the house of God;
In the voice of praise and thanksgiving : among such as keep holy–day.
Why art thou so full of heaviness, O my soul : and why art thou so disquieted within
me?
Put thy trust in God : for I will yet give him thanks for the help of his countenance.
Prime Minister Liz Truss read the second Lesson, John 14:1-9a:
LET not your heart be troubled: ye believe in God, believe also in me. In my Father's house are many mansions: if it were not so, I would have told you. I go to prepare a place for you. And if I go and prepare a place for you, I will come again, and receive you unto myself; that where I am, there ye may be also. And whither I go ye know, and the way ye know. Thomas saith unto him, Lord, we know not whither thou goest; and how can we know the way? Jesus saith unto him, I am the way, the truth, and the life: no man cometh unto the Father, but by me. If ye had known me, ye should have known my Father also: and from henceforth ye know him, and have seen him. Philip saith unto him, Lord, shew us the Father, and it sufficeth us. Jesus saith unto him, Have I been so long time with you, and yet hast thou not known me, Philip? He that hath seen me hath seen the Father.

After Psalm 23 was sung, the Archbishop of Canterbury's sermon followed:
Near the end, clergy from the main Christian denominations recited their own prayers in thanksgiving for the Queen's long reign of service.
The Abbey's Precentor then recited a prayer from John Donne (1573-1631):
BRING us, O Lord God, at our last awakening into the house and gate of heaven, to enter into that gate and dwell in that house, where there shall be no darkness nor dazzling, but one equal light; no noise nor silence, but one equal music; no fears nor hopes, but one equal possession; no ends nor beginnings, but one equal eternity; in the habitation of thy glory and dominion, world without end. Amen.
After the blessing, the State Trumpeters of the Household Cavalry sounded The Last Post:
The congregation sang two verses of the National Anthem.
The funeral service closed with a poignant military lament, Sleep, dearie, sleep, performed by the Queen's Piper, Warrant Officer Class 1 (Pipe Major) Paul Burns. He stood on a balcony overlooking the congregation. Words cannot describe it.
This video has brief highlights from the funeral:
After the funeral ended, the Queen's coffin resumed its place on the gun carriage for a procession past Whitehall, down The Mall, then past Buckingham Palace, finishing at Wellington Arch on Constitution Hill.
A gun salute also took place:
The Royals walked with the military, as before. This was a long walk.
Every person in this procession has seen active military service. I put that in bold, because some living overseas think that these are 'toy soldiers', as it were. They are anything but.
Here they are in front of Buckingham Palace. Note that the Queen's household are standing in front of the gates in their normal working clothes to pay their respects:
The horses leading the procession were gifts to the Queen from the Royal Canadian Mounted Police (RCMP), or the Mounties. The Queen was their honorary commissioner.
George, Elizabeth, Darby and Sir John are the latest in a long line of horses given by Canada to the Queen and ridden by senior royals, including King Charles and the Princess Royal, during the annual ceremony of Trooping the Colour …
In 1969, the RCMP presented her with Burmese, a seven-year-old black mare who went on to become the Queen's favourite horse.
She rode her at Trooping the Colour for 18 years, including in 1981 when Marcus Sarjeant, then 17, shot six blank rounds at the Queen as she was travelling down The Mall to the parade that marks her official birthday.
Although Burmese was briefly startled, the horse won praise for remaining calm due to her RCMP training, in which she had been exposed to gunfire.
Burmese, who died in 1990, was the first of eight horses given to the Queen by the Mounties. George was given to her in 2009. Now 22, he has been ridden each year at Trooping the Colour by Charles.
Elizabeth, now 17, named in honour of the Queen Mother, was a gift to mark the Queen's Diamond Jubilee in 2012 …
Sir John, 14, was a 90th birthday present for the Queen and is ridden at Trooping the Colour by Princess Anne, a former Olympic equestrian.
Darby, a 16-year-old Hanoverian gelding, was one of two horses received by the late monarch in 2019.
[Sergeant Major Scott] Williamson is one of four RCMP officers who will ride at the front of tomorrow's funeral procession after the Westminster Abbey service.
It will travel up Whitehall and along The Mall, passing Buckingham Palace before ending at Wellington Arch. Here, the Queen's coffin will be transferred from the state gun carriage to a hearse for her final journey to Windsor.
I will cover the committal service at Windsor in tomorrow's post.