You are currently browsing the category archive for the 'Anglican' category.
On Thursday, July 29, 2021, mindless vandals ruined St Mary Magdalene Church in Caldecote, Hertfordshire:
Hertfordshire is a quiet, leafy county in England, so this was a surprising and unhappy incident.
The church had just undergone nine months of renovation:
Fortunately, volunteers from Friendless Churches stepped in to clean up.
A heavy duty vacuum cleaner was needed:
Volunteers worked through the weekend:
By the end of the day on Sunday, August 1, it was presentable once again, although repairs must be redone:
The electricity supply also needs repair:
St Mary Magdalene, which dates from the 14th or 15th century, is one of 59 redundant — deconsecrated? — and ancient churches in England and Wales that Friendless Churches looks after. Some are open for visits and concerts, such as St Mary Magdalene:
Sadly, another St Mary Magdalene church in another part of the Home Counties — Boveney, Buckinghamshire, near Eton College — was vandalised last week, although not as badly:
It is unlikely that the poor box will be replaced:
Crimes such as these make it more likely that ancient treasures of worship could be under lock and key in future. Restoration is expensive, as is the installation of a security camera system.
It's hard to understand why anyone would want to vandalise such beautiful buildings. In any event, those who committed the crimes will one day have to answer to the ultimate Judge. Their defence of drug use or whatever other excuse will be pointless on that fateful day.
On Friday, I wrote about Sheffield's Nine O'Clock Service, a cause célèbre in 1995, adherents of which are now seeking financial compensation for the psychological abuse they endured.
I cited two articles from The Times as sources.
However, I have older Nine O'Clock Service (NOS) sources which present more nuanced information about the group which had between 300 and 500 members.
The first is an article in The Independent. It is dated 2011, however, the wording in it — e.g. 'last year' — indicates that it is from 1996.
The article contradicts some of what The Times alleged last week.
Brain's resignation
For a start, The Independent reported that the then-Bishop of Sheffield, the Right Revd David Lunn, wanted Chris Brain to stand down as vicar immediately when the scandal broke in August 1995 and that the Archbishop of York had already banned him from carrying out priestly duties (emphases mine):
The Bishop of Sheffield, the Rt Rev David Lunn, demanded Mr Brain resign after he confessed to having sexual relationships with young women in the congregation.
He quit last November after initially refusing to bow to the criticism heaped on him when the scandal broke.
The Archbishop of York had already banned Mr Brain from acting as an ordained priest.
Brain was quite fragile at the time and sought treatment:
Within days of the revelations Mr Brain checked himself into a psychiatric ward of Cheadle Royal Psychiatric Hospital, Cheshire.
Meanwhile, the women who were his victims could ring a telephone hotline:
Women who were manipulated by him and called a telephone hotline were told the matter would almost certainly be dealt with within the church and only be passed on to the police if there was an allegation of rape.
The Wikipedia entry for the NOS says that the Diocese of Sheffield tried to help the members — and Brain — to recover:
The Diocese of Sheffield, through a seconded pastoral team led by Rachel Ross, the Reverend Andrew Teal and the Reverend Peter Craig-Wild, attempted to manage the pastoral care both of Brain and members of the community wounded by the scandal.
Brain was originally a musician who played in night clubs. He then got involved with St Thomas's Church in Sheffield and was ordained for his success in leading NOS.
By early 1996, he was ready to re-establish his previous career:
In February, Mr Brain's solicitor announced the disgraced clergyman had left Britain for America, where he was hoping to make a comeback in music and the media.
NOS resurrected on Easter Day 1996
The Independent's article reported that the NOS held a service on Easter in 1996.
Members of the NOS were still getting together, even after the scandal broke.
The service was held in a chapel in Sheffield:
The Easter service was moved from the city's Ponds Forge complex, where priest Chris Brain once orchestrated rock concert-style gatherings in a basement room.
It was staged instead in a simple chapel in the city, without the lasers and rave music popularised by Mr Brain. The Archdeacon of Sheffield, the Ven Stephen Lowe, conducted a "meditative service".
There were doubts about restarting the group eight months after the Church of England was rocked by scandal when Mr Brain was accused of sexually abusing more than 20 women members.
Yesterday's congregation was drawn from remnants of the Nine O'Clock Service which broke up after women complained about being assaulted by Brain.
Diocesan communications officer Canon Roy Arnold said: "I can confirm that former members of the Nine O'Clock Service met together in a Sheffield church for a celebration of the Holy Communion. It was a quiet, meditative service.
"Since the activities of the Nine O'Clock Service came to an end last August following the disclosures about their leader Chris Brain, a number of members have continued to meet together for worship and other matters.
"They now have an elected church council and the Diocese of Sheffield is at present in the process of appointing a chaplain for the group," he said.
There were hopes at the time that the NOS could return to its original style of service without the psychological trauma:
Mr Arnold did not rule out the possibility that the rock-style services could be re-introduced. "The scandal was about Chris Brain and not about reaching out in a new and exciting way to a generation lost to the church," he said. Members of the Nine O'Clock Service have vowed to distance themselves from the controversy last year and have devised a new service.
Last month, alleged victims of Mr Brain held a bonfire ritual to help them overcome the trauma. They lit a fire in the middle of a church hall and set off fireworks in a "releasing ritual".
An advert in the Church Times for a chaplain for the group has drawn applications from all over the country. But according to churchwarden Alan Gibson, Mr Brain's successor would not be allowed the same powers he had enjoyed.
"We are not looking for a leader, we are not looking for a guru. We are looking for a facilitator who will tie us more closely with the Church of England," Mr Gibson said.
Wikipedia says:
A remnant of the community continued to meet, under different leadership, for some years afterwards in Sheffield.
The evolution of the NOS
Sometime in the 1980s, a group of 10 people from St Thomas's Church began organising NOS services. From there, it grew enormously.
Young, unchurched origins
Wikipedia states:
Beginning as a simple alternative format service under the leadership of Chris Brain, the group responsible for it developed a leadership structure that was endorsed by the leadership of St Thomas' Church. The average age of the members was 24 for much of NOS's life. The membership was significantly from non-church backgrounds.
Starting with about 10 people who worked on designing and creating the services, the congregation grew to almost 600 members while resident at St Thomas' Church. Main themes included care for the planet and concern about its abuse, simple lifestyle and development of relationships with non-churched people.
By 1988, Bishop Lunn authorised the group's move to Sheffield's Ponds Forge Rotunda, a sports complex that can accommodate 2,600 people.
The Planetary Mass
One of their big services at Ponds Forge was The Planetary Mass, also known as the Rave Mass:
The Planetary Mass at Pond's Forge was marked by both bold liturgical experimentation and naive hopefulness.
An unorthodox Dominican-turned-Episcopal priest, Matthew Fox, found out about the service and was eager to bring a form of it to San Francisco.
Matthew Fox also had his problems with the Church. He had been a professor at several Catholic colleges in the United States. When Pope Benedict was still Cardinal Ratzinger and head of the Congregation for the Doctrine of the Faith, he began delving into Fox's writings and asked the Dominicans to investigate. The Dominicans found nothing objectionable, even though Fox was not propagating Catholic teaching. However, because Fox did not believe in Original Sin, Ratzinger forbade him from teaching for a year. By 1993, the Dominicans changed their minds about Fox and dismissed him from the order for 'disobedience'. He became an Episcopal priest in 1994 and still practises in the Episcopal Diocese of California. He developed the Techno Cosmic Mass — now the Cosmic Mass — which made its debut in San Francisco and has since been performed 100 times since.
Before creating the Techno Cosmic Mass, Fox scheduled a performance of The Planetary Mass in 1994 in San Francisco.
The Christian Research Institute has an article about it. Fox invited 35 members of the NOS to fly in and participate.
The format is environmentalist and pagan:
Inside, at the center of the room was placed an oversized circular altar and a smaller crescent table. Surrounding the tables were a series of concentric circles, tracks marked off in tape, around which the Rave Mass team would walk and dance. Atop the eclipse altar sat a chalice, protected by a clear Plexiglas pyramid.
Above the eclipse altar was an impressive screen — a large sphere of white cloth onto which the organizers projected images of revolving planets, decaying forests, human pulses, and faces.
Several young people emerged from the shadows carrying small flames.
"These people are not pyromaniacs," said Matthew Wright, 31, who served as a liturgical emcee. "As you can see, they're using the flames to pray and invite the Spirit into this place."
Wright encouraged people to approach the flamebearers and use the flames to pray. The flamebearers held the flames inches from people's faces, slowly lowered the flames to foot level, then slowly raised the flames back to eye level. Some people gently waved their arms at waist level, almost like charismatic Christians. Others stretched their arms high above their heads, then bowed fully before the small flames.
A scantily-clad Briton led a dance piece:
The music cranked up to a pulsating dance beat. The 35 young Brits — including one young woman in a short skirt and a negligee top — led the room in energetic dancing to this bouncy anthem:
Now we feel your lifeforce rising
Raise the passion 10 by 10
Now we breathe you, Christ, inside us
Feel the freedom pushing on!
Chris Brain was also in attendance to celebrate the service. This would have been before the scandal broke in Sheffield:
A young woman read an unspecified passage of Scripture, listing some of the evils that will exclude people from the kingdom of God, including adultery, uncleanness, lust, and sorcery.
Then a video set the Scripture reading in a corporate context. For adultery, the video portrayed the contrast between Third World debt and Third World aid. For lust, it showed images of pollution. For sorcery, it showed the creature almost everybody loves to hate: a TV preacher begging for donations.
The organizers also adapted a reading from chapter 1 of the Gospel of John through the Cosmic Christ filter. The reading repeatedly referred to "the Word" as "it" rather than "he."
"This is the Word of Christ," Rev. Brain said.
"Thank you, Eternal Voice," the congregation responded.
This was how the Communion part of the service went:
After Fox's homily, Brain celebrated communion — of a sort. Women dancers in four corners of the room turned in circles repeatedly throughout the prayers and communion. Assistants presented fire, water, and soil. Brain immersed his hands in the soil, saying he was washing them. He thanked Mother God for the gift of air.
Brain repeated Jesus' words about partaking of communion in his memory. Otherwise, Brain spoke no words of consecration, which may not matter to those Protestants who believe the Lord's Supper is a memorial service, but matters immensely to Anglicans, who affirm what is called consubstantiation. Most Anglicans do not believe the bread and wine literally become the flesh and blood of Christ, but they do believe in a "real presence" of Christ in the elements of the sacrament.
There's supposed to be a "real presence" in the Rave Mass, too, but it's the presence of the Cosmic Christ as lifeforce, not the personal historical figure who died on a cross and rose again.
Bishop Swing from San Francisco's Grace Cathedral attended. By then, one Planetary Mass had already been performed inside the cathedral:
At a news conference, Swing described the service as "the church singing a new song."
Enough said. How I wish we had St Paul with us today. He would have read them the riot act, straight out of 1 Corinthians.
How the NOS was organised weekly
In Sheffield, organising the weekly NOS began early in the morning and ended late at night.
The University of Huddersfield Repository has a link to an abstract called 'The Nine O'Clock Service: Mixing Club Culture And Postmodern Christianity'.
Rupert Till's abstract presents the difficulty in using St Thomas's Church and explains how the group had to use Ponds Forge:
8. The church service before NOS would end at about 8.15pm, giving NOS about half an hour to clear the church, remove seats, set up equipment, and prepare. They would rehearse services in the afternoon, take everything down and then set it up in the gap between services. Although St Thomas church were regarded as generous in giving NOS time on a Sunday, NOS had to work within heavy constraints, and eventually moved to their own building where they would meet at 8:00 p.m.
 9. As were all of the band for most of the time, carefully situated as they were in dark lighting in the right-hand corner of the church.
11. Members of NOS would record television shows that might have interesting video images. Useful clips would be transferred to new tapes and looped so that a short clip of clouds passing would become a five-minute tape of clouds passing. NOS had a large room with walls covered in shelves full of these tapes of deconstructed decontextualised video images with loop tapes, source tapes, documentaries, and recordings of services. The sampling of secular music and images was a key feature of NOS arts, a deliberate process of reclaiming secular developments in the arts for sacred purposes.
12. A typical NOS Sunday began at five in the morning. A trucking team moved 10 tons of equipment to the church from storage to the empty sports hall. A crew of about 30 would appear by seven to set up the equipment. Late in the morning, some of the artistic team would appear to begin preparing for rehearsals. The 'performers' would arrive later to rehearse. After the service, perhaps 10.30 p.m., a team would begin to take down equipment, which would be returned to storage by 3:00 a.m. Unseen would be the hours of rehearsal and preparation midweek, with the highest of standards maintained.
Rupert Till says that the congregation varied in age but were solidly middle class:
17. Despite trying to project an image of authentic, underground, club culture-influenced young people, NOS members were largely aged 18–40, white, middle-class and well educated, and many were generation X Christians dissatisfied with conventional church. DJs and club kids were supported by barristers, theologians, teachers, doctors, and social workers.
The 1995 scandal, he says, involved a subgroup of the NOS:
16. It is perhaps no accident that sex was the organisation's downfall, choosing as they did to investigate postmodern sexuality in a secretive subgroup, knowing that this was one area that the Christian church would not allow them to explore openly.
I hope this type of church service is dead and buried in the Church of England.
However, I fear it will make a comeback, especially as senior Anglican clergy seek to revamp their denomination post-pandemic. That's a whole other topic for another time.
In 1995, a Church of England scandal made national news.
Reading an update on it this week reminded me of the Corinthians, whom St Paul reproved for becoming debauched. Their carnal attitude permeated their church services: babbling nonsense ecstatically 'in tongues', which was part of pagan worship, and drunken Communion services.
During the 1980s and early 1990s, something similar happened to a church in Sheffield. Unfortunately, there were no senior Church of England clergy to censure the vicar. As it happened, they encouraged a programme about which they knew little.
This week, The Times recapped what happened at St Thomas's Church in Sheffield at what was called the Nine O'Clock Service, or NOS.
The NOS was held every Sunday.
A young Christian rock musician — and ex-nightclubber — Chris Brain, led the NOS, which The Times describes as:
a radical mix of rave culture, social and environmental campaigning and religion that drew queues of black-clad young followers for its weekly gatherings.
Instead of reminding Chris Brain of pertinent chapters of 1 Corinthians, the clergy wanted to extend the NOS throughout the United Kingdom (emphases mine):
The hierarchy was buzzing at the prospect of a vibrant model of service that might be copied around the country to attract new congregations.
Chris Brain, the charismatic young Christian rock musician who had emerged as leader of the NOS, met Dr George Carey, who was soon to be the Archbishop of Canterbury, and later recalled: "He said to me, 'I'd be very happy to see an NOS in every town and city in the UK'."
Carey, who met Brain in 1990, was interested in getting more converts, and rightly so. As the Archbishop of Canterbury, he declared the 1990s to be the Decade of Evangelism. He is best remembered for propagating the Alpha Course nationwide. Alpha started at Holy Trinity Brompton Church in London. It has been an international phenomenon for many years.
Returning to the NOS, in 1989, the Bishop of Sheffield, the Right Rev David Lunn, had confirmed 100 people — nearly all NOS attendees — at St Thomas's. That is an extraordinary number of confirmands for any church at any one time:
It was a moment of great excitement for the church hierarchy because they were almost all young people, usually thought of as being out of reach.
As a result, Brain became a diocesan star of sorts, seen as being ideal for the priesthood:
Brain was fast-tracked for ordination and invited to contribute to the archbishop's collection of essays on evangelism. Lunn told the BBC that the NOS had a "permanent significance" and was a "new development in the way we understand the Christian religion".
The church authorities were either unaware of, or happy to turn a blind eye to some more disturbing aspects of the movement.
Brain's ordination in 1992 was rather extraordinary:
When Brain was ordained in 1992, the NOS borrowed at considerable expense the robes worn by Robert de Niro in the film The Mission for the service.
He became St Thomas's vicar.
Behind the scenes, however, carnality prevailed with Brain and some NOS adherents, particularly women. It was turning into a cult:
There were allegations of controlling behaviour and followers handing over thousands of pounds while cutting themselves off from their friends and families. Young women were enlisted as "postmodern nuns" in Brain's Homebase Team. Some allegedly gave massages and engaged in sexual activity when putting him to bed.
Brain rationalised their behaviour, as one woman later recalled:
One member of the group, interviewed by the BBC, said: "He would talk about how we were discovering a postmodern definition of sexuality in the church. It's just language — language covering up the fact of what was really going on: one bloke getting his rocks off."
Things started getting out of hand in 1992:
There had been consternation in 1992 when an NOS service at a Christian festival included a troupe of dancers in black Lycra bikinis cavorting in front of 15,000 people.
A few laypersons and clergy complained to church authorities, but nothing was done until 1995:
Church leaders finally listened in August 1995 after disclosures by three whistleblowers:
One woman claimed that there was bullying and people were "blurring boundaries sexually". She worried about how money was spent. The NOS charity, the Nine O'Clock Trust, recorded an income of £272,000 in 1994.
That amount of money is something an average Anglican church can only dream of.
Church authorities suspended Brain's ministry. A month later, he tried to downplay the extracurricular activities of the NOS:
In a September 1995 interview with a Sunday newspaper he said that the sexual contact he had with women followers was "heavy petting" but "non-penetrative". The Homebase Team had been created to help his wife at home because he was so busy with his work. "It was like any other vicarage, you always get ladies helping the vicar's wife. They set up a rota but the idea of handmaidens is ridiculous," he said.
Brain added: "These were relationships which began 10 or 12 years ago when I was part of the nightclub scene. When I became a priest, I should have done something about them . . . I didn't and that was wrong."
He said that his ordination never should have happened:
He claimed that it was "utterly ridiculous that I was made a priest . . . I was the breakthrough for the church but it changed everything for me. Everyone became dependent on me."
Yes, congregants depend a great deal on their vicars. They expect spiritual leadership and guidance. He is their shepherd.
The Times is revisiting this story because, after 25 years, former NOS members are now seeking compensation:
Former members of the Nine O'Clock Service, which was known as the NOS and drew hundreds of young people to nightclub-style evangelical services in Sheffield in the 1980s and 1990s, have approached the church alleging that they endured abuse and exploitation.
The current Bishop of Sheffield, the Right Rev Pete Wilcox, said that:
the survivors had given "harrowing testimonies" about their experiences, and their concerns were being taken "very seriously".
More ex-members could be coming forward:
to allege sexual exploitation and psychological abuse.
One member explained that the reason for waiting a quarter of a century to come forward was because the Church of England advised them to stay silent:
One former member of the group said: "People have been silent for a long time and it has caused them huge distress and trauma. The church told them at the time that they should keep silent, don't talk about it, the press will destroy you. I think after the MeToo movement people felt 'enough is enough' and they made a decision to come forward."
Some of those seeking help are considering legal action for damages because church leaders had overtly supported the NOS, believing that it would attract younger congregations.
The article says that the hierarchy even gave the NOS financial backing.
The 'postmodern nuns' wore unusual habits and had unorthodox duties:
Brain resigned his ministry in 1995 as the scandal unfolded. It emerged that his entourage included a group of "postmodern nuns" who wore black miniskirts and whose tasks ranged from housekeeping duties to "putting him to bed" at night.
He told a BBC documentary in 1995 that he had been "involved in improper sexual conduct with a number of women".
Fast forwarding to the present, Brain is now 63. The article says that he has changed his first name from Chris to James. He is currently:
co-director of a "transformation design" consultancy based in Manchester.
The Times reported that he did not respond to their attempts to contact him.
The NOS, The Times says, had between 300 to 500 members. A number of them forsook family and friends for the movement, filling its coffers with large sums of money.
At the time the scandal broke, the then-Bishop of Sheffield, Bishop Lunn, said that:
the hierarchy was not responsible for any wrongdoing.
The current incumbent, Bishop Wilcox, is taking a much different stance:
Wilcox said: "We can confirm a group of survivors of the appalling conduct at the Nine O'Clock Service in the Diocese of Sheffield, which originally surfaced in the 1990s, have contacted the Church of England. Their concerns and harrowing testimonies are being taken very seriously. Support is being offered and the church is working closely with the statutory authorities."
A large law firm, Slater & Gordon, is representing the former members. One of their solicitors (attorneys), Richard Scorer, said:
The Church of England has a moral and legal responsibility to those harmed by abuse in the Nine O'Clock Service and it must honour that and ensure that the appalling harm suffered by victims is properly acknowledged.
I remember when the story broke. It was in the papers for several weeks. Even the atheists I knew at the time expressed their shock and said that priests should not act like that.
The Times has done an admirable job of returning this harrowing story to the spotlight.
I hope that settlements can be reached and that the Church of England learns an important lesson from this.
However, I have a few old bookmarks on the Nine O'Clock Service, which say that Chris Brain's departure did not end the movement. Furthermore, The Independent reported at the time that Bishop Lunn was quick to demand that Brain resign as vicar and that the Archbishop of York had already banned him from performing priestly duties.
More to come on Monday.
Prince Philip's funeral took place at St George's Chapel, Windsor Castle, on Saturday afternoon, April 17, 2021.
Exactly two months earlier, he had been admitted to the King Edward VII Hospital in London, a private health care establishment where he went for minor ailments:
He then was transferred to St Bartholomew's, a specialist NHS hospital in London, for heart surgery. Afterwards, he was sent back to the King Edward VII to recuperate. He spent a month in hospital before being discharged:
Because of coronavirus restrictions, the Queen did not visit her husband. However, Prince Charles visited once. On March 18, The Express reported:
Prince Philip's 28-day hospital stay is the longest ever, and he was only visited by Prince Charles, likely due to ongoing COVID-19 restrictions.
The Prince of Wales visited his father during his first week in hospital, having made the 200-mile round trip to London from his Gloucestershire home, Highgrove.
Prince Philip has been treated for heart problems in the past, and this time, his stay isn't understood to be Covid related at all.
On April 11, after the Prince died, The Sun reported on the significance of that visit. Royal insider Andrew Morton wrote (emphases mine):
It was a meeting of vital importance, especially as visitors to the private King Edward VII's hospital were permitted to see patients only under "exceptional circumstances".
This private exchange clearly came under that heading as the future king emerged from their 30-minute conversation clearly upset and preoccupied.
It had been an emotional encounter — one where, it could be assumed, Philip outlined his final wishes to his eldest son.
The Duke, who had been the head of the family for as long as anyone could remember, was finally stepping down and bowing out.
Now it was Charles's time to step up to the plate and finally take over control of the first family.
Doubtless his father, who had the reputation for writing thoughtful letters to family members, set down his thoughts on paper beforehand …
Though Philip is remembered with enormous affection by the family — William and Harry call him The Stud in reference to a picture of their grandfather with his hair slicked back and wearing sunglasses — his relationship with his eldest son was never easy.
Princess Diana told me it was "very tricky, very tricky".
She recalled: "Prince Charles longs to be patted on his head by his father."
Once at home, the Prince appeared to be recovering, until he took a turn for the worse. On his better days, he took advantage of the occasional mild weather we enjoyed in southern England. On April 10, The Sun reported on his final weeks:
The Queen was by Prince Philip's bedside when her husband of 73 years passed away, with the Duke having spent his final days in "good form" reading in the sun, it was reported today.
The Duke of Edinburgh is believed to have spent his last few days reading and writing letters and sleeping in the sun weeks before his 100th birthday.
Despite officials at the Palace declined to "go into any specifics" about the Duke's passing, it is understood that his condition worsened overnight on Thursday with insiders warning that he had become "gravely ill".
However, any talk of whisking Prince Philip back to the hospital was reportedly dismissed by the Queen.
One well-placed source told the Telegraph: "He spent most of the four weeks he was in hospital trying to get home.
"They operated on his heart in a bid to give him a little longer, maybe with the 100th birthday in mind.
"But he didn't really care about that.
"He just wanted to be back in his own bed. There is no way he would have wanted to die in hospital."
According to reports, there had been no dramatic decline in Philip's health but it was gradual.
Staff said that the Duke was "on good form", still writing and reading letters earlier this week.
On warm days over the last few weeks, Philip would reportedly ask to sit in the sunshine with a rug over his legs and nod off.
The Prince wanted to be self sufficient to the end. He was livid when he first saw a wheelchair in his room:
One aide told the Daily Mail he insisted on bending to the floor and picking up his dropped reading glasses, saying "I'll do it" when a footman sprung forward.
And the Queen was said to be overheard saying he wouldn't use his hearing aid, which "means we have to shout", she noted.
Prince Philip was still reportedly dressing himself until recently and heading out of his room in a smart shirt and jumper on good days.
He would use a stick to walk around his rooms, and rarely allowed himself to be pushed in a wheelchair.
A royal source revealed when it was first put in his rooms he shouted: "Get that bl***y thing out of my sight".
In his last few weeks, the prince was well enough to still speak to family and close friends on the telephone but unlike the Queen, the Duke was not a fan of Zoom calls.
Days before the funeral, the Queen made a decision about attire for her sons and grandsons:
Meanwhile, hours of military rehearsal took place:
On Saturday, I watched the funeral coverage on Sky News. Alastair Bruce OBE, a senior British Army reservist, did an excellent job of commentary from start to finish. That video is now private, although a podcast exists, but the Royal Family channel has the funeral in full:
Sky News posted three minutes of highlights:
The Prince had been closely involved in 'every detail of planning' the ceremony, including the music and the readings.
Within the grounds of Windsor Castle, a procession took place with the Prince's casket placed on a Land Rover Defender he helped to design. The casket was draped in his own standard, or colours. In the video shot above, you can see the flag of Greece in one quadrant.
On the casket were a few items personal to him, such as his Royal Navy covering, and a naval sword that his father-in-law George VI gave him.
A carriage was also part of the procession, as the Prince enjoyed carriage racing. On the seat were his riding gloves and, it was said, sugar cubes for the horses.
Sky News reported:
A naval sword, gi[ven] to Philip by King George VI when he married Princess Elizabeth in 1947, was placed on top of the duke's coffin as it was carried into the chapel.
The coffin was also covered with a wreath, naval cap and the duke's personal standard.
It was one of several details which reflected the royal's naval career and lifelong association with the armed forces.
Philip designed his own custom-built Land Rover to carry the coffin at his funeral.
The modified Land Rover Defender TD5 130 chassis cab vehicle was unveiled two days before the service.
The duke first began the long-lasting venture to create the bespoke hearse in collaboration with Land Rover in 2003, the year he turned 82.
He made the final adjustments to the vehicle in 2019, the year he turned 98.
The Defender was made at Land Rover's factory in Solihull in 2003 and Philip oversaw the modifications, in collaboration with the company, throughout the intervening years.
The duke requested that the original Belize Green bodywork be switched to Dark Bronze Green, a colour used for many military Land Rovers.
Along the route, the men of the Royal Family and Princess Anne walked behind the Land Rover. The women, except for the Queen who was in the ceremonial Bentley, stood along the route, awaiting the procession.
The Queen rode with her lady-in-waiting Lady Susan Hussey, who did not attend the funeral, in order to keep the numbers to the state-required 30 persons during coronavirus restrictions:
Once at St George's Chapel, eight Royal Marines carried the Prince's casket up the steps. On the second landing, they stopped for the one-minute national silence at 3 p.m. Featured in this video is a clip of students from his alma mater Gordonstoun in Elgin, Moray (Scotland):
Although a lot of this video is about Prince Harry, Alan Jones of Sky News Australia said that Prince Philip's coffin was designed to be biodegradable:
Inside the chapel, various medals had been placed on velvet cushions on the altar. Sky's article says:
Military medals handpicked by the duke featured inside the chapel at his funeral.
Philip's chosen insignia, the medals and decorations conferred on him by the UK and Commonwealth countries – together with his Royal Air Force wings and Field Marshal's baton, were pre-positioned on nine cushions on the altar.
The duke also included insignia from Denmark and Greece – Order of the Elephant and Order of the Redeemer respectively – in a nod to his birth heritage as a prince of Greece and Denmark.
Insignia on display from across the Commonwealth included the Zanzibar Brilliant Star of Zanzibar, the Brunei Esteemed Family Order and the Singapore Order of Darjah Utama Temasek.
Insignia, orders, decorations and medals are a way of a country saying thank you and recognising someone's achievements.
The insignia were sewn in place at St James's Palace by two seamstresses using transparent fishing wire.
The Queen was met by the Dean of Windsor before the minute's silence. This is a photo of her before the rest of the Royal Family took their places. The Queen placed her handbag on the seat next to her, where her beloved husband sat on so many other occasions. Her brooch was a gift from the Prince:
Our hearts went out to the monarch, especially during this time of coronavirus restrictions:
Barrister Francis Hoar was livid:
The Duchess of Cambridge attracted much attention at the weekend for this filmic, yet unsettling, photograph. Note that a 'Karen' posted it! You could not make this up:
Members of the Royal Family were spaced apart in the chapel, sitting in their respective familial bubbles. Princes Harry and Andrew sat alone.
Three members of Prince Philip's family were also in attendance. They flew in from Germany and stayed with a mutual friend in Ascot, near Windsor. They left immediately after the funeral.
The Sun reported (photos at the link):
THREE of Prince Philip's German relatives will attend his funeral and are in isolation ahead of the service, it is claimed.
Two great-nephews and a cousin are said to be staying with a mutual friend in Ascot, Berkshire, so they can safely be there on Saturday.
Bernhard, Hereditary Prince of Baden, Prince Donatus, Landgrave of Hesse, and Prince Philipp of Hohenlohe-Langenburg are locked in a Covid-compliant bubble, the Daily Mail reports.
The Duke of Edinburgh allegedly made it clear he wanted his "blood" family to be included in his funeral arrangements.
Prince Philipp, 51, said in a statement from the house where he and his relatives remain isolated until the weekend: "It really is an incredible honour and we are all extremely touched and privileged to be included on behalf of the wider family."
Contrast the social distancing and self-isolation with the scene in London that afternoon. It doesn't make sense:
The ceremony had a lot of music, which the Prince himself chose:
You can read the Order of Service in its entirety here. The liturgy was in traditional language.
A choir of four, socially distanced in another part of the chapel, sang the hymns.
The service began with 'sentences', Bible verses:
I AM the resurrection and the life, saith the Lord: he that believeth in me, though he were dead, yet shall he live: and whosoever liveth and believeth in me shall never die.
John 11. 25-26
I KNOW that my redeemer liveth, and that he shall stand at the latter day upon the earth: and though after my skin worms destroy this body, yet in my flesh shall I see God: Whom I shall see for myself, and mine eyes shall behold, and not another.
Job 19. 25-27
WE brought nothing into this world, and it is certain we can carry nothing out. The Lord gave, and the Lord hath taken away; blessed be the name of the Lord.
1 Timothy 6. 7, Job 1. 21
Among others, the Prince chose the hymn I refer to as 'For Those in Peril on the Sea':
ETERNAL Father, strong to save,
Whose arm doth bind the restless wave,
Who bidd'st the mighty ocean deep
Its own appointed limits keep;
O hear us when we cry to thee
For those in peril on the sea.
O Saviour, whose almighty word
The winds and waves submissive heard,
Who walkedst on the foaming deep,
And calm amid its rage didst sleep:
O hear us when we cry to thee
For those in peril on the sea.
The first reading was one that only Prince Philip would have chosen:
Ecclesiasticus 43. 11-26 read by the Dean of Windsor
LOOK at the rainbow and praise its Maker; it shines with a supreme beauty, rounding the sky with its gleaming arc, a bow bent by the hands of the Most High.
His command speeds the snow storm and sends the swift lightning to execute his sentence. To that end the storehouses are opened, and the clouds fly out like birds.
By his mighty power the clouds are piled up and the hailstones broken small. The crash of his thunder makes the earth writhe, and, when he appears, an earthquake shakes the hills.
At his will the south wind blows, the squall from the north and the hurricane. He scatters the snow-flakes like birds alighting; they settle like a swarm of locusts. The eye is dazzled by their beautiful whiteness, and as they fall the mind is entranced.
He spreads frost on the earth like salt, and icicles form like pointed stakes. A cold blast from the north, and ice grows hard on the water, settling on every pool, as though the water were putting on a breastplate.
He consumes the hills, scorches the wilderness, and withers the grass like fire. Cloudy weather quickly puts all to rights, and dew brings welcome relief after heat.
By the power of his thought he tamed the deep and planted it with islands.
Those who sail the sea tell stories of its dangers, which astonish all who hear them; in it are strange and wonderful creatures, all kinds of living things and huge sea-monsters.
By his own action he achieves his end, and by his word all things are held together.
The second lesson was the story of Jesus and Martha discussing her brother Lazarus. This exchange took place before Jesus raised him from the dead:
John 11. 21-27 read by the Archbishop of Canterbury
MARTHA said to Jesus, "Lord, if you had been here, my brother would not have died. And even now I know that whatever you ask from God, God will give you." Jesus said to her, "Your brother will rise again." Martha said to him, "I know that he will rise again in the resurrection at the last day." Jesus said to her, "I am the resurrection and the life; he who believes in me, though he die, yet shall he live, and whoever lives and believes in me shall never die. Do you believe this?" She said to him, "Yes, Lord; I believe that you are the Christ, the Son of God, he who is coming into the world."
The choir sang the Lord's Prayer, a beautiful rendition.
A series of prayers read by the Dean of Windsor and the Archbishop of Canterbury followed, beginning with these:
The Archbishop of Canterbury shall say
O ETERNAL God, before whose face the generations rise and pass away, thyself unchanged, abiding, we bless thy holy name for all who have completed their earthly course in thy faith and following, and are now at rest; we remember before thee this day Philip, Duke of Edinburgh, rendering thanks unto thee-for his resolute faith and loyalty, for his high sense of duty and integrity, for his life of service to the Nation and Commonwealth, and for the courage and inspiration of his leadership. To him, with all the faithful departed, grant thy peace; Let light perpetual shine upon them; and in thy loving wisdom and almighty power work in them the good purpose of thy perfect will; through Jesus Christ our Lord. Amen.
The Dean of Windsor, Register of the Most Noble Order of the Garter, shall say
O LORD, who didst give to thy servant Saint George grace to lay aside the fear of man, and to be faithful even unto death: Grant that we, unmindful of worldly honour, may fight the wrong, uphold thy rule, and serve thee to our lives' end; through Jesus Christ our Lord. Amen.
GOD save our gracious Sovereign and all the Companions, living and departed, of the Most Honourable and Noble Order of The Garter. Amen.
O GOD of the spirits of all flesh, we praise thy holy name for thy servant Philip, Duke of Edinburgh, who has left us a fair pattern of valiant and true knighthood; grant unto him the assurance of thine ancient promise that thou wilt ever be with those who go down to the sea in ships and occupy their business in great waters. And we beseech thee that, following his good example and strengthened by his fellowship, we may at the last, together with him, be partakers of thy heavenly kingdom; through Jesus Christ our Lord. Amen.
Then came the military music, which included Pipe Major of The Royal Regiment of Scotland playing A Lament, followed by the Buglers of the Royal Marines, who sounded The Last Post, Reveille and, perhaps the most meaningful of all as a final message from the Prince to his family: Action Stations.
At the end, the choir sang the National Anthem:
Afterwards, the Queen returned to her private apartments in the Bentley.
Cars awaited the other royals, but Prince Charles gestured for them to drive on. The Mirror reported that this was perhaps a move to give younger members of the family time to spend chatting with Prince Harry.
The Queen's 95th birthday is Wednesday, April 21. The Mirror reported:
The widowed Queen went for a solo drive and stopped at one of her favourite spots for a moment of quiet reflection the day after Prince Philip's funeral, it is claimed …
She will celebrate the first birthday of her reign without her husband when she turns 95 on Wednesday, just four days after the funeral and 12 days after the Duke of Edinburgh's death.
Events will be shelved or toned down, as the Royal Family remains in mourning, and the Queen is likely to do the same things she did 24 hours after Philip's funeral at St George's Chapel at Windsor Castle.
On Sunday, the 94-year-old drove herself alone from the castle, where she has been shielding during the coronavirus pandemic, to her nearby Frogmore estate for some quiet reflection, the Daily Mail reported.
There, the monarch, who isn't required to have a driving licence, took in the cherry trees that are still in bloom and the spring flowers lining the banks of the ornamental lakes.
Sources told the newspaper that she is likely to spend her birthday in similar fashion – making the short drive alone to Frogmore to walk her new puppies, a dorgi named Fergus and a corgi named Muick.
Fergus is named after her uncle Fergus Bowes-Lyon, who was killed as he led an attack on the Germans during the First World War, while Muick (pronounced "Mick)" is named after Loch Muick on the Queen's Balmoral estate in Scotland.
My prayers go to the Queen for many more years of sentient life and for the Lord's peace and comfort upon her at this most difficult time.
Sadly, Prince Philip, the Duke of Edinburgh, died on Friday, April 9, 2021, exactly two months short of his 100th birthday:
The Queen has lost her best friend. My deepest sympathies to her for the unimaginable loss of her long-time husband and daily confidant. My condolences also go to the Royal Family in their grief.
Young love
The couple first met in 1934, and began corresponding when the Prince was 18 and a cadet in the Royal Navy. Princess Elizabeth was 13 at the time.
She was smitten with him from the start.
Prince Philip served with distinction during the Second World War in the Mediterranean and Pacific fleets.
After the war ended, he could have had a stellar career in the Royal Navy. His superiors praised his clear leadership skills.
However, love intervened and the rest was history.
Born Prince Philip of Greece and Denmark, he renounced his foreign titles and took British citizenship before he and Princess Elizabeth were engaged. He took the surname of his maternal grandparents: Mountbatten.
He and Princess Elizabeth were engaged in July 1947. They married on November 20 that year. Shortly before the wedding, George VI gave him the titles of Duke of Edinburgh (created for him), Earl of Merioneth and Baron Greenwich.
Prince Philip remained in the Royal Navy until July 1951. He retired with the rank of Commander.
Royal succession — and surname
In January 1952, he and the Queen began a tour of the Commonwealth countries. They were in Kenya when news reached them that the Queen's father, George VI, died on February 6 that year.
Although she became Queen immediately upon her father's death, her coronation took place in 1953, as it had to be planned meticulously.
On Coronation Day, he knelt before her, clasped her hands and swore an oath of allegiance to her:
He also had to touch her crown and kiss her on the cheek.
He never had a constitutional role, nor was he ever formally given the title of Royal Consort. The courtiers did not like him, nor did they trust him. They believed his personality to be brash and unbecoming of the Royal household. They shut him out of as much decision making as possible.
When Elizabeth became Queen, the question about her family name arose. Prince Philip suggested that the Royal Family be known as the House of Edinburgh. Upon discovering that suggestion, Queen Mary, Elizabeth's grandmother, wrote to Prime Minister Winston Churchill, who advised the young monarch to issue a royal proclamation saying that the Royal Family would continue to be known as the House of Windsor.
In his inimitable style, Prince Philip complained privately:
I am nothing but a bloody amoeba. I am the only man in the country not allowed to give his name to his own children. [57]
The Queen did nothing until eight years later, in 1960, 11 days before she gave birth to Prince Andrew. She issued an Order in Council declaring that the surname of her and her husband's male-line descendants who are not styled as Royal Highness or titled as prince or princess would be Mountbatten-Windsor.
Pater familias
Prince Philip had to carve a role out for himself. He became the pater familias and, through the years, his role expanded to cover not only his four children but his grandchildren. He listened to their concerns, shared their joys and gave them advice. He knew everything that went on in their lives.
Although the public knew him for speaking as he saw — rather bluntly, on occasion — behind closed doors Prince Philip was known to be a warm, loving man.
He also favoured a more transparent Royal Family. According to the BBC, it was he who encouraged the Queen to make a multi-episode documentary on their daily lives, including those of their four children. It was broadcast in the late 1960s. I remember seeing it in the United States.
When Princess Diana died on August 31, 1997, Prince Philip was the one who kept an eye on the public mood that fateful week. He, the Queen and Princes William and Harry were at Balmoral in Scotland for their summer holiday. When the young princes wanted to attend church, their grandparents took them to the Sunday service on the day of their mother's death. Later in the week, it was Prince Philip who encouraged the boys to walk behind the funeral procession the following Saturday. He said:
If you don't walk, I think you'll regret it later. If I walk, will you walk with me? [93]
One cannot imagine what he thought of Prince Harry's departure for the United States to live a life separate from his closely knit family. I did read that the Royal Family shielded information about the Oprah interview from him.
John F Kennedy's funeral
Prince Philip was in Washington for John F Kennedy's funeral in 1963.
He had a friendly encounter with John Jr, who was still a toddler and known as John-John at the time. The child wondered where his father was, as he had no one with whom to play. The Prince stepped in to fill that gap. In 1965, the British government gave an acre of land at Runnymede to the United States for use as a memorial to JFK:
Funeral arrangements
Prince Philip was self-effacing and did not like a fuss to be made over him.
Therefore, the funeral arrangements will respect his wishes, which is rather convenient, as coronavirus restrictions are still in place. Up to 30 people will be allowed at his funeral, in line with legislation across the nation:
The funeral is scheduled to take place on Saturday, April 17:
It is interesting that Prince Harry will be able to attend when we have a 10-day quarantine in place for arrivals into the UK under coronavirus regulations.
The Sunday Mirror reported on Prince Harry's return to the UK:
He could also be released from quarantine if he gets a negative private test on day five, under the Test to Release scheme.
Given his status as a member of the Royal Family travelling to support the Queen, Harry might be considered exempt from travel restrictions.
Wow. It's nice to know we have a two-tiered quarantine system in place /sarc.
A championship boxer remembers the Prince
Former WBC Heavyweight Champion Frank Bruno MBE posted his memories of meeting Prince Philip. He is at the top left in the following photo:
An Anglican priest remembers the Prince
The Revd Peter Mullen, an Anglican priest, recalled his encounters with Prince Philip for Conservative Woman on April 10 in 'A personal recollection'.
He first met the Prince during his schooldays:
The first time I met the Prince was in connection with his Duke of Edinburgh's Award Scheme which gave a leg up to youngsters from what would now be called the less privileged parts of the country. He paid a visit to the Leeds branch of the Church Lads' Brigade of which, aged fourteen, I was a member. We were in the church hall making things. My task was to make a table lamp. I was hopeless at it.
The Duke got hold of my half-finished creation, held it up to one eye and said, 'I suppose this hole is where the flex goes?'
'I think so, Sir.'
'You think so? I was never any good at this sort of thing either!'
And he was off . . . 
As an adult, Mullen met him on more than one occasion thanks to the Honourable Company of Air Pilots. The Prince was its Grand Master. Mullen served as chaplain.
He recalls:
The Company gave a lunch for him to mark his 80th birthday and I recall how jovial he was, making light of his years: 'I believe I have lasted so long because you people are always toasting my good health, but I don't want to live to be a hundred. Things are dropping off already!'
At another luncheon one of our Liverymen who had his own port wine business presented the prince with Bottle Number One, the first fruits, so to speak. As he left, the duke handed the bottle to me: 'You have this, Peter. Our house floats on the bloody stuff.'
'Well, Sir, now I don't know whether to drink it or frame it.'
'Gerrit down ya neck!'
Prince Philip on MPs
Guido Fawkes came up with a good quote from one of the Prince's trips to Ghana. It concerns MPs. His Ghanaian hosts told him the country had 200 MPs. Prince Philip replied:
That's about the right number. We have 650 and most of them are a complete bloody waste of time.
Incidentally, Parliament will be recalled one day early from Easter recess. On Monday, April 12, MPs and Lords paid tribute to the Prince in their respective Houses:
That afternoon, the House of Commons reconvened to pay their tribute — from 2:30 p.m. until 10 p.m. (good grief).
Speaker Sir Lindsay Hoyle spoke first:
Prime Minister Boris Johnson had this to say:
Boris Johnson, who was invited to the funeral but declined so that another member of the Royal Family can attend, said that he would forego a pint when pub gardens reopen on April 12, out of respect for the Prince. Guido Fawkes, however, thinks that the Duke of Edinburgh would have wanted us to toast his memory, especially at a pub that bears his title in Brixton, south London:
Guido had a second tweet on the subject with another quote from the Prince:
Agreed.
Prince Philip on Australia
This is too funny. For those who are unaware, Australia was established as a place where Britain could send convicts. That was a long time ago, but the nation's original purpose was to serve as a prison: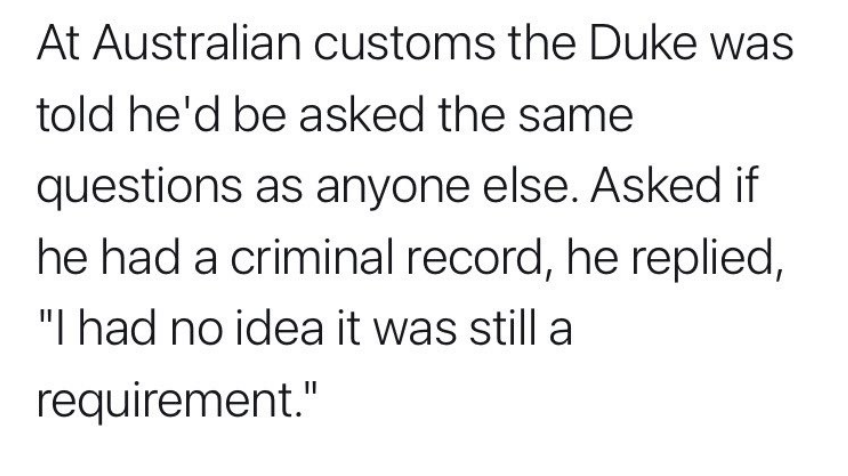 Prince Philip on civil liberties
On a serious note, the 12-minute interview below from 1984 is well worth watching, especially in the coronavirus era.
Prince Philip firmly supported the rights of the individual and believed that the state should serve the individual, not, as in our times, the other way around.
This is from a Thames Television programme originally broadcast on ITV:
I have posted the video below in case the tweets are deleted:
The Prince also said that certain subjects are out of bounds, such as the media and the NHS.
He said that the media are incapable of taking a joke about themselves and, as for the NHS, well, one cannot say anything against it. He didn't necessarily dislike the NHS but thought it was held in too high a regard. Nothing is perfect in this world.
We have been travelling a long road towards the point where we are at present: ruled by the media (they clamoured for coronavirus restrictions) and worship of the NHS. This is how Health Secretary Matt Hancock, Prime Minister Boris Johnson and SAGE have been able to rule our lives. It's been at least 40 years in the making.
BBC coverage on Friday
I was watching BBC Parliament early Friday afternoon, around 1:15, when the programme was interrupted by a broadcast from the BBC News Channel.
I checked the schedule an hour later, which said that the programme would last until 4 p.m. It was still going when I was preparing dinner at 5 p.m.
The final of MasterChef was to have been broadcast that night on BBC1. This was a clip from Thursday's programme:
Pictured are the hosts and judges, chef/restaurateur John Torode on the left and former greengrocer, now television presenter, Gregg Wallace on the right:
BUT:
The BBC News channel was simulcast all afternoon and all night long, not only on BBC Parliament but also on BBC1, to the dismay of MasterChef fans (myself included), and BBC2. BBC4 was suspended for the evening.
I read on social media that the BBC also broadcast continuous coverage of Prince Philip on their radio stations, including Radio 2, knocking out Steve Wright's drive-time show on Friday afternoon.
A friend of mine said that most of the BBC's employees were probably rubbing their hands with glee because it meant an early weekend for them. It's a cynical perspective that could well turn out to be true. We'll find out when someone writes his or her memoirs.
Everyone with a television set receives the BBC News channel. It comes into our homes at no extra charge. There was no need for the BBC to take over every channel for hours on end. By the way, if one had watched two hours of the Prince Philip coverage, as I did, one would have seen and heard everything in its entirety.
The BBC braced themselves for a plethora of complaints; they took the relevant page down on Sunday. Good. I am sure Prince Philip would have objected, too.
As much as I love the Queen, I hope they do not try this when her day comes. God willing, may it be long into the future.
Record-beating prince
Prince Philip established two records as consort to the Queen. He was the longest-serving royal consort in British history. He was also the longest-lived male member of the British royal family.
May he rest in eternal peace with his Maker.
May our gracious Lord grant the Queen, Defender of the Faith, His infinite peace and comfort in the months ahead. May He also bless the Royal Family during this difficult time.
The Queen's Christmas message this year was particularly relevant to a year filled with the coronavirus crisis.
Whatever our thoughts might be, Her Majesty provided a religious message from the outset, referencing the Light of Christ in these dark times, interspersed with short clips of the many acts of generous giving throughout the first lockdown. I could be mistaken, but it seems as if she had re-examined John 1 in preparation for her address. This was one of the Queen's best Christmas addresses. Don't miss the end, which features the exquisite Lewisham and Greenwich NHS Choir, offering splendid Christmas carols at the end.
I'm offering two formats so that you can share one or both with friends and family:
The photo on her desk is of Prince Philip. That was the only photo. In past years, there have been several, as you will see below.
Sixty-three years ago, in 1957, the first of the Queen's televised Christmas messages deplored the discarding of old values, including those of the Church, for ideas that were new and trendy at the time. Two colonies had declared independence that year, signalling a further break up of the Empire but also the growth of the Commonwealth. That year, she and Prince Philip had visited several countries, among them the United States and Canada. She had opened the Canadian Parliament's new session. The Queen ended with a reading from John Bunyan's Pilgrim's Progress. Although she was a young wife and mother, she was already full of wisdom. She understood that people felt she was a distant head of state and she expressed her wishes that, for a few brief minutes, Britons would feel welcome into the 'peace' of her home via the broadcast. She said that she was their public representative, and indeed she is as our head of state. This, too, is a splendid video:
I wonder if she wears the same pearls for each year's broadcast. One can see that in the 1957 one, photos of Anne and Charles are on her desk.
The Queen is our British treasure — and our Defender of the Faith. Long may she remain so.
Forbidden Bible Verses will return next Sunday.
December 13 is the feast day of St Lucy, virgin and martyr:
St Lucy led a short but courageous life. The story of her martrydom in the fourth century spread quickly throughout Europe, from her native Italy to England and Sweden.
Sweden still has the best commemorations and celebrations of this young martyr's feast day. Before the Gregorian calendar was established, December 13 was the shortest day of the year. As the name Lucy comes from the Latin lux, or light, a young Swedish woman represents the saint and her symbolism by wearing a wreath of lit candles on her head:
This year, December 13 also happens to be Gaudete Sunday, the Advent Sunday of rejoicing at the prospect of Christ's birth:
St Lucy's story appears in the fifth century book, Acts of the Martyrs.
Lucy was born to nobility in 283 in Syracuse, Sicily. She died in 304.
Her father, a Roman, died when she was five years old. Her mother, Eutychia, was likely to have been Greek, given her name.
Eutychia never remarried after her husband died. She was also in poor health, suffering from a bleeding disorder.
Lucy devoted herself to the Lord and made a silent vow of chastity. Eutychia was unaware of this and, for her daughter's future security, arranged for her to marry a pagan nobleman.
Meanwhile, Eutychia was urged to seek a cure at the shrine of St Agatha, who had been martyred five decades before. Her shrine was in Catania, 50 miles from Syracuse. Mother and daughter made the pilgrimage together.
While there, it is said that St Agatha appeared to Lucy in a dream. St Agatha told the young woman that her mother would be cured and that Lucy would be the glory of not only Syracuse but also Catania.
Once Eutychia was cured, Lucy encouraged her to give their wealth and possessions to the poor.
When Lucy's betrothed discovered the news, he was furious. He went to Paschasius, the Governor of Syracuse, and denounced her.
Paschasius ordered Lucy to burn a sacrifice to the emperor's image, but she refused.
Paschasius then ordered her to be defiled in a brothel.
When the guards came to take Lucy away, her body had miraculously become too heavy to move. The guards tried to burn her body by heaping wood on her and setting it alight. However, the wood would not ignite.
Lucy died only when a guard thrust a sword into her throat.
Lucy is often seen holding her eyes or with her eyes on a salver. This part of her story did not enter her biographical details until the 15th century. There are two versions of what happened to Lucy's eyes. One says that she made various predictions to Paschasius about the Roman emperors that angered him such that he ordered that her eyes be gouged out. The other version says that Lucy gouged out her own eyes in order to discourage a persistent suitor who admired them.
Whether the story about the eyes is true, St Lucy is the patron saint of those suffering from eye disorders, especially the blind.
Her relics were sent throughout Europe and are resident in a few important churches. Most of these churches are in Italy, but others are in France, Germany and Sweden.
St Lucy is also the patron saint of Syracuse, of those with bleeding disorders or throat infections as well as of authors, cutlers, glaziers, laborers, martyrs, peasants, saddlers, salesmen, stained glass workers, and of Perugia, Italy.
Her feast day is commemorated not only in the Roman Catholic Church but also in the Anglican and Lutheran Churches.
Source: Wikipedia
Forbidden Bible Verses will appear tomorrow.
The results for the 2020 US presidential election have never been so confusing.
In 2000, when Al Gore ran against George W Bush, life was so much simpler: Florida was the only state where the results were in dispute. Those were the days of the hanging chads.
On Tuesday evening (US time), November 10, I checked election maps in the Telegraph and at Real Clear Politics. The Telegraph had Pennsylvania, with 20 electoral votes, going to Biden. Real Clear Politics, based in the US, had the state undeclared.
At the time I checked both maps, People's Pundit Daily tweeted:
Neither map had this result posted.
Additionally, I could not find where North Carolina's State Board of Elections called the result.
Even so, Thom Tillis's opponent conceded that day:
There are two more maps I looked at that night (as it was in my time zone) — People's Pundit Daily's and the one at Power Elections:
Note that, on the night of November 10, the Power Elections map was showing Wisconsin and Minnesota still undecided — along with Pennsylvania.
Meanwhile, People's Pundit Daily showed only Arizona and Georgia still in play.
As far as electoral votes go, Power Elections had Biden up by one. People's Pundit Daily had Biden up by 50 (279-229).
I'm not blaming any of these outlets for confusing the issue, but, until this year, maps were pretty well unified after the election.
Rudy Giuliani, incidentally, seemed satisfied that Real Clear Politics changed their result for Pennsylvania (note Twitter's response):
Just as bad is this — the coronavirus crisis:
So, what happens when an election result is in dispute across the nation?
A. S. Haley, better known online as Anglican Curmudgeon, explained what the constitutional course of action is in his November 8 post, 'Down to the Brass Tacks'.
My fellow churchman wrote an excellent article. A big tip of the hat goes to another fellow churchman, Underground Pewster, for the link.
Excerpts follow. Emphases mine, except where noted otherwise.
First of all, for my readers who are not American, please note (emphases in purple mine):
… the rush to "call" a winner of the 2020 election has been driven by the major news networks, who are unanimously biased against President Trump. But the media have no power under the Constitution to declare anyone as "President-Elect". That title may be bestowed only upon the winner in the Electoral College vote of December 18, or if not there, then upon the candidate selected by the new House of Representatives that convenes on January 3, 2021. 
The Electoral College will meet on December 14 and the results will be available on December 18.
The US Constitution and pursuant Congressional statutes make the following provisions:
By Congressional statute (3 U.S.C. § 7), enacted pursuant to Article II, Sec. 1, cl. 5 of the Constitution, the Monday after the second Wednesday in December of a given Presidential election year has been specified as the date on which all State electors are to meet in their respective State capitals and cast their ballots for both President and Vice President. In 2020, that date falls on December 14.
Normally, the electors for any given State are those persons who (first) have been nominated beforehand by a registered political party or independent candidate within that State (or Congressional district), and then (second) who have the fortune to have their Presidential candidate receive the highest number of votes cast in that State (or district) in the November election. But when is it determined that a given Presidential candidate has received the requisite highest number of votes?
Ay, there's the rub. Again normally, the vote tallies in the various counties and districts of the State are completed within a day or two of Election Day, and are clear enough so that there can be no dispute about which candidate got the most votes. But occasionally, as happened in the Presidential election of 1876, and as almost happened in the Presidential election of 2000, there were disputes about which candidate prevailed in various States, so that the slate of electors entitled to cast votes for their respective candidate was rendered uncertain. The Constitution specifies that in such cases, as well as in any case where no candidate receives a majority of the Electoral College votes, the final selection of the President goes to the newly elected US House of Representatives, and the selection of the Vice President goes to the newly elected Senate.
That last sentence is very interesting. If Nancy Pelosi remains Speaker of the House presiding over a Democrat majority, Biden would be president. Mitch McConnell, Senate Majority Leader, and the Republican majority could select a Republican VP. Talk about fireworks.
A S Haley compares and contrasts 2020 with 2000:
As regards the election results in Pennsylvania, North Carolina, Georgia, Michigan, Wisconsin, Arizona and Nevada, we are witnessing a repeat of what happened in Florida in 2000.  You may recall that the then Democratic Party candidate Al Gore contested the official count in certain counties of that State in favor of the Republican Party's George W. Bush. Gore, however, was under a deadline to have the recounts he requested resolved in his favor before the Florida Secretary of State certified the official count to the Governor, who would then sign the certificates attesting selection of the Republican slate of electors to the Electoral College.
Again, Congress has legislated what happens when there is a dispute in any given State over its proper slate of electors. Section 5 of Title 3, U. S. Code, provides that if election results are contested in any state, and if the state, prior to election day, has enacted "procedures to settle controversies or contests over electors and electoral votes", and if these procedures have been applied, and the results have been determined six days before the electors' meetings, then these results are considered to be conclusive. Six days before the prescribed meeting of the Electoral College on December 14 of this year falls on December 8. (The date is referred to as "Safe Harbor Day", because the statute makes any resolution of election disputes reached by that date presumptively conclusive, i.e., not subject to further contest.)
Therefore, the contested results need to be 'resolved' by December 8. However, even then, there is a provision when they are not:
Here again, however, the federal nature of our Union kicks in. For while it probably will not be practical to have all contests in all disputed States determined in the courts by December 8, it may suffice for one such dispute to have been finally determined at the highest possible level by that date, if that determination is definitively made by the United States Supreme Court (SCOTUS), and if it fairly applies in the other cases, as well. That is because, under our federal system, the rulings of SCOTUS on federal law are automatically binding on all lower courts, both federal and State.
I learned this years ago in US History class, at least twice, but never imagined that this fateful day might come to pass in my lifetime. It seemed so hypothetical decades ago. Today, in November 2020, we could be at that point.
The biggest issue revolves around Pennsylvania (20 Electoral College votes) during a year of coronavirus. Pennsylvania encouraged voters to use postal votes instead of appearing in person to vote this year. The Republican Party of Pennsylvania has brought a case against the secretary of state, Kathy Boockvar:
… which challenges the decision by a unanimous Pennsylvania Supreme Court to (1) extend the statutory deadline for receipt of all mail-in and personal ballots by three days after the legislated deadline of 8 p.m. on November 3; and (2) require the various election boards to include in their counts any ballots received by the extended deadline which could not definitively be shown to have been mailed after November 3 (i.e., ballots in envelopes bearing blurred postmarks, or even no postmarks at all). This ruling, be it noted, shifted the burden of proof from the individual voter to the given elections board to establish that a ballot was not sent in by the statutory deadline — and why would a Democratic-majority elections board try to prove that a ballot for their candidate had not been sent in on time?
Supreme Court Justice Alito issued an order requiring that the Pennsylvania ballots arriving after Election Day be segregated apart from those that arrived on time:
pending action on the petition for review by the full court.
Haley says that the Supreme Court could issue further orders in the days to come.
Can the Supreme Court help Trump? Haley says that things could become quite technical legally. The result could go either way:
Here is one very strong summary of the issues for the Republican petitioners, and here is another informed view that calls into question whether SCOTUS will grant any definitive relief. In the words of my previous post, "you pays your money and you takes your choice."
As for the Electoral College, this is how electors are chosen:
Here is the language of Article II, Section 1, clause 2, which has been with us since the original document was ratified in 1789 (with my bold emphasis added):
Each State shall appoint, in such Manner as the Legislature thereof may direct, a Number of Electors, equal to the whole Number of Senators and Representatives to which the State may be entitled in the Congress: but no Senator or Representative, or Person holding an Office of Trust or Profit under the United States, shall be appointed an Elector.
Thus if the various State and federal courts prove inadequate to the task of resolving the election disputes in each contested State before the Safe Harbor day of December 8, the Legislatures of those States are empowered to step in and resolve the disputes by designating their own slates of electors. And it has not gone unnoticed that of the disputed States (Pennsylvania, North Carolina, Georgia, Michigan, Wisconsin, Arizona and Nevada), all but Georgia have Democratic governors, as well as Democratic Secretaries of State, and Democratic election officials, while they each (except for Nevada) have legislatures in which both houses have Republican majorities.  
However, will the states have the nerve to:
exercise their Constitutional power to resolve those disputes definitively, in time for the final vote of electors by December 14? On the answer to that question depends who will be President on Inauguration Day, January 20, 2021.
Haley rightly blames this year's election chaos on the Democrats for their notional coronavirus concern with mail-in ballots.
If the lawsuits against individual states and the Supreme Court come to nothing in resolving the election result, then Americans have only the House of Representatives — congressmen and women — left.
There is a chance that Republicans could still control the House of Representatives:
If the vote does go to the new House of Representatives:
the vote for President will not be by a majority of its individual members, but (again as specified in the Twelfth Amendment) by the collective delegations for each State in the House, with each delegation having a single vote. As of the latest results for the 435 House elections, Republicans on January 3 will control 26 of the State delegations, and will thus have a majority of the 50 delegations so voting. 
In conclusion:
what happens between now and January 20, 2021 is pretty much up to the Republican legislators elected to Congress and to their various State legislatures.
Let us hope for the best.
While all was quiet in our streets during lockdown, many changes have no doubt been taking place in relative silence.
One of them was Sheffield Cathedral's decision to disband their choir. The recently hired choirmaster felt he should resign. The choirmaster was not involved in the clergy's discussions.
It is unclear what exactly infected the minds of the Church of England clergy during lockdown, but some of the ensuing results, such as this, are questionable.
On Thursday, July 23, 2020, The Guardian reported:
In a break with centuries of tradition, Sheffield cathedral is to stand down its choir in order to make a "completely fresh start" with a new team of choristers that reflects and engages with an increasingly diverse city.
A statement published on the cathedral's website on Wednesday said "significant change" was needed. The cathedral's governing body, the Chapter, had decided on "a new model for Anglican choral life here, with a renewed ambition for engagement and inclusion", it added.
Although the cathedral's music department had been the subject of a review, the closure of the choir was unexpected and is likely to infuriate traditionalists in the Church of England and classical music circles.
Apart from a handful of adult singers, the current choir is drawn largely from schools in the Sheffield area (including private schools) and mainly performs music from the Anglican choral tradition.
Clicking on the link for the Cathedral's statement produces a pop-up window stating (emphases in the original):
Sheffield Cathedral is your Cathedral
Your Cathedral has seen many adversities throughout history to present time. Now we are faced with overcoming the challenges of COVID-19. 
Sheffield Cathedral is a beacon of hope for the whole community. People have been gathering on this site for nearly 1,000 years. With your support now, people will be able to gather here for many more years to come.
Please help your Cathedral to continue to be 'A Place for All People'. Thank you.
The Very Reverend Peter Bradley, DL
The Dean of Sheffield
Well, that no longer holds true for the choir or the choir director, it would seem.
The Cathedral's statement of July 22 reads, in part (emphases mine):
For some years the Dean and Chapter have been looking carefully at the music offer of Sheffield Cathedral. They have come to the conclusion that there needs to be significant change. This is in order to create a Music Department and Choir ready for the exciting future of the mixed urban community in which we live and work.
With the Diocesan Bishop, Chapter are appointing a new Canon Precentor in August, responsible for Cathedral worship and music. They hope this will bring increased creativity and stability.
Following a review of the Music Department in 2019, Sheffield Cathedral Chapter has decided that a completely fresh start is needed. As a result, Chapter concluded this is the right time to close the current Cathedral Choir.
This decision has not been easy because it will directly impact several colleagues and indirectly impact us all in our close-knit community. However, we believe this is in the best interests of the long-term mission of the Cathedral …
For some time, Chapter has been considering a new model for Anglican choral life here, with a renewed ambition for engagement and inclusion. They recognise that this will require flexibility, imagination and experiment …
They look forward to working with our partners throughout our City and Diocese to make this renewed vision a reality under God.
Dean Bradley told The Guardian:
"We need to be engaging with people who are part of this changing city. We believe strongly in equality and giving as many children as possible the opportunity to sing at the highest level."
The appeal of church music was wide but sometimes "presented in a way that can be seen as elitist", he said.
Bradley acknowledged the decision to close the current choir would "cause genuine grief". He hoped that some of the existing choristers would become members of a new choir, which will be formed after the appointment of a new canon precentor this summer.
The new choir will continue to perform music from the Anglican choral tradition but will broaden its repertoire, he said.
"This sort of change in our sort of institution can be immensely painful, but that's not a reason not to move forward. My view is that many cathedrals will be making similar changes over the next few years.
"It's going to be a bit torrid for us, but we're not going to sit in a bunker."
You can see photos and biographies of the men who made the decision here. Perhaps they should consider making a 'new model' — borrowing their words — for cathedral leadership themselves. Given their own logic, they could resign.
But I digress.
Back to The Guardian, which says that one professional vocalist who had sung at Sheffield Cathedral was deeply disappointed by the decision:
James Bingham, a former member of the Sheffield cathedral choir who now works for the Irish National Opera, said he was appalled by the cathedral's statement, tweeting: "It implies that the Anglican church's rich choral tradition is to blame for its declining influence."
"Choral music is one of the great cultural legacies of the Church of England," he told the Guardian.
The idea that classical music was elitist was misguided, Bingham said. "At Sheffield [cathedral], they're making amazing music on a daily basis in the city centre that is free to everyone."
As a student at Sheffield university, Bingham had sung as a choral scholar five times a week for three years. Choirs were strong communities bound together by frequent performance and rehearsal, he said.
"The cathedral choir still holds a big place in my heart. If this had happened while I was still there, I would be heartbroken."
I agree. I sang in my church's choir as a teenager, and it was a very close-knit group of people, young and old, male and female.
This was the Cathedral's tweet on Saturday, July 25:
Good.
You can read more disappointed reactions here.
Another tweet, by way of reply, posted a link to the petition 'Save Sheffield Cathedral Choir'. When I wrote this post at the end of July, the count of signatories went up and up as I was reading the petition.
The petition explains that the choir is already quite diverse:
In recent years, Sheffield Cathedral Choir has made great advances in encouraging the role of women and non-binary members among the lay clerks and choral scholars of the choir. It also supported a girls' choir and a Schola Cantorum, serving university student communities. Cathedral musicians, past and present, led the Cathedral's outreach work which took music across the city. Notably, this included the Sheffield Cathedral Sing! Project, which worked with 2,000 children from 30 primary schools each year, including children of mixed heritage, disabilities, and of socio-economic disadvantage. Through this work, cathedral musicians connected meaningfully with schools from some of Sheffield's most disadvantaged areas.
The petition also takes exception to the accusation about privately-educated choristers:
Regrettably, the Dean and Chapter's statement also advances a misleading argument regarding the proportion of choristers at Sheffield Cathedral that were privately educated. Over the last 20 years, privately educated children have typically constituted a minority of the choristers at Sheffield Cathedral. In fact, we are aware that the Dean and Chapter were seeking to establish a formal partnership with Birkdale School, a private school in the city this year. These actions seem to be at odds with the Dean and Chapter's statements.
The mother of one of the choristers wrote a lengthy explanation of the background to the choir situation on Facebook. That post is a copy of a letter she sent to the Church Times. The Master of Music — choirmaster — who has since resigned was a recent hire. Excerpts follow.
See what changes lockdown can produce:
… This is my understanding of what has happened, from my vantage point as a choir parent since 2011:
There was a very short review (perhaps two days?) last summer, but changes were made and the choir went from strength to strength from September 2019 to March 2020, evidenced in Chapter's unanimous decision to appoint Joshua Stephens as Master of Music, taking up his post on 8th March to everyone's great delight. However, with the onset of coronavirus, Mr Stephens was furloughed and the cathedral failed to communicate this to any of the choir. Mr Stephens allegedly experienced harassment from the cathedral management and silence from the clergy while furloughed. This was not unusual behaviour for the cathedral as others have experienced the same in the past, but lockdown sharpened the focus and made it more evident. I made a formal complaint but little action was taken, and Mr Stephens resigned at the end of June stating that he was not compatible with the prevailing culture in the cathedral. Chapter accepted his resignation without talking to him to understand his motives. Lay-clerks, parents, and choristers were distraught and begged Chapter to initiate mediation. But instead they decided to close down the choir and start afresh, with no encouragement to ex-choir members to be part of the new vision.
The lady posting on Facebook said that the choir had been considering a tour in Berlin, a wider recruitment programme and a means of providing continuity for boys whose voices were changing.
The clergy apparently did not care too much about the choir during lockdown, although the choristers' parents did their best to maintain morale:
The choir was energised and optimistic, but during all the pressures of lockdown as well as the fire at the Cathedral Archer Project, the clergy admitted that the music department had "slipped through the net". Nevertheless choir parents and layclerks kept up morale amongst the choristers with zoom parties on the theme of different composers each week, but there was no communication at all from the cathedral to the choir from the last choir rehearsal before lockdown until 24th June when the Dean talked about bringing Mr Stephens back off furlough and preparing to start up again.
BUT:
Mr Stephens was not copied into that email and he resigned the following day.
HMM:
The fourth Director of Music to leave Sheffield cathedral in five years.
His departure precipitated other resignations:
The cathedral's Head Steward has also since resigned in protest, as did the leaders of the 100-strong Toddler group last year, and as has one of the choir chaperones, stating that she feels unsafe and unsupported.
Wow.
The first the choristers and their parents found out about the disbanding of the choir was through the media:
Indeed the press heard about it before even the choristers did!
Something is very wrong with the Church of England. They have used coronavirus to make rather unwelcome changes. Our churches are now becoming increasingly politicised.
Instead of offering succour to those who had a hard time getting through lockdown and the loss or illness of loved ones, they have turned their attention to the prevailing cultural movements of the day, rather than to our loving Saviour and merciful God our Father.
How un-Christian. How unbiblical.
I hope to post an update when I find out more news.
It is unclear what is wrong with the Church of England that it appoints so many unsuitable men to become Archbishops of Canterbury.
Justin Welby is the current incumbent.
On the back of protests in Britain about an American who suffered an outrageous death at the hands of the police in Minneapolis, Minnesota, Welby makes this the problem of a large segment of Anglicans in England.
It is inexplicable, all the way round, from protests to finger-pointing at those who live an ocean and a bit away from the source of the problem.
On Tuesday, June 2, 2020, he tweeted something that got very negative responses:
Someone mentioned church closures during the coronavirus outbreak, a decision the C of E took on its own:
Yes, it's true.
I can empathise with this next comment, too:
People found his tweet presumptuous and patronising:
That is true. It took from 1833 to 2014 for Britain to purchase the freedom of all slaves in the Empire, paid for by taxpayers' money.
But I digress. Back to the aforementioned prayer:
There are many more comments criticising the CofE's blind eye to child abuse, becoming increasingly secular and drifting to left-wing politics instead of religion. Others said they would question their giving to the Church, which is sad but understandable.
Someone tweeted about a Muslim family that converted to Christianity in the Church of England several years ago. They took a lot of abuse, including expensive property damage, as the Daily Mail, among other newspapers, reported in 2015. Where was the Church of England then? Nowhere. I do not know what became of them but I pray they are living in safety. The Anglican hierarchy washed their hands of this family (emphases mine):
Over the last year, Mr Hussain has had his car windscreen smashed six times at a cost of £5,000. His eldest son, a final year medical student, has also had his windscreen smashed.
A neighbour was convicted at Bradford Crown Court of a public order offence and bound over to keep the peace after one of Mr Hussain's children recorded him on a mobile phone making threats in a furious rage in the street.
Mr Hussain insisted he has never been violent towards his tormentors but he was given a police caution for an incident last year when he lost his temper and made an abusive comment in response to a threat from the man.
Mr Hussain had worked as a hospital nurse but was diagnosed with depression and post-traumatic stress disorder and has been unable to work. He owns several properties and now lives off rental income.
Although their faith remains strong, Mr and Mrs Hussain no longer attend church. 'We have given up on the Church of England, they have done nothing for us,' said Mr Hussain.
Let he who is without sin cast the first stone. Looking at you, Archbishop.