You are currently browsing the category archive for the 'surveys' category.
Once again, the 'experts' got it wrong.
This time, it's economists gazing into their crystal balls, predicting economic growth for the British economy.
Guido Fawkes looked back one year to a survey of 100 economists that the Financial Times published in January 2021, the summary of which read:
Economists expect the UK economic recovery in 2021 to be slower than in peer countries, because of a lower starting point, a larger services sector, low business investment and the impact of Brexit.
Never miss a chance to blame everything on Brexit.
Guido says (emphases in the original):
Scrolling through the survey made for miserable reading. Unemployment, bankruptcies and the horrors of Brexit were all supposed to thwart our recovery…
Ninety-seven out of the 100 economists surveyed arrived at the following conclusion:
expect the size of the economy not to return to pre-pandemic levels until the third quarter of 2022.
In reality, 2021 saw a return to pre-pandemic levels of economic health:
New data from the ONS shows the UK economy is now back at pre-pandemic levels, with GDP growth at 0.9% between October and November – 0.7% larger than in February 2020, just before Covid hit. Obviously good news… although not quite the news we were all told to expect…
Instead, growth is now higher than pre-Covid, and unemployment is estimated at 4.2% – even after the end of furlough in September. Congratulations go to Erik Britton, Patrick Minford, and Tej Parikh, who were the only economists from the FT survey to actually get it right…
This is an excellent result, indeed. Let us hope that 2022's results will be equally as buoyant.
It is safe to say that the two most controversial British Prime Ministers of living memory are Margaret Thatcher (Conservative) and Tony Blair (Labour).
Baroness Thatcher has gone to her rest, so we are left with Tony Blair.
Blair's knighthood of the Most Noble Order of the Garter made the news at the end of 2021. On Saturday, January 1, 2022, The Guardian reported (emphases mine below):
Appointments to this ceremonial order are made without prime ministerial advice and are usually announced on St George's Day, on 23 April. Founded in 1348 by Edward III, it is the oldest and most senior British Order of Chivalry and a recognition of significant public service. Sir John Major [Conservative], Blair's predecessor, was the last to receive the honour.
The monarch makes this appointment, supposedly independently, but one wonders.
Only a year ago, the media reported that the Queen had refused to appoint him to the Garter. Incidentally, Blair has been sticking his nose in everywhere, especially Brexit. From this, we can deduce that he dislikes the average Briton:
Over the weekend, Angus Scott launched a petition on Change.org to have Blair's knighthood rescinded. By Tuesday, January 4, the petition had 500,000 signatures. Unfortunately, as the petition was not created on the parliamentary website, it is likely to be ignored. More importantly, as this appointment is the Queen's, Parliament cannot do anything about it.
The petition reads:
Tony Blair caused irreparable damage to both the constitution of the United Kingdom and to the very fabric of the nation's society. He was personally responsible for causing the death of countless innocent, civilian lives and servicemen in various conflicts. For this alone he should be held accountable for war crimes.
The Government rejected the petition:
The aforementioned Guardian article says that the Iraq war is still an issue with many members of the public. Speaker of the House Sir Lindsay Hoyle stepped in to defend his fellow Labourite. Not only that, he poured more oil on the flames by saying that every Prime Minister should be knighted, by virtue of their position. No, just no:
Sir Tony, rather than Sir Anthony, as he is now known, has been made a Knight Companion of the Most Noble Order of the Garter, 14 years after leaving Downing Street. But the honour has been criticised by Blair's political opponents and those who argue the legacy of his invasion of Iraq in 2003 makes him unsuitable.
Speaking on Saturday morning Hoyle said he felt the honour, the oldest and most senior British order of chivalry, was "a fitting tribute" for a former prime minister, although he felt it was not a political decision.
"Whatever people might think, it is one of the toughest jobs in the world," the Speaker said, "and I think it is respectful and it is the right thing to do, whether it is Sir David Cameron. They should all be offered that knighthood when they finish as prime minister."
Hoyle was talking to Today programme presenter Martha Kearney on BBC Radio 4 when he was asked if he believed all recent former prime ministers should now be knighted.
"If you have been prime minister of this country, I do believe the country should recognise the service given. Absolutely. You finish in the office and when you've finished it is the respect that we give to those prime ministers," he replied.
I'm going off Lindsay Hoyle rather rapidly.
Other new appointees to the Garter include Camilla, Duchess of Cornwall and to the former Labour cabinet member Lady Amos, the first black person to be honoured this way.
On Tuesday, January 4, The Guardian reported that Sir Keir Starmer, Labour Party leader, defended the knighthood on Good Morning Britain:
The Labour leader said Blair was a worthy recipient of the Knight Companion of the Most Noble Order of the Garter, received in the new year honour's list.
"I don't think it's thorny at all. I think he deserves the honour. Obviously I respect the fact that people have different views," Starmer told ITV's Good Morning Britain.
"I understand there are strong views on the Iraq war. There were back at the time and there still are, but that does not detract from the fact that Tony Blair was a very successful prime minister of this country and made a huge difference to the lives of millions of people in this country."
Blair, who led Labour to three election victories, was prime minister during the allied military invasions of Iraq and Afghanistan.
On Monday, January 3, Christine Hamilton, whose husband was a Conservative MP then a member of the Welsh Senedd ('Senate', Assembly), told Dan Wootton of GB News that there are reasons why Blair should not receive this honour: Iraq, Afghanistan, Brexit. She surmises that if Prince Philip were still alive, this appointment never would have happened:
Several years ago, The Telegraph had an article entitled 'Tony Blair believed God wanted him to go to war to fight evil, claims his mentor'. Unfortunately, it has since been withdrawn from their website.
Another Telegraph gem that no longer exists is the former Conservative MP Norman Tebbit's blog post, 'Gordon Brown is not as vain or greedy as Tony Blair but he is in deep denial and must be removed from office'.
Money, money, money
Blair watchers know that he loves his money.
Unfortunately, this Telegraph article is also gone: 'Tony Blair earned £680,000 for his foundation for 50 hours' work'. That was about The Tony Blair Faith Foundation. You could not make this up.
In March 2010, the Daily Mail reported that Tony Blair needed £5 million a year just to get by. How many properties did he own by then? Six? How many properties does he own now? Eight?
The Mail says:
Tony Blair has told friends he needs to earn at least £5million a year just to break even.
The former prime minister has been heavily criticised for cashing in on his contacts for personal gain and is thought to have made around £20million since leaving office.
But last night his former election agent John Burton claimed Mr Blair needed the astonishing annual income – and possibly much more – to pay spiralling wage bills at his growing list of companies and charities.
The revelation about his finances came as the former premier returned to the political fray with a lukewarm televised endorsement of Gordon Brown.
Mr Burton, one of Mr Blair's most loyal political friends, said: 'What I asked him was, you know he gets this criticism about what he earns. I said how many people do you employ? And he said 130.
'I mean it was 25 about two years ago and he said to me I have got to earn £5million a year to pay the wages, so God knows what he has got to earn now to pay the wages.'
2010 saw the Conservatives regain Government in May thanks to a coalition with the Liberal Democrats. David Cameron, mentioned below, became Prime Minister. The Mail's article appeared during the campaign:
The former prime minister was making a controversial intervention in the election campaign yesterday as he addressed the Labour Club in his old constituency.
It followed a warning from a former defence minister that his appearance could trigger a public backlash against Labour from those angry over the Iraq War as well as Mr Blair's business dealings.
Sporting a bizarre orange tan, Mr Blair spoke in support of his long-time rival Gordon Brown and attacked the ' vacuous' Tories – but stopped short of personally criticising David Cameron.
The Tories were relaxed about the appearance, with Mr Cameron taking a dig at the former premier's lecture circuit earnings, joking: 'It is nice to see him making a speech that no one is paying for.'
Security was tight as Iraq War protesters demonstrated outside the Trimdon Labour Club, in the Sedgefield constituency in County Durham …
But many senior Labour figures fear his involvement could harm the party. Chief among critics was former defence minister Peter Kilfoyle, who warned that Mr Blair was now a 'negative factor'.
He said: 'He evokes a strong antagonism, particularly because of the Iraq War, but not only that.
'Also the kind of things going on with allegedly Blairite former ministers and their apparently venal approach to life. He epitomises everything people think is wrong about New Labour.
'It is a mistake by the so-called strategists. It may seem a good idea to them, but to many people at the grassroots level it is not.'
Kilfoyle was not wrong.
On May 25, 2010, a few weeks after David Cameron became PM, The Telegraph reported, 'Tony Blair hired by US billionaire Vinod Khosla for climate change advice'. What does Tony Blair know about climate change?
The billionaire thought Blair was an expert, apparently:
The agreement will see Tony Blair Associates give strategic advice to Khosla Ventures, a venture capital firm that invests in companies pursuing green technologies. Mr Khosla, who made his fortune as co-founder of computing giant Sun Microsystems, is hoping that Mr Blair's decade on the global stage helps unlock doors for the companies that California-based Khosla Ventures invests in …
Mr Khosla said that "with Tony's advice and influence' we will create opportunities for entrepreneurs and innovators to devise practical solutions that can solve today's most pressing problems."
It wasn't disclosed how much Mr Blair will be paid for the advice he gives to Khosla. He already has a £2m lobbying post with JP Morgan Chase and a £500,000 job with Zurich Financial.
Mr Blair also charges tens of thousands of pounds for public speaking, received a £4.5m advance for his memoirs and set up Tony Blair Associates to advise foreign countries including Kuwait. In total, he is estimated to have earned at least £15 million since leaving office two and a half years ago.
Good grief.
Let's go back to Blair's properties. Most of them are stately homes or properties out of the reach of most people in the UK.
Less than a year after Blair left office as Prime Minister, he was somehow able to buy his sixth property. How can that happen on a PM's salary?
On May 4, 2008, the Mail reported (and included must-see photos):
Tony and Cherie Blair have added a £4million stately home once owned by Sir John Gielgud to their property portfolio.
The seven-bedroom mansion in Buckinghamshire is a few miles from Chequers, the prime ministerial retreat the Blairs gave up to Gordon Brown when he took over at No 10.
Mrs Blair was said to have longed for another historic home in the same area.
A source said: "It ticked all of Cherie's boxes. She wanted a small stately home within a 20-mile radius of Chequers."
The Grade I listed South Pavilion, in Wotton Underwood, brings to six the number of properties the couple now own.
They have two houses in London, two flats in Bristol and Mr Blair's former constituency home in Durham …
Since he left office last June Mr Blair is estimated to have signed deals worth nearly £10million.
Last month the former Prime Minister reportedly earned up to £240,000 for making a 90-minute speech to businessmen in Spain.
Theoretically Mr Blair could have written a cheque for £4million to buy the property outright, but it seems more likely the couple have taken out another mortgage.
If so it would double their mortgage debt to around £8million and push their payments to more than £30,000 a month, experts estimate.
Iraq War: Dr David Kelly's death and apologies
On June 26, 2010, the Mail alleged a cover up in the death of Dr David Kelly, said to have been unmasked as the source of the claim that the Blair government had 'sexed up' claims for a war in Iraq. Dr Kelly's case is still a mystery.
The Mail article says, in part:
The official story of Dr David Kelly is that he took his own life in an Oxfordshire wood by overdosing on painkillers and cutting his left wrist with a pruning knife …
A subsequent official inquiry led by Lord Hutton into the circumstances leading to the death came to the unequivocal conclusion that Kelly committed suicide.
Yet suspicions of foul play still hang heavy over the death of the weapons expert whose body was found seven years ago next month in one of the most notorious episodes of Tony Blair's premiership.
Many believe the truth about the manner of Dr Kelly's death has never been established properly. Some even fear that the 59-year-old, the world's leading expert in biological and chemical weapons, was murdered …
The blanket of secrecy thrown over the case by the last Labour Government has only fuelled the sense of mystery.
In January this year, it emerged that unpublished medical and scientific records relating to Dr Kelly's death – including the post-mortem report and photographs of his body – had been secretly classified so as not to be made public for 70 years.
Lord Hutton, who had been appointed by Blair, was responsible for this extraordinary gagging order, yet its legal basis has baffled experts accustomed to such matters.
Against this shadowy background, we have conducted a rigorous and thorough investigation into the mystery that surrounds the death of David Kelly. And our investigation has turned up evidence which raises still more disturbing questions.
Our new revelations include the ambiguous nature of the wording on Dr Kelly's death certificate; the existence of an anonymous letter which says his colleagues were warned to stay away from his funeral; and an extraordinary claim that the wallpaper at Dr Kelly's home was stripped by police in the hours after he was reported missing – but before his body was found.
Until now, details of Dr Kelly's death certificate have never been made public.
But the certificate was obtained by a group of leading doctors who have spent almost seven years investigating the case; doctors who believe it is medically implausible that he died in the manner Hutton concluded and are alarmed at the unorthodox way the death certificate was completed.
Near the top of all British death certificates is a box headed 'Date and place of death', in which a doctor or coroner should declare the exact location of a death, if it has been established.
Dr Kelly's certificate gives his date of death as July 18, 2003. It then states in reference to place of death: 'Found dead at Harrowdown Hill, Longworth, Oxon'.
Why was the word 'found' used? Why was the crucial question of 'place of death' not answered? The death certificate should be precise about the time, cause and location of death.
The doctors who have investigated the case believe the failure to answer this question leaves open the possibility that Dr Kelly died somewhere other than Harrowdown Hill, the wood where his body was discovered. If this was the case, they are concerned the law may have been subverted over Dr Kelly's death …
A full coroner's inquest, which, by law, must be held following any sudden, unexpected or violent death, would have addressed these discrepancies.
But no full inquest was ever held.
Oxfordshire Coroner Nicholas Gardiner opened an inquest on July 21. But on August 13 the then Lord Chancellor Lord Falconer, Tony Blair's former flatmate, ordered it to be adjourned indefinitely.
Falconer used an obscure law to suspend proceedings, and for the first time in English legal history he replaced an inquest with a non-statutory public inquiry to examine a single death, seemingly without any public explanation.
On October 24, 2015, The Telegraph reported that Blair gave an interview to CNN in which he partially apologised for the war in Iraq:
Tony Blair has apologised for some of the mistakes that were made during the Iraq War, and says he recognises "elements of truth" behind opinion that the invasion caused the rise of Isil.
In a candid interview with CNN, the former prime minister was challenged by US political broadcaster Fareed Zakar who accused Blair of being George Bush's 'poodle' over the conflict.
During the exchange, which will air on CNN Europe at 11am and 7pm on Sunday, Mr Blair says: "I apologise for the fact that the intelligence was wrong. I also apologise, by the way, for some of the mistakes in planning and certainly, our mistake in our understanding of what would happen once you removed the regime. But I find it hard to apologise for removing Saddam."
When asked whether he thought the invasion led to the rise of Isil, he says: "I think there are elements of truth in that. Of course you can't say those of us who removed Saddam in 2003 bear no responsibility for the situation in 2015."
… Blair's acknowledgement of responsibility, if not apology, for the rise of Islamic extremism, is aptly timed.
In 2004, he told MPs: "I will not apologise for the conflict. I believe it was right" and in 2007, he repeated this sentiment, saying: "I don't think we should be apologising at all for what we are doing in Iraq."
Last week, The Telegraph reported the inquiry was facing more chaotic delays after a leaked memo signalled Blair had signed up to the war in Iraq a year before it started.
It has also been reported that former David Blunkett, the former Labour home secretary, has revealed that he challenged Blair before the war about how to avoid any chaos after Saddam's downfall.
Meanwhile, it was revealed that Mr Blair made a secret trip to the White House to broker a deal on behalf of Muammar Gaddafi that deprived British victims of Libyan terrorism of millions of pounds in compensation.
Mr Blair acted as a go-between in negotiations between Gaddafi and President George Bush over payments to terror victims, according to a senior source.
The disclosure was made as Mr Blair ignored a deadline to explain his role to a parliamentary committee investigating the deal. He was invited to respond by Friday but instead sent a letter at 6pm on the day of the deadline, asking when the deadline was.
The source said Mr Blair travelled to Washington to intervene on behalf of Gaddafi in February 2008, after first meeting the dictator in Libya.
The new evidence suggests Mr Blair, who had quit as prime minister less than a year earlier, had played an important role in negotiations between President Bush and Gaddafi.
At the time, Libya was being sued through the US courts for committing terror atrocities, and billions of pounds of Gaddafi's assets were at risk of being frozen as part of the lawsuits.
The deal struck by President Bush and Gaddafi led to US victims receiving £1  billion in compensation , but in exchange all court cases were dropped under an act of Congress.
But British victims, who had brought cases in the US, including almost 200 families of victims of IRA terrorist attacks, were not included in the deal. Mr Blair has always insisted he had "nothing whatever to do with any compensation legislation signed by President Bush".
See? He does not like his own people.
On July 2, 2016, The Telegraph reported that Blair would not be investigated for war crimes in Iraq, although British soldiers could be:
Prosecutors at the International Criminal Court will examine the Chilcot report for evidence of abuse and torture by British soldiers but have already ruled out putting Tony Blair on trial for war crimes, The Telegraph can disclose.
The decision has outraged families of troops killed in Iraq who blame Mr Blair for engineering the war.
Sir John Chilcot's report will finally be published on Wednesday and is expected to strongly criticise Mr Blair's role in the US-led invasion of Iraq in 2003.
But in an official statement to the Telegraph, the International Criminal Court (ICC) said its prosecutors would comb through the 2.3 million word report for evidence of war crimes committed by British troops but that decision to go to war remained outside its remit.
It means individual soldiers could be prosecuted for war crimes but not Mr Blair.
The ICC, based in the Hague, has begun a 'preliminary examination' of claims of torture and abuse by British soldiers, after receiving a dossier from human rights lawyers acting for alleged Iraqi victims.
Brexit
In 1983, a young Tony Blair, running for MP in his first election standing in Sedgefield, pledged to support leaving the EU.
A campaign leaflet of his from that year surfaced, as a regional paper for the North East of England, The Chronicle, discovered:
Former Prime Minister Tony Blair hasn't half changed his tune on Brexit since the heady days of 1983.
A campaign leaflet from Mr Blair's first election standing in Sedgefield in 1983 has resurfaced online.
In the Labour literature, the bouffanted Oxford University graduate declares he wants to leave the European Economic Community, which later became the EU.
The pamphlet said: "We'll negotiate a withdrawal from the E.E.C. which has drained our natural resources and destroyed jobs."
On June 26, 2016, three days after the Brexit referendum, Blair pledged to seek a second referendum. Obviously, the British people are too stupid to handle such issues via the ballot box.
The Evening Standard reported:
When asked on the BBC's Sunday Politics programme about the possibility of another vote, he said: "As I'm looking at it here, I can't see how we can do that.
"But, you know, the point is, why rule anything out right now? As I say, you are going to have a reality to test yourself against."
Blair said the nation needs to "see the consequences" of Brexit as they play out in the coming weeks and months.
"I can't see how you would go through all of the mechanics of another referendum now," he continued. I just can't see it.
"But on the other hand I also think there will be a lot of people in the country who will say 'well, let's have a look at this and see what we are going to do' and Parliament will want to look at it."
Blair was still at it a year later, asking for a delay to Brexit negotiations:
In 2019, Blair asked for a second referendum, claiming it would be 'healing'. Oh, my:
A month later, this Brexit poll appeared, which the Tony Blair Institute for Global Change conducted:
Hilarious!
It should be noted that Blair did not offer British voters a referendum on the Treaties of Amsterdam and Nice during his time in office:
Do we need any further proof that Blair dislikes the British people? Perhaps we do.
Migration to UK unexpected
Then there was the issue of migration to the UK, which Blair facilitated during his time as PM.
On March 19, 2017, Tony Blair said he did not anticipate the number of migrants who would come to the UK when he opened the borders to European workers.
The former Labour leader relaxed immigration controls in 2004 after 10 new nations including Poland, Lithuania and Hungary, were admitted to the EU.
He tried to play down the significance of opening Britain's borders, arguing that most EU migrants came to the UK after 2008.
However, official figures show that the number of EU migrants who came to Britain rose from just 15,000 in 2003 to 87,000 the following year. That figure increased to 104,000 in 2006 and 127,000 in 2007.
Mr Blair also made a factual error by suggesting that he could only have imposed transitional controls, temporarily barring migrants for four years.
In fact other EU nations including Germany introduced the measures for up to seven years.
Those numbers, which continued to increase through subsequent years, represent one small city per year in the UK.
——————————————————–
What has Tony Blair done to deserve the Order of the Garter? Nothing whatsoever.
With regard to Omicron, this is where we left off on Monday in the UK — one death:
Guido Fawkes's accompanying post says (emphasis in the original):
Boris has claimed this morning that one hospital patient has died with the Omicron variant, telling cameras "Sadly yes, Omicron is producing hospitalisations, and sadly at least one patient has been confirmed to have died with Omicron." It is not yet known whether the patient had comorbidities...
So far, it is believed that Omicron is a relatively mild variant. The Singaporean Ministry of Health has stated (H/T Guido Fawkes; emphasis mine):
Cases who have been detected around the world have mostly displayed mild symptoms, and no Omicron-related deaths have been reported so far. Common symptoms reported include sore throat, tiredness and cough.
The numbers hospitalised with Omicron are in single digits …
… never mind what Justice Secretary Dominic Raab said on this morning's news round:
Dominic Raab doesn't appear to know how many patients are in hospital with Omicron. Yesterday, Sajid Javid said it was "around ten", with Raab this morning claiming on Sky News that the figure had now jumped up to 250, which would be an alarming leap in just 24 hours. Thirty minutes later on BBC Breakfast, however, Raab inexplicably slashed that number all the way down to 9. The new antiviral treatments are good – they aren't that good.
Regardless, today, after the Government already implemented it last week, MPs voted on Plan B for England. There were four separate divisions (votes). One was on coronavirus passports.
When Tuesday's parliamentary session began, Plan B involved wearing masks in enclosed spaces and public transport as well, working from home as well as a return to quarantine.
When Health Secretary Sajid Javid began his address, he mentioned that quarantine would be less severe. It would now involve daily testing instead of a mandated policy to stay indoors (emphases mine):
At the end of last month, this House passed regulations requiring all close contacts of a suspected or confirmed omicron case to self-isolate for 10 days, but given the increasing dominance of omicron, this approach no longer makes sense for public health purposes and nor is it sustainable for the economy. So we are drawing on the testing capacity that we have built to create a new system of daily testing for covid contacts that has started today. Instead of close contacts of confirmed cases or suspected cases having to self-isolate, all vaccinated contacts, irrespective of whether the contact was with an omicron case, will be asked to take lateral flow tests every day for seven days. Regulation No. 1415 allows us to put this plan into action by revoking the omicron-specific provisions for self-isolation.
Ahead of the official vote, The Telegraph's cartoonist Bob Moran took action on masks on Saturday, December 11:
Not surprisingly, Plan B has begun to wreak havoc with cancellations of international travel and Christmas gatherings in hospitality venues.
At least 80 Conservative MPs were expected to rebel and vote against the Government. On the day, 98 rebelled against the vaccine passport, along with three others spotted by Labour Whips. They included Sir Desmond Swayne and Bob Seely. I plan to discuss the results in another post:
Although a rebellion by Conservatives alone did not stop the Government winning the votes — thanks to Labour! — it should send a clear message to Boris.
Alicia Kearns tweeted that she would vote against coronavirus passports:
People living in England are concerned about the constant moving of goalposts with regard to coronavirus restrictions.
Conservative MPs became angry last week. In his press conference on Wednesday, December 8, when he announced Plan B, Boris mooted the idea of 'a national conversation' about mandatory vaccinations:
The rebel MPs' reaction was immediate:
Guido began compiling his list on December 9. A selection of comments from MPs follows:
Alexander Stafford said "he cannot and will not support mandatory vaccinations", adding that working from home "disproportionately negatively affects younger people and those starting out in their careers".
Douglas Ross said "There is no evidence that vaccine passports stop the spread of Covid" and that since he didn't vote for them in Holyrood, he wouldn't vote for them in Westminster either.
Graham Brady said in the chamber last night that "it's deja vu all over again, isn't it?"
Peter Bone slammed compulsory vaccinations on Newsnight, calling the idea "completely outrageous", and even saying "I'd be the first to say the PM should go" if they were implemented.
Simon Jupp said "I don't support Plan B", called vaccine passports "divisive & discriminatory", and made it clear that he "won't vote for these measures."
Steve Baker insisted it is "vital that the maximum number of Conservative MPs vote against Plan B, whatever our useless Opposition do".
Over the weekend, Steve Baker tweeted that he would be relaunching his Conservative Way Forward movement, open to MPs and the general public. It is meant to restore the Conservative Party to its proper origins rather than a Boris-led Blairite/Labour-lite party:
Sir Edward Leigh MP stated his intention to vote against the Government for the first time during this Parliament:
Mark Harper MP pointed out:
"there is no exit strategy", and asked "why should people at home…do things that people working in Number 10 Downing Street are not prepared to do?" 
The Spectator's Kate Andrews also noted the same thing, comparing the content of December 8's press conference with the others that had preceded it. The Government and scientific advisers have made many poor contradictions and bad comparisons between the UK with a strongly vaccinated population versus one like South Africa's:
The Spectator contrasts what our scientific experts from SAGE put forward compared with the real statistics. SAGE have a lot of explaining to do, yet Boris continues to court their shamefully extreme modelling.
Guido's December 9 poll of the public shows that they are increasingly concerned about scope creep, especially with regard to Plan B:
Guido's post reveals who led the press ('lobby') briefing that day. It was not the Department for Health and Social Care (DHSC):
A poll of 3,170 Guido readers opened earlier has less than one-in-seven believing the government's timing of Plan B yesterday was based on epidemiological reasons, and not politics.
Guido can't say he's surprised. Sources suggest that while a quad meeting was always scheduled for yesterday afternoon, Plan B was not on the table. During the morning the briefings were coming from Downing Street not DHSC, further suggesting the move was more politically than epidemiologically motivated.
William Wragg MP was the first to notice the political end to Plan B — a diversion from the Christmas party debacle — and actually challenged Boris on it last Wednesday at PMQs, only hours before the press conference. Tom Newton Dunn tweeted:
Senior Tory William Wragg challenges Johnson directly during PMQs over if he's bringing in Plan B today, and says "few will be fooled by this diversionary tactic". Johnson doesn't deny, but says: "No decisions will be taken without consulting the Cabinet".
It would have been even better if Sir Keir Starmer, leader of the Opposition had said that, but, alas, he's all on board with further restrictions. If he were Prime Minister, we would have never had Freedom Day on Monday, July 19. We would have been where Scotland and Wales continue to be, still restricted in many ways, with compulsory masks and vaccine passports.
On Monday evening, December 13, Sir Keir somehow got media outlets to televise his support for Plan B. The reason for this baffles me, as he is not in Government.
It does appear as if we have a coalition Conservative-Labour government, because the latter jumps on every coronavirus restriction bandwagon going. The Sun's Trevor Kavanagh told Nigel Farage that this is not a good thing:
According to a GB News poll for Dan Wootton Tonight, the public strongly disapprove of Plan B:
Sadly, we now have Plan B in England: face coverings in enclosed spaces, vaccine passports for large venues/events and mandatory vaccines for NHS/care home staff by April 2022. Self-isolation with daily testing was approved unanimously; there was no division on that motion.
The question remains: do we get another lockdown, i.e. Plan C, in the New Year?
Boris wouldn't dare, would he?
People in England are ready to comply with Government measures on the new Omicron variant.
The measures went into effect at 4 a.m. on Tuesday, November 30 and include compulsory face coverings in shops and on public transport:
Most Britons would like to see more mask mandates in secondary schools:
On that basis, one wonders if theatre and cinema audiences will stay at home over Christmas:
Most of us are following Omicron news:
Mixed public opinion
Despite the uniformity of YouGov's survey results, opinion is more mixed, as GB News discovered when discussing the new measures on Carnaby Street in the heart of London. Everyone had a different opinion:
Mixed messages from Government ministers and advisers
Government ministers are trying to be measured in their assessment of the new variant.
On Wednesday, December 1, the Daily Mail had a round-up of the mixed messaging.
Prime Minister Boris Johnson and Health Secretary Sajid Javid held a press conference on booster shots the afternoon before.
Boris wants people in England to carry on with Christmas plans (emphases mine):
Prime Minister Boris Johnson urged people not to cancel Christmas parties or school nativity plays. He also promised to 'throw everything' at the booster vaccination campaign to tackle the virus's spread.
Sajid Javid is cautious:
There are 'no guarantees' that there won't be a lockdown this Christmas, the Health Secretary warned today.
In an ominous shift in tone from recent days, Sajid Javid insisted another festive shutdown was 'not the plan', but said: 'We can't rule out any particular measure at this point in time because we always have to look at the data and do what we need to protect people.'
He even urged people to take Covid tests before going to Christmas parties and wear facemasks while partying amid mounting fears about the so-called 'Omicron' variant … 
Asked if he would wear a mask if he was at a Christmas party, Mr Javid told Sky News's Kay Burley: 'It depends if I am walking around or sitting down. It depends if I'm eating. People just need to make a decision based on the guidance.'
Elsewhere, Dr Jenny Harries, who heads the ominous sounding UK Health Security Agency, is not keen on group celebrations:
Dr Jenny Harries recommended people reduce the extent to which they socialise this winter – in a hint that restrictions could go further.
Last year, Harries discouraged going to pubs in one of the televised coronavirus briefings, so this comes as no surprise.
Another NHS bigwig also issued a warning to health staff:
Saffron Cordery, deputy chief executive of NHS Providers, which represents NHS trusts, said some NHS organisations had asked staff 'not to mix in big groups' in the run-up to Christmas owing to fears off staff absences.
Understandably, the hospitality industry is concerned about the reaction to Omicron:
Hospitality leaders now fear another hammering to their industry this December. Kate Nicholls, the chief executive of UKHospitality, told Radio 4's Today programme that Saturday's press conference had had a 'chilling effect on consumer confidence'. She warned against 'the threat of a stop-start to the economy again' in the run up to Christmas …
'I think it's driven largely by consumer confiden[ce]. I think there's also a sense of trepidation that their plans might be disrupted again, and so that irrespective of whether there are government controls imposed on the economy, that is having a cooling effect undoubtedly on hospitality.
'We already saw that bookings were subdued this year compared to pre-pandemic levels. And this will clearly have a further adverse impact on our businesses.'
Trouble started for the travel industry almost immediately after last Saturday's press conference:
New curbs on global travel including the addition of 10 countries to the UK's so-called 'red list', a return of testing rules, and quarantine hotels have also spooked travellers – and sparked a wave of cancellations of bookings at airport hotels …
The Arora Group said travellers who stay at hotels at Heathrow, Gatwick and Stansted airports before catching early morning flights are axing their December bookings. They are even suspending corporate events at the four-star Fairmont in Windsor in January due to mounting uncertainty about the spread of the Covid variant, group chairman Surinder Arora said.
He told the Today programme: 'It's been a bit of a rollercoaster ride. Obviously we had the quarantine hotels at the beginning of this year, and then over the past few weeks as we've been trying to return to some kind of normality, most of the hotels have gone back to operating normal commercial hotels.
'And then of course last week we were hit with this new virus, so sadly that's all changed again and the Government's obviously introduced 10 new countries on the red list which means they need a few hotels to go on the quarantine programme.
'Over the last few weeks, when the quarantine finished we were thankful for getting back to some kind of normality. Since this latest news, instead of getting new bookings the guys are getting a lot of cancellations …
'And not just the leisure business, we're getting quite a few bookings cancelled for meetings and events. I know, for instance, some of the larger bookings – we just recently opened our new flagship at the Fairmont in Windsor, and they actually had big large corporates who had bookings in January who are saying "actually, we may want to push it back to further, later in the year to get some more clarity on where we're heading".'
It's all so sad. If only the Government were less cowed by health advisers.
Behavioural scientist Susan Michie and the BBC
Speaking of health advisers, SAGE and Independent SAGE member Susan Michie, an avowed Communist, has been making the rounds on the BBC once again.
In July, one week before our Freedom Day on the 19th — already delayed from June — she disparaged scientists who wanted to lift lockdown:
To behavioural scientists, we are things to be manipulated:
On Monday, November 29, The Times had a scathing, yet accurate, article: 'The BBC has a blind spot over the bias of its Covid expert Susan Michie'.
Excerpts follow:
Professor Susan Michie, of University College London, a super-rich longstanding member of the Communist Party of Britain, was lined up as a main expert to pass judgment on the prime minister's announcement of measures to tackle the new Omicron variant.
Michie, dubbed "Stalin's nanny" when she was a student at Oxford, is often simply introduced as someone who sits on the Sage committee, the government's Scientific Advisory Group for Emergencies.
This doesn't tell the whole story: Michie is part of the Covid-19 Scientific Pandemic Influenza Behaviour team (SPI-B), a sub-group of Sage made up of almost 50 people from many disciplines and backgrounds. In other words, Michie is one voice — and not necessarily the most important — in the room.
She is not a medical doctor or a virologist but a health psychologist. What overarching qualifications she has to pass judgment on air — and so often — on a range of pandemic policies is open to question …
She has tweeted that "China has a socialist, collective system … not an individualistic, consumer-oriented, profit-driven society badly damaged by 20 years of failed neoliberal economic policies".
Michie's revolutionary views — she is said to be dedicated to establishing a socialist order in the UK — are surely relevant when evaluating her critique of pandemic policies.
However, by Wednesday, Susan Michie had appeared three times on the BBC, which every household in Britain has to pay for via the licence 'fee' (tax?):
Guido Fawkes had a video and an article:
Guido cites The Times's second article on the BBC's invitations to Michie (purple emphases mine):
It's not just Guido criticising the corporation's attitude here. In a Times article yesterday, senior Cambridge University clinical research associate Raghib Ali said:
"I think it would have been helpful to say to the viewers there may have been a conflict of interest. I also think scientists' track record should be taken into account. For example Professor Michie's organisation Independent Sage has repeatedly made inaccurate forecasts overestimating infections since July."
Professor Simon Clarke, associate professor in cellular microbiology at Reading University, also said:
"I see nothing wrong with Professor Michie being given air time, but it should be in a more balanced way. But that's not her responsibility to ensure, it's the BBC's."
Only ITV's Good Morning Britain has told the truth about Michie:
So far the only prime time presenter to call out Michie's hardline beliefs for the transparency of viewers is Richard Madeley…
Coronavirus cousins could help combat Covid variants
In better news, a London consortium of scientists posits that the common cold, also a type of coronavirus in some cases, could help fight COVID-19 variants.
On November 30, The Times reported:
Professor James Moon, a consultant cardiologist who last week was named on a list of the world's most influential researchers, is chief investigator of the Covidsortium, a group of researchers from University College London (UCL) and St Bartholomew's Hospital that was assembled before the start of the first UK pandemic wave in March 2020. Showing remarkable foresight and, in research terms, unprecedented speed, Moon and his colleagues recruited 400 hospital staff working with infected patients in a bid to find out how and why some of the health workers might be more susceptible to infection than others. Funding was sourced — initially through a JustGiving campaign, then boosted with a significant contribution from the investment bank Goldman Sachs — in a matter of days.
Within a week they had collected blood, saliva and nasal samples and continuing data from the participants, and produced findings that informed policy from very early in the pandemic. "It is information that has proven impossibly valuable," Moon says. "It provides the only cohort of samples taken before anyone had been infected or had a vaccination or booster."
To date the team has published more than 20 papers, with more in the pipeline, and its attention is turning to Omicron and whether revisions to vaccines will be necessary to defy it …
… clues to how new vaccines might be developed could evolve from the most recent published findings of the Covidsortium, which identified "parts of the virus that might make for a very good vaccine that may be effective against different variants".
Reporting in the journal Nature, the team discovered that blood samples taken from about one in ten of their participants revealed markers that showed they had been exposed to Covid, yet didn't fall ill. Unlike people who are asymptomatic — those infected with Covid but who don't develop symptoms — this small group appeared to evade it altogether, remaining uninfected and without symptoms or a positive test.
What their blood samples did show, however, was that a subset of T-cells known to recognise and react to coronavirus appeared to have been present and poised for action even before the pandemic took hold. And the reason these people seemed to be super-protected could be down to the common cold …
However, this is more complex than catching a cold and thinking that it offers protection against coronavirus:
There are more than 200 cold viruses — none is exactly the same and only about 10 per cent are caused by coronaviruses. The chances of you catching the right cold at the right time to prime your defences is minimal. And even if you did catch the right sort of cold early on, any added resistance it may have provided has probably waned.
Omicron might have been a blessing in disguise, because Covidsortium was planning on disbanding in April 2022. They now plan to continue their research:
Moon says that the team had planned to wind down their research programme next April because immunity would be waning — until last week when Omicron scuppered that. "We are clearly going to have to keep going as our research still has so much relevance," he says. "We have samples from so many people stored in our freezers and they contain so much unique information about their antibodies and T-cells, and the questions that only we can answer are not running out."
I wish them every success.
Let there be light
In further happier news, Parliament's Christmas tree is casting light in the darkness.
The Lord Speaker — John McFall, Lord McFall of Alcluith — is delighted to make up for lost time:
We must make the best of this time, knowing our restrictions could be far worse. We only have to look at the EU to see that: full lockdowns in some countries, with the possibility of mandatory vaccinations in all EU nations.
I'll return to climate change soon.
However, today, I ran across an encouraging tweet about conversations, based on a study from 2018:
For those who cannot read the text in the tweet, the abstract to The Liking Gap in Conversations: Do People Like Us More Than We Think? reads as follows (emphases mine):
Having conversations with new people is an important and rewarding part of social life. Yet conversations can also be intimidating and anxiety provoking, and this makes people wonder and worry about what their conversation partners really think of them. Are people accurate in their estimates? We found that following interactions, people systematically underestimated how much their conversation partners liked them and enjoyed their company, an illusion we call the liking gap. We observed the liking gap as strangers got acquainted in the laboratory, as first-year college students got to know their dorm mates, and as formerly unacquainted members of the general public got to know each other during a personal development workshop. The liking gap persisted in conversations of varying lengths and even lasted for several months, as college dorm mates developed new relationships. Our studies suggest that after people have conversations, they are liked more than they know.
The full study is available here.
Studies were conducted among students at Yale University and in the United Kingdom.
Both sets of participants, regardless of country, judged themselves much harsher than their conversational partners, thereby manifesting the liking gap.
People were nervous, shy, self-critical and more, which caused them to perceive a liking gap.
However, their partners in conversation observed them differently — and much more positively — according to visible signals such as smiles, gestures and so on.
The most interesting part was the dorm study which evaluated students living together throughout an academic year. Interestingly, the liking gap persisted from September through February, disappearing completely only when the academic year ended the following May!
So, fear not: conversation is one of the most satisfying things we can experience in life. People are far less judgemental than we think.
Get talking — and enjoy!
The Conservative Party Conference took place in Manchester from Sunday, October 3 through Wednesday, October 6, 2021.
It was the first one since 2019, which was two months before their victory in the December 12 election that year.
UK in crisis
This year's conference took place during the ongoing petrol supply problems and shock record-breaking hikes in gas futures on Tuesday and Wednesday:
On top of that, on Wednesday, Reuters reported that the UK's petroleum regulator rejected Shell's plans to redevelop the Jackdaw gasfield in the North Sea (emphases in purple mine):
"We're disappointed by the decision and are considering the implications," a Shell spokesperson said.
It was unclear on what grounds the Offshore Petroleum Regulator for Environment and Decommissioning (OPRED) refused to approve the environmental statement for the field's development.
The Department for Business, Energy and Industrial Strategy, under whose umbrella OPRED operates, did not immediately reply to a request for comment.
Maddening.
The supply chain crisis for food continues. On Wednesday, The Times reported The National Pig Association warned retailers that 120,000 pigs would have to be slaughtered because of a lack of butchers. Some pig farmers are closing down altogether.
Some supermarkets are also suffering from empty shelves. Tesco, however, is bucking the trend. The Times reported that the supermarket chain is:
often highest up the pecking order when it comes to suppliers committing to make the business a priority …
Good for them.
Conference theme disappointing
The conference theme was … Build Back Better.
How awful.
Here it is draped across Central Station Manchester:
The Conservatives riffed on this in a Bake Off-style event. Pictured with Prime Minister Boris Johnson is Home Secretary Priti Patel:
Having listened to some of the speeches and read excerpts from others, they were all light in content. Most of them were pep rally or visionary statements rather than what plans Cabinet ministers have for the nation.
As The Telegraph's Madeline Grant wrote:
Never at a Tory Conference has so little been said, by so many, to so few.
Sunday, October 3
As the conference opened, rumours circulated about three unnamed Labour MPs thinking of crossing the aisle to the Conservatives, as the Mail on Sunday reported:
Guido Fawkes had more on the story (emphases in red Guido's):
… this is due to disillusionment with Starmer's leadership, with the MPs already having opened up "lines of communication" with Tory whips. In related news, a senior Labour MP was spotted by a co-conspirator chatting with two Mail on Sunday hacks and three senior Tory advisors at a conference bar last night…
The day's big event, according to The Spectator, was the drinks party that the 1922 Committee of backbenchers held, sponsored by ConservativeHome. Interestingly, a long-time Labour MP for north-west London — Barry Gardiner — was in attendance:
… the main focus of the night was the 1922 drinks with ConservativeHome in a room stuffed full of parliamentary talent and, for some reason, Barry Gardiner.
Strangely, Boris did not appear, leaving a gap which Chancellor of the Exchequer Rishi Sunak ably filled (video):
While Johnson was not scheduled to make an appearance here, Prime Ministers have traditionally done so in the past to pay tribute to their colleagues. His 'disappointing' absence – in the words of one disgruntled backbencher – left a vacuum for Sunak to fill, in a room full of MPs who will presumably one day decide who Johnson's successor should be.
The Chancellor leapt to the stage to tell fellow Tories about what he was most looking forward too at conference: Michael Gove dancing, the PM running in a full suit (not just a shirt) and 'machine like message discipline from every single one of you – and that means you too Cabinet.' He added that 'I've got your back' to anxious MPs in the room and that 'for the record I too am a low tax conservative' – welcome words for those party donors who Mr S[teerpike, columnist] understands attended a 'tense' meeting earlier at the Midland, amid considerable unease at the recent NI [National Insurance] hike.
In such circumstances, perhaps it's understandable that Boris would stay away.
According to The Telegraph, senior Conservatives have warned Boris not to dream up any more future tax hikes:
Earlier that day, Boris gesticulated wildly at the BBC's Andrew Marr, saying, 'You have no fiercer opponent to tax rises than me'. This probably means more tax rises are on the way:
The Spectator has more on the interview.
On tax hikes, Sir Desmond Swayne MP told talkRADIO's Julia Hartley-Brewer the raw truth. He added that lower taxes will enable greater economic growth:
Another event that Boris avoided was the one by the Tory Reform Group (TRG), which wants the Conservatives to move closer to the centre politically. They are Remainers. The Spectator reported:
Theresa May's former deputy Damian Green welcomed attendees …
Green, a mainstay of various causes on the left-ish wing of the party over the past two decades, told activists that it was their task to 'make sure that the voice of moderate conservatism, centre-right conservatism is as strong as possible within the party' – a job 'never more important than today because there are times when I slightly feel that it is only people like us that stop this party drifting back to being seen as the nasty party.' A tacit rejoinder to Priti Patel perhaps?
But then it was time for the speaker and the great white hope of Tory moderation. Tom Tugendhat, the chairman of the Foreign Affairs Select Committee, took to the stage to ecstatic applause and, like Green, was under no illusions about the awesome responsibility he and his One Nation caucus members share – to keep the Conservative party effectively sane …
There was also ample time for several potshots at the current Tory leader Boris Johnson, with whom Tugendhat is said to enjoy a wary relationship.
Foreign Secretary Liz Truss, tipped to be a future Party leader, also made the rounds that day (video):
The fringes were packed last night as Tory ministers did the rounds. Liz Truss, the darling of the free market think tanks, appeared at the Think Tent equipped with a magnificent blow dry and an applause-winning speech which castigated cancel culture as 'fundamentally wrong.' That and other jibes at identity politics in her conference address lead the Daily Mail this morning to ask whether she is in fact the new Mrs Thatcher.
Several reporters wrote about her new hairdo, which, to me, didn't look much different from the old one.
Returning to the mysterious Labour people who might want to change parties, here's Manchester mayor Andy Burnham, a former Labour MP, heaping praise on Michael Gove, the minister in charge of Boris's levelling up programme. Burnham spoke to Trevor Phillips on Sky News that morning. Hmm:
Neither Andy Burnham nor Barry Gardiner is a Conservative. Crossing the aisle for ideals they don't believe in seems a rather rash way of getting their own back at Keir Starmer.
Boris made four appearances at conference that day, including one for the Scottish Conservatives. Guido captured his wit along with audio:
The PM warned of a "crackpot coalition" between the SNP and Labour – "the only way they could" kick the Tories out.
He described the Labour conference as "a total rabble", saying it had the air to him of "a seriously rattled bus conductor" facing an "insurrection on the top deck of the bus", or the "captain of a Mediterranean cruise ship facing insurrection by a bunch of Somali pirates".
Douglas Ross MP/MSP also addressed Scottish Conservatives. As party leader in Scotland, he wants to position the party as that of the nation's working class. It's a good move, as The Spectator reported:
Like all good fables, Douglas Ross's speech at Tory conference had a beginning, middle and end. Act One detailed the many iniquities of the SNP, from their dysfunctional vaccine passport scheme to their Hate Crime Act, and most of all their agitation for Scotland to break away from the UK. Act Two took the sword to Labour, bemoaned its abandonment of working-class voters and its internal divisions over the constitution. Theirs was not the party to take on the SNP. Only one party was and it was the subject of Act Three, in which Ross deepened a theme begun under Ruth Davidson's leadership: the Scottish Conservatives as the party of the Scottish working-class.
He hit all the familiar notes about the SNP's failings in government, the ones that never seem to stick longer than two or three news cycles and are invariably forgotten about by the next election. He also hinted at an interesting theme that, if teased out carefully, could come into greater play. It is the perception, no longer wholly limited to unionists, that Nicola Sturgeon is a bit… off. Out of touch. Superior. Maybe even a bit of a snob.
In other news, last week, Labour's Angela Rayner called Conservatives 'Tory scum'. Feisty Dehenna Davison MP, representing Bishop Auckland as the constituency's first Conservative, had 'Tory Scum' badges made.
This harks back to 1948, when Aneurin 'Nye' Bevan said the Conservatives were 'lower than vermin'. Following that, the Conservatives formed the Vermin Club. Club member Margaret Roberts — who would become Margaret Thatcher — also had 'Tory Vermin' badges made, as Nigel Farage told Dehenna Davison on GB News:
Party chairman Oliver Dowden pledged that the Conservatives would do away with ugly new housing developments by strengthening planning laws.
He also assured the public that they would have turkeys for Christmas, referring to ongoing supply chain problems.
Monday, October 4
Monday opened with the latest ConservativeHome popularity poll.
Liz Truss is at the top. Other MPs pictured are (left to right) Defence Secretary Ben Wallace, Leader of the House Jacob Rees-Mogg, Chancellor Rishi Sunak and Education Secretary Nadhim Zahawi:
Guido analysed the results, excerpted below:
The turn round in her fortunes from last year when she was being tipped to be sacked from the Cabinet is quite something. Liz is one of the increasingly rare consistently free market voices around the Cabinet table…
Rishi Sunak is down by some 10 points and moves from second to fifth place. Rishi's tax hikes have clearly taken the gloss off him with the true blue believers. 
Grant Shapps [Transport] and Priti Patel are bumping along the bottom in barely positive approval territory. Shapps has been doing fairly well with the incredibly difficult transport brief. Patel is suffering because she has failed to do the seemingly impossible – stop the cross channel migrants. Tory activists are unforgiving, they don't want excuses, they want results.
It was the turn of Rishi Sunak to address the party faithful.
A rise in council tax would not go down well. Meanwhile, protesters pelted Sir Iain Duncan Smith MP with a traffic cone:
Some at conference are disappointed with Sunak, whose budget comes up in a few weeks' time. Steve Baker MP is pictured in the second tweet:
Boris was out and about in Greater Manchester. He spoke to an interviewer about policing and said that the Government needs to change its culture, which has become misogynistic, particularly in light of the Sarah Everard murder earlier this year, committed by … a policeman, who recently received a life sentence.
In other news, Justice Secretary Dominic Raab plans to reform UK human rights legislation and do away with the ties to EU human rights legislation we are still under.
With regard to the Labour mystery, Manchester's mayor, Andy Burnham, had a conversation with Levelling Up minister Michael Gove, whom he had praised the day before. The Mail reported that Burnham was also due to address Conservatives at a fringe event sponsored by Transport for the North the following day. Hmm.
The cervix question that appeared at Labour's conference was also brought up with Conservatives. Dominic Raab responded by bringing up both misogyny and misandry in a highly confused way (video):
Two MPs decided to have a bit of fun with the issue as they drove to Manchester together:
Guido recapped their amusing exchange:
Health-conscious Conservative MPs Marco Longhi and Lee Anderson don't want to fanny about when it comes to their well-being. Marco, according to their road-trip video, made sure to receive a cervix exam before heading to conference this week. Always better to be safe than sorry…
Why is it that no one ever asks if women have a prostate gland?
On the subject of health, Desmond Swayne told Julia Hartley-Brewer why he is firmly against vaccine passports:
Lord Frost (pictured on the right) threatened the EU over the post-Brexit trade issues with Northern Ireland. Outside of the conference, pig farmers protested over the inability to get their stock to market. Boris had said that government cannot solve every issue, referring to the supply chain problem. He also told British businesses to hike staff salaries, which did not go down well, either:
I think they should give the meat away. A lot of poor families would appreciate it.
Tuesday, October 5
Boris began the day with an interview to LBC's Nick Ferrari. Extinction Rebellion offshoot Insulate Britain had blocked some of Britain's roads for the ninth consecutive day.
Despite injunctions from Priti Patel's Home Office, their human blockades continue.
Boris told Ferrari they are 'irresponsible crusties' (video). The question remains whether Extinction Rebellion gets any Government funding:
Dominic Raab confirmed in his speech that he would be reform the Human Rights Act to free it from EU hackles.
Guido's post includes a quote and this summary:
They will detach it from the ECHR, enabling quicker deportations of convicted criminals and swifter action on domestic abusers …
Raab's successor at the Foreign Office, Liz Truss, confirmed a trip to India later this month, ahead of COP26 in Glasgow in November.
Guido had a chat with her:
Among other topics, the foreign secretary confided in Guido she was finding the new department's mandarins to be "a bit 'Yes, Minister'"…
Rishi Sunak addressed the Northern Powerhouse Leaders' Lunch.
Guido says:
Sunak claimed that there is a "new age of optimism" in the north thanks to Red Wall Tories, and heaped them with praise for "helping to change our party and change our country". "In me, you have a Chancellor who is going to be with you every step of the way," he added.
See? I told you these speeches were content-free.
Later in the day, he appeared at a fringe event where he was asked about the cost of Net Zero. This was his alarming answer:
Health Secretary Sajid Javid promised another reform of the NHS, which mostly involves digitisation. I can think of more pressing NHS concerns and agree with Guido:
… pouring in taxpayers' money without checking how it's being spent isn't enough. That cash needs to be put to good use. Reviewing the eye-watering pay packets of some NHS diversity managers would be a start…
The Telegraph's Christopher Hope interviewed Oliver Dowden, who is thinking about resurrecting the singing of the National Anthem at conference, calling it a 'splendid idea'.
Hope also took the opportunity to present Dowden with a 'Tory Scum' badge, which he put on and said he would wear for the duration of the interview. Hope suggested he wear it until the end of conference.
This video shows the badge exchange. Hope gives us more information on the aforementioned Vermin Club:
Guido says that the badges were most popular. Dehenna Davison had to order more:
Many conference-goers have spent the last couple of days asking Davison for one of her badges, only to be disappointed upon being told she'd run out. Good news however, after Davison put in an emergency order for 400 more given their popularity…
The most outrageous session of the day — and a British first — was an address by the Prime Minister's wife to Party faithful. No Prime Minister's spouse — we've had two husbands in that role — has ever made a party political address until now:
Never mind the subject matter: was it the right thing for Carrie Johnson to do — even if she is a very good public speaker? Boris watched from a distance.
Polling stable
I'll review Boris's closing speech in tomorrow's post.
Post-conference polling is stable. YouGov's was taken on Tuesday and Wednesday:
Sir Desmond Swayne explained to Julia Hartley-Brewer that Boris's popularity and the lack of ideas from the Opposition have buoyed the Conservatives:
What Government should do next
Health Secretary Sajid Javid needs to keep a gimlet eye on NHS spending, especially on things like this:
Guido says:
The NHS is recruiting a supplier to deliver "compassionate conversations training" to 14,000 front facing NHS staff in a publicly funded contract worth a mind-boggling £3 million. The contract tender, which was published yesterday and closes on 5 November 2021, says the aim is to equip NHS staff with "the skills they need to handle challenging situations with compassion whilst ensuring they feel able to look after their own wellbeing if needed". Guido assumed that doctors were already taught about the importance of a good bedside manner…
It's almost ludicrous to think that this weekend Javid promised a forensic review of the NHS's management and leadership whilst the NHS continues to recklessly splash cash on diversity roles. Just six months ago Guido revealed that the NHS was hiring eight more 'diversity, equality and inclusion managers' across the country, with salaries up to as much as a whopping £62,000. If Javid is going to cut down those waiting list times he needs to focus taxpayers' money on the clinical front line, not nonsense make-work contracts and diversity roles…
Guido says it is also time for Boris to reconsider the current Government moratorium on fracking:
If Boris wants to energise Britain, domestic gas production should be part of that mix; it would provide energy security when Britain's energy needs are being threatened by the Russians and the the French. Boris is now in a position to do something glorious, to stop pussy-footing around and leave no stone unturned or unfracked. So get on with it…
This is what Boris had to say on the subject while he was Mayor of London:
I won't be holding my breath on either of those propositions.
Tomorrow: Boris's keynote speech
Boris Johnson is now into his third year as Prime Minister.
On Wednesday and Thursday, September 15 and 16, he reshuffled some of his cabinet and ministerial posts, signalling that he is more than halfway through his premiership. In other words, this will be the major reshuffle to lead the Conservatives into the next general election.
I hope that Boris does not go for a 2023 election, unless it is late in the year. The coronavirus crisis will have put much of the Conservative manifesto agenda on hold for two years. As such, not much has been accomplished to date, as Andrew Neil, who recently resigned from GB News, says:
Boris has appointed more Leave ministers as well as more minority and female ministers, which will not matter to most small-c conservatives:
Highlights of the reshuffle follow.
Dominic Raab no longer Foreign Secretary
It looks as if dithering over Afghanistan while holidaying in Crete has finished Dominic Raab's days as Foreign Secretary. He had to do the walk of shame after his demotion:
That said, Boris has found a new job for him as Justice Secretary.
Raab will also continue to be Deputy Prime Minister, a role he handled extremely well in April 2020, when Boris was hospitalised with coronavirus.
Defence Secretary Ben Wallace defended his fellow MP and the move in an interview with BBC Breakfast:
Wallace said of Raab: "Dominic is by trade a lawyer, he started his life in the Foreign Office as a human rights lawyer and he's gone to the Ministry of Justice, which is actually a very, very important role and a role he desperately understands."
Liz Truss becomes new Foreign Secretary
Former Trade Secretary Liz Truss replaces Dominic Raab as Foreign Secretary, with Anne-Marie Trevelyan taking her place.
Post-Brexit, Truss has made various trade deals with other nations, notably Australia and Japan.
She also remains minister for women and equalities.
Truss is popular with grassroots conservatives and her name has often been mentioned as a future party leader and Prime Minister.
She succeeded not only in trade but also in refusing wokery in 2020 …
… and in 2021, as Guido Fawkes reported on June 16 (emphases mine):
Liz Truss tells Times Radio most people aren't interested in the culture war…
"My role as equality minister is to make sure everybody in Britain is treated equally regardless of their sex, their sexuality and their race. What we have seen over the past few years is the development of identity politics where there has been division created. People are described as being members of a group rather than for their own personal, individual humanity and dignity… We have just launched for example a big data project looking where are the gaps in education, employment and enterprise across the country, and how we can fix those. That is the approach we need to take… I think some of the identity politics we have seen focus on symbolism over real results has been divisive… I think most people aren't interested in this so–called culture war, what they're interested in is, "Am I being given a fair chance? Do I have a good chance of getting a job? Am I treated fairly by public services?" And that's why I think our equality agenda should focus on, those bread and butter issues that are of concern to everyone in the country."
She is consistently among the most popular of the Cabinet members. This survey is from March 2021:
She can even ably dodge camera equipment during an interview:
Nadine Dorries moves from Health and Social Care to Culture Secretary
In what is hoped to please grassroots small-c conservative voters, Nadine Dorries now heads Digital, Culture, Media and Sport (DCMS), replacing Oliver Dowden, who, as new co-chairman of the Conservative Party, will formulate a strategy for the next general election.
Most of these grassroots supporters are fed up with the BBC. Will Dorries take on Auntie Beeb?
I do not put much stock in that possibility. Resurrecting Dorries's tweets from several years ago are no indication of her current willingness to oppose the BBC on anything much:
The BBC have just appointed a firmly left-wing executive editor of BBC News, Jess Brammar. At least one Conservative MP, Brendan Clarke-Smith, was unhappy about the possibility of her appointment back in August:
I will not be holding my breath for Dorries to take her on, although others in the left-wing and anti-Brexit political establishment are angry about Dorries's appointment, as Guido Fawkes reports; he has screenshots of her past tweets (emphasis in the original):
She's been in the job for 17 hours and is already annoying all the right people… 
John Whittingdale returns to backbenches
I have doubts about Dorries because one of the DCMS ministers, John Whittingdale, was supposed to take on the BBC in 2016 and never did. He also washed his hands of removing free TV licences for most over-75s, saying it was a decision for the BBC. Is this why he got the sack?
During the Euro 2020 soccer tournament this year, Whittingdale told Kay Burley of Sky News that travel restrictions were lifted for 'important' people associated with the matches:
Speaking on Sky News, John Whittingdale was asked why players, officials and others coming to London for the Euros final on 11 July should be allowed in without self-isolating.
He said: "We've always said that for some people who are important, players, for instance …"
The presenter, Kay Burley, interrupted him, saying: "So people who want to go on holiday are not important. Is that what you're saying?"
Whittingdale's last pronouncement, standing in for his boss Oliver Dowden, was about a proposed mandate to make all BBC and ITV output 'distinctively British'. That was on September 16. It will be interesting to see whether Nadine Dorries will insist on it.
Newsnight argument over Dorries
Nadine Dorries was the subject of an argument between Conservative MP Charles Walker and former Conservative MP, Remainer Anna Soubry, who lost her seat in December 2019.
By the way, this was Anna Soubry with Nigel Farage either just before or just after the Brexit referendum in June 2016: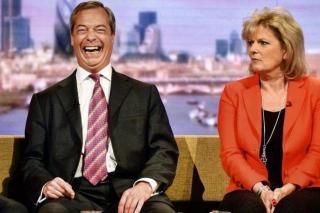 But I digress.
The discussion between Soubry and Charles Walker took place on the BBC's Newsnight on September 15:
Here's the video, with Labour MP Peter Kyle sitting at the desk with presenter Emily Maitlis:
Guido Fawkes has the highlights:
Nadine Dorries provided the biggest clash, as the eternally bitter Soubry ranted that her appointment "actually says everything that's wrong and rotten about this prime minister's stewardship of this country". Charles Walker had some thoughts:
"Nadine Dorries has been a health minister, a minister of state, at an incredibly difficult time for the department of health; has been an extremely good minister for mental health; and really to come onto this programme and just trash her like that is just not a very nice thing to do to be perfectly honest"
Responding to Soubry's claim that people don't really care about reshuffles in the real world, Walker pointed out "Why is it the lead story on Newsnight, and why are you appearing on Newsnight?" Why indeed…
However, there is a personal reason why Anna Soubry is angry with Nadine Dorries.
On July 1, 2016, one week after David Cameron stood down as Prime Minister and Conservative Party leader because of the Brexit referendum result, tensions were running high not only in the Commons but also among the public.
Soubry went out near Parliament to address her fellow Remain supporters. Dorries tweeted that Soubry was under the influence. Soubry demanded that Dorries retract the tweet. The Times has the full story, which ends with this:
Update (25.07.2016): Following publication of this article, Nadine Dorries MP has withdrawn her tweet about passing Anna Soubry MP leaving the bar before she attended a rally of Remain supporters in central London. Ms Soubry has confirmed that she had not drunk any alcohol before speaking at the event.
Another reason why I am doubtful about Nadine Dorries is because she did not question the Government's coronavirus restrictions when she was at Health and Social Care. Does she really believe everything she hears? Here she responds to Conservative Woman's co-founder Kathy Gyngell. Dorries and her mother had the virus at the same time, and her mother recovered first. Even so, not questioning lockdown earns her a black mark from me:
At least she supported Brexit.
Michael Gove moves to Housing, no longer Chancellor of the Duchy of Lancaster
Michael Gove, who is in the process of a divorce and was a recent party boy in an Aberdeen nightclub, is no longer the Chancellor of the Duchy of Lancaster.
Stephen Barclay, formerly Chief Secretary to the Treasury, replaces him in that post. Simon Clarke replaces Barclay in the Treasury role.
Michael Gove replaces Robert Jenrick at the Ministry of Housing, Communities and Local Government and is in charge of Boris's 'levelling up' agenda.
A first attempt at a new acronym for the department has produced DULL:
Guido reports on the problems with acronyms for government departments in general:
The Sun's Harry Cole reports the initial proposal for a new "Department for the Union and Levelling Up" is no longer a flyer after realisations its acronym, 'DULU', sounds too much like "Dull". It's a shame a change was needed, given it was pointed out yesterday that Michael Gove the first MHCLG Secretary with all the letters of the department in his name…
Guido will leave it up to cleverer minds to work out an acronym that includes all the letters of Gove's new remit (MHCLG + Union + Levelling Up + Elections) though it's not the worst reshuffle acronym problem encountered by a PM. As Alan Johnson recounts, in 2005 Tony Blair came up with a plan to rename the department for Trade and Industry as the "Department of Productivity, Energy, Industry and Science". Thankfully Johnson was used to it by that point however – he'd already been Minister for Higher Education and Lifelong Learning, and headed up the Sexual Health Advisory Group…
Although this looks like a demotion for Gove, it involves a hefty budget with pan-govermental reach, something that should definitely appeal to him:
New Education Secretary
Nadhim Zahawi, formerly in charge of the coronavirus vaccine rollout, is the new Education Secretary, replacing Gavin Williamson, who likely got the sack because of the school exams fiasco during the coronavirus crisis.
Zahawi has achieved the British dream, having arrived in the UK as a child refugee who could not speak English:
Other appointments
Guido Fawkes has full reshuffle information for September 15 and 16.
Some MPs have transferred to other departments:
Others will be returning to the backbenches:
Jesse Norman tweeted that he was happy to return to the backbenches:
The new role for Nigel Adams is said to be a 'fixer' appointment in order to get things done:
More information and analysis can be found at The Guardian, The Telegraph, GB News , The Spectator and The Times (here, here and here).
House of Lords
Reshuffles can affect the House of Lords, too.
Fortunately, two of the stars there are still in place.
Baroness Evans
Baroness Evans, composed and competent, will remain as Leader of the House of Lords.
Lord Frost
Lord Frost will remain Cabinet Office Minister for Europe, in charge of EU negotiations and changes to relevant legislation:
On September 16, Guido wrote about Frost's plans to rid the UK of EU laws (emphases in the original):
Lord Frost has announced the government's plans to finally capitalise on the freedoms of Brexit and remove the "special status" of all individual EU laws still on the UK's statute books. There are also plans to invest heavily artificial intelligence, transport, and farming over the Parliament. Now if we just pair deregulation with lower taxes we may actually get somewhere…
Speaking on the reforms this afternoon, Lord Frost said:
"From rules on data storage to the ability of businesses to develop new green technologies, overbearing regulations were often conceived and agreed in Brussels with little consideration of the UK national interest.
"We now have the opportunity to do things differently and ensure that Brexit freedoms are used to help businesses and citizens get on and succeed."
Lord Frost will begin with a review of so-called "retained EU law" – the huge amount of EU legislation still on the UK's statute books; removing its special status so it's no longer a distinct category of UK domestic law, and ensuring all courts have the full ability to depart from EU case law. He describes it as finalising the process of "restoring this sovereign Parliament". There's a reason he's popular with the Tory membership…
Guido's post has more detail, much of which involves digitalising everything from share (stock) certificates and driving licences.
Hmm. I hope that when his proposals reach MPs that they are not taken too far. First, not everyone is online. Secondly, think of the hacking opportunities this could provide. Finally, and perhaps most importantly, digitalisation can lead quickly to establishing a Chinese-style social credit score.
One thing I did like was this:
Permitting the voluntary printing of the Crown Stamp on pint glasses and reviewing the EU ban on markings and sales in imperial units and legislating in due course, none of which were possible within the EU.
Robert Peston's misguided predictions
Sometimes, it is better to wait for the final outcome rather than tweet silly predictions:
On September 16, Guido noted witheringly of ITV's Robert Peston:
While yesterday may not have been great for Dominic Raab, at least he can take solace in the fact he had a better reshuffle than Robert Peston. ITV's senile senior political reporter spent all day tweeting every thought process, speculation and briefing with the acumen and insight of a first-year politics student.
Guido's article lists Peston's tweets. Perhaps ITV should buy him a new crystal ball.
Conclusion
I still think that most Conservative MPs are half-hearted. It's a shame that Boris did not promote any of the 2019 intake, especially the feisty ones from the North of England.
Fortunately, last week's horrible poll results have been reversed. Participants were polled during the reshuffle days of September 15 and 16:
Onwards and upwards to Boris's promised 'sunlit uplands', I hope.
It had to happen at some point.
For the first time since January, a poll has shown that Labour is more popular than the Conservatives.
YouGov took the following poll on September 8 and 9. September 8 was the day of the parliamentary vote on an increase in National Insurance to fund the NHS and, from 2025, social care.
YouGov are also pro-Conservative.
This is a warning to Boris and his team:
The full results are here. They reveal that a high percentage of respondents — 19% — do not know for whom they would vote. That figure was 20% in the previous week's poll.
Those who would not vote in the next election, some years away, rose from 9% to 12%.
Boris Johnson is keen on polls. He should take this to heart and tell his new wife to stop running the country.
LBC's Nick Ferrari interviewed Conservative MP and Cabinet member Oliver Dowden, who said that polls go up and down:
Guido Fawkes's accompanying post says (emphases in the original):
It will have been nigh on impossible for co-conspirators not to have already seen last night's bombshell YouGov poll that sees the Tories end their 149 consecutive leads over Labour, slipping back five points down to 33% versus Labour's 35%. Dowden unsurprisingly put on a brave face, saying "polls go up, they go down". How much further down is the main question…
Meanwhile it's not just the polls that see the Tories in the mud. Guido learns that even a Tory bigwig fundraiser on Wednesday, at Mayfair's Wallace Collection, couldn't get hands reaching into pockets for the party, despite cajoling from both Boris and Rishi. Who knew Tory donors weren't keen on an enormous tax hike?
Guido's readers listed a litany of complaints against the Conservatives — and rightly so:
too much taxation and spending;
too green — also at the cost of the taxpayer, including electricity and gas bills going up dramatically this year and next;
too many economic migrants crossing the Channel from France;
too woke.
Guido also received a lot of comments to this tweet:
The public will not appreciate that Downing Street is defending the NHS in hiring more managers with outrageously high salaries:
Guido quoted a spokesperson who briefed the press (Lobby):
The public will rightly expect every penny raised by the levy to be spent on cutting Covid waiting times and finally fixing the care crisis … NHS England is already working to be more efficient and cut waste.
The spokesperson said that the NHS was already being more efficient. Guido's post says:
… there were initially "211 commissioning organisations", so the 42 executives running the new Integrated Care Services 'significantly reduce[s]' the total number of managers.
And, no, Downing Street said these managers are not 'bureaucrats':
No. 10 also pushed back on calling these managers "bureaucrats", claiming "these individuals will be responsible for a population of around a million people with billion pound budgets, and so we want highly qualified people who can deliver for the public." A reminder that some will earn 80% more than Boris himself…
Guido spotted another YouGov poll on how the imminent rise in National Insurance is going down with the public:
Here are the poll results:
Opinium's results on the same question showed that a clear majority oppose the rise:
In related news, Chancellor Rishi Sunak is suspending the triple-lock on pensions for one year, meaning that state pensions will not rise with inflation. That has not gone down well, either. Admittedly, nearly half of those polled do not know what the triple lock involves. Maintaining the triple lock was also part of the Conservative manifesto, as was the commitment not to raise National Insurance:
Boris is fortunate that Labour's Keir Starmer is so unpopular:
Boris polls way above Starmer:
That said, his popularity might not hold out in the long run.
Some pundits are beginning to refer to the Conservatives as Blue Labour.
However, Paul Embery, who really is Blue Labour, a Labour party member who likes aspects of conservatism, explains how pundits are misusing the label (emphases mine):
There is little sense either that the government understands the value that Blue Labour attaches to relationships and community. Where is the recognition of the family as the bedrock of society and the plan to strengthen that institution? How does the government propose to revitalise our disempowered local and relational institutions — the little platoons that fill the space between market and state and are the lifeblood of our civil society: credit unions, friendly societies, faith groups, co-operatives, and other voluntary or campaigning groups.
All of this stuff matters, and any government genuinely concerned about fostering the deepest social solidarity, reinvigorating democracy and restoring a true sense of community, while making our nation more just and equal, would place these questions front and centre.
But it won't happen under a Boris Johnson government. That's because, at heart, the prime minister, economically and socially, remains an instinctive libertarian. Blue Labour's "socialism with a small 'c'" runs counters to this. Johnson may have the nous to recognise that the movement's message plays well. But he doesn't really believe in it.
I agree with Paul Embery that a Conservative emphasis on family would be a good start, but Boris cannot espouse that without looking hypocritical.
As for Boris being 'an instinctive libertarian', I disagree. He's about as instinctively libertarian as he is Blue Labour.
In any event, Boris should consider these polls a wake-up call. He did say in December 2019 that the overwhelming Conservative votes were 'on loan'. Now he has to find a way to keep them.
Last Friday's post was about Matt Hancock's fall from grace as Health Secretary as featured on the front page of The Sun.
The Queen had lost confidence in him before then, as my post explains, covered in another front page feature, in The Times.
Hancock's final 48 hours as health secretary were pivotal, not only for his political but also his personal life.
Thursday, June 24
The Sun allegedly contacted Hancock to ask him if he had any comment before they published the compromising photo of him in a steamy embrace with a female aide.
Hancock went home that evening and dropped a life-changing bombshell on his wife and youngest child. 
On Sunday, the Mail reported (emphases mine):
Mother-of-three Martha was reportedly blissfully unaware of her husband's infidelity until he broke the news to her on Thursday night when it became clear the footage would be published the next day.  
And he reportedly even woke up the couple's youngest child, aged eight, to tell him he was leaving. 
How unspeakably cruel.
My commiserations to both — as well as to his two other children.
Apparently, Hancock is serious:
Friday, June 25
On Friday, YouGov and Savanta ComRes took snap polls to test public opinion on The Sun's revelations about Hancock.
It was clear that this representative portion of the public were deeply unhappy and thought he should resign.
These were YouGov's results:
Savanta ComRes found that 46% of Conservative voters thought Hancock should resign:
The full video of Hancock's illicit embrace became available online.
A number of newspaper columnists expressed their disgust with Hancock's hypocrisy.
The Telegraph's Emily Hill wrote:
Four days after Freedom Day failed to dawn, what fun it is for the masses who must continue to abide by the Minister's absurd rules to see this! Dancing inside at a wedding – verboten. Nightclubs – verboten. Standing at the bar in a pub talking to perfect strangers – verboten. It's as if they don't want the young and fit and healthy to mate anymore. Sex privileges, it seems, are reserved for middle-aged men in Westminster while the rest of us can only watch, helpless, wondering how much their cheating is costing the taxpayer.
… But it is now the afternoon and Hancock has merely cancelled his appearance at a vaccine centre while Grant Shapps [Secretary of State for Transport] was sent out to inform us: "First of all, I think the actual issue is entirely personal for Matt Hancock." Seconds later he stated: "whatever the rules are, the rules will have to be followed" in relation to the ministerial code. This makes hypocrites of much of the Government, not to mention every world leader who flouted social distancing rules so publicly at the G7 summit.
The Telegraph's Alison Pearson pointed out how much the British public has sacrificed in personal relationships over the past year and a bit because of Hancock's restrictions:
Thousands of people posted reactions on social media. Some were bitterly mocking the official mantras: "Hands, Face, Back to My Place". "Saving Lives, Shagging Wives".
Others were simply devastating: "I wasn't even allowed to kiss my dying father because of Hancock."
The anger and disbelief were palpable. Was this really the minister who told us on the 17th May that, after fourteen months of physical and emotional self-denial, we were free to hug our loved ones, when, a fortnight earlier, he'd been giving mouth-to-mouth to some glamorous chum he'd put on the public payroll? Knowing Hancock, he'd call it First Aide.
We are all humble sinners and a man or woman's private peccadillos shouldn't disqualify them from doing their job. But no such understanding or humanity – not a sliver of mercy – has been shown by the Secretary of State or this Government to members of the public who have broken often cruel and arbitrary rules. Remember how we watched in horror as police arrested a retired nurse as she tried to drive her 97-year-old mother away from a care home. Hundreds of thousands of people have departed this life without a last touch or kiss from their best beloveds because the restrictions forbade it so relatives sobbed in the carpark because Matt Hancock said it must be so. Almost 30,000 children have been put on anti-depressants yet just one positive test (without any Covid symptoms) can still send an entire year group home to self-isolate for ten lonely days. Parents know this is insanity, but they must suck it up because that prating popinjay Hancock tells them it's vital to keep us "safe"…
If I had a gasket left to blow it would have exploded when Culture and Sports minister John Whittingdale explained this week how up to 3,000 Uefa officials will be allowed to arrive in the UK, without quarantine, for the Euro semis and finals. "We've always said that for some people who are important…", said the hapless minister, accounting for the fact that normal people would be held to different standards.
"All animals are equal but some animals are more equal than others." I never ever thought George Orwell's satirical take in Animal Farm on an arrogant, unaccountable elite patronising the masses would apply in our country. More fool me. We're all in this together, eh, Matt? …

Trust me, it's not closed. There are millions of us, and we are raging now, and we will not allow it to be closed. If the Government permits one law for Hancock and "important people" and another for the rest of us then it is morally bankrupt. Boris must act this very day to restore the people's faith, to prove that we haven't been mugs.
Fraser Nelson, also writing for the Telegraph, pointed out how Hancock insisted on following his draconian rules, therefore, he should not expect privacy now:
Mr Hancock has always been one of the most emphatic for the rules. In internal government debates, he has invariably pushed for the toughest restrictions and wanted 10-year jail sentences as a penalty for trying to dodge draconian quarantine rules. "I make no apologies for the strength of these measures," he said: they'd target a "minority who don't want to follow the rules." Who, presumably, he thinks, deserve everything coming their way. When two women were fined by police for walking together, Mr Hancock was unforgiving. "Every time you try to flex the rules,' he said, "that could be fatal" …
This is the irony in his request on Friday for "privacy for my family on this personal matter" now. There is no doubt his family deserves it. But a great many other families would have been grateful for more privacy over the last 15 months. Instead, the Tory Government decided to legislate for what people do in their own homes. And in so doing, set up a system where people came to worry that they'd be reported to the police – perhaps by their neighbours – if they stretched the rules by inviting children over to play in their back gardens. Greater Manchester Police issued a statement boasting that they had raided a family home to break up a child's birthday party.
Sweden managed to fight back two Covid waves while respecting privacy and civil liberty. There are bans on mass gatherings, and a rule of eight for public places. But no rules would apply inside anyone's property, where they had sovereignty. Government would not come through your front door: in Sweden, your home is your castle. It wasn't so long ago when this respect for privacy summed up civic life in Britain.
When Mr Hancock started issuing advice on where we should hug (embracing outside, he said, was better than inside) alarm bells ought to have been ringing in Number 10. It was a sign that the Government machine had gone way out of control, losing any sense of its remit or boundaries. Number 10 should have stepped in, and perhaps asked for a study on the efficacy of the intrusions or work of Project Fear: the blood-curdling posters showing Covid victims on their deathbeds. If there was no proof that the campaign was making a difference, they could have been told to change tack …
Paul Waugh of HuffPost dug up a quote from April 2020 (and a 2021 photo), showing how dictatorial Hancock was:
Conservatives in Parliament began complaining about Hancock. Christopher Hope, writing for the Telegraph, reported:
Baroness Foster of Oxton, a Tory peer, accused Mr Hancock on Twitter of having "used emergency powers to impose these punitive restrictions leading to horrendous consequences across society without debate yet ignored them himself & at work!"
Backbench Conservative MPs contacted their whips about the Health Secretary. One texted: "You don't need me to tell you what I think." Another said that "children have missed out in so many ways" and that Mr Hancock's behaviour was "so hypocritical", while a third MP said the Government "is looking ridiculous now, I am sorry to say".
Oddly, the Shadow (Opposition) Health Minister Jonathan Ashworth was silent.
The day ended with The Sun's Harry Cole appearing on the BBC's Newsnight:
Saturday, June 26
The Telegraph had running live coverage of the Hancock debacle. Excerpts follow.
Coverage began at 9:01 a.m.:
Tory MPs urged Boris Johnson to "pull the plug" on Mr Hancock and expressed their frustration to party whips over the Health Secretary's "hypocritical" behaviour …
A senior government source said public reaction was being monitored and could determine Mr Hancock's fate.
At 9:30:
The Telegraph understands Mr Hancock had no idea the camera existed when it captured him kissing adviser Gina Coladangelo, and government sources said it was "unheard of" for cameras to be installed in ministers' offices.
It raises the possibility that the camera was deliberately placed by someone with access to his office with the intention of catching the pair cheating on their spouses and breaking Covid rules. It is the first time a Cabinet minister has been filmed in their own office without their knowledge.
In a further twist, the Department of Health and Social Care's offices use CCTV cameras made by the Chinese company Hikvision, which is banned in the US because of national security concerns.
At 10:20:
A healthcare company which employs as a senior director the brother of the aide Matt Hancock was pictured kissing has insisted it had never benefited from the connection to the Health Secretary.
Reports suggested Roberto Coladangelo, strategy director at Partnering Health Limited (PHL Group), was the brother of Gina Coladangelo, a familial connection later confirmed.
At 11:06:
The Health Secretary is under mounting political pressure this morning after a video was published of him hugging and embracing Gina Coladangelo, a non-executive director in his department, in early May.
At the time, hugging and socialising indoors with people outside one's household was banned.
But according to The Sun, they have been "all over each other" again this week in the same ninth-floor office of the Department of Health and Social Care.
At 11:19:
Duncan Baker, Conservative MP for North Norfolk, has called for Matt Hancock to resign.
Mr Baker, who was elected in 2019, is believed to be the first Tory MP to openly call for Mr Hancock to go and told his local newspaper the Eastern Daily Press: "In my view people in high public office and great positions of responsibility should act with the appropriate morals and ethics that come with that role …
"I will not in any shape condone this behaviour and I have in the strongest possible terms told the Government what I think."
Duncan Baker was not alone. Three other Conservative MPs spoke out against Hancock — Esther McVey, William Wragg and Sir Christopher Chope:
Sir Christopher told the Dorset paper, the Daily Echo:
"I think that he should resign rather than be sacked because this should actually be an issue for him and his conscience.
"One of the benefits of having been around for a long time is that I've seen this sort of thing before and the strength of feeling is such, within the party and outside,  that this will not simply go away. 
"The sooner he resigns the better so we can have a new secretary for health who commands public respect.
"Hancock is finished.
"The sooner he goes the sooner he can be rehabilitated."
That afternoon, Hancock and Prime Minister Boris Johnson had a conversation. Hancock wrote a letter of resignation. Boris responded with a written reply:
Around 6 p.m., Hancock announced his resignation via a personal video:
Shadow Health Secretary Jonathan Ashworth said that Boris should have sacked Hancock:
However, given Boris's philandering, that would have been hypocritical.
Also, Hancock will now return to the backbenches. Boris will want to keep him sweet. Even I can figure that out.
Around two hours later, it was announced that Sajid Javid would be Hancock's replacement. Javid has been Home Secretary and Chancellor of the Exchequer, so he will be comfortable with another post in the Cabinet.
This means that Boris's expected reshuffle will not now take place until perhaps later in the year. A smart move:
This thread summarises Javid's career. He is the son of a bus driver. His teachers told him that he should pursue television set repair as a career. Were they ever wrong:
Dominic Cummings was quick to react, blaming Boris's wife Carrie for the appointment. She had at one time worked for Javid. Cummings said he himself had 'tricked' Boris into firing Javid from Her Majesty's Treasury (HMT):
Sky News's Beth Rigby appeared outside of No. 10 late on Saturday:
Beth has some nerve. She was suspended from Sky News for a few months for having revelled in a non-coronavirus-compliant way at her colleague Kay Burley's 60th birthday party evening in central London:
Sunday, June 27
Newspaper editors must have been pulling out their hair in changing their front pages for Sunday.
The Sun went for a play on words (matt paint):
The Mirror had the same idea, adding that his aide has quit her job, too:
The Times had a front page article adding that Hancock used a personal Gmail account to conduct Department of Health business. Apparently it's done now, but any of those emails are subject to FOIA requests with regard to Government business. It also means that the Government might not be able to get a trail of all of his activity with regard to contracts:
The Express said that Conservative donors threatened to stop contributions if Hancock stayed in office:
I will stop there for now.
The Sunday articles and news programmes had much more to explore.
For now, it looks as if Sajid Javid has a more libertarian approach to handling the virus and wants restrictions lifted as soon as practicable.