You are currently browsing the tag archive for the '2020' tag.
Friday's post provided the background to the current turmoil in Boris Johnson's Government.
This is where we left off — a GB News tweet from November 22, before further events occurred:
The Christmas party — or parties
Last week, news emerged of an alleged Christmas party held on December 18, 2020, at No. 10 Downing Street.
Somehow, it took most of 12 months for this news to appear.
It surfaced with a video of Allegra Stratton, who was rehearsing for her new — ultimately unfulfilled — role as a televised press secretary, although she did remain press secretary.
On Tuesday, December 7, ITV News was able to obtain this video of her rehearsing for a press conference involving a fictitious Christmas party. The press corps are senior No. 10 employees:
According to this rehearsal, which Stratton did not take too seriously, we are looking at a party that never took place.
However, when one watches the video, one wonders: did it or did it not happen?
Allegra Stratton laughed and slumped over the podium. Hardly a professional look.
The Sun reported (emphases mine):
Senior members of the PM's top team were filmed laughing and referring to "cheese and wine" in a mock press conference held by Allegra Stratton in the No9 briefing room …
In footage of the fake presser, obtained by ITV, one of the PM's advisers asked: "I've just seen reports on Twitter that there was a Downing Street Christmas party on Friday night, do you recognise those reports?"
Ms Stratton joked: "I went home!" before she paused to consider how to respond.
The aide added: "Would the prime minister condone having a Christmas party?"
Ms Stratton, who was due to lead daily political press briefings in the £2.5million press room before the plan was ditched earlier this year, laughed and replied: "what's the answer?"
Another No10 staffer popped up to say: "It wasn't a party, it was cheese and wine."
Ms Stratton added: "Is cheese and wine alright? It was a business meeting…"
Business meetings were allowed under the restrictions at that time, as The Times explains:
People were allowed to gather if it was reasonably necessary for work purposes, but that would not have included holding a party.
The government's advice from the time said: "Although there are exemptions for work purposes, you must not have a work Christmas lunch or party, where that is a primarily social activity and is not otherwise permitted by the rules in your tier."
The Telegraph's Christopher 'Chopper' Hope reported that Downing Street might have been exempt from the party rule because it was a Crown property. However, Guido Fawkes pointed out that the Queen wore a mask earlier this year at Prince Philip's funeral on the grounds of Windsor Castle:
No. 10 responded to the Christmas party allegations. ITV News's UK Editor Paul Brand tweeted:
By Thursday, December 9, 2021, The Times revealed a catalogue of seven Christmas parties allegedly taking place in or near Downing Street last year during a time when London was, for the most part, under lockdown.
Excerpts follow, emphases mine.
The Times reports:
Insiders said that the No 10 Christmas party on December 18 began early, with officials and political advisers gathering in the press office shortly after 6pm.
Over the course of the evening some people made speeches, enjoyed a cheese board, drank together and exchanged Secret Santa gifts. By the time it ended shortly before 2am, several of those present were said to be "rat-arsed".
A few rooms away Boris Johnson was working in his office, where after consulting once more with government scientists, he was coming to a critical realisation that Christmas, as planned, could no longer go ahead. Less than 24 hours later the prime minister broke the news that millions of people could not see friends and family over the festive period if they lived in other households …
At the time London was under Tier 3 restrictions, banning indoor mixing with a narrow exemption for people whose jobs required them to be at work in the office. Was Johnson aware of the event, which included some of his most senior aides and was held yards from his office? …
The Christmas party, however, was different. A source said it had been organised days in advance on WhatsApp and with a follow-up email.
Originally it was intended for members of the press office who work together in the same large room on the ground floor …
It was not, they said, a party that had been organised by senior members of staff or indeed political special advisers. But in the close world of Downing Street some members of Johnson's media team were also invited. The most senior members were understood to be involved in the preparations for the impending new Christmas restrictions.
Other parties were alleged to have taken place:
At another point in December, sources say, a Christmas quiz was held for officials and Conservative advisers working in Downing Street. Invitations were sent out by email, with people asked to organise themselves into teams of about six. Many wore novelty Christmas jumpers on the day. One source said that the quiz took place in the "control centre" established in 70 Whitehall by Dominic Cummings, who had left his role as one of Johnson's most senior advisers in November. Another source said that people stayed late drinking, and that there was much discussion the next day about the unexpectedly strong knowledge displayed by the victors.
No 10 sources were adamant that the quiz was "entirely virtual", and denied that it took place in 70 Whitehall, but conceded that some people may have participated from desks in communal offices …
One party allegedly took place at Conservative Party headquarters in central London:
Another event took place at CCHQ a few days before the Christmas party. At least two dozen party aides and volunteers, who had helped Shaun Bailey, the Tories' London mayoral candidate, held a "raucous" bash involving drinking, Christmas hats and dancing that went on late into the night. Things were said to have got so rowdy that a door was damaged. London was in Tier 2 restrictions, with a ban on indoor mixing and the rule of six applying outdoors.
Some parties allegedly took place in November 2020:
Government staff are also said to have held informal leaving dos in November, when England was in a full lockdown, to mark the departures of the senior Downing Street aides Lee Cain and Cleo Watson. Christmas parties were also held at the Cabinet Office and the Department for Education.
Those are the seven alleged parties.
The timing of this leak could not have been worse for the Government.
At PMQs on Wednesday, December 8, Boris insisted that the Cabinet Secretary Simon Case would investigate the alleged December 18 party, which was the only known one at the time.
This is how he responded to Labour's Sir Keir Starmer at the despatch box:
… I apologise for the impression that has been given that staff in Downing Street take this less than seriously. I am sickened myself and furious about that, but I repeat what I have said to him: I have been repeatedly assured that the rules were not broken …
I have asked the Cabinet Secretary to investigate exactly what happened, and I repeat that there will be consequences for those involved if the rules were broken.
I have been repeatedly assured that no rules were broken. I understand public anxiety about this and I understand public indignation, but there is a risk of doing a grave injustice to people who were, frankly, obeying the rules. That is why the Cabinet Secretary will be conducting an investigation and that is why there will be the requisite disciplinary action if necessary.
Starmer brought up the story of a woman who died in hospital over Christmas and her aggrieved daughter who was not allowed to see her because of coronavirus restrictions.
Boris responded:
The first thing to say is that, in common with everybody in this House, I extend my sympathies to Trisha and her family. I understand the pain of everybody who has suffered throughout this pandemic.
I know the implication that the right hon. and learned Gentleman is trying to draw: that the case that we are now investigating should somehow undermine public confidence in the measures that we are taking. I think that is the point he is trying to make, but I say to him that I think it is a great mistake to try to play politics with this issue, and I think that is what he is doing. I do not think the public do want to see confidence in the measures undermined. We are taking—[Interruption.] I think they can see the difference. We are taking the steps necessary to protect the public, above all by rolling out the vaccinations. Rather than focusing on the events of a year ago, that is what we are focusing on and that is what I think the public will understand.
On the one hand, one could say that this is still a sour grapes ploy to get Boris, who got Brexit done.
On the other hand, The Times reported that the news caused some Cabinet ministers and backbench Conservative MPs to distance themselves from the allegations, especially as they were not directly involved with the events:
On Tuesday Sajid Javid, the health secretary, volunteered to do a broadcast round the next day to push the booster campaign. After a video was leaked in which Allegra Stratton, then a spokeswoman for Johnson, joked about the party, Javid is said to have made clear he would not defend the No 10 position.
One minister told The Times that the talk in the Commons tea room was of more letters of no confidence in Johnson going into Sir Graham Brady, the leader of the 1922 Committee of backbench Conservative MPs. They said that the party looks "divided, hypocritical, out-of-control, out-of-touch and all the other things that voters despise" …
A succession of Conservatives went on the record with concerns. Douglas Ross, the leader of the Scottish Tories, suggested that Johnson should quit if it emerged that he knew about the party.
This is how some members of the public view the revelations. As seen last week by someone in England: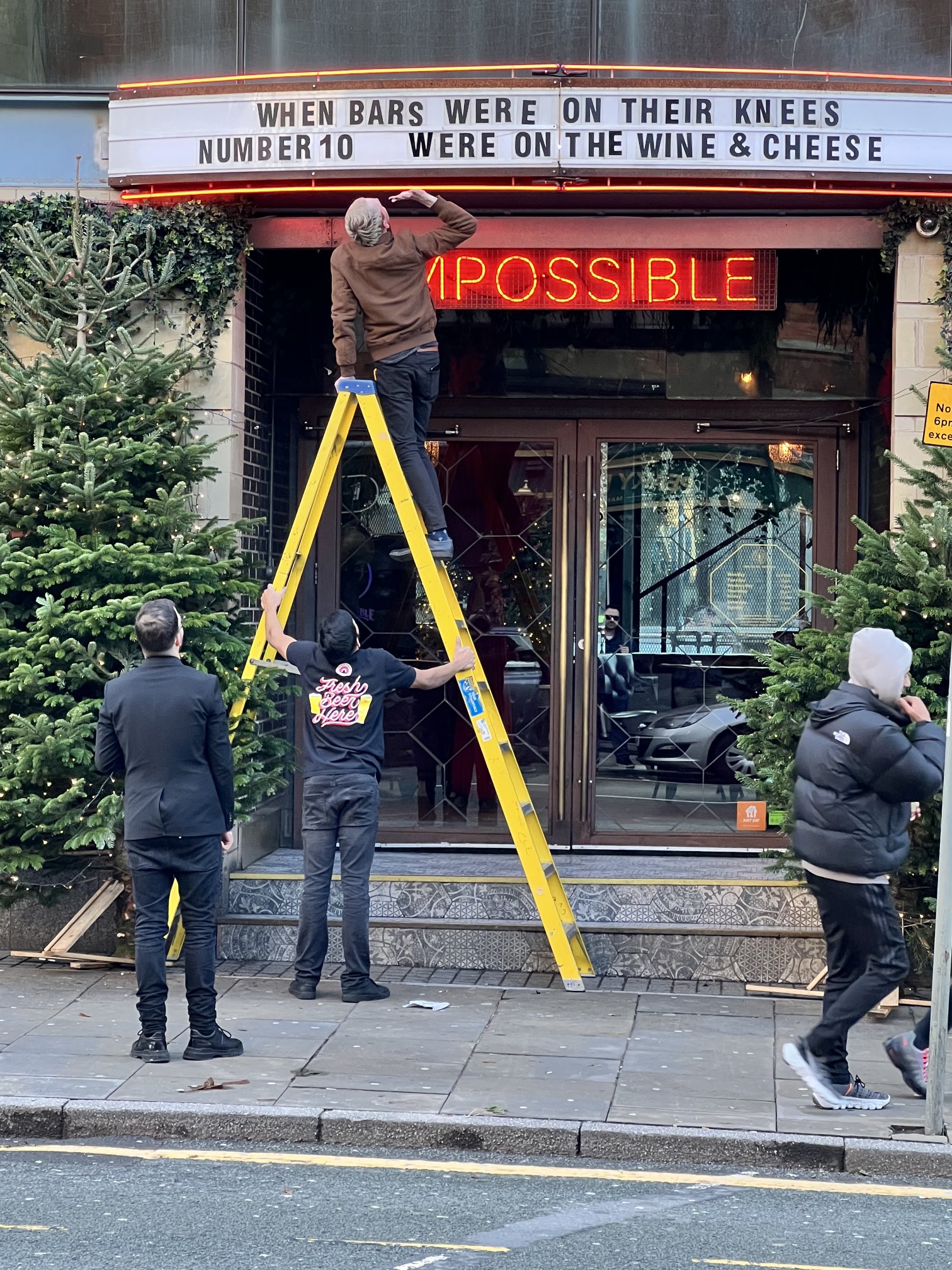 Allegra Stratton's resignation
Allegra Stratton, who appeared so insouciant a year earlier, tendered her resignation shortly after PMQs on Wednesday, December 8.
Tearful — or almost — she gave a brief statement to the press that afternoon:
Guido Fawkes quotes part of her statement:
My remarks seemed to make light of the rules, rules that people were doing everything to obey. That was never my intention. I will regret those remarks for the rest of my days and offer my profound apologies to all of you for them
[…]
To all of you who lost loved ones, endured intolerable loneliness and struggled with your business – I am truly sorry and this afternoon I have offered my resignation to Prime Minister.
This woman is media savvy and has a lot of important connections, shall we say. She'll get another job somewhere else by the New Year, most probably:
Allegra Stratton's televised daily press briefings, mimicking those of the White House, never saw the light of day. One wonders if someone informed on her after the aforementioned December 2020 dress rehearsal video:
She was never very good in No. 10, as our COP26 spokesperson, having explained at length why she didn't own an electric car and why people should join the Green Party! What planet is she on?
Further coronavirus restrictions for England
On the day of her resignation, the Daily Mail reported that No. 10 was desperately searching for the person who leaked Stratton's rehearsal video to ITV News.
But that was not all. Their article said that, in order to take the heat off the Christmas party story, Boris put England under Plan B — further coronavirus restrictions (masks, vaccine passports, travel quarantine) — in light of the Omicron variant, which he did on Wednesday, December 8, a few hours after PMQs and Allegra Stratton's resignation. What was — is — he thinking?
Within 24 hours of its broadcast, the toxic footage of No 10 staff giggling about a lockdown-busting party had detonated a bomb under the Government and led to the tearful resignation of its 'star' Allegra Stratton.
It also sparked an immediate hunt for the leaker, whose decision to pass the film to ITV News may even have prompted Boris Johnson to fast-track plans for tighter Covid restrictions.
So, Boris might have a Christmas party scandal on his hands from last year, therefore, in order to rectify that with the largest swathe of the British public — those living in England — he puts them under Plan B just before Christmas.
How is that a future vote winner?
Furthermore, Boris did not present the initiation of Plan B to Parliament first, which he should do. He had Health Secretary Sajid Javid present it to Parliament at the same time he was giving a press conference to the nation about it.
Wrong!
According to Parliamentary procedure, MPs must be allowed to debate and, if necessary, vote on these proposals before they are made public or enacted into law.
However, Boris has been doing this consistently since 2020 with coronavirus restrictions.
These restrictions will be in place by Monday, December 13. The Parliamentary debate and vote do not take place until Tuesday, December 14. Outrageous.
Omicron relatively weak, yet we have Plan B
As far as we know, Omicron is relatively mild:
Guido points out that the Government is going overboard about a variant whose symptoms resemble a common cold (emphasis in the original):
As the UK government hits the 'Plan B' button in a moment of epidemiological stringency, in the past 24 hours both the US Center for Disease Control and Prevention and the EU Medicine Agency have both said cases remain mild.
15 hours ago the CDC Chief said that of the more-than-40 people in the US have been infected with Omicron, "nearly all of them were only mildly ill" and the "the disease is mild". Just one person's been hospitalised.
… Meanwhile the UK government is preparing to hit the UK economy with a stay-at-home order, based on no hospitalisation or death data suggesting it's necessary.
In his press conference last Wednesday annoucing Plan B, to make things worse, Boris also said that we need to have 'a national conversation' as to whether the UK should implement mandatory vaccinations!
On December 9, The Telegraph's Andrew Lilico wrote (emphases mine):
… Omicron cases are currently doubling every two to two and a half days. Wearing a face mask in the cinema but not the pub isn't going to make a lot of difference to that.
If omicron is really going to grow as explosively as the Government suggests, Plan B isn't going to come remotely close to slowing it down or stopping it. Restricting people's lives in a way that makes no difference whatever to a problem is just as authoritarian as restricting people's lives when there is no problem at all. If the only point of restrictions is as a kind of virtual flag with "We're doing something" written on it, it'd be better not to restrict people's lives but instead to raise a literal physical flag saying that, outside 10 Downing Street …
There needs to be a high likelihood that some disaster will follow if restrictions are not imposed and a good chance that the restrictions would avert or at least mitigate that disaster.
The Government does not appear to believe it needs such a rationale. It seems to think that it's legitimate to restrict millions of people's lives on bases such as "on balance, that's wise" or "to reduce pressure on the NHS" (not to avoid its collapse – just to make life a bit easier). That is a serious departure that MPs of good conscience should vote against. Otherwise it would be legitimate to introduce a curfew every evening to "reduce pressure on the police" or restrictions every time a new flu strain is identified "just in case" it might lead to a pandemic …
We did our bit. We got vaccinated. That has meant that, since April, the infection fatality rate of Covid has only been perhaps 3 to 4 times that of flu. Covid will be with us forever, killing tens of thousands each year. But since April it has never again been possible for it to create the waves of 100,000 and more deaths at a time that we experienced last Winter and that would have been much worse had we not accepted restrictions from last Spring onwards.
… Everyone in the country was going to get delta over the next couple of years, as our immunity faded, unless we were willing to get boosters every few months forever. Why does it matter if we get omicron this Christmas instead? A vague sense that "Something must be done. This is Something. So let's do This." is not even close to an adequate basis on which to let Plan B proceed.
On Sunday evening, December 12, Boris gave a brief recorded address to those in the UK saying that there has been a 'surge' of hospital cases and that the coronavirus danger level has been ramped up to Stage 4 throughout the four nations. Again, he and his ministers just decided this with no input from MPs:
In a nutshell, this appears to be what is happening with Government policy and the media on Omicron:
That morning, Dr Susan Hopkins of the UK [England, actually] Health Security Agency was still among those experts waiting for something to happen with Omicron:
UPDATE — Monday, December 13: One patient in the UK has died 'with' Omicron.
Sadly, the Government and their scientists will consider that a success.
————————————————————————-
People living in England wonder whether Plan B will proceed to another full lockdown in 2022 as punishment for celebrating Christmas.
On Friday, December 10, The Telegraph's Julia Samuel said that, in light of the Christmas party allegations, the Government no longer has the moral authority to impose yet another lockdown:
It seems almost inconceivable and yet it's not. We could be headed for another lockdown, probably just after Christmas. No one really believes that the measures announced by Boris Johnson this week will stop the new Covid variant from spreading. The private reasoning of the officials recommending them and the ministers agreeing to them is that they need to prepare the public psychologically for the possibility of going back into lockdown …
They might tell us to stay at home, but they don't. They might have told us not to party, but Number 10 staffers clearly judged that since they had worked together in close quarters for weeks, a party couldn't really hurt. What stinks is not the logic of this decision; it's the rank hypocrisy of legislating for one thing and then doing another.
If the Government is considering another lockdown, then it needs to understand that it has exhausted consent for the type of policy it could enact before. It has no moral authority to ban fathers from being with their wives during childbirth or to confine people to their houses because an app says they shared a bus ride with a Covid case. If we are told to stay at home, it can only be conditional upon our nearest and dearest social obligations. If that makes enforcement difficult, so be it. Policing this mess fairly has been a fool's errand from the start …
With any luck, this will all end up with a dramatic anti-climax. Scientists are starting to sound increasingly confident that omicron hails Covid's transformation from a threat to a common cold.
By Christmas, we will know the score. But in the meantime, let's recognise the government's half-hearted and ineffective Covid measures for what they are: the start of a campaign to soften us up for another lockdown, if it's deemed necessary.
If that is what's coming down the track, we need to be clear: some things are too important to be sacrificed to Covid controls. The Government ought to recognise that and use the law sparingly.
But if it doesn't, people will have to use their own judgement and make decisions they can live with afterwards. We would only be following Number 10's example, after all.
Who can argue with that?
In Parliament, a rebellion has been brewing over the past week on coronavirus legislation. Although protest votes will not prevent Plan B from passing, they will send a signal to No. 10 that a growing number of Conservative backbench MPs are deeply unhappy.
More on that tomorrow.
Prime Minister Boris Johnson is quickly going from hero to zero.
Lately, he has been beset by scandals, some from other Conservative MPs but others which can be laid only at his door.
At least he has a new baby daughter to provide some distraction.
N.B. Some tweets below come from a Boris parody account, such as these:
Downing Street flat refurbishment
Carrie Johnson wanted to refurbish the Downing Street flat.
Most PMs' wives have done it on a careful budget. Samantha Cameron redid the flat when her husband David was PM between 2010 and 2016. Unlike the other PMs's wives, she spent £100,000, which included a brand new kitchen.
Theresa May was more prudent when she redecorated further.
According to Tatler, Theresa May's taste was too 'John Lewis', so Carrie enlisted the help of interior designer Lulu Lytle.
On March 1, 2021, news emerged that, before Carrie Symonds married the Prime Minister, her fiancé wanted to set up a charity to fund the costs, as the White House does. The Daily Mail reported (emphases mine):
Boris Johnson is secretly trying to set up a charity to help pay for a costly makeover of his official flat by his fiancée, it has been claimed.
The scheme is based on one used by the White House to raise millions of dollars for interior design, antiques and art.
The presidential charity is bankrolled by private donors – and the proposed Downing Street version is expected to be funded largely by wealthy Tory benefactors.
It runs the risk of claims of conflict of interest if it is seen as a back-door way of providing a financial benefit to the Prime Minister.
Mr Johnson has complained the cost of the refurbishment by Carrie Symonds was 'totally out of control', the Daily Mail has been told. He reportedly said during one meeting that the sum amounted to 'tens and tens of thousands'. On another occasion he said it was 'over a hundred grand'.
He is said to have told one minister he was particularly alarmed by the cost of wallpaper chosen by Miss Symonds, saying she appeared to have ordered 'gold wall coverings'.
Mr Johnson has asked multi-millionaire financier and Tory peer Lord Brownlow, who has close links with the Royal Family, to run the charity. It is believed that an application to register it with the Charity Commission is under way.
The official purpose of the charity is to raise funds to preserve No 10 and No 11 Downing Street for the nation on heritage grounds.
But insiders say the proposal stemmed from the soaring cost of a makeover of the No 11 flat, which is preferred by prime ministers with families because it is bigger than the No 10 flat …
The Charity Commission said it was not aware of any application to set up a Downing Street charity.
Conservative Party HQ, the Cabinet Office, Lord Brownlow and Miss Lytle declined to comment.
The article includes photos of the newly decorated room which looks as if it came out of a harem. What were they thinking?
The hallway is better but is still an acquired taste.
On March 12, the cost came up for discussion in the House of Lords. Journalist John Rentoul put together a graph from the figures that Lord True gave to the Lords:
When this came up earlier this year, it seemed like revenge at Boris for Brexit.
On Wednesday, April 28, the left-leaning Electoral Commission announced a formal investigation into the refurbishment.
Guido Fawkes reported that the Commission's spokesperson said, in part (emphases in the original):
We are now satisfied that there are reasonable grounds to suspect that an offence or offences may have occurred. We will therefore continue this work as a formal investigation to establish whether this is the case.
"The investigation will determine whether any transactions relating to the works at 11 Downing Street fall within the regime regulated by the Commission and whether such funding was reported as required …
Guido pointed out that Prime Minister's Questions (PMQs) took place that day:
Incredibly awkward timing ahead of PMQs…
Sure enough, it was awkward for Boris, facing Labour's Sir Keir Starmer at the despatch box, as Guido later reported, complete with a video (emphases mine):
Boris ended his PMQs spar with Sir Keir visibly furious after four questions about who paid for the No. 10 flat renovation. The PM copied the CCHQ strategy of relying on the specifically-worded phrase "I paid for [the] Downing Street refurbishment personally". Asked whether Lord Brownlow paid the initial refurbishment invoice, Johnson dodged the question, saying "I think I've answered this question several times, the answer is I have covered the cost."
The session finished with an incredible rant from the PM, which resulted in [Speaker of the House] Lindsay Hoyle having to ask him to "Calm it down a little."
Guido and his team discussed the issue on Friday, April 30.
Around that time, Tatler published the text of an email from Lord Brownlow regarding a donation:
The Mail claims that the email appears to prove that the Tories planned to claim the £58,000 was paid not by Lord Brownlow but by a 'soon to be formed Downing St Trust' that did not exist – and still doesn't, officially.
The email, sent by wealthy donor Lord Brownlow last year, on 14 October was marked 'Donation' and reads: 'Hi Mike … further to our conversation I am making a donation to the Party. It includes the £15,000 you and I have agreed – plus £58,000 to cover the payments the Party has already made on behalf of the soon to be formed "Downing Street Trust" – of which I have been made chairman, as you know.'
… Prime Ministers typically receive about £30,000 of public money to redecorate but Johnson is reported to have complained to advisers about the high costs he incurred for his upmarket interior design project.
A Conservative spokeswoman told the Times : 'All reportable donations to the Conservative Party are correctly declared to the Electoral Commission.'
On August 26, Conservative Party headquarters provided an update. Guido reported that the following was buried in the footnote of page 25/26 of the annual report (emphases in the original):
The Conservative Party officially say they provided a "bridging loan" of precisely £52,802 "in relation to the renovation of the Prime Ministerial residence in Downing Street" in anticipation of the formation of the PM's now-abandoned "Downing Street Trust". Conservative Central Office was then invoiced by the Cabinet Office in June 2020. Lord Brownlow then reimbursed the party…
CCHQ continues, "In March 2021, the Prime Minister personally settled the costs incurred by Lord Brownlow", before pointing to the Independent Adviser on Ministers' Interests review, which found the loan provided by CCHQ constituted financial support to the PM. The full stop at the end of the long-running row?
No, that was not the end of the matter. Yesterday, Thursday, December 9, Guido updated us with the news that the Electoral Commission fined the Conservative Party £17,800:
It just one thing after another for No. 10 this morning, as the Electoral Commission fines them £17,800 for failing to "accurately report a donation and keep a proper accounting record" in regards to the Downing Street flat refurb:
" … The investigation found that the party failed to fully report a donation of £67,801.72 from Huntswood Associates Limited in October 2020. The donation included £52,801.72 connected to the costs of refurbishment to 11 Downing Street. The full value of the donation was not reported as required in the party's Q4 2020 donation report.
The Commission also concluded that the reference in the party's financial records to the payment of £52,801.72 made by the party for the refurbishment was not accurate."
It never rains but it pours…
Sleaze
A sleaze scandal involving Conservative MPs erupted in November, resulting in the resignation of Owen Paterson, MP for North Shropshire. A by-election for his successor will be held on Thursday, December 16.
However, as I was on the subject of flats, the Political Editor of The Sun reports that, even though it became an issue in 2012, it appears that MPs buy London flats to rent out then reclaim the expense for the flat:
Guido exposed the practice in 2012. It allegedly involved at least one Labour MP and the then-Speaker of the House John Bercow covering it up (emphasis in purple mine):
The first and most simple method of rent-swapping involves the MPs who make money renting out their own previously taxpayer-funded properties while claiming expenses to rent out homes nearby. According to The Telegraph Chris Bryant rents out his mansion flat in Bloomsbury while claiming £2,000 expenses for rent on another London property. We have repeatedly asked him for an explanation this morning without receiving any reply. The Speaker claims the truth cannot be released because it would pose a security risk. Laughable, Guido and anyone else who wants to know, already knows where he lives.
The second, far more serious, category of rent-swapping covers a handful of MPs suspected of renting out properties to each other, effectively an "I'll pay yours if you pay mine" scheme. MPs are banned from renting homes to relatives but a loophole in the rules allows them to trouser huge sums of money by renting out properties to other current and former MPs. Bercow cites security reasons for not revealing the address or names of landlords, but there is absolutely no reason why he cannot release the names of the MPs involved in this form of rent-swapping. It is a cover up.
There is also potentially a third category: the so-called "phantom" rent swap. This involves the possibility of MPs telling the authorities they have moved when in reality they have not, and then swapping their rent on the quiet.
If these people were claiming housing benefit "Rent Swapping" like this would fall into the category of benefit fraud plain and simple, it is in the parlance of welfare fraud investigators a "contrived tenancy" punishable by up to 10 years imprisonment.
Now on to the big Opposition sleaze attacks from this year.
In April, Labour and Scotland's SNP MPs accused the Conservatives of cronyism when obtaining last year's emergency PPE and equipment contracts to fight the pandemic. On April 26, Michael Gove responded:
Only 0.5% of PPE wasn't up to scratch …

The Dyson texts were about securing ventilators for the frontline …
In November, the Owen Paterson controversy broke. Paterson had been working for the Northern Irish healthcare company Randox, whilst he was Shadow Northern Ireland Secretary. That was before the Conservative-Lib Dem coalition took office in May 2010. In 2015, he began working as a consultant for the company. By 2019, he was earning £8,333 a month for a monthly commitment of 16 hours in that role.
In 2020, the Government awarded two contracts to Randox for producing coronavirus testing kits. The first contract, awarded in March, was worth £133 million. In April 2020, Paterson represented Randox in a call with Lord Bethell, the minister responsible for awarding contracts. Unusually, no minutes of the call were available. Later that year, Randox won another contract worth £347 million. In neither case were other companies allowed to bid for those contracts.
Owen Paterson also worked for another company based in Northern Ireland, Lynn's Country Foods Ltd. They paid the then-MP £12,000 per annum for 24 hours of work.
In October 2021, on Political Correction, Nigel Farage interviewed Paterson on GB News. Paterson said that he had been under investigation by the Parliamentary Commissioner for Standards for many months. Paterson told Farage that, in June 2020, his wife, Rose, asked him one weekend how long the investigation would go on. He replied that he did not know. Little did he know that she was preparing to take her own life in the days that followed. She committed suicide on Wednesday, June 24, 2020. She had been so concerned for him that it was taking a toll on her mental health. Paterson and their three children were devastated.
In October 2021, the Parliamentary Commissioner for Standards concluded her investigation. Wikipedia states:
The Commissioner said Paterson had "repeatedly used his privileged position to benefit two companies for whom he was a paid consultant, and that this has brought the house into disrepute" and that "no previous case of paid advocacy has seen so many breaches or such a clear pattern of behaviour in failing to separate private and public interests".
Paterson told Farage that at no time was he allowed to present his case to the Parliamentary Commissioner for Standards.
The Commons Select Committee on Standards recommended that Paterson undergo a 30-day suspension from Parliament. That length of suspension could have triggered a recall of the MP from his constituency, resulting in a by-election.
In order to avoid that situation — and because some Conservative MPs thought Paterson had suffered enough through his wife's suicide brought on because of the pressure of waiting for the investigation to conclude — Andrea Leadsom MP brought forward an amendment to the motion to suspend him. It involved delaying consideration of the suspension until a new proposed cross-party committee of MPs could investigate the disciplinary process for MPs. The Government supported Leadsom's amendment and appointed a three-line Conservative whip, obliging the party's MPs to vote for it.
The amendment passed: 250–232. Paterson was able to vote for it.
On November 3, Paterson thought he would be able to clear his name. The Guardian quoted him as saying (emphases mine):
The process I was subjected to did not comply with natural justice.
No proper investigation was undertaken by the commissioner or committee.
The standards commissioner has admitted making up her mind before speaking to me or any witnesses.
All I have ever asked is to have the opportunity to make my case through a fair process.
The decision today in parliament means that I will now have that opportunity.
After two years of hell, I now have the opportunity to clear my name.
I am extremely grateful to the PM, the leader of the house and my colleagues for ensuring that fundamental changes will be made to internal parliamentary systems of justice.
I hope that no other MP will ever again be subject to this shockingly inadequate process.
That night, there was outrage among MPs, including Conservatives, and in the media.
Early in the afternoon the following day, Boris Johnson reversed his support for Paterson.
The Guardian reported:
MPs are expected to get another vote "as soon as possible" on suspending the Conservative MP Owen Paterson from parliament, after Boris Johnson made a U-turn and ditched immediate plans to overhaul the standards system.
Following a wave of anger from within his own party and allegations of Tory sleaze, the prime minister retreated. He signalled that he would not go ahead with a new committee chaired by a Conservative MP to review the case and wider sanctions policy, given that opposition politicians had vowed to boycott it.
A motion trying to reverse Wednesday night's vote is expected to be debated next week before the Commons goes into recess, when further details will be set out of how changes to the standards system will be taken forward on a cross-party basis.
Early that evening, Paterson announced that his resignation as MP for North Shropshire.
The Guardian said:
There is a Westminster joke about how eventually everyone gets let down by Boris Johnson, and the U-turn meant that Paterson – who yesterday enjoyed the full support of the No 10 machine – was today facing inevitable suspension from the Commons, and a possible recall election too … Johnson's U-turn makes the government less vulnerable to the toxic charge of corruption and cronyism than it was, but the episode must have caused some reputational damage and Tory MPs who loyally defended what the government was doing yesterday are looking particularly exposed.
The Paterson controversy resonated with many Britons who remember the MPs' expenses scandal that The Telegraph exposed more than a decade ago. Most of us have a dim view of Parliamentarians anyway, with the word 'trough' popping up more often than not in any mention of either House, Commons or Lords.
Interestingly, on November 30, Guido reported that Kathryn Stone, the Parliamentary Commissioner for Standards, cleared another Conservative MP, Geoffrey Cox (purple emphases mine):
of using his Commons Office during a Zoom call for his second job , on the grounds there is insufficient evidence to justify beginning an inquiry. Despite screenshots and videos having him bang to rights…
Stone's limp-wristed decision sets an alarming precedent, arguing the rules on the use of taxpayer-funded parliamentary offices should be operated with a degree of proportion. While this creates an absurdly subjective grey area, Guido confesses he worried this would be the outcome. As the scandal played out last month, he spotted that while the 2010 MP's handbook had explicitly said Commons Offices must not be used for non-MP work, this rule had been written out of the guidelines come the 2017 update …
Unfortunately, this means that Labour MPs using their offices and equipment to campaign for their candidates in by-elections are well in their rights to do so:
Far from this decision only impacting Geoffrey Cox, it also jettisons Guido's campaign against five Labour MPs he'd caught using their parliamentary offices to campaign in by-elections: Matt Western and Catherine West for Batley & Spen; Helen Hayes and Vicky Foxcroft for Old Bexley & Sidcup; and Kate Green for both.
Guido wrote to all five last Friday asking why they thought it an appropriate and fair use of taxpayer-funded resources, unsurprisingly receiving no reply from any. Guido reckons Kathryn Stone must be one of the few taxpayers in the country happy to fork up her cash for MPs like Cox et al to abuse the system and let them get away with it…
Of course, Conservatives hardly have a monopoly on sleaze. There are Opposition MPs who are also raking it in with second jobs. That's another subject for another day.
The result of the sleaze revelations was that Boris and his Government began slipping in the polls. In recent weeks, Labour have taken the lead in some of them.
Therefore, it was hard to see how Boris could manage to make things even worse for himself or the public.
On November 22, Patrick Christys of GB News said that Boris would be unlikely to survive anything further:
But what happened next?
Amazingly, Boris initiated Plan B coronavirus restrictions for England.
Find out why on Monday in Part 2.
Hint: his reason has nothing to do with health.
On Thursday, December 9, Prime Minister Boris Johnson's wife Carrie gave birth to a baby daughter in a London NHS hospital:
Their young son Wilfred now has a baby sister.
The Daily Mail reported:
Boris Johnson has left hospital after his wife Carrie gave birth to his seventh child today – a baby girl – in a tumultuous 24 hours where he triggered 'Plan B' on Omicron as the furore over illegal Christmas parties at No 10 rocked his premiership.
The couple walked into a central London NHS hospital at 7.40am this morning – around two hours after police officers turned up to secure the site ahead of Carrie's arrival, MailOnline can reveal.
A masked Mrs Johnson, 33, was accompanied into a side entrance by a bodyguard carrying an overnight bag. Her husband, 57, wearing a mask and a trademark wooly hat, was flanked by two policemen as he followed her in carrying a suitcase and what appeared to be a bluetooth speaker.
The baby girl, a younger sister to their son Wilf, one, was born within a couple of hours with Mr Johnson at his third wife's side throughout the labour and birth. The PM returned to Downing Street at lunchtime after leaving the maternity ward at around 11.45am. 
In a statement, a spokeswoman for the couple said: 'The Prime Minister and Mrs Johnson are delighted to announce the birth of a healthy baby girl at a London hospital earlier today. Both mother and daughter are doing very well. The couple would like to thank the brilliant NHS maternity team for all their care and support.' 
Mrs Johnson has called their newborn girl their 'rainbow baby' – a term used by parents having a child after losing a baby to miscarriage, stillbirth or neonatal death and coined to signify the arrival of something beautiful after a storm. 
The couple announced they were expecting at the end of July, as Carrie, an environmental campaigner and former director of communications for the Conservatives, described her own 'heartbreak' following a miscarriage in early 2021. 
It is unclear whether Boris has fathered seven or eight children.
This birth comes at a chaotic time for Boris's premiership. Allegations of 2020 Christmas parties defying coronavirus rules have surfaced along with a £17,800 fine for his Downing Street flat refurbishment and the launching of a most authoritarian Plan B in light of the Omicron variant:
Boris' happy news came after a day of bedlam in government where he is struggling to contain a Tory revolt today amid fury at 'non-sensical' new Covid restrictions and his handling of the No10 Christmas party debacle, which forced the tearful resignation of senior Government aide Allegra Stratton. 
Last night the PM dramatically triggered 'Plan B' measures to control the rampant Omicron strain at a press conference, with fears that infections are now doubling every few days and the NHS could be crippled.  But critics says the restrictions are 'mental' as he urged 66million Britons to work from home if they can to slow the spread of Omicron – but still head into town for Christmas parties as well as festive drinks and dinners. 
And amid more scandal at No 10, Baby Johnson entered the world just as the Conservatives were fined £17,800 over the controversial donation to help cover the lavish refurbishments to the couple's Downing Street flat.  
Labour leader Sir Keir Starmer tweeted: 'Congratulations to Carrie and Boris Johnson on the birth of their daughter. 'Wishing your family health and happiness.' 
Wilfred Lawrie Nicholas Johnson was born in April last year and was named in partly in tribute to two doctors, Nick Hart and Nick Price, who helped saved the Prime Minister's life when he was admitted to hospital with Covid-19 earlier that month.
It is unclear whether the wheels on the Boris bus are coming off. Conservative MPs are angry about the alleged Christmas parties in 2020 and a further ramping up of coronavirus restrictions which go into effect on Friday, December 10. A vote will be held in the House of Commons after the fact next Tuesday, just before Christmas recess.
For now, Boris has a happy distraction in his newborn daughter.
Congratulations to the Johnsons on their new bundle of joy.
On Monday, October 4, a reader of mine, The Underdoug, commented on my last coronavirus vaccine post, including a link to an essay by Julius Ruechel, 'The Snake-Oil Salesmen and the COVID-Zero Con: A Classic Bait-And-Switch for a Lifetime of Booster Shots (Immunity as a Service)'.
Julius Ruechel appears to be a dairy farmer living in Canada.
Excerpts from his lengthy essay follow, emphases in purple mine.
Ruechel posits that coronavirus vaccines could become yet another subscription model, because there will always be a perceived need for boosters:
Exposing this story does not require incriminating emails or whistleblower testimony. The story tells itself by diving into the long-established science that every single virologist, immunologist, evolutionary biologist, vaccine developer, and public health official had access to long before COVID began. As is so often the case, the devil is hidden in the details. As this story unfolds it will become clear that the one-two punch of lockdowns and the promise of vaccines as an exit strategy began as a cynical marketing ploy to coerce us into a never-ending regimen of annual booster shots intentionally designed to replace the natural "antivirus security updates" against respiratory viruses that come from hugs and handshakes and from children laughing together at school. We are being played for fools.
This is not to say that there aren't plenty of other opportunists taking advantage of this crisis to pursue other agendas and to tip society into a full-blown police state. One thing quickly morphs into another. But this essay demonstrates that never-ending boosters were the initial motive for this global social-engineering shell game ― the subscription-based business model, adapted for the pharmaceutical industry. "Immunity as a service".
Vaccines cannot eradicate everything
Ruechel explains that vaccines cannot eradicate everything, because specific criteria must be met in order to do so.
A disease such as smallpox, which is specific to humans, can be eradicated, but a respiratory virus that jumps across species — animals and humans — cannot:
Eradication of a killer virus sounds like a noble goal. In some cases it is, such as in the case of the smallpox virus. By 1980 we stopped vaccinating against smallpox because, thanks to widespread immunization, we starved the virus of available hosts for so long that it died out. No-one will need to risk their life on the side effects of a smallpox vaccination ever again because the virus is gone. It is a public health success story. Polio will hopefully be next ― we're getting close. 
But smallpox is one of only two viruses (along with rinderpest) that have been eradicated thanks to vaccination. Very few diseases meet the necessary criteria. Eradication is hard and only appropriate for very specific families of viruses.
Smallpox made sense for eradication because it was a uniquely human virus ― there was no animal reservoir. By contrast, most respiratory viruses including SARS-CoV-2 (a.k.a. COVID) come from animal reservoirs: swine, birds, bats, etc. As long as there are bats in caves, birds in ponds, pigs in mud baths, and deer living in forests, respiratory viruses are only controllable through individual immunity, but it is not possible to eradicate them. There will always be a near-identical cousin brewing in the wings.
Even the current strain of COVID is already cheerfully jumping onwards across species boundaries …
SARS was an exception, he says, because it was poorly adapted to humans:
When it made the species jump to humans, it was so poorly adapted to its new human hosts that it had terrible difficulty spreading. This very poor level of adaptation gave SARS a rather unique combination of properties:
SARS was

extremely difficult to catch (it was never very contagious)

SARS

made people extremely sick

.
SARS

did not have pre-symptomatic spread

.
These three conditions made the SARS outbreak easy to control through contact tracing and through the quarantine of symptomatic individuals. SARS therefore never reached the point where it circulated widely among asymptomatic community members. 
COVID-19 was different:
COVID was quite contagious (its rapid spread showed that COVID was already well adapted to spreading easily among its new human hosts), most people would have mild or no symptoms from COVID (making containment impossible), and that it was spreading by aerosols produced by both symptomatic and pre-symptomatic people (making contact tracing a joke).
In other words, it was clear by January/February 2020 that this pandemic would follow the normal rules of a readily transmissible respiratory epidemic, which cannot be reined in the way SARS was. Thus, by January/February of 2020, giving the public the impression that the SARS experience could be replicated for COVID was a deliberate lie – this genie was never going back inside the bottle.
Viruses such as these mutate quickly, unlike polio or smallpox:
Once a reasonably contagious respiratory virus begins circulating widely in a community, herd immunity can never be maintained for very long. RNA respiratory viruses (such as influenza viruses, respiratory syncytial virus (RSV), rhinoviruses, and coronaviruses) all mutate extremely fast compared to viruses like smallpox, measles, or polio. Understanding the difference between something like measles and a virus like COVID is key to understanding the con that is being perpetrated by our health institutions. Bear with me here, I promise not to get too technical.
All viruses survive by creating copies of themselves. And there are always a lot of "imperfect copies" — mutations — produced by the copying process itself. Among RNA respiratory viruses these mutations stack up so quickly that there is rapid genetic drift, which continually produces new strains. Variants are normal. Variants are expected. Variants make it virtually impossible to build the impenetrable wall of long-lasting herd immunity required to starve these respiratory viruses out of existence. That's one of several reasons why flu vaccines don't provide long-lasting immunity and have to be repeated annually ― our immune system constantly needs to be updated to keep pace with the inevitable evolution of countless unnamed "variants." 
Hence the need for constant booster shots, as with influenza:
This never-ending conveyor belt of mutations means that everyone's immunity to COVID was always only going to be temporary and only offer partial cross-reactive protection against future re-infections. Thus, from day one, COVID vaccination was always doomed to the same fate as the flu vaccine ― a lifelong regimen of annual booster shots to try to keep pace with "variants" for those unwilling to expose themselves to the risk of a natural infection. And the hope that by the time the vaccines (and their booster shots) roll off the production line, they won't already be out of date when confronted by the current generation of virus mutations.
He criticises public health officials and Big Pharma for causing alarm over variants:
The alarm raised by our public health authorities about "variants" and the feigned compassion of pharmaceutical companies as they rush to develop fresh boosters capable of fighting variants is a charade, much like expressing surprise about the sun rising in the East.
Vaccines for these types of viruses will only ever offer temporary, short-lived protection. The same goes for our own antibodies:
… for fast-mutating respiratory viruses, including coronaviruses, within a few months they are sufficiently different that your previously acquired immunity will only ever offer partial protection against your next exposure. The fast rate of mutation ensures that you never catch the exact same cold or flu twice, just their closely related constantly evolving cousins. What keeps you from feeling the full brunt of each new infection is cross-reactive immunity, which is another part of the story of how you are being conned, which I will come back to shortly. 
But let's pretend for a moment that a miraculous vaccine could be developed that could give us all 100% sterilizing immunity today. The length of time it takes to manufacture and ship 8 billion doses (and then make vaccination appointments for 8 billion people) ensures that by the time the last person gets their last dose, the never-ending conveyor belt of mutations will have already rendered the vaccine partially ineffective. True sterilizing immunity simply won't ever happen with coronaviruses. The logistics of rolling out vaccines to 8 billion people meant that none of our vaccine makers or public health authorities ever could have genuinely believed that vaccines would create lasting herd immunity against COVID.
So, for a multitude of reasons, it was a deliberate lie to give the public the impression that if enough people take the vaccine, it would create lasting herd immunity. It was 100% certain, from day one, that by the time the last dose is administered, the rapid evolution of the virus would ensure that it would already be time to start thinking about booster shots. Exactly like the flu shot. Exactly the opposite of a measles vaccine. Vaccines against respiratory viruses can never provide anything more than a temporary cross-reactive immunity "update" ― they are merely a synthetic replacement for your annual natural exposure to the smorgasbord of cold and flu viruses. Immunity as a service, imposed on society by trickery. The only question was always, how long between booster shots? Weeks, months, years? 
Feeling conned yet?
Mass vaccination and vaccine passports are a 'con'
Ruechel posits that mass vaccination should not have been done. Only the vulnerable should have had the vaccine:
… these vaccines can neither stop you from catching an infection nor stop you from transmitting the infection to someone else. They were never capable of creating herd immunity. They were designed to protect individuals against severe outcomes if they choose to take them – a tool to provide temporary focused protection for the vulnerable, just like the flu vaccine. Pushing for mass vaccination was a con from day one. And the idea of using vaccine passports to separate the vaccinated from the unvaccinated was also a con from day one. The only impact these vaccine passports have on the pandemic is as a coercive tool to get you to roll up your sleeve. Nothing more.
I am going to interject here to offer support for the argument that vaccine passports drive up vaccination rates. In Scotland, vaccine passports will be mandatory from October 18, 2021, provided the bugs with the app, which rolled out on October 1, can be ironed out.
A July 21 article in The National on this subject has a quote from Dr Nicola Steedman, Scotland's deputy chief medical officer:
According to the Times, less than half of men under 30 in Scotland's cities have received their first dose of a vaccine. Asked if a passport scheme could increase vaccine uptake, Steedman said: "In theory it might, and clearly that's something other nations have used to increase the uptake in their vaccination programmes, but we have to balance that very carefully against people feeling as though they've been forced into something or coerced …"
The need for a vaccine passport, the use of which in Scotland will be limited, increases Big Pharma's profits, especially if people have to update it every few months to prove they have had the latest booster shot.
Ruechel says:
vaccines will, at best, only last as long as immunity acquired through natural infection and will often fade much faster because the vaccine is often only able to trigger a partial immune response compared to the actual infection. So, if the disease itself doesn't produce a broad-based immune response leading to long-lasting immunity, neither will the vaccine. And in most cases, immunity acquired through vaccination will begin to fade much sooner than immunity acquired through a natural infection. Every vaccine maker and public health official knows this despite bizarrely claiming that the COVID vaccines (based on re-creating the S-protein spike instead of using a whole virus) would somehow become the exception to the rule. That was a lie, and they knew it from day one. That should set your alarm bells ringing at full throttle …
Thus, to pretend that there was any chance that herd immunity to COVID would be anything but short-lived was dishonest at best. For most people, immunity was always going to fade quickly. Just like what happens after most other respiratory virus infections. By February 2020, the epidemiological data showed clearly that for most people COVID was a mild coronavirus (nowhere near as severe than SARS or MERS), so it was virtually a certainty that even the immunity from a natural infection would fade within months, not years. It was also a certainty that vaccination was therefore, at best, only ever going to provide partial protection and that this protection would be temporary, lasting on the order of months. This is a case of false and misleading advertising if there ever was one.
He explains that coronavirus vaccines for animals work in the same way:
If I can allow my farming roots to shine through for a moment, I'd like to explain the implications of what was known about animal coronaviruses vaccines. Baby calves are often vaccinated against bovine coronaviral diarrhea shortly after birth if they are born in the spring mud and slush season, but not if they are born in midsummer on lush pastures where the risk of infection is lower. Likewise, bovine coronavirus vaccines are used to protect cattle before they face stressful conditions during shipping, in a feedlot, or in winter feed pens. Animal coronavirus vaccines are thus used as tools to provide a temporary boost in immunity, in very specific conditions, and only for very specific vulnerable categories of animals. After everything I've laid out so far in this text, the targeted use of bovine coronavirus vaccines should surprise no-one. Pretending that our human coronavirus vaccines would be different was nonsense. 
The only rational reason why the WHO and public health officials would withhold all that contextual information from the public as they rolled out lockdowns and held forth vaccines as an exit strategy was to whip the public into irrational fear in order to be able to make a dishonest case for mass vaccination when they should have, at most, been focused on providing focused vaccination of the most vulnerable only. That deception was the Trojan Horse to introduce endless mass booster shots as immunity inevitably fades and as new variants replace old ones.
How natural immunity works
Ruechel explains how the body fights off infection.
Not all forms of our natural defences are needed whenever we get sick. It depends on the illness:
… a mild infection doesn't trigger as many layers whereas a severe infection enlists the help of deeper layers, which are slower to respond but are much more specialized in their attack capabilities. And if those deeper adaptive layers get involved, they are capable of retaining a memory of the threat in order to be able to mount a quicker attack if a repeat attack is recognized in the future. That's why someone who was infected by the dangerous Spanish Flu in 1918 might still have measurable T-cell immunity a century later but the mild bout of winter flu you had a couple of years ago might not have triggered T-cell immunity, even though both may have been caused by versions of the same H1N1 influenza virus.
As a rule of thumb, the broader the immune response, the longer immunological memory will last. Antibodies fade in a matter of months, whereas B-cell and T-cell immunity can last a lifetime.
Another rule of thumb is that a higher viral load puts more strain on your immune defenses, thus overwhelming the rapid response layers and forcing the immune system to enlist the deeper adaptive layers. That's why nursing homes and hospitals are more dangerous places for vulnerable people than backyard barbeques. That's why feedlot cattle are more vulnerable to viral diseases than cattle on pasture. Viral load matters a lot to how easily the generalist layers are overwhelmed and how much effort your immune system has to make to neutralize a threat.
Where the infection happens in the body also matters. For example, an infection in the upper respiratory tract triggers much less involvement from your adaptive immune system than when it reaches your lungs. Part of this is because your upper respiratory tract is already heavily preloaded with large numbers of generalist immunological cells that are designed to attack germs as they enter, which is why most colds and flus never make it deeper into the lungs. The guys with the clubs are capable of handling most of the threats that try to make through the gate. Most of the specialized troops hold back unless they are needed.
Catching a dangerous disease like measles produces lifetime immunity because an infection triggers all the deep layers that will retain a memory of how to fight off future encounters with the virus. So does the measles vaccine. Catching a cold or mild flu generally does not.
Constant booster shots could harm natural immune systems
Ruechel says that a continual regimen of booster shots could harm our natural immune systems:
At this point you may be wondering, if there is no lasting immunity from infection or vaccination, then are public health officials right to roll out booster shots to protect us from severe outcomes even if their dishonest methods to get us to accept them were unethical? Do we need a lifetime regimen of booster shots to keep us safe from a beast to which we cannot develop durable long-term immunity?
The short answer is no. 
Contrary to what you might think, the rapid evolution of RNA respiratory viruses actually has several important benefits for us as their involuntary hosts, which protects us without the benefit of broad lifelong immunity. One of those benefits has to do with the natural evolution of the virus towards less dangerous variants. The other is the cross-reactive immunity that comes from frequent re-exposure to closely related "cousins". I'm going to peel apart both of these topics in order to show you the remarkable system that nature designed to keep us safe… and to show you how the policies being forced on us by our public health authorities are knowingly interfering with this system. They are creating a dangerous situation that increases our risk to other respiratory viruses (not just to COVID) and may even push the COVID virus to evolve to become more dangerous to both the unvaccinated and the vaccinated. There are growing signs that this nightmare scenario has already begun. 
The panic generated by our notional experts over the Delta variant is unwarranted and unethical. That variant is a logical progression of coronavirus.
Ruechel says:
fear mongering about the Delta variant being even more contagious leaves out the fact that this is exactly what you would expect as a respiratory virus adapts to its new host species. We would expect new variants to be more contagious but less deadly as the virus fades to become just like the other 200+ respiratory viruses that cause common colds and flus. 
How lockdown damages healthy immune systems
Lockdowns and restricted circulation among humans also adversely affect healthy immune systems:
… the decision to lock down the healthy population is so sinister. Lockdowns, border closures, and social distancing rules reduced spread among the healthy population, thus creating a situation where mutations produced among the healthy would become sufficiently rare that they might be outnumbered by mutations circulating among the bedridden. Mutations circulating among the healthy are, by definition, going to be the least dangerous mutations since they did not make their hosts sick enough to confine them to bedrest. That's precisely the variants you want to spread in order to drown out competition from more dangerous mutations.
A host stuck in bed with a fever and not out dining with friends is limited in his ability to infect others compared to a host infected with a variety that only gives its host a sniffle. Not all bedridden hosts have caught a more dangerous mutation, but all dangerous mutations will be found among the bedridden. Thus as time goes by, dangerous mutations can only compete with less dangerous mutations if the entire population is limited in its ability to mix and mingle.
As long as the majority of infections are among the healthy, the more dangerous variants circulating among some of the bedridden will be outnumbered and will become evolutionary dead ends. But when public health officials intentionally restricted spread among the young, strong, and healthy members of society by imposing lockdowns, they created a set of evolutionary conditions that risked shifting the competitive evolutionary advantage from the least dangerous variants to more dangerous variants. By locking us all up, they risked making the virus more dangerous over time. Evolution doesn't sit around to wait for you while you develop a vaccine.
Spanish Flu 1918
Ruechel explores the Spanish Flu pandemic, which took place in the last year of the Great War. A lot of soldiers were in trenches:
Let me give you a historical example to demonstrate that this rapid evolution of a virus towards either more or less dangerous variants isn't mere theory. Small changes to the environment can lead to very rapid changes in the virus' evolution. The first wave of the 1918 Spanish Flu was not particularly deadly, with mortality rates similar to regular seasonal flu. However, the second wave was not only much deadlier but, rather unusually, was particularly deadly to young people rather than just the old and the weak. Why would the second wave be the deadly one? And what would cause the virus to evolve so quickly to become both more deadly and better adapted to preying on young people? At first glance it would seem to defy all evolutionary logic.
The answer demonstrates just how sensitive a virus is to small changes in evolutionary pressure. The Spanish Flu spread in the midst of the lockdown-mimicking conditions of World War One. During the first wave, the virus found a huge population of soldiers trapped in the cold damp conditions of the trenches and a near endless supply of captive bedridden hosts in overflowing field hospitals. By the Spring of 1918, up to three-quarters of the entire French military and half of British troops had been infected. These conditions created two unique evolutionary pressures. On the one hand, it allowed variants that were well adapted to young people to emerge. But on the other hand, unlike normal times, the cramped conditions of trench warfare and field hospitals allowed dangerous variants that immobilize their hosts to spread freely with little competition from less dangerous variants that spread through lively hosts. The trenches and field hospitals became the virus incubators driving the evolution of variants. 
Normally young people are predominantly exposed to less dangerous mutations because the healthiest do all the mingling while the bedridden stay home. But the lockdown conditions of war created conditions that erased the competitive advantage of less dangerous mutations that don't immobilize their hosts, leading to the rise of more dangerous mutations. 
Thanks to the end of the war, the lockdown-mimicking conditions also ended, thereby shifting the competitive advantage back to less dangerous mutations that could spread freely among the mobile healthy members of the population. The deadliness of the second wave of the 1918 Spanish Flu is inextricably linked to the First World War, and the end of the war is linked to the virus fading into the background of regular cold and flu season.
This brings him back to our 2020 lockdowns around the world:
It is therefore highly likely that the 1918 Spanish Flu would never have been more than a really bad flu season had it not been for the amplifying effect of lockdown conditions created by a world at war.
It also raises the question, for which I don't have an answer, whether the lockdown strategy during COVID was intentionally used to reduce spread among the healthy in order to keep the virus from fading into harmless irrelevancy. I use the word "intentionally" ― and it's a strong word ― because the deadly second wave of the 1918 Spanish Flu and its causes are hardly secrets in the medical community. You'd have to be a completely reckless and utterly incompetent idiot, or a cynical bastard with an agenda, to impose any strategy that mimics those virus-amplifying conditions. Yet that's what our health authorities did. And what they continue to do, while shamelessly hyperventilating about the risk of "variants" to force us to submit to medical tyranny based on mandatory vaccines, never-ending booster shots, and vaccine passports that can turn off access to our normal lives. This is cynicism at its finest.
'Leaky' vaccines: how vaccinated people can pose a danger
As we know, coronavirus vaccines do not provide what is known as sterilising immunity because they cannot.
The vaccinated can still spread the virus, making the vaccines 'leaky', something which happened in chickens vaccinated against a herpes virus in the 1950s. This is what is known as the Marek effect, as he was the one who discovered it in 1968.
Ruechel says:
Vaccinated chickens were protected from severe outcomes but nevertheless continued to catch and spread the virus, so evolutionary pressure led to the emergence of a dual-track variant that become the dominant strain of this herpes virus. It continues to spread among the vaccinated chickens without killing them but kills up to 80% or more of unvaccinated birds if they get infected. Thus, a never-ending stream of vaccinations is now required just to maintain the status quo. I bet the pharmaceutical industry is smiling at all those drug-dependent chickens though — talk about having a captive audience!
Ruechel explains that this same effect is happening with COVID-19 vaccinations:
A vaccine that provides sterilizing immunity prevents the vaccinated from being able to catch or transmit the virus. They become a dead end for the virus. However, as I've already mentioned, the current crop of COVID vaccines, which are meant to train the immune system to recognize the S-spike proteins, were not designed to create sterilizing immunity. By their design, they merely help reduce the risk of severe outcomes by priming the immune system. The vaccinated can still catch and spread the virus ― the definition of a leaky vaccine ― and epidemiological data makes it very clear that this is now happening all around the world. Thus, both the vaccinated and the unvaccinated are equally capable of producing new variants. The idea that the unvaccinated are producing variants while the vaccinated are not is a boldfaced lie.
This is dangerous:
From an evolutionary perspective, this is a potentially dangerous scenario. What has been done by temporarily blunting the risk of hospitalization or death, but without stopping infection among the vaccinated, is to create a set of evolutionary conditions where a variant that is dangerous to the unvaccinated can spread easily among the vaccinated without making the vaccinated very sick. For lack of a better term, let's call this a dual-track variant. Thus, because the vaccinated are not getting bedridden from this dual-track variant, they can continue to spread it easily, giving it a competitive advantage, even if it is highly dangerous to the unvaccinated.
Furthermore, since COVID vaccination only offers temporary short-term protection, as soon as immunity fades, the vaccinated themselves are also equally at risk of more severe outcomes. Thus, this creates the evolutionary pressure for the virus to behave as an increasingly contagious but relatively mild virus as long as everyone is vaccinated but as a dangerous but also very contagious virus as soon as temporary immunity wears off. The call for boosters every 6 months is already here. (Update: now it's being revised down to 5 months.)
Here's where Big Pharma steps in, aided and abetted by our respective leaders:
So, the pandemic really does have the potential to become the Pandemic of the Unvaccinated (the shameless term coined by public health officials to terrify the vaccinated into bullying their unvaccinated peers), but reality comes with a twist because if a dual-track variant does evolve it would be the unvaccinated (and those whose boosters have expired) who would have reason to fear the vaccinated, not the other way around as so many frightened citizens seem to believe. And the end result would be that we all become permanently dependent on boosters every 6 months, forever.
He says that the reason this hasn't happened with the flu vaccine is because not enough people are advised to take it, thereby avoiding a dangerous dual-track variant scenario:
It is mostly the vulnerable and those who work around them that get it while children, young adults and other healthy members of society don't get it. So, even if more deadly variants were to arise in nursing homes or hospital settings, the high number of healthy unvaccinated visitors to those facilities would constantly bring less deadly more contagious variants with them, thereby preventing more dangerous variants from gaining a competitive edge in nursing home or hospital settings. But if the leaky flu vaccinations were to be extended to everyone, or if nursing home populations continue to be kept isolated from the rest of society during COVID lockdowns, things might begin to look a little different.
We do not need constant booster shots
Ruechel gives various scientific reasons why we do not need constant booster shots for coronavirus if we are healthy:
This year's runny nose is your protection against COVID-23. Your cross-reactive immunity to last years annoying flu might just save your life if something truly dangerous arrives, as long as it is at least somewhat related to what your immune system has seen before. COVID could easily have turned out to be as dangerous to us as the Spanish Flu if it hadn't been for the saving grace of cross-reactive immunity. As this study shows, up to 90-99% of us already had some level of protection to COVID thanks to partial cross-reactive immunity gained from exposure to other coronaviruses. The high percentage of infections that turn out to be asymptomatic bears that out.
Someone needs to remind Bill Gates, his fawning public health bootlickers, and the pharmaceutical companies that whisper sweet-nothings in his ear that in the natural world of respiratory viruses, most of us don't need a regimen of never-ending booster shots to keep us safe from COVID variants ― we already have a perfectly functioning system to keep bringing us new updates. Respiratory viruses are a completely different beast than smallpox, polio, or measles; and pretending otherwise is not just silly, it's criminal because anyone with a background in immunology knows better. But it's a fantastic and very profitably way to scare a wide-eyed population into accepting never-ending booster shots as a replacement for the natural antivirus updates that we normally get from hugs and handshakes. Protect the vulnerable. Stop preying on the rest of us.
He also delves into the Diamond Princess cruise case, which was made public in February 2020, early on in the pandemic. Not many people displayed symptoms, and only a few died.
Yet, world leaders were getting the jitters:
The important thing to remember is that the Diamond Princess data was already publicly available since the end of February of 2020. Operation Warp Speed, the vaccine development initiative approved by President Trump, was nevertheless announced on April 29th, 2020. Thus, our health authorities knowingly and opportunistically recommended lockdowns and promoted vaccines as an exit strategy after it was already clear that the majority of us had some kind of protection through cross-reactive immunity. The Diamond Princess example provided the unequivocal proof that the only people who might benefit from a vaccine, even if it worked as advertised, were the small number of extremely vulnerable members of society with weak immune systems. Likewise, lockdowns should have been recommended only for nursing home residents (on a strictly voluntary basis to protect their human rights) while the pandemic surged through the rest of us.
Conclusion — vaccine by subscription
There is much more that Ruechel discusses, so it is worth reading his essay in full.
I'm going to skip to the conclusion, which is about making us permanently dependent on Big Pharma's vaccines:
What if, by depriving us of normal life, those who stand to gain from vaccines can forever cement themselves at the center of society by providing an artificial replacement for what our immune systems used to do to protect us against common respiratory viruses back when we were still allowed to live normal lives? …
What if the fast mutation of RNA viruses ensures that no vaccine will ever be fully effective at providing lasting immunity, thus creating the illusion that we are permanently in need of vaccine boosters? 
What if politicians could be convinced to make vaccination mandatory in order to prevent potential customers from opting out? 
What if, by relying on lockdowns during the winter season, our vulnerability to other viruses increased, which could then be used to rationalize expanding the jab, via mission creep, to simultaneously vaccinate us against RSV, influenza, other coronaviruses, the common cold, and so on, despite knowing full well that the protection that these vaccines offer against respiratory viruses is only temporary?
And what other social engineering goals can be rolled into your annual booster shot in the future once you are permanently bound to these annual jabs and vaccine passports? In an atmosphere of hysteria, it's a system ripe for abuse by opportunists, ideologues, power hungry totalitarians, and Malthusian social engineers. The snowball doesn't have to grow by design. Mission creep happens all on its own once Pandora's Box is opened to coerced vaccinations and conditional rights. The road to Hell is frequently paved by good intentions… and hysteria. 
So, what if COVID-Zero and the vaccine exit strategy is merely the global state-sanctioned equivalent of a drug dealer creating dependency among its customers to keep pushing more drugs? 
What if it was all just a way of convincing society of the need for subscription-based "immunity as a service"? The subscription-based business model (or some version of it) is all the rage these days in the corporate world to create loyal captive audiences that generate reliable money streams, forever. Subscriptions are not just for your cable TV and gym membership anymore. Everything has been redesignated as a "consumable". 
Netflix did it with movies.
Spotify did it with music.
Microsoft did it with its Office suite.
Adobe did it with Photoshop editing suite.
The smartphone industry did it with phones that need to be replaced every 3 to 5 years.
The gaming industry did it with video games.
Amazon is doing it with books (i.e. Kindle Unlimited).
The food industry is doing it with meal delivery services (i.e. Hello Fresh).
Uber is doing it with subscription-based ride sharing …
Monsanto and its peers did it to farmers with patented seed technology, which cannot legally be replanted, and is lobbying to try to legalize the use of terminator seed technology (GMO seeds that are sterile in the second generation to prevent replanting).
The healthcare industry is doing it with concierge medical services, fitness tracking apps (Fitbit), sleep-tracking apps, and meditation apps.
The investment industry is doing it with farmland, with investors owning the land and leasing it back to farmers in a kind of modern revival of the sharecropping system. (Bill Gates is the largest farmland owner in the USA – are you surprised?)
Blackrock and other investment firms are currently trying to do it with homes to create a permanent class of renters.
And public health authorities and vaccine makers have been trying to do it with flu vaccines for years, but we've been stubbornly uncooperative. Not anymore.
Remember when the World Economic Forum predicted in 2016 that by 2030 all products would become services? And remember their infamous video in which they predicted that "You will own nothing. And you will be happy."? Well, the future is here. This is what it looks like. The subscription-based economy. And apparently it now also includes your immune system in a trade-off for access to your life.
Ultimately:
The con is clear. It's time to focus all our might on stopping this runaway train before it takes us over the cliff into a police state of no return. Stand up. Speak out. Refuse to play along. Stopping this requires millions of voices with the courage to say NO — at work, at home, at school, at church, and out on the street …
It's time to be bold. It's time to call out the fraudsters. And it's time to reclaim the habits, values, and principles that are required to fix our democratic and scientific institutions to prevent this from ever happening again.
Feudalism was one giant stinking cesspool of self-serving corruption. Individual rights, free markets, the democratic process, and limited government were the antidotes that freed humanity from that hierarchical servitude. It seems we have come full circle. The COVID con is a symptom, not the cause, of a broken system …
Freedom of speech, individual rights, private property, individual ownership, competition, good faith debate, small government, minimal taxes, limited regulation, and free markets (the opposite of the crony capitalism we now suffer under), these are the checks and balances that bullet-proof a society against the soulless charlatans that fail upwards into positions of power in bloated government institutions and against the parasitic fraudsters that seek to attach themselves to the government's teat.
Yes, we need a Great Reset. Just not the subscription-based version that the World Economic Forum imagined.
I learned a lot about vaccines and immunity from Ruechel's essay, even though reading it and writing this post has taken me well over five hours.
Thanks again to The Underdoug for sharing it.
Most of the British population has now had their two injections, myself included.
However, in terms of efficacy, the jury is out.
Since the summer, we have been told that boosters will be required as soon as this autumn.
This is what a Guido Fawkes reader had to say, referring to the implementation of vaccine passports in Scotland:
… the vaccine does not prevent infection, re-infection or onward transmission of those vaccinated, so is utterly futile as a warranty of safety for entering any type of premises. Indeed it gives a false warranty about those things. The lurgy may still be lurking.
Indeed.
Remember back in 2020 when Drs Fauci and Walensky told us that the vaccines are 100% effective and that vaccinated people do not carry the virus?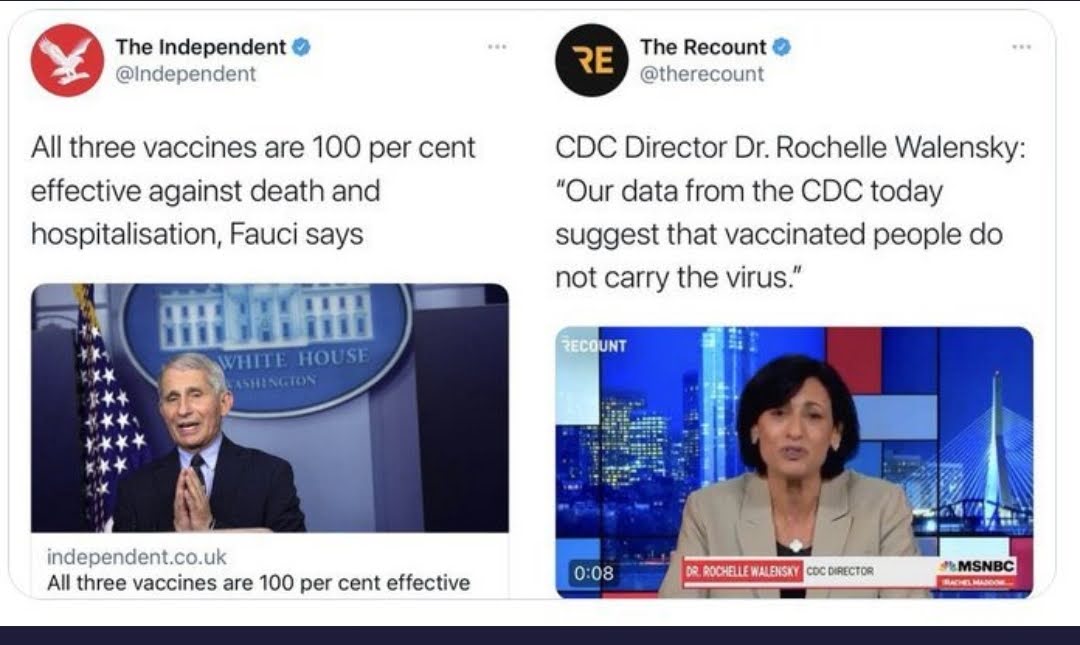 Not so, as we have discovered.
To make matters worse in this parlous state of affairs, the British public are now expected to help market vaccinations on social media. This campaign is called #ValuingVaccines: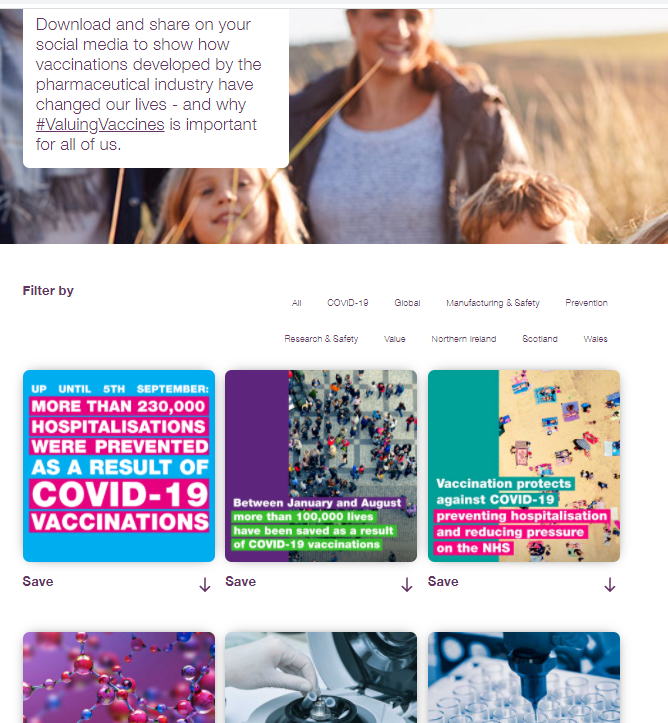 This is a photo of a letter to young Britons urging them to get vaccinated. What is missing from it? Any mention of health benefits: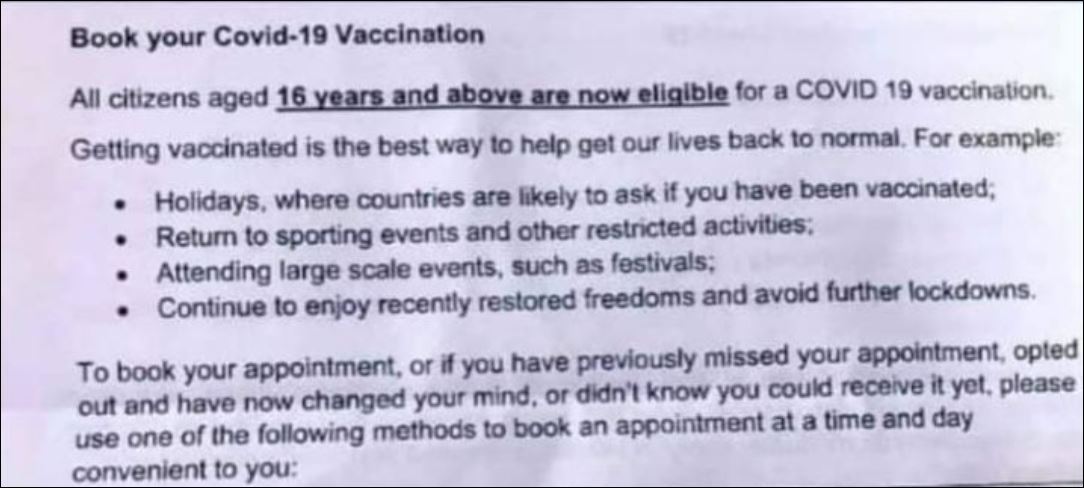 Note the mention of 'freedoms' in the last bullet point.
Here's a thought. Since when did our basic freedoms ever rely on getting a vaccine?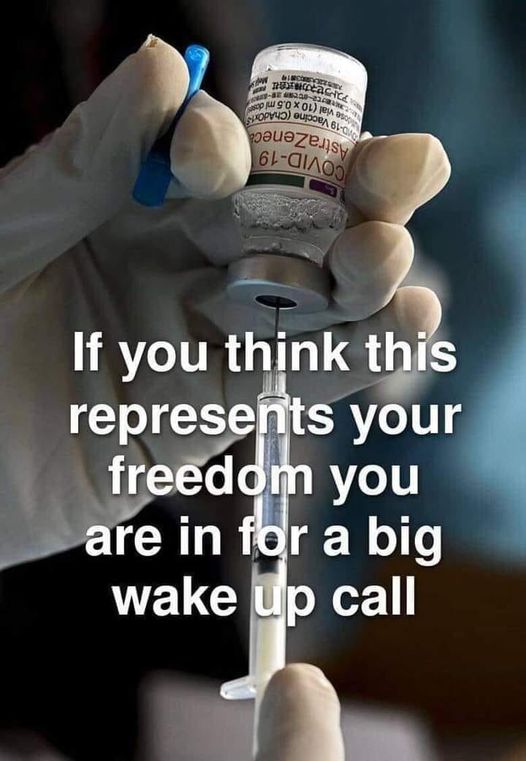 Also, minors eligible for the vaccine in the UK do not require their parents' consent. This is a mock-up of Chris Whitty, our chief medical officer. It's not far from the truth: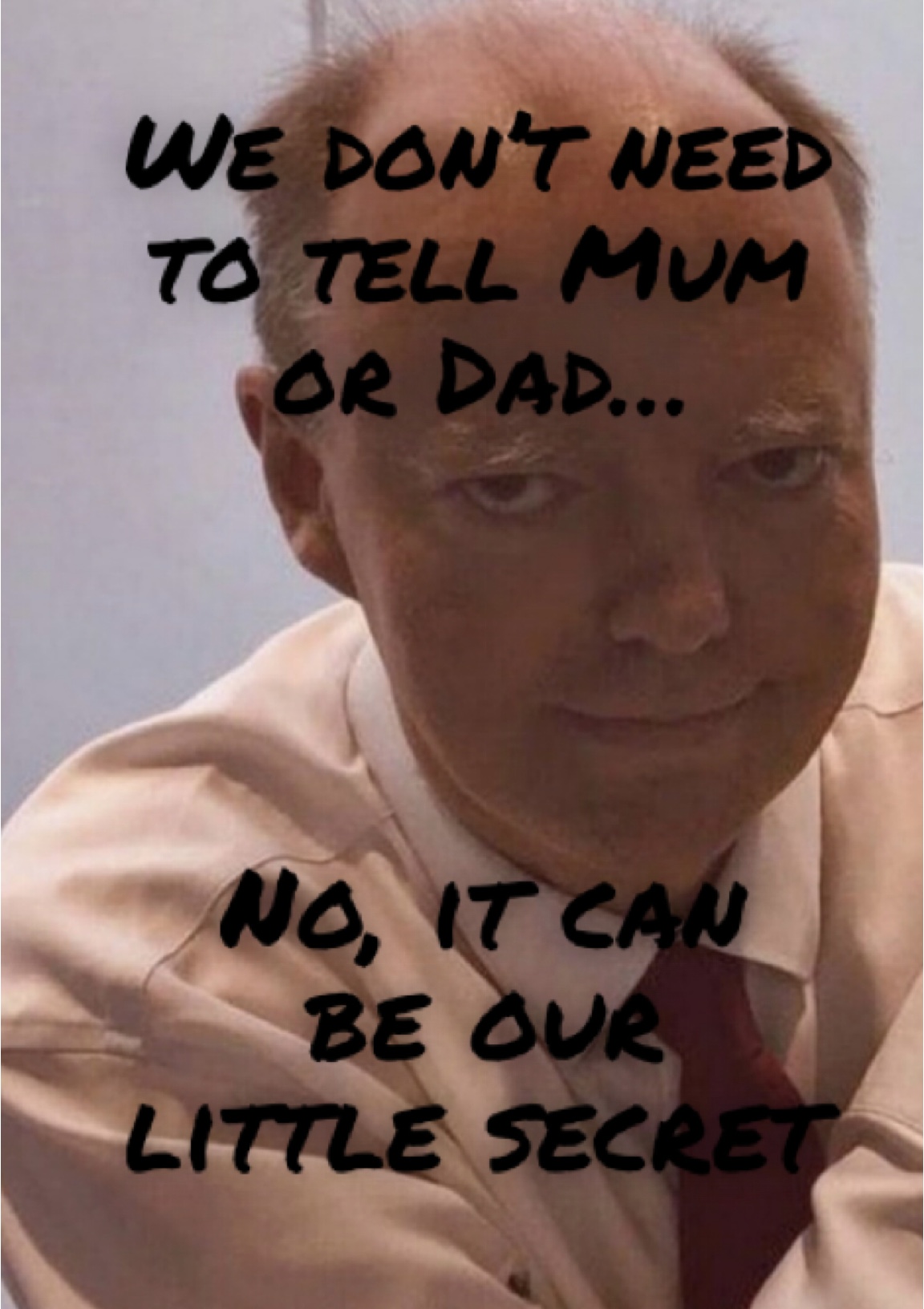 There are other issues with these notional vaccines.
One of them is the redefinition of the word 'vaccination', which has gone from disease prevention (I will always hold by the original and best) to producing immunity against a disease to the current protection from a disease. We've been had, folks, but most of my readers know that by now: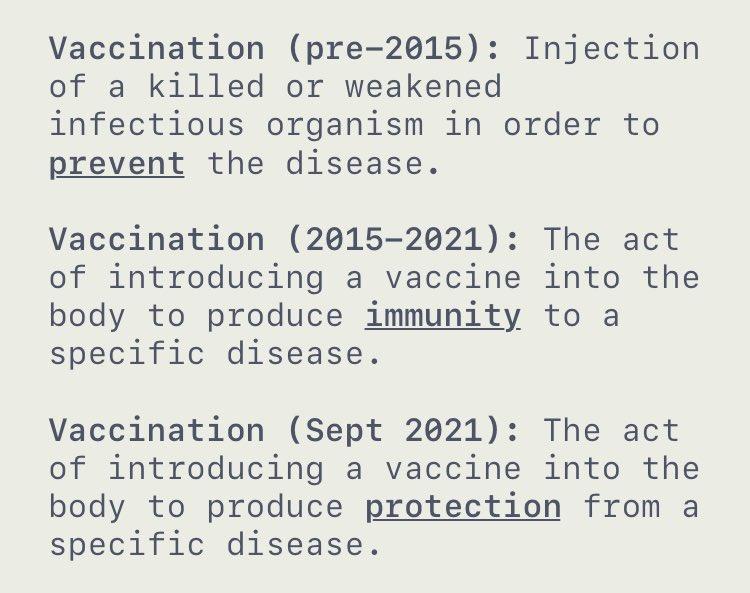 Now let's look at how long producing a vaccine has taken throughout history. With regard to coronavirus, we were told that vaccines take a lot less time these days. Perhaps. However, six months to market seems rather brief: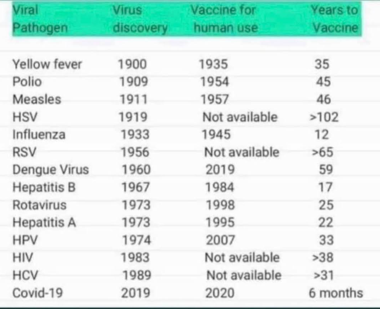 Now let's look at what six months to market has produced — a product that doesn't even work and could be injurious to one's health, if not fatal, depending on the individual. Some American youngsters have experienced heart problems after taking Pfizer or Moderna. The cure can be worse than the disease:

I am glad to see that 'vaccine' has quotation marks around it in this risk/benefit analysis: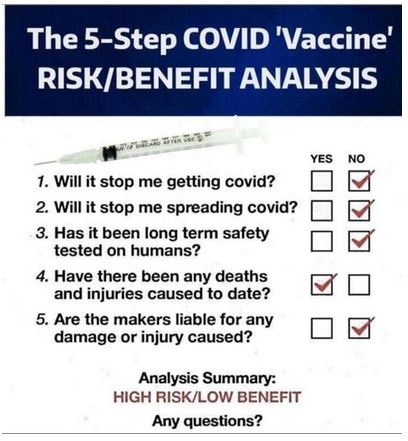 Our notional betters, including journalists, say that the unvaccinated are causing the vaccine to fail. Hmm. That's a new one: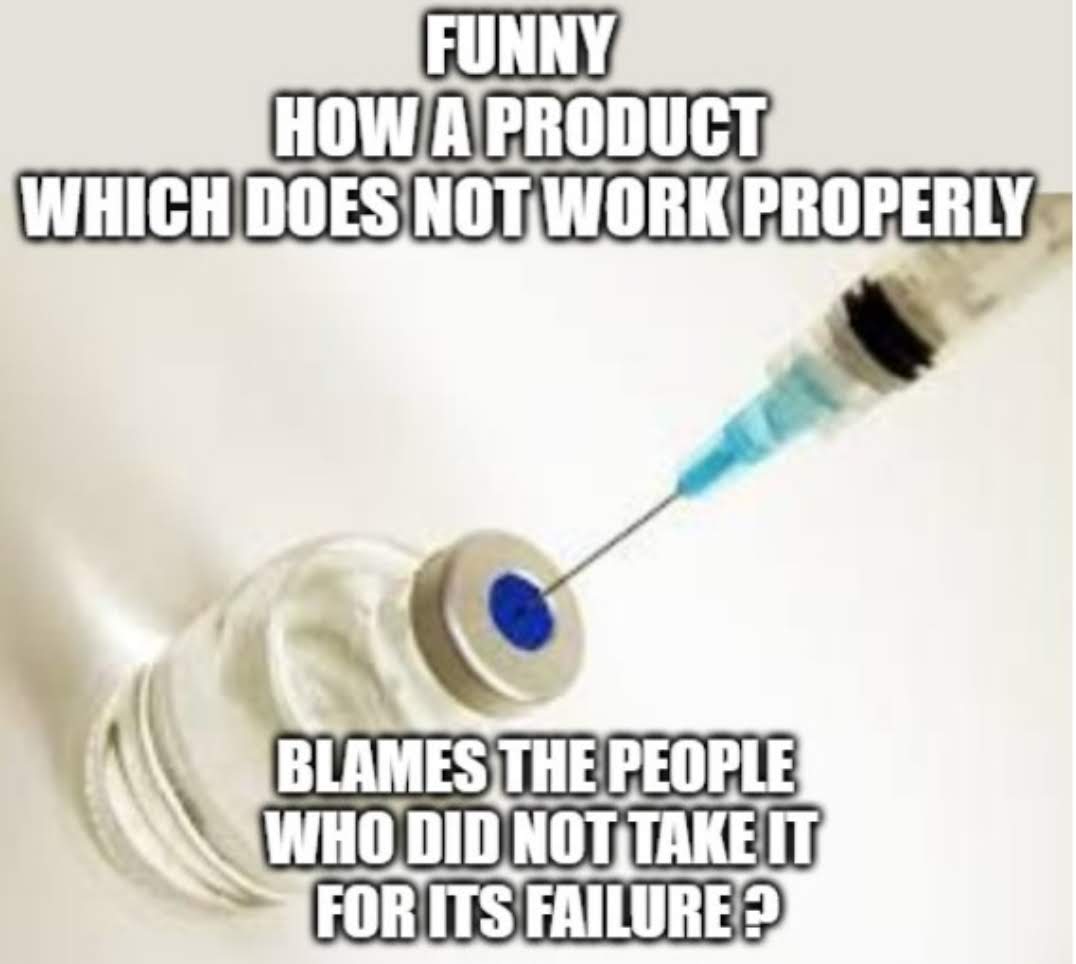 Now we have to worry about vaccine passports. France already requires them just to go to the supermarket. In other words, you cannot eat if you have not been vaxxed: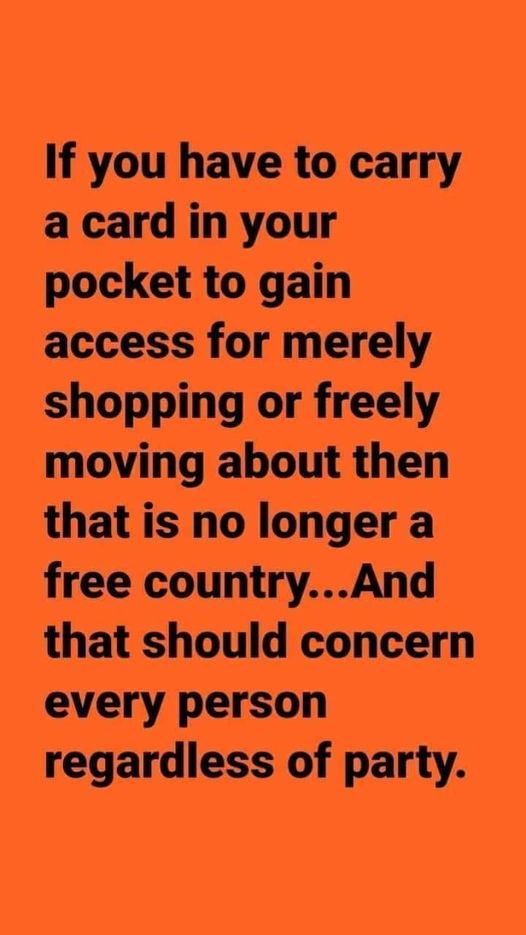 Speaking of supermarkets, here's Manchester mayor Andy Burnham, a former Labour MP, moaning about the lack of social distancing at Tesco. Yes, he named the chain. Yet, here's Burnham partying at Labour's conference this week as if it were the old days. The sheer hypocrisy of our leaders is mind-boggling:
But I digress.
Those are my thoughts on the coronavirus vaccines, a necessary evil if one wishes to go out again.
I would have liked to give credit to the people who created these images, which I found in various places online. My compliments to everyone involved.
This was a big week for Britain's Good Law Project, as they were able to persuade a court to scrutinise former Health Secretary Matt Hancock and former health minister Lord Bethell on their handling of coronavirus contracts in 2020.
Matt Hancock resigned in June 2021 and Lord Bethell was removed from his ministerial post in the House of Lords at last week's reshuffle.
The Good Law Project doesn't always win their cases, but this will be one to watch.
I do not often agree with their views but, in this case, I wish them well.
Lord Bethell
Having seen enough proceedings in the Lords, I thought that Lord Bethell was doing a competent job representing the Government.
However, during the summer, questions were asked about the mobile phone he was using last year when the pandemic was raging. Bethell gave various answers as to the whereabouts of the phone:
He allegedly used WhatsApp to communicate with potential suppliers:
His phone was taxpayer funded. As such, it seems he should have returned it to Procurement:
The accompanying article from the Good Law Project states (emphases in purple mine):
You will recall in our hearing in July Government admitted that some of Health Minister Lord Bethell's dealings in relation to the controversial £87.5 million testing contracts to Abingdon Health had been conducted via WhatsApp or text message, and were held only on his private mobile phone.
We wrote to Government to ask for the messages to be retrieved and preserved.
We were stunned to receive this response from Government in which Health Minister Lord Bethell changes his story, again, on why he can't hand over the texts and What's App messages. 
This is now the Minister's third different version of events:
First, he claimed his phone was "lost" so he couldn't hand it over. 
Then, a few weeks later he abandoned his tale that the phone had been "lost" and provided an entirely new explanation as to why he was no longer using it, claiming the phone was "broken".
Now, unbelievably, he says the phone isn't lost. Or broken. He actually passed the phone on to a family member … 
It's far from clear that personal phones used extensively for Government business can safely be handed over to family members – one assumes children. What steps did Lord Bethell take, for example, to ensure that highly sensitive material couldn't be retrieved by a specialist? And if he did delete it, did he ensure he'd passed on all the relevant information to the Department of Health before doing so? 
And the extraordinary change of story doesn't stop there. 
Back in June, No 10 issued a blanket denial that Ministers ever used private email accounts for Government business. But now their own lawyers have confirmed searches of Lord Bethell's three private email addresses using keywords relating to Covid contracts turned up hits of between 18,000 and 36,000 separate documents that may be relevant to the case. 
How on earth do we move from a blanket denial by No 10 that Ministers were using private email accounts for Government business, to an admission that a single Minister may in fact have used his private email for tens of thousands of official emails? Do they ever tell the truth?
We are fighting to get our hands on these messages. We will be able to reveal further twists in this extraordinary tale soon.
On Tuesday, September 21, the Good Law Project was in court to pursue the case:
The Government conceded that Bethell would have to provide a witness statement. The court hearing was to stipulate the content of that statement:
The accompanying article from crowdjustice gives more information on what happened in 2020:
The Government suppressed an official report that proved there were issues with rapid antibody tests purchased by the Department of Health. Leaked emails reveal the Government blocked Public Health England from publishing their findings until after they could make an announcement that they had purchased one million antibody tests from Abingdon Health.
The purchase of one million antibody tests from Abingdon Health has been shrouded in mystery, but what we do know lays bare serious failings in Government procurement.
The Government supported the creation of the UK Rapid Test Consortium (UK-RTC) back in April. The idea was that the companies and institutions involved, including Abingdon Health, would create a rapid antibody test. On 2nd June, Government awarded a contract worth £10million to Abingdon Health for the materials needed to produce the test. On 14th August, they handed Abingdon Health another contract worth a staggering £75million.
Despite these huge sums of money, Government seems to have ignored widely held concerns that these tests were not fit for purpose. So a £75million contract was awarded without competition, on the basis of profoundly flawed research. And when confronted with evidence of these flaws Government tried to suppress publication of that evidence.
These are serious charges and we have set out the publicly available evidence in this chronology, which we will update as more evidence is published.
Judge agrees
The judge hearing the case on September 21 agreed with the Good Law Project:
The Good Law Project's article says:
… Yesterday we took Government to Court to fight for this evidence – and we had a good day. 
The Judge ordered the search of Matt Hancock's WhatsApp messages and personal email accounts. We believe this is the first time a Judge has ordered a Minister, or ex-minister, to hand over their personal WhatsApps and text messages.
In fact, the Judge seemed to share our view more generally that Government's explanations for why they haven't recovered information from Ministers' devices simply do not stack up, and he ruled as follows:
Lord Bethell must provide a Witness Statement to the Court to explain – once and for all – what happened to his phone

.

Government needs to provide a Witness Statement to the Court explaining how they are going to ensure they recover all the necessary data from Bethell's phone

.
In addition to coughing up Lord Bethell's private emails,

Government must also trawl Matt Hancock's personal emails and WhatsApps for relevant information as to how these contracts came to be awarded with no competition

. 
We will now get to see previously hidden messages from the Ministers involved in awarding these lucrative contracts. We will also issue an application against Professor Sir John Bell in respect of his documents (to cover WhatsApp, University of Oxford emails and personal emails). He has previously refused to share any of his records, despite his hugely significant role in the contract awards. 
Matt Hancock
Following this announcement, the story received quite a lot of coverage in the media, with photos of Matt Hancock splashed all over Twitter.
The London Economic had this:
Their article said:
Former health secretary Matt Hancock will have his personal WhatsApp and emails searched as part of a High Court battle over millions of pounds' worth of antibody test contracts.
The Good Law Project has brought legal action against the Department of Health and Social Care (DHSC), claiming that more than £80 million in contracts for antibody tests were awarded unlawfully.
The bid covers three contracts awarded to Abingdon Health which the group claims were given in April, June and August 2020 but were not published until October 2020.
"The contracts were awarded directly, and secretly, without any advertisement or competition," the Good Law Project's barrister Joseph Barrett said in written arguments.
The group also argues that the contracts "comprise very substantial unlawful public subsidies".
The Daily Mail had more:
Claiming Mr Hancock was the "ultimate decision-maker" in awarding the contract to Abingdon Health, Mr Barrett told the court that Mr Hancock had used multiple non-government emails for Government business. However, no searches had been conducted and no documents had been disclosed.
Mr Barrett alleged that DHSC had "either destroyed or otherwise put beyond recovery or refused to search or disclose almost all of the repositories and documents of the four most senior and important individuals in the case".
Philip Moser QC, for DHSC which is contesting the claim, argued Mr Hancock had a "limited" role in the contracts.
"There is no reasonable basis on which to seek such disclosure, because Mr Hancock's involvement in the matters which are in issue in these proceedings was limited and, in any event, any communications from the then Secretary of State would have been caught by the existing disclosure exercise," he said.
Mr Justice Fraser ordered that both Mr Hancock's Government and non-Government communications that were used for Government business should be searched for relevant material.
The judge said: "It seems to me that even though his involvement has been described as 'limited', 'limited' can still be quite significant."
CityA.M.'s coverage says that Lord Bethell's phone is now with 'disclosure consultants':
Government lawyers previously said the old phone had been "broken" six months ago and that data held on it was not contained on the replacement.
The lost information was reported to have included WhatsApp and SMS messages.
The court also heard that Lord Bethell's phone is currently with "disclosure consultants" to determine whether his WhatsApp messages can be retrieved.
A spokesperson for the former health secretary said: "Hancock had no involvement in the awarding of this contract, or indeed any other contracts. They were all awarded through formal processes, as the National Audit Office has confirmed.
"At the time, everyone in the Department of Health and Social Care was working every hour to respond to the pandemic and boost testing capacity. Any suggestion of wrongdoing is completely false."
The full trial is due to take place from December 6.
Scotland's The National reported on the to-ing and fro-ing between the judge and the Government's legal counsel, Philip Moser QC:
Philip Moser QC, for DHSC which is contesting the claim, argued Hancock had a "limited" role in the contracts.
"There is no reasonable basis on which to seek such disclosure, because Mr Hancock's involvement in the matters which are in issue in these proceedings was limited and, in any event, any communications from the then Secretary of State would have been caught by the existing disclosure exercise," he said.
Justice Fraser ordered that both Hancock's Government and non-Government communications that were used for Government business should be searched for relevant material.
On the topic of disclosure, The Mirror's tweet alleges that the Department for Health and Social Care (DHSC) had previously refused to pursue it:
And there's more
The Government has always claimed that there were no fast-track routes to winning a contract.
However, on Thursday, September 23, The Guardian reported about emails referring to a 'VIP route' for coronavirus testing contracts:
The Guardian reported:
… internal emails between DHSC civil servants, discussing the Rapid Testing Consortium (RTC), a group of companies led by York-based Abingdon Health, which was awarded huge government contracts without a competitive tender, did describe the process as "the VIP route". The then health minister, Lord Bethell, was described by officials as a "sponsor" of the consortium.
The DHSC disclosed the June 2020 emails during a legal challenge brought by the Good Law Project (GLP), which argues there was "apparent bias" in the award of the contracts to Abingdon Health, and that the government "failed to undertake any transparent or lawful process". The DHSC is defending the case, arguing that the emergency of the pandemic justified it making direct contract awards.
In the email exchanges, one civil servant, discussing how to process the RTC companies, said a person in authority, whose name is redacted, "would like them to go through the VIP route". The official asked: "Who should they name as their sponsor?"
A colleague replied: "Are the sponsors usually ministers? I would imagine RTC can name Lord Bethell?"
In a further email referring to the RTC, another official wrote: "This is usually for the VIP route which comes via ministers."
Asked by the Guardian about these references to a VIP route, the DHSC did not maintain its previous denial. Instead a government spokesperson said: "All offers of testing supplies that were evaluated by DHSC went through the same clinical evaluation process. Every application went through robust assessment checks, and decisions were based on merit."
As for Abingdon Health, founded in 2008:
The company has emphasised that it and its directors did not have Conservative party membership or connections, that the government asked them to contribute to the Covid response, and they were not aware if there was a fast track process.
Having been first contacted on 22 March 2020 by an adviser to Public Health England, Abingdon said they were asked to email the general DHSC and NHS Covid testing and research email addresses. On 1 April, the company was contacted by Prof John Bell, a senior government adviser on testing, and on the same day asked to join a conference call with the then health secretary, Matt Hancock. Following discussions with Bethell and other senior government figures, Abingdon then formed the RTC and were initially given a £3m research contract.
The other contracts followed on from there.
It is fortuitous for the Government that Parliament is in conference recess from 5 p.m. today until late October. Otherwise, a few Urgent Questions would probably have been scheduled.
As they say in journalism: 'The case continues'.
The full trial starts on December 6.
From the beginning of the coronavirus crisis, anyone who doubted Big Media's narrative was branded a conspiracy theorist.
Strangely, most of what notional conspiracy theorists spoke and wrote about in 2020 has come true.
Last week, I read two articles of interest about the virus, the New York Times (NYT) and China.
The NYT, China and the virus
On August 2, 2021, Ashley Rindsberg, the author of The Gray Lady Winked: How the New York Times' Misreporting, Distortions and Fabrications Radically Alter History, wrote an article for UnHerd: 'Did the New York Times stifle lab leak debate?'
What an eye-opener it is. Excerpts follow, emphases mine.
Rindsberg has done a lot of research into the history of the paper, nicknamed The Gray Lady in the United States.
He says that the paper's relationship with China has been going on for over a decade and explores its dubious ties with totalitarian regimes of the 20th century:
Researching and writing my new book, I discovered that the Times has a dark history of inadvertently helping authoritarian regimes with its reporting, including the Nazis, the Soviet Union and Fidel Castro.
In the case of China, this appears true to an alarming degree. For over a decade, the Times has nurtured a special relationship with the CCP — though we can only speculate as to whether this influenced its editorial output. Still, the Times certainly appeared unconcerned about the appearance of impropriety as it took millions of dollars from Chinese propaganda outlets, most prominently China Daily. In exchange for this badly needed revenue, the Times has published hundreds of "advertorials" written by Chinese propaganda outlets, including China Daily, which promote CCP messaging on the most serious topics, such as a double-page spread on the hotly contested Diaoyu Islands brazenly titled: "Diaoyu Islands Belong to China".
But the paper's advertising relationship with Chinese state outlets is only the visible part of the iceberg. In 2012, seeking to capitalise on China's burgeoning middle and upper classes, the Times launched a Chinese edition of its daily paper followed by the launch of a luxury lifestyle magazine. "The appetite for New York Times journalism in Chinese has never been stronger," a company press release stated at the time.
In investing so heavily in China, the Times unintentionally handed the rapacious CCP an editorial lever to sway coverage. The Times learned this first-hand when, in 2012, the CCP blocked Chinese access to the Times online in retaliation for an unfavourable article on the family finances of China's outgoing premier, Wen Jiabao. The Times set out on a year-long "lobbying" effort to restore coverage that included meetings with Xinhua, the parent of China Daily.
In early 2020, the lab leak hypothesis was roundly condemned in Big Media, especially the NYT.
Rindsberg leads us through the timeline and the narrative:
Of course, over the past year newspapers across the world have fallen for the CCP's distorted Covid-19 narrative. And there is no evidence to suggest that the CCP did put pressure on the Times. But when it came to the lab leak debate, the Times was relentless. Starting in early 2020, when little was known about the virus — and nothing about its origins — the Times adopted a stridently anti-lab leak stance. In its first report on the topic, a February 17, 2020 article covering comments made by Sen. Tom Cotton, the Times stigmatised lab leak as a "fringe theory". Once the story was published, its reporter took to Twitter to describe it as "the kind of conspiracy once reserved for the tinfoil hatters".
Only one week prior, another outlet made strikingly similar claims. In an editorial, the CCP-owned China Daily thundered that Cotton's decision to spread "malicious rumors" shows "how irresponsible some are in their haste to attack China". The Times, echoing China Daily, also cast the lab leak hypothesis as a "rumor".
Over the months, the Times's coverage grew even more strident — and more in line with Chinese propaganda. In February 2020, it gave a platform to zoologist Peter Daszak, publishing an opinion piece by him which claimed that the pandemic was caused by "road-building, deforestation, land clearing and agricultural development". Daszak argued that "discovering and sequencing" viruses like Covid-19 in labs like the one in Wuhan should be a priority.
The Times, which used Daszak as a key source in over a dozen articles, has never mentioned that Daszak's organisation funded the Wuhan lab, in particular research into bats and coronaviruses, a flagrant conflict of interest. Crucially, there was no mention of this when a reporter interviewed Daszak this February, following his return from a heavily criticised WHO investigation into the virus's origins. (Danszak later recused himself from the investigation because of the conflict of interest.)
But the Times also never revealed that Daszak was a favoured source for another outlet: China Daily. The state-owned media organisation, along with Xinhua and sister outlet Global Times, repeatedly quoted Daszak to assure readers of China's full cooperation in the search for the virus's origins — and to discredit the possibility of a lab leak.
The NYT's coverage was so supportive of China that Chinese publications began quoting it:
In April 2020, for instance, the Times published an article claiming the Trump Administration's investigation into a lab leak "has echoes of the Bush administration's 2002 push for assessments saying that Iraq had weapons of mass of destruction." Within minutes, a China Daily columnist retweeted the story and parroted its central claim.
With more information coming out about a possible lab leak, the NYT has changed tack:
Today, however, just as the tide is turning on the lab leak debate, so too is the Times's approach to the subject. Last summer, the Times abruptly ended its advertising relationship with Chinese state media outlets and scrubbed all trace of the advertorials from its archive. And in recent months, it has published a handful of articles quoting scientists who believe we should take seriously the prospect of a lab leak.
But does this excuse the paper's behaviour at the start of the pandemic?
I do not think so. The NYT is one of the world's most influential newspapers. Everyone takes what it says as gospel truth. It is hard to disagree with Ashley Rindsberg on his conclusion:
Only time will tell whether the lab leak hypothesis is true or false. But whatever the result, what a tragedy it would be if the Times's coverage delayed that verdict.
Lab leak update
On Friday, September 10, 2021, UnHerd posted the latest on a possible lab leak in Ian Birrell's article, 'Is this proof of lab leak lies?' Birrell is an award-winning foreign reporter and columnist.
Over the past several years, the United States, Britain's Peter Daszak and France were all involved at some point with the Wuhan labs.
Birrell tells us:
… we do know one thing now beyond debate: speculative "gain-of-function" experiments on mutant bat viruses were taking place in Wuhan laboratories.
This research, carried out in labs that did not have maximum level of biosafety, was increasing the infectivity of laboratory-created diseases by constructing chimeric coronaviruses — despite strong denial of such practices by the key Chinese scientists. And the bio-engineering was being funded by United States taxpayers — channelled through a charity run by a British scientist — despite similar denials from America's most senior public health officials that they supported such science fiction activities in Chinese labs.
This information was uncovered via freedom of information requests made in the United States by The Intercept, which is devoted to investigative reporting:
The Intercept obtained 900 pages of documents detailing two research grants in 2014 and 2019 from the National Institutes of Health (NIH) to EcoHealth Alliance. This is the charity headed by Peter Daszak, the controversial Briton who led efforts to squash "conspiracy theories" about a possible lab incident after spending years hunting viruses with Shi Zhengli, the now-famous "Batwoman" expert at Wuhan Institute of Virology (WIV).
While some of this information was already circulating, The Intercept was able to obtain updates on the relevant projects:
… these documents include the original proposals along with project updates, so significantly flesh out what we knew. They highlight how US funding bodies outsourced risky gain-of-function research to China, even over a three-year period between 2014 and 2017 when it was banned in their own nation. They also show, with new clarity, the kind of work taking place in secretive Wuhan labs. These disclosures fuel the mystery over the pandemic origins, while also sparking fresh concerns over top scientists in both China and the West who sought to suppress inquiries into the lab leak hypothesis.
The NYT had a role to play here in defending the Wuhan Institute of Virology (WIV):
A $3.1m grant, according to the documents, was awarded to understand "the risk of bat coronavirus emergence" through screening thousands of samples collected from the nocturnal creatures. This included a chunk of funding worth $599,000 for WIV. Bear in mind that three months ago, Shi, director of its Centre for Emerging Infectious Diseases, angrily protested over the world "pouring filth on an innocent scientist" when emphatically refuting that they carried out gain-of-function work. "My lab has never conducted or co-operated in conducting GOF experiments that enhance the virulence of viruses" she told the New York Times.
Birrell gives us the NIH's definition for 'gain of function' (GOF):
the term gain-of-function research describes a type of research that modifies a biological agent so that it confers new or enhanced activity to that agent.
The following are real life examples of GOF:
Analysis of these papers show US funds supported construction of new chimeric Sars-related coronaviruses, which combined a spike gene from one with genetic material from another — and then showed the resulting creation could infect human cells and mice engineered to display human-type receptors on their cells.
One new virus had increased pathogenicity over the original virus and three new viruses increased viral load in lung tissues up to ten thousandfold, which is most definitely "enhanced activity." As scientists pointed out to me, these results demonstrated increased pathogenicity of SARSr-CoVs with different spike proteins in humanised mouse models. And similar construction work was proposed to be done with another type of deadly pathogen — the Middle Eastern Respiratory Syndrome coronavirus, which first flared up in Jordan nine years ago after spilling over from camels and has since cropped up in 27 countries, causing 858 deaths.
Dr Fauci is also involved:
Anthony Fauci, the US infectious diseases expert and presidential adviser, insisted earlier this year that his country "has not ever and does not now fund gain-of-function research in the Wuhan Institute of Virology". His stance led to a furious clash in Congress with Senator Rand Paul, who gleefully tweeted after The Intercept published its article on the papers: "Surprise surprise – Fauci lied again. And I was right about his agency funding novel coronavirus research at Wuhan."
Paul was backed by Richard Ebright, the bio-security expert and professor of chemical biology at Rutgers University, who has long been a fierce critic of such work since he argues that the risks of creating new diseases in laboratories vastly outweigh any potential benefits. "The documents make it clear that assertions by Anthony Fauci and the NIH Director, Francis Collins that the NIH did not support gain-of-function research or potential pandemic pathogen enhancement at WIV are untruthful," he said.
Birrell discusses France's involvement with Wuhan:
Buried in the documents are two more intriguing details. First, the experimental work creating mutant chimeric coronaviruses was carried out at WIV's biosafety level 2 lab and then the work analysing them in humanised mice performed at the biosafety level 3 Wuhan University Center for Animal Experiment, not at the new maximum level 4 WIV lab built with French assistance. The cluster of labs at the university hospital, incidentally, includes a breeding centre that created at least 1,000 types of genetically engineered animals from mice to monkeys. So this means the details in the papers accord with a previous statement by Shi that their coronavirus research is "conducted in BSL-2 or BSL-3 laboratories" — although a level 2 lab has, some say, barely higher safety standards than a dental clinic and certainly few safeguards against an lethal airborne virus.
As for Daszak, while he defended China, his charity warned about viral infections from animals encountered in fieldwork:
… while Daszak has been condemning supposed conspiracy theories and defending his friends in China with whom he has collected thousands of samples, his own charity was pointing out the major risk of accidental infection faced by researchers when collecting such specimens in a project he led. "Fieldwork involves the highest risk of exposure to SARS or other CoVs, while working in caves with high bat density overhead and the potential for fecal dust to be inhaled. There is also some risk of exposure to pathogens …while handling bats, civets, rodents or other animals, their blood samples or their excreta."
Accidental viral infection via animals was another point mentioned early last year which the media summarily dismissed.
The story of the origins of COVID-19 continues to unfold.
I look forward to reading more in future and covering it here.
For several months now, Britain has been experiencing a supply chain problem with transport.
Detractors from the corporate world, such as IKEA, say that this is because of Brexit.
Wrong!
A shortage of lorry drivers is affecting deliveries worldwide.
Shipping problems have also been occurring.
On Thursday, September 9, Guido Fawkes posted an item whereby IKEA tried to blame the UK's transport problems on Brexit (emphases in the original):
In a recent BBC article on IKEA's supply shortages, the Swedish furniture giant went all in on blaming Brexit for their inventory issues:
"What we are seeing is a perfect storm of issues, including the disruption of global trade flows and a shortage of drivers, which have been exacerbated by the pandemic and Brexit."
However, IKEA tells a different story to EU countries, e.g. the Netherlands (emphases in purple mine):
The firm goes on to say that "10% of its stock, or around 1,000 product lines" have supposedly been affected by the Brexit-related shortage. In a separate statement given two days later to Dutch newspaper Dagblad van het Noorden, however, an IKEA spokesperson instead cited the exact same product shortage with a different excuse featuring one notable omission:
"There are major logistical problems worldwide. For example, there is a great scarcity of containers and container ships on important sea routes because the economic recovery from the corona pandemic is proceeding faster than expected. There are also congestion in ports due to the crowds and Chinese terminals were temporarily closed due to local corona outbreaks. Many IKEA products are made in China."
Both articles list the same 10% stock shortage figure, only one mentions Brexit.
Guido points out that the problem is global:
Remainers – and some parts of the media enjoying spinning the narrative on their behalf – are refusing to accept the lorry driver shortage is global: iron ore struggles to reach Australian ports; US petrol stations have run out of supplies after a 35,000 fall in lorry drivers; Asia reports a 20% fall in drivers …
Guido's article says that the only place where there is not a driver shortage is Africa.
Talk radio host Howie Carr has been talking about shortages and higher prices in the United States since the 2020 election. Lumber products had skyrocketed at the end of last year. Howie has also mentioned the petrol prices and shortages at the pump which started at the same time.
On August 21, 2021, Global Cold Chain News posted an excellent article on the European situation with regard to lorry drivers, including individual country profiles.
It puts paid to the misguided suggestions in the British commentariat that we should allow a few hundred thousand EU nationals to drive lorries for UK hauliers.
There are two reasons why such reasoning is faulty.
First, over six million EU nationals have been allowed by the Government to remain in the UK post-Brexit. If we cannot find our lorry drivers from among that group, then something is very wrong.
Secondly, as Global Cold Chain News explains, there are lorry driver shortages in most EU countries.
Excerpts follow, emphases mine:
Poland: According to Ti estimates, the shortage in Poland in 2020 is around 124,000 drivers. According to IRU, Poland is one of the most heavily impacted European countries and driver shortage in 2020 stands at around 37%.
Germany: Between 45,000 and 60,000 truck drivers are 'missing' in 2020 in the German market alone, according to the DSLV and BGL, and this number is only increasing. The IRU predicts a gap of 185,000 drivers by 2027 in Germany.
France: In 2019 it has been reported by several news outlets that France is experiencing a shortage of approximately 43,000 drivers.
Ukraine: The deficit of drivers in Ukraine in 2019 ranged from 12,000 to 120,000 depending on the region.
The article explains that HGV (heavy goods vehicle) shortages began years before coronavirus took hold — and, I would add, before Brexit:
The driver shortages have been affecting the global road freight market for around 15 years. The issue comes as the pool of truck drivers is contracting but demand for transport is rising. The COVID-19 pandemic has further exacerbated the already alarming issue of driver shortages as new drivers have been unable to train and take their tests and Covid restrictions make the job even less attractive.
Even before the pandemic a serious cause for concern in the industry, the lack of drivers in the road transport industry was at an all-time high, with many of its underlying issues being long-term challenges. Factors such as an aging workforce and insufficient numbers of new recruits, due to working conditions and image issues of the profession, have been plaguing the industry for many years.
The pandemic affected lorry drivers in the UK and the EU at its height in 2020. On France's talk radio station, RMC, a number of drivers rang in to complain that shower and toilet facilities at truck stops were closed. British drivers experienced the same inconveniences when delivering around the UK.
However, not every company is affected by product shortages.
Pub chain owner Tim Martin of Wetherspoons says that his supplies are at 2019 levels and that Brexit has not affected his business. In fact, it was strike action from a major brewer that caused a temporary shortage.
Guido Fawkes has the story:
Wetherspoon chairman Tim Martin has now pushed back to say these claims are all untrue. The reality is that beer supplies actually remain at 2019 (i.e. pre-pandemic) levels, and that the shortage of a few products over the last two weeks is the result of strike action from one major brewer. Martin added:
"There is clearly a shortage of HGV drivers, both in the UK and in mainland Europe- where, some reports say, there is a shortage of 400,000 drivers. Following the pandemic, there are supply chain issues in many other parts of the world also. In the light of the undoubted problems, it is important that the public is provided with accurate information. Factual inaccuracies and partisan Brexit politics will not assist in finding solutions."
Fake news about Brexit will not solve the transport problem.
Another factor is that another British organisation went on strike this year. The DVLA (Driver and Vehicle Licensing Agency), based in Wales, went on strike in August 2021, specifically the Drivers Medical Department. This is because coronavirus cases rose quickly at the DVLA site.
The strike has caused a backlog of delays surrounding licences and other driver certifications, including those for HGVs.
In conclusion, a number of factors are causing or exacerbating a shortage of HGV drivers — not only in Britain but around the world.
On Saturday, September 4, The Telegraph's Christopher Hope reported that, in 2020, the National Trust closed many of their tea rooms, some permanently, and shed staff members.
This happened despite the charity's £400m in cash reserves.
Coronavirus restrictions are the obvious reasons for these measures.
However, this quintessentially British institution has been changing tack for a few years now:
I cancelled my membership a decade ago. The National Trust magazine started getting 'woke' before 'woke' was even an expression. After years of being informative about the historical sites it manages, it became a bit too preachy for my liking: less history, more left-wing social commentary.
Recently, the National Trust got rid of curators, surely necessary where great houses and rare collections are concerned. Their latest job offering is for a Complaints Handler. Note that the advert is in The Guardian, which tells one all one needs to know:
It used to be that a grand day out in England often involved visiting a National Trust property and enjoying a cream tea afterwards. No longer.
On June 18, 2020, Conservative Woman discussed the charity's changes (emphases mine below):
'WE are for everyone, for ever' enthuses the mantra of the National Trust. As a long-standing garden volunteer, to me this slogan has all the poignancy of a soggy scone and a cup of tepid tea.
The charity was founded in the 1890s to preserve the English landscape and adopted the conservation of country houses as one of its purposes 40 years later. Over the last few years it seems that the Trust is constantly apologising for this …
On her appointment in 2018, the Trust's director-general Hilary McGrady maintained that the organisation had to be radical but 'change shouldn't mean alienating current members', gushing that 'our core supporters are what makes this possible'. With the Trust's revenues taking a nosedive, it has appointed Dr Corinne Fowler as an adviser regarding its association with colonialism. Her research interests include rural racism and the slavery connections of the British country house. She has commented, somewhat menacingly, that she perceives the 'problem' as 'more about slavery than cream teas'. 
Is the Trust's mania to be 'on message' and signing up to a movement revelling in its neo-Marxist identity with various far-Left objectives really the way to encourage rational debate? The majority of the public are perfectly capable of making an informed and nuanced judgment. They have no wish to see the history of this country 'cancelled' at the behest of a charitable organisation engaged in a giant hand-wringing exercise to express solidarity with a pernicious movement that has created an institutional nervous breakdown by its self-indulgent, regressive, historically illiterate, myopic views beating the drum of 'white privilege' as a cover for perceived racial injustice.  
In its commendable diversity and inclusion policy, the National Trust has lost the plot. A fun family day out to help preserve the complicated cultural heritage of this country has become nothing more than a simplistic box-ticking exercise by those uninterested in social progress and fighting racial discrimination in all its forms, intent instead on dismantling capitalism with the disruption of the family structure. The country has been infected by the real virus of egregious identity politics of a dangerous political cult.
On November 11 last year, Heritage minister, Nigel Huddleston MP, criticised the charity for voicing support for a political organisation:
These tweets are in the replies:
On May 25, 2021, the Daily Mail reported that Tim Parker, the chairman of the National Trust, resigned:
after members launched a bid to depose him amid a growing row over the 'woke' direction the charity is taking.
Members are furious at its recent focus on politically correct issues, which has seen it link properties to colonialism and make staff wear rainbow 'gay pride' badges.
A motion of no confidence in Tim Parker was due to be tabled at this year's annual general meeting by a grassroots organisation called Restore Trust.
The group is also demanding that the charity's staff be treated 'with fairness' after many were let go during the pandemic, and for executives to rein in pay rises.
Members, ministers and MPs had grown increasingly frustrated with Mr Parker's chairmanship, which critics said he used to take the 126-year-old charity in a 'bourgeois' and 'politically correct' direction. 
Last September, the Trust published an sensational 115-page report which 'blacklisted' 93 of its estates over their alleged links to slavery – including Chartwell in Kent, home of Sir Winston Churchill. 
The Charity Commission subsequently opened a regulatory compliance case and the heritage minister told Parliament that the report was 'unfortunate' and the Trust should go back to its 'core functions'. 
Parker had been the National Trust's chairman since 2014. Interestingly, he is also chairman of the Post Office.
Parker's National Trust opponents from Restore Trust filed their motion at the AGM (Annual General Meeting):
According to the Telegraph, the rebel motion at the AGM said: 'It is the task of a chairman to see an organisation through a crisis. The pandemic has presented the National Trust with severe challenges, and meeting these while securing the future wellbeing of the charity should have been the absolute priority.
'Instead, the National Trust has been the subject of debates in Parliament and an investigation by the Charity Commission, which found that the charity published a report which generated strongly held and divided views without fully managing the risks to the reputation of the charity. 
'The director-general has admitted that the timing of the publication of the 'Interim Report on the Connections between Colonialism and Properties now in the Care of the National Trust, Including Links with Historic Slavery' was 'a mistake'.'
The motion continued: 'The National Trust leadership has frequently been out of step with its members and supporters over recent years. 
'Unnecessary controversies have threatened to undermine the charity's simple duty to promote public enjoyment of buildings, places and chattels under its protection.
'As a result, morale among volunteers and members is at an all-time low and the National Trust has suffered, both financially and reputationally. 
Actor and musician Laurence Fox, founder of The Reclaim Party, approved of Parker's resignation:
One of Restore Trust's members, Tony Adler, said that the organisation inaccurately linked slavery to Ham House in south-west London:
One of Restore Trust's members, Tony Adler, said: 'The plan is to change the whole ethos formally. And to get rid of the chairman. There has been a sea change in the Trust's philosophy and they have lost sight of their charter.' 
The charity was established in 1895 to 'promote the permanent preservation… of lands and buildings of beauty or historic interest'.
Mr Adler, a retired history lecturer and former volunteer at Ham House in south-west London, claims he was forced out of the charity after he pointed out inaccuracies over the stately home's supposed links to slavery.
In August, the National Trust dispensed with many volunteer education teams:
This year's National Trust AGM will take place on October 30. Existing members can vote on the proposals by post or online:
It will be interesting to find out what happens, especially as Restore Trust is rightly calling for the reinstatement of education volunteers.
It used to be that vaccines prevented infection.
Coronavirus has changed all that. The double-vaxxed are ending up infected:
Andrew Doyle, who hosts Free Speech Nation for GB News, has it, and he's taken his shots.
ITV's Robert Peston, also double-vaxxed, has it, too:
Peston was supposed to be in Aberdeenshire in Scotland but had to cancel:
I hope he recovers soon.
Meanwhile, in the UK, the debate rages on as to whether children over the age of 12 should receive the vaccine and whether older adults should have a booster shot this autumn.
British supporters of vaccines for children say that such programmes in the United States and France have been highly successful. Hmm.
Dr Robert W Malone is an American physician as well as an inventor of mRNA vaccines and RNA as a drug. He directs his readers to an article in LifeSiteNews about possible coercion being used in high schools:
Meanwhile, the WHO is urging countries wishing to vaccinate their children to donate those doses to Covax instead for wider use around the world. The reply to this tweet includes a statement from Britain's JCVI (Joint Committee on Vaccines and Immunisation) which recommended against children's vaccinations on Friday, September 3:
The WHO also disagrees with booster shots in Western countries, again recommending donating those doses to poorer countries:
The UK also wants to roll out vaccine passports by the end of the month. If we can catch the virus despite two jabs, what is the point? It seems as if we are all back at Square One, only that we are susceptible to milder cases rather than death.
Speaking of deaths, the UK figures for 2021 are on a par with other years since the vaccine rollout began. I saw this graphic on another site with no attribution. Note the bright green line up to Week 33: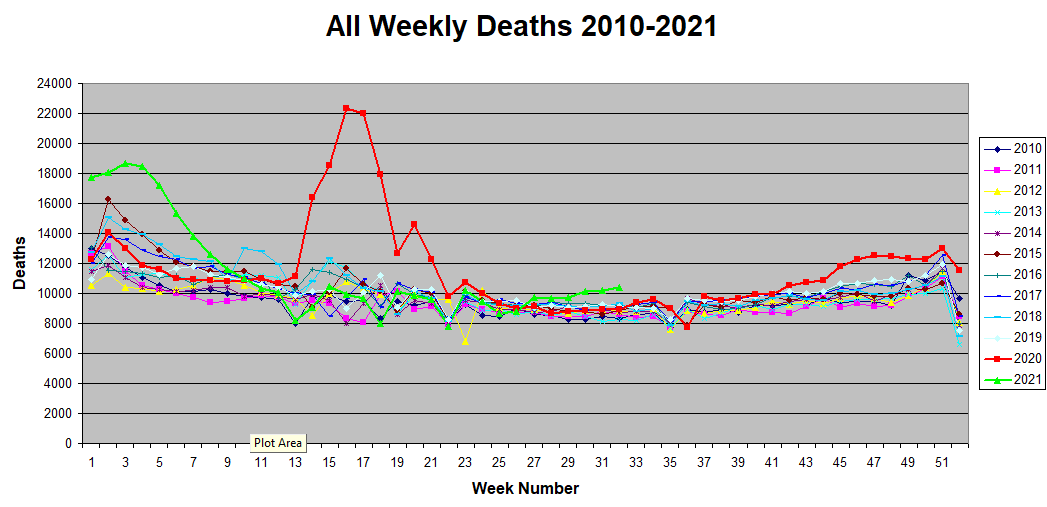 Moving to poorer countries now, not every nation has shown signs of infection or deaths:
Dr Malone says that Peru had a preventive programme of giving its citizens doses of ivermectin until a new president scrapped it. At that point, fatal infections began rising dramatically:
Since the pandemic began, ivermectin for humans has been taken off the market in several Western countries or is restricted on a prescription-only basis for certain conditions, excluding the virus. In many first-world countries, ivermectin is now used solely on animals for various diseases. The current formulation is made for their consumption.
Yet, in Peru and Africa, the formulation for humans is still available. It is inexpensive and is used to cure a variety of diseases as the following Twitter thread about Africa tells us.
The countries in blue are where ivermectin is used on humans. Note the differences in coronavirus cases and deaths:
Ivermectin, sold under the trade name Mectizan, is used to treat river blindness, a common and highly painful disease. It is not unusual to see people with a pair of eyebrow tweezers on a chain around their necks. Among other things, river blindness inflames the eyelash follicles. The only way to relieve the intense pain is to carefully pluck the offending eyelash. It is an ongoing pain until the disease is cured:
The Japanese have looked at sub-Saharan data and have recommended ivermectin to the government as a treatment for coronavirus:
It seems that the Japanese government rejected the use of ivermectin in combatting coronavirus. The updated statistics for Africa are in the second tweet:
Another big supporter of ivermectin is Karl Denninger of The Market Ticker.
On December 18, 2020, he wrote that by giving Americans two tablets of ivermectin, coronavirus could be stopped in one week in the United States. Two tablets in total is all it would take (emphases in the original):
… Why the hell are you not only letting them get away with it but willing to stand in line and take a not-fully-tested shot when a $2 alternative that does the same thing and has been proved safe over more than 30 years of time is available, and it also has a remarkable record of preventing serious disease and death.   This has been known for months.
We can stop Covid-19 in ONE WEEK.
One.  Not five, six, eight or ten as promised by Dr. Redfield with his "masks" who, I remind you, lied.  Covid-19 did not stop even though he got what he wanted.
The science and the CDC's own data says this will work in ONE WEEK.
And the risk if it doesn't work as the science and math says it will?
STATISTICALLY NONE; the drug in question has had over 3.5 billion doses dispensed worldwide and, on the data, is safer than Tylenol and the number of pills you must take is two.
Not two per day.
Two.
Ivermectin will receive broad media coverage only when it's too late. What a pity.