You are currently browsing the tag archive for the '2020' tag.
This was a big week for Britain's Good Law Project, as they were able to persuade a court to scrutinise former Health Secretary Matt Hancock and former health minister Lord Bethell on their handling of coronavirus contracts in 2020.
Matt Hancock resigned in June 2021 and Lord Bethell was removed from his ministerial post in the House of Lords at last week's reshuffle.
The Good Law Project doesn't always win their cases, but this will be one to watch.
I do not often agree with their views but, in this case, I wish them well.
Lord Bethell
Having seen enough proceedings in the Lords, I thought that Lord Bethell was doing a competent job representing the Government.
However, during the summer, questions were asked about the mobile phone he was using last year when the pandemic was raging. Bethell gave various answers as to the whereabouts of the phone:
He allegedly used WhatsApp to communicate with potential suppliers:
His phone was taxpayer funded. As such, it seems he should have returned it to Procurement:
The accompanying article from the Good Law Project states (emphases in purple mine):
You will recall in our hearing in July Government admitted that some of Health Minister Lord Bethell's dealings in relation to the controversial £87.5 million testing contracts to Abingdon Health had been conducted via WhatsApp or text message, and were held only on his private mobile phone.
We wrote to Government to ask for the messages to be retrieved and preserved.
We were stunned to receive this response from Government in which Health Minister Lord Bethell changes his story, again, on why he can't hand over the texts and What's App messages. 
This is now the Minister's third different version of events:
First, he claimed his phone was "lost" so he couldn't hand it over. 
Then, a few weeks later he abandoned his tale that the phone had been "lost" and provided an entirely new explanation as to why he was no longer using it, claiming the phone was "broken".
Now, unbelievably, he says the phone isn't lost. Or broken. He actually passed the phone on to a family member … 
It's far from clear that personal phones used extensively for Government business can safely be handed over to family members – one assumes children. What steps did Lord Bethell take, for example, to ensure that highly sensitive material couldn't be retrieved by a specialist? And if he did delete it, did he ensure he'd passed on all the relevant information to the Department of Health before doing so? 
And the extraordinary change of story doesn't stop there. 
Back in June, No 10 issued a blanket denial that Ministers ever used private email accounts for Government business. But now their own lawyers have confirmed searches of Lord Bethell's three private email addresses using keywords relating to Covid contracts turned up hits of between 18,000 and 36,000 separate documents that may be relevant to the case. 
How on earth do we move from a blanket denial by No 10 that Ministers were using private email accounts for Government business, to an admission that a single Minister may in fact have used his private email for tens of thousands of official emails? Do they ever tell the truth?
We are fighting to get our hands on these messages. We will be able to reveal further twists in this extraordinary tale soon.
On Tuesday, September 21, the Good Law Project was in court to pursue the case:
The Government conceded that Bethell would have to provide a witness statement. The court hearing was to stipulate the content of that statement:
The accompanying article from crowdjustice gives more information on what happened in 2020:
The Government suppressed an official report that proved there were issues with rapid antibody tests purchased by the Department of Health. Leaked emails reveal the Government blocked Public Health England from publishing their findings until after they could make an announcement that they had purchased one million antibody tests from Abingdon Health.
The purchase of one million antibody tests from Abingdon Health has been shrouded in mystery, but what we do know lays bare serious failings in Government procurement.
The Government supported the creation of the UK Rapid Test Consortium (UK-RTC) back in April. The idea was that the companies and institutions involved, including Abingdon Health, would create a rapid antibody test. On 2nd June, Government awarded a contract worth £10million to Abingdon Health for the materials needed to produce the test. On 14th August, they handed Abingdon Health another contract worth a staggering £75million.
Despite these huge sums of money, Government seems to have ignored widely held concerns that these tests were not fit for purpose. So a £75million contract was awarded without competition, on the basis of profoundly flawed research. And when confronted with evidence of these flaws Government tried to suppress publication of that evidence.
These are serious charges and we have set out the publicly available evidence in this chronology, which we will update as more evidence is published.
Judge agrees
The judge hearing the case on September 21 agreed with the Good Law Project:
The Good Law Project's article says:
… Yesterday we took Government to Court to fight for this evidence – and we had a good day. 
The Judge ordered the search of Matt Hancock's WhatsApp messages and personal email accounts. We believe this is the first time a Judge has ordered a Minister, or ex-minister, to hand over their personal WhatsApps and text messages.
In fact, the Judge seemed to share our view more generally that Government's explanations for why they haven't recovered information from Ministers' devices simply do not stack up, and he ruled as follows:
Lord Bethell must provide a Witness Statement to the Court to explain – once and for all – what happened to his phone

.

Government needs to provide a Witness Statement to the Court explaining how they are going to ensure they recover all the necessary data from Bethell's phone

.
In addition to coughing up Lord Bethell's private emails,

Government must also trawl Matt Hancock's personal emails and WhatsApps for relevant information as to how these contracts came to be awarded with no competition

. 
We will now get to see previously hidden messages from the Ministers involved in awarding these lucrative contracts. We will also issue an application against Professor Sir John Bell in respect of his documents (to cover WhatsApp, University of Oxford emails and personal emails). He has previously refused to share any of his records, despite his hugely significant role in the contract awards. 
Matt Hancock
Following this announcement, the story received quite a lot of coverage in the media, with photos of Matt Hancock splashed all over Twitter.
The London Economic had this:
Their article said:
Former health secretary Matt Hancock will have his personal WhatsApp and emails searched as part of a High Court battle over millions of pounds' worth of antibody test contracts.
The Good Law Project has brought legal action against the Department of Health and Social Care (DHSC), claiming that more than £80 million in contracts for antibody tests were awarded unlawfully.
The bid covers three contracts awarded to Abingdon Health which the group claims were given in April, June and August 2020 but were not published until October 2020.
"The contracts were awarded directly, and secretly, without any advertisement or competition," the Good Law Project's barrister Joseph Barrett said in written arguments.
The group also argues that the contracts "comprise very substantial unlawful public subsidies".
The Daily Mail had more:
Claiming Mr Hancock was the "ultimate decision-maker" in awarding the contract to Abingdon Health, Mr Barrett told the court that Mr Hancock had used multiple non-government emails for Government business. However, no searches had been conducted and no documents had been disclosed.
Mr Barrett alleged that DHSC had "either destroyed or otherwise put beyond recovery or refused to search or disclose almost all of the repositories and documents of the four most senior and important individuals in the case".
Philip Moser QC, for DHSC which is contesting the claim, argued Mr Hancock had a "limited" role in the contracts.
"There is no reasonable basis on which to seek such disclosure, because Mr Hancock's involvement in the matters which are in issue in these proceedings was limited and, in any event, any communications from the then Secretary of State would have been caught by the existing disclosure exercise," he said.
Mr Justice Fraser ordered that both Mr Hancock's Government and non-Government communications that were used for Government business should be searched for relevant material.
The judge said: "It seems to me that even though his involvement has been described as 'limited', 'limited' can still be quite significant."
CityA.M.'s coverage says that Lord Bethell's phone is now with 'disclosure consultants':
Government lawyers previously said the old phone had been "broken" six months ago and that data held on it was not contained on the replacement.
The lost information was reported to have included WhatsApp and SMS messages.
The court also heard that Lord Bethell's phone is currently with "disclosure consultants" to determine whether his WhatsApp messages can be retrieved.
A spokesperson for the former health secretary said: "Hancock had no involvement in the awarding of this contract, or indeed any other contracts. They were all awarded through formal processes, as the National Audit Office has confirmed.
"At the time, everyone in the Department of Health and Social Care was working every hour to respond to the pandemic and boost testing capacity. Any suggestion of wrongdoing is completely false."
The full trial is due to take place from December 6.
Scotland's The National reported on the to-ing and fro-ing between the judge and the Government's legal counsel, Philip Moser QC:
Philip Moser QC, for DHSC which is contesting the claim, argued Hancock had a "limited" role in the contracts.
"There is no reasonable basis on which to seek such disclosure, because Mr Hancock's involvement in the matters which are in issue in these proceedings was limited and, in any event, any communications from the then Secretary of State would have been caught by the existing disclosure exercise," he said.
Justice Fraser ordered that both Hancock's Government and non-Government communications that were used for Government business should be searched for relevant material.
On the topic of disclosure, The Mirror's tweet alleges that the Department for Health and Social Care (DHSC) had previously refused to pursue it:
And there's more
The Government has always claimed that there were no fast-track routes to winning a contract.
However, on Thursday, September 23, The Guardian reported about emails referring to a 'VIP route' for coronavirus testing contracts:
The Guardian reported:
… internal emails between DHSC civil servants, discussing the Rapid Testing Consortium (RTC), a group of companies led by York-based Abingdon Health, which was awarded huge government contracts without a competitive tender, did describe the process as "the VIP route". The then health minister, Lord Bethell, was described by officials as a "sponsor" of the consortium.
The DHSC disclosed the June 2020 emails during a legal challenge brought by the Good Law Project (GLP), which argues there was "apparent bias" in the award of the contracts to Abingdon Health, and that the government "failed to undertake any transparent or lawful process". The DHSC is defending the case, arguing that the emergency of the pandemic justified it making direct contract awards.
In the email exchanges, one civil servant, discussing how to process the RTC companies, said a person in authority, whose name is redacted, "would like them to go through the VIP route". The official asked: "Who should they name as their sponsor?"
A colleague replied: "Are the sponsors usually ministers? I would imagine RTC can name Lord Bethell?"
In a further email referring to the RTC, another official wrote: "This is usually for the VIP route which comes via ministers."
Asked by the Guardian about these references to a VIP route, the DHSC did not maintain its previous denial. Instead a government spokesperson said: "All offers of testing supplies that were evaluated by DHSC went through the same clinical evaluation process. Every application went through robust assessment checks, and decisions were based on merit."
As for Abingdon Health, founded in 2008:
The company has emphasised that it and its directors did not have Conservative party membership or connections, that the government asked them to contribute to the Covid response, and they were not aware if there was a fast track process.
Having been first contacted on 22 March 2020 by an adviser to Public Health England, Abingdon said they were asked to email the general DHSC and NHS Covid testing and research email addresses. On 1 April, the company was contacted by Prof John Bell, a senior government adviser on testing, and on the same day asked to join a conference call with the then health secretary, Matt Hancock. Following discussions with Bethell and other senior government figures, Abingdon then formed the RTC and were initially given a £3m research contract.
The other contracts followed on from there.
It is fortuitous for the Government that Parliament is in conference recess from 5 p.m. today until late October. Otherwise, a few Urgent Questions would probably have been scheduled.
As they say in journalism: 'The case continues'.
The full trial starts on December 6.
From the beginning of the coronavirus crisis, anyone who doubted Big Media's narrative was branded a conspiracy theorist.
Strangely, most of what notional conspiracy theorists spoke and wrote about in 2020 has come true.
Last week, I read two articles of interest about the virus, the New York Times (NYT) and China.
The NYT, China and the virus
On August 2, 2021, Ashley Rindsberg, the author of The Gray Lady Winked: How the New York Times' Misreporting, Distortions and Fabrications Radically Alter History, wrote an article for UnHerd: 'Did the New York Times stifle lab leak debate?'
What an eye-opener it is. Excerpts follow, emphases mine.
Rindsberg has done a lot of research into the history of the paper, nicknamed The Gray Lady in the United States.
He says that the paper's relationship with China has been going on for over a decade and explores its dubious ties with totalitarian regimes of the 20th century:
Researching and writing my new book, I discovered that the Times has a dark history of inadvertently helping authoritarian regimes with its reporting, including the Nazis, the Soviet Union and Fidel Castro.
In the case of China, this appears true to an alarming degree. For over a decade, the Times has nurtured a special relationship with the CCP — though we can only speculate as to whether this influenced its editorial output. Still, the Times certainly appeared unconcerned about the appearance of impropriety as it took millions of dollars from Chinese propaganda outlets, most prominently China Daily. In exchange for this badly needed revenue, the Times has published hundreds of "advertorials" written by Chinese propaganda outlets, including China Daily, which promote CCP messaging on the most serious topics, such as a double-page spread on the hotly contested Diaoyu Islands brazenly titled: "Diaoyu Islands Belong to China".
But the paper's advertising relationship with Chinese state outlets is only the visible part of the iceberg. In 2012, seeking to capitalise on China's burgeoning middle and upper classes, the Times launched a Chinese edition of its daily paper followed by the launch of a luxury lifestyle magazine. "The appetite for New York Times journalism in Chinese has never been stronger," a company press release stated at the time.
In investing so heavily in China, the Times unintentionally handed the rapacious CCP an editorial lever to sway coverage. The Times learned this first-hand when, in 2012, the CCP blocked Chinese access to the Times online in retaliation for an unfavourable article on the family finances of China's outgoing premier, Wen Jiabao. The Times set out on a year-long "lobbying" effort to restore coverage that included meetings with Xinhua, the parent of China Daily.
In early 2020, the lab leak hypothesis was roundly condemned in Big Media, especially the NYT.
Rindsberg leads us through the timeline and the narrative:
Of course, over the past year newspapers across the world have fallen for the CCP's distorted Covid-19 narrative. And there is no evidence to suggest that the CCP did put pressure on the Times. But when it came to the lab leak debate, the Times was relentless. Starting in early 2020, when little was known about the virus — and nothing about its origins — the Times adopted a stridently anti-lab leak stance. In its first report on the topic, a February 17, 2020 article covering comments made by Sen. Tom Cotton, the Times stigmatised lab leak as a "fringe theory". Once the story was published, its reporter took to Twitter to describe it as "the kind of conspiracy once reserved for the tinfoil hatters".
Only one week prior, another outlet made strikingly similar claims. In an editorial, the CCP-owned China Daily thundered that Cotton's decision to spread "malicious rumors" shows "how irresponsible some are in their haste to attack China". The Times, echoing China Daily, also cast the lab leak hypothesis as a "rumor".
Over the months, the Times's coverage grew even more strident — and more in line with Chinese propaganda. In February 2020, it gave a platform to zoologist Peter Daszak, publishing an opinion piece by him which claimed that the pandemic was caused by "road-building, deforestation, land clearing and agricultural development". Daszak argued that "discovering and sequencing" viruses like Covid-19 in labs like the one in Wuhan should be a priority.
The Times, which used Daszak as a key source in over a dozen articles, has never mentioned that Daszak's organisation funded the Wuhan lab, in particular research into bats and coronaviruses, a flagrant conflict of interest. Crucially, there was no mention of this when a reporter interviewed Daszak this February, following his return from a heavily criticised WHO investigation into the virus's origins. (Danszak later recused himself from the investigation because of the conflict of interest.)
But the Times also never revealed that Daszak was a favoured source for another outlet: China Daily. The state-owned media organisation, along with Xinhua and sister outlet Global Times, repeatedly quoted Daszak to assure readers of China's full cooperation in the search for the virus's origins — and to discredit the possibility of a lab leak.
The NYT's coverage was so supportive of China that Chinese publications began quoting it:
In April 2020, for instance, the Times published an article claiming the Trump Administration's investigation into a lab leak "has echoes of the Bush administration's 2002 push for assessments saying that Iraq had weapons of mass of destruction." Within minutes, a China Daily columnist retweeted the story and parroted its central claim.
With more information coming out about a possible lab leak, the NYT has changed tack:
Today, however, just as the tide is turning on the lab leak debate, so too is the Times's approach to the subject. Last summer, the Times abruptly ended its advertising relationship with Chinese state media outlets and scrubbed all trace of the advertorials from its archive. And in recent months, it has published a handful of articles quoting scientists who believe we should take seriously the prospect of a lab leak.
But does this excuse the paper's behaviour at the start of the pandemic?
I do not think so. The NYT is one of the world's most influential newspapers. Everyone takes what it says as gospel truth. It is hard to disagree with Ashley Rindsberg on his conclusion:
Only time will tell whether the lab leak hypothesis is true or false. But whatever the result, what a tragedy it would be if the Times's coverage delayed that verdict.
Lab leak update
On Friday, September 10, 2021, UnHerd posted the latest on a possible lab leak in Ian Birrell's article, 'Is this proof of lab leak lies?' Birrell is an award-winning foreign reporter and columnist.
Over the past several years, the United States, Britain's Peter Daszak and France were all involved at some point with the Wuhan labs.
Birrell tells us:
… we do know one thing now beyond debate: speculative "gain-of-function" experiments on mutant bat viruses were taking place in Wuhan laboratories.
This research, carried out in labs that did not have maximum level of biosafety, was increasing the infectivity of laboratory-created diseases by constructing chimeric coronaviruses — despite strong denial of such practices by the key Chinese scientists. And the bio-engineering was being funded by United States taxpayers — channelled through a charity run by a British scientist — despite similar denials from America's most senior public health officials that they supported such science fiction activities in Chinese labs.
This information was uncovered via freedom of information requests made in the United States by The Intercept, which is devoted to investigative reporting:
The Intercept obtained 900 pages of documents detailing two research grants in 2014 and 2019 from the National Institutes of Health (NIH) to EcoHealth Alliance. This is the charity headed by Peter Daszak, the controversial Briton who led efforts to squash "conspiracy theories" about a possible lab incident after spending years hunting viruses with Shi Zhengli, the now-famous "Batwoman" expert at Wuhan Institute of Virology (WIV).
While some of this information was already circulating, The Intercept was able to obtain updates on the relevant projects:
… these documents include the original proposals along with project updates, so significantly flesh out what we knew. They highlight how US funding bodies outsourced risky gain-of-function research to China, even over a three-year period between 2014 and 2017 when it was banned in their own nation. They also show, with new clarity, the kind of work taking place in secretive Wuhan labs. These disclosures fuel the mystery over the pandemic origins, while also sparking fresh concerns over top scientists in both China and the West who sought to suppress inquiries into the lab leak hypothesis.
The NYT had a role to play here in defending the Wuhan Institute of Virology (WIV):
A $3.1m grant, according to the documents, was awarded to understand "the risk of bat coronavirus emergence" through screening thousands of samples collected from the nocturnal creatures. This included a chunk of funding worth $599,000 for WIV. Bear in mind that three months ago, Shi, director of its Centre for Emerging Infectious Diseases, angrily protested over the world "pouring filth on an innocent scientist" when emphatically refuting that they carried out gain-of-function work. "My lab has never conducted or co-operated in conducting GOF experiments that enhance the virulence of viruses" she told the New York Times.
Birrell gives us the NIH's definition for 'gain of function' (GOF):
the term gain-of-function research describes a type of research that modifies a biological agent so that it confers new or enhanced activity to that agent.
The following are real life examples of GOF:
Analysis of these papers show US funds supported construction of new chimeric Sars-related coronaviruses, which combined a spike gene from one with genetic material from another — and then showed the resulting creation could infect human cells and mice engineered to display human-type receptors on their cells.
One new virus had increased pathogenicity over the original virus and three new viruses increased viral load in lung tissues up to ten thousandfold, which is most definitely "enhanced activity." As scientists pointed out to me, these results demonstrated increased pathogenicity of SARSr-CoVs with different spike proteins in humanised mouse models. And similar construction work was proposed to be done with another type of deadly pathogen — the Middle Eastern Respiratory Syndrome coronavirus, which first flared up in Jordan nine years ago after spilling over from camels and has since cropped up in 27 countries, causing 858 deaths.
Dr Fauci is also involved:
Anthony Fauci, the US infectious diseases expert and presidential adviser, insisted earlier this year that his country "has not ever and does not now fund gain-of-function research in the Wuhan Institute of Virology". His stance led to a furious clash in Congress with Senator Rand Paul, who gleefully tweeted after The Intercept published its article on the papers: "Surprise surprise – Fauci lied again. And I was right about his agency funding novel coronavirus research at Wuhan."
Paul was backed by Richard Ebright, the bio-security expert and professor of chemical biology at Rutgers University, who has long been a fierce critic of such work since he argues that the risks of creating new diseases in laboratories vastly outweigh any potential benefits. "The documents make it clear that assertions by Anthony Fauci and the NIH Director, Francis Collins that the NIH did not support gain-of-function research or potential pandemic pathogen enhancement at WIV are untruthful," he said.
Birrell discusses France's involvement with Wuhan:
Buried in the documents are two more intriguing details. First, the experimental work creating mutant chimeric coronaviruses was carried out at WIV's biosafety level 2 lab and then the work analysing them in humanised mice performed at the biosafety level 3 Wuhan University Center for Animal Experiment, not at the new maximum level 4 WIV lab built with French assistance. The cluster of labs at the university hospital, incidentally, includes a breeding centre that created at least 1,000 types of genetically engineered animals from mice to monkeys. So this means the details in the papers accord with a previous statement by Shi that their coronavirus research is "conducted in BSL-2 or BSL-3 laboratories" — although a level 2 lab has, some say, barely higher safety standards than a dental clinic and certainly few safeguards against an lethal airborne virus.
As for Daszak, while he defended China, his charity warned about viral infections from animals encountered in fieldwork:
… while Daszak has been condemning supposed conspiracy theories and defending his friends in China with whom he has collected thousands of samples, his own charity was pointing out the major risk of accidental infection faced by researchers when collecting such specimens in a project he led. "Fieldwork involves the highest risk of exposure to SARS or other CoVs, while working in caves with high bat density overhead and the potential for fecal dust to be inhaled. There is also some risk of exposure to pathogens …while handling bats, civets, rodents or other animals, their blood samples or their excreta."
Accidental viral infection via animals was another point mentioned early last year which the media summarily dismissed.
The story of the origins of COVID-19 continues to unfold.
I look forward to reading more in future and covering it here.
For several months now, Britain has been experiencing a supply chain problem with transport.
Detractors from the corporate world, such as IKEA, say that this is because of Brexit.
Wrong!
A shortage of lorry drivers is affecting deliveries worldwide.
Shipping problems have also been occurring.
On Thursday, September 9, Guido Fawkes posted an item whereby IKEA tried to blame the UK's transport problems on Brexit (emphases in the original):
In a recent BBC article on IKEA's supply shortages, the Swedish furniture giant went all in on blaming Brexit for their inventory issues:
"What we are seeing is a perfect storm of issues, including the disruption of global trade flows and a shortage of drivers, which have been exacerbated by the pandemic and Brexit."
However, IKEA tells a different story to EU countries, e.g. the Netherlands (emphases in purple mine):
The firm goes on to say that "10% of its stock, or around 1,000 product lines" have supposedly been affected by the Brexit-related shortage. In a separate statement given two days later to Dutch newspaper Dagblad van het Noorden, however, an IKEA spokesperson instead cited the exact same product shortage with a different excuse featuring one notable omission:
"There are major logistical problems worldwide. For example, there is a great scarcity of containers and container ships on important sea routes because the economic recovery from the corona pandemic is proceeding faster than expected. There are also congestion in ports due to the crowds and Chinese terminals were temporarily closed due to local corona outbreaks. Many IKEA products are made in China."
Both articles list the same 10% stock shortage figure, only one mentions Brexit.
Guido points out that the problem is global:
Remainers – and some parts of the media enjoying spinning the narrative on their behalf – are refusing to accept the lorry driver shortage is global: iron ore struggles to reach Australian ports; US petrol stations have run out of supplies after a 35,000 fall in lorry drivers; Asia reports a 20% fall in drivers …
Guido's article says that the only place where there is not a driver shortage is Africa.
Talk radio host Howie Carr has been talking about shortages and higher prices in the United States since the 2020 election. Lumber products had skyrocketed at the end of last year. Howie has also mentioned the petrol prices and shortages at the pump which started at the same time.
On August 21, 2021, Global Cold Chain News posted an excellent article on the European situation with regard to lorry drivers, including individual country profiles.
It puts paid to the misguided suggestions in the British commentariat that we should allow a few hundred thousand EU nationals to drive lorries for UK hauliers.
There are two reasons why such reasoning is faulty.
First, over six million EU nationals have been allowed by the Government to remain in the UK post-Brexit. If we cannot find our lorry drivers from among that group, then something is very wrong.
Secondly, as Global Cold Chain News explains, there are lorry driver shortages in most EU countries.
Excerpts follow, emphases mine:
Poland: According to Ti estimates, the shortage in Poland in 2020 is around 124,000 drivers. According to IRU, Poland is one of the most heavily impacted European countries and driver shortage in 2020 stands at around 37%.
Germany: Between 45,000 and 60,000 truck drivers are 'missing' in 2020 in the German market alone, according to the DSLV and BGL, and this number is only increasing. The IRU predicts a gap of 185,000 drivers by 2027 in Germany.
France: In 2019 it has been reported by several news outlets that France is experiencing a shortage of approximately 43,000 drivers.
Ukraine: The deficit of drivers in Ukraine in 2019 ranged from 12,000 to 120,000 depending on the region.
The article explains that HGV (heavy goods vehicle) shortages began years before coronavirus took hold — and, I would add, before Brexit:
The driver shortages have been affecting the global road freight market for around 15 years. The issue comes as the pool of truck drivers is contracting but demand for transport is rising. The COVID-19 pandemic has further exacerbated the already alarming issue of driver shortages as new drivers have been unable to train and take their tests and Covid restrictions make the job even less attractive.
Even before the pandemic a serious cause for concern in the industry, the lack of drivers in the road transport industry was at an all-time high, with many of its underlying issues being long-term challenges. Factors such as an aging workforce and insufficient numbers of new recruits, due to working conditions and image issues of the profession, have been plaguing the industry for many years.
The pandemic affected lorry drivers in the UK and the EU at its height in 2020. On France's talk radio station, RMC, a number of drivers rang in to complain that shower and toilet facilities at truck stops were closed. British drivers experienced the same inconveniences when delivering around the UK.
However, not every company is affected by product shortages.
Pub chain owner Tim Martin of Wetherspoons says that his supplies are at 2019 levels and that Brexit has not affected his business. In fact, it was strike action from a major brewer that caused a temporary shortage.
Guido Fawkes has the story:
Wetherspoon chairman Tim Martin has now pushed back to say these claims are all untrue. The reality is that beer supplies actually remain at 2019 (i.e. pre-pandemic) levels, and that the shortage of a few products over the last two weeks is the result of strike action from one major brewer. Martin added:
"There is clearly a shortage of HGV drivers, both in the UK and in mainland Europe- where, some reports say, there is a shortage of 400,000 drivers. Following the pandemic, there are supply chain issues in many other parts of the world also. In the light of the undoubted problems, it is important that the public is provided with accurate information. Factual inaccuracies and partisan Brexit politics will not assist in finding solutions."
Fake news about Brexit will not solve the transport problem.
Another factor is that another British organisation went on strike this year. The DVLA (Driver and Vehicle Licensing Agency), based in Wales, went on strike in August 2021, specifically the Drivers Medical Department. This is because coronavirus cases rose quickly at the DVLA site.
The strike has caused a backlog of delays surrounding licences and other driver certifications, including those for HGVs.
In conclusion, a number of factors are causing or exacerbating a shortage of HGV drivers — not only in Britain but around the world.
On Saturday, September 4, The Telegraph's Christopher Hope reported that, in 2020, the National Trust closed many of their tea rooms, some permanently, and shed staff members.
This happened despite the charity's £400m in cash reserves.
Coronavirus restrictions are the obvious reasons for these measures.
However, this quintessentially British institution has been changing tack for a few years now:
I cancelled my membership a decade ago. The National Trust magazine started getting 'woke' before 'woke' was even an expression. After years of being informative about the historical sites it manages, it became a bit too preachy for my liking: less history, more left-wing social commentary.
Recently, the National Trust got rid of curators, surely necessary where great houses and rare collections are concerned. Their latest job offering is for a Complaints Handler. Note that the advert is in The Guardian, which tells one all one needs to know:
It used to be that a grand day out in England often involved visiting a National Trust property and enjoying a cream tea afterwards. No longer.
On June 18, 2020, Conservative Woman discussed the charity's changes (emphases mine below):
'WE are for everyone, for ever' enthuses the mantra of the National Trust. As a long-standing garden volunteer, to me this slogan has all the poignancy of a soggy scone and a cup of tepid tea.
The charity was founded in the 1890s to preserve the English landscape and adopted the conservation of country houses as one of its purposes 40 years later. Over the last few years it seems that the Trust is constantly apologising for this …
On her appointment in 2018, the Trust's director-general Hilary McGrady maintained that the organisation had to be radical but 'change shouldn't mean alienating current members', gushing that 'our core supporters are what makes this possible'. With the Trust's revenues taking a nosedive, it has appointed Dr Corinne Fowler as an adviser regarding its association with colonialism. Her research interests include rural racism and the slavery connections of the British country house. She has commented, somewhat menacingly, that she perceives the 'problem' as 'more about slavery than cream teas'. 
Is the Trust's mania to be 'on message' and signing up to a movement revelling in its neo-Marxist identity with various far-Left objectives really the way to encourage rational debate? The majority of the public are perfectly capable of making an informed and nuanced judgment. They have no wish to see the history of this country 'cancelled' at the behest of a charitable organisation engaged in a giant hand-wringing exercise to express solidarity with a pernicious movement that has created an institutional nervous breakdown by its self-indulgent, regressive, historically illiterate, myopic views beating the drum of 'white privilege' as a cover for perceived racial injustice.  
In its commendable diversity and inclusion policy, the National Trust has lost the plot. A fun family day out to help preserve the complicated cultural heritage of this country has become nothing more than a simplistic box-ticking exercise by those uninterested in social progress and fighting racial discrimination in all its forms, intent instead on dismantling capitalism with the disruption of the family structure. The country has been infected by the real virus of egregious identity politics of a dangerous political cult.
On November 11 last year, Heritage minister, Nigel Huddleston MP, criticised the charity for voicing support for a political organisation:
These tweets are in the replies:
On May 25, 2021, the Daily Mail reported that Tim Parker, the chairman of the National Trust, resigned:
after members launched a bid to depose him amid a growing row over the 'woke' direction the charity is taking.
Members are furious at its recent focus on politically correct issues, which has seen it link properties to colonialism and make staff wear rainbow 'gay pride' badges.
A motion of no confidence in Tim Parker was due to be tabled at this year's annual general meeting by a grassroots organisation called Restore Trust.
The group is also demanding that the charity's staff be treated 'with fairness' after many were let go during the pandemic, and for executives to rein in pay rises.
Members, ministers and MPs had grown increasingly frustrated with Mr Parker's chairmanship, which critics said he used to take the 126-year-old charity in a 'bourgeois' and 'politically correct' direction. 
Last September, the Trust published an sensational 115-page report which 'blacklisted' 93 of its estates over their alleged links to slavery – including Chartwell in Kent, home of Sir Winston Churchill. 
The Charity Commission subsequently opened a regulatory compliance case and the heritage minister told Parliament that the report was 'unfortunate' and the Trust should go back to its 'core functions'. 
Parker had been the National Trust's chairman since 2014. Interestingly, he is also chairman of the Post Office.
Parker's National Trust opponents from Restore Trust filed their motion at the AGM (Annual General Meeting):
According to the Telegraph, the rebel motion at the AGM said: 'It is the task of a chairman to see an organisation through a crisis. The pandemic has presented the National Trust with severe challenges, and meeting these while securing the future wellbeing of the charity should have been the absolute priority.
'Instead, the National Trust has been the subject of debates in Parliament and an investigation by the Charity Commission, which found that the charity published a report which generated strongly held and divided views without fully managing the risks to the reputation of the charity. 
'The director-general has admitted that the timing of the publication of the 'Interim Report on the Connections between Colonialism and Properties now in the Care of the National Trust, Including Links with Historic Slavery' was 'a mistake'.'
The motion continued: 'The National Trust leadership has frequently been out of step with its members and supporters over recent years. 
'Unnecessary controversies have threatened to undermine the charity's simple duty to promote public enjoyment of buildings, places and chattels under its protection.
'As a result, morale among volunteers and members is at an all-time low and the National Trust has suffered, both financially and reputationally. 
Actor and musician Laurence Fox, founder of The Reclaim Party, approved of Parker's resignation:
One of Restore Trust's members, Tony Adler, said that the organisation inaccurately linked slavery to Ham House in south-west London:
One of Restore Trust's members, Tony Adler, said: 'The plan is to change the whole ethos formally. And to get rid of the chairman. There has been a sea change in the Trust's philosophy and they have lost sight of their charter.' 
The charity was established in 1895 to 'promote the permanent preservation… of lands and buildings of beauty or historic interest'.
Mr Adler, a retired history lecturer and former volunteer at Ham House in south-west London, claims he was forced out of the charity after he pointed out inaccuracies over the stately home's supposed links to slavery.
In August, the National Trust dispensed with many volunteer education teams:
This year's National Trust AGM will take place on October 30. Existing members can vote on the proposals by post or online:
It will be interesting to find out what happens, especially as Restore Trust is rightly calling for the reinstatement of education volunteers.
It used to be that vaccines prevented infection.
Coronavirus has changed all that. The double-vaxxed are ending up infected:
Andrew Doyle, who hosts Free Speech Nation for GB News, has it, and he's taken his shots.
ITV's Robert Peston, also double-vaxxed, has it, too:
Peston was supposed to be in Aberdeenshire in Scotland but had to cancel:
I hope he recovers soon.
Meanwhile, in the UK, the debate rages on as to whether children over the age of 12 should receive the vaccine and whether older adults should have a booster shot this autumn.
British supporters of vaccines for children say that such programmes in the United States and France have been highly successful. Hmm.
Dr Robert W Malone is an American physician as well as an inventor of mRNA vaccines and RNA as a drug. He directs his readers to an article in LifeSiteNews about possible coercion being used in high schools:
Meanwhile, the WHO is urging countries wishing to vaccinate their children to donate those doses to Covax instead for wider use around the world. The reply to this tweet includes a statement from Britain's JCVI (Joint Committee on Vaccines and Immunisation) which recommended against children's vaccinations on Friday, September 3:
The WHO also disagrees with booster shots in Western countries, again recommending donating those doses to poorer countries:
The UK also wants to roll out vaccine passports by the end of the month. If we can catch the virus despite two jabs, what is the point? It seems as if we are all back at Square One, only that we are susceptible to milder cases rather than death.
Speaking of deaths, the UK figures for 2021 are on a par with other years since the vaccine rollout began. I saw this graphic on another site with no attribution. Note the bright green line up to Week 33: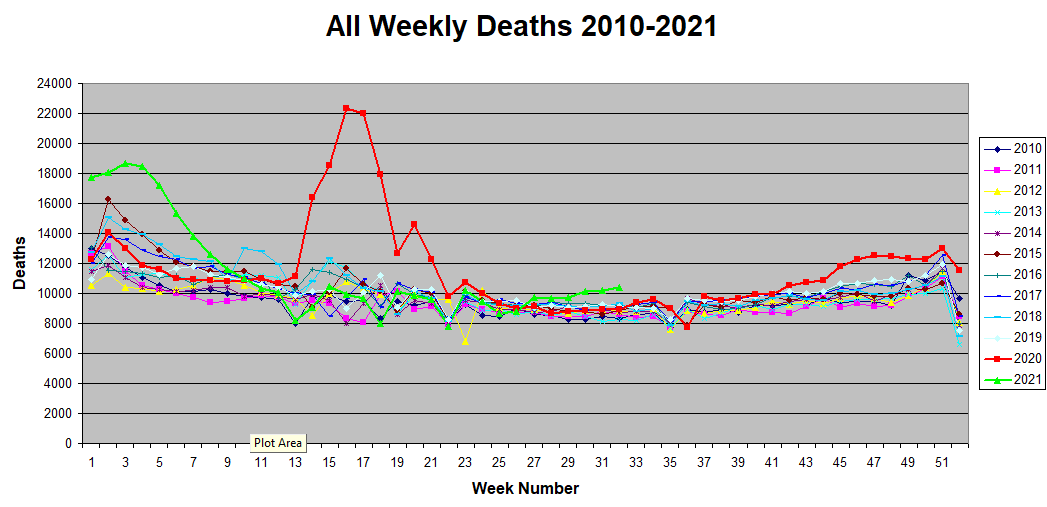 Moving to poorer countries now, not every nation has shown signs of infection or deaths:
Dr Malone says that Peru had a preventive programme of giving its citizens doses of ivermectin until a new president scrapped it. At that point, fatal infections began rising dramatically:
Since the pandemic began, ivermectin for humans has been taken off the market in several Western countries or is restricted on a prescription-only basis for certain conditions, excluding the virus. In many first-world countries, ivermectin is now used solely on animals for various diseases. The current formulation is made for their consumption.
Yet, in Peru and Africa, the formulation for humans is still available. It is inexpensive and is used to cure a variety of diseases as the following Twitter thread about Africa tells us.
The countries in blue are where ivermectin is used on humans. Note the differences in coronavirus cases and deaths:
Ivermectin, sold under the trade name Mectizan, is used to treat river blindness, a common and highly painful disease. It is not unusual to see people with a pair of eyebrow tweezers on a chain around their necks. Among other things, river blindness inflames the eyelash follicles. The only way to relieve the intense pain is to carefully pluck the offending eyelash. It is an ongoing pain until the disease is cured:
The Japanese have looked at sub-Saharan data and have recommended ivermectin to the government as a treatment for coronavirus:
It seems that the Japanese government rejected the use of ivermectin in combatting coronavirus. The updated statistics for Africa are in the second tweet:
Another big supporter of ivermectin is Karl Denninger of The Market Ticker.
On December 18, 2020, he wrote that by giving Americans two tablets of ivermectin, coronavirus could be stopped in one week in the United States. Two tablets in total is all it would take (emphases in the original):
… Why the hell are you not only letting them get away with it but willing to stand in line and take a not-fully-tested shot when a $2 alternative that does the same thing and has been proved safe over more than 30 years of time is available, and it also has a remarkable record of preventing serious disease and death.   This has been known for months.
We can stop Covid-19 in ONE WEEK.
One.  Not five, six, eight or ten as promised by Dr. Redfield with his "masks" who, I remind you, lied.  Covid-19 did not stop even though he got what he wanted.
The science and the CDC's own data says this will work in ONE WEEK.
And the risk if it doesn't work as the science and math says it will?
STATISTICALLY NONE; the drug in question has had over 3.5 billion doses dispensed worldwide and, on the data, is safer than Tylenol and the number of pills you must take is two.
Not two per day.
Two.
Ivermectin will receive broad media coverage only when it's too late. What a pity.
Yesterday's post covered the intractable situation in Afghanistan from Alexander the Great through to America's involvement as of 2018.
I ended with an article by Lawrence Sellin, a retired colonel in the US Army Reserve, who wrote an article for the Indian Center for Diplomatic Studies, 'China Moves into Afghanistan As Part of Its Global Expansion Mission'.
Lithium and other minerals
China's involvement in Afghanistan will become much deeper. The country's mineral deposits, lithium in particular, are much sought after. This is what the US withdrawal on August 15 means:
The tweeted article is by an Indian scientist, Ameya Paleja, writing for Interesting Engineering: 'With Taliban, Is China Eyeing Afghanistan's Mineral Deposits?'
Paleja writes (emphases mine):
The abrupt removal of the US forces has left a political vacuum that China seems eager to fill. The Week reported that Foreign Minister Wang Yi met a Taliban delegation earlier in July and the two have agreed on a bigger role for China in the "future reconstruction and economic development of the region."
China had made some inroads in mining projects in 2008 with a plan to mine copper out of what is believed to be the second-largest copper reserve in the world. However, progress on the project had been slow. Its next target could be the rare earth elements like lithium that China currently mines and exports from its mainland to fuel the electric transformation of transportation in the US and Europe.
Lithium-ion batteries are now ubiquitous in almost all electronic appliances and even working as storage systems for grids powered by renewable energies.  However, China would be happy to move the operations to another country, given the environmental risks entailed in the process. 
Therefore, it is curious that Joe Biden abruptly ended US involvement in Afghanistan, known to be the 'Saudi Arabia of lithium'.
Where was that expression coined? In the United States, by their own defence department:
Yet, for whatever reason, Ameya Paleja points out that the 2020 United States Geological Survey (USGS) report:
does not even mention Afghanistan in the list of global lithium reserves …
Newsweek invited Nigel Farage to write an editorial on Biden's perilous withdrawal from Afghanistan. Farage wrote about the lithium deposits:
A commentator on GB News this week said that China plays the long game. Western countries think four or five years ahead. China looks 10 to 20 years ahead.
In reading Farage's article, one might be forgiven for thinking that China started putting the pieces together some years ago, even before electric cars became a thing:
Afghanistan's lithium reserves were first identified during geological studies carried out in the 1980s by the Soviet Union. At that time, the discovery did not resonate with most people because demand for the mineral was fairly low. After the Americans arrived in Afghanistan 20 years ago, they sought to back up the work done decades earlier and, in 2007, the United States Geological Survey discovered vast deposits of iron, gold, copper, cobalt and lithium. This discovery remained largely unknown until 2010. Yet media reports from that year confirmed its significance to modern industry, saying that Afghanistan was on course to be one of the most important mining centers in the world. An internal Pentagon memo that was unearthed at the time even stated that the country could become the "Saudi Arabia of lithium." It should be noted that Joe Biden was vice president when that memo became widely known.
Almost 15 years after that survey, most of these mineral deposits remain unexploited as a result of the various problems which have overshadowed Afghanistan. Recently, however, rapidly rising commodity prices have proved just how vital lithium has become. This development makes Biden's irresponsible withdrawal from Afghanistan even more difficult to comprehend.
Farage discussed China's strategy in Africa, which clearly works for the continent's leaders:
Despite its great size, China is surprisingly short on many of the vital minerals it needs to support its modern industrial revolution. To date, its Belt and Road initiative has used Africa to ensure vital supplies for the future, successfully securing the rights to mineral mining in many countries in that continent. In return, African administrations receive revenue for opening up their countries to the Chinese. The fact that some individual African politicians seem to have become extremely wealthy very quickly in recent years is not a coincidence.
Therefore, he says, China can use the same strategy with the Taliban, despite the Uighur situation:
I predict that exactly the same thing will happen in Afghanistan. True, there will almost certainly have to be a compromise over the appalling treatment of the 12 million-strong Muslim Uighur minority living in Xinjiang, but I have no doubt that China and Afghanistan will reach an understanding. China is desperate to forge links with the Taliban in order to obtain Afghanistan's assets as quickly as possible.
Arguably, it has already begun to do so. It was announced this week that a Chinese consortium intends to reopen the Mes Aynak copper mine near Kabul, which is believed to contain some of the largest copper deposits in the world. The consortium, consisting of the state-owned China Metallurgical Group Corporation (MCC Group) and another Chinese company, Jiangxi Copper, was awarded a 30-year, $2.9 billion contract in 2008 but halted work because of the pandemic. According to an unnamed source at the state-owned Global Times "We would consider reopening [Mes Aynak] after the situation is stabilised and international recognition, including the Chinese government's recognition of the Taliban regime, take place."
Farage concludes:
Although guaranteeing the future availability and price of any commodity is difficult, in this particular situation one thing seems certain: the West's green revolution has been dealt a major blow. In strategic terms, this underlines the madness of Biden's withdrawal decision. Was the president poorly briefed, or simply not up to the job? Whatever the answer, the green revolution that has been planned by every G7 nation has suffered a setback. The blame can be laid squarely at the feet of blundering Joe Biden.
On Tuesday, August 17, Cynthia Chung of Canada's Rising Tide Foundation wrote an article for Strategic Culture: 'Afghanistan: Whatever the Future Brings, One Thing Is for Sure, Britain and the U.S. Should Stay Out'.
Chung wrote about the Chinese government's interest in the Wakhan Corridor, about which I wrote yesterday. It is a slim tongue-shaped piece of eastern Afghanistan that borders China. Among other projects:
Beijing is also building a major road through the Wakhan Corridor, which would connect China's westernmost province of Xinjiang to Afghanistan.
The Wakhan Corridor project is fraught with risk, but the Chinese have been negotiating with the Taliban since 2019. From what Chung reports, the Taliban might sacrifice any concern for the Uighurs for the good of Chinese investment:
… China has been undergoing negotiations with the Taliban since 2019.
The Wakhan Corridor is regarded as a rather risky endeavour having the potential to act as a corridor for terrorism rather than development.
Just a few weeks ago, Taliban spokesman Suhail Shaheen said in an interview that "China is a friendly country and we welcome it for reconstruction and developing Afghanistan…if [the Chinese] have investments, of course we will ensure their safety."
On the issue of whether the Taliban might support alleged Uyghur militants against China in neighboring Xinjiang, Shaheen responded, "We care about the oppression of Muslims, be it in Palestine, in Myanmar, or in China, and we care about the oppression of non-Muslims anywhere in the world. But what we are not going to do is interfere in China's internal affairs."
This may seem like empty talk meant to impress Beijing and earn more brownie points, but the Wakhan Corridor is narrow and will not be difficult to monitor. Thus Beijing is offering this in good faith but it is also an easy test to see how much substance is indeed behind such words, and the Taliban know this.
On July 28th, Taliban representatives met with Chinese officials in Tianjin. Chinese Foreign Minister Wang Yi stated "The Taliban in Afghanistan is a pivotal military and political force in the country, and will play an important role in the process of peace, reconciliation, and reconstruction there."
This is sending a clear message, that so long as the Taliban agrees to defend Afghanistan against terrorist groups such as al-Qaeda and serves to increase stability in the region, it will continue to have a seat at the negotiation table.
Trump's withdrawal plan had wide approval
President Donald Trump presented his plan for American withdrawal from Afghanistan on February 29, 2020: 'Agreement for Bringing Peace to Afghanistan'.
It placed a certain degree of trust in the Taliban to negotiate with the then-Afghan government.
It also met with wide approval from not only the UN Security Council but also Russia and China. Chung gives us an outline of Trump's strategy. It included:
provisions including the withdrawal of all regular American and NATO troops from Afghanistan, a Taliban pledge that they would oppose al-Qaeda in their zones of influence and open up talks with the Afghan government. This peace agreement was also supported by Russia, China, Pakistan and unanimously endorsed by the United Nations Security Council.
Under this peace agreement there was to be an initial reduction from 13, 000 to 8, 600 troops in July 2020, followed by a full withdrawal by May 1st 2021 if the Taliban kept its commitments during this downscaling of U.S. military presence.
This agreement looked promising under the Trump Administration, and it was thought that it would be possible to work with the Taliban in securing peace and stability in Afghanistan, to counter al-Qaeda, and to allow for American troops to finally leave a country they had been occupying for two decades. And again, this was a proposal that was supported by Russia, China, Pakistan and the UN Security Council.
Even Gen. Nick Carter, the UK chief of the General Staff stated in an interview, "I think that the Taliban is not the organization it once was, it is an organization that has evolved significantly in the 20 years that we have been there…They recognize that they need some political legitimacy and I would not be surprised if a scenario plays out that actually sees it not being quite as bad as perhaps some of the naysayers at the moment are predicting."
Trump was already discussing his plan the year before, in January 2019. On January 31, Senator Rand Paul (R-Kentucky) agreed, saying that it was not in any way 'precipitous'. Who at the time could have imagined Biden's precipitous move 17 months later?
The following day, February 1, Trump tweeted:
I inherited a total mess in Syria and Afghanistan, the "Endless Wars" of unlimited spending and death. During my campaign I said, very strongly, that these wars must finally end. We spend $50 Billion a year in Afghanistan and have hit them so hard that we are now talking peace …
However, the Senate disagreed with a proposed withdrawal. Jesse Kelly, a Marine Corps veteran, wrote about it on February 4 for The Federalist: 'Congress's Vote To Keep War In Afghanistan Sells Out American Soldiers'.
It began:
The U.S. Senate cannot agree on anything. They are so mired in partisan gridlock, a resolution declaring the sky to be officially the color blue would fail along party lines. But there is one thing and one thing only they agree on: 17 years of our troops dying in Afghanistan isn't long enough.
By a 68-23 margin, the Senate decided we haven't spilled enough blood, broken enough soldiers (mentally and physically), or spent enough money. All for a now-aimless conflict in a part of the world Americans don't even care about.
What began as an attempt to hunt down Osama bin Laden has now become a generational conflict where sons are patrolling the same areas as their fathers did. This no longer a war. This has become a hopeless mission to tame a part of the world that has never been and will never be tamed.
Afghanistan is a rugged, tribal nation with different interests than ours. As with so many parts of the world, the strong will rule over the weak there, and there is precious little America can do about that. That is why we're now resigned to negotiating a peace deal with the very Taliban we've been fighting for 17 years.
He cited three Founding Fathers, none of whom thought that America should be the world's policeman.
Kelly concluded:
Let us stop this. Let us revert back to an originalist foreign policy that lets America worry about America and Americans.
That's not isolationism, as America must remain ever vigilant and ready to take on the evils of this world should they threaten her interests. Instead, it's a foreign policy that focuses on neutrality, trade, and places high value on the life of the American soldier. Let us finally send neoconservative interventionalism to the death it wishes upon our troops.
With regard to the Senate vote, Rand Paul told Fox News:
He also suggested that it was time for the Senate to stop using US troops to further a prevailing narrative in politics and the media:
On September 7, Trump was ready to meet a Taliban delegation at Camp David, but the meeting fell through. He tweeted:
Unbeknownst to almost everyone, the major Taliban leaders and, separately, the President of Afghanistan, were going to secretly meet with me at Camp David on Sunday. They were coming to the United States tonight. Unfortunately, in order to build false leverage, they admitted to…
I don't know what the next tweet said.
On Thanksgiving Day that year, while the media accused him of being on holiday, Trump travelled to Afghanistan to meet with American troops:
He was at Bagram Airfield:
On February 20, 2020, just nine days before Trump issued his 'Agreement for Bringing Peace to Afghanistan,' Mike Pompeo and his negotiators met with the Taliban in Doha and arrived at an agreement to further the Afghan Peace Process:
How was this going to work? Trump said that the US would keep an eye on the Taliban:
Speaking at the White House, Mr Trump said the Taliban had been trying to reach an agreement with the US for a long time …
"I really believe the Taliban wants to do something to show we're not all wasting time," Mr Trump added. "If bad things happen, we'll go back with a force like no-one's ever seen."
The agreement, fragile though it was, was signed on Saturday, February 29, 2020:
Trump expressed his gratitude for the support he received from the UN and NATO. Dr Fauci is there because coronavirus press conferences in the United States had already begun:
On March 1, however, Afghanistan was reneging on the release of prisoners. President Ghani said at the time that the release was a decision for the Afghan government, not the United States.
Nevertheless, by March 9, US troops began going home. American Military News reported:
Hundreds of U.S. troops have begun withdrawing from Afghanistan in line with the U.S. commitments announced in the recent U.S.-Taliban peace deal.
American service members are leaving Afghanistan, with no troops planned to replace them in the country, the Associated Press reported Monday following conversations with an unnamed U.S. military official. The withdrawal comes even as uncertainty persists around the Taliban peace agreement, as well as political upheaval within the Afghan government.
On November 16, several days after the hotly-contested election, Senator Mitch McConnell (R-Kentucky) sided with Joe Biden and again said that Trump's plan was premature:
However, freshman senator Josh Hawley (R-Missouri) urged Trump to press ahead in his final weeks in the White House:
The Concerned Veterans for America also urged Trump to act before he left office:
Unfortunately, by January 2021, President Trump's hands were tied and, on Inauguration Day morning, as planned, he left the White House.
Biden and Afghanistan
On April 14, 2021, Joe Biden made an announcement about further troop withdrawals:
Biden said that he spoke with Obama and Bush before taking a decision:
The then-Afghan president Ashraf Ghani confirmed a conversation with Biden:
By July 8, however, the wheels were falling off the bus, even though Biden insisted there was no threat of Taliban takeover:
On July 9, the Taliban were already on their way to retaking control of Afghanistan, as you can see from this BBC map:
By the time Biden created chaos on August 14 and 15, the Taliban had triumphed.
More on Afghanistan to follow next week.
It has been one year since Nancy Pelosi had her hair done in a San Francisco salon and walked around maskless, violating California's coronavirus regulations which mandated that salons be closed.
Unfortunately, Erica Kious had to close her business, eSalonSF. Kious had rented a chair to an independent hairdresser who did Pelosi's hair, yet she got all the grief.
Kious has since joined forces with Heritage Action's Save Our Paychecks Tour, intended to raise awareness of how coronavirus regulations have put small companies out of business. She spoke at their launch in Fresno on Tuesday, August 10:
Fox News reported on Kious's talk (emphases mine):
"I thought if I ever lost my business, I would have lost it in an earthquake," Kious said Tuesday at Heritage Action's Save Our Paychecks Tour kick-off event in Fresno. "Never did I ever think that I would have lost everything I worked for by leftist politics. Gone."
Fox News obtained surveillance video last summer of Pelosi visiting the salon for a hair wash and blowout, despite local ordinances keeping salons closed amid the coronavirus pandemic.
Pelosi, D-Calif. later claimed she was "set up," which Kious denied. 
"I never set her up. That was a lie. I've had cameras in there since I opened. I didn't put them in there I didn't turn them on. They're on all the time," said Kious, who noted she was traveling when she saw the video footage of Pelosi. 
The former owner said Pelosi was serviced by an independent stylist who rents chairs in her salon. Kious said she decided to share the now-viral security camera footage when she found the Speaker indoors without a mask in what she called a "hurtful" display of hypocrisy. 
"I went through the exact footage of her walking through my reception area with no mask," Kious said Tuesday. "I literally felt like she took a knife and stabbed me in the stomach. … I know inside me what she did was wrong, completely wrong" …

At the time of the incident in 2020, Kious described the harassment she received:
"I started to just get a ton of phone calls, text messages, emails, all my Yelp reviews … saying that they hope I go under and that I fail," Kious said at the time. "So just a lot of negativity towards my business."
Tens of thousands of small businesses in California closed last year, with more closing in 2021:
Nearly 40,000 small businesses closed in California by September 2020, which was around the time of Pelosi's visit, according to Heritage Action, a conservative grassroots organization. Thousands more have closed since.
The Western Journal reported that Kious now rents a chair in another hairdresser's salon in Fresno:
Kious said she doesn't plan to start another salon and now rents a chair from Bree Gentry, a Fresno salon owner, according to The Daily Signal.
Gentry said her own survival was uncertain.
"I'm proud to say that you have a space to stand in today because we also survived 2020, 2021, and we weren't sure we were going to make it. It got a little shaky," Gentry said.
How sad to have to move from San Francisco to Fresno with nothing because of left-wing harassment. At least Kious found steady work and is making a living for herself and her children:
Meanwhile, Nancy Pelosi is enjoying her stash of designer ice cream. I bet that Kious can only dream of affording such luxuries on a regular basis.
How many times have we heard during the coronavirus crisis that Klaus Schwab's The Great Reset is nothing more than a conspiracy theory?
In reality, it is not a conspiracy theory. It is a book published in July 2020 which outlines exactly how Schwab sees The Great Reset unfolding.
I saw this graphic on another website: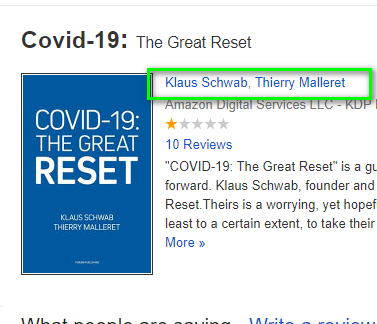 I duly investigated and found a British link to COVID-19: The Great Reset by Klaus Schwab and Thierry Malleret.
The one-star reviews are worth reading. Excerpts follow, emphases mine.
One says:
This is nothing short of a real life "Dr No" Bond movie where psychopaths plan to dominate and take over the world. Yet am I saying that these people are psychopaths? Well, the book contains conflicting words, sentences facts and figures the way psychopaths present, so please read and work that out for yourself.
Another review is a well-written essay. The first two paragraphs follow. The second explains more about Thierry Malleret's role at the World Economic Forum (WEF):
This book explores the current global scenario and discusses what the future might hold for us. We are told we are at a crossroads, one path will take us to a better world, the other will be similar to what we left behind but worse. With a nod to religion (heaven or hell), it is obvious we are supposed to choose the path laid out for us. The authors erroneously suggest that the pandemic has dramatically torn up the existing script of how to govern countries, live with others and take part in the global economy. They tell us that the spread of infectious diseases has a unique ability to fuel fear, anxiety and mass hysteria. To push home this point, the word 'fear' is mentioned 31 times in the book. I don't doubt that there are sections of society who are worried but I fail to sense the emotional carnage that the authors' describe. Things, they say, will never return to normal but a few pages later suggest that a vaccine, and enough people being vaccinated, will enable us to return to normal. Are warning bells ringing with you? They are with me. The use of selective quotes to spread fear and social unrest, promoting the view that we are heading into chaos and uncertainty, is highly irresponsible. The authors claim a failure of global governance and leadership over Covid-19 and that people now feel the time ripe for reinvention. Presumably this is where The Great Reset comes in. All well and good but I'd like to know who these people are? Prince Charles? Tony Blair?

To truly understand the message of the book, you have to know about the authors. Klaus Schwab is an economist, engineer and founder and Executive Chairman of the WEF. The WEF is an elite global non-governmental organisation based in Switzerland committed to shaping a better global future. Thierry Malleret is Managing Partner of the Monthly Barometer (for top-level business and investors) and previously founder and head of the Global Risk Network at the WEF, investment banker and economist. WEF attracts the wealthy and the powerful including those from business, politics, charity and academia, as well as celebrities and activists. Boris Johnson, the British Prime Minster, banned ministers from attending the last WEF meeting at Davos in January 2020 to focus on the people and not on champagne with billionaires. He once told the BBC that Davos was "a great big constellation of egos involved in massive mutual orgies of adulation".
Here's a third review:
Trying to convince the reader that the great reset is required because of covid. All while stating in the conclusion that the virus is one of the worlds least deadly pandemics in 20[2]0. Give me a break, at least it seems that the plan isn't going as expected. I can clearly see almost everything that has happened in 2020 seems to be continuing with a plan to divide the people while scrambling around trying to usher in the new world order.
There we have it: proof from Klaus Schwab himself that coronavirus is tied to The Great Reset.
Although the late comedian Jackie Mason thought that the UK's House of Commons was akin to a 'sanitarium', there are inviolable rules for suspension from the Chamber.
Criminal charges or sexual harassment will do the trick. Often, the party whip is removed from the MP in question, rendering them Independent unless the whip is restored.
Here are two other ways that MPs can be suspended.
Grabbing the mace
When the Commons is in session, the mace sits atop the desk in front of the Speaker.
Only the Serjeant at Arms is allowed to handle it. He/She puts it in place before the session and removes it afterwards.
On Wednesday, December 16, 2020, the SNP's Drew Hendry was vexed about the Internal Market Bill, which is part of the post-Brexit legislation.
He claimed that it would interfere with Scottish devolution because Parliament would be taking decisions he believed the Scottish government should take.
Excerpts of his speech and the debate follow, emphases mine (unless otherwise stated):
Westminster Ministers will still have the right to impose lower food, environmental and other devolved standards on Scotland, regardless of the view of Holyrood. This Bill is the biggest assault on devolution in the history of the Scottish Parliament. It undermines devolved policy making, grabs spending powers, and removes state aid from being a devolved responsibility. The Scottish Parliament and the Welsh Assembly refused to give this Bill consent, and it is outrageous that the UK Government are once again ignoring the wishes of the people of Scotland as well as Wales …
The only reason for this Bill as it now stands is to demolish devolution. If the Government take this Bill forward today, as they obviously will, that is what they will be doing. Any pretence thereafter by the Scottish Tory MPs that they respect the democratic rights of the people of Scotland will be blown apart if they support this today. In fact, they have already supported it, because it seems that it will go through. They have done nothing to protect the democratic rights of the Scottish people.
People in Scotland are watching. People in Scotland, when they see the effects of this Bill, will be angry about the fact that their rights are being taken away by these Tory Ministers, aided by their Labour bedfellows. They will be furious about the fact that their rights are being stripped from them. They are listening, they are watching, and they are seeing developments in this place. They are understanding, now, that the only way to protect their Parliament, their rights and their democracy in Scotland is to go forward as an independent nation—and they will be voting for that, I am sure, in due course.
Yet another SNP rant about rights, democracy and independence.
The debate went on for some time. At the end, the presiding minister responding for the Government — Conservative MP, Paul Scully — concluded:
I welcome the contributions and the constructive discussions that we have had in recent days with Opposition Members in both Houses that have got us to this place. We have had some passionate debates on the Bill, because of the importance of the issues. However, the Bill will ensure that UK businesses can trade across the four parts of the UK in a way that helps them to invest and create jobs, just as they have for hundreds of years. I am therefore delighted to ask the House to agree to the amendments, and to complete our scrutiny and consideration of the Bill.
At that point, Drew Hendry stood up and walked towards the centre of the Chamber, a big no-no. Then he grabbed the mace:
Dame Rosie Winterton was the Deputy Speaker for the debate.
This was the exchange between her and Hendry:
Hendry: This is an outrage to Scotland. It is not acceptable.
Winterton: Order. The hon. Gentleman must resume his seat, and he knows that. [Interruption.] This is just showing off. He should resume his seat, otherwise I will name him and order him to leave. [Interruption.] Does he want to be named? Is that what is happening? [Interruption.] If that is what is happening, we can do it. [Interruption.] Okay—I will name him. I know what he is doing. [Interruption.] Oh, for goodness' sake! Very childish.
Hansard records that the suspension took place under Standing Order No. 44:
Drew Hendry, Member for Inverness, Nairn, Badenoch and Strathspey, was named by the Deputy Speaker for disregarding the authority of the Chair (Standing Order No. 44).
Motion made, and Question put forthwith (Standing Order No. 44),
That Drew Hendry be suspended from the service of the House.—(David T. C. Davies.)
Question agreed to.
The Deputy Speaker directed Drew Hendry to withdraw from the House, and the Member withdrew accordingly.
Guido Fawkes posted the BBC video the next day. His readers were appalled:
It was a costly move on Hendry's part. One of Guido's readers recalled that Labour MP Lloyd Russell-Moyle also grabbed the mace. That was on December 18, 2018, also in a Brexit-related debate; he was suspended only for the rest of the day:
Guido's report explained the £7,000 (emphases in the original):
SNP MP Drew Hendry made a bit of a fool of himself last night, shouting to disrupt proceedings and then seizing the mace – all over the passage of the Internal Market Bill. As a result of his actions he was officially 'named' and suspended from the House for five working days. Despite some news outlets claiming the suspension is just 24 hours, Guido's well placed source says they have got it wrong.
Two aspects of the suspension that have gone unreported are that; firstly it is without pay and secondly it covers five working days. Meaning that after today and tomorrow, the House will have to sit for three more days before Hendry can be paid again. Even if the Commons returns for an extraordinary day or two to ratify a potential Brexit deal, it is unlikely there will be a third sitting day until well into January. It's possible therefore that Hendry's five sitting days suspension could end up lasting for a calendar month – costing the MP almost £7,000 in lost salary. A very expensive mace grab.
It's hard to know what happened in the end, but a £7,000 penalty would have been fitting.
Accusing an MP of lying
Another way of getting suspended from the Commons is to accuse an MP of lying, which is what Labour's Dawn Butler did on the final day before this year's summer recess.
On Thursday, July 22, 2021, in the Summer Adjournment debate, she said, in part:
While the NHS was coping with 130,000 people dying from the pandemic, the Prime Minister was making his mates rich. Cronyism is rife and old chums are given jobs regardless of their skillset—some a little bit on the side. This has been one big experiment for this corrupt, authoritarian, racism-laden Government, and I am not scared of saying it like it is …
Poor people in our country have paid with their lives because the Prime Minister spent the last 18 months misleading this House and the country.
Peter Stefanovic from the Communication Workers Union has a video with more than 27 million views online. In it he highlights that the Prime Minister says: that the economy has grown by 73%—it is just not true; that he has reinstated nursing bursaries—just not true; that there is not a covid app working anywhere in the world—just not true; and that the Tories invested £34 billion in the NHS—not true. The Prime Minister said
"we have severed the link between infection and serious disease and death."
Not only is that not true but it is dangerous.
It is dangerous to lie during a pandemic, and I am disappointed that the Prime Minister has not come to the House to correct the record and correct the fact that he has lied to this House and the country over and over again.
Having watched enough of these debates and all of Boris's coronavirus briefings, he did not say any of those things.
Judith Cummins MP (Lab) was Deputy Speaker while Dame Rosie Winterton was self-isolating with the virus. She did a great job in handling the situation:
Cummins: Order. I am sure the hon. Lady will reflect on her words and perhaps correct the record.
Butler: What would you rather, Madam Deputy Speaker, a weakened leg or a severed leg? At the end of the day, the Prime Minister has lied to this House time and time again. It is funny that we get in trouble in this place for calling out the lie rather than for lying.
Cummins: Order. Can you please reflect on your words and withdraw your remarks?
Butler: Madam Deputy Speaker, I have reflected on my words. Somebody needs to tell the truth in this House that the Prime Minister has lied.
Standing Order No. 43 was invoked:
The Deputy Speaker ordered Dawn Butler, Member for Brent Central, to withdraw immediately from the House during the remainder of the day's sitting (Standing Order No. 43), and the Member withdrew accordingly.
Guido's team posted the video:
The accompanying post had this sentence (highlight in the original):
This attention-seeking stunt will work as desired…
Unfortunately, Butler left the Commons at 3:49 p.m., and summer recess began around 5 p.m., so any salary deductions were minimal.
Even so, the left-leaning PARLYappteam thought Judith Cummins did the right thing:
But there was more. Stuart Andrew MP responded to the debate on behalf of the Government. I really like him. He came from humble circumstances and is now the Treasurer of Her Majesty's Household.
Of Dawn Butler, he said:
I cannot ignore the disappointing tone of the hon. Member for Brent Central (Dawn Butler). It was disappointing to hear the constant accusation of cronyism and corruption. I took particular offence at being described as a member of a racism-enabling Government. I have faced prejudice in my life, and I have ended up in hospital, as did my father, because of my sexuality. I took offence at being told that I do not believe in the NHS, as I spent most of my working life working for the hospice movement, and at being told that we do not care about poorer families, as my dad spent a lot of time in unemployment—I had to have free school meals. I take exception to such accusations.
I will stand up to anyone who discriminates against any single person for who or what they are, or for who they love. I will defend the NHS for as long as I am alive. I believe that the best way to help our poorest families is to give them the opportunity to have a job that pays well, because being able to support themselves is their best opportunity for a better life.
PARLY picked up on it:
Later that afternoon, Butler tweeted:
She tweeted again that evening with another video:
In between those tweets, The Independent's Chief Political Commentator, veteran journalist John Rentoul, hardly a conservative, appeared on GB News to say that Butler's actions were 'a cheap political stunt'. Someone replied with a news story about Butler from 2012:
John Rentoul — and Guido — were correct.
On Friday, July 23, Guido reported on the great social media results for the MP:
Dawn Butler's Commons hissy fit yesterday went exactly as planned: her own Twitter clip is currently on 1.4 million views, though she's retweeted various other uploads of the clip which total 6.3 million in about half a day. She even had a speedily filmed and produced Byline TV interview out on the strop stunt…
The monetary fine was negligible:
It turns out Dawn's stunt came very close to backfiring. Thankfully for her she was only suspended for the remainder of the day's sitting – if she'd been thrown out using a similar standing order, and been suspended until the next sitting day, she would have remained a suspended MP going into the Summer recess, thereby being unable to draw a salary for over six weeks. Six weeks of an MP's salary would have come to £9453. Commons sources suggest Dawn's dodging of this unlucky outcome was unlikely to have been deliberate after a careful reading of Parliamentary procedure…
There is much more to write about her, but that will have to wait for another day.
Time is short today, so here are a few brief takes on coronavirus.
The young
I was appalled to see this video of an infant undergoing a PCR test. What are parents and medical staff thinking?
Why would a tiny baby need to undergo such a test? Yes, I agree that the procedure could cause an infection or, worse, damage. The barrier between the brain and back of the nose must be extremely delicate in such a young child.
The old
Allegedly, last October, Prime Minister Boris Johnson sent the following message expressing scepticism about a winter lockdown in England. I agree with all of what he says. Barrister Francis Hoar makes a valid point about deaths of/with coronavirus. At the time Boris made this statement, our PCR cycle threshold was >35, thereby picking up anything and everything:
It is true that, in England, at least, the average age for the elderly dying from the virus is greater than the average life expectancy.
I do wish Boris had had the nerve to 'recalibrate' and avoid a winter-to-spring lockdown. He resisted, but, as usual, SAGE got to him, it would seem.
This topic came up in the comments to an article on Conservative Home about Boris.
One reader wrote (emphases mine):
A reply to the comment pointed out the truth about winter respiratory diseases:
I am 82 years old. Pneumonia was always called "the old man's friend."
Vaccine passports
Despite the Government denying it for the past seven months, it looks as if coronavirus passports are coming to England.
There is speculation that they will be required at the annual Conservative Party conference this coming autumn in Manchester at the Midland Hotel:
Guido Fawkes says:
The Mail reports the Tories' September conference in Manchester is set to require Covid passports, in a blow to any libertarian MPs hoping to attend. While most of conference is quite far away from nightclubbing scenes, no doubt photos of a packed Midland's bar would attract online ire …
Yesterday the Telegraph reported one prominent Tory rebel MP said he suspects if Boris does force them "significant numbers of Conservative MPs and activists will refuse to attend."
I hope libertarian-minded Conservatives do boycott this. This policy would set a dangerous precedent for civil liberties. It's a narrow step from a vax passport to a digital ID.
The Mail's article reports that the insider said:
'Some MPs might not like it, but all the polling suggests the public are quite strongly in favour of Covid passports,' they said.
'That looks to be truer for the older generations who are more at risk, and might be wanting to come along.'
On their heads be it.
Appalling.